RVers Guide to Borrego Springs
Previously we've offered some personal reviews of various RV parks we've visited and recommend. This article is a bit of an expansion on that direction, and looks instead at RV destinations that may not be well known to to many RVers. We've chosen as our first object for description the southern California desert area in and around Borrego Springs. It's a perfect starting point for this sort of conversation, because it has facilities to accommodate everything from boon docking to high-end resort style RV options.
We've spent from a few days to a month there every year for more than two decades. We know it well. We also are aware that many RVers draw a blank when we mention our time spent in Borrego Springs. If we say "Palm Springs" or "Indio" no problem. And as the crow flies that's within 40 miles of Borrego Springs. But alas RVs cannot follow the path of the flying crow, and must make an end run around the east end of the Santa Rosa Mountains to the Salton Sea, than back west into the Anza Borrego Desert — closer to 80 miles. The Park is the second largest state park in the continental US, and completely envelopes the comparatively tiny town of Borrego Springs. The population has been fairly steady at around 3,500, comprised of both year-round and seasonal residents. You'll find no stop lights here, with the town center being a very large circular park It's called "Christmas Circle" and serves as a very large traffic circle as well as a town outdoor social center and weekend farmers' market. You'll regularly see groups of Jeeps and other 4WD vehicles gathering at some point along Christmas Circle in the early morning — it's so easy to tell everyone "let's meet at the circle" at 8 AM" and head out on a chosen Jeep trail.
You'll also find no trappings of major commerce here. Instead a scattering of boutique shops, informal restaurants, the Center Market, a few stations offering fuel [at prices that clearly leverage the remote location], some modest motels, and RV parks to suit various tastes and needs. There's also a surprisingly generous set of options for golfers. The market and the local hardware store are a reflection of the remoteness of town, in that there's little that you won't be able to find here. But for major shopping needs, you'll need to head north to the greater Palm Springs area, south to El Centro, or west towards the Greater San Diego Area — all a bit more than an hour's drive way. If you're here for an extended visit, plan on a trip to one of these areas every week or two.
When we've described the Borrego area to friends, often the first question is "But what do you do there in the desert?" Usually if there was a need to ask that question, the answers will likely not be fully understood. We personally find desert scenery, particularly here surrounded on three sides by mountains, to be extremely attractive. But you have to have an appreciation for what this area offers. Start with the outstanding Visitor Center for the State Park which is situated at the far west end of town. As you approach it, you'll not even recognize you're looking at it, because it's roof slopes to the ground nearest the parking area, and is covered with desert flora. You an stroll past the many different species of desert plants and trees without realizing you're actually walking on the roof of the east-facing visitor center that lies below. Inside you'll find not only an excellent presentation of exhibits describing the history, geology and archeological significance of the area; but a staff of trained volunteers to help you plan outings by trail, car or 4WD vehicle to the scores of diverse and fascinating places to see in the area. It's an absolute must-see first stop as an introduction to the area.
While there is a wide range of rental options here for those wishing to rent a home or condo — either within or beyond the resort areas, the area is particularly hospitable to RV travelers. There's something here for every RVing preference.
Let's start with the basics. Many RVers will prefer the absolute solitude of boon docking. There is no other area we've ever encountered where there the choice of places to simply "park in the desert" is virtually unlimited. The only "restrictions" are those imposed by common sense. Most of the desert is flat, and easily driven on by any vehicle. Perhaps the most obvious need is to avoid parking in a dry wash. Though it rarely rains in the desert, when it does the water courses down from the surrounding mountains and follows the low-lying washes. They are very easy to spot — and you don't want to be in or near one!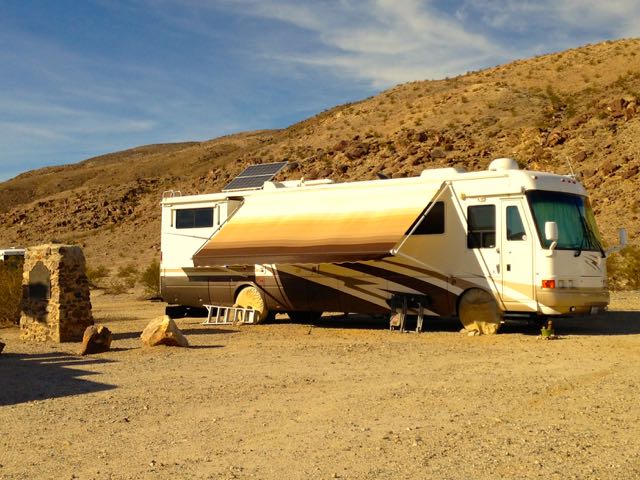 Some folks prefer to camp with friends, so often you'll see a small group of RVs parked together. It's not unusual for some of these rigs to have modest to substantial solar capacity to meet their electric needs, and bring in creature comforts such as satellite TV and satellite or cell-based internet connections. The nights here offer complete silence, unless you find the howling of an occasional pack of coyotes disturbing. There may be no other place in the lower 48 where an RVer will enjoy such extreme over choice in selecting just the right place to camp.
Another popular choice here is the the campground offered by the Anza Borrego Desert State Park. Palm Canyon is located about three miles from Christmas circle, and offers both full service sites (30A) and dry camping sites. Sites with utilities are located along four rows of paved sites, with sites #31- 48 being the most popular because most are graced by by vegetation plus a palm tree. All sites have a picnic table and fire ring.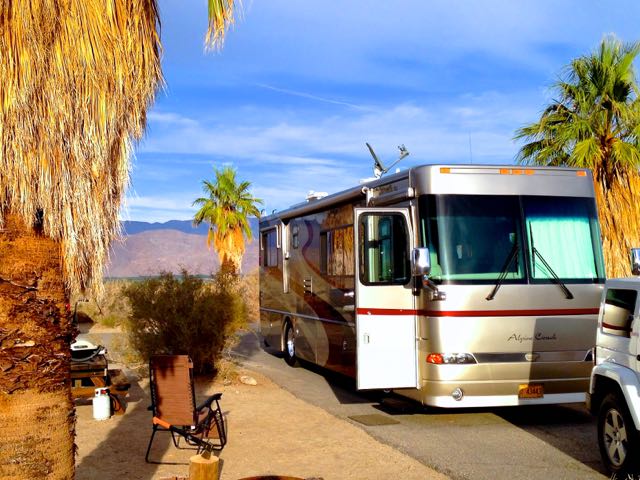 The dry sites are also paved, and several of them are widely scattered along a nearby hillside, with some offering not only a picnic table and fire ring, but a rustic shelter as well.
Commercial RV parks are also available in and around the small town. Most are reasonably modest; but one, the Springs at Borrego, is an award-winning RV resort that rivals anything available in the more popular Palm Springs/Indio area to the north. The Springs, a modern new park, is surrounded by its own scenic and full size golf course. The sites will accommodate rigs of all sizes, with full utilities, well landscaped sites and wide paved streets. Amenities abound, with a full size swimming pool and 4 hot tubs of various sizes; a workout room, a clubhouse with full commercial kitchen facilities, and scenic vistas from every site.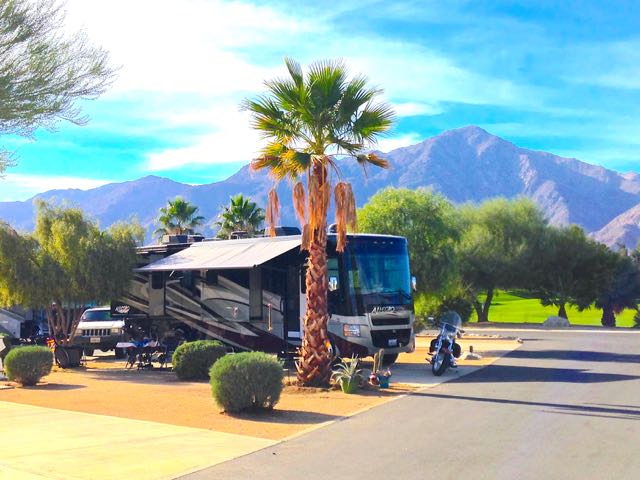 As one might expect the cost of the various commercial RV park options varies widely according to the amenities offered.
To be clear, Borrego Springs is surely not for everyone. It is, and always will be, a remote area as it is located in the center of the sprawling Anza Borrego Desert State Park. But you will find no shopping malls or upscale restaurants here. For those tuned into the changing colors of the surrounding mountains as the sun sets, the vistas are spectacular. For those appreciative of a small town atmosphere, you'll find an incredibly friendly village here, with every basic service, interesting specialty shops, and even some fun informal small restaurants.