POSTCARDS
---
Stephanie is one of those persons who can fit a lot of words onto a standard size postcard -- usually by writing sideways, around corners, and even upside down if she can find some extra space. Most of these go to family and friends. But some of them -- those which document our RV adventures -- find their way onto this portion of our website.
---
Postcard: Two Days on the Road
July 23, 2017
This was only to be a short trip - two overnights on the coast north of Florence. We'd spend the first night at Netarts Bay, and then head back south to the Marina RV park in Newport.
Netarts Bay Garden RV park is located some 6 miles west of Tillamook, and according to Google maps, only 115 miles, or 2 hours and 49 minutes from Florence. Practically next door? Not quite. But however long it takes you to get there, it's a great spot for fishermen, crabbers, clammers, and anyone who enjoys a beach stroll.
Want to go fishing or crabbing, but don't have your own equipment? The park will rent you a boat and crab pot, provide the bait, and, when you return, they will cook your catch for you. This option is readily accepted by many of the RVers. And, in our experience, the crabbing has been excellent!
A couple of years ago the park was sold to the owners of the upscale Bend/Sisters Garden RV Resort in Sisters, Oregon. The new owners changed its name - to the "Netarts Bay Garden RV Park". Wondering just what actual changes and improvements might have occurred in this little park, and remembering the enjoyable time we had on our last stay, we decided to visit again.
Google maps may tell you it will take only 2 hours 49 minutes to get to Netarts Bay. But we're familiar with the road, and know better than to count on such a quick journey. First, there's the terrain. Just north of Florence, the road climbs steeply en route to Heceta Head, and then winds slowly across Cape Perpetua. Then it descends and straightens out for the last few miles into Yachats, Count on a good 50 minutes for just the first 25 miles of the trip. On this weekend day, the Yachats Farmers Market was attracting hundreds of market goers; and throngs of others were enjoying the town's restaurants. For this tiny town, that meant a lot of traffic.
Of course this type of slowdown can be expected when you drive Highway 101 in the middle of summer. Further north, Lincoln City is always a slow transit — just more so during high season. Today it took us 22 minutes to transit its 7 mile length. Hardly noticeable to big city dwellers. But to those of us living in one of the smaller Oregon coastal communities, this is real traffic!
The last portion of the trip would have been a piece of cake had it not been for our Navion's less than optimal GPS. 25 miles south of Tillamook, it enticed us to leave the mainstream route offered by Highway 101, drive west through Pacific City, and follow a winding road along the coast. This may have been the shortest route. And we'd concede it most likely was the most scenic. However, this option makes a much better motorcycle or jeep route than it does one for a motorhome. The road was narrow, in spots in definite need of repair, and quite steep and winding. Well before we reached the park, we had decided against using it on the return trip.
Except for the word "Garden" added to the materials we got at check-in, there is no sign that anything has happened to change this little park. And the folks who have been coming here for years, (the RVer in the spot next to ours has 22 seasons under his belt), wouldn't have it any other way.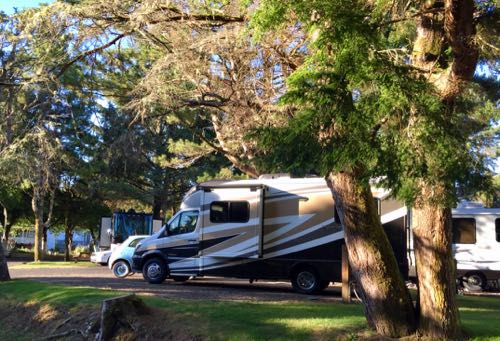 Bird life? Dozens of western gulls on the rocks at the boat harbor, hundreds more paddling in the bay water and walking along the tidal islands. Cormorants, a couple of herons and, to top the show, a bald eagle on patrol overhead.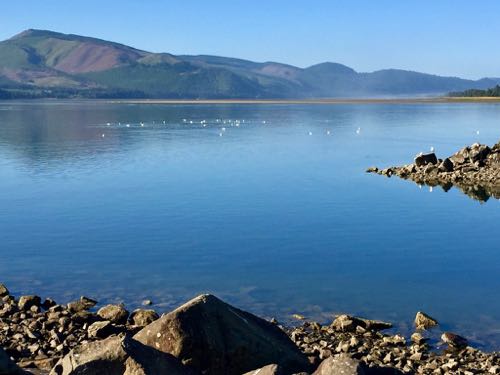 We were lucky the following morning. There was no morning fog and only a slight breeze - an unusually perfect coastal morning. A superb time for a morning beach walk.
And what a beach walk it was! We drove up to the tiny village of Netarts, and then down to the water at the mouth of the bay. A couple of families were enjoying the beach — kids digging in the sand and kayaking in the morning's very calm waters. Walking toward the ocean, I had a great view of the huge rocks that form virtual islands along this part of the coast.
Staying another day was tempting, but we had reservations at the Marina RV park in Newport tonight, so we headed south again. This time straight to Highway 101. No more "off roading" with Rand McNally (our GPS). Lincoln City traffic was relatively light, and we were parked and hooked up by early afternoon. Time for an oyster run!
I seem to be the only member of my immediate family who doesn't love raw oysters. And the oyster farm in Yaquina Bay, just 8 miles east of Newport, has, (I'm told), especially delicious ones. Our oyster gathering routine goes something like this: 1. Leave the park and drive through old town Newport. 2. Stay on this bayfront road to the oyster farm , (about 6 miles), and purchase a dozen or so small ones. 3. Continue east to Toledo, re-join the main highway (Hwy 20) and return to Newport. It didn't work out that way today, but what did happen was far more interesting. After years of driving through Toledo, this time we actually would get to see this fascinating small town.
When we arrived at the oyster farm, there was a letter on the door. It explained that the water in Yaquina Bay was suspect (a year ago they had to close because of norovirus); and that the oysters should be cooked to 146 degrees. That of course nixed any hope of eating raw oysters that evening. And I wasn't too sure about cooking them either. Exactly how is one supposed to measure the internal temperature of an oyster?
Before we left our rig, Tom had checked our map apps of the area to see if there was an alternate return route across the bay and back to Newport. We always go the same way — along the north shore. How about a road along the south shore? We could see a few homes along this shore - how did the people get there? Tom's research had found a road just beyond Toledo that crossed what was left of the waterway and headed west back toward the Newport airport. After striking out on oysters, and resuming the short trip toward Toledo, we could see some sort of road across the Bay. Was it a possible route back?
As we approached Toledo on the north bay shore road, we saw, conveniently parked at waters edge just across the bay from us — a UPS truck! Aha! If anyone would know the area roads, it would be a UPS guy. We'd of course ask him if we ever found the way across the water to where he was parked.
Had we been carrying a dozen oysters with us on this trip, we would have turned left as soon as possible when we arrived in Toledo. That would have put us on highway 20, the main route between Corvallis and Newport. We would have returned and put the oysters on ice, and that would have been the end of that. Without oysters, we had no such schedule. Instead of turning left, we turned right and, for the first time, entered this small town. We easily found the route west along the south side of the bay, but how far could we follow it?
About 2 miles further along, the road descended steeply to the water. And there was the UPS truck — with its driver still enjoying his afternoon break!
"Does this road go all the way back to Newport?", I asked.
"Sorry," he replied. "It turns to gravel in about 1,1/2 miles, and dead ends in 6. After that, it's a very good mountain biking area".
So back we went to Toledo.
Once into town, and at the water's edge, a marina with colorful small boats tied to the docks caught our attention. A nearby sign assured us that some of the boats were available for free use by the public - just contact Greg. Also, daytime moorage for your boat is free - you pay a nominal moorage fee only if you stay overnight. Under cover in an attractive nearby pavilion, there was a courtesy free wi-fi connection to accommodate visitors to the small marina or adjacent park.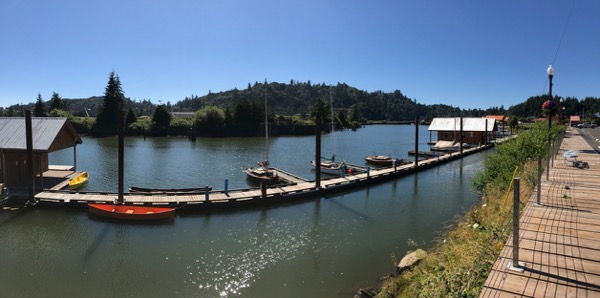 Another attraction in this Waterfront Park is the Yaquina Pacific Railroad Historical Society Train Museum. Here, under a weather sheltering roof is an old train engine - Number 1 of the Yaquina Pacific RR. You can walk through a 1923 Southern Pacific Railroad Post Office (RPO) mail car, restored with original fixtures and mail bags. Unfortunately, today the museum was closed. On our next trip…..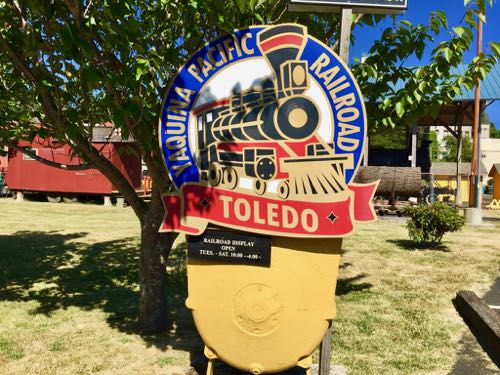 Before heading back, we drove Toledo's picturesque "downtown" (it's small!) streets. Beautifully maintained hanging baskets full of flowers, an architecturally stunning Episcopal church and parsonage, interesting antique shops and art galleries, and the Historical Museum, all make a return to Toledo practically mandatory. I look forward to lunch at the inviting downtown restaurant, "Holy Toledo".
And Highway 20 is no more than a block away. Persons driving this busy road are so intent on getting "to the coast", that all but a very few will completely miss the charm of this small town. If not for the unplanned oyster outcome, we might be among them.
---
Postcard: Yon Bonny Banks — Back to Yesterday
May, 2017
He said, "How does a trip to the Celtic Lands sound?"
She said, "When do we leave?"
And with that, we were off on an adventure to Scotland, Wales, Ireland and western France. We would be traveling with a group of alums from UC Berkeley (Cal). Our trip would begin in Glasgow, Scotland. There we would board the French ship Le Boreal, and head for the Inner Hebrides - to islands with romantic names like Mull and Iona, Oban and Skye. Then on to Wales, and Dublin, Ireland. Our trip would finish in Normandy, at the D-Day memorials - Omaha beach, the landing sites at Pointe du Hoc, and finish with a stop at the seaside village of Arromanches. Our return flight would be from Paris.
Traveling with the Cal alums is not a new experience for us. Some 10 years ago, we joined them for a trip to Australia. After this trip, which included visits to New Zealand, Sydney and the Great Barrier Reef, we were hooked. Since then we have traveled four times with Cal, and twice with the Texas A&M Aggies. (We're now honorary Aggies) We've enjoyed exploring new places, learning about those places from various on board faculty lectures, and making new friends each trip.
To help ourselves acclimate to the 8 hour time change between Oregon and Scotland, we flew to Glasgow three days before the tour would start. What a good idea that was! Those three days made all the difference between feeling fairly rested, versus in desperate need of a nap.
We arrived in Glasgow around 10 am on a Sunday morning and opted to take the city bus to town. No taxi, no Uber; the city bus was convenient, less expensive, offered free WiFi, and the driver deposited us right at the hotel doorstep.
The Carlton George, (Carl George to the locals), is located right in the center of Glasgow - close to everything. Turn right from the front door and walk half a block to pedestrians only Buchanan Street, where you can find everything from designer clothes to tartan shops to -- an Apple Store! Or, turn left from the hotel, and a half block brings you to the train station. Venture another half block to George Square. In an ornate building on the south end of this large square is the City Chambers, the offices of the Lord Provost of Glasgow city, and the city council.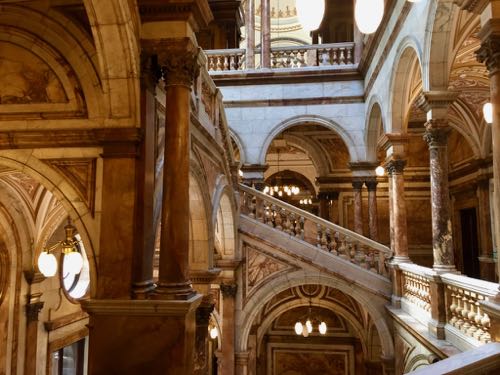 Across George Square lies stop # 1 city bus tour. For 15 pounds, (16 if you opt for a two day pass), you can travel around Glasgow, stopping at to any or all of 21 different sites — hopping off wherever you want, and then catching a later (every 15 minutes) bus. It's a great way to get to know the town.
If it had not been for one small child, throwing an award winning tantrum on the bus, Tom and I might never have opted to escape the bus at the Riverside Museum. Perhaps an unintended stop -- but what a fabulous find! You wander among streetcars and traincars, vintage autos and ship models. All artifacts of early transportation modes in Glasgow.
The docent, however, added greatly to our enjoyment of this museum. We were wandering through the displays when there was a loud bellow - no amplification needed. 'Ladies and Gentlemen, Boys and Girls! Come this way!" And we were off on a guided tour.
Our guide minced no words as he boarded us onto a model double decked streetcar. "Ladies seats were on the bottom, gents on the top", and he regarded the clothing — all pants — of the women following him. "Ladies wore skirts, then". An unusual, delightful, and very informative tour, with a most unusual guide.
Buskers. I had heard about these itinerant musicians, but this was my first experience at seeing/hearing them. Two groups were especially noteworthy - the mime and the drums and bagpipes.
I heard the boom, boom of drums as I was unpacking at the Carl George. Perhaps there was a parade nearby? I hurried down to Buchanan Street corner, but there was no parade, only a group of five musicians. Three had huge drums, two had bagpipes. The drummers seemed to be trying to outdo each other as to how hard they could hit their drums. They were doing an effective job of drumming out the bagpipes! Perhaps because of the drumming, perhaps because they were dancing around in wild circles, they were drawing large crowds, and their collection plate was almost full.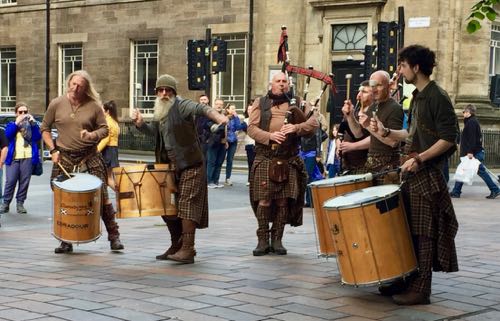 The mime had painted his face, hands and all his clothing with a thick, black paint. He was seated on a very small iron horse. On his head, he wore a red and white traffic cone. Why would anyone do this? He was mimicking a large statue just outside one of the government buildings. A nobleman sits astride a prancing stallion, and, except for one thing, it seems just another statue. But look at his head. There's another red striped traffic cone! The city removes it daily, and someone replaces it every night.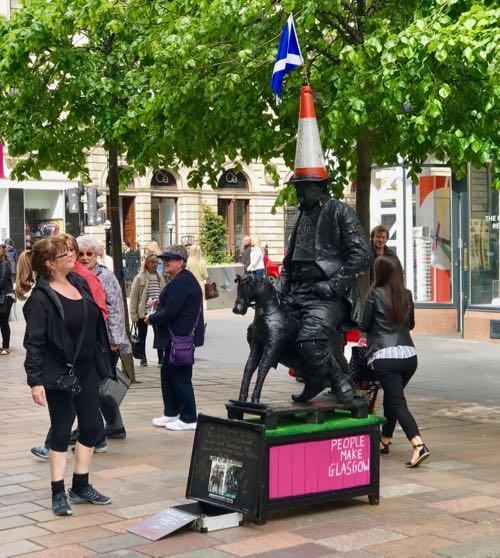 Monday, our second day in Glasgow, we boarded the high speed train to Edinburgh. This was our first experience with these fast yet smooth trains, and they live up to their name. Using his trusty speed box app., Tom clocked ours at 98 mph. 50 minutes later we were at Waverley Station very near Edinburgh castle. Round trip fare translated to about $16 per person.
Edinburgh has changed little since our trips there many years ago. A beautiful, historic city, and capital of Scotland, it's a virtual tourist magnet. This May morning I counted five groups gathered at different spots along the main street.
A few blocks along High Street, the Main Street in Edinburgh's old town, we came across this fellow. Clad in black robes, clutching his scythe and seemingly "floating" more than a foot above the ground. Look closely -- he really is not touching the ground. And I even looked behind him to ensure there was nothing supporting him from the wall. He silently demanded both a picture and a couple of coins.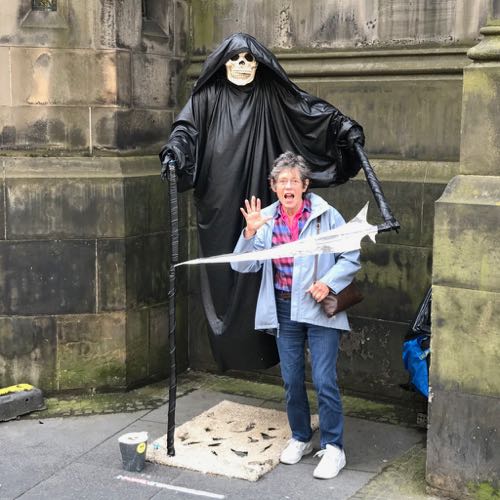 Tomorrow we will meet our fellow travelers. These include alums of 21 different universities, as well as independent travelers from such organizations as the Smithsonian and National Trust for Historic Preservation. Our ship is the French vessel, Le Boreal. She's a small vessel, 466 feet long, with 132 cabins. We took a sister ship, L'Austral, to Greenland a couple of years ago, and are looking forward to the same small ship friendliness

Shades of Harry Potter! Many of the scenes from the movies were filmed in western Scotland - the Glasgow railway station is reminiscent of the movie (without track 19b), and we have now ridden on the Jacobite Train, a steam locomotive train. The first car on this train is outfitted as if awaiting Harry and his friends, and it travels the 21 arched Glenfinnan viaduct. Hogwarts must be just around the next bend!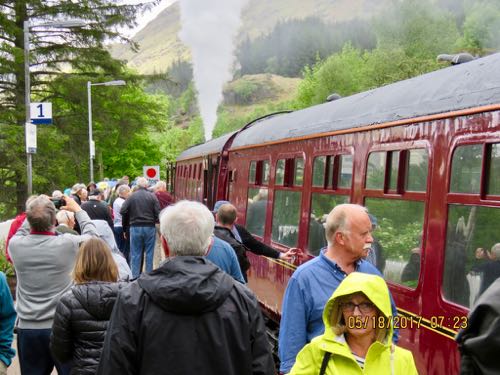 Castles. Scotland is full of them. Some are museums, filled with beautiful period furniture, others are mere ruins. The Eilean Donan Castle, on the Isle of Skye, is a wonderful example of the former.
You enter the castle by walking under a portcullis, (note the iron spikes which look like they might impale an unwary traveler), and climbing narrow stone stairs to the banquet hall. This castle is privately owned, and interior photography is not allowed; I had to ask permission to even take a picture of the stairs!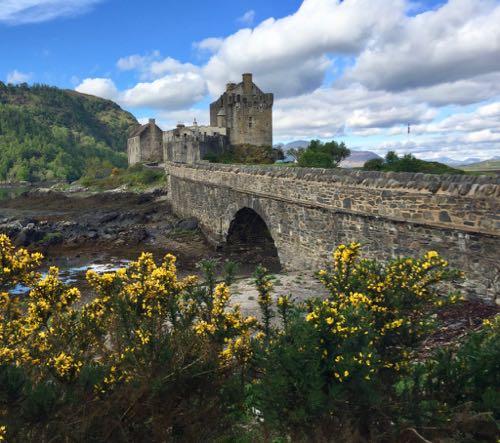 -----------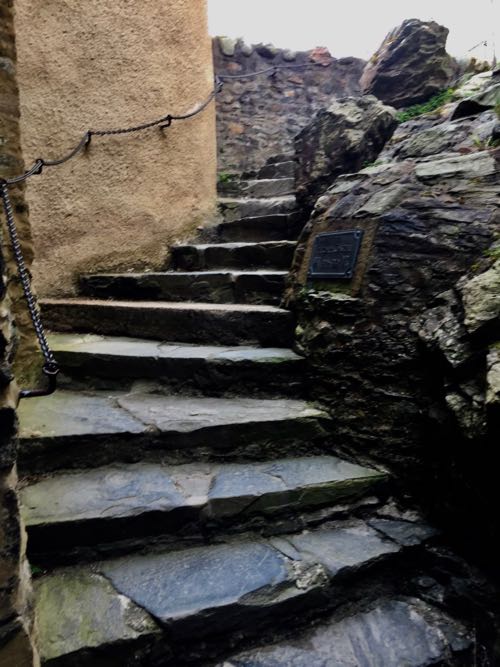 Only the walls and towers remain of Armadale Castle, on the Isle of Skye. But just imagine strolling through part of the 20,000 acre estate of Clan Donald Skye (MacDonald), and being surrounded by spectacular flower gardens and enormous rhododendron trees.
Isle of Mull...Although the fourth largest of the Scottish Isles, the population here is only some 2,800 persons -- almost all living in the colorful port village of Tobermory. Like others in the Inner Hebrides, there is no port here suitable even for the comparitively small ship we were on. So as usual for these more remote landing, we went ashore by tender. We opted to do a self-guided walk through the village, and have a look at several of the shops here, ranging from a modest sized "general store" with groceries and supplies, to botique shops offering unique items crafted here an on the nearbly Isles. Unfortunately our visit was timed too early to be able to take in the tour of the local distillery. And while we had no Scottish whiskey to take away as a result, we did manage to capture an image that tends to convey the unique and historic character of this quaint village.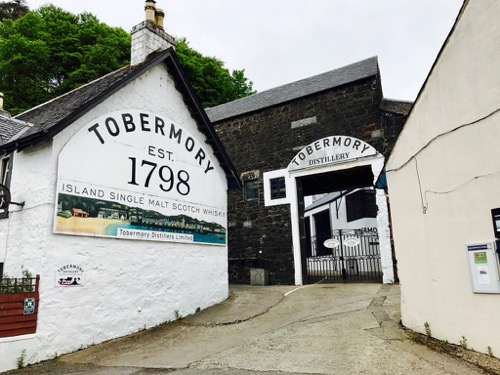 Isle of Iona… This very small (3.3 square miles) island is a charmer. One of our guides on an earlier trip had declared it magical, and noted how lucky we were to be visiting.
Iona is thought to be the first Christian site in Scotland. The tale says it was settled by Irish St. Columba, excommunicated by the then King of Ireland. He settled on Iona because it was the first Island he reached where he could NOT see Ireland. A beautiful old abbey, with museum and gift shop, attract visitors by ferry from the nearby Island of Mull. But I found the real charm of Iona when I purchased a souvenir from these little girls. Two beach rocks, each colored by these budding artists. One had an outline of Iona, the other, a Scottish thistle.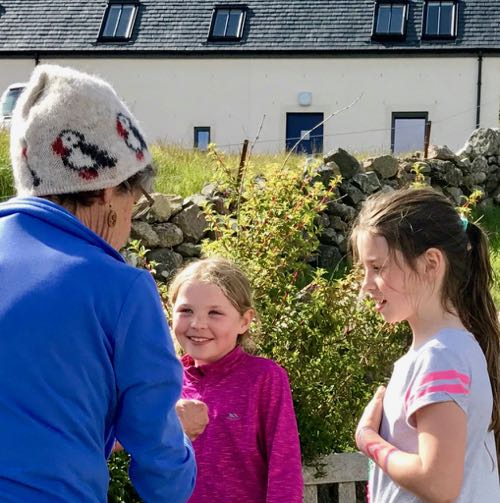 Wales. Castles, gardens and music, not necessarily in that order. Bodnant Gardens is equally as beautiful as Armadale, but less wild. You enter through the laburnum walk, this morning in full bloom, stroll through the manicured gardens. with decorative pools, a enormous croquet court and grounds stretching to the river.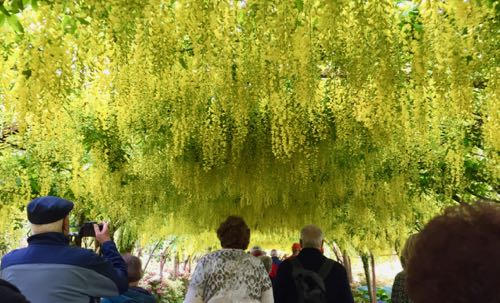 Music. The Welsh have a reputation as a very musical folk, and the concert we attended at the St Johns Methodist Church in Holyhead, Anglesey, certainly supports this. The Maelgyn all male choir has more than 70 members, and today around 40 of them added their voices to such songs as "When you walk through a Storm", and "Hallelujah". I could have happily spent the rest of the day listening to their repertoire. Interestingly, as we left town, our bus passed two other churches. Signs in front of each advertised concerts given by their choirs. From earlier trips we know how much they enjoy singing. But today's concert we'll never forget...
Dublin. Today, Tom and I decided to explore on our own. Le Boreal was docked about 2 miles from Trinity college which houses the Book of Kells. Surely we could walk that far.
But for us, there was a more personal attraction. DocuSign, a company founded by Tom, Jr. (aka T-2), now has offices there. Though based in Seattle and San Francisco, it's acquired an international presence as well, and T-2 had provided us with the address of its relatively new Dublin office. With sturdy walking shoes and a good wireless connection to Google maps, we managed to find it.
Security is tight in Dublin, and, according to the security guard, other European businesses as well. We each had to enter our names, email addresses, company, and the name of the person we wanted to see on a wireless tablet. In return we were given a badge which would get us into the elevator and access to the 4th floor. We spent some delightful time with Ronan, the Dublin manager, learning about the startup operations in Ireland. It seems they're experiencing significant growth in Ireland, and looking to double the staffing over the next couple of years.
Ronan suggested we stop by Trinity to see the book of Kells, and gave us detailed directions. However, the entrance line was extremely long, we were shortly due back at Le Boreal. But much to our delight, one of our tours was just ending and about to head back. We wouldn't have to walk, find a cab or "Uber" it back, one of our tour buses would deposit us "home" in time for lunch! A thoroughly satisfactory ending to a very interesting outing.
It would take us a full day at sea before docking in Caen, France for our last tour - the beaches of Normandy and the site of the 1944 D-Day landing of the allies in France. Our day at sea was a school day. There were various presentations given by different experts. One lecture concerned the role of the Vikings in the Celtic Lands, another covered the role of the Celtic Monks, and still another looked at Brexit and the future of the UK. But the focus of the presentations throughout was on D-Day.
Our tour started at Pointe du Hoc Ranger Monument. The pathway through the monument skirted dozens of enormous craters - now grass filled; once bare ground where the bombs had landed. We saw the remnants of the underground German bunkers, and the barbed wire placed along the top of the 100 foot cliff that the Allied forces had to climb. Looking down, it's hard to imagine how anyone could climb that steep cliff, even if they had not had bullets raining down on them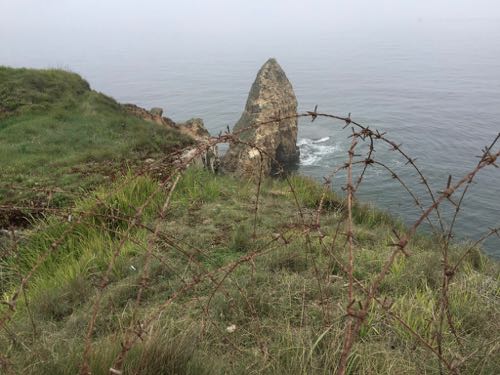 Dwight David Eisenhower II, grandson of President Eisenhower, and his wife Julie had joined the boat for this part of our tour. His presentation covered the planning of the D-Day invasion. The Eisenhowers also joined us the next day at the St. Laurent Cemetery for a special "laying of the wreath" ceremony. When we signed up for this tour, we received a questionnaire asking if we had any relatives who had taken part in the D-Day invasion. Those names were read; then all the veterans in the group joined David to lay a wreath in the honor of the fallen soldiers.
Our last stop was at the small village of Arromanches. Troops deliberately did not land at here on D-Day itself, but left this part of the coast clear for a portable harbor. Huge blocks of concrete were tugged over from southern England and sunk here forming this harbor. Remnants of these blocks were clearly visible from the cliffs above the town.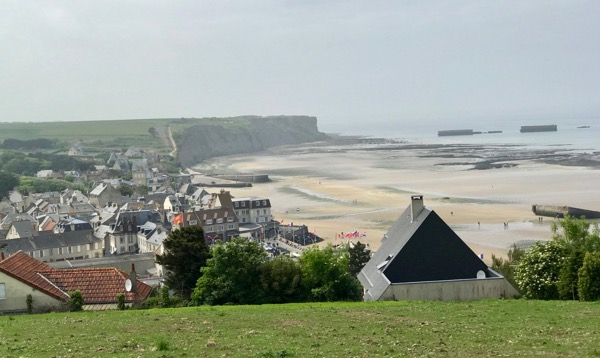 We finished our D-Day tour at the movies. Arromanches 360 is a theater in the round. We stood in the center of the theater, viewing the horrors and the ensuing happiness as the Allied troops landed in occupied France. A powerful presentation, and moving end to an interesting day.
Tomorrow we leave the Boreal, (disembarkation at 5:00am), and head to the Charles de Gaulle airport. Our flights should will land us back in Portland at 9pm. Time to readjust our internal clocks and head home from a most remarkable trip.
_________________________________________________
Postcard: North to the Bellingham Ferry Dock
May 28, 2016
Leaving Florence, we headed to Eugene and the Fiat dealership to pick up a "mask" for the little car. This should cover the lower 1/3 of the hood, and help protect against the omnipresent threat of rock chips for which the Alaska Highway is famous. I say, "should". Online reviews of this mask are not particularly encouraging; and even the parts person recommended we fit the mask on a warm car - preferably in an also-warm garage. However neither warm weather or a garage are things the Fiat will likely see for the next few weeks. We'll give it a try when our ferry arrives in Haines on Monday, before the road portion of our Alaska trip begins in earnest.
Heading north, our first evening's destination was Brookhollow RV park, in Kelso, WA. The park is located within a mile of the I-5 freeway, but far from freeway sounds. Level, well-spaced nicely landscaped sites, and inviting amenities have brought us back a number of times over more than a decade. From the Interstate, take exit 39 and head east. Drive past the High School, and the RV entry drive is on the right.
Should you go there, be sure to climb the berm that stretches along the eastern side of the park, and you'll find yourself looking down onto the Cowlitz River. The easy, level trail follows the river, winding southwest for more than two miles. Mallards dabble on the water, herons fish from the banks. If you're lucky you'll see an osprey dive after an unwary fish. Swallows swoop along the water, and sparrows sing from the bushes. A killdeer ran in front of me, trying to lead me away from its nest in the nearby rocks.
Continuing north, the next day and 200 miles brought us to Bayview State park, just east of Anacortes. Sites at Bayview are individually designed niches cut into the forest. Each has a table and fire ring, and about half have hookups. A short walk takes you to the beach where you'll enjoy a great view of Padilla Bay. Or stretch your forest legs on several trails in the Park itself.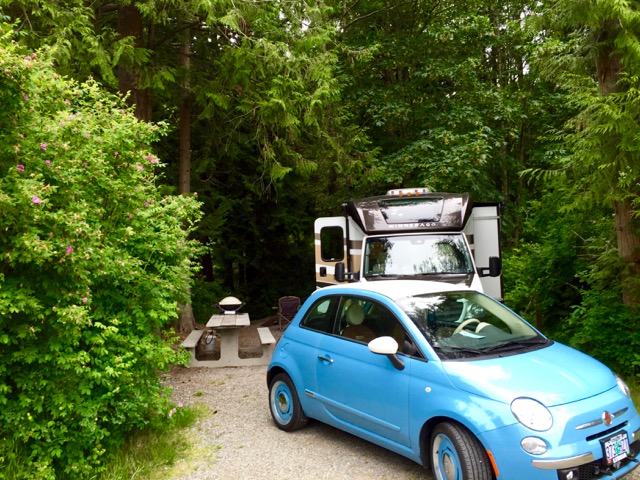 Heading North. Chuckanut Drive. If we still owned our 34' Alpine, we would not have had the option to choose this wonderfully scenic but narrow waterside route to get to the ferry dock in Bellingham. While the road is only 22 miles long, it is closed to vehicles over 18,000 GVWR. And with good reason: It also requires a driver who doesn't mind hairpin turns and occasional overhanging rocks as the Drive twists above the waters of Padilla and Bellingham Bays.
The Bellingham terminal for the Alaska state ferries is an attractive facility with a wealth of information for the curious traveler. In addition to the ferry offices, the terminal is the jump-off point for service to the San Juan Islands. It houses an informal restaurant and a most intriguing gift shop. It sits partially above the waters of Bellingham Bay, on one in a series of adjacent docks. Tied to a dock within eyesight of the ferry terminal was the ferry Columbia, the newest and largest in the fleet, getting ready for its season opening trip to Alaska. We had purposely booked our trip on the Columbia, which was scheduled for its first summer trip on this very day. However, for some reason it was the smaller ship "Malaspina" that appeared to be preparing to load passengers and vessels this day.
So our first stop was the ticket office, where we got the somewhat unwelcome news that the Columbia was not yet ready for service. We'd be traveling on smaller ferry instead. According to the agent, who was a five-year veteran terminal employee, for reasons probably known only to the Alaska Marine Highway System, in each of the five years he'd been there, the Columbia's advertised "first sailing" had been cancelled; replaced instead with the Malaspina. That would have been an interesting fact for us to know some six months earlier when we'd arranged the booking! A few of the advertised amenities were not to be on this particular sailing. However, the boat would depart at the same time, go to the same places, and most importantly sail through the same unbelievable scenery en route.
From previous trips we were aware that it's less expensive if an RV with a tow vehicle detach, and drive on separately. So when we arrived at the dock we checked the Navion in first, and it was directed to a part of the loading zone reserved for "oversize" vehicles — all parked in columns according to final destination (e.g. Ketchikan, Wrangell, Petersburg, Juneau, Haines and Skagway. We took the Fiat into town to run some last minute errands. On our return I drove the Fiat into the "car" loading area, received the decal notifying the world that this car was headed for Haines, and proceeded to the head of lane 3 — to wait.
The ferry personnel request that you stay with your car after 3PM. But it was almost 5 when I finally drove the tiny Fiat down the ramp into the intimidating dark yawning mouth of the Malaspina. Tom, still waiting with the other RVs to be loaded, captured this scene from shore.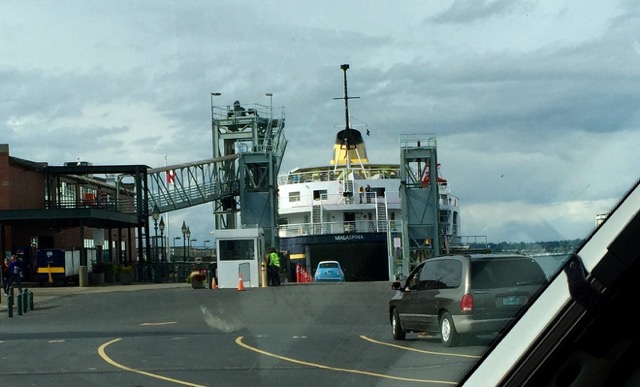 Once inside the massive cavern referred to the car deck, I could get a better sense of just why the loading process had seemed to be so slow. Each vehicle had to be placed in precisely the correct spot on the ship so that not only did it "fit" the allotted space in terms of length, width, and height; but more importantly it had to be placed with vehicles going to the same destination. When I was finally parked, (parallel parked between a Jeep Grand Cherokee and a trash can!), in a tiny space into which only an 11.9' Fiat could fit, I'll confess I noted with a bit of concern that the boat deck was now almost completely full — and the Navion was not there yet. While we might have saved a bit by detaching, could it be that I would end up touring Alaska alone in a Fiat?
Once all the vehicles, including the Navion, were loaded, it still defied understanding how all of these, plus others yet to be boarded at intermediate stops, would all be able to make it off the ship at their intended destinations. In fact we found a few of the RVs going to Haines had been loaded facing the opposite direction of other vehicles going to the same destination. We'll just have to see whether and how this might all work out!
But for now, it's off to Alaska we go!
---
Postcard: North to Alaska!
May 20, 2016
Next week Tom and I will be at the Alaska State ferry dock in Bellingham Washington, in line to drive our new Winnebago Navion aboard the ferry Columbia. Three days later, we'll disembark in Haines, and start our Alaska/Yukon/Northern British Columbia adventure. Those three days will have been a showcase of southeastern Alaska, a glimpse you can get best from the decks of the state ferry.
Travel on these boats falls somewhere between a traditional ferry ride (cars and people for a short trip), and a cruise ship vacation. On the Alaska ferries, you'll find cabins, restaurants and a gift shop. As an additional seasonal bonus, on board naturalists give lectures on the areas you are traveling through and wildlife you may see along the route. Many folk who travel on these ferries do not reserve a cabin: an upper deck solarium area, complete with reclining chairs, provides plenty of space for a sleeping bag. And if you can pitch a tent, who needs a cabin? Traveling this way is not nearly as luxurious as on a cruise ship, but you get to see the "real" Inside Passage . You can meet the people who are heading north for a summer job, or the people who live there, and are headed home.

The days break down as follows. The longest leg of the journey is from Bellingham to Ketchikan -- 38 hours. This is also the only segment with any "open ocean" crossing, and there are two: one across Queen Charlotte Sound at the north end of Vancouver Island; and another, shorter but, in our experience rougher, further north at Dixon Entrance.
Once across Dixon Entrance, the waterway narrows dramatically and the famed "Inland Passage" begins. Now the boat traverses some of the most beautiful places on earth, past the scenery of which postcards are made: soaring eagles, beautiful waterfalls, small Native towns (some open to visitors, others not).
Coming into Ketchikan can be a somewhat frustrating experience. The ship loudspeaker will announce, "now arriving Ketchikan", and everyone will flock to the railings to watch as this picturesque town slides into view. First comes the downtown, with its shops and museums which makes me fairly itch to go exploring. But the boat will glide smoothly on. The ferry dock is about 3 miles from the town center, and unless you take a taxi, too far to walk and return before the boat sails for ports farther north. However, not to worry. It will be Sunday, and most of those intriguing stores will be closed anyway. Save Ketchikan for another visit.
6 hours after leaving Ketchikan, and after traversing Wrangell Narrows, the ship will dock In Wrangell town. Don't look for any mega cruise ships here. The waterway is both too narrow (hence the name), and too shallow for those ships to experience this very special section of Alaska. It is, however, one of the most interesting parts of the trip. You can almost touch the marshy land on either side of the boat. The ferry transits the Narrows by following a complex path of lights, red on the right, green to the left. And somehow manages not to go aground en route to a fascinating little Alaskan town.
After docking in Wrangell, my first stop will be at the garnet tables. The Boys and Girls club of Wrangell has the exclusive right to sell garnets from a nearby mine, and their wares will be spread on several long makeshift tables. Some garnets come just as they were taken from the mine - still imbedded in the rocks from the mine. Others are single stones. All are beautiful. Next, if there's time before the ship leaves, we'll take a walk through this tiny picturesque village, always keeping an ear out for the ship's departure horn.
Three hours later, we'll arrive in Petersburg. While it may be getting late by your watch's standards, Alaska in June seldom sees much darkness. The first time we took this trip, I brought my telescope so I could see the stars. The trouble was - it never got dark enough to see the night sky! The Little League baseball games didn't even start until after 10PM.
Next stop - Juneau, As we come into town. there's a great view of the Mendenhall Glacier. - unfortunately currently famous more for the amount of ice it has lost the past few years than for its icy beauty. Again the ferry dock is not close to town. The stay here is relatively short; then on to Haines. There Tom and I plan to leave the Columbia, which will make the final one hour trip to Skagway before turning around to head south once again.
Debarking the ship in Haines, we start what, in many ways, will be a new experience for us. It's not that we haven't been to Alaska before: we've taken this trip enough times I've lost count - 7? - 8?, over the past 20+ years,. But this will be our first extended trip in our new RV. We sold our 2007 Alpine almost a year ago. It now has a happy home just up the coast in Newport, Oregon and we will do our traveling in a 25' Winnebago Navion. There have been adjustments to make and new systems to learn, but we are coping well. I wondered about the size difference -- would we feel cramped? Would we find places to put those absolutely essential items? How about the not-so-essential items, the ones you really enjoy having? Some areas of the new coach seem much smaller than I'm used to. Others have so much space that I wonder just what I'll put in them. Tom has a stock answer to any of my questions where we can put our "stuff". "We'll put in in the Fiat".
Getting the smaller rig meant finding a smaller tow car. While we have seen Navions pulling cars as heavy as our last toad, a jeep Wrangler, we decided to downsize in this area also. We downsized to a Fiat. Not just any Fiat, this is a "retro" 1957 model -- baby blue and white with matching blue wheels and brown leather seats. Needless to say, it draws smiles and attention wherever it goes, A big burley man walking an equally big burley dog, took one look and said, "Ooh, it's adorable". We've heard, "That's so cute", or, "Is it fast"? and today, "My wife wants one. Where did you get it". And it tows like a dream. Hitch it up, put it in neutral (did I mention it was manual?), put the keys in your pocket and off you go! A far cry from the checklist I needed when we towed the Wrangler.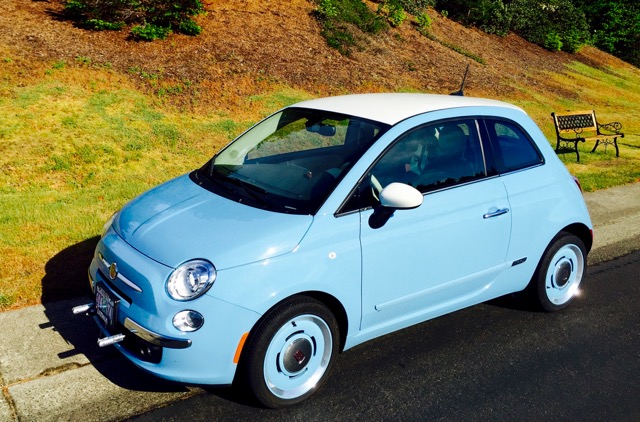 When we got the little car, it had backseats. However, these were impossibly small, hard to get into, and would have been extremely uncomfortable for anyone of any size to ride in for longer than a few minutes. Fiat's answer to that is something called the rear seat delete kit. The next-to-unusable rear seats are removed, and a very spacious level deck installed. Presto! A two seater with a large cargo space. We kept the seats, in case the next owner wants to put them back.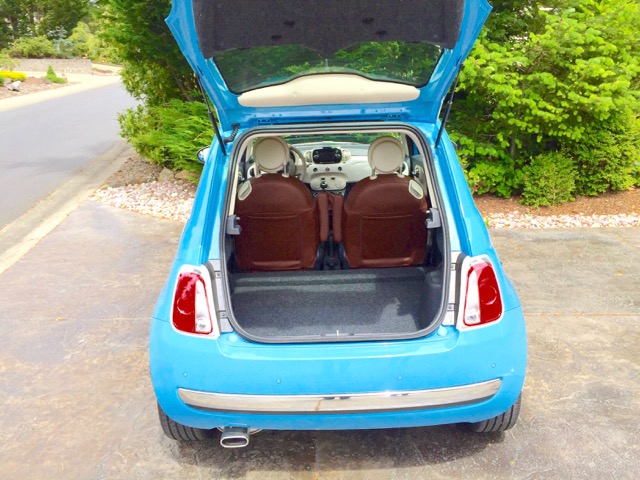 So, we're almost ready to go. In the time remaining before our sailing, we'll load our new RV with the clothes, food, binoculars, computers and the absolutely indispensable "Alaska Milepost". This book provides a mile-by-mile description of the more than 15,000 miles you can travel throughout Alaska, Yukon, British Columbia, Alberta and the Northwest Territories. Each of the 22 major highways has its own special section with detailed maps covering the area's roads. Places to go, things to see, (and the best time to see them), fuel stops, where to dine, where to stay (including RV parks/campgrounds), all are listed.
When we leave Haines, we will drive the 150 miles to Haines Junction. We'll likely not make it all the way, because our notes from the past remind us that Kathleen Lake, which is in Kluane National Park, offers a Yukon government campground with beautifully maintained, well spaced sites.
Lake and mountain views are spectacular. The only "amenity" we'll find here is free firewood. And the nightly fee is trivial. Then just up the road the Haines Highway joins the Alaska Highway, and decision #1 awaits us. Do we turn left and head toward Alaska or turn right and head toward Whitehorse and a more careful exploration of the Yukon Territory? As of this writing, we are unsure just which direction we will take. We have about a month to get back to Bend. Just how much of that month will we use?
---
Postcard: A Tale of Three Cities
September 30, 2015
Kushiro. I am just beginning to realize how immense is the North Pacific Ocean. It took the Silver Shadow, averaging around 15 knots, two full days to reach Kushiro on the southeastern coast of Hokkaido. About a mile off shore, we were met by a pilot boat and escorted to the pier. No more anchoring out and tendering in.
The Japanese thoroughly outdo the Russians when it comes to a long, drawn out immigration process. Tom & I had opted not to take a tour here, so had no bus to catch. That meant, of course, we were at the back of the line when it came to getting all our paperwork done. We had already filled out the Japanese immigration cards; now we had to stand in line to redeem our passports, then stand in line to be fingerprinted and have our passport pictures matched with our persons. But that was it. For the rest of our stay in Japan, our passports will be in our possession; no more immigration lines.
Kushiro literally laid out the red carpet for us. Not only was there actually such a carpet to walk over as you left the ship, but there were signs welcoming the Silver Shadow, and helpful persons at every turn. The concierge desk had been taken over by two folks with Kushiro volunteer badges and detailed maps. Any questions concerning changing dollars into yen (use the nearby 7Eleven), or the best route to the Washo Fish Market, or what was going on at "MOO", the Kushiro Fisherman's Wharf, were answered thoroughly, and with smiles. When we got off the ship, there were folks waiting to answer any last minute questions, or rent you a bicycle, or sell you some ice cream.
We walked along the waterfront to MOO, noticing as we went along the number of "long line" fishing vessels tied to the pier. Each of these boats fairly bristled with downriggers - later to be baited and extended out for fishing. Stored in the upright position, they made the boats look like they were ready for some sort of war - loaded with rockets!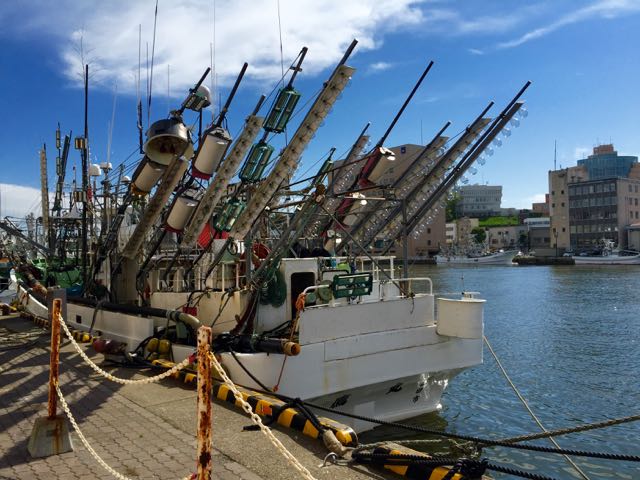 MOO itself is a large building housing a fish/meat/vegetable market. At the entrance to the souvenir section, a large bowl held dozens of the endangered Japanese cranes - in Origami form.. The crane has been brought back from the verge of extinction and now numbers in the hundreds. One of the tours offered on this trip was to the Koshiro Shitsugen National Park, where a walk along a marshlands boardwalk would hopefully provide views of this bird.
Next door to MOO is EGG - the Kushiro International Exchange Volunteer Association. Kushiro doesn't get many cruise ships - the Silver Shadow was only the 7th, non-Japanese ship this season, and this association was putting on a show for us. In one section, two women were learning how to put on a kimono, something that involves a great deal more than just slipping on a comfortable robe. You could sip tea in a Japanese tea ceremony, or learn Japanese calligraphy. Or make a Japanese crane origami. (So that's where all those came from)!
Just outside the EGG, a bridge crosses the Kushiro River. On that bridge are four statues representing the seasons. A gull had decided that the head of one was a perfect resting place. Dozens of passers-by were taking his picture, but he had no intention of leaving.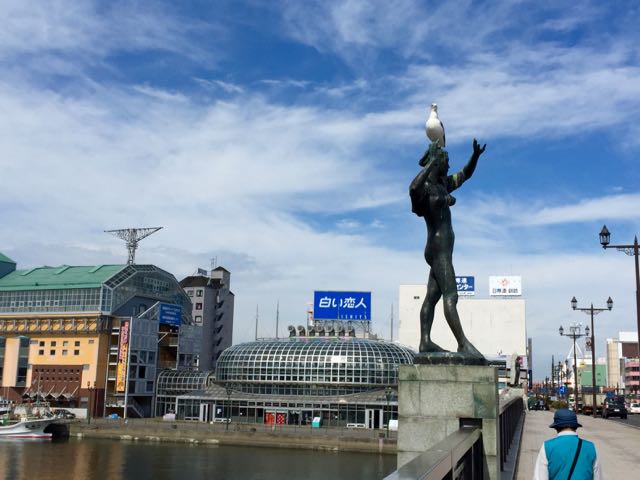 Next we headed toward the Washo Fish Market. We walked up the Kita-Odori. a wide, 4 lane street with remarkably little traffic. Or perhaps it just seemed that way. The Japanese appear to be very courteous drivers, no speeding or unnecessary horn blasts. The only noise came from the traffic signals. Each time one turned red, a melodious voice came on, speaking incessantly until the light turned green again. We could only guess what she was saying. As we crossed one street, we noticed the manhole covers, each embossed with Japanese cranes.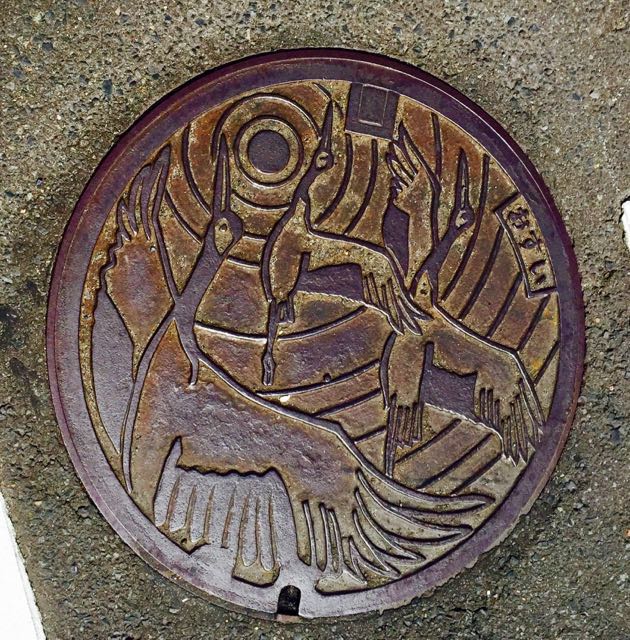 We had heard about eating at the Washo Ichiba (Fish) Market. The restaurants here are not the sort where you sit at a table and order from a menu — here it helps to either be brave or read Japanese. Rounding a corner in the market, we found a group of people all holding bowls of rice. They were gathered around a woman standing behind a counter with small amounts of various fish, scallops, squid, octopus, sea urchins, etc. They would point at one delicacy, and she would put it on top of their rice. When they had all the fish they wanted, they went to a nearby table, already set with chopsticks, napkins and teriyaki sauce, to enjoy their meal. It was a very popular spot.
It was a longer walk back to the ship than we had anticipated. I now better understand the term "foot sore" . As the ship left, we were serenaded by a clarinet and waves from a good sized crowd.
Hakodate. Our welcome to Hakodate came early the next morning. As we were heading toward the pier, we were passed by a fire boat. A "Welcome to Hakodate" banner decorated one side, and it was shooting streams of red, green blue and yellow water from its turret. Perhaps there's a competition between these cities to see which can offer the best welcome?
Our Hakodate Highlights tour left portside promptly at 9:15 am, and headed for the Morning Market. The market covers several square blocks and sells everything and anything anyone could possibly want. Therefore, it is one of the most crowded areas I've ever seen, Our tour director held a small Japanese flag over her head as she walked along, and we clung to her like ducklings.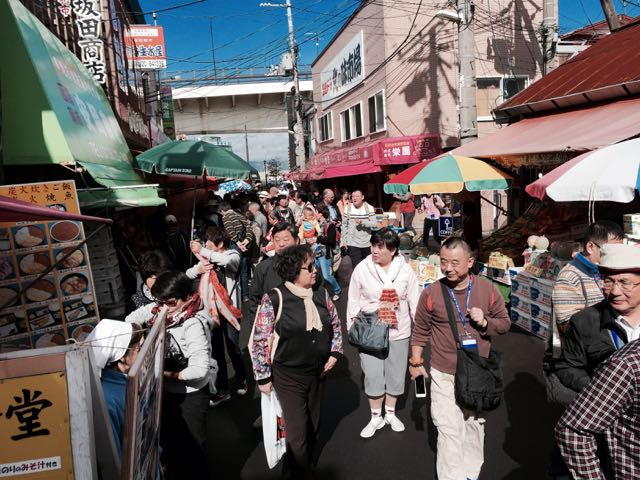 If the Japanese crane is Kushiro's "mascot", the squid is Hakodate's. Manhole covers here feature three orange squid. Our guide explained that squid is one of the favored items on the daily menu, and we saw tank after tank of these unusual creatures. In one spot, a vendor handed two giggling Japanese girls a small baited pole. One held it over a tank and very quickly pulled a large, wiggling squid from the water. I never saw them actually buy it, but they thoroughly enjoyed taking a "selfie" with it.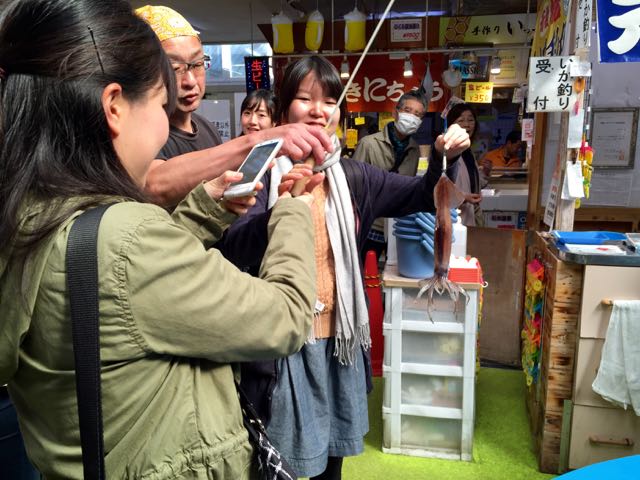 King crab (or its Japanese equivalent) is also very popular. In another part of the market, a woman was weighing a huge crab. She started by tying two of its legs together, then picked it up and threw it on the scales. It hung off on all sides.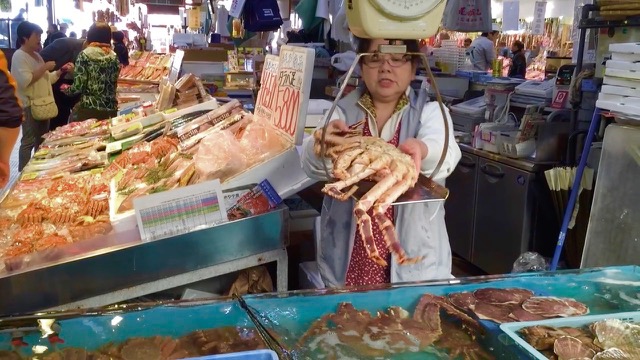 Next stop was at Goryokaku Tower, a 50 meter tall tower looming over an historic fort. En route to the tower, our guide had given us a short talk about the fort. It dates from the Meiji Restoration period, circa 1855. Our guide explained that the Meiji wanted to end the shogunate. However, in this process, many of the shoguns "lost their jobs" (our guide's term). A group of about 3,000, loyal to the old regime and their old jobs, resisted for 6 months before being forced to surrender.
From the observation deck atop the Tower, we had a 360 degree view of the city. Looking down provided a great glimpse of the park surrounding the fort.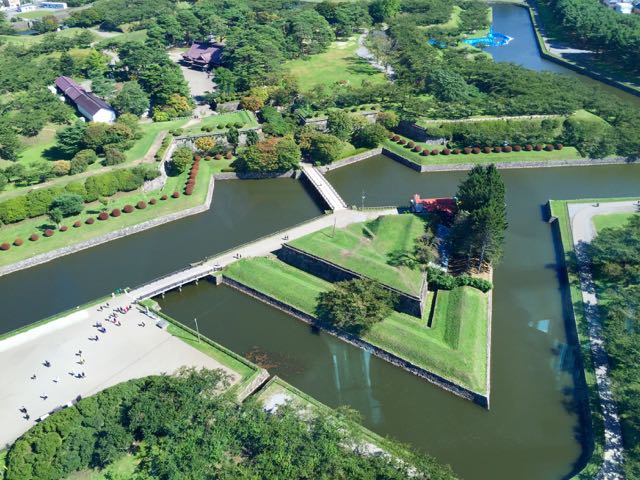 Our last stop was at Mt. Hakodate. The bus parked at the foot of the 1100 foot mountain and we took the "ropeway" to the top. "Ropeway" sounded at first like a reverse zip line, but its actually a cable car — this one large enough for 125 passengers. At the top, a group of pre-school Japanese children were practicing saying "hello". They couldn't possibly have been cuter.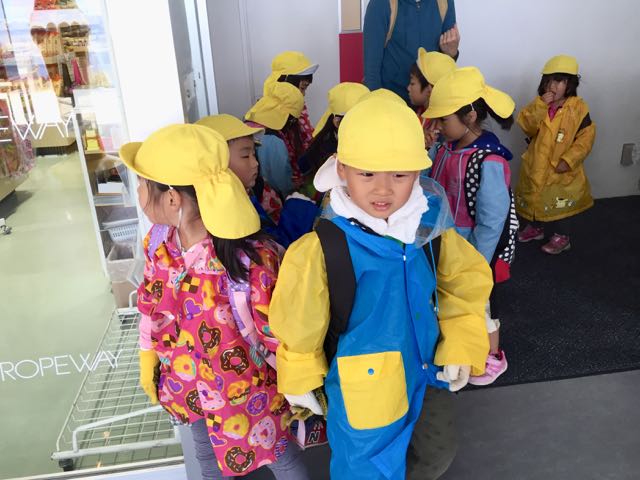 On to Aomori.
We docked in Aomori early the next morning. Aomori is the home of the Nebuta Matsuri Festival, held each year in early August. At that time, illuminated floats of giant samurai figures are paraded through the streets, and dancers run alongside them, jumping and dancing crazily. To welcome us, a small band played festival music with drums and flutes, while Hapi coated dancers jumped and twirled. Pictures of samurai warriors, grimacing ferociously, had been mounted atop poles, and the dancers twirled and shook them as they danced.
Our stay in Aomori would be fairly brief. We had docked at 8AM, and would leave at 4. The tours today were all out of the city - to a nearby town to see the beautiful pottery, through the mountains to enjoy the natural beauty of Japan, or to an historic castle and a visit to Nebuta Village, home of the famous festival. If you took one of these interesting tours, however, you wouldn't get to see much of Aomori itself. We had decided to forego the tours and just take a walk around town.

Several small booths were set up on the pier. One had food for sale, another souvenirs, and the third was the tourist information booth. This booth was manned by a young couple - one American and one English. They have been living here long enough to consider Aomori their home, and yes, both spoke Japanese. Learning we were on our own today, they recommended the Aomori Walk Map.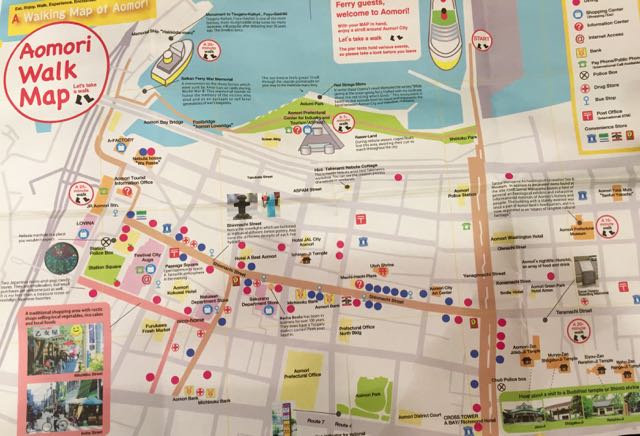 Once off the very wide main street, we had to depend on our Walk Map. We could trace our route by noting hotels, shrines and department stores. These were were marked with red circles, and we could also see the harbor, so there was little danger of getting lost.
Attracted by the noise of chain saws, we stopped at an attractive, closed gate. Checking our map, we placed ourselves at the Utoh Shrine. Gardeners were busily at work removing a large cedar tree from the gardens, and the shrine was closed this morning. We walked through the Furukawa Fresh Market, much smaller and also far less crowded than the Morning Market, We stopped at the Machi-machi Plaza, a mall with souvenir stores, clothing stores and several restaurants. Taking a break from all this walking, we found a convenient padded bench, and best internet connections we'd enjoyed in a couple of days. Sitting just down the bench from us, we recognized someone else from the ship. He was busily getting his email, and had his copy of the Walk Map spread out on his lap.
Bicycles. Many Japanese use bicycles as their means of transportation around Aomori. We saw dozens of bikes parked in front of the Machi-machi, and at first I didn't realize they were locked. Not with the cable chains and padlocks found in the States; crime is very low in Japan, and the only locks on these bicycles are small round rings. They prevent the rear tire from rotating, but someone could easily pick up the entire bike and walk away with it. That doesn't seem to be a problem here.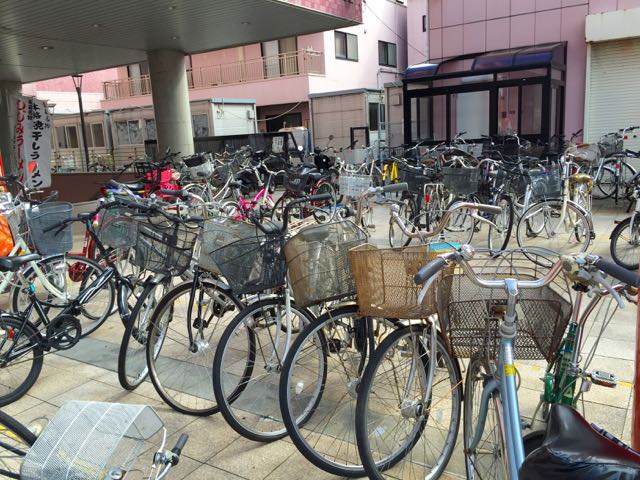 As we headed back toward the ship, we stopped at the Aomori Prefectural Center for Industry and Tourism, (aka the Visitor Center). It's an A shaped building, 14 stories tall. A small restaurant takes up the top floor, the middle floors are office space. The bottom two comprise the Visitor Center.
The first floor has a theater, a couple of food stalls, and several souvenir shops. In one area of the second floor there's a display of the enormous drums used in the Nebuta festival; in another a banner with a ferocious samurai attacking a huge dragon.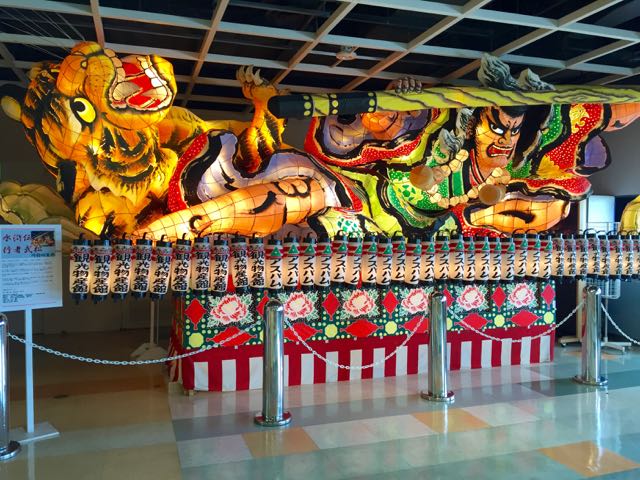 I had great fun in the children's room. It was quite large, you could walk from one "game" to another. One of my favorites was a large domed table with a screen atop. I didn't know what it was for until I saw a couple of children playing with it. They poked at the dome; the screen rippled like water and several fish animations appeared swimming around . Next they poked one of the fish. Now a smiling dolphin wearing a sailor hat appeared in the center of the screen. He smiled broadly and said — something in Japanese. In another area a short movie features two geese who leave their lake to explore the world. In the end, they decide their home is the best place of all, and are welcomed back by the bear, the fox, the rabbit and the squirrel. I could figure out that much without knowing any Japanese. But the games were beyond me. It's hard to play the game when you can't read the instructions!
The Silver Shadow pulled away from the Aomori pier to farewell dances and waving hands. We will spend tomorrow at sea and are due into Tokyo the next morning. We'll enjoy a short city tour, then it's off to Narita, our plane, and back to Portland. We haven't figured yet whether we'll experience one long night or two short ones as we give back the hours we lost a week ago. It's been a fabulous trip; and it will be good to get home. For a while.
Postscript: Who was it that said:' The best laid schemes of mice and men, gang aft agley"? The Captain had warned us that the seas would become rough as we approached Tokyo, and they certainly did. One of the stations on our room's TV screen reported winds of over 90km, and this morning we were told they had hit 135km. Spray from the waves was higher than the small balcony on our 5th deck room. This weather completely shut down Tokyo Harbor. It took 4 hours for the Harbor authorities to decide the weather had improved enough for us to enter, and by that time the seas were flat calm. We enjoyed this glimpse of Tokyo - it's a beautiful city.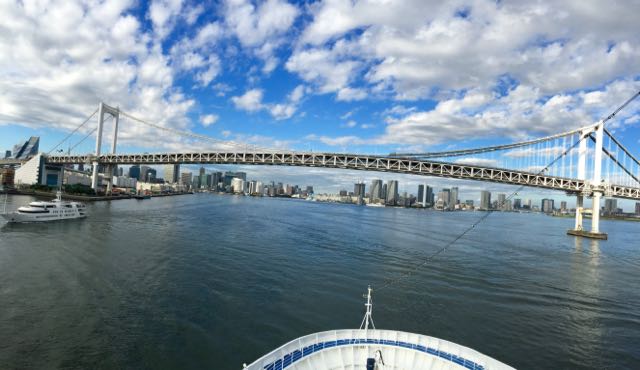 We will be among those many passengers missing our flight home, although the Silversea has found us another flight. Our next adventure awaits...
---
Postcard: Discovering Petropavlovsk
September 25, 2015

[Note: Because of issues regarding "at sea" connectivity, some images below may not load as intended. We will have to await a better connection to complete this one -- but the text is self-explanatory...]
Our story has a happy ending. We were allowed into Russia, and the next morning found us anchored offshore of a very colorful city. On the south end were hillside homes painted the greens, reds and blues I am beginning to associate with buildings in cold climates. Directly ashore, the downtown port area sheltered a variety of working boats, though this was neither the main "trade port" nor where most of the fishing fleet is tied up. A long sandy beach would prove very popular later in the day when the fog lifted. Behind the beach, the town extends back into a valley and into the mountains. Petropavlovsk is ringed by magnificent volcanoes, some of which are active. Earthquakes are commonplace here. The population approaches 200,000 — and this is by far the largest city on the huge and sparsely populated Kamchatka peninsula that is accessible only by ship or air. The vast mainland of Russia to the west is referred to locally as "the Continent".
I was up early and headed for deck 8 - where early morning coffee is plentiful. Stopping by the card room, I found it full of Russians. Two women were asleep in the comfy armchairs, while 8 others, all in uniform, were going through our passports. When we boarded the Silver Shadow, we'd traded these for a room key - but when we went ashore today we'd need them back.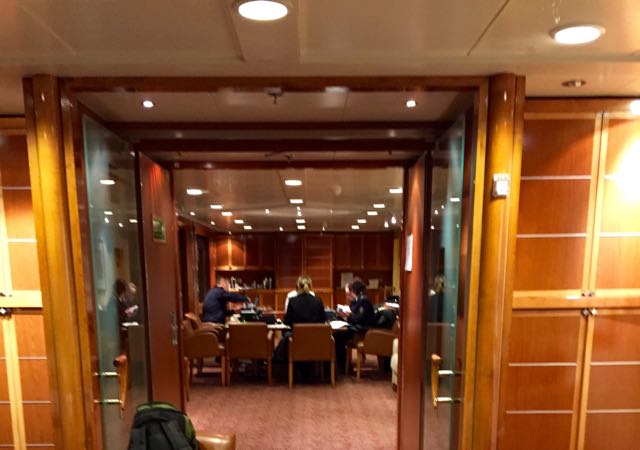 Our understanding was that the various tour groups were to meet in the theater area, and then would be released to deck three to board the ship's tenders. But this was a bit confusing - at least for me. Our tour was to begin at 10:30. When we arrived at the theater, the 9:30 tour was still waiting. There were no other groups there.
Feeling a bit worried that we might have been left behind, I hurried down to deck three. It was absolutely jammed. Passengers were crowded into the area just outside the elevator, and a line of only fairly patient people extended up the stairs toward the upper decks. A row of tables had been set up and here we waited while each passport was handed out. This process was painfully slow, but eventually everyone was sorted out, put aboard the shore tenders and all were off on the various tours. Tom and I had opted for the one called the "Highlights of Petropavlovsk". Others would have taken us well out of town to a Russian Dacha, or to a native Koryak village. Another, longer tour would be using ATV's to explore the nearby Kamchatka Volcanoes. And still another was visiting a sled dog kennel. Each of these would also include stops in the city itself before returning.
Our buses were waiting pierside, each with English speaking guide. Petropavlovsk is a narrow town stretched immediately along the coast.. It essentially has only two main streets, each being one-way. We found ourselves crossing and recrossing the same locations as we motored between the various planned destinations. While we never actually stopped at the 50' tall statue of Lenin, we passed it at least three times.
Our first stop was a tomb-like, white monument to the fallen soldiers of WWII. Beautiful from a distance, even if surrounded with cannons, but, as many things here, it was "under repair". A workman was busily replacing the pavers in the walkway in front of the monument, and the steps leading up to the building were waiting for repairs as well.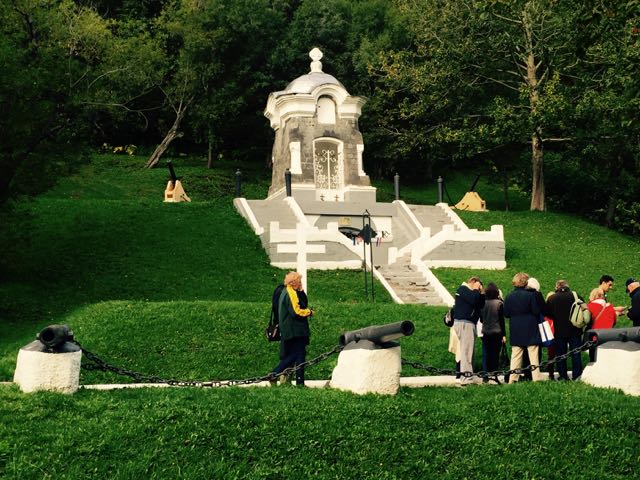 Just across the street, buildings were covered with red and gold banners, celebrating something Russian and managing to completely hide the structures behind the banners.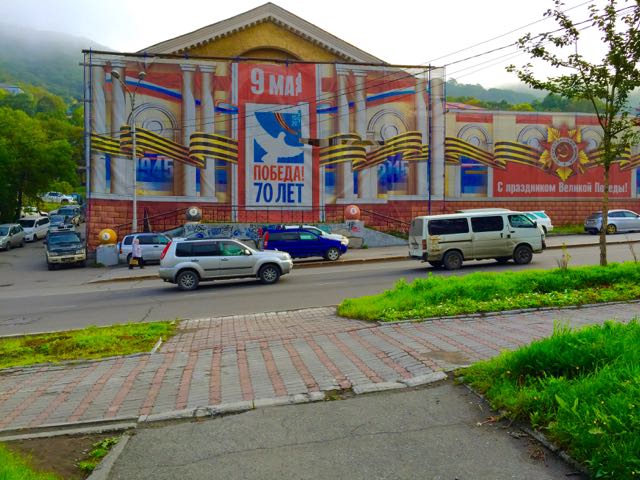 Our next stop was the oldest church In Petropavlovsk. Completely made of wood, it was constructed without using nails. Tom examined the wood railings; they had been intricately notched and fitted. Inside the altar area was beautifully finished in golds, greens and purples.
This decor seems to be the pattern for the Russian Orthodox church. When we later visited a new cathedral on the other side of town, we found similar altar paintings. This newer church also had spectacular ceiling paintings and several equally ornate "stations" scattered through the nave of the church.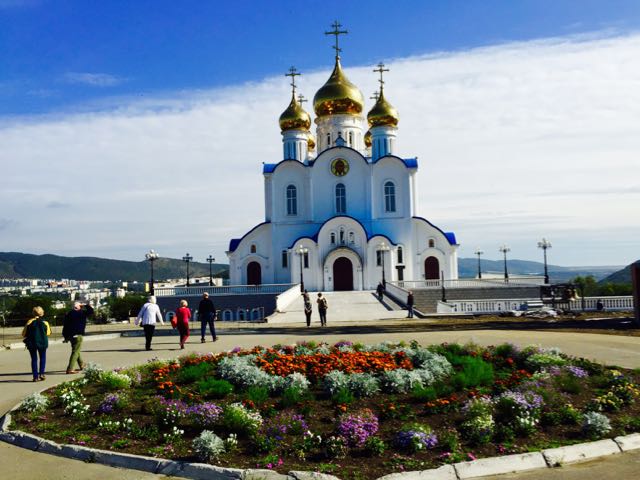 Tom got an excellent panorama shot of the ceiling. Interestingly, in the Russian Orthodox church there are no pews. Everyone stands throughout the service, which can last for several hours. No pews equals an unobstructed view of the gorgeous panelling, however - great for pictures.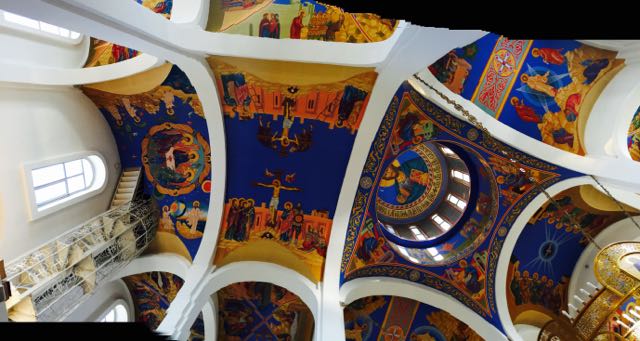 Next our group went to the City Museum. A charming young woman led us through various exhibits, explaining each in great detail - in Russian! However, our guide's English was up to the task of translating very efficiently — she runs a school specializing in teaching English to young Russians. She explained that English is necessary if they want good jobs, and soon they will have to pass an English proficiency test in order to graduate. With these credentials, and an absolutely charming demeanor, she was the perfect host for our day's tour.
The museum was a combination of natural history, native cultures, and the history of this particular area. One corner held a bowhead whale skull, another a display of mammoth tusks; and an entire wall held specimens of the animals once living on this peninsula. Hanging from the ceiling was an exhibit I didn't recognize at first. Two very large pieces of wood, connected with massive hand forged metal hinges, hung from the ceiling and touched the floor. Although time had badly damaged both pieces, I could tell that the smaller one should have been connected to a solid surface, while the larger one would swing free. Then one of the other folks explained it — the rudder from a centuries old sailing vessel. Quite obvious if only I had looked at the pictures surrounding it!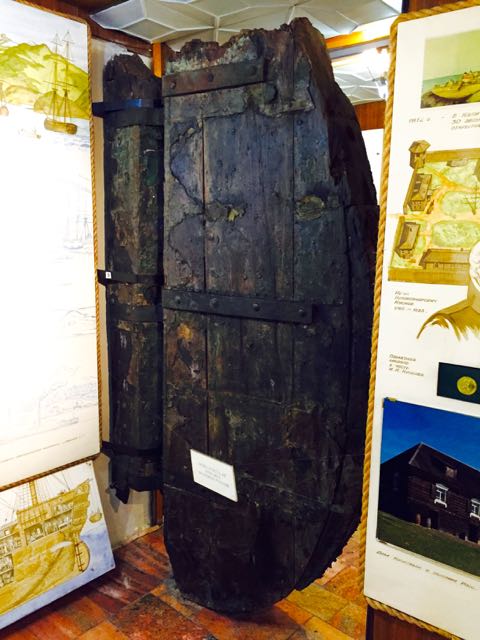 Next stop was the city overlook, a small park on top of one of the hills behind the city. Our bus slowly climbed the 300 meter hill, hugging the center line so closely I worried we might sideswipe another vehicle. At the top, our best views were toward the surrounding volcano peaks; below dense fog obscured most of the harbor,; and the Silver Shadow was a white blur in the mist. The only recognizable landmark was Lenin's statue! That foggy condition didn't last long, however. By the time we got down to the water again, it had cleared away.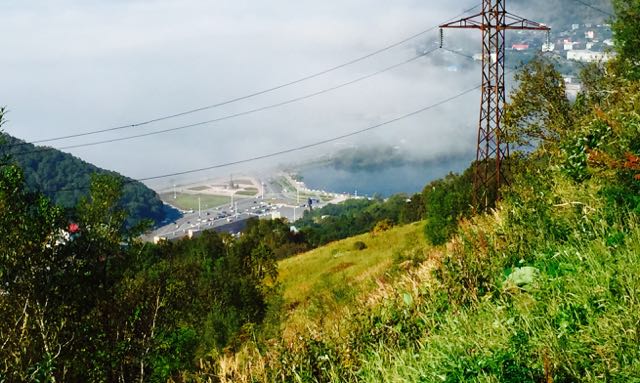 The last stop of the day was the Central Market. The traffic situation in Petropavlovsk is challenging at best. The only two main roads through the city are well outfitted with traffic lights. When we got to the area of the Central Market, the driver turned down a small muddy side road, well pocked with pot holes. A couple of them threatened to swallow our entire bus. Not much of a road, but a traffic-free short cut to the Market.
This large shopping area, housed in a large department store type building was clearly ground zero for all shopping in Petropavlovsk I have never seen such a spotless Market. Everything was white tile, and absolutely clean. The vendors behind the counters we also impeccably dressed in similar spotless outfits. And the expansive area devoted to meats and especially seafood had beautifully arrayed products behind spotless glass counters.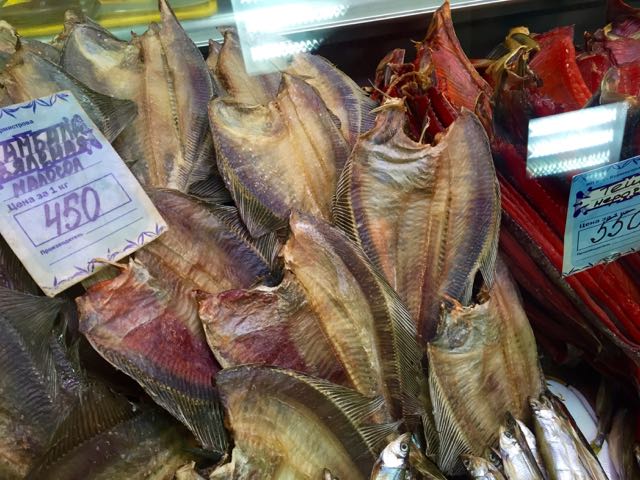 Every fish imaginable was for sale here, and, except for salmon, I recognized very few of them. Some were whole fish; others were cleaned and headless. One vendor was selling what appeared to be fish skeletons, no flesh, no skin, only bones. And every vendor had at multiple large containers of caviar, ranging in color from bright orange to deep red. While translating prices from rubles to dollars, and weights from kilos to pounds was a bit like a math quiz, we concluded that even the more expensive offerings of caviar equated to about $10 per pound. And pound of caviar is a LOT of caviar! A poster on the wall epitomized the popularity of this delicacy.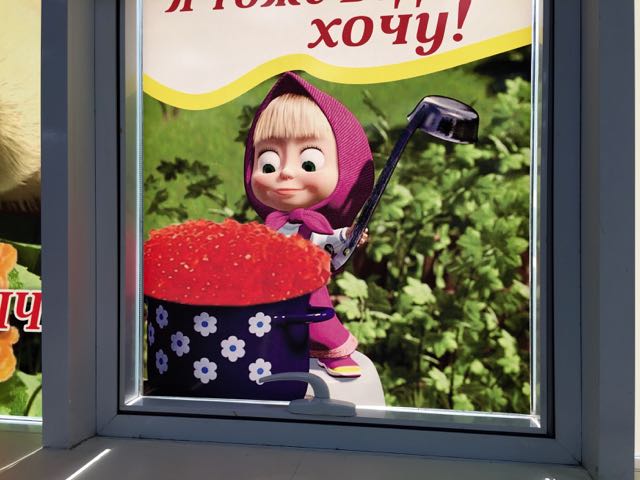 Our tour, originally scheduled to last just over 3 hours, had stretched to well over 4. Arriving back at the ship, we reversed the formalities of departure. First, I handed my key to the ship's purser, who swiped it to ascertain that I had actually returned. Next, I gave my passport to one of the two young Russian soldiers waiting with outstretched hands. He looked at it carefully, then looked at me. I don't much resemble that picture any longer, and was glad when it appeared I had passed that part of the test. Then, without hint of a smile, he asked, "What is your name"? It occurred to me that perhaps a "cute" answer might not be appropriate at that time, so I said, "Stephanie", retrieved my passport and turned it back in to ship personnel. In fairness the Russian officers were efficient but always professional. Home again.
We had a fascinating tour of Petropavlovsk. It's an area of contrasts; we saw some beautiful architecture in the churches; on the other hand, the apartments where the average Russian lives could use some paint and repair. While we didn't have much opportunity for direct contact with the locals, from what we could observe they were polite and friendly — and we'd be happy to have the chance to spend more time here that had been possible.
That evening, as the Silver Shadow sailed out of the Bay, we noticed that there were very few lights on in those buildings. The main lights were to be found in the commercial areas and the headlights of the cars on the road. An unknown medium sized boat seemed to be following us out of the Bay, but it turned and headed back after a mile or so.
Now we'll have a couple of "at sea" days, then dock in Kushiro, Japan for the start of the next leg of our trip.
---
Postcard: At Sea
September 25, 2015
The Silver Shadow rounded the breakwater in Dutch Harbor, and I could hear the anchor chain going out. We had expected to be tied up dockside, not anchored out in the bay, but the combination of a construction barge and the Coast Guard had taken our landing spot at the town dock. Our only other choice was to anchor.
But that was not as easy as it might have been. An extremely windy morning, (88 Km/h), and an uncooperative harbor bottom equalled an anchor that would not hold. And after several tries the Captain concluded he'd have to abandon the effort. The uncooperative anchor was pulled up and we headed back to sea — toward our next stop, Petropavlovsk, on the Kamchatka peninsula in far eastern Russia (aka Siberia).
For the next three days, we'd steadily steam east, crossing the International Date Line, and lose September 23, 2015 in the process. Our calendars would go from Tuesday, Sept. 22 directly to Thursday, Sept.24.
Three days at sea. The Silver Shadow is a beautiful ship, some 600 feet long. It has a guest capacity of only 382 persons, with a crew nearly matching that number. It has a fitness center, steam and sauna facilities and a jogging track. There's a large theater area for lectures and, in the evenings, for shows. But three days? What does one do for three days out of all contact with land? Might this give new meaning to the term "at sea"?
I needn't have been concerned. We've now discovered there is so much to do that we've barely begun to sample it all. The lecture series has been superb. Because we are traveling as part of a university alumni consortium we get the advantage of having in-depth educational seminars from Cal, Harvard and the Smithsonian — in addition to the presentations offered by ship's staff lecturers. Our first "university group" seminar was about Alaska itself: its people, history, culture, economics and politics. It was led by Fran Ulmer, former Mayor of Juneau, who has lived in Alaska for over 40 years. Her resume is impressive. In addition to being Mayor, she served as Alaska's Lt. Governor, and as chancellor of the University of Alaska - Anchorage. Currently she is chair of the Arctic Research Commission. Wearing this latter hat, her second lecture was on the warming of the Arctic and its ramifications for both the communities in Alaska and the rest of the world. She had the unusual gift of dealing with several controversial topics in a completely and factual way — quite refreshing in our world of polarized views.
Other presentations have been equally outstanding. We learned about the Bering land bridge and the Ring of Fire. Cal professor Alex Horne offered up a short course he entitled "Oceanography 101". He described the the varying characteristics of oceans, and the impact of different temperature levels, depths, nutrient levels, intermixing, etc.; and how the water color reflects the amount of algae (read "food") contained within. I would have thought that the bluer the water, the more nutritious it would be. But that is not correct. Those seas which appear green or grey have far more nutrients for the resident fish and mammals. Most importantly he described the potential impacts that current changes imply in terms of social, economic, and even political outcomes. Again, all this in a framework of factual and objective data — and recognizing the need for additional research in several key areas.
Every day there is a talk on upcoming ports we will visit. There are several tours planned in each city, ranging from short town tours to more extensive area one. Happily we've also been given substantial information about how to see each stop "on our own". In some locations we'll be docked in easy walking distance of the downtown area and several of the key points of interest. Where possible, the ship provides a shuttle service to a central location, such as we experienced during our stop in Kodiak. Each destination we will visit has been discussed, with pictures as well as commentary, and we have a good idea of what we will see and where to go.
All these lectures have been held in the ship's theater. However, there are some "just for fun" happenings there as well. I watched a cooking competition between two budding young chefs. The stage was set up as a kitchen, with a cooktop and food preparation area, knives and cutting boards. To begin, each chef was given a black box. They opened their boxes and described the contents - one had a beef filet and shrimp, the other salmon and pork. Each chef was to create two different meals. They had to cook quickly, because 4 volunteers from the audience were sitting around a table waiting to taste their creations. After tasting the food, the volunteers critiqued each chef.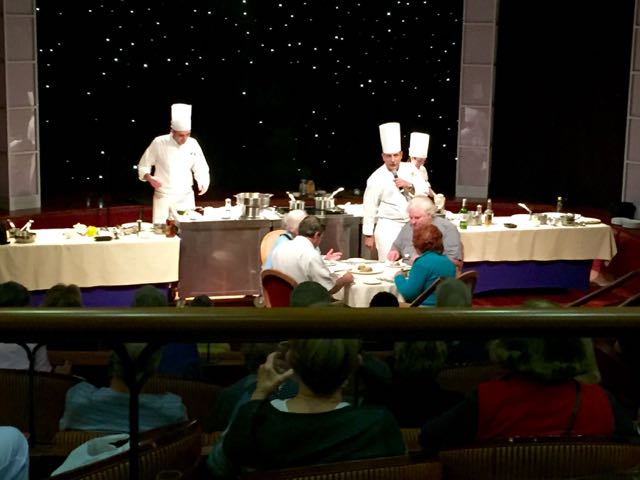 Returning from lunch one afternoon, I passed the open door of the theater. On the movie screen, the three tenors (Pavarotti, Domingo, and Carerras) were singing. "When You Walk through a Storm", from Roger & Hammerstein's "Carousel". That was followed by the songs from "Oklahoma" and "South Pacific", interspersed with narrative from Silversea guest lecturer Dr. Herb Keyser. I enjoyed his presentation so much that I immediately pencilled in the next, about Gene Kelly, and wouldn't miss the one on Judy Garland.
There are other activities in other areas. Bridge seems to be practically non-stop. There are two women who enjoy jigsaw puzzles, and are speed experts at solving them. As soon as they finish one, they open another and begin laying out the pieces.
Every afternoon, the cruise activity director gives dance lessons - everything from line dancing to rock 'n roll to samba. Each morning, contestants for the daily Trivial Pursuit game pick up their quiz sheets, and around 5 PM gather to hear the answers. And each evening there is professional entertainment offered up by the ship's own London-based troupe of singers, a very gifted concern pianist, and even a magician.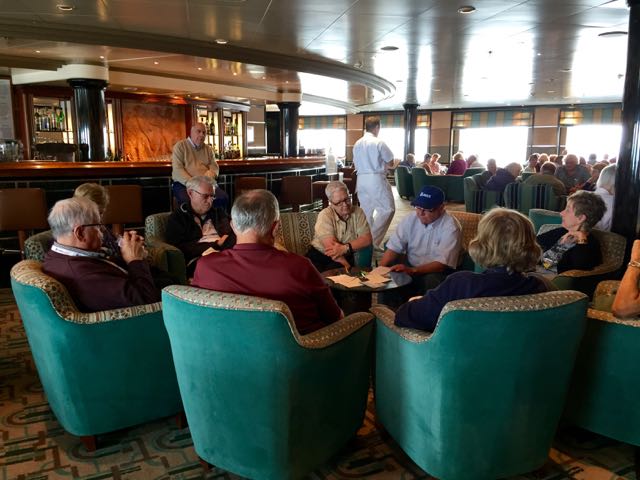 Keeping in shape is always difficult when it seems it's usually time to eat. In addition to a weight room, spa and sauna, there are several complementary fitness classes one can sign up for daily, ranging from aerobics to pilates and more. And the jogging track (9 laps to a mile) gets its share of attention. The first day was particularly cold and windy; even so, there are always some diehard walkers. We've been among them.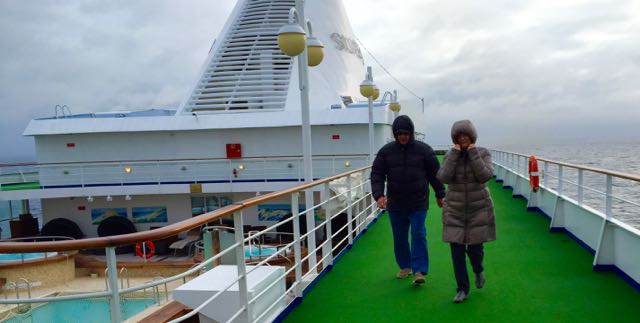 This evening, we are supposed to be in Petropavlovsk, Russia. We were due to anchor around 6:30 PM. We had filled out our Russian Immigration forms, parts A & B, and were looking forward to seeing the city. We still are. However, another change of plans looms on the horizon. About 30 minutes ago, the Captain came on the loudspeaker to announce that the Russian Navy is holding some sort of exercises, and our ship has been told, in effect, to "turn away". According to the Captain, it is all very secretive and "cold war-ish!" Now, we're waiting to see if we will be able to land at all in Russia. Time will tell…
POSTCARD: Transpacific Voyage 2015 — Getting Underway
September 18. 2015
Tom and I have taken several trips with college alumni groups, most notably with the Cal/ Berkeley Golden Bears and the Texas A&M Aggies. We've visited Australia and New Zealand and gone to Tahiti. We've gone on enough "excursions" that trip brochures now make up a good portion of our mail, and most of these get thrown away. But this trip sounded different, and most intriguing. Titled "Anchorage to Japan; a Trans-Pacific Journey", it offered a 15 day trip through areas many have never visited. First, we'd fly to Anchorage, Alaska. Then overnight at the iconic Captain Cook Hotel, and take a 4 hour train trip through the Chugach forest south to Seward. There we'd board the Silver Shadow, one of the ships in the Silversea line. From Seward, we'd head south west into the Aleutian Islands, with stops Kodiak and Dutch Harbor. Beyond, a couple of days at sea would bring us to Petroplavosk, a city on Russia's Kamchatka Peninsula. Then our ship would travel south to Japan, stopping in the northern cities of Kushiro, Hakodate and Aomori before docking in Tokyo. From Tokyo, we'd fly back to Portland.
When I first read the brochure, one of my first thoughts was, "Silversea is going to have trouble filling all the cabins on this trip. How many people want to traverse the North Pacific, with some of the days spent entirely at sea? Or visit Siberia? (Petroplavosk is technically in Siberia). We should have no trouble getting a stateroom." I was absolutely wrong. The trip had sold out quickly nearly a half year before the planned departure, and we were relegated to the waitlist!
But a few months later, we received word that we could be among those taking this unusual trip. We filled out all the necessary paperwork, checked the dates on our passports, and I began thinking about what to pack. We started telling friends that we'd be "going to Siberia". And Tom could even add, (tongue somewhat in cheek), that after his cold war experiences in the intelligence service, he hoped we'd make it back.
After an uneventful flight from Portland to Anchorage, the program read, "afternoon at leisure". This meant for me a short walk to see some of the interesting art and curio shops around the Captain Cook. Then I joined Tom to explore some of the old restored buildings in the historic part of town, and walked a short way along the Tony Knowles Coastal trail. This portion of the eleven mile long trail follows the shoreline of scenic Cook Inlet. The tide was out — grass and mud flats extended far out into the bay. Interesting to think that by later this evening, the water would extend almost back to the trail - a 30 vertical foot tidal swing.
The Tony Knowles is an all season trail. In summer, it can be crowded with runners, hikers, bikers, and dog walkers. In the winter, its used for skijoring - a cross between dog sledding and cross country skiing Simply tie your favorite family pet to a sled, and get pulled along - (it assumes you have a pet capable of this feat) Today, we saw a new use for the trail. A group of tourists, complete with guide, came by on Segways! What an interesting way to see and learn about the city!
Traveling with a University group is a very good way to make new friends. It really doesn't matter when you graduated, or where you now live. You still have some background in common — those years at the same University. As a consequence sometimes you meet people you've met on previous trips. Like this morning. Tom is the poster child for wearing his name badge, and he often convinces me to wear mine as well. You tend to notice those with "your" school tags. A woman from Cal, having breakfast with some Illinois alums, came over and introduced herself. A bit later, a couple, also with Cal badges, came into the breakfast area. This time, the woman came directly over and looked at me. "You look very familiar", she said. "I'm sure we've met before - probably on another Cal trip". And she was right. They had been on the Galapagos Islands trip in November of 2010, when we'd celebrated our 50th with our family!
We were in Anchorage, and our ship was docked in Seward, some 120 miles to the southwest. Our program had devised an interesting way to cover those miles — via the Alaska Railroad. We spent an enjoyable 4 hours traveling first along the shores of Cook Inlet, and then through the Chugach National Forest. We passed the tundra-like bogs along Turnagin Arm, then up through pine forests to pass within close sight of several glaciers not visible other than from this rail route. We arrived at the dock in Seward just in time to check in and be shown our stateroom. Thankfully our luggage had arrived ahead earlier as promised, and was waiting for us in our cabin when we arrived.
Kodiak Island is a place we've always wanted to visit. About 15 years ago, we had our RV at the Seward Waterfront Park, when we decided, just on a whim, to take the Alaska State ferry to Kodiak. We weren't going to take the RV, but just travel as foot passengers. It's about a 10 hour ferry trip from Seward to Kodiak. So we thought we could go over one day, spend the night, and return on the next ferry.
It was late summer, but the weather had turned unseasonably stormy in the Gulf of Alaska, and the ferry was running about 14 hours late. Arrival and departure plans were completely unpredictable, so we decided against our whimsical visit. But this time we'd have a new chance to visit Kodiak.
The Silver Shadow docked promptly at 8 AM, and the first of several tours left for town. However, town was only about a mile away, and we've joined the ranks of the "count your daily steps" group. Also, there was the advantage of being able to stop wherever we wished, and take pictures of whatever we noticed. And there was so much to notice!
We walked past rows of refrigerator trucks, most with their compressors running parked outside several fish packing houses. We later learned they were being loaded with frozen fish and readied for shipment to Anchorage, to the "lower 48" and to Asia. We further noticed the small homes perched above the commercial boat harbor. They were painted in the same blue, green and pink hues that we'd seen last year when visiting Greenland.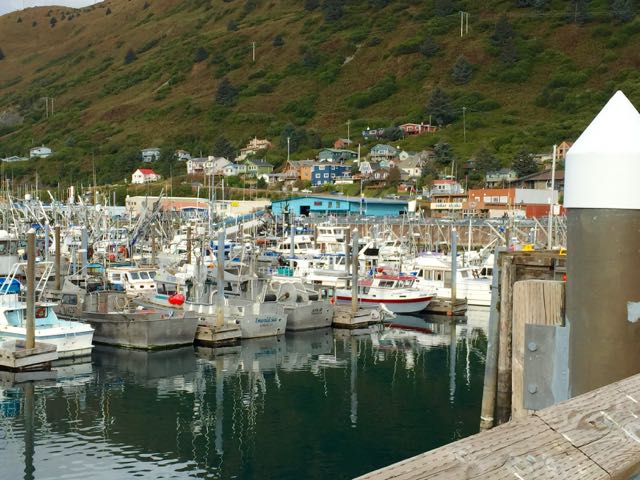 The local high school arts class had fabricated a huge blue and white salmon, made completely from trash picked up on local beaches.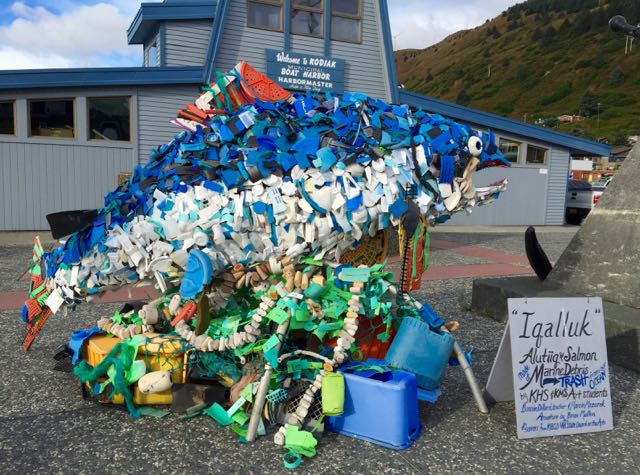 "Pickled Willy's" is a neighborhood store specializing in shipping salmon.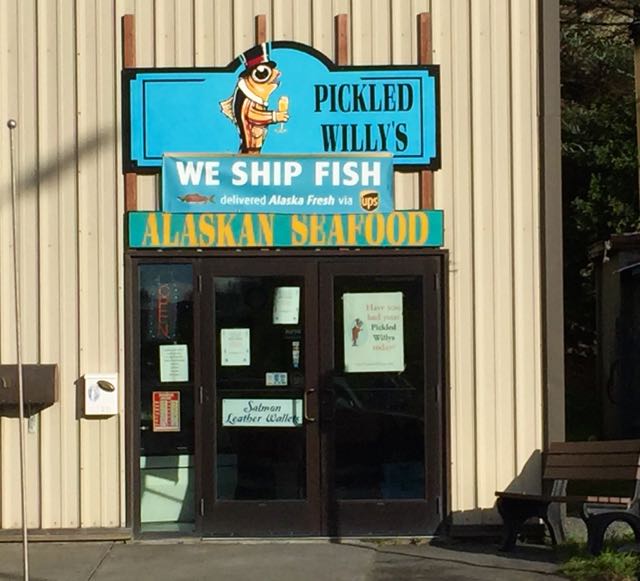 And in the window of a beauty salon, "Keep Calm and Do Your Hair"!
We continued on past the beautiful Russian Orthodox Church.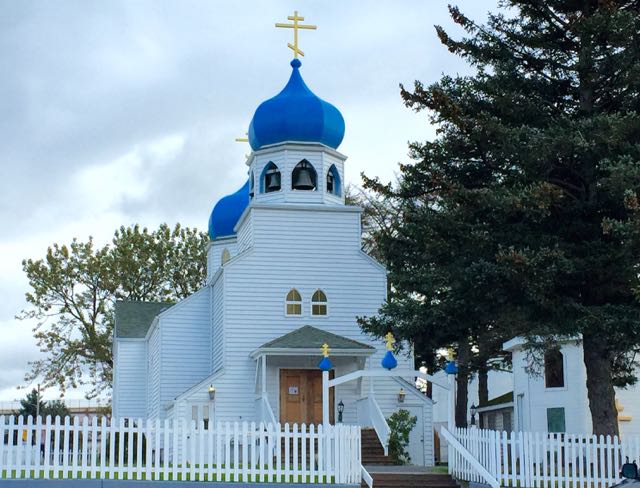 Unfortunately closed due to recent vandalism, and visited the Alutiiq Museum. Here artwork and displays show the culture and history of these Native people - their language, carvings and intricately woven basketry. At the Alaska Department of Fish and Game, I enjoyed the Kodiak ("Grizzly") Bear dioramas — one of a cave with a sleeping mama bear and two small cubs; another of the "Grizzly Grocery store": In separate, grocery style bins were samples of the various berries, seaweeds and fish that these bears get to feast upon.
Now we're underway to Dutch Harbor. Still in Alaska, it is some 800 miles southwest from Kodiak, and the Silver Shadow won't dock until Sunday, Sept. 20. Internet connections are becoming more and more spotty, so other installments of Postcards will be somewhat "hit-or-miss". Off we go!
---
See More Postcards