POSTCARDS
---
Stephanie is one of those persons who can fit a lot of words onto a standard size postcard -- usually by writing sideways, around corners, and even upside down if she can find some extra space. Most of these go to family and friends. But some of them -- those which document our RV adventures -- find their way onto this portion of our website.
---
Postcard: Traveling the Tongass
October 22, 2014
The Malaspina made up all the time lost during the rescue of the Canadian seaman, and docked in Ketchikan promptly at 7 AM. We'd thought our adventures would begin on our northward drive along the Tongass Highway, but no! They began as soon as Tom went to get our car. In Ketchikan, most of the rental car companies are located at the airport. The airport is located across from town by a narrow band of water called the Tongass Narrows. You need to take a ferry to get to the airport. The motel shuttle took Tom to the ferry dock. A 5 minute ride across the Tongass Narrows channel costs $6 per head. Once on the other side, he walked to the airport and the rental car agency. Then he drove back to the ferry (this time a $7 car toll), came back across and returned to the motel. Hmmm… Perhaps that "bridge to nowhere" really had a destination, after all. Rental car in hand, we were off on our second adventure - the North Tongass Highway.
While on board the Malaspina, I thumbed through the latest copy of the Alaska Milepost. This is a "must have" book for northern travels. It outlines, mile by mile, not only what you'll see when you drive the Alaska highways, but also the connecting roads in Canada, the Northwest Territories and the Yukon. It warns you about road conditions, road surfaces and frost heaves. You can page ahead and learn where you'll enter a wildlife area and just what sort of wildlife you might expect to see. Several years ago, driving back from Alaska through the Yukon territory, I read in the Milepost that seeing bears in the St. Johns area was not unusual. That afternoon, as we approached the city outskirts, we saw three bears. A mother and her two cubs were sitting right next to the sign saying "Welcome to St. Johns". A northern welcoming committee!
The book describes parks, and natural wonders such as waterfalls and glaciers. It lists restaurants and motels, gas stations and convenience stores. This trip, the Malaspina purser copied a couple of pages covering the Ketchikan roads, the North and South Tongass highways. They proved a much utilized resource for both trips.
Our Ketchikan motel, Best Western Landing, couldn't have been more conveniently located. Right across the street from the ferry terminals, we could watch the boats come and go. Perhaps we'd like to visit Annette island. The Lituya, smallest boat in the fleet, departs twice a day for the native village of Metlakatla ("Met" to the locals). How about Prince of Wales Island? Once a day the much larger MV Stikine leaves for such intriguing sounding towns as Craig, Hollis and Klawock. Maybe next trip…
The weather improved as we started out on the North Tongass Highway. The road follows the water - northwest along the Narrows, then north along the wider stretch of water called Clover Passage and on to a dead end at Settlers Cove State recreation area. That's it - the road simply stops 18 miles from town. There's lot more island left, but not even a Jeep track to take you there. However there are several interesting places to explore before you get to the end of the road.
About 5 miles out, we passed a sign for Ward Lake. On one of our earliest forays into Alaska, we stopped for a couple of days in Ketchikan, and camped here. At that time, we had a small camper, packed to the roofline with our clothes, fishing gear, and a one man inflatable boat borrowed from a friend. With Tom in the boat there was barely enough room for his fishing pole, let alone the several nice trout he bought back for dinner.
Ward Lake hasn't changed much since our long ago visit. It's a great spot for small rigs, with attractive camping spots nestled in the firs, all with tables and fire rings. There's a hiking trail around the lake - but we decided to leave that for tomorrow. On to the end of the road.
The weather continued to improve as we drove up the Highway. At mile marker 9, we arrived at Totem Bight State Historical Park. We followed a short trail through some tall firs to a community clanhouse, and totem park.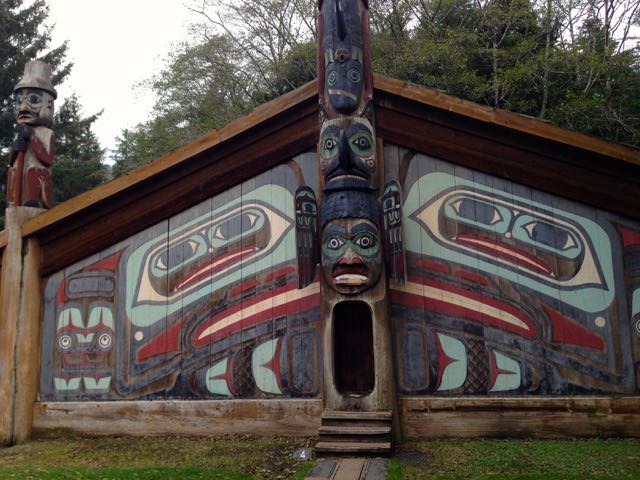 These totems are either restored originals or duplicates carved by Native carvers. The clanhouse is representative of those found in many early 19th century Indian villages of the area. Most of the poles are carved in the traditional manner, with varying images - bear, fish, man, etc., though my favorite was just a smooth pole with a halibut at the top.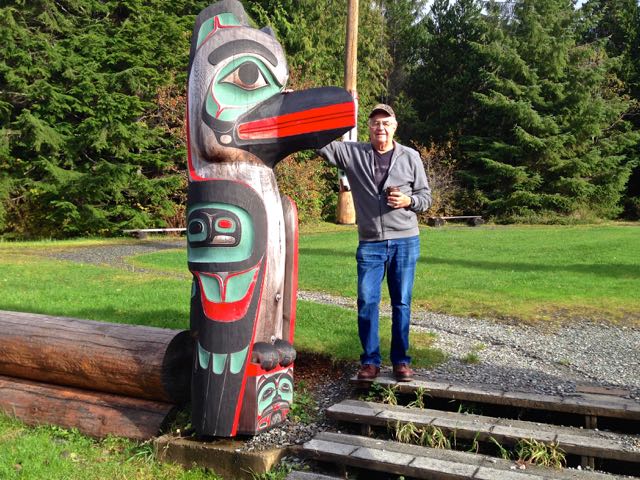 More and more sun as we followed the road past Knudsen Cove, where a marina is home to dozens of boats, hundreds of gulls, at least four seals and a rainbow. At the end of road, Settlers Cove has a small campground similar to the one at Ward Lake, with easy beach access, and enticing hiking trails. The Milepost describes these trails - "additional wildlife viewing opportunities for black bears and Sitka black-tailed deer". Here was the end of the drivable road, and wasn't it really too late to enjoy those "additional viewing opportunities".
The sun was shining and the wind was calm as we took the South Tongass Highway south the next day. Our first stop was Saxman Totem Park, mile marker 2.4, south of town. Several poles line Totem Row Road, which leads to Saxman clanhouse, and a large lawn area surrounded by additional poles. These, however, didn't seem quite as authentic as those at Totem Bight - perhaps because the carved and painted fronts have been hollowed out and fastened around blank poles. The view from the front of the pole is quite different from the view at the back.
We peeked through the windows of the building where the totems are being restored or duplicated. Some items shone with fresh coats of paint; others were still in the carving process. The building was closed, perhaps for the season. As we were walking back to the car, Tom noticed that we were standing at what must be a uniquely Alaskan intersection.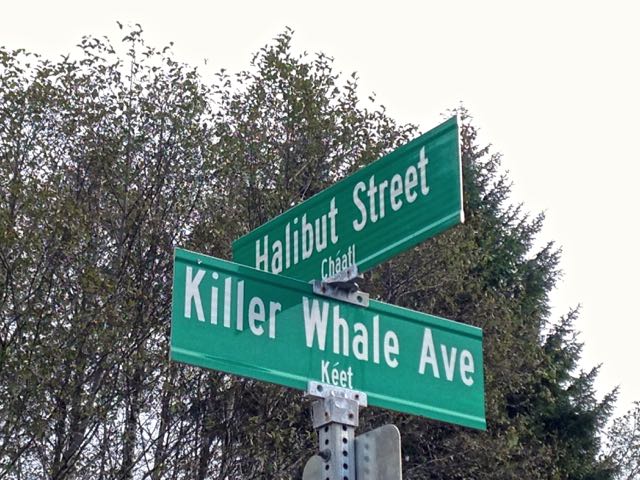 South Tongass ends 12 miles from town at Beaver Falls Powerhouse. Here the water from a nearby mountain lake provides is funneled steeply downhill to some turbines at the water's edge, and provides much of the electricity for the city. Here, too, a trail takes off, straight uphill. I walked to the trailhead and looked at the maps. This trail is an alternate route back to Ketchikan. The distance would have been about 20 miles, over fairly high mountains and across areas of snowdrifts. Perhaps not the best way for this tourist to get back to town. I rejoined Tom and the car for a ride back.
One last stop at the Herring Cove Bridge. Again according to the Milepost,
"there is bear watching from the bridge and the cove side viewing area when the salmon come into the cove in late August". Today we saw one otter, half a dozen seals, and 4 eagles all watching for any late arriving fish. Suddenly, one large salmon shot past us. I saw only the huge ripple he made as he sped into the protection of some nearby tree roots. There he made a hard left turn and headed further upstream. Tom had seen him and guessed the speedy fish weighed well over 20 pounds.
The weather was so good that we opted for one last afternoon Alaska adventure. We'd walk around Ward Lake on the trail we'd seen the day before. It was a beautiful walk, about a mile and a half on a mostly level trail. We ambled along, taking pictures at every bend, and moving aside for joggers and several families out exercising their dogs and enjoying the sunny afternoon.
Tomorrow we head back to Oregon and home. What a great trip this has been! Late October is certainly not the time to visit if you want to see the tourist attractions - Ketchikan's tourist industry is shut down for the season. You won't need a reservation to have lunch or dinner at Annabelle's restaurant on the downtown waterfront. If you want to walk up Creek Street, the notorious "red light" district of old time Ketchikan, you won't have to fight your way through hordes of tourists. The cruise ships have departed for warmer climes, and the ferry schedule has been trimmed to its wintertime level. But for exploring, this is the perfect time. Few tourists (in season, Ketchikan gets around 5,000 everyday) are crowding the totem parks or jamming the streets. No tour buses are taking up multiple parking spots. The whole town is taking a deep, relaxing breath. That sentiment was graphically expressed by our shuttle driver.
"By the end of August", he said, "I've lost a lot of my congeniality. When I have to stop because someone is standing in the middle of the street, taking a picture of the mountain, I feel like yelling at him (or her) to move out of the way. The boats generally leave around 2 PM, and many of the stores close for the rest of the day. We're tired!"
The advertisement in the October edition of the Alaska Airlines magazine says it best.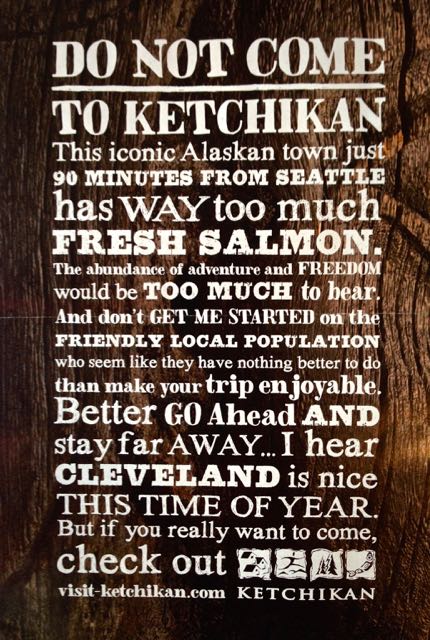 ---
Postcard: Destination - Ketchikan
October 21, 2014

Tom and I have visited Alaska almost a dozen times over the last 25+ years. With one possible exception, we've used the Alaska State ferry system for one leg of each of those trips. We've driven our RV aboard, set the parking brake, ensuring that the car alarm will not sound if rough water is encountered, and headed for a cozy stateroom. We were aboard the ferries when they left the Port of Seattle, and more recently we've been pssengers when the boats left the docks in Bellingham. We've disembarked in Ketchikan, Juneau, Haines and Skagway — with interesting shorter stops ashore in Wrangell and Petersburg.
Each trip has been unique. While the ferry system may be a bit short on such amenities as Captain's receptions, towels folded to resemble animals and mints on your pillow, it has a charm that the mega ships do not. This is how the local folks travel. One year, the "Shady Ladies of Wrangell" came aboard. These 5 women were headed to the state fair in Haines, and were delighted to have a practice audience for their show. I'll never forget their rendition of "Working on the Slime Line"! On a trip out to Sitka, many passengers were astonished to see pink flamingos in the pines. Do flamingos really come this far north? (Of course not, that was someones idea of a joke. It worked — just ask Tom) We've learned from naturalists' talks on the flora and fauna of southeast Alaska. We've crossed Queen Charlotte Sound when the sea was flat calm and the sun demanded shorts; and other times when gale winds and huge seas made you grab the railings or anything firmly anchored just to walk about the boat. We've seen humpback and minke whales, orcas and dolphins, seals and sea lions. We've gone through narrow passages and docked in ports where the behemoth cruise ships cannot go. This is clearly "the other side of the [cruise] story".
However, we do not always take an RV with us. A late fall sailing can mean early winter driving once you reach Alaska. So when the "Alaska bug" bites us at this time of year, we've devised another means of travel. Last year, we took the ferry to Juneau and flew home. This trip, we're off to Ketchikan. Ferry up and again, we'll fly back.
We left our small home in Florence, and followed the coast to Portland. We parked the car at the airport Radisson (which has a very convenient "park and fly" set-up), and took their shuttle to the airport. Next we walked to the light rail station and took the efficient Portland light rail transit back downtown. At Union Station, we caught the 2:40 PM Amtrak Cascades north to Bellingham, Washington. Convoluted, but but not inconvenient.
The Bellingham Amtrak station is located right next door to the ferry terminal, and within easy walking distance of the Fairview Inn, a charming Victorian hotel in the city's Fairview district. We've stayed here before when taking the ferry north. We enjoyed a late dinner at Skylark's, a restaurant just up the street which serves dinners after 11PM - convenient for Amtrak riders. The next morning, I had plenty of time to enjoy the many small shops in the area. That afternoon, we returned to the terminal and boarded the ferry Malaspina. According the information board in the purser's office, we'd arrive in Ketchikan in 37 hours. However, this would prove to be a tough schedule to keep.
The seas were fairly rough as we headed north, but by the time we passed Vancouver, BC, they had calmed somewhat. As the boat traveled across the Georgia Strait and up the eastern coast of Vancouver Island, the water became flat calm. Not a ripple. That was probably why the captain was able to spot the man waving for help from his overturned boat. We were just west of Campbell River when the crew got the mayday call, and went into rescue mode.
It was about 2:00 AM, and I had been having some trouble sleeping anyway. So the voices in the corridor fully awakened me. Our cabin was located close to the Purser's office as well as to the first aid station. And while the crew members were keeping their voices as low as possible, I heard words like "emergency", and "bodies in the water". I quickly pulled on some clothes, woke Tom, and we went to see just what had happened.
The purser explained that a smaller boat had started taking on water, and quickly overturned. Of the three men aboard, only one had been able to exit the wheelhouse. The other two had been trapped inside. The Malaspina just happened to be in the right place at the right time. A lifeboat had been launched with a small crew trained in search and rescue. They quickly got the survivor they could find out of the water and onto the ferry. They wrapped him in blankets; and,once he was being cared for, the ferry crew went back out to see if they could find the boat and the other men.
By the time Tom & I got onto the deck, we could see the bright lights of several searching boats, as well as the beacons from our ferry. Listening to the accounts from various crew members, the Purser, and one man who had actually seen the survivor being brought aboard, we heard different versions of what had actually happened. How the surviving man (boy actually, since he was only 18), had been thrown clear of the cockpit when the boat capsized, how he was the only one wearing a life jacket, and how this rescue was far from the first for the ferry crew. The fact that the sea was absolutely calm, and the accident had just happened, greatly added to his chances for survival. Rough seas, plus the exceptionally strong currents of Seymour Narrows, would have made it extremely difficult for the ferry crew to have ever seen or rescued him.
The Malaspina remained in the area for about 3 hours, searching for traces of this terrible accident. The ferry's small tender continued combing the area, joined eventually (though it took nearly an hour an a half) by a search and rescue helicopter. A Canadian Coast Guard vessel pulled alongside, not an easy task in the dark and with the tidal current running strongly. Eventually the survivor was transferred to this boat and taken to Campbell River. By the time the Malaspina was cleared to leave no trace of the boat or its remaining crew had been found.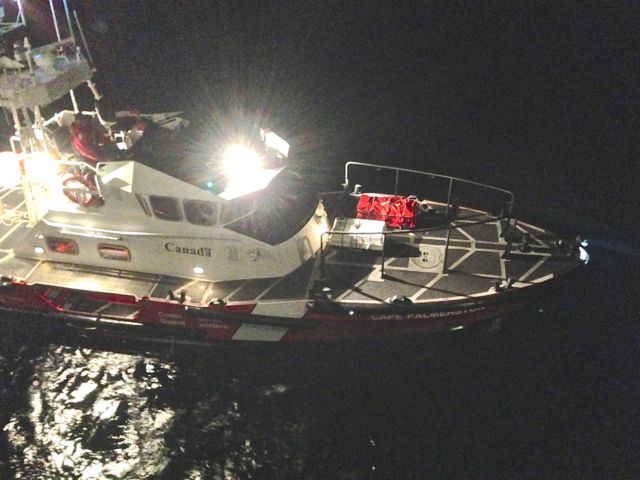 Tomorrow morning we'll disembark in Ketchikan and begin the second leg of our Alaska trip. Getting around Ketchikan is especially easy, since the only road, Tongass Highway, runs north of town for 18 miles, and south of town another 12. We'll spend a couple of days exploring the area, and look forward to seeing Totem Bight state historic park, and the Totem Heritage Center at Saxman Park. And there's Creek Street, the one time red light district, which now houses shops at the base of the Cape Fox Hill funicular, a cable car lift which climbs 130 vertical feet for great views over the city. That would be an interesting trip if the predicted rain lets up and there is a view to be had. Otherwise we'll devise a Plan B and see where that might lead us. Me? A little less excitement would be perfectly OK.
Postscript to this postcard. This morning, we saw a news report of the boating accident from the CBC Canada news. Here is the Canadian version...

---
Postcard: Postscript to Greenland
August 15, 2014

Question: When is a cruise not a cruise? Answer: When it's an expedition. According to my dictionary, a cruise is "'a vacation" on a ship or boat following a predetermined course, usually calling in at several ports. An expedition is "a journey or voyage" undertaken by a group of people with a particular purpose, esp. that of exploration or scientific research. Our time aboard L'Austral was a bit of each. We enjoyed the amenities of a modern "ice rated" ship — comfortable cabins, spa, salon and two restaurants, each serving excellent fare. Our schedule called for predetermined stops, but weather, ice or captain's decision could (and did) alter these. At least once a day, there were lectures concerning some aspect of where we were and what we could expect to see. And each walk/trek/hike we took was led by a naturalist intent on making sure we learned something about Greenland.
We traveled with a group of University alumnae from various schools across the US and Canada. Our group totaled 42 of a passenger list of 232 - the rest were mainly French citizens. When we had combined briefings, comments were given first in French, then in English. Somehow it seemed the French translations were longer than the ones given in English. Thus, French speakers may have gleaned the first hint about our "celebrity" captain, Patrick Marchesseau.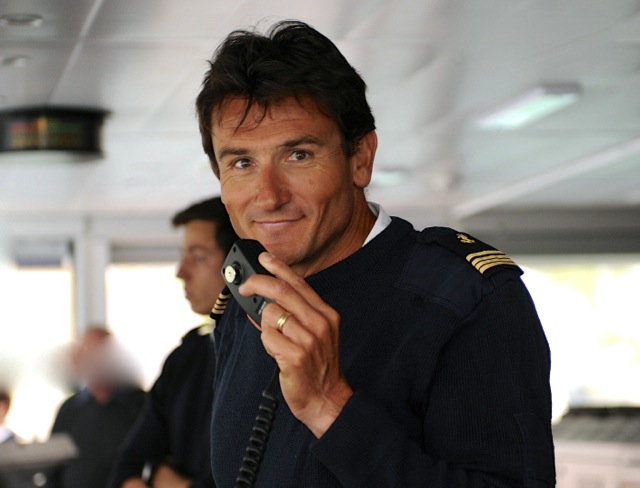 It started as a rumor. "Did you hear about the Captain? He was captured by Somali pirates! He and the crew were held for a week until the combined French and Canadian navies rescued them".
In 2008, Captain Patrick Marchesseau was in charge of the Ponant, a 290 foot, three masted, French luxury yacht. His adventure began as a routine trip, taking the Ponant to the Mediterranean - repositioning the ship for its summer cruises. There had been rumors of pirates, but no one was particularly worried, as they were traveling quite far from the Somali shore. However, pirates did board the Ponant, and the crew of 30 was held hostage for a week before being freed. I found two links to this story - one as it was published in the April 2009 edition of "Vanity Fair; the other a New York Times report. Interestingly our little group of 42 had arranged for a private briefing from the Captain about his Somali experience; and we heard first hand of his experiences and impressions. Fascinating..
But now our 2014 "expedition's" end was drawing near. The days that had stretched so far ahead of us had vanished all too quickly. As we left the village of Ilyussat and began our overnight journey south to Greenland's only international airport, the Captain sounded his first cautionary note. Until now, we'd been frequently surprised by his seemingly spur of the moment, animated announcements over the ship's intercom system. "Fin whale off the starboard bow", or "Its showtime outside!" Those announcements could come at any time - several times a lecturer found his microphone dead in mid-sentence so that all could hear the Captain's voice. One such announcement even woke us at 4:30 AM! This afternoon, however, he quietly mentioned that we might experience some wind and wave action later on. He assured us that it would be calmer by the time we made the turn into the Stromfjord fjord and headed toward our final distention at Kangerlussauq. He was quite firm in advising that we be sure that items in our cabins were not in danger of falling.
As we approached the open water of the Labrador Sea, the wind and waves picked up considerably. Even on the 5th deck, the spray from the waves exploded over our railing, power-washing the small deck and sliding door. A quick trip to the bridge revealed a display of waterspouts in all directions. Just walking around had to be done with an eye to what to grab next. On our cabin TV there was a wind indicator - one gust hit 139 km/hour - 86 mph!
On board L'Austral, there are two dinner choices. On the 6th floor, an informal buffet meal is served each evening; while dining room on the 2nd floor is more formal. We decided that the 2nd floor would be considerably more stable than the 6th, and we wouldn't have to walk around perilously with plates of food. We headed for the elevator. Instead of the lighted numeral indicating the floor, the elevator showed an "X". Time to take the stairs!
L'Austral is equipped with twin stabilizers, and rode this storm remarkably well. The Captain kept her quartering the waves, and there were no boat shaking thumps caused by hitting the bottom of a trough. Still, the waves blasted the windows with such force that I worried they (the windows) might break. But the Captain was right, as we entered the next fjord, the waves and wind quickly eased.
Next morning, no more life jackets, no more zodiak rides. This time we took tenders ashore. There was a convenient dock and buses waiting for a morning trip to the Greenland Ice Cap. We couldn't get close enough to the ice cap to actually touch it - the guides probably visualized rescuing someone who had climbed up on it and….? But several of us were able to take pictures of it from just across the river gushing out from it. Next came a Greenland lunch. In addition to various salads, a little Greenlandic lamb and chicken for the faint of taste, musk ox burgers and reindeer steaks rounded out the menu. I tried a bit of everything - excellent, though musk ox needed a bit of something to give it taste. In the afternoon, we toured the area to see what animals we could find. 4 musk ox, grazing near the river, will probably seem like black smears in many pictures taken at considerable distance by our fellow passengers. We saw an Arctic hare - very large and totally white. But no Arctic foxes. Many foxes here have rabies, and the government has put a 10 euro bounty on their heads, which would help explain their absence.
As we headed back to the airport and our 6PM flight to Reykjavik, we had another "expedition" experience. The storm we had encountered the previous evening had caused our inbound charter flight to be late - at least 6 hours late. That was the bad news, because there really is no "town" at the country's only major airport; and no facilities to handle 230 outbound passengers. But the good news was that we were all going back to L'Austral for dinner! After on final unscheduled fine dining treat we'd head back to the airport. So back to the port, and the waiting tenders to get us back on our ship once again.
We were warmly welcomed back aboard the ship — with the Captain being personally present to welcome each of the tender-loads of returning dinner guests. There was lots of laughing, and "can't get rid of us so easily" bantering. Around 8 PM, 230 well fed passengers headed to the airport for the chartered flight to Reykjavik and our various connecting destinations. The arriving plane would bring another group for the next L'Austral expedition — which would go still further north.
From Reykjavik to the dock in Kangerlussauq (airport) we had traveled by water 2,153 nautical miles — 2,476 "regular" miles. We'd been aboard the ship for 11 adventure filled days, seen unbelievable beauty, and learned a lot about the history of this unique ice-capped country.
I was fascinated with the language from the time I stepped aboard the Icelandair flight in Seattle. How can anyone learn to spell or pronounce words which are over 14 letters long, and are full of "q's" with no following "u"? There is a simpler way, and one used by many folks when their tongues get tied into knots trying to pronounce Icelandic or Greenlandic words. For example: Jim Zimbelman, our lead group scientist from the Smithsonian, gave a lecture on the volcano, Eyjafjallajökull. He had spent several months in Iceland, and could pronounce the word perfectly. But it's much easier to say when you call it "E-15". That's "E" (the first letter), and "15" (the number of letters that follow).
If you superimpose Greenland on a map of the US, it stretches from Montana east through Minnesota, and south across the border well into Mexico. Yet it is virtually empty. In the 2013 census, there were only 56,370 people living in the whole country - all in coastal towns and villages, since the interior is one enormous sheet of thick polar ice. Nuuk, the capitol, has a population of over 16,400 - 3 times the size of the next largest town. The populations of the next nine towns together accounts for an additional 25,552 people. That leaves 14,364 scattered in very small villages, 29 of which have a population of fewer than 100 persons. No roads connect the villages. All transportation is by boat or by air. Because of the extensive polar cap that covers all but the outer coastal areas, Greenland is "storing" 10% of the planet's fresh water.
We saw no wild animals except for the 4 musk ox and 1 Arctic Hare - (unless I count the 4 sheep I spotted on a farm in Hvalso, or an occasional sled dog in the villages). Polar bears are found farther north than we traveled. We didn't see reindeer (though we did have a taste of one). Birds? Glaucous winged gulls, Northern fulmars, snow buntings, Northern wheatears, cormorants and a scattering of Canada geese. In the water, we were more successful. Our whale watching turned up fin whales, humpbacks, bottlenose and pilot whales. We saw several species of seals - a staple of the Greenlander's diet. And not to overlook the mosquitoes in the tundra which number in the millions.
It's a starkly beautiful land - with its harsh climate, the sort of trees most of us would recognize cannot grow. Stunted birch and willow make up Greenland's "forests". The standing joke is, "What do you do if you get lost in a Greenland forest"? The answer - "Stand up". Instead of trees, it's miles of spongy tundra underfoot, stretching inland to the massive ice cap, sometimes near, never far, and always inevitable.
It was an awe inspiring trip; one we'll always remember.
---
Postcard: Greenland, Ho!
August 10, 2014

Off to Greenland. L'Austral departed Reykjavik harbor Monday afternoon. Several Icelanders, fishing from the harbor pier waved farewell. We'd be at sea for over 40 hours before entering Greenland's waters.
I expected to round Cape Farewell on the Greenland's southernmost tip, and then head north along the west coast, but the Captain knew a short cut - Prins Christian Sound. An added bonus - trading open ocean for the quiet waters of this 51 mile long passage.
We started spotting icebergs well before we got to the entrance of Prins Christian. Hundreds of them, in every shape and size, assuming familiar shapes. No, that's not really a castle, even if it does have a tower and high walls. No, those are not gulls paddling in the water, and that's not a small boat with outboard mounted on the stern. But just when I assumed that everything in view was made of ice, I was wrong. That iceberg ahead of us that looked like a ship turned out to be exactly that - another ship!
We slowly cruised up the Sound. Twice we spotted seals resting on sea ice; and our ship edged ever so slowly towards them so everyone could have a closer look. The size of these fat seals led me to think they might actually be sea lions, but when I asked one of the naturalists, I learned that 1. Sea lions aren't found this far north, and 2. these are bearded seals, one of the largest species, and only found in these waters.
Having naturalists on board to answer my questions adds a lot to this trip. There are 11 of them on board, from France, Germany, the Netherlands, and Costa Rica. Among them, Andreas, (German), is extremely knowledgeable about the various types of rock we're glimpsing, Jerome (French), and Marcel (Costa Rican), can identify Greenland's birds and flowers, and Petra (Dutch) is an expert on marine mammals. Cecile and Florence specialize in the history of polar expeditions. Most of them also fit lectures into our spare cruising time — a commodity that seems always in short supply. A member of the Smithsonian Institution in Washington DC is traveling with our group, and has given two excellent lectures on volcanos. I'm looking forward to his joint lecture with Andreas on global warming, and the scientific assessment of its causes.
Our first stop and chance to actually walk on Greenland's soil (actually a sponge-like tundra) came at Hvalso, in the Kangerfluarssuk Fjord, home to one of the largest Viking ruins on the island. It was an early morning excursion, with the first Zodiak due to depart at 6:30AM. I guess I was excited, because an hour before we were due to land I was in the wheelhouse, watching L'Astral sail up the fjord. Our ship has a very lenient bridge policy - when the sign on the door says, "bridge open" (almost always), go on in. You can see all the marine electronics used to guide this 466' vessel, and watch the captain and bridge crew steer the ship through the often iceberg laden waters.
The day could not have been more beautiful. An idyllic sunny morning — not a breath of wind. And once ashore, parkas and life jackets, (the latter required attire when traveling by Zodiak), were left in bunches along the rocks. The group spread out along the tundra slopes, some to explore the ruins of the church and farmhouse, some to walk the beach, and still others just to find a nice rock seat to enjoy the sun. We climbed to the top of a small rise, to an incredible view out over the still waters of the Fjord.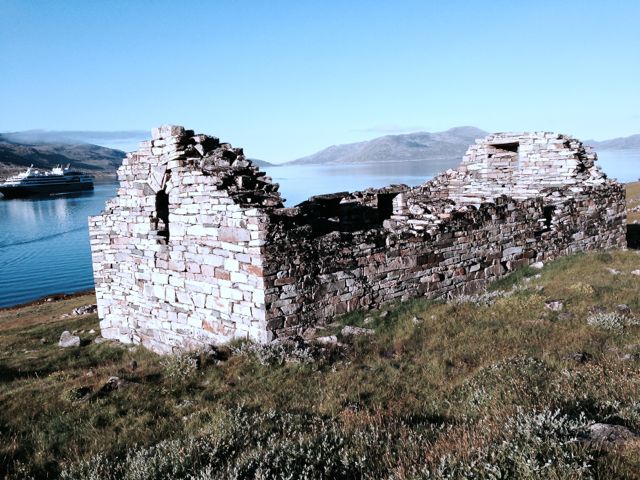 The Vikings came to Greenland from Iceland more than a thousand years ago, but all their communities had vanished by the end of 1400. Why? There are more questions than answers. Were they killed by the Inuit or an invader? Was it the climate? The Norsemen were farmers, not fishermen. The "mini " Ice age occurred at about this time, and it would have made it impossible to grow any fodder for the livestock. Did they then return to Iceland or Norway? Without livestock, did they all die of starvation? What happened to them remains one of this region's many puzzles.
We continued northward toward the small fishing town of Narsaq. The waterway became progressively narrower and more ice laden as we slowly traveled inland. Suddenly. I saw an Inuit man in a small outboard coming towards us. He shot by us at a high rate of speed, rounded a small island and flew through the ever increasing iceberg field without noticeable slowing. I followed his progress with my binoculars. Surely the huge (by comparison) L'Austral wasn't going to follow him? But we did.
Just north of Narsaq, we anchored in a bay fairly brimming with icebergs. Some of the group went kayaking among them; we opted for a Zodiak ride. We spent nearly an hour cruising among them, taking picture after picture. One was shaped like the Sidney, Australia opera house. Another had a gaping circular hole melted through a vertical fin. One was a jumbled mass of blue ice - resembling nothing more than a gigantic blueberry snow cone. And always there was another iceberg, just "over there", that demanded a picture. Our ride ended far too soon.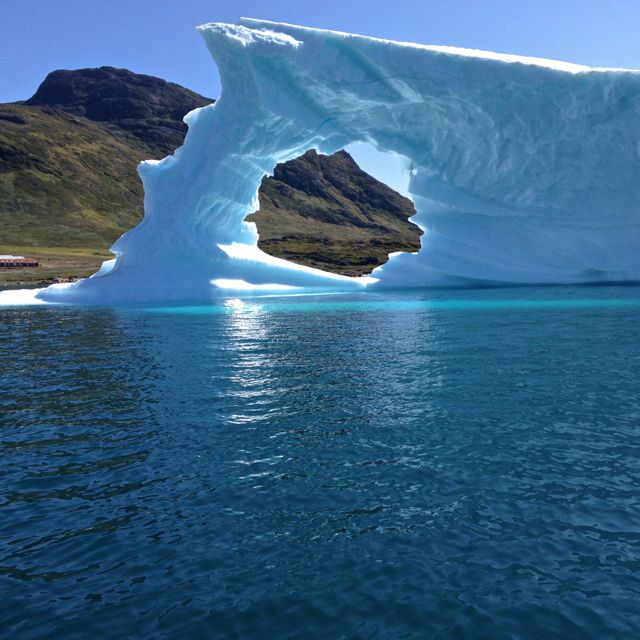 Some 300 km further north lies Nuuk, our stop the next afternoon. Nuuk is Greenland's capitol, one of the smallest, pop. 16,454), and the farthest north capitol in the world. Docking took a bit longer than anticipated - we had to wait until another ship pulled out. This ship, the Ariana, and L'Austral have been playing tag for a couple of days, passing one another, losing sight of one another, then catching up again. She is the only other cruise ship we've seen - a far cry from the situation in many other parts of the world at peak season.
The goal this afternoon was the Greenland National Museum. Our group was scheduled to depart by bus at 4:45PM - but if we didn't want to wait that long we could walk. Armed with a city map, Tom and I took off. The map was a "fairly" good guide, but the best directional indicators were other folks wearing the distinctive, ship issued, red parkas. We followed those parkas, and in just under two miles, found ourselves at the museum, and its accompanying tourist center.
Our walk brought us to "old town" Nuuk. Scattered along the edge of the bay is a line of the sort of homes I'm beginning to recognize. They're not particularly large, but their vibrant colors, reds, blues, greens, pinks and yellow are extremely picturesque.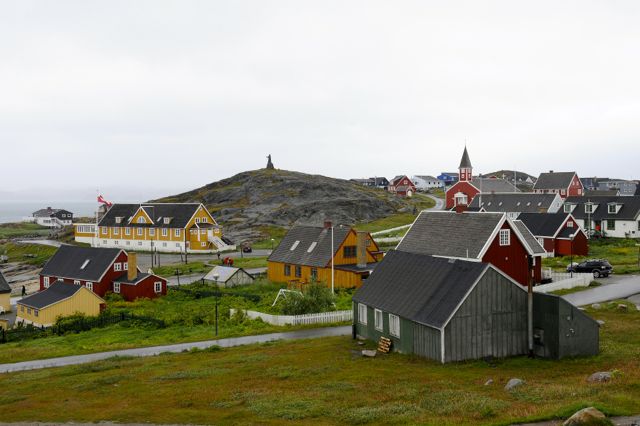 Before we joined our museum tour, we stopped in at the tourist information center. As a result of that stop, we are bringing home a Tupilak. A Tupilak is a avenging monster, typically carved from the horns of a reindeer. If you have an enemy you want destroyed, and, if you have a resident Inuit shaman, pay him a visit. He'll make one for you, bring it to life by the use of chants, and then place it in the sea to seek out your intended victim. Its use is risky however, because if the person you want destroyed has greater powers than your shaman does, the Tupilak might return and kill its maker. And then where will you be?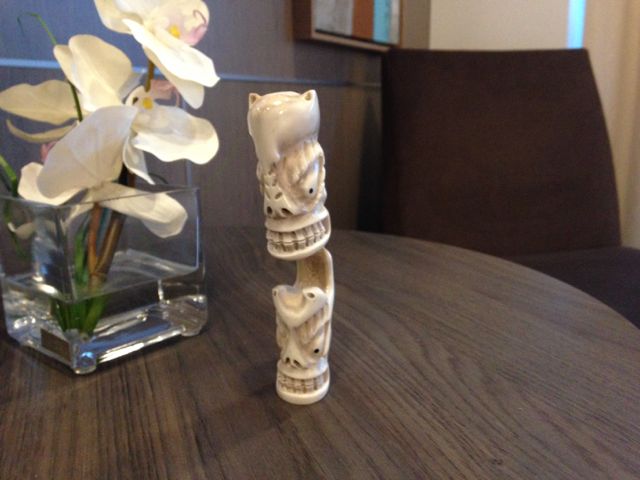 The museum's collections cover the country's history over the last 4,500 years and come from all over Greenland. Included are exhibits of ceremonial clothing, amulets and knives, sleds and boats. Two narwhal tusks seemed amazingly long. There are pictures of long-ago Inuit living communally, in skin houses, and of children learning the Inuit language in school. A life size depiction of a typial Greenlander's house, and a comparison house of a Danish farmer. Here are the famous 4 Arctic mummies from Qilakitsoq, North Greenland. Three adults and one baby, in what I guess is good condition, considering their age - over 600 years!
So far, all had been smooth sailing aboard. Then…
We were scheduled to go ashore at a small isolated native village about 7 pm the next evening. There had been a bit of rain and a very rough sea as we continued north, but we were assured these conditions would abate by evening. After an early dinner, Tom and I were in the second Zodiac to head ashore.
Far from abating, the wind increased as our Zodiak bounced toward the shore, taking on water with every bounce. The rain became heavier and turned to sleet. Landing at the village dock, we walked up the path toward the church, and to the building where the village had a small store, open tonight, "just for us". We both stopped to take several pictures in this pouring rain, returning our cell phones to the pockets of our "waterproof" jackets. Before we got to the church, however, the ship's horn gave several loud blasts, and the naturalist stationed in the church came out, waving his arms and motioning us back to the dock, "The wind is picking up, the trip is cancelled", he yelled into the storm. (Picking up? I didn't think it couldn't rain any harder) Back we went to the boat, back to the warmth of our room and some dry clothes and shoes. We were drenched. So, unfortunately, were both our cell phones - our only cameras. I've become very accustomed to taking pictures to remind me where we've been and what we've seen, For the remainder of this trip, I'll have to revert to the old standard - using words as descriptors.
If I'd had my camera, I would surely have taken a picture of Eqi Glacier,the tallest (300m) glacier in Greenland. And had I been lucky, a picture of it calving. I definitely would have tried to get a picture of the area's native wildlife, the Arctic mosquito. A mosquito net hat had been on the list of recommended trip gear. And those who had them made fashion statements among the rest of us. Tom and I loaded our faces, necks, and hands with 80% deet repellant, but the mosquitos were undeterred. We didn't get bitten, but everyone in our group had to deal with their unrelenting persistence.
The next morning we were scheduled to stop in Ilulissat, the town closest to a point where Greenland's enormous polar ice cap actually reaches the sea. There were several activities scheduled. The helicopter flight over the glacier would leave from here. Our onboard "Gohagan group" (those traveling with our university tour) was scheduled to board some small fishing boats to explore the iceberg laden waters, and then take a walking tour of the town. Overnight, however, I'd heard the thud of an occasional iceberg against the L'Austral's side, and wasn't especially surprised to hear that the day's activities had been cancelled. The entire night had been extremely foggy, and the morning was no better. With these conditions, L'Austral simply could not get safely through the ice. We'd been told that this sort of thing could happen; that this was an "expedition". We'd proceed to "Plan B" — a Zodiak trip along the coastline of Disko Island.
The morning fog had yet to lift, and it was quite cold. My initial reaction was to watch the other passengers don parkas, hats, gloves and life jackets, and then get myself another cup of coffee. My internal debate waged for nearly an hour, and I decided, what the heck, do it. So I put on all the necessary paraphernalia, presented myself and my cabin pass, (so the crew can keep track of you), and was loaded into a Zodiak - one that happened to be operated by Marcel Lichenstein.
Marcel works hard at being a character, - the only naturalist on board instantly recognizable by his Viking hat. He's an avid birder and botanist, and is very comfortable handling a boat in rough Arctic waters. I didn't see any of the other Zodiaks go under the low lava arch even once. Marcel did it twice! And no one else got close enough to the cliffs to see the dragon eyes caves.
Our trip began with a trip around two immense icebergs en route to the coastline. As he steered the boat close to these behemoths, Marcel assured us that they were firmly cemented to the bottom, and were in little danger of turning over. The waves that result from that happening can pose quite a threat to a small (in comparison) Zodiak.
We didn't get off on the island - all the beaches were very narrow lined with high cliffs, but motored as close as was safe Marcel pointed out glaucous winged gulls, guillemots and kittiwakes flying over the cliffs, and the Dwarf Fireweed (Niviarsiaq), Greenland's national flower, growing from cracks in the overhead cliffs. The cliffs were composed of lava, and resembled square rock tubes layered one on the other. In some places the lava had been carved away, leaving sharp promontories; in others, the ocean waves had carved shallow caves. And in still another area, a cliff face clearly appeared: an Inuit native watching over Disko Island and Disko Bay.
That afternoon the captain decided to return to the point at which our ship had been unable to penetrate the thick mass of icebergs during the previous night. It was a sobering sight to see a miles long wall of icebergs of every size, shape and description daring any ship to enter While we couldn't tell how wide this wall of ice was, surely it could have been more than a mile deep. In some places it appeared that there might be a passage through this maze — but these icebergs are moving. And what might be an inviting passage one minute may begin to close down quickly the next. As the Captain later explained, he likes to consider himself adventurous — but not stupid! No one doubled the wisdom of his abandoning Plan A earlier in the day…
The next morning our trusty fleet of Zodiacs ferried us to an easy "dry landing" at the Inuit village of Itilleq. This village appeared much like the one where our cell phones had encountered their watery demise - except that the weather this time was warm and sunny, even if a bit buggy. But slathered with our trusty Deet-infused repellant, we had little problem with those pesky guys this time.
Itilleq is perhaps 30-40 small rectangular houses scattered along slopes overlooking the water; each house painted a brilliant color. Blue houses scattered among red ones, with green and yellow houses creating a rainbow effect, added to by the decorative use of reindeer antlers on many dwellings. We had to borrow a pix to illustrate this amazing scene: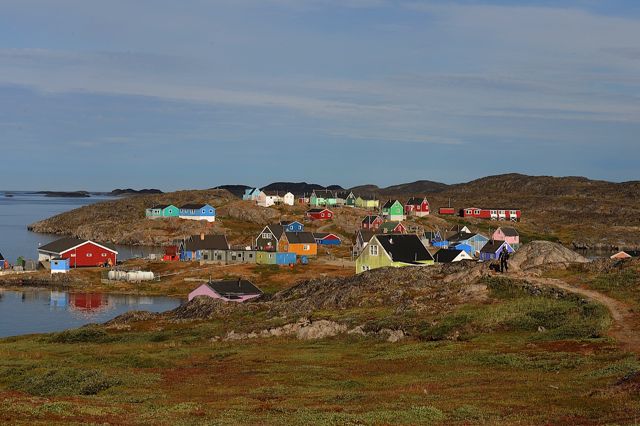 We looked at the limited basic supplies offered at the tiny general store, explored the small, attractive village church, and stopped at a couple of rustic outdoor tables where villagers were selling some of their handmade items. No "made in China" here (or for that matter anywhere we'd been in Iceland and Greenland). I wandered out past the cemetery toward a nearby hill. From the crest, I could see waterways leading off in all directions. A small boat was heading inland. Wow, picture perfect. Ouch, did I say that?
Tomorrow we disembark the L'Austral and fly back to Reykjavik. Late Thursday night we should be back in Portland. After a morning stop at the Apple store, we'll head back to Florence - home again.
---
Postcard: Voyage to the Arctic Circle
August 4, 2014
"Once upon a time, a long time ago", we traveled from London back to the US via Reykjavik, Iceland. On that trip, we had time for only a day's exploration of this island country, but always hoped to return. That wish came true when we learned of a 12 day trip to Iceland and Greenland, sponsored by several US universities, the National Trust for Historic Preservation, and the Smithsonian Institution.
These tours usually have a pre or post tour option - go a day or so early or stay a day or so after. We opted to take the "pre-tour" tour, and look forward to spending three days touring Reykjavik and surrounding countryside. Then we'll board the cruise ship, L'Austral, for a 10 day trip around southwestern Greenland. Our trip will take us across the Denmark Strait, around Cape Farewell, and then north through the Labrador Sea to Nuuk, capitol of Greenland. Zodiaks will ferry us into such intriguing sounding spots as Disko Bay and the 300 foot high Eqi Glacier.
While on board, we'll have lectures on such varied topics as the history of Greenland, its flora and fauna, and geology - including the impact of climate change on this immense island. The trip and those lectures will be a "school" on this part of the world; a school taught aboard a cruise ship.
We drove from Florence to Portland, flew to Seattle, and boarded Icelandair. As we reached our seats, we received a short course in the Icelandic language. On the back of Tom's chair the covering read, "This is the seat of THOR, god of war and thunder and protector of mankind". On mine; "This is the seat of ODIN, god of wisdom and artistry". At mealtime, the sugar came in packets with a zigzag line, and the description, "This is the letter S in the elder runic alphabet". The napkins each stated they were really a "munnburka". The small pillow placed on each seat had this inscription: "This is a "puva" the word for an Icelandic bird as well as for pillow. Now you can do something the puva cannot - sleep while flying".
We arrived at Keflavik, Reykjavik's airport, at 6:45 am (after a 7 hour time change), and were off on our first excursion around 7:30. Our guide for the next three days would be Gudrun Sporidottor, a walking encyclopedia of Icelandic information. I learned that Icelandic is the language most akin to the original Norse. That her name, Gudrun, is pronounced Guthrun , with the th sound softly blown between your teeth, a combination of "th" and "s", and not easy to do. That the Icelandic alphabet has 33 letters, some of which are formed by adding accent marks. A couple of of these include a slash mark in the middle of a "U", or a crossed line extending above an "O". Many of the words seem extremely long; in one gift shop I found a refrigerator magnet with just one word on it. But that word was 21 letters long!
As we drove toward our first stop, breakfast at the Blue Lagoon, we learned not only about the route we were taking, and the towns we were passing, but also a bit about Icelandic history. Gudrun could name all the ancient Norse kings and tell you their nicknames and life stories. And, as I later discovered, she's not the only Icelander with this talent.
The Blue Lagoon has been compared with an Olympic size swimming pool, but is in fact much larger. It's a small, irregular shaped, geothermal lake, milky blue in color, with wisps of rising steam attesting to its warmth. Along one side of this lake, a large building houses a restaurant, gift shop, multiple changing rooms and showers. After breakfast, we went to the changing area. Here we were issued a blue band bracelet, similar to the one you get in a hospital, but these had an imbedded chip. You open a locker, put on your swim suit, and wave the chip part of the bracelet across a blue plate on the locker front. Your locker is now locked, and can only be opened by another wave of the same bracelet. Just don't forget, as I almost did, which of the many changing rooms houses your particular locker! Off to the waters of the Blue Lagoon.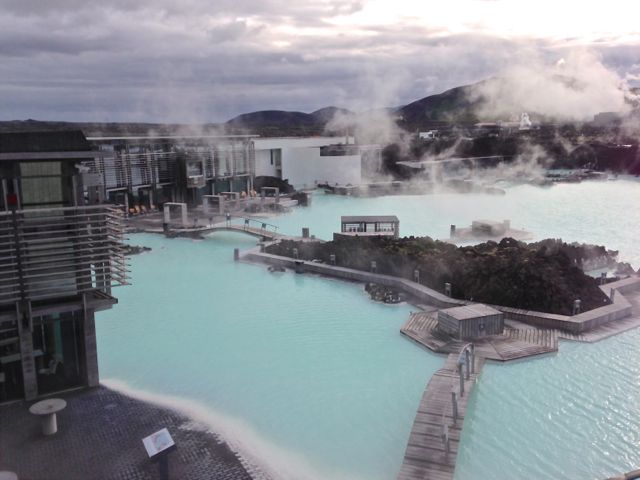 Not only is the water deliciously warm, it is reputed to be wonderful for your skin. The gift shop has bottled the silica mud from the lake and sells this as facial masks and moisturizers. (If you neglect purchasing some there, you'll find it for sale at several beauty spots around town). For the Blue Lagoon bathers, boxes of the silica mud have been placed around the pool/lake. For full effect, you coat your face, hands and neck with this whitish mud and leave it on for 10 minutes. I couldn't bring myself to leave it on quite that long, and one gal who did remarked that her skin felt a bit raw.
We checked into the Borg Hotel, and, a couple of hours later, we left for a tour of the city. Our first stop was the National Museum of Iceland. Exhibits here trace Iceland's cultural heritage from its founding in 874 to the present day, including a list of the all chieftains of Iceland. It's a long list of complicated names - I imagine school children find learning them a real challenge. Of all the exhibits, I found the one of kings treasure particularly striking. Golden belts, bracelets, rings and crowns!
The last stop for the afternoon was the Hallgrimskieja. At 244 feet, it is the tallest building, largest church and most famous landmark in Reykjavik. Inside is a huge organ with 5,275 pipes. As a bonus, today someone was playing it!
By now, everyone was feeling the effects of jet lag. We had managed to do what the tour books recommend and stay awake all day, but night sounded incredibly inviting.
Next morning, we met the bus at 7:45 for a full day 's excursion, appropriately titled the "Saga Circle". Our first saga, or story, was a tragedy. The Harunfosser/Barnafosser falls is where two small children, left alone when their parents went to church, fell into the river and were swept over the falls. Their distraught mother had the natural stone bridge from which they fell torn down. Many years later it was replaced with a wooden one, but Gudrun continues to be a bit cautious, telling us to be "very careful".
Sad story notwithstanding, the area is spectacular. Look downstream where dozens of falls of varying sizes fall from the rocks. Look upstream to a spot where the river cuts through a cleft so narrow that it must mark the spot of the long ago natural bridge.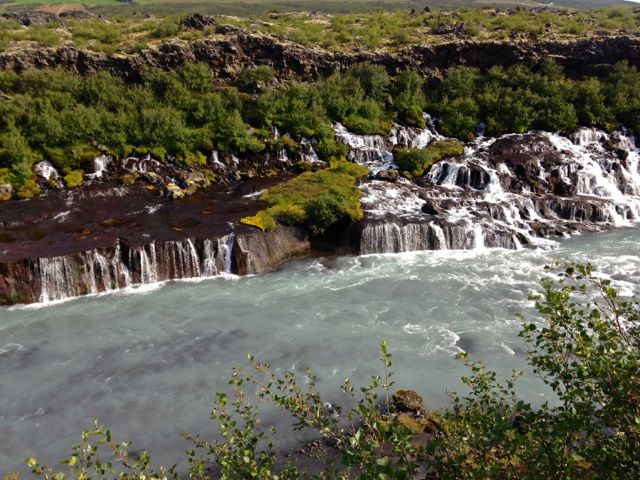 Do as I did and walk out into the surrounding lava fields. Several miles away, a farmhouse sits on a patch of green in an otherwise barren landscape.

Saga #2 was the story of Snorri Sturlson, one of Iceland's most celebrated writers. We stopped at the Snorrastofa, a museum and library devoted to books on Icelandic history and culture. Snorri's most famous work is a book titled "The Edda", and is a compilation of Nordic tales - of Odin and Thor - and also of the wizard Gandalf. Gandalf was not an invention of Tolkien, but came straight from Snorri's pen. Although numerous pictures of this celebrated man line the walls of the museum, I enjoyed this likeness.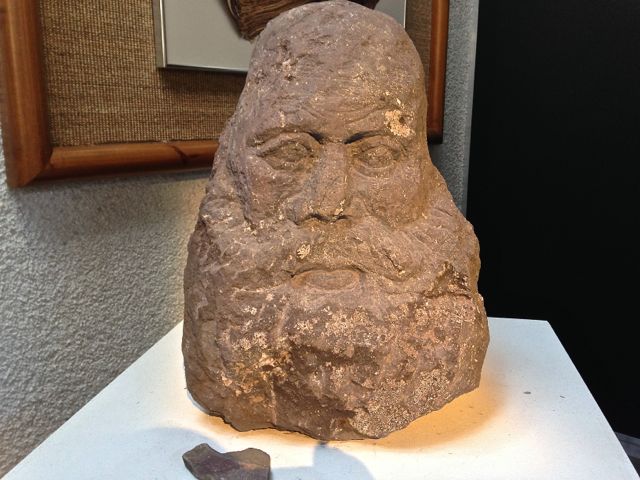 On we went, to Europe's largest hot spring, Deildatunguhver, where the water comes from the ground at over 200 degrees. An aboveground pipeline carries this water over 30 miles, remaining hot enough to heat homes at that distance. Next, we stopped at the little town of Borganes to see the exhibits at the Settlement Center. Then along the Hvalfjordur fjord, where, until Icelandic whaling was shut down in the 1980's, was one of the largest whaling stations in Iceland. We paused for a picture break at the location of the World War II American naval base. The barracks, now painted bright white with red metal roofs, are popular as vacation rentals. Finally, back to Reykjavik and our ship, the L'Austral. We found our cabin, unpacked and enjoyed a Gohagen reception and dinner. We'll spend the night on the ship, but we won't sail until tomorrow evening. To keep everyone occupied (!), another full day excursion is planned for tomorrow - this time around the "Golden Circle". Views of geysers, glaciers and gorgeous scenery are promised. However, I will be unable to recount any sagas from this excursion - Tom and I are taking a day off from all planned activities. You'll find us walking the streets of Reykjavik, poking into shops and museums along the waterfront. One branch of the Reykjavik city museum is built over the remains of an ancient Viking long house, and is reputed to be a most interesting exhibition. Then, tomorrow evening, we'll be Greenland bound!

---
See More Postcards
---