POSTCARDS
---
Stephanie is one of those persons who can fit a lot of words onto a standard size postcard -- usually by writing sideways, around corners, and even upside down if she can find some extra space. Most of these go to family and friends. But some of them -- those which document our RV adventures -- find their way onto this portion of our website.
---
Postcard: Organ Pipe Revisited
November 27, 2013
Tom's been tracking our RV travels over the past few weeks. From Palm Canyon State Park in Borrego Springs to the Voyagers RV resort in Tucson, we've covered a fairly wide range of RVing accommodations. Now we've come to one of our favorite spots - Ajo Heights RV park in Ajo, Arizona.
Ajo is a picture book town with a traditional central town plaza - a large central area ringed with tall palms. It's surrounded on three sides by small shops and on the fourth by a large, dazzling white Catholic church.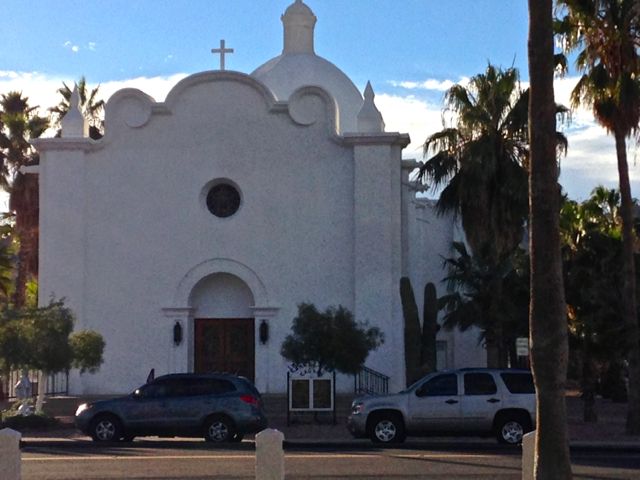 Ajo Heights RV park is a wonderfully friendly spot. Each afternoon at 3, you'll notice a group of RVers gathered in front of one rig. Everyone brings a chair and beverage, and for an hour or more relates the day's adventures. Afternoon laughter rings loud at Ajo Heights.
For us, staying in Ajo has an added advantage. 32 miles south is Organ Pipe Cactus National Monument, one place we've been visiting for over 20 years. It's still a wonderful place to explore - but how it has changed in the last few years.
Drive 10 miles south from Ajo on AZ 85 to Why. Arizona. Question: Why is Why called Why? Answer: Originally two Arizona highways, 85 and 86, intersected here, forming a "Y" in the road, and a small town sprang up at that intersection. At that time, Arizona law required that a town have at least three letters in its name, so the town couldn't be called just "Y". Town fathers decided on Why, and it stuck. (You'll look in vain for that old "Y" intersection - the department of highways later made it into a more conventional "T". ) From Why, it's about 22 miles south to Organ Pipe.
At first glimpse, this area seems exactly the same as it has for years — and no doubt for centuries. Why is the same small unincorporated community (pop. 116 in 2000). The road through the desert is the same, a winding two lane road cresting hills, traversing dips through spectacular desert scenery. But there are differences.
A few miles south of Why a large sign reads "Entering Organ Pipe Cactus National Monument". That sign used to include the words, "Twin Peaks Campground, 23 miles. Campground usually full by 2 pm [or noon, etc]". That wording is gone. No reference to any campground will be found for several more miles, and certainly no reference at all to when it will fill. The wording has been removed because the campground hasn't been full for years. Concern over illegal immigrant activity has frightened away many of the RVers who used to pass each other on the road south through the Monument - each trying to get to the Campground first. No reservations were accepted, and first come, first served was the rule.
Just outside the Monument entrance, we used to see scores of campers enjoying a free desert camping experience a few yards off the road. Today, we saw two. A few miles further on, there is now a border patrol checkpoint. Cars going south get through with a wave of the hand; those coming north are stopped. We were asked our names, citizenship, where we had been, and then the agent requested to look into the back seat of the Jeep.
The Visitor Center is now named the Kris Eggle Visitor Center in honor of the ranger killed here in 2002. His murder, by members of a Mexican drug gang, added to the apprehensions felt by people about even visiting this Momument. Today, the parking lot was empty except for our car and 4 bicycles. The Ranger on duty told us that at any given time there were probably more illegals here than visitors and Park personnel combined. Apparently there have been no confrontations, and the park is considered much safer than other national parks where theft is often commonplace. His main complaint about his job was that it was "boring". But it's a beautiful place to be bored!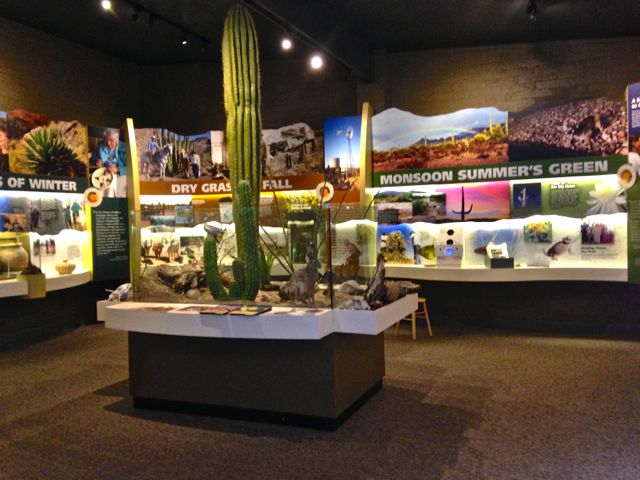 Twin Peaks campground is about a mile up a paved road from the Visitor Center. No more the strings of campers and RVs lined up at the entrance - today even the entrance kiosk was not staffed. In the available 208 sites, I counted 10 RVs of varying sizes and 2 tents. We realize that it's still early in the snowbird season, and that most campers won't arrive until after Christmas; still it was a bit dismaying to see it so empty. The few RVs that were there had the spectacular views south toward Sonoyta, Mexico, all to themselves. And the sunsets over the abundant display of organ pipe and saguaro cactus will be nothing short of spectacular.
But "the more things change, the more they stay the same". If the popularity of the Monument has been hurt by border events, the desert retains its unique allure - stark and beautiful. Today's bright sun fairly demanded we drive the 21-mile Ajo Mountain Scenic Loop.
Organ Pipe Cactus National Monument covers 516 square miles of Sonoran Desert bordering Mexico. 95% of it is designated wilderness. There are only two drivable roads through the park, the 21 mile Ajo Mountain loop and the much shorter Puerto Blanco Drive. Our afternoon had just enough time left in it for Ajo Mountain. And what a spectacular drive it was…
The drive begins just across from the Visitor Center. The road is mostly gravel, with paving reserved for the many dips along the route. Due to the twists and dips in this road, RVs over 25 feet are not permitted, but 4WD is not necessary under most conditions. There are several pullout places along the road, and in high season, you could expect them to be filled with picture takers. Today we shared the road with only a handful of other cars.
While you can stop and walk into the desert wherever you wish along this road, there are three main "picnic" spots. The first, atop a small rise, looks out toward Tillotson Mountain. The second is at Arch Canyon. Here, a mile hike will take you from the parking area to the arch, although descriptions of the last bit of this hike warn that "the last scramble" is not included in the trail distance. The third is the Estes Canyon trail to Bull Pasture.
Tom and I hiked this trail several years ago. We remember seeing a herd of Javalina in the brush just below us. We remember scrambling across an area of fairly steep rock face, getting from one part of the trail to the next. We remember the lovely high mountain meadow that comprises bull pasture, and is so named because nearby ranchers took their cattle up there during the hot summer months. However, 3 PM is far too late to contemplate this steep, 2 mile (each way) hike.
We weren't the only ones enjoying the late sunshine. Perhaps this is another reason I wasn't too anxious for a "nature walk".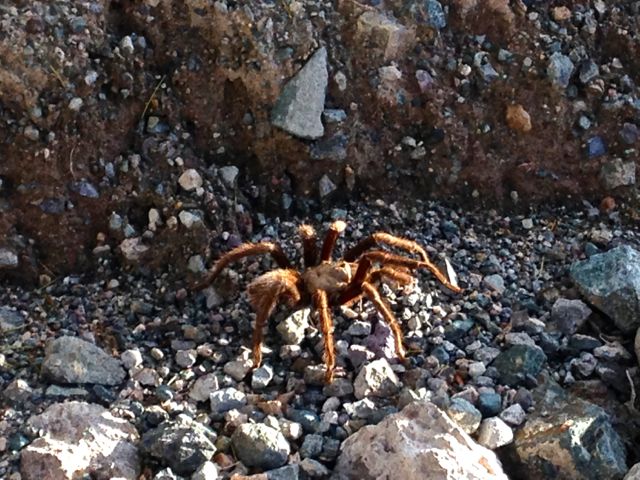 For now, it was time to complete our loop and head back to Ajo, Tomorrow is Thanksgiving, and we'll spend it in Yuma with our son, daughter-in-law and her parents. Then, with one eye always on the weather, we'll start our trek north again...
---
POSTCARD: Desert Backroads
November 12, 2013
Heading south. An overnight stay at the Orange Grove RV park set us up perfectly for the run to Emerald Desert RV Resort in Palm Desert - even factoring in the anticipated wind along the way. Almost as predictable as finding wind at the Weed airport in northern California, you can expect wind as you drive east from Bakersfield. The first gusts hit as you near the top of the Tehachapi Grade, increasing as you pass the well positioned wind farms just east of town, and becoming downright bothersome side winds through Mojave and Lancaster. Then the wind generally lessens - until you get to Beaumont and Banning and drop down into Palm Springs.
We spent 3 nights at Emerald Desert. The first night the park was fairly crowded. A big celebration and parade in Palm Springs the day before had brought many RVers there for the fun. By noon the next day, most had left - except for us and 50 RVs attending an Adventure Caravans Mega Rally. The coaches had taken over a good portion of the largest section of the resort. Each was adorned with a large yellow sticker proclaiming the number of "adventures" they'd taken. Most stickers had large 2s and 3s on them, but I saw four 5's, one 17 and a 22!
Some 14 years ago, we joined an Adventure Caravan tour to Mexico's Copper Canyon, and seeing these adventurers brought back many memories. We couldn't help but reminisce with Pat and Alice Maitland, tour directors for this rally. This Mega Rally would be 11 days long, with 4 days of bus trips in and around Palm Springs and the surrounding areas. There were tours of Joshua Tree National Park, several Palm Springs museums, and of course the Palm Springs Follies. The rally attendees were certainly an enthusiastic group. I watched one afternoon as a Rally couple worked on convincing 2 of their non-rally neighbors to join a Caravan trip. They had given out the latest club magazine and newsletter, and now were trying to get the potential Adventurers to attend that evening's get-together.
Travelers to Palm Desert, or Palm Springs or La Quinta or any one of the dozen or so little towns that comprise Greater Palm Springs, probably head to the El Paseo district for shopping, or to one of the many golf courses in the area. There's fine dining at your fingertips - and in short, all the comforts that a big city can provide. And for some, that's great. It just isn't what attracts Tom and me to this area. We much prefer the outdoors - finding the real desert. And that means a return trip to Joshua Tree National Park.
Take "the 10" west to Desert Hot Springs, and follow the road through Morongo Valley to 29 Palms. Turn right, and head to the Park entrance. Be sure to stop at the Visitor Center for the latest park information. And hope that you've brought along a jacket and perhaps long pants. Joshua Tree is a bit over 4,000 feet and can be a lot cooler than the valley below.
Tom & I have driven through the park on many different occasions. We've camped at Cottonwood Spring, and White Tank campgrounds. We've visited when the wildflowers were out. We've watched rock climbers in various precarious (or so it seemed to us) situations. But somehow we'd always followed the same path - in from the northeast entrance, out at the south, or vice-versa. That route is about 45 miles long. 45 miles of stopping to read the informative signs along the way, of exploring some of the huge jumbled rock formations, of taking little side tours to places like Barker Dam, or the Cholla Cactus Garden. That way, 45 miles can take most of the day - or longer. You may find yourself planning an impromptu overnight. Today we had time only for a short loop. We entered through the west entrance, and drove east. Destination -- Skull Rock.
The road, here called Park Boulevard, climbs slowly through the Joshua trees toward Hidden Valley, one of the many small campgrounds protected from the wind by the desert rocks. These little campgrounds are best for tents or small rigs. They have picnic tables and fire rings, but no hookups.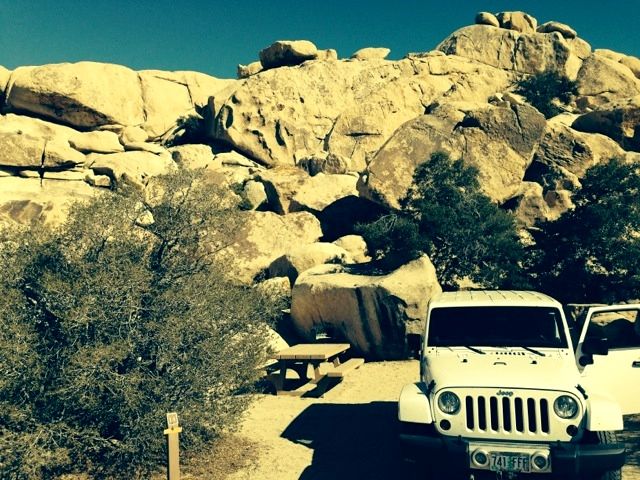 From Hidden Valley, we drove over Sheep Pass toward Jumbo Rocks campground. Just outside this campground the sign reads "Skull Rock" And there it is, deep set "eyes" glaring at you from its den as it peeks out over the protecting boulders...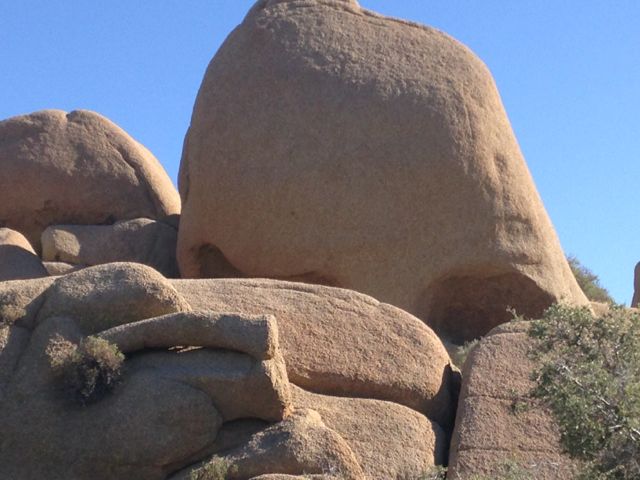 We might have spent more time here today, but we hadn't followed our own advice. Both of us were wearing shorts and sandals, which were very comfortable in the low desert where we were staying -- but not good attire for the high desert hikes here. Add to that the fact that the wind was blowing and temperatures were barely into the 50s. Time to return to civilization. Back to Palm Desert and the coach.
Emerald Desert, or what's left of it, is still a beautiful park. The owners have refurbished the clubhouse, and it is a great spot for "super rallies". The tennis courts are still in daily use, and at least one of the two putting greens is usually busy. But I can't help but remember it as it used to be - before a large part of it was sold for development. Now, it's a good first stop on our desert journey - but for us at least not suitable as a final destination.
Especially not with Borrego Springs only 75 miles away (35, if you're a crow). A short drive to a remarkably different desert experience. It always amazes me how this little town, (pop. 3249 in 2010), never changes. True, this year, the old grocery store has become an art gallery, and La Casa del Zorro hotel and restaurant has reopened. But other than that, everything seems the same. Surrounded as it is by the huge, (916 square mile), Anza Borrego Desert State park, there's very little room for expansion.
Winter camping here is extremely popular, but, even with the looming Veteran's Day holiday, Tom managed to find us a prime slot in the full hookup section of Palm Canyon campground. After hooking up, one of our first stops, as usual, was the park visitor center. There is a wealth of information here - start by watching a short movie about the desert, then explore the center. The volunteers at the desk are very knowledgeable about this special piece of desert.
Wander through the several dioramas - one of the desert birds and animals at a waterhole, another of the lives of the indigenous Kumeyaay Indians, and still another describing a catastrophic earthquake of some years past. You're in Southern California - earthquakes are not uncommon experiences. And, of course, there's always the gift shop!
One of our favorite pastimes here is driving the many jeep trails that cross the desert. There are dozens of spots you can take a vehicle - some OK for 2WD, but most requiring at least high clearance. On one wall of the center, a chart lists the various trails - and their current driving conditions. Or at least what the conditions were when last reported. This is not necessarily done every day, or even every week, but has usually been fairly accurate. It's a good idea to check with the volunteer desk. One of our favorites is the Grapevine Canyon trail.
Two main roads lead west from Borrego Springs. Highway 78 takes you southwest up the Banner Grade to the mountain town of Julian. A bit north, highway S22 goes up the Montezuma Grade to Ranchita. Both roads eventually join and head out toward San Diego. But well before that, there's another connecting "road" you can take. Grapevine Canyon is 12+ miles of steep, rocky, narrow jeep trail connecting these two major routes. If you're headed west, there's absolutely no reason to take Grapevine Canyon. Both of the other roads are faster, smoother, and no where near as interesting. We checked the Visitor Center chart on road conditions. According to the chart, we'd need 4WD and the road condition was currently rated as "poor". We have 4WD, and the road conditions on this trip varied from OK to "quite a challenge".
Following the signs to Julian, we drove south from Borrego Springs, and turned right at La Casa, heading up toward Yaqui Pass. We passed Tamarisk Grove campground, and Yaqui Well. Just after the left hand turn to Plum Canyon, and right before the road began its climb into Sentenac Canyon, we found the tiny weathered sign reading "Grapevine Canyon". If you're not looking for it, you won't see it.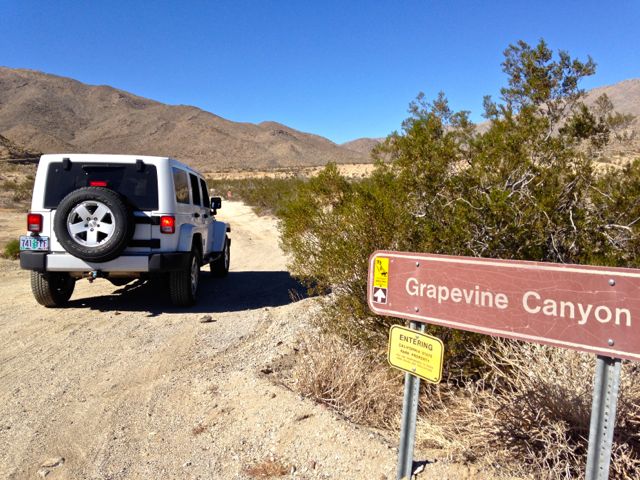 The first few miles of the Canyon trail are fairly flat. But about halfway along (6 miles), the road rounded a turn and began to climb steeply. It became steep and narrow with deep ruts and gullies slashing across it. Large rocks littered the trail, some requiring a bit of off-road experience (Tom's, not mine) to get over or around. Violent late summer and autumn rains had made an always rough jeep trail even rougher, and we were glad to have our compound low gears available. We climbed and bounced for about a a half mile, at times tilted at a frighteningly (to me) angle. We were glad to meet no other cars on this rutted route - the only other vehicle we saw on this trip was a medium powered dirt bike (motorcycle).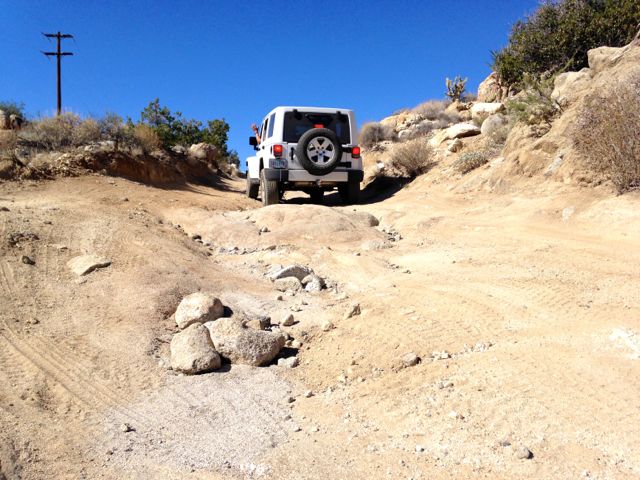 Almost as quickly as the trail had become rough, it smoothed out again. Past Angelina Springs cultural preserve, the rocks seemingly disappeared. Perhaps they had been pulverized into sand - that was our next challenge. Deep sands covered the route - Tom had to keep his speed up to keep from getting stuck, and that necessary speed meant a bit of skidding around some of the turns.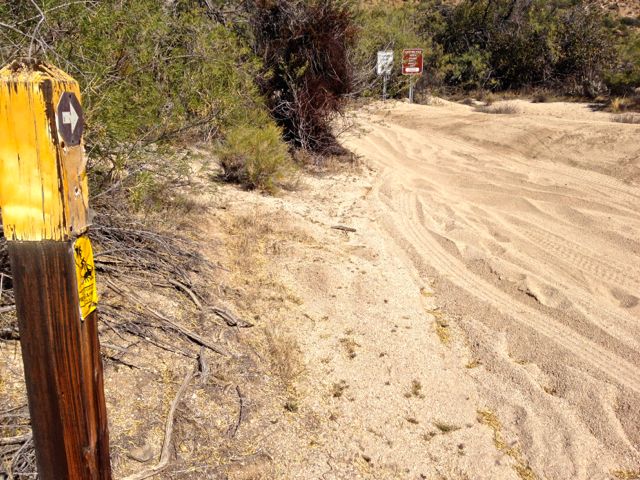 As we started the last climb toward Ranchita and Highway S22, however, the sandy spots lessened and we headed into ranching country. We passed the R2 ranch, nestled in cottonwood trees, glowing gold this afternoon.
We emerged from our excursion in Grapevine Canyon, found the pavement once again,and continued west to Dudley's bakery in Santa Ysabel, another dozen miles down the road. A long way for a loaf of bread? Dudley's is well known in this area, and our off-road detour just one of those things we love to do in Borrego.
Next stop is just down the road at The Springs at Borrego RV Resort..
---
See More Postcards
---