POSTCARDS
---
Stephanie is one of those persons who can fit a lot of words onto a standard size postcard -- usually by writing sideways, around corners, and even upside down if she can find some extra space. Most of these go to family and friends. But some of them -- those which document our RV adventures -- find their way onto this portion of our website...
---
Postcard: Coach School
September 11, 1999
We have certainly led busy lives in the last couple of days. The long awaited date had arrived, and we were finally going to take possession of our new Coach. On Wednesday, Tom drove to Portland, Oregon in what would become our new tow car. I had a "can't miss" meeting, and flew down to join him in the afternoon. A beautiful, sunny day for a flight! The plane left Friday Harbor and flew low over the south end of Lopez Island. A quick stop on Whidbey Island and then down Puget Sound to Sea-Tac airport. Horizon Air picked up my trip from there and flew close by Mount Rainier and practically over the cauldera of Mount St. Helens. Wow!! This is certainly a beautiful part of the country -- especially when the sun is out.
Tom met me at the Portland airport and we drove south to Albany, a mere 40 miles from Junction City and our new coach. Bright and early the next morning, we were at the Guaranty RV dealership to complete the purchasing paperwork, and by early afternoon, we started "Coach School", the Post Delivery Inspection (PDI). There were countless things we needed to learn about the coach before either the technicians or we would feel comfortable driving away in it.
Not quite countless. It was my job to check off each item as it was discussed, and so I counted them! More than 125 different "things" to learn about our new coach.
Our "teacher", Shannon Thatcher, started us at the outside passenger side door. Here we learned how to operate the steps and where the switches were for the exterior lights. From there, we progressed down the passenger side, opening each bay, looking in and learning about what it contained. The first bay was the propane bay, and we learned about tank capacity and how to fill the tank. The next bay held a slide-out drawer and we learned how to lock it in place. And so it went. We learned not only what was in the bay, but what lay behind the walls, just in case we ever needed to make repairs. The battery bay held not only batteries, but also myriad hoses, tubes and connections. (Obviously, a lot of this discussion was passing me by!) By the time we got to the engine area, my eyes were glazing. I looked at my check off sheet and we had barely begun.
By 4 that afternoon, we had completed our outside coach tour, except for awnings. It was rapidly becoming too late to finish our PDI in one day, and we had absorbed just about as much as we could at one time. We decided to spend the night on the Guaranty lot, and return in the morning for the "class" on interiors. After a brief overview of the living space, so we could work the microwave, refrigerator, and cooktop, I went off to the grocery store so we would have something to put in or on those, and Tom and Shannon took the coach to Guaranty for the night.
Friday morning, we took the Jeep in to have it fitted with towing connections. We planned to leave about an hour before our appointment and have some time for breakfast. It was a good thing we left that much time, because Ron's Hitch 'N Tow turned out to be quite difficult for us to find. Our leisurely breakfast became a hurried stop at McDonalds! We got a ride back to Guaranty with Susan Graham, our coach dealer/salesperson (who had had no difficulty finding Ron's) and returned to the factory for classes on the interior of our new home. Shannon carefully went over each and every button, knob and dial (and there are quite a few!) surrounding the drivers seat. He showed us how to work the TV, the VCR and the radio. We learned about the fan system and how to work the slider. Even though we had experience with these items in our 5er, each system is a little different, and we picked up a lot of new pointers on how things work. And if we ever forget, we have two large notebooks, an expanding alphabetized file, and 5 books on the workings of various parts of the coach. We have schematics on everything that could possibly need schematics. We have manufacturer's installation instructions. We have owrers' operating instructions. We have a gazillion warranty cards to be filled out and sent in. And we left Junction City convinced that we had an excellent introduction to our new home.
This whole experience might have been a bit intimidating. But with thehelp of Susan and the whole team of players we found at Country Coach, it turned out to be a thoroughly enjoyable -- and highly informative -- experience. This was certainly not a case of "sell it and get it on its way". The process seems to indicate we've purchased not just a coach, but a company as well. And our first impressions of both are excellent.
When we picked up our motorhome, the Country Coach folks gave us two gifts. We received a basket of Oregon cheeses, salami and salsa. We also got new keychains. When we left our Dodge diesel truck and camper with our daughter and son-in-law in Yakima, we had emptied our keychains right down to the house key. Those lonely chains have now been replaced by keychains having 9 keys! There is one key for the ignition. There is one key that locks the deadbolt on the door. There is one peculiar looking key that Shannan told us never to use. One opens the engine compartment, and another locks the bay doors. [We haven't yet figured out what the others will open.]
Our final stop in Junction City was to pick up our tow car (a Jeep GC) at Ron's Hitch 'n Tow. Ron has obviously done a lot of these installations, and he gave us careful instructions on precisely how to attach and detach the new Blue Ox aluminum towbar. With the benefit of that added "coaching", we were ready to get "on the road" with confidence that our little Jeep certainly be coming along with us too...
Now we are off to California for a short stay, and plan to return north through Lakeview, Oregon. We are meeting friends and family at Junipers Reservoir RV park, and we're looking forward to showing them our new rig -- and a bit of our new-found knowledge. En route, it will be my turn to learn to drive this huge thing, so that I can share the driving duties when we take off on our year's odyssey.
---
Postcard: Leaving Home

August 30, 1999

We decided, late last winter, that a year of gypsy travel would be just right for us. At first, I was filled with anticipation. The whole idea was romantic. Just the two of us "traveling down the highway." As the time for leaving draws closer, however, I find myself with mixed feelings. At first it seemed so easy to contemplate, but now it is harder. I like where we live. I am comfortable here, with Island friends and a "normal" life style. Why leave? Children leave to go to school, or to camp, or somewhere they will glean a bit more from their lives. I am closing on 60, what can I learn? I simultaneously want to "go" and to "stay".

For Tom, this decision seemed easy. From the time I suggested that we take a year and travel, (and it was my suggestion), he jumped right on the bandwagon. I was left to contemplate the wrenches that come with leaving home. Don't misunderstand, I really look forward to our year or so on the road, but I can see both sides of this street.

We are "renting" our home to two of our very good friends here on the Island. They put their home on the market and it sold in a very short time. They have purchased another lot and intend to build. However, it will take some time to choose a builder, hire a contractor, settle on plans, get the necessary permits, etc., and they had planned to rent in town during this process. So this works for everyone.

Every day I pack a little bit more of our lives into boxes. I want to leave the house bare enough so Pat may put her things around, and make my house look like her house. That's what I would want; after all, 12 months (or more) is a long time. So I comb through the cabinets, and take just some of the things down. I find myself getting sidetracked by some items ("so that's where that went!"), and nostalgia is often the order of the day.

But the other side of this street is a very exciting one. We visited our "baby" - all 36 feet of her -- in Junction City last week. The coach was in the paint shop, but as it was lunch time, we were able to walk through it. Opening cupboards and drawers, and mentally placing our "stuff" in them, imagining driving down the road to new and as yet unexplored places, meeting new people, all these fire my imagination. And then there is the weather. Just because San Juan Island finally got some summer, does not mean it will stay around forever. The gray days of winter, the ones we have been trying to avoid for the past several years, are just around the corner. The pace of life here will slow to a crawl as the days get shorter and shorter. We will be off to new places and new experiences.

Our plans include visits with our children and grandchildren. For starters, we will host Thanksgiving in Borrego Springs -- turkey with cactus salsa?? -- and come back to Washington for Christmas. With email, regular phone calls, the ability to send and receive pictures electronically, and a couple of planned family gatherings at "new places" we're hoping to stay tuned in to their daily lives.

Basically, I am really looking forward to this next year. Often, I share Tom 's boundless enthusiasm. But it comes with a little wrench, as I get ready to Leave Home.

---
Picture Postcard: The Long Beach Kite Festiva
lAugust 21, 1991

Off on our last camper trip. We headed toward Junction City, OR to check on the progress of our new coach, but first detoured to the coast. We knew the weather would be better the further south we went, the weatherman had told us so. And, somehow, we always tend to believe the weatherman (-: We hadn't the slightest suspicion that we would get the bonus of the International Kite Festival.

Leaving Interstate 5 at Olympia, we traveled east on Highway 8. The weatherman was, so far, right. The weather got better with each passing mile. It was a gorgeous, green day. Green fields, green leafy trees, darker green fir trees on the surrounding hills. This is Weyerhauser country, and the forests are signed, "3rd (or 2nd) growth . Planted in 19---, to be harvested in 20---". Sometimes you pass areas which appear untouched. These areas are not especially thick, but covered thickly with moss and ivy. Sunlight filtering through these woods gives them an eerie appearance. The forest primeval. Every so often, unfortunately, you pass an area which has just been "harvested" and has no living green on it anywhere. Clear cuts.

We joined Highway 101 and headed south. Passing through Raymond, we observed the sculptures. Bears, cougars and herons line the road for 5 miles outside of town. When you get into Raymond, pioneers are added. Men, women and children in pioneer garb lead you to the center of town. And all are made of sheet iron.

South Bend, WA proclaims itself the Oyster Capitol of the World. Mountains of crushed oyster shells, sacks of whole shells (what do they do with those?) line the sides of the Willapa river. Restaurants advertise that you will love oyster shooters, pickled shooters or oyster burgers "out on our deck". In case oysters aren't your thing, they also sell steamers (clams) and Dungeness crab.

From South Bend, the road travels along the east side of Willapa Bay, crossing over the several rivers which empty into it. You cross the Niawiakim, Palax, Nemah and Bone. Several tidal sloughs have sculpted canyons in the flats. Here we saw our first Fall colors. Already! People were out enjoying the great day on the bay. Several flat bottomed boats were skimming along, and the Willapa National Wildlife Refuge parking lot was full to capacity.

Arriving in the Long Beach/Ilwaco area we were not surprised to find Fort Canby State Park completely full. Using our trusty cell phone (what did we do before we had that thing?) we found a space, just truck camper size, at the Driftwood RV park in nearby Long Beach. We told the manager that we were only 5 miles or so away, and would be right there.

Not quite right. Not only is Long Beach a favorite summer destination for Washingtonians and Oregonians alike, but this was the weekend of the Washington State International Kite festival. We crawled through Long Beach, past the restaurants and t-shirt stores, past the motels and kite stores, past the hordes of people strolling the sidewalks. But we got to see the kites! Even Tom, who was driving, had plenty of opportunity to look out at the kites above Long Beach. Hundreds of them filling the air -- all colors and all sizes. I could barely wait to find our campground, register, set up and head for the beach.

The festival attracts families. Children fly kits, mothers fly kites, fathers fly kites, and Tom even saw a dog with a harness attached to its back flying a kite! The more serious kite fliers join the competitions. The festival runs for a week, with teams from all over the world joining in. Team No Limit, from Germany, is well known for its big inflatable kites, using characters from Sesame Street or Disney productions. There are fighter kites zooming overhead, and several competitions are held where each contestant tries, not to down the other kite, but merely to touch the opponent's kite string. Prizes are given for the Most Beautiful and Most Unique arch kites and stunt kite stacks. These latter stacks can stretch for yards -- kite after kite after kite, all strung together. There is a Pretty Kite competition, and you are urged to enter any kite you have that you think is pretty. Entrants are judged in categories, junior (for kids), and apprentice, journeyman or master for the adults. Each morning, there is a mass ascension by kite type. Sunday afternoon, the last event is "Everyone fly a kite, as many as you can".The kites will be counted (somehow) to see if the 1995 Western Hemisphere record of 4663 kites in the air at once can be broken!

The kites on the beach today included arcs, fighters, and stacks. Ernie was flying along, as was a huge kite, I think it was a squid, being followed by a small and vicious looking fish. One kite was a family of skunks. The largest ones are anchored on the beach with several tethers, either staked into the hardpacked sand, or held down with sand filled canvas bags.

Here's how it looked....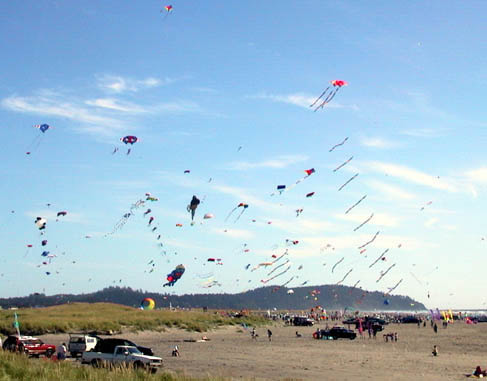 ---
Postcard: Port Townsend Afternoon
August 6, 1999
We are enjoying one of our last camper trips before taking delivery of our new Country Coach in early September. It has been a bad news/good news sort of trip, with the good far outweighing the bad. First, a thunderstorm, (unusual weather for the Pacific Northwest, but who isn't having unusual weather this season?), and its accompanying heavy rain helped us find a leak in our camper roof. We realized that there must be some sort of leak when raindrops started falling on my head while I was in bed! But better to find this now than after a year in storage. So we set up an appointment for roof caulking, used some trusty duct tape (what did people do before this stuff was invented?), and were off to explore some new places.
We had heard favorable reports on a new Washington park, Rasar State Park. Located about 20 miles east of I-5 (and just south of Highway 20), it seems a great place to stop prior to traveling the North Cascades Highway. It is a relatively small park, with only 38 sites, but most have electric and water, all are paved and level, and many will fit our new coach. There are several miles of hiking trails, all nicely laid out and providing access to the Skagit River and surrounding hills. We might have stayed, but the weather was still a bit rainy, and we felt the need to find some more open areas. Sun-on-salt-water sounded just about perfect, so we were off to the campground at Fort Casey, one of my favorites.
Fort Casey, on Whidbey Island, is one of the 5 forts built to guard the entrance to Puget Sound during the war. Never used as protection, the barracks have become a popular place for company conferences. This morning, the former parade grounds was hosting a soccer camp. There must have been at least 100 kids, aged about 10, milling about waiting for the games to begin.
Situated on the grounds of the Fort, right on the beach next to the Keystone-Port Townsend ferry, the campground is a popular spot. Two signs proclaimed it full, but we have noticed that often this is not the case with non-reservable campgrounds, and we found three vacant spots. As we were setting up, the ferry was coming in. Tom volunteered his services as dog sitter, and stay-in-camp putterer, if I wanted to walk on the ferry for an afternoon in Port Townsend, and I was quick to accept. He likes to putter, and Port Townsend is one of my favorite towns. And it's only a short 30 minute ferry trip from where we'd set up for the evening.
The town shows off its Victorian heritage in its many beautifully restored homes and other buildings. Its main street, Water Street, follows the waterfront for several miles, from a marina on the east end, through the shopping areas, to shipyards on the west end. In the main shopping area, you will not find the usual T-shirt shops, but intriguingly named "must look into" stores. Completely Puzzled is for the puzzle addict. Here you can get 3 dimensional puzzles as well as the more conventional types. You can also find those metal pieces which defy untangling as well as all sorts of games. Mind Over Matter is a natural health and healing store. The Ancestral Spirits Gallery showcases Native American art from the area. You can find glass sculpture, jewelry, and upscale clothing.
Some of the most unusual shops are just off Water Street. One block north, on Washington is Forest Gems, where they make all sorts of things of natural Westcoast woods. Manzanita and redwood burls are carved into intricate bowls. There are chairs with burl seats and driftwood backs -- possibly more artistic than utilitarian -- but simply beautiful wood polished to its natural sheen. And there are bears. The shop is loaded with wood bears of every size and personality -- bears climbing, bears sitting and bears standing. They look you in the eye and say, "buy me".
Just up the street is a shop specializing in old cars and old car paraphernalia. Today, the for sale cars included a 1956 Packard, 1929 Model A, 1971 Fiat and a 1947 Ford "Street Cruiser". These have all been lovingly restored and are guaranteed to run. They all carry the same sign which reads, "Unless you are in the nude, don't touch. Buttons, buckles and zippers scratch". You can buy key fobs popular 25 years ago, old car logos, speedometers, chrome strips and magazines. In the tool section, I noticed the 1929 Catalog # 37 for "Truth Hand forged Tools".
As I returned up Water Street toward the ferry, I noticed that the Palace Hotel was having an open house. Unable to resist, I asked at the reception desk just what this meant. It meant wandering through this restored Victorian hotel, into any room not occupied. It meant noticing the furnishings, the carpeting and the wallpaper. It meant a quick stroll into Victoriana.
32 dark green carpeted stairs with a middle landing lead up into the hotel. There is a bannister with carved posts to help one along. At the top of the stairs is a painting of a beautifully dressed woman leaning languidly on a table toward a large bouquet of roses. A perfect introduction to this unusual hotel. Each of the rooms is named. Miss Alice's room has a claw foot tub. Miss Simone and Miss Lilly have pedestal sinks. All have flowered wallpaper, Victorian shades on the lamps, and drop leaf tables. All the beds have wrought iron head and foot boards, some very ornate. Miss Ruby contains something I can only describe as a "swooning" couch. This is a couch with only one arm, so that the lady could "swoon" gracefully onto it. Marie's Suite, named for a former madame, has the original fireplace.
Wandering around the halls, I saw pictures of someone's ancestors in stiff poses, fanciful flowered children with dogs or carts and ponies. Flowers everywhere, often fresh, sometimes the kind that make you want to touch them to see if they are real. [But of course I wasn't dressed for the occasion..] From the overhead chandeliers to the chairs along the walls, everything possible has been done to re-create a Victorian hotel.
But it was getting time to walk back to the ferry for the short return trip to Fort Casey and 1999. Tomorrow we turn in the camper for its needed repair work, and then back to the Island for more pre-travel packing. Soon we will be off for our year on the road. While the added space of thenew motorhome will be a welcome change, we'll miss the "go anywhere" flexibility of camper travel. And I know we'll do more of it in the future.
---
Postcard: The Best Laid Plans...
July 22, 1999
We had planned this trip with the utmost care. We were going to visit our daughter and our new granddaughter, and then Tom would be off to our cabin in Idaho. We had reinstated our phone service there so we could stay in touch. He would make a trip to the "big" city, Boise to get whatever was needed to fix up the cabin. After a couple of days, I would join him, and we would "spiffy' up the place with an eye to selling it. Or so we thought.
So far, so good. The baby came on time, mother and daughter were doing fine, and after 24 hours, Grandpa started getting predictably itchy feet. With our Brittany, Missy for company, off they went to our remote and rustic retreat in the Sawtooth Mountains of Idaho.
Our cabin is located in a very remote area. Lowman is 80 miles northeast of Boise, on a highway which follows the south fork of the Payette River, and climbs up into the Stanley Basin. It is a beautiful isolated are. Our cabin is 5 miles outside Lowman, up a gravel road (the Bear Valley road). We have summertime water; a generator gives us what electricity we need, and all our appliances use propane. We only have a telephone because the local company received a grant to put a line into our cabin area.
The first hint that all was not as planned came when I tried to call the cabin and received the unwelcome news that " this number is not in service at this time", Several weeks earlier, when I had requested reconnection service, the telephone company had assured me that this would only take a few hours. And I had not checked up on it.
Before I had a chance to call the phone company to find out what went wrong, I heard from Tom via a pay phone on the highway. Not only could he not use the cabin phone, but he couldn't use the cabin either. Sometime since the Memorial Day weekend, when we had turned the water on, the hot water heater connection had broken, and water had been spraying into the bathroom, through the walls into the surrounding rooms, and across and down through the floors into the cabin foundation. Tom had spent a frustrating day trying to reach our insurance carriers from the only pay phone in Lowman. He was able only to get voice mail -- and it is impossible to leave a number where you can be reached, when all that's available to you is a single pay phone which serves the needs of all travelers who pass through the area.
That was the bad news, The good news started almost immediately. Since he could do nothing until I reactivated the phone, and contacted the Boise adjuster, Tom took off for a day's fishing in the Stanley Basin. He chose a spot on the Salmon River where he had fished before with some success. As he approached it, out of an adjacent road, through the trees, and around a fence came a Fish and Game tank truck. The river had just been stocked with 12" trout. And although we have always thought that it takes some time after stocking until the fish settle down enough to be catchable, this time that was not the case. He caught and released fish for some time before keeping a few fish for his dinner, as well as for our dinner the next day.
When I got to Lowman, there was nothing to do but look at the mess. The carpet was in the process of being torn up, the underlying vinyl tiles had curled and were being scraped off the floor. The books in the bookcase were still oozing water. Everything wet was also dirty. We use natural creek water in our system, and it often contains dirt when first turned on. But there were two "dryers" being positioned to fix the water problem, and our "disaster" contractor (fire, flood, earthquake and vandalism) had arrived. Since there was nothing we could do, we went off for a day in the Stanley Basin.
Glacier View Campground at Redfish Lake is one of our favorite camping spots. Wide sites suitable for any size rig, level parking pads and a view of unparallelled beauty. There are three lakes you can camp along, and others within easy hiking range. The little lodge at Redfish Lake provides a boat to take you to the other end of the lake to start you off on a day hike, eliminating the need to hike the shoreline! They will even come and pick you up if arranged, and you don't have to hike home. This is a crowded season, and all the reservable campgrounds were wearing "full" signs, but from past experience we knew that there was probably at least one site which would not be reserved until the following day. In fact, we found three not reserved that night. The fishing was not as spectacular as Tom had reported, but it was still excellent, and we had a fish breakfast the next morning.
We went back to Lowman the next day to meet with the adjuster and the contractor. It was an easy task to choose from the samples of carpet, vinyl and panelling which were furnished. We will practically have a brand new cabin. I only wish the water had reached the upstairs sleeping areas!
We plan to return next month to enjoy our refurbished forest home. There will be a couple of projects left to accomplish, but there should be plenty of time to enjoy the hiking and fishing which is so good there.

---
Postcard: Kelowna Bound: The Guisachan Garden Show
June 20, 1999
We had never before driven that part of Highway 97 which passes through the towns of Oliver,and Pencticton on its way to Kelowna. If we had, I would have remembered its spectacular beauty. In the Oliver area, the fruit trees of the lower Okanagan Valley gradually give way to vineyards, which spill out over the rolling hills. The road follows the shore of Lake Okanagan, rising over those hills, sometimes edging nearer, sometimes farther from the lake. Today the sparkling, sun dappled lake was dotted with sailboats, with an occasional powerboat speeding along. Wow.
Pen-tak-ton is a Salish Indian word meaning "the place to stay forever". I believe it. A canal runs right through Penticton, connecting two portions of the lake. City beaches ring the shores, picturesque homes perch on the surrounding hills. And stretching off to the horizon are the vineyards. Wine making is a large industry here.
We got to Kelowna and put the dog "in jail", a term we use when we board her. The A-1 Boarding Kennel did not at all seem like a jail, though; there were big runs complete with doggy toys. Balls, rubber shoes and Missy's personal favorite -- empty one gallon plastic water containers were in every run. This place is more like a doggy deluxe hotel.
Kelowna was named the 1998 most beautiful city in Canada, for reasons including tidiness effort, environmental effort, community involvement, landscaping, floral arrangements and turf areas. And it shows. Most of the wide streets have heavily used bike lanes, which are often shared with in-line skaters. The homes have beautifully cared for lawns and gardens -- something I have come to expect from the Canadians. Okanagan University College is located close to shopping and not too far from the lake. This was great for us, as our only means of transportation while we are here will be by bicycle. An exploratory trip around the college environs is how we found the Garden Show.
There's something about a garden, especially a BC one, so I was anxious to see the show. I'm very glad I did. We found the show at about 3:30 pm, and I was back at 3:45. Unfortunately, this was the last day of the show, and many of the displays were being dismantled. Fortunately, they were no longer charging admission.
Even late on the last day of the show, the grounds of the Guisachan Garden Center were still a mass of flowers. The nurseries and greenhouses of the area had been competing with each other showing off their most beautiful blooms. The roses were especially spectacular. They were just opening so you could see their delicate hues -- baby pinks, yellows with lighter centers, oranges and creams as well as the more usual shades of red. One of the nurseries' display was of an outdoor wedding. Masses of flowers formed the walls of the mock chapel. Beautiful.
Not only flowers, but also herb gardens were featured. Herbs for use in the kitchen as well as in the medicine cabinet. One nursery featured displays of dried wreaths. Other booths had garden implements -- rubber shoes, trowels, and aprons. Garden table and chairs. Arbors, walkways and screens. Garden signs ("somebody's garden"). Cut glass, Tiffany-style stepping stones. Birdhouses, and feeders. Wrought iron garden decorations. Anything to do with a garden could be found here.
Like most garden shows, there had been a competition of flower arrangements. Even if a bit wilted at this late date, they were still beautiful and imaginatively presented. One lady was at the desk collecting her prizes, and from the number of ribbons she was holding, she was no newcomer to this field.
It was growing late, so I passed up the opportunity to have a cup of coffee or tea and ice cream in the tea garden. This part of the Garden Center is ringed with rose bushes and filled with small tea tables set on the manicured lawn. Several people were still having their 'cuppa, and discussing the weekend's happenings.
But, for me, it was back to the college. Time to look at my schedule, and get my pen and paper ready. School starts tomorrow.
---
Postcard: Kelowna Bound: The Chumstick Highway
June 18, 1999
We are off to Kelowna, BC to attend the RV Owners Lifestyle seminars at the Okanagan University College. The fact that those seminars do not start until next week has not deterred us from fitting in some extra travel in the North Cascades and the Okanagan Valley. We "base camped" at the Icicle River RV Park in Leavenworth, WA.
In a park-like area squeezed between the river and the steep granite hills of the Cascade Mountains, Icicle River has grassy level sites, wonderfully clean restrooms, a hot tub, a putting green and is modem friendly (even though there is no computerized registration system!). On one side of the park the Icicle River tumbles through a rocky canyon, and creates a number of waterfront sites that seem to be the most prized. I had thought that its one drawback was the scarcity of sites suitable for big rigs until I saw 6 35'+ Gulf Stream coaches fit in with only modest difficulty this afternoon. Since they'd made a reservation only hours before arrival, and wanted six sites "together", they found themselves in six adjacent back-in sites which looked to us more suitable for the slide-in Alpenlite camper we're presently using.
These folks had traveled some considerable distance, all sporting license plates from places like Connecticut, Delaware and Virginia. Each had a car in tow. Most were trailing Saturns, but one of the rigs had a full size double axle trailer with a Lincoln Continental atop -- no wheels down. Somehow they managed to stow the tow cars and trailer, for which there was just no room at the sites, and soon they were settled in and enjoying the sights and sounds of the real Intermountain West.
The park is three miles from the town of Leavenworth. Leavenworth is ringed by mountains and is reminiscent of Switzerland. To promote this image, all the city buildings have idyllic scenes of Bavarian life painted on them and are further decorated with flowers. Geraniums, petunias and lobelia spill out of hanging containers, bulge over the sides of boxes and hang from all the street posts. The town hosts Bavarian festivals -- in May there is a Maypole dance, in October an autumn leaf festival and each weekend there is an art festival. All this brings tourists by the busloads, but Icicle is far enough away to be out of the noise and bustle of the visiting hordes. Yet it's close enough to shop or stroll the streets when you wish.
Today we were going to explore the countryside surrounding this quaint town. We are looking at property in this general area with the thought that we might sell our Idaho cabin and replace it with something a little closer to home -- ours and our kids'. It was recommended that we drive a "loop" road, from Leavenworth north to the town of Plain, from there to Chiwawa River Pines, west to Fish Lake, and then south again past Lake Wenatchee and back to Leavenworth. So off we went along the Chumstick Highway. As we drove along the valley, canyons opened on either side -- Freund, Summit, Merry, Claire and Snowbird -- each inviting exploration. A few miles out on the Eagle Creek road, we found the homes on the creek side of the road to be farmhouses, complete with vegetable gardens and pastures for horses and the occasional llama. On the other side of the road, the homes are situated on hillsides, and set back into the trees. All were attractive, some were for sale, nothing was exactly what we were looking for.
Over the hills to Plain. The road climbed gradually through cedar and madrona trees and dropped sharply into Plain. We drove through green, lupine laden fields contrasting sharply with granite mountain slopes and punctuated with rushing streams. Here we found neat small homes along town streets, with the larger homes and ranches in the outlying areas. You can grocery shop at the Just Plain Food Store, or bank at the Plain Bank. Driving the Plain River Road, we saw this normally small stream as a raging torrent. Last year's wet winter made for record snowfall, and the current hot spell is causing melt-off and flooding along the Plain and Chiwawa rivers. Some waterfront homes have temporarily lost their front yards, their patios and outdoor cooking areas.
From Plain, the road divides and gives you two choices, a shorter route to Lake Wenatchee via the the Beaver Valley Road, or the somewhat longer Chiwawa River Road. The Chiwawa road passes by Fish Lake, named either for the number of fish in it or the number of hopeful fishermen on it. We could not tell, because while there are two small settlements here, both proclaim that they are private communities and that there is no lake access.
Lake Wenatchee has both state and private campgrounds. When water level permits, there is fishing on the river, and swimming, boating and fishing on the lake itself. This is a popular camping spot in the summer, when it is several degrees cooler than in the lower altitude destinations in the Columbia River valley.
Just past Lake Wenatchee, at Coles Corner, the road joins Highway 2, the main route from Seattle to Leavenworth and points east. Now it was just a few miles back to Icicle for another night's stay before heading off again in the general direction of our upcoming "Classtime in Kelowna".
---
---