POSTCARDS
---
Stephanie is one of those persons who can fit a lot of words onto a standard size postcard -- usually by writing sideways, around corners, and even upside down if she can find some extra space. Most of these go to family and friends. But some of them -- those which document our RV adventures -- find their way onto this portion of our website...
---
Postcard: Celebrating 2000
January 2, 2000
I cannot remember the last time we went "out" for New Year's Eve. When the children were small, I decorated the house with balloons on which I wrote (in fingernail polish) the months of the year. The kids popped the balloons at midnight. We have gone to a few parties since, but usually we just stay home and prepare for the next day. After all, New Year's Day has parades and football games (can't pry Tom loose!) galore to watch. We always have made the "Day", not the "Eve", the focus of our celebrating.
But this time it was different. To end of the year, the decade, the century and (at least by one measure) the Millennium, all at the very same time, surely deserved a special party. At the stroke of midnight all these would take a phenomenal leap forward. Very few persons' lifetime spans such an event -- and this one wasn't to be missed!
The whole day was a New Year celebration. We watched the Millennium come to the Kirabati Islands, to Australia, to Indonesia, to India, and so on around the globe. We watched the day long festivities in New York City. In the LA Times, we read the listings of the Storms of the Century. We read the listings of the Athletes of the Century. And we wondered why, when this was the turn of the Millennium as well as that of the century, there was no listing of any of the events of the last 1,000 years -- just the last 100 years. We know the answer is mostly comprised of our lack of historical information, which gets increasingly scarce as one traces back from present times over a span of one thousand years. But, we suspect, it's also that the human mind is overwhelmed with a a time span of 1,000 years. A century appears to be about the most challenge we can handle...
So, and given the very special nature of New Year's Eve 1999, we signed up for the New Year's Eve party here at Emerald Desert. A large tent had been erected to hold the 200+ celebrants. Under the tent were tables set for 8 with white tablecloths and maroon napkins. Each table had either a gold ball or silver wine bottle centerpiece. Attached to each centerpiece were 5 gold and silver balloons. As we entered the tent, we were given party hats -- a feathered tiara for the women, gold top hats for the men. Dinner was steak and lobster, with Baked Alaska for dessert. A DJ played all sorts of old and not-so-old pieces and we danced well past midnight on one of the two dance floors set upon the grass. A wonderful party.
As of this writing, Y2K has yet to appear in any significant way. As we walked back to our rig, I was pleased to notice that park lights were on. New Year's morning, I saw that the Palm Desert traffic lights were working, and the planes were still passing overhead. I went to the grocery store and was able to use the ATM. So we will retire the black and blue stuffed "Y2K Bug" which has prominently adorned our dash for the last 2 months and turn him into the harmless pet he has apparently always been.
Our next adventure will be our planned caravan to Mexico. When we return in late January, we will probably head east into Texas, and then likely further southeast. What a wonderful agenda of new areas to explore as we cross into this exciting New Year, Decade, Century and Millennium!
---
Postcard: Christmas Coaches
December 18, 1999
We are treating ourselves to a stay at the Emerald Desert RV Resort in Palm Desert, CA. This is a luxury park with swimming pool, three separate spa areas with laundries and club rooms, several tennis courts and an executive golf course running around and through the sites. During these days before Christmas, the park is only about half full (full occupancy is expected come New Year ), but the holiday spirit is everywhere.
So are Christmas decorations. Following an old family holiday tradition, last night Tom and I rode our bikes around the park just to see the lights and decorations. Just about every rig has something festive about it. Lights are in profusion. There are "regular" lights, red and green twinkles in windows, on the tall trees at each site and on small Christmas trees. Each of these small trees, living or artificial, has been imported by the individual camper. There are icicle lights, hanging down the front of 5th wheels, sheeting off the backs of other rigs, reflecting onto the golf course. There are "net" lights. These are new to us this year, and form a very attractive pattern hanging off awnings. One 5th wheel, owned by the Davis' from Oregon, takes first prize for lights. The entire rig is festooned with them. On the top of the rig is a 5 foot tall pole, topped with light-outlined star, with lights radiating out from the star to the top of the rig. These folks have a lot of houseplants, and also use them in their decorations. There are 19 pots arranged in front of the unit, with 12 of them in a row -- all entertwined with lights. There is a "tree" of white metal circles, each smaller than the one beneath, all with embedded lights. The natural trees at their site have their trunks wound with green lights, while white net lights hang from the branches. Wow.
But there are other decorations here as well. The Lytle's from South Dakota have a 5th wheel with two 3+ foot Nutcracker type soldiers on guard. Banners with Santas, snowmen and reindeer hang from many units. The dashboards of many coaches have become minature snow scenes, with cotton snow and plush figures. One rig has a beautiful large St. Nicholas figure in its front window. Several have trees with gaily wrapped packages scattered across the dash.
Flowers reign. Poinsettias line the edges of some areas. Wreaths, decorated with ribbons and balls, along with as Christmas bows,hang from the grills of many coaches and from the fronts of trailers and 5th wheels. Swags with lights decorate awnings.
Our rig is one of the less decorated ones. We have a basket of green plants to which I added some poinsettia blossoms and two tiny stockings. In a "vase" -- three tubes in a frame which attaches to one of the non-opening windows are more red and white blossoms. Near Payson, Tom collected a branch of pinyon pine. I decorated it with small bows; it is our Christmas tree. There is a small banner at the door. A small wreath and swag of red and green over the sofa complete our decorations. Oh, yes, our Y2K bug, with red and green ribbons on its antennae, sits on the dash.
Being very new at the "full-timing" game, I did not even contemplate bringing any of my Christmas decorations along on this trip. Where would I pack them for those 300+ days that are not the Christmas season? Where, for that matter, do these other folks put theirs? I went around to a couple of rigs to ask.
The Davis' claim that lights, even as many as they have, take very little room. Their 19 houseplants travel with them. Their non-foldable picnic table comes apart -- legs from top, and slides under the rig. The white circular tree folds down upon itself. And, by the way, they have relatives living in Los Angeles who have agreed to store their decorations. Further, they stay in Emerald Desert from October until May. Our neighbors from Virginia, with several poinsettias, two long swags, an outside clay Mexican fireplace and wrought iron fountain, are buying a house here and are in an accumulation mode. But most RVers are just better "storers" thay we are. I have had a glimpse into some storage areas. They are packed with boxes, floor to ceiling. And they seem to know what's in each one. Tom and I are still playing the "where did you put that"? game.
We found it hard, at first, to contemplate a sunny, desert Christmas. And we will spend the actual Holiday in possibly snowy Yakima with our family. But we take with us the cheer given us by these RVers, their wreaths, ribbons and lights.
Happy Holidays to all!
---
Postcard: Alive -- Underground
December 5, 1999
When we heard that Kartchner Caverns was finally open to the public, we could hardly wait to go. These Caverns were discovered in 1974 by Gary Tenen and Randy Tufts. These two realized that they had found something extraordinary, and kept their find secret for the next four years. Indeed, they gave their cave a name, Xanadu, so that if they should inadvertently mention it, no one would know what they were talking about. Then they told the Kartchner family, who owned the property. In 1988, the caves and some of the surrounding land was approved as an Arizona State Park. But it took a long time for these Caverns to open. For the last two years, they have been almost ready, but not until the 12th of November, this year, could you tour them. It was worth the wait.
We had a day "to kill" while waiting for some service work on our coach at Beaudry RV in Tucson. It was a cold (for the desert) and windy day as we drove down the Interstate some 40 miles to Benson. We got off at exit 302, and drove 7 miles south to the entrance of Kartchner Caverns State Park. At the entry kiosk, we learned that most people make reservations for the Caverns tour, but that sometimes, tickets are held out for the unwary tourist (us), who doesn't realize that reservations are in order. We were told that we could probably get in "sometime this afternoon". We got our entry ticket time stamped, and could get our money back if we were back within 40 minutes.
A wide road winds up to the Visitor Center. The gardens were being planted, raked and weeded by a veritable army of volunteers, all wrapped in sweaters, hats and gloves. Inside, there was only a short line of people wanting tour tickets, and we got on the 11 am tour. As it was already 10:35, there was barely enough time to change into walking shoes and let the dog out for a couple of minutes, before we were due at the rear patio to meet our tour leader.
Sarah Lee-Allen told us a little about what we would see in these caves. For the first time, I realized that, unlike other caves we have explored, these caves are still "alive". The "speleothems", the formations that decorate caves, are composed of layers of calcite. This calcite is deposited by water -- in drips, flows, seeps, condensation and pools. When the water no longer enters the cave, it dies. Too often, people have not known this, and opened caves for mining or tourists. That is not likely to happen here. We were warned not to touch any part of the caves, as the oil from your skin might interfere with water adhering to the surface. And in these caves, misting machines have been installed, so that any moisture which might be absorbed by the human visitors can be replenished.
We took a short tram ride to the cave entrance. Even though we had been told that the interior cave temperature was 68 degrees, with 99% humidity, it was hard to believe as we stood outside in the cold wind. When we were all assembled, an hermetically sealed door in the side of the mountain was opened and we filed in. Off came sweat shirts, hats and gloves. Tom's glasses immediately fogged up. The door closed behind us, and we proceeded down a short corridor to the next one. This process was repeated twice more, and then we were in Kartchner Caverns.
There are two caverns currently open for touring, the Rotunda and the Throne Room. You can see where Randy and Gary crawled through into the cave, and the small a hole "as large as an extended coat hanger" where they crawled into the Throne Room, being careful not to break any of the fragile formations. You view the "sunless sea", a pool of mud, a true "pond" in rainy times, but always thick and sticky. There are still footprints crossing this "sea" made by the explorers and those who have explored it (like the National Geographic personnel) since. There is only one trail, however, and no unnecessary footprints.
I could not possibly describe all the cave formations we saw, the soda straws, and coral pipes, the flowstones and shields. The colors ranged from purest white to a deep blue/black. I had seen stalactites and stalagmites in other caves, but had never seen a helictite. These odd little squiggles resemble nothing so much as roots penetrating into the caves from the outside bushes.
Some things are best experienced, rather than described. The Throne Room, with its 58 foot column, Kubla Kahn, is one of them. The light and music show of this entire room was simply spectacular. I will look forward to the opening of the next cave -- the Big Room.
After our cave tour, we had a chance to explore the Discovery Center. Here is a diorama of the cave and exhibits of those animals and insects which live there. The bones of an 80,000 year old giant sloth were discovered inside, surprising those who did not believe that this creature ranged this far south. Skeletons of a 34,000 year old horse and an 11,000 year old bear were also found here. On the living side, a colony of bats roosts each summer in the Big Room. And you can always expect cave spiders and scorpions. Hopefully not on the tour trail, though!
We drove through the campground near the Discovery Center. Due to open in January, it will have 63 sites with water and electric. Each is landscaped naturally, and typical of Arizona State parks, they are generously spaced. There will be hiking trails, an interpretive trail and a hummingbird trail. Volunteers have been hard at work here, too. One woman said she and here husband have been coming here for the last three years, working on the campground.
All too soon it was back to Tucson. On the way back we both marveled at how different these caverns had been from the "dead" caves we had visited elsewhere. There is an overwhelming desire on the part of those who manage this new park to learn from the mistakes of the past, and to preserve this priceless public asset for all future generations. We wish them every success in this cause, and applaud all who had a hand in bringing this treasure into a protected public domain.
---
Postcard: The 6 Days of Thanksgiving
December 1, 1999
We had the most wonderful Thanksgiving with family and friends! We had long planned on having our two children and their families with us in Borrego Springs for "turkey day". Then we learned that two of our good friends from Friday Harbor, Bruce and Carla Kramer, were in Borrego also, and they had no plans for Thanksgiving dinner. Great -- they could share ours! We would be eleven at the table, with one 4 month old on the bed inside. We would have an early dinner, eating at the outside table at our site at Borrego Palm Canyon campground.
Our holiday began on the Tuesday before Thanksgiving. Unexpectedly, and delightfully early, the Yakima clan arrived at our rig just as we were preparing our dinner. A quick trip to the store stretched our dinner to feed 4 adults and an almost four year old (the 4 month old was easy). The next morning, the Kirkland "gang of four" came in, having left their home at 5:40 and managing to catch a 6:40 flight out of Seattle. There is a wonderful Mexican restaurant, Gilberto's, in town, and tonight would be Mexican take out night.
Our main problem was the bird itself. With 11 diners and only a small microwave/convection oven in the coach, how could we possibly cook a large enough turkey? Tom had measured the oven and we had only 4 3/4 inch clearance between the top of the rack and the roof of our microwave. Way too small for any size turkey we had ever seen. Our answer happily turned out to be Diane O'Keefe. She runs the Borrego Springs Feed and supply store. I had met her last year, when I stopped in to get some bird seed. Here I met George, the Guinea Pig, a most gregarious little "critter", who had his cage in the middle of the store where he could greet all the customers. And here you can buy all sorts of "feed" -- from quail blocks to the more mundane dog and cat food. The O'Keefes, both readers of and contributors to this site, are planning on becoming fulltimers next July; and while "talking with her" via the Internet, she suggested that we should use her oven to cook the turkey . When we got to Borrego, we stopped in at her store and were persuaded to accept her invitation.
We visited the O'Keefe's horse ranch the day before Thanksgiving. We drove down a long winding drive, past corrals and sheds, to a lovely small ranchhouse. Inside, the smell of fresh baked pies was everywhere. Yum! Even though her husband Terry, a California Highway patrolman, would be on duty on Thanksgiving, there would be a feast at their house when he came home.
I was surprised at the number of people in our campground for this Holiday. Over the mountains and into the desert, to grandmother's rig we go! Everywhere there were kids on bicycles and skates, hikers and joggers, all enjoying the desert. About every third RV had a cook stove, smoker, or some combination -- all ready for Thursday. Several families had gathered in multiple campsites, and each evening most had campfires.
It gets dark and cool in the desert at night, so we had an early Thanksgiving dinner. Our 8 year old granddaughter learned that Carla Kramer is a well known Friday Harbor artist, and managed to wrangle an invitation for an art lesson from her the next day. I was signed up for baby sitting while the Yakima contingent was golfing, and the Kirkland group was going to hike up Palm Canyon -- at the head of the campground. A spaghetti feed around the campfire rounded out this evening.
Saturday, the Kirkland contingent headed home, and the rest of us spent a quiet day. Dinner this night was left-over turkey with potatoes baked in the campfire. The next morning when we stopped by to say goodbye to the kids, Ty (our three year old grandson) was heard to remark, "Mommy, when Grandma goes home who's going to make dinner for us?"
6 wonderful days in the Anza Borrego Desert. 6 nights of varied (somewhat) menus. And soon, one night out in a restaurant. I'm going to make -- a reservation!
---
Postcard: The Other Side of the Fence
November 18, 1999
As RVers Online, we quite naturally take the point of view of the RVer. Editorials, bulletin board items, and even my postcards, all are written from this standpoint. There is another side to this fence; however, and we just got a first-hand impression of what it is. We attended the ARVC (National Association of RV Park and Campground Owners), conference in San Antonio, where we gave two presentations -- "Modem Friendly RV Parks" and "How to Make a Happy Camper". We wanted to show the various park owners just what a (statistically) "average" RVer sees when he stays in a park. We got a return lesson in what that owner sees when the camper comes to stay with him!
We left San Diego and flew Southwest Airlines to Phoenix and then to San Antonio. I am not much of a "flyer" -- the longer I fly, the more nervous I become. However, Southwest's flight was non-eventful. We were packed, anchovy-style, into the plane. We got the standard (these days) nuts and soft drinks for a snack. The flight attendants were helpful in storing everyone's luggage, the pilots gave us the necessary information concerning the flight duration, and pointed out the various rivers and cities along the route, so we would know approximately where we were. We arrived in San Antonio on time, and spent the evening exploring the Riverwalk area.
Our first presentation was not until the next afternoon, so we attended the morning "crackerbarrel" sessions. There were two, one for the owners of "small" RV parks, the other for the large park owners. Issues ranging from park landscaping to what, if anything, to do about those RVers who boondock at Wal-Marts. That issue inspired a lot of controversy. A few parks, possibly those most directly affected by nearby boondocking options, expressed strong feelings on this one. But the prevailing sentiment seemed to be that the best solution was for the parks to offer such a quality experience to RVers that they would win an ever higher percentage of RVers' business. It was a sort of "grow the pie" and our piece will take care of itself.
At each of our presentations, Wednesday afternoon and Thursday morning, we handed out a survey/questionnaire. We have done several surveys concerning RVers preferences in selecting RV parks; now we felt it was time for the shoe to be on the other foot. Did we ever get an earful! Our survey had questions on everything from how RVers get along with their neighbors to how fast they drive while in the park. We asked the owners to rate "us RVers" on how well we keep the restrooms clean and how nice we are to them and to each other. Two of our questions concerned pets -- how well do we pick up after them and keep them quiet.
We provided several spaces where additional comments could be made. Here came the surprises. I did not realize that there seems to be an equally large problem with children. One of the primary reasons that coin boxes are sometimes installed in park showers is that kids come in, turn on the water, lock the door, and slide out underneath! Some RVers leave their children unattended, to roam the park during the day, and are often left alone at night.
Certainly not all the comments were so negative. One park owner succinctly summarized these complaints, "All our problems with campers boil down to a lack of consideration for their fellow camper". And another said, "...as we start our 4th year in business we have met a large amount of people who we were very sad to see go."
We're still analyzing the data as I write this, and we'll be posting the results along with our other survey results. It should make good reading for park owners and RVers alike. We've had our chance to rate what we like and don't about RVparks. This time they'll be rating us. And hopefully lots of us will be better informed as a result.
We had an delightful time meeting the park owner participants between classes and at social events. And we were very impressed with them as a group. They were there not just to learn how to run a profitable business. In fact they seemed highly appreciative of the fact that their success depends on providing an quality experience for their customers. Quite a number of them spotted our "RVers Online" shirts, and expressed their appreciation for the non-commercial information resource which it offers them. Many had questions about how they could become "modem friendly", or upgrade the type of facility they presently offered.
The theme for this conference was "Bridge to Excellence". I think we both came away with the feeling that if an RV park owner is active with this national organization (ARVC), the odds of it being the kind of park we're looking for goes up.
---
Postcard: It's All Done with Mirrors
November 10, 1999
I had been looking forward to going to RV driving school -- what would it be like? I had already met Jerry Ray, who would be our instructor, at the University of Idaho RVing conference, where I had taken a short course in driving and driving safety. But this was the "real thing", two 6 hour days, in our own rig, finding out just what it, and we, could do.
Monday morning, 9 am sharp, Jerry arrived at our campsite, took down the pertinent information from our drivers licenses, vehicle registration and insurance certificates, and we were off. Or so I thought. Lesson # 1 was:before you drive away in your rig, always take a "walk around". Check the tires, the awnings and the TV antenna. Then, and only then, were we ready to start.
The very first thing Jerry did was to check us out on our mirror usage. Our coach has 4 side mirrors, the lower ones are convex, and the upper ones are flat. The upper is used for distance, while the lower gives you the "bigger picture". I learned that the two should be set so that the bottom portion of the upper mirror shows the same images as the top portion of the lower one -- something my settings had never done. And as our lesson progressed, the importance of mirrors became more and more apparent. Mirrors show you the other cars entering a freeway from an on ramp. When you are making a right turn, they show you if anyone is squeezing by on the right (a great California driving trick). They show the tracking of your rear wheels when you make tight turns at intersections. They are imperative when backing and parking. And knowing precisely how to use them really improves your confidence.
And I actually did all this stuff. Jerry had me drive around corners to the right and corners to the left, in wide streets and in narrow ones. We drove in u-turns, just to get a feel for the turning radius of the coach -- just in case we ever needed to get out of a tight situation. I learned to manuever the coach by moving it 10 feet to the right or left of where it was parked using a space which was shorter than the length of the coach itself. Again, it was mostly "mirrors". I took the coach to a (fictitious) sale at a Target store, and had to find a parking place. At the time, the lot was mostly empty, but what if it filled later? I needed to find a parking place where I could not be blocked in. And I even backed up! Me. By using the mirrors, and keeping my rear wheels at an even distance from the curb, I backed up the better part of a block.
Jerry is a great instructor. Apprehensive at first, I quickly became more confident. I could too do this. I drove up steep, winding grades, and, more difficult for me, drove down them. I backed around left and right hand corners -- carefully watching my wheels track, using both mirrors. He guaranteed me he would not let me do anything stupid -- like backing into a light pole. Tom was actually okay too, as he was almost able to resist all comments about my driving.
I made mistakes. I took a turn too quickly, sending our kitchen chairs skidding across the floor. I goofed campground entering, coming in too close to the electric box. But I learned a great deal, and with practice, I am sure I will be able to be a much better driver.
And I'll certainly always remember to use my mirrors!
---
Picture Postcard: The Tehatchapi Loop
November 3, 1999
Today maybe, just maybe, we've begun to adjust a bit to this new lifestyle -- "RVing the Open Agenda". We've been in Bakersfield a number of times, usually on an overnight stop at the Orange Grove RV Park. But we've never stayed more than a single night. Today we took our Jeep in for a minor warranty repair at the local dealer, Lithia Jeep. This place really welcomes folks who are just passing through. The Service Advisor had told Tom last night that if we could bring it in by 8 o'clock this morning, he'd get someone right on it. We surmised that all good intentions aside, we'd likely end up spending most of the day waiting for our tow vehicle, and we were prepared to spend a second night here. But to our considerable surprise, the Lithia folks took our vehicle in at exactly 8:00 o'clock, and had it repaired and ready to roll by 9:00 AM -- hardly time for a cup of coffee and the newspaper.
So, assuming we'd follow our natural pattern of one nighters, we pulled the tow car up behind the coach, in preparation for hitching it up. Tom made his usual daily run to the modem hookup area to download the day's email, and I started looking at some of the materials describing the local area. One in particular caught my eye: The Tehatchapi Loop. We'd probably driven by it on Highway 58 between Bakersfield and Tehatchapi at least several dozen times, always wondering what a close up of this "7th Wonder of the Railroad World" was really all about. And since we're not really on any schedule, why not just stay another night here anyway, and take a tour? I caught Tom just finishing up his online stuff and suggested we do just that. I think it probably occurred to him too, for the first time, that we really didn't have to get anywhere today. It was kind of like The Great Awakening: No schedule, no commitments, and really no reason NOT to see what was here. So we re'd up for another night, and set off for the Tehatchapi Loop in our Jeep.
Some 20 miles east on Highway 58 we saw a sign proclaiming the village of "Keene". Keene appeared to be essentially a general store and restaurant, with a sign proclaiming on its wooden side "Gateway to the Tehatchapi Loop". Apparently we were almost there.
We followed the narrow, winding road for about three miles, climbing well above the truck laden four lane Highway 58 below. Our path intercepted the mainline of the Burlington Northern Santa Fe (funny how they've all merged, eh?) and soon we were at the overlook and two State Historical markers. In the distance we could see a long train slowly ascending the grade. Tom quickly readied his latest toy, a Canon Powershop digital camera so that I could send a Picture Postcard of this experience.
From our vantage point, the train disappeared from view as it approached the loop. It was actually below our horizon at that point, and was entering a tunnel in an eastbound direction. We first saw the engines emerge from the tunnel (still heading east), and start slowly around the loop in a counterclockwise direction. As it crossed the halfway point of the loop, it was crossing "above itself", in that the engines were some 27 feet above its own cars which were just entering the same tunnel below it. This particular train was long enough so that even after the engines had completed a 360 degree circle and were heading on a straight track due east, it was still pulling cars into the tunnel it had first entered. The whole scene at that particular moment was an almost perfect "circle of train". Tom couldn't resist, and snapped the loop I've just attempted to describe.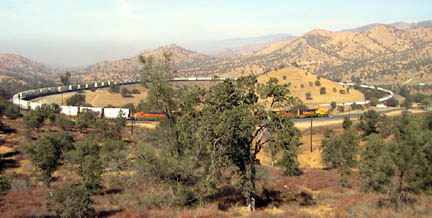 We learned from the signs that this track was begun in 1874 and completed just 2 years later -- 1876, by 3,000 Cantonese. The Grade is 28 miles long, with a 2.2% gradient. There are 18 tunnels and 10 bridges, and at one time, there were innumerable water towers.
We were lucky to see two trains going up the grade, and later, one coming down. The ones ascending the grade had five engines in front, as well as two in the middle of the cars. The one coming down had six engines for its 64, (I counted), cars. It would seem that descending is the more difficult direction; that train was proceeding very, very slowly.
We had lunch in the town of Tehatchapi. This is another of the places we had rarely stopped, and never explored. It is much larger than I had imagined; and is undergoing a growth phase -- new homes dot the landscape. Domingo's Mexican restaurant (a "chain" of two, with its other restaurant in Boron) served a great lunch. It used to be a chain of three, but the waiter explained in a delightful Spanish accent that the third one had been acquired by Americanos. I had chicken quesadillas, Tom an avocado salad. Muy delicioso.
Tomorrow, we're off to Barstow for a day or so. Unless we wander somewhere else.....
---
Postcard: Off to see the Wizard
November 2, 1999
The first fall storm has come to the Oregon coast, high waves and winds up to 60 miles an hour. Time to head south seeking warmer, and sunnier climes. We are off to see the Wizard -- of RV driving. We signed up to take a 2 day course -- a professional RV driving course. I am a bit apprehensive as well as excited. Hope I can pass -- or at least not embarrass myself. I am accumulating questions as we travel - for example, " When passing, where should a vehicle be in your side view mirror, so you know it is safe to pull back into the right hand lane?" I have questions on courteous driving. For example, I have noticed that passing trucks seldom/never pass more than one vehicle at a time, even though this means that they must pull into and out of the passing lane more frequently. Several years ago, I was followed into a Safeway parking lot by an irate trucker, who proceeded to tell me, in no uncertain terms, just what he thought of my driving. I hope to learn enough not to ever have that happen again.
With nearly a week to get to the Lancaster/Palmdale area, we are practicing taking our time. No more the "how far can we go in one day so as to get where we are headed as fast as possible" routine. Getting diesel just north of Red Bluff, Tom talked to a real California cowboy. Not an oxymoron: this man owns a ranch of several hundred acres, and told us what to see in Northern California. (He considers all of the state south of Red Bluff to be Southern California). He told us about Cottonwood -- an area we had bypassed every time we had driven the Interstate corridor. This trip we found a great western wear store which not only stocked Tom's favorite brand of jeans, and the cutest western baby wear (for our 3 month old granddaughter), but also cleaned and blocked Tom's hat (badly in need of these services). In the same building, we spent an entertaining hour watching the monthly stock auction. In batches of varying sizes, cattle were herded into a very small corral. Two men kept the cattle moving, the auctioneer uttered incomprehensible words, and 30 or so cowboys bid on the animals. At least I think they were bidding, but it was extremely difficult to tell. What poker faces! If they lifted their hands or gave any signal at all, I could not see it. The cattle were herded into and out of the corral with great efficiency. Talking with one bidder during a break, we learned that he and the other cowboys had been doing this for so many years, they could tell the condition and age of the cattle just by looking at them!
We spent two nights at the Red Bluff RV park, one of our favorite stopping spots. Time for a round of golf, catching up on email, and watching the Saturday football games. I returned to Cottonwood to pick up Tom's hat, and was treated to a rodeo. Kids were showing off their roping skills, with the prizes being Halloween candy!
We have been known to drive straight through from Red Bluff to Bakersfield on our route south. This time, the journey took 2 days. Still too fast, but better. We spent one night in Plymouth, CA, a delightful little town in the gold country which cannot have changed much at all in the last 50 years. There are no tourists here. No t-shirt shops, no antique shops, only a charming town hall, small school and Halloween decorations everywhere. At the Pioneer RV park, we had been warned we might get a few trick or treaters. We got so many that we ran out of candy. When that happened, we blew the Jack O' Lantern candle out and the children stopped coming. No tricks. The next night, we drove into the Sacramento Delta for a night dry camping. The town of Rio Vista had just finished its annual Bass fishing tournament, but the fishermen had certainly not stopped fishing. They were everywhere, enjoying the warm sunshine, and probably catching all the bass left after the tournament.
Tomorrow we head for Bakersfield. We will spend a day or so at the Orange Grove RV Park, catching up on RV chores. Then we're off to the desert and driving school.
---
Postcard: Waiting for the Coach
October 26, 1999
We have joined a special fraternity -- a brotherhood of persons getting their motorhomes serviced here in Junction City. Every morning between 7:30 and 8:00 am, we file out of our coaches, and cross the street for coffee and sweet rolls. Every morning at this time, a small army of service technicians comes for our coaches, and takes them to the service bays a few blocks away. Every evening between 4:15 and 4:30, the armada of coaches comes rolling back to the parking lot and is plugged into shore power. It is up to the individual owner to reconnect the water and sewer. Every evening, you get to discover what special items have been "fixed" that day, and when you can contemplate leaving.
This agenda poses a certain problem. What are you going to do to fill in the time between 8 and 4? Sometimes, people take tours, both of this factory and those of the other coaches manufactured in this area. Some play cards or dominoes. Some take long walks. Everyone talks with their fellow "wait-ers" and makes great friends.
That regime was great the first day. Last night we learned that we would be here for yet another one, and decided to do something a bit different. Tom found a "circle" route to the coastal towns of Waldport and Florence, and we went off to do a bit of exploring.
Northwest on Highway 99 is the small farming town of Monroe. As were most of the towns we were to see today, it was well decorated for Halloween. Pumpkins on every porch and an elementary school with seasonal art work in every window.
Leaving Monroe, we took a light gray line road to Alsea. The road wound 17 miles through the hills toward the coast, past farm homes and pastures decorated for fall. The maples were out in all their glory; yellows, oranges and reds. But this time they did not have the added benefit of the sun to enhance their colors. However, as we drove toward the coast, the gray day of Junction City became brighter and brighter, and by the time we got to Waldport, the sun was out.
At Alsea, we joined highway 34 for the last 40 mile run to the coast and Waldport. The road now followed the Alsea River, and we began to see trucks parked along the sides of the road at every pullout and fishermen along the riverbanks. The river becomes tidal at the aptly named town of Tidewater. Here was a marina with a dozen trucks and trailers in the parking lot and a line of hopeful fishermen waiting to launch.
The Alsea River joins the ocean at Waldport. At the Information Center we learned about the Alsi, the first people in this area. They were a River people, as the bar blocking the river's access to the ocean is a formidible barrier to ocean travel. Today, waves were crashing across the bar, and breaking over other shallow areas in the harbor. There were several crab trap floats in this shallow water and two boats circling them. One man was leaning anxiously over the side of his boat as if he could actually see the crabs entering his trap.
The Waldport Information Center describes the history of the Oregon Coast bridges. Because there were 13 places along the coast where boats had to be used for crossing, in 1850, it took a month to travel from border to border. This situation changed only slightly when ferries were used to cross these water barriers, as with more traffic the wait for ferries became longer and longer. In the late '20s a series of bridges was begun, and all were completed by the 1936. That cut travel time to 2 days (1 if you really hurried). The bridge at Waldport was built on sand, and the original pilings did not reach bedrock. Thus the bridge started to sink on one end, and was replaced in 1991. The new bridge is beautiful, but I prefer the old one -- only seen now in pictures.
We followed highway 101 35 miles south to Florence. As is the case along the entire Oregon coast, we passed pullout after pullout, campground after campground. In summer, we would have been in a caravan of cars and RVs; today there was little traffic. We stopped at one vista point, and walked along the beach -- alone except for the Gulls, and Guillemots, Black Turnstones and Oystercatchers. We explored one nearly empty campground to measure several sites for possible future use.
The turn of the season was especially obvious in Florence. Old Town is a section of antique shops, clothing stores and restaurants. Today we had our choices of where to eat, and the stores were largely, (but not completely), empty. Old town was well decorated for Halloween -- two scarecrows, one on the other's shoulders, were putting a pumpkin on the roof of a store. Another scarecrow had been shopping, and, dressed to the nines was carrying a package from the store. Against a lamppost, a witch had met with a bad accident. Her stocking feet were sticking out from each side of the post, and her body -- and broom -- were mashed against it.
We ate lunch at Mo's, fresh crab for me and an oyster sandwich for Tom. The tables here would seat six or eight persons, and probably do, in the summer. Today we had one to ourselves. After lunch, it would be time to return to Junction City, time to see what had happened to the coach today. Perhaps all will be fixed and we could be off tomorrow.
---
Postcard: The McKenzie Pass
October 21, 1999
Travel from Sisters, Oregon west to the Interstate 5 corridor can be accomplished on one of three routes. For a motorhome or 5th wheel, your choices are Highway 20 to Albany or Salem or Highway 126 to Eugene. If you find yourself traveling in a passenger car, truck or SUV, you are in for a treat. Take Highway 242 and cross the McKenzie Pass. This 37 mile stretch of road has warning signs on each end: "Vehicles over 35 feet are expressly prohibited". In our view the road is simply not suitable for any but the smallest of RVs. The road is steep and narrow -- and spectacular.
Tom & I left the Coach for post delivery service at the factory in Junction City, Oregon, and took off to Idaho to close the cabin for the winter. We wanted to choose a "circle route", and travel to Idaho and back while retracing as few miles as possible. A thin grey line on the map indicated the McKenzie Pass, and it looked intriguing. We left Eugene (12 miles south of Junction City) and drove up highway 126 into the mountains. At first, the road follows the McKenzie River -- lovely homes dotting the banks, plentiful launch ramps for hopeful fishermen, and several campgrounds. But we did not find our way out of civilization until, about 50 miles east, we came to the western end of the McKenzie Pass.
The road made a fairly hard turn right, and suddenly underwent a dramatic change of character . Gone were the large homes and vacation cabins. Gone were the campgrounds. The road narrowed and began a winding ascent, forcing us to sharply reduce speed. We were driving through a forest of maples and evergreens so dense that the sunlight barely filtered through to the forest floor. Where it did get into the trees, it turned the yellow leaves of the maples to gold. Many small maple "shoots", three to four feet tall, filled all available spaces between the taller trees, and painted the leaf laden ground with gold.
The first 14 miles of the road (going northeast) are the steepest. There is little to no shoulder. The turns belong in the hairpin category, and the ascent is relentless. Today there was enough passenger car traffic to keep us on our side of the road. No place for a motorhome or trailer, although we did see one truck camper coming down -- slowly -- as we climbed. This is an area laced with hiking trails, ranging from a short, picturesque falls trail (1!/2 miles) to the Pacific Crest trail (goes on virtually forever). All the trails require a "trail pass" from June through October.
At the top of the hill, but not yet the crest of the Pass, the road leveled out and assumed a much more civilized width. At that point we suddendly emerged from our deep forest surroundings into the starkly open expanses of black lava. We were entering the Yapoah Crater lava flow. This flow is one of the youngest in the Cascades, a mere child at 27,000 years! We could clearly see where the lava had flowed down from the craters and around the crest of the highest hills, leaving "islands" -- areas of higher elevation where the molten "water" could not reach. These were still green, forested, and seemingly unintimidated by the sea of lava in which they'd become entrapped.
McKenzie Pass. At 5,324 feet on at clear day, the views were breathtaking. The mountains of North Sister, and Middle Sister to the south; Washington, Little Washington and Jefferson to the north. The Belknap Crater, actually 4 miles away, appeared just a short stroll from where I stood. Built out of lava rock, the Dee Wright Observatory is just a short climb from the roadway. There are interpretative signboards, describing pioneer life in this area as well as the geologic scenery in front of us. We walked along a1/2 mile path through the flow, where a few twisted pine trees are attempting to grow; others have long given up and stand as bleached white skeletons. Tom pointed out a Crossbill, that bird with the odd looking beak so well adapted to extracting seeds from the pines.
East of the Pass, the road is fairly straight and not as wide. But even this stretch should not be traveled by large rigs, as turning around in the parking area would be difficult at best. But stay in Sisters, drive a toad or towing vehicle, and enjoy this spectacular trip.
PS: Two days after writing this postcard, the Pass was closed because of snow. The forecasters did not know whether this closure was temporary or for the season.
---
Postcard: Going, Going, Gone
October 17, 1999
As our departure date drew nearer, we found ourselves camping out in our own home. There was more "stuff" in the coach than on the Island. Every morning, I woke up thinking," what can I pack away today?" And, since every day I had fewer choices, I started packing things we still needed. I reduced our supply of household goods to two plates, four glasses and two place settings of tableware. We had one pot and one pan. Friday, when I began to make lunch, I had to unpack a box in order to find a knife to make a sandwich. It must be time to go. So, Friday night, we left San Juan Island, and spent Saturday rearranging the coach contents. Sunday morning, we said goodby to our Fidalgo Bay friends and took off -- Day One of "RVing our Open Agenda.
Tom drove the coach towing our jeep. I drove the Toyota belonging to our daughter and son-in-law. (We will return it to them in Yakima and take off from there). A spectacular morning prompted me to take a back road -- Best Road through the Skagit Valley. Best Road crosses the Skagit River and traverses Fir Island, below the level of the surrounding river, sound and slough. It is kept dry by a dike system which surrounds the farms and pastures. It is remarkably fertile land, with dark, rich looking soil. The road wanders through farmlands which, in spring, are full of daffodils, tulips and tourists. In early summer, you can buy strawberries from small roadside stands, or pick them yourself. Later in the summer, there are blueberries and raspberries. Today, even on a Sunday, there was activity in the fields. The potato harvest is in full swing. Now the roadside stands offer "cauli"(flower), beets and broccoli, as well as "big, ugly, sweet carrots".
All too soon, Best Road joins Interstate 5, and I drove south. At Everett, a left turn onto Highway 2 headed me east . Our destination tonight is Icicle RV Park in Leavenworth, one of our favorite stops in this picturesque area. I passed through the town of Monroe, and then through the smaller towns along the South Fork of the Skykomish River -- Sultan, Gold Bar, Startup and Index.
As I climbed into the Cascades, signs of fall were everywhere. There were fishermen at every available pull out spot along the river, hoping for luck with the fall salmon run. Where there were no fishermen, there were families, taking their last seasonal float down the river. Very small children were dressed in warm rubber pants and shirts, wearing life jackets and helmets. And in each town along the road, there were the quintessential signs of fall -- election posters dotting front yards and telephone poles. "Short for Port", "Risch for Commish". Do people choose to run for those positions which rhyme with their names?
As the road climbed, the fall colors became more and more vivid. Yellows and golds of cottonwood and birch trees, mixed with maples of every imaginable shade of orange and red -- often on the very same tree! And the sunlight made the colors even more intense. At the summit of Stevens Pass I could see the colorful avalanche "chutes" . Winter avalanches have scoured away the pines, leaving only small bushes behind, and these made streaks of red, yellow and orange down the mountainsides. I have never seen such color in these mountains. Predictably, there were photographers everywhere, snapping pictures of leaves of all colors, shining in the sunlight. What a magnificent sight. What a wonderful start for our year on the road.
Tomorrow we will visit our Yakima children, and then head south. We plan to leave the coach in Junction City for a couple of days so the few problems we have noted can be fixed. We will go east into Idaho to close our cabin for the winter. Reclaiming the rig, we will head south -- our agenda purposefully wide open...
---