POSTCARDS
---
Stephanie is one of those persons who can fit a lot of words onto a standard size postcard -- usually by writing sideways, around corners, and even upside down if she can find some extra space. Most of these go to family and friends. But some of them -- those which document our RV adventures -- find their way onto this portion of our website.
---
Postcard: Birding the Coastal Bend
February 18, 2000
We left Pioneer RV Resort and drove 35 miles north to the cities of Rockport and Fulton, heading to one of our favorite spots -- Goose Island State Park, situated right on the confluence of Aransas and St. Charles Bays. This park is divided into 2 sections; one in the woods and one on the water. The woodsy portion has about 125 sites, each set into a dense section of trees and thicket and well separated from its neighbors. The one on the water is 45 sites along the beach, most close enough to the water that you can set your pole and fish from the comfort of your RV. Campsites have water and electricity, or water only.
We had camped here before, and came by to check out the availability of spaces while we were still in Port A. At that time there was plenty of room; in fact, we had mentally selected just the site we wanted. But this time, it was totally full, and we were consigned to overflow. No problem. The overflow sites are in the picnic area. I have never seen it crowded -- or used for any purpose other than RV overlow. Here you have access to the grassy areas, with picnic tables and grills. We had enough room for our chairs and table, enough room to stake out the dog, enough room for our windsock. In some ways it was superior to the regular sights if one is well equipped for dry camping.
Goose Island has two celebrated residents, one a plant, the other a bird. The plant is the "Big Tree", an enormous, 1,000 year old coastal live oak that has survived prairie fires, Civil War battles and hurricanes. The other is the Whooping Crane. The few nesting pairs left in the world winter here. We had driven out to the Aransas National Wildlife Refuge to try to view them in other years, but had failed to see any. We had heard that the very best way to visit the refuge, with the greatest chance of viewing the birds, was to go by boat. But which boat? Rockport and Fulton both have several charter services, each leaving at varying times on cruises of varying lengths on boats of varying sizes.
When we were checking in, I noticed a sign for a four day series on birding. It was one of those fortuitous occurrences -- the first day was tomorrow! Couldn't wait to go, and Tom decided he would attend too. (He claims he knows nothing about birds, but it seems that he is always the one to spot just the one I am looking for!) The first day was on basic birding resources; how to choose binoculars and scopes, which books, tapes and computer CDs are best, and field identification. Dennis Haessley was our instructor. He is a very knowledgeable person, who currently works each summer in Wisconsin banding red-shouldered hawks. He emphasized reading the first part of a bird book -- that part which comes before the very first picture of the very first bird -- that introductory section where species, families, plumages, and field marks are discussed. He then proceeded to describe a bird's anatomy, from the crown of its head to its feet. All without referring to any picture or chart at all.
The second day included identification by silhouette. If three birds are sitting on a wire, he can tell which they are merely by size and shape -- he does not need to see any color. Where a bird is found is also important -- is it a ground feeder or does it prefer the treetops? Is it in an open field or hidden in thick undergrowth? He played some of his large collection of bird call tapes, and discussed identification by sound, since often you will hear the bird, rather than see it. He suggested that each of us should learn the songs of the birds in our home area so well that we could identify them with our eyes closed. He recounted some of his experiences while banding the hawks. Dressed in camouflage, armed with a "mist net", off he would go, tracking the hawks to their nest. He then sets up his net, complete with a figure of a Great Horned Owl in the center. He is able to manipulate the head and body of this owl figure using remote controls -- sort of like a model airplane or car controls. That plus an owl call draws the irate parents straight from their nest to scare off the invader. This draws them right into the net, ready for banding.
The third day was a bird walk through the wooded area of the park. Texas is experiencing a severe drought at the present time, and most of the birds have been attracted to feeders and in-park water supplies, so the best birding is currently being done at individual sites. Many people have set up feeders and birdbaths; in fact, our lectures were held at the "bird sanctuary", an area set off from the road, and filled with seed and sunflower feeders, bird baths, and misted areas for those birds who are afraid to get their water on the ground. We heard Ovenbirds, saw Carolina wrens, Cardinals, various sparrows (Dennis' specialty), a Tufted Titmouse, kinglets and vireos. A great walk. I was interested to learn that studies have shown that birds adapt very easily to the absence of feeders -- they do not become so conditioned to being fed that they cannot find food on their own.
The fourth and last day was to be a shorebird walk. We would be unable to attend this one, but felt we would make up for it -- we were going to take a boat trip to the Aransas National Wildlife Refuge to see the Whooping Cranes. We had driven out to the Refuge a couple of days earlier, and had seen some Cranes, but at a distance of about 3/8 mile. We wanted a closer look. Of the many boat choices, Dennis had recommended the one called justly Whooping Crane Tours.
We set "sail" on the M/V Wharf Cat, a steel catamaran about 80' long and 40' wide. It has a glass enclosed cabin, a snack bar and restroom, and is a "double decker", with the upstairs deck completely open. It also has Ray Little as narrator. A friendly, entertaining man, an excellent speaker, and does he know his seabirds! Each of us received a bird list as we left the dock, and Ray promised we would see all the birds on the list -- at least all the winter birds. One anxious woman wanted to know if we would see Cranes, and he assured her that we would. And we did.
The trip took us across Aransas Bay, an area protected from the open Gulf by San Jose and Matagorda Islands. It was a windy day, but the protection afforded by the islands, and the size of the Wharf Cat, made the crossing easy. We were on the Intracoastal Waterway, and saw several large tugs pushing barges along. There have been some accidents in this fragile area; mainly caused by tugs pushing empty barges -- pushing so many barges that they cannot be easily steered in the wind. The whole area is very shallow; we saw several "oyster islands", small islands created by the many oysters in this area, and exposed at low tide. At one point Ray volunteered to let anyone who wanted oysters wade out and pick them. The catch was that the boat would go on, the oyster gatherer would have to wait until its return to reboard. This remark was made in fun, and no one took him up on it.
When we reached the Refuge, the boat nosed right up on shore on cement pieces which form one bank of the waterway. And here we saw our first Cranes: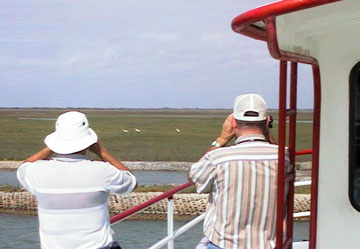 Whoopers in Sight!
They are usually seen in families, two adults and one juvenile. The female Crane lays two eggs, but only the first hatchling gets fed. Often the second chick, or even the egg, is kicked out of the nest. The result is always a family of three. Further on, we sighted a large flock of Cranes, Whoopers as well as Sandhills. These were the juveniles, since Cranes do not form families until they are 5 years old.
We must have seen at least half of the current Refuge's population of 185 Whooping Cranes. But not only Cranes. We saw Wood Storks, Black Skimmers, Merganzers and Egrets. We saw Great Blue, Little Blue and Tri-colored Herons. We saw Forsters, Royal and Caspian Terns. We saw all the birds that Ray promised us we would. At the end of the 3 1/2 hour tour, we really felt we had "done" the Refuge.
The Coastal Bend area of Texas is well known for its variety of birds. For this neophyte, the experiences of the days at Goose Island State Park, with Dennis by land and Ray by sea, were fascinating and well worth repeating whenever we should pass this way again.
---
Postcard: Padre Island Pastimes
February 10, 2000
We are spending 10 days at the Pioneer RV Resort just a few miles south of Port Aransas. At first, I was a bit apprehensive about spending 10 days in one place, anywhere. But we have already been here for 6 of those days, and haven't begun to sample all the things there are to do.
Pioneer is only about 1/8 mile from the Gulf. To get to the beach, you walk along one of a couple of paths through the natural vegetation of this area, sand dunes and scrub grasses. The beach is hard packed sand, perfectly suited for driving along -- in fact, beach parking permits are sold for those who wish to drive out and spend the day. And many, many people do. Some collect shells. In at least two sites in this park, the picnic tables are fairly crammed with shells and other beach artifacts. Our table has an interesting design on it that could only have been made by someone lining up shells and spraying them with lacquer -- we can see the shape of each shell that was there.
At almost any time of day the water's edge is virtually lined with shore fishermen. They wade far out into this very shallow water and cast out their lines. Then they slowly back up, put their poles into pole holders (usually just a length of PVC), and wait for the fish to bite. Yesterday, the whitefish appeared to be in. Several buoys marked the sites where "stringers" full of fish were being kept. One couple from Wisconsin had about a dozen 12 to 14 inch fish on their string. The woman told me that, since they had been introduced to shore fishing 3 years ago, they preferred it to all other sorts of fishing -- in Texas or at home! As we walked along the beach, we noticed that almost all of the fisherfolk were from the upper Midwest -- we saw license plates from Illinois, Minnesota, Michigan and So. Dakota.
When the tide is out, these same folks go "ghost shrimping". They take pieces of what looks like PVC pipe fitted with a device that makes the pipe into a sort of vacuum. They push the pipe into the wet sand over a tiny hole made by the shrimp, suck up a lot of sand, and usually a small shrimp comes out when the gob of sand is discharged from the tube. These go into the bait bucket for use when the tides and times favor fishing.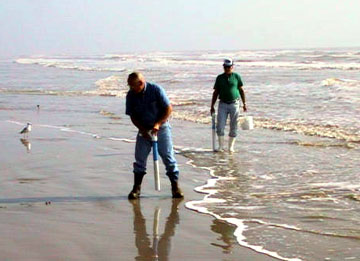 "The Ghost Shrimpers"
If you drive south along Padre Island about 15 miles, you come to the small resort community of the same name. Here there is a golf course, (which we have yet to try -- too many other things to do), homes and condominiums. Just south of town is Padre Island National Seashore. First, we passed through a ranger station, where we paid the one week fee of $10.00. (The annual pass is $20.00) The road now stretches another 60 miles -- with only the first 5 being asphalt. From here, you must drive on the sand, along South Beach, Little Shell Beach and Big Shell Beach. This is definitely a dead end "road" -- when you get to the end of Padre Island, you must come back the same way. The channel between North and South Padre Islands cannot be crossed except by boat. The first few miles of beach were filled with rigs of every size and make, all camped on the sand. The ever-present shore fishermen were everywhere. As we drove south we found fewer rigs, fewer fishermen and more birds. Forsters and Least Terns, Ruddy Turnstones, Laughing and Herring Gulls tantalized our dog. We finally let her off the leash and she enjoyed a half hour's romp in the surf, madly chasing after them. In the end the score was something like Shorebirds 376, Dog 0. But she had a great time, and they seemed to thoroughly enjoy teasing the dog into waters well over her very wet head.
We stopped at the Visitor Center to learn more about this area. It has been the site of several shipwrecks; just past mile 50, is the wreck of the Nicaragua. This is also the place of a joint effort between Mexico and the US to save the endangered Kemp's Ridley sea turtle. It is home to several varities of jellyfish, including the large white Cabbagehead jelly which does not sting; and the small blue "Portuguese Man O' War" which definitely does. Supported by a blue baloonlike float, this jellyfish drifts along the currents, and often washes up on the beach. The float can reach up to 12 inches in length and the tentacles reportedly can stretch for 60 feet. And it is highly toxic, even when dead.
If you drive north from our RV park about 3 miles, you come to the town of Port Aransas ("Port A" to the locals). You can get there on the road, or you can drive up the beach. In town, there is a nice grocery store, lots of restaurants, motels, and condos. There are several charter fishing services. As one would expect there are aso stores selling items made from shells, along with the inevitable T-shirts and bathing suits. A bird sanctuary, with a pier where you can walk out to see what species are in today, is a favorite with visitors. Or you can go there to see the resident alligator, a beast about 10 feet long. If you should choose to drive further, there is a free ferry across the channel separating Port A from the larger towns of Aransas Pass, Rockport and Fulton.
We chose the beach for a picnic today -- not the best choice, as it was so windy that Tom's morning off shore fishing expedition had been cancelled. We got fine sand in our hair, eyes and sandwiches. Missy loved to chase the small bits of blowing debris that raced along the beach, and whenever she came near, we took a sand shower. So off we went, this time taking the beach route to town.
There were several dozen RVs lining the shore as we got closer to Port A. There were two games of beach bocce ball going on. Some brave soul, lathered with suntan oil, was sitting in a lounge chair. I can only imagine how much sand had stuck to him! Along the jetty, the fisherfolk were out in force -- no blowing sand here, and not nearly as much wind.
Even closer in, we passed an area where fanciful sand castles had been made. Words carefully inscribed on a sand column titled this area "Dragon Castles" . There were 5 intricate dragons with long teeth and scales, one sphinx, and three castles complete with turrets and walkways. A nearby sign, half buried in the sand, proclamed that this Sunday, there will be a Texas Snowman (read sand snowman) competition. Guess where I will be on Sunday....
In Port A, we passed by the University of Texas Marine Science Institute. There are interesting aquarium exhibits here, showing some of the fish you can expect to see (or catch), in these waters. They also have quite an educational set-up, with a well stocked library and an Elderhostel program. Two research boats are tied to the wharf just outside the building complex.
Before we knew it, it was 3pm. Time to return to the park, check to see if we have any mail, and plan tomorrow's expedition. The days are flying by, and there is so much lot to see.
---
Postcard: If This is Tuesday, This must be Texas
February 5, 2000
We spent a week in Tucson after our return from Mexico. We took both the coach and tow Jeep in for minor repairs. I did lots of laundry and got my hair cut. We caught up on our mail. In no time at all a week had flown. It sometimes seems that we just arrive at a place, and then start talking about leaving it. But, after I looked at the stats Tom has compiled, I found this was really not true. We have been gone on our odyssey 110 days, and have averaged only 59 miles a day. We have not been traveling non-stop at all. It's actually become a mostly leisurely pace, but there's some question whether we've actually adjusted to that reality yet.
We were more than ready to embark on our next adventure. Bring on Texas. We had decided to skip Big Bend area this time, and head toward the central Gulf Coast -- with visits to Kingsville, Port Aransas and the Padre Island seashore. We spent one night in Las Cruces, bicycled through Mesilla and had dinner "on the town"; one night in Alpine, TX at the Lost Alaskan RV park; two nights in Uvalde, in the Hill Country, and then off to the southeast -- to the Kingsville area.
We were aiming for the Seawind RV park in Riviera (pronounced, we learned, "Riv-AIR-uh"). This is a great county park, with wide sites, each set back from the other so that you never feel the slightest bit crowded. Lots of green grass, trees cut to accommodate the widest of rigs; in short, a great place to stay for a week or longer. But only if you can get in. Reservations are only taken for three months or longer -- and at this time of year, they are completely full. They are most accommodating, however; you can wait for a site in overflow. We spent 2 nights on the street, with our slide slid out over the sidewalk, and our hookups snaking across the grass in front of the rec. hall. Other rigs were parked like covered wagons circling the tent area, or backed into parking slots alongside a building. But everyone in overflow had electric and water hookups, the people couldn't have been friendlier, and the park, right on Baffin Bay, is really lovely. The birding, of course, is out of this world.
We arrived in a Texas size rainstorm. No self respecting bird was flying this first evening. But by morning, the weather was clearing, and I could barely wait to walk around the area. There is a defined bird walk which took me out to the bayshore. White pelicans, laughing gulls and three different herons, a great blue, a little blue and a tricolored, shared an island. I saw several egrets, both great and snowy. And a white ibis. In the afternoon, I went off to try to find a Green Jay, while Tom, who always finds the most interesting birds, saw a white tailed hawk. He also spotted a non-flying creature we've seldom seen -- a splendid bobcat.
15 miles north of Riviera is Kingsville, the home of the King Ranch. The next day, we joined one of the hourly tours of this immense property. Just inside the front gate, signs directed us to the Visitor Center to join our tour. Here we could watch a movie of the history of the ranch, or buy a t-shirt, cap or a bird book. Our knowledgeable guide, Sandy, recited some of the history of the Ranch as she drove us around. Miles of fences, with alternating wood and metal fenceposts delineated various pastures. The smallest ones are for cows about to deliver their calves, and the pastures get larger as the calves get older. She pointed out bags hanging from trees and from gates. These bags are filled with an insecticide, and as the cattle brush under or against them, they receive a light dusting. As we passed through the pastures, Sandy got out of the bus to open the gates, then drove through them and locked them behind us. There is a different type of gate on the ranch, however. It is called a lazy man's gate and works like this. You drive up to it and bump it with your vehicle. IF you bump it just hard enough, it will open so you can drive through, and then close behind you. IF you bump it too softly, it will not open and if you bump it too hard it may swing around in a circle and hit you smartly on the taillights. Hitting these gates too hard has even been known to set off the air bags!
We toured by the lovely home of the King family, and saw the coachhouse which was the pride of Mrs, Henrietta King. We saw some of the thoroughbreds -- descendants of the triple crown winner, Assault. We stopped at the cottage area, where many of the ranchhands live. When King was building this ranch, he went to Mexico and convinced an entire town to move to Texas to work on the spread. Men, women and children, all came north. At one time there was a school for the children; now they attend the schools in Kingsville. But many of them have lived their entire lives on King Ranch.
Few birds on this tour, but at one time we saw a javalina racing across a field. He had been startled by a couple of cowboys who were coming our to "work" a field. We watched as they roped, threw down and punched an identification tag into the ear of one small calf. There are several breeds of cattle at the King Ranch, including Santa Gertrudis -- named after a creek which runs through the ranch, and recognizable by its cinnamon brown color. They have cross bred these cattle with an English type in order to obtain a leaner beef, although Sandy was not at all sure why anyone would want lean beef. In a separate pasture we saw a small herd of Texas Longhorns. These cattle looked a bit frightening with their enormous horns, until we saw two brown and white, absolutely adorable Longhorn calves.
5 miles south of Riviera, is the small quiet town of Sarita. We probably would not have driven down had we not heard that a rare bird, the "rufous backed robin" had been sighted there, and was attracting birders from all over the country. So off we went, more to see the birders than to see the robin. The birders were there, 30 or more of them, pointing out Green Jays, and Cape May warblers to each other, and to two large turkeys who were following them around. The robin had yet to put in an appearance.
We left Riviera and toured north for a one night stop en route to Aransas Pass and a 10 day stopover at Pioneer RV Resort stop. In Corpus Christi, we stayed at the Hatch RV Park, a very nice, in-city park. Super long (85') paved sites with nice landscaping, all set on the diagonal, make each site seem larger. The waterfront area of Corpus Christi was of interest to me, as I had read in the paper the day before that there is a project to turn the three existing T shaped piers into a sort of "fisherman's market", with stalls and booths for selling shrimp and seafood. Currently, you go down to the piers, and buy directly from the boats. Or you can walk to the end of the piers and eat at one of the many restaurants. Today's catch turned out to be mainly shrimp, but just watching the shrimpers unload their catches was a great experience. Large brown pelicans were strutting up and down the docks, circling overhead, sitting on boat railings, all waiting for a handout. Hunks of fish were tossed both to the pelicans, and to the gulls and loons waited from a more discreet distance. One shrimper took a small fish and held it out to a pelican. At first there was a free-for-all to see which bird would get to grab the fish. But there was a surprise in store for the winning pelican, because the shrimper did not let go. He pulled, the bird pulled as best as he could, and finally the man gave in.
Now we will spend some time on Padre Island, exploring the area, walking the beaches, perhaps playing some golf. If This is February, This must be Texas.
---