POSTCARDS
---
Stephanie is one of those persons who can fit a lot of words onto a standard size postcard -- usually by writing sideways, around corners, and even upside down if she can find some extra space. Most of these go to family and friends. But some of them -- those which document our RV adventures -- find their way onto this portion of our website.
---
Postcard: Closing the Loop
June 8, 2000
We had intended to drive straight to Idaho, perhaps to the picturesque Island Park area in the eastern part of the state. But as we came into the town of West Yellowstone, the beauty of the day coupled with the early season and the idea of fewer tourists tempted us to spend the day driving through the Park. We hadn't been here for years...
Deciding that it would be far too late when we returned to even consider driving on, we looked for an RV park. The Yellowstone Grizzly Park was perfect. It is one of the nicest parks we have found -- nicely landscaped, level sites, restrooms well worthy of a 10 rating -- wonderful places to walk the dog, friendly workkampers -- my list goes on and on.
Settled in our site, off we went to see Yellowstone. It is only a drive of a few blocks to the entrance of the park, and here we got our first surprise. Though only early June, there was a line waiting to enter Yellowstone. We could only imagine what it must be like in August (although our camp hosts had told us that, in season, they often turn away 30 -50 rigs per night). As we passed through the gate, we got our second surprise. The entrance fee of $20 per vehicle does not apply to those who hold Golden Age passports. There is one thing, at least, that makes 62 a pretty good year.
We followed the Madison River for 14 miles and turned into Norris Geyser Basin to see Steamboat Geyser. On May 2, at 5 am, this Geyser erupted, to the amazement of only one group of campers, who happened to be illegally camped in the parking lot! They called the rangers to tell of the eruption -- and then ran away. The Park personnel arrived too late to see either the campers or the water portion of the eruption, but watched the steam flow for several hours. Since the Geyser had blown so recently, we did not expect to see anything spectacular, but Steamboat does put on a pretty good show, with small water spouts and accompanying steam every few minutes. There are several trails in the Norris Basin area, but today the hikes were all one way, walk out and then retrace your steps. An elk cow with calf was about half way around the trail, and she was being very protective -- charging any hiker who ventured into the area.
As we drove along, we came around a bend to see several cars pulled over, watching a large herd of bison grazing along the roadway. Two young people, cameras in hand, were walking over to take pictures of them, ignoring the often posted fact that bison are wild, dangerous, and can run 30 miles an hour. Again we thought, what is this place like later in the summer? There are many pull out areas for people who want to watch the wildlife of the park, but with many more cars, getting into and out of these spots must be extremely difficult. It is hard enough in early June.
We took a side road to see the Grand Canyon of the Yellowstone. This is a spectacular vista down into the gorge cut by the river. We were perched above the soaring swallows and circling hawks, an unusual vista, as I am used to looking up to see birds. Driving on, we traveled for several miles along the shore of Yellowstone Lake, the largest lake at this altitude on the continent. Today only a few fishermen in boats and float tubes were trying their luck. This was the only uncrowded area we found, however, for we were headed to the grandaddy of all tourist attractions, Old Faithful. This geyser is so "faithful" that its eruptions can be forecast. Each one will come approximately 40 minutes after the last. We got here with about 39 minutes to go, and found the viewing area, which completely encircles the geyser, to be at least a quarter full. It was already almost 4, and we had so enjoyed our viewing of Steamboat, that we decided to skip Old Faithful this time. Back we went to West Yellowstone and Grizzly Park, Tom to find an intriguing fishing hole he had noticed that morning, Stephanie off to explore the tourist shops.
Tomorrow, we are faced with a long day's drive (320 miles) into Idaho to the Sawtooth Mountains, and Glacierview campground at Redfish Lake. We were also facing the realization that this marks the closing of the largest loop of all. We have come full circle on our fulltime trip around the US, and will probably not be making such a loop trip again soon. Tom has a business meeting in Seattle next week, and we will take the coach back to Anacortes to see special friends there. We are not going to stay in the Seattle area for any length of time, but are going to return to the intermountain area for most of the rest of the summer. Come winter, we will be off to the southwest once again. We will continue to travel in the mode we have done before, as extended timers, venturning out to places new and places familiar and then returning home. We have plans for a trip to the Northeast, and plans for at least one Canada sojourn, but these trips will be just that -- there and back again.
Our travels have been very instructive. We each have greater appreciation for this country than ever before. We know when the weather forecast is for "thunderstorms in the southeast", just what that is like and how hard it can rain there. I know small details about places that you can only know by having been there; for example, I know that Lincoln, Nebraska, has a fabulous, not to be missed, Farmer's Market. I know a shortcut that avoids the late Sunday afternoon traffic in Port Aransas. Things like that.
We will spend the rest of the summer in places we have been before, further exploring Montana's Big Sky country, perhaps a trip to Jackson Hole, Wyoming, and Idaho's Sawtooth Mountain country. Unless, of course.....
---
Postcard: Names and Places -- History and Legends
June 3, 2000
The picturesque names of the towns in the Rocky Mountain area tell of the history and the legends of this area. We stayed two nights in Buffalo, Wyoming, and spent a few hours exploring Crazy Woman Canyon, so named for a woman settler whose husband was killed in the canyon. From that time on, she refused to leave. The drive had been recommended to us by the friendly people at the Buffalo KOA, and it proved an interesting side trip. They assured us that the road was well marked, and was an easy drive, although they did caution that it was not meant for "big rigs". When someone in Wyoming tells you that, believe it!
Up, up and up again went US 16, climbing up to 8,000 feet and more. Had we followed this road further, we would have arrived in Ten Sleep, Wyoming. This town must have been named because it took ten "sleeps" to get here -- but from where? About 25 miles up the road, we found the Crazy Woman Canyon road, not as well marked as I would have supposed, but only a small wooden sign pointing down a dusty gravel road. Tom remarked, "you don't have to be crazy to drive this road, but it helps". In 5 miles, we lost every foot of elevation gained on the pavement. Down and down, around hairpin turns, we bounced. There were a few wide spots in the road which turned out to be campsites, suited only for a pickup or tent camper. And every spot was taken!
In places the walls on each side of the road almost met above us, evoking thoughts of earthquake. The walls bore hues of black, green and a rusty red. In places where the sun can seldom reach, were growing mosses and lichens . Looking up, we spotted several swifts flying in and out of the cliffs searching for their buggy meals. Crazy Woman Creek runs through the canyon, a beautiful little creek, full of waterfalls and sunny pools, but too small for fish.
At the end of the 5 mile stretch, we were once again in cattle country, at about the same elevation as Buffalo. Now the road stretched through pasturelands. We caught glimpses of small lakes dotting the landscape, and saw several hopeful fishermen with float tubes testing their skills.
Another wonderful Rocky Mountain name is Lodge Grass, Montana. I can imagine this being named because there would have been enough pasturage for horses, right around the Indian lodges. Just past the turnoff to this town is the Little Bighorn Battlefield National Monument. Stopping here this Memorial Day, we found that entrance today was free, since there is all national cemeteries today revere our veterans. Not understanding this, someone asked one of the Monument Rangers why all of Custer's men had been buried in such neat rows!
Tracing the battlefield, we drove the road from the Reno Beneen where the war actually started, and followed the route of the ill fated cavalry. Had Custer realized the size of the Sioux army, and not been as sure of his prowess as he was, the killing may well never have taken place.
Red Lodge is a small town about 60 miles southwest of Billings. We drove through toward the Beartooth Pass, one entrance into Yellowstone which is not for the faint of heart. Its elevation, 10,947 feet, keeps it closed for much of the year, and we learned that it would take an RV 4 hours to traverse its 60 mile length!
In Red Lodge, we had lunch at the Backcountry Kitchen and Wine Bar, something of a misnomer, since the restaurant has just changed locations and does not yet have a beer and wine license. A chalk board, updated daily, stated that it has taken the Montana ABC 124 days to issue a license to move 150 feet! Red Lodge is "tastefully touristy", catering to skiers, golfers and fishermen in season. We peeked into several small shops, and I could have happily spent another hour or so, "just looking". But we wanted to continue on to the small town of Bridger.
Bridger is named for the famous mountain man, and has his statue in the town center. Here we met the local librarians, very excited about the immanent arrival of new computers. They are looking forward to putting their card catalogs on line! Today is coming to a town steeped in yesterday's lore.
Big Timber is a small town about 70 miles west of Billings. We stayed at the Spring Creek Campground and Trout Ranch, about 3 miles south of town, camped right on the Boulder River, under a huge cottonwood tree. In back of our rig were two ponds stocked with large rainbow trout (40 cents per inch, no license needed). These are the foothills of the Absaroka Range, which includes the Crazy Mountains. There are several stories of how these mountains came to be named -- my favorite being that a man lost his wife in a Crow Indian attack, and became so enraged that he started a personal vendetta against these Indians. He would stalk one, kill him, and eat his liver -- raw!
Gory details aside, this is truly lovely country. This afternoon, we drove into the mountains -- to explore, and to fish. We drove up the Gallatin valley, through pastures of cattle, sheep and horses. We were astounded to see the woodchucks of this country -- large chucks who must weigh around 40 pounds. They could be seen scampering in the pastures along with the ranch animals. We stopped at Natural Bridge and Falls, where the Boulder River disappears into a hole in the river bed, only to reappear several hundred yards further downstream. View points along a river trail showed us just where the river came rushing out, flowing through caves and around bends as it raced downstream.
This is "Horse Whisperer" country, and we saw the ranchhouse built expressly for the movie. As we drove along, the valley narrowed, the road became gravel, and we left the last of the ranches set along the river -- ranches with names like Beaver Meadows Ranch and Buck Snort Lodge! The horizon was a wall of tree covered mountains topped with snow laden peaks. The closer hills resembled dinosaurs,sleeping under a blanket of trees, with only their rocky backbones protruding. Entering the Gallatin Forest, Tom searched for a good place to use his newly purchased Montana fishing license. But today the fish were not cooperating, and it grew late. Before we got back to the campground, however, we stopped at Big Timber's Grand Hotel for an afternoon beer, and found the best name of all. I had an Alaskan Pale Ale, but Tom topped me with a dark lager called -- "Moose Drool"!
---
Postcard: The Black Hills' Back Door
May 26, 2000
On our first visit to the Black Hills of South Dakota, we arrived on Interstate 90, through seemingly countless miles of billboards. We learned where the waterslides, the mini-golf courses, and the fun houses were. We learned the best places to eat while you were admiring Mt. Rushmore and the statue of Crazy Horse. While these places are certainly well worth the visit, when you come in through the front door, you pay the price of commercialism. Today we found the "back door" to the Black Hills, and came in through the countryside.
Instead of staying at one of the RV parks in Rapid City or in one of the parks closer to the primary attractions in the Black Hills, we are staying in a very nice KOA in Hot Springs. We are off Highway 79, which pretty much bypasses the whole Black Hills area, and takes you directly to east Rapid City (aka "Rapid"). We are camped in a woodsy area, with lots of rabbits for Missy to watch -- and birds for me.
Our morning loop trip was an interesting hour spent at The Mammoth Site. More than 26,000 years ago, a large sinkhole was formed in this area. Filled with natural hot spring water (90 degree), and ringed with lush grass year around, this hole was nonetheless a death trap. Its edges were steep and very slippery. If an animal entered the pond to drink, it very often could not escape, and would die from exhaustion, drowning or starvation.
While disastrous for many animals, this has been a bonanza for paleontolgists. This site is the only place where all the bones from the various animals are found together, "in situ", and were not scattered by streams or dragged away by other carnivores. Bones found thus far include those of mammoths, the giant short faced bear, camels, antelope, llamas and many smaller animals. These are rare and coveted specimens.
We walked into the viewing area -- a large chamber with walkways around the sides. Here, are hundreds of bones; skulls, spines, femurs, all in close proximity to one another. Indeed, that is the only way the scientists can tell if the bones belong to the same skeleton. They are so old, their DNA no longer exists -- it's been leeched out. At several points along the walkway, we stopped and picked up telephone receivers. Through these, we could hear what Deb, our guide, had to say about the various finds. Many of them have been given names, for example, the most complete skull, with tusks still attached, is named Beauty. Deb explained that the only mammoths they have so far found have all been male. Not surprising, she said, since the females would have asked directions on how to get out of the hole!
At one point she pointed to a large hole in the floor of the excavation. Attempting to see how deep this sinkhole might have be, and how much further down mammoth remains could be expected, scientists drilled into the floor of the excavation. The auger broke at 67 feet. When this next stage of excavation begins, there will be more bones than room for them, so a museum is being built to house those bones already unearthed.
Excavation of the mammoth bones is extremely time consuming. Not only when students are carefully chiseling and sweeping away minute bits of earth, but also because the excavation process only takes place one month a year. Dr. Larry Agenbroad, Professor of Geology at Northern Arizona University, is the site director and co-principal investigator. His duties in Flagstaff preclude his giving more time to this project.
We spent a fascinating morning -- and as Tom said to our Deb as we departed, "Great Digs!".
The KOA had provided us with a detailed map of the Black Hills area, complete with paved and unpaved roads. Since we'd seen the more famous attractions in the Black Hills on two previous occasions, this time we decided we'd focus on the much less traveled roads on the southern portions of the Black Hills. Much of this area is covered by Custer State Park. We opted to approach the southeastern corner of the Park along county road 14. For 12 miles, this seldom traveled gravel road coursed over hills, beside cattle pastures, and over streams on bridges narrow enough that we were glad we were driving our tow car. Then we came over a hill and there was the Wildlife Loop Road, which circumnavigates the entire Park. Within a couple of miles we had seen our first couple of buffalo, but that was nothing compared to what we soon experience. At a point just outside the "Buffalo Corrals", there was a large herd of the animals, wandering on each side of and right down the middle of, the road. We saw a couple of young calves butting their as-yet-hornless heads against each other. Another two were running and bucking along, making a weird sort of deep mooing sound. Their parents were ignoring them, and getting along with the business of making grass disappear.
Several miles further along, we rounded a bend to find ourselves in a herd of donkeys. A family had parked at the side of the road, and parents and children alike were enjoying petting and feeding them handfuls of grass pulled from the roadside. The donkeys loved it -- and are so tame, that they approached our car to see what sort of handout we might offer. When I rolled my window up, the donkey put his face up against the glass, and began licking the window! Missy was fascinated with the whole process, and had her nose firmly pressed against the other side of the glass. Between the two animals, they managed to render that portion of the glass useless for further viewing.
We passed through the Blue Bell camping area, and began to notice the broken firs and pines. Many had snapped about half way up their trunks, so we saw 10 foot tree trunks with their upper limbs and needles lying on the ground. There had been some salvage work done, but the number of trees down was enormous. About a month ago, there had been an unexpected freezing rain, followed by a heavy snow. The freezing rain had turned the needles into flat platforms, and the weight of the snow snapped off their tops. Today's paper mentioned that several counties in South Dakota have been declared federal disaster areas, with losses of between 4,500 acres suffering losses between 20% and 50% of the trees. Another 120,000 acres suffered losses of up to 20% of the forest.
See a side road -- take it. After all, that's what four wheel drive is for. So we found ourselves at the Mount Coolidge firetower and microwave station, 6,500 feet up, staring at mountain thrunderstorms in the Rapid City area. Every so often there would be a beautiful flash of lightning, and I worried that the metal poles and wires of the microwave setup would attract the lightning. Tom kept taking pictures, until I explained that I did not want to name my next (last) postcard, "Fried to a Frazzle".
The rain began in earnest as we traveled back to Hot Springs and our KOA campground. But it was lessening, and we could see the end of the storm with promise of a nice evening, so we took one last afternoon loop trip, to the Angostura Recreation area and State Park. This was only about 2 miles off the road, and the sign said there were hookups, cabins, and a marina. It sounded like a good place to camp, but the entrance person would not let us in even to look at the campsites for a few minutes, unless we paid $5.00. That sounded a bit pricy for a 10 minute look around, so we left wondering why South Dakota has such a policy. In all our travels, this was only the second time we hadn't been allowed even to look at a place where we might have wanted to spend our camping money.
The evening was warm and sunny, the KOA people warm and friendly, and the town of Hot Springs an absolute delight. We will definitely be back to do more "back door" exploring of the Black Hills.
---
Postcard: The Sandhills of Nebraska
May 23, 2000
We have spent the past week coming westward. Our trip has been largely uneventful, unless I count that night at the Corps of Engineers park in Clinton, Missouri, when we almost lost the dog. One moment, she was sitting by us enjoying a beautiful evening, the next she was running, "hell bent for catching" a couple of killdeer flying off the reservoir. She didn't return all night, but the next morning, when I went out looking for her, there she was sitting under a tree in a campsite situated exactly where ours was -- but in a different (and "closed") loop. She looked at me as if to say, "where in the world have you been?".
We visited Independence, Missouri, staying at a small park in the shadow of the spire of an incredibly ornate, spiral steepled Mormon temple. Independence is a town worth more than just a single day's visit, but one night was all we could get at the park. So off we went to Nebraska.
We both are beginning to feel back "in the West". The humidity that has bothered us for the last few weeks has largely vanished in the dry Nebraska air. The humid gray skies of the southeast have given way to bluer midwestern skies. And when the nightly news threatens thunderstorms and tornados, they are now usually talking about somewhere else -- places further east.
This "West" feeling became even stronger as we approached the northwestern corner of this state -- the Sandhills country. As we approached this area we saw that quintessential animal (to us) of the West, the pronghorn antelope. My mental picture of this area, one of dry sand dunes, was completely wrong. These are "grass-stabilized" sand dunes and look like grass covered hills. There is a large groundwater reservoir in the area and we found small lakes, marshes, and springs. I was surprised to see ducks and geese along the roads -- in Nebraska! At one lake where we stopped for lunch, there were 3 white pelicans, migrating north. And here is the Niobrara River.
I was one of the many persons of the 1970s who collected the songs of C.W. McCall. These were the years of trucker's songs, songs of CB radios, and "bears in the air". He sang the popular trucker's songs, but he also sang historical songs, songs of the Oregon Trail, and songs about the West -- the mountains and rivers. Every place mentioned in his songs really exists. So it was fun for us to find the namesake of one of my favorite songs -- the Niobrara. The Niobrara is a lovely stream, winding between sandstone cliffs, a favorite of canoeists. It is not a water for a whitewater enthusiast however. Indeed one of the canoeing "tips" I read stated, "Keep the front of your canoe pointed down river. Otherwise you may end up taking a spill (which isn't really all that bad; the river is rarely deeper than three or four feet)".
The Fort Niobrara National Wildlife Refuge is situated on highway 12, just outside of Valentine, Nebraska. This site was occupied from 1880 - 1906 by the Fort Niobrara Military Post. After 1911 it was completely abandoned as a military reservation and 3,500 acres were set aside as a reservation for a native bird refuge and breeding grounds. In 1912, a Mr. J.W. Gilbert offered 6 buffalo, 17 elk and several deer to the federal government if land could be found to keep them. Thus was the refuge born. Today, it is something of a "wildlife" park, where you can drive out to see the birds and animals found here, with no fences separating you. It is home to over 225 kinds of birds 24, species of reptiles (I didn't see any), 57 species of mammals and 45 kinds of fish.
We drove out to see the bison, elk and longhorn cattle. En route, we passed by a prairie dog village, (was Missy ever excited!), and were lucky enough to see a pair of burrowing owls standing guard at their burrow in the middle of the village. The cattle and bison are kept in separate pastures and moved several times during the year to fresh pastures. Each year, the herds increase with the addition of young, and since the refuge is limited in area, a certain number of animals are sold each year.
140 miles west and 8 miles south of Valentine is Chadron State Park. 974 acres, with RV and tent sites, a picnic area, swimming pool and housekeeping cabins. Understandably crowded on summer weekends, there were only a handful of rigs camped here during two nights we stayed. This is still sandhill country. It's dotted with small lakes and streams. And here we were in the "Nebraska National Forest" (no, not an oxymoron), in the Pine Ridge area. 100 miles long and 20 miles wide, at an altitude of 4500 feet, and a cool refuge from summer heat, this was the perfect starting place for an ambitious loop trip down to see the fabled sandstone formations along the Oregon Trail.
Courthouse Rock and Jail Rock can be visited by car -- you just drive right up to them. There are no signs advising against climbing or defacing them, and thankfully, they remain pristine. Perhaps the rattlesnakes provide some measure of natural protection.) There is no visitor center showing slides or selling postcards, just a winding dirt road out into the fields. As we stopped to take a picture, I could look off into the distance, and just make out the next landmark, Chimney Rock.
Chimney Rock National Historic Site is considered the single most noted landmark on the Oregon Trail, with approximately 350,000 pioneers passing it on their trip west. The pioneers are the ones who named the formation Chimney Rock, as the Indians had a more natural name, one pertaining to a portion of the anatomy of a bull elk! Here there is a Visitor Center, staffed by the Nebraska Historical Society. We watched a short film of the history of Chimney Rock-- its formation, and read a variety of written descriptions provided by the pioneers. Many thought that it would crumble into oblivion within a few years. Yet it remains today.
We couldn't leave the Trail without seeing the third Monument -- Scotts Bluff National Monument. Managed by the NPS, this 3,000 acre Monument contains a portion of the original trail (although it appeared to have been kept in trail condition by thousands of tourist feet). We drove to the top to look over the Scottsbluff area and, to the west the plains of Wyoming, where the pioneers were headed. It was truly thrilling to visit these historic places, and to imagine myself trudging along the Trail.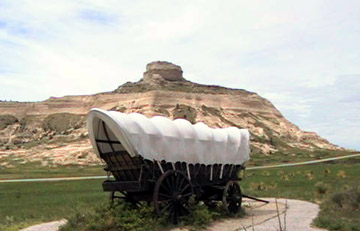 Soon we were on our way back to the Park, along the wide Nebraska road winding up and over the undulations of the sandhills on the "great Nebraska plain". We noticed that there were long stretches of road where there were no telephone poles, and then noted that the cables had been laid underground. This added to the growing feeling we were out in the country -- in the Sandhills of the West.
---
Postcard: Ozark Backcountry
May 15, 2000
We have been exploring the Ozarks. Our Missouri Ozark loop included a stop at a real life ghost town, "Old Greenville". We happened across this bit of living history quite accidentally. We were driving north of Poplar Bluff, on US 67, when we crossed the northern portion of Wappapello Lake and saw one of those brown signs which signify an historical landmark. Turning off we found a secluded campground, with about 100 level, full hookup sites, set on a green lawn. One side of the campground faces the water, the other faces Old Greenville.
In the early 1940s, the government decided to dam the Wappapello River to form the lake. This meant that the existing town of Greenville would be flooded. So the citizens decided to move the town two miles away to what is now (new) Greenville. The foundations of the old homes were left behind.
Today, you can walk through this old town. In front of each property is a picture of what was there before -- a school, home, barber shop and lumberyard. Some were moved before the flooding began, but you can see pictures of those homes left behind, up to their second floors in water. On old broken sidewalks, you can walk down Fourth Street to Sixth Street and, turning right, traverse Main back to the road. You can see old steps leading to cement foundations. And everywhere nature is in the process of reclamation. Grass springs from cracks in the sidewalks broken up by tree roots, making it easier for plants to grow and crumble the past. It is fascinating.
From Greenville, we drove 15 miles west, and then turned and drove straight through the Mark Twain National Forest, through the tiny towns of Leeperville and Mill Spring. As we drove along, we learned to dodge turtles! Small terrapins are everywhere along the roads, determined to cross. There are dozens of them walking, or just huddled in the middle of the road, terrified into their shells by the passing cars. But seldom do you see turtle remains on the road. Every local driver avoids hitting them, and they are probably more at risk from the tourists.
I collect states. Inside the front door of our coach, we have a small map of the US. Each time we enter a new state, I stick in a piece. Today I entered my last one -- Arkansas.
We entered Arkansas south of West Plains, MO, and traveled through towns with intriguing names like Mammoth Springs, Salem and Gepp on our way to an Army Corps of Engineers park on Norfork Lake. This park has 48 spacious sites, some along the shores of the lake, others snuggled in the trees. When we arrived, it was warm and sunny, boaters and swimmers were out enjoying the afternoon. Yesterday, we enjoyed the sunshine and the birds which inhabit the park (redheaded woodpeckers, bluebirds, nuthatches and jays). Today, with the weather threatening rain, we were off to the Ozark Folk Center, about 50 miles south in Mountain View.
Route 5 is the most direct route between Mountain Home and Mountain View. It winds up and down over the greenest of tree covered hills. I could see every conceivable shade of green -- light, dark, gray, ever and other shades awaiting names. The road wound along the north fork of the White River, through Salesville, to Calico Rock, a town of some 900 inhabitants. As we entered the town, we noticed one of those blue road adoption signs for litter removal. This section of road was being cared for by " Aunt Myrtle, C.R.P.T.A.C.O.C.B.C."
I was extremely curious to know what those initials meant. With Tom's encouragement, I began to walk down Main Street, to question various storeowners. I started at the hardware store. Inside its dimly lit, cavernous room, I could have purchased hand carved walking sticks, hand made jams, jellies and relishes, or more useful, everyday items like washboards! They had three sizes. But there was no one around.
So off I went to the Chamber of Commerce. It was closed on this Monday at 10:30. Next stop the next door cafe. The two friendly waitresses looked at me skeptically. They didn't know what the letters meant or even that the signs were there.
I hit pay dirt at City Hall. It seems Aunt Myrtle is a fictitious character dreamed up by the Chamber folks several years back when they were planting Crepe Myrtle trees in the area. Now she (townswoman LaNelle Hamby) dresses up for town occasions, looking quite a bit like Minnie Pearl. The initials stumped clerk Erlene King for a bit but when I described the location of the two signs, one mile apart from each other at opposite ends of town, she figured it out. Calico Rock PTA, Chamber of Commerce, and Baptist Church -- all located within this mile. (It's a good thing Tom was so encouraging about my sleuthing, because this little exercise occupied a good half hour).
25 miles further, we arrived at the Ozark Folk Center State Park. This park is dedicated to the preservation of the traditional Ozark Mountain crafts and music and specialize in the period from 1820 to 1920. All the craftspeople here dress in period clothes -- jeans or overalls for the men, long dresses, aprons and caps for the women. We visited the soapmaking booth, and watched a man make lye soap. He was boiling a creamy gray/white froth over a wood fire. When it got to the consistence of gravy, he would pour it into a paper lined pan and let it sit for two weeks! He admitted that he gets his lye from a store and his water from a tap, but otherwise his methods are the same as his ancestors used. Attracted by the sounds of dulcimer music we watched another man playing the "hammered dulcimer". This instrument looked to me like a xylophone with strings. Other crafts portrayed here included broom making, weaving, spinning and pottery making. In the smithy, a blacksmith was showing some 6th graders how he could bend hot steel into intricate shapes. Asking the kids it they had any questions, one asked, "do you ever burn yourself?"
At noon, we spent an entertaining half hour singing country with an elderly couple. He plays the guitar, she plays the accordion, the dulcimer and three different kinds of flutes. In keeping with the spirit of the Center, they only play music written before 1941, so we sang along to songs like, "You are my Sunshine" and "Roll out the Barrel".
I am enchanted by the names of the Arkansas towns. You can take a train from Calico Rock to Flippin, passing through Buffalo City and Gassville. Flippin is not too far from Yellville, which is just down the road from Snow. As we returned to our campsite this afternoon, we drove through the Ozark National Forest, and passed through the town of Fifty Six! (Population, 156) Another great name in a most interesting area, one which has lived up to my expectations in every way.
---
Postcard: Three Corners
May 11, 2000
We came to Bowling Green to attend an RVing conference on the campus of Western Kentucky University. We came in a day early and spent that day exploring Mammoth Caves National Park, touring both the underground caves and driving through the aboveground park. The campground there was very nice -- no hookups -- and the road leading in was wide and straight, especially by Kentucky standards. But having been burned by our last experiences, we had opted for the KOA in Bowling Green. We took the historical tour, and spent a very interesting 90 minutes learning how, (by accident), and when, (about 4,000 years ago), the caves were discovered, and what they have been used for since (mining, and of course, tourism). At the lowest point of this tour we were 310 feet below the surface, some 60 feet above the lowest level yet discovered in these caves. (There is one tour that takes you deeper, but you must be ready to go at 8 am). Driving through the park, we took the smallest ferry we've been on to date -- capacity three cars, crossing the Green River in about 2 minutes. It was a beautiful day for a Kentucky backcountry drive, we paused at one point to get a soda at a country store where the accents were so thick as to be almost unintelligible.
At our conference, we got updated on current events in the RV world, renewed old friendships and made several new friends. And then we headed west again.
Tom has a sentimental feeling about the Mississippi River. He likes to be on the western side of it. That may have contributed to our decision to head west to Missouri, even when the weather forecast was for strong winds. As we drove along, the winds increased, with frequent strong gusts, and, suddenly, the slider awning sprang free of its roll. Bam, bam, bam, the canvas thudded against the sides and top of the coach. No stopping place was in sight and we were on a very narrow two lane road.
On went the hazard lights and we slowed to a crawl. About a half mile down the road, we saw some old abandoned farm buildings, with just enough driveway room for us to pull in. Up on the roof we went, hunkered down so as not to be blown off. Tom pulled the canvas out of its slot (what small part was left in it), and took a kitchen knife to cut off the metal roller part. The left side of the coach now looks a bit odd. Two awning arms sit in their holders, holding nothing. The good news was 1. no marks left from this adventure, just the empty arms, 2. we now have an appointment to get the whole thing replaced, and 3. we found 3 corners (my title).
All this coach "surgery" had taken enough time to insure that we would either not get to our intended night's destination, or, at very least, be quite late. As we crossed the Ohio River from Kentucky to Illinois, and just before we would have crossed the Mississippi into Missouri, and five miles south of Cairo IL, we came across Fort Defiance State Park. This park sits right at the confluence of the Ohio and Mississippi Rivers. From the park we could see the bridge across the Ohio River into Kentucky, and the bridge across the Mississippi River into Missouri. The park itself is in Illinois; thus the three corners. Once called the ugliest park in America, the park no one wants, the park was "rescued" by the citizens of Cairo, who do all the maintenance. Now it is about 200 acres of green lawn with 35 sites, each with electric and water. Because of the flood potential here, the electric connection is on a pole so high that even Tom, who is 6'3, had to stand on a step stool to plug in. That appears necessary, however. Just across from our site, we saw a large log lodged in a tree about 5 feet above the ground. It could only have gotten there during a flood.
Missy and I walked down to the confluence and climbed the observation tower there. I looked out over the muddy Mississippi and the relatively clear Ohio -- two large rivers combining to create the "mighty Missip". All along the banks of the Ohio sit tugs, each with its load of four, five, even six barges. At first I thought that they were sheltering from the wind, but I later learned that this is the staging area for barges continuing up either the Ohio or Mississippi. Sort of a switchyard for barges.
Long used by the Native Americans as a highway for trade or for war, this park is the historical site of U.S.Grant's Civil War post which guarded the confluence and became the supply base for the western thrust into the Confederacy. After the firing on Fort Sumter, it took the Union only 10 days to occupy the land at the confluence as well as to occupy Cairo. If you drive into Cairo, you can visit several buildings dating from this period, among them the US Custom House and the library building. Construction of the Customs House was begun in 1867 and finished in 1872, and displays the flagpole from Grant's flagship and his army desk. The library has a collection of Civil War documents and antiques and paintings donated by wealthy 19th century patrons. Here is the desk of President Andrew Johnson.
At Fort Defiance, there are no old buildings to explore, but if you listen carefully, you can imagine hearing the voices of those long ago people. This park is just recently opened, and we are happy to be here tonight.
Replacing our awning in Billings, Montana on May 30 will necessitate rearranging our travel plans somewhat, but still we are still on track for the Ozarks. Then we will head north and west.
And tomorrow, Tom will be west of the Mississippi once again.
---
Postcard: Wending West
May 3, 2000
We decided that this would be our last day, "down east". We would leave one day early and avoid the weekday Washington traffic. We would start wending west.
Well, we didn't get to DC. Here we were, camped right outside the city, bus service to the Metro, the Metro to take us into town, and we spent our last day on the eastern shore of Maryland. This was decided in equal parts by the fact of a large rally ( 200,000 or more) at the Monument, we have both been here before, and it was a beautiful day to be out in the countryside.
We stopped to take a walk around Annapolis. The town itself has changed very little since our last visit nearly 40 years ago (so long ago Tom had forgotten ever being here). Still the same narrow, winding streets, beautiful old buildings gathered around the picturesque Capitol, small shops selling everything from hats to wind socks. As we drove nearer the waterfront, the "touristy" aspect increased, with many more restaurants and t-shirt shops. The streets were crowded, and I heard at least three different languages. Several Chesapeake Bay Tours, were advertising Bay excursions and doing a brisk business on this beautiful day.
Getting to the eastern shore means crossing the Chesapeake Bay bridge. About a mile from the toll booth and just past the last turnoff on the western side (and your last chance for changing your mind), traffic came to a complete halt, and then started a slow, slow, start and stop crawl onwards. Just what we had been trying to avoid, and we were too far along to do anything about it. We had the lane with the slowest of toll takers, and it took us a good 15 minutes to get through the booth.
We had chosen this loop trip because of its ferry ride. The Oxford - Bellevue ferry is the oldest privately owned ferry in the country, dating back to 1638 when, according to the plaque, a man was ordered to provide transportation to the "generale publik". This must be the smallest ferry (9 cars) we have ever been on. The trip across the Tred Avon river took about 10 minutes to deposit us in Bellevue, a small town where many of the homes date from the 1700s. The whole area is a bicyclists heaven, beautiful, flat and relatively car free., and it is well known by many cycling groups from around the area.
So back to the park. Time to put away, pack up and prepare to wander in a westward direction. We chose to drive across Maryland, through West Virginia and into Kentucky, where in a week, we will be attending a Life on Wheels conference in Bowling Green.
In Williamsport, MD, we stopped at a Jellystone Park. There were bunches of children when we pulled in but they were all on their way home. Tom had trouble appreciating all the large fiberglass figures of Yogi Bear and his compatriots, but we both enjoyed the solitude of the park -- especially after the bustle of the DC area.
En route to Williamsport, we learned that "the" place to be this weekend was Fort Frederick State Park, so after we got set up, we drove out for a look. This fort played an important part in Maryland's frontier defense during the French and Indian Wars. This Sunday was the last day of a five day "Market Faire", where artisans from all around the area dress in period costumes, set up tents and display wares. You could buy from an English gentleman, a French trapper or a "red" (this guy had done a super job of self painting) Indian. No Internet technology, only those wares which would have been sold in the 18 th century were allowed at the Faire. Glassware, pottery, wooden articles and furs were in evidence. Each artisan is expected to use only the articles of the time, no plastics, (forks and containers), no paper plates or cups can be visible. When we arrived, the Faire was just about over, several craftsmen had already left, and there was no admittance being charged. Still there were enough vendors around to tell us what had gone on before. We took a picture of a couple of "characters", but only after they hurriedly removed all signs of the 21st century, i.e. their cans of pop and sandwich bags. Next we wandered through the restored fort, where small rooms are set up as barracks, kitchens, and an infirmary.
We made another stop in the Williamsport area at the C&O Canal. At one time, the canal ran from Georgetown, in the DC area, to Cumberland, MD, its 74 locks raising barges from nearly sea level to 605 feet at its terminus. Now it is dry, but you can still see the walls of the locks, and bicycle or hike its entire length.
Wending further west. We passed through the mountains of eastern West Virginia, our route taking us along the ridgetops toward Morgantown. Just outside of town, we found the campground that I had picked out as our destination. Sand Springs Camping Area has just recently been taken over by the county. We camped in the woods, with birds' songs the only disruption of the quiet. Unfortunately, this campground is a bit hard to get to. We wound on narrow, narrow winding roads, "over hillways, up and down", for several miles before we found the campground. This appears to be typical of the West Virginia/ Kentucky area through which we are traveling. Carter Caves State Resort Park just a few miles across the Kentucky border, shares this malady. This is a lovely area, not only a secluded campground with spacious sites, but also cabins, a lodge and golf course, fishing lake and boat ramp. But again, Tom had to navigate a 6 mile stretch of narrow winding lane, complete with rock outcroppings which necessitated driving around some sharp turns on the wrong side of the road. Worth it when we arrived, but a bit unsettling en route. Going out we were forewarned, and I drove the tow car, hazard lights a-blazing, as the "front door" for the coach.
Again at Elkhorn Campground in Frankfort, we found narrow roads leading to a narrow entrance to a campground which, contrary to its Good Sam advertising, does not only not have modem hookups at each site, but has no desire to have modem connections - anywhere, ever. They even wonder why all these RVers keep asking for them!
Now we head south toward Bowling Green and our LOW conference, with a stop at Mammoth Cave National Park. Surely with a name like that, the roads must be wider.