POSTCARDS
---
Stephanie is one of those persons who can fit a lot of words onto a standard size postcard -- usually by writing sideways, around corners, and even upside down if she can find some extra space. Most of these go to family and friends. But some of them -- those which document our RV adventures -- find their way onto this portion of our website.
---
Postcard: Good News/Bad News
August 31, 2000
Tom phrased it best when he said "to get away from the smoke and haze of fire, we'll travel clear to the Oregon beaches if we must". That did not turn out to be necessary, but avoiding fire continued to be a problem. Cooler temperatures associated with the end of summer did bring some relief (good news), but fires were still a factor. We spent a couple of days in Lakeview, enjoying the desert environs of Junipers Reservoir RV Resort. One morning we drove the 6 mile ranch "tour", counting antelope (three), ducks and geese (about 300). But even though in this lovely country had no fires in its vicinity, we woke the second morning smelling the smoke blown north from a fire in 100 miles south -- Quincy, California. So off we went to the northwest, up highway 97 to Bend. Here we spent -- good news --three fun days with our kids, one day at Mountain Home RV park in Sisters, where they played golf and Grandpa and I played babysitter. The next day we went to the La Pine Recreation area, and then back to Bend, enjoying the cool, fresh mountain breezes.
Good news intermingles with bad as the weather changes from summer to fall. What is more than welcome news for the fire ravaged zones in the Intermountain states spells the end of summer for the summer RVers. Temperatures are falling, and rain is in the forecast. This morning, as we crossed Santiam Pass on the way to the coast, we could see the first of the fall colors at the higher elevations. But there are other signs. We have seen geese flying south, the "snow zone -- carry chains " signs have renewed significance when seen through lowering clouds and spitting rain, and there are fewer campers in area RV parks as school begins again, all signs that summer is ending.
We had a bad news/good news experience this morning, as we drove north into Washington. Bad news -- our coach step suddenly went crazy, confusing the out and in positions. At first, when we shut the door the step went in as it should, and then, one second later, came back out. Another second later, back in, then back out -- this time for good. We were parked in a large gravel lot behind a restaurant in Woodland, WA at the time, planning on some lunch and then resuming our trip north. Tom called Country Coach and was told (good news) which fuse to pull and where it was located; but it would need to be pulled while the step was in. And, bad news, we could not get it to retract so that we could pull the fuse to keep it there.
Good news. We were just a few hundred yards from Woodland Shores RV Park, a pretty park on the shores of the North Fork of the Lewis River. And they had a space for us. As Tom drove into the park, a woman ran out from the sidewalk, waving her arms frantically and pointing to the step. She was not the only one who noticed this, either. It seemed that most of the pedestrians in Woodland know that steps are supposed to be retracted when the coach is moving and were trying to take good care of us.
We had barely parked when the cell phone rang. Jim Cooley from Country Coach Service had heard of our plight and had a temporary solution. He carefully talked Tom through the steps necessary to pull the plug on our balky step. We would have to be careful getting in and out of the coach, but there would be none of the dangers associated with a step stuck "out". Jim called back twice that evening, just to make sure that everything had worked out satisfactorily. That was the best news of all. And now we have an appointment to get the step fixed on Tuesday by a qualified mobile repair service. We just have to remember that the step is not there, (and fall out of the coach), for the next few days.
Saturday was Husky (Washington) football day, an occasion for celebration in my pigskin crazy family. Even here we were dogged by good and bad news. The good news was (eventually) watching our 4 year old grandson enjoying his first football game. The bad news was the number of times we had to hike Husky Stadium before we were able to enjoy that bit of family fun. Our seats were at the top of the third (highest) level of the stadium. Climbing this stadium would test the hardiest of football fans. First we climbed a steeply sloped concrete ramp 1/8 mile long. Then we pushed through the throngs crowding the hot dog and souvenir stands and climbed up to the next level. Several concrete ramp revolutions later when we got to the top level, we still had 50 or so stairs to climb. But according to the usher stationed here, we were on the wrong side of the Stadium! So down we went, retracing our steps, pushing backwards through through the throngs, hiked completely around Husky stadium, and climbed up to the very top again, this time on the correct side. That was twice to the top -- so far. By the time we finally found our row -- at a dizzying height above Husky stadium, it was time for Tom to meet our son-in-law outside of tunnel 13 -- which turns out to be on the ground level. The other half of our group had seats at the top of the stadium on the other side, and the two guys were going to meet at the end of the first quarter to see if there were some extra seats where we could all join up for the second half of the game. So Tom once again made the long descent. Good news -- there were some spare seats right next to them. But bad news --Tom had to climb back up to our seats in the stratosphere to convey that information to me; and to compound it, during the halftime break we had to descend to ground level again forging a path through the throngs gathered for hot dogs and cokes, hike completely around to the other side of the stadium, and do that climb to the top yet one more time. We made it, and the game was fun -- but the hiking was a mountain climber type challenge for which we were only marginally prepared!
We are back in the Northwest for the next few days, and then will head south. It seems impossible that we have been on the road for almost 10 months, and have had our coach for nearly a year. Time for our "end of warranty" checkup in Junction City, then we will be off for Albuquerque,NM and the balloon festival. By then Fall will be turning into winter, and our year on the road will be a carefully documented memory. We can only hope many of you will have enjoyed it with us...
---
Postcard: Level Five for Fire!
August 20, 2000
Still headed in the general direction of the Gallatin Valley and Big Sky Resort, we left Kalispell and drove south 80 miles to Flathead Lake. It was such a beautiful day, a light wind ruffling the water, blue sky overhead that we could not resist the urge to stop for a while. We spent a couple of nights at the Polson KOA, while we explored the area, playing a round of golf and taking one morning to drive up highway 35, the "back side" of the lake.
But even here, we could see evidence of fire. Looking south toward Missoula, visibility was limited -- a veil of smoke obscured the view. And south was the way we were headed. I got a local paper, and carefully located the major fires on our map. We would have to drive by three or four of them -- no matter which way we went. And every day, there were reports of new fires.
The further south we went, the smokier it became. Evidence of fire was everywhere. Traffic coming toward us seemed made up either of green forest service vehicles, or red fire fighting ones. We passed a large encampment of fire fighters, 20 tents and a chuckwagon. One hillside was pockmarked with smoky vents emerging from the trees. Missoula's air quality resembled that of Los Angeles on a bad day. We could only see vague outlines of the hills we know surround the city. A few miles east of town, there was a road sign advising turning on our lights, warning of smoky conditions. Could things get worse? Yes, indeed. Drummond, 43 miles east of Missoula, was getting the smoke both from the northern Garnet Creek fire and one located near Phillipsburg, 20 miles south.
On we drove, by-passing Deer Lodge, Anaconda and Butte. They were just too smoky. At Whitehall, we stopped at Pipestone Campground, one of the friendliest small parks we have yet visited. The air was relatively good, the park was very attractive, with level sites, a great swimming pool and spa, and, as the piece de resistance, it was the ice cream social night. This evening, we threw weight considerations to the wind, and joined in. (We can heartily recommend coconut cream pie ice cream.) But in the still air of nighttime, the smoke factor became worse, and we were off the next morning in search of fresher air.
By now, we were seriously reconsidering our decision to spend four days at Big Sky. The threat in this area was from the Beaver Creek Fire, still 20 miles away, but spreading in a most unpredictable manner. Located in highly inaccessible terrain, the fire was being fought mainly from the air. At the resort, we had rented a condo for the kids, but Tom and I intended to camp at a nearby Forest Service Campground. With Level Four fire restrictions in effect all over the area, we could have no fire, of any kind, outside the RV. How could we have "Grandpa's famous fire-potatoes", or roast marshmallows? And what if Level five was instituted? That would mean evacuation of all campgrounds to other than essential fire fighting personnel. We decided to drive south to the resort and judge the situation for ourselves.
At Big Sky, we learned that, while the resort was still open, several services would be curtailed. There would be no floating on the Gallatin River, (one of the "treats" we had promised the grandkids). Walking into the local clothing store, I overheard two women talking about the afternoon town meeting to discuss possible plans for evacuation of the resort.
That did it. Our plans would probably need to be changed. We called the rental company to see about cancelling our reservations. They were most accommodating (I'd guess we weren't the first to cancel), and we made reservations for next year -- at an earlier time in the summer.
While the situation seemed grim in the Gallatin Valley, West Yellowstone was enjoying wonderfully clear weather. We spent three days at the Grizzly Bear RV Resort, one day driving through the northern part of the Park, another in the Island Park area of Idaho. But the southern entrance to Yellowstone, the road leading to the Tetons, was closed because of another fire. And, on the third morning, headlines in the Bozeman Daily Chronicle told the story. Large headlines screamed "Fires on the move -- Residents of Big Sky told to be ready for evacuation". On Tuesday morning at 12:01, Level Five for Fire would close the whole valley for any kind of camping. There was even a section of the Sunday paper devoted to "Living with Fire -- a Guide for the Homeowner."
Unlike the previous two mornings, this morning we could see a smoky haze in West Yellowstone. From our campsite, we could see the Teton fire in the east, and the Beaver Creek fire in the north. It was time to leave and head west to Idaho. Would the situation be any different there?
The first few miles were fairly clear, but we could see signs that fire had been here, too. Near Arco, some 50 miles southeast of Sun Valley, we passed through a desert area which had been burned to the ground. Not a sprig of sage brush or native grass was left to hold down the soil. The wind was ferocious, and the resulting dust storm forced us to turn on not only our headlights, but also the emergency flashers. For 15 miles we crawled along the dirt blown highway, barely able to see the road ahead of us, and buffeted by incredible blasts of flying dust. The Sun Valley area seemed quite clear of smoke. But when we drove north out of town toward the mountains, we found more of the choking haze from nearby fires, thick enough to cause our eyes to smart and throats to burn. Looking at the area map at the Forest Service Ranger Station, it seemed that most of the middle of the state is on fire. The Salmon River is closed to floating, and the normally clear Stanley Basin is a smoky cauldron. Idaho is on a Level Three fire alert. Campfires are banned, although propane stoves, outside the rig, are still permitted. It is just not a very good time for camping.
We found the Sun Valley area not particularly RV friendly. There is only one park, and about half of its spaces are allocated for permanent residents. The Forest Service parks north of town are more suited for smaller rigs, but at this moment were just too smoky.
So, tomorrow we will try our luck in Oregon. There is only one reported fire in this state, which fire we will do our best to avoid. But in this season of Levels Three, Four and Five for Fire, who knows?
---
Postcard: To the Sun and Back Again
August 12, 2000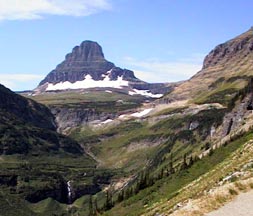 We have come to Montana for a two week mountain sojourn. We will meet our children and grandchildren later in August for a family get-together at Big Sky. But first Tom & I are doing some pre-reunion exploring. Today we are camped at the Mountain Meadow RV Park and Campground, one mile east of the town of Hungry Horse, and near the doorstep of Glacier National Park. Our RV park well deserves its "10" rating, with widely spaced terraced sites set on a hillside above the town. Each site is surrounded by natural vegetation -- we have an aspen, two beautiful Blue Spruces and several fir trees surrounding our rig. This afternoon, I drove into town and discovered that huckleberries are in season. At a table set up between the local tavern and the artists' co-op, the huckleberry seller, an elderly woman with a wonderful "down home" accent, was at work. She was selling these little gems for $32.00 a gallon. That seems high, unless you have picked huckleberries yourself. As an old huckleberry picker from 'way back, I know there are about a thousand little berries in just a pint! They are so precious that, when someone spilled a cupful there was an instant rush to pick them up -- one at a time.
The motels and RV parks in the Glacier area have not been as crowded as we would have imagined when we called for a reservation a couple of days ago. According to the owners of the Mountain Meadow RV Park, this is at least partly due to the wildfires Montana has been experiencing. Looking around the Glacier Park area, the sky is blue and cloudless, the forests are green and there is no trace of smoke anywhere. However, when Montana's governor declared a fire emergency, and closed several highways and whole areas in the western part of the state, camping cancellations came in fast and furiously. Perhaps that was the only reason we were able to get into this outstanding park in what we assumed would be the high point of the tourist season.
However, once we turned into the Park at West Glacier, people appeared out of the blue. There was a line waiting to pass through the entrance portal -- a line we were allowed to go around, courtesy Tom's Golden Age Passport! Following the road along Lake McDonald, most turnouts were full of cars; and the three small campgrounds appeared completely full on this August Saturday. As we passed Avalanche Campground, we found the sign we had been expecting, "Road closed to vehicles over 21 feet". And they really mean it! We would have been less than comfortable even in our Dodge dually, let alone any kind of RV. Back and forth the road zigs and zags up the mountain until you are just about certain you really will get to the sun. Hairpin turns, narrow roads, rock overhangs, and absolutely no shoulders, just low rock walls keep your vehicle from the edge of nowhere. At one point there was a short stretch of road construction, several hundred feet of one way road with no barrier at the edge. At this point, even the Jeep felt a bit wide...
But, with the right vehicle, this road is absolutely spectacular. Wildflowers are still blooming in the meadows, and these same meadows seem glued to the bottoms of the steep mountains which ring you as you ascend. Heavens Peak, 8,987 feet high, points straight up into the incredibly blue sky. The "Weeping Wall" even in a season of drought, still oozes water all down its face. Going-to-the-Sun Mountain resembles an Egyptian pyramid, built, of course, to the Sun God.
All of the many turnouts were full of cars today, with people photographing the glorious scenery or hiking some of the many trails that lace Glacier Park. There was a posted 30 minute wait even to get into the Logan Pass Visitor Center, and people had parked in the nearby pullouts and walked there. We opted not to wait our turn, but to drive on over the Pass to St. Mary and return to our campground by going south around the Park on Highway 2. Once over the Pass, the road was not nearly as winding, but dropped quickly to travel along Saint Mary Lake, a picturesque "postcard" like long lake, with several trails leading down to its shores. At each of the main trailheads, there was a small box. Opening one, I found a card to be filled out by the hiker, the "Glacier National Park Backcountry Visitor Registration Card". The card is for collecting use data about the relationship between backcountry visitors and bears! There are no questions asked on the card about bear sightings (like, "How many bears did you see? Were they collared? Did they appear aloof? Charge you?" that we have seen in another park in Canada), but hikers may receive a later mailing asking those questions. A donation is also requested at each trailhead, but no amount was mentioned.
Leaving the Park at the Saint Mary exit, we traveled south 20 miles to Montana highway 49, another road with a 21 foot limit. This winds up and through country which reminded us of pictures we have seen of Africa, scrub trees and golden rolling hills. We drove by the a lake named Two Medicine to East Glacier. East Glacier is a charming little community with a quaint old hotel. But an entrance tunnel (from the south/east) into the main part of the village goes under an arch which looks impassibly low for taller coaches. As we came through this tunnel in our little Jeep (from the north/west), we saw a large coach with its turn indicator on, change his mind and continue down the road to a pull out area along the highway. Detaching his tow vehicle for an exploratory tour of East Glacier -- on the other side of the arch -- was an excellent idea.
We rejoined US 2 and drove west along the south end of Glacier, following the Middle Fork of the Flathead River the remaining miles back to West Glacier. This is river rafting country, and was being widely used by rafters, canoe-ers and kayakers, as well as several fishermen. Back to Hungry Horse, and our excellent campground (now added to our "Favorites" list), having Gone to the Sun and returned -- all in one day.
---
Postcard: Boondocking around the Sound
August 4, 2000
Boondocking is a wonderful way to explore the beaches ringing Puget Sound. At the campgrounds at Forts Worden, Flagler and Casey, the old forts which ring the entrance to the sound, you can camp near the sandy beaches, and hear the gentle waves washing the shores. You can beachcomb for shells or walk through the aging structures of these historic forts. Birding is spectacular, with puffins, Bonaparte gulls, murres and guillemots everywhere. But you will find no hookups at all. This had been something of a problem for us, since our coach had seemed to prefer shore power except for an occasional night or two. But a recent discovery which ferreted out a problem in the charging system had solved all that, and we were now ready to boondock around the Sound.
We started at Fort Casey on the west side of Whidbey Island. Here, on a small spit of land just under the old fort embankments, is a small campground -- some 35 spaces. Some are nestled under old wind-twisted cedars, others are right at the beach edge. One part of the beach is relatively sheltered from the wind, but you can walk around a point and feel the ocean breezes coming right down the Strait of Juan de Fuca. Up on the cliff, at what was once the Fort parade grounds, there was a soccer camp in progress, and dozens of children were racing around. In the area of the old mortar batteries, there were twenty or so kids of various ages, all in wheelchairs. This was not keeping them from wheeling themselves onto the flat cement battery roofs, however.
The campground is very near the Keystone ferry dock, and you can watch the boats traveling to the Victorian town of Port Townsend, just a 35 minute ride away. These ferries run on irregular schedules at this time of year -- when there is a substantial "minus" tide, there is not enough water for the ferries safely to use the dock, and the runs get canceled. This morning, there would be only two runs, instead of the usual four. We opted for the early (7:45 am) boat and were off to Fort Worden, in the Port Townsend area. (Note: when taking the ferry, check the cost of driving a rig with tow car attached, versus the cost of driving on separately, which, in our experience, is always cheaper. This morning, we saved $8.00.) We planned to meet at the Port Townsend grocery, and use we the tow car to see if there was any room at Fort Worden.
Fort Worden is at once an arts center, camping and sports area, and marine nature center. Centrum, the theater/art gallery/school attracts students from all over the country. You can rent one of the old officer's quarters homes for a day or week, and these are booked well in advance. You can tour the commanding general's house and the marine museum on the beachfront. There are two campgrounds, one up near quarters, the other on the beach. Both take reservations, both were full.
So we decided to try our luck at Fort Flagler, on the opposite side of Port Townsend bay. It is as large as Worden, but without the various activities in and around Port Townsend. Here we found a perfect spot. Large enough to hold our rig, right on the level grassy lawn, and only a few yards from the water. From our campsite, we could see Port Townsend, but we had driven 25 miles to get here -- around the bay, through the little towns of Port Hadlock and Nordland, and up Marrowstone Island. It is much closer by water. A small cafe in the park sells hamburgers, hot dogs, ice cream and cold drinks,. They have fishing supplies for the shore fisherman and kites for the frequent windy days. I was a few minutes early to sign us in (they open at 1 pm), and took some time to drive through Fort Flagler. It is similar to Worden and Casey, with historic gun emplacements originally installed to protect Puget Sound from attack. Here too you can rent an historic old house, or explore the old gun emplacements. But, in the campground, only 13 hookups, and those electric only. Happily we could do quite well now without electricity, simply by running the generator for a short time each day to top off the batteries.
Leaving these historic areas, we drove west to Sequim (pronounced "squim"). This town, located in the rainshadow of the Olympic Mountains, claims to have the best weather in the Puget Sound area, and with only 15 inches per year, the least rainfall, in western Washington. Sequim's location means that within a few hours, you can be exploring the mountain crests or strolling the beaches. Or do both in one day.
Our destination here was the Dungeness Recreation Area. There are 50+ sites, each quite separated from the others by dense vegetation. Some are under trees, and others are located in more open, grassy areas on the bluffs overlooking Dungeness Spit. The sites vary in size -- our 36 foot coach will fit into many of them, but larger rigs would find only a few suitable campsites. We drove through in our tow car, found a good site, and walked back to the coach to drive it into the camp. Dungeness Spit is a 5 mile stretch of beach curving out into the Strait, decorated with a lighthouse on its very tip -- an explorable reward for those who have made the hike out.
14 miles down Highway 101 lies Port Angeles, with its charming waterfront. It offers two daily ferries, one car and one passenger, which cross the Straits to Victoria, BC. Port Angeles is also the entry point for the access road to Hurricane Ridge (part of Olympic National Park), our destination that afternoon.
It is only 17 miles from the base campground to Hurricane Ridge Visitor Center. The road climbs up, up and up. Dense forest, large trees and tangled underbrush testify to the frequency of rain showers along the flanks of the mountains. Along the sides of the roads, alpine wildflowers were in profusion -- we had wandered back into spring! Deer were common everywhere, also -- when we entered the Park we had received a small yellow paper warning about getting to close to a deer (you can get kicked), and emphasizing never to feed them. When we got to the Ridge, there were signs in several languages saying the same things. Unfortunately, the languages were only in French, German and Japanese, and not in whatever language some tourists understand. Just like several of the buffalo watchers in Yellowstone, here we saw people getting very close to a couple of deer grazing near the Center and taking pictures.
We had planned to return to Fidalgo Bay RV Resort this evening, do some laundry, and catch up on coach-hold chores before heading east toward Idaho and Montana. Our plans were sidetracked by the annual arts festival in Anacortes, a weekend weather forecast for sun and more sun and the resulting completely full park. So, tonight, we are back at Fort Casey, (Lady Luck found us the last available site), right on the water, watching the weekend travelers crowd on the ferries. And very much still enjoying our boondocking adventures. Who needs hookups?!!
---
Postcard: High Desert -- High Season
July 22, 2000
We had no great expectations of solitary camping when we rolled into LaPine State Recreation Area. Located 22 miles south of Bend, Oregon, and 6 miles east into the mountains, this is a very popular spot for exploring the surrounding areas or just enjoying your camping experience. You can drive out to Newberry Crater and do some lava bed hiking, you can visit the High Desert Museum in Bend, or you can fish or raft on the Deschutes River which flows right through the campground. There were campers leaving early every morning, returning at night to brag of their day's activities. But this large park has three loops of 40+ spaces each, one with electricity and water, and two loops including sewer, so we figured there might be some spaces free. We were a bit concerned when we read the large signs posted at the park entrance, "Reunion 2000", "Irwins this way", and "Register in site E 29". (How many relatives do you have to have before you need to register them? Do you give such fabulous reunions that gate-crashing becomes a problem?)
But they did have some available spaces -- not the creme de la camping spot, but non-reserved weekend-comers cannot be choosers. We were assigned a site in the electric/water loop, our preference because the sites here are more widely spaced. The campground has only a limited number of sites which will accommodate a coach of our size, but this one was reported to be 48 feet long. But if we had backed in far enough to allow room for our slide, we would have needed a machete to get in the front door. So we chose another, available for only one night, and decided to let tomorrow bring whatever it might.
When we camped here before we noticed that the chipmunk population far exceeds the human one. It is one of those campgrounds where Missy refuses to eat; she is sure she will miss seeing one of the little "critters" run by. Once I made the mistake of leaving a pot of petunias out on our picnic table, (it looked pretty there). It took those darned chipmunks about 15 minutes to find the pot, climb up on the table and eat the petunias right down to the potting soil!
Concerned about where we would camp on Saturday night, I had what I thought was a brilliant idea. The Oregon State map (not the AAA one, but the ones you can get, free, at state welcome centers), showed a road leading up into the mountains. It was fairly dotted with little teepees denoting campgrounds. Perhaps if we were to move to a campground farther up, there would be spaces.
My first inkling of how wrong I was came when we got to the Wickiup Reservoir campground. Out in front of this campground was a large wooden board, chock full of paper plates. On each plate was written a site number and the name of the family occupying it. It appeared that everyone in this 70+ site campground was expecting company and wanted their friends to know where they were camped -- sort of a campground sized family reunion. And everyone had been found. The place was packed. Two, three and four families per site. One group had rented two medium sized U-Haul trailers. At this site were at least four tents, three canopied, screened tents covering the picnic tables and 6 (visible) large size coolers stacked inside. (Who knows what hadn't yet been unpacked?). The tables inside the screened areas were loaded with boxes, bags and cans of food. Wickiup Reservoir is a bit far from the LaPine grocery stores to risk running out of milk.
The road to the boat ramp was lined with trailers, and there was a good sized traffic jam as people jockied for position to get their boats launched. And that was only the fishing boats. All the families seemed to have inflatable rafts, boats, inner tubes of every size, color and description either tied along the reservoir shore or stacked in their campgrounds. Across the water, we could see what must have been the group camp. There was a trampoline with several kids jumping and screaming, and a large game of beach volleyball was going on close by. What fun they were having! The reunions at La Pine seemed sedate by comparison.
Well, we thought, that was that. We drove back toward La Pine and Highway 97, and stopped to check out Sheep Bridge campground. This one was also full, but it had the added disadvantage of being incredibly dusty. Even driving as slowly as we could, we stirred up enough dust to taste.
Further down the road, we did find a small campground, right on the river, where there were a couple of "our size" spots. Here the Deschutes was so clear we could have seen any fish that happened to be swimming by. The river was signed "flyfishing only", we could see no fish, and Tom doesn't have an Oregon license. But we thought this little campground would make a great backup if needed.
When we got back to La Pine Recreation Area, there was a "campground full" sign on the entrance post, but the park ranger was just starting the process of listing the vacancies. Bottom line: we did have to move, but only within the campground, we had an interesting morning driving some of Oregon's beautiful backroads, and I learned a bit about where to go during the high desert's high season.
---
Postcard: Rally 101
July 9 -12, 2000
We are "First Timers" attending our very first club rally -- the Country Coach "class reunion" at the Lane County Fairgrounds in Eugene, Oregon. Since rallies make up a large part of many RVer's lives, we thought we should experience one. What does one do at a rally? Does everybody already know everybody else? How will it feel to be a newcomers?
Newcomers are treated like kings. For us first timers, this rally began with a Prevost bus ride to the factory for a special welcome ceremonty, introductions of all those who were attending for the first time, and factory tours. Our bus ride defined the term "special", since our driver did not know the way from the fairgrounds to the Country Coach facility. We saw quite a bit more of Eugene than was necessary, until one of the passengers decided to be tour guide, and directed our driver off the freeway and onto the route into Junction City.
Arriving at the factory, we were greeted by Bob's Brass Band. About 15 musicians, all dressed in the most outrageous of clothing, were playing for the guests. They were wearing multicolored tennis shoes, mismatched clown socks, (the kind with large, vivid stripes), wildly patterned shorts and shirts which not only did not match, but fought violently with one another. And their hats... Artists' tams, hard hats, viking horned headgear (one horn up and one horn down); the odder the better. As one person put it, "they look like the Stanford band -- on a good day". These weird costumes did not in the least detract from their playing, they were excellent -- even if a bit on the high decibel end at times.
All rally attendees were invited for short factory tours to see the innovations for the next generation of coaches. (I was delighted to see that my particular "bete noir" has been cured, and from now on, coach owners will be able to see the numbers in their odometers). After the tours, a super dinner, buffet for 500, was presented. I'm not sure how the caterers did it, but they were able to have medium rare steaks and perfectly cooked chicken even though they had to prepare these in advance.
I attended my first seminar here this morning. The seminar was on tires, their proper pressure and maintenance. About a third of the way into the talk, there was a commotion at the back of the room, and in walked Sparky J. Roberts, "actress, singer & all-'round entertainer', aka Rosie McBride, Country Coach class clown. Rolling a large, fully worn, tread-bare tire, she proceeded to the front of the room, demanding to know why the tire "didn't work". She claimed to have purchased it in the mid 1980s, with only 40,000 miles on it, and wasn't there an expert in the room who could help her? On and on she ranted, until the whole room was in stitches.
I had met Rosie previously. When the conference opened, she was staffing a table where we were supposed to sign up for extra-conference games. The catch here was that the games were very odd. Nude horseback riding, mackerel tossing (with real fish) and barefoot thistle walking were three of the 8 "games" you could sign up for. Actually, the whole thing was a ruse, as what Country Coach was after was the candid camera pictures of naive attendees. I am expecting to see Tom's and my pictures at the closing banquet, since we browsed the table in a state of semi-bewilderment at this totally unexpected "first look" at the "class reunion".
This rally has an extensive listi of seminars, although they tend to be commercial presentations for the various products discussed. However, since these products are the ones we use in our coaches, they are interesting and the seminars are well attended. There is also a large selection of extra-rally happenings. Every morning, the walkers and bikers meet at 7 am for hiking and biking. There has been a golf tournament, a four wheel drive tour and a rafting trip. Two of the nights featured fabulous dinners at a local winery and at the Hult Performing Arts Center in downtown Eugene, where the "Salute to Gershwin" was simply outstanding -- and tailored specifically to the owners of Country Coaches. Daily craft and cooking classes attract many of the Country Coach women (the mouthwatering aromas alone would attract anyone). And the icing on the cake is the daily arrival of not only the morning paper, but the "in house newsletter" describing the coming day's events.
For the last two mornings, promptly at 8 am, a veritable army of technicians has rolled into the fairgrounds. Each coach owner was invited to list three items he would like to have fixed on his rig -- an offer too good to turn down. And this army of "fixers" is working overtime to make sure everyone has his list taken care of. Technicians from Country Coach, Les Schwab, Zip Dee, Heart Interface, Dometic Refrigerator, and Advanced Satellite Systems swarm among, over and under the coaches parked here.
The closing ceremonies featured the "Bob Show", where Bob Lee, backed by an entourage of CC personnel, answered such questions as, "What can we expect to see on these coaches in the future? How is the industry doing in general? What are the dates for next year's Class Reunion?" Then we were off for an evening of dining (Mexican style) and dancing. Tomorrow, all the coaches will scatter to the four corners of the country -- some off to the FMCA rally in Gillette, Wyoming, others back to their homes in the Eugene and Salem areas. Others, like us, will still be looking at the Washington/Oregon map and trying to decide where the day's adventure will take us.
---
Postcard: Lessons in Time: A Trip into Hells Canyon
June 30, 2000
We came to Clarkston, Washington and camped at Granite Lake RV Resort, a brand new RV park right at the confluence of the Snake and Clearwater Rivers -- one that we knew instantly would make it onto our listing of "Favorite" RV parks. We are parked on a level, concrete pad, with spacious and well groomed lawn all around us. We look out over a mile long greenbelt hiking/biking path and onto the River. Just upstream, we can see where the Clearwater river flows into the Snake. Clarkston is located just across the river from Lewiston, Idaho, and is an inland shipping center, 470 miles from the Pacific Ocean. Today these "twin" cities are a boating paradise. Everything from inner tubes to 40+' yachts may be seen on the calm lakes formed by the dams on the Snake River. Jet skis ply the waters, fishermen search for catch and release sturgeon. The warm summer weather makes this an ideal place for all water related activities -- including jet boat trips into the fabled Hell's Canyon. Yesterday, we took one of these trips and it turned into a trip we'll long remember.
An added bonus of this campground is the short, 300 yard stroll to the dock where we boarded the our boat to explore the Canyon. The "Jill & I" is one of the several steel hulled boats operated by Beamers Tours. She is 40 feet long and a bit over twelve feet wide, but draws only about 8 - 14 inches of water when on plane (which is most of the time). Going upriver, the boat speeds along at about 35 mph. Coming downstream, her speed, aided by the river flow, will be around 45. The pilots for this trip were Captains Dan and Eric. These two personalities (I think you have to be a "personality" in this line of work), are obviously friends and work together very well. Dan is a bit older than Eric, and has read extensively on the history of the area. He was a wonderful tour "teacher". Eric has lived here most of his life, and knows all the people of the area, knows when he has seen someone before and when someone is "new". He had some great stories to tell.
We got lessons in Geology: About 5 miles upstream and still in the relatively calm water behind Granite Dam, Dan pulled up next to a cliff composed of columnar basalt. These are 5 and 6-sided columns, set against each other, each looking likely to tumble into the river at any moment. Upriver, we found layered basalt, huge slabs of stone of varying thickness laying one atop the other, the thickness of each slab being dependent on its age.
At Asotin, a small community a few miles upstream from Clarkston, Dan pointed out a road leading up the mountainside, and appearing to go nowhere. This was a road built by a mining company looking for lime. They found it, in huge quantities, and attempted to get a dam built so they could float the lime out on barges. But their timing was incredibly poor -- the Wild and Scenic Rivers Act of 1975 eliminated any chance that yet another dam would be built on the Snake River (it already has 26!).
In a calm and very deep backcurrent called Buffalo Eddy, we were shown "pillow" lava. In the middle of a jumble of granite rocks, shiny with black canyon varnish, was a strange lumpy rock covered with nodules. It came from an underwater volcano when Hells Canyon's terrain was part of an island group in the mid-Pacific Ocean.
We had history lessons: This area has been inhabited for at least 3,000 years. The Nez Perce Indians used the protected and mild canyon as a winter refuge. Here they fished for salmon and eel (Asotin means "place of eel"). It was an ideal place to winter their horse herds before returning to the higher elevations in the hot summer months. There is tragedy here too... at Dug Bar , there is a sign commemorating the forced crossing of these Indians on the way to the Lapwai Reservation in Idaho. Such was Chief Joseph's knowledge of the area that not one Indian was lost on this crossing of the flooded river. However, they did lose many of their livestock, cattle and horses too young to be able to swim the river.
Early settlers followed the same routine -- bringing large sheep herds to river homesteads for winter grazing. Some of these homesteads had unusual names -- for example, Temperance Ranch was so called because of an untimely accident. As a year's supply of goods was being brought into the canyon ranch, one of the eight pack mules fell into the Canyon, rolling over and over as he plunged down. Not only did the rancher loose a good mule, but the stuff in its pack turned out to be all the glassware -- including a year's supply of moonshine. It was going to be a very temperate year...
Elmer Earl has a large ranch on the Idaho side of the River. His property includes riverfront and the steep hills behind his ranch. On the top of the tallest hill, he has set an American Flag on a tall pole. Whenever it gets tattered and needs replacement, he climbs up that hill and puts up a new flag. He has been doing this since he was a young man -- and he is now in his late 80's. He's been known to report that when he was a younger man it took a full six pack to get him to the top; and now it takes a bit more liquid. If he wants to go to town, he has two choices, he can drive 5 hours on a rough, bumpy road out on the Idaho side -- or he can row across the river to his garage and drive a half hour into Clarkston. I didn't believe anyone would actually row across the River, but I spoke to his daughter, Valerie, at the Heller Bar Lodge, and that's how she gets across when she goes to work every day. "I've been doing it all my life"!
Harold Van Poole secretly built a lovely home up the canyon as a surprise for his wife Mary. A large ranch house, several outbuildings, all right on the river miles from everything and everybody. When she saw it she reportedly told him. "Its a beautiful home, Harry, but there's no way in Hell I'm going to live here. I'll come in and cook for you, but I must have a telephone." She got her phone. And one story has it that's how this Canyon got its name...
Mystery Lessons: Once there was a mining town called Eureka. At its heyday, the town had a general store, post office, blacksmith shop, saloon and hotel. Today, only the foundation of the hotel and trails to the mining area remain. Eureka was the location of the Mountain Chief Mine, a copper and gold mine whose owners claimed they had found a large vein of high grade copper, surrounded by a vein of gold. Cashing in on this would of course require the investment of huge sums of money, which was quickly furnished by a few wealthy "venture capitalists" from the east. This would surely be a way to augment their fortunes, and all without the need to venture into this new and untamed part of the Wild West. To extract the copper and gold required a new and very heavy piece of machinery called a stamp mill. The Mill was to be brought to them, up the river, on the steam sternwheeler, Imnaha. Armed with ample trusting financing from the east, the plan was set in motion. And of course the first order of business was to transport the stamp mill upstream.
Sternwheelers could be used on the Snake in these days, but the rapids posed a big problem. If the captain stopped below a rapid, worked up a head of steam, and then went pell-mell into the rapid, usually he would get about halfway up and then be turned and sent downstream again by the force of the water. The solution to this problem was setting steel rings into the rocks on each side of the rapids, attaching cables to these and hand winching the vessel through the rapids.
Loaded with the stamp mill and bound for Eureka, the Imnaha ran into trouble. As she struggled through Mountain Sheep Rapid, first one and then the other of the cables snapped . The boat was turned across the rapids, with one end in Oregon and the other in Idaho. Her crew scrambled to safety, but the heavily weighted boat sank and remains there today below 90 feet of water.
Now the mystery. Without the stamp mill, the mine could not survive, and without the mine, the town was finished. Several years later, the government took over the mine and checked for the copper and gold veins which were supposed to be so rich. All they found was a vein of copper so poor it would not pay to dig it. Was the Imnaha sunk on purpose, so that the company would not have to explain to its backers that their claims were fraudulent? Some historians think so...
While it went unmentioned, I also learned a lesson about river courtesy: Several times as we raced along around the river bends, we encountered rafters either floating downstream, or pulled up on the river banks. Each time this happened, the pilots would make wide turns away from the banks, or slow until the rafters had passed keeping our wake at a minimum.
As we sped along, I was surprised to realize that Hells Canyon is the deepest gorge in North America, a half mile deeper than the Grand Canyon. It just doesn't seem that deep. This is because it is a "transverse, layered" canyon -- you cannot see the top from the bottom or the bottom from the top. Instead, except for a few places where the walls close in on either side, it is a gentle grassy slope, great for grazing. And we saw plenty of grazing. Not a single horse or cow -- they were all up at higher elevations. But two herds of Rocky Mountain Bighorn sheep, with ewes, young rams and rambunctious lambs, and several whitetail and mule deer, were enjoying the grassy slopes. For several miles, on the Idaho side, we passed a number of cabins, some small and others larger and fancier, but all constructed with materials painstakingly brought upriver -- over the rapids -- by boat. On the Washington and Oregon side of the River, all the land is Forest Service or BLM. The large herds of domestic sheep which once grazed here are gone, they were passing a lung disease to the bighorn sheep of this area.
The trip up river took about 5 hours, with time out for two coffee breaks at small lodges which the company owns, and 45 minutes for lunch at the historic Kirkland Ranch. The boat runs 95 miles up Hells Canyon to a point some 22 miles below Hells Canyon Dam. To this point we had gained 700 feet in elevation and had run through two class 3 rapids. Above this point, the elevation gain per mile doubles, the rapids become class 4 and 5, and these boats are not built for that sort of water. Okay by me -- we had already run through some water rough enough to make me grip the back of the seat in front. The trip down would take half as long, be a lot faster, and, we were warned, bumpy for the folks in front and wet for those in the rear. This caused some seat shuffling, although it was hot enough that a splash (and we all got some splashing) was quite welcome. I became a lot braver as we progressed downstream, putting my hand out over the edge of the boat to catch a bit more of the cooling spray.
We stopped again at Copper Creek and Heller Bar for cold drinks and cookies as we headed downstream. At Copper Creek, Tom and I took a swim in the Snake. The water was cold, but the wind warmed and dried us the minute we got out. Our last stop was at Buffalo Eddy again. Here we went ashore and examined the pictographs and petroglyphs on the rocks. I could recognize the pictures of Rocky Mountain Big Horn Sheep, but the people looked strange, with knobby antennae sticking from their heads. Pilot Dan's explanation was that the Nez Perce, always hospitable to strangers, had "invited a bunch of Martians over for a barbecue of roasted sheep!"
From Buffalo Eddy, it was only a 30 minute ride back to the dock. As we came again into the calmer water caused by Granite Dam, several jet skiers appeared, seemingly from nowhere, to jump the wake of the Jill & I as she sped along. Then we passed under the bridge between Lewiston & Clarkston, rounded the bend in front of the RV Resort, and were back at the dock. Home again, home again, after a fabulous day.
---
Postcard: ...To a Good Home
June 23, 2000
We are back in Idaho after a short trip out to the Islands to see our San Juan friends. Since we were going to be back on the Island for a few hours, we thought we would take "just a few" items from the coach back to the house. Various never used items, such as clothing we had not worn in the months we had been away, items collected on our side trips and intended for the house, just a few things like that. We filled three boxes, and then just put "stuff" on the back seat of the Jeep. We could barely see out of the rear view mirror as we drove along. Think of the unnecessary weight we have been packing along for these months!
We are off to Lowman, Idaho -- on the west slopes of the Sawtooths -- to visit our small cabin for one last time. We have decided to sell it. To sell the cabin we have owned for 30 years. To sell a cabin packed with seasonal memories of snowmobiling, sledding and cross country skiing, of fishing and hiking. To sell the cabin which we, and our children, no longer use. No more trips to "the ridge", where we share some leased Forest Service land with 5 other cabins. These cabins define the word rustic -- 5 miles on a dirt road, then 1 mile on a bumpy lane. No electricity except with a generator, and water in the summer only. But, if you were to travel on a line due northeast from the cabin, you would be in Montana before you would run across any other communities.
We spent one night at Riverfront Gardens RV Park, just north of Riggins, Idaho. Here we camped on the grass in a garden on the banks of the Salmon River. This is the campground where "no, you may not" and "don't you dare" are foreign phrases. Here it is "please drive on the grass, it is here for your use" and "of course you may eat the cherries". This has always been one of our favorite spots, and it is just getting prettier and prettier. The roses are in bloom now, and the cherries are ripe. I am something of a glutton for fresh picked cherries, and you can eat all the ones you want. Just be sure you don't choose the tree with the sour pie cherries, like Tom did.
Every year owners Norma and Stan add to their gardens. When the river level drops each fall, new grass is sown onto the banks, and now you can walk right down to the water's edge on green, grassy paths. The gazebo is ready for folks to sit in during the heat of the day, or to enjoy the evening, and there are a couple of wooden swing/seats set near the water. This weekend, two botanists from Grangeville are having a wedding in this idyllic spot, and Norma is working hard to get the place looking even more perfect -- if such a thing is possible. I couldn't find a single weed anywhere in the whole place!
Next stop was in Cascade, just south of the resort town of McCall. Tourism hasn't effected Cascade much, it still looks quite the same as it did years ago. We can play golf without a tee time made weeks in advance, Cascade Lake is not brimming with jet skis, and there are lots of places for quiet walks along the Payette River. The Water's Edge RV Park is close enough for an easy walk to town and far enough away to see mountain bluebirds and otters. While Tom was fishing last night, he saw a mother otter with two pups. He froze when he saw them, but the mother became nervous anyway. She grabbed one pup by the scruff of its neck and started towing it across the river. The other pup swam along behind, making loud plaintive noises at being the one having to swim across.
Every morning at 8, or thereabouts, several campers meet for a walk along the shores of Cascade Lake. We hadn't been camped 15 minutes, when we were invited to join the group for the next morning's walk. I took the group up on its friendly offer, and had a most enjoyable 90 minute walk.
It is higher and cooler here than in Lowman, so we are leaving the rig parked on the banks of the Payette River and using the jeep for trips to empty out the cabin and reacquaint ourselves with the Cascade area. McCall, the main tourist attraction for the citizens of Boise, is only 25 miles north. From there, you can drive into the mountains for fishing or just enjoy the shops in town. I had to drive the other direction to Boise one day, and that winding, scenic drive of 75 miles south along the River is better enjoyed from the tow car than from the coach. Also, Boise can be very, very warm at this time of year.
So we will stay a few days in Cascade, putting the finishing touches on the sale of the cabin. When we decided to sell it, we put a note to that effect in the doors of our 5 ridge neighbors. We had an immediate affirmative response from one of the neighbors' daughters. She has spent a lot of time in the area, and appreciates it for what it is, a rustic respite from the big city. And while we will miss the cabin, we know that it will remain in the ridge family, and will have gone ... to a good home.
---