POSTCARDS
---
Stephanie is one of those persons who can fit a lot of words onto a standard size postcard -- usually by writing sideways, around corners, and even upside down if she can find some extra space. Most of these go to family and friends. But some of them -- those which document our RV adventures -- find their way onto this portion of our website.
---
Postcard: Turn Around Time
June 5, 2001
Home again after a quick return trip from the "sunny" Southland. Sometimes it had been sunny, often it was windy, and, in one part of Northern California, the air was full of smoke. As we neared Susanville, we could see what looked like a large wind driven dust storm. However, as we drove into the murky cloud, we could smell the smoke from two fires, one in Northern Nevada the other in the California Sierras. They combined to give us nearly 70 miles of smoky driving. The fire season had started, and it's only May.

We stopped one evening at Eagle's Nest RV Park near Tulelake, CA. This park is located two miles off highway 139, at the entrance to Lava Beds National Monument. Emma Wylie, proprietress, is one of my favorite California characters. I met her several years ago, when the park was quite new, and enjoyed her stories about life in the Klamath Basin, where she has lived practically all her life. She hasn't changed a bit. If you have stayed at Eagle's Nest once, she will almost certainly remember your name! (I stand in awe of people with this talent). She recognized me, and just had to show me around. She has accumulated an extensive collection of indigenous rocks; one white, chalky one was especially interesting; it looked extremely heavy, but weighed next to nothing.

Emma, like other natives of this area, is most distressed about, and critical of the water situation in the Klamath Basin. The farmers there have had their water supplies completely cut off. No water, at all, unless you have your own well. Those farmers with wells sell water to their neighbors, but the situation is bleak. As we drove north the next morning, we saw dozens of signs protesting the actions of the Bonneville Power Authority, and acres of plowed yet still unplanted fields.

We arrived in back Friday Harbor on a Monday afternoon, already planning our next adventure - back to the "Discovery Coast". We took this trip in 1998, and had always promised ourselves a return trip. Why not now? So, displaying our love for ferry rides, we will leave our Island this Friday, and ferry to Anacortes and the US mainland. The next leg of our trip will take us north to Vancouver, where we will take the ferry from Horseshoe Bay to Langdale. Then we will drive up the picturesque Sunshine Coast and ferry from Earl's Cove to Saltery Bay. Then on to Powell River and ferry to the town of Comox, on Vancouver Island. Northward again to Port Hardy, and ferry back to the mainland at Bella Coola. Lots of ferries, lots of adventure. But if we are to leave by Friday, there won't be much turn-around time on the island.

In fact, we will have 3 1/2 days to (a) decide what we will need on our Canada jaunt, (b) unload the coach, (c) get home, pick up 16 days of accumulated mail, water plants, attend to various household chores, (d) pick up the truck from the mainland where it is getting some needed repairs, (e) return to the Island, (f) pack the camper, (g) load it onto the truck, and (h) catch the Friday evening ferry. We will leave our coach in storage for this trip and take the smaller slide-in camper in the back of our Dodge dually pick-up.

Somehow, this will all get done, and come Friday evening we'll be off. We have some 10 days to spend in some of the most remote portions of western B.C., and then are due in Kelowna, where we will give a couple of presentations at an Rving conference. What fun! I can hardly wait.
---
Postcard: Traveling to Tahoe
May 22, 2001
Several weeks ago, we got a special invitation -- to spend Memorial Day weekend with some old friends at their home at Lake Tahoe. That did it. We turned off the heat, closed up the house, had the mail held (Post San Juan is claiming us as one of their best customers!), and caught the first possible ferry.

We traveled south stopping at some of our favorite parks. Barely a mile from the Interstate, in Kelso, WA, Brookhollow RV Park is snuggled down behind a dike which separates it from the Coweeman River. You can walk along the top of the dike for seven miles, following the river. The park is nicely landscaped, with level sites, clean restrooms, friendly staff people, and is a delightful first night stopover on our route south.

The next morning, we started off again down I-5. Tom started driving, but stopped at the first rest area, claiming that this driving was so simple that even I would be able to do it. So I took the rig down into Portland.

We have stayed in and around the Portland area several times, and have driven through it frequently. One weekend, while Tom was in Washington D.C., I even spent a couple of days exploring the area. I know, exactly, where the turn-off is from I-205 to I-84, heading east up the Columbia River Gorge toward Idaho. So why did I get off one exit too soon, and land us in rush hour traffic, going along a street where the signs all pointed to "City Center"?

We eventually found I-84 and headed east. We followed the signs toward Highway 26, which would take us past Mount Hood and into eastern Oregon, through Madras and Redmond, with Bend as our evening's destination. Highway 26 is a most scenic trip. First, we got to see scenic downtown Wood Village, then had a tour of scenic downtown Gresham. But finally the Portland towns were behind us and the road climbed up into the Oregon Cascades.

A spectacular day, with temperatures promising to set record highs. There was not a cloud on the mountain, and from several vista points, we could see nearby Washington peaks, Mount St. Helens, Adams and Rainier. As we came down into Madras, the peaks of eastern Oregon came into view, Jefferson, the Sisters and Mount Bachelor.

Crown Villa RV Resort is located at the south end of Bend, OR. We have always dreaded driving through Bend; the traffic can be horrendous and we could always count on missing most of the stoplights. But ODOT has finally almost completed a bypass! Hurrah! Only one more link, and the traffic lights of Bend are a thing of the past.

Next stop -- Junipers Reservoir RV Resort. We planned on spending two days here, hiking the juniper forests and seeing the seasonal birds and other wildlife. This 8,000 acre ranch and wildlife preserve is home to deer, antelope and many smaller creatures, including porcupines, badgers and thousands of ground chuck and squirrels. Birds are everywhere. Meadowlarks sing from the fenceposts, woodpeckers attack the juniper trees, and this is nesting time for tree swallows. There are several boxes placed around the campground to attract the swallows and we spent some enjoyable minutes watching one swallow try to put a 4 inch stick through a one inch hole in the box. The fact it did not fit did not deter him (I'm sure it was a him), in the slightest. He flew at the hole and fluttered his wings as hard as he could, trying to ram the stick in. Then he would fly off to a nearby perch, catch his breath and try again. Eventually, enough of the stick broke off that he could cram the remainder into the box.

The nesting boxes are for swallow and bluebirds, but other species also get nesting assistance. There are several pairs of killdeer in the park. These birds nest on gravel sites, on the ground, and here that means in the park roads. Manager Joyce helps these birds out by placing red cones (the sort you see when there is highway construction) and wood pieces around the nests. We opted not to park in one area near one marked nest, as Missy would have frightened the mother killdeer.

In the afternoon, I went golfing at the Lakeview course; Tom and Missy went for a 90 minute hike. When I returned, I found Tom downloading several pictures he had taken on this hike, of Missy enjoying one of the several creeks that run through the ranch and some of the fabulous views to be seen here.

We would have stayed another night at Junipers, but since we needed to be in Minden by Friday night, we decided that we should get a few more miles down the road. We planned on stopping in Susanville, a Sierra town we had not visited for some time. So we headed south into California. But about 100 miles short of Susanville, we passed through Likely. What a likely spot for a night's stay. We are camped tonight at a likely place – the Likely Place RV Resort and golf course. We played nine holes this afternoon where the glorious views of the surrounding hills and valleys completely erased any concern I had about my score. Tomorrow, I am lobbying for an early breakfast at – where else – the Most Likely Café – unless we decide on a Likely McMuffin at the golf course restaurant. Then we will be off for Carson City and a Memorial Day reunion with our friends. It's been a beautiful trip south.
---
Postcard: Not Exactly Baby Sitting
May 13, 2001
4 months ago, our daughter-in-law asked us if we could stay with the kids for 10 days while she and our son took a vacation. Of course we said yes. 4 months ago, it seemed like May would never come. 4 months ago, we were enjoying sunny Southern California, swimming in the pools at Oasis and Emerald Desert RV parks, playing golf and hiking in the Borrego Springs area, and, in general, doing just what we wanted to do just when we wanted to do it. May seemed a long time off. It was hard to realize that that our lazy schedule was going to change.
Tommy is 10 and his sister, Jessica, is 9. They leave the house every morning at 8 to catch the school bus, and arrive home every afternoon at 3:45. After school, there is just enough time to fit in homework before dinner. After dinner, on Thursdays, they have karate classes at the nearby YMCA. Jessie has Brownies on alternate Tuesdays. And the list goes on... They both have chores to do around the house and in the yard. Of course there must be time free for bicycle riding and playing with the little girl next door. We are on a schedule again, not much different from the one we had years ago when our kids were young. Somehow now we're much more aware of it!
We are enjoying watching these two. I had forgotten some of the funny family things that can happen. For example, one evening Tommy was pouring himself some milk for dinner. He took a big gulp of milk on his way to the table. The next thing anyone knew, he was racing to the sink, spitting out his mouthful, and saying, "Jessie", (as if it were somehow her fault), "what's the date on this milk? It's awful!" He had mistakenly poured himself a glass of Grandpa's buttermilk. Now when Grandpa asks if anyone would like to try a glass of "his" milk, Tommy can say with complete assurance, "I already tried some, Grandpa".
They consider their grandparents the ultimate example of old. We hear remarks like, "I didn't know old people liked...." or "how old do you have to get before you stop being excited about your birthday?" (Tom was celebrating his sixty-third). But we are also expected to know a lot. Driving back from school one day, Tommy tested me from his Weekly Reader, " Grandma, what do you know about crop circles"? Thank goodness I remembered an article from an airline magazine
As a break from the daily routine, we decided to take the kids on a weekend RV trip. After school, I met the bus and drove up Whidbey Island to meet Tom at Fort Casey. He had picked up the coach at Fidalgo Bay and everything would be set up. We loaded two bicycles and Tommy's fishing gear and were set for a weekend in the great outdoors. But while Fort Casey is less than 50 miles away, the trip took almost 3 hours. Seattle traffic is notoriously bad, and this was Friday night. First I had to compete with other drivers along the infamous I-405 corridor. Making travel even slower was a stretch of strategically placed construction. Whidbey Island is one of Seattle's bedroom communities and there was a two boat wait before we finally arrived on the Island.
That was the bad news. The good news was the fun the kids had the next two days. Tommy could fish to his heart's content -- from a jetty breakwater next to the ferry landing. He was out bright and early Saturday morning, even though both he and his sister had previously stated their firm intention to watch Digimon (some form of the Pokemon craze they both share). He joined 6 other fishermen attempting to catch perch, which would be used as bait for the rockfish and ling cod which abound along the jetty. Tommy was not successful, although when another boy his age came out, it seemed that they were having such fun watching the other fishermen and climbing around in the rocks that lack of fishing success didn't bother them a bit. We never heard another word about Digimon.
We spent several hours exploring Fort Casey. The pitch black rooms in the cellar of the fort are custom made for scary boos and shrill screams. If you are young enough, you can scramble up and down the ladders and steep staircases from one level to the next, hide in the brambles surrounding the fort, and generally have a great time.
You don't have to be all that young either. A group of young adults in their late teens was playing "Capture the Flag", a game which combines "Tag" and "Kick the Can". They wore camouflage army fatigues and had painted their faces dirt brown, the better to be invisible when crawling through the surrounding underbrush attempting to rescue their teammates. They attracted a lot of attention from those non-participants as they sneaked through the fort or raced across the lawn tackling members of the opposing "army".
We returned to Fidalgo Bay on Saturday afternoon, and the kids spent the afternoon and next morning riding their bikes and exploring the old homestead buildings here. They are now largely covered with blackberry vines and make perfect "haunted houses". When they tired of that, the beach offers clams, oysters, or just beachcombing at water's edge. We returned to Bellevue on Sunday with had two tired children (and two not-so-lively grandparents). This weekend trip turned out so well that we plan on doing it again.
There is a family of robins nested just outside the window in the living room at the Bellevue house. The mother and father robins spend all day hunting for food for the hungry young ones, who seem to be growing even as I watch. So are my grandchildren. It 's great to see them testing their wings.
---
Postcard: A Samish Celebration
"The Samish Indian Nation
Wishes to Invite You ..."
We were delighted to receive the invitation from the Samish Nation to attend the 5th anniversary celebration of their federal re-recognition as a native tribe. This once populous Indian Nation lived throughout our area, in the San Juan Islands and in the neighboring counties bordering Puget Sound. But, as was the case with so many other native nations, the diseases brought by white settlers took a brutal toll on the Samish. In 1847, there were more than 2,000 members living in their Samish Island village. By 1855, there were only 150 remaining. The remnants of the tribe were pushed from one settlement to the next by the influx of white settlers, and they gradually dispersed throughout Northwestern Washington.
Through the '50's and early '60's, the Samish, like every other tribe in the state, were issued tribal identification cards, and exercised special hunting and fishing rights. But in 1969, when the Bureau of Indian Affairs issued a new list of recognized tribes, the Samish name was not on it. It took until 1996 for the tribe to regain federal recognition, and when it did, the Federal Judge declared that it had always been recognized. Oops -- sorry. Too bad for the 26 lost years. But what a cost to the Samish people!
Now the Nation is making up for that lost time. They have purchased 80 acres near Anacortes, WA and plan to build quality, affordable homes for their members. They are in the process of acquiring other properties where they once hunted and fished. This weekend, they were holding a two day celebration commemorating the 5th year anniversary of their re-recognition. Appropriately, it was held at the Fidalgo Bay RV Resort, iteslf a former Samish site of keen importance to them. We were lucky enough to receive an invitation.
Eagerly anticipating the festivities, we caught an early ferry to the mainland on Saturday. Rain was pelting down as we crossed the water, but shortly after we got to the park, the rain stopped, the sun came out, and everything was perfect for the Saturday games. Fidalgo Bay RV park is situated so one side faces the open bay and another the backwater area. When the tide is out, this latter place is a fabulous spot for heron watching, and this morning I counted 37 of these beautiful birds, slowly stalking the waterline, searching for unwary fish.
The beach along the bay is a perfect place for children, and there were dozens of them this weekend, digging for clams, turning over rocks to find the tiny crabs scurrying underneath, or just throwing rocks in the water. A couple of kids were amusing themselves with a frisbee. They filled it with sand, and then tossed it into the air, showering themselves, and anyone close, with sand.
Tribes from all over the northwest and Canada were here for canoe races, bringing with them the long, slender canoes which looked (to me) completely un-seaworthy. The sides of these craft could not possibly be more than 10 inches above the water line, and that was before any people got in. The canoes ranged in size from about 14 feet to over 50 feet, made of wood coated with fiberglass, with impossibly romantic names. The Lummi Nation, from one of the nearby islands, brought the Ultimate Warrior. The Chiliwack, from British Columbia, had the Northern Wind. The Nooksak, from Bellingham area, brought several canoes of various lengths, one short one called L'il Cree, a longer one called the Rikkoli Cree.
This was the first time in seventy-seven years that these races had been held in Samish waters. And while this year, there were no Samish "pullers", there is a program in place to teach the Samish youth -- and watch out for next year!
The races were held in heats, single men, single women, doubles, mixed doubles, 6 man (and woman) races, and the buckskins. The buckskins were kids aged 16 and under, and, as luck would have it, had the most difficult races of all. By the time they were ready to go, the tide had turned and a fairly strong breeze had come up. As the long canoes started toward the first buoy, one capsized. 11 small heads could be seen hanging onto the sides of the craft. Rescue boats headed toward them, but, without assistance, they righted the canoe, sloshed the water out, and all 11 got back in to continue the race. Easy enough, even fun in warm water, but in this Bay the water temperature is in the mid 40's. Rescue boats were on the scene, but these kids are tough. Not one opted for a warm, quick ride back to shore. Though they must have been freezing, they all paddled, "pulled", back to shore. Shortly thereafter a second canoe capsized. It too was righted, bailed and reboarded -- and immediately re-capsized. The procedure was repeated, and that canoe finished the race in third place.
While the racing was going on, lunch was being served. No hot dogs and hamburgers here; we feasted on Samish food. Salmon was being smoked over an alder fire, oysters were opening on the fire and huge buckets of clams were being steamed. Indian fry bread and potato salad rounded out the meal. Delicious.
At about 5 pm, (Indian time is like no other time -- things happen when they happen, not because of any timetable -- but it works!), the bone games started. It took me some time to figure just how to play this game, but basically the rules are this: Two teams sit across from each other. One team hands the other two sets of "bones" -- segments of polished deer horn small enough to be concealed in your hand. One of these is completely white, while the other has a raised red band on it. To the accompaniment of drumming and chanting, the recipients of the bones switch them from hand to hand, hide them in pockets and do anything they can so that the first team cannot tell which hand hides the red circled bone. Eventually one selected team member ventures a guess. If he guesses correctly, his side wins a carved stick. If he is wrong, his team must give one up. There are 5 sticks, and a team must get them all to win. When the losing side is down to its last stick, the drumming and chanting get louder and faster, with the drummers fairly pounding on their hand drums. But never did I hear anyone lose rhythm, quite a feat since the competition started with 8 teams, all playing at once.
After the first game, winners play winners, losers play losers until there is only one team left. In this competition, that final event occurred at about 4 am. We were happy to be camped at a considerable distance from the bone game tent.
Sunday's celebration was quite unlike that of the previous day. Saturday's fun had been open to all the area tribes, and the public had been invited to witness the events. But Sunday was for the Samish and a few invited guests. As this ceremony started, four tribal members were selected, dressed in blankets, and given red and black headbands. These would be the "witnesses", who were charged with remembering all that would happen this day. We surmised this must be an almost timeless tradition, and represented the manner in which important events were "recorded" long ago.
Next came a welcome song, then a prayer song, both sung by a chorus of Samish women. Then Ken Hansen, tribal chairman, talked about the history of the Samish people and the background of the re-certification struggle. He praised those who had worked with the tribe during these trying years, but also mentioned that there are still 7 other tribes working to gain certification who need the support of other tribes. No doubt they deserve the informed support of all of us as well.
There are now more than 800 members of the Samish tribe, and more are "coming home". We were struck by the importance of home and family to the Samish. Not just the immediate family, but also grandmothers and grandfathers, the highly respected "elders" of this community, and those who have "crossed over to the other side". Home and community are extremely important to these people, as are the virtues of humility and giving, and the joys of comaraderie and laughter.
Again on Indian time, Sunday's events started a bit later than expected. Unfortunately that meant that we could not stay for the whole ceremony, as we needed to catch a mid afternoon ferry. Our daughter, her family and friends were waiting at our San Juan home. We did manage to stay for another feast of salmon, clams, crab, small roasted red potatoes and various desserts. But then we had to leave. These two days were a wonderful experience for both of us, and we feel extremely fortunate to have the Samish people call us friends.
---
March 13, 2001
Wedged between the north shore of the Salton Sea and Interstate 10 are the Mecca Hills, an intriguing area of wilderness. Sandy washes weave between towering cliffs of vermilion and rust. Swifts circle overhead, searching for their buggy breakfasts. It is an area honeycombed with small canyons. This morning, we were searching for the one called Ladder Canyon.
Our plans to return to Borrego Springs had been disappointed when we discovered that the campground was completely sold out for the week (Spring Break?). We discussed staying at PegLeg's, dry camping in the desert, but the wind was fierce, blowing clouds of dust and sand everywhere. We returned to Oasis, and the campground there, the better to pick grapefruit, oranges and lemons from their trees, swim in the pool and enjoy today's warmer temperatures of the Thermal and Mecca areas. Here we first heard about Ladder Canyon.
"Drive down Box Canyon road 'til you come to Painted Canyon road. Follow that to the end. Hike up Big Painted Canyon to the sign that says, Ladder Canyon. It may look impossible, but there is a trail there". There was. And true to the prophesy, it did look "impossible".
When we reached the sign pointing out Ladder Canyon, I was sure that some prankster had turned the sign to face the wrong direction, but there was a tiny path weaving between the rocks and up into what seemed an impenetrable cliff face.
While we were deciding if this were really the right way to go, we heard the voices of two couples coming up the wash. They each had a page from the previous day's paper, where there was an article describing Ladder Canyon, how to get there and what one might expect to see. I later found out that the author of this piece had managed to miss the real canyon and merely walked the perimeter, but at this time, it seemed that these couples were in possession of some very important information. If they thought this was the way to go, so be it.
Squeezing our way between huge boulders, we started climbing. It didn't take long before we came to the first ladder, a real ladder, made of metal, leaning against the cliff -- going down! I gingerly put a foot on it, turned myself around, and, being very careful to lean into the rocks, made my way down about 12 feet. Down below, the trail was several feet wide, with vertical walls on each side reaching 50-75 feet high. As we went along, we noticed that we could no longer hear the voices of the 4 hikers who were just in front of us. That was due to the weaves this trail took and the height of the rock walls on either side of us. They consistently towered above us, and closed in on us to a width in some places of barely 18 inches. At times the trail would widen, then close in again, giving rise to uncomfortable thoughts of earthquakes and landslides.
The next two ladders came in rapid succession, both going up this time. These were wood ladders, again leaning against the rock, not quite as long as the first. But even though the ladders, and the trail, were going up, it didn't seem that we were gaining elevation on the top of the cliffs which totally surrounded us. On we went.
About an hour into this hike we met a group of experienced (done it twice before) Ladder Canyon hikers. They were enjoying a break in a wide area where there seemed to be two trails, each leading off in a different direction. They advised us that this was a loop trail -- no matter which route we took we would eventually come back to this point. Off we went again. For a short while the trail was a bit wider, but still we climbed up and up. The day was blissfully cool, one time we were thankful for this cool California winter.
The last ladder was stuck in a crevice, practically perpendicular. However, it had been anchored at the base, and except for being a bit rickety, seemed safe enough. Getting off it required some crawling through the crevice, but at last we were up. But where were we? The walls of the canyon still stretched above us, and the trail kept going up. We decided to break off the trail and climb the last few feet to the top of the canyon, a tricky feat with the crumbling rocks underfoot. And, in the desert, you cannot grab anything for support without getting bitten, stabbed or stung.
Once on top, we had a fabulous view. To the south shimmered the Salton Sea. In all other directions, badlands and mesas, small and larger canyons everywhere. The trail now stretched in two directions -- northeast and southwest. Which way to go? Our helpful fellow camper at Oasis told us that he had "followed the ridge line back down to the car." The GPS told us the car would be found by following the southwest trail -- if the trail went through. Both ways followed ridge lines.
Sitting by a large pile of rocks atop this mesa was one of the couples who had entered Ladder Canyon just in front of us. Consulting their page of The Desert Sun, they showed us a "map" of the area. All it seemed to show was two canyons, Little Painted and Big Painted Canyons, with lines up and down these canyons, and one in the middle. It didn't seem much of a map to me, but these folks felt the northeast direction was the proper route.
Looking south alone the other part of the trail, we could see the other couple who had entered the canyon ahead of us, striding briskly along. Since this was the direction of the car, we opted for this route. It wound along the top of the cliffs, with one side or another always seeming to be slipping off into oblivion -- necessitating keeping your eyes firmly glued to the path beneath your feet. So we had hiked about 3/4 mile before we looked up and saw the couple we had been following coming back toward us! Oh, oh. Dead end.
Back we went in the other direction. By this time, the group of "experienced" hikers had come out of the Canyon and were trudging up the slope. By the time we caught up with them, they were taking another break sitting atop a hill. They advised us that the only way they knew back was to proceed down the trail and take the first left. Which we did, and which took us back into Ladder Canyon, down the ladders we had previously climbed, through the narrow slots, and back to the first ladder.
Here I made a mistake. As Tom climbed up the ladder, I looked around and saw some light coming around two huge boulders -- another way out. Forgetting the number of years that have passed since I was 15, I scrambled around one and squeezed through another, slid down a rock face and came out right on the trail -- a bit battered and bruised. Nothing permanently hurt but my pride.
Back in Big Painted Canyon, and les than a half mile from the car. As we entered the parking area, I saw those hikers who had made the correct choice having a quiet lunch, and appearing that they had been back for hours.
A short time later we were back at the Oasis RV park, and looking forward to a swim and jacuzzi to soothe our hiker's bumps and bruises. Tomorrow we are off to Emerald Desert for our last couple of days -- and then we really must start the journey home. But we'll be taking back lots of memories from our Southwest adventures in the Winter of '01...
---
Postcard: Border Crossings
March 12, 2001
In our travels to Mexico, we have crossed the border in large cities and small towns. We have waited in line for what seemed like eternities in San Ysidro, where the cars crawl, one at a time through a toll booth. (And it often seems only half the available booths are open.) We have shivered in the early morning dawn crossing at Nogales, where you have to jump through multiple hoops as you go from passport inspection to car inspection, getting various stickers and registration forms that will make your trip legitimate. We have walked across the border in Algodones and strolled streets lined on one side with doctors' and dentists' offices and on the other with curio shops. We have crossed in Lukeville, aka Gringo Pass, where the US side has a motel, RV park, gas station and grocery store, and where Sonoyita, on the Mexican side, has farmacias, tortilla stands and curio stores. It is the only town between the border and Rocky Point, the ending destination for thousands of American snowbirds. We have crossed in Mexicali, albeit on foot, and in San Luis, a quick crossing going south, but a very long one returning. We were looking forward to adding the crossing at Tecate to our growing list.
David Eidell is our Online Advisor on RV travels in Mexico. If you want to know where to get a tourist card for Baja travel, or how to take the ferry across the Gulf of California, or have any other question concerning travel in Mexico, this is the guy who knows the answers. He's written an entire mini-series of articles at our site covering all these topics and many more. He had been following our progress during our winter travels, and sent us an email suggesting we meet for a tour of one of his favorite towns, Tecate. We could drive to a KOA (in Mexico) just east of town and he could meet us there.
One look at the weather page convinced us that taking the coach onto Mexican roads which the park itself described as "dirt access" might not be the best idea with the potential for more torential mountain rains in the area. The weather has been dealing with us in cycles -- of two days of rain, followed by enough sun to get your hopes up, only to be chased away by another rainy period. But by checking the map, and consulting the Trailer Life directory, we found Potrero, California, only 5 miles north of the border, and only 75 miles from the park in El Centro where we'd spent the last evening. We took highway 94 to the towns of Campo and Potrero, and headed for Potrero Regional Park. What a find!
The park covers 115 acres, with ball fields, picnic tables, playgrounds and hiking trails. The RV portion consists of 32 level sites, each with power and water, under towering oak trees that are home to a large local population of acorn woodpeckers! these attractive birds drill holes in trees, stumps or, in this case a soft wooden post about 15 feet high which may have been placed just for the purpose of displaying what the birds can do. It is absolutely riddled with holes -- each stuffed with an acorn that has been carefully fitted and stuffed into place. The birds know just which acorns are theirs, and will not touch those of another bird -- though reportedly they will "share" if the food supply grows sparse. Here, take a look!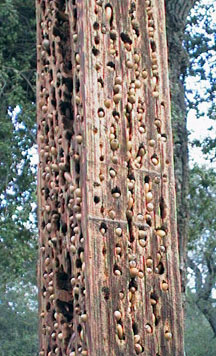 We met David on the California side of the border and drove across for a tour of Tecate. The first thing we noticed was the absolute lack of traffic. No long lines; in fact, no lines at all. We whizzed through into old Mexico, and experienced absolutely no border delay in either direction.
Tecate bears little resemblance to the other border towns I have seen. It seems that tourists have either not discovered this attractive village, or the locals have done little to attract them. We saw no evidence of the usual curio shops, t-shirt stands, or other staples of the more typical border community. We drove through quiet neighborhoods, with little traffic. David showed us where highway 2, connecting Mexicali and Tijuana, runs throiugh town, and where highway 3 takes off for Ensenada. This is the place of choice for entering -- or especially returning from Baja -- no more hours in line for me!
We stopped at a panaderia, "El Mejor Pan", to get some bolillos ( Mexican soft rolls) and a couple of different sweets, a sugar covered croissant and a small doughnut shaped roll tasting just like coffee cake, and then enjoyed coffee outside at one of the tables inlaid with colorful tiles. In just a short period of time we'd learned a great deal about the subtleties of easy ingress and egress to Mexico from David, a self described "Type B" (as opposed to "Type A") traveler -- and a real pro at avoiding border congestion. Then it was time to return to the US, pick up the rig at Potrero park (it was raining again, so we opted not to stay another night), and head for the desert.
Off for a last visit to Borrego Springs, and then we will begin our journey back north.
---
Postcard: A First Impression
March 9, 2001
Tom has frequently mentioned a familiar quote: "You never get a second chance to make a first impression". This is especially true when we walk into the office of an RV park for the first time. Whatever happens then colors our impression of the park. This impression may be tempered by time, but it can take a long time to revise that first set of observations.
I have fond recollections of various parks where we have stayed -- the smiles and heartfelt hellos from Fran, Nancy, and all the crew at Fidalgo Bay RV Resort in Washington; the kindness and efficiency of the women behind the desk at Voyagers in Tucson, where they will try to fit you into a space even during their busiest season. At Chula Vista, south of San Diego, we recently had our reservation mixed up -- they thought we were staying a night, we thought we were staying a week. But they found us a spot at the peak of their season, and we didn't even have to move our rig during our stay.
And it's not only at private RV parks and resorts, We've also found wonderfully friendly folk at the county and state parks where we have been this season. At Borrego Springs Palm Canyon Campground, there is little the rangers can do to give a camper a site if all the sites have been reserved. But even when they are saying, "No, I'm sorry", its done with a smile, and often a suggestion where else there might be available space. At Usery Mountain County park just north of Mesa, Arizona, the volunteers do a fabulous job, explaining to campers the intricacies of the new automated pay station, and helping them extend their stays (pay and be at the entrance booth by 8 am the day you wish to extend, and if you haven't been in the park for more than 14 days, no problem).
The park staffer at Potrero Regional Park, east of San Diego is another of these people who make a stay at their park an experience you want to repeat. We bought two "shares" (not "bundles") of wood, and the next thing we knew, she was trundling a large wheelbarrow out to our rig full to the brim with heavy oak pieces. Tom had offered to drive over and pick up the pieces, but she felt this was part of her job. Done with a smile...
So, when we encountered a "non-welcome", we were surprised, disappointed and just a little annoyed. We were headed to Casa Grande, to stay in a brand new, heavily advertised RV Resort. As is usual when we aren't sure if there will be room, we called ahead. I asked, "Do you have room for us for this evening?"
The response from the desk -- "Perhaps". Perhaps?
"O.K., " I responded, "we are just coming off the freeway, and will see you in a couple of minutes."
We drove up to the gate and stopped at the entrance. Tom stopped, smiled and explained we were headed to the registration desk. The entrance guard looked at Missy, who was staring out the window at him, wagging her tail madly, and his first words were, "There probably won't be any room in the doggy area".
"Oh, should we go to the office and find out?"
"The office is closed for lunch and won't be open for an hour". It was exactly 11:50 AM. We had spoken with the office within the past 5 minutes, and they hadn't mentioned this.
"Okay", Tom said, "I guess we'll leave. Can you tell me the easiest way to turn around?" The man did have an answer for that, and very shortly we were back on the road, on the way to a friendlier place -- one which we promptly found just up the street at Fiesta Grande.
This kind of experience has been rare in our travels, but when it does occur, it is something we remember for quite a while. There really is is only one chance for that first impression...
---