POSTCARDS
---
Stephanie is one of those persons who can fit a lot of words onto a standard size postcard -- usually by writing sideways, around corners, and even upside down if she can find some extra space. Most of these go to family and friends. But some of them -- those which document our RV adventures -- find their way onto this portion of our website.
---
Postcard: The Latest, Greatest Game
April 17, 2002
It all started with a casual statement from our son, Tom, Jr., just 10 days ago. "Dad", he asked, "have you ever been geocaching?" Thus were we introduced to the latest craze, a game which combines a GPS (global positioning satellite) unit with the lure of a treasure hunt. "Geo" of course stands for geography; and "caching" comes from the French-Canadian word meaning a hiding place.
I read the "brief history of geocaching" found on the website, www.geocaching.com. "When the GPS signal degradation called Select Availabilty (SA) was removed by the Clinton Administration May 1st, 2000 ... it opened up the possibility of games like this one. On May 3rd, a container of goodies was hidden by a someone outside of Portland, Oregon - in celebration of this removal. By May 6th the cache had been visited twice, and logged in the logbook once, and the game took off".
The object of the game is to find the "cache", a well hidden, weatherproof container holding "treasure". These treasures are inexpensive trinkets and toys placed in the cache initially by the person who creates and places it. It's existence is listed at the geocache website, and when you log in as a geocache "player" you'll find a listing of all the buried treasure within 100 miles of your home zip code or home coordinates. When you find a cache, you may, if you wish, take a treasure, but then you must replace it with another. (Currently, our geo-caching jeep contains a packet of golf tees and a wind-up owl, ready to be placed in the next cache we find.) There will always be a "log book" (usually a small spriral notebook) and a pen, so that you can "sign in" to log your discovery. When you return from a search, you should report ("log") your find on the web site. The web site automatically keeps track of who has found which caches; and your own geocache page keeps track of all the "finds" you've logged, as well as any caches you've placed.
Using GPS coordinates and deciphering the clues for each cache, you can usually find your way quite close to each secret spot. Hidden by someone you do not know and will probably never meet, you will find caches under trees, on mountains and in desert areas. There are caches in every state. At geocaching.com, you will find on-line forums where people can compare notes about their caches. (Currently, there are 16,239 active caches in 118 countries around the world.) There is a calendar of upcoming events, where groups with names like Brokenwing and Geoferret have "cache-togethers". There are virtual caches, puzzle caches and multi-stage caches. One cacher came up with an idea for Travel Bugs, metal pieces which resemble military dog tags, which can be attached to specific items. When someone takes a tagged item, the tag must remain attached. This makes it a "hitchhiker", and its path can the traced across the country or around the world.
We were fascinated. We looked up the geocaching.com website, and found that there were already 3 hidden cache sites on our own San Juan Island. How could we stay home?
We chose to start our geocaching careers at an easy site, which carried the name "Lime Kiln Lighthouse geocache". This site was marked one star, (out of 5), for difficulty of access, and one star for difficulty of retrieval. Tom printed out the descriptive pages which contained an area map (with the cache location marked), a description of the items in the cache, and an encoded clue. We could have cheated, -- if we had double clicked the clue, the computer would have deciphered it for us. But at least this first time, we did it the hard way. A = N, B = G, and so on. Armed with the stated GPS coordinates, and the extra clue to help us out, we set out on our first search.
Lime Kiln Lighthouse is one of the few remaining lighthouses, set on a point on the west side of the Island, right next to Whale Watch Park. In summer, this is a good spot for watching San Juan's resident orcas. We parked, set up the coordinates in our hand held GPS unit, and started to walk. All at once Tom stopped. "We should be within .01 mile of the cache". But all we could see were tangled vines, downed branches and sprawling madrona trees. We searched a while, looking under the fallen tree limbs and into burned out stumps. Finally, we read the clue.
"In the middle of a lovely inlet just S of the Lime Kiln Lighthouse, you might find a fallen tree. That could be the roots of your search. This cache might even make the rocks move!!"
O.K. Got it -- and found it! We were hooked. Now we wanted to find the other two Island caches, picturesquely named Impurities Reunion Cache and Maggies Cache. We had little trouble finding the Impurities Reunion Cache, as the clue took us right to the cache site. At Maggies Cache, we were joined in our search by a family from Edmunds, (in the Seattle area). Due to GPS coordinates that were just slightly off, we all had some trouble finding this cache, but again, the clue saved the day. The three children from this family had all brought treasures to add to the cache, and it was up to me to close it and return it to its hiding spot. I quickly learned that size is important; it was very difficult to get all the "goodies" back into the cache container.
We needed to spend an "off-Island chores" day on the mainland, getting a rattle in the jeep fixed and visiting the Costco in nearby Burlington. On the way back, we were far too early for the ferry, so got the directions for another nearby cache, Geology Geocache, right on Deception Pass. The description of this cache was a lesson in the geology of the area. Far more fun than waiting in a ferry line!
And now we've graduated from the ranks of "seekers", and become "hiders" as well -- by creating and carefully placing our own cache. We've read all the rules, found the necessary trinkets, and chosen a site which is neither too easy nor too hard (we think). We've provided a clue for those who may search for our cache, which we've dubbed "The Lagoon Treasures Cache", It relates to the extreme tides we have in this area, and it warns searchers to "Beware the direction of approach, as the running tides can cause more stars to rise", a not-so-subtle hint relating to the direction from which our hidden treasure should be approached. We look forward to checking the geocaching.com site to see the "logs" of those who will find and report it. In fact among the treasures to be discovered at our secret cache is an item that will be of very special interest to RVers.
Surely this newest of techno-sports will be of interest to many RVers, and provide yet another wonderful way to enjoy the pursuit of new adventure in RV travels!
---
Postcard: The Roads to the Coast
April 1, 2002
As our winter traveling schedule drew to a close, we took a look at the map to see what route we would take north. Up I-5? Unless you're in a hurry, that route is bor-r-ring. Take the more mountainous 395? I worried about a late snowstorm. What about the coast? We had seen some beautiful campgrounds on our Amtrak trip to Seattle two months ago. That decided it. We would wander home up the coast of California and Oregon. We would take the shore roads, starting with Highway 1 in Ventura, 50 some miles north of Las Angeles. Now, how to get to the coast from the desert?
We use the computer program called Street Atlas, USA, to measure mileage between our RV destinations. The program found the shortest route to Ventura was only 187 miles, taking 3 1/2 hours. However, long use of this program has taught me to check carefully each route it chooses, as the shortest distance is not always the one you want to drive. This 187 miles would take us straight across the middle of downtown Los Angeles, and we didn't want to go that way. We opted for taking the more northerly route, through Pasadena, even if it meant a few more miles. We naively believed that the traffic would be better.
Maybe it's because I live in a relatively remote area of northwestern Washington, but I really dislike the congestion and confusion of the LA freeways. Everything is impersonal -- and done by the numbers. We drove west on the 10 to the 60, followed the 60 to the 210, took the 210 to the 134, and finally found ourselves on Highway 101. En route, we slowed to a crawl only 3 times, once for an accident involving fire trucks and ambulances, once for an 18 wheeler which was lying on its side blocking three lanes of a five lane freeway, and finally once for road construction. Each time we came to a complete stop while passenger cars crowded in front of us. Motorists were constantly changing lanes, squeezing into impossibly small spaces, determined, at any cost, not to wind up behind an RV. But eventually the traffic thinned, and we were on our way out of the city and on to the sunny coastal beaches.
Emma Woods State Beach is located between Highway 101 and the water's edge. There were several available sites here, but they were a bit reminiscent of the parking lot at a grocery store -- back ins right next to each other. North of this beach are several others, or you can park parallel to the water -- just scramble down some rocks and you're right on the sand. The wash of the waves was alluring, but we opted for Ventura Beach RV resort. From this park it was a short 1/4 mile walk to the beach. The next morning we drove out to the water's edge, put our chairs in the sand and tied Missy to a nearby log. I used my binoculars to identify Willits and Marbled Godwits, Tom took pictures of the RVs parked along the beach way, and Missy sat transfixed watching several large squirrels sunning themselves on the rocks.
We drove north through Santa Barbara, past several more state beaches. I had selected Carpenteria, just south of town, as a potential stop, but changed my mind upon learning that slide outs were not permitted here. Next time, I want to try Refugio State Beach, a secluded sandy beach sheltered from the winds by a grove of palm trees.
Our next stop on our southern California coast odyssey was Pismo Beach. We stayed at Pismo Sands RV Park, a highly rated park and winner of this year's award for the best medium size park in all of California. Given the cramped site we were assigned, where we had to maneuver the coach lest we hit the slide of the rig projected onto "our" side of a shared hookup site, we had to question the criteria for such a distinguised sounding award. A little late afternoon exploring brought me to the southern section of Pismo Beach State Park. Here the sites were much more spacious, under towering oak and eucalyptus trees, but, due to Spring Break for area schools, absolutely full. I could have paid a $2 fee to drive down the beach to the off highway vehicle area. The sign said that, with caution, it was firm enough for driving. But I could foresee my getting stuck and having to walk back to our rig, and Tom, for help. I think I'm too old for Pismo Beach.
Now our coastal trip detoured inland. We were headed for the redwood country, to the Mendocino coast, and our choices were simple. We could drive east to I-5, and head north around San Francisco before rejoining 101 at Petaluma, or drive right through the city. We had no hesitation in deciding on the former, and spent a night in the Sacramento River delta, at Brannan State Park near Rio Vista.
After Pismo, I expected this park to be crowded as well, and was delighted to find it less than half full. And after the last night parked within inches of a neighbors slide, the 100 foot distance to the next site was especially welcome. We found a level site a short walk from the water's edge, not far from the largely empty marina, and enjoyed a quiet evening in the country.
The roads to the coast in southern California are crowded interstates. Even highway 101 through Santa Barbara and in the vicinity of towns like San Luis Obispo and Paso Robles carries an uncomfortable amount of traffic, much of which seems bent on getting in front of an RV -- no matter the consequences. What a difference several hundred miles makes. When we got north of Santa Rosa, 50 miles north of San Francisco, we were "out of town". 101 wiggles its way north, through the Sonoma and Mendocino wine country, through small towns like Hopland, (where the Bluebird Cafe still makes the most delicious sandwiches), and "larger" ones like Willits, the eastern terminus of the Skunk Railway. In season, you can travel this narrow gauge railroad through the redwoods and along the scenic Noyo River to the coastal town of Fort Bragg.
One caution about the roads to the coast in Northern California. Every so often, a small yellow sign can be seen at the side of the highway. These are advisory signs, "advising" motorists of upcoming road conditions. When the sign says, "trucks longer than 30' kingpin to rear axle not advised", it means it. Some of the most torturous roads we have ever driven are in this area. If the sign says don't go if you are a big rig, don't. Take your tow car. At one RV park this winter, I met a man who was complaining about the damage that he had done to his 45' rig while driving the very road we would be driving, and blaming his accident on the State of California. He should have heeded the sign's warning.
Highway 1 from Leggett, going south and west, is one of these roads -- but this time we were in our tow car making a side trip from our comfortable space at Benbow RV and Golf Resort near Garberville. Spectacularly beautiful, Highway 1 winds 17 miles across the Coast range, climbing 2,000 feet out of the valley of the South Eel river. Hairpin turns, sharp 90&Mac251; turns; it's impossible to drive faster than the posted speeds of 15 or 20. After we got to the top of the first set of hills, the road straightened out and took us down into a scenic valley. Just as we thought we were almost at the coast, the road climbed up the steep second ridge. While it might have been do-able in our RV, it was decidedly more fun in the jeep.
Dark blue water, waves breaking white over black rocks; the coastal view was spectacular when we finally reached the ocean. We stopped at the first available pull out area, and watched the waves washing over the sand. An osprey was perched on a rock outcropping, and, as we watched, it took off, soared overhead, then dived into the water. A splash, and he was off again, a silver fish clenched in his talons.
There are several interesting camping areas along this coast. I particularly liked the Westport-Union Landing State Beach, snuggled in some wind deflecting trees, yet close to the ocean. The rigs parked here were relatively small; thus would have had little trouble getting over the road from Leggett.
Arriving early for our visit with Tom's cousin in Little River, we drove along the ocean bluffs in Mendocino. It seemed all the town was out on this sunny morning, walking, and biking the ocean overlook. On this Easter weekend, the town was a fascinating amalgam of elderly tourists, families with small children, and a few leftover hippies from an earlier age, complete with waist-length dreadlocks.
There was still time for one more coastal jaunt before we would be due in Junction City. We drove north from Benbow , stopped at the rest stop in Brookings-Harbor, Oregon, detached the jeep, and spent an hour exploring the nearby RV parks and state beaches. Driftwood RV park was located right at the harbor, within easy walking distance of the beach, and had the added benefit of shelter from the coastal wind. Though there we many nice parks to choose from, we found this one perfect for our short stay in Brookings -- and the instant phone hookups were a a welcome extra amenity.
Before we left the next morning, we took Missy for a long walk along the beach. Passing an area of flat, slippery looking rocks, we startled a small flock of American Oystercatchers. Missy went into her hunting pose, stealthily stalking the seemingly unwary birds. Being completely convinced that she couldn't catch them, we let her off the leash. Immediately, she forgot to stalk and took off at a run. Of course the birds flew out to the deep water rocks. Missy seemed to realize she had a problem, as she slipped off one rock onto the next and then into the water. With some effort, she pulled herself back up and gave up on the birds, slipping and sliding back to us. I was glad she hadn't needed rescue!
The morning fog quickly burned off as we drove north again, through Gold Beach and Bandon, past the sand dune areas of Reedsport and Florence, and inland toward Eugene and Junction City. Here we will stay while a few items are fixed on our rig, and then head home to the San Juan Islands. Our winter travels are complete, and our next scheduled trip isn't until June. But I wonder how long it will be before we take an unscheduled one?
---
Postcard: Desert Life
March 22, 2002
We really should be heading north. However, the morning TV showed pictures of cars trying to cross the Siskiyous, and being winched out of snow-filled ditches on Interstate 5. The forecast in the Desert Sun, ( the daily paper for Palm Desert and the Coachella Valley) ,read "sunny, with highs in the mid-70's". Some choice. Perhaps we really didn't need to head north all that quickly. How about a few days in Borrego Springs enjoying the desert life?
We had hoped to find room in the hookup section of Palm Canyon Campground in Anza Borrego Desert State Park. Each site here showcases desert beauty; you may have a towering palm tree giving afternoon shade to your rig while sheltering a few quail or rabbits; you may find a creosote bush showing off its yellow blooms or an occotillo with its neon red/orange blossoms as your neighbor. Unfortunately, the hookup section was full, and, according to the ranger, had been since Christmas. (Memo: next year make a reservation when we want to stay here.) We drove through the rest of the campground, but found no vacant sites of sufficient size for our rig.
We would have preferred to stay here, but in Borrego Springs, campsites abound. All you need to do is drive out into the desert, find yourself a spot you like, and set up. You may have no hookups, but you also have no near neighbors, and the solitude and quiet of the desert will surround you completely. The only noise will come from the passing birds calling one another, the howl of the coyote and the whisper of the desert breeze. The nighttime star display will be incredible.
Before we got as far as the edge of town, we decided to check out Palm Canyon Resort and RV park. Sometimes this popular spot is very crowded, but this late in the season, we had our choice of spaces. We are backed right up to a row of tamarisk trees. Walk through the trees and you are alone in the desert. Or stay on this side and enjoy the small pool, hot tub and your fellow campers.
As we ate breakfast this morning, we heard the yipping of what sounded like a whole pack of coyotes. It is less common to hear a coyote during the day, and these kept up the racket, yowling ceaselessly. Finally, I grabbed my binoculars and went to see what was disturbing them. I'll admit to a bit of nervousness as I walked out toward a small ridge about 100 yards away. Were they sharing a rabbit? Did they want an observer? How would they react if I startled them? I was glad to meet three other curious RVers standing around, also trying to find the animals.
The coyotes weren't behind the small ridge at all, nor were they in the arroyo of the steep hill behind it. I finally located three of them, perfectly silhouetted on the ridge line of a hill a full quarter mile away, howling at something that, at first, only they could see. Using the binoculars, I saw their problem. Something looking very much like a wolf was sitting in the shade of a nearby large rock. But surely there couldn't be wolves in this desert?
For a few minutes all the coyote wailing did nothing to make the larger "wolf" move; but finally he stood up and slowly sauntered off. Now we could see that not only was he much larger than the coyotes, but he was white. Pure white except for his muzzle. As he wandered down the ridge, the coyotes followed, at a most respectful distance, still yipping.
What had we seen? I asked the Ranger at the Visitor Center what kind of animal might had been atop the ridge that morning, and he knew the answer right away. "One end of the ridge descends to the street aptly called Church Lane. Father Simon there owns three mixed-breed wolf/German Shepherds. You saw Panda, the pure white one. Occasionally they have been known to get out and wander the ridges. Coyotes are afraid of wolves, as wolves can decimate coyote populations. " Mystery solved.
We have done some off-road driving in the Borrego area on previous visits, and have found that 4WD is practically imperative if you really want to explore the backcountry. At the Visitor Center, there is a map with the various off-road areas marked, and a chart describing the various road conditions. The chart tells you if the road is suitable for 2WD, if 4WD is recommended, necessary, or if travel is not recommended at all. One section of the chart lists the reasons for this grading; soft sand, deeply rutted roads, and occasional closures of roads to protect endangered birds during their nesting season.
One of our favorite destinations is Hawk Canyon, on Borrego Mountain, southeast of town. And today, these "seasoned travelers", armed with neither map nor tour book, decided to explore the area. (Memo: The guide book, "The Anza Borrego Desert Region" should go into the Jeep at the first opportunity on our next Borrego trip. It describes each trail in the entire park in great detail). We knew how to get to the first leg of the trip, Buttes Pass trail, but couldn't remember which of the many subsequent (and unmarked) side roads was the right one. Choosing the wrong road, (naturally), we wound up eventually at "The Slot". This is a narrow arroyo with brown and yellow sandstone walls towering 50 feet and more above its sandy bottom. Intriguing looking caves could be seen along the route, far below. We could see footprints in the sand, but no easy way down the steep cliff walls. Too steep for us, so these two less-than-intrepid hikers sent Missy down to explore. She had no trouble at all with the route.
We didn't hike into The Slot, but all this 4 wheel driving seemed to remind Tom of past trips. He drove up the hill from the arroyo, on a road which quickly became a trail, getting smaller and steeper with each passing yard. Finally we came out on the top of a ridge with no hope of continuing. Even turning around was difficult. Then we had to go down the bumpy hills we had just ascended. Returning to the park, we turned off at Church Lane to see where Panda might have climbed en route to his coyote confrontation. At the end of the lane, cement turned to dirt and we drove the last 2 miles back to our campground through the open desert, with the dirt road becoming a trail, and almost disappearing altogether. Not too difficult a trip until we got to the last ditch, which provided a both a challenge and a bit of adventure in regaining access to a paved road.
It will be over 80&Mac251; in the desert today, and even warmer tomorrow. We will spend another night enjoying the Borrego temperatures and then will return to Emerald Desert for a couple of days to get everything spruced up and ready to travel. Then our time will be up; we will have to go north. Actually, we're headed first to Junction City, to the Country Coach shop for a minor fix-up before the last leg of our journey. It will be good to get back. The Skagit Valley should be alive with the colors of daffodils and tulips -- a sure sign of spring.
---
Postcard: A Stone Age Diorama
March 11, 2002
After a few days at Voyagers, catching up on our RVing chores (groceries, laundry and the like), enjoying the warm sunny days from the sides of the pool, and generally just relaxing, it was time to head west. We were going to try to get into Organ Pipe Cactus National Monument. I say "try" because, although our 36 foot motorhome fits into each and every site in the Monument campground, and has no trouble navigating through its interior roads, there is a rule that states "35 feet, maximum". The rationale behind this rule is, while an RV might be able to fit in to a given site, if it exceeds this length, it will not be able to exit without damaging the surrounding vegetation -- particularly the last sharp curve before exiting the campground. So any rig that looks suspicious is scrupulously measured. Had we been only 36 feet long, we might have been O.K., but at 36'8", we were turned away. No matter that we'd been there with this same rig and been "measured" before and passed the "test" then. No matter that a 35 foot fifth wheel plus a 20+ foot truck has nowhere near the ability to make those sharp turns. But the very nice volunteer at the gate didn't make the rules. As evidenced by an interesting fact: When he discovered their turnaround area was blocked, he invited us to just drive through the park (including all those turns "we couldn't make") and exit that way. So we drove easily through the park, as we'd done before, passed dozens of empy sites at least 70 feet in length, and existed with oceans of room to spare going around that last sharp curve before existing. Ah, well....
So our plans for a couple of days at Organ Pipe, with a side trip for shrimp at Rocky Point, that charming little Mexican town 60 miles south of the border, were postponed. We spent one night at Shadow Ridge RV Resort in Ajo, 35 miles north, and took off for Yuma.
Our previous stopovers in Yuma have always been overnighters -- just en route to other destinations. Our experiences in the various parks here have been consistently positive, the facilities above average, the campers most friendly. However, most of these parks are right off Interstate 8, and an overnight site is usually placed close to the highway. But this time we were headed for a new-to-us and different area, Hidden Shores RV Village. It's located 20 miles north and 6.8 miles west of town, on the western border of the Yuma Proving Grounds. And it's slightly east of the Imperial Dam Long Term Visitor Area (LTVA). We'd been wanting to visit this LTVA, as we were collecting pictures and information for a seminar we're presenting this summer at the Life On Wheels Conference in Moscow, Idaho. One of our programs describes the various types of RV and camping faciities that snowbirds pursue in winter months. And long term dry camping is very much a part of this story.
We were headed here because of one of those chance encounters -- less chancy among RVers. As we were heading home after our fall odyssey, we spent a day in Coburg at the Cummins service center. There we met Clarence Smith, headed in the opposite direction -- south for the winter. His destination was Quail Hill, one of the several boondocking areas in the Imperial Dam LTVA. He fairly raved about these dry camping spots, each with interesting names like Coyote Cove or Skunk Hollow. When Cummins was through with his rig, and he had to leave, he gave us his card. One side showed a picture of his truck and 5th wheel; the other had his name and two addresses, one in Spokane, WA, and the other on Ferguson Road, Winterhaven, CA (which just happens to be Quail Hill, LTVA).
I stuck his card in my wallet, and when we were looking at some of the other LTVA areas in Southern California, we remembered Clarence and Quail Hill. We couldn't visit on our way east, but heading west it seemed the perfect time to explore this area, and perhaps catch up with Clarence.
First we had to find Hidden Shores RV Village. We followed US Highway 95 north from Yuma to the Proving Grounds, and turned west. We passed one gate marked "ordinance deliveries". Hmm. On through the Grounds to Imperial Dam Road, past a very short 9 hole golf course, over a series of speed bumps and up to the gate. The gate man took our names and directed us to the office, at the other end of the park. We slowly (more speed bumps and one speed dip) made our way to the office, passed an area of park model homes and found ourselves in the RV area.
Hidden Shores is located on BLM land, meaning that, while you can put anything you want on your leased site, you cannot own the land. Many of the sites are leased either for a week, a season or a year; indeed the Trailer Life directory says there are 500 sites here, with only 150 of them available. The sites have a wide variety of "improvements", some were completely covered by park models and attached car/boat ports, some contained smaller outbuildings. Canvas awnings were stretched between pole frames to make garages for speed boats and jet boats. 4WD vehicles were covered and tucked in behind various RVs. People had made patios of decorative rock, and added side rooms. The manager told us that winter is not even the high season; that people from San Diego like to come here on summer weekends, and that the Village is often completely full. It is definitely geared for the fisherman or water skier, with easy river access and several boat ramps, floats and cleared places along the water's edge where you can pull up your craft each evening.
The RVs are sited up a hill overlooking the Colorado River. Each level gravelled site is unusually wide, perhaps to accommodate both boat and toad vehicle, and each has a spectacular view. We looked west out over the river, across to a wide grassy plain. No roads are visible on this plain, the grasses stretch for miles across to low chocolate hills. Dotting the plain are palm trees, just tall enough that their tops clear the long, colorful grasses. All that is lacking in this diorama are a few sabre toothed cats, a mastodon or two, some camels or prehistoric horses, and, of course, a band of men with spears surrounding one of the animals.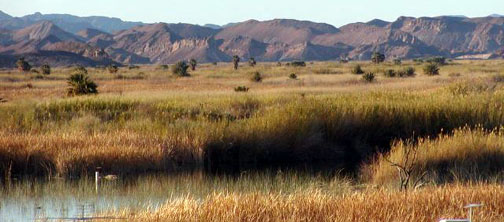 Off we went to find Clarence Smith. Crossing the Colorado River, we immediately entered California, and turned right onto Senator Wash, the main drive of the LTVA. The road wound through barren hills, past intriguing looking dry camping areas. We found Skunk Hollow, saw several RVs set up in Coyote Cove, but completely missed Quail Hill. At the end of the road we entered a marina/camping area where four people were having a guitar jam session. We asked about Quail Hill and if anyone knew Clarence Smith. When I showed his card, one of the men said that he didn't know him well, but he "never forgot a rig". Clarence had moved from Quail Hill into Yuma, where he had a job as church caretaker. This man spent the winter on Quail Hill as well and gave us precise directions back.
Even though we wouldn't find Clarence, we decided to stop at Quail Hill. Each site on the hill has a great view over the river or the desert. Pick your view, then pick your site. We chatted with a couple from Minnesota who were experiencing their first weeks of boondocking, and weren't quite sure what to think about it. They were amazed at the friendliness of their neighbors, and told us stories about the various activities they had been invited to join. Aerobics each Wednesday in the "gravel pit". 4WD jeep trips weekly. The first jeep trip they enjoyed greatly. The second trip was a "Ridge Run", which scared them out of further excursions. As we left Quail Hill, we saw evidence that Clarence Smith had indeed been a "permanent" resident here -- a Yuma newspaper box with his name on it! We'll have to return next year to renew our acquaintance.
Across from their site, one RVer had set up a large barbeque area complete with various tools hanging from a small outdoor kitchen and a sign reading the "Skunk Hollow Social Club". According to the Minnesotans, Skunk Hollow was aptly named, as there is some kind of offensive odor in the area. We didn't find out what kind, nor did we have any desire to go there and sniff.
We returned to our rig and watched the sun go down behind the chocolate hills. No mammoths, no camels, just the unforgettable kind of sunset that makes you want to return. Tomorrow we'll be off west again, toward San Diego and coastal California. Unless we decide to spend a few more days in the desert...
---
Postcard: The Other Side of the Plane
March 5, 2002
Our 9 days with the grandkids practically flew by, although Grandma and Grandpa found themselves a bit tired at the end of each one; ages 6 and 2/12 make care a 24/7 proposition. We spent a couple of days at our Island home, where the kids were able to explore the various nearby beaches, throw smaller rocks at the driftwood floating by on the current, and search under the larger rocks to find the small crabs underneath. Both collected baggies of rocky "treasures" to show their friends at daycare and to save for the return of Mom and Dad. We spent one night with the "cousins", always a favorite stopover for the younger ones, and lo and behold, in next to no time at all, our daughter and son-in-law were home. It was time for us to turn south again, take the rig out of storage, bail the dog out of jail (kennel), and resume our nomadic ways.
We left Seattle on Horizon Airlines and flew to Portland. There we boarded another Horizon jet and took off for Tucson. We were sitting on the right side of the plane. All the "good" scenery, the scenery that merited notice in the opinion of our pilot-cum-tour director, seemed to be on the left. As we flew by Mount Rainier and Mount St. Helens, I scrunched down in my seat, making myself as small as possible to look out the window on the right side of the plane. But as we headed east across the Oregon Cascades, I began to look out my own window, to see the views from the other side of the plane.
The pilot pointed out Lakeview, Oregon; I could see Goose Lake, the water ruffled by what appeared, at this height, to be a mild breeze. We flew down the California/Nevada border and the pilot told us that we could see Pyramid Lake -- if we looked out the left side of the plane. On my side was Honey Lake, pictured as a dry lake on the maps; full of water at this time of year. When he pointed out Reno, I could see Lake Tahoe -- all of it, from Kings Beach to Emerald Bay.
The plane continued to follow the CA/NV line southeastward, and soon passed near Mono Lake, recognizable by its series of islands, and for once, on the right. Then we headed east again, toward Las Vegas and Lake Mead, (left side), and into Arizona. The sun was beginning its evening slant in the west, and the shadows began to lengthen on the mesas below. Beautiful.
About this time, I became aware of the conversation going on in the seat behind me. This couple was also looking at the scenery under us, and describing to each other what they could see.
"Look at those houses, out in the middle of nowhere!" (The ranches of Nevada and Northern Arizona)
"See that pile of rocks over there?" ( That's a mesa.)
"That must be one of those strip mines. That's really all you can use this land for." (Did you notice how the shadows make the pit mine appear deeper than it really is? Those little lines on the sides of the pit are actually steep roads leading deep into the mine.)
"No trees, no nothing." (This as we descended into Tucson, and the setting sun made the Saguaros look made of velvet.)
I was reminded of one woman I overheard at the rest area at Washington Pass, the highest point on the drive through the "American Alps", Highway 20 in Washington's North Cascades. Looking at the gnarled tops of several old pine trees, she completely missed their singular beauty, merely remarking, "they should do something about all these dead trees". Like the couple in the seats behind me, she missed the views from the other side of the plane.
We landed on time, Tom went to retrieve the car, and I headed for the baggage area to play the luggage game. When will our bag show up? Will it come at all? Did it go to Tampa or Tucson? This time, our bag was third off the carousel, and we were off to Voyagers RV Resort in record time. Here we'll stay for a couple of days of R&R and then begin our trek West, slowly wending home.
---
Postcard: Tracking Amtrak: 2 Days on the Train
February 20, 2002
It began when we went to the Amtrak station in San Antonio, and continued when we found the station in Tucson -- that "let's get going" feeling. The station attendant in San Antonio issued our tickets and gave us the schedules of both the cross-country, (Tucson to Los Angeles -- "Sunset Limited"), and coastal, (Los Angeles to Seattle "Star Daylight"), trains. Three days later, when we prowled through the central Tucson area just to scout out the location of the Amtrak station, it was all we could do not to jump on the train coming through that very evening. But we weren't quite ready to go. Missy's doggy reservation for "jail" wouldn't begin for a couple of days, and we were enjoying some beautiful Tucson weather being "lap lizards" around the full size exercise pool at Voyagers RV Resort.
Tom looked up the Amtrak website, and found that, if he dialed 800- "USA-Rail", he could get a voice activated menu that could provide the current status and location of any AMTRAK train. We knew that our first train was number 1, running from Tucson to Los Angeles. There we had a two hour layover before we would catch number 14, from LA to Seattle. As an experiment, he called the number and checked on the most recent train (not ours -- yet) that was heading west across the country. That it was late was no surprise; if Amtrak is on time we are delighted. But this one reached Los Angeles 6 hours late! The passengers on that tardy train completely missed every connection; had we been on it, we would have been stuck in LA to wait until the next day. That sort of situation makes this grandmother nervous, so, to calm me, Tom started checking on the next train -- this one to be ours -- when it left Jacksonville, when it left Mobile, when it left Houston, and so on across the country. Happily "our" train seemed to be on time...
Even so, we weren't due to leave Tucson until 10:30 at night. We left Voyagers (and put the coach into their storage area) at 11:00 in the morning. Since we were flying back, we planned to park the jeep at the airport. We needed to find a place to put our bags during the day. We found the Hotel Congress.
This historic hotel is located in the center of "old Tucson", directly across from the Amtrak station. A relic of days gone, it has small, old fashioned rooms cooled by large ceiling fans. No TV, but our room had a radio straight out of the '30s, great for listening to the Olympics. On each floor there is a common area with a large TV, and we quickly decided that watching figure skating was preferable to listening to it. In this lounge, we found several comfortable chairs, and the oddest wall decorations -- pictures of John Dillinger and his "gang", including casual snapshots of his girlfriends, wanted posters, and one particularly vivid picture taken shortly after he was killed. According to the posted statement next to these pictures, "somehow a 1934 fire at this very hotel ultimately led to the arrest of Dillinger and his gang".
Our 10:30 train didn't leave until almost midnight, but the engineer worked some sort of train magic overnight, and had made up the lost time by morning. No problem with schedules today; we arrived at Union Station, Los Angeles, more than an hour before the Coast Starlight was supposed to leave.
Now our itinerary changed. No more tracking the movements, arrivals and departures of trains to come. Now Tom began to track our train, how fast it was going and if it would remain on time during this next segment of the trip. I went to the observation car, and glued myself to the window as the train began what has been described as the most spectacular train trip in the US.
For the first 5 hours of its northward trip, the train hugs the southern California coastline. Once clear of the greater LA area, the train runs between Highway 101 and the coast itself. Whereas often the view from a train is of the industrial areas of towns, on this trip you get a glimpse of some of the palatial homes that line the coast. Every so often there I could see a pedestrian access to the beach, cars lining the sides of the streets and people taking great advantage of their proximity to the ocean. Many were out walking the beaches, or exercising their dogs. Considering it's still February, there was a surprising number of surfers, patiently sitting astride their boards, waiting for the perfect wave. The weather was spectacular, warm and sunny with just the slightest breeze.
Several small roads paralleled the ocean's edge. RVs were parked in wide spots along these; places obviously set aside for overnight camping, overlooking the gently rolling surf only a few yards away. Several parks were visible from my vantage point on the train -- Carpenteria State Beach was especially enticing, with full hookups and few RVs. The next two, equally beautiful, were closed and padlocked. Further along, I saw another, nameless park, with sites on a bluff overlooking the ocean. A few RVers had found this park and filled these sites, but, perhaps because there "appeared" to be no roads accessing this park, there were plenty of vacancies. Next time I open our California State map, I intend to look these places up and find out how to get to them -- and plan a southern California beach trip.
As the train drew north of Santa Barbara, the land became a bit wilder. My idea of crowded Southern California cemented in Interstates disappeared north of Los Angeles, as we passed through open country. A few cattle and sheep grazed along the bluffs, but no homes or ranches broke the pastoral view. Headland after headland, carpeted with succulents, broken by low mounds of some sort of deep green bush, jutted into the blue ocean. Absolutely spectacular vistas on a golden California day.
At San Luis Obispo, the train turned inland, and headed up the San Joaquin and Sacramento Valleys. By tomorrow morning, we will be in the Siskyiou Mountains of Northern California, in snow country.
Daybreak found the train in Redding, running around 3 hours late. Taking a cup of coffee with me for company, I ventured into the lounge area and listened to various passengers discussing the trip. They seemed divided into two groups; those who resent the lateness of the train and who have decided that they will never, under any circumstances, take another trip; and those who see the beauty of the scenery and appreciate the slower pace that train travel demands. For those on a fixed agenda, the pace of train travel can be frustrating; if you have plenty of time, it is a most satisfying way to travel.
Our second day was mountains, lakes and rivers day. Early this morning, we traveled by Lake Shasta, full of snowmelt water, with wisps of fog hugging the placid surface. Up to Dunsmuir, through the California pine and manzanita forests and past Mount Shasta, looming pale in the morning haze. Into Oregon and through Klamath Falls, where thousands of snow geese and trumpeter swans blanketed the half frozen fields. Over the snow covered Cascade Mountains and down into the green Willamette Valley and Eugene.
Delays are common on Amtrak, and today is certainly no exception. Yet it is difficult to be upset while you wait for an oncoming freight train if you can be surveying a rushing, snow-fed stream cascading over the rocks and hurling itself off a cliff. We will be late arriving in Seattle, but have the memories of a spectacular trip, tracking Amtrak. Now it's time to look forward to the week of grandparenting which lies ahead.
---
Postcard: 2 Days in Big Bend: Hitting the High Spots
February 12, 2002
Which way to go from Seguin? Heading south again to the Brownsville area for a few days of birding seemed very attractive, but we have put this option off for another year. We are due in Yakima at the end of February for a week of grandparenting, and it seemed the most prudent course was just to head west. No hassle, no hurry. If the weather is good, we'll explore; if it isn't, drive on. And we were anxious to re-visit Big Bend National Park.
We carefully plotted our trip west from Seguin, our arrivals and departures. One short day in Uvalde, at Quail Springs RV park. Another, even shorter day's drive, to the Del Rio area, near Amistad reservoir. Then a push west to Sanderson or Marathon, the little town located only 40 miles north of the Park boundary. We planned to arrive at Big Bend on Sunday morning, just as the weekend crowds would be leaving.
Of course it didn't work out that way. One day in Uvalde became two as we enjoyed super weather and the newly expanded golf course. When we did leave, we battled, (I didn't --Tom did the driving), strong winds all the way to Marathon. We found a park here only 1/2 mile from the historic Gage Hotel. Walking distance to dinner! The park had full hookups, but with the wind and wind chill forecasted for the evening, we opted for electric only.
After we were all set up, Tom took off to check out the facilities. He was back in such a short time that I guessed the bathrooms were closed. That was not the case. He explained he had gone to the door marked "men" and tugged on it. It didn't seem locked, merely stuck, so he gave a mighty yank. The door sprang open and he saw a startled young woman inside, painting the walls. She explained that, while this bathroom was closed, "the bathroom next door works very well". Of course, the one next door was not marked "men". That explained his quick trip.
The wind blew all night long, shaking the coach and its inhabitants mercilessly, but subsided the next morning and we were off south to Big Bend, timing our arrival for 10:30 am. As we drove the 70 miles south from Marathon, we looked for the first exiting RVs, and cheered each one as it passed us, with our customary song:
"Now run along home, the weekend is through,
The kids are tired and so a-a-re you.
You hiked all day long, with all of your might,
You go on home now, we want your campsite"
The silly things we say as we cruise along!
Big Bend National Park covers more than 801,000 acres, and I was amazed to learn that such size only earns it a rank of 19th among our Parks. It actually consists of three separate areas, the area along the Rio Grande River, the "oasis" which is the Chisos Mountains, and the Chihuahuan desert region, which encompasses the rest of those acres. With the size of Big Bend, it is no wonder that destinations are so far apart. It is 70 miles from Marathon to the Park Headquarters at Panther Junction. Then you must decide if you want to drive 30 miles west, to Santa Elena Canyon and the small campground at Castolon, or 20 miles east to Rio Grande Village. Since the latter is more suitable for larger rigs, we headed east.
Rio Grande Village has one area with full hookups, but we have always stayed in the non-hookup area. We are self contained enough that a couple of evenings on a grassy lawn, nestled under towering cottonwood trees, even with no hookups, is more attractive to us than parking lot appearance of the full hookup area. The non-hookup sites are fairly level and set well apart from each other, with wide grassy areas between RVs. There are signs posted on each picnic table and at the information kiosks telling of the Javalina activities here -- "keep food and pets put away -- tents and coolers are not Javalina proof ", and we have seen several of these interesting animals wandering around. To the east of the campground, we can see the Sierra del Carmen, a mountain range spanning both the U.S. and Mexico; high mesas which glow pink in the evening sun!
We planned to be in the Park for only two days, and thus our itinerary read like a list of "places to visit if you only have a short time". We wanted to revisit Ernst Tinaja, the Chisos Mountain Basin, Dugout Wells and Boquillas Canyon. If there was time, the hike to the Hot Springs, pools of natural hot water right at the edge of the Rio Grande, was a well remembered treat.
Our first stop was Ernst Tinaja. When we were here before, we were driving our Dodge dually, and our remembrance of the road was that it was extremely rough and narrow. But either the road had been graded, (unlikely), or Jeep travel is much easier. No bouncing down the road, or wondering if we would fit between the steep sides of the ruts. On this road,4 WD is not necessary, although I was glad we had it, "just in case".
There are several places in Big Bend where you can camp out in the desert, in primitive camp areas. One difference I noticed on this trip is now they are signed, and as one such campsite is the base of the tinaja hike, the turn was easy to spot. It is just as scenic as we remembered -- pink and white rocks, colored as if by an artist, other layered rocks squeezed and warped by seismic activity from ages past. A short walk up a sandy canyon brings you to the seemingly bottomless tinaja, a hole in the rocks where water collects and can be found year round. When we were here several years ago, Missy fell in the largest one, and we had a hard time getting her out, (and her collar has been at the bottom of the tinaja ever since). This time, she was carefully leashed, although not too happy about it.
Chisos Basin. The Chisos Mountains rise straight up from the desert, and are visible for miles. The narrow road climbs through several ecosystems -- the desert plants, cactus, agave, and creosote bush give way to scrub oak which in turn gives way to pinyon pine and alligator juniper, the latter so called because its scaly bark looks like the scales on the back of an alligator. We came here for breakfast and a walk around the Window View Trail. It is about a 30 mile drive from our campground to the mountains, so we were feeling a bit hungry this morning as we arrived -- to find that the electricity was out. The Lodge was dark, as was the store, the post office and the museum! We wandered around for about 10 minutes before we realized that they were serving meals anyway. If the coffee wasn't quite as warm as we might have liked, still the pancakes were great, and with the view of the "Window" from our breakfast table, who cared anyway?
The Window is a cleft in the mountains which provides a spectacular view of the desert below. There is a 5 mile hike which takes you right to the Window's sill, but the shorter, 1/4 mile walk will give you an excellent overview of the area. There is a small campground just below the Lodge, but it is really only suitable for smaller rigs. The sign you pass as you start up to the Lodge, "vehicles under 25 feet not advised", really means it.
As we headed back toward Rio Grande Village, we stopped at Dugout Wells. You can spot the Wells from quite a distance -- just look for the huge cottonwoods and tall windmill. Once the site of a settler's home, and the Big Bend School, now all that is left is the windmill -- and water. With the water come the birds. Black throated sparrows, mockingbirds, scaled quail and doves frequent Dugout Wells, as do birders -- this is a popular place for Ranger led birding walks. Today four hardy mountain bikers were using the Well as a staging area for some serious cross country biking.
Boquillas Canyon. Just across from the Rio Grande Village is the small Mexican town of Boquillas. If you wish, the Boquillas citizens will ferry you across for a cervesa or a meal in their town. Or, staying on the U.S. side, you can walk a short distance into Boquillas Canyon. Before the advent of dams and extensive use of river water for irrigation, the silty Rio Grande cut a deep canyon. The river seems very shallow here; I saw places I imagined I could wade across, though Tom assured me I was wrong. We drove to the end of the road, hiked up a short hill, and down to the water's edge. A herd of goats munched their way along the Mexican side, phoebes searched for bugs in the still air, and a Yellowlegs probed the mudflats along the river's edge. All I could hear was the tinkle of the lead goat's bell, the cries of the birds as they circled out over the river, and the rustle of the waterside rushes.
We now had only one item left on our "to do" list, the hike to the Hot Springs. The trail extends from the Rio Grande Village three miles, one way, en route to the Hot Springs, so I encouraged Tom to drive over, and then walk back until he met me and we would finish the walk together. Off I went, climbing the first, steep part of the trail, looking down at the grass fields below, and a rush ringed, large pond that I hadn't noticed before. From the area of the pond was the oddest sound, kind of a creaking, croaking noise, loud enough that I could plainly hear it from my perch halfway up the hill. Cranes? Geese? Out came the binoculars, but I could see nothing at all. If I retraced my steps down to the pond, I would be very late for our rendezvous, but I almost did it anyway. Then the noise stopped. In the ensuing quiet, I realized just what I had heard. Frogs! No wonder I couldn't see them.
The trail wound up over rocky hills, and down through cactus filled arroyos. It was almost completely quiet; I saw no other hikers, and except for a couple of Canyon wrens, no birds. In a couple of places, where it crossed sheer rock, I almost lost the trail, but could always see it stretching out across the desert ahead of me. It grew hot; off came the sweatshirt that the cool morning had prompted me to wear. On and on, now north away from the river, then south to the water's edge, where Tom was waiting to join me for the last leg of the hike. The Hot Springs, a place where natural hot water fills a cement pool, was as popular as I remembered it being. One couple was sitting in the pool, and another couple walking by were making plans to return later in the day.
We had completed our checklist of "things to do" necessitated by such a short stay in the Park. Each stop brought back memories of the other visits here, and we won't let such a long time go by before we come back again. For now, its off west, back to Tucson, and then north. We'll leave the coach in storage, put the dog in "jail", and take Amtrak to a reunion with our grandkids. We're looking forward to this next stage of our winter's travels.
---