---
POSTCARDS
---
Stephanie is one of those persons who can fit a lot of words onto a standard size postcard -- usually by writing sideways, around corners, and even upside down if she can find some extra space. Most of these go to family and friends. But some of them -- those which document our RV adventures -- find their way onto this portion of our website.
Postcard: Holding Onto Our Hats
February 22, 2003
Our plans called for leaving Lost Alaskan RV park in Alpine, Texas, and heading west to Las Cruces, New Mexico, a distance of 265 miles. The night before we were to leave, we got some disturbing news. According to the website at weather.com, strong winds were coming, -- 30 to 40 MPH in Van Horn, a city we would have to pass through en route to Las Cruces. Worse, these would be side winds, making a most uncomfortable, and very slow trip, if, indeed, we could travel at all. What should we do about our trip?
Our choices seemed simple. (1) We could stay in Alpine until the winds calmed down. The downside of this was that the weather here was deteriorating too. And the wind situation apparently wasn't due to improve in Van Horn's any time in the next several days. (2). We could go south to Presidio and hide out there at the Loma Paloma RV park. But that didn't solve the Van Horn wind problem either. (3) We could leave Alpine right now. But it was already windy in Van Horn, we would be driving in the dark, and we had paid for our night's stay at Lost Alaskan. So we decided to leave in the morning and just "go for it".
But we took one precaution: we got up about two hours before sunrise, and were well along our way before daylight. No wind for the first few miles, but anticipation kept us on our toes. En route to Van Horn, we passed a federal weather station. This is home to a large (it dwarfs the buildings that surround it), weather "balloon". Shaped like a dirigible, it is visible for miles in any direction -- when it is up. Today, it was tethered close to the ground. Oh, Oh.
But the wind gods were, thus far, smiling on us. We covered the 99 miles to Van Horn by 8:00 AM -- not a breath of wind. We turned west on I -10. Now we were 119 miles from El Paso. The forecast here was more winds at 30+ MPH, occurring around mid-day. Rather than stopping for breakfast, I made a light breakfast we could have while still rolling. I volunteered to drive a bit, feeling Tom shouldn't have to do all the work, but he was intent on getting on down the road as fast as safely possible. Still no wind. I was beginning to think that "weather.com" needed a bit of fine tuning. Could this forecast have been wrong?
Just east of El Paso, we noticed huge columns of black smoke billowing out of some fields. But the smoke wasn't blowing, indicating wind, it was just lazily pluming along. Good. Now we were was only about 50 miles from Las Cruces.
We pulled into the Hacienda RV Resort about 10:30 AM, earlier than we have ever stopped anywhere before. I thought about suggesting that maybe we could go on to Deming (another 50 miles). Perhaps we could get all the way to Arizona. There wasn't going to be any wind. But we had already had a long morning, and Tom declared he was done for the day. What a wise decision that turned out to be! We checked in, got into our site, hooked up --- and the wind began to blow. It didn't start with a gentle breeze either. From the very first gust, it was a coach shaking, window rattling gale. The skies darkened and thick dust obscured the horizon. RVs, desperate to get off the freeway, started pouring into Hacienda. Tom checked back to get the current conditions in Van Horn: Wind at 50 MPH, gusts to 61!. We had been incredibly lucky, though we did have the benefit of at least some hard-to-get information about travel weather conditions. The evening Las Cruces TV news showed interviews with RVers virtually stranded on the road, not wanting to challenge the blowing gales. And over morning coffee the next day, everyone was telling of their "wind experiences" .
We stayed in Las Cruces one extra day, although by morning the winds had diminished and many of the wind-battered RVs were back on the road. The day was fine and we did some exploring in the area. That night, we got hit again -- this time by rain. Rain hard enough to make small rivers run down the streets between the parked rigs, and cover the doggy run in about 2 inches of water. But it was gone by morning, although weather.com did warn us that there would be intermittent showers all the way to Benson, AZ. And, of course, there were -- I got to drive through one of the blackest skies I've ever seen, which had a nice hailstorm on its western edge.
Now we're back in Benson, where we will spend a day or so before going on to Tucson. The forecast is for good weather for the weekend, and no more rain (or, hopefully, wind), until the middle of next week. I have become a believer in weather.com. We were lucky on this trip, but if we hadn't had that information, our story could have had quite a different ending.
---
Postcard: Outside the Box: Big Bend's Other Face
February 19, 2003
Being married to a "techie" type, I have learned that thinking "outside the box" means you're not constrained by routine ways of thinking about things. Today we took a trip to Big Bend National Park and we did it "outside the box". We went to that part of Big Bend that isn't included in the Park boundaries. We chose not to stay in the Rio Grande Village, and take the drive to Ernst Tinaja I have described in earlier postcards. And no trip up into the Chisos Mountains for us this time either. We'd use the Lost Alaskan RV Park, Alpine TX as our base camp and drive highway 188 south to Terlingua and Study (pronounced "stoody") Butte. From there we would drive west to Presidio, and see the "other" Big Bend, that part that's outside of the park's boundaries.
In part, this decision was the result of noticing the number of rigs headed south as we passed the primary entrance to Big Bend NP (Marathon, TX) late morning. Realizing that this was Presidents' Day Weekend, and our chances of getting a place to stay in Rio Grande Village seemed slim at best, staying in Alpine seemed a good choice. And it was...
Bright and early the next morning we headed south on highway 118 toward Terlingua, 80 miles distant. The first 50 miles took us across a flat plain, dotted with creosote bushes, Yucca plants and bunch grass. The morning was absolutely clear, and we could see 50 miles in any direction. Big Bend is not known for such clear skies, which made this day even more special. Tom remarked that the curvature of the earth was the main impediment to our views. We passed a few ranchhouses set well back from the road, and marked by lonely mailboxes, and saw a few cows. Nothing else between us and the spectacular mountains ringing the plain, and seeming to rise straight up from its flat floor.
About 30 miles from Terlingua, we started to "catch" the mountains. The formerly straight road now rose and fell as it climbed over the hills. We passed an aptly named mine for this area, the Cowboy Mine, specializing in something called Bentonite, which must come from the large piles of gray rocks scattered around the entrance. Then we crested a hill and saw Terlingua.
Terlingua boasts that it is a ghost town, and indeed part of it is. You can tour several old buildings in the historic section, and the old cemetery attracts many visitors with cameras at the ready. When you drive in to town, however, your first impression is that of a small bustling community. Each November, Terlingua, its "sister town", Study Butte, and several other small communities host the International Chili Cookoff, and each town becomes a chili metropolis, as contestants from all over the world converge in the south Texas desert. We stopped at the Big Bend Motor Inn and RV Campground, seemingly the nicest park in this area. It was quite crowded, making us more certain than ever that we would have had a hard time finding room in the Park. Then we headed west on Highway 170 toward Presidio.
Thirteen miles down the road is another small town, Lajitas. At least that's how we remembered it from our visit more than 10 years ago. We should have known something was different when we passed the brand-new "Lajitas International Airport" (what?). A second clue could have come from the state of the art Equestrian Center, with mammoth corrals, and a beautiful, blue roofed building. But we were at first oblivious to these signs of signficant change, intent on finding the little Western town with its 9 hole golf course, and small RV park attached. What we saw was incredibly different. The "old" section of Lajitas, with its boardwalk, a few shops and one rather unremarkable restaurant, has been completely upgraded. Condos have been added and the 9 hole course has grown to 18 holes. Of the RV park that we remembered being there, we could find no trace.
We stopped at one new addition, a restaurant named Ocotillo, which sits overlooking the Rio Grande and across to a Mexican village on the other side. Walking out on the patio, we discovered comfortable looking leather chairs ringing outdoor dining tables composed of thick slabs of highly polished rock. In keeping with its name, an artist has recreated ocotillo plants using barbed wire wrapped rebar as the ocotillo stalks. To these he's fastened pieces of some sort of polished red rock as the flowers, and placed these artistic ocotillos along the entrance to the restaurant and around its outdoor dining area. It was very attractive -- and very empty. I saw no one on the golf course either, and only one of the many condos appeared occupied. Where was everybody? What had happened to the RV park?
About this time, Tom sighted a Vermilion flycatcher. I grabbed my binoculars and went in search of the bird, while he drove around to meet me at the entrance. I missed the flycatcher, but found the RV park -- moved from its original location, and looking not the least bit like I remembered. When Tom picked me up, we went to find it. Right across from the equestrian center, behind an elaborate entrance which read, Maverick Ranch. No mention of RVs at all. We drove in to explore. A beautiful RV resort, less than 1/4 full. Why? What had happened to the Lajitas we had known?
Answers to our questions were provided by the acting manager, Dale Allenbaugh. It seems Lajitas was purchased a few years ago by a more than wealthy gentleman from Austin. He removed the RVers, expanded the resort, and keeps it to entertain his friends and paying guests that fly in to the new Lajitas Interntional Airport. It is expensive to stay here; the rooms rent for up to $400 per night, and the greens fees (on what seems a pretty tame little course) are $100 per.
The RV park was initially condo-ized -- at the price of $50,000 per site, as well as an additional fees for maintenance. A few sites were sold, and then, two weeks ago, the gentleman from Austin changed his mind. He refunded all the monies, and decided to keep it as an RV park. And here is the strangest part. There is absolutely no advertising. No Trailer Life or Woodalls. No web site. No way at all to know this pretty park is here, unless someone tells you. And as of the present time, there are no plans to do anything about the lack of advertising. "Undiscovered" would be one way to describe this very attractive park -- but the word "hidden" comes to mind as well.
Incidentally, if you are staying in the RV park, you cannot play golf here. That privilege is reserved for friends and paying guests that are staying in the condos. With prices like that, we were surprised to find that the overnight cost at this RV park is a pretty reasonable, $25 -- according to one RVer we talked to, down from $50 per night just a few weeks ago.
Just west of Lajitas, we pulled into the headquarters for the Big Bend Ranch State Park. At 300,000 acres it's Texas' largest state park. The main building here is the Barton Warnock Environmental Education Center, where you can get permits for camping and hiking in the park. There are three primitive campsites right at the edge of the Rio Grande, and several others on the mesas overlooking the river. The Center was manned today by two paid employees and one volunteer, a gal who, with her husband, spends her winters as a workcamper here, and her summers in Tok, Alaska. This would be an interesting spot for workcamping, and they need volunteer help especially during late fall, the months of October, November and December.
The park extends along most of the 60 mile drive between Lajitas and Presidio -- just the way we were going this morning. But we had driven this road before, and that was one reason we had the jeep today. It isn't exactly a road, it's more of a paved rollercoaster. Steep grades (one, called Big Hill, has a grade of 15%), sharp curves and narrow bridges require caution as you drive along them. At the bottom of each grade we noticed water gauge with gradations reading up to 5 feet. When we were here before, it was just after a rainstorm, and there was water in some of these dips. Not so today; we just drove along and enjoyed the many fascinating scenes along the river.
There are only a few places in the National Park where you can get as close to Mexico as you do on this drive. Several spots were narrow enough to throw a rock across (and you should see me attempt to throw a rock!). In places, the river looked shallow enough to wade across, and then, just around a bend, it would be wide and deep again. We stopped at the Teepees, a picnic area, where we could climb on the rocks and look up and down river, into canyons with picturesque names like Madera, Colorado and Tapado. From the road, we glimpsed Closed Canyon, where you can take a short, .7 mile one way, hike into a narrow canyon with dark walls towering above you.
The State Park continues almost to Presidio, and our stops were frequent, so it was almost noon when we stopped at Loma Poloma RV Park and Golf Course. As we discovered, this is where many of the RVers went when the original RV park at Lajitas was "cleared" to provide a second nine holes of golf at the "new" course. Many of the "old-timers" are still here, golfing several times weekly, ($5 for 9, $10 for 18 holes), and playing cards with their old friends every Monday night. Presidio is located right on the border with Ojinagua, Mexico, and RVers frequently visit there for everything from filling prescriptions to filling their stomachs with Mexican food. We were welcomed with open arms, told that, yes, they did have space, would love to have us come down, and if we were hungry, the best place for lunch in Presidio was El Patio. It was delicious.
At Presidio, we turned north along US highway 67 toward Marfa. We passed two absolutely huge ranches, one with two historical markers describing life here in the late 1800s. At one point, I asked Tom to pull off the road. "I see something that looks very much like a camel!" Got out the binoculars, looked, and yes, that's exactly what it was -- a camel. It was sharing a field with half a dozen horses. What it is used for, we'll never know.
One last stop before returning to Alpine -- Marfa, another West Texas railroad town, and home to the Marfa Lights. These mysterious glowing, colorful lights suspended in the air, have been reported in the area for over 100 years, and have yet to be explained. There is a viewing center located 9 miles east of town with a viewing deck equipped with binocular stations. With picnic tables and a good pull off from highway 90, it's little wonder that this is a popular place for RVers and truckers to pull off to spend the night. There was one already set up, slider extended and lawn chairs set out when we came by in the late afternoon. And the next morning, this area was completely full, with at leat 10 RVs and another 18 wheeler parked on the shoulder of the highway. Probably this is no surprise, as there isn't a Wal Mart within 100 miles.
After our full day's loop trip of some 250 miles we returned to the rig, where Tom went to get his email. When he returned, his news was a bit disconcerting. The forecast tomorrow was for very strong wind. Winds of 30 mph, with gusts of 40 would be occurring in Van Horn, and would not be diminishing for a week to 10 days. There is no way to avoid Van Horn as we wend our way west, so we will try to beat the winds by leaving early. Maybe we'll get lucky. Off we go toward Las Cruces on our homeward journey.
And hold on to your hat!
---
Postcard: New Faces -- New Places
February 12, 2003
In our winter travels, too often we follow the same paths -- we stay in many of the same RV parks, and revisit the some of the same attractions. This trip, however, we decided to go someplace new to us. We'd forego the Pioneer RV Resort on Mustang Island south of Aransas Pass and go south -- way south to the Brownsville area. We'd try our luck in the farthest reaches of south Texas. We'd spend a day or two on South Padre Island, and then head west to the fabled bird watching paradise, the Bentsen-Rio Grande Valley State Park.
Good Sam only lists two RV parks on South Padre Island, Destination South RV Resort and Isla Blanca, the county park right next door. We called the Resort only to find they were full, so drove out hoping there would be room in Isla Blanca. This park has 600 sites, surely there would be room.
Just before 2 pm we drove across the 2 1/2 mile causeway and pulled into the small parking lot for Isla Blanca. As we did so, we noticed that the office for Isla is located right in front of the main drive for Destination South (the private park). From our vantage point in the parking lot, we had a good glimpse of the sites at the resort -- a bit crowded, although each site had some grass and many had palm trees. Two sides of the park border on the water, another crowds up against the metal building of a marina, and the last looks right at the campers trying to get into the county park.
And there were lots of campers waiting to get into Isla Blanca. When I walked into the small office, it was filled with people, most with detailed site maps in their hands. Where did they get those? I made my way to the desk and learned that those with site maps had signed up for sites at least a day in advance. New arrivals were given numbers and would most probably be in the non-hookup overflow lot. Having number 6 out of 7 was not a good sign.
Or was it? We drove out to the overflow area, around the campsites with hookups. Some were spacious. Others, probably the older sites, were fairly crowded and close together. The "best" sites were almost certainly those first claimed for the whole season by RVers who spend the entire winter months here, with the short term guests competing for whatever is left. We continued on around the outskirts of the park and arrived at overflow, a large flat parking lot -- right on the ocean. While all the hookup sites were set well back from any views of the water, this area had the waves from the Gulf of Mexico lapping right up to the sandy beach right in front of us. Here we could park anywhere we liked. We chose a spot with our own private sand dune, no neighbors on the right, behind or in front of us, and a fabulous view of the ocean. Who needs hookups? Let's stay in overflow -- indefinitely!
We spent the afternoon exploring South Padre Island. Beside the two parks on its extreme south end, it is one high rise after another, interspersed with condos. Shell shops, swimwear shops and restaurants compete for the rest of the space. It is what Port Aransas and Mustang Island are rapidly becoming. Exactly what we expected -- but at least we had staked out our claim to one of the last great places for an RV on South Padre Island. As the sun set that evening, we were treated to a Skimmer show. A flock of Black Skimmers came swooping across the water. The lower mandible of these birds is longer than the upper, and they furrow the shallow water, nodding to seize small fish from the waves. Back and forth they flew, as we watched from the vantage point of our rig.
But there is much more here than just the Island lifestyle, and we were determined to take in as much of it as possible in the relatively short time we'd be there. Next morning, we were up with the sun (which was due to appear at exactly 7:08 AM according to Tom's GPS), and off to the Laguna Atascosa National Wildlife Refuge, the largest protected natural habitat left in the Lower Rio Grande Valley. We drove west across the causeway, and turned north on Texas FM (farm road) 510. The road became narrower, and we slowed to look for birds on either side. I guess we weren't paying too much attention, after all we were out in the middle of nowhere, going to a place few people go, early on a Monday morning. So we jumped when the unseen car behind us hit his horn -- hard. No polite beep for this fellow.
We turned in at the refuge visitor center, to find only one other car in the parking lot. There is a short trail leading around the Center, and at one point a feeding station. Even though it was getting short of seed, (the office opens at 10 am), there were lots of green jays and several odd looking Chachalaca, a large, plump bird reminiscent of a partridge. Indeed, they can be eaten, and my "Birds of Texas" book, states this is one of the reasons they are vanishing from the forests of Central and South America. As we looked around the area, I noticed another different looking bird. He was big, about 14to 16 inches long, and almost uniformly brown, with the thick bill of a jay, or perhaps a crow. But crows are black, and this guy was definitely brown. As of this writing, we are guessing a Brown Jay.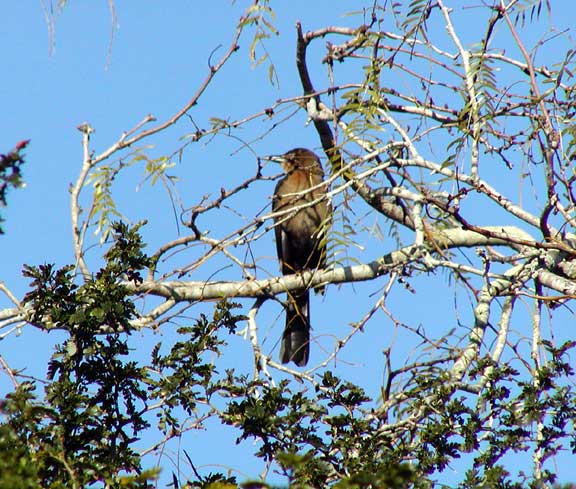 From the Center, we drove out to Osprey Point, overlooking the Laguna. It looked like parts of the lake were very shallow; I thought I saw grasses protruding from the bottom. Suddenly, the grasses took flight. Not grasses at all, but thousands of birds took off and flew across the lake. Perhaps they were frightened by the chorus of coyote calls we had been hearing all morning. We were a short distance, but a long way from the civilization of South Padre Island.
We had decided to leave this afternoon, so cut our visit a bit short and headed back to the rig. I thought Tom wanted to leave, and he must have thought I did, because when I suggested we extend our stay another day, he was completely in agreement. There was another interesting spot to visit, a spot only 6 miles from our RV, but across the entrance to the Gulf of Mexico. To get to this spot, we would have to drive around -- 25 miles to Brownsville, and 25 miles back out to the coast. We didn't know it then, but we were about to find the Lower Rio Grande Valley National Wildlife Refuge, on Brazos Island.
First, though, we had to figure a way to stay in overflow overnight. I went into the office, and asked if we could just stay where we were. "Not unless there are no vacancies," the nice man told me. "If there are any vacancies in the regular camp sites, you will have to leave the overflow lot. We may come and knock on your door around 3:30 or 4 PM". Never before had we tried to stay in overflow, and now perhaps we couldn't!
Leaving that problem until later, we took off for Boca Chica, and Brazos Island. We were able to by-pass Brownsville, and head out into the Texas coastal plain. No green spots on our map indicate that this Wildlife Refuge even exists, and the only way we knew was when we drove past a large adobe wall welcoming us to the Refuge. No more civilization. Here Texas still looks much as it must have when the first explorers came. We drove through flat grasslands, speckled with prickly pear cactus (Texas "sticky bush"), and laced with long low ridges of sand. These ridges were covered with a scrub mesquite and what looked to me like Yucca trees, some in bloom. Occasionally we saw some cattle, and we passed a ranch house or two, but otherwise nothing but empty countryside stretching off to the horizon. Several historical markers set at the sides of the road indicated that this part of Texas had a pretty stormy past, hosting both Civil War and Texas Independence battles.
As we neared Brazos Island, the Gulf became evident. In the estuaries on either side of the road, we saw tri-colored and Great Blue herons and egrets. In one area, close to the end of the road, three RVs had found a great place to camp overlooking the water. The road dead-ended on the beach, and while we could see some tire tracks running along the water's edge, it looked impossible (or impassible) to get out to the firm sand. We watched a truck cross what this impossible, impassible sand, and decided if a truck could do it, so could a jeep. I walked along in front of the car to wave Tom back if I thought we might get bogged down, but we made it without difficulty and soon were out and driving along the beach. Even though we were a long way, mileage wise at least, from South Padre, there were several people out gathering shells along the water's edge, and from the tracks we could see that other cars had driven down the beach much further than we intended to go -- especially with the tide coming in. We stopped near the wreckage of the Mexican gunboat Montezuma, which ran aground in 1843. How did we know that the 20 or so rotting boards, sticking out of the sand was in fact a wreck? There's a geocache nearby, and its web page gave us this historical data.
Back at Isla Grande around 3 PM, and no note was stuck in our door requesting us to move. But what had been a fairly crowded lot when we left that morning, was practically empty now. When the first overnighters pulled into the lot we welcomed them with open arms, we had made it -- we could stay another night. Just before dinner, a woman came up and knocked on our door. She was staying in Destination South RV Resort, and was planning on moving to Isla Blanca. She was most interested in our site and curious about how to get to stay there, not in the hookup section. We had fun telling her our story about the best place to stay on South Padre Island.
The second part of our South Texas odyssey was a trip to Bentsen-Rio Grande Valley State Park, about 85 miles west of South Padre Island. There were sites available today, and we were invited to drive through the Park, choose a site, return and register. As we started through the campground, I noticed that almost all of the campers had binoculars. Moreover, they were gathered in small groups around certain sites, where ropes cordoned off multiple feeders. This is a campground for the serious birder, and well it should be. Birdwatching here is like birdwatching in an aviary. Brilliant orange Altamira orioles, Green Jays, flashing green, yellow and blue, and yellow and black Great Kiskadees are common birds here. Orange-crowned warblers, Indigo buntings, and Cardinals add to the color palette. I could barely wait to get the rig hooked up before grabbing my binoculars and joining the groups. There are birding tours into the surrounding areas every day of the week except Wednesday, when basic birding is given. The tours take you east 85 miles to the Laguna Atascosa, or in the other direction, Falcon State Park, 60 miles west.
Today there are 78 full hookup sites, mostly pull throughs, and about 70 tent sites. But all that is going to change. On February 28, 2003, in order to restore or protect hundreds of acres of wildlife habitat, the hookup part of the park, and most of the tent sites will be closed. Camping will be available just outside the park in a new campground, presently under construction. The bird habitat will be increased from the current 600 acres to more than 1,300 acres, and the World Birding Center headquarters will be built just outside the present day entrance to the State park. Other birding sites will be developed along the Rio Grande River from South Padre Island to Roma, TX. Park officials plan to restore hundreds of acres through re-vegetation with native plants and through careful water management.
It all sounds like a breath of fresh air for the animals and birds of this area. Now the resident javalinas are so crowded, they seem to be losing their fear of humans, and regularly walk through the campsites. The birds are used to their daily handouts, and will have to adjust to a somewhat different lifestyle. However, the days of just coming in and camping under the trees, of enjoying the bird and animal life around you as you have dinner, of waking in the morning to the screech of the Chachalaca will be gone. We will probably be back some day to see the new park, but I'm glad we experienced the old one.
Now we're off west again -- perhaps Big Bend will be our next stop. We haven't been there for a while. But our stops here and on South Padre Island reminded us that new places wait around every corner. We'll have to go see them.
---
Postcard: Waiting Out Winter
February 7, 2003
We knew it was coming. Even in south Texas, 'ol man winter's teeth can be felt occasionally. An Arctic freeze is headed our way, with forecasts of rain, sleet or maybe even snow (snow? In south Texas? Surely they're kidding!) for the weekend. Temperatures are supposed to range from the mid 30s to lower 40s. We needed to find a place where the weather would not be too much of a problem, a place where a concrete pad would keep most of the mud out of the coach. But also a place where, if the weather forecasters were wrong, and the weather weren't quite as bad as predicted, there would be some interesting places to visit. We knew just the place -- the Lazy Longhorn RV Park in Victoria.
The Lazy Longhorn is a great "in-town" park, located off I-59 on highway 185. Concrete slabs and driveways, but also a manicured piece of lawn at each site. 50 sites right now, and more under construction. When you arrive, you will find Texas hospitality at its best. Smiles all around. Popcorn and sodas in the clubhouse each afternoon, pot-lucks and get-togethers weekly. The clubhouse is decorated, (naturally) in cowboy style, with an emphasis on Roy Rogers and Dale Evans. There are scenes from some of their movies, and shots of Roy with Trigger, as well as with Dale and Gabby Hayes. What memories! When you are done exploring inside the clubhouse, and outside south Texas is calling, it's only a short drive to the small, picturesque coastal communities of Ports O'Connor and Lavaca. But our favorite destination in the area is the Aransas National Wildlife Refuge. Whenever we come to the area, we try to plan a stop here.
The ANWR is a 59,000 acre refuge, known best as the winter home of the endangered whooping crane. When we first visited here, we saw no whoopers, even from the observation tower dedicated to whooper viewing. The last two visits, however, have been much productive; and even today, in cool and windy weather, we were able to spot a couple of pairs of these large white birds. Of course, they were a long way away, across the tidal marshes which stretch to San Antonio Bay. And the mounted binoculars that sit on the platform do not focus very well -- you would be well advised to bring your own, or even better, have a high powered scope. You will see these birds best from the water, and the nearby town of Rockport is the home port to several commercial boat tours. Other species you will probably see include pelicans, herons, egrets, roseate spoonbills and myriad ducks and geese. However, the area is not only noted for its birding -- it is a great place to see wildlife of every kind, from alligators to wildcats.
We approached the refuge from a new angle this morning, and stopped along the coast in the tiny town of Austwell, just to the north. Here along the edge of the Bay, we spotted a white bird, easily identified as a Snowy Egret. When we got out the binoculars for a better look, we saw two other birds, one a blue Little Heron, the other a Tri-colored Heron. If we hadn't used the binoculars, we would have missed these two, they were so well hidden in the dense reeds along the water's edge.
Once in the refuge, we stopped at the Visitor Center. It's well worth the time to wander around this building and look at their exhibits. You can see alligators, white tail beer, javalinas and Russian boars. There are cases showing many of the birds you might see here -- from whoopers to the tiniest buntings. You can take the time to notice the differences between a Whooping Crane and a Sandhill Crane, for example. In the wild, they often don't wait around long enough for you to be certain of what you're seeing. To attract the attention of the children who visit the Refuge, the Center has devised a game -- Count the Birds. Not the ones you will see outside, but the stuffed ones in the various cases set around the rooms. Then the kids are directed to report their total to the volunteer at the desk for a prize.
Once outside the Center, you can drive the 16 mile paved auto tour, and stop at any (or all) of the many turnouts to hike the short trails that lead out into the refuge. Our favorite first stop is Jones Lake. We pulled off and walked along the boardwalk to the Lake. I was in the lead, and as I approached the Lake, there was a scrabbling sound, and a small bobcat ran off into the bushes. As we gazed along the lakeshore, we spotted two large dark shapes in the tall grasses along the water's edge -- Russian Boars. They didn't seem interested in us in the slightest, in fact, we called out to them in order to make them move so we could see them better. That's when we saw the two tiny shapes along with the adults. Great. Moms and babies. We were glad we were out on the boardwalk.
When we visited Jones Lake last year, we were dismayed at how little water it contained. We had been told that the resident alligators were all crammed into a small area where there was enough water. Not so this year, the water level has risen and the lake looks very full. As a result, the alligators have dispersed, and we didn't see any -- here.
Next stop was the Observation Tower. At the top, a man had set up a spotting scope, and offered us a look through it at a pair of Whooping Cranes out across Mustang Lake. Using his scope, and my binoculars, we were able to see White Pelicans and Great Egrets as well. As we descended the ramp to the ground we heard the sound of branches being trampled, of heavy hoofs splashing though shallow water, and saw four more Russian boars running off into the undergrowth. Now our total was 8 boars.
The road had been following the shores of San Antonio Bay, but now it turned inland and wound through brushlands, grasslands and freshwater marshes. What was dry and barren last year, is soggy and marshy this one, and we saw two more boars out in the marshes. At this point, a hike in the backcountry didn't sound too inviting, especially when yet another young boar trotted out right across the road in front of the car. We have always seen whitetail deer on this loop drive, and today was no exception. Three times we spooked a few does out of the nearby trees.
While the weather was cool, the sun finally came out and with it the birds. Ducks flew off the freshwater ponds as we drove by, mockingbirds, cardinals and phoebes were everywhere. But look as we would, no alligators... until we returned to the Visitor Center. And there, floating in the pond outside the sign which reads, "Don't go beyond the fence, there are alligators here", was a large alligator. To me he looked fake, a large rubber 'gator just placed there for the tourists. He never moved or even opened his eyes -- though admittedly we didn't approach closer to test my theroy.
Back to Victoria and the Lazy Longhorn for the evening. About 5 pm, we got a nice surprise in the form of Jim Brandenburg,our official "weatherman" for RVers Online (and one of our Online Advisors). Naturally, our conversation turned to weather. He told tales of the RVers who email him questioning what the weather will be when they travel to certain places, often in the "off season". And we had a question too: How long this is cold Texas weather going to last? He feels that today's forecasters rely so much on computer models that they ignore the available historical data that could be analyzed to improve the accuracy of their forecasts. For example, most forecasters say that the current El Nino weather is supposed to bring rain to the southwest. Thus far this winter, the southwest has been very dry. That's because every El Nino has its own set of unique characteristics.
Jim told us that the next two days are supposed to be windy and very cold, so we'll probably stay in this comfortable spot until winter (south Texas style) is over. We'll take the jeep out to the coast, and, if we get lucky, make some new discoveries along the way.
---
Postcard: Cajun Country Crossings
February 3, 2003
You know you're in Louisiana when you begin to bounce down Interstate 10. Ka-thunk, ka-thunk sing your tires, and slowly, the whole rig begins to bounce to their rhythm -- higher and higher, until at last you must slow down, and you begin to wonder if there is no alternate way to cross Louisiana. The state has begun re-constructing long portions of I-10, but, even so, all we noticed was a few patches of smooth Interstate, mixed with the old rubber road parts. Therefore, we pulled off at the Lake Charles exit and traveled south to LA 14, the back road to Abbeville, and headed east to Lake Arthur. This small town hasn't changed much since our last visit three years ago, though we did notice a new restaurant, a drive-through crawfish place which was doing a landoffice business. There were several cars parked in the lot, and four cars waiting their turns at the drive-through. The restaurant is so small, however, that the fourth car was waiting out in the road. That was OK, there were almost no other cars on the road this Sunday morning.
We pulled into an empty lot behind the library, and went for a walk along the shores of the lake. The city park was almost as busy as the restaurant, with families enjoying the warm weather. Otherwise the town seemed deserted. But not quite. As we were about to start up and go on to Abbeville, a car drove into the lot, a man got out and approached our coach. What could he want? Were we parked illegally? The man introduced himself as Chief of the Lake Arthur Police Department, Mike Conner,. He told us he was just passing by as he took the pastor home from church, and wanted to make sure we were not in any sort of difficulty. He gave us his card and said that if we should want anything at all, we should feel free to stop by his nearby police station and they would be happy to help. Where else but in Lake Arthur, Louisiana?
It felt a bit like coming home when we pulled into Betty's RV Park in Abbeville. Even though it had been 3 years since we were here, we were met with a welcoming smile, and a hug. Betty Bernard has lived in the Abbeville area her entire life, and can tell you just about anything you want to know about the town and the surrounding Cajun countryside. Want to know where to go for dinner? She can tell you where the oysters served will be the most tender; or where to go for crawfish. How about Cajun music? She knows just who is playing, and where. Our last visit, we were lucky enough to have a tour of the Intercoastal waterway and surrounding bayou country -- this time, she recommended a trip to the alligator processing (skinning and packing) company. She detailed the damage October's Hurricane Lili did to the area -- the first time she ever had to evacuate. The campers in her small (9 sites) RV park had to go north when Lili threatened, but all returned when the danger was over. She went to stay with an aunt north of Lafayette (one of several aunts -- Betty has relatives all over southern Louisiana). Betty lost one of her pecan trees and a part of the roof on her house, but there was no other damage.
We spent the afternoon exploring the historic center of Abbeville, near the St. Mary Magdalen Catholic church and the nearby Magdalen Square. Nearby is the Vermilion Parish (the Louisiana equivalent of county) Courthouse, a beautiful white building, complete with two towering, ivy laden oak trees in front. Inside are some interesting oil paintings -- somewhat romanticized pictures of Cajun life in the countryside 100 years ago. Then we returned to Betty's for a late afternoon get-together on the porch of Betty's home with some of the other RVers in the park -- a good way to get to know the other travelers on the road. We met a North Carolina couple, fairly new to RVing, but when they decided to give this lifestyle a try, they started out in a really interesting manner. First, they rented an RV for 6 weeks. Their odyssey began in Asheville, and ended at the Cruise America home offices in Phoenix. This experience hooked them on RVing, and they were delighted to have gotten a deeply discounted rental rate by returning the motorhome to its home base for refurbishing. Aside from that adventure, however, they know little about the West, and we spent some enjoyable time describing our travels. In turn, we now know more about places to go east of the Mississippi as well.
Early morning, we were off to breakfast at Comeaux Cafe, aka "CC's". This small cafe is the place to be in the Abbeville morning. It seems all of Abbeville is here, enjoying coffee and beignets, (a piece of sweet puff pastry, deep fried and loaded with powdered sugar. Perhaps not what one should have every morning, but so delicious). 3 years earlier in this cafe, we had met a man named Sam Broussard. Over several cups of coffee, he had told us about growing up in Abbeville, and having to learn French, the language of his ancestors, when he was 16. Broussard is a very common name here, the eye doctor is a Broussard, as is the local photographer, several lawyers, and the owner of a truck company. When we walked around the Parish Courthouse, we stopped at the plaque commemorating its beginnings. Broussard was the name of the mayor, there were two Broussards on the Police Jury, and one on the building commission. Of the 26 names on the plaques, 8 were Broussards!
We planned to spend the day cris-crossing the Abbeville area. Having been here before, we had some insider information about the Cajun Country -- it is incredibly easy to get lost here. The roads wander wildly across the countryside, sometimes going north, and then the same road changes direction and runs south, east or west. Maps are little help, either, since most of the roads you want won't appear there. But this time we had a computer generated map and our GPS, so we felt reasonably secure. It turned out we needed both.
For example, we wanted to find the Acadiana Nature Center and Trail in Lafayette. On the Louisiana map, it appears as a small red square, at the end of Louisiana Street. The question is, "how do I get to Louisiana Street?", and the map does not answer that. It also doesn't tell you the names of any of the side streets you will need when you discover the whole area is under construction. If we hadn't had the DeLorme Street Atlas, we would have missed this charming spot, a short boardwalk trail over the swampy area adjacent to the Vermilion River. We also would have missed Lake Martin, marked on our paper map as Lake La Pointe.
Following the computer map, we drove south from the historic town of Breaux Bridge to the Lake Martin road. We almost missed it; the sign is old and very small. We drove down the road to its end at the Lake, right past the sign that read, "aggressive alligators nesting along the levee. Use care." OK, I was convinced.
There were two trucks parked at the boat launch at this end of the road, each with a sign on its side reading Louisiana Swamp Adventures. One flat bottomed boat was just starting out and seemed to have some extra room, for it turned and came back toward shore, the guide asking, in a thick Louisiana accent, if we wanted to take a tour. At another time, we would, for this area is a nature lover's paradise. Along the shores, the water is thick with pond scum, which, other places, might be thought pollution; here it teems with life. Turtles sun on the banks, small birds hop through the tangled branches of the brush on the small hillocks of land which protrude from the water. We saw a small flock of White Ibis on one of these "islands" -- four adults and one juvenile took flight when we got too close. Further on down the road, we noticed a large black bird with white on his back and wings, airing those wings in the morning sun. At first I thought it was a cormorant, but on closer inspection, it was an Anhinga. My first sighting of this bird.
We drove slowly south along the shore of Lake Martin, and rounding a corner, noticed a lot of white splotches in the bare branches of the Cypress trees in the lake. Hundreds of Great Egrets, in full breeding plumage, were perched in the branches. Several had already build their flimsy looking nests of sticks and were sitting on them. (I could only hope that no strong winds come their way -- the nests looked like they would tumble into the water at the slightest breeze, taking any eggs with them.) There is a nature trail around 2/3 of the lake shore, but the Hurricane Lili had knocked down enough trees that walking was difficult, and we stopped after only a short distance -- the existence of "aggressive alligators" didn't have anything to do with that, of course!
We drove south through the city of New Iberia, looking for Highway 14 west back toward Abbeville, and again were saved from turning too early by the computer map. We wandered out into the flat bayou countryside and got a first hand look at some of the devastation caused by the Hurricane. I had noticed dump trucks hauling huge tree stumps, and, being fresh from the sprawl of construction around Tucson and Phoenix, decided that perhaps there was some unseen construction in the area. But no -- they are still cleaning up after Lili. We saw homes with blue tarps nailed to their roofs and walls, and others with their windows still taped against the onslaught. Several outbuildings had either collapsed or were leaning precariously, looking like a good push would send them sprawling. In the fields, we saw huge piles of debris -- tree trunks and branches were stacked awaiting either the OK to burn, or for some enterprising logger to salvage. Along the roadways in front of the homes, other piles of debris revealed still more of the story of Hurricane Lili. In one spot, the pile included a mattress and a ruined chair. Another was topped with a small television set, and still another had a child's bicycle, the wheels bent beyond use. All that destruction, and Hurricane Lili had never become the even stronger storm that everyone had feared.
As we turned a corner and headed back to Betty's, we noticed a man in an extremely odd looking, flat bottomed boat out in a partly flooded field. A large wheel on a pole stretching out in the prow of the boat, seemed to be pulling the boat along through the shallow waters. At the stern was another wheel, this time of steel with teeth similar to those of a chainsaw. This was the tiller, the steering mechanism of the boat. By pushing this one way or another through the muck of the field, the boat could be turned. In the prow of the boat were two large bags of something which we later learned was bait. The man was harvesting crawfish and rebaiting his traps. The boat took him to each trap, he pulled it out of the water, shook the crawfish into a container in his boat, rebaited and replaced it. I watched him through the binoculars, Tom took his picture, as he looked a bit puzzled at all the attention.
Tomorrow we will start heading west again. We plan on spending one night in Livingston, TX, at Rainbow's End, the home park of the Escapees. Then, with one eye on the weather as usual, we will head south toward the gulf coast. The coming weekend promises rain and wind, and we want to be in the warmest, calmest place we can find to "hunker down" for a few days. We won't be back in Louisiana again this season, (at least, I don't think so), but we'll try not to let another 3 years go by before we return.
---
Postcard: Friendships on the Fly
January 29, 2003
We are finally headed East -- slowly. Our first night stop was Bensen, AZ , at Kartchner Caverns State Park, less than 45 miles from Tucson. We first visited this area a couple of years ago, toured the Caverns, and stopped by the Park. It's been a favorite ever since. The sites are asphalt, with water and electric connections and there is a conveniently placed dump station right at the campground entrance. The birding is terrific, with Black throated Sparrows, Lesser and American Goldfinches, and Pine Siskins competing with House Finches for a place at the camp hosts' feeders. They have feeders for each conceivable type of seed, and suet blocks dangle from the trees. Add to that abundant water in a large, shallow bowl set on the ground, and you have a gourmet banquet for the greedy little feathered gourmands. Unfortunately, I was unable to get any of these pampered birds to visit my feeder, but enjoyed watching them chow down at their hosts' dining table.
The Caverns are an Arizona "must see", a tram ride up a hill to the cave entrance, and a guided tour through a living, growing cave. Plans to open more of this underground wonderland have been stalled due to funding difficulties; however, if you are in the area, and have not seen that part of Kartchner Caverns which is open, the tour is well worth the price of admission. For those of literary bent, when the Caverns were first discovered, their finders wanted to keep them a secret. So whenever they would talk about their find, they called it "Xanadu". There are parts of the caves that fully warrant this name.
From the state park, we found an interesting circle trip to take in our jeep. About 25 miles south of the park is the town of Sierra Vista, home of Pueblo del Sol RV Resort. Even though the billboards along the Interstate proclaim this park very easy to find, just "keep going right through town", we had managed to miss it on our last visit. This time we found it, and it is indeed very easy to find, and a nice RV park. (When we are in this area, however, I prefer the natural scenery of the State Park.) Next we drove east to Tombstone, the "town to tough to die", heard the shots from the daily gunfight at the OK Corral, and lunched to the country music of one of the Tombstone citizens. Then back to the Kartchner for the evening.
That was when we encountered one of the phenomenons of RVing, instant and recurring friendships. We already knew the assistant camp hosts, a genial couple from Yakima, WA, where our daughter and son-in-law live. We hadn't been to the park for a year, but Marilyn came rushing up to me and gave me a hug, "I'm so glad to see you again", she said. That was just the first of a string of circumstances that followed us for the next few days. We would meet old friends and make new ones, see RVers we've met before on our travels, and those we will look forward to seeing again, at some later date, at some other park. We will remember them and they will remember us. Sometimes I suspect we take this special aspect of RVing for granted -- but it's really one of the things that make life on the road so much fun.
Next stop, next day, was Hacienda RV Resort, in Las Cruces, NM. This is a beautiful park, with large graveled spaces, each swept after one occupant leaves so that the gravel is even and smooth for the next RVer. The clubhouse is adobe, with the tiled floors and wooden furniture one expects in a nice Southwest home. There are Navajo prints on the walls and rugs on the polished floors. The clubhouse includes a workout area, small spa, and, just outside the patio, a putting green. This Super Bowl Sunday Hacienda hosted a party, complete with popcorn and pretzels, in the main room of the clubhouse. Overstuffed chairs had been drawn up around a large screen TV, and a bright fire blazed in one corner. Perfect, if only the game had been better -- we're Raiders fans.
I stopped by the party for a few minutes, and looked around at the 20 or so people enjoying themselves. I didn't know it at the time, but one of those watching the game, was a friend from our San Juan Island home. The next morning, we had a knock at our door, and I heard Tom say, "Well, hello, you're a long way from home!". The man at the doorstep is one of the group from our little fitness center. Gordon is a widower, and is travelling east with his widowed "lady friend" to meet her children in Texas. She has never RVed before, and is learning a lot about this lifestyle, and loving it. We were both going in the same direction, so agreed to meet the next night at Fort Stockton KOA, and the night after at Buckhorn RV Resort in Kerrville. Then they head north to New Braunfels, and we head east toward Louisiana.
The Hacienda has a complimentary breakfast bar each morning, and over cornflakes and muffins, we met another couple who were traveling in our direction. Bonnie and Bob Swartzendruber, (he told us, "this is a name you'll never forget"), were headed toward Johnson City to spend a month at a park there. They too would be spending the next evening at the Fort Stockton KOA, and we all agreed to meet there. Bob would be leaving Las Cruces after we would, and told us he would look for us down the road -- "If I see you off at the side of the road, I'll stop to help".
Off to Fort Stockton, 280 miles down Interstate 10 through West Texas. For once, the traffic wasn't too bad as we passed through El Paso, and the construction was bearable for the 50 or so miles east of the city. This is traditionally my part to drive -- I get the wide Interstate stretches, while Tom gets the city traffic or narrow country roads. But this section of Texas Interstate 10 has been under construction for at least the last 5 years. I'd get a break of a few miles, then those darned orange signs would appear once again, one of the lanes would close down, and the concrete lane dividers would appear (I hate those things!). This time, though, the longest part was only 7 miles, and the others were quite short.
It can seem that West Texas occupies well more than half the state. Mile after mile of flat, dry country. Creosote bushes compete with bunch grasses. Scrub trees, leafless and withered looking at this time of year, dot the low hills. There are a few sandstone passes to traverse before you get to Van Horn, where those travelers headed toward Big Bend country turn south, but the scenery stays the same until well after Fort Stockton.
The KOA here is a convenient stop-over for RVers headed either east or west along the Interstate, and the rigs swarm in around dinner time. The sites are wide and graveled, with plenty of room between neighbors. They have a little cafe which serves dinners and breakfasts, and then sends the wandering RVer back out on the road again. Our friends from Friday Harbor hadn't yet arrived when we pulled in, and when we did see them, we heard their harrowing tale. They had decided to get fuel in El Paso, and found themselves in downtown construction. Roads were closed, and at one point they had to detach their tow vehicle, turn around their rig, and retrace their steps. (I don't think there is any RVer who hasn't had this sort of experience, and it was a baptism-by-fire for the "new to RVing" woman).
Today would be the last day for us to see our new friends the Swartzendrubers. Tom and Bob spent some time discussing various guy stuff, such as solar panels, and the silverleaf engine monitors, which conversations can and do occupy a lot of time of every male RVer. At one point, the uses of a GPS came up, and Tom found a kindred spirit -- Bob also goes geocaching. We'll have to meet him in Johnson City to find some new sites.
We pulled into Buckhorn Lake Resort, just outside of Kerrville, in the early afternoon. This park offers high speed internet access -- wirelessly, and Tom is in his element. He immediately updated all his Apple system software; something that would take hours at home can be done in just a few minutes with high speed access. Buckhorn is a large park, with 132 sites and more on the way. The sites are wide, some nestled among old oak trees (full of squirrels for our dog to watch). Goat Creek flows through the campground, and has been dammed in a couple of places to provide fishing holes -- no license required, catch and release. Looking into the water this afternoon I saw hunderds of trout of all sizes. I know our grandkids would love to try their fishing skills -- but it might be hard to teach them about the "release" part, especially after they landed one of those lunkers. Across the creek there is a children's play area. An old barn has been renovated to provide a clubhouse, and I was even tempted to try the old piano there. (I'm glad I hadn't an audience.)
We will stay here for a couple of nights and tour the Texas Hill country towns of Friedricksburg and Johnson City. We'll surely stop by Luckenbach, the town made famous by a country-western tune some years ago. Luckenbach remains as it was, one unpainted general store with a post office attached, a dance hall and occasional weekend "happenings". In Kerrville, we will again visit the Cowboy Artists of America Museum. Last year, we were here around Valentine's Day, and the collection featured pictures of "courtin' cowfolk". We'll see what's in store for us this time. Then we'll head east again -- "Louisiana, here we come"!
---
Postcard: Not Getting There Can Be Half the Fun
January 23, 2003
Blame it on the weather. Reading the newspapers and watching the reports on TV convinced us that, right now, southern Arizona weather is simply the best in the nation. Highs in the mid 70s, lows in the 50s, few clouds and little wind -- and our Arizona stay stretched out day after day. We're supposed to be headed East. Louisiana's lure shines brightly. But our eastern progress has been slow.
We spent the last 10 days in and between Tucson and Phoenix, staying in three RV parks we enjoy, Voyager RV Resort, a megapark in Tucson, Rancho Sonora, a small park just south of Florence, and Usery Mountain County Park, just north of Mesa. All have something very different to offer the winter RVer.
Voyager RV Resort is enormous -- 1576 RV sites, the majority of which are occupied by park models, and you may find yourself with park models as neighbors. A motel, Voyager Inn, is located within the park confines and is a good spot for non-RVing friends to stay when they visit. The Cove, a community of small, very nice houses and duplexes, is also part of the park, and its residents enjoy all the amenities that Voyager has to offer.
Quite honestly, Voyager RV Resort does not have the most beautiful sites we have ever seen. The pull throughs, extraordinarily long and narrow, are comprised of asphalt slabs on which to park your rig, small concrete sidewalks just wide enough for a micro-sized picnic table, and a narrow gravel area where the utilities are located. Few sites have any plants to give color to the areas, and what plants there are, I suspect may have been placed by the individual site occupant.
That said, Voyager has one of the best activities programs I have ever seen. Want to learn woodworking, silversmithing or stained glass window design? Classes are given on each of these, in special classrooms complete with all the tools you will need. Ballroom, line or square dancing your "thing"? Classes in each. Are you more of the outdoor activity type? Try the biking and hiking clubs. There is a par 3 golf course tucked into one corner of the resort, with weekly men's and ladies' days, and organized mixed couples tournaments. There are three swimming pools (including one set up for lap workouts, which we enjoy), two spas (one being enormous), tennis courts, shuffleboard, volleyball... I could go on and on.
But we have far too much wanderlust to stay in any spot for long, and with one eye on the weather forecasts, we decided to spend a few more days in Arizona. We called for a reservation (one can never be too cautious in Arizona in the wintertime), and drove north to the Florence area, to a park we had explored several years ago. On oujr first visit, it was completely full, no room for the Gonsers. Now they had vacancies and, as an added attraction, two good friends from Fidalgo Bay RV Resort in Anacortes, (our "home park"), were staying here and we could compare notes on our travels. So off we went to Rancho Sonora RV Park.
The best way to get to Florence is to drive the "Pioneer Parkway", a scenic highway that runs through the desert 42 miles from north of Tucson to Florence. But just getting to the Parkway is a bit of a challenge. We certainly didn't want to drive the big rig through the streets of downtown Tucson, as our computer generated street atlas directed. Interstate 10 is under construction in several places, but was the better bet. We had to drive a bit through the northern part of the city, but soon we lost the city traffic, and only had to contend with the sprawl of growing communities here and that traffic . Finally, all traces of the city disappeared and we were out in the desert.
The comparison between Rancho Sonors ("RS"), and Voyager is immediate. At RS, the sites are wide and naturally landscaped with trees and cactus from the surrounding desert. (Though we did wonder why the management planted that thorny ocotillo right in the way of our electric hookup). Instead of the night noises of the trucks on Interstate 10, now you can hear the desert's nighttime sounds, coyotes in the distance, and, if you are lucky, the soft hoot of a desert owl.
The activities are much more limited here. No classes or dance lessons are given. On the other hand, no one asks you to wear a name tag for any activity (including seimming). Tom quickly discovered that one of the main attractions, for the "guy group", is an 8 AM coffee hour -- the good ol' boys gather in the office/activities room for coffee and discussions on everything from RV maintenance to politics. No gals. On Friday nights after dinner, there is a huge bonfire, and everyone gathers to meet each other and greet newcomers. While we were in the park, there was a Saturday potluck lunch, featuring an excellent bluegrass concert given by a group from nearby Florence.
After we hooked up, Tom went off to get his email, and I went to explore Florence. The town had changed very little since our last visit several years ago. Our favorite breakfast spot no longer serves breakfast, but we found Luis and Berthas, ( L&B's), to be equally as good or even better. The tortilla shop has closed (I rationalized that tortillas aren't good for me anyhow). The Florence General Store, which had great southwestern wear, has gone upscale, and now houses a small cafe and antiques. But I was headed for a taste of historic Florence; I was off to McFarland State Historic Park.
My idea of a park is trees, grass, and perhaps some tables. This park is unusual; it's contained in a building. The original structure was built in 1878 and originally served as a courthouse and jail. I walked into the courtroom and could practically hear the voices as I looked at pictures of the judges of those long ago days. When a newer courthouse was built, the building became the county hospital, and there is a room set up to look like a hospital of these times. One exhibit caught my attention -- the implements used for surgery. I had never before seen a "tonsil guillotine"! A room in the back of the museum contains the Florence WWII Prisoner of War Camp exhibit. There was a camp in the area during that war, and this exhibit depicts the lives of those people stationed and imprisoned there. I spent a couple of hours wandering through the museum, and left some exploration for a later visit. A quick stop at the corner grocery, and back to the park for the evening, to find Fran & Dave, our friends from Anacortes, and to plan for another day in the desert.
RS park is home to rigs of every description and size. We were parked next to a vintage 10 foot trailer, a "Casita", occupied by two elderly women and one large Airedale. In the morning, I noticed one of the women carefully pouring hot water from a coffeepot onto each of the decorative rocks lining her site. While watering the local plants would hardly be surprising, watering rocks was an absolute first for me -- and I couldn't resist asking her what she was doing.
"I'm pouring water on the rocks", she smiled, " because it's too hot to pour on the plants." It seems a neighbor had loaned her a coffee pot that morning, and she was simply making sure that it was returned in a perfectly cleaned condition.
This exchange led to a short conversation with a most interesting character. She and her friend full time in this tiny trailer and have the happiest of existences. She has family in California and Washington State, and travels between them, but is not at all ready to give up her adventures and settle down near either one. What spirit!
It's only 55 miles from RS to Usery Mountain County park, located just north of Mesa. This is one of our all time favorite places. We come here every year, and have become quite familiar with the rules of the game called, "How to optimize your chances of getting a good site at Usery Mountain". The park can be jammed on weekends and during February, and no reservations are taken. Each morning, those who have sites and want to extend their stay, have until 8 AM to do so. After that, if there are people waiting in the overflow area, they are assigned the available sites. If you decide you want to stay later than 8 AM, too bad. You'll have to hope there are some sites still free when it comes your turn. However, there were plenty of sites available this morning, and we got one of our favorites, on the outside ring, with a fabulous view of the desert. Actually there are no "bad" sites at Usery; all are widely spaced from each other (often 100 feet or more between sites), with stone picnic tables, fire rings as well as stand alone bar-b-cues. With very few exceptions, each site is large enough for any rig, and all are surrounded by the natural beauty of the desert.
What to do at Usery Mountain? The park is riddled with hiking/biking/riding trails. There is an archery and pistol range, the latter being situated far enough away from the camp area that you barely hear the muted "pop-pop" of gun fire. You can drive north into the lake country of Arizona, and spend the day on Apache or Roosevelt Lake. It's just a short distance further to Payson and the high Mogollon Rim country. If you like the city life, Phoenix is a very short distance away, with attractions like the world famous Heard Museum. Something for everyone, and Usery Mountain park is right in the middle of it all -- yet with a feeling of being totally isolated from civilization.
This wonderful weather has made for some gorgeous crimson and blue sunsets, and when it gets dark, the distant lights of downtown Mesa glitter in the darkness. No traffic noise here, just the howl of an occasional coyote. If we hadn't had obligations back in Tucson, and if we didn't still feel the yen to travel further east, we could have easily remained here for the allotted two weeks. Instead of two weeks, however, we were here for only two nights, then off back to Tucson, and points east. We haven't made much headway on our Louisiana goal yet, but we keep trying.
And, not getting there has lead us to some interesting places, with the opportunity to meet some fascinating folks.
---
Postcard: A Tale of Two (Ghost) Cities
January 14, 2003
OK, I admit it. We've been geocaching again. We are spending a few days at Voyager's RV Resort, and checked out the surrounding countryside for interesting places to explore, and perhaps find a "treasure" or two. This time we were led into the Arizona hill country, to two ghost towns, Kentucky Camp and Helvetia. Both are ghost towns. However, the similarity stops there.
We had no trouble finding Kentucky Camp. We drove south on Highway 83 east of Tucson, and headed into the hills toward Sonoita and Patagonia. About 4 miles north of Sonoita, we turned west on Gardner Canyon Road, and followed the signs. While the road is unpaved and has some "washboard" sections, any car could navigate this road. Indeed, several RVs were dry-camped out in the surrounding hills, some with what appeared to be outstanding dry camping sites. One had a perfect place -- he was behind a low rise which gave him protection from the sun. He had mounted his satellite dish on the crest of this hill in a spot that would give him great TV reception.
The Arizona hills in this region resemble the Texas Hill Country, albeit a bit drier. Scrub oak and prickly pear cactus vie with coarse grasses in covering the rolling hills. Today was beautiful -- little wind, and not too hot (it's higher here than in Tucson, and stays cooler). At one point we met a couple on horseback wandering along one of the many trails honeycombing the hills -- a perfect western picture. They were used to having their picture taken -- Tom got out his camera, and the girl slowed her horse and smiled. "Would you like to take our picture"?
The road ended at a "parking" area -- a wide, flat spot on the hillside with about 4 other cars already there. A path led us through a cattle gate, out across the nearby hills. From this vantage point we could look down on the several buildings which remain in this town. It is a ghost town which, like many others, is a relic of a gold rush.
In 1874, gold was discovered in the Santa Rita mountains, the largest and richest placer deposit in southern Arizona. But there was a problem. Placer deposits are gold mixed with sand and gravel, and the best way to separate out the gold is to use water. But water is a very scarce commodity here, and it took less than a dozen years for most of the miners to give up and move on.
One enterprising California engineer thought he had solved the problem. He would channel the snow runoff from the mountains into a reservoir that would hold enough water to last 10 months. He got financing for his scheme and built Kentucky Camp as his headquarters. But tragedy struck, the engineer was killed in a fall from a Tucson hotel, and the operation shut down, becoming a cattle ranch until the 1960s.
Today, Coronado National Forest rangers and volunteers from surrounding areas have begun repairing the old buildings. The largest one, probably used as an office by the Santa Rita Water and Mining Company, has been turned into the Visitor Center. Historic pictures hang from the walls, depicting life in this area and the people who dreamed this golden dream. The outer rooms are in various stages of restoration, as are several out-buildings, including an old cabin, barn and assay office.
We were encouraged to visit the building which sported the following sign; "Bed and Breakfast", which some enterprising soul had altered to read "Bed and No Breakfast". This building is part of the Forest Service's program called "Rooms with a View". Aptly termed a "rustic adobe cabin", the cabin is for rent for groups of up to 5 people. We opened the front door to find a small living room, complete with sofa and reading lamp. A bare bulb hung from the ceiling, matching another in the bedroom. A small propane heater -- with instructions -- stood in the corner. A door led from the living room directly into the bedroom. We could see two single beds with covered mattresses placed side by side, and a double bunk in the corner. There was little room for anything else. We turned right into the kitchen. Here we found a very small microwave, tiny ("dorm sized") refrigerator, a few dishes, coffee pot and broom. There was also something I hadn't seen for years -- a one burner hot plate. (That one should turn up in an antiques store any day now). Dishes are done outside, as "there is no regular kitchen in the cabin". On the back deck is a picnic table, a small Weber grill and the kitchen sink.
Notwithstanding the rustic character of the facilities, I could imagine spending a quiet evening here. The area is beautiful -- quiet, with only the call of the California Jays breaking the silence. Miles of hiking and biking trails surround you, and invite exploration.
We left Kentucky Camp and headed back to the rig. We had one more ghost town to find, but were unsure which of the many unmarked side roads to take, so decided to postpone the trip to Helvetia until the following day. A good choice, since Highway 83 turned out to be entirely the wrong road.
Unlike Kentucky Camp, Helvetia is decidedly hard to find unless you are a local, or have been there before. We took I-19, the road running south of Tucson to Nogales, and turned on Whitehouse Road toward Madera Canyon. Tom's computer atlas program showed that this road would intersect Helvetia road, and surely Helvetia road would lead to Helvetia? Yes, it would if we could find it, but no road signs existed out here. We found ourselves driving on dirt roads through cactus fields, past cows wandering in numbered pastures. Here was pasture 29, there pasture 28, but no signs to Helvetia. Using the GPS, (Tom was heard to remark, "I don't know how I ever knew where I was before I got this thing"), we knew where the town was supposed to be, but could find no road leading to it. We settled on the most traveled road, and pretty soon were headed in the right direction. Still we didn't know for sure until we spotted the pioneer graveyard.
The Helvetia cemetery is very small, mostly comprised of old wooden crosses tied together with wire, and no headstone to mark the year or the person buried here. Over the years wind and weather have combined to make the crosses list to one side, with the cross pieces at distinctly wobbly angles. From reading the few grave markers we could find, it appears that 1909 was a bad year for the citizens of Helvetia; every gravestone we could read had 1909 as its ending date.
As we drove along, we could see no signs of any town. We passed the driveways to several ranches, but saw no evidence of an earlier townsite, either modern or ghost variety. The road soon became quite clearly suitable only for 4WD. No motorhomes could have driven beyond here, although we were passed by one tow truck from the nearby town of Sahaurita. I wasn't surprised that someone who had driven out here would need help to get back!
It seems that people who hide caches like to put them at the top of hills, and this was no exception. We had to climb a steep hill (elevation gain 350', but done in only 0.2 miles as the crow flies), which meant a hike on a road which wound across its face -- up, and up and up! It was a steep climb, but as we hiked along, of necessity looking down to keep our feet under us, we noticed the rocks. The path was littered with the most beautiful stones in shades of turquoise blues and copper green. I just had to collect a few of them to take home.
We had heard that 4WD vehicles could drive all the way to the summit, but the road was very rutted, and we parked near the bottom. Near the summit, the road really got bad; in one spot it was only one tire track wide, and the other track fell off the side of the hill in a jumble of large rocks. I was nervous even walking on this section of road, and would have been terrified to have driven over it. But the view, when we got to the peak, made the slippery scramble to the top well worth it. We looked off one side of the hill and for the first time we could see some of the old adobe brick buildings making up the ghost town of Helvetia, several of the modern ranches, and miles of brown dusty roads winding through the cactus. Looking off the other side we saw all of Tucson, from the Catalina Mountains in the north to Green Valley some 35 miles south of the city.
As we hiked down the hill, we noticed a car drive out into the area where several old ruins were located. We decided that Tom and Missy would walk directly to the ghost town, while I would get the car, drive around and join them. In retrospect, that was not a very good idea.
I got into the car and started to drive to the ruins. But how to get there? I started down one road, and it turned and went directly, (I thought), away from my destination. I had to back down a hill into a wash, and make two attempts before I was able to get the jeep turned around and headed back. I tried the next road, only to find myself at the mailbox of one of the ranches. Now I could see Tom and Missy walking down the hill, and realized that I had been right in my choice of road the first time. Around I went again, back to the first road and up one of the most rutted climbs we had had this day. But the Jeep was a trooper, and I arrived in the ruins area, only to find that Tom had slipped as he was coming off the hill, twisted his ankle and wrenched his knee. Nothing broken, but it taught us a lesson. Next time, we stay together.
Unlike its "sister ghost city" of Kentucky Camp, here there was no sign of forest rangers or volunteers to protect and preserve the few remnants of buildings that are still standing. Instead it appears hikers and campers have literally helped themselves to the carefully shaped rocks that made up these old structures for purposes not more noble than constructing a fire ring. It seems that while Kentucky Camp is destined for revival as a continuing legend of the history of this area, Helvetia will continue to slowly fade away until all traces are gone.
Back to Tucson and the coach in time to get Tom's leg patched up and a visit to the Voyager spa before dinner. We have had a very strenuous two days' hiking, and plan on spending tomorrow in more leisurely pursuits. Then we'll be off east toward Las Cruces and into Texas.
And, oh yes: We did find both caches...
---
Postcard: Getting Out of Town
January 4, 2003
We are staying at one of our favorite parks, Emerald Desert in Palm Desert, CA. Palm Desert is part of a sprawl of towns that pretty well blankets the floor of the Coachella Valley. Starting on the west, with the best known city, Palm Springs, you can drive more than 30 miles without ever leaving a town. Palm Springs borders directly on Cathedral City, which borders on Rancho Mirage, which borders on Palm Desert, which borders on La Quinta, which borders on Indio -- mile upon mile of townhouses, gated golf courses surrounded by luxurious homes, and the bustle of the cities themselves. The shopping is fabulous; everything from small expensive boutiques to supersize home improvement centers. But every so often, the urge comes upon us to "get out of town"; to drive out into the desert, smell the creosote bush and hear the cactus wren song. Interestingly enough, this is fairly easy to do.
This "head for the desert" urge took two days to satisfy. Late Thursday afternoon, we decided to make the short drive into the San Jacinto Mountains which form the southern border of the Coachella Valley. We would take Highway 74, a scenic, winding road that, if we followed it far enough, would take us to small towns with names like Mountain Center, Idyllwild and Pine Cove. Today, however, we would just drive a short distance into the pinyon covered hills; just far enough to "get out of town". We drove up Monterey Drive, right through the heart of Palm Desert, and crossed highway 111, the main street which traverses each of the valley towns. In just a few miles, the road rose steeply, the building frenzy that is the heart of this area fell away, and we climbed up into the mountains. We stopped at one of the several lookout spots and looked back down into and across the Valley, and up into the Eagle Mountains of Joshua Tree National Park. To the southeast, the blue of the Salton Sea shimmered in the distance. Beautiful.
We stopped at the San Jacinto Visitor Center, and gazed out over the valley, noting the multitude of green patches that meant golf courses, the busy lines of Interstate 10 and the chocolate peaks across the valley to the north. Our plans changed immediately. We could stay one more day at Emerald Desert, and devote a day, the entire day -- tomorrow! to a trip into Joshua Tree National Park. The Visitor Center had a birdlist of the area and I noticed that bimonthly birdwalks were given in the Morongo Valley at the Big Morongo Canyon Preserve. Morongo Valley is a small community to the north of Palm Springs, and while we had driven through it on several occasions, we had never before stopped there. Now we would add the Preserve to a list of "places to see" and hike. Next we would explore the Black Rock Canyon area of Joshua Tree, where Tom had found an intriguing geocaching site. After that, we would enter the Park at the West Entrance (the road deadends at Black Rock Campground), drive though and exit on its southern edge. There we would pick up Interstate 10, and be home in time for the Fiesta Bowl. As usual, we had bitten off more than we could chew.
We left Emerald Desert at 8 the next morning, and headed toward Thousand Palms. I had consulted my Palm Springs/Indio area map and found a route that would take us where we wanted to go, without having to drive on the Interstate. Of course, it was a bit circuitous.
We almost missed the small sign indicating the entrance to the Morongo Valley Preserve. We turned onto a short driveway, passed a couple of homes, and turned into the parking lot. The first thing we noticed was the great number of "No" signs prominently posted. No dogs, bicycles, smoking, shooting, motorized vehicles, camping or collecting makes the area a quiet refuge from the usual busy southern California life. There were several cars already parked in the lot, and birders were strolling the various trails. We saw White breasted Nuthatches and Western Bluebirds. Scrub Jays called loudly from the trees.
The Preserve is crisscrossed with 6 trails, varying in length from 0.1 to 5.5 miles, and named for the sights they showcase. We had choices of trails named Desert Willow, Yucca Ridge, Barn, Mesquite, Marsh and Canyon. We chose the Marsh Trail, and followed an interesting 1/2 mile boardwalk walk under cottonwood and willow trees. It follows the banks of a shallow marsh, but we saw no birds, even though it is a "birders paradise" during the fall and spring migration. We'll have to return another time, and take the guided bird walk.
Continuing east, by the time we reached the West Entrance to Joshua Tree National Park we realized that we had missed the entrance to Black Rock Campground. We got instructions from the woman behind the counter in the gift shop, "take Portola Street, and it will lead you right to the campground. But why would you want to stay there? It costs $10 per night, and for that you can stay a week in the Park". We decided not to try to explain the intricacies of geocaching, thanked her for her assistance, and retraced our steps. We saw the sign to the campground as we approached the town of Yucca Valley, but the street was not called Portola, but Joshua. Oh, well, we had found it.
Our geocaching expedition started with a walk up a fairly steep trail to the top of a desert hill with a neverending view. We had chosen this particular cache in part because the "hider" had stressed the views that would be seen as we walked along. And he/she was certainly right! The day was sunny, but not too warm at 4,500 feet, and the sky was absolutely clear. We could see up and down the valley, the seemingly small towns of Morongo Valley, Yucca Valley and 29 Palms. Far below, highway 62 was merely a string along which tiny cars raced. To the west rose the snowy peaks of San Jacinto and San Gorgonio. The cache itself was not easy to find, even with the precise coordinates that the hider had given us, and even using Tom's new Christmas GPS -- accurate to within 10 feet. But find it we did, left a rubber scorpion in the cache, (we do pick up some unusual "trinkets" along the way), and wandered back down to the car, hiking cross country along the desert ridges, and eventually navigating down to a trail that would lead us back to where we'd parked.
In our several visits there we had never entered Joshua Tree National Park by the West Entrance. We'd always driven to Twentynine Palms and gone in from the East. Therefore, I had never observed just how much this park deserves its name. Drive in from the west, and you pass through a veritable forest of Joshua Trees. These twisted, spiky trees with dagger-like spines are everywhere, marching out along the arid plains of the park or scattered among the huge rockpiles found here.
Indeed, one of the attractions of Joshua Tree are these mountains of tumbled rocks. It is a rockclimbers paradise, and today we just had to stop for a while to marvel at how, or why, anyone would enjoy climbing up or rappelling down them. There were dozens of people doing both, some teetering on the very edges of these "mountains".
One last cache was tempting us. This one was a "virtual" cache, where there is no treasure at the end, but you are guaranteed to learn something when you find it. On San Juan Island one such "cache" takes you to three historical spots in the town of Friday Harbor -- spots easily missed by a casual visitor, but essential to learning about the history of the Island. Here, we were directed to find an "appliance" -- one that would have been used by those who originally settled this area. And, right where it was supposed to be, was what looked like the scoop of an old backhoe. It was cemented into the side of a rock, although some of the cement pieces had crumbled away over the years. From each side of the iron scoop, and joined at the top, were two iron bars. So now we got to play, "what appliance is this"? We looked at it carefully, made our guess, and would later email the "cacher" to see if we're right. (When we did this, we found that he didn't really know either, but agreed with our analysis of what it was, and was mostly interested in other people's guesses!)
By now it was after 3 pm. If we continued on the 50+ winding, very slow driving, miles to the southern edge of the park, it would be dark and we would be entirely too late for at least the first portion of the Fiesta Bowl (a fact quite important to one of us...). So, reluctantly, we retraced our steps back the way we had come, out of the park, through Yucca and Morongo Valleys and back to the coach. Another day, and an earlier start to more exploring in Joshua Tree National Park are definitely part of our future plans.
Tomorrow we're off for Borrego Springs for a couple of days before heading east again. This year, we're going to try to get all the way to Louisiana in time for Mardi Gras, but there will be interesting stops and lots of adventures to be found along our route.
Time to hit the road, and get out of town...
---
Postcard: Pedal to the Metal
December 29, 2002
Winter came to the Islands very suddenly. Tom and I had "hosted" Thanksgiving for our family, and the weather then had stayed unseasonably warm with calm winds. No waves to make our small inflatable bounce around as the kids went to set the crab traps. No rain to make beach-going, tidepool exploring or treasure gathering less fun for our grandkids. True, the days are short at this time of year, sunrise at about 8:00, sunset by 4:30, but it's amazing what energy small children can cram into even these few hours.
But, as expected, the weather changed as Christmas approached. "Rain in the valleys, snow in the mountains", became the mantra of the Seattle weather forecasters. And even this El Nino year, when the ski resort operators were starting to worry about their season, we started to get plenty of rain and wind in the lowlands. Time to think about heading south.
It is nearly 1,200 miles from our family Christmas gathering point, Yakima, WA to Palm Desert, CA. We had left our coach in California, and had only the jeep to get us south, making the trip both faster and relatively easier. Therefore, Tom reasoned, if we left Yakima at 4 in the morning, we could get to Sacramento by evening. The next day would be an easy arrival in the desert. There were several things wrong with his reasoning. First, I didn't particularly want to leave that early. It can be icy in eastern Washington in winter; it is pitch dark at that time, and the allure of a warm bed is very hard to resist. We compromised on a 6 AM departure. We didn't realize that we would be slowed by every conceivable kind of winter driving condition, whether known to Mother Nature, or expanded upon by man.
There had been very little snow on Snoqualmie Pass , the main arterial between Seattle and eastern Washington. The same was not true of Satus Pass. This pass is located on highway 97, some 60 miles south of Yakima. Even though it is the same elevation as Snoqualmie, here the sign read, " vehicles over 10,000 GVW, must use chains." Reason #1 to be glad we didn't have the coach, which does not carry chains, especially as we saw no obvious reason to put them on. The road was slushy, but wet, with big patches of pavement showing through.
As we approached the Columbia river, we had a decision to make. Should we stay on 97, or travel west to Portland and Interstate 5? Decisions not being one of our strongest points, we reverted to an old tradition, driver decides. So 97 it was. We would save about 100 miles on our trip, but only time would tell if winter weather would slow us down. And it did.
South of Bend, OR, we ran into snow. Snow floor, blowing snow, snow churned up by passing cars, (because cars will pass, even if they can barely see the road, much less have a viable passing lane). Some drivers were going very slowly (some using chains), others much too fast. Still others seemed imbued with a delusion of their driving expertise, and chose to pass in improbable situations, thereby causing others to hit the brakes. Everyone learned a little lesson, though, when one such driver did a graceful 360&Mac251; turn, slid across the road, and landed, with a shower of fine snow, in the ditch. We were starting to think we'd be lucky to get to Klamath Falls, let alone any place in California.
But again we were wrong. Before we got to Klamath Falls, the snow disappeared. What would the road be like between this town and Weed, CA where 97 merges into Interstate 5? Here we'd encounter the highest passes of the trip. Calling CalTrans gave us the following information. A recorded voice asked Tom to key in the number of the highway. Then it reported, "the highway you have selected has no known restrictions". However, as we passed through the agricultural checkpoint in Dorris, CA, the agent told us, "CalTrans doesn't update its road reports very frequently". Great.
However, even at 5,500 feet there was little snow. Dry pavement prevailed, and even the sun came out. Due to a temperature inversion, the steady "33" we'd been seeing that measured the outside temperature started go up as we ascended the two passes -- finally topping out to a whopping 54 degrees at the summit. But were we out of the woods?
Absolutely not. As we drove down into Weed, the snow returned with a vengeance, this time accompanied by high winds. We struggled on to Red Bluff, thanking the gods of chance we were driving our little Jeep Grand Cherokee with four wheel drive. We hadn't seen many coaches on our trip today; they were probably hunkered down, waiting for the weather to improve. Unfortunately, it wasn't going to.
All the weather forecasts said that if today was bad, by noon tomorrow, it was going to get worse. Along the Northern California coast, record rainfall was predicted. In the Sierra Nevada, snow amounts would delight the skiers, and frustrate anyone trying to drive through the mountains. But this bad weather would not extend much south of Stockton. Another early departure, and we just might escape most of the problem. And, as far as Mother Nature was concerned, that turned out to be the case.
Now we encountered a different problem -- all the California drivers hurrying home to LA from a Christmas in the Bay Area. And we thought it was bad in the Oregon snow! The speed limit is 70 mph, and if you are only driving that fast, everyone passes you. Some large trucks, and many motorhomes are uncomfortable with that speed, so the other drivers must go around them. Therefore you encounter the following situation: The slower traffic is in the right lane, and the passing cars in the left -- all going at least 70, and crowded together far too closely for safety. But if you leave any space between your car and the one in front, you can be assured that someone will cut in front of you. (This is no place for the timid). To make matters worse, some inventive drivers will drive right up behind a slow vehicle in the right-hand lane, and then cut into the left, forcing everyone to hit the brakes. Once when this happened, the left lane came to a complete stop.
I was relieved when our turn-off came, and we could spend some miles crossing the valley, past plowed winter fields, past small farms, through the small town of Shafter and onto highway 99, toward Bakersfield. (We had toyed with the idea of detouring to 99, as it might have had fewer cars than 5, but it was crowded also). We changed into lighter weight clothing, drove up the Tehachapi grade to Mojave, and decided to go all the way to Emerald Desert this evening. The idea of a quiet meal in the coach, sleeping in our own bed, and no more long distance driving for a while was irresistible. Tom had driven 540 miles the first day, and we had shared the 640 remaining on the second. Even when the expected traffic jam on "the 10" near Riverside occurred, we were glad to be "headed for the barn".
Now we are set up in Emerald Desert, where we will spend the next week or so. We are enjoying biking around the large park, swimming laps in the heated pool, and are looking forward to some area geocaching. Time for some R&R before we head east.
---