NOTE: While this is designated as an ARCHIVE FILE, it is retained despite the date of first publication because it offers information of continuing current interest and/or for its historical perspective. Please be guided accordingly.
POSTCARDS
---
Stephanie is one of those persons who can fit a lot of words onto a standard size postcard -- usually by writing sideways, around corners, and even upside down if she can find some extra space. Most of these go to family and friends. But some of them -- those which document our RV adventures -- find their way onto this portion of our website.
---
Postcard: In Spring, A Young Man's Fancy..
May 11, 2003
Tom's birthday was this week. His first gift came early. On the first day of May, he got special greetings from Uncle Sam in the form of a Medicare card. That was followed by good wishes from the Social Security Administration. He is now claiming to be "retired", but, knowing Tom, you know that he will not only continue to pursue his various projects, but undoubtedly think up some new ones in the next few months.
There's an old saying that starts, "In Spring, a young man's fancy lightly turns to thoughts of love." For Tom, it should read thus: "In Spring, a young, (or any age), man's fancy, lightly (completely, obsessively), turns to thoughts of -- New Cars!" Therefore, last Monday found us at the jeep dealership in Wenatchee, WA, taking possession of a new Jeep Wrangler Sport. It's a great little car -- we have already taken it off-roading on some of the mountain trails in the Wenatchee National Forest, and are looking forward to other trips.
We spent the first evening at Lincoln Rock State Park, about 8 miles north of Wenatchee. Lincoln Rock gets its name from a rock formation across the Columbia; if you look carefully, you can see the profile of Abe's face, forehead, nose and chin. The park perches above the river, with wide level sites suitable for any rig, large grassy areas between each site, a boat launch ramp and children's playground. After the 15th of May, this park will fall under the reservation system, but today it was wide open and almost empty.
Empty, that is, unless you count the marmot population. These large gophers were all over, driving Missy crazy. They would run a short distance, stop and utter a piercing whistle (thus the nickname "whistle pigs"). They were fat little critters, and I'm sure Missy was convinced she could catch one -- if only we'd let her off the leash.
They were bold too -- overnight they "hijacked" two campsite fire pits. The night before, these pits were the usual mixture of dirt and remnants from previous fires; next morning, they had been excavated for Marmot homes. Large rocks and mounds of dirt had been tossed about as the animals made their tunnels, making a big mess in the process. This must pose quite a problem for the rangers, but it sure was fun for our dog, as she stuck her nose down every available hole. Whenever there was a marmot inside, we could hear his squeaking and grumbling as he tunneled further away from her inquisitive nose.
Wednesday, we had an appointment at the jeep dealership in Wenatchee to get few things added to the new jeep. The front bumper and both side steps were to be replaced. We had debated moving to the Wenatchee Confluence State Park Tuesday night. It was a few miles down river and closer to the dealership, but we were enjoying Lincoln Rock so much that we decided to spend another night there. This decision meant I would get to/have to take the rig into Wenatchee, while Tom went first in the Wrangler. While I don't mind driving hundreds of miles with Tom in the rig, I am a bit leery about driving the coach, all by myself. But that was a problem for another day. Besides, it was only about a 9 mile trip. What could go wrong in 9 miles?
That decided, we spent Tuesday, testing the jeep on the roads to Yakima, some 100 miles to the south. We bought a map showing all of the back country roads in the area from the local Forest Service office, and found that we could do most of those miles on non-paved, back-country, unimproved mountain roads. However, since we had set a specific time for a lunch date with our Yakima clan, we opted for a bit more speed and chose Highway 97. Coming back, we did take one back road -- old highway 97, which climbs up and over picturesque Old Blewitt Pass.
The narrow, almost one lane, road winds 11 miles along the flank of Iron Mountain. In places, freshly cut trees on both sides of the road attested to the fact it had only recently been cleared for the season. Occasionally, we could see small patches of snow still hiding out of reach of the sun, but the road was perfect for a small car, two people and one dog -- just out exploring. The road is paved, and would pose no problem for any kind of truck or towed vehicle; however, RVs are definitely not recommended.
The old, narrow road, the forest extending out on both sides seemingly forever, no traffic or traffic noise at all -- it was easy to imagine we were driving this road in long ago days. That image was shattered when we reached the pass and found signs advertising, "Old Blewitt Pass Home sites". So much for nostalgia.
Wednesday morning, Tom left for the jeep dealership shortly after 7 am, leaving me, the dog and the coach. My turn to drive. First, I carefully inspected all the interior doors and drawers to make sure nothing was loose and would come slamming open as I drove. Next I walked around outside and checked the awnings, antennas, etc. to make sure all was ready to roll. Finally, I told myself I was being foolish, and to stop stalling, as all these items had already been checked before Tom left. Nerves to the contrary, it was time to go. And the trip was the proverbial "piece of cake". I didn't get lost getting out of the park and didn't wind up at the launch ramp instead of the front gate. I was too early to be stopped by the construction barriers that were being set up as I went by. I had checked out all the turns en route the day before, and Wenatchee doesn't have a lot of traffic. I may not have been the fastest driver on the road, but had no trouble arriving at the Food Pavillion parking lot (our designated meeting place). I will admit I was glad to see Tom there waiting for me. I'll need to do this again, all by myself, on a trip longer than 9 miles.
Tom's appointment didn't last as long as it might, due largely to the fact that the ordered front bumper wasn't the right one. Oops, now we were due for a Friday appointment as well. With side steps installed, back we went to the Confluence Park to spend the night. Thursday's appointment should turn our new jeep into a towable new jeep. And it did.
Tom spent the morning of his 65th birthday just the way he wanted -- in the waiting room of All Seasons RV Repair, Inc. His birthday plans for the afternoon? We were headed back to Leavenworth to the Icicle RV Park, where you can wash your rig, and that's what he planned to do. No accounting for tastes. Now, if it had been my 65th...
Between the waiting and the washing, however, we did take a geocaching break. Just up river on the Wenatchee River, 2 miles from town, hides a cache with the most intriguing name --"When Midnight Falls upon the Castle". There was a hint included in the cache description that read, in part,
"Be quick, be nimble, waste no time.
The dragon's lair is right behind.
Twenty feet more to his black door.
In your ears, hear his roar."
Between mile markers 97 and 98, there is a footbridge which crosses the Wenatchee River. Never a quiet stream, at this time of year the Wenatchee is in full flow, roaring down toward the Columbia, tumbling over rocks and creating white water back eddies. The mid section of the footbridge still had a large puddle of snow melt water in it, but some thoughtful soul had placed small rocks and tree limbs along one side so that it could be crossed without getting our feet wet. Once on the other side of the river, we followed a level path along the river, climbing gradually until we came to the next water crossing. A small stream was intent on reaching the Wenatchee, but it was so small I could jump across it, and Tom merely stepped over. The next one wasn't as easy.
Mysteries along the trail. Mystery number one: As we walked along, we noticed steel rods sticking up out of the trail. Most of these were about 1" in diameter, and 3 or 4 " high. They were threaded as if they once had been attached to something else. Occasionally we saw others, much longer, rising about 2 feet straight out of the ground. Mystery number two: Once, there had been substantial amount of building activity on this side of the river. We saw remnants the foundation for what must have been some sort of bridge. In other places there were rocks, carefully placed to form retaining walls -- for what, we could only guess. Power poles bearing a single wire marched down the trail with us, one of them strategically placed in the middle of the second water crossing.
This second stream was about 8 times wider and steeper than the first, plunging down to the river below in a series of mini waterfalls. We might have been able to cross on some large boulders a bit upstream, but they hadn't been long out of the water and were covered with wet, slippery moss. But once again, someone had stacked some tree limbs between the boulders, and, right in the middle of the stream, was the power pole. By stepping very carefully out on the first few rocks, gingerly testing the stability of the tree limbs and clinging for dear life to the pole, I was able to get across. It also helped that Tom went first.
On we went to the end of the trail. There we found the grotto -- the dragon's lair. We found a deep cave with water dripping from the entrance, ferns growing out of improbable spots on the walls, and a large pile of those peculiar rods littering the floor some 20 feet below. The temperatures outside were in the mid 60s, but the air coming from the "lair" was at least 20 degrees cooler. We didn't go in, but Tom got a picture of what actually looks like an ominous black hole. I'd hate to enter at midnight!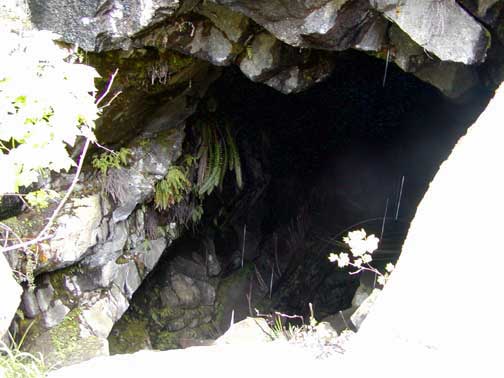 One more jeep appointment, and we will head back toward San Juan Island. But perhaps we will take some time for off-roading in Tom's new jeep before we go. These mountain roads look very intriguing.
---
Postcard: Hoppin' Down the Bunny Trail
April 20, 2003
En route home from Las Vegas, we headed north through Utah, stopping at Zion River Resort the first evening. We just had enough time for a quick foray into the National Park before dark. Gone were the crowds of summer, although there were a handful of RVs in the park campground. The Visitor Center was staffed by a bored looking ranger, with very few takers for backcountry permits, and just dying for someone to talk to. At this time of year, the shuttles don't run, and the road up the Canyon is open to cars. The roads and trails were virtually empty. What a contrast with our last visit.
We drove up through Salt Lake City, crossed into southern Idaho, entered Oregon and started down the Columbia River Gorge. We were headed for a service appointment in Junction City, and our Street Atlas computer program suggested that the shortest route would be to cut across central Oregon. The weather forecasts, complete with snow advisories and avalanche warnings in the Oregon Cascades, suggested the Gorge road would be a more prudent choice. And the driving rain and windy conditions made us very happy to be on the Interstate rather than a narrow mountain road.
Those same conditions, rain and occasional wind have been our companions for the last several weeks. Even though the San Juan Islands lie in the rain shadow of the Olympic Mountain range, and our average rainfall, 18 inches, is less than half of what Seattle can expect each year, rainy day after rainy day can get a little boring. All the platitudes in the world, "we really need the rainfall", or, "April showers bring May flowers", can't hide the fact that it is just plain soggy outside. Those few days, or hours, when the sun came out, found us walking Island beaches, playing a few holes of golf, and planting some spring flowers. The weather was wonderful for flowers.
The weather was also good for completing some household tasks, not the least of which was getting our income tax return filed, waking the house from its winter nap and getting it ready for spring. But we were more than ready for a sojourn east of the "hills" (aka the Cascade Mountains), and an Easter break in Yakima with our family. En route, we planned to spend a couple of days in Leavenworth, the quaint Tyrolean style town nestled on the eastern side of the Cascades.
Suddenly, it was spring. The sun came out, and the temperature rose into the mid-60s as we drove down from the summit at Stevens Pass into Leavenworth and our destination, Icicle River RV Park. Very popular from late spring until fall, it is a park where, in season, reservations are definitely recommended. Perched on the banks of the Icicle River, just above its confluence with the Wenatchee River, the park is perfectly situated as a base camp for exploring areas around Leavenworth. While the surrounding areas can get quite warm, temperatures in the low 100s during the hottest summer days, Leavenworth is a bit higher in elevation, and thus remains cooler during the summer. Icicle is even higher, and with the proximity of the river, just perfect for warm summer evenings. Just up the road a few miles, the fly fishing is reportedly good all summer long. Hiking trails of varying lengths and difficulties start from Icicle Road and wind into the North Cascades. A permit is needed and can be obtained from the Ranger Station in Leavenworth.
I had committed to be the "chef" for Saturday night dinner this weekend, so we drove into Wenatchee for groceries. Looking West, we could see snowcapped peaks cutting into the clear blue skies. To the east, the lower hills were lined with patches of white. Not snow, apple trees. This is the center of the Washington apple industry, and orchards, their trees loaded with white blossoms, stretch out in every direction. The trunks and limbs of these trees, some pruned and lying on the ground beneath them, add contrast to the sage green hills. As we drove down into the warmer valleys, the tree buds were accompanied with the first pale leaves of spring.
Between Leavenworth and Wenatchee, we passed Cashmere, the town which is home to one of Washington's famous apple-based industries -- Aplets and Cotlets. Aplets, Cotlets and Grapelets are candies, jelly based, rolled in powdered sugar, apple, peach and grape flavored candies, and their influence is seen everywhere in this small town. On the north end of Cashmere is Aplet Avenue, on the south is Cotlet Avenue. Signs directing tourists to the Aplet & Cotlet factory, (somehow, Grapelets got left out), are easily found. Another sign that Cashmere is apple oriented can be seen when you turn on Aplets Ave. and cross the Wenatchee River. Just before the bridge, on either side of the road, mounted on pillars, are statues to the industry. The right statue is a box of Golden Delicious apples, the left contains apples of the Red Delicious variety.
Saturday we drove south to Yakima for Easter with our children -- dinner on Saturday night, and the visit from the bunny on Easter morning. Once the bunny's gifts had been exclaimed over, it was time for another tradition -- the Everlasting Easter Egg Hunt. Easter Day for our grandkids centers around these hunts. First the "grownies" hide the eggs, then the kids do it. Each child takes a turn being the hider and the other three look for the eggs. When all have had a chance to hide some eggs, the game begins again, over and over and over. Never mind that they run out of hiding spots in the back yard. They seem to forget from game to game that Tom (age 12) likes to hide eggs in trees, and that Calleigh (age 3) puts hers right out on the grass. Calleigh makes it harder, though, because she can seldom remember where she put the eggs, front yard or back. When at last egg hiding palls, the kids turn to baseball. Wielding an oversized plastic bat, enlisting help with pitching chores from a willing dad and uncle, they hit softball sized whiffle balls.
This scene was repeated as I drove through the neighborhood en route to the nearby grocery store. I counted three separate baseball games, two egg hunts, and five or six families just standing in their yards, chatting. Yakima trees are in full blossom now, and the pinks and whites of the dogwoods, and a few late blooming tulip trees all added to the picture. A peaceful setting, one I especially appreciated in these turbulent times.
We retraced our steps to Wenatchee in the late afternoon. The weather forecasts for western Washington remain cool and rainy, so we planned another day on the drier, sunnier eastern slopes. We headed for the Wenatchee Confluence State Park.
There are several state parks along the Columbia River, and they all look very much the same -- each entices you to stop and stay. Each has large, level and very widely spaced asphalt sites with full hookups, picnic tables, river access, playgrounds, and tennis courts. Starting at the north end, Beebee Bridge State Park, just east of Lake Chelan, is first. Head south, and you pass first Daroga and, then Lincoln Rock SP. About 12 miles further south is Wenatchee Confluence SP.
This was our first time staying here, but it surely will not be our last. We found several added attractions to staying here -- one being the nature trails of the Horan Natural Area. These are level, graveled paths through grasslands and wetlands, in open fields or under one of the largest remaining stands of Cottonwood trees between Wenatchee and Canada. Fabulous birding, too -- we saw Common Mergansers, Buffleheads and Canada Geese on the rivers, American Goldfinches in the Cottonwoods, Bank and Cliff Swallows darting out from under a greenbelt bridge. You can go birding without having to take this stroll, however. This morning when I let Missy out of the rig, she froze and pointed. There on the grass, just a few feet in front of her, were a cock and hen pheasant.
If you are into biking, skating or distance walking, the Wenatchee area has the perfect trail. The Apple Capitol Loop Trail stretches about 5 miles along each of the east and west banks of the Columbia. The river is crossed at its north end on a carefully set apart section of highway 2, and then immediately turns south along the river. At the other end of the trail, a separate pedestrian only bridge is open only to bikers, in-line-skaters, and walkers. We would have tried at least a section of this trail; unfortunately, our bikes have gone home for the summer.
Tomorrow we're off to Anacortes and the Fidalgo Bay RV Resort. We'll be there for a couple of days, and then head back to our Island home -- to plot some new adventures.
---
Postcard: Rolling the Dice
March 19, 2003
I think of Las Vegas and I think of casinos. I hear the carousel sounds of slot machines, and the deft shuffling of cards at the Blackjack tables. I imagine glitzy shows, with scantily dressed showgirls, of first run productions featuring top entertainers. I can almost see the bright lights, lighting the city so completely that I wonder if anyone who lives here has ever seen the night sky. And people. People crowding the sidewalks, the stores, the casinos and hotels. These perceptions are not so far from reality -- when you spend time on the Las Vegas Strip.
And that is where Country Coach was having its "pre-rally", the-before-the-FMCA rally to be held in Pomona CA later this week. We are "camped" at Circusland, the RV park behind Circus Circus, a moderate size casino at the north end of the strip. During the past three days we have shared breakfasts and dinners with our fellow RVers, and one evening show at a nearby casino. The Country Coach technicians have been busily fixing small details on everyone's coach, and there have been several seminars on various aspects of coach care. While Tom has attended some of these, I have spent some time exploring the strip. Neither Tom nor I are big casino goers, and it may be a long time before we return to Las Vegas. Carpe Diem!
I started my explorations at the south end of the Strip at the Luxor Hotel and Casino. What a glamorous spot! This black, pyramid shaped building shines like obsidian in the Nevada sun. Entering from the parking garage, I passed swimming pools on either side of the walkway, with fountains in the centers sending plumes of spray into the air. A large statue of the Sphinx, flanked by elaborately carved and painted statues, stands guard in front of the Luxor. Hieroglyphics are cut into the walls surrounding the casino. The main entry hall, at either side of a curving staircase, has other, larger statues. Climb the stair, pass through the long rows of shops lining a passageway, enticing you to buy something to send home, and finally, you arrive at the hotel lobby. Wow! And I hadn't even found in the gaming areas yet. The Luxor is a small city in itself.
When we checked into Circus Circus, we received several handouts touting Las Vegas attractions. I was intrigued by the free live animal exhibits at several nearby casinos, and headed for the MGM Grand Hotel to view their lions. The MGM Grand seemed even larger than the Luxor. When I entered this casino, I had to stop to get my bearings, so I wouldn't get completely lost trying to find my way back to the car. Directions like, "turn right at the 5¢ slot machines", or, "right at the poker tables", simply wouldn't work. To complicate things even further, I could leave by any one of several exits, each opening onto a different street.
It took me several tries to find the lion enclave, since the signs were few and far between. But finally, right behind a small shop selling everything lion from stuffed, plush toys to lion refrigerator magnets, I found it -- a beautiful, glass fronted "cage". There were ledges for the lions to sit on while they watched the tourists watching them. There were carefully camouflaged "pools" where they could drink. Around the outside of the cage were small placards telling the stories of the several lions on display here -- how old they were, what they were fed, etc. The only thing lacking was the lions themselves. They wouldn't be on view until afternoon. Disappointing, but I figured if they have to be up all night (Las Vegas style), they should get to sleep in in the morning. Anyway, there were still other casinos on my list, each with its own special animals on display.
The Mirage is the home of Siegfried and Roy, the renowned animal trainers. This casino has the Siegfried and Roy Theater, where you may see their nightly animal shows, the Siegfried and Roy Secret Garden and Dolphin Habitat, and a "great exhibit of white lions, snow-white tigers and striped white tigers, all in lush habitats which allow the cats to amble up to guests." That sounded great.
This time, I had no trouble finding the Secret Garden and the Dolphin Habitat, as the Mirage signs were much clearer than those at the MGM Grand. But the Secret Garden and Dolphin Habitat were closed for renovation. I went to the tiger exhibit, and struck out here as well. TVs in front of the empty exhibit showed pictures of the cats, but the animals themselves were gone, and wouldn't be back until Thursday. So, animal-less, back I went to Circus Circus.
On Sunday evening we all attended the "Blue Man Group" show. These "New Age" performers had light blue hands, and wore rubber head masks covered with sticky blue paint. The show was uniquely unusual, extremely loud, brilliantly bright, and very entertaining -- all the more so if you let yourself get involved in the action. Unfortunately, the couple right in front of us sat like disapproving judges throughout the show. They refused to decorate themselves, and at the finale, sat on their hands while everyone else was "pulling paper". They missed all the fun.
Entertainment in Las Vegas is not only for adults. Each casino has areas set aside for kids. At Circus Circus, this area is called the Adventuredome Park. Here kids can play video games, or climb rock walls. They can ride on Ferris wheels or rollercoasters. These last aren't called anything as plain as that, however; the coasters have names like "Inverter", and "Canyon Blaster", the Ferris wheel is the "Drifter." Kids bounce on the "Frog Hopper" or ride the "Canyon (bumper) Cars".
Roller coasters are extremely popular here. Circus Circus is right across from the Sahara Casino, with a coaster ride all around the outside of the building. Just up the block is the Stratosphere, a building which resembles the Seattle Space Needle. It towers several hundred feet in the air, and has a coaster which circles its observation platform close to the top of the needle. If that doesn't scare you enough, there is a car which literally bounces up and down on the tower above the coaster. We could hear the excited screams of the riders from inside our coach in the Circusland RV park.
We were on the Strip for four days, so, knowing us, it wasn't surprising that we had an urge to get out of the city and into the countryside for an afternoon. A short circle trip of fewer than 35 miles took us from the glitz and glamour of the Strip to the Mojave Desert. What a contrast!
We drove south on Interstate 15, turned west on highway 160, and north on highway 159. About 5 miles up the road we passed the small community of Blue Diamond. Driving through this hamlet, we noticed several signs reading. "Protect the Red Rock Canyon from commercial development". It seems that those folks living outside Las Vegas are very concerned about urban sprawl. The town was quiet, the only people we noticed were a couple renting mountain bikes for a tour of the area, and a little girl stomping in rain puddles while her smiling dad watched.
We stopped at the Red Rock Canyon Visitor Center before taking off on the 13 mile Scenic Drive. Picking up audio wands, we walked through various exhibits portraying the history of the area. Then we took off along the Drive.
Along the 13 mile route, there are several places to pull off the two lane road, read the interpretive signs, and decide where you want to hike. There are 19 different hiking trails to tempt hikers of all abilities. The easiest is the 3/4 mile Children's Discovery Trail, while the most strenuous one takes the hiker along a 6 mile White Rock/La Madre Springs Loop. Signs along the Drive warn against feeding any wild animals, especially the wild burros which frequent the area. One sign read, "There is a $25 fine for feeding the burros. And besides, they bite". The burros must have been hiding out in the canyons or under the brushy trees, as we didn't see a one. The weather was cool and wispy clouds hung on the sides of the mesas as we drove along, and, as it had been mid afternoon when we left Las Vegas, we really didn't have much time for a hike. But most of the parking areas at the trailheads were fairly full, and we could glimpse hikers along the hillsides.
Since it had been rainy in southern Nevada the past few days, there actually was a little water in the dips at the bottom of some of the hills. Not enough, however, to heed the warning signs, "don't enter this area if flooded". Across one of these watery dips, we pulled over to take some pictures of the area. Two young Japanese tourists were taking pictures too -- he was photographing her as she waded in the water. Suddenly, a BMW shot down the hill and, seeing the water, speeded up. He hit that stream as fast as he could, spraying those young folks with a great sheet of water. I suppose he thought it funny to see them absolutely drenched, and, to give them credit, they laughed too.
As we left the Scenic Drive and headed back to the Circusland RV park for the evening's activities, we passed the entrance to the only campground in the conservation area. We had been told that this campground was like "parking in a gravel pit", so had to see it for ourselves. It is very much nicer than that, about 40 sites, snuggled down behind some low-lying hills. Most of the sites are tent sites, but there were a couple that would have accommodated our coach.
All too soon, it was time to head back to the Strip. We'd enjoyed our break from the glamorous life of Las Vegas. A great Rally with lots of new and interesting experinces, but we've had enough city life to last us for a while. I think we'll take the rural route home.
---
Postcard: Broken Toys
March 7, 2003
Even the smoothest RV trip seldom goes without a hitch! -- (pun intended). I often kid Tom that he is playing on the computer, although he accomplishes more using the magic box than anyone I know. But now both toys were broken. For no apparent reason, Tom's computer screen goes black, usually when he is in the midst of something important, and it was taking about an hour to get the picture back. My computer's battery will not hold a charge. No problem; the Apple folks would send us an empty Airborne box so we could send Tom's computer to Houston, TX. Likewise, I would receive a new battery, and would use that box to send my defective one to California. To accomplish these tasks, however, we needed an address -- a place where we would be for several days. We needed "civilization", and headed back to Palm Desert, and Emerald Desert RV Resort.
It's less than 200 miles to Palm Desert, but why hurry? We had decided to make this a two day trip. Then came the "hitch". We left Hidden Shores and headed west toward El Centro. As we drove down the two lane road toward Yuma and Interstate 10, Tom suddenly said, "What was that?" He had felt a heavy tug on the back of the coach, as if something was trying to push it to one side. I had felt nothing, but now I heard the sound of metal dragging along concrete. Tom looked in his left side view mirror and, horror of horrors, saw the jeep. (It's supposed to be towed in a straight line behind the coach, visible only in the rear view camera, never from the sides.) Then it disappeared from his view, only to reappear in the right side view mirror. Obviously, something was terribly wrong. My reaction? "Slow down". I'm glad I wasn't driving, for I did not realize that if we had hit the brakes, the Jeep would have slammed right into the rear end of the motorhome.
We were fortunate to be on a road that demanded a slow speed (35 MPH), and were on a very slight uphill grade. Tom was able to gradually slow, pull over to the side of the road, and come to a stop with no damage being done to either the coach or the jeep. We put on the emergency flashers, and got out to assess the damage.
The entire towing assembly had sheared off right at the shank behind the receiver, dropping both arms of the bar into the street. All other connections had come off as well, leaving only one chain holding the jeep to the coach. This had become tightly wound around what remained of our towing apparatus. The jeep had driven over the two arms, wedging them under the front of the car, and they had acted somewhat as an "anchor".
Our first task was to separate the jeep from the rig. I drove forward, just enough so the tension on the one remaining chain was lessened and we could remove it. The arms were still attached to the front of the jeep, though and there was no way to get them off until Tom backed up and over -- up to the point that the front wheels came well off the ground. Thank goodness for 4WD!
About this time, a couple in a 5th wheel came around a bend in the road behind us, slowed and asked if they could help. "No, I guess we'll just have to drive separately for a while". I appreciate the bond that RVers have; we've all had some difficulty or other on our travels, and most RVers are anxious to help whenever they can.
We decided against changing our plans, and spent a day in El Centro at Desert Trails RV Park, where we contacted the tow bar manufacturer. Our new hitch assembly would be sent by Federal Express to us at Emerald Desert. The small mail room there would soon be inundated with express packages for the Gonsers!
Repair people contacted, and a reservation made, we were off the next day for Palm Desert, to await our many packages, stock up on all necessary groceries, and have the coach washed and waxed.
When you stay at Emerald Desert, you notice a good number of non-RV type vehicles slowly driving by or parked in front of various rigs. There is the propane man, cruising around looking for rigs with pink slips in their windows. The "Sun Shades" man will custom fit sun shades to your coach, at your site, while you wait. He does a great job, the shades fit tautly over the front and side windows, and there's even a piece to cover your windshield wipers. Probably the business with the most presence, however, is Indian Wells Detail RV Wash and Wax. Just look for the golf carts or electric cars pulling small open trailers, loaded with ladders, rags and potions. A small army, armed with brushes, soaps and cleansers will swarm around your rig. In record time, your coach will be spotless. The dust and dirt we had accumulated on our travels vanished. They even removed the rust spots from the hub caps and the hard water spots from the outside windows.
But there was one final "hitch". While we were still in Tucson, the jeep had started making strange noises whenever we applied the brakes. Now this grinding noise was accompanied by a strange jerking sensation whenever we turned a corner. It seemed to be coming from the front wheels. Obviously, this problem wasn't going to go away by itself, so Tom babied the car into the jeep dealership in Cathedral City. Oh, oh. We needed to replace all the brakes parts, fore and aft.
Overall, we have been extremely lucky. I have a new battery in my computer, and it works perfectly. Tom's computer will be back in a couple of days, good as new. No one and nothing was hurt when our towing assembly broke, and we are the proud owners of a new and heavier one. The jeep drives like a dream. The coach fairly gleams. We have a new repertoire of RVing stories to tell. (RVers love to tell stories about "what happened when...").
In a couple of days, we will be headed to the Country Coach rally in Las Vegas, and then north, slowly. We'll stop in Junction City for a day or so, and then go back to our Island. Unless, of course, we go somewhere else...
---
Postcard: Exploring the KOFA
March 2, 2003
We're heading west again. We retraced our steps to Tucson, spending a couple of days at Voyager, went on to Casa Grande and debated spending a few days in the Phoenix area. Once again, the our decision was made for us by the local forecasts. The weather in Phoenix was simply awful. Each morning, the we saw pictures of flooded streets, rain related accidents, and heard dire forecasts of more of the same. West we went to Yuma.
Many of the RV parks in Yuma are located right on I-8, and guests, especially the overnight variety who are given those spots closest to the Interstate, must become accustomed falling asleep to the soothing sounds of truck traffic. However, 20 miles north, at Hidden Shores RV Park, your evening lullaby will only include the sounds of lapping water and sleepy night birds. That's where we were headed.
We turned off the freeway near Wellton, 20 miles east of Yuma, and headed northwest on the Dome Valley road. This road, shown on our maps as a light grey line, zigzagged us through the lettuce fields of the Imperial Valley. North a mile or so on one road, west on another, north again and so on. But we cut into 95 with only 6 miles left before the Yuma Proving Grounds and our turn to Hidden Shores.
It seems odd to have an RV park right next to the Proving Grounds, the somewhat forbidding area just a little north of Yuma. As you drive along those few roads that are open to non-military personnel, you see signs warning "Danger -- unexploded ordinance" on each side of the road. That's enough to keep me out of the area! But once through the Proving Grounds, you come upon the banks of the Colorado River. Across the river several areas set aside for long term dry camping and -- full of RVs -- are visible. To the right and up a hill is Hidden Shores RV park.
The park is beginning to look like a small city. We were astonished at the number of new park models. Some of our neighbors told us that the park is building 40 park models a year, and they are sold as fast as they can be built. Many of the RV sites are rented by the year, and people have left their RVs, dune buggies and watercraft wrapped in canvas and stored under canopies. The park owners have developed a new section supposedly just for RVs, (though one park model has encroached here), and we found a gravel site with a concrete patio and full hookups overlooking the Colorado River. Downstream just a short distance we could see the Imperial Dam. In front of us were several small docks for the boats of the bass fishermen and wave runner riders. Across the river is a delta of reeds and scrub trees, extending west to the low lying Chocolate Mountains. A beautiful place, but expensive if you use the daily rate, with prices ranging from $30 - $50. The owners must be after the monthly crowd, as those prices are far more reasonable. Quiet and fairly empty during a winter week, the high season is summer, when people from as far away as San Diego come to play.
The completion of the Laguna and Imperial Dams has created a series of waterways, the main one being the American Canal, used for irrigation by Arizona and California farmers. There are several smaller lakes and canals, each with a dirt road running along the top of its levee. Here we found some wonderful birding. Coming home from Yuma the first afternoon, we saw Cinnamon Teal, Lesser Scaup, Mallards and the ever present American Coot. At one point we saw a Snipe out poking his bill into the mudflats at the side of the canal. (Tom has finally come to the conclusion that, Snipe hunts of his boyhood to the contrary, this bird really does exist!) Along these waterways, several RVs have found wonderful places to dry camp. One RV was set behind a hill to be out of the prevailing wind, but still had a fabulous view of the waterways.
As has become something of a habit with us, after checking in and settling down in our new site, we searched for local geocaches. There were three in the nearby Kofa National Wildlife Refuge, an area we would probably never have visited on our own. The Refuge shows up on maps only as a large irregular green patch, surrounded on three sides by the restricted Proving Ground, and with only two gravel roads leading in. Maps do not convey how interesting an area the Kofa really is.
As we entered the Refuge, we stopped at a information kiosk and picked up a copy of the Refuge regulations. Established in 1939, it encompasses 665,400 acres and is home to the endangered desert bighorn sheep and desert tortoise. The paper further stated that refuge managers and volunteers have "improved existing water holes and created new ones in an attempt to increase the availability and reliability of water". This has apparently resulted in an unusually stable population of bighorn sheep, which can now be transplanted throughout its range.
Numerous mines dot the Refuge. One of the most profitable was the King of Arizona mine. It is the reason for the name of the Refuge (K OF A) as well as one of the two mountain ranges which separate the refuge into three areas. The Kofas are the northernmost mountains, separated from the southern Dome Mountains by King Valley. We were headed into the Dome Mts.
A narrow paved road left highway 95 about 30 miles north of Yuma. We followed it until it seemed to make a sharp right turn, into a closed military installation. We pulled over to examine our map more closely, and, almost immediately, a security guard drove out from the base and quickly approached the jeep. He was nice enough, and directed us on our way, which did not include entering the installation. But we had to note how quickly he had materialized, and wondered just what was going on behind those locked gates. Were we being watched?
The road turned from pavement to gravel, still fairly well maintained, and we headed out into the Refuge. We had noticed signs for the Castle Dome City Mines and Museum as we drove along, and, as we came around a bend, we saw it -- not exactly a museum, but a small city. Ten or more small buildings, set in the desert landscaping, and looking right out of the late 1800s. Above them rose the rock formation giving this particular area its name, Castle Dome, a rounded outcropping of rock on the tip of the highest peak. I almost expected to hear dancehall music or the sounds of a gunfight. Instead, all was quiet except for the wind through the sagebrush and cactus.
We drove down the small road to the museum door, paid our entrance fees, and were transported into the private world of Allen and Stephanie Armstrong. They have recreated Silver Galena Mining Ghost town of 1862. Some of the buildings were still standing out in the desert, needing only to be moved. Others have been reconstructed using materials from the buildings that had collapsed. Many of the artifacts were found buried in the desert. No one seemed interested in them, and the Armstrongs have collected them and moved them into their museum. The project is now 5 years old, growing each year. We walked through the mercantile store with its attached dentist office, saw Carmelita's Cantina, Adam's Cabin, and a reconstructed Stone Cabin. Each building is filled with vintage furniture. Old bottles line the shelves behind the bar in the cantina, Adam's cabin contains a miner's bed, clothing hung on nails from the walls, plates on the old table, and a rickety chair. In each cabin there are carefully prepared statements about what might have happened in the lives of the people who lived here. In the "Stone" cabin, a woman named Flora Yarber lived, alone, until well into her 90s. She had no neighbors for 20 miles in any direction and drove south to Yuma or north to Quartzsite for groceries, mail or for medical assistance. Her cabin contained a neatly made bed with period quilt upon it. In a corner, hung from a wire, were several dresses and a coat. A small purse was on the nearby dresser, along with several pictures of Flora and her sister Bobbi. On the wall were several old newspaper clippings about this unusual woman. It seemed as if she had just stepped out for a short while, and if I waited, she would return at any time.
We spent a couple of hours walking through this living museum, and then went out into the nearby desert to find our cache. All around us were the holes of long ago mines, some with their entrances blocked off, others with them quite open, ready traps for someone or something to fall into. And there are still artifacts out there, parts of unknown (to me) machinery, pieces of old crockery. All waiting for the Armstrongs or anyone to find, recognize and move them.
From the map it appeared the gravel road would have taken us into King Valley, where the next cache awaited. But having no source of information on the condition of what was likely a 4WD road we retraced our steps back to Highway 95, and drove north 20 miles to the entrance to King Valley. We had the GPS unit set with the proper coordinates for this cache, and Tom's laptop map had located where we were vis-a-vis where the cache was waiting. That is, everything was ready to go until, without warning, the computer screen went dark, and nothing we could do would fix the problem. Our foolproof set-up was suddenly not quite so fool-proof.
We needed to find a narrow 4 WD trail cutting south of the King Valley road. Trouble was, there were several of them. We chose one which looked promising, and started off. It was a twisted, rocky road, but as we drove along we saw that at least 2 camper-type RVs had found their way in and set up camps in scenic sites in the rocks. We bounced along, and came to the end of the road, where there was an area large enough to turn around. A few feet away two informative signs said this area was called "Horse Tanks", because of the natural water sources that could be found here. Out along a trail we found two large, natural pools. A small waterfall cascaded into one, and we could see where refuge workers had built a small dam to keep more water available for wildlife. The water was green and murky -- and wet. I'm sure the animals didn't care about its color.
We had to climb up the rocky face of the dam, and cross a meadow before we arrived in the area where the cache was hidden. It was a beautiful spot, green and lush because of recent rainfall. Some of the bushes were starting to bloom and the bees buzzed noisily among them. We would never, ever, have found to this spot on our own, but now that we have, we will make this trip again. Nearby there are other "tanks", with names like Hollow Rock, Black and Chuckwalla. How can we resist visiting these on a future trip? This afternoon, however, the dark clouds forming over the tops of the Dome Mountains suggested rain, so we headed back. The rain didn't materialize, and we were soon back on 95, headed home.
Back to the Imperial Dam and Hidden Valley for the evening. Tomorrow we're off again to El Centro, and back to Emerald Desert for a short stay before the Country Coach Rally in Las Vegas. Then, I guess, it's time to head home. Where has the winter gone?
---