POSTCARDS
---
Stephanie is one of those persons who can fit a lot of words onto a standard size postcard -- usually by writing sideways, around corners, and even upside down if she can find some extra space. Most of these go to family and friends. But some of them -- those which document our RV adventures -- find their way onto this portion of our website.
---
Postcard: Making Lemonade
March 7, 2004
If you happen to purchase your RV from the Guaranty dealership in Junction City, Oregon or Indio, California, you are eligible for membership in the Guaranty Travelers Club. It doesn't matter in the least what sort of RV you get, how large or how new it is. The only criterion for membership, aside from $10.00 per year, is that you bought your rig from this dealership. As a member of the Travelers, you can attend their rallies -- and they put on one heck of a rally. Guaranty rallies are held all over the west coast, from Anacortes, Washington to Palm Desert, California, from Mount Hood, Oregon to Apache Junction, Arizona. This one was held at Canyon Vistas RV Resort in Gold Canyon, a few east of Apache Junction. Whether put on by dealerships or manufacturers, at most rallies you'll find multiple new rigs to wander through, with eager salesmen ready to point out the best features of each. Not so this time. Arizona law states that out of state dealers are unable to offer coaches for sale. Therefore, the only coaches around belonged to the RVers. But Shannon Nill, the dealership owner and his wife Barbara, the club manager, were there, ensuring that we all had a great time. Barbara is an attractive, energetic woman with short dark hair, sparkling eyes and the perfect personality for her job. Nothing seems to faze her, though circumstances at this rally would put her to the test.
Canyon Vistas is a large park by most standards, over 600 sites, although its size would only rank it in the mid range for the mega parks of Phoenix and environs. A greenbelt walkway extends through the middle of the park; I could walk from our rig to the pet area without using any of the streets. It's a very friendly park -- I met one man who is planning on spending his entire winter here next year, just because "the people are so friendly". I met some of the long term RVers at the doggy area, a large enclosed area where the dogs can run free, and found them extremely nice to this outsider. Missy enjoyed romping with their various pets, so I guess those were friendly too.
Because the Phoenix area is home to several major league baseball teams during the spring training season, the obvious theme for this rally was the "Home Run Rally". When we checked in the first afternoon, our "packet", that envelope stuffed with information on the events of the next three days, had affixed a baseball sticker reading, "Guaranty Travelers, Home Run Rally, 2004". We'd attend two baseball games, one between the San Francisco Giants and Chicago Cubs, the other featuring the Anaheim Angels and San Diego Padres. In our packet, we found a comprehensive sheet describing each of these teams, listing those players traded in or out, how the teams had done over a ten year period, and a short synopsis of the teams' chances in the coming year. Another page, detailed, hour by hour, the various events of the next three days, beginning with registration and ending with a final breakfast.
Guaranty feeds its RVers very well. From Wednesday night through Saturday morning, we enjoyed feast after feast. The first night featured baby back ribs followed by lemon merengue pie, the next roast turkey and apple pie, and the final night was a large taco salad, with a caramel flan dessert. That evening was the 5th of March -- and the theme for the evening was "Cinco de Marcho". (It took me a while to realize that, had they celebrated Cinco de Mayo, there would be no RVers present -- the temperatures would be far too warm). Breakfasts were equally sumptuous, with eggs, pancakes, breakfast meats and rolls, and a large fresh fruit platter every morning. You knew in advance what you'd be eating, as a menu for each meal was included in your packet.
The first afternoon, there was a class on CPR. It has been some time since I took this class, and I was surprised to discover how much CPR has changed. The class had the opportunity to use a defibrillator, as well as the usual "recussit-annie" dolls. One man volunteered to be the victim, and another his rescuer, and by the time the "victim" was declared on the road to good health, the whole class was laughing hysterically. Fun, as well as very informative.
That evening, "happy time" drinks were served in souvenier baseball glasses -- ten ounce plastic tumblers with "Guaranty Travelers" on one side, and what appeared to be a three-dimensional half baseball embedded in the bottom. Small packages of Cracker Jacks, bubble gum, and plastic baseballs filled with candy were the party favors scattered along each of the tables. Perfect for sending home to the grandkids.
A morning walk was planned for each morning, a good idea after the amount of dinner the average RVer can put away. But Mother Nature had a different plan. Think it never rains in southern Arizona? Think again. In a 24 hour period, Apache Junction got almost 3" of rain. Often punctuated with flashes of lightening, it came down in sheets, turning the desert floor into a muddy mess, stranding cars in newly created lakes at intersections and in the dips of many of the city roads, turning the park greenbelt walkways into canals, and raising havoc with some of the rally plans. Along with the rain, the temperature dropped a good 20 degrees below normal. Out came the rain gear and sweatshirts, into the closet went the shorts and t-shirts. No walking in this weather. How about the game?
When we signed up for the rally, Tom and I told Guaranty that we would not be attending the first baseball game, we'd be spending the day at our wintertime dentist in Tucson. " You're doing what?" and, "If I had the choice between a baseball game and a trip to the dentist, I know which I'd choose," were some of the comments that came our way when we arrived at the rally. But it turned out fine for us, the rain slackened as we drove south to Tucson, and was gone by the time we got back.
On our return, I was surprised to find the baseball-goers hadn't gone to the game either. It wasn't rained out, but the bus was over an hour late, forcing Guaranty to cancel the trip. But if the weather, and the bus company, had handed Barbara a lemon, she knew just how to make lemonade. The RVers watched the game and its shivering onlookers on the big screen TV from the warmth of the Canyon Vista clubhouse, ate hot dogs, and munched popcorn -- just the fare you'd expect at a ball park. Then they played games. When I arrived, the finals of the bean bag toss were going on, and no one seemed at all upset that they had missed the excitement of sitting in the cold watching the game.
Once you have baseball, can apple pie be far behind? This evening was the judging of the apple pie contest. About 10 contestants had actually baked pies in the ovens of their rig, and a few lucky judges got extra tastes, testing each one for flavor, crust texture, all the things on which pies are judged. Apple pie for all this evening.
The next day was the Angels v. Padres game. Notwithstanding the forecast for an end to the rain and cold, and improving weather as the day went on, we couldn't resist dressing quite warmly. Everyone wore long pants, and many had added sweaters and heavy jackets. Only Barbara wore shorts. Only Barbara didn't suffer from the heat as the day wore on. We just weren't used to normal Arizona weather. And it's supposed to get warmer. Where we have been experiencing unusually cool weather, now we're due for some unusually warm days. Spring in the desert.
I'm not a big baseball fan, but this game was fun. It was held at the Angels' home park, and each fan got a large red T-shirt with a black logo saying "Angels 2003, celebrating 3,000,000 fans." (A good way to get rid of last year's merchandise, and what fun to get one!) Then we were handed a package containing two of the inflatable "sticks" you see at sports events. You're supposed to blow them up and wave them to cheer on your team. (Ours are joining the Cracker Jacks en route to grandkids in Yakima). The heavily favored Angels won, but only by one run, 8 - 7. Between the two teams there were 28 hits, only one error, one home run, numerous steals; all the stuff that makes an exciting game. One of the buses would leave at the end of the 7th inning, the other when the game was done. We were having much too good a time to think of leaving early.
It seemed a very short rally, no time at all until we were eating our last breakfast, and preparing to leave. We'll spend a few days in the Tucson area, and plan to look in on the Country Coach rally there, although we won't be attending this time. Then we'll start heading north -- but not slowly -- this time, it's more like "the horse for the barn". We have some exciting options heading our way in the next several months. This could be a very interesting year....
---
Postcard: Re-learning the Routine
February 27, 2004
We are very accustomed to traveling by motorhome -- even more accustomed, it seems, than we realized. That fact became obvious on our first night heading back north to Yakima. We decided that, since we'd be driving the jeep, going the safe and boring route was out. This time, we wouldn't just head up I-5, through the San Joaquin and Sacramento valleys, and slog our way through soggy wintertime Oregon. This time, we'd be braver. This time, we'd go up 395, along the eastern slopes of the Sierra Nevada. So what if its winter? So what if there's snow? We're snow proof in the jeep. It might take a bit longer, but we had plenty of time.
But we had forgotten two very important facts. As we neared Kramer Junction, where we'd turn to go north on 395, we were astounded by the number of cars streaming north -- most with skiis and snowboards. Oops, we'd forgotten President's Day weekend. The near record amount of snow in the Sierra would bring out just about every skier and snowboarder in the Greater Los Angeles and Bakersfield areas. We'd also not realized that we couldn't count on a friendly RV park as a place to stay, we'd be competing with the motel crowd. We'd be lucky to find anyplace to stay. Prudence dictated the boring I-5 route.
When you don't travel by RV, the only practical option is motels. I know several couples who don't understand RVing --they cannot understand why we don't enjoy staying in a different motel every night. This trip, I felt something like Goldilocks. She tried the bears' beds and found one too hard, one too soft and one just right. We found one motel bed that was too small, one where the sheets didn't reach the bottom of the mattress, and one where the pillows were small, hard and flat. The bed that was just right we'd left back in the rig.
When you don't travel by RV, you need to eat out. That's fine with me as a special treat, but it quickly loses its allure when it's my only choice. We undoubtedly ingested far more fat than was good for us on our trips to and from Yakima. But enough soapbox. The trip north was uneventful, with the weather being just as we expected, windy, wet and sloppy for the most part, but no trouble for the jeep, and we started our Yakima sojourn in great spirits.
Looking back on the years when we were raising children, organizing a household routine didn't seem like such a big deal. Our two were both very active in the AAU swimming program, starting young and swimming through high school. I was quite accustomed to getting them to practices and swim meets, which latter seemed to occur nearly every weekend in season. So taking care of two grandkids, one very active in sports, the other still too young, should be no problem either. Right? Well, almost.
Write it off to age, but it's harder when you're a grandparent. The kids are active, morning, noon and night. Their schedule, which wouldn't have fazed me in the slightest 35 years ago, seemed a bit more arduous now. But we did relearn the routine. I'd get up around 6:30, so I could have about 15 minutes to look at the morning papers. (There are two, from Seattle and Yakima, a real treat for an Islander. At home, if you want today's paper, you have to drive to town to get it. The papers come on the first ferry of the day, which arrives around 8 AM. We learned early on to check the date on the paper before buying it.) Next, I'd check to see everyone was up and functioning by 7:30. (More Grandma-ing than necessary, as Ty is very conscientious about setting his alarm.) Breakfast by 8, I'd make a sandwich for Ty, then Grandpa would take him to school, and I'd tackle the Calleigh hair issue. She has baby fine hair and gets the most horrendous tangles. By the time the week was over, we'd settled on a compromise -- she brushed her own hair. Then I'd take her to her school.
We were then done until 3 pm. We spent our days enjoying the Yakima health club, and, busman's holiday though it was, touring the Chinook and Western RV factories. Ty's school ends at 3, but he likes to play after, so I'd pick him up between 3:29 and 3:30. After that a program that didn't exist when my children were small -- Latchkey -- starts. Ty wanted time to play, but doesn't much care for Latchkey.
Everyone home, now it's time for sports. Ty is finishing his basketball season, and has practices twice a week, with a game on Saturday. In two weeks, he'll add soccer and baseball to this ambitious schedule. Calleigh has swim lessons. Dinner, baths, bed and do it again tomorrow. Whew.
Each day got easier and easier. We learned about our grandchildren, their likes and dislikes, and they learned about their grandparents, when we'd give in and when we would not. As grandparents, we could do a bit of spoiling. When Calleigh would tell me, "I always do it," no matter what "it" was, I might choose to agree and avoid any argument. Thus, she wore a pretty party dress, with thin tights and black shoes to school one morning. Out of consideration for the teachers, I drew the line at letting her wear her patent leather tap shoes with the dress. And she seemed to know that she'd gone too far, and gave in on the shoes. Bedtime was another deal -- I was certain she didn't "always" stay up as long as Ty. She adores her brother, whatever he has, eats or does, she wants to have, eat or do -- to the point where he's growing a bit tired of it.
Birthday parties have changed over the years. When our kids were small, we had parties at home, with cake and games; today's kids have parties out. Ty was invited to two birthday parties the weekend we were there, both on the same day, virtually at the same time. He went to the one at the bowling alley, where three lanes had been reserved for a two hour period. The kids had a fabulous time, the cake was cupcakes to be eaten between turns on the alley, and the presents didn't even get opened. The only fly in the ointment was that Calleigh couldn't understand why she hadn't been included, because, of course, " I always go". And she might have been right this time. When I took her with me to get Ty, a small birthday favor was waiting for her.
It seemed no time at all until the morning when "Mom and Dad" would be coming home. Even though they had sent emails and digital pictures from their Hawaii vacation, and we had responded in kind, no one gives a hug like Mom & Dad. We left Yakima with Calleigh holding onto her mother's hand and Ty getting ready to shoot a few hoops with his Dad. Tom & I had a "high five" between us for a most successful 10 day stint in Yakima. Now we were looking forward to a swift trip home -- back to our rig, our bed and our routine. We'll pick up the coach in Yuma and head east to the Guaranty RV rally at Canyon Vista RV Resort, just east of Apache Junction. Then we're on the road again for a few weeks, until the warmth of the southwestern sun sends us north again.
---
Postcard: What a Difference a Year Makes
February 17, 2004
Where will "they" get the people to fill all the new homes being built in Arizona? Newspaper articles trumpet that 2003 was the best building year ever, and make promises that 2004 will be even better. Everywhere you go there is new construction. Where once the vistas were of a pristine desert naturally graced with Saguaro cactus and cholla, now all you see are houses in various stages of construction. When you get out of town, past the houses, all you see is more desert acres, bulldozed to a fare-thee-well, just waiting more building. Not just around Phoenix, either. To the south, the town of Casa Grande is experiencing this "boom". Last year, Missy loved walking in the cotton fields just across the street from the Fiesta Grande RV Resort. At this time of year the cotton has been harvested, but enough vegetation remains to ensure she'd scare up at least one rabbit. This year that acreage is filled with empty gray adobe condominiums. Having cut down the native plants, the developers are faced with a problem -- how to make this area look natural again. So what do they plant? Saguaro cacti.
As we've watched this phenomenon of "suburban sprawl" not so slowly filling up the remaining vacant Arizona desert, we've wondered how this dry land can support a seemingly endless boom in new home construction. For starters, don't they all need a stable water source for the future? During this particular visit we saw several articles in the local newspapers beginning to identify precisely this issue. The area's water supply is reasonably assured -- but only for a few years into the future. The media makes no mention that this might be related to the extraordinary spread of new housing developments -- a trend that can only accelerate the time when the water issue will become critical. In time this may all be seen as a classic case of "not connecting the dots".
We have carefully considered our calendars as we wend our way west. We want to arrive in Seattle in time to get the grandkids, but we don't want to arrive too soon. So we found we'd have time for couple of days in Ajo on the trek west. This would give us an opportunity to make a day trip to Mexico, to Puerto Penasco -- known to Americans as Rocky Point.
I was delighted to find that Ajo is bucking the trend. No new condominiums are being built here. No one has flattened acres of desert in order to replant them with exactly the same plants they dug up. Ajo is centered in one of the most beautiful parts of the Arizona desert. Somehow, it always seems a little greener around Ajo, and the cacti just a little more lush. This is the northern limit for the Organ Pipe cactus, but instead of just a few plants, these relatively rare cacti can be seen everywhere.
We always stay at Shadow Ridge RV resort when we're here, and usually don't bother getting a reservation. In addition to several private campgrounds, this is a popular dry camping area. Many RVers just drive out into the desert, find a secluded area, and set up. This time, however we called ahead. A good idea, too, as this was one of the rendezvous points for a large contingent of Winnebago and Itascas -- all headed out in caravans to Rocky Point.
It was early afternoon when we pulled in, and we had the afternoon to take one of our favorite desert drives -- the Ajo "Scenic Loop" trail. This 10 mile road leads out around A (as in Ajo) Mountain, and takes you through some spectacular desert scenery. Saguaro, Organ Pipe, Hedgehog and Beavertail cacti compete with the omnipresent (watch your dog) cholla and creosote bushes. Green limbed Palo Verde and Limberbush (aka elephant tree) adorn the washes. (On our travels, we've noted that seemingly identical desert plants have different names in different places. Thus, the Arizona Limberbush is the Baja California elephant tree. The sole difference is in the name, as far as I can see). As we drove along, we saw dozens of RVs dry camped here, snuggled in special desert places, and 4 hardy souls exploring an unnamed Pioneer Cemetery.
We'd saved the next day for our trip to Rocky Point. We've been coming down for quite a few years now, and we remember when the road was narrow and pullouts were many and necessary. We lived and drove through the construction period, as the road was widened and shoulders were added. Now it's a better road than its US counterpart. Indeed, the last few miles of US 85 in Arizona are currently under construction, with several areas where you can expect delays of up to 1/2 hour.
Crossing the border at Sonoyita is very easy, especially when contrasted with areas like Tijuana. We drove across the border, the smiling guards looked in through the windows and waved us along. Virtually all of those RVs crossing here are only headed for Rocky Point, 65 miles away, not far enough into Mexico to require anything more than Mexican insurance and have little or no problem with the crossing. The road to Puerto Penasco is well signed, first taking you through Sonoyita and then wending southwest toward the coast. The town, like most Mexican towns, has lots of traffic, stop signs only visible at the sides of the roads, and a road bumpy and rutted enough to require cautious driving. Once you leave Sonoyita, however, the road surface is as good or better than many US roads (and certainly US85 this season).
This morning the desert seemed greener than it often does, with desert wildflowers just beginning to bloom. We saw yellow brittlebush, white desert primroses and purple desert verbena. The long dusty green strands of apricot mallow were just hinting at the orange that would soon come. Picture these scattered among the saguaro, cholla and palo verde -- a veritable desert Eden.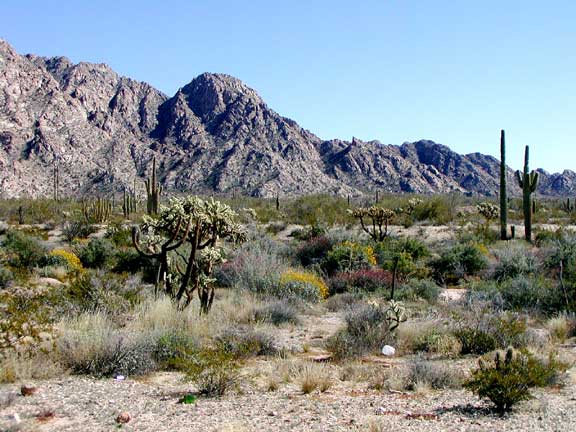 We hadn't been to Rocky Point in a couple of years and were amazed at the difference those years have made. As we approached the city, we saw several new RV parks -- constructed far enough from the ocean beaches to still be awaiting customers. Next came signs to a new luxury hotel, the Laguna del Mar. A billboard boasted the "exclusive resort lifestyle", with a Jack Nicklaus Signature golf course, oceanfront and lagoon lots, semi-custom homes and condos. Another billboard touted Las Palomas, an equally luxurious sounding, golf oriented, condo and townhouse community, set just a few miles south on Sandy Beach. Shades of Cabo San Lucas!
Further into the city, we came across the Rocky Point we used to know. We drove out to the Playa Bonita RV Resort, perhaps the place we would choose to stay if we brought our rig here. It's located right on the water, and its owners have always seemed to pride themselves on being able to jam more RVs into their park than any other, (though others surely give them a run for their money). Big rigs and small, some in sites so narrow that a slide is barely possible, and an awning is out of the question. Rows set so close together that you wonder how anyone could maneuever into or out of the sites. And hundreds of RVers having a wonderful time. The atmosphere is positively infectious.
We stopped at the hotel Plaza Las Glorias, brand new just a couple of years ago, now showing surprising signs of wear -- not uncommon to the construction methods often noted here. I walked into an adjoining Coldwell Banker real estate office to get a map of this largely changed town. Nothing Mexican about this place; I might have well have been in a similar office somewhere in the States. Kim West, a gal who had just relocated from Phoenix, gave me a copy of the Rocky Point Times, and a guide to Rocky Point restaurants, with a locator map of the city. But from here we already had decided where we'd be going. Lunch at La Cuerva, and then off to get our dinner -- shrimp from one of the vendors in the old town fish market.
Rocky Point restaurants range from street vendor fare to gourmet restaurants where you can dine overlooking the water. La Cuerva is neither of these; its located in a quiet section of town, well inland from the waterfront. But it has fabulous food, and is a favorite with locals. Just after we arrived, who should appear but our new friend from Coldwell Banker. She was here for a business lunch, but we had a bit more time to chat before the others arrived.
The fish market hasn't changed a bit. The vendors still try to outdo each other in having the freshest fish or shrimp, and of course at the "best" prices. We came home with a dozen colossal shrimp and a bunch of asparagus. Several years ago, we also bought some limones, the small delicious limes found in many Mexican drinks, only to have them confiscated at the border. This time, we'd pass on the limones.
We got back to America in the early afternoon, with time to revisit another of our old haunts, Organ Pipe Cactus National Monument. For a time one of our favorite camping places, the Monument has had some difficulties recently -- its self imposed, stringent 36 foot length restriction and, something the Monument cannot control, the situation on the Mexican border.
If you want to camp at Organ Pipe, be aware that if you're driving a large motorhome you will be measured. Their length limit is 35 feet (plus any inches that don't get you to 36 feet). Be any fraction over 36 feet, and you will be denied admittance. The Monument is afraid that anything of this size or larger would not be able to enter or exit the camping sites without damaging the vegetation. We could understand this restriction if it were imposed evenly. But while a motorhome is measured from its front bumper to its rear, the towing vehicle of a 5th wheel or trailer is not measured at all. Therefore, a 35 foot 5th wheel, towed by a 1 ton truck, measuring in total about 50 feet, would not be turned away. Also ignored is the fact that a 5th wheel or trailer of this length cannot turn anywhere near as tightly as a motorhome.
Organ Pipe could adjust this restriction if it so desired. It cannot alter the realities of undocumented alien border crossings. This portion of the US/Mexican border is extremely porous, with illegal immigrants using the hiking trails that have existed here for centuries. This situation has become so serious that the Monument now includes a brochure on the problem tucked into its handout description of the sights of the area. The brochure states, in part, that "over 200,000 migrants passed through the Monument in 2001, and while the average camper will not see them, he will see evidence that they have been here. The camper will see empty water jugs, garbage with Spanish labels, discarded clothing, tracks from off-road use or abandoned vehicles". Certain areas of the Monument should be avoided, and advice from a ranger sought before hiking or camping in the backcountry. A fence is being constructed along the southern boundary of the Monument, but no one is hopeful that this will be much of a deterrent to desperate migrants. Not surprisingly, an area where once sites were highly prized, now doesn't fill at night. What a sad predicament for such a beautiful desert Monument.
Back to Ajo and a dinner of garlic shrimp on the grill. Tomorrow, we're off for a night at Hidden Shores RV Resort near the Yuma Proving Grounds. There we'll store the rig and head north to see the grandkids. After 10 days in a Yakima winter, we know we'll be looking forward to getting back to warmer climes.
---
Postcard: Sampling the Snowbird Life
February 8, 2004
Tom's records show we have been gone for 106 days on this trip, (excluding the short time spent at home in December). By this time in an average year, we would have put a lot of miles on our rig and toad; this year our plans include a mid February baby sitting stint at our daughter's home in Yakima, WA. We'll store the coach and drive home in the jeep, take care of Ty and Calleigh for a week, and drive back to the sun. We're trying to stay as warm as we can as close to Yakima as we can, so we've spent more time in Arizona than usual. This time we're 'snow-birding" it, actually staying in one spot for longer than our usual 2-3 days.
We left Meridian Resort and headed back to Usery Mountain park for almost a week. We were lucky enough to get a back in a very attractive back-in site, (the pull throughs are fairly close to the road for a rig with slides). Our little piece of desert was bounded in back by a sandy wash with a conveniently located mesquite tree. A perfect place for our bird feeder. I put it up and the finches and sparrows found it within hours. Each morning, we were greeted by those greedy birds fighting over who would have the best place on the feeder, and doves and quail populated the ground below to catch all that came their way. A couple of inquisitive curve-billed thrashers kept trying the feeder -- they must have been wondering what all those others could find so delicious. The Northern Flickers weren't so interested; a couple of them had found another way to get our attention. The first morning, we were awakened by a drum roll -- the noise of one flicker beak rat-a-tat-tatting on the built-in metal barbeque next door . Not to be outdone, another flicker devised a novel way to awaken us. He chose our metal TV antenna as his stage. The noise came right down the antenna stem, and it sounded like he was in our bedroom. By the time Tom rolled the antenna down, the bird was gone, and we were thoroughly awake. No alarm clock made could provide such a startling end to a good night's sleep.
The evening before we left, I put the rest of the seed on the ground for the early risers, and found that the earliest risers were 3 coyotes, busily supplementing their diets with sunflower seed! Perhaps because of the drought (the Phoenix area is in its 7th year), perhaps because of the incessant building that's going on, coyotes are much more visible that we remember from years past. We knew of the dangers to small dogs, and had heard the story of one dog grabbed by a bold coyote while the owner watched helplessly, but Missy? Missy tops the scale at close to 50 pounds, much more than a coyote. But when they roam in packs it can be a different story, and we were warned to keep her on her leash, under our watchful eyes, and in the rig at night.
We spent 5 restful days at Usery, riding our bikes around the park, and taking several of the hikes in the area. I got to know some of the other "snowbird" campers; the man with the Weimaraner, the couple from Minnesota who were staying there while visiting their son. These last had been in the park far longer than the allotted two weeks, which is allowed until the park begins to fill each day. Now they'd have to leave.
After Usery, back we went to Meridian, to wireless Internet connections, a swimming pool and weight room. Here the Snowbirds live quite a different life. Each morning, you'll find a group of men, (I never saw a woman), sitting in the clubhouse with coffee and doughnuts. I felt a bit like I was interrupting when I came in for a cup. At about 8:30, the pool fills with women, (I never saw a man), for the thrice-weekly water aerobics classes. There are two back to back sessions, and some gals stay for both. There's an early morning contingent filling the weight room, and the computer room, complete with a whole bank of park-furnished DSL connected PCs, is always full. Dominoes and card games fill many of the evenings, and there's always a jigsaw puzzle if you're so inclined. (I'm an addict.)
Snowbirds love their food, especially so if it's free... Meridian hosts a Friday evening get together and potluck, and on alternate Saturdays there's a highly popular free breakfast served by the park staff. Other planned activities include trips to Algodones, Mexico, the well known town where Snowbirds can visit a dentist or doctor and get their prescriptions filled, or Puerto Penasco (Rocky Point), the fishing city some 100 miles south of Gila Bend.
Tom and I have been taking Missy for early morning walks in the mountains just north of Mesa. We drive straight north about 3 miles to the top of Meridian street to a small pullout area. Here there are several gates leading into the desert. On our first expedition, a geocaching trip, we saw only one other person, a mountain biker who was tackling the steep and rocky terrain. (The trail eventually became so steep, narrow and rocky that he was forced to leave his bicycle behind.) After that hike, however, we began to meet other hikers -- whole hiking clubs come here on their weekly outings. This is the free entrance. If you enter through the main Usery entrance, the fee is $2. (Snowbirds are nothing if not frugal.) A 7 mile trail leads around Usery mountain, passes close to the developed campground at the halfway mark, and circles back to your starting point. The City of Mesa will soon need to enlarge this parking area, -- it's been absolutely crammed with cars on several occasions. Hikers like strings of ants traverse the hillside trails.
Snowbirds come to Arizona (and Florida and anyplace warm), because they are trying to stay away from the cold and snowy weather of home. They have had enough experience with winter driving that when the newspapers and TV trumpet, "snow in the mountains", they retreat to the comfort of a warm pool and spa. Not so with the Arizona locals. Snow is such a novelty here that it gets front page coverage. The Mesa paper recently showed the picture of a child making a snow angel in the hills near Flagstaff. She was having a wonderful time; unfortunately, where she had moved her legs and arms to make the angel skirt and wings, the bare ground showed through the barely 2 inch snowfall.
One morning, we drove north from Mesa 80 miles to Payson, one of our favorite day trips when we're staying in the greater Phoenix area. As we drove north, we noticed a snow frosting on the red Arizona rocks, making them even more beautiful. As we came into Payson, altitude 5000', it started to snow hard, big fat flakes covering the ground. We took a couple of geocaching hikes in the area -- the wet snow, coupled with the red Arizona dirt under it, combined for a very slippery walk. At one point, I stood on the side of a small hill, sliding slowly sideways. There was nothing I could do to halt the slide until I finally reached the bottom. Tom noted that his shoes had become very heavy. Not surprising, as he had picked up about 5 pounds of thick, sticky mud on each.
As we crested one of the small summits on our way back to Phoenix, we were surprised to see that the formerly dry pavement had picked up about 2" of this snow. The once 4 lane highway had shrunk to one narrow lane in each direction. One 18 wheeler appeared to be putting on chains. (I hope he thought better of this, as he was within 1/4 mile of bare pavement, just over the crest of the hill.) One small truck had slid into the ditch at the side of the road, and a couple of police cars were there to give assistance. As we drove on, we saw what might be Phoenix' only snow plow, blade at the ready, steaming up the hill. We drove on, and within a mile, the snow was gone, the road was bare and dry again, and we were back in the sunny Arizona we'd left.
Today we start our journey west toward Yuma and Hidden Shores RV park, the place we picked to store our rig. Then we'll head north to see the grandkids, and get our taste of a real Eastern Washington winter. We're looking forward to being grandparents for a week, but we'll surely get enough cold weather in 10 days to make us glad to get back to the sun. Our sampling of the Snowbird life for the past couple of weeks has been interesting and fun. However when we return I'm confident we'll go back to our usual mode of travel, with its emphasis on exploring new places. We've just not yet learned how to "stay put"!
---
Postcard: Back to Besh -- Another Piece of the Puzzle
January 24, 2004
Where to stay in Phoenix? Our preference was for the campground at Usery Mountain Recreation Area, but our memories told us that it would be hard to find a spot at this popular place at this time of year. Most of the RV parks in Mesa and Apache Junctions, two cities -- two extensions of Phoenix itself, are huge mega-complexes of RV sites and park models. We don't particularly care for parks of that size, parks where you have to follow complex directions just to find your way home -- often between two imposing park models. I found an old pamphlet for Maricopa County parks, and phoned Usery Mountain. "If you came in right now," I was told, "you could practically have your choice of sites." Great new for us, but I did wonder where all the winter RVers were.
If you relied exclusively on Trailer Life to choose your campsites, you'd probably never pick Usery Mountain. The book describes the site dimensions thus: " Pull-thrus (25 x 50), Back-ins (20 x 40). Recreation -- playground." It neglects to state that behind each site is a large area complete with concrete picnic table, a stand up barbeque and a metal fire ring with grate. It ignores the fact that there are as many as 30 to 50 yards between sites, areas of lush, undeveloped desert. No mention is given of the hiking and riding trails or the many small picnic areas that can be found throughout the area. At night, you can watch the sun set behind the mesas, and see the twinkling lights of the cities appear. While you're only a few miles from the metropolis that is Greater Phoenix, the night noises will be of an occasional owl or coyote, not the roar of freeway traffic.
We noticed two welcome changes at Usery this year. Each site has electric and water, but there's only one central dump station. On our last visit, there was a hefty charge to empty your holding tanks, but we were happy to see this charge has been waived. And, now they have a modem hookup. Granted it is only one outlet connected to the single park pay phone, and in the sunlight you'll have difficulty seeing your screen. But at least it's there.
We spent three nights at Usery, and then decided to try a different kind of park, one of the city variety. Tom had been in email contact with the owner, and the brand new Meridian RV Resort sounded intriguing. Here was a more modest sized park that welcomes RVs -- but not park models! We'd forego the desert scenery and large sites for smaller, plainer ones; and in exchange, get the amenities of a beautiful clubhouse, complete with a game rooms, exercise facilities, swimming pool and spa, and free wireless access. We'd also get the instant friendship of Dwight and Liz Lear, owners of the resort, and of managers Dick and Jane, (remember your first grade readers?). A special treat was finding one of our own volunteer online advisors at the park. We'd enjoy this park's much prized Saturday morning brunch. Eggs, bacon, sausage, and pancakes are provided by the park staff, and the RVers contribute fruit and sweet rolls, etc. There was plenty of food for the 100+ RVers this morning, but little left over. RVers are famous for their appetites -- especially so when the food is free...
As we checked into the resort, I noticed a small pamphlet in a nearby rack. On its front, in large orange letters, were the words "Besh-Ba-Gowah Ruins and Museum". Smaller letters continued: "Journey into the ancient past of Arizona. Discover what life was like more than 600 years ago." I remembered Besh -- we'd visited there in 1996. At that time, there were plans to excavate and open an additional pueblo ruin nearby. Perhaps we could visit that one as well. Meridian RV Resort would be a perfect jump off for a return visit.
Besh-Ba-Gowah is located in Globe, AZ, about 60 miles east of Apache Junction. This is mining country. The period between 1870 and 1920 saw a "rush" as thousands of fortune seekers came looking for gold, silver and copper. Today Phelps Dodge conducts open pit mining operations in this area. We passed two huge mines as we approached Globe and its "twin" town, Miami. (The two are so closely connected that the Chamber of Commerce names them as one -- "Globe Miami"). Barely a mile from the town center, and after only one wrong turn, we found the pueblo we were looking for.
The name "Besh-Ba-Gowah" is from the Apache word meaning "place of metal", an apt name for a village in the middle of a large mining area. Besh is an archeological park, containing the partially restored rooms of a 700 year old pueblo. It's believed that the earliest inhabitants of the site were the Hohokam, who lived here for approximately 200 years, deserting the area in 1100 A.D. The Salado Indians arrived in about 1225 A.D. and lived here for almost another 200 years. They were great potters, and their distinctive red, black and white pottery is found from northern Arizona and New Mexico to Sonora and Chichuahua in northern Mexico. But after farming peacefully for that time, something unknown happened and they mysteriously disappeared, deserting their villages almost overnight. One theory concerning this disappearance holds that climactic changes brought about a great drought. Shortage of water led to warfare over the food shortage that followed. Many Salado perished and the rest left the area. It would remain empty for another 400 years, when the Apache arrived.
You can walk through the grounds and see the outlines of many of the rooms of this site, partially restored to represent their original design. One building has been returned to its original two story shape. Here a ladder will take you to the second floor, where you can look out over the rest of the ruin. It's easy to imagine this complex filled with the activities of a community of more than 300 persons.
I'd think that Besh-Ba-Gowah would be quite out of the way for the average winter traveler, but the small visitor center was crowded with people buying gifts and postcards. There were a dozen or so others watching a film depicting the lives of the Salado, and how these ruins were re-discovered in the 1920s.
Outside the center was a map of the area, showing the 2 other pueblos dating from the same era as Besh. One, the Pinal Pueblo, was supposed to have been partially excavated and ready for visitors by now, but is still off limits and underground, awaiting the archeologists of a future generation. Gila Pueblo is a completely different story.
Gila Pueblo now lies partially under the Gila Pueblo Campus of Eastern Arizona college. The school is literally built right on the prehistoric foundations of the village. But it doesn't cover all the ruins. If you walk around the outside of the buildings, you will notice the incompletely excavated remains of several pueblo rooms. Two such areas now contain small table and benches. Imagine studying Arizona history or cramming for an archaeology final while sitting at a table in a room in the Gila Pueblo. How could you get anything other than "A".
Gila Pueblo is a fascinating adjunct to Besh. It gets only a trickle of visitors, and the college administrators are delighted to show you around their 600-student campus. When we arrived, a student asked if we would like to tour the grounds, and went to get us an interpretive pamphlet. As we walked along, a woman came out of one of the offices and asked if we would like any help. She told us all about the college and the ruins lying under and around it.
The pamphlet detailed the story of the finding and reconstruction of the Gila Pueblo. In the late 1920s, Harold Gladwin bought the land on which it was situated. One of the property's prior owners had done some amateur excavating, and had "wired skeletons together, dressing them in hats, overalls and gingham dresses". These were displayed in a miniature museum -- admission price 10 cents. A long way from the meticulous archeological excavations of today!
As we walked around the college, looking at the unreconstructed ruins surrounding it, our attention was drawn to one small sign. Similar signs had described the possible uses of some rooms, others told of the flora of the area. This one told a graphic story of the destiny of the inhabitants of Gila Pueblo. In one huge surprise raid, most of the inhabitants had been clubbed to death and left lying on the rooftops. The children were carried off, and the whole village set on fire. The sign went on to conclude that the only people strong enough, near enough, and numerous enough to have successfully carried out this raid were their near neighbors -- the people of Besh-Ba-Gowah. An indication of what happened to the Salado, those who weren't killed or captured by their neighbors must have found it to dangerous to remain in the area.
We'll enjoy the amenities at Meridian RV Resort for another day or so, waiting out "winter". Desert winter means rain and cool (around 60 degrees) temperatures. The TV weather pundits are forecasting snow in the mountains -- but only a few inches. In another day all should return to normal, and we'll be off to -- somewhere....
---
Postcard: Lucky Layover/Desert Gems
January 17, 2004
We spent three restful days in Palm Desert at Emerald Desert RV resort, restocking the coach, riding our bicycles around the many sites, and being lazy lap lizards in the sun near the pool. We were in no hurry to leave, in fact, we had attempted to prolong our stay a day. But it seemed our site was reserved for someone else, and the gal behind the front desk made no attempt to convince us to occupy another. It was almost 11 AM when we pulled out, completely forgetting that Phoenix is on mountain standard time -- it was nearly noon there.
We needed diesel, and stopped just east of Indio, at our favorite Love's truck stop. Unfortunately, with its sharply lower (comparatively speaking) prices, it's almost everyone else's favorite too. The truck bays were jammed three deep with trucks waiting their turn at the pump. "We probably have enough fuel to make it well into Arizona", said my ever optimistic husband. "Please, let's get just a bit", I argued, "I simply hate driving down the freeway looking at an ever-shrinking supply of fuel." So, off we went next door to the T/A, where there were no lines, and the price was considerably higher. Tom grudgingly added just enough fuel to quiet my calms. Meanwhile, our day was growing ever shorter.
As we drove east, I started thinking about driving through Phoenix just as the evening commute was starting -- not a pretty picture. I suggested a stop along the Colorado River in Blythe, but Tom didn't think we'd come far enough yet. So into Arizona we went, to another fuel stop, a Flying J this time. And with much lower diesel prices in Arizona, this was the "first chance" at better prices for those traveling east, and the last chance before California prices for rigs headed west.
There were two separate sections at this station, one for trucks and rigs like ours which can take the high volume delivery of truck fuel, and another which was designated, "cars and RVs". There was plenty of room at the truck island; however, the price for truck fuel was 7 cents per gallon higher than the price for RV diesel. Of course no RVs wanted to go into the truck bays. Instead, they were content to stop on the two lane access road, waiting for enough space in the RV section for them to make a left turn across traffic and squeeze into line. The incoming truck traffic was forced to remain behind them, because those trucks exiting the station were using the other lane. The resultant mess had a mix of RVs and trucks lined up along the access road, around a bend and down the exit ramp off the freeway. We had been lucky and had managed to get into the station just before this gridlock occurred. It still took us more than a half hour to get our fuel and be on our way. Now we were really going to be late getting through Phoenix.
But, as often happens, these delays were actually a blessing in disguise. With diligent reading of TrailerLife and the "Big Rigs, Best Bets" book, we found an interesting alternative. Brenda, Arizona is about 4 miles from the junction of Interstate 10 and Highway 60, the road to Wickenburg, Prescott and points north. The town is made up of four large RV parks, a couple of convenience stores, and a trading post. I could find no school, churches or fire department. But, and its a big but, it's only 15 miles from Quartzsite.
I imagine every RVer hears about Quartzsite, Arizona, early during the first year on the road. This town, population only a few hundred most of the year, swells to many hundreds of thousands during late January and early February, when the market comes to town. Called by some, "the world's biggest flea market" and by others, "a wonderful place to shop ", Quartzsite has something for everyone. Whether you love it or shy away from it, you'll have heard about it. It is such an event that RV parks for miles around base their winter seasons on it, and you'll be lucky to find a free site within 30 miles while "Quartzsite" is in high gear. Considering that the majority of visitors don't bother with RV parks, but prefer to boondock in the surrounding desert, the fact that the RV parks are full attests to the enormous popularity of this event.
Several years ago (before we had heard of Quartzsite), we attempted to get gas while traveling through this town. We pulled over into the 1 -10 exit lane, only to realize, too late, that we were stuck. We were trapped in a line of cars slowly inching its way off the interstate, across an overpass and into town. We had no choice but to follow. We were getting quite impatient when Tom suggested we pull off in a nearby, seemingly empty lot, detach our toad, turn around in the narrow space it offered, and head east again. We swiftly detached, and he jumped back into our (then) Winnebago, but before he could get back on the street, a man came running up. "How much do you want for your rig?" he asked. We had detached in a lot selling used RVs. We've never been back. But now we would stay in Brenda, just a few miles from the bustle that is wintertime Quartzsite, and plan a drive into town the next day. We'd avoid Phoenix at rush hour, and have the day to see for ourselves just what makes Quartzsite such a popular draw.
We found a space at the Black Rock RV Village, an interesting desert park which prides itself on its long (100') pull throughs, its proximity to BLM desert land, and its cafe and bakery. Each day they have a breakfast buffet, ("please take all you want, please eat all you take"), and each night they have a featured dinner. Wednesday was Italian night. They suggested coming for dinner around 4 or 4:30, as after that it gets terribly crowded. That was a bit too early for our mealtime preferences, but they were certainly right about the crowds, by 5:30 it would have been difficult to find a parking place in front of the cafe.
Three gates give access from this park to the surrounding desert, and the park patrons have made good use of the space. There's an 18 hole, grassless, golf course, with the dirt "greens" marked by flags. The game must not include putting, as there are no cups, and the dirt around the flags is bumpy and rutted. Another, separate, golf area has Astroturf greens for pitch and putt. A rectangular area, covering about an acre, is carefully maintained as an launching spot for radio controlled airplanes. We spent a half hour talking to the "ground crew" and watching the planes soar.
But we had come to visit Quartzsite, and we spent the afternoon exploring the town. As we drove west on the Interstate, we noticed hundreds of RVs camped out in the desert, with more arriving by the minute. The main camping area is located in the BLM 14 day area, where camping is free, but you are requested to register with a camp host before camping. This was the first day of the Quartzsite market, which will continue through the first week of February. Even now there were untold thousands of shoppers packing the tents and booths of town, and RVs were pouring off the interstate -- some, like the 18 wheelers, trying to get fuel, but most were RVs headed into the desert to camp. In town parking was at a premium, with the streets jammed with cars jockeying for space.
Quartzsite is bisected by Interstate 10, and two miles on each side is blanketed with shops. We found a place for the jeep on the north edge of town, and parked in front of a typical flea market shop. I couldn't believe the stuff that was packed in this small area. I saw old bicycles and motorcycles, each badly in need of repair. Bleached cattle skulls adorned the tops of piles of rocks, some polished, others looking like they had been randomly picked from the desert floor. There was one section of old coca cola bottles, and license plates, of pre1950 vintage. Two large metal drawers were full of marbles, assorted according to size. Two ammo belts, (shell casings only) were right next to a selection of rusty tools of unknown use. Topping all this off was one old Christmas stocking, with "Mom" written in gilt on the top. Was this what the rest of Quartzsite was like?
No. On the south side of the Interstate, the offerings were decidedly more upscale. About half of the shops here were selling polished gemstones. One shop had world globes, each country marked by a different, inlaid and polished stone. When I examined the US portion of this globe, each state was inlaid with a different gem. Several of these globes came with magnetic stands which made it appear that the globe was floating, no part of it touching the stand. We stopped at the booth of an opal salesman, and looked at his exquisite gems. He travels the "circuit", moving from Quartzsite to Tucson, and then to several other southwestern cities, following the shows. When it gets too hot in the southwest, he goes back to Australia, to mine more gems for the next year. One woman vendor was packing boxes of stones called desert roses, round toffee colored stones with a white lacy "ribbon" of rock wound around the exterior. She expects to sell these by the box full to buyers from other parts of the country. Many countries were represented here, not just Australia, but also Brazil, Morocco, Italy and Africa, each with prominently placed booths. The stones in the shop from Morocco's contained elaborate fossils. I bought a small green owl from the African store (the attached card said it came from the Congo). The Native American tribes of the Southwest also were showcasing their wares, with Zuni, Navajo and Hopi turquoise jewelry and pueblo pottery for sale.
What else can you buy here? Whatever you want, it's here. RVers needs are well taken care of. Do you want tools? Hammers, pliers, scissors, screw drivers are here by the thousands. You can get rugs and mats for your rig, inside, outside or for the steps. Are barbeques and outdoor fireplaces your desire? Just name the brand. Potted plants, either fake or real. Paintings by the thousands in any size you'd like. Magnetic jewelry, potions and lotions to ease your aches and pains. T-shirts, lounge wear -- I lost track of all the "stuff" you can get in Quartzsite. No wonder people take days and weeks just scoping out the wares. How about a new or used RV? There are several lots to choose among, and there was an RV show in one corner of town.
Hungry? That's taken care of too. With choices ranging from Indian tacos to fennel cakes, from Mexican cafes to pizza parlors, with ice cream stands sprinkled liberally throughout the area, you won't be hungry enough for dinner when you get back to your rig. One tent had a large display case with frozen Alaskan salmon, crab and halibut on one side, and Montana huckleberry jams and syrups on the other.
It took about two hours for us to be saturated with the booths of Quartzsite, and we headed out into the BLM land to watch the RVs pouring in. We passed several RV parks, each seeming to have available space; most people seem to prefer desert dry camping. As we approached the BLM area, we noticed multiple roads -- actually hard packed paths leading out into the sagebrush. At the entrance to most of these was at least one small sign, indicating which groups were camping in the area. "Page's Place", the "Desert Kangaroo Rats" and "Bounders and Buddies" competed with the more traditional "Born Free" and "Alfa". Yellow tape, similar to that protecting a crime scene, seemed to be the method of choice to stake out large areas of desert. RVs were circled around campfire areas, with multiple chairs set out and huge amounts of firewood stacked ready for the evening activities. We found the campground host in the first of these areas. He was busily registering campers, and directing them where to go in the free areas. After the 14 day period in the free, short term area, a camper must spend some time in the long term area, paying a minimal fee at that time. He pointed out a bus parked just up the road a few hundred yards. Kosmic Koffee Kruzer was printed in large white letters along the top of this vehicle, which was painted with psychedelic colors and had the top half of an old Volkswagon van somehow attached to its roof. "That's the campground host for those folks who still live in the 60s", he told us. "The funny thing is that none of them had even been born then!".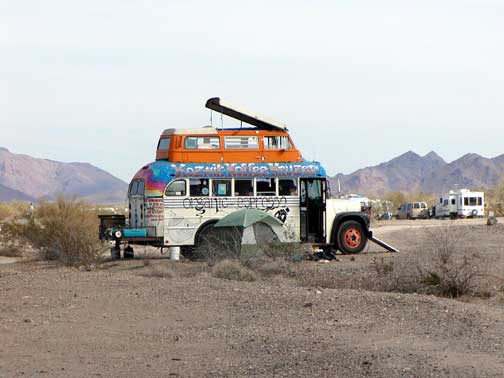 We headed back to Brenda, somehat relieved to be free of the bustle and gridlock of Quartzsite-in-season, and looking forward to a quiet evening. It would be fun to spend a day or few in the BLM, camped out in the desert and enjoying an evening with friends. But for now, I feel I've "seen" Quartzsite, and am looking forward to our next jaunt, which should put us a bit east of the Phoenix area.
---
Postcard: "The Weather Outside": Part III -- Reality Check
January 12, 2004
Basking in the warm sun of Palm Desert, it's hard to remember the cold of Bend. Yesterday the thermometer here topped 77 degrees; in Bend, we were lucky if it got above 7. But even through that extreme cold, the sun was making a valiant (and losing) effort to warm things, shining brightly on the snow covered hills. We would have felt the cold less had we had appropriate clothes -- winter sox, long "johns", and warm sweaters. If I needed any convincing that I am a snowbird at heart, Bend proved it to me. Snowbirds head south when the weather threatens change. They avoid snowdrifts, freezing temperatures, multiple layers of clothing, and any weather that dictates "soup for lunch". However, we dressed as warmly as possible, and explored the town while we waited for Tom's last appointment with his neurosurgeon.
Bend is a very attractive town. Unlike some other cities, it has retained its downtown -- a charming area filled with small boutique shops -- and has not lost those businesses to the sprawl of outlying malls. When we knew we were going to be here for a few days, Tom had contacted the manager of the Bend Apple (computer) store, and had ordered an upgrade for my computer. Not only was the manager saving the upgrade disk for us, he included another disk on which he personally had installed several other appropriate upgrades at no extra charge. What service! We are becoming great fans of Bend.
We stayed in a condo in a golfing, (in season), community called Widgi Creek, about 5 miles west of town on the road to Mount Bachelor. Winter days, this road is kept well plowed, as it carries all the ski and snowboard traffic to and from the slopes. Summertime, it is a main thoroughfare to the hiking and fishing areas of the central Oregon Cascades. Something for everyone at Widgi Creek, and if you happen to be a skier as well as a golfer -- wow!. Our condo was extremely well equipped, complete with outdoor barbeque and hot tub. Of course, it took a bit of looking to find these things, hidden as they were under about 3 feet of light, fluffy snow. Snow so light, it was impossible to make a snowball, let alone a snowman. Widgi roads weren't as well plowed; however, our jeep had no trouble maneuvering along them -- even after a 5" snowfall on our last day.
The day before we left, we checked every weather report we could find for our trip south, the snow report for Santiam Pass, the weather in Junction City, where we would pick up our coach, the weather along the coast, the weather for the Siskyious and northern California. We didn't think we would have any trouble getting the jeep back to Junction City; if anything, our stay in Bend had turned us into much better snow drivers. But what about the coach? How would we get that big, chainless thing to California?
First things first. Tom's back was checked out, and pronounced in great shape by the doctors. Santiam Pass was a veritable "pussycat", and we got back to Junction City and our home on wheels without incident. The weather was beautiful -- at one point we were listening to a Portland station proclaiming the dangers of driving in that city. Outside our car, the temperature was 57degrees. How could the weather be so different a few dozen miles north?
The answer to that question came when we got to the valley floor, Influenced by a threatening, leaden sky, there had been little thawing, the roads still had icy patches, and snowbank lined sides. Great. Here's where we'd get to drive the coach. Pop goes the bubble.
Again, Tom got on the computer, and determined that (1), the coast was going to have gale force winds and heavy rain for the next couple of days, and (2) the inland route, Interstate 5, would have a couple of clear ones. That's the way we'd go. If necessary, we could stop in Medford, about 200 miles south. But perhaps we could get all the way to Redding, over the hill and out of the winter.
But winter, once having gotten hold of us, wasn't about to let us go. Sheet rain followed us almost all the way to Medford. Passing trucks pelted us with dirty water and road debris. And, when the rain let up, the winds began. It was blowing hard when we decided to call it a day, and hunker down away from the elements. If it was blowing this hard here, we could imagine what the weather would be like on the Siskyiou Summit and the bare plateaus beyond.
We found a pleasant park, Holiday RV park, half way between Medford and Ashland, and waited out the wind. Talking with the managers of this park, we were pleased to learn it is just about to become wireless! We're looking forward to stopping there on our way home.
The wind abated some the next morning, and we decided to head for Redding. After all, this was the first day of our two day good weather window. And for the first few miles, the weather cooperated. Up over the summit, into California, and down past Yreka, we found sunny weather and moderate temperatures. But there was an ominous looking horizon ahead, and as we approached Weed, the wind picked up. "That's OK", I rationalized to myself, "it's always windy in Weed".
By the time we approached Mt. Shasta City, it had started to snow -- hard. The windshield wipers could barely keep up with the big, wet flakes. Snow started piling up on the windshield, and we lost the use of our side mirrors. The interior fans weren't doing a very good job of keeping the fog off the windshield either, and I grabbed a couple of paper towels and began wiping the inside windows. Then I noticed that Tom had turned the wrong knob -- instead of turning on the defroster, he had merely upped the heat. Hard to blame him, as his complete attention had to be on the road. I snaked my hand across his knees, turned on the defroster, and within minutes, the snow was off the windows, we could see out the side views, and the interior fans, relieved of their burden, began to operate properly again. Whew. Then the snow turned to rain, the rain to showers, and within a couple of hours, we were in Redding.
Being married to a computer "nut", I shouldn't have been surprised when he opted for another new, wireless park. JGW RV park is situated about 6 miles south of Redding, right on the Sacramento River, and, in summer, should be a great favorite with fishermen and boaters. Its level, landscaped sites are suitable for the biggest rigs. There's a large doggy walk area, and a "people walk" follows the perimeter of the park. A definite "return-to" spot.
From Redding, we drove one long-ish day to Bakersfield, stocked up with oranges at the Orange Grove, RV park, then made the short "hop" to Emerald Desert. Now we're enjoying the warm sun, a few daily laps in the pool, and getting the winter residue out of our clothes and off of the coach. Then we'll head east. Somewhere warm.
---
Postcard: "The Weather Outside": Protected by the Bubble
January 4, 2004
You're never quite sure what to expect when you leave the Islands. Sometimes the ferries are jammed with people trying, like you, to get there or depart. Other times the boat you want is practically empty, and you could arrive at the last minute and just drive on. But you never know, and we wanted to get a good start on our uncertain weather sojourn south. Thus, we arrived for the 8:05 am ferry at 6:45 -- and found it almost empty. We spent the next hour walking around the darkened streets of Friday Harbor.
Our weather bubble -- that's how Tom described it -- our own special bubble of good weather has followed us so far. The forecast was for gale force winds in the Straits on Saturday -- but we were leaving on Friday. There wasn't so much as a breeze. We knew that the State of Oregon sometimes mandates that cars carry chains, even when they aren't using them. We don't have chains for the jeep (or any other vehicle). Tom went online and found that Les Schwab, a west coast tire dealership, had a great deal on chains. If you buy a set, and don't use them, you can return them unopened at the end of the season for a full refund. Figuring that the dealerships with the largest unsold inventory would be located where chains were seldom, if ever, used, we started with the Anacortes dealer. As Tom walked into the shop, a man walked out carrying 2 sets of chains. There was now only one left, and we got it. Whew... We were ready for the snow.
But the snow didn't materialize. Even though we heard tales of fender benders, black ice and snow in the Tacoma area, by the time we got there, the road was clear. The southern horizon looked ominous, but as we drove along, it gradually improved. The worst problem was the dirt, rocks and water thrown up by the wheels of passing cars and trucks. We saw no snow until we were well south of Portland and pulled into a rest stop to change drivers. Here about 5 inches of wet, sloppy white goo was melting into large puddles, leaving soggy mounds of melting ice. Obviously some serious snow had been here just a short time ago -- but now it was for all practical purposes gone. We tiptoed gingerly around the car, changed sides and went on.
We had two options for getting to Bend. We could drive south to Portland, then head east up the Columbia River some 100 miles and pick up highway 97. From that junction, it would be another 130 miles to Bend. That way, we'd avoid Santiam Pass, a pass we'd had extensive experience with earlier. It's a known "challenge" at this time of year even when adverse conditions aren't in the forecast. But, at this time of year, the Columbia River Gorge could be called, "black ice alley", and we'd had experience with that too. Prudence dictated we drive south 70 miles to Albany, stay the night, and the next morning, not too early, head over the Pass. After all, highway 20 is a main thoroughfare between western and eastern Oregon, so there should be lots of cars on the road, and ODOT would have its sanding trucks out in force. Right?
It felt odd not to be staying at the Blue Ox RV Park in Albany, but those few times we have been rig-less, we have enjoyed the Albany Inn (used to be called the Pony Soldier). For the quite reasonable cost of the room, you get an included continental breakfast and free newspaper. Just across the parking lot is the Yaquina Inn, a very good place for a quiet dinner. (Ahh, the delights of rig-less-ness). And there was another benefit, particularly pertinent to us. At Christmas, I was given a vase with three Narcissus bulbs. These were to be placed among some rocks (included), and kept watered. I just had to take them south with us. When I began driving at a southern Washington rest stop, I backed out of my slot, put the car in drive, stepped on the gas, and sent the whole vase -- bulbs, rocks and water, right into Tom's lap. He was wet for the rest of the day. The Albany Inn has a complimentary guest laundry. While he took a hot shower, I threw his jeans in the dryer. All's well...
We watched the evening news, which was mainly showcasing local, (Washington and Oregon), weather. The roads we had just driven during the day bore little resemblance to the ones we saw now on TV. Now we saw pictures of tracks through snow covered roads and cars off in ditches from Seattle south. Parts of Interstate 84, the Columbia River Gorge, had been completely closed due to heavy snow. Our bubble had gotten us through to Albany. How would it do on the last 120 miles to Bend?
We expected snow, and we found it, but not for the first 30+ miles. Highway 20 wanders east through farming country, passing the towns of Lebanon and Sweet Home. A few miles east of Sweet Home, we saw our first warning sign -- "Chains required at Tombstone". I found that an unnerving name. Whose tombstone? What or where, is Tombstone? Did this have anything to do with the warning I'd read on the Internet, "IF YOU LEAVE THE SAFETY OF BEING INDOORS, YOU ARE PUTTING YOUR LIFE AT RISK".
The road narrowed and began its climb into the Oregon Cascades. We watched the outside temperature indicator show colder and colder temps. The snow started to encroach on either side of the road, narrowing the driving lanes from 2 to about 1 1/2. That wasn't much of a problem, especially as we weren't driving our coach. But there was one worrisome factor. There were no other cars. None coming up behind us, and none coming downhill. Mile after mile went by and we were just about convinced that there was a road closure somewhere of which we had no knowledge, when here they came, cars, trucks, even one brave soul pulling a 5th wheel.
Up over Tombstone (it turned out to be a summit), en route to Santiam. Now there was lots of traffic. Yes, ODOT had its sanding trucks out in force. A couple of police cars went by, and lots of other cars traveling both directions. No more worries (mine) about winding up, unnoticed, in a ditch for a couple of days.
Unlike our last transit of Santiam Pass, this time it was relatively quiet. A couple of months ago, there was a long line of cars fairly crawling over the summit, headed eastward. Now it seems that drivers have all gotten their "winter legs", and are driving prudently, not to fast, but not too slowly, either. (They've also had their winter studded tires installed, which helps).
We stopped in Sisters, a quaint western town, at the Depot Deli, a popular spot where the locals meet to share the latest gossip. In order to cross the main street, we had to jaywalk; there are crosswalks, but you can't see them under the snow. But drivers in snowy towns seem to drive cautiously and are happy to stop to let you carefully tiptoe across the slippery streets. A far cry from the harried city drivers who wind up in ditches.
Once in Bend, we stopped at Crown Villa RV Resort, where we stayed while Tom was doing some of his back tests. What a difference a few weeks make. Now there were only a few RVs parked, and from the looks of the snow packed around them, many were settled in for the winter. However, several had been caught by unexpected snowfall a few days earlier, and had had to extend their vacations.
We'll be in Bend for a few days, and then make our way back across Santiam, pick up the rig in Junction City, and head south. The weather forecast is for for a major winter storm with arctic temperatures over the next two days, but with improving weather come mid-week. And I sincerely hope the forecasters get it right this time. So far that "bubble" has protected our travels. We'll see...
---
Postcard: "The Weather Outside..."
January 1, 2004
Driving home was the proverbial "piece of cake". We drove north along the California coast to visit Tom's cousins in Mendocino. From there it was but a short drive to Brookings, Oregon, for an overnight stop at the Driftwood RV park. This park is one of my favorites, sheltered from the prevailing winds, and located just a short walk from the Brookings Harbor. I've enjoyed visiting the several intriguing shops before, and thought this might be a good opportunity to pick up some last minute gifts for the holidays. The shops beckoned me with holiday lights a-twinkling, but it was raining so hard that even the shortest walk was impracticable. That's what toads are for. While Tom got his email, I went shopping . From Brookings, we had another short day to Junction City, where we would leave the rig for a bit of service, and take the jeep north. This strategy worked well; while the Country Coach technicians celebrated the Holidays with their families, our coach was plugged in and under cover, comfy in the Oregon winter weather.
Our weather luck continued through the holidays. Somehow, even when we woke to dire forecasts each morning, our Island stayed relatively dry and warm. Not warm according to standards set on the Mexican Riviera, but warm according to northern Washington in December. We sailed over Snoqualmie Pass en route to eastern Washington and Yakima for Christmas, and found the road bare and wet in both directions.
However, the next two words of the Christmas song referenced in my title are prophetic. "Is FRIGHTFUL". We are planning our return trip south. Friday we leave for a few days in Bend, thence to Junction City to get the coach and head south. But which way? I did a little Internet research and came up with the following warnings: (Capital letters is the way in which the words came off the 'net)
For Bend, through the end of this year and early next -- "...ANY TRAVEL IS STRONGLY DISCOURAGED. IF YOU LEAVE THE SAFETY OF BEING INDOORS, YOU ARE PUTTING YOUR LIFE AT RISK". Wow!..
Should we choose to drive south across the Siskyou Mountains, we will come to the small mountain town of Dunsmuir. The forecast here? "A WINTER STORM WARNING IS IN EFFECT FOR THE MOUNT SHASTA AREA FOR TONIGHT THROUGH NEW YEARS DAY. SNOW IS EXPECTED TO INCREASE SIGNIFICANTLY IN INTENSITY NEW YEARS EVE THROUGH NEW YEARS DAY AS A STRONG JET STREAM APPROACHES. BY THURSDAY NIGHT... A STORM TOTAL OF 20 TO 30 INCHES OF NEW SNOW IS EXPECTED. " That's the Siskyous for you. Snowy and chains required, with tales of cars off the roads and jack-knifed semis blocking traffic. Then, a few hours later, the roads will be cleared. But that's a lot of new snow expected. Hmmm...
What if we go to the coast and head south that way? The forecasts for the towns of Newport, Brookings and Crescent City, were just for rain, but what about the interior portions of 101? Once across the California border, Highway 101 heads to Eureka, and then turns inland. The road climbs through the Redwood forests and heads toward San Francisco. One of the small towns you will pass is Garberville. The forecast for Garberville read in part, "WINTER STORM WARNING LATE TONIGHT THROUGH THURSDAY EVENING. LOCALLY UP TO 8 INCHES OF NEW SNOW ABOVE 2500 FEET IN EASTERN DEL NORTE... HUMBOLDT... SOUTHWESTERN TRINITY AND NORTHWESTERN MENDOCINO COUNTIES. (That's pretty much the whole of northwestern California!) BY THURSDAY AFTERNOON... ANOTHER 3 TO 5 INCHES OF SNOW IS EXPECTED ABOVE 2000 FEET OVER THESE SAME AREAS. TOTAL SNOW FALL ACCUMULATIONS ABOVE 3000 FEET SHOULD BE 10 TO 18 INCHES." Hoo Boy!
OK. Assume one way or another we'll reach the Sacramento Valley sometime in the middle of next week. What then? It gets even dicier. No more snow, but wind, wind, wind. The forecast for Rio Vista, a small town on the Sacramento River Delta read thus: "SOUTHERLY WINDS WILL BECOME STRONG AND GUSTY TODAY ACROSS INTERIOR NORTHERN CALIFORNIA. THE WINDS WILL BE 10 TO 20 MPH WITH GUSTS TO 35 MPH BY LATE AFTERNOON AND WILL CONTINUE TO INCREASE IN INTENSITY INTO THE EVENING HOURS. BY LATE TONIGHT... SUSTAINED WINDS WILL BE 25 TO 35 MPH IN MOST VALLEY AND FOOTHILL LOCATIONS AND WIND GUSTS WILL BE IN THE 45 TO 55 MPH RANGE. THESE STRONG WINDS ARE EXPECTED TO CONTINUE WELL INTO NEW YEARS DAY AND THEY HAVE THE POTENTIAL TO STRENGTHEN EVEN MORE THAN CURRENTLY FORECAST. THIS IS A DANGEROUS WEATHER SITUATION... TRAVELERS SHOULD BE CAUTIOUS OF DEBRIS ON THE ROAD AND FOR SUDDEN GUSTS OF WIND WHILE DRIVING".... Great. Out of the proverbial (again) frying pan into the fire.
Granted, these forecasts are for time periods before we expect to be any of these towns. Perhaps the bad weather will move on before we get there. Perhaps any one of a dozen things will change our plans. Right now, it looks like we're about to embark on a new adventure, a weather adventure. I'll report more from the road as we head south.
To be continued...
---
Postcard: Turkeys in the Sand
December 2, 2003
What a difference a few years can make. In 1999, excited about our brand-new Country Coach, Tom and I decided to go on the road for an extended trip. We weren't ready to sell the house and become full timers; we'd count our trip in months.
What to do about the holidays? For Christmas, we'd go "home", home to our daughter's house. Thanksgiving we'd host in the desert, at Palm Canyon Campground in Borrego Springs, CA. We'd cook a turkey, somehow, in our rig, and eat out in the Anza Borrego desert.
Our daughter said it best. "Sounds like fun, Mom, but what's there to do in the desert?" (That argument disappeared after swimming in the motel pool, golfing on one of Borrego's multiple golf courses, and a tour ride in an offroad ATV. These activities completely filled the days available.)
Fast forward four holiday seasons. This year, in late summer, that same daughter suggested that the Borrego Thanksgiving had been so much fun it should be repeated. So we made reservations for our rig at the same campground, and got rooms for the kids at Palm Canyon Resort, a hotel/RV park complex less than a mile away -- creating almost an exact replica of our celebration four years earlier.
This year, when we arrived at the campground on the Monday preceding the holiday, it was empty enough that I questioned whether our reservations had actually been necessary. By Wednesday evening, however, the campground was completely full. Without a reservation, we would have been dry camping in the desert. The hotel was equally busy.
It's amazing how many people prefer to eat Thanksgiving dinner in the sand. Grandmother's house is not for them, they prefer to "rough it" in the sand of a beach or a desert. The Los Angeles paper carried a story about the crowded conditions at the area's oceanside campgrounds, and the desert was correspondingly full. Every type of rig, from tent camper to motorhome, crowded the Palm Canyon hookup area. Tents bloomed in the desert surrounding the non-hookup spots, laughter and the shouts (and occasional tears) of children filled the group areas. Down the road at PegLeg Sam's, one of Borrego's favorite dry camping spots, the rigs were crowded together.
This year, we had been concerned about the devastating fires in Southern California, and any effect they might have had on the desert communities. The fires had been completely extinguished by Thanksgiving, but the campground had suffered another type of ecological disaster. Several days after the end of the fires, the Los Angeles basin had been socked with heavy rains. While it didn't rain much in the Anza Borrego Desert, the rains on the surrounding mountains had caused massive flash floods. One of these swept down Palm Canyon Creek, swelling it to several times its normal trickle, and sending new rivers of water and desert debris across the valley. Several of these new streams had swept through one area of the campground, burying about 10 sites, situated in one of the most scenic parts of the campground, deep in mud, covering portions of the narrow access road with a gooey surface. The mud has since dried to a thick, heavy concrete-like substance, seemingly very difficult to remove. The enormity of the clean-up task was well illustrated at one site. Here, leaning against the stone picnic table was a lonely shovel and a small wheelbarrow.
When we celebrated Thanksgiving here four years ago, the O'Keefes came to our turkey day rescue. Terry O'Keefe was a California Highway patrolman who had drawn Thanksgiving duty. His wife, Dianne, insisted I use her oven to cook our bird. I drove out to her house, put the turkey in the oven and came back later -- she'd even done some of the basting! However, Dianne and Terry have gone full-timing; the last time we heard from them they were somewhere on the California coast. We'd have to find another way to cook a bird too big to fit into our microwave/convection oven.
We settled on the new, (to us), kettle method, whereby you actually deep fry a 12-15 pound turkey. When I first heard about this manner of cooking, I thought it sounded awful -- nothing like a greasy turkey for Thanksgiving. But after we read several Internet recipes, and learned that one of my nephews swears by deep fried turkey, we decided to give it a try. However, we figured we wouldn't need all the recommended paraphernalia. At home on San Juan Island, we had a crab cooker -- a deep (we thought) pot and a burner on which it fits. When I went home to change cars, I brought these along. All we needed now were the proper fittings to connect the burner to the coach propane.
This posed more of a problem than we had anticipated. Where do you go to get the fittings, and how much do they cost? As it turned out, getting the whole deep frying set at Lowe's (a Western discount hardware/superstore) was cheaper than buying a few fittings. Next we learned that our crab cooker wouldn't work anyway. While it was large enough to cook two or three Dungeness crabs, it was nowhere deep enough to handle a turkey in boiling oil. Also, we didn't have a thermometer to check the temperature of the oil, which must be kept between 325 and 350 degrees. Now we have two very large pots and two large propane burners nestling under our coach -- two additional items to pack along.
Thanksgiving Day, and I went for a bike ride around the hookup section of Palm Canyon campground. How were other campers preparing their feasts? I saw almost every type of barbeque imaginable. Several folks were smoking their turkeys in large Weber kettles or larger, brought-from-home smokers. I saw some of the smaller barbeques, the ones that resemble black shoeboxes on legs. Perhaps those folks were only going to cook turkey portions. Another camper had his deep fryer out, and he gave me some valuable hints; for example, be sure your turkey is completely dry, or it will spatter boiling oil when you lower it into the pot. Another ingenious person had placed an iron stake on either side of his campfire. A third stake extended across the fire from one stake to the next. Skewered on this stake, their turkey was slowly roasting. Amazing what people will do just to have Thanksgiving in the sand.
Saturday the kids and grandkids left our desert paradise and headed back to San Diego. From there they'll fly back to their busy lives of work and school. Tom and I will spend a quiet day, packing everything away, enjoying a grandparents' campfire. After a few days in the San Diego area, we'll head north again. Back to the cool and rainy (hopefully not too snowy) northland for Christmas.
---
Postcard: Six Inches off the Ground
November 18, 2003
I continue to be impressed with the quality of medical care Tom is receiving from "his" doctors in Bend. Soon after surgery, his neurosurgeon came to find me in the waiting room and discussed what he had found in Tom's back. It appears that an MRI is not always infallible, but in this case, what it showed was precisely what was there. All fixed, and ready to roll?
Not quite. We were now entering a longer phase, called recuperation. 10 days doing little; no driving, stretching, bending or twisting. Then a post-op visit to the neurosurgeon's office, to check up on Tom's recovery and remove the staples from his back. (Whatever happened to good, old fashioned stitches? It seems that with stitches, there is more possibility of infection.) Then an additional 4 weeks of avoiding anything that would stress his back. One more appointment in mid December. Until then, driving, in moderation, would be OK, but stay away from the other three -- the stretching, bending and twisting.
Have you ever considered how much of an RVer's life requires bending, stretching and twisting? And how much of one's RVing life requires doing things that are very close to ground level? Practically everything you want or need in an RV is located in some bin or other within 6 or so inches of the ground. To get at it requires bending in the extreme. Forget about taking anything out of that bin once you get it opened. That requires not only bending, but also stretching and twisting. How about hookups? They are located in a moderately inaccessible place, again quite close to the ground. They're hard to reach even if you're not protecting your back. The cable for theTV? In our rig, this is located right next to the sewer and water connection, and the cable outlets in some RV park posts practically touch the ground. Not only that: Whoever designs parks must take fiendish delight in placing the TV connections so flush against an intruding surface that you can barely fit the end of the cable over the connection -- much less screw it on. And of course once it's "on", it's likely to take a pair of pliers to get it off again.
And the sewer connections weren't much better. If they were anywhere near the part of our coach where they attach, for some reason that same park designer decided it would be a great idea to have the connection about six inches ABOVE the ground. Do they think that sewer hoses drain uphill?
These and others were all "new-to-me" discoveries about a coach we've now owned more than four years!
So guess who is learning more about the rig than, (hint), she ever wanted to know. Under Tom's tutelage, (it doesn't hurt your back to lean on the power post in an RV park and give instructions), I now can hook up not only power and water, (I'd done those before), but also the sewer. I learned there are four connections on the sewer hose. Three you can see, one you cannot, as it is hidden behind the hose. Get three right and you probably have the fourth as well. The first morning, after I had firmly clamped this hose in place, Tom said, "Now open the grey water". I reached for what I thought was the correct black knob, only to be greeted with a loud, "No, not that one"!
Then there are such simple chores as getting dressed each morning. Try pulling on your jeans without bending over. If that's easy, try shoes and sox. Bending is an integral part of daily life, and avoiding it requires ingenuity.
So what do you do when you can't do much? Between surgery and Tom's post-op visit we went home, back to Fidalgo Bay Resort in Anacortes, WA. From there I took the small jeep Wrangler back to our Island to trade for the larger, and far more comfortable riding, Grand Cherokee. Then we headed south again, back to Eugene, our jump-off place of choice for a day trip to Bend. After Tom's first post op appointment, we were cleared to head south -- really south, to sun and California.
We had arranged to have some mail sent to the post office in Red Bluff, and were delighted to find that it was still there. The post office will hold mail for 30 days, but with all our Oregon layovers, I was concerned it would have been sent home again. We spent one night with Tom's brother and his wife in the Bay Area, and then were off to Orange Grove RV park, in Edison, CA, just east of Bakersfield on highway 58.
This is always a favorite stopping spot. It is located in the middle of an orange grove, and you can pick all the oranges you want for your personal use. We thought it would be a bit early in the season for oranges, but although they looked a bit shy of fully ripened, they were deliciously juicy. The park has recently expanded by some sixty new spaces, with sites 90' long and 27' wide, good for the largest rigs. While an advance reservation is always good idea during the traveling seasons, it will now be easier to get a spot. It's a favorite stopping place for RVers heading to the deserts of California or Arizona in late fall, and for RVers heading home at winter's end.
Now we are spending a week at Emerald Desert RV Resort in Palm Desert. Tom hasn't been cleared to swim or bike yet, but the sun is out, it's well into the 70s today, and "lounge lizarding" is one of our favorite sports. Emerald Desert is also undergoing major construction, with 194 new sites and a 4th clubhouse in progress. During construction, 4 of the holes of this nine hole golf course have been closed, and several RV sites are cordoned off to allow for construction traffic. When the sites and clubhouse are finished, the short 9 hole golf course will be even shorter, and one of the "doggy play" areas eliminated, but RVers should find it easier to find a spot to stay.
Next week, we're off to Borrego Springs, to join our son and daughter and their families for Thanksgiving in the desert. It will be a meaningful one for Tom and for me, and we both send our wishes for a "Happy Thanksgiving" to each of you.
---
Postcard: A Bend in Our Road
October 31, 2003
When two extended-timers are on the road, they experience some of the same problems as must those who travel full time. One of these is medical care. What do you do if you become ill, or are hurt? A full-timer has no access to a "home" doctor, who may have cared for him for years. The question for us was this: do we continue on the road, or return to our Island.
We had been a bit over-optimistic. Tom's back, while somewhat improved, was far from 100%. What to do? We didn't want to be in the wilds of eastern Utah and need medical assistance, but we didn't want to go home and find everything was A-OK. So we hedged our bets and traveled west, staying only a day or so from home, waiting to see how things would turn out. That's how we came to be in Bend, the morning we decided that medical advice would be necessary.
We were staying at the CrownVilla RV Resort, on the south edge of the city. This spacious park with abundant trees has undergone some extensive remodeling since we last visited, and is in the process of selling its lots. These lots have been enlarged and improved, some terraced up a slight hill, others on a level, grassy field. The clubhouse has added a members' lounge and exercise room, a meeting room with a morning pot of coffee bubbling in one corner, and large spa. A tennis court, a pitching green and horseshoe court comprise other new amenities. Best, it's still just a short walk up the hill to a sagebrush field, complete with ground squirrels and rabbits -- Missy's favorites.
Tom had developed what he called a "spider" in the corner of his left eye, and his right leg was still weak. It was a bit of a burden for him to get into or out of our tow Jeep. We called our home doctor, who was not particularly concerned with his leg, but felt Tom should promptly see an ophthalmologist about his eye. That was at 4 PM on a Wednesday afternoon. I looked up the doctor in the Bend Yellow Pages, and found that, in this city, most of the physicians of any sort or description, have offices around the Bend Medical Center. We got him an appointment the very next morning. We were about to experience the most amazing medical teamwork either of us has ever seen.
The Bend Medical Clinic, one of the buildings comprising the Medical Center, sits on a large "campus", which it shares with the Pilot Butte Clinic, St. Charles hospital, a neurological center, an MRI clinic, and many other medical buildings. Before this was over, Tom would have visited quite a few of them. The "eye" guy diagnosed Tom's spider as a "floater", annoying, but harmless and, unfortunately, untreatable. He was, however, very concerned with the state of Tom's leg. "You can go to our urgent care center", we were told, "or I can recommend an Internist and get you a prompt appointment". We took him up on the latter offer.
The Internist was located in the same building as the Ophthalmologist, and Tom's appointment was within the half hour. After a careful review and some tests, the Internist consulted with one of his colleagues, a neurologist, and personally made an appointment with him for that same afternoon. The Neurologist recommended Tom get an MRI, and scheduled one at 5 PM -- again that same afternoon. The Neurologist had Fridays off, but told us he would call with the results of the MRI the next day, anyway.
In just one day, Tom had seen 3 different doctors, had a number of tests, and received an MRI. Never in our experience had we been treated so thoroughly or promptly. Not our choice of ways to spend a day, but we were incredibly impressed with the level of care Tom was receiving. A few years ago, we toyed with the idea of moving to Bend. While we looked at some homes for sale in the area, our real estate agent touted the Bend medical community. He was not exaggerating.
Tom was diagnosed with a disc issue in his lower back. Two days later, he had steroid injections, (worse for imagining what was happening than the actual injection). But the discomfort persisted, and surgery is now mandated. No fun, but what a wonderful, caring bunch of doctors we have found in Bend.
What to do while waiting to go back to Bend, and its Medical Center? We could stay put at CrownVilla, but felt we would like a break from the whole Bend area, just for a few days. We spent football Saturday at Deerwood RV park just south of Eugene, and enjoyed the spectacle of Oregon Duck fans crowding streets in their green autos, with yellow and green flags sprouting from their cars. We enjoyed a weekend at Pacific Shores Motorcoach Resort in Newport, OR, right on the coast. The weather was beautiful; Missy and I took long walks on the beach, and I found a great place to buy seafood in the "old" part of Newport -- the Bayfront area.
Before surgery, we had one more appointment to keep. Tom had to meet with his surgeon -- again an appointment promptly made for him by the neurologist that diagnosed the condition. We decided to leave the rig at the Blue Ox RV park in Albany, and take the tow jeep -- just "run over the hill", Santiam Pass, for his appointment. Then we'd head to Sisters, OR for lunch, and be home in late afternoon. We hadn't figured on the weather.
As November loomed closer, central Oregon was to get its first taste of winter. The trip over was uneventful, a beautiful drive through the golden leaves of fall as we followed the MacKenzie River east to Bend. Somehow, however, the seasons changed just in the short time we were in Bend for the appointment. As we climbed west, back over Santiam Pass, snow was falling, fast and furious. I passed a sanding truck as I climbed to the summit, and by doing so, became the last car allowed over the pass -- at least for a time. 18 wheelers were having to put on chains in both directions to get traction. The road at this point was a two lane roadway with no place to pull out to put chains on, and this was causing severe backups in either direction. It took a full hour to travel 5 miles, by which time we were out of the snow and headed back to Albany, and home -- our rig.
While the summer temps are gone, the weather is still clear and gorgeous. We are spending another couple of days on the Oregon coast, enjoying the beach walks and swimming pool at Pacific Shores. Then we'll go back to Eugene, leave the coach and drive the jeep back to Bend for Tom's scheduled surgery on Monday. He couldn't be in better hands; we feel extremely confident in the "team" of medical professionals we have met there. And for us it's been an interesting experience in learning about access to medical care while "on the road".
---
Postcard: Driving Lessons
October 15, 2003
When we took possession of our new Country Coach in 1999, one of the first items on our agenda was to learn to drive it. Did we really need driving lessons? In the late 1980's, we owned a 27' Winnebago, and we shared the driving from Illinois to California; from Alaska to Baja California. We both drove the 5th wheels we next owned, though I have to admit I avoided backing up. I could make a case that, with all this experience under our belts, we really didn't need those lessons. (Just ignore that long scratch along the top of the Alpenlite, which appeared when I made too tight a turn at Organ Pipe National Monument, and Tom has completely forgotten that time when... ). Except for these few and relatively minor incidents, we had been careful, and reasonably knowledgeable, drivers.
No matter. We were determined to learn to drive this new, bigger, wider and heavier rig under the tutelage of professionals, and made an appointment with the RV Driving School. At that time, there were only about three places where we could take lessons, two in the Los Angeles area, (I'm not driving a rig in that traffic), or Lancaster, CA (out in the desert, hmmm.. absolutely flat). That was an easy choice. Since that time, the School has expanded to other locations.
Our teacher for this two day session was Jerry Ray, one of the most sympathetic teachers anyone could ever have. The course was intensive, starting each morning at 8 AM, a short break for lunch, and finishing at 3 PM. Tom & I shared the driving tasks, uphill, downhill (Lancaster was not nearly as flat as I had hoped), making tight turns, city driving; you name it, we did it. We learned to read the "signs" of the road, not those posted by the highway department, but those naturally occurring on any road over time. Did you ever wonder why the down side of an upgrade hill has black marks along the railing? Because someone, coming down the hill, went over the center line and forced an uphill vehicle onto the shoulder and into the railing. Do you know what a "crowned" road is? Drive with Jerry or any of the instructors, you'll find out and never get onto one by accident. You can use those side mirrors for more than just seeing other traffic. Properly placed and carefully used, they can help you back up, make left and right turns and get into tight RV spaces. All that and more, we learned in that two day session. I never forgot that lesson, and have become a great proponent of driving education, especially from the RV Driving School.
All well and good, but a lesson not practiced is a lesson forgotten. I still had to drive, not just down freeways, but into and out of campgrounds and RV parks, around and through small towns, and into gas stations. I had to remember to look at the access roads in such stations, to notice if other rigs had made scrape marks as they entered or left. I had to do my share of the backing, with Tom as the signal man. And I did, for a while. I still had the lion's share of boring freeway driving, but I got lazy; I got into the habit of pulling over if the weather got too wet or windy. But I still drove. And am I ever glad.
When we started driving our coach, there seemed to be few classes on driving given at rallies we attended. This is changing. The RV Driving School comes each summer to the Life on Wheels conference in Idaho, and gives lessons on driving both 5th wheels and motorhomes. If you want a lesson in your own rig, (similar to what we experienced in Lancaster), you need to go a few days early. Before they let you drive, you must attend a class on driving techniques and safety considerations. Other rallies give classes with such titles as "copilot driving", or "emergency driving for spouses". Some women I have talked to at these rallies are attending such classes only because they are concerned what would happen if they simply had to drive. Others tell me that their husbands have absolutely no intention of letting them get behind the wheel, and feel that such classes are foolish.
What the sponsors of these classes seem to forget is that sometimes the lesser-driving person will simply have to take over the wheel. Not because the main driver had a life threatening experience, but merely because it may be extremely inconvenient or uncomfortable for him to drive. That's what happened to us on this trip. Tom's fine. He had, however, been experiencing what he euphemistically likes to call an "ouchy" in his back. It has made it uncomfortable for him to sit very long (like 10 minutes) in any one position. What were we supposed to do? Stay in Leavenworth, WA (where this first came to light), for at least a week? No way was he going comfortably to squeeze into the Jeep Wrangler for the long jaunt home. So we opted to continue on -- and I took over the driving chores.
I first drove to Yakima, to the home of our daughter and her family. I opted for the Yakima Canyon route, a beautiful, but narrow and winding road; and Tom only did the last little bit into their driveway. The next day I drove almost all the way to Granite Lake RV Resort, in Clarkston, WA, with Tom taking over for the last 20 miles. That's a downhill section stretching to the Snake River, and we still have some issues concerning my driving downhill, (I'm a scairdy-cat). From Clarkston I drove to McCall, to Cascade, and into Boise, except for that 4 mile stretch of old, narrow, winding road with overhangs and lots of truck traffic near Smith's Ferry. I took us to Twin Falls on a very windy day. There, Tom got some good advice from the doctors in the Magic Valley Regional Medical Center's urgent care center. If you ever need medical attention in Idaho, Twin Falls is a good place to be...
And you know what? The more I drove, the more confident I became. The wind can be mastered, as can hills and narrow streets in small towns. Just slow down. If I don't drive as fast as some others on the road, I know I'll still get to my destination -- a bit later than others, but just as surely.
We're looking forward to sharing the driving duties again, but this experience has been a good lesson for us both. I was willing to try (read "I had the confidence gained from driving lessons"), and Tom was willing to let me. Otherwise we might have remained in Leavenworth for a week or more. It's a beautiful little town, but we wanted to get going, to get on the road. This way we could, and did.
---