POSTCARDS
---
Stephanie is one of those persons who can fit a lot of words onto a standard size postcard -- usually by writing sideways, around corners, and even upside down if she can find some extra space. Most of these go to family and friends. But some of them -- those which document our RV adventures -- find their way onto this portion of our website.
---
Postcard: A Trip to the Wild Side
October 25, 2004
We often ask visitors to guess which major city is closest to our home on San Juan Island. Invariably they choose Seattle, Everett or Bellingham. But the fact is our closest city is Victoria, British Columbia on Vancouver Island. Visiting there is always a delightful adventure, made more so by the fact that it is so easy to get there. The "Victoria Clipper", a hydrofoil based in Seattle, makes frequent stops in Friday Harbor en route to Victoria. San Juan Airlines, our local small airline, would love to fly you there. (And you'll be amazed at what little airport hassle there is at our airport!) Or you can do what most Islanders do when they want to go to Vancouver Island, take the ferry.
Twice daily in summer, once daily during spring and fall, a ferry leaves Anacortes and winds through the San Juans on its way to Sidney, a town about 17 miles north of Victoria. It makes stops at Orcas Island and again in Friday Harbor. Reservations are necessary during the summer, but at this time of year, just getting to the boat before it leaves is all it takes. Tom and I often just walk on the boat, without the need for a car. Once in Sidney, we check into the hotel, leave our suitcase, and head for the Victoria bus. It's only a short ride to downtown Victoria, and there's no need to find a parking spot in this picturesque but often crowded city. You can spend the night here, or catch a bus back to Sidney. The returning ferry doesn't leave until midday, so there's plenty of time for a leisurely breakfast or boutique shopping before boarding.
Leaving your car behind works best when you want to explore Victoria. If you want to see more of Vancouver Island, especially if you want to visit its "wild" west coast, a car is necessary. This trip, that's where we were headed, to the coast via the small towns of Port Alberni, Tofino and Ucluelet. We hadn't been to the area for several years, and wanted to see how much it had changed. Once we'd seen bears and a cougar; what sort of wildlife would we see this trip?
The southernmost part of Vancouver Island resembles a mitten, with Sidney positioned on the thumbnail. You have to drive south to get to the main part of the mitten; in other words, you have to drive south before you can start north. We followed Highway 17 south toward Victoria and joined Highway 1, the main north/south roadway up Vancouver Island. The road leaves the city suburbs and climbs up over the Malahat Drive. The day was cool but extremely clear, and we could look down on the peninsula farms, and see the San Juans laid out across the sparkling waters to the southeast. Once over the Malahat, we passed through Duncan, the" City of Totems" with more than 80 poles scattered throughout the city, and Chemainus, a small town with 34 huge murals and 12 sculptures, each depicting the history and culture of the area.
Next up, Nanaimo. This town is sprawled along several miles of the road, and the traffic signals seem to be set exactly so you miss each one. Now there's a parkway skirting the town, and you don't have to drive through Nanaimo. Of course, then you'll miss its quaint old town, and the Harborside Walkway, a 4 km paved path which takes you from old town to the bustling harbor area.
A few miles north of Nanaimo, we headed west on Highway 4, the route to the coast. We couldn't help but remember the first time we drove this route, about 40 years ago. Now the road is paved and winding, with some steep grades and narrow curves with rock overhangs. Then it was unpaved and winding, with many steep grades, narrow curves and large boulders. We were driving a Volkswagon, which bumped its way between and over rocks, across mountainsides, and through valleys. We saw a cougar strolling a side street in Port Alberni, and Indians in dugout canoes on the sheltered waters of Barkley Sound. It was the kind of pre-RVing adventure a couple of 20-somethings greatly enjoyed, but the road was so rough and so long (about 100 miles one way) that when we returned home we had to sell the car. It had met its match.
En route to Port Alberni, you pass along Cameron Lake and through Cathedral Grove, a magnificent cedar and madrona grove laced with hiking trails. This is always a popular spot -- so much so that there is a movement afoot to increase the parking areas and make them "pay per hike", an idea which is meeting stiff opposition from the locals. West of the grove, the road tops a crest just under 1200 feet. You are now technically on the west coast of Vancouver Island, but still have 60 miles to go before you get to the ocean.
Port Alberni sits at the end of Alberni Inlet, a long thin ribbon of water that cuts deeply into the Island. On one of our trips here, we boarded a mail boat, the MV Lady Rose, for a day trip delivering mail to the fishing camps along the Inlet. Our trip occurred in late fall, well out of season for most tourists, and we were the only passengers. It had snowed in Port Alberni -- a very unusual event there -- and the crew was intent on taking snowballs, (for throwing), to some of their friends at those camps. They had loaded these ready-made missiles into the freezer compartment, and brought a few out at each stop.
After leaving Port Alberni, the road follows the shores of Sproat Lake for several miles. The hillsides today were a dark green tapestry streaked with maple gold and reflected in the still waters of the lake. And to think some persons believe the east coast has a monopoly on beautiful fall colors!
8 km before the ocean, the road turns and heads northwest to Tofino, following the coast along through the Pacific Rim National Park. You can hike the 20 km long, surf-swept sands of Long Beach or hike one of the many trails that cross the headlands. There are signs posted at the parking areas for these trails advising hikers that they are not alone, that "bears, cougars and wolves" also use the trails, but all we saw were a couple of spruce grouse along the sides of the roads.
Tofino doesn't appear much changed since our last trip. This area is extremely popular in the summer, but now the campgrounds have bars across the entrances, and several hotels have closed for the season. I did notice that the residents here have a new hobby -- surfing. Shops featuring surfing gear, clothing and boards have sprung up all over town. I cannot imagine anyone wanting to surf these cold waters, well known for rip tides, but as we drove into town, we passed four young teenagers on bicycles, gear and boards slung over their shoulders, headed for the beach.
One of my favorite stops in Tofino is the Roy Henry Vickers Gallery. It's a beautiful place, with pictures lining the walls, each so lighted that the colors seem to glow. Soft native music gives it an incredibly peaceful feeling. The first time I walked into this gallery, I noticed it was built like a long house, with the center recessed like a fire pit area. I entered through elaborately carved and painted wooden doors, each with raven motif, and each for sale. I remember returning to our motel and telling Tom that these doors cost $15,000. He didn't believe that doors could cost that much and had to go see for himself.
The next morning, we drove down to Ucluelet. En route we detoured to Grice Bay, a lovely inlet completely protected from the prevailing winds. This little bay is a great launching spot for kayakers, and we guessed that the missing occupants of three cars parked close to the ramp must have been picked up by a fourth person -- perhaps to cross the bay to Meares Island, which, according to the ads, is a good place to watch bears. Maybe all the bears were over on Meares, we certainly hadn't seen any.
Ucluelet has grown a good deal since our last trip. The main street ended just south of town when we were here last; now it stretches at least a mile further south, and both sides of the street are full of buildings, single family residences and hotels. Unlike the several "luxury" hotels in Tofino, these hotels tend to be the cluster type, a main lodge surrounded by little cabins. The proprietress of one Ucluelet art gallery told me that the homes are owned by people from Victoria and Vancouver. The owners live there in the summer and rent them the rest of the year.
We headed back toward Nanaimo and the ferry home. The west coast is just as just beautiful as I remembered, and I look forward to returning again. I really prefer to come here in the "off" season; we'd had the beaches to ourselves, there were no crowds in the stores or galleries, and the locals had time to talk about their towns. I was missing the "wild" however. No bears, cougars or wolves had presented themselves, and grouse, while plentiful, don't really count. So I was delighted when several miles outside of town Tom hit the brakes and pulled the car onto the shoulder of the road. Here's what we saw...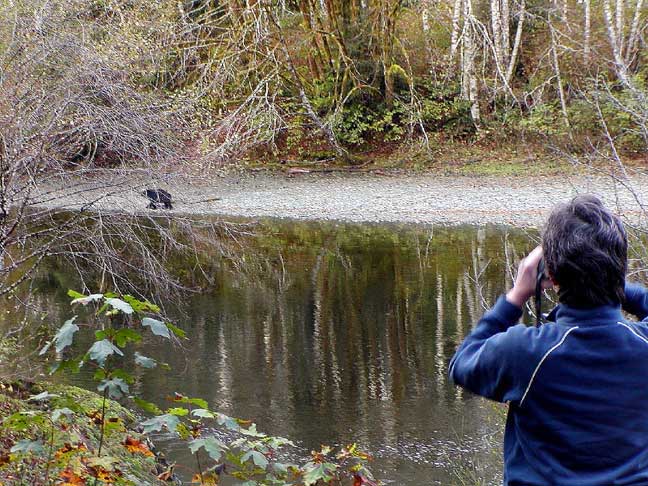 ---
Postcard: Our New Little Corner of the World
October 9, 2004
We spent only a few days back on "our" Island -- just long enough to check our mail, refill the bird feeders and take our 10 foot inflatable rubber dinghy off the dock and store it behind the garage. Winter temperatures are not severe in the Islands, but you can expect a good deal of rain and winds of 50 MPH and higher do happen. It was time to "batten down" the summer hatches, and get ready for fall. But with these chores completed we were anxious to get back to Bend and see what was happening with our new home.
The answer was, "not much". The foundation has been poured, but because each home in each group proceeds at approximately the same pace, and since the rest of the townhomes in our section were still in the foundation stage, building was proceeding at what seemed to me a snail's pace. We had plenty of time to explore the surrounding area
We aren't the only ones leaving San Juan Island for this part of Oregon. We have some good friends who have recently moved to Sisters, a scant 20 miles from our new home to be. They're the ones who told us about Smith Rock State park. We decided to start here to learn about our new little corner of the world.
Unless you're a rock climber, it would be easy to miss the small sign in Terrebonne, a small town about 30 miles north of Bend. This park resembles a small piece of the Grand Canyon, sheer rock faces interlaced with hiking trails, and was formed in much the same way, with the Crooked River doing the eroding. I picked up a brochure about the park at one of the kiosks, and found that it's internationally known in rock climbing circles. The brochure contains a section on the dangers of rock climbing; it warns all climbers to be responsible for their own actions while on these rock outcroppings. And on this bright morning, the climbers were everywhere. I saw a couple carefully climbing what seemed to me an impossibly steep cliff, going hand over hand from one anchor to the next, and watched one man rappel down. That part looked like fun.
Several miles of trails climb to the "top" of the park, a place (I hope not appropriately) called Misery Ridge, while others parallel the most popular rock climbing areas. You can watch the climbers from a vantage point directly beneath them.
In addition to the hikers and climbers, this morning preparations were underway for an afternoon wedding. The bride and groom would take their vows overlooking the river, with the multicolored rock formations as a backdrop. I spoke with the bride to be and complimented her on her spectacular choice of a wedding area. She'd grown up in the area and always wanted to be married here. It was going to be a beautiful wedding.
Another small sign we'd ignored on previous trips to and from Bend was the one for Crooked River Ranch. Practically across Highway 97 from the sign to Smith Rock is another small sign directing you to this RVing and golfing community. On a curve just above the golf course, overlooking the two RV parks below, a viewing platform called us to stop, look and enjoy the scenery. It was also a good place to let Missy out for a short walk, or so we thought. She stayed right with us as we climbed onto the wooden platform, and merely sniffed around the stairs as we descended. "What a good dog she is", I remarked to Tom, who agreed. That was when Missy disappeared. We called her and she belatedly came back with something in her mouth. "Drop it!" Tom ordered. But Missy couldn't drop the mouthful of porcupine quills that were stuck in her lips and nose. Luckily Tom had his trusty Leatherman multi-purpose tool with him. In addition to scissors and about any type of knife imaginable, it has needle nose pliers (now I know why it's called "needle" and "nose"). I held Missy's head, Tom yanked quills from her nose and mouth. Hopefully, she won't snuggle up to any more porcupines.
You might miss the signs to Smith Rock or Crooked River Ranch, but it's impossible to miss the signs for Kah-nee-tah, the resort/casino complex on the Warm Springs Indian reservation. Still, it's 11 miles off Highway 26 between Madras and Portland, and we'd not stayed there before. This time, we called for a reservation in the RV park, and followed the road northeastward up over the barren desert hills. Sagebrush gave way to scrub oaks as we crested the first ridge. These trees gave some shade to the many horses roaming freely in these hills, creating scenes straight out of a Bev Doolittle painting. In the shade of the oaks, it was difficult to see the horses at all, much less pick out one from the other -- they all melded into the pattern of shade and sunlight.
Ms Garmin took us right to the resort, -- once we made the turn through the gate. It's a hard right off a fairly narrow road, and Tom wasn't sure he could make it. It was the only option, however, all the other entrances were exits, and all were guarded by those sharp knife contraptions that promise you flat tires if you drive over them the wrong way. We continued down the road a bit further and found no good turn around spot, so drove into the parking lot of a very attractive gold course, detached the jeep and continued back to the resort entrance. The man at the entrance kiosk assured us they'd had that rigs of every size in the park, and indeed 36 feet wasn't too long for the turn. He was right -- but not by much...
Kah-nee-tah RV resort is a very attractive place, with level green sites contrasting the golden grasses of the surrounding hills. Its only a few feet from the Warm Springs river, one section set aside for kayakers, the rest being open for fishing. It's also a wonderful place for a dog to poke her head into the many holes in the riverbank. Who knows what may be lurking inside? The park has an enormous odd shaped swimming pool, which Tom estimated was about the same size as a football field. When we registered, we had received a free pass for use of this pool, but there would be a charge for using the water slide. We decided we wouldn't use this slide, but after watching some other kids of the mid-age variety cannonballing down, I'll try that next time.
We had breakfast next morning at the resort hotel which adjoins the Indian Head casino. The restaurant was decorated with pictures of Celilo Falls -- that part of the Columbia River which, until the mid 1950s, was a productive spear fishing area for the Indians of the area. The dams caused the river to rise, and spear fishing was finished. Salmon sculptures swim across the walls between these pictures. The restaurant was beautiful, the breakfast delicious.
Then we explored the casino. Neither of us is much for gambling; especially at 9 AM, but I enjoyed the art work that decorates the walls of the casino. One series of paintings depicted the "bone game". The paintings brought back vivid memories of the time, a couple of years ago, when I had the opportunity to see an actual bone game at an RV park in Anacortes, WA. In this game, two teams sit knee to knee across from the other and one team passes a small bone from person to person on its side. There's a lot of chanting and some very fancy hand work, and, presto! the bone disappears. It's up to the other side to guess who has it. The game I saw lasted from sundown until early the next morning, the chanting increasing in intensity as the game progressed, and we were glad our site wasn't any closer to the game than it was.
Another impressive piece of sculpture was situated at the side of a curved staircase between the first and second floors of the casino. Into the sides of a huge piece of highly polished wood were carved the faces of various Indian chiefs. I only recognized Chief Joseph of the Nez Percé, and Geronimo of the Apache, but was taken with the difference in the various faces, all somber, all so dignified.
It's about 300 miles from Bend to Boise, ID, our fourth exploratory trip. We've driven this road many times, most notably when a faulty sensor in the coach necessitated a tow trip back to Bend, and again when we experienced our first blowout. This time we had no car problems (we left the coach behind), and enjoyed a perfect fall outing. The road follows the North Fork of the Malheur River, and each time it crosses it, there's bridge construction. Even on a weekend, when there was no actual work going on, traffic lights forced you to stop, but without the coach, it was a minor annoyance. Once we stopped for a break, and to enjoy the beauty of the fall day. As we looked around at the river, with yellow and red autumn leaves all around, we heard some strange sounds. One went, "Chuk, chuk, chuk." A whole flock of chukkar was exploring the rocks across the river. Another sounded like, "Chik-a-gar, chik-a-gar". On our side of the river was a large flock of quail. Nature at its best.
We were off to Boise to pickup a pickup. While we're between larger rigs, we're planning on purchasing a new camper. But we didn't have anything to slide it into. Hence the trip to Sundance Dodge (where we've had such good luck in the past) to get a new truck. It's a white 4x4 dually, with a 6 speed transmission that you actually shift -- and it will be just perfect with whatever camper we decide to get. In mid November, our coach will depart for a life with its new owners, and it will not be until sometime next year that we'll become Oregon residents and can purchase its successor without paying sales tax. I'll miss our Country Coach. It's taken us on lots of fabulous adventures. But with the camper as our "interim RV" we'll still have a smaller home on wheels to take on our trips out of Bend -- our new little corner of the world.
---
Postcard: Excuses
September 21, 2004
I dreamed up the idea of "Postcards" one day when I finished reading a daily journal that I'd written on a trip across country. My journal had just too much mundane, everyday detail to make it interesting to anyone other than myself. And, reading it, I found I wasn't too interested in it either. So, I decided do something different. I'd write an occasional tidbit "from the road", and try to describe our most interesting adventures . Being a lazy sort of soul, I was also taken by the idea of only writing when an inspiration hit, and of not having this become an everyday chore. I figured that every 10 days to 2 weeks, when we were traveling, would be just about the right space of time.
A month, however, is too long. When I realized how much time had passed since I last recounted our adventures, I found myself rationalizing. "If such and such hadn't happened, I'd have written my postcard by now". Like the little boy who told his teacher, "the dog ate my homework," here are some of my excuses. I hope they're better than that little boy's....
1. I'd have written my postcard sooner if we hadn't had that second blowout. Tom and I have traveled more than 80,000 miles by coach, and never had one blowout, much less two in fewer than 200 miles. We'd seen "alligators" (those strips of rubber tire remnant left by less fortunate souls), but never figured it could happen to us. We were headed west toward the Santiam Pass (on Highway 20 again!), en route to our annual service appointment at the Cummins shop in Coburg. Then we'd take off for a Guaranty (dealership) rally at Outdoor Resorts on the Oregon coast. We were rolling along smoothly, talking of tomorrow's events when, just 20 miles west of Sisters, there came another explosion from somewhere under the coach. Oh, no, not again. We were becoming accustomed to the cannon-like sounds of blowouts, and immediately knew exactly what caused this noise. I'm beginning to think Oregon Highway 20 doesn't like us.
This one was much more violent than the first, and we wondered what kind of damage had been done by this blowout. Once again, our SmarTire refused to acknowledge any problem; as we limped into a welcoming gravel area where an access road joined the highway, it showed full pressure in each tire. This time it was the left inside tire that was a mass of rubber and steel ribbon, and we could see the remnants of our tire strewn down the road. The tire well was intact, however, and all that was left to do was to call the folks at our emergency roadside service -- again. I'm surprised they don't know us by name yet! This time, it took several hours to get help. The tire had to come from Bend, but was to be put on by a Les Schwab tire guy from Sisters. To expedite matters, the man from Sisters decided to meet the man from Bend half way (a distance of about 22 miles). When they met, they found that the chosen tire was the wrong size. Back they went to Bend to get the correct tire, and the Sisters guy then drove out to find us and change the tire.
While we waited, we took turns driving around in the jeep to see where we'd spend the night. Tom found a great spot at Suttle Lake, only 6 miles west. Blue Bay campground is suited mainly for smaller rigs, but there were a couple of spots large enough for us, and it was late enough in the season that the campground was almost empty. We enjoyed what was left of the late afternoon watching Missy look for squirrels and the dozens of quail that were scurrying around the area. The next morning, we drove into Eugene for our belated coach appointment, and prepared to leave for the coast and the Guaranty rally. Before we left, however, we stopped at the Les Schwab tire store in Junction City and replaced the remaining tires -- just in case. Now we've replaced every tire on the coach. While we were there, Schwab also replaced the sensors in our SmarTire, which they determined were faulty.
2. I'd have written my postcard sooner if I hadn't had so much fun at the rally. Guaranty always puts on a great party, and this was no exception. The first day there was fishing or golf for those so inclined, and if neither sport appealed to you, there were activities at the park. This day, everyone not golfing or fishing learned how to make ice cream. Barbara Nill, rally coordinator explained it thus: put cream, sugar and berries in a large zipped bag, chill and massage it. After a time, you get a bowl of very good ice cream.
Tom and I had signed up for a day of bottom fishing, and were thinking of those delicious little rock fish and cod that abound off the coast. Unfortunately, too many other Oregon fishermen feel the same as we do about these fish; the season limit had been reached, and just a few days before we were to go fishing, the State closed the fishery for the year. As an alternative, Barbara arranged for us to go salmon fishing.
Our boats left at 8AM from Depoe Bay, about 10 miles north of Newport. When I walked down to the dock to board the boat, I looked around the harbor. There was no readily apparent exit to the sea. To the east was the town and a small marina. To the south was more town and more marina. To the North was the ramp down which I'd just walked. To the west, where the ocean must have been, was more rock, with a narrow stream of water coming between some very large boulders. Surely we couldn't take a 43' fishing boat out through such a narrow channel. But that's just what the captain did. I could almost touch the rocks on either side.
The Guaranty fishermen were divided into three boats, and of course there was the usual bantering among the skippers and crew of each boat about who would catch the most, or the biggest fish. The only fish we could keep today were Chinook, as the Coho (silver) season was also closed in these waters, but Chinook aren't called Kings for nothing. These are the big fish; 20, 30, even 40 pound lunkers have been caught. So our intrepid party of 11 (on our boat) set off for a day landing fish. And land fish we did. Unfortunately, the bulk of our catch was silver salmon. But they were so large, each being at least 10 pounds, and most in the 15 pound range, and put up such a fight, that they were fun to catch, net, bring aboard, and then carefully replace in the ocean. And the crew of our boat were so expert that none of the fish was injured in the slightest.
If indeed there was a competition, our boat won. We caught 5 "keepers", boated 4 and lost the largest fish of the day. Of the ones that went home, there were two around 30 pounds each, one about 7 pounds and the last about 5 pounds. The two smallest ones, the ones that were RV size, belonged to Tom and me, one on each rod. We've barbequed one and will have the other for dinner soon. Delicious.
One rally afternoon, the "fossil guy" came to lecture and take a group fossil collecting on the beach in Newport just below the RV Resort. He showed us some of the fossils he has collected over the years, fossils dating from the Miocene period. Some of these can be found inside rocks, but others, for example, petrified wood, can actually be found on the beaches, if you know where to look -- and what you're looking for. Our field trip consisted of wandering the beach, finding likely rocks, and bringing them to the "fossil guy" for identification. He'd take each rock, usually identify it as basalt or sandstone, in some cases just "mud", and hand it back to the crestfallen beachcomber. Other times, he identified rocks as opal or jasper, beautiful to own, especially when polished, but not containing fossils. Sometimes, though, he'd get interested in a rock someone found and, using his special hammer, break it open. (He cautioned against using an ordinary hammer for this task, as it isn't hard enough, and pieces of it could splinter off. He remarked that hammer slivers, like grapefruit juice, have a knack for finding eyes.) Several people did find rocks, which, when split, contained small pieces of fossilized animal. My rock contained a piece of crab claw, straight from the Miocene epoch!
Each evening, we met at the Resort clubhouse for a themed dinner. The first night, the theme was "polka dots". The entertainment that evening was a group who sang songs from the 50s and 60s, and called themselves The Polkadots. Each rally-goer was supposed to wear polka dots to this dinner. Tom and I don't own a thing with even one polka dot upon it, but we did have something other rally goers didn't have -- Les Schwab seat covers! Each time we'd had a blowout, and when we had the outside tires replaced in Junction City, the man who fixed the tire had covered a seat with a yellow plastic bag. One side was plain; the back said Les Schwab Tires. We cut holes for our heads and arms, and I glued green paper polka dots all over the front. Those goofy costumes won a prize!
The last evening, we enjoyed a gourmet dinner at the Newport Aquarium. No less than four separate buffet tables had been set out -- one filled with fruits, crackers and various cheeses; one with pastas and salads; one with chicken, fish and roast beef; and, for anyone who had survived the first three, a table simply crammed with delicious looking desserts. If you know RVers, you'll know the desserts didn't last long.
All this food, and a wonderful Aquarium to explore. It's a large place, and one where you can easily spend days examining the many interesting fish and ocean life displays. One case was filled with jelly fish ("jellies"). Watch them swimming lazily around while you read about the lives of these creatures on signs posted next to their watery home. Another case holds Australian sea horses, small animals that look as if they've been swimming through kelp beds, and become tangled in kelp with the fronds hanging all over them. At one time, Barbara Nill had volunteered at the Aquarium, and was delighted to lead us on a walk through a special tunnel. Looking down, we could see what looked like the sea floor, with bottom fish -- halibut and flounder, partially hidden in the sand, and other small fish darting through the surrounding rocks. To either side and above swam other denizens of the deep, sharks, salmon, grouper and myriad other fish. All this would be fascinating if seen during the day -- at night, with lights reflecting off the sides and bottom of the aquarium, it was simply spectacular.
Tom and I took advantage of Outdoor Resorts offer, and stayed an extra day at rally rates, but the weather, which had held for the rally, was beginning to resemble a typical coastal autumn, and we were anxious to return to Bend to see what progress had been made on our townhome. Thanks for the rally, Guaranty!
3. I'd have written my postcard sooner if I'd had access to my own computer. Tom's computer had developed an "iffy latch". When he'd close it, instead of sleeping as it should, it would pop open and start up. So he took it to the computer repair shop in Bend. "You know", said the repair person, "I can't fix this here, I'm going to have to send this to Apple. You will be without a computer for several days. What will you do?"
"No problem," remarked my husband, "I'll use Stephanie's." And he did. You cannot imagine how often Tom uses a computer. I couldn't get near my computer for the next week.
Those are my excuses. We've had a great month, both in Bend and on the coast. We're looking forward to our move south, even though it won't occur until early next year, and expect to spend some time commuting between San Juan Island and Oregon. We'll see what adventures come our way, and I'll try to be a more prompt reporter next time.
Unless, of course, I come up with some more excuses...
---
Postcard: The Big Bang
August 29, 2004
We've been spending some very busy days recently, racing from Oregon to Washington to California and back. After the Country Coach rally, we stored the coach in Redmond, OR, and headed home. We stayed on our Island for only 5 days, and then headed back to Bend. By the time we got back, the annual FMCA rally was over, and Crown Villa was filled with returning rally-goers, each glad to be able to clean out their dusty coaches, do their laundry and generally escape from the heat that had seared the Redmond fairgrounds. Between the wash and dry cycles in the laundry, a couple of women regaled me with rally tales. If you want to hear RVing gossip, the park laundry is definitely the place to go.
One night at Crown Villa, then we returned the coach to storage and took the jeep to Lake Tahoe, CA for a visit with Tom's brother and sister-in-law. We stayed on the north shore, a fairly quiet area, especially when contrasted with the southern shore and glitzy, gambling Nevada. One afternoon we drove around the Lake, a trip which, coupled with a couple of geocaching expeditions, took us to several out of the way places. Places entirely new to us; places even some locals don't know. We found a cache just off the Truckee River on Highway 89, busy with car traffic, bicycle traffic and rafting traffic. We found another at the "Balancing Rock", a formation just outside a Forest Service Campground. We started to hike to a third, located near the interestingly named "Secret Harbor" beach on the eastern shore of the lake, but finding that cache entailed an unusually lengthy hike, and we found ourselves out of time on this busy afternoon.
Two days at Tahoe, then back to Redmond, pick up the rig and head for Idaho to meet our daughter, son-in-law and grandkids for three days in McCall, at the McCall RV Resort. The unseasonably hot weather had broken, and we experienced cold mornings, with snow dusting the surrounding mountain tops -- and rainy afternoons, one with a short hailstorm. But the kids enjoyed the large indoor pool, and, when the sun came out each afternoon, they loved riding their bikes around the park, or playing a game they invented -- soccer golf. How many kicks of a soccer ball does it take to go from point A to B and back again. One afternoon, as their parents played a round of golf, we introduced our grandchildren to geocaching. It was fun to watch them choose which "treasures" they would trade once we found the cache, and then deciding which one treasure -- and they could choose only one -- they would take. Truly agonizing decisions!
Saturday morning, the kids headed back to Yakima. We turned south to Boise, where the Sundance Dodge dealership is located. Effective mid-November, weve have sold our coach, and neither of us can imagine even a month without a travel plan. Until we gave it to our kids a year or so ago, we'd always had a small RV -- a truck with slide in camper. We'd found it great for short trips, or for trips where we'd be "roughing it" -- northern BC or interior Alaska. So, while we decide on a larger coach, and as an interim step, we're thinking of getting another truck and camper combination. We have a fair idea of the camper we want, but we needed to know about the truck. We found the same salesman who sold us our old Dodge, and spent an hour looking at the new duallys, our truck of choice to carry the weight of a new camper.
"In Spring (or fall, winter or summer), a young (or older) man's fancy lightly turns to thoughts of "-- New Cars! But it seems my fancy turns the same way. I fell in love with all the bells and whistles of a new truck -- pedals that extend so that my less than lengthy legs can easily reach them and I don't wind up hugging the steering wheel. New trucks that have mirrors that swivel out so extensions mounted on the truck sides are no longer necessary. Tom likes the idea of three power outlets, and I can imagine how many wires connecting his ham radio, and GPS systems he will have wound around the front of the new truck -- if and when we get one. We still have our coach, and are enjoying this sort of travel.
I had spoken too soon. This morning, we headed back to Bend to check on the progress of our new townhome. As we drove along, we planned the events of the next few days. We'd visit the townhouse complex and view those homes already completed. This way we could make a list of any changes we'd like in our unit. We'd put a few more things in storage. We'd get the coach all cleaned up on the outside from its experiences in the driving rain of McCall, and on the inside from its experiences of being a home for 6 people for three days. What we didn't plan was that we'd -- have a blowout!
Almost four years ago, we were driving east of Burns en route to the Country Coach Rally at the balloon fiesta in Albuquerque, NM. About 10 miles east of town, a little warning light appeared on the dash. "Low oil level," it read. We pulled over and checked the oil level. It was fine, but just to make certain, we added a bit. We started the coach again, and within a quarter mile the same annoying little light went on. This time it was more insistent. "Low oil level. The engine will shut down in one minute". And it did. We managed to get to a pull off spot a few yards down the road and eventually got towed back to Bend where the problem was easily fixed.
Today, almost at the 4 year anniversary of that event, and only 12 miles further east than the exact spot of our first problem, there was a thunderous "BAM" and then the ka-thunk, ka-thunk sound of pieces of tire flopping along the road. We were lucky; there was no vibration inside the coach, no pulling of the steering wheel one way or another, as could well have been the case had a different tire blown. We pulled over and found that the inside tire on the right rear of the coach was a mass of rubber interspersed with metal coils. Interestingly, our SmarTire tire monitor had done none of the things we expected; it neither flashed a warning light or made the promised shrill noise. Perhaps this accident happened too fast for it to react, but even after we realized what had happened and had slowed as we climbed a small grade, that gadget still acted as if everything was just fine. That wasn't the case with the tire. While it was a mess, the inside of our tire well -- which is completely lined with steel plate -- hadn't been hurt in the slightest.
The next thing to do was to get some help. Luckily, we were within analog cell range. Four years ago, we'd had to search for our roadsite emergency service card, but this time we knew exactly where it was. Four years ago, we talked with an agent in Los Angeles, who had a terrible time understanding our location. We told him Highway 20 in Oregon, and he told us he could find no Interstate 20 in Oregon. This time we were more specific. "We've just come off the summit of Stinkingwater Pass, on US Highway 20", we told this agent, who was probably headquartered in Denver or some like metropolis. "We're at milepost 158". Tom then proceeded to give her our exact GPS coordinates. With directions like this, we could hardly be missed!
The agent was most helpful, and called the Les Schwab tire agency in Burns, only 24 miles west. Even on a Sunday, there was a tire man "on call", and Dave was out within the hour with an exact match for our blown tire. Since he lived in the area, he knew all about Stinkingwater Pass; in fact, he had given the CoachNet woman an extra piece of information. "I know just where they are," he told her. "Stinkingwater Pass is just west of Drinkwater Pass!". That must have really confused the poor woman!
Tire fixed, we were off to Bend again. This evening will see us back at Crown Villa, a little later than planned, but all in one piece. Next time we take Highway 20 in the Burns area, we'll be extra mindful of gauges and warning lights. We're not looking for a third time!
---
Postcard: A Hitch in Time
August 14, 2004
The annual Country Coach Rally is a memory, and we are looking forward to new events down the road. Temporarily "rallied out", we're staying at Crown Villa RV Resort in Bend, spending these very warm days in the cool shade of the pine trees and reminiscing about the events of the rally just past. And what a great rally it was. With an attendance of over 350 rigs, our coaches were parked in long lines strung all over the parking lot of the Lane County Fairgrounds. Each coach had a large yellow card in its front window with the names of the RVers and where they lived. Attached, (until the wind came up), to the side mirrors was a number identifying your position on the fairground. Thus, our card read, "Tom and Stephanie Gonser, Friday Harbor, WA", and our number was 19. No worries about getting lost, or not being able to find a friend at this rally; in addition to these placards, comprehensive lists of who was where were posted at the main fairground building.
Each morning at 7, bikers and walkers gathered at the main building for an hour's exercise. I was surprised at the number of these hardy souls. One morning, I counted 15 walkers and 25 bikers, each group being led by a member of the sales team for Guaranty RV, a dealer based in nearby Junction City. Guaranty even provided a free bike inspection the day before the first ride. Tom and I couldn't pass up this opportunity, and joined the long line of RVers to get our bike chains lubricated, tire pressure checked, and a further bike examination to see if anything else was wrong. Since our bikes are carried, uncovered, on the ladder at the rear of the coach, I shouldn't have been surprised at anything that might have been found. Still, it came as a bit of a shock when I was told, "your head is loose". They meant the piece that tightens the handlebars, but it was several minutes before the people around me stopped laughing. [Tom still insists the reference was not to the bike.]
Each morning, during the popular breakfast offerings, we discussed which classes we'd attend that day. Would a class on cleaning Corian countertops be more interesting to me than one on learning how to work an Avantium microwave? Tom trended more to the chassis stuff, attending seminars on such subjects as awnings, electrical protection systems, and engine maintenance.
Though I've attended his seminars before, I just had to attend "Mac" McCoy's class on fire safety. Most seminars at this rally lasted less than an hour, and were focused on learning about an existing feature of your coach or an available upgrade. Mac's class lasts a full 2 hours, often longer, and he puts on an absolutely fascinating program. Fire doesn't care whether you have a "high end "coach, a 5th wheel or pop-up camper, it can happen to anyone. Mac's class begins with a description of the various ways an RV fire might start and shows pictures of the devastation such fires can cause. He describes the different types of fire extinguishers available. He also stresses the importance of learning how to get out of your coach in case of emergency, and the need to be able to swiftly detach your toad should a fire occur. The last portion of the class is held outside. Now class members actually use the different types of extinguishers to put out real fires. It's a "heads-up" learning experience, and one I strongly recommend.
While Tom and I usually attended different classes, we both attended the last class of the last day -- a pictorial journey of the Oregon Trail -- done by RVers who followed the rivers, much the same as did Lewis and Clark. From Pennsylvania, down the Ohio, up the Mississippi to the Missouri, down the Snake and overland to the Columbia, with maps and pictures we shared the adventures of this RVing couple determined to follow as closely as possible in this day and age, the trail of the Lewis and Clark. There was only a little of the trip they did not replicate -- the non-water portion which crosses the western mountains of Montana and crosses the Lemhi Pass into Idaho. Otherwise, where the rivers went, so did these RVers. They spent several evenings in little used and picturesque parks they wouldn't have otherwise found, merely by asking the persons in the local visitor centers.
A rally wouldn't be a rally without food and entertainment, and this rally had plenty of both. It's theme was the Oregon Trail, expanded to include all things western. Around the sides of the main hall were western facade storefronts. The centerpieces on each table were model Conestoga wagons (with "Country Coach" on the canvas) which would be auctioned off on the last night. One night, everyone came wearing western garb, with a prize for the ones deemed most authentic. This night, one small boy, with jeans, cowboy shirt and hat, and sporting two 6-guns, shared top honors with a glamorous gal all dressed in black. Other evenings, we were entertained by a western themed variety show, where one RVer somehow traveled back in time to the "real" west, met a couple of cowhands and was entertained for the next hour. Another evening, the less western but very popular, "Johnny and the Lugnuts" played rock and roll from the 50's. The final evening, we enjoyed the comedic talents of "Bernie and Red". This Canadian couple kept everyone laughing hysterically as they related some of their RVing learning experiences, with tales of backing up and learning about sewer connections. I have seen this couple several times at various RV Resorts in the Southwest, and even when I've heard parts of a routine before, I still find myself in stitches over the way this team describes their situations.
Early the last day, coaches began to leave the fairgrounds. Since our travel plans called for a grand total of 35 miles this day, we were very leisurely about our departure. We figured we could take it easy, have a cup of coffee, walk the dog, and bid farewell to our old and new friends. Most will be headed to Redmond for the annual FMCA Rally in a week or so; all have different plans for the next few intervening days.
It was about 10 am when we decided to hook up the jeep and head east. As usual, I drove up behind the coach as Tom maneuvered me forward so we could attach the arms and the various cables and cords. But as I drove slowly toward the coach, he suddenly signalled for me to stop -- it seems we had forgotten to hook up the little arms that go on the jeep so it can be joined to the coach. While Tom set up his Ham radio on the jeep dash, I put in those little arms. Then, because I learned a lesson the "hard" way quite some time ago, I grabbed one and threw my full weight against it. Once before, when I did this, the thing came right out of the jeep, and I sat down flat on the ground. Embarassing, but educational.
This time though, while one arm held firm, the other seemed a bit loose. I vividly remembered what had happened some time ago when one side of the tow plate had become disengaged from the jeep, and been pulled through the front bumper when the coach started rolling. After that accident I had learned what to look for -- and now I'd found the exact same problem -- one side of the plate was being held by only one of its two bolts. And that other bolt was so loose, I could tighten it with my fingers. The other was gone. There was no way we dared tow the jeep.
This time though, we had an ace in the hole. Although RV service departments were swamped with various pre-rallies being held in the Eugene area and the huge FMCA rally to come, we knew a place that just might be able to fix the plate and help us get on our way. Carrier and Sons. Smaller than the huge service departments of Monaco and Country Coach, and every bit as busy, they still found time to fit us into their schedule. They replaced the bolt, and tested all the others. Every one of the remaining bolts were loose. When our original tow plate had been replaced, that magic potion called "lock tite" had not been applied to any of the bolts. It took Tom Carrier about an hour, and then we were off and on our way. We were glad we hadn't planned on a long day's trip. Thank you, Carrier and Sons. Just think what your "hitch in time" saved us!
It's said that the best advertisement is word of mouth. That's how we learned about Casey's. Two couples who had shared a raft with us on our trip early in the week recommended it and we decided it sounded like a good place to try. We're glad we did. Not only is it close to Eugene, but it's right on the banks of the Willamette River, a special delight on this 95 degree day. Along the river's edge are several picnic tables waiting for their picnickers, casual chairs so you can dabble your feet in the river, and even a couple of hammocks to lie in and enjoy the cool sounds of rushing water. Missy jumped right in and waded around, letting the Willamette cool her off. Casey's has a small swimming pool, well used on this hot day, a large clubhouse, and a barbeque area complete with a soft ice cream machine and popcorn maker. These appear to be always left on for the RVers and a small sign states that the honor system is in effect -- 50 cents for either.
The next morning we were off to Bend to spend a couple of days at Crown Villa. We'd check on the progress of our new townhome, and perhaps get a storage place for the rig as well as finding a place to start storing our "stuff". It's hard to believe that we really will be moving, and are now taking our first steps.
---
Postcard: Throwing the Boats
August 4, 2004
We searched for the coolest route to take from our Island home to the Country Coach Rally in Eugene, Oregon. The west coast is sweltering under is called unusually warm weather. (The people who call it that seem to conveniently forget that last August was similarly "unusual"). But there was no need for us to experience unnecessary heat, we'd hug the coast as long as possible before turning inland. We spent one night one of our favorite spots on Whidbey Island and caught an early ferry to the Olympic Peninsula.
The Keystone-Port Townsend ferry was not at all crowded -- a delight on this early summer morning. As the ferry pulled out from the dock, we waved to the RVers camped in the always popular Fort Casey RV park, and watched the early morning fishermen trying for an early morning salmon.
We were headed for the Bayshore RV park in the tiny town of Tokeland, on the south-central Washington coast. This small park is one of my particular favorites. You'll hear few "civilized " noises here, just the calls of the Caspian terns wheeling along the beach looking for an unwary fish, the squawk of Great Blue Herons interrupted during their stalking of the inlets searching for their meals, or the "kik-kik" of ospreys circling overhead. The park is situated behind a berm, neatly landscaped by the owners, Fred and Susan Merck, with several natural rock fire rings, and wide grassy areas inviting a lawn chair set to watch the boats headed down Willapa Bay toward the ocean. Just across the street, the small 9 hole golf course looks tempting but tough, and the vintage Tokeland hotel offers delicious meals, quaint rooms and features a ghost. The third floor of the hotel is currently closed, with a sign reading "floor closed, friendly ghost sleeping". If you want to hear some of the hotel's ghost stories -- just ask your waitress.
We had planned on stopping at one of the many RV parks on the northern Oregon coast, but a hot weekend in late July was no place to go without a reservation. We called a couple of coastal parks, and, not surprisingly, found they were completely booked. Inland we'd go. We decided to try Mallard Creek RV and Golf Course, an attractive park we'd visited about a year ago. I called and they did have space -- one, for only one night.
Mallard Creek is a bit off the beaten track. We left Interstate 5 at Oregon exit 228 and let Ms. Garmin lead us onward, (which in retrospect, was a minor mistake). She took us straight through the middle of the town of Lebanon, OR, suggested a hard left turn, led us through a residential area, past a large park full of picnickers celebrating Lebanon Days, and told us to cross the south fork of the Santiam River. After another tight turn, this time to the right, we wound our way along this river for about 5 miles, made a left, and were told, "arriving at destination -- on left". We later learned that there was another, far easier way to access this park, one called just follow the signs. However, this way is a few miles longer than the one MS Garmin's, and length was the reason she chose this route.
Mallard Creek is a beautiful park, with large oak trees, green lawns between each level, asphalt site and it's only a short distance to the lovely 18 hole golf course. When we arrived one of the first things we noted was the friendliness of the staff here. The woman behind the desk drives all the way to Bend just to get her hair cut, and since we will be moving there within the next 12 months, I was more than happy to get the name and phone number of her stylist. The park manager came by to personally invite us to the Saturday afternoon ice cream social, and was fascinated to learn why we wouldn't be attending. She had never heard of geocaching before.
As we pulled into our site, a large English Bulldog came over to visit. Perhaps Louie was inviting us to come to see his niece, a 9 week old puppy, just about the cutest pup I have ever seen. On this busy weekend, the golf course was crowded, and I enjoyed watching a foursome tee off. Employees of the Portland International airport were having a match, and I learned a bit about the course without even playing it. We'll be back to this great park soon.
Now we were closing in on Eugene, with still another day before we were due at the fairgrounds for the rally. We spent one night at Deerwood RV park, just south of town, to wash the grime of the trip off the coach and the car and chat with owner Mike Brown. Due to the rally, the fact that Eugene had just finished hosting the Junior Olympics, track and field, and the last weekend in July, Mike's park and all the others in the area are absolutely full and turning away customers without reservations. The next morning, we were off to the fairgrounds and the rally.
We would be arriving one day early. This day was reserved for those who were participating in either a golf tournament or were going rafting on the MacKenzie River. We had signed up for the rafting trip. We joined about 25 rigs already parked at the fairgrounds. Within 24 hours, this number would swell to over 350! We plugged our little orange cord into the electric stanchion, and found that it wasn't of sufficient gauge for the job. What a great reason to head for Jerrys, the wonderful hardware/lumber/homebuilding store found only in Eugene and Springfield. Jerry's is like some hardware stores were before they were bought out by the hardware behemoths. At Jerrys, you are greeted by a real person, not a sign. This person will direct you to the appropriate department, be it hardware or home furnishings. When you get there, you'll find someone who is more than happy to find for you just the piece of whatever-it-is that you want. We purchased our cord, choosing a blue one from the rainbow of colors available. Returning to the fairgrounds, we replaced our small orange cord with blue and noticed that our neighbors had opted for yellow, reds, pinks and greens. Our electric stanchion now resembled a Maypole! We obviously weren't the only ones who had been out to Jerry's.
Tuesday morning at 9 am, 28 intrepid rafters met for the bus trip upriver to the raft launch site. Our trip would take all day, with a stop for a box lunch on the front lawn of a beautiful home right at river's edge. The rafts were equipped with lunch coolers, (sandwiches and cold drinks), paddles and life jackets for each rafter, and several unusual looking long tubes. Having taken this trip a couple of years earlier, I knew that a swim suit was a good accessory, and wore one under my clothes. Other rafters wore jeans and jackets; the cool early morning weather hiding the fact that it was going to be a very warm day. Everyone brought a change of clothing, as the bus company didn't want wet rafters making puddles on its upholstered seats.
Wet rafters? The MacKenzie is a fairly placid stream, with lots of flat water, a few riffles, and only a few rapids of any size, the largest having a ranking of 31/2 (out of a possible 7) Given a warm, sunny afternoon, lots of leisurely paddling, and only a few splashes, surely we'd be dry by the time we got back to the bus, yes?
Yes, except for the fact that each raft comes equipped with squirt "cannons", those unusual tubes I'd seen earlier. These things can throw water 50 feet or more, depending on the strength of the shooter. The water is shot with a great deal of force, sometimes approaching that of a fire hydrant. Yes, we'd be dry, except for the fact that, under the skin of the most decorous person lies a water throwing imp just waiting to be set free. Much of our calm water time was spent shooting each other with those cannons, and, when the rafts came close enough, dousing each other with water thrown from small buckets whose ostensible purpose was bailing water out of the rafts. If you had neither cannon nor bucket, a carefully slanted paddle could also be quite an effective tool for splashing a rafter in another boat. Yes, except for the fact that you just might draw a guide who delighted in taking you down the small rapids sideways, thus insuring that those sitting on one side or the other of the raft would get their backs completely soaked. And the water in the MacKenzie River is cold, with temperatures hovering right around 40 degrees!
Everyone loved it. We splashed each other with buckets, paddles and water cannons. We "took turns" being on the side of the raft which was streamside down as we went through the rapids. We found great delight in splashing the driest member of our group, so that when we arrived at the launch out area, everyone was equally soaked. Our nattily dressed bus driver had a good laugh at the little group of drowned rats that dripped off the rafts on arrival.
We had all changed our clothing, and were just boarding the bus for the return trip to the fairgrounds, when one of the guides appeared at the doorway. "We'd like some help in throwing the rafts", he requested. Throwing the rafts? We went down to the launch ramp to see just what he meant. A large flatbed trailer had been driven to the launch site, and the three guides were busily unloading the rafting equipment. Several rafters helped them load paddles, coolers and life jackets onto one part of the trailer. Then the men lined up on either side of the first raft and physically tossed it onto the trailer. The first one was easy, the second, which needed to go right on top of the first, was harder, and the third the highest "throw" of all. I've seen other rafting trailers, loaded with more than three rafts, and now have a much greater appreciation how much strength and teamwork it takes to "throw a raft".
The bus trip home was much more subdued than the one out, and many of us could have been caught napping had anyone been inclined to check. The sun, the water, and the energy expended by the splashing and the throwing had made us a tired group of happy rafters. Now we'd be ready for more serious rally activities, the seminars and round table discussions to come.
We'll be here for four days, then Tom and I will head to Bend. We'll check out our townhouse-to-be, look for possible storage for the rig, and then head west once again, this time to Brooks, Oregon. This rally isn't over yet; there's another part still to come, one to be spent exploring a part of the Oregon Trail. We're looking forward to this part too -- we're not quite ready to go home.
---