Postcard: Going Home
June 26, 2005
After spending a couple of weeks in and around Bend, it's good to be traveling again. We're off to a party; some very good friends are about to celebrate their 50th wedding anniversary. The celebration will take place on Bainbridge Island, just west of Seattle, and we decided to take our usual circuitous route. It's not a particularly difficult day trip from Bend to Bainbridge, but we'd take a week, heading north to see the Yakima clan, and enjoying the Cascade Mountains before venturing into the Greater Metropolitan Seattle area, complete with its Greater Metropolitan Seattle traffic.
Because Yakima is only a few hours north of Bend, Cathy and Greg have had more visits from grandparents than usual. We've stored a good portion of our "stuff" there, including, but certainly not limited to, computers, clothes and cars. Even without a larger RV, Tom and I still qualify for an insurance discount, being a family with more vehicles than drivers! So we've taken to leaving a car in Yakima, usually trading it for one left on a previous visit. Eventually, we'll have to figure out how to collect them all in Oregon, but for now, the kids have an extra car to drive, and seem to like the situation. From Yakima, we headed to Leavenworth and the Icicle River RV resort.
One of the things I appreciate most about our RVing lifestyle is the friends we've made along the way. The most casual acquaintances become fast friends when you re-meet them many miles, or many months, later. Allen and Virginia, managers of Icicle River are good examples of this. We first met them at this park and, a few months later, saw them again at a Country Coach rally in Eugene. By this time, we had become friends, and we greeted them with "Escapee" hugs. It was great to see them again, and once more, it was hugs all around.
The next morning, we headed west on Highway 2, the Stevens Pass greenway. Perhaps because it was the day after Father's Day, one of our favorite breakfast places, the "59er Diner", was closed, so we stopped at a rest stop a few miles further on. After all, we did have our house, and kitchen, on our backs! After breakfast I wandered over to the "free" coffee concession. Manning the booth was one of the members of "La Societe de 40 Hommes et 8 Chevaux". Thanks to more years of French than I care to recall, I could easily translate the words on his sign, but had no idea of their meaning. He was delighted to explain to me that it was a secret society of the American Legion, founded in 1919 at the outbreak of the First World War. The logo on his sign shows a small train engine, and a larger box car. The entire train was only large enough to carry 40 men or 8 mules to the French front lines during the war, and sometimes didn't get cleaned between transports! But since this is a secret society; one that "you must be invited to join", that's all he would tell me.
There seemed to be an unusually large number of bicyclists on Highway 2 this morning. One cyclist joined us at the coffee urn and explained that this was part of a large group that was headed toward Boston, Mass. Most would only cycle part of the trip, but a dedicated bunch were intent on going all the way. As we continued up to Stevens Pass (elevation 4,000'), and headed down the steep western slope, we watched small groups of cyclists struggling up to the summit before sailing down the eastern side. In the midst of these bikers was a small car with two bicycles on top. Biking to Boston with their bikes on the roof. That's my kind of cycling...
We parked the camper in Monroe, a few miles east of I-5, and drove the Wrangler to Bellevue. The other half of our clan, Cathy's brother Tom and his wife Ellen, have been re-modeling their home. Their kitchen has been completely redone -- it doesn't remotely resemble what was there before. That completed, they are tackling the bedroom area, widening a hall and making what was a small master bedroom into a suite. Right now, it's a dusty mess, but they can see daily progress. Wish our townhome construction was going so swiftly.
We spent two nights at "that park that shall remain nameless". Several years ago, while we still had our Country Coach, we spent an evening in Anacortes, WA at the city owned marina and RV park. A dozen small RV sites overlook the marina, which is always full of boats of every size and description. The views over the still waters of a very protected harbor, and the ready accessibility of town, more than make up for the lack of hookups. As usual, that evening there were only two or three other rigs in the park, and we talked briefly with another couple camped close by. We quickly discovered they were frequent readers at this site, and knew we'd be interested in learning about other places to spend an evening or two. So they let us in on their secret -- another park, not too far from where we were this evening, but even more beautiful -- and still virtually unknown. They wanted to keep it that way; indeed, in exchange for telling us about this park, they swore us to secrecy.
This evening, as we drove into this "secret" park, we spotted one other rig -- yes, that very same couple that had shared their "secret" with us.. We showed off our camper; they regaled us with tales of what they'd been doing for the last year, and invited us to golf with them the next day. Even though we'd only met them once before, that RVers "magic" was at work again.
We took the ferry from Whidbey Island to Port Townsend the next morning, heading for one of my favorite spots, Fort Worden. This fort, and four or five others like it, were built at the turn of the century to protect the waters of Puget Sound from possible foreign invasion. Elaborate fortifications were constructed, and cannons were brought in. But by the time the forts were ready for use, new military advances had rendered the cannons obsolete, and no shots were ever fired from these forts. The cannons are gone now, but the fortifications remain, much to the delight of hundreds of children of all ages.
Fort Worden is divided into two camping areas, one up on the bluff, set in a grove of madrona; the other on the beach, just a short walk to the Straits of Juan de Fuca. Both have full hookups, and spacious sites. We had a reservation beachside, and spent two delightful days there. We hiked to the Point Wilson Lighthouse, and to the marine museum. Boat watching is great from this area. You can see huge ships headed south toward Seattle and Tacoma, or out to sea to ports unknown. We were even lucky enough to spot one of the nuclear subs, flanked by a destroyer, making its way out to the open water. A campground this picturesque is certain to be full in the summer, and we were only able to spend two nights before moving on. We headed south around Port Townsend Bay to another fort -- Fort Flagler, for the last evening before we were due at the 50th celebration.
This park is a bit more "off the beaten path" than is Worden. You drive south from Port Townsend, and head northeast at Port Hadlock. The road takes you across Indian and Marrowstone Islands, crossing the bridge between the two islands, and goes north through the tiny town of Nordland. Entering the Fort Flagler grounds is similar to driving through a huge estate; the grass is neatly mowed on either side of long cedar lined roads. While the sign will tell you it's only 11 miles to Fort Flagler, that's only to the entrance, and there are still a couple of miles to go before you get to the campground. You pass several areas where you can easily access the water, and drive by deserted bunkers facing both the Bay and the open water of Puget Sound. Trails wind everywhere. It's a hiker's and biker's delight.
Perhaps because it's so bicycle friendly, this is a camp area very popular with young families with children. There are a few spots with hookups, most of the sites being better suited for tents and small rigs. Kids are everywhere, running on the beach, flying kites, riding bikes through the woods and generally having a wonderful time. At the campground concession store, I watched one young mother buying blue popsicles for her 4 and 2 year old girls. "They love to come here," she told me. "They love to go camping". Small wonder.
The next day, we drove to Poulsbo, to the Eagles Nest RV park, only 6 miles from the festivities. I was looking forward to this celebration for a variety of reasons. Pat and Bob had left the Island about the same time as we did, and I hadn't seen them for several months. Several other Islanders would be there, and I was anxious to touch old bases, to see how things were faring "on Island". While I have no regrets about selling our house and leaving San Juan, I do admit to missing people I've known for 17 years. Bend is a much larger place than Friday Harbor, and we'll rattle around there a bit before settling in.
We had a wonderful time with our old Island friends; things seemed pretty much the same as they had been when we left. I learned that the golf course is in the best shape it's been in years, that the old Cape curmudgeon is up to his usual unpleasant tricks, and that two other "Capers" have put their homes on the market. The Cape fishermen are looking forward to the opening of salmon season; this year they expect a good supply of "humpies" (pink) salmon. But while I loved seeing all of them, and hearing about Island goings-on, I was a bit surprised to find myself looking forward to going "home". Back to Oregon, even if the townhouse is still not completed. Back to our new life, there and on the road.
---
Postcard: Following the CirclePac Track
May 29, 2005
Look at a map of the west coast of British Columbia, and you'll see water. Rivers, inlets, straits and sounds all conspiring to keep Vancouver Island offshore from the rest of the province. The sea inserts watery fingers far into the mainland, creating fjords. Once you get about 100 miles north of Vancouver, the rugged coast range renders the practical construction of roads impossible, and bridges are impractical. To fully explore this rugged country, from the 20+ mile stretch of the Georgia Strait to the shortest route between islands, you will need to take a ferry.
If you want to sample both mainland and Island BC, you can pay as you board -- or, you can get one of the BC Ferry's CirclePac ticket. For one price, and at a substantial savings, you can board a ferry at Horseshoe Bay, (Vancouver's northern terminal), drive up the "Sunshine Coast" to Earls Cove, take another ferry to Saltery Bay and continue on to Powell River, still on the Sunshine Coast, still on the mainland of BC. From Powell River, a further ferry ride takes you to Vancouver Island. Explore this wondrously diverse Island and when you are ready to return, pick up your last ferry in Nanaimo. Or, you can do this circle in the opposite direction, starting on Vancouver Island, and then crossing to the Sunshine Coast. The only caveats are that you continue on in one direction to complete the circle, and that you keep the ticket book and receipt for presentation at each ticket booth. And, after you purchase the circlepac, you have 90 days in which to use it. Plenty of time for exploration, wherever you want to go.
Tom and I have also found additional savings on these routes if we drive onto the ferries separately. The cost for each of the camper and jeep is less than if we towed the Jeep on board. (Which is also true for the Alaska State ferries, a fact many travelers don't seem to realize). The total cost for our two vehicles plus passenger fare was only slightly more than US $200 -- which as veteran ferry riders we think is a real bargain
We're off on a shortened northern odyssey. Our plans for a 6 week trip to Alaska had to be postponed a year when our Bend townhome wasn't finished even close to on time, and this trip is our substitute. We crossed the border at Sumas, Washington, a relatively little used port of entry, and headed for the ferry at Horseshoe Bay. A week of cool, rainy weather had broken, and the forecasts were for sun and more sun -- record breaking temperatures being possible. For many, temperatures in the 80s may not seem very high, but for the people used to a cool marine climate, this is warm indeed. The Sunshine Coast was living up to its reputation.
We planned on an early morning border crossing, and spent the evening in Lynden, a scant 13 miles south of British Columbia. We'd planned our departure so thoroughly that we didn't even detach the Wrangler from the back of the pickup, but merely removed the keys and locked the car. I jumped in the next morning, and found a completely dead battery -- so dead that, even with my using the truck to tow the jeep while Tom tried to start it by compression, still it wouldn't start. Some gremlin had crept into the jeep while we slept and pushed on the hazard flasher! Thank goodness the jeep was still connected to the truck. We towed it into Bellingham and the jeep dealership which revealed nothing more serious than a thoroughly dead battery -- which they graciously fixed at no charge to us and we were once again underway.
As it turned out our start was a bit later start than planned. But one of the beauties of this circle trip is that the mileages between destinations are quite short, about 90 (road) miles on this first day to Porpoise Bay Provincial Park, just outside Sechelt. Like most of the BC Provincial parks, it has no hookups, but the sites are spacious, easily large enough for the largest RV, set well apart from the others in a beautiful forest of cedar and maple. Each has a large table, and, from previous trips, we expected a fire ring. However, this time we found all individual fire rings gone, and only one communal fire area remaining. A nearby sign explained that, in the interests of BC air quality, fires would be limited to only a few areas, and then only between the hours of 5 and 10 pm. Baked potatoes, cooked over our own campfire, would have to wait.
Porpoise Bay Provincial Park is located on the shores of Sechelt Inlet. From the Park's beachfront, it looks more like Sechelt Lake, with beautiful homes overlooking the water, and multiple docks along the shore. But this is not a freshwater lake, it is a saltwater connection to Jervis Inlet and the Pacific Ocean. Only a few water miles away lie the world famous Skookumchuck Rapids.
Named for the Sechelt Indian words "strong" and "water", these rapids live up to their reputation. Four times each day, water roars through these rapids, exchanging the waters of Sechelt Inlet with the waters of Jervis Inlet and the ocean. Sometimes the tides are less "aggressive" than others; indeed, the locals classify them like shirts, "S, M, L & XL". We were lucky enough to visit the rapids on an "XL" day.
We'd been to the Egmont Marina RV park on a previous trip. It's located about 45 miles north of Sechelt, only a few kilometers south of the Earls Cove ferry. You'll not find it listed in TrailerLife, Woodalls or even the BC list of accommodations. But for a real taste of British Columbia, you've got to visit this place. 13 cabins and an 8 unit motel share 4 1/2 acres of waterfront with a marina, restaurant/pub, and a 20 site RV park. The sites are not fancy, with only electric hookups, and are best suited for small RVs or tents. Buty they are right at the water's edge, with views which are unparalleled. I was enthralled by the successful fishing techniques of a Great Blue Heron as he stalked along the shore, pausing only briefly to stab small fish, and other denizens of the tide lines. He seemed particularly attracted to black, flat, wormlike wrigglers which he grabbed, flipped, and swallowed, head first.
We were the only RV in the park the first evening at Egmont, but the marina was full. A large (85') white and chrome yacht from Las Vegas pulled into the outer pier. The captain and deckhand made the ship secure, and a cook and waitperson would ensure the six guests had a comfortable evening. Docked prow to prow with this lovely yacht was an even larger vessel. This one had a scratched and dented frame, and a blunt prow that could be unhinged to become a ramp. These vessels are a fairly common sight here, where the only access to many small islands is by water. The boat can head right up to the shore of an island, lower its ramp and load or unload cargo. Indeed, it was already fully loaded for the next day's trips. Moored just inland of the yacht was a small fishing boat here because it needed shore power to keep its catch fresh until unloaded the next day. One sees all sorts of boats in Egmont -- from elegant yachts to every type of everyday workboat.
We watched the sun set and paint the surrounding mountains with blues and purples, leaving the water a silver grey. The next day, we'd hike to the Skookumchuck Rapids, and see that "XL" tide.
The time of maximum flow through the rapids was 1:40 the next afternoon. The hike to the rapids is 4 km, (2.5 miles), each way, and worth every step. The first portion of the trail is a virtual street, passing several private homes, and I wondered that we hadn't been allowed to drive further along, until I later realized just how many people come here just to see these rapids. Had access been granted, the owners of these homes wouldn't have been able to use their driveways.
Now the road narrowed to a broad trail, wandering up and down through old growth forest. Some of the informative signs pointed out Native uses of the cedar. Others described how long ago, loggers had cut notches in the old growth cedar. These notches were used to hold "springboards", on which the loggers could stand to hand saw the tree above the "butt" of the tree -- often 6 or 8 feet above ground.
We hiked along the edge of Brown Lake, a lake well known for the size of its cutthroat trout, and then climbed again through the woods to a large rock promontory above the rapids. 30 minutes still remained before maximum flow, but there were at least 20 persons already watching a very impressive show. Some of the water roared down the side of a small island, joining other currents to form gigantic whirlpools 20 to 30 feet across with walls 5-6 feet tall. I watched one form through my binoculars and felt the 3-D aspect of the pools. The noise was deafening; louder than I would have imagined possible. It would be truly frightening to be caught in one of those whirlpools.
And of courst that's why boats can only safely pass through on a slack tide.
From Egmont, it's less than 5 miles to the Earl's Cove -- Saltery Bay ferry; and from there only 25 miles to Powell River. We camped at Willingdon Beach Park, again right on the water, this time the shores of Malaspina Strait. The park is right in town, less than a mile from the ferry dock. It has sites of all sizes, some full hookup, others, the ones closest to the water, only electric -- and a prized marine view.
With plenty of time to spare this afternoon, we drove to the "top of highway 101", just north of the small artist community of Lund. This is one of the places where yachts, bound for Desolation Sound, can replenish their supplies and top off their fuel tanks. In summer, this is a very crowded spot; today it was relatively quiet. We enjoyed looking through the Tug-guhm gallery, and watching the resident sculptor at work. We both fell in love with her seal heads, which reminded us of the seals we often saw around San Juan Island.
If we had an itinerary when we started this trip, it's a thing of the past now. We'd spent more time poking around the Sunshine Coast than we originally intended, so why not one more day? We'd stay and visit Texada Island.
Texada is a large island, (31 miles long and 6 wide), in the Straits of Georgia between Powell River and Vancouver Island. It's not "on the way" to anywhere but Texada. You can't stop over for an hour or two before resuming your journey. You'll have to return to Powell River before continuing on. As an extra trip, this didn't count as part of the CirclePac, but it's well worth an additional visit and the fares are reasonable.
We caught one of the morning ferries, and were struck by the differences between this and our San Juan experiences. Tom was concerned not about getting on a ferry to Texada, but by getting off it on Sunday afternoon. We remember all too well getting cars in line two or three hours early on San Juan for a Sunday return to the mainland. But when he asked the ticket gal if there would be a problem returning, she looked at him as if that were the strangest question she'd ever heard. As it turned out, there were four times the number of cars returning from Texada as had been on the trip out -- 2 went out, 8 returned. Not a lot of Sunday traffic for a ferry that could easily handle 50 cars.
The ferry docks at the picturesquely named Blubber Bay. Here we saw a few homes and one gallery, closed. We followed the (only) road south past a large limestone quarry, and turned right on Crescent Bay Road. About 4 km and we arrived at the golf course. It's 9 holes, cut right out of the forest, featuring a hazard new to me. Right down the middle of the fairway were several tree stumps, surrounded with tall grass. I'm sure that's where my balls would have landed every time.
There are two towns on Texada, Van Anda and Gillies Bay. Both claim a population of about 500. At one time, Van Anda was a bustling town with the only opera house north of San Francisco. This morning, not a soul was in sight. We headed on south toward Gillies Bay and the Shelter Point park, a regional park and campground. What a beautiful spot. There are about 30 large campsites, 5 on the bay, the rest scattered through the cedar forest. Two beaches invite beachcombing, there's a large children's play area, and the offshore rocks are reportedly excellent for diving. In the center of this park, a large building proclaims itself the "Concession Stand", offering breakfast and lunch. We had a great conversation with the concessionaire and her husband, who told us the two best places to eat on Texada were (1) right there and (2) a pub/bistro called the Tree Frog in Gillies Bay. We didn't stop at the Tree Frog, but according to the aromas emanating from the concession kitchen, and the clean plates handed in by several persons having breakfast, I'd say they were right!
Just by driving to Shelter Bay, 24 km south of Blubber Bay, we'd covered almost every mile of paved road on Texada. However, there are many more miles of gravel roads on the southern end of the Island which we didn't have time to explore. Next time, we'll leave the camper in that park, and take our little jeep to find places such as Shingle Beach and Bob's Lake. We may even get as far south as Mt. Shepherd and South Texada Provincial Park. It's an intriguing island, well worth a return trip.
Tomorrow, we'll continue our CirclePac Track, catching the other ferry from Powell River, the one that goes to Comox on Vancouver Island. We're planning a couple of days at Ripple Rock RV Resort just a few miles north of Campbell River before we return to the states. That's the plan. But we're having such a good time with our leisurely exploration in a smaller rig that seems well suited to the areas we're visiting that I'd hate to predict just when we'll be back.
---
Postcard: A Letter for Missy
May 18, 2005
Dear Missy,
It's been just over 2 weeks since you left us, and I thought I'd bring you up to date on all our activities. Except for one blustery day on the Oregon coast, we've spent most of our time exploring the countryside around Bend, our new home to be.
We needed to have a few minor adjustments made to the camper, and this time took it to Lassen RV, the dealership where we bought it. What a difference it makes to have a small camper instead of a large motorhome. We've had many good service experiences with our big rig in the past, but it still takes time to check out faulty systems in a coach. We'd become accustomed to waking early and having the coach picked up each morning around 7 a.m. Each afternoon around 4, back would come the rig, hopefully with most, if not all, of the items fixed. Too many times, we'd learn that we needed to spend another day or so before we'd be ready to leave.
Fixing a camper is far easier than fixing a motorhome, or perhaps we didn't have a difficult "laundry list" of problems. We took the camper into Lassen at 8 in the morning, and found we'd have it back that afternoon. Almost not enough time for our day's journey, out to the Oregon Coast for a much anticipated ocean "fix". No matter that the day was cool and rainy, we were off to the shore.
We followed Highway 20 through Corvallis to Newport, a distance of about 50 miles. We've driven this route several times, once in a 42' Country Coach Ovation, so we've become quite familiar with the turns and twists of this picturesque road. We picked up the expected rain as we crossed the low mountains of the Coast Range, and it was raining steadily by the time we got to Newport. We drove out to Nye Beach, that area of Newport where the original settlers first built their homes. On with the rain jackets, out to the water just where it was curling up on the sand, put one hand in the waves, and head back to the car for a lunch of Mo's famous clam chowder. Wish you could have been there to chase the seagulls.
Mo's restaurants are in Newport, Florence, Cannon City and Otter Rock, small towns dotting the Oregon coast. The original Mo's, in Newport, also has an annex. Since the annex is right on Yaquina Bay, (the original is across the street), we headed for Mo's Annex. Mo's specializes in many different types of seafood, but is best known for its chowder, and on this rainy day, the chowder was perfect -- just as good as we remembered. From our table, we had a seagull's eye viewpoint of returning fishermen unloading their morning's catch on the dock below. (I know it was a seagull's eye viewpoint, because a large Western gull was perched on a ledge just outside the window, eyeing the activities below, hoping for a handout). Ling cod, black seabass and red snapper had been put in separate bags, one bag for each fisherman, and bag by bag, each fish was expertly filleted, rinsed and replaced, ready for the trip home. A man from the Oregon Department of Fish and Game was standing by the filleting table. When the fillets had been removed what remained of the fish was tossed into a large plastic container. The Fish and Game man then leaned over, picked up that fish and held some sort of meter against its head. Whatever was he doing?
Curiosity got the better of me when, after lunch, we met that Fish and Game official coming up from the dock. His explanation was simple. He was not checking mercury levels in the fish, nor was he looking for undersized fish. He was checking for tags so that the department could know which fish were wild and which not.
Back we went to Lassen to find our rig ready and waiting for us. Before heading back to Bend, we'd spend the night at Mallard Creek RV park. Even in the rain, its one of my personal favorites. It rained steadily all night and was still raining when we left the next morning. That was no deterrent to a group of high school golfers who were participating in a tournament on the Mallard Creek course.
Missy, you would have loved our trip to the Lava Cast Forest. We'd decided to spend some time exploring what will some day be "our" area. A few miles south of Bend is the Newberry National Volcanic Monument. Named for the 500 square mile Newberry Volcano, this intriguing area has miles of hiking trails as well as camping areas along the shores of two lakes, Paulina and East Lake. A couple of years ago, I drove to the top of Paulina Peak and got a wonderful view of what seemed like most of eastern Oregon, both lakes and a huge obsidian flow extending from just below the peak almost to Paulina Lake.
Today's attraction was the Lava Cast Forest. We stopped at the Lava Lands Visitor Center for directions, (Ms Garmin being a bit iffy in this area), and, along with road directions, were warned it was ten miles on a gravel washboard of a road. But the directions were only partially correct: the road was ten miles long, but almost as smooth as pavement. Once you turn off Highway 97, there's no way of getting lost, a single track wanders through ponderosa and lodgepole pines, gradually climbing higher and higher.
This forest was created over 6,000 years ago, when Newberry Volcano erupted along a series of fissures on its northwest side, sending smooth textured pahoehoe lava through an ancient forest. The lave spilled against the upstream side of the tree trunks and encircled them, snapping off the trees and burning their stumps. When the stumps were gone, the lava cooled, leaving tree sized holes behind. We followed a one mile, asphalt trail which winds through the "forest", noting some molds which formed around tree trunks, and some formed by logs which fell but were not swept away in the lava current, creating horizontal molds.
Slowly, life is returning to this area. Small trees and bushes have somehow found enough soil for tenuous growth. Birds are everywhere, finding nesting places in old trees, finding insects for food. Mosses are growing on the lava. One day, it will look as it did before the eruption.
We've been staying at the Crown Villa RV Resort in Bend, but one morning decided to try Tumalo State Park. We traded the carefully manicured lawns of Crown Villa for juniper laden sites at Tumalo. Some of the sites are full hookup, others are dry camping, but in each you know you're camping in the high desert. Chipmunks were everywhere, and even though I realize it's not a good idea, I succumbed and fed them some cereal flakes. In doing so, I learned a couple of new things about chipmunks.
First, there's a chipmunk pecking order. The fattest chipmunk is the dominant one. He was the first to find the flakes, and had stuffed his pouches almost to bursting before another chipmunk found the treasure. The thinner chipmunks seem to be afraid of the fatter ones; they were easily intimidated, and quickly ran away.
Second, chipmunks can growl. When two chipmunks of approximately the same girth approached the food simultaneously, one stopped and actually growled at the other before running away.
We learned more about our new home as we watched the 29th PPP -- pole, pedal, paddle. Contestants start at the top of Mt. Bachelor and slalom down the steep terrain. Next comes 5 miles of cross country skiing. Then a quick change of clothes for a 22 mile bicycle race down into town, where they jump into waiting kayaks for a swift paddle downstream on the Deschutes River. Pulling their boats out onto the bank, there's a short sprint to the finish line. Who enters all these ambitious events? This year, there were 2,500 contestants. You can race the PPP as an individual or as a team. You can enter it as a senior or in any other age group. Tom and I watched as one of the first individual finishers -- a member of the "elite" class, paddled furiously toward the finish line, a bridge lined with flags and crammed with cheering spectators.
Our townhouse is progressing, but so slowly it's a bit discouraging to watch. So, this week, we're off to Moscow, Idaho to take care of grandkids while their parents go back to school. Both Cathy and Greg are lawyers, and are taking advanced mediation courses at the University of Idaho Law School. We're contemplating a jet boat trip up the Snake River into Hells Canyon with the kids on one of the days while their parents are in school. I'm sure the children will enjoy this switching of roles. Then, depending on the weather, we're be off to British Columbia, perhaps up the Sunshine Coast. We had to cancel our Alaska trip, so this shorter trip will have to take its place.
So, Missy, that's what we've been doing. It's not been quite the same without you. We'll always remember your sparkling eyes, your delight in chasing squirrels (even if you never caught one), and the fact that you actually knew to look up into trees when we asked where the squirrels were. We'll remember your antics; you were the only dog we ever saw who spun in circles when you got excited. But that last time when you could barely breathe, the vet said that without extensive surgery this would happen again and again, more severely each time. And he could offer no assurances that surgery would help. It was time to say goodbye. We miss you very much.
Love, Stephanie and Tom
---
Postcard: Moab Mania
April 26, 2005
Our "few days" stay in Moab stretched to more than a week. The weather was perfect for exploring the area; sunny and warm, with just enough breeze to keep things comfortable. Every day we took our little jeep off on another adventure; every evening our list of places left to explore grew longer and longer. We thought we had driven many back roads in this area, but we soon realized we had barely scratched the surface of the places possible for a standard jeep, (one not tricked out with oversize tires, winches, and a chassis set-up fit for a Sherman tank).
As we so often do when entering a new state, we'd stopped at the Utah Welcome Center and picked up several booklets, each describing various parts of the state. One booklet, "Utah -- Scenic Byways and Backways" describes various backroad drives, including some in the Moab area. The "Byways" are paved; the "Backways are not, and can be extremely challenging even to 4WD vehicles. Tom had coordinates for an intriguing sounding geocache at the top of a scenic backway called Hurrah Pass. I'd not heard of this pass before, so I checked the booklet for a description of the route. I found it included on page 78. "Portions of this Backway are possibly the most challenging four wheel routes mentioned in this book". And, in a later paragraph, "the distance from Moab to SR-211, (covering the pass route), is 57 miles. Allow 11 hours travel time". Whoa! That didn't seem like the sort of trip a stock jeep, with stock passenger, would enjoy. However, we didn't need to go the whole 57 miles; after we left the paved section, our 4 wheel trip would only be 10 miles long, and we could always turn around.
Although we'd never traveled this route before, we seemed the only people in the area that didn't know about it. The first 7 miles are paved, and wind along the southern side of the Colorado River. There are several unimproved campgrounds in this area, some on the water's edge, others tucked back into small ravines. We stopped at one such campground, walked behind the sites into a small canyon and found the walls covered in ancient pictographs. What an historic place to camp for a day or two!
Where the pavement ends and the gravel road begins, there's a large gravel parking lot. Even at an early hour, the lot was almost full with trucks and cars unloading dozens of ATVs, motorcycles and bicycles. This is the start of the "fun" road for these enthusiasts. Never mind that the next 10 miles are steep and winding. Never mind that there are two streams to ford. I saw one couple biking along, towing their small children in a low to the ground covered carrier. I have no idea how they were going to get those kids across those creeks.
We bumped along over the rocky road, pulling over for motorcycles and carefully passing bicycles, climbing ever higher toward the pass. Right before the summit, we passed two women cycling madly up what seemed to me to be a perfectly impossible stretch of road -- steep with plenty of loose gravel. However, as we crested the pass, the women were right behind us. I just had to ask them if they found the road as difficult as it looked to me. "It's not nearly as difficult as the route we took yesterday", one said. "We went to the Top of the World yesterday". With that, the two of them started down the other side of the pass. I was unable to find a route with that name on any of the maps we had of the Moab area, but I'll take her word for it.
On our return trip, we stopped at a pull out to look at the wildflowers. We could hear voices, but at first saw no one. Then, across a small ravine, we noticed two bicyclists. Looking more carefully, we could see they were actually riding on some sort of trail. Driving a bit further down the road, we could see more of this trail, and shortly found the trailhead sign. Called the Amasaback Trail. Nicknamed "the Cliff-hanger Trail, it's maintained by the Red Rock 4 Wheelers jeep club. The club gives difficulty ratings to several of its off road trails in this area, with 1 being the easiest, and 4 the most difficult. This trail rates a 4+. We stopped and looked down, wondering how anyone could ride anything -- bicycle, motorcycle or jeep -- over that terrain. You must drive straight down over a series of "steps" each about 10-15 inches below the next. To make it more difficult, there's no place where these steps are level -- you will be on a different angle with each step. Once down that little obstacle, there's a further problem. Now the trail falls over a 4 foot cliff, bumping to the sandy road below. We watched a group of bicyclists try to descend this area. One made it down without difficulty, one fell, picked up his bike and walked the rest of the way, and the final two didn't even try to ride down -- just walked their bikes over the obstacles.
Just as we were leaving, a young woman rode up. Tom asked her if she was going to ride that chute. "Oh yes", she said, "that's how I work out!" She obviously didn't count the road out from Moab as part of her work out. Before she took off down the rocks, she described a nearby petroglyph hike that was not listed on any of the local maps. The trailhead is unsigned, and is one which many visitors never find. She warned us it was steep, but assured us that it was very short. Of course, we realized her perspective might be different from ours.
The next morning, we returned to take the petroglyph hike. It was a short hike, all right, climbing straight uphill and around some cliffs. The petroglyphs were momentos to the past -- men on horseback, fanciful animals with antlers, and my favorite, a long snake, standing on his tail, forming a question mark. Unfortunately, there are places where the pictographs have been cut off the canyon walls, and someone had scratched his name among the pictures. We couldn't help but contemplate how these ancient art form expressions had been respected by countless generations over the centuries, only to fall victim to our "modern" cultural norms.
Looking down the main canyon, we noticed a splotch of color at the base of a cliff some 100 feet above the road. Then we saw other colors -- climbers on the sheer face of Tombstone Mountain. This mountain isn't named for these daredevils, but for others -- the parachutists that jump from the clifftop. They can only use one chute as there isn't enough time for a backup to open before they reach the ground. Today it was possibly too windy for the jumpers, but we could see them at the top, assessing their jumping chances.
Heading back toward Moab, we noticed several vehicles seemingly stranded on the side of a steep hill. We pulled into a nearby parking area and took a look through our binoculars. We were at the base of the (in)famous Moab Rim trail, one of the steepest trails in the area. A sign at the base of the trail warned that this trail should only be attempted by fully modified 4WD vehicles, and even then, according to the warning signs, 10% of these specially outfitted vehicles could expect serious damage. A standard 4WD Toyota pickup had become stuck less than 200 yards up the trail, quite close to the rim and a hundred foot drop to the river below. A 4WD jeep wrangler was being physically pushed over a large slickrock "step" further up. Another truck had slid off of one side of the trail near the top of the hill.
A small blue jeep was coming down the trail, and we watched in admiration as he maneuvered between the Toyota and the edge of the cliff. He had passed the other vehicles, and told us the most difficult part of the trail still lay ahead of them. Just around the top of the hill, tight cornered switchbacks and a trail that runs across the face of cliff present extremely challenging obstacles. Not a trail for our little jeep; indeed, it wasn't even too easy to walk up to the stranded vehicles. Here's what a "real Jeep" looks like, doing its thing in Moab: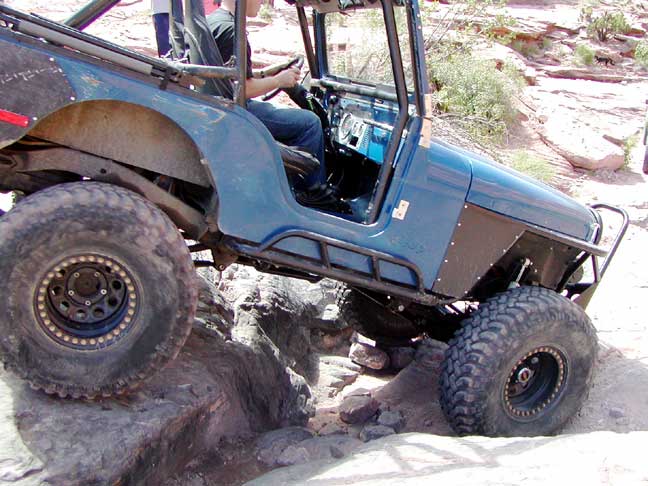 We must have been influenced by all this strenuous outdoor activity. We found ourselves choosing (at least for us) longer, steeper trails. One morning we hiked to Corona Arch, a hike involving some slickrock scrambling, climbing hand over hand up cables set into the steep face of rock. Early another morning, we drove into Arches National Park, and took the Delicate Arch trail. This trail begins as a level walk through the desert, but soon we found ourselves clambering over more slickrock, following the rock cairns which mark the trail. You cannot actually see Delicate Arch until you have hiked somewhat above it, and along the side of a cliff. Suddenly, you come around a bend in the trail and there it is, your first view of this beautiful arch. There were only about 30 other hikers there when we arrived, and we mentally congratulated ourselves on being one of these few (so we thought) persons to make it all the way up.
As we came back down the trail, literally hundreds of people were on their way up. At first we thought a tour bus or two had stopped to disgorge hikers. There were families with small children, some so young that they had to be carried, school children singing fanciful songs and teenagers wandering along holding hands. Some were skipping along, some walking more slowly and stopping every so often to rest. Each was determined to reach the Delicate Arch. We were glad we'd decided on an early morning hike.
We'll spend a few more days in Utah, exploring the beautiful country of the Colorado Plateau. We're due back in Bend in a week or so, but between now and then...who knows?
---
Postcard: Sensory Overload
April 18, 2005
The more we travel, the more beauty we see in this country. Tom and I are not full timers (and I can still say that even after 5 months in the back of a pickup truck), but we've traveled enough to have a list of our special spectacular spots -- those places where one can only gasp and say "oh my, look at that". After just so many gasps, and just so many times pointing out spectacular vistas, I go into sensory overload. My ability to notice shuts down, and the next beautiful tree or spectacular mountain range doesn't get its full due. Included in the many places on my particular list is seeing the fall foliage in the Northeast, driving the Icefields Parkway in Alberta between Jasper and Banff, and the place we are now -- the area in southeastern Utah near Moab.
There are 2 national parks within a short drive from Moab. Arches NP lies just north of town, and Canyonlands lies a short distance west. Looking at a map of the surrounding area, you can count the surrounding parks and monuments -- Dinosaur to the north, Mesa Verde to the southeast, Canyon de Chelly to the south, Capitol Reef and Escalante to the west, and further west, Bryce Canyon and Zion. And then there's the Grand Canyon. One could spend weeks here and see only a tiny fraction of this country.
On other trips to Moab, we've stayed at the Portal RV park and campground. It's aptly named Portal -- you can look across a cottonwood studded field to the gap created where the Colorado River flows into Canyonlands National Park. The RV park has 36 sites, suitable for the longest rig, (I noted a 45' Prevost, towing a full size trailer carrying a Jeep). It's set about 1/4 mile off the highway, virtually eliminating traffic noise. This park caters to family camping, with a number of tent sites and 8 camping cabins. A three sink kitchen is convenient for campers' dishwashing , and a large covered area with long picnic tables invites family dinners. There's even a swimming "hole", a large pond where kids love to splash around. This afternoon, a group of Boy Scouts was gleefully tipping each other off large inner tubes while some smaller children watched wistfully.
From the largest rigs to the smallest ones, many people were towing various models of Jeep Wranglers. Most had all the bells and whistles possible, even to painted decals reading, "Moab Off Road". If a rig had no jeep, it probably had a motorcycle or one or more bicycles, as this area is considered a biking mecca. The town advertises its "Slickrock Bike Trail", a 12 mile, moderate-to-difficult ride on Navajo Sandstone, called slickrock because that's what it becomes after a rain. 5 major bike events are sponsored each year, with such picturesque names as the Skinny Tire Festival, the Fat Tire Festival and 24 hours of Moab. In April. the Tour of Canyonlands Race is expected to draw 800 to 1000 racers, and 1500 to 2500 spectators.
Without a reservation on a Saturday evening in Moab's high season, (April & May), we were lucky to get into Portal, and even then it was only for one night. We made a reservation for the following Monday and spent the intervening Sunday camped in Arches National Park.
There's only one campground in Arches NP -- Devils Garden Campground. It's 18 miles of winding road from the Visitor Center, and away from the civilization that is Moab. The first portion of the road climbs steeply for about 2 miles to the Arches plateau. From there, it curves gently between huge rock formations. You can see medieval cities, fanciful animals, and glowering faces in each of these formations, and it's quite easy to see how they got their names. You pass the Courthouse Towers, the Three Gossips and Sheep Rock, each of these massive formations towering 400 feet or more above you, and seeming to rise straight out the of desert floor. You drive by Balanced Rock, a narrow spire of rock with an impossibly large rock balanced on its top. You can detour to the Windows section of the park, look out over the Fiery Furnace, or walk to other arches. But, unless you have a reservation, it's best to continue on to the campground. In season (now), that first come first served portion is early filled with eager campers looking for just the right spot.
There are 50 sites, about half of which are on a reservation system. Some are back-in sites, backed into the desert, with sandstone boulders on either side, and twisted pinyon pines or junipers shading your rig from the sun. Other sites are parked parallel to the street, with the "living" area, (picnic table and fire ring) set out in the sands and well spaced from each other. These are relatively small to mid-sized sites. While we did see one large Alfa diesel pusher, in order to fit the site, the driver had been forced to back up so far that the end of his coach extended completely over the fire ring. Several moderate size 5th wheels had maneuvered into the sites, and a Bounder was parked at the side of the road in one of the parallel sites. Aside from these few larger RVs, tent trailers, vans and small motorhomes were the norm. Our camper fit perfectly.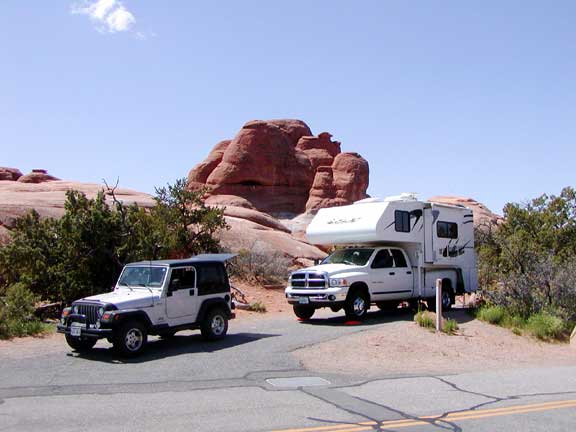 Getting set up was no problem, as there are no hookups at Devils Garden. It was merely a matter of backing the truck into the site, leveling it, and extending our slides. Then we were ready to do some Arch walking. We'd hiked to the Landscape Arch on our last visit, and today we were off to Broken Arch and its neighbor, Sand Dune Arch.
None of the arch trails is very long in the park; the longest, Devils Garden is 7.2 miles, including all the spur trails to points of interest. It was only .6 miles to Broken Arch, a walk through a meadow toward the arch in the distance. The meadow was covered with a type of mesquite, and the contrast between the silver-grey branches and the dark green new growth made the plants look almost blue. Small yellow flowers interspersed with orange-red blossoms of paintbrush contrasted brilliantly with these blue bushes. Between them in various spots, we could see patches of dark, crusty ground -- cryptobiotic soil crust. This soil crust is very important to the desert ecology; it serves as a fertilizer, and when wet, can enable the soil to retain moisture, most necessary to plants of this harsh environment. When dry, this soil crust is easily damaged by walking on it or riding a bicycle over it, and the damage may take up to 250 years to heal. Therefore, the park has put out signs identifying this very much "alive" soil type, and warning against walking any place other than on the established trail.
Broken Arch is so called because of a crack across its top. I scrambled into the arch up a fairly steep incline with the help of a tightly wedged log in a crack along the slope. From there I could see the rest of the trail leading back to our campground, and could easily have continued back that way. But we were headed to Sand Dune Arch.
The walk to Sand Dune was even shorter than the one to Broken Arch, made only a trifle more difficult by the fact that most of the walk is through deep sand. This arch is completely hidden from the outside; the only way you can see it is by taking this short walk. Two small children had made something of a fuss about taking the walk, but were completely delighted when they could take off their shoes and run around in the sand.
I thought our last stop would be at the overlook to Delicate Arch. This arch is accessed in two different ways; a 1.5 mile hike if you want to actually go up to the arch, or 100' if you just want a view of it. It has another name, one I found to be much more descriptive of the way the arch actually looks -- Cowboy Chaps. Larger at the bottom and decidedly bowlegged, the arch does seem for all the world like it's waiting for some sandstone giant to put on his chaps.
Just before the walkway to the Delicate Arch overlook, a small road took off toward the south. A sign read, "Cache Valley, 4WD only". A quick check of the park map made no mention of this road at all, peaking Tom's interest. To access the road, you had to drive up over the pavement, curb included, and down into a ditch. Then straight up the other side, and out through the desert. Far more a trail than a road, this was a green light for Tom. From the time he bought his first jeep, he's very much enjoyed off-roading, and absolutely could not resist this road. "We'll only go 1 mile", he said. But that mile was the longest one I've experienced in quite a while. After the first .6 mile, we came to a cattle gate. I climbed out and pulled it open so we could pass, and noticed that the trail on the other side was even worse. We climbed over boulders, avoided large rocks in the trail and tilted so badly first to one side and then the other, that at one point I actually got out of the car and walked. At the one mile mark, turning around was tricky; we had to find a spot wide enough to turn our Wrangler. There had been a couple of wide spots in the trail where obviously others had lost their nerve and decided to go back, but when our 1 mile was up -- to the foot, by the way, there was no spot for a turn.
Returning to the gate, I again held it open for Tom to drive through. As we came through, a man in a 4WD pickup came roaring up, took one look at our dusty jeep and the narrow ravine from which we'd just emerged, and changed his mind about a 4WD excursion into Cache Valley. There was a turn around area there, one obviously used by many others. He turned his truck around and meekly followed us back to the main road.
We'll return to Portal tomorrow for a few days and explore more of the surrounding countryside. We've driven a few of these roads before and have heard about some new areas for exploration. Perhaps we'll drive up the Colorado River on the riverside road. Perhaps we'll venture into Canyonlands National Park. When you're in Moab, adventure always beckons!
---
Postcard: The Eastern Sierra Scenic Byway
April 3, 2005
Our road to Borrego Springs had a couple of detours. En route, we decided to spend an evening at Organ Pipe Cactus National Monument. When we were here several years ago in our Country Coach Intrigue, we were turned away. Even though the campground had plenty of empty spaces, we were considered too long to fit into the sites. To be allowed entry, your rig had to fit between a set of lines, measured to exactly 36 feet. One inch longer, and you couldn't stay in the campground. Motorhomes over this length were considered too big to fit into the park sites. That we could understand; what made the rule blatantly unfair was that 5th wheels of 36 feet were allowed -- only the 5th wheel itself was measured; the length of the pulling vehicle not being factored into the overall length. This time, we were delighted to learn that several enterprising volunteers had carefully checked each site and determined that, indeed, several were adequate for much longer rigs. The volunteer at the entrance to the camping area was extremely proud of the fact that they had managed to squeeze a 40' 5th wheel into one of the sites.
Organ Pipe still suffers from its proximity to the border. Neither Tom nor I saw any signs of illegal crossing, but we were warned that we might. At the Visitor Center, there is a memorial to the young park ranger who was killed as a result of an illegal border crossing incident. Several miles of the Puerto Blanco roads are now closed to vehicle traffic. We were told that these roads "might " reopen next year, but it was obvious that the volunteers are unsure if they will -- ever. That's a shame. But what portion of the monument is still open still traverses beautiful desert country, and many cars were driving the only remaining open route, Ajo Mountain. And people were hiking the nearby mountains and photographing the wildflowers.
During our stay in Borrego Springs, we tested all the camping alternatives currently available in this desert enclave. We spent the night boondocking at Pegleg Pete's. Here rigs of every size and description merely drive off the main road a short way into the desert, pick out their own particular spot, and park. In the center of this area, a monument has been erected to miner Pegleg, who, according to legend, found a rich vein of gold, and died without revealing its whereabouts. A nearby sign reads, "Let those who search for Pegleg's gold add 10 rocks to this pile". From the size of this pile of rocks you can guess how many have looked for Pegleg's gold.
We would have preferred to stay at the state park campground, but due to the Easter holiday, the attraction of the profusion of desert wildflowers, and the fact that a recent flash flood wiped out a portion of the camp sites, all the remaining ones were taken. The wildflowers here are absolutely spectacular this year, bringing with them petal peepers by the thousands. The Visitor Center volunteers give guided walks and talks during the winter season; now the classes are jammed. The parking lot at the Center has been full every day, and cars must park along the access road. Visitors need to walk up to 1/2 mile to get to the Center. Wildflowers have also attracted Painted Lady butterflies, and according to the local newspaper, there are billions of them. Although they can fly higher, they prefer to fly close to the ground, and hundreds fall victim to passing cars. They make a bright yellow splotch wherever they hit, often on the driver's side of the windshield. "Billions of butterflies", Tom groused, "and at least half of them are on my windshield". It's best to remove these spots early, as they seem to become more sticky with time and reportedly can damage paint.
Unable to get into Palm Canyon campground at first, we spent a couple of nights at a nearby park, and made a reservation there for a later date. Armed with a confirmed reservation, we knew there would be at least one vacant space. But Palm Canyon is not site specific; you cannot reserve a certain site, and we have camped there often enough to know which sites we prefer. Numbers 30 - 48 have palm trees as well as other desert plants set around them. Numbers lower than 30 are set more in open desert. Check out time is noon, so we planned our entry for 11:30. The ploy worked perfectly. There were several treed sites still open, and we "snagged" one of our favorites, #48.
Starting in June, but especially pertinent for next winter's snowbirds, there will be another alternative for camping in Borrego Springs. The Roadrunner Club is a collection of park model homes, surrounding a par 3 – 18 hole golf course. Now it's expanding, adding an additional 9 hole regulation course, several golf course homes, and a large RV park. It even has a new name for this area, "The Springs at Borrego". The RV park will feature many large pull throughs, either overlooking the new course or the resort itself. As of June 1st, 90 sites will be open, to be expanded to over 200 sites as demand grows.
We spent a couple of days in Borrego Springs, and this year we were here for the annual Art in the Circle festival. Christmas Circle is a large traffic circle in the middle of town, a circle large enough to have a good size park in its middle – a perfect place for an art festival. Tom and I enjoyed walking around the show, looking at all the work from the various participating artists, and talking with the various volunteers staffing the show.
The only downside to this perfectly idyllic desert sojourn was the wind. It fairly howled down the canyons, blowing dust devils along the dry arroyos where the floods had scoured the ground, and rocking our camper from side to side. Dust seeped into the camper, the truck and the little jeep, coating everything with a fine grit. The wind generally came up in the late afternoon, and died down during the night, so we escaped in the relative calm of morning, and headed back to Palm Desert for a few days of "lap lizarding". It would be windy there too, but we hoped not so dusty.
Reports of gusts up to 60 mph, warnings saying "trailers, campers and trucks not advised", convinced us to stay longer in Palm Desert than we might have otherwise. We spent several lazy days watching Spring arrive in the desert, with time for swimming laps and several desert hikes in pursuit of the local geocache sites. The sparrows were quarreling, flying at each other and squawking loudly, ostensibly arguing over partners. Two of the golf course ponds became learning pools for families of baby ducks. And, every morning, more and more RV sites showed up empty. Snowbirds were heading north. It was time for us to go.
But which way? Should we go the usual, flat and boring route, through Bakersfield and up Interstate 5? Or should we brave the uncertain spring weather and take 395? That route would be anything but usual, flat and boring. Aptly called the Eastern Sierra Scenic Byway, this route would take us up the eastern side of the Sierra Nevadas, through Lone Pine and Bishop, over four mountain passes between 7,000 and 8,135', and down into Reno. Of course, first we would have to manoever through the traffic of San Bernardino, crest the pass near Cabezon and climb up over Cajon. There we'd pick up highway 395.
The first 40 miles of 395 carries all the commercial traffic headed to Bakersfield and the Sacramento Valley, and today there were long lines of fun seeking weekenders towing motorcycles and ATVs ready to enjoy racing across the desert. But the traffic thins out considerably north of Kramer Junction, and somewhere near Inyokern, you get your first view of the eastern Sierras. 395 runs right along the base of these magnificent peaks; they seem to rise straight out of the desert, creating an awesome snow-crested barrier that is the eastern "wall" of the southern Sierras.
We were headed to Boulder Creek RV park, about 3 miles south of Lone Pine. Each site has a firepit and picnic table, and is delineated by cottonwood and pine trees. It's an interesting place, complete with small store, swimming pool and playground, and a kid's petting zoo. They have two large boxes in the clubhouse which house overwintering California Desert Tortoises -- probably as close as I will ever come to actually seeing these endangered creatures. In a smaller cage nearby there are three baby tortoises. A large aviary contains several different types of exotic birds. Nesting boxes set up on the sides of the aviary are getting a good workout. In one of these boxes a finch was trying to pull a piece of straw far too long to fit into the nesting area. The long end was jutting out into the box, being turned round and round as the bird tried to pull it in.
Lone Pine is perfectly situated for either desert or mountain exploration -- it's only about 50 miles from the entrance to Death Valley National Park, or you can drive the 13 miles up the Whitney Portal Road to the base of the mountain. Each year, hardy hikers with permits head for the summit of Mount Whitney, at 14, 495', the tallest mountain in the lower 48 states. Even though it's the tallest mountain , the hike isn't supposed to be a particularly "hard" climb. Indeed, experts have been know to climb it -- up and back -- in one day!
At the Visitor Center just south of town, there's a mountain identifier. You can see Mt. Whitney, and the view was a bit disappointing to me at first. The mountain simply doesn't look that high. That's due to the fact that there are 5 mountains nearby which also top 14,000 feet. Two of them are closer to the viewer, and from that perspective appear taller than Mt. Whitney itself.
Tom and I drove up Whitney Portal Road as far as it was open, 6 1/2 miles. The other 6 1/2 miles are still closed by snow, but even if we couldn't get to Whitney's base, the road was well worth exploring. It runs through the Arizona Hills, an area of tumbled boulders straight out of Western movies. Stars from my childhood; Gene Autrey, Hoppalong Cassidy, Roy Rogers and John Wayne all made movies here, and several areas are named for them. You can visit Hoppy Rocks or see where the famous bridge in the Gunga Din movie was located. Each fall, Lone Pine puts on an "old West" celebration, and judging from the pictures in the clubhouse at Boulder Creek, it attracts folks from all over the country.
We spent the following day exploring a bit of Death Valley National Park. The Park is really composed of two valleys, Panamint Valley to the west, and Death Valley lying further east. Due to the winter rains, this area also has a profusion of wildflowers, drawing hordes of petal peepers snapping pictures. Driving through Panamint, we noticed orange "threads" blowing around, clinging to shrubs and cactus, turning large portions of desert floor bright orange. These were such an odd color that at first we thought it was some sort of trash -- as if someone had tossed out an old sack and it had been shredded by the winds. But this stuff was all over – far too much for just trash. We stopped and I gathered several threads. They felt soft and alive, not unlike long grasses. Another time, as we walked along a hill overlooking the Valley, Tom pointed out a peculiar looking large beetle. It had a slim black body and a head and neck that seemed formed from two red beads.
When we returned to the Visitor Center, I asked the staff just what that orange stuff was. They knew immediately, as many other folks had asked the same question. It's the Toothed Dodder, a parasite natural to the Death Valley area, also much more profuse after periods of rain. Next, I looked through a book of the Insects of Death Valley, and there was our beetle. It was a Blister Beetle, very common here. In the 1900's, two of its main uses were in treating various diseases. It didn't specify just how these beetles were "administered"...
Tomorrow, we had planned to drive the rest of 395 covering the remaining 250 miles to Reno. However, a weather forecast posted on the wall of the Visitor Center may have altered those plans a bit. The forecast predicted wind gusts of 100 (!) miles an hour in the Mono Lake area tonight, and a snow level of 5,000 feet (well lower than our four passes), with snow accumulations of 4 to 7 inches. Tuesday should be warm and sunny. We'll have to wait and see what happens and where we go from here. Whatever happens and wherever we go, it surely won't be usual, flat and boring!
---
Postcard: Finding Chia in the Cholla
March 12, 2005
The forecast seemed quite promising – a day or so of rain, and then becoming warm, and even warmer. The idea of warm, sunny days was most inviting, and we left the cool Northwest and headed for California's central coast. Back to Betabel RV Resort and the birding beaches of the Moss Landing area, the artichoke fields and farmstands of Castroville. (We are both extremely fond of this thistle). We arrived in a steady rain, but by mid afternoon the skies turned a dazzling shade of after-rain blue and the sun came out. The weather has been exceptional, especially if one likes hot, ever since.
Our artichoke hunger assuaged, we headed east to the desert. We spent one night at the Orange Grove RV park, in Edison, CA, 8 miles east of Bakersfield, to fill up with the juice of their delicious oranges, and then headed east toward Barstow and the Rainbow Basin National Natural Landmark. We'd enjoyed this Landmark on an earlier trip and were contemplating dry camping there. Its winding dirt roads lead you through narrow canyons "painted" as only the desert can, in spectacular hues of red, orange and green. This is a lightly visited area; the last time we drove through we were the only car, although we did see one small RV pulled off in a camping spot. But today we were a bit concerned about the effect that all the recent rains might have had on those dirt roadways, and besides, we were too early! At 10:30 in the morning, it simply wasn't time to stop for the day. Then we thought of another place – one we've visited many times before, but still haven't thoroughly explored. We had plenty of time to get there, find a campground perfectly suited, size-wise, for our camper, get set up, and have a hike before dinner. We made a hard right turn at Kramer Junction, and headed south on US 395. We'd go to Joshua Tree National Park.
There are 8 campgrounds in the park. None has hookups, and if you read the Trailer Life Directory you'll note the words, "no slidouts", when you read the descriptions for the two listed campgrounds. Tell that to the people in large RVs, slides out on each side, making a challenge of driving the roads in Jumbo Rocks or Cottonwood. But there are several smaller campgrounds, just right for us. At White Tanks, a 15 site campground where nothing longer than the 25 foot limit could easily maneuver, we found a perfect spot, with fire ring and table, and huge boulders protecting us from the afternoon wind.
White Tanks so named for two reasons: the color of the huge white and light grey rocks which dot the landscape and because of the existence of nearby "tanks". These are natural watering holes, once used for cattle, and now left for the area wildlife. The rocks are quite porous and weather has sculpted them into fantastic shapes. Let your imagination run wild and see giant hands, huge skulls or fanciful animals. Tom found an "elephant's trunk", forming a natural arch.
Joshua Tree is usually dry, its basic colors being the brown of the earth and the sage green of the cactus. This year it's incredibly different. The rains of the past few months have turned the park into a rainbow, a rainbow of color on a carpet of lush green.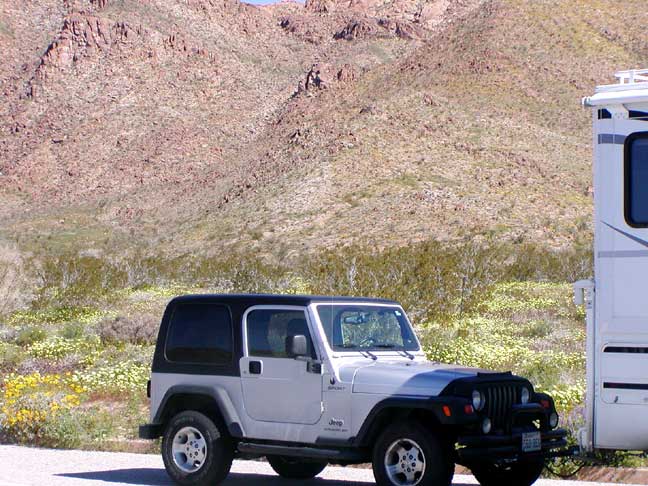 Even though it was written for a different area, my small booklet, Wildflowers of Anza-Borrego Desert State Park, helped me to identify red chuparosa, orange apricot mallow, yellow desert dandelion, fiddleneck and brittlebush, blue Arizona lupine, white desert chicory and Fremont pincushion, blue-to-almost-black chia. Chia is a small round flower which grows on a square, leafless stalk. As it grows, it often produces another bloom on a stalk rising out of the center of the one below. Chia grows in clusters, and can carpet the desert floor, turning it into a sea of dark, dark, blue. The flowers were everywhere, scattered around the bases of the Joshua Trees and agave; when we got to the Cholla Cactus garden we even found chia in the cholla!
The next day we headed for Hidden Shores RV Resort on the Arizona side of the Colorado River. We have a specific destination this trip; we're shortly due in Tucson for our annual winter dentist appointment. But with several days before we need to arrive, we just "poked along", stopping where and when our whims dictated. Hidden Shores is located where the Imperial Dam blocks the flow of the Colorado River, creating a water paradise for fishermen and, in summer, jet and water ski enthusiasts. It seems odd to me that people would want to come to the Yuma area (only 20 miles south) for the summer, but that's the busiest season at Hidden Shores. People come from as far west as San Diego just to melt in the desert heat and enjoy the lakes created by the dam. The park is about half park models, each with a covered patio just right for storing boats, ATVs and other "toys". There is a large storage area for RVs on the property, and this morning, the office was busy sorting their April arrivals, determining which RVs would need to be brought out of storage and placed at which RV site.
One of the attractions of the office area was missing this year. Last season, I was fascinated – from a distance – by the two large tarantulas that were crawling around a glass enclosure. But one of them died, and the other was released back into the desert. The tarantulas have been replaced with a gecko. Being one of those persons who has only seen a gecko on the TV ads for Geico, I was sorry that I could only see his face peering out of a protective rock cave. I couldn't resist asking, "Does he do the Robot?"
The gal behind the desk had also seen the ad. "No," she said with a huge grin. "He's not that sort of gecko."
Warm temperatures, approaching summer-like for Tom and me. We're simply not used to the high 80s. I repacked all our clothes, this time putting the warmer ones on the bottom of the large drawers on either side of our bed. On top now are the shorts and the lightest shirts we've brought with us. We are also carrying two folding chairs, until now so little used that they were on the bottom of a stack in the back seat of the Dodge. The barbeque, the dog food, the winter jackets and a cooler all took precedence over those chairs. Now they're on the top, and are the first items out when we stop for the night. Thoughts of swimming pools and "lap lizarding" crossed our minds as we headed for Casa Grande, notoriously one of the warmer areas of Arizona.
Fiesta Grande is our destination of choice when we visit Casa Grande. It's a medium sized park, with some of the nicest folks you'll meet anywhere, both working in the reception area and staying in the park. Similar to many parks in the sun belt, there are lots of planned activities; shuffleboard, horseshoes and card games for some, planned hikes and golf for others. The days we spent at Fiesta, however, the pool was the main attraction. We'd join others sitting on those styrofoam "noodles", enjoying the water and meeting our fellow campers. Later in the afternoon when the pool emptied, we'd come back and swim some more serious laps. Lap lizarding at its finest.
Our last stop before "D" day was at Usery Mountain county park, one of my absolute favorite winter campgrounds. This is a bit of natural desert, found within only a few miles of the ever-expanding metropolitan sprawl that is Phoenix/Mesa/Apache Junction. There are only 75 sites, most suitable for the largest rigs, each set well apart from the other and each naturally landscaped with desert scenery. Reservations are not accepted, and the park is very popular. Therefore, you may have to spend an evening in the overflow lot before a spot becomes available, although seldom will it take more than one night. It's worth the wait. Looking out the door of our camper, I can see brittlebush, creosote bush, saguaro and barrel cacti, as well as the ever present "jumping chainfruit" cholla. There's a curve-billed thrasher singing in a nearby palo verde, doves and white crowned sparrows are competing for some seed our neighbor put out for them. Missy is avidly looking for ground squirrels, lizards, and anything else that moves and attracts her attention. (On a walk with Missy this afternoon, she found a large snake, thankfully of the non-rattling variety, reminding me that this is the desert, and snakes do come out in warm weather.) Tonight, I expect to see one of its famous desert sunsets as the sun sets behind the nearby hills, outlining them in gold.
The weather has gone from being exceptionally wet to exceptionally warm. The thermometer hit 90 yesterday, and the Northwest coolness is beginning to look very inviting. We will head to Tucson for our dentist appointments tomorrow, and then plan to attend Tom's cousin's birthday celebration in Borrego Springs CA, next week. Then we'll head north again, to check on the progress of our townhome. This is beautiful country, but we are snowbirds. When the weather is too cold, we head south. When it gets as warm as this, we dream of more northerly climes.
---