POSTCARDS
---
Stephanie is one of those persons who can fit a lot of words onto a standard size postcard -- usually by writing sideways, around corners, and even upside down if she can find some extra space. Most of these go to family and friends. But some of them -- those which document our RV adventures -- find their way onto this portion of our website.
---
Postcard: Places Less Traveled
August 22, 2005

It's fewer than 200 miles south from Bend to Tionesta, CA, but when you get there, you find different world. This is a world where the "antelope roam", where bird song awakens you each morning, and the "hoo, hooo..." of the Great Horned owl is the only noise you'll hear at night. It's a world where caves abound and mountains are made of glass. It's the world where southeastern Oregon meets northeastern California, the world of Klamath and Tule lakes, the world of Lava Caves National Monument.

With such a short distance to drive, even a 2 pm start from Bend posed no problem. We spent the evening at Collier State Park, just off Highway 97 and right on the Williamson River. The next morning, instead of making the customary beeline to our destination, we detoured around the west side of Upper Klamath Lake.

Tom had hopes of finding some new places to fish; I had hopes of another trout dinner, but the northwest side of the lake is extremely marshy. In many places we couldn't even see open water, merely channels meandering through the reeds and grasses. It wasn't until we got to Rocky Point, a resort located just about half way around the lake that we saw any fishable water at all, and even then, successful fishing would have required a boat.

Not that I minded. Standing on a small float extending a few feet into the lake, two people with binoculars were intently studying the nearby thick brush. I hurriedly grabbed my 'glasses and went to join them. By the time we left Rocky Point, I'd added a couple of new birds to my list, and learned about birding in Delaware. Then we headed south again to Tionesta and our destination for the next couple of days, Eagle's Nest RV park.

Eagle's Nest is a charming 20 site RV park, with full hookups and level grassy sites suitable for any size rig. Perhaps its biggest assets are its owners, two wonderful women, Gail and Emma. They can tell you all about the area; how to get to Glass Mountain, the best roads into the Monument, where the fishing (or in this case, the antelope hunting) is good, and point you in the right direction for some fabulous photography. If you happen to be interested in bird photography, the birdhouses and feeders set around the property attract birds of all descriptions. Today I identified swallows, flycatchers and a white headed woodpecker!

Our first afternoon, we drove the 25 miles up into the Medicine Lake area. Several Forest Service campgrounds around the perimeter of the lake are just right for small pop-up campers and tenters. The picturesque lake is set in an ancient volcanic caldera, some 6 miles long and 4 wide. At an elevation of around 7,000 feet the stiff afternoon breeze made it feel quite cool -- to us, even cold. That didn't deter the campers, who must have found it quite refreshing after the heat of such valley towns as Redding and Red Bluff! Some of the kids were even swimming.

On the way back we headed for Glass Mountain. We'd passed several roads signed to this landmark. One read, "Glass Mountain, 3 miles" , another, "Glass Mountain, 4 miles" and the final one, "Glass Mountain, 5 miles" . We took the 3 mile trip. While it was cool at this altitude, there has been no rain for some time in this area, and all non-paved roads are extremely dusty. That didn't prove too much of a problem, though, as the only car on this road creating dust was ours. There was no one else coming up or going down.

Seen from the RV park, Glass Mountain stands out from its tree covered neighbors in that it is quite bald -- no trees are visible from a distance, and when you get close you notice that only a few twisted pines have managed to survive in one of the largest obsidian glass flows in the western US. The whole mountain is a composite of obsidian, lave and pumice; Tom picked up a chunk of the latter which, by its size, should have been too heavy for him to lift -- and it weighed almost nothing. But it's the obsidian which draws attention, twinkling in the sun and giving this mountain its well deserved name. It may have become too popular; now a sign's been posted -- no rock-hounding.

It's only about 20 miles from Eagle's Nest to the entrance of the Lava Beds National Monument. The road is paved, though quite narrow and bumpy in spots, and absolutely beautiful as it winds through the sage covered hills. At one point, we stopped to watch a herd of about 15 antelope grazing near the road. They seemed a bit nervous, however, and ran off as we slowed. They must have been sensing that tomorrow was the start of antelope season.

Lava Beds is known as the "Land of Burnt-Out Fires", referencing the long gone fires of lava that crept across the landscape. The lava flows created more than 450 lava tube caves, the greatest concentration of these in North America. These tube caves were formed after an enormous eruption, when the outer edges and surface of the flow cooled rapidly upon exposure to the air. At the same time, the edges and surface acted as an insulating shell, and the lava continued to flow beneath it. When the eruption was over, the river of lava drained, leaving behind these tube caves.

As we entered the monument, we turned off at the Valentine Cave. We followed a paved path around to the cave entrance, and found it dark. We'd not thought to bring a flashlight, and I could only see part way into the cave, to the part where it turned a corner. Shades of Tom (Sawyer) and Becky (Thatcher)! I wasn't going in there without a light.

Foreseeing other non-flashlighted tourists, the Visitor Center loans battery powered lanterns free of charge, and sells hard hats, known as "bump" hats. We found out about the need for these hats when we explored the one lighted cave, Mushpot Cave. Mushpot is so called for a greyish, smooth lump of rock that sits quite close to the cave entrance. The top of this formation has a scooped out center, and it does indeed resemble a pot of mush. We followed small red strings of light down into the cave, stopping every so often to let our eyes become accustomed to the semi-darkness, and to turn on the occasional lighted display. I got a bit ahead of Tom, and rounding a particularly dark bend, felt the top of my hat brush the low cave ceiling. I bent over further and further as I walked/scooted along to the end of the tunnel, and returned. Tom at 6 feet 3, would have been crawling if he'd attempted to go to much further.

Not only are some of the ceilings in these caves low, the entrances can be a bit intimidating as well. Returning to the Visitor Center, I passed three burly motorcyclists looking for Mushpot. They'd taken a wrong path and had found Labyrinth Cave. The entrance to this cave is through a very small hole into a pitch black den. They were relieved when I told them they had the wrong cave, as they would have had trouble squeezing in even had they wished to enter.

Lava Beds National Monument is a monument to another chapter of Indian/US history. This time it was the Modocs who were persuaded to leave their traditional lands and move to a reservation to live with their neighbors, the Klamath. Although their life styles were similar, and they were related, the Modocs were bitter enemies of the Klamath, and felt they should have a reservation of their own in the nearby Lost River area. When that was denied them, they moved anyway, and the army came after them to return them to the Klamath reservation. As the Modoc began complying, shots were fired and, under the leadership of "Captain Jack", they headed into the safety of the lava beds. The landscape here is such a labyrinth that the Stronghold was practically impregnable. The first time the Army attacked, it lost 37 soldiers, and the Modoc lost none. Attempts at negotiation failed, and more blood was shed, sealing the Indians' fate. Eventually all were captured. Captain Jack and three other leaders were hanged, the members of his band were sent to a reservation in Oklahoma, while others were returned to the Klamath reservation. Interestingly, little contact was made between the two groups until recently when ceremonies commemorating the years in the Stronghold began reuniting the groups.

We walked the trail through the Stronghold and marveled at the advantages hiding in such a place can provide. The Modoc, from their positions in deep crevices and behind jagged boulders were able to see the soldiers coming. At that time, Tule Lake had not yet been drained for farming and covered 94,000 acres, with a shoreline which came right to the Stronghold's edge -- easy access to water for the Indians. It wasn't until that access was cut off that the Modoc were forced from the Stronghold and captured.

We drove north out of the Monument and followed the shores of Tule Lake around to the road back toward Eagle's Nest and Tionesta. We had one more stop to make in our exploration, the Monument's Petroglyph Section. Here, behind protective wire fencing, long lines of petroglyphs feature dancing figures, pictures of deer (antelope?) and odd looking "X"s. Many have weathered almost to dust, and require the use of the informative signs even to see them; while others are much clearer. This section seems the main, if not the only, spot where the people of this area came to etch the symbols representative of their daily lives.

Back to Eagle's Nest for the evening, to share with Emma and Gail our adventures of the day. As it turned out, Tom got to share his stories with the prospective antelope hunters as well. They'd spent this last day before season opening looking for game, had seen nothing so were very interested in our morning's spot. In fact, they jumped in a pickup and took off toward the Monument as soon as Tom told them where we'd seen the antelope -- of course that was this morning.

Tomorrow, we head for the coast. Weather forecasts there are for morning fog and temperatures in the low 60s. I'm looking forward to wearing jeans and a sweatshirt for a few days before we head back to the warmer weather of Bend.
---
Postcard: Circling Sumpter
August 15, 2005
Leaving Yellowstone, we headed west toward Idaho. It was time to check into Bend again, to see what was (or wasn't) being accomplished on our townhouse, and get a bit of body work done on the Wrangler (fixing a dent which occurred last winter in Palm Desert). A trip to the Tetons would have to wait for another day.

Highway 287 to Twin Bridges, MT is a road of ups and downs; up over mountain passes, down into grass covered valleys. We passed through the twin ghost towns of Virginia City and Nevada City noting that, though they may be considered ghost towns, they are both bustling tourist areas. The ghosts have long since vanished.

We were headed for another small town -- Wisdom. Wisdom is located in the Big Hole Valley, the self-proclaimed, "Valley of 10,000 haystacks". We both decided that was wrong, it's more like 100,000 haystacks here. Every hay field was full of large stacks of hay, and most fields also held a "contraption" (there's no better word for it), its utility completely unknown to us. These things stand about 20 feet high, lean slightly to one side and are made of metal. We knew they had to have something to do with haying, but what? We stopped at the Ranger station just outside of town and met the very knowledgeable ranger on duty, Arlee S. Having always lived here (or close by), she knew how our contraption worked. The farmers load loose hay on one side, and the machine tips it over into a perfect stack. In addition to serving as our agricultural expert of the day, Arlee suggested a nearby campground for our evening, and recommended we visit the Big Hole National Battlefield.

In the early dawn of August 9, 1877, five bands of Nez Perce were attacked by the US Army. The surprise attack started prematurely, however, when a lone Indian stumbled onto the concealed soldiers. While the badly outnumbered Nez Perce lost many men, women and children; the Army also incurred losses far greater than expected. Militarily speaking, the Nez Perce won this battle, but the war was far from over.

We stopped at the Visitor Center overlooking the battlefield, and walked out on the patio. From here, we had a hawk's eye view of a lovely valley, too beautiful to have been the site of such a bloody war. To the south we could see tent poles, set tipi style, marking the Nez Perce encampment. Had we walked the trail into the valley, we'd have passed other sites of the war, where the Indians captured the Army howitzer, and where several Army commanders fell. Had we been here one day earlier, we could have witnessed the yearly gathering of the Nez Perce elders commemorating these events.

The next morning, we drove over Chief Joseph Pass, down into Salmon, Idaho. When we lived in Idaho, this was one of our favorite hunting areas, and we've explored both the Salmon River Mountains on the west and the Lemhi Range on the east. We'd driven across the Lemhi Pass and seen the sign commemorating the August 12, 1805 crossing of Lewis and Clark into the state -- years before the bicentennial celebrations began.

Belatedly, on this trip, I purchased the Journals of Lewis and Clark, the single volume version edited by Bernard DeVoto. There's an 8 volume version, 8 without counting the volumes of maps and pictures of the flora and fauna that the captains collected, and totalling 12. We were soon to meet someone who is conversant with all of them. His name is Mike, and he is the historian of the Sacagawea Museum.

This museum is located 1 1/2 miles south of Salmon on highway 28. It's a work in progress, having been under construction for about 3 years. A Visitor Center tells the story of the Indian girl, kidnapped from her tribe at an early age, married young to a French trapper (his second wife), and the interpreter and guide to the Lewis and Clark expedition. A mile long trail depicts what the scenery would have been like when the explorers came into the valley. And, in a nearby barn, giving lectures on the explorers several times daily, we met Mike.

Mike was dressed in period costume, moccasins, loose shirt and buckskin trousers. While he waited to give his next lecture, he was making some buckskin sacks, just as the Captains might have done, using an awl and rough thread. On a table in front of him was a large array of the sort of medicines that Lewis and Clark would have used on their trip. Also displayed were the plates and cutlery of the expedition simple bowls, cups and one large spoon for the men; more sophisticated ware for the leaders. Tom was specially taken with a steel ring, which was displayed with several rocks. This was a flint and steel, used for making fire. Mike struck the steel with the flint, and while he did get showers of sparks, this time he was unable to make the fire start. He was a bit chagrined at this; claiming that "next time, I'll probably burn the barn down!"

He then proceeded to read to us from two of his Journal volumes, # 5 and #9, detailing the activities of the explorers this very day, the 10th of August, 200 years ago. It was fascinating; we're seriously thinking about adding some "Lewis and Clark" adventures to our own travels next year.

We spent a couple of days in McCall, Idaho at the McCall RV resort, one of our favorite stopping spots. McCall is a town we visited frequently in our Boise years, and in many ways it hasn't changed a bit. The same people still own The Mill, a favorite steak restaurant, and I'm more than likely to run into old friends at the grocery store. Years ago, just about the only place to camp was the Ponderosa State Park, delightful in summer; closed in winter. Now, you can visit McCall at any time of year. At the Resort, expect to find a huge clubhouse, friendly staff, WiFi, large landscaped sites, an indoor swimming pool (it gets cold here in winter), and various weekly activities. One night was Salsa dancing, and the whole community, not just RVers, turned out. It's a very pleasant place to stay while exploring a beautiful little mountain community.

Leaving McCall, we followed Highway 95 north to New Meadows and the south to Weiser. Then we cut off on Highway 201 to Interstate 84 in Oregon. This route saved us some miles, but 201 turned out quite narrow and very winding. Or perhaps that was only because it was my turn to drive. It seems to happen every time. I get behind the wheel on an Interstate, and, within a few miles, we encounter construction. Or, what seems like a short straight route, becomes anything but. Ah, well, it was only a few miles.

We only planned on staying in Sumpter, OR for only one day. We were trying to stay out of the heat of the valleys, and the cooler weather forecast for Sumpter was alluring. But one day isn't long enough to explore the little town of Sumpter, much less the fascinating surrounding countryside. We found a great little (18 sites) RV park, Sumpter Pines. Full hookups, level gravel sites large enough for any rig, and so much countryside to see.

Sumpter was founded in 1862 when 5 men from South Carolina found gold here and decided not to continue on to California. They built a small cabin and named it Fort Sumter, for the South Carolina fort. The name lasted until 1883, when the post office decided that the similarity of the names was confusing -- but it would be OK if they just added a "P.". New mining methods contributed to the growth of the little town; by 1903 there were 3,500 registered voters (no women or Chinese however). In 1917 occurred the most feared event that can happen to a town built of wood -- fire. Nearly 100 buildings burned -- even the streets were aflame. This event, combined with the gradual end of hard rock mining, spelled the end of Sumpter -- that Sumpter.

Today's Sumpter is a charming little town, with something for everyone. You can tour one of the original gold dredges, or ride the narrow gauge railway a full 5 1/2 miles between Sumpter and its neighboring "ghost" town, McEwan. Two steam engines pull several cars on the short route, and hearing the engineer sound his whistle brings everyone to attention. In the middle of town is the Sumpter Stockade, built of logs with towers at every corner. In each of these are cloth figures with model rifles protecting the stockade from attack. Sumpter is listed as a ghost town, but don't tell that to its inhabitants, or to the many tourists who enjoy visiting.

Even with all there is to see in town, we had decided to leave the next morning -- until we noticed the map at the edge of town showing an irresistible loop trip on the picturesquely named Elkhorn Scenic Byway. The whole trip is only 106 miles, but we found several ways to more than double its recommended 4 hour driving time. 15 miles from Sumpter is another gold rush "ghost" town to explore -- Granite. Then we'd travel on to Anthony Lakes, a winter ski paradise ("where powder is reality"), and down into the valley to Haines, Baker City, and back to our rig. Who could resist? Certainly not us. We extended our stay another day and took off.

Settled on July 4, 1862, Granite started life as "Independence", but again the post office intervened. There was already an Independence in Oregon. The next choice was "Granite" for the prevailing rock in the region. We met one of the "Granite-ites" driving to town on his trusty ATV, with one dog in a front basket, another tied in a rear one. He told us that while only about 25 people call this town home year round, but there are more in the summer. Not too many more; there are only a few homes in and around Granite. Some of the houses, the dance hall, school and general store, are really worthy of the "ghost" designation, but others are being restored. There's a guest lodge (slogan: "Desolation at its best"), a restaurant and a carriage barn. Today, a beautiful white carriage with red velvet seats in front of the barn made me long for a ride.

The road from Granite to the Anthony Lakes ski area climbs steeply to a pass approximately 7,000 feet. Here a sign said it was only another 4 miles to the resort. That route would have taken us on a well maintained, all weather road. So, we tried something different. We went overland.

Until a few years ago, we owned a small cabin in the Sawtooth Mountains of Idaho. On dirt bikes and in 4 WD jeeps, we combed those mountains, climbing up steep grades, through forests and across meadows on a maze of Forest Service roads. So we had driving experience and a good idea of what lay ahead when we made a hard right turn off the paved road and began a 3 mile climb up the side of the mountain. The dirt road was barely wide enough to hold our little jeep, and, as we climbed, we hoped we'd not meet any other vehicles coming down. In addition to a road which required 4 wheel driving, it was well we'd driven this type of road before, and knew about "Kelly Bumps".

Kelly Bumps describe where a ditch is dug across a road in order that it will not be eroded by rain or snow runoff. The bumps are usually cut diagonally, and the distance from peak to the trough can be 2 feet or more. This causes any car to rock wildly back and forth as it slowly traverses these "bumps", and if you hit them at too great a speed, you can really feel the jolt. Of course, too great a speed crossing these ridges on a narrow dirt road is something like 5 mph!

About half way up the hill, we found a turn around space, but we were just below the saddle between two mountains, and I convinced Tom to continue on. At the top of the hill, we looked down the other side -- and saw the Lakes, the fishermen and an RV park, only one mile or so away. The only hitch was we now had to drive down a hill as steep as the one we'd just come up, and we had no way of knowing if the road ahead really led to the resort or to a locked gate. We felt reassured when we met some hikers coming up the hill, and we soon were exploring the campgrounds at Anthony Lakes.

What a trip. We loved every minute of it.

The paved road down to Haines is fairly steep, but after our off road sojourn, a proverbial "piece of cake" and soon we were back in the valley, paralleling the Interstate and headed back to our RV park. But not quite so fast. Did I mention Tom is an avid trout fisherman? The Powder River follows the road between Baker City and Sumpter, and it is a fabulous trout stream. I'd been yearning for a trout dinner, and while we were camped in Sumpter, I enjoyed two of them! The fishing, the countryside, and the fact that there's another loop trip beckoning us, will bring us back very soon.

---
Postcard: Bison and Pronghorn and Elk, Oh, My!
August 7, 2005

We spent two nights at Yellowstone's Edge RV Park, and this scenic park quickly became one of our favorites. Level sites, many long enough for any rig, immaculate restrooms, an enticing gift shop, friendly staff, and it's right on the edge of the Yellowstone River. It rained hard the first evening, we saw some lightening and even got a bit of hail, but after several days of extremely warm weather, we actually welcomed the change.

The next morning we drove about 30 miles to Yellowstone, passing under the imposing North Entrance Arch. Cut into the stone of on the left side of the arch, a plaque reads "Yellowstone National Park". One the right, "Created by Act of Congress, March 1, 1872". Over the archway itself, "For the Benefit and Enjoyment of the People". A steady line of people were having their pictures taken with this historic arch. We had to wait in line to enter the park, as there was only one line to pay entrance fees, but the rangers did their utmost to keep things rolling. Only those purchasing entrance passes for the first time were required to go through the station -- the rest, those with passes purchased on previous entrances, or those older folk, with Golden Age Passports, were diverted to the employee entrance. (It's very convenient to have a Golden Age Passport).

Upon entry, in addition to the park paper and glossy colorful handout/map/guide, we were handed a bright green piece of paper, listing the park roads currently under construction. Two areas, the Beartooth Highway on the extreme northeastern edge of the park, and the Tower/Canyon road, which cuts right through the middle, will be closed for several weeks. The east entrance, the road to Cody, Wyoming, is closed nightly. These closures have channeled all the Park traffic onto the remaining roads. We didn't know it that morning, but we'd really notice the traffic -- especially after our Glacier experience. Not only cars and motorhomes, but motorcycles by the hundreds; this area is one of their favorites.

The Lamar Valley Road is the most northern road in the Park, and connects the north and northeast entrances. Following the silt laden Lamar River, the road crosses the Lamar Valley, a beautiful grass and sagebrush valley of low rounded hills. We hadn't gone far before we started seeing pronghorn (antelope). I began counting them as we drove along, but gave up when I realized that for every one I could see, there were two or three others camouflaged in the tawny grasses. As we came around one curve in the road, we got a glimpse of life in the wild. A coyote was running in circles, jumping at a solitary antelope, trying to disorient her to the point where he could lunge at her throat. As we watched, he appeared to give up the attempt and loped off toward the river.

Not only did we see more antelope than we could count, but we also gave up counting bison. A large herd calls this valley home; in fact, one roadside sign says "Buffalo Ranch". But it isn't a ranch, these are free roaming bison, and are found all through Yellowstone. Game management calls for a population of 3,000; the current total is a bit more than 4,000.

We're still not sure what it was -- coyote or wolf. Trotting along, right at the edge of the road was what we thought at first was a dog. It was tawny in color, quite thin and not so small. It was wearing a tracking collar. I've yet to find out if Yellowstone collars coyotes.

On our way back to Yellowstone's Edge for the evening, we stopped at Mammoth Hot Springs. This is a major entrance to the park, with a hotel, restaurant, several shops, and Visitor Center. But what you notice above all else are the spectacular steaming layers -- terraces -- towering on the hillside above and giving the area its name. These are created when hot water ascends to the surface through ancient limestone deposits and spills out, sculpting magnificent travertine limestone terraces.

The next morning we headed south through the Park to West Yellowstone. Mileage wise, this would be a short trip, but we hadn't figured on all the stops, intended or not, that we'd be making.
This Park needs bumper stickers which read, "I brake for bears" (or elk or swans or bison). Then maybe we'd have been better prepared for all the stops this morning. As we headed through Mammoth, we found we had additional traffic. Not only were there cars, motorhomes and motorcycles making improbable turns in impossible spots, but a large cow elk and her two youngsters had come to town, and were placidly grazing on the green grass in a median strip on the road. Large crowds of photo snapping tourists were adding to the confusion.

The road out of Mammoth south toward West Yellowstone climbs steeply up beside the terraces, and we had decided to drive the first few miles separately. This turned out to be a wise idea, especially when we rounded a turn and found the road packed with cars. Cars on either side of the road, some pulled well off to the side; others, not so carefully parked, sticking out into the roadway. People, cameras at the ready, walking up and down the middle of the street. And two way traffic was still attempting to get through, driving first on one side of what was left of the road, and then on the other. Tom was glad he wasn't towing and only had the truck to maneuver. I was driving so slowly that I could easily roll down the window and ask a passing woman what she'd seen (though I had a pretty good idea). Someone had seen a bear and stopped to take a picture. Then someone else stopped, and someone else, and someone else...

A few miles further on, another large crowd was stopped at the side of the road in the appropriately named "Elk Meadow". This time it was a large bull elk with an enormous rack of antlers.

Our destination was the Yellowstone Grizzly RV Resort. When I checked in, I said, "We have a reservation". "Oh," responded one of the gals behind the desk, "we were just saying those were the nicest 4 words in the English language". The Park was completely full, and to add to the congestion, there's a street rod car show in town this weekend. Grizzly keeps track of the people they turn away; yesterday the total was 47! But even when they must turn people away, they make a point of calling other parks in town to see if they can find a vacancy.

On our travels, we've become accustomed to being awakened by the crow of a rooster, or the barking of a dog. Here, every morning at approximately 6 am, we are awakened by the howling of wolves from the Grizzly and Wolf Discovery Center just up the street. Wilderness, indeed.
From West Yellowstone, it's only a mile to the Park Entrance. 14 miles further east, the road describes a loop, taking you south through the Geyser Basins, past Old Faithful, and east to West Thumb, (so called because it's on the West Thumb inlet of Yellowstone Lake). From there you can turn north and follow the Yellowstone River to Canyon Village. At this point you turn west again and return to West Yellowstone. It's about 100 miles and can take you all day -- even longer if you take every turn off to every geologic point of interest. And you will be tempted to do just that. According to one Internet source, "With half of the earth's geothermal features, Yellowstone holds the planet's most diverse and intact collection of geysers, hot springs, mudpots, and fumaroles. Its more than 300 geysers make up two thirds of all those found on earth. Combine this with more than 10,000 thermal features comprised of brilliantly colored hot springs, bubbling mudpots, and steaming fumaroles, and you have a place like no other."

Our first stop on this loop trip was Lower Geyser Basin and the Fountain Paint Pot Nature trail, an easy walk along a boardwalk passing boiling springs, mudpots, geysers and fumaroles. The first stop is at Silex Spring, a beautiful blue pond of scalding water. Its surface is covered with boiling bubbles, and every so often, the bubbles boil even harder, sending small spouts of water into the air.

Down the walkway a few yards is Fountain Paint Pot, a large "pool" of bubbling mud. In the spring, this mud is thin and watery; today it was thick and gooey -- and hot. A sign warned that bursting bubbles could lob mud up and over the guard rail.

6 small geysers can be seen further along the trail. You won't have to wait to see one erupt; Clepsydra Geyser erupts almost continuously, shooting water high in the air, and showering passing visitors with a fine, and thankfully cool, mist.

Leaving Fountain Paint Pot, we turned off on Firehole Lake Drive, and drove toward the Great Fountain Geyser, the only geyser besides Old Faithful that park rangers dare to predict. Today's prediction was that eruption should occur between 6:30 and 10:30. Since it was past 11, I assumed we'd missed the show, but there were 30 or so people sitting nearby waiting patently.

We continued down the road, stopping at White Dome Geyser. A sign here said it erupts every 15 -30 minutes, except when it doesn't erupt for more than 3 hours. Nothing at the time, so on we went, only to look back a few minutes later. Both geysers were erupting at the same time. We couldn't have had a better view.

Next stop -- West Thumb. As we turned into the Visitor Center, we noticed a large bison was lying in the dust next to the road, and close to a rail fence surrounding a steaming thermal pool. A man had climbed the fence and was teetering on the top rail, determined to get a picture of the buffalo. The animal seemed asleep, except for the twitching of its tail. It was a bit of a toss-up whether he'd fall in the boiling water or off the fence next to the buffalo. Some people will do anything, no matter how dangerous, to get a picture.

If he wanted a bison photo, that man should have been traveling with us. As we headed north along the Yellowstone River, traffic slowed to a crawl and came to a complete stop. Nearby a pullout was crammed with cars, with people eagerly snapping pictures of a large herd of buffalo grazing right next to the road. There were huge bulls, (to me even the cows look big), and dozens of babies. We pulled into the pullout, but there was no place to park, so we started to exit. A family in a truck with Nebraska plates was blocking our way. I think he wanted to back in to the pullout, but couldn't with us behind him. He'd have to go on. But he couldn't do that, either, because just then several bison decided to cross the road. Right in front of the Nebraska family, several buffalo slowly walked into the road -- and just stood there. A few crossed, a few more came onto the road. Buffalo gridlock.

By now, traffic was backed up out of sight in either direction. While this situation made for great photo-ops, eventually everyone wanted to get going. Slowly one car, then another, managed to squeeze around the bison. OK if you are in a car, but we laughed at the very relieved expressions on a couple of motorcyclists as they came through the herd! " Whew, that was scary," was written all over their faces.

There was one more buffalo traffic block before we left their range along the Yellowstone River, and even then we passed several people hiking out into the meadows to take pictures of bison. If only they had known what lay just a few miles down the road.

Tomorrow, we plan to stay in and around Grizzly RV park. The street rods will have a morning parade and an afternoon display, and it would be fun to see some of the fancy cars. Then we'll head west, into Idaho. Unless we decide to go south to the Tetons. Decisions, decisions...

---
Postcard: Running out of "Wows"

August 1, 2005

Highway 2 skirts the southern edge of Glacier National Park, running south, following the route Amtrak takes as it crosses the country on its most northerly route. As we drove toward East Glacier this morning, we couldn't help but remember our last trip here -- in February. Then a series of weather related accidents forced us to change our rail plans, and the end result was that we came through the wintertime mountains with nothing warmer to wear than jeans and sweatshirts. Today, in late July, it was shorts and T-shirt weather.

One of the train stops we remembered from that wintertime trip was Essex, home to the Izaak Walton Inn, named after the 16th century English author and spokesman. In fact, except for a half dozen or so summer cabins, the Inn is Essex. Built by the Great Northern Railway to house railway workers, the Inn has been turned into a charming hotel with a decided railroad flavor. You can stay there, at one of the nearby cabins, or across the tracks in one of four refurbished railway cabooses, gaily painted blue, red, green or orange. The Inn's lobby is fairly narrow, with a large fireplace at one end. Comfortable looking chairs of cloth and cowhide are set in two lines along each side. Two large highly varnished wood slabs serve as occasional tables between the rows. Completing the rectangle, at the end of the room is a large display case containing replicas of the china from the old trains.

The dining room, ("Dining Car"), is decorated with old Amtrak menus (oh, what $2.50 used to buy). A mosaic of the Great Northern mountain goat decorates one wall, and a stained glass window with the same motif is on another. We stopped as we came through around 10:30 am, and I was a bit surprised that there weren't more guests. They must have been out exploring Glacier; returning for breakfast two days later, we found the restaurant packed with people. Downstairs, there's a long room that serves both as a bar and gathering area. On the walls here are pictures of old trains pushing their way through huge snow drifts, pictures of the men and women who worked on the trains. In front of the Inn, near the tracks, are two luggage carts loaded with flowers.

We were headed to Glacier Meadow campground, about 15 miles from East Glacier and a good jump off spot for exploring this portion of the Park. It's well named, sitting next to a huge meadow, home once yearly to the Canadian and American ham (radio) festival. About 15 pull through sites, suitable for the longest rigs, are on the grass. 20 additional, smaller sites are cut into an aspen grove. It was very warm when we arrived, so we opted for one of the treed sites.

Tom and I react differently to camping spots. I was perfectly content with our shady nook; but he had found its major flaw -- you cannot get TV reception when you're parked under a tree. While we watch very little TV, we like the evening news and an occasional sports brief. We found the perfect solution, site 46, half under trees, half open to the skies, and settled in for an enjoyable stay.

We left the truck and camper at the campground the next morning and took the little jeep over Marias Pass toward East Glacier. As we turned into the little town, we passed the Amtrak station, and, remembering last winter, stopped and went in. About 20 hopeful passengers were waiting for the scheduled 9:54 train. But with Amtrak, you can be sure of only one thing -- the train will be late. As I watched, the station attendant announced that the train had been delayed by freight traffic, and would now be arriving at 11:15. The groans could be heard out the door.

The Looking Glass Highway, (highway 49), is a 10 mile stretch of road that curls up out of East Glacier, skirts the turn-off for Two Medicine Lakes, and winds over a steep pass to a junction with Highway 89 linking Browning and St. Mary. Every turn in the road presents new vistas of glacial mountains, dense forests and sparkling blue water. Every turn provoked a new "wow, look at that" from me. Mileage-wise, we didn't have a long day planned, but with all the stops we made and all the pictures we snapped, the trip took longer than originally planned.

I was surprised at the relative lack of other visitors, especially contrasted with West Glacier and the Going to the Sun Highway. Perhaps this is because are more entrances (three) into the eastern part of the park, as well as three lakes to cruise here, so the number of people you see will be more spread out. Perhaps it's because the western side is more popular -- I overheard one bicyclist tell her friends that she thought the western part of the park was prettier than the east. But it seems there are more places to visit, more roads to drive, and more hikes to take in the eastern half of Glacier National Park.

One thing the eastern part of the Park does not have is a convenient grocery store. We'll remember next time to be well stocked up before coming here. We stopped at the village market in St. Mary, but couldn't buy groceries so early on such a warm day. When we returned later that afternoon, most of the fresh meat and produce was gone. If that happens to you, however, I can recommend the Browning IGA; we made great use of it.

Thus far on this part of our adventure, the road had not taken us inside the Park, but had been paralleling its boundaries through the Blackfeet Indian reservation. At St, Mary, we showed our Golden Age passes at the Ranger Station and re-entered. As we often do, we checked out the available camp areas first. The St. Mary campground, like Fish Creek campground on the western side, is one of the only two campgrounds that take reservations, the rest are first come, first served. Perhaps because many campers like the security of having a reservation, this campground the only one we saw that was almost full.

9 miles north of St. Mary we turned east at Babb and headed into the park to Many Glacier Hotel, one more of the old hotels built by the Great Northern railway in an effort to attract people to the park. It's another "wow", (though I was beginning to say "Oh, my" instead), overlooking the blue water of Swiftcurrent Lake. Even after several years of drought, there are still dozens of glaciers to be wowed-over from here. Another wooden boat, this one a bit smaller, but with a great name, "Chief 2 Guns", provides a narrated tour of this lake several times daily.

I'm a sucker for people with binoculars who are looking at something I cannot see. And when someone said, "That's a bear under that tree. My old grandpa eyes are still sharp", I was hooked. I looked as he directed me to a part of the shoreline about 200 yards across the Lake, not too far from the Many Glacier campground. In the shade of a large tree, I saw what looked like a tree stump. Judging from the looks of other people around me, they also thought the man was wrong in what he saw. But then the stump wiggled its ears, stood up and walked away...

Next I noticed a large group of people on the road close to the bear/stump. In complete disregard to the dozens of warnings against walking up to bears, they had parked their cars and were photographing a large grizzly, pawing at something on the ground beneath him. I watched as he calmly ambled along, disregarding his admirers. When we later drove around this part of the lake, we saw temporary signs along the road, "No stopping or parking". The rangers who had set these signs out, and who were now cruising up and down the road on the lookout for trouble, were too late. The bear was nowhere to be found.

Glacier has the largest concentration of bears in the lower 48 states; warning signs are prominently displayed at each campground and in every hotel and ranger station. Campground closures are not unusual. There was a list of such closures at the Many Glacier Hotel, along with the reasons -- among others, "deer carcass nearby", "goat carcass nearby", and "bear activity".

We made two additional forays into East Glacier the next day. We had been so "wow"ed with the scenery when we drove by the turn off to Two Medicine Lakes, we just had to drive into the campground. Lower Two Medicine Lake is one of only two man-made lakes I saw in the Park. It's a beautiful turquoise lake, with no one on it; no boats, no fishermen. The campground, store and boat dock are located on the smaller Upper Two Medicine lake. The campground had quite a few vacant sites, and some relatively large rigs fit in here easily. Again, I was intrigued by what other people saw as they looked through their binoculars at the top of a the nearby mountain. No bears this time, but 6 hikers, tiny dots wearing white T-shirts, were nearing the summit. I asked how they could possibly get up without ropes, and was told this climb was relatively easy. No way.. The terrain they had covered looked steep enough; their path ahead looked impossible.

Retracing our path from the lake, we stopped at Roaring Eagle Falls. Right under those words was a come-on, "Trick Falls". A beautiful, short walk through green forest led to Two Medicine River and a falls emerging through a large hole in a cliff. Another "Wow".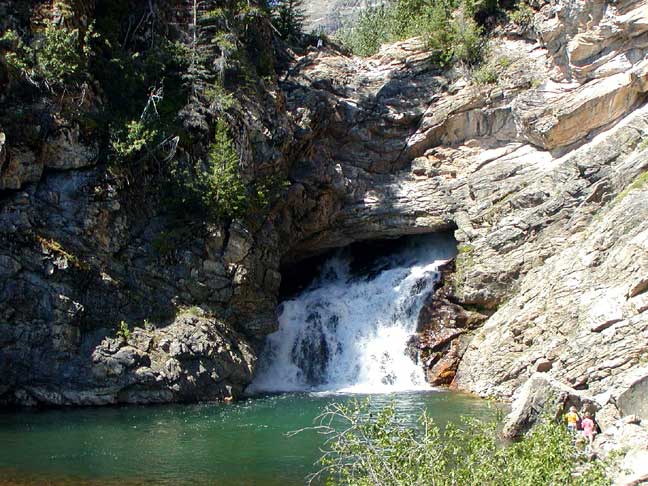 Our last trip into the park this time would be at the Cut Bank cutoff. There's no ranger station at the end of 5 miles of extremely dusty road, only a very small campground. A surprising number of cars for this small area were parked at the trailhead, but there are several trails branching off from the area. We noted two red signs, bear warning signs, and assume the hikers noted them as well. After that grizzly sighting, I wasn't too anxious for a long hike in the area.

We've opted to leave the Canadian portion of the Waterton-Glacier International Peace Park for another trip. The Prince of Wales Hotel, and the Waterton Lakes, will have to wait for a later date. We'll head southeast tomorrow to Yellowstone National Park, the next segment of our swing through Montana and Wyoming. And anyway, for now, I'm totally out of Wows.

---
Postcard: 5 Gates to Glacier -- West Entrance

July 26, 2005

"We're on our vacation now," we cheerfully sang as we left Bend and headed north. Our kids would have laughed, since they feel we're on some sort of perpetual vacation anyway, but we were happy to leave our unfinished townhome and head off for parts unknown. Three weeks (or more), in Idaho, Montana and Wyoming. Whee!

We picked up the jeep Wrangler in Yakima and headed east to Blackwell Island Resort in the lakeside town of Coeur d'Alene in northern Idaho. Blackwell Island is situated on the banks of the Spokane River, right where it exits Lake Coeur d'Alene. A sandy swimming beach tempts kids of all ages and is just right for ultra warm northern Idaho summer days. You can rent one of their boats or bring along your own and moor it at their dock. If you feel you've had enough of your own cooking, it's only a short walk to Cedars, a lakeside floating restaurant.

On past trips, we've spent several hot summer days here enjoying the river, and were tempted to stay longer this time. There's an osprey nest on one of the nearby power poles, and I watched the fledglings try to work up enough courage to attempt a first flight. However, the lakes and mountains of Montana were calling. Next stop would be Polson, on the shores of Flathead Lake.

Flathead Lake, the largest natural freshwater lake west of the Mississippi, is 28 miles long and up to 15 miles wide. As usual when we've been here, the weather was absolutely glorious, with a soft wind ruffling the lake and causing sun dappled waves. The Polson/Flathead Lake KOA is located on a hill about one mile west of town, and the views of the lake are breathtaking. Being a small rig, we were parked in the midst of three rental "Cruise America" RVs, and so met a couple from Ireland, and their two small children. They were being "chauffeured" by an Irish friend who works in New York City. By the time the evening was over, I'm sure I'd picked up a brogue.

The Trailer Life listing for this KOA showed that they had WiFi, and Tom was anxious to get his email. He was a bit disappointed, but, having prior KOA experience, not completely surprised to find there was a substantial charge for this service -- $5.95 for each 12 hour period. Unless you're a night owl or wake before the robins in the morning, you'll run past your 12 hour period and incur a double fee as your "daily rate". When you consider how many parks are now offering this service for free...

The short route from Polson to Glacier Park is up the east side of the lake. This route avoids many of the small lake communities and bypasses Kalispell, Whitefish and Columbia Falls. It also is the "cherry route". The road runs by one cherry orchard after another, and almost every one has a fruit stand with Rainier and Lambert (local) cherries.

We're returning to Mountain Meadow Campground, a beautiful spot just east of Hungry Horse, MT and only 10 miles from the west entrance to Glacier National Park. This pretty campground reminds me of camping in a national forest campground -- with hookups. Our site was terraced into the side of a hill, widely separated from our neighbors, unless you counted the red squirrels chattering noisily from the surrounding trees. Several sites are long enough for any rig; indeed this park is listed in "Big Rigs, Best Bets". It's easy to find, just follow the directions given you by Sue, the owner/manager, "when you see the flowers, you'll have arrived". The entrance to the park is flanked with a striking display of petunias.

Given that this is the last week of July, the absolute height of the summer season, we called ahead for a reservation here. We also asked Sue for tips on where to go in Glacier where we might avoid some of the "thundering hordes". She suggested Polebridge, a tiny, largely unvisited town on the west edge of the park, and a side trip from there to Bowman Lake. What a great afternoon excursion this turned out to be!

We drove northeast to the Park's western entrance at West Glacier, the "gate" through which 65% of tourists pass. This is quite a gathering spot, complete with motels, restaurants, a grocery store and float trips every two hours. There's even a golf course. Leaving town, follow the road a short distance and you're faced with a choice; turn right for Logan Pass on the Going-to-the-Sun highway, or turn left for Apgar Village, Fish Creek campground and Polebridge. Today we turned left.

Apgar is a smaller West Glacier, with similar amenities. It's located on the shores of Lake McDonald, a big draw for pleasure boaters, kayakers and fishermen. We drove slowly through the nearby campground and were surprised to find that, even today, in the height of the season, there were plenty of available spaces. This campground does not take reservations, so these spots were indeed empty, though they might have filled by evening. While a smaller rig would fit anywhere here, we saw medium sized coaches camped cozily under the shade of cedar and hemlock.

At Fish Creek campground, a bit further up the west side of the lake, we stopped to enjoy the quiet of water and woods. We looked east across a placid lake and up to the highest peaks, some still snowcapped. A small stream joined the lake right where we stood; my thoughts were of a shady reading place, and I'm sure Tom's were of fishing -- reportedly excellent in the Lake.

From Fish Creek campground the road wanders northwest for about 10 miles, and exits the park through the Camas Creek station. This exit/entrance is not manned, the windows of the small kiosk are boarded over and it seemed a way to enter Glacier without paying. (We later found that this is indeed the case, although there is an honor box at the side of the road). Now we were at a crossroad, to the left MT 486 heading south to Columbia Falls; to the right a dirt road leading to Polebridge.

Thus far, we had passed two bicyclists and only a few cars -- it seemed all the traffic was waiting for us on the dusty road to Polebridge. But what views! The road climbs along the side of the Whitefish Range, and we looked out over the north fork of the Flathead River, winding away toward the horizon. To complete the picture, we even spotted a couple of whitetail does along the bank.

There's a very small sign indicating a right turn to Polebridge. Before we reached the town limits, we saw how the citizenry copes with the dust issue -- signs. "Slow down, people breathing" , "Slow down, (followed by a list), "bear, kids, dogs, fox, squirrels crossing". The town consists of a bakery/sandwich shop, a hostel, several homes, a tavern, and signs. On the porch of the bakery, "Local dogs only on porch". In the small park, "Local dogs run free, keep your pet on a leash". On the deck of the tavern, "Unleashed pets will be eaten".

We crossed back into the park at the Polebridge ranger station. This tiny station only gets about 1% of the park traffic, and the rangers here have plenty of time to tell you about their corner of the park. The area got its name from a bridge, built completely of poles, that crossed the river here. Unfortunately, during the 1988 fire, this picturesque bridge was destroyed. This area is no stranger to fire; the fires of 1966, 1988, 2001 and 2003 were the largest, but every year fire strikes somewhere in the area. We enjoyed talking with Rangers Lucy Yeats and Scott Emmerling. She was reading an old journal, old enough to be typewritten, describing events that happened while he lived in the area. Scott was the one who told us about the 5 gates to Glacier, and cemented my desire to go through each one.
It's a 6 slow, scenic miles from the station to Bowman Lake. Climbing out of the river basin, we passed two whitetail deer eating placidly right at roadside. Once up the hill, the road levelled out and wound through large cedar trees en route to a beautiful lake. The small campground there was almost empty, but the parking lot was full of cars. Where were the people? Out on the lake in kayaks, hiking the trails with backpacks.

Our second western foray into Glacier took us up to Logan Pass on Going-to-the-Sun road. This is probably the most popular road in the park, a 21 mile steep climb on a very narrow road through some of the most spectacular scenery in the U.S. While the road is extremely narrow, with rock overhangs that give meaning to the admonition, "no vehicles over 21 feet long or 8 feet wide, including mirrors". They also recommend that no vehicle over 10 feet tall drive this road, but I think that's optimistic. I wouldn't want to drive anything that tall down the road, especially now, while construction has made narrow lanes even narrower. However, tow vehicles and passenger cars have no trouble and there are numerous pull out areas where you can take pictures and search for bear, mountain goats or bighorn sheep on the mountainsides.

The highway follows the east side of Lake McDonald for about 10 miles before it starts its climb toward the sun. Before we got that far, however, we passed the turn to Lake McDonald Lodge and turned in. What an historic spot. The lodge was constructed in 1895 and has served as a hunting lodge and hotel since the early 1900's. Before we even got a chance to go inside, our attention was drawn to the dozen or so bright red touring cars, refurbished vintage motor coaches, built by the White Motor Company between 1936 and 1939. Refurbished or no, they look just the same as those in the old pictures that line the lodge walls. They have retractable canvas roofs, so that pictures may be taken without leaving the bus. I peeked through the windows of one of the cars and saw, behind the driver's seat, 4 leather covered benches that stretch across the width of the coach. Attached to the back of the third row are lockers, which I guessed would hold sandwiches or cold drinks. The drivers of these coaches have an interesting name; they're called "Jammers", because the 1920's driver had to be able to "jam" his gears in order to get up and down the mountain. These cars are found all over the park; they serve many of the private campgrounds as well as the hotels, and you can take as long a trip as your schedule permits.

We walked inside the hotel and into a hunting lodge straight out of the 1920's. A huge walk-in fireplace with a blazing fire dominates one end of the lobby. Huge cedar tree trunks, bark still attached, support the balcony of the second floor. Mounted heads of elk, mountain goats and bighorn sheep are displayed on the walls. A huge white pelt was draped over the second floor balcony railing. It all looked just like it would have years ago.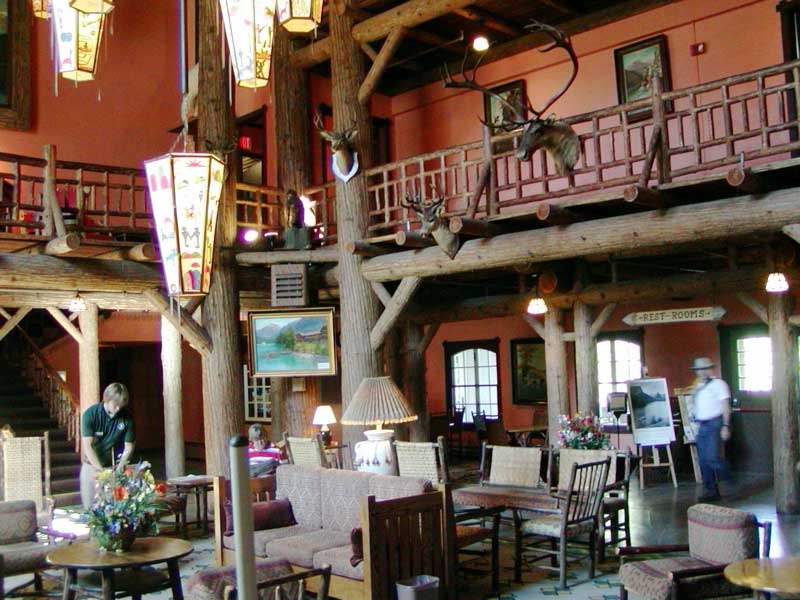 I walked out on the veranda overlooking the lake and found another holdover from this bygone era. The vessel DeSmet is a narrow wooden boat built in 1930, and unchanged since. Twice a day you can cruise the lake, while you enjoy historical narratives from the ship's captain.

Leaving the lodge, we resumed our climb toward Logan Pass. The age of this roadway, along with increased traffic and weather have taken their toll on this historic byway, and now two sections are under re-construction. Signs warned us to expect up to 30 minute delays, but our longest wait was about 3 minutes. We stopped to take some pictures of the surrounding mountains, and I became dizzy from looking straight up through my binoculars, searching in vain for bear or mountain goats at the top of the nearby peaks. No goats up there, they were waiting for us at the next overlook area! Two of them were placidly munching right next to the handicapped walkway. As we watched, one goat decided the view was better from the walkway itself, and up he jumped, getting his picture taken by at least a dozen delighted tourists.

Once we reached the top of the Pass, we pulled into the crowded Visitor Center. We decided against going on to the eastern terminus of the Going-to-the-Sun Highway today. We'll be there in a few days, this time coming in from the eastern side of the park. We've found two, (Polebridge and West Glacier), of the five "gates", (entrances) to Glacier, and we look forward to finding the other three -- Two Medicine, St. Mary, and Many Glacier. We'll drive east around the southern perimeter of the park tomorrow, and from there we'll be set to explore the eastern half of the Park. If time permits, we'll spend an additional day on the Chief Mountain Highway driving through Waterton Lakes, the Canadian portion of the Waterton-Glacier International Peace Park. We've just begun our adventures...
---
Postcard: Rally World

July 16, 2005

Windshield decorated with a red piece of paper reading "C -1 -- Electric", and a tan piece stating we were Early Birds, we entered the Deschutes County Fairgrounds at 10:25 on Sunday morning, and followed the signs to "C" lot. But we were not alone. At least a dozen other rigs were right behind us, and 5 were already waiting for the parking crew. So many other early birds had already arrived that the parking staff was madly juggling space assignments. Three men in a golf cart were racing all over the grounds looking for available spots, leaving a woman volunteer with the difficult task of holding the increasingly impatient line in place. Unfortunately, she had no radio and no way of knowing where the men were or if they'd found places for us. I was a bit concerned that we'd be put in a lot other than the one indicated on our windshield. But when it was finally our turn, we found that we were indeed in C-1 lot, with electricity. Not only that, but our site dimensions really were the promised 20' x 40 - 45' . Plenty of room to park the car next to the camper, and put out the slides, awning and chairs. And that slight delay in getting parked would be the only "glitch", (if one could call it that), we experienced in the next four days.

This Great North American RV Rally is so huge it's a world unto itself. The fairgrounds are enclosed in a miles long fenced outer circle, with the gate volunteers checking everyone very carefully to be sure he has the appropriate entry pass. Inside the gates, at the "inner ring" of the fairgrounds, are the tents for the supplier exhibits, most of the outdoor RV displays, and the areas where seminars would be held. Some of these latter were actually rooms, but sometimes presenters found themselves giving their classes in the dairy, sheep or swine barns. Hooker Creek Event Center, a large indoor indoor stadium, was the arena for each evening's entertainment.

For Rally attendees parking, I had anticipated one huge parking lot, with rigs parked close together, but that was not the case. Each parking area was a separate small city, set distinctly apart from the others by both natural terrain and elevation. Quintessential bedroom communities! Two of these areas, A and B, were very near the gates. 13 areas, C-1 through 4, and D - 1 through 9, were located close in above the fairgrounds. This rally was so well attended that at the last minute, the Good Sam organizers had to find four other areas for parking, Lots E, F, H and I. These were further out, but had all day shuttle service to transport RVers to and from the rally.

C-1 was basically an exhibitors' lot. To help us find our way home amidst these other RVs, we flew our "signature" flag of purple, green and blue baskets high above the camper. However, had we lost our flag, we could have found our way home by finding either of our neighbors, the Adventure Caravans representative to the west and, to the east, the man selling the "Fat Loss Patch".

A great deal of thought and organization went into making this rally run smoothly. Redmond school buses were used for shuttling RVers from the center of the fairgrounds to the outer lots. Since this rally was open to the public as well as to the rally attendees, parking around the gates was in great demand, and these buses were by far the easiest way to get around. Early each morning, water trucks came around wetting down the roads to prevent as much dust as possible. In our lot, huge, surprisingly quiet generators ran 24 hours a day. Only once did the electricity shut off, and then only for a few moments. Oddly enough, that occurred close to the end of the rally, when people were disconnecting their power cords and preparing to leave. Dependable electricity -- even when it's 90 and everyone's running his air conditioning!

One of the benefits of attending this rally was getting all the free stuff. RVers love free stuff. Each morning, at 8:30, a free cup of coffee and doughnut, ("until they run out"), were handed out at the Ford exhibit to the long lines of RVers who had cheerfully spent at least an hour in a line stretching across the fairgrounds. On Monday, Trailer Life and Motorhome magazines joined with Woodall's Publications held an outdoor party in the Sheep Barn. Here you could have your golf swing analyzed by a local pro, or attend a special seminar on fly casting into a custom-made pool. And, as if they needed any other incentive to attract thousands of RVers, they gave away hats to the first 5,000 to pass through the door. I couldn't begin to see the end of that line when the doors first opened.

Another long line formed shortly after 4:00 each afternoon for entrance to the Hooker Center, where the evenings entertainments were held. The doors didn't open until 5:00 and the early show didn't start 'til 6. But RVers want the best seats available, and don't seem to mind the wait. There were two shows each evening, the later one at 8, and by 6:30 there was another line waiting to get in.

All RVers were given badges when they registered at the Rally. These were about 6 inches long, and made of blue nylon. The front had three compartments, which I found perfect for carrying glasses, money, a comb and lipstick. In the back were two pen compartments and a place just right for business cards. Everything I needed for a day at the rally. No need to carry a purse or wear a fanny pack. Along with their badges, rally goers were given a number on a large round, sticky backed piece of paper. We were participants in a game called, "Meet Your Match". Your goal was to find the one other rally-goer that had your number. Once found, the two of you could claim a prize, and be entered in a drawing for a grander one. A by-product of all this is, of course, you'd have found a new friend. But with more than 10,000 numbers walking around the fairgrounds, finding your "match" was a daunting task. Some people carried signs with their numbers emblazoned in bright colors; others put the numbers in the windows of their RVs, and for two days, everyone walked around staring at each other. The day of the prize drawings, I was surprised by how many matches had, indeed, been found.

What do you do with the kids while you're attending classes or checking out the new coaches? This quandary was neatly solved with a youth tent, where kids found activities ranging from painting to "just hanging out". Their activities were carefully monitored; and the volunteers stayed alert. I poked my head inside the tent one morning, just to see what kinds of activities there were for the children. One volunteer asked me if she could help me. When she learned I was merely interested in the youth activities, she told me I could watch, but "please stay right near the door". One of the favorite activities was a contest called "oreo stacking". Each child was given 36 oreos and a set amount of time to form them into a stack. It sounded easy until I watched them try it. No one got them all stacked in the allotted time.

With the kids all taken care of; it's time for "grown-up" school. The RVers were very interested in these classes. Seminars lasted 90 minutes and were given in 12 different locations, "A" through "L" (no "H"). Several of these filled completely -- even the standing room. When I wanted to attend one of those filled classes, I was told they were sorry, but "...fire regulations, you know". Tom talked with one woman who had just taken a class titled "So, Can I Really Drive an RV?" She told him she really learned a lot from the class, and that her truck driver husband (whom, she said, thinks he should be the one to teach her) should have taken it too. I overheard one couple discussing which classes they wanted to attend. "I want to hear Joe and Vicki (Kieva)", the guy said. "Oh, I love the Kievas," said his wife. "But then I'd have to miss my cooking class". Tom & I knew several instructors from our teaching experiences at the Life on Wheels conferences in Moscow, ID, and enjoyed renewing old friendships.

Tuesday I watched some of the Second Annual Rally Dog Show. Held in the fairgrounds outdoor arena, there were relay races, prizes for the best depiction of the theme, "Oregon Tails", and the dog/owner look alike contest. For the relays, the dogs and their owners had to run out into the middle of the field, where there were upended bags with doggy treats underneath. With no help from his owner, each dog had to figure out what was under bag, nose it over, eat the treat, and return! The category of best theme depiction was won by a dog with oxen horns tied to his head pulling a small covered wagon. Had I been a judge in the dog/owner look alike contest, I would have voted for the woman who looked just like her Rhodesian Ridgeback. She was wearing a mask with silky ears, long nose, and a vest with a ridgeback line down the middle! She really did resemble her dog.

Another arena activity was building the world's largest the world's largest S'more. Well over 100 eager helpers stood around 20 plus tables, lining those tables with graham crackers, layering the crackers with pieces of chocolate, covering the chocolate with marshmallows (untoasted), and finishing it all off with a covering of more crackers. They were each wearing a (free) white shirt with a Hershey bar logo on the front. The shirts only helped a bit to keep the chocolate, quickly melting in the heat of the day, off their clothes. When the layering was finished, the tables were brought together to form one giant S'more. It measured 112 feet long and 16.8' wide, (one layer deep), and will be entered in the Guiness Book of World Records. When all was complete and pictures had been taken, anyone who wished could eat some of the gooey delicacy.

Monday, Tuesday and Wednesday morning, after getting your free coffee and doughnut, you could enjoy a morning game show, "King of the Rig". Contestants were chosen from the watching RVers, and ,just like TV game shows, got up on a stage, and stood behind separate podiums equipped with buzzers. The first one to know the answer to questions about rules of the road and safe RV operation signalled by hitting their buzzers. Sometimes the questions required full answers; other questions were true or false. One contestant's strategy for the true or false categoty was to hit his buzzer right after the MC said, "True or False..." and well before the question had even been asked. He figured he had a pretty good chance of getting a right answer, and he'd beat his opposition that way. (This strategy prompted a slight rules modification). I happened to meet the grand prize winner of this contest walking around the fairgrounds. She'd won $5,000!

Every day of the rally, the Sheep Barn had been the center of attraction. Here were held the outdoor activities of "Reader Appreciation Day, Camping World's Match-N-Win club day and Coast to Coast club's Viva Las Vegas. Thursday, the last rally day, was Good Sam Day. This day, the theme was a patriotic one. The entrance to the barn was through an arch of red, white and blue balloons. "Uncle Sam" dressed in a red, white and blue suit and towering above anyone who wasn't also on stilts, handed out programs and small flags. On one side of the barn, Good Sam club representatives were available to talk to members about chapter membership, and were getting a great deal of attention. On the other side, at the old fashioned carnival, lines of not so youngsters were getting air brush tattoos, tossing basketballs in hoops and throwing balls at bottles. There was also something I've not seen in years, a strength test, where you take a sledge, hit a platform, send a ball shooting up to hit a bell. If you won any game, you got a special ticket which you could use to be entered in a drawing for other prizes.

At 9:30, the ROTC unit of Prineville high school presented the flags of the armed forces -- Army, Navy, Air Force, Coast Guard and Marines, while their band played the anthems of each. Then everyone sang of "I'm Proud to be an American" and "God Bless America". All this was making me feel very patriotic and a bit teary, a feeling that lasted until I got the giggles looking at the murals on the backdrop behind the flags and performers. On the left was a picture of the Jefferson Memorial. In the middle was the Statue of Liberty with fireworks exploding behind her. On the right was a depiction of Mount Rushmore. I recognized Washington, Jefferson, Roosevelt and Lincoln, but who was that 5th face? Good Sam!

If all this wasn't entertainment enough, each evening we were treated to musical revues. Debbie Reynolds sang and danced her way across the Monday evening stage, bringing back memories of spending whole afternoons in movie theaters, when I'd watch one movie and then sit through it again. (You could do that, way back when). Pam Tillis, daughter of Mel Tillis, sang country for an hour to her delighted fans, (I'm one). Wednesday evening we were introduced to Triple Gold, the "Three Tenors of Pop", the three original lead singers from The Association, The Four Preps and The Diamonds. Having sung in chorus through high school and into college, I could fully appreciate the way in which their voices blended -- no one needed to be a "lead", and their music was sheer delight to hear. Finally, the last evening, Ronnie Millsap. The only disappointment this evening was that his section of the show was necessarily a bit abbreviated due to the last show announcements, introductions and closing ceremonies. I could still be there listening to his music.

Rigs began leaving the fairgrounds as early as Wednesday evening, and by Friday morning, there were gaping holes in the satellite communities surrounding us. The day promised to be warm, and the shady trees of Crown Villa beckoned. We'll spend a week there, doing post rally chores, washing dirty clothes, dusty people and our vehicles. We'll reminisce about the fun times we had at the rally, attending classes, meeting old friends and making new ones, and being royally entertained morning and night. We had a wonderful time.

Occupancy of our townhome is still a few weeks off, so now we're thinking travel again. Canada beckons, but so also does a trip to Idaho, Montana and Wyoming. We'll take part of the next week just to decide where to go.
---
Postcard: Before the Rally
July 8, 2005
We've been witnessing a transformation -- the transformation of the Deschutes County Fairgrounds in preparation for The Great North American RV Rally. Only a week ago, the 123 acres seemed almost empty, unless you counted some 200 dogs participating in a regional dog show. Then we stopped by the fairgrounds to see where we'd be camped in a week, and also to see a bit of the show. Dogs of every size and description were strutting their "stuff" for the judges. Some were groomed to perfection, and acted like it; noses in the air, tails pluming out behind, they minced their way across the lawns. In another area, an agility course had been set up. Participants ran through tunnels, jumped over bars, climbed ladders and gingerly walked down tilting boards -- or didn't. Several absolutely refused; one so terrified his tail seemed glued between his legs. We spent an enjoyable hour watching the show, noting that it was held inside an area distinctly signed "No dogs beyond this point".
The dog show, contained as it was in the middle of the grounds, made the fairgrounds seem enormous. What a difference we saw this time. Today, a full 4 days before the rally begins, the stage was being set. We saw hundreds of show coaches parked in holding areas waiting to be ushered into their specific spots. Many of these spots were marked with huge astroturf carpets of bright blue and green -- some already loaded with their contingent of Monacos, Country Coaches, Alpines, Winnebagos and so many others. I could sense the anticipation, people scurrying back and forth, a small army of volunteers registering for the rally and being assigned their duties; and tiny golf carts leading mammoth coaches to their assigned spotes.
We drove through the area where the volunteers are parked, taking up as much space as the largest rallies we've previously attended. And still there's more to come -- more show coaches, and all the rally-goers.
This excitement isn't just found at the fairgrounds; the neighboring towns also seemed poised for something special. In addition to the Rally, which is expecting 6,000 rigs and 15,000 RVers, this weekend the nearby town of Sisters holds its annual Quilt Show. Quilters from all over the country attend this show each year, adding to the pressure on area hotel, motel and RV parks. Every park in the area, from Madras to La Pine, is completely full this weekend, and most have filled their overflow areas as well. The nearby Wal-Mart looks like a used RV sales lot, and I feel for those Wal-Mart shoppers who must snake their way between scores of rigs. This morning, before we left Crown Villa, I overheard a man trying to convince Chris, the compassionate guy behind the desk, that he really needed a space. "Where will we go?", he asked. "Do they allow camping on the streets?". This year, we'll be rally-goers, too. We're lucky enough to have a site in an area with electricity, and plan to arrive the day before the official start.
While we wait for the festivities to begin, Tom and I are spending the weekend at a Thousand Trails ("TT") Resort, 20 miles south of Bend. In all our years of RVing, we've never had a campground membership; but we decided to tour this park and learn the benefits of TT membership. In return, we'll spend a couple of free nights in a very nice facility.
According to a brochure I picked up in the office, this park has 301 water and electric camp sites, 50 overflow sites, 17 rental trailers, 4 cottages and 3 yurts. All this is located in a series of loops, A through L, on a "preserve" of 283 acres. The dirt and gravel sites are large and level, some with tables, all with fire rings. We're nestled in a lodgepole pine forest, and our closest neighbors seem to be the many ground squirrels which call this area home. They're nosy neighbors, and not above a bit of thievery if you leave any food outside, but are very cute to watch.
This TT resort has a long list of amenities and activities. A family dining room is open for breakfast Friday through Sunday, and serves dinner on Friday and Saturday. There's a cafe which serves lunch every day. Food prices seem at least 10 years behind the times. You'll find a tennis court, and two pools (one for the over 18 set). The Little Deschutes River winds for miles through the park, great for kayak or canoe trips, and has reported wonderful trout fishing early in the season. Every weekend, from the end of May through Labor Day, there's some sort of family entertainment, with themes ranging from "Dad's Wild West" to a "Day at the Beach". This weekend is "Christmas in July". Several families will compete decorating small Christmas trees and everyone will join in singing carols.
TT strives to maintain preserves where families can let their children ride bikes, play in the playgrounds etc. without parents having to worry about safety issues. "Rangers", uniformed staff members, patrol the roads of the preserves. A 5 mph speed limit is carefully observed.
As first time visitors to TT, we agreed to attend a sales presentation, and get an overall orientation to the TT/ Naco organization. At 9:30 on Saturday morning, we met with Bev Caspar to learn more about the benefits that membership can bring, as well as the costs involved.
I'd never attended a sales presentation before and was pleasantly surprised to find it very low key. Bev began with questions about us, where we live (that subject alone could take an hour!), our RVing lifestyle, and how we'd fit into this membership system. The only "push" came when she explained, with something of a twinkle in her eye, that if we should decide to purchase a membership today, we could expect a sizeable discount in price.
There are indeed some persuasive features that many RVers would find attractive in owning a membership in TT. The security of the park we were in was obvious from the first stop at the professionally staffed entrance gate. The personnel there were extremely courteous, but clearly persons that don't belong there will not be admitted. Security and safety surely are of increasing concern to many in these times. Another less obvious but important point is found by comparing the huge influx of new RVers (as evidenced by enormous sales increase in RVs of all types) compared with the lack of growth of the RV park industry. Because of permit restrictions, it's becoming ever more difficult to build new parks, and many older parks are no longer suitable for some of today's bigger rigs. In some locations park models and rental units are diminishing the number of sites available for RVers. In other places whole parks are disappearing as new housing developments take their place. It's not difficult to imagine that in future years the available pool of commercial RV spaces will be shrinking in relation to the number of RVers competing for those spaces. In this context, a membership campground can provide a greater assurance of site availabiity in the future. That is, so long as the membership campground is committed to preserving the overwhelming majority of its sites for RVers, and is not lured into diminishing the number of available RV sites by transforming ever more of them into yurts, rental units, and park models. In this regard we were told "state laws" protect TT members from this sort of problem. We would have been more comforted had the on-site TT sales manager told us there was a corporate policy that covered this point, rather than saying we were "protected by state laws".
TT has 59 preserves, (so called because they attempt to "preserve" the natural beauty of each area), scattered along the West coast, and also in Texas, Florida and several central Eastern states. In part, the system works thus: you make advance reservations 90 days before your intended arrival. You may use only the preserves that are specifically included in the type of membership you purchase (national versus regional). You may not reserve a specific campsite, but you can choose from those that are available when you arrive.
TT members can stay for 14 days in one preserve and then must be out of the system for 7 days before returning. Should you only opt to stay for between 1-4 days, you can then go to another preserve, and stay without this 7 day "out of park" interval. Since you have purchased a membership, and pay annual dues, of course there is no additional camping fee for TT members.
In addition to these preserves, under certain terms and conditions that I found very complex, a TT member can join Resort Parks International ("RPI"). Membership in RPI is voluntary, and requires an additional annual payment, although this membership is included in the first year's TT fees. You must make advance reservations with the RPI affiliated parks. All resorts operated with RPI's reciprocal programs operate on a first-come, first-served, space available basis. Generally the cost is $8.00 per night for an RV site at such a resort, although TT recommends you verify all rates with the park. The concept sounds interesting, and no doubt is put to good use by many. However, the more I read the disclosure statement concerning all these rules, regulations and restrictions, the more confused I became (especially with little time to digest it all). With no fewer than 4 different RPI membership classifications, it's hard for the average, non-lawyer RVer to understand the advantages of each, and the conditions under which use of the RPI membership may be made.
After some discussion, we decided that at least at the present time, membership in the Thousand Trails network wasn't for us. Such a membership could be especially useful for a family that knew where they would be going, how long they would stay, and liked the security of knowing a spot would be waiting for them when they arrived. That's not the way Tom and I travel. While I like to know I have a reservation in a busy place, (for example, the Palm Desert area) at a busy time (New Year's Eve), during most of our travels it's not the destination that's the important factor for us. We enjoy driving at our own pace, stopping when and where we wish for as long as we like with no need to be at a specific spot at a specific time because that's where a "system park" happens to be. For us, the trip's the thing -- and where we stay is somewhat secondary.
Next stop -- the Deschutes County Fairground and the Great North American RV Rally. We look forward to being part of the throng, to see just what it's like to attend such a huge event. This morning, the "early birds" left from this Thousand Trails, Bend - Sunriver park. Their windows were plastered with colored paper, one sheet indicating where they would be camped, and another when they were supposed to arrive at the Rally. Good Sam has carefully divided these arrivals into groups; some are to arrive between 7 am and noon; the others from 1 and 5 pm. They are urged to avoid the crowds, to space out their arrival times, but by 6:30 this morning there was a line of RVs at the front gate -- all headed for Redmond. They, along with the other eager early birds from other campgrounds were just too excited to wait. While we also have one of those pieces of red paper, we chose to leave on Sunday. We'll see if this strategy helps us avoid the crush.