POSTCARDS
---
Stephanie is one of those persons who can fit a lot of words onto a standard size postcard -- usually by writing sideways, around corners, and even upside down if she can find some extra space. Most of these go to family and friends. But some of them -- those which document our RV adventures -- find their way onto this portion of our website.
---
Postcard: Staying Put
November 17, 2006
This trip, Tom & I are trying something new -- staying put. We're staying in the same state, the same city (well, "town"), and the same site in the same RV park for a whole month! We're such wanderers that the very idea of not traveling every few days has been hard for us to understand. We actually tried this once before, about 10 years ago, when we reserved a monthly spot in Queen Valley, AZ. Queen Valley is a beautiful little park about 15 miles east of Apache Junction. It was close enough Phoenix and Mesa to get whatever you need, and far enough off the "beaten track" to enjoy the quiet beauty of the desert. At that time, it sounded like the perfect place to spend some time, a place to stay for a while. Not for us, not then.
It took only a few days for wanderlust to set in, and within the first week, we'd pulled up stakes and headed for another campground, this time in Casa Grande, some 70 miles south. Now, every night we stayed away, we were paying for two sites, the one we were occupying and our monthly home base. And this happened more than once. We spent a couple of nights at McDowell Mountain state park, and another at Usery Mountain. Neither of these places was very far from Queen Valley, but again, each night we were paying for two sites. It seemed we were just not cut out to be "stayers".
But now, we're trying this lifestyle again. We have a reservation at The Springs at Borrego RV resort in Borrego Springs CA. We're only about 30 "crow miles" from Palm Desert, (75 by road), but this area is so different from that busy metropolitan area that you feel completely removed -- in distance and in time. Borrego Springs is often called the Palm Springs of the '50s; a small town of approximately 3,000 (if you don't count the snowbirds!).
Tom & I have been coming here for almost that long -- it was sometime in the 70s when we stopped at a small resort hotel here (La Casa del Zorro) on a business trip to San Diego. I remember waking up one morning and listening to the birds in the oleander bushes outside our window. "This is where the birds spend the winter!" I thought, and we've been trying to spend a portion of our winter trips here ever since.
Until this year, we've stayed at Palm Canyon State park just west of town. There, we prefer the hookup section -- some 70 sites, each with full hookups, fire rings, picnic tables -- and wildlife. Because there's water here, the birding is spectacular -- Gambel's quail, Cactus wrens, Verdin, and multiple species of sparrow are easily seen. Every so often, a hummingbird buzzes by -- too close for comfort if you're wearing red. Coyotes serenade you each evening. Walk up the canyon in the early morning, and you almost certainly will see Borregos -- the endangered desert Bighorn Sheep.
This time, we, we're staying at a new resort just east of town, the Springs at Borrego. This park has 100 long (some 75') level sites, each with carefully planted bushes and trees. Since the park is only in its second season, its landscaping plants are still small, but I can easily imagine what the area will look like in several years. From the RV area you look out across a beautifully maintained golf course to the surrounding mountains, which the sun paints gold each morning and pink at dusk. The large clubhouse has two meeting rooms, each adjacent to a professional, 5 burner stove-type, completely stocked kitchen, with huge refrigerator, microwave and dishwasher. (I notice this more than I ordinarily would, since we're hosting our family for Thanksgiving dinner next week. We will use the smaller of the two meeting rooms; the other is reserved by a Thanksgiving rally for 50! Good thing the area is as large as it is!).
When you arrive in Borrego Springs, one of your first stops should be at the Visitor Center. This building is "semi-subterranean", built into a small hill. From one side, it is almost invisible, the hill, planted with various cacti, covers the roof, helping insulate the Center from the blazing summer heat. Inside, the knowledgeable volunteer staff will tell you all about the area, which off-road trails are open to conventional cars, and which require 4 WD, (a condition which can change daily). You can view a film on the different faces of the desert, what to expect in summer or in winter. You can buy T-shirts or hats. Or you can get a book to help you explore the area. (If you do the latter, I recommend "The Anza-Borrego Desert Region" by Lowell and Diana Lindsay. It divides the area into 6 parts and systematically discusses each --its history, trails and roads, tenth of mile by tenth of mile. There's a comprehensive map tucked into a back pocket of the book -- a map which, if purchased separately, costs almost as much as the book.)
Anza Borrego Desert is lined with off road trails, many for 4 WD drives, others for hiking. One of these jeep trails, up Coyote Canyon, will take you to the cactus gardens sponsored by the Borrego Springs garden club. Other trails take you to places where you can find traces of the Indians who lived in this harsh climate for centuries before European explorers arrived. You can puzzle over ancient pictographs, or view metates -- the peculiar pock marked boulders pitted by years of maize grinding. Walk to the Elephant trees, those odd looking trees with swollen trunks (like elephants' trunks), and stunted branches. They resemble upside-down trees, with their roots waving in the air. If you're lucky enough to visit in a wildflower year, one in which enough rain has fallen to germinate the desert flowers, you'll find carpets of yellow, purple and white spread out over the floor of the valley. Unfortunately, this does not look to be a wildflower year; since July 1, there has been no measurable precipitation here.
Even with all these attractions, Borrego Springs remains a little town. No matter there's golf galore or desert drives; that's still not enough for some. A friend of ours came to the Springs in connection with a recent rally, and asked a question we've heard before, "What's there to do, here?" If you like upscale shopping, the few small boutiques in town probably won't be enough. The Community theater plays are certainly outshone by the glitzy productions found in Palm Springs. Restaurants? La Casa del Zorro has an elegant restaurant, Carlees is very popular, and, for Mexican food and delicious (hot) salsa, try Jilberto's Taco Shop -- unpretentious, but the real stuff...
One thing Borrego Springs does lack is a well stocked grocery store. The Center Market has a fair selection of meats, lots of canned goods and a rather limited produce department. Shortly after we arrived I went to the Market looking for radishes. There weren't any. I asked the checkout girl, who informed me that someone had come in and bought their entire radish stock! So I revamped my menu and waited a couple of days for the next produce truck. For a holiday such as Thanksgiving, having the Market run out of something is a bit of a nightmare, so I've been looking further afield for other stores. I spent one long morning driving back to Palm Desert to Costco, about 140 miles round trip drive. Our neighbors recommended the closer town of Ramona. They raved about an RV service appointment they'd had there, and mentioned several stores that sounded promising. We decided to explore.
Heading west from Borrego Springs you have your choice of two roads. Both are so steep and winding they've lost their "road" designation, and become Grades. Grades or roads, they climb from 600 to over 4,000 feet in a matter of a few miles. As you climb, don't be surprised to smell the brakes from those vehicles heading downhill.
We took the Montezuma Grade -- 10+ miles of narrow byway, with sharp turns and breathtaking views out over the valley. Breathtaking because of their beauty; breathtaking because you can look straight down over the rocks and desert brush, hundreds of feet straight down to the valley floor. As we drove up the grade, we noticed a haze in the air and two helicopters dragging buckets flying low just ahead of us. Fire? We rounded a turn and were waved to a stop -- several fire engines, one ambulance, and a crew of firefighters, under the watchful camera of a local newsman, were in the process of putting out a small brush fire at the side of the road. Everything was under control, however, and we were shortly permitted to go on. Further up the grade, we heard a rattling roar; we were being followed by one of the helicopters. The road was so narrow, and the drop off so steep, that the 'copter could fly right alongside of us. Shades of James Bond! As Tom remarked, "I've never been chased by a helicopter before."
At the top of the Grade, we passed through the town of Santa Ysabel, and stopped at the apple pie factory there. I went in to see if these pies might be irresistible for Thanksgiving dinner, and was lucky to get away only ordering two! In addition to "traditional" apple pies, original and Dutch, they have strawberry/rhubarb, berry, cherry and pumpkin.
Next week, we look forward to having our kids and grandkids join us for a desert Thanksgiving. The local weather may get a bit cooler -- sunny, with highs in the mid 70s, but the Pacific Northwest has been experiencing one rainstorm after another, and they're looking forward to a little desert R&R. Then we'll start our last week of "staying put". This experiment has been wholly successful. We'll definitely try it again...
---
Postcard: Signs of the Times?
November 5, 2006
We filled our final week in Bend with mundane chores, counting the hours 'til it would be time to head south. Before we could actually get underway, however, we had an appointment in Junction City to undo Barney's attempt at interior decorating. Further, we'd been lucky enough to get an appointment at Guaranty's service department. One of the SmartBeds needed adjusting, and we had as yet been unable to get the cable TV to work. (Now, after a couple of weeks, countless hours and many experiments later, Tom is beginning to understand our TV system, and its relation to the Harmony remote. He's finding that both Izzy and the Guaranty technicians have an imperfect understanding of the Harmony remote, and how our Alpine's electronics are wired together.)
As is often the case with RV repairs, we spent a full day longer in Junction City than we'd anticipated, and our plans for alternative routes south had to be scrapped this trip. Had we left directly from Bend, we'd have chosen Highway 395 on the eastern slope of the California Sierras. It's a spectacular road, with peaks towering above 8,000 feet to your west and the low lying valleys of Nevada to the east. However, this route posed three difficulties for us: #1. 395's on the eastern side of the Sierras, and we were about as far west as we could get. #2. Our time frame was beginning to get short -- our reservations in Borrego Springs began November first, and we wanted to spend a day or so at Emerald Desert RV resort in Palm Desert. #3. The weather was getting decidedly cooler. In Bend, nighttime lows were forecast in the teens! We really didn't want to crest a pass in an early autumn snowstorm!.
So off we went down Interstate 5, the shorter but much more boring route. We left Junction City around noon the first day, and spent the evening at the Rogue River State park, a few miles north of Medford. Oregon has many beautiful state parks, most large enough for any rig, and this is one of our favorites. This time, I noticed several changes here. Rogue River has taken on some of the aspects of a private park, with additions of a small laundry and planned activities -- concerts on their large lawn on selected nights during the summer, and, this month, talks and walks with a park ranger. The Rogue River salmon are spawning, and we went down to the river to watch several huge fish slowly swim and splash their way upstream. To judge by their condition, this must have been the last leg of their very long journey.
But if some state parks are increasing their activities, they may only be taking advantage of the fact that many private parks are going out of the RV business altogether. One by one, they seem to be disappearing. Crown Villa in Bend, Fiesta RV Resort in Indio, and so far 2/3 of Emerald Desert RV resort in Palm Desert have closed to make way for "affordable" housing. And we've heard rumors that others will follow suit. We'd stayed at Emerald Desert many times before, and decided to stop in one last time just to see for ourselves what was happening.
We spent two nights at JGW RV park in Redding, catching up on chores we'd neglected at home (didn't you remember to bring the___?), then headed south to Kit Fox RV park. This park is named for the small foxes that make this area their northernmost range. While I've yet to see a fox of any description here, with the help of Barney's inquisitive nose, I did find a rattlesnake, a 4 foot long fellow who obligingly curled up and rattled at us as we walked by. Barney was more interested in seeing what this unusual creature was than being afraid of it. I can only hope he'll soon decide what things need further exploration and what should be left alone.
Most years, our trip south would take us east through Bakersfield and east on Interstate 10 through San Bernardino and Riverside to the Palm Springs area, but this year Mother Nature, with the help of an arsonist, had thrown a curve ball into the southern California area -- the Esperanza fire. The fire grew to over 30,000 acres and killed 5 firefighters. It forced the evacuation of several small communities. Firefighters were trying to contain the fire in an area south of I -10, but we figured it would be easier for everyone concerned just to drive around it. Fighting high winds fanned by the infamous Santa Anas didn't make driving prospects any more attractive, either. We detoured east to the Barstow KOA for an evening, and drove into Palm Desert from the north, through the high desert communities of Lucerne, Yucca and Morongo Valleys.
The Barstow KOA is located about 6 miles east of town, and about 3 miles from the ghost town of Calico. (Just head for the word "Calico" on the mountainside). It was the weekend before Halloween, and Calico had put on quite a show, with haunted miner's houses and a fireworks display. We'd timed our arrival just right; while we missed the show, we at least found a camp spot -- the KOA had been completely booked the evening before. This one's under new ownership, and they've recruited a great set of workcampers to manage the property.
We left early the next morning and followed Highway 242 south toward Joshua Tree National Park, then turned right and drove down onto I -10, completely missing the fire area. The only signs of the blaze were smoke obscured hills and a distinct odor in the air.
Our first view of Emerald Desert was much as we'd expected. Glimpsed through the back gate, all we could see was dirt. Gone were the palm trees, the green grass, and holes 2 through 8 of the golf course. Gone were the carefully planted trademark pink petunias. Gone was the 2 year old clubhouse, with pool, spa, kitchen and laundry facilities, and one of the smaller satellite clubhouses. What was left was a large, flat acreage of dirt. Huge mounds of the stuff were being pushed around, seemingly aimlessly, by large, noisy machines. In one area, a tangle of pipes and wires was all that was left of the miles of electric cable and water system so carefully set out for each RV site only a couple of years earlier. In another area, a virtual mountain of dirt was being systematically spread evenly over this flat plain. I've seen other construction sites, and this was no different -- it's just that I knew this place from another time.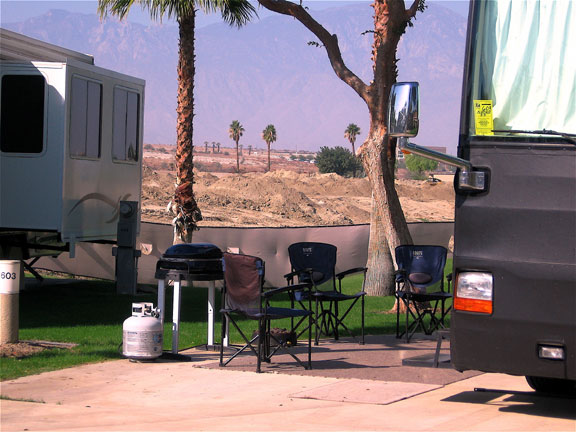 The framework for three single family homes, each placed so close together I wondered how anyone could squeeze between them, sat squarely where the 6th green used to be. I remembered that green. The 6th hole was quite short, and easy to play if you ignored the pond between you and the green, and if you further ignored the steep, grassy hill that would roll your ball back into the water if you didn't hit it quite far enough. Don't even think about what happens if you overshoot and your ball lands in the tangle of greenery behind the hole. It was a trademark hole, beautifully landscaped, and a favorite with RVers. The sites facing #6 were always full.
We turned onto Frank Sinatra Drive and headed for the main entrance. Here, where you could see no trace of construction, everything was just as it was in years past. The same waterfalls, the same pink petunias lining the entrance, the same large clubhouse and pool, the same wide level sites, each with fully grown trees. (In fact, after we had pulled into our assigned spot, we had to change sites -- the amount of greenery was curtailing our satellite reception!) Even the front desk staff was the same, efficient and friendly.
I quickly learned that no matter what physical changes have been made to Emerald Desert, the spirit remains. Staff and campers alike are holding onto the hope that, due to a downturn in sales of new and existing homes in the Coachella Valley, perhaps there might be a postponement of the final phase of construction. Only time will tell.
If anything, there are more activities now than before. The weekly golf scrambles have been moved to Ivey Ranch (right across the Interstate). Each Thursday evening there's a social hour and dinner dance. Saturday morning breakfasts continue, and a Monday night "lite supper" has been added to the schedule. After all this eating, if you find yourself in need of exercise, Monday and Wednesday mornings have been set aside for water aerobics. Tennis and in-line dancing resume in January. You can play the remaining 2 golf holes without charge, and I was tempted to dig my clubs out from the storage bins.
Deciding to get the viewpoint from the developers of this project, I visited the on-site sales office. The name of this project will be Spanish Walk. (Each Palm Desert community gets a distinctive name, be it Desert Springs, Oasis, or Catavina, and there seem to be hundreds of them). It is planned to be 5 small communities, referred to by the agent as "high density" housing. Some of the communities will be single family houses, others will be townhomes or condos. There will be hiking and biking trails along the railroad right of way, and a 12 foot buffer wall built to help with the rail and freeway noise. I asked the agent where the developers thought the purchasers would come from. "The baby boomers are set to retire", she explained. "They have the most money of any generation so far." Perhaps, but was she aware that the Palm Springs newspaper just that morning had stated that new home sales in the Valley were down 40% from 2005? "Oh yes, but prices are up." (I'm not sure how that helps.) Interestingly, these same "baby boomers" are also the ones that the RV manufacturers are counting on to buy all the new luxury RVs. Hmm....
Whatever happens, Spanish Walk will shortly be a reality. The first model homes will be open in January. The Emerald Desert RV Resort that Tom & I remember it is largely gone -- except for its spirit. I'm glad we were able to enjoy it for as many years as we did.
Now we're headed to Borrego Springs, to a new RV resort there, The Springs at Borrego. We'll spend the month of November here, and then take the jeep north for Christmas. I'm looking forward to some desert hiking, birding and a few rounds of golf at one of the nearby courses. In 2007, we're headed east for Mardi Gras in the Cajun country of Louisiana. Snow birding at its best!
---
Postcard: Lessons With Izzy
October 17, 2006
Excitement mounted as the time came to take possession of our new Alpine coach. I felt a bit like a child waiting for the holidays; it seemed that October third would never arrive. When the Yakima Service Center opened its doors that morning, we were waiting, noses pressed (figuratively) to the glass, ready to inspect our coach. We naively expected to be finished with our PDI (pre delivery inspection) in time for a shakedown cruise to Leavenworth later that afternoon, or the following morning. When we took possession of our Intrigue in 1999, we'd only needed one day for our PDI. Could this be any different?
Yes, indeed. The technological changes that have occurred in the last 7 years are nothing short of amazing. We'd find very few things "wrong" with our new coach (a drawer that wouldn't fully open or an outside light that wouldn't turn off); our difficulties arose in understanding all the electronic gadgetry.
For the first few minutes, Tom & I admired our new coach, noting its striking exterior, the well buffed interior cabinetry, polished tilework, and attractive upholstery. We ran the smartbed slides in and out a few times, thinking how easy it was going to be to access the under rig storage. We opened drawers and bins, and imagined where we'd put our "stuff" (inside for me, out for Tom). I was beginning to think that would be all there was, when our reveries were politely interrupted. "Are you ready to learn about your new coach"? Our lessons with Izzy Rangel were about to begin.
For the first few hours, Izzy took us around the outside of the coach, opening everything that could possibly be opened. Starting with the rear of the coach, he painstakingly described everything you could see in each area -- what it was, how to check it, and even how to fix it if something went wrong. We examined the battery banks (8 chassis, 2 house) and their accompanying Multiplex Module, a panel with flashing red lights that looks like it belongs in the cockpit of a 747. Izzy even described what to do if our sliderooms malfunctioned, and had to be moved manually. (I can only hope this doesn't happen, as it will require enlisting the aid of several strong men). It didn't take long for my eyes to glaze over, and my attention to wander, but Tom kept taking notes and asking questions, following Izzy through each explanation.
Around noon, we realized we needed a break, and knew Izzy would probably want lunch as well. Tom suggested we take a break and meet again in an hour. That plan would have worked well, except the two of us spent another 20 minutes walking around the coach discussing what we'd learned, and then, just as we were headed for the camper and lunch, Izzy was back, having taken a shortened lunch break, smile on his face, ready to resume our lessons.
Now he tackled the inside of the coach, how to use the slides, descriptions of the electric panels and what they controlled, use of the inverter, the HydroHot system, etc. Izzy's, (Alpine's) theory is that one should always keep the inverter on, using the generator to charge the batteries when they get low. Our coach is even equipped with something called an "auto-gen start" (AGS), whereby we can program the generator to come on or off at a given time, charging the batteries on our schedule. Still, years of dry camping experience have taught us differently; we have learned that other campers don't necessarily appreciate random generator use. I think we'll stick to using the inverter only when we really need it.
Around 3 that afternoon, Izzy asked what seemed a casual question. "Are you ready to start learning about the television"? Neither of us realized that those simple words presaged a 2 1/2 hour marathon -- just that day. We'd run out of time before he could explain all the complexities of our TV system, not to mention answer all our questions that we'd raise later.
Our coach has two TVs -- one is what I consider an "ordinary" TV, the kind I like and am capable of using -- the sort where you push one button to turn it on and another to change the channels -- the sort that only requires one remote. The easy TVs in the bedroom, and I foresee that my TV watching will be largely relegated there. The other TV, the flat screen, high definition, satellite ready TV, requires the use of a minimum of three remotes and an operating panel. Each remote controls something different, changing reception from satellite to cable to local. If you feel using three remotes and a panel is too complex, you can get (and we have) a remote called a "Harmony", which is supposed to make things easier. This remote supposedly "learns" how to switch between functions, but, in reality, has so far proved to be something of a slow learner. If you let too much time transpire between uses, you have to "teach" your Harmony all over again!
This is such a complicated process that Izzy is the only tech at Alpine proficient in its uses. If Izzy isn't at work on a given day, you may as well forget learning about your TV. If it isn't Izzy, well...
We spent four days at the factory learning about our coach, before taking our first solo shakedown cruise. At that, we only drove 14 miles east to the Yakama Nation RV park in Toppenish. This is a great park, suitable for any size rig, with swimming pool, spa and restaurant. As with other parks run by Indian tribes, when you check in, you get coupons good for use at their casino. However, our heads were still spinning from electronics lessons, and Tom decided to spend the evening getting his notes in order for a wrap up meeting with Izzy Monday morning. Then, Monday afternoon, we took off for Eugene. We'd spent almost a week on our PDI.
However, all work and no play makes dull RVers, and there was no way the Alpine coach owners gathered for various service appointments would let that happen. One night we were invited to a campfire. One coach owner had a large metal firepit, and everyone gathered around swapping stories. Several of our fellow owners were in service only because they were unable to work their TVs, and had learned for this problem it was Izzy or no one. In fact, one couple was able to leave the next day, right after Izzy taught them how to operate this complex system.
But the social highlight of our stay was barbeque with "Ms Dee". One of our fellow owners had attended the Yakima fair while she waited for her coach to be repaired, and couldn't help but meet this Yakima celebrity. Ms Dee and her husband/business partner are caterers, barbeque caterers, and they have found a profitable niche in the Yakima Valley. Their trademark is their large barbeque grill, capable of barbecuing huge sides of beef or pork for ribs, dozens of chicken pieces and at the same time keeping pots of beans and brisket warm. You cannot miss them -- the barbeque is formed in the shape of a small train engine, and pulled behind their van. They simply pulled into the parking lot at Alpine and set up tables (we brought the chairs). In addition to the beans, brisket, ribs and chicken, we could choose corn bread and potato salad, and the most luscious pies for dessert. What a feast.
All this social life wouldn't have been possible had we not found such a congenial group of coach owners. Everyone got along extremely well, with smiles and "good mornings" each day. While we've found other owner groups cordial, these folk were special. We look forward to joining some of their rallies.
One problem we had to address, a problem that Izzy couldn't help us with, was Barney. He's become pretty good at staying on his mat each night, and not leaving it 'til we take a walk in the morning. But just because one part of the dog is on his mat, doesn't mean the rest of the dog is there. "Stretch the Brittany" is a game whereby one foot is on the mat and the rest of the dog is as far away from it as he can get. So when Tom & I mistakenly placed his mat close to the driver's seat one evening, what subsequently happened was at least partly our fault. It was about 3 am when Tom woke me saying, "What's Barney chewing?" (Not words any puppy owner wants to hear). Barney had squeezed his way under the driver's chair and was chewing on/pulling at a zipper he'd found there. He also had found the flap of ultra suede material that hides one portion of the bottom of the chair. When we saw that flap, it no longer hid anything, just hung in tatters from the seat cushion above. I won't even go into the agonies of puppy ownership we went though in the next 30 minutes or so, suffice it to say Barney -- and his owners -- survived. We adjusted our travel program to include a stop at Countryside Interiors in Junction City, where, luckily, they had a matching piece of material, and would have time to fix it on our next sojourn south. Oh, the delights of pet ownership!
We concluded our PDI and headed for Eugene, with a planned stop to get a DataStorm internet dish installed. No longer will we have to rely on WiFi parks, although they are becoming more and more the norm. Now we'll spend a week at home, loading the new Alpine with certain items -- like golf clubs and bicycles, that we simply didn't have room for in the camper.
We're finding we have a lot of inside storage in our new rig, even though it's only 34' long. So far, we have several cabinets with nothing in them, and no plans to put anything there. Tom reports the large SmartBed bays also have more space than we can use. While we haven't as yet opted for a washer/dryer combo, the area where it would fit has been plumbed for one, and it will be easy to make that decision further down the road. As it is, we have so much inside storage that I can't begin to fathom what I'll put in this new coach to fill it up. That sort of decision is a fun one to make.
Back in Bend for a week while we load up for our trip south. We're storing the rig at Crown Villa, the luxury resort which, in a week or so, will be closed preparatory to becoming still more "low cost" housing. As of November 1, you won't be able to make a reservation there, although whether the resort will be open, at all or for just a few months, is still a matter of conjecture. When we took the rig out the other day, we felt most nostalgic -- we've had some very good timesat Crown Villa.
But for now, we're anxious to get south. We'll spend November in Borrego Springs at the new resort, The Springs at Borrego. Our plans currently call for a December return to chilly Bend, but some of the fun of RVing is never knowing quite where you'll be next. That's certainly true for us.
---
Postcard: Locked Out! But Who Did It?
September 23, 2006
We've spent a lazy month enjoying the Bend environs. Somehow, even short trips in the camper have lost a bit of their allure as we wait for our new Alpine coach to be finished. But, when into our somewhat placid existence came the opportunity for a quick trip to California, we jumped at it. This trip would be short, too short to require the camper. We'd spend a night with Tom's brother and sister-in-law in the Bay Area and be back in Bend in 36 hours. Considering it's a round trip of over 1,000 miles, we'd have to hustle.
We loaded the truck with the bare necessities for such a short trip, leaving plenty of room for Barney, our pup, and took off early one morning. Our truck has a folding back seat, which, when flattened, provides a perfect platform for storing necessities like a small suitcase and cooler on one side, leaving the other half for the pup. He amuses himself by looking out the window, leaving smears on the glass, gnawing on rawhide bones and sticking his cold, wet nose, the only dog part we allow in the front, against our necks or burrowing his head under our arms. Occasionally he tires of his bones, and has been known to drop them out the window if he's lucky enough to find one open. Otherwise, he "buries" them, and even with the seats set for traveling, there are plenty of little pockets to use as hiding places.
The cooler fall weather has cut down on some of the smoke from nearby forest fires, and today was crystal clear. A slight dusting of new snow on the Sisters and Mt. Bachelor speaks of winter to come, but you couldn't prove it by this day. We followed Highway 97 to "K-Falls" and headed west to Weed, CA, where we'd pick up Interstate 5 and head south. About halfway along this stretch of road is a beautiful little rest stop, Grass Lake. The area is aptly named; it's a large grassy meadow completely ringed with low hills. Stay here for just a few minutes with your binoculars and you might see white pelicans and myriad ducks. Look out to the fringes of the meadow, and you'll often see deer or elk. Occasionally a coyote will prance across the meadow, hunting meadow voles and other small creatures. Grass Lake rest stop is one of our favorites; today it was also the place of choice to change clothes. We shed the heavy jeans and shirts appropriate for Central Oregon, and out came the shorts and cooler tees we'd need in the Sacramento Valley. We expected about a 20 degree temperature increase.
To fully understand what happened next you need to know that, while Tom changed in the rest room, I changed in the truck, wriggling out of my jeans and into my khakis and folding my jeans for storing behind the driver's seat. I accomplished these manoeuvres in a hurry, also, as we weren't the only ones enjoying the beautiful day in Grass Lake. I paid absolutely no attention to the whereabouts of my keys, (a habit I definitely must learn to break!) and later assumed they'd been left in my pants. Then we took the dog for a short walk, and headed for Weed.
We found a fuel station in town and stopped to fill up the truck. It was rapidly growing warmer, and we'd finished the bottled water I'd brought with us, so I grabbed my purse, and got out to get a couple of soft drinks. Tom, as is unfortunately too often his custom, pulled his keys only partially out of the ignition, and closed the door.
He was busily filling the tank and I was coming back with my purchases, when the truck's horn beeped, once, loudly. At the same time, there was the distinctive sound of doors locking. Oh, oh! That's the sound the truck makes when someone pushes the lock button on the handle of the key. This could only mean one thing. We were locked out.
Tom looked at me. "Do you have your keys?" "Oh, no," I cried, "they're in the pocket of my jeans!"
This threatened to put a serious cramp in our arrival time, but fortunately, the driver's window was open a few inches. Standing on a small step stool furnished by the friendly attendant, Tom was able to reach the lock knob, and we headed south again.
But this didn't solve the mystery. My keys were not in my jeans after all. As we drove south toward the Bay Area, I searched every part of the truck cab I could reach while remaining "seat belted" in. I reached tentatively under my seat, hoping to feel keys and not some recently well chewed relic hidden away by the dog. I went through the console (I knew the keys wouldn't be there, but I was getting a bit panicky, hoping not to have to stop and search at Grass Lake the next day). We discussed , and dismissed, the possibility that someone else, with the same frequency key as ours, had driven by the station and inadvertently locked our car. Maybe this unknown person had found my keys back at Grass Lake and was driving south punching the lock button in hopes of finding the car where they belonged? (A great case of grasping at straws). Since I couldn't find my keys, and we both knew where Tom's had been, I was placed in the unfortunate position of scapegoat -- it did seem my keys had to be the culprit. But where could they be?
Then we got a clue to our mystery. For about the 10th time, I emptied my purse in my lap to search its contents for my missing keys. No keys, so I began to replace things and found my comb was missing. It had vanished just as surely as had my keys. Then I heard Barney chewing. Somehow, he'd gotten my comb out the front seat without my seeing them. If he could steal my comb, he could steal my keys. If he'd had them and either bitten or stepped on the buttons, he could have locked the door. And for a clever little pup, a pup who early on learned that he could pull a tie down stake right out of the ground if he bit the metal and pulled straight up, that didn't seem like too much of a stretch.
And that's what had happened. When we got to Tom's brother's house, we emptied the back seat and put it into the upright position. In a small cubby-hole underneath Barney's area, in a place where they couldn't have been reached without dismantling everything, I found my car keys. The culprit had been discovered and the mystery solved. Barney did it!
---
Postcard: Commuting to Home
August 29, 2006
When we lived on San Juan Island, I firmly believed we had the most beautiful commute in the world. The road to Friday Harbor climbed the flank of Mt. Finlayson, and on a clear day, you could see across the Straits, down a portion of the Olympic Peninsula, and, if it were exceptionally clear, the outline of Mt. Rainier in the distance. The road passed South Beach, and wound through historical American Camp before reaching town. While I didn't commute to work, I took this drive at least once a day, inventing, when necessary, a reason to go to town.
But now I'm not so sure that that "commute" takes first prize. We've been spending some time in Central Oregon's Cascade Mountains, at various campgrounds and RV parks along the Cascade Lakes Highway, one of Oregon's many Scenic Byways. We've awakened to the "jip, jip, jip" of hundreds of Red Crossbills as they attack lodgepole pine cones. We've watched elk and deer feed in grassy meadows with South Sister Mountain looming in the background. Ay night, we've seen the Milky Way stretched across the star laden sky, without any competition from man made lights. We've come here so often in the last few weeks, that we now commute to home in our tow car. We'll spend several days in the mountains, then trek the few miles back to do such mundane tasks as washing or grocery shopping before our next mountain trip.
We're ideally situated for this commute. Our townhome is located on this Scenic Byway, (highway 46), a few miles west of Bend wholly in the confines of the Deschutes National Forest. When we turn southwest on the highway, we've left all signs of "city" behind us. The road climbs gradually up toward Mt. Bachelor, central Oregon's premier ski resort, skirts the mountain on its northern flank, and then drops down into the high mountain lake country.
While we were waiting for our townhome to be completed, Tom & I had time to sample only a few of these lakes. We'd been gifted with a tour book, "Hiking Oregon's Cascades", and as newcomers to the area and not at all sure of our hiking abilities, selected those hikes with "easy" listed after them. We hiked around Todd Lake, only 1/4 mile from the parking area, and watched families with small children catching frogs in the marshes at one end. We hiked to the falls at Fall Creek, another short and easy trip. We explored the larger Forest Service campgrounds along several lakes, and found them, not surprisingly, full in the summer weekends. But our time was mainly spent supervising the construction of our home.
This summer, we've had much more free time to play in the high country. We're not alone. Oregonians are an outdoor-sy bunch; when we head to the mountains, we pass dozens of bicyclists, the yellows and blues of their tunics flashing in the sun as they cycle, seemingly effortlessly, up toward Mt. Bachelor. One trip, I counted 6 bunches of 4 each cycling along -- all of them women, and several appearing about my age! I felt a bit guilty to be driving a car.
And that love of the outdoors won't change when the season does. As the weather gets cooler and signs of the change in seasons approaches, bicycle traffic will be replaced with in-line skate and ski pole traffic, as the bicyclists of summer prepare to transform themselves into the downhill and cross-country skiers of winter. After the first snow, hundreds of cars, laden with ski and snowboard racks, will pass our little community daily as they head up to the mountain.
Past the turnoff to Todd Lake, and around a sharp corner, and on your left you'll see the beautiful blue green water of Devils Lake. The lake appears shallow -- too shallow to support fish, but one morning we passed a fish and game tanker truck putting something into the water. Hmmm... could he have been stocking the lake?
From the trailhead at Devil's Lake our book details the picturesquely named hikes to Sisters Mirror Lake or Wickiup Plain. About half way along on these trails, you cross something called the Sisters Climber's Trail, which will take the hardiest to the 10,356 foot summit of South Sister Mountain. Using my binoculars, I can make out what must be the trail ascending the mountain, and, in summer, there are always dozens of cars at the trailhead and parked along the road. But try as I might, look as hard as I can, I have yet to see anyone climbing it.
We spent three nights at the campground at Sparks Lake. Actually the camper spent three nights -- we spent two, with a 20+ minute overnight commute home. There is no charge to camp here, and there are some nice primitive sites. No flush toilets, and no garbage service, but unending views of South Sister and Broken Top. Every morning, we've seen deer or elk, and one morning watched a couple of young spikes trying to intimidate each other with head butting contests. Fun this morning, but one day they'll mean it! And we're only 20 miles from home!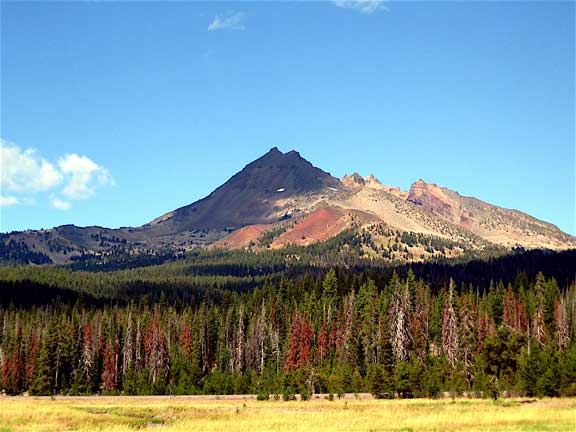 Broken Top as Seen from Sparks Lake Campsite
Sparks Lake is one of the many here perfect for a canoe or kayak. We'd seen many such lakes, and spent some time agonizing over whether we should rejoin the ranks of boat owners -- even with such a small one. On one of our trips, we saw a couple inflating a small two-person kayak, and our fates were sealed. Our new toy is an inflatable Sevylor kayak. When you first get it, it's in a small rectangular package. Whether we'll ever get it back into that package is a matter for conjecture, but we're looking forward to some exploration by water.
We've even taken Barney along; Tom in the rear seat, me in the front, with my legs wrapped around a quickly growing Brittany. Although he takes far more than his share of space, so far, he's been very obedient, resting his head on my leg and prompting compliments from passing canoes. However, he's intrigued by the waterfowl, and I can foresee the day when he decides to chase one -- with predictable results. To forestall catastrophy, we've invested in a couple of PFD's.
We are still extreme novices at this sport, so much so that we started our with canoe type paddles instead of the double bladed kayak kinds. One quick trip back to Bend rectified this error, and we tested the waters on Hosmer Lake. This lake is a favorite with canoeists and kayakers -- indeed it was recommended to us as a great spot for beginners.
Hosmer is unique in that it is two lakes joined in the middle by 3/4 mile of rush laden channel. A sign on the bank states that this lake is for fly fishing only, barbless hooks, and you must release all Atlantic Salmon caught. (And here I thought Atlantic salmon were salt water, farm raised fish!). Since we didn't know the lake at all, Tom opted not to fish, a good choice, as it turned out, for we saw only one fish caught this morning.
Not that there weren't fish to be seen! As we paddled down the channel en route to upper Hosmer, we could see fish of every size, hundreds of them, in water so clear it was like paddling in an aquarium. To each side the reeds rose tall, blocking the view of much of the waterway. A dozen or so ducklings, seemingly young for this time of year, were happily navigating though the rushes and over the lily pads.
Most of the campgrounds along the Cascades highway are just that -- campgrounds, popular for tenters, trailers and small motorhomes. Even when the sites are large enough to accommodate larger rigs, dusty access roads may be narrow with overhanging tree branches. Some of the campgrounds further south along the highway, such as those at Crane Prairie or Wickiup Reservoir, have larger, full hookup sites. But for our commute, we wanted to stay closer to home. We found the little resort at Lava Lake just perfect for our needs, now with the camper, and even in the future with our new 34' Alpine.
Lava Lake resort has 24 campsites, each with full hookups, fire pits and picnic tables. While the temperatures still get into the 80's during the day, by evening the temperature drops, and both evening and morning fires are welcome. Campers stay for long periods -- a week's stay is not uncommon and one man makes a yearly reservation for three months. He's set up bird feeders, squirrel feeders, and salt blocks for the deer. He puts out leftover lettuce for whatever will eat it -- and it's gone each morning. He even has one small salt block which is visited daily by a large flock of Red Crossbills, so many they completely blanket the block. The fishing has been fairly good, Tom's caught several fish from the bank, and is hoping for larger ones now that we have a boat and can get out onto the lake. He may well wind up fishing alone; I can only imagine the difficulties of landing a large trout when the kayak is loaded down with the three of us.
A forest service campground is just across the road from Lava Lake Resort. It has large sites with lots of room between each, and wide, RV friendly roads, so if the Resort is full, it's easy to spend a night or two there while waiting for a vacancy. Less than a mile down the road, Little Lava Lake campground has sites on the lake or on the Deschutes River right where it exits the lake. Both these are "first come" campgrounds, making finding vacancies during the week fairly easy.
So back and forth we go, commuting to home. One more weekend, and this summer will be history. Kids will be back in school and we'll have Lava Lake virtually to ourselves until it closes later in the fall. But by the time that happens, we'll be taking possession of our new Alpine, and planning our southern sojourns. It will be time to be snowbirds once again.
---
Postcard: Beating the Heat -- Oregon Style
July 29, 2006
Our townhome some five miles southwest of Bend sits at an elevation approaching 4,000 feet. Last winter, I was frequently teased that we'd bought a place in Bend's "snow zone". I figured that I'd get the last laugh come summer; it would be cooler at our house than in town. Perhaps so, but it was'nt much help during these past few weeks. All over Central Oregon the forecast has remained the same -- hot. The lure of the Oregon coast was irresistible. Fog, wind and temperatures in the mid 60s sounded wonderful. Beach walks with Barney and sand in my shoes sounded idyllic.
From Bend to the coast is a trip of less than 200 miles, easily accomplished in a half day. But why wait? We'd cut that short trip into sections, and start with a night at Suttle Lake campground, a forest service campground only 35 miles west of home. Early the following morning, we'd head over the Cascades, beating the heat in the Willamette Valley, and make a run for the coast.
Suttle Lake is the first major campground area on Highway 126 west of Sisters. You know you're out of town when you get here -- you can feel the wilderness. No more cities, no more traffic, let's go camping. There are several campgrounds located along the southern edge of the lake, some with reservable sites, others strictly first come-first served. Since they're all forest service campgrounds, it's strictly dry camping, (half price if you've a "Golden Age" passport). Many of the sites are only suitable for smaller rigs, and the sites along the lake front are frequently full, but those located toward the back edges of each campground are often overlooked and many can accommodate larger rigs.
Leaving Suttle Lake, our first destination was the coastal village of Winchester Bay, a dot on the map south of Reedsport, where we'd made reservations at the Marina RV Resort at Salmon Harbor. Some of the sites front on the bay, and at night, you can hear the crash of the waves against the rocks which form a natural bulkhead. Some sites face the inner marina, and your view is of the fishing vessels and private yachts snuggled into the marina docks. This year a dry camping area has been added, and it was quite crowded this weekend with the dune buggy crowd. If you're into this sport, you have easy access to the Oregon Coast dunes, although the Marina doesn't permit riding these noisy vehicles on their property. (Owners get around this regulation by stringing all their ATVs together and towing them into or out of the park with a car or truck). Just down the road is the Umpqua Triangle Oysters shop, a must stop for Tom's oyster "fix". On a hill just above the park is the Umpqua Lighthouse, a great place for photos of the area. The town of Winchester Bay is always busy -- there seem to be "festivals" here every weekend, this weekend's being Ocean Fest days. Ocean Fest featured free concerts in nearby Reedsport, carnival rides for the kids, and the ever present flea market and RV show down the main street of town.
Understandably, the Marina is a very popular destination, and in summer, reservations are needed, especially on weekends. We were only able to stay 2 nights before moving on, southward and westward, out to the Cape Arago area and Bastendorff Beach county park.
Remember, this is late July, on the Oregon coast, and crowds are to be expected. It might have been wisest to have reservations at every stop, but we were playing the "we don't have a reservation, do you have room, anyway?" game. With that in mind, we decided it might be difficult to get into Bastendorff on a Saturday night. We'd stop one night first at Midway RV park in Coos Bay/North Bend (CB/NB). (I lump those two towns together because you have to be a local to tell where one begins and the other stops!) Midway is a small private park located midway between CB/NB and Charleston, and only about 10 miles from Bastendorff.
Charleston is a fishing village straight out of a picture book. From the northeast, you approach it over a low slung draw bridge over the South Slough (a great birding area). The town is very small, the main industries appear to be an oyster processing plant, a couple of charter boat fishing businesses, a few souvenir shops and a couple of RV parks. There's a fish market on the main street where we bought a couple of freshly caught Dungeness crabs, and watched several persons picking up multiple boxes of tuna. They'd caught the fish on charter trips, and the market had canned it. Since the commercial salmon season has been completely closed down this year, tuna is the catch of the day. Either these folks were lucky, their skippers were excellent fishermen, or there's a lot of tuna in these waters.
Our destination, Bastendorff Beach county park, sits on a bluff overlooking a wide, sandy beach -- a beach perfect for kite flying, kid playing, or dog and nature walking. Each site is level asphalt with a small lawn, landscaped with coastal plants. Since we had such a short drive from Midway, we waited until about noon before heading out, as we wanted all those campers who intended leaving this day to have done so. That strategy worked perfectly. The park was fairly full, but with enough vacancies to accommodate us. (Later arrivals didn't fare as well.)
When you camp on the Pacific Ocean in summer, you have to factor fog into every equation. In the midst of the summer heat of Bend, I'd said I'd not mind cool, foggy weather, but here I was tested with fog so thick I could walk on the beach and not see the ocean, not to mention a cold breeze off the water. But by afternoon, the sun managed a brief appearance and Barney and I went for a seaside walk.
Bastendorff beach was crowded with everyone who had been waiting for the sun. Families with small children, people walking dogs of every size and description (Barney loved that), and even one intrepid teenager on a boogie board skimming the small waves. One family was making a biology lesson out of their beach walk. As Barney & I walked along, (that is, I walked and Barney ran, jumped or stopped to dig frantically in the sand), we noticed a group of kids with one adult, strolling along intently studying the beach. Suddenly. the man stopped, pulled a trowel from his back pocket, and dug a hole in the hard packed sand. As the kids, (Barney and me included) gathered around him, he pulled some sand shrimp out of their hiding places, and delivered a short lecture on how to find these crawly little bugs. I was tempted to follow him on his walk to see what else he would discover, but the sun was again playing peek-a-boo with the fog and it was time to head back.
We could have used some of that fog when we got to Brookings, the most southerly town on the Oregon coast. When we arrived at our favorite stopping place here (Driftwood RV Park) at mid-day, the temps were in the mid 70s, but they rose steadily, and by dinner time were hovering right around the mid 90!s Even the ocean breezes didn't seem to have any effect. Overnight, it stayed uncomfortably warm. Had we driven 25 miles north or south to Crescent City, we'd have found the cool coastal weather, but not in Brookings. Roger Thompson, the owner of the Driftwood, and knowledgeable about everything in the area, told us we were experiencing the "Chetco Effect".
Only in Bookings. According to Wikipedia, "The Chetco effect is a warm, dry offshore wind that affects weather in Brookings, Oregon, at the mouth of the Chetco River. It is sometimes called the Brookings effect. "Chetco effect" may be a more scientific name, since the downsloping winds that usually cause extremely warm temperatures in Brookings are funneled down the Chetco River valley to the immediate west." Whatever the scientific explanation, we hadn't come to Brookings for Bakersfield weather, and the next day we headed back north.
Out of the frying pan, into the fog. By the time we arrived at Bullards Beach State park just north of Bandon, the weather had become more coastal, but we didn't mind a bit. I enjoyed walking the trails, exploring the Coquille River Lighthouse and prowling through old town Bandon. We were a bit dismayed to find that an old Bandon landmark, the Bandon Cheese (and ice cream!) factory was gone, the building for lease, and the windows papered over. It seems that the old business was purchased by the Tillamook Dairy. Tillamook kept it open for a time, and then, virtually without warning, it was closed. Bandon isn't quite the same without it.
On our return over the "hill", (the Oregon Cascades.), we lost our first round of the reservation game. Casey's RV park, on the Willamette river less than an hour east of Eugene, was completely full. We traveled on, stopping at a forest service campground on the summit of Willamette Pass . Princess campground is right on the shores of Odell Lake, and we'd have expected it to be quite crowded. But this pretty little spot seldom fills; people are discouraged by a sign you see as you enter -- "No Water". We had our choice of sites right at lake's edge. At 5,000 feet, the weather was sunny and cool -- just right for our last night "beating the heat". The weather is expected to moderate for a time, so another coastal sojourn is not on our itinerary -- not just yet.
But who knows about tomorrow...
---
Postcard: Learning Outside the Classroom
July 19, 2006
We spent the days of July 8 through July 14 back in school -- RVing school. Each day we had to choose from about 40 different classes. Did we want to learn about propane appliances? How about RVing in Alaska? Tom would go to some, I attended others, and each night I'd write up my class notes. (Tom used his laptop in class). In addition, this year, I got some valuable lessons outside of the classroom.
Classes started Monday, but on Sunday afternoon, there was an ice cream social, followed by introduction of the teachers and some general remarks from Gaylord Maxwell, conference founder. We arrived too late for ice cream, and watched the volunteers dishing up its liquid remains. I asked one gal just how much the RVers had managed to eat in a two hour period. The answer: 27 gallons -- I could see the containers stacked behind the serving table. And only about half of the 400+ attendees had arrived!
Now that Barney has come to live with us, our lives have changed a bit. For starters, we get up a lot earlier. By 6:15 that Monday morning, I'd walked the dog and Tom had fixed his "doggy breakfast". I had more than an hour before the first classes, a perfect time for a shower. I'd probably have the place to myself. Little did I know another extra-curricular lesson was about to begin.
When we taught at Life on Wheels a couple of years ago, the only showers, (beside the one in your own rig), were located in the gym near the swimming pool. This year, additional showers were available in the Kibbe Dome, the university's athletic department. But I'd been told that those showers had the reputation of uncomfortably strong water pressure, were often cold, and the shower heads were attached to poles in a large, communal shower area. Those in the gym were more gentle and much more private -- some even had their own shower doors! So I headed for the women's locker room at the gym.
When you enter the gym building, you pass both the men's and the faculty men's locker room before reaching the women's. A college age gal handed me my towel, gave me the practically obligatory. "have a nice day" wishes, and off I went. As I showered, I did some reminiscing about my experiences here years ago. When our kids were in Jr. high and high school, they both competed in AAU swimming, and we often came here for various swim meets. I remembered there was a tunnel from the locker room to the pool, and decided to find it. Perhaps I shouldn't have been so adventurous.
It would have been quite a long walk to reach the pool from the front of the locker room, so I decided that couldn't be the right way to go. (Yes, it was). But there was a door in the back corner looked like it just might be what I wanted. (No, it wasn't). I opened that door and found myself in a short hallway. I stepped into that hallway and found three doors. The first had a keyhole in its round handle and was, not surprisingly, locked. The next door opened into another locker room. Hmm.. I knew this wasn't the women's locker; it looked nothing like the room I'd just left. Process of elimination said it was either the men's or the faculty men's locker room. So, I opened door number 3.
Door number 3 was no better than door number 2. Either I had now opened the back doors to both men's locker rooms, or one of them had two exits. Whichever, I wasn't about to traipse through those rooms, even at such an early hour. Back to the women's door -- and, as in someone else's bad dream, I found it locked. I couldn't get back that way. I was faced with two choices, stay locked in this short hallway, and hope that Tom would come find me, or go through one of those other doors. That was really no choice either, since Tom might not realize I was gone until it was time for our first presentation later that afternoon. Summoning up my courage, I opened the door closest to me, poked my head in and called, "Anyone there?" No answer. I stepped a bit further in and called again. Still no answer. Gathering the rest of my courage, I called again, and darted for the entrance of the men's faculty locker room. Now it was just a short distance back to the women's locker, turn in my towels, grab my shampoo and head back to the camper. What did I learn? -- The back door of the women's locker room doesn't lead anywhere, and, thank goodness, the faculty men don't work out at 6:30 on Monday mornings.
Barney learned some lessons too. He came to the conference a terribly shy puppy, afraid of strange people, (defined as anyone he hadn't seen before), and strange dogs. It was going to be hot in Moscow, and we'd planned to board him at the nearby Alpine Animal Hospital, the same kennel where we'd boarded Missy while we taught classes at the conference in prior years. But we changed our minds when we saw the reception our little dog received, and how he reacted to all the attention.
When we arrived at the conference gates, we were directed to detach the jeep from the back of the camper. I parked the jeep, Tom drove the camper to our assigned parking spot, and Barney stuck his head out the window to see what was going on. "There's Barney", and, "what a cute puppy" -- calls came from various people already parked nearby. Barney pulled his head out of the window, but it was too late. For the next two days, people came by to see him. He quickly learned that many of these people had treats for puppies who let themselves be petted. He also learned that the many dogs that came with these people just wanted to play with him, not eat him alive. Conference life wasn't so scary, after all. In fact, it was even fun! His personality seemed to change by the minute, and by the time he went to the kennel early Monday morning, he was a different pup. He's still shy, and may bark at adults who come up to him too fast, but he enjoys children, other dogs and, naturally, the attention. Overall he's much more social.
Early Monday morning Tom & I headed for our different classes. As a rule, he attended those given on such particularly "blue" topics as generators and water systems, while I tended toward "pink" ones, such as writing on the road, and RVing life styles. The classes we gave together, RV Parks and campgrounds etiquette, and the one on blogging went smoothly, although I found I was a bit out of practice after a two year sabbatical. Tom's class on extended service contracts was a great hit -- I'd have thought that everyone in that class was there simply because of a burning desire to know about such things, but after class one man said he'd walked into it by accident. "It was so interesting," this guy said, "I simply had to stay".
This was the week we made our big decision -- which coach would be our next RV. After much soul searching and discussion, we decided to switch brands and become Alpine Coach, (Western RV), owners. Perhaps in part because of our experiences this last year in a 10 1/2 foot camper, we've become used to the flexibility that "small" brings to the RVing experience. We don't want to give that up, but do want something just a bit larger for extended road trips. Country Coach has, with one exception, opted to go with larger, more glitzy coaches. (We'd decided that the floor plan of that one exception, the 34 foot Inspire, simply wouldn't work for us). The Alpine 34 seems just right. So, come sometime in September, we'll take possession of our new coach. I can hardly wait.
The week sailed by, and before we knew it, we'd bailed Barney out of "jail" a day earlier than we'd expected -- to let him meet more pets and their owners -- and were contemplating our trip back. We planned on beating the July heat of central Oregon by staying high for as long as possible. We spent one night in Joseph, the artist town famed for its bronze foundries. Aspiring artists from all over the US create their models and send them here for casting. A drive through town is a drive through a museum, with statues on every corner. I can't quite decide if the girl in the blue dress is my favorite, or if I prefer the Indian chief with his wife.
Quite by accident, we found 5 Peaks RV park. It's small, only 5 carefully landscaped spaces, tucked just off the main street of town. Barney was fascinated by the next door hen house; the hens didn't seem the least bit afraid of him, and he couldn't figure out what they were. We were a bit surprised to find a space here, possibly because they do no advertising other than a small sign on a street corner as you come into town.
The next day we headed into the Blue Mountains and the picturesque town of Sumpter. Tom had a chance to fish the Powder River, and it once again proved itself one of his favorite streams when he pulled out a 1 pound rainbow from its waters.
Then it was over the mountains and home to Bend. Our Yakima clan would be with us for a few days en route to a basketball (yes, basketball in July), tournament in Reno, and then we'll head to the coast. Temperatures are forecasted in the 100s for a few days and the cool coastal weather is too tempting to resist.
---
Postcard: Closing in on Moscow
July 7, 2006
With more than 10 days before we were due in Moscow for the annual Life on Wheels conference, we had plenty of time to get ready. The weather in Bend was perfect for exploring some of the nearby mountain lakes or hiking some of the easier trails we've read about . But a 50th anniversary party in Sun Valley and a decided case of wanderlust impelled us to leave early. After all, we could work on our conference presentations from the road. We planned a route that would take us east to the festivities in Sun Valley, north through the Sawtooth National Recreation Area and along the Salmon River. We'd leave the river at the point where it heads west into roadless wilderness, while we continued north into Montana. Next, we'd drive west to Blackwell Island RV park in the north Idaho town of Coeur d'Alene. The weather is supposed to be warm, and a swim in the Spokane River sounded enticing. Then we'd go south to Moscow. A round about way of getting to the conference perhaps, but what an interesting one!
We didn't attend Life on Wheels last year, and had anticipated an Alaskan adventure that would keep us from attending this year as well, but our plans had changed, and we found we missed the camaraderie that attending this RVing school brings. The conference is held at the University of Idaho, and "students" (RVers, most well beyond college age), actually attend classes in University classrooms. There's something special about going back to college, planning your schedule so that you will (or won't!) take early morning classes, enjoying a morning cup of coffee in the meeting tent and reading the daily bulletin board. This year, Tom and I will be presenting 3 classes. The first, titled "Tips for Finding the Right Campground or RV Park" is an updated version of a class we've given before. Included is a review of some of the unwritten rules that make living together in an RV park more palatable, rules of common campground courtesy. And, in another section of this talk, we include pictures of the many different types of RV destinations we've visited, from boondocking spots to RV luxury resorts. I'll finish with a special picture of my favorite, ultra secret, RVing spot.
I will present the lion's share of this class -- Tom will handle the other 2. He'll talk about creating an RV Travel Blog, something that has become much easier with some of the programs now available. While I'll participate a bit in that class, when it gets to his class on Extended Service Contracts, I'll be happy just to sit in as a student.
En route to the festivities in Sun Valley, we spent the first night in Boise, and put our new puppy, Barney, in "jail", his first stay in a boarding kennel. I was a bit concerned to see how he'd handle this new experience; he's still quite shy around people, and his sad eyes reproached me as he was led away. (He's quickly learning how to wrap me around his paw!). His stay would amount to less than 48 hours, however, and staying in a kennel is something he'll have to learn. I was please to find he'd adapted quite well meeting the kennel aides and the other dogs -- he's growing up.
We left the camper in Boise and took the Wrangler to Sun Valley. We followed I-84 east 40 miles to Mountain Home, then turned northeast, through the violet blue of the camas prairie to Fairfield. Joining Highway 75 at Bellevue, we drove north to Hailey and into the Ketchum/ Sun Valley complex. When we later headed back to Boise to reclaim the dog and the camper, we'd complete the circle, continuing north out of town, and, in about 20 miles, topping Galena Summit. It's almost mandatory to stop here and view the spectacular beauty of the rugged Sawtooth Mountains before continuing down into the basin. Just after we reached the basin floor, we passed a small RV park with a store and restaurant. This was Smiley Creek, in the historic settlement of Sawtooth City.
This is part of Idaho's gold country, and is dotted with ghost towns, relics of that time. Sawtooth City and nearby Vienna once each boasted a population of over 2,000. But the gold lodes petered out, the miners moved on, and today, little is left of either town. Nearby Stanley boasts a population of 100 souls, though some claim that "metropolitan" Stanley actually has 300 citizens. That number, however, doesn't count tourists. Tourists come to fish or raft the Salmon River or to enjoy riding through the countryside, staying in guest ranches scattered throughout the basin. Mountain bikers can be found on the trails and back roads. RVers find cool camping spots under cottonwood trees along rushing creeks, far from the highway.
A string of pristine lakes edge the Sawtooths, natural lakes with not a dam to be found (unless beaver-built). Redfish Lake is the largest, with several well maintained campgrounds, (dry camping), an attractive lodge with cabins, a grocery store and restaurant, and boats everywhere. Some people bring a boat to Redfish and leave it for the season, others prefer to rent for a weekend or longer. You'd think a high mountain lake would have icy cold water, but the number of children splashing along the day use beach belies that notion.
As we had anticipated, this very popular spot was completely full this holiday period. We checked the campgrounds at Pettit and Alturas Lakes, the other two large lakes in the chain, but in these areas several campgrounds were closed. Warning signs read, "closed due to hazardous tree conditions", and warned of falling trees. We had noticed the great number of dead and dying lodgepole pines in the basin, and seen large piles of slash in various areas. These trees have been infected with a pest called the pine beetle which bores into the tree bark and quickly kill the tree. We heard one estimate that over 60 percent of the trees in this area are infected. With completely full conditions at Redfish, and the closed campgrounds elsewhere, we headed back to Smiley Creek.
It was a delightful find, reminiscent of our early days in Idaho. When we told manager Tim that we did not know how many days we'd stay, he merely left the reservation open, and each morning I'd go into the store to tell him we'd be another night. We twice breakfasted at the Smiley Creek restaurant; the second time, waiter Josh knew our breakfast order. Each day we took the Wrangler and explored the area, revisiting old spots and finding new ones. We were only 35 miles from Ketchum and Sun Valley, so one morning we drove back over Galena to walk through the Sun Valley mall area and stop at Atkinsons grocery for some typical Sun Valley wares.
We spent three delightful days at Smiley Creek. We'd work on our presentations for a few hours each day, and, when that got tedious, go out to explore someplace new. We visited a nearby historic Ranger station, drove into each of the lakes, and explored some of the half dozen or so campgrounds further north along highway 93. These were surprisingly empty, but we were enjoying our stay at Smiley Creek so much we didn't care to change spots.
But we had to move on if we were to reach Moscow Sunday afternoon, in time for the first "meet the instructor" session, so headed north along the Salmon to the Wagonhammer RV Park and Campground, just a couple of miles south of the tiny town of Northfork, Idaho. At Northfork, the north fork of the Salmon joins the main river, and together they head west into the Frank Church Wilderness area. A road follows the river for a few miles, becoming ever more narrow until it quits altogether. The river continues on alone -- except for the rafters testing their skills on multiple day trips -- until it once again rejoins civilization at Riggins.
The Wagonhammer is named for a curious piece of metal, a block "C" set on a short shaft. I carefully read the purposes for which these "hammers" were used, but, not being conversant with the make-up of pioneer freight wagons, gleaned very little from my reading. What I do remember is that they were used, not as hammers, but as wrenches, but "wagonhammer" sounds much better than "wagonwrench"!. Several have been found on a nearby mountain in the area, and the park has taken its name from these curious tools.
Wagonhammer is a former KOA, but the only way you can tell is from the shape of the office/ home of its new owners, Abner and Shirley Schultz. They have put in countless hours of love and hard work, adding riverfront and tent sites to the existing full hookups. Their gift shop is a beauty, with a Christmas section including cowboy Santas, a red hat section in case you're about to join that organization, attractive belts, purses and shirts. I have to admit being intrigued to the point of returning -- without Tom, who isn't as much into gift shop browsing as I am. You never can tell what you might find, and our granddaughter is about to have a birthday...
Leaving Northfork, the road continues over Lost Trail Pass and down into the Bitterroot Valley toward Missoula. This is Lewis and Clark country, and around virtually every turn there's a sign describing various events of that excursion. We had a slight adventure ourselves on this leg of our trip. We'd heard good things (like free WiFi and nearby golf and fishing) at the Nugget RV Resort in St. Regis, and stopped to meet the owners and see a bit of the area. We managed to see more than we bargained for! Leaving the park, Ms Garmin directed us to drive straight rather than make the turn we thought would take us back to the freeway. By the time we realized that perhaps "she" had made a mistake, the road had narrowed and another sign advised us that even the County had given up on maintenance. And by the way, the road's name was "Camel's Hump" not Mullen Road as Ms Garmin advised. Uh, oh! We'd probably be OK, we could always detach the Wrangler from the back of the truck if we had to make a turn. And that probably wouldn't happen either, after all, we are a relatively narrow rig -- unless.. unless, a tree had fallen across the road.
One tree had not fallen, three of them had. We easily cleared the first one, with only a minor bump when we drove across its tip. The second was more cottonwood branches than actual hard wood. The third was a different story. It wasn't so much the diameter of the tree, it was relatively narrow, but it was very long. It stretched across 90 percent of the road, down a bank, across a creek, and the root system was still embedded half way up the other side. We couldn't move it, but I grabbed the end and pulled back as hard as I could. Tom slowly maneuvered the truck past the broken limbs, and we made it! Had it been any longer, or had we been any wider, we would have received some nasty scratches.
Just past the tree, the road name changed to Mullen, and within a mile we were back on the Interstate, headed for Coeur d'Alene and Blackwell Island RV park. We'll be here overnight and then will head south to Moscow. We're using the back door entrance, as we close in on the Moscow Life on Wheels Conference.
---
Postcard: Basically Barney
June 13, 2006
What is 16 weeks old, colored liver, (dark brown) and white, and learns something new every hour? The new addition to our family, Barney the Brit. We knew when we visited Dave Walker at Walker Plantation and Kennel, near New Plymouth, Idaho, that there was a possibility we'd come home with a new Brittany. After all we'd purchased our last two dogs here, and knew just how easily we could lose our hearts to these cute puppies. What we didn't know was that would happen within 30 minutes of our arrival.
Out in back of their sprawling ranch-style home, Dave and Fay Walker have several large wire pens, suspended above the ground (a good way to keep the puppies clean). Today, three of these pens were occupied by Brittany puppies from 8 to 16 weeks old. The cage on the end held the oldest pups, three orange and white female Brits, and their liver and white brother. Another pen held the 8 week old pups, several trying to climb the wire enclosures. In another cage was a female Brit, and I was told she had new puppies in an enclosed box next to her. Those were so young, they'd rarely ventured out of the box, and we didn't see them this morning. That was fine with me, as I'd already lost my heart about 20 times.
How do you decide on a new puppy when you have so many choices? Each is anxious to lick your fingers through the mesh of the pen, each one whines, wiggles and wags. Each is cuter than the one you just looked at. Our previous Walker dogs had been females, and Tom had indicated he'd like a male. Liver and white was a color combination new to us, and the soulful look on the 16 week old pup did me in. Barney, (as we would later name him), would come home with us.
Except we weren't going home. We'd cancelled our planned trip to Alaska in May, since our summer schedule had become so busy Alaska travel had been "squeezed" out. Our trip had been shortened to a "Circle-Pack" trip -- up British Columbia's Sunshine Coast, and over to Vancouver Island. That would be lots of travel for a small dog who had never been out of his pen or away from his sisters, but he wouldn't have prolonged time on the car deck of a ferry. If there's any qualification a dog must have to belong to our family, it's the ability to travel, and we were about to test Barney with a long series of short stops all around the Pacific Northwest.
Before we left Walkers', Fay gave Barney a thorough grooming. She showed me how to cut the hair between his toes, down the backs of his legs, across his chest and around his tail. Then she put him on a leash and Barney got his first walk outside his pen, on real grass, on a leash.
Since we hadn't really planned on getting a dog quite so quickly, we didn't have any dog apparatus with us. We put Barney on the floor of the truck, where he curled himself tightly into one corner, and headed for Emmett, a town where we knew the farm supply store would have what we needed. Then I decided to take the dog for a walk while Tom went for diesel.
Quite a bit easier said than done. First I had to get Barney our of the truck, and he didn't want to come. He was terrified of getting out of the truck and clung like a cat to the carpet of the truck before I finally managed to pry him loose. Tail tucked firmly down, legs braced against the leash, his first walk would be more aptly described as a tow. When he did walk with me, he hugged my legs, and attempted to walk between them. I was glad to see the truck return.
We headed for McCall, and the McCall RV Resort. The layout of this park is nothing short of spectacular, with well landscaped sites, several arranged in squares. It's a novel idea, especially if you camp with three friends. Each of you would be placed on one side of the square and share a community lawn. (The resort's rates have gone up this year, with newer sites near the Payette River going for more than $50). Barney met the owner, Kevin O'Leary, and made an immediate friend -- a bit unusual, for he (Barney) remains quite shy of people, as well as of other dogs. I'm attributing this to his age. I've been told that puppies learn about "the world around them" at around 8 to 12 weeks. At that point, Barney's world was a pen and his litter mates. So he's starting out a bit late.
For the first few days, Barney seemed virtually afraid of his own shadow. On walks, he was underfoot to the point we tripped over him. The idea of climbing was unknown, whether it was up a stair or over a log. (To be honest, getting in and out of the camper is a bit of a test for a young dog. Since we have a tow bar behind the camper, the steps aren't set in a straight line. It's taking Barney some time to figure this out.) We got him a toy; he didn't know what to do with it until I shook it in his face and growled at him. But, little by little, all this is starting to change.
From McCall we headed to Granite Lake RV Resort in Clarkston, Idaho, a place we include in our itinerary every time we're in the area. The park was recently sold to Premier RV Resorts, an organization owning other parks along the I-5 corridor in Oregon and northern California. We've stayed at several of their parks, and I especially enjoy the gift shops and the free local paper every morning. Granite Lake will be a star in thier resort crown. We spent three days here, and Barney had a chance to get a little routine in his daily life. Doggy walks were taken in the same places, romps were on the same patch of grass. He began to roam out in front of us when we walked, he began to play with his toy and growl at it on his own.
The problem Barney encountered at Icicle River RV park in Leavenworth, WA was really my fault. I needed to make a phone call, and the phone here is located right next to the office, tucked in behind a table set with coffee urns and plates of cookies for the campers. I dialed my number and realized I would need pencil and paper to write down the information, so I tied Barney to the leg of a nearby plastic chair, and started into the office. Barney came after me. The chair tipped over, scaring him. He ran and the chair knocked into an empty coffee urn, which crashed to the ground. I hadn't tied the leash very securely and it came free from the chair. Barney headed back to the camper at a dead run, and the leash swept across the top of a pot of geraniums, neatly decapitating each one. All this commotion caused several other dogs to yowl, scaring the pup even more. It took several hours before he calmed down.

Our plans included a trip to British Columbia this trip, and we wondered if we'd be able to take the dog across the border without his rabies shot -- not due for another 6 weeks. Tom had called the border and been told there'd be no problem, but a vet opined that we'd be turned away. Not so; we crossed without incident, and headed into Canada. Now Barney would experience another first -- his first new country.
At the ferry landing in Horseshoe Bay, just north of Vancouver, we purchased our Circle Pack tickets. These tickets provide discounted ferry fares up the Sunshine Coast, (along the eastern shore of the Strait of Georgia), across the Strait to Vancouver Island, with a return to the mainland -- the only caveat being that your trip must be completed within 30 days. No problem for us, we don't expect to be gone that long, and it's always fun to save a bit of money!
On a previous trip up the Sunshine Coast, we spent a night in Egmont, in a quiet RV park overlooking the Skookumchuck Inlet. However, any plans we had for another evening here were dashed when we discovered that today was "Egmont Day". The town, with the help of the surrounding community, was hosting a parade, a soccer game, a basketball competition and a small fair. One of the parade floats was parked in the small RV park. This particular float had several drums mounted amongst the balloons, and, after we overheard one man's remarks, "this place got really loud about 5 this morning", we decided to go on.
The provincial parks on the Sunshine Coast are beautiful places to stop for an evening; large sites under towering trees, with picnic tables and fire rings. No hookups, and not always a dump station, so you need to be prepared to "rough" it, (if, in today's RV "roughing it" is the correct term). We spent the first night at Porpoise Bay, and Barney learned about the beach, how you can run across the tide flats, biting seaweed, and nosing the small crabs obligingly found for him by his new friends, us. The next was spent at Saltery Bay, where he learned that those odd looking humans in black suits, carrying fins and snorkles, were not something to run from, but merely divers headed to the Mermaid, a statue sunk in 60 feet of water fairly close to shore.
By now, Barney was getting more and more sure of himself, but still a bit wary of other animals and humans. However, at Powell River, another first -- his first girl friend. Lily, an 8 month old cocker spaniel, was camped next door, and she and Barney became fast friends, chasing each other around the beach, biting each other's ears and getting sand all over their tongues.
While Barney is having new experiences (and working at overcoming his shyness) Tom and I are reliving old ones. Early (6:30 AM -- Barney's a good sleeper) morning dog walks, lessons on "here", "sit" and "stay", time out for doggy breakfast and dinner, and stopping during the day for doggy breaks. We enjoy his antics with his toys as he tries to shake the stuffing out of them. We hadn't planned on getting a puppy while we were still in the camper -- that was crowded enough with Missy, and she knew the rules. But we're very much enjoying learning the dog that is basically Barney.
---
Postcard: A Little Slice of Idaho
June 2, 2006
Tom & I are old "Idaho-ans", once having lived in Boise for over 12 years. Both of our children belonged to the Boise "Y" swim team, which meant I got to drive all over the Intermountain area as I ferried them from swim meet to swim meet. Though I saw a great deal of the beautiful and diverse state that is Idaho, I'm still surprised at how much of it I missed. I knew the road from Boise to Blackfoot . I recognize the winding road to Moscow . At that time, I'd have sworn I could drive west to Caldwell and Payette with my eyes shut. And yet I missed some of the most beautiful parts of Idaho. I completely missed the Hagerman Valley.
The road east from Boise runs just north of the Snake River and traverses high desert terrain, home to coyotes, antelope and many rarely seen smaller desert denizens. While the first 100 miles might seem to some a bit of easily by-passed country, one should to stop to explore this little slice of Idaho. When we come here, our first stop is Glenns Ferry, a small town about 70 miles east of the capitol. Here is one of my favorite campgrounds, Three Island Crossing State Park.
Exit the Interstate (exit120) and follow the signs through town. Make a right turn on the bluff above the river (after stopping to read the historical signs, of course). In about 1/2 mile you'll pass Carmela Vineyards, where a very attractive winery building surrounded by grape vines and a golf course might tempt you to play between the rows of Cabernet and Chardonnay! The small restaurant serves dinners nightly and breakfast on weekends. But, for now, keep going. In just a few hundred feet you'll be at the entrance to Three Island Crossing State Park.
It's a wonder more people haven't found this park. It's situated on 613 acres with two separate campground sections, a spacious day use area and an historical museum. The level sites are widely separated, nestled among the spectacular grey greens of cottonwood and fir trees, many with views of the Snake River and the Oregon Trail. One part of the campground perches atop a low bluff, with views down across the day use area to the river. From the lower section it's only a short walk to the water. There are 101 water and electric (30 amp) sites, most accessible even for the largest rig, and a "double-duty" dump station located near the park entrance.
Three Island Crossing was one of the most famous river crossings on the historic Oregon trail. It's named for three small islands which lie like stepping stones across the river. Arriving here, the Oregon Trail pioneers had to choose between attempting to cross and continuing on to Boise on the better watered, lower north banks, or staying on the cliffs of the more arid southern side. This crossing was treacherous even in the warm summer months of lower water, and many wagons were swept downstream, their occupants losing their lives. If they chose not to make the crossing, they'd be close enough to see the water; far enough above it to make it impossible to get their livestock down to its banks for water and forage.
Pioneer travelers used the three-island crossing until 1869, when Gus Glenn constructed a ferry about two miles upstream. The Glenns Ferry community sponsors a crossing commemoration each August, when volunteers in period clothing, using wagon replicas pulled by oxen and horses, actually make the crossing.
Each time we stay at Three Island Crossing, we visit the Historical Center. We enjoy the dioramas depicting the lives of the pioneers, showing the conditions that led to their leaving the East and their experiences while on the trail. As in most such museums, there is a detailed description of the lives of the Indians of the region before the "White man" came. I am touched by pictures of unhappy looking Indian children in European clothing, standing stiffly in front of their schools, mile from their families and culture. I get a more optimistic feeling seeing the pictures of the cooperation between the white and Indian ranchers of the area today.
We usually find something new when we visit the museum. This time we found directions for us to cross the river, not fording it in a covered wagon, but on a bridge west of town. This trip, about 10 miles each way, took us across the river following the wonderfully named Slick Ranch Road. We had no trouble finding the viewpoint, and enjoyed a plaque which pointed out the route of the wagons. The first two islands were actually used, that is, the wagons entered the river, got out on the islands and crossed them, while the third was a pointer -- keep just so many yards upstream, and head for the far shore.
Although it was the Memorial Day weekend, the park had enough space for us to extend our stay one more day. One more round of golf, and a visit to the Hagerman Valley, the Valley of 1,000 Springs.
Hagerman is only 25 miles east of Glenns Ferry, an easy half day trip with plenty of time for exploring, so we left the camper at Three Island Crossing and took the Wrangler. The Valley of 1,000 Springs gets its name from the dozens of rivulets springing out of the middle of the valley walls, not down from the heights. Go to the top of these cliffs, and all you'll see is sagebrush fields, no rivers to cascade over the tops. The source of these falls lies over 100 miles east where the aptly named Big Lost River disappears into the subterranean Snake River Plain aquifer. For those miles there's no trace of water until it emerges through the rock wall fissures falling to the water below.
En route to the valley, you pass another Idaho treasure, the Hagerman Fossil Beds National Monument, established in 1988, which contains the largest concentration of fossilized horses in North America. These zebra-like horses, (Idaho's state fossil), are over 3 million years old, relative newcomers to the geologic stage, but still, they are remnants from before the Ice Age. In the Monument, other fossils, clams, snails and plants can be found --but not removed. In the center of Hagerman, an attractive Visitor Center has displays of the Monument fossils, and you can view a short film and get a Monument map and directions from a knowledgeable ranger. One corner of the Center is set aside especially for children. When we visited, I watched in the reaction of one family -- the children were eagerly showing their parents the various fossil replicas and barely containing their excitement for the trip into the Monument. If you visit the Monument in summer, park rangers lead tours to an area called the Horse Quarry, where, in 1929, the Smithsonian began the excavation of over 150 horse skulls and some 20 complete skeletons!
Being too early in the season for the guided Ranger tour, we drove the 10 mile, self-guided tour through the Monument. Our first stop was in a field of huge boulders, deposited there by the Bonneville Flood. About 15,000 years ago, Lake Bonneville, an enormous lake of which the Great Salt Lake is the last remnant, overflowed its banks and rushed through the gorge where the Snake River now flows. While the flood only lasted 8 days (according to the experts), it deposited hundreds of these rocks, called "melon gravels" and knocked down other large chunks from the canyon walls.
If you drive to the end of this tour road, you find the remnants of the actual Oregon Trail. The trail looks like a shallow trench, made semi circular by ruts dug by oxen feet. Looking out over the River, I could imagine the pioneers' feelings at leaving this relative security for the next segment of their journey -- a two day, waterless trip, to the Three Island Crossing -- 25 miles down the road from where we'd come this day. What an interesting "little" slice of Idaho! The area may be only a small piece of the state, but its historic significance is enormous!
The weather was changing, becoming cold and breezy, so we decided to head back to our Bend townhome for a day or so. How convenient is Bend's central location! Then we'll be off again, this time north to the Western RV factory to see the mid-door 36' Alpine. (We're still trying to decide which model and which manufacturer we'll choose for our next diesel pusher.) Then we retrace our steps again back to Idaho. Tom has been talking with Dave Walker, well known breeder of Brittany Spaniels. Our last two dog were Brits, and when we've discussed the possibility of getting another dog, Tom and I both kept coming back to Brittanys. There's an outside chance we'll be dog owners again in the near future.
---
Postcard: Going Shopping
May 25, 2006
When Tom and I decided to leave San Juan Island and move to Bend, Oregon, that decision was made for a number of reasons. One of the most compelling was location. No longer would we face a two hour ferry ride followed by a traffic filled trip down the I-5 corridor every time we wanted to take off in our RV. From Bend, we're only some 4 hours to the beaches of the Oregon coast. In 3, we can be exploring the mountains of Northern California, and it only takes a couple of hours to get to the Columbia River and southern Washington. Close too is the Willamette Valley and Junction City.
Junction City is a small town just north of Eugene, well known and often visited by RVers. It could easily be termed "RV Ground Zero" for the entire Western U.S. Country Coach is manufactured here, and many owners have spent time at its service faciitity located along the main line north/south rail line, and affectionally referred to as "Camp CC". Just 6 miles up Highway 99, in Harrisburg, is the expansive new service facilities for Monaco Coach and its subsidiaries. About the same distance due east is Monaco's sprawling manufacturing facilities. But the most noticeable presence in Junction City is certainly that of the Guaranty RV dealership.
Guaranty doesn't operate just one showroom -- faciities and RV lots are located all over town. One showroom features the high end diesel motorhomes -- the Monacos, Country Coaches and Alpines. Another lot is reserved for truck campers, campervans and 5th wheels. Another is strictly for used RVs. Still others combine some of each. Not only motorhomes and their ilk are found under the Guaranty flag. On other lots you'll find new and used cars and trucks from most major manufacturers. Guaranty also operates a large RV service center, with an additional lot where those destined for service may spend the night (or nights) while their rigs are being repaired. So popular is this otherwise small town for RVers that Camping World is just about to join the group, with a new store and service center immediately adjacent to the enticing "Luxury Coach" showroom. With this frosting for the cake, Junction City is arguably soon to be the full-service candy store for RVers everywhere.
Not only will the prospective purchaser have a myriad of RV choices, but there's another incentive that attract RV buyers to Guaranty -- their rallies. If you purchase an RV of any make, model or size from them, you can join the Guaranty Travelers' Club. They put on wonderful rallies in fascinating spots. Tom & I have enjoyed exploring the coast at Newport, Oregon and Spring training baseball games in Arizona. There's a reasonable chance we'll purchase from Guaranty this time around as well, and if so we'll look forward to rejoining the club when we decide on our new RV.
Perhaps because we've so enjoyed our camper travels, we've learned that, for us at least, sheer size is not all-important. We can go more places and fit into more sites in a 10 1/2 camper than will be possible in a larger, more traditional motorhome. However, for travels that extend for periods of 2 or 3 months, a larger rig is admittedly more comfortable, and we're looking at several somewhat larger rigs. We've found a few models which might "fill our bill" -- those in the 34' to 36' range. From Alpine, there's a 34' and two 36 foot coaches. On the Country Coach side, we're considering the 36' Inspire and 37' Allure.
The temptation of a short trip to Junction City, coupled with the fact that Jeff Lake, manufacturers' representative for Alpine would be available to show us some coaches even on a weekend schedule, propelled us over the hill this last weekend. Jeff has offices at Guaranty, but is on the road quite a bit; indeed, he took a Saturday afternoon away from his family the day before a lengthy business trip to the southeast. Jeff and Tom had quite a conversation -- more technical than my interests, I'm afraid, and then we looked at a couple of coaches.
For me, looking at a motorhome is quite a bit like looking at a house. My first reaction is mentally to fill it with my "stuff", in this case pots and pans, silverware and plates. I look for a place to put a garbage recepticle and a place for cleaning supplies. These places don't have to be large (look at our camper), but they must exist. Next I look at the outside storage areas. It oftrn seems the longer the rig, the smaller the available, (for my purposes, anyway), storage areas. A tag axle provides added stability for a coach, but takes away an entire storage bin. "Hydronic" heat, (a feature the benefits of which I don't quite yet understand), takes more space than standard propane heat. To compensate, manufacturers add length to the coach. Then they fill another bay with more operating equipment. Catch 22 in the making.
If we decide to get a 34' coach, Alpine has a very attractive model. It is a bit tight at one corner of the bedroom, but has enough cupboard space for anything I'd like to pack. When we went to look at the 36', we learned that Alpine provides two models in this length, front and mid-door. Jeff spent a bit of time explaining why WRV has a continuing interest in the mid-door model. It effectively divides the coach into two easily accessible "zones", lets the kids come in and go to the back to play or watch TV, without bothering the "grown-ups" in the front. We don't RV regularly with kids, but do have grandkids, and we plan on checking out one of the new 36s due down the assembly line in Yakima in the next week or so.
Bright and early the following Monday morning we met Susan Graham, our Guaranty sales rep, at the Country Coach factory. CC now makes only one 34' model, an Inspire. The interior of that coach was a bit broken up for my taste. The kitchen has a narrow countertop which juts into the dining area, and eliminates any sense of "openess" from the kitchen area. At about 10" wide, this countertop is too narrow to be useful for me. I could see no obvious place for either full size plates, or for pots and pans. Try as I might, I simply could not fit my "stuff" into its design. Under coach storage was almost non-existent, one small half bin and one 18" wide pass through, which shared its space with the power cord. However, the 36 Inspire and the 37' Allure are beautiful coaches and certainly are on our remaining short list.
So, we've narrowed our choices down to 4 -- two Alpine models and two from CC. Tom has considered things like GVWR, and whether the stability provided by a tag axle is more important than the additional weight that comes with it. I've looked at room layout and storage capacity, and wondered whether we'd like a large chair or a Euro style one with a computer desk. We've both considered diesel prices and wondered if we should do anything at all -- and then decided that we most probably will rejoin the ranks of motorhome owners in the near future. Which coach we'll buy, we haven't the slightest idea now. A bit more research, a bit more evaluting, and we'll be ready to make the big decision.
---
Postcard: An Almost Perfect Figure 8
April 19, 2006
No matter their dedication, RVers don't always travel by RV. I know full timers who eagerly anticipate overseas trips and plan where they'll stay in hotels or apartments. No driving except perhaps in a rental car, they look forward to taxis and trains. Nothing quite as exotic as that for us this time; we were planning a short trip to the California Bay Area for Tom's brother and sister-in-law's joint birthday party. We could have driven this route in our Jeep; we could even have taken the camper, and our driving time would have been shorter, but then it wouldn't have been quite as much fun. This time, we'll do something different. This time, we'll use almost every sort of transportation except RV. This time, we'll drive to Portland, take the city's light rail to Amtrak, follow it south, spend one night at the Oakland airport and return north via Alaska Air lines. This time, we'll pick up the car again and head to Yakima for the Easter holiday. By the time we return to Bend, we'll have described a practically perfect figure 8 -- the lower loop to California and back, the upper to Yakima and back to Bend. Two loops, with only 70 miles driven on the same highway.
Ms. Garmin thought the shortest route to Portland was over Santiam Pass, and since we'd been having warm and sunny weather for the past few days, we let her have her head. (She doesn't understand such things as snow or icy spots!). The road was bare and dry, and we had no trouble even over the summit. We parked in the Portland Airport long term lot, took the shuttle bus to the terminal, and caught the light rail downtown to Amtrak.
We lived 17 years in the Seattle area, and cursed its traffic problems each time we attempted to thread our way down the Interstate 5 corridor. Over the years, Seattleites have discussed light rail -- and it's still being mentioned -- as a cure for those traffic problems. But for Seattle, thus far, light rail has only meant the Monorail, an extremely short train ride across a small part of the downtown area, with absolutely no benefit for commuters from the suburbs. Portland seems to have done it right. Use a combination of bus, light rail ("Max") and street car (together called "Tri-Met"), and you can get all over town. The helpful gal at the Airport Information counter gave us a computer generated printout of the various ways to find Amtrak, and pointer out the train departure station.
By the time we'd figured out how to work the ticket machine and purchased two senior tickets (80 cents each), we'd missed the first train to town. But the next arrived 15 minutes later, precisely on time. We rode the requisite number of stops, and transferred to a bus. It stopped within a block of the Amtrak station. We were on time; in fact, we were a bit early. But where was the train?
If there's one thing we've learned about Amtrak, it's not to depend on it to get us where we want to go anywhere near the time we want to be there. We'd built in a 10 hour "slush" time, so we were neither surprised nor dismayed when we found that the train was already 2 hours late. We spent the time walking around the very attractive Portland station and enjoying the lounge, open to those passengers who have booked a sleeper room. Complimentary coffee, water and soft drinks are available, and around 5 each evening, snacks are also offered. Goes to show Amtrak is quite aware of its punctuality record.
We boarded the train just in time for the afternoon wine tasting. Again only for those with sleeper accommodations, this is a chance to sample several different wines, enjoy some cheese and crackers, and meet some of your fellow travelers. The couple next to us were enjoying the trip -- her first, while he'd been traveling by rail for years. His goal is to own a private rail car and be towed behind trains all over the country -- and he pointed out that there was such a car on the end of our train this trip. I could just make out that car as the train rounded a sharp curve. Its silver and red colors were reminiscent of an era when train travel was much more opulent than it is today. It was separated from the rest of the train by two baggage cars, so there was no way to reach it, much less walk through it. I had to be content with just noticing it was there.
When you travel by train, you see parts of the countryside seldom seen from freeway or byway; you see the backyards of America, close up views of people's lives. We passed through towns I'd barely heard of, towns only mentioned on signs posted at off ramps we've yet to drive. I watched a festively dressed crowd celebrating Good Friday in the yard of a small Catholic church. The folks at a Rescue Mission on their lunch break paused to wave at the train (which sounded its horn in response). Fishermen in the backwaters of the rain-swollen Sacramento River were using partly submerged trees as anchors as they fished for bass. Homes were sandbagged against the potential flooding of the same river in this year of almost continual rain in Northern California.
This trip we spent only one night on Amtrak, the one it takes me to get used to sleeping on the train. The seats in our small roomette fold out at night to become Tom's bunk, and a fold down bed is pulled from the ceiling to make mine. They're small and narrow, but somehow the train's motion rocks me to sleep -- after I've done it for that first night. One of the problems with the top bunk is I cannot see out the window; I wind up hanging over the edge of the bunk and viewing the world go by upside down.
After starting 2 hours late from Portland, we continued to lose time as we traveled south. We had to pull over to wait for freight train after freight train, usually for short periods, once for almost an hour. When those trains had passed and we were given the green light, we would fairly rocket along the tracks, until, once again, we'd be forced to pull over. By the time we reached Redding, we were 7 hours late. That 10 hour window was looking smaller and smaller, and I began to plan alternative routes. However, our new friend told us that after Redding, the tracks were double and waiting for other trains would be a thing of the past. He was right, we even made up a half hour on our arrival in Oakland.
The birthday party was a successful surprise, and we saw some friends from that long ago time when we lived in the Bay Area. One short night in a motel near the Oakland airport, and it was time to head back. As Tom's brother said about us at the party, "They don't stay in one place very long!"
It's been a long time since I've flown, and I was prepared for long lines, careful scrutiny through the security gates, and little service on board. However, the situation was considerably better than I'd been led to believe. The lines were reasonably short for our 7:45 flight, and the plane was empty enough that we could change seats once we were underway. I was glad of the added security, and for the short flight back to Portland, a cup of coffee was all I wanted, anyway. ( I declined the multi-grain "biscuit"). We did notice the proliferation of restaurants at the airport, restaurants selling pizza and sandwiches even at this early hour, and several folks came aboard clutching styrofoam boxes.
It was a welcome feeling not to be 6 hours late back into Portland, but overall, I believe I prefer the more relaxed atmosphere of train travel. Now we'd be off to Yakima for Easter with the kids.
We had all day to get to Yakima, so decided on some blue line driving. It was a beautiful day for a drive along the Columbia River and through the Columbia River Gorge. We detoured past Multnomah and Horsetail Falls, both plunging full bore down the cliffs, and crossed into Washington at Cascade Locks. Both Washington and Oregon roads follow the River; Oregon's road is Interstate 84, Washington's the much smaller Highway 14. It's slower, much more winding, and twice as interesting. We left 14 at Lyle, and followed highway 142 up through the foothills of Mt. Adams, driving along the banks of the "Wild and Scenic" (i.e., no dams), Klickatat River. The road re-joins Highway 97 at Goldendale, and heads north to Yakima.
We'll spend a couple of days with our kids over this Easter weekend. Sunday, of course, is reserved for the Easter bunny and multiple egg hunts. First we find the eggs the bunny left, then we hide and re-hide them, keeping careful track of the number hidden and found. (Easter eggs found in May aren't nearly as much fun!) Monday we'll head back for Bend -- after a morning spent at the Alpine Coach factory. While we wouldn't dream of getting rid of our little camper, we're becoming more and more interested in resuming our RVing lifestyle -- in a somewhat larger rig. The 40+ ones seem a bit large, as we don't intend to become full timers. Also, the larger the rig, the fewer places you can take it, and we love to travel and explore. There's a 34' Alpine having its final PDI at the factory, and Burk Morgan, the personable Alpine General Sales Manager, is going to show it to us. We haven't decided yet, and will try to see what Country Coach has to offer, but I must admit we're interested...