POSTCARDS
---
Stephanie is one of those persons who can fit a lot of words onto a standard size postcard -- usually by writing sideways, around corners, and even upside down if she can find some extra space. Most of these go to family and friends. But some of them -- those which document our RV adventures -- find their way onto this portion of our website.
---
Postcard: Changes in Altitudes
April 4, 2007
If we traveled strictly by map, or only followed the advice of Ms Garmin, our usually trustworthy Garmin 2620 GPS, the route of choice to Zion NP from Kanab would have been to follow Highway 9. After all, that route is less than 60 miles, and its about 40 miles further to go around. But there is one problem with this route -- "the tunnel". Maps don't show it; GPS doesn't know it -- but it's there.
The Mt. Carmel-Zion tunnel separates the canyon area of Zion from the high country of the park. If you're headed east, you must navigate the tunnel if you want to visit such attractions as the Checkerboard Mesa, or hike the park's high trails. If you're headed west you must take the tunnel to visit Zion's scenic canyon. It 's an old tunnel, built in the early 1900s, and it's a dark, curvy 1.1 miles in length. The length isn't what makes people stop and think before driving through -- it's the height. The center of the tunnel is only 13 feet 1 inch. Many of today's motorhomes are taller than 13.1, especially when you consider the "stuff" that sits on your roof. In that case, forget about the tunnel and drive around. Take your toad on trips to the Zion high country. If your dimensions will allow you to squeeze through, there is a way to get through the tunnel. For a $10.00 fee, the Park Rangers will close the tunnel to its normal 2 lane traffic, and let you drive right down the center of the road. Turn on your lights, take a deep breath, and center yourself exactly.
We could have paid the fee and waited to pass through the tunnel, but, from previous trips to Zion, we knew that the rest of Highway 9 isn't a whole lot of fun either, with narrow winding roads and lots of tourist traffic. We opted instead to head south from Kanab to Fredonia, then swing west, following highways 389 and 59, through Colorado City, AZ and Hurricane UT. Then we'd head east again toward Zion. It would be longer, but much more relaxing.
Especially after the arrest of polygamist leader Warren Jeffs, Colorado City has received more than its fair share of attention. It is an odd place to an outsider; I noticed large homes with multiple front doors, and what seemed an disproportionate number of women. The women all dress in ankle length garb, and most seem to favor long hair, worn in one French braid down the back. In the grocery/sundry store, I noticed a rack of girls' dresses. Each was beautifully made; and were obviously "home made", as none had a label. I felt quite out of place wearing pants.
We stocked up on groceries at the Farmers Market in La Verkin. From there east to Zion NP stores typically only sell basic picnic fare. Then we headed east to the Zion River RV Resort, about 10 miles from the park entrance. This resort sits right on the banks of the Virgin River, with wide level sites, swimming pool and spa. I especially enjoy browsing through their well stocked store. They had some colorful metal lizards that attracted me this trip, but we'd already found some similar art to take home.
However, I do have one gripe with Zion River. It's amenities are probably worth the $40+ price tag, but they've also tacked on plenty of supplemental charges. Not only for WiFi, but if you want to do the laundry, (and I did), you pay 8 quarters for a washload, and 8 to dry. On top of that, you'll need 4 quarters for a 5 minute shower! (I was tempted to label a recent postcard, "Drawn and Quartered"). We caught up on our chores, and left the next morning for the park itself.
Most visitors to Zion spend the bulk of their trip exploring the sights of Zion Canyon's Scenic Drive, a 7 mile tour past towering rock formations with names to inspire your imagination. At the Court of the Patriarchs I could almost hear the wise men advising their courtiers. Weeping Rock is a short (but steep!) hike to a niche where groundwater spills like a curtain in front of you. From the Temple of Sinawava, at the end of the drive, you can hike up the Virgin River on a paved trail. At the end of the trail, the adventurous can hike further up the River. (Signs here warn against this, as flash floods are not uncommon).
From April through October, this road is closed to passenger cars; everyone must travel by shuttle bus. But we were here in late March, the shuttles weren't running, and the road was packed with vehicles. Tom had planned to have me drive him up to the Temple, and then he'd bicycle back down to our campsite at Watchman Campground, but there was so much traffic, unpredictably turning, stopping and backing, he decided against it. You can really see Zion Canyon much better "in season".
We spent a couple of days in Zion, then left our rig there, found Barney a place to stay at a nearby "Doggy Dude Ranch", (since Bryce Canyon does not allow dogs on any trail in the park, and the weather can be quite cold at 8,000 feet, its best to have a place for your 4 legged friend ) and took the jeep to Bryce Canyon. We'd planned an overnight stay at Ruby's Inn, just outside the park. We were just leaving Zion when we ran into an RVer we'd seen over 100 miles east and at least 2 days earlier at the Big Water Visitor Center. This time, he was on his Harley with sidecar transporting his good friend Spirit. They were quite the matched set, goggles and jackets!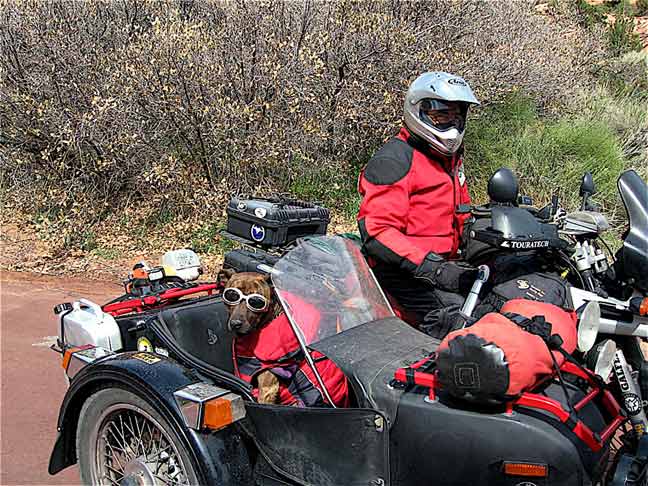 At Zion, and especially on its scenic drive, you are usually looking up at a mountain. At Bryce, the views are generally down -- down on the thousands of "hoodoos" that line the canyons. A hoodoo is a "natural column of rock in western North America often in fantastic form" created by a combination of weathering and erosion. Their colors range from pink, to adobe and even white.
We started our Bryce expedition by driving as far out as the road would take us, to Rainbow and Yovimpa Points, a distance of about 20 miles. Then we headed back, stopping at each overlook. Perhaps because of the season, perhaps because the park seems so much more spread out than Zion, it felt far less crowded here. Buses run in season, but taking one is not mandatory, as is the case in Zion. But if you wanted to hike some of the many trails between overlooks, I'd think that finding a bus on the other end of your walk would be a welcome sight.
For some reason, our previous trips had not included Bryce Point. Unlike many other overlooks, Bryce Point looks westward. Therefore, if you go out in the early morning (before 10 am), you will not be taking a picture directly into the rising sun. The shadows on the hoodoos make for some spectacular pictures, and show the beauties of the canyons far better than mere words.
Many visit Zion and Bryce Canyon National Parks; far fewer visit a nearby gem of a small state park, Coral Pink Sand Dunes. Tucked in between Kanab, UT and Colorado City, AZ, the park lies on a road that is paved in the Utah portion and is hard packed dirt in Arizona. It's a favorite of OHV enthusiasts, and perhaps could be a noisy playground on a big weekend, but today a cold wind was keeping all but the most hardy home. The small campground was vacant except for the Park Host and one trailer. We've visited before, and hiked into the colorful dunes, but today we had a different mission. We were geocaching. Yes, geocaching in a state park.
Unlike other state parks, and certainly unlike the unfriendly attitude of the National Parks toward geocachers, Coral Pink rangers decided to hide a cache of their own, and use it to attract people to their area. It's an easy cache to find, and you're directed to "leave nothing, just sign the log book and take a souvenir". According to the number of persons who have "logged their finds", this strategy is working.
We'd been high -- at 9,000 + feet, Bryce Canyon is the highest step on the "Grand Staircase". Now we were headed to lower altitudes, to the lowest point in the US, Death Valley. We'd wanted to spend a night at the Furnace Creek campground, and there was plenty of room. But when Tom looked at the weather forecast, we changed our minds. It was only March 30, and a temperature of 96 degrees was forecast -- and then it was due to warm up!. Since the campgrounds in the Valley have no hookups, we, and everybody else, would have to run our generator non-stop in order to work the air conditioner. That decided us. We'd go through Death Valley -- but only make a brief stop at the Furnace Creek Visitor Center. We'll camp there on another trip.
En route to Death Valley, we spent one night in Pahrump (how did it ever get that name?) Nevada, at Terrible's RV park. Terrible's isn't terrible at all. Each site is nicely landscaped around a central lake for fishing and boating. There's a casino (of course), and a restaurant. In fact, Terrible's is so un-terrible that, while we would have preferred a two night stay, we had to settle for one -- they fill each weekend at this time of year, and are very popular with groups. There's a fuel station right in front of the park; if you spend $25.00 on gas or diesel, you get a free night at the park. We filled the Alpine, and now have extra non-expiring certificates for three more free camping nights when we return. But oops, there went $100 at the diesel pump...
While Death Valley is more than a hundred feet below sea level, the land around it is not, and you can expect some steep inclines both coming into the Valley and exiting it. From Pahrump, we followed highway 210, a small gray line on the map. But except for being quite narrow, that portion of the road was straight and the incline down into Death Valley relatively gentle. At the Visitor Center, we got our entrance pass (free for those of us over 62), and watched a slide show on the park's attractions. But the weather was steadily getting warmer, Barney was in the car, so our visit was shorter than it might have otherwise been.
19 miles from Furnace Creek, we turned left and headed for Lone Pine. Almost immediately the road began to climb. Knowing what was to come from previous visits, we disconnected the Jeep and drove the next 25 miles separately. The road climbs steeply from below sea level to almost 5,000 feet, and then heads back down -- 6 miles of 9 percent grade. When your 6 miles are up, you learn you've another 2 miles at 5 percent. (Later, Tom & I compared notes; both of us felt that 7 percent might have better described the last portion of the road).
At Panamint Springs (elevation 1900'), the road starts back up again. This time it doesn't climb as steeply, but trades steep for winding narrow road with hairpin turn after hairpin turn. In some places, the rock walls encroach over the roadway, forcing a slow wide turn. On one of these blind turns, Tom met an oncoming Southwind -- it was a good 2 feet over the center line! He figured the other driver must have been nervous enough driving this road, and a blast of an airhorn would not have helped in this circumstance.
The road twists and turns up to a pullout called Father Crowley Point, named for the "Padre of the desert 1891 - 1940." A mile or so past the Point, we found a wide place to pull over and reconnect. The last 20 miles to Lone Pine are fairly level and fairly wide, appreciated by those who had pulled the Death Valley grades. With hindsight this route is suitable for some RVs -- and only some RV drivers. Our Alpine has 400 HP on a 34' coach, plus a two stage engine brake. An underpowered unit would find the going very tough, as would RV drivers not accustomed to navigating the high country in the Intermountain West.
We'll be here a day or so, and then head north up Highway 395. In a couple of days, we should be back in Bend. We haven't been home since before Christmas, and one of my first tasks before Easter gets here will be to take down the Christmas decorations. For those that travel as we do, you'll know that as a mark of successful RV travels...
We have a service appointment in Yakima to get the rig all "spruced up" for our next trip -- whenever that happens and wherever it takes us. The usual tweaks and adjustments for a brand new rig, and happily nothing of great significance. Although we opted to go with a shorter ('34 foot) model this time, we've found abundand storage in our new unit, and with this factory visit we're opting to trade some space we really don't even need for a washer/dryer unit.
I'm sure we'll enjoy touching "home base" for at least a short while -- but we can't wait to see where we'll be going next....
---
Postcard: A Dinosaur a Month
March 27, 2007
We left New Mexico on Highway 180 headed for the White Mountains of Arizona. The road was a new "blue line" for us. The route as shown on the map was full of "Zs and Ws", and there were several high passes to cross. We knew from talking to a Ranger down the road from the "Catwalk", that we should avoid US 191 through Arizona, (a 70 mile stretch of road that would take 3 hours, and was definitely not recommended for RVs). Perhaps we should have asked him about 180? Any concerns we'd had turned out to be groundless, however. There were some 30 miles of winding, shoulderless road, but otherwise the road was a proverbial "pussycat. Tom opined that an RV driver used to mountain driving in the West or Canada would have no trouble with it.
We'd planned on an overnight in Springerville, but a chance encounter convinced us to alter those plans. It's an RVing fact of life that RVers love to share their experiences with other RVers. On our way out of town, we had stopped briefly at the Leopold Vista rest area, just south of the turn to the Catwalk, when a car pulled in and another RVer came over to chat. (We knew they were RVers, they were driving their toad. You can always tell if a car is a toad, just look for the hardware under its front bumper. They knew we were RVers, we were driving the Alpine). They were headed to the Catwalk (where we'd just been), and were curious about what they might expect to see there. Being from the Tucson area, they'd often explored the White Mountains, usually to avoid the summer heat. "Don't stay in Springerville", they said, "go to Show Low. It's only about 40 miles further. And stay at Fool Hollow Lake Recreation area". They then proceeded to give us explicit instructions on the route. " In Show Low, turn at the Sonic (a drive in chain of restaurants popular here). Follow the Old Linden road about three miles, past the school. The road will make several dips, and then you'll see the Recreation area sign. Turn right." Easy, yes?
Easy, no. There may have been no problem had we heeded their instructions. We got to Show Low, and found the Sonic Drive-In. But the suggested right turn seemed to head into a residential area, and we worried about getting stuck in a cul-de-sac. And perhaps there was another Sonic? So we opted for straight ahead.
Although the route we'd chosen seemed straightforward enough, somehow every road we passed either wore a "Dead End" sign or one that read, "No Lake Access". We were frustratingly close; we could even see the lake, but no road led to it. Before we knew it, we were back at the Sonic. Hmm... those directions were probably perfect, and we'd just missed something. We disconnected the jeep, parked the Alpine and went back, this time following our helpful friends' instructions.. After a couple of wrong turns, we found the correct road (and wondered how on earth we'd ever missed it.)
Fool Hollow Lake Recreation area was worth 100 trips down wrong roads. In addition to three tent loops picturesquely named for the birds of prey you might see -- Bald Eagle, Osprey and Northern Harrier, there are four for RVs, named for the waterfowl in the area -- Ruddy Duck, Cinnamon Teal, Mallard and Redhead. The first two loops have electric and water only, the latter two have sewer as well. Each site is paved and level, each has picnic table and fire ring. Fool Hollow Lake, created by damming Show Low Creek, is a meandering sort of lake that manages to give most of the sites their own piece of waterfront. Here's our private site's overlook.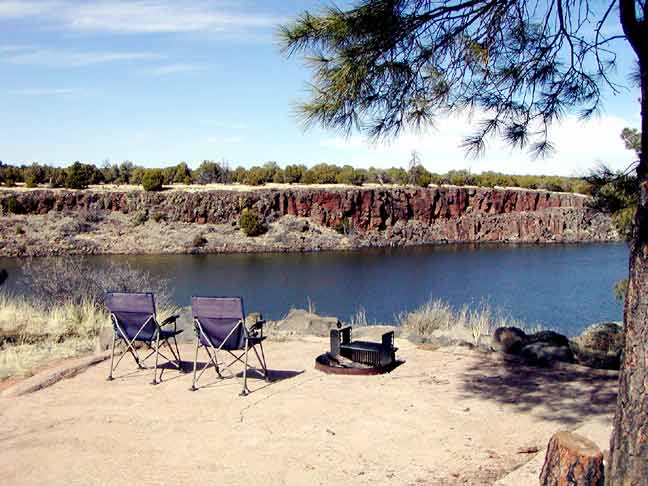 With hiking trails, one circling the lake, picnic areas and great birding, this is one area where we'll plan to return. Tom's adding it to our "favorites" list.
Our friends at Leopold Vista had also given us the name of a place to stop in Page, our next destination. They'd described it as a "new" park, but we couldn't find any reference in Trailer Life to a new park. When in doubt, find a visitor center. The park we were looking for wasn't new, but had recently been upgraded. Glen Canyon NRA/Waweap is about 5 miles north of Page. To get there, drive over the Glen Canyon Dam, turn right at the south entrance on Lake Shore Drive, and ignore the directions given you by the woman at the entrance station. She told us to continue to the 4 way stop and turn left. The next thing we knew, we were headed out of the park. A convenient turnaround area nearby saved us from a repeat of our Fool Hollow experience. Again we had waterfront -- this time a view over Lake Powell and the marina.
We spent an extra day here, exploring Lees Ferry, the tiny community which marks the beginning of the Grand Canyon. Here the land slopes gently down to the river, and access is easy, but within a few miles the canyon walls begin. Lee's Ferry is the place where controversial, (he was accused of taking part in the murder of 120 immigrant gentile pioneers, and later hanged), Mormon John D. Lee established a ferry crossing of the river, the only one geologically possible for over 260 miles. Because of its location, Lees Ferry is the starting point for most raft trips down the Grand Canyon. Trips range from 3 to 18 days long, depending on what type of craft you use, whether motorized or not, and where you plan to pull out. Today, there were about 15 rafts waiting to embark. I overheard a woman giving a quick birding lesson to some enthusiastic rafters, and we watched as the first tier of rafts passed through the first riffles of the River. Riffles now, the rapids would come later.
A small, secluded and scenic Forest Service campground near the raft area was practically empty this day, although with the hiking opportunities here and the views of the Canyon, I imagine it can get fairly crowded. We took the one-mile walk along a trail that followed the water's edge into the upstream canyon. Others, more adventurous than we, had hiked to the top of the Canyon. We could see the beginnings of a steep trail, but quickly lost it between the huge boulders that lay scattered down the steep canyon slopes.
Our original plans called for us to travel to Virgin, UT, to the Zion River Resort the next day, but for us plans are never finalized until we arrive at a destination. 18 miles north of Page is a tiny spot on the map called Big Water, snuggled up under the shadow of one of the most intriguing and little traveled National Monuments in the country, Grand Staircase/ Escalante. The Monument covers an area the size of Delaware, 1.7 million acres, stretching from the Glen Canyon NRA in the east to Bryce Canyon National Park in the West. It was the last area in the continental US to be mapped. The Grand Staircase, the western part of this huge Monument, is a series of cliffs and plateaus -- from the Vermilion Cliffs up to the White Cliffs, up another "step" to the Gray Cliffs and finishing with the Pink Cliffs of Bryce Canyon. Escalante, the eastern portion, is named for the Escalante River, the last major river to be discovered in the US, which cuts through the area to join the Colorado in Glen Canyon.
We've visited Grand Staircase/Escalante before. We've driven some of its back roads (all roads in the Monument except 89 on the southern edge and 12 in the north, are dirt, many requiring high clearance 4x4), and marveled at its various colors and elevations. Driving in this area will bring out the explorer in everyone. Now add dinosaurs.
Dinosaurs. Just west of Big Water is the Big Water Visitor Center, where we found one of the most fascinating stops on our trip. Not only was this Visitor Center well worth the visit, but its curator, Park Ranger Merle Graffam, is one of the most knowledgeable advocates that the Monument could have.
Stopping at the Center, we first strolled around the outside grounds, admiring various metal sculptures of those dinosaurs which lived in this area millions of years ago. I was especially taken with one form depicting an alligator of that time. Not your average alligator, either; this guy would easily have made 3 of the 'gators you might see today. Inside the center, we were drawn to a colorful mural depicting dinosaurs along one whole wall -- 40 species of dinosaur, all discovered in the past 4 years! That works out to nearly one new dinosaur a month! The mural shows them as colorful -- blues, reds and greens -- because no one knows what color dinosaurs really were, but probably they were more than just monochromatic grey. They also had feathers. I think of birds when I think of feathers, but feathers weren't limited to flying creatures. Feathers keep you warm. Just look at a bird on a cold morning, all fluffed up in his feathers.
And Merle should know. He was responsible for finding one of these new dinosaurs. In fact, it is to be named after him. Watch for the "Therizinosaur Nothronychus Graffam", to be announced soon. This dinosaur is a sloth like creature with enormous, two-foot-long scythe-like claws that capped each finger. Merle showed us one of these claws, a series of tapered bones -- real bones, not plastic replicas. I might have assumed that these finds were made somewhere in the middle of the Monument. But no. Merle said many had been made nearby, as close as only 2 miles from the visitor center. Of course, looking at the nearby topography, that means the highest part of the Monument, on the Kaiparowits Plateau.
This Plateau covers 800,000 acres of the "wildest, most arid, and most remote part of the Monument". The fossil-rich rocks of the Kaiparowits contain perhaps "the best and most continuous record of Late Cretaceous terrestrial life in the world." According to Merle, you can just walk in the Plateau area, look down and see bones -- although some of them would resemble rocks to the untrained eye. However, you'd have to get there first. Its very location, accessible only to hardy hikers, will probably preclude most people from venturing in. But that makes it all the more tantalizing. Anthropology students from 12 different universities are often "on digs" , and occasionally there are "open" digs. We'll have to check next time we're in the area.
We spent enough time at the Center that our travel day was cut short, and we only went on as far as Kanab. Now we're only a short day's trip from our next destination. We'll spend a day catching up on much needed chores, and then revisit two of our favorite National Parks, Zion and its near neighbor, Bryce Canyon.
---
Postcard: When Opportunity Knocks
March 20, 2007
We'd never visited Silver City, New Mexico. We'd talked about going often enough, speeding past the turnoff to this intriguing sounding town. The very romance of its name has always made me imagine an idyllic place, with an "old town" straight out of history (after all, this was the home of Billy the Kid), narrow streets and artist shops. We've often said, "next trip, we'll go". But the time was never quite right. Heading east, we either had a destination firmly in mind, (this trip, it was Abbeville), or we worried about the weather. Silver City's elevation is just below 6,000 feet; it might be cold or even snowy. Heading West, it always seemed there was not enough time (and then we'd come home too soon, finding Winter instead of Spring). But not this time. But this time, we're trying to avoid the projected Arizona valley heat. This time, we have several weeks before we're due anywhere. This time, the opportunity was perfect for a trip into countryside completely new to us.
We came into town from the southeast, leaving the Interstate at Deming, and angling northwest on highway 180 toward the mining towns of Hurley, the "Gateway to Copper Country", and its sister towns, Bayard and Santa Clara. These are active mining towns; you can see the mountains of dirt left from previous excavations, and you can't help but notice the smelter chimneys towering above the desert floor. The road was wide with broad shoulders, and our climb was so gradual I hardly realized we were gaining elevation.
We're staying at the Rose Valley RV Ranch, 65 graveled sites on a 44 acre ranch, only a mile from downtown. Our site looks over a grassy field, dotted with Yucca and filled with rabbits. (Barney takes his morning walks at a stalking pace, something I greatly appreciate). The ranch is located on Memory Lane, so called for the large cemetery lying just west of the campground. If you enjoy historical walks through cemeteries, here you'll find the grave of John Bullard, founder of Silver City, and also the grave of the mother of Billy the Kid.
Before we pulled into Rose Valley, we made a quick stop at the Visitor Center, getting a few maps and "where to go and what to see" brochures. Therefore, we got settled in our site in the late afternoon -- no time left today for any of the intriguing circle trips we'd found. However, I did have time to drive out to Western New Mexico University, (WNMU), to see the Mimbres collection, the most extensive collection of Mimbres artifacts in the world. .
The Mimbres culture is best known for its pottery, black on white with animal or geometric designs. Even the ancient pottery pieces somehow retain a vibrancy usually not seen in shards and remnants. The main floor of the museum contains depictions of the life of these people -- how their architecture changed, from pit houses to pueblos, and how their pottery styles changed too, from simple, brownish designs to the classic black and white. Some pots had animal designs -- rabbits or deer. Others were decorated with geometric lines, straight and zig zag, circles or stars. Interestingly, most pots had a hole punched in the bottom. When one of the Mimbres died, the corpse was placed in fetal position, usually buried under the floor of a building, and a pot with such a hole was placed on his head. Through this hole, the spirit of the pot could accompany the spirit of the deceased to the next world. Children were buried with pots having animal motifs, adults were buried with those having geometric designs.
Upstairs in the museum were pictures of the history of the University, which started life as New Mexico Normal school. I found the first graduating class -- 5 women, dressed as if for a ball. One wall has pictures of all the presidents of the University. The first president was "well educated for his time" with a degree from a college in New York. His degree? "Doctor of Pedagogy"!
Reading through the Visitor Center literature, we decided to start our explorations with a trip to the Gila Cliff Dwellings National Monument, following a route romantically called, "The Trail of the Mountain Spirits". It looked an easy day's trip from Silver City, only 44 miles due north on Highway 15 to the Monument itself. Now that we've become more familiar with this area, however, we've learned that the shortest route is not always the fastest one. The first 6 miles take you to Pinos Altos, where historic sites will tempt you to stop and see more. Just after Pinos Altos, you'll find 19 miles of narrow winding ribbon masquerading as a road. Its roughly 1 1/2 lanes wide, with no center stripe. It's beautiful, but not a route for most RVs. However, there is an alternate route, a bit longer in distance but taking no more time. Since there were also lengthy delays due to road construction, we determined we'd go the "long way 'round".
We followed highway 152 toward San Lorenzo, a quiet, small farming community. En route we passed the Santa Rita mine, one of the world's largest open pit mines, more than a mile across and 1,600 feet deep. This is an active mine. There is no visitor center or other facilities, "just a really big view of a really big hole". However, someone had cut out a portion in the viewpoint fence so I could take a picture.
From San Lorenzo, we turned north on highway 35 and climbed through the alpine meadows of the Leopold Wilderness. In 1924, Aldo Leopold, naturalist and activist, was instrumental in getting the US government to set aside 755,000 acres as the first designated national wilderness. (At that time, wilderness was defined as an area wild enough and big enough to travel on horseback for 2 weeks without crossing any roads or seeing other signs of human development.) The area is cris-crossed with intriguing jeep trails which tempted us to explore a bit. But the Monument closes at 4 pm, and several signs along the road cautioned us to hurry along. Signs such as, "25 miles to the Monument. Allow an hour travel time."
The Monument Visitor Center is located about a mile past the turn to the dwellings. I'm sure some visitors by-pass the center altogether, and therefore miss seeing several dioramas of the area and an interesting film on the lives of these people. The Mogollon arrived in this area around 1276 and remained only until shortly before 1300. No one knows exactly why they built their houses inside caves, or why they stayed such a short time.
At the entrance to the dwelling trail, two rangers were passing out information on the Indians, their culture and houses. Of particular interest to me was the bulletin board listing all the birds seen thus far this season. Dogs are not permitted on the trail to the dwellings, so the Forest Service provides roofed kennels set in the shade of the cottonwood trees. Each kennel has a concrete floor, and each has a water dish. What a useful service especially in warm summer days. Even today, the kennels were almost full.
It's a one mile loop trail to the dwellings themselves. The first quarter mile or so climbs gently up along Cave Dweller Creek, the area where the Mogollon would have planted their crops and come for water. Looking directly up, the steep walls make you wonder how anyone could possibly have been able to get up here, let alone build shelters. About halfway up the trail, you get your first glimpse of the dwellings. Then the trail becomes even steeper, climbing the last 180 vertical feet to the dwellings themselves.
The Cliff Dwellings are located within 5 caves, with a 6th used as a kitchen, and the 7th -- not used at all, according to the lack of artifacts found there. Since that 7th cave is a nothing more than a small hole high in the rock face, it's not hard to explain its lack of use. The trail takes you through each of the 42 rooms in the 5 caves, you can wander among the rock foundations of these houses.
Returning to Rose Valley, we decided there was just so much to see in this area, we'd extend our stay. Thank you, Opportunity, for knocking. Next stop: the Catwalk.
Northwest we went the next day on Highway 180, turning east at the small town of Glenwood, about 50 miles from Silver City. We stopped at the Leopold Vista to look at the Gila Wilderness from a different angle, from the west looking east. At the rest stop was an exhibit featuring some of his sayings. Looking across the flat desert floor to the magnificent Mogollon Mountains, I could certainly understand his sentiments. ".... I am glad I shall never be young without wild country to be young in. Of what avail are 40 freedoms without a blank spot on the map?"
The Catwalk is a steel causeway which clings to the steep sides of Whitewater Canyon, above the frothy, boulder strewn waters of Whitewater Creek. The Catwalk, thus named by the workmen who had to enter the canyon by crawling atop the narrow pipeline, is a relic from New Mexico's mining days, when gold and silver deposits were found in the hills above the canyon. Today, the 250 foot causeway follows the course of two former pipelines that supplied water to the gold and silver mining town of Whitewater. You can still see traces of the supports for the water pipes as you walk along the Catwalk.
The Catwalk is 1.1 miles each way, and has only a 275 vertical foot climb. Unfortunately, you climb these feet over and over again. The trail climbs up the canyon, then turns and takes you back to the stream. You gain some elevation at each twist, but it can seem you're getting nowhere. Around the next bend, another ladder or series of steps takes you back up again. There are several iron bridges over the rushing water of Whitewater Creek, culminating in a suspension bridge. Its a popular place for a hike; we arrived fairly early in the day and had the trail almost to ourselves. But on our return we had lots of company, and the parking lot was crowded. Dogs are permitted on the trail, but the idea of hauling Barney along with us, and then trying to get him to walk on a suspension bridge, was enough for us to opt to leave him in his kennel in a shady spot.
We'd traveled north from Silver City to the Cliff Dwellings, and northwest to the Catwalk. Before we left Silver City, we took one more adventure in a completely different direction -- this time southeast. The City of Rocks campground gets its name from the monolithic blocks scattered in an otherwise flat plain. It's a popular spot, the campground claims 50,000 visitors a year. (The number of visitors made little difference, however, to one of the locals). The hookup section is very nice, with fairly wide, level sites, but if you don't need hookups, you can find spectacular, private spots right between the rocks.
Opportunity took us to Silver City, and we'll seize it again as we head further west. We won't retrace our usual steps through southern Arizona and California. We're headed into the White Mountains of Southeastern Arizona, and then north toward Page and Zion. Where from there depends on our whim, the weather, and Ms Opportunity.
---
Postcard: Exploring Seminole Canyon
March 12, 2007
Our Amtrak trip from New Orleans to Chicago was something of a miracle -- not only was the train on time, it came into the station almost an hour early! However, we don't travel by rail because we need to be on time or be early, but because we enjoy this mode of travel. Thus, when we heard that two freight trains had collided and derailed on the track to Washington, DC, we were prepared for the 6 hours delay arriving at that station. This delay curtailed our already short visit with our friends; however; with their expertise, we still managed to pack two days' exploring into one. We were escorted on a whirlwind tour of the city. I was especially moved by the Korean War Memorial, which depicts a platoon of soldiers slogging through the countryside. The fact that D.C. was experiencing a late season snowstorm just made the Memorial the more poignant. We toured Embassy Row, and I tried to guess which embassy was which. Some, the British and Russian, were easy; others close to impossible unless you walked up to their front gate. We had a late and luxurious lunch at the Old Ebbitt Grill, the oldest "dining saloon" in Washington DC, right across the street from the Department of the Treasury and down the block from the White House. I looked in vain for any important politicos I might recognize (in addition to our hosts, or course!). All too soon, it was time to reboard the train for our return trip to New Orleans.
The time has finally come when we must start thinking about going home. Eventually there's no more waking in the morning and lazily deciding, after several cups of coffee, that you'll spend at least another day right here (wherever here is). Obligations are beginning to call us, and we'll have to start home. That decision made, all that left was which route west to take.
Its hard to avoid Houston when you are anywhere in eastern Texas. Each road seems destined to take you through the center of the city, and all roads lead to Houston. But we'd paid our dues driving east, and once was enough. We were determined to find alternate routes on the western leg of our trip. Ms Garmin, our trusty StreetPilot 2620, would be of little help -- she seems to go out of her way to put us on an Interstate. Out came the paper Texas map, which by now had been folded and refolded so often it's in danger of disintegration. We'd return on the blue lines, the lesser used routes which are often the most direct and are always less traveled.
Highway 190, a picturesque two lane road, was our road of choice. We could avoid the construction that is Houston by circling around it -- way around it. We never got within 60 miles of the city. We spent an evening in Livingston at Rainbow's End, the Escapees' home park, then circled west through San Marcos and south through Victoria for a return trip to Goose Island State Park. We may have logged more miles this way, but the trip was much more relaxing, and probably didn't take much more time, given the construction delays.
In my experience, driving Texas "back" roads is unlike driving in any other state. Even the minor farm roads tend to be straight, with incredibly wide shoulders, and, of course, much less traffic than on the Interstates. But beware the speed! The usual maximum in Texas for cars and trucks (everything but the 18 wheel variety) is 70 mph during the day and 65 at night. (On I-10 outside of El Paso, add 10 mph to that figure). Since many drivers will exceed the posted speed, it's not unusual to find a car or van right behind you, waiting for a place to pass. Now's the time you're glad of those wide shoulders. The "slower" vehicle, (the one not going 70+) pulls over onto the shoulder -- without slackening its speed. The passing car will shoot by, even if there's a car in the oncoming lane. It's not unusual to see this happening simultaneously in each lane. Imagine -- 4 cars abreast on a two lane road!
In a big RV, this maneuver takes nerve -- more than I have. I have a mental picture of over correcting and driving us right off those big wide shoulders. Early on, I decided that I'd pretend I was in a state other than Texas, or pretend I didn't know the Texas rules.
We spent another night at the Triple R RV Resort in Crystal City, and were surprised to learn that the whole ranch is being put up for auction. That was the bad news; the good is that they will be open at least another season, and it's not inconceivable that the current owners will continue to operate it. I surely hope so; we look forward to a return visit.
Texas is divided into several sections; you might find yourself on the Gulf coast, the "Piney Woods", the Panhandle or the South Texas Plains. However the giant of these sections is certainly the Big Bend country, aka West Texas. Stretching from Del Rio in the east, past El Paso, 424 miles west, clear to the Mexican border in the south and up to Midland-Odessa in the north, this lonely sagebrush covered country seems to go on forever. Even when you know you've entered another section of the state, you can still find remnants of the West Texas countryside. Too many people drive straight through -- headed for the attractions of the big eastern Texas cities or the gulf coastal waters. Others think that Big Bend National Park is the only West Texas attraction. But there are other reasons to stop here; you might explore Fort Davis, or look for the Marfa Lights. We've walked the shores of the Amistad Reservoir near Del Rio, and seen where Judge Roy Bean dispensed justice in Langtry. And now we can say we've hiked through Seminole Canyon.
Seminole Canyon is a 2,000+ acre park, 9 miles west of Comstock on Highway 90. We'd heard of this historic park from other RVers, who told us about the tours to the numerous pictographs, those paintings made by the early inhabitants of the area between 2,000 and 8,000 years ago. We'd always been "going to stay, on our very next trip". Today, although it was barely noon, we decided to stop.
We detached at the Visitor Center, and went in to pay for a campsite. "I can only let you stay for one night" we were warned, "it's Spring Break". (I would have expected the campgrounds in Big Bend or Goose Island to have been full, but it seemed a bit odd for a 30 site campground out in the middle of the Chihuahuan Desert. I was wrong. Overnight, tent campers and popups filled the park.)
We signed up for the next Canyon tour, and were back at the Center 90 minutes later to meet our guide, Jack Johnson. Jack is a graduate student in anthropology from Texas Tech in Lubbock, currently living in Comstock, working on his Masters' thesis. His enthusiasm for anthropology in general and the Indians of this area in particular made him a fabulous tour leader. With only six of us signed up for this tour, touted as a "moderately strenuous" two mile hike, it was a wonderfully small class, with lots of opportunity for discussion. Jack told us we'd descend about 275 vertical feet into the canyon, and (said with a smile) the trip back up would be about 1,000 vertical feet...
At the start of the trail is a seventeen-foot sculpture depicting a shaman-like figure honoring the legacy of ancient Indian rock art. It set the tone for a trip back into time, a time when the shaman was the most important figure in these peoples lives, connecting them with their past and future. As we walked down the steep trail, Jack stopped several times to point out a plant and explain not only what it was used for, but how it was prepared. We learned how a plant, normally poisonous, could be steamed, sliced, mashed or crushed in such a way as to become edible.
We reached the Canyon floor and started along the trail toward the pictographs. These particular pictographs are found in shelters, areas which resemble open caves, rock overhangs under which people actually lived. (Others can be found in strictly ceremonial areas). The pictographs center around the figure of the shaman, the healer, who it was believed could travel between the worlds of men and spirits. Jack pointed out the similarity of these figures to some created by the Huichol Indians of Northern Mexico, and even to the aborigines of Australia. He described how the Indians made their paint, how they probably used animal fat as a bonding agent in the paint, and the strong evidence of just how important art was to these ancient people. He pointed out the deer figures in the paintings -- deer with peyote buds on their antlers -- something I most certainly would never have noticed.
There were three separate areas where we were able to view the pictographs, the last being the most vivid. With Jack's fascinating analysis and descriptions, the figures sprang to life.
He was so enthusiastic about the pictographs, and so knowledgeable about them and the people who created them, that his 1 1/2 hour tour stretched to 2. We loved every minute. On the way back, he gave us a real live demonstration of the use of an atlatl, the ancient throwing stick, and a "rabbit stick". The latter is shaped much like a boomerang, but is not designed to come back. However, when thrown with skill, it's lethal to the rabbit.
As we were leaving the next morning, Tom noticed a white van with an unusual emblem on its door -- "The Rock Art Foundation, Lower Pecos Guides". This foundation is attempting to protect Texas' large and diverse body of rock art. Members were instrumental in convincing the state to purchase the land where the state park and historic site now sit, and own the nearby White Shaman Preserve, where examples of ceremonial rock art may be viewed.  Volunteers come each weekend from San Antonio to help the park with its tours, freeing the staff for other activities. In a time of strained budgets, no doubt we can all thank these volunteers for continuing to make this treasure available for visitors to the area.
I could have stayed another day and taken yet another tour, but it's time to head west. Tomorrow we'll be back in Las Cruces, with a routine service appointment for the rig. We've looked at the weather forecasts for Arizona and southern California, and they range from very warm to downright hot! If those estimates hold, we may just plan an alternate trip north -- Utah, anyone?
---
Postcard: Betty's Magic
February 27, 2007
Think of Mardi Gras in Louisiana and you'll probably envision the fancy floats from New Orleans, loaded with gaily dressed revelers, throwing beads to waiting throngs. You might imagine the fabulous parties, men in white tie and tails, women in long flowing ball gowns, bowing to the King and Queen of the hosting Krewe. But there are other forms of Mardi Gras, those found in the small towns and countryside of Acadiana, the fabled Cajun country. That's the kind of Mardi Gras Tom & I were looking for, and Betty's RV park, in Abbeville, is right in the heart of this area.
It isn't the largest of RV parks -- Betty only has 15 sites (all 50 amp full hookup). It isn't the most luxurious of RV parks -- if using the standards set by Woodall's or Trailer Life. But your welcome at Betty's is unequalled in our experience. Whether it's your first visit or your 10th, you feel like you've just come home. Betty comes out to greet you, gives you a hug, and presto, you're a regular. Other parks may have "planned activities", such as bingo on Wednesday evening, or horseshoes every Friday; Betty suggests a swamp tour (with a specific tour guide), or dinner at Cajun Claws, the local hot spot for crawfish. Every evening, when you're not busy doing something else, like dining out at the Depuy's Oyster shop or taking in just one more Mardi Gras parade, Betty hosts a happy hour on her patio. If you're lucky, you might just get to sample her home made gumbo, complete with a fabulous hot sauce only she knows how to make. The morning we left, she put together a breakfast -- which included a southern staple, bread pudding. No wonder RVers love it. Our stay at Betty's was like being on a caravan -- without the hassle of travel. Instant friendships everywhere, and laughs (often at one another's expense) galore. No wonder one survey listed this small gem among the top 25 RVers' choices in the U.S. If you haven't been to Betty's, you've a treat coming. That said, I'd recommend a reservation well in advance -- especially at this time of year.
Mardi Gras in New Orleans is Carnival. Mardi Gras in the countryside is costumes and horses and chickens. These traditions come from France in the Middle Ages, when February was the starving time. The crops of summer were largely gone and the people were hungry. They were forced to beg for food, but, being proud, put masks on their faces to hide their identities. Now, in such Cajun towns as Eunice and Mamou, these traditions are reborn. On Mardi Gras day, whole families join in the Courir de Mardi Gras (the "Mardi Gras Run"). They put on costumes, hide their faces with masks, and, on horseback, in carts or on foot, parade through the countryside. They go from farm to farm, begging for food. This food can be anything from boudin (sausage) to rice, but it's more fun with chickens. The selected farmers always agree. "You want this chicken? Sure", and the farmer picks up a chicken and throws it into the air. The traumatized chicken flaps away, and the revelers chase after him, to bring him back for Mardi Gras gumbo.
We spent Mardi Gras in the countryside near Mamou seven years ago, and would have returned, but Mamou was a bit too far from Abbeville for our plans. Betty's group was going to a parade in Lafayette, and we hoped to join them by late morning. We figured we could get to Eunice, watch some of the Courir, and still get to Lafayette in time to join our group. However, no one seemed to know just when the Eunice festivities were going to begin. The word on the Internet was 8 am, but the Chamber of Commerce said 10 am -- in town. However, at 9:30, downtown Eunice was strangely empty.
We were half way through town when Tom heard faint music. We drove in the direction of that music, and quickly found the forming parade. Located about a half mile southwest of town, it was headed off on narrow country lanes -- and directly away from Eunice. And, according to the parade marshall, it wouldn't return to Greater Downtown Eunice until mid-afternoon. We easily found a place to park, and joined a small groups of watchers as the colorfully dressed paraders on horseback rode by. No barricades here, you could be as close to the riders as you wished. And they could be close to you, too. One ran up to us, took our hands and danced us around in a circle. Another threw me a string of particularly attractive beads, and when I bent down to pick them up, pulled them back. The beads were attached to some fishing line, which I hadn't noticed. It was all goodspirited, lighthearted fun.
Then we headed to Lafayette, to join the group at the King's parade. We'd thought we would be late, and were expecting to see only the final few floats, but a some sort of glitch had put the parade well behind schedule. Bad for those who had come early to get a good seat, great for us. While we never caught up with our friends from Betty's in the large crowd, we found a place very close to the barricade, probably vacated by someone who had lost patience with the wait. This parade was more like those in New Orleans. with glamorous floats, sparkling beads and lots of spectators.
Two dissimilar parades behind us, we were headed back to Bettys, when we stopped at a nearby grocery store. "You have to go to Kaplan's parade", a clerk told us. "It's one of the best parades around and and you still have time to get there". (Kaplan is only 10 miles west of Abbeville). This parade was a small town parade, a bit larger than the Courir in Eunice, and much smaller than the one in Lafayette. The main street was closed to traffic, and patient drivers had turned off their engines and were also enjoying the parade.
After three parades, Tom & I both felt we'd fully sampled Louisiana countryside Mardi Gras. We have a box stuffed full of colorful beads and some great memories.
Mardi Gras was especially poignant for Louisiana citizens after the catastrophes of 2005, when Hurricanes Katrina and Rita devastated the state. We've all heard varying stories about the disaster -- stories centered around the destruction of large parts of New Orleans. Katrina had the lion's share of attention. Rita, a more powerful storm (with stronger winds but less water damage) received less publicity -- at least to the"outside" world.
We heard our first Rita story from one of the Volunteers at the Visitor Center located just a few miles into the west side of the state. She described Rita coming ashore, right up the Sabine River (the western boundary between Louisiana and Texas). She described having no electricity and no water, and the lines of people waiting to get the blue tarps that FEMA was distributing as temporary roof covers. (Learning about these tarps, I started looking for them, but en route to Abbeville, we only saw the very few that remained. We did, however, see a lot of brand new roofs). She proudly described how neighbors helped neighbors. She told us that, everyone, "rich or poor" worked from dawn to dusk getting everything restored. She praised the Red Cross and the Salvation Army for their help. She was less than enthusiastic about the media attention that New Orleans has received from the devastation of Katrina. In her view unlike residents in the path of Katrina, those who suffered devastation at the hands of Rita did not place their primary reliance on government help, but rather worked took matters into their own hands to the extent possible and worked relentlessly to overcome the damage and devastation. When we asked about FEMA, she said, "You don't talk about FEMA in Louisiana". According to her story, certain of the major insurance companies are now held in low esteem because of the way they handled (and in many cases didn't handle) hurricane damage claims.
The owners of the Whispering Meadows RV park just west of St. Charles told us much the same story; very proud of their neighbors and their commitment to each other. Just how much the hurricane continues to haunt them was obvious from the office computer's screen saver. It featured before and after pictures of of those hard hit communities in southwest Louisiana. The devastation was much worse than I could have imagined. One set of pictures showed Holly Beach, a small fishing village of probably 100 structures. Before, neat rows of houses....and after, only the scattered remains of their foundations.
At a pre-Mardi Gras parade in St. Martinsville, we met Brad Kemp, photographer for the Lafayette Daily Advertiser. His story was about the effects Katrina was still having on those who had remained behind, attempting to put their lives back together. Without much outside help, people were giving up. His mother was joining what Brad described as an exodus -- out of the city and across Lake Ponchartrain, to smaller communities which Katrina had largely spared.
Our plans called for a trip to New Orleans -- to catch the train to Chicago and Washington DC. There, we'd spend a day with Tom's best boyhood friend and his wife, and then take the train back to New Orleans. We put Barney in "jail" for a few days in Abbeville, and took off east -- into a completely different Louisiana -- one hard hit by and still having exceptional difficulty recovering from Hurricane Katrina.
I'd heard about FEMA trailers. I imagined RV park after RV park with no "traveling rigs" -- just trailers converting RV parks into less attractive make shift emergency housing. West of Abbeville I thought I'd seen a few such trailers, but they were so widely scattered, I couldn't be sure. East of Abbeville, however, the trailers became easier to spot. They are completely white, with no recognizable markings. Each is parked uncomfortably close to the next; each has identical wooden steps leading up to identical small porches. I saw little evidence that the FEMA trailers were actually being lived in -- no children's toys scattered around, no barbecues or other implements in the tiny yards. One park was divided into two sections, one for "regular" RVs, the other full of these white trailers. As we got closer to New Orleans, I saw more of these trailers -- not only in RV parks, but in parking lots, or in commercial areas next to the freeway. Now blue tarps were much more prevalent -- every direction I looked, there they were -- 18 months post Katrina.
The New Orleans RV park is a brand new park, just opened early this month. The owners have grand plans for this park -- they expect to add a condo section, a large clubouse, and many more sites. Unfortunately, their financing was scheduled to close a few days after Hurricane Katrina hit, delaying until this month opening even the first phase of the park. C.J. and Jeanne, the park managers, were extremely hospitable and even drove us to the AMTRAK station so we didn't have to leave our tow car downtown. Many of the rigs here are connected in some manner with hurricane reconstruction. The park fronts on the Intracoastal Waterway right next to a large marina with luxury yachts tied to its docks. In stark contrast to the opulence of this waterfront is the 8 foot wall right across the street from the park -- the "levee" marking the boundary of the upper 9th Ward.
The route to the closest grocery store took us past part of the upper 9th. We looked down deserted streets, saw empty houses with holes in their roofs, and only basic framing determining where rooms had once been. Few blue tarps -- fewer people. The houses looked completely destroyed, and even if one in every four houses is salvageable, we wondered who'd want to live in them -- or rebuild in such a vulnerable location.
The hurricane stories are many and varied, and Tom and I only heard a sampling. There is a compelling feeling of empathy for the former residents whose lives where shattered by Katrina. It's a far greater tragedy than I could have imagined. And when I think of the chances of a repeat hurricane, or the compounding effects of tornados such as the one that recently touched down within 165 yards of the park, killing one woman in her FEMA trailer only two weeks before we arrived, I have to wonder whether it makes sense to rebuild much of this area.
Only time will tell what happens to New Orleans. It's hard for me to reconcile the utter devastation of the upper 9th ward with the opulence of the Krewes of Carnival, but that's New Orleans. If Mardi Gras celebrations help bring back its citizenry and tourists as well, and there are no more devastating Katrinas, perhaps there'll be a happy ending to this story. But questions surely remain.
Now we're off on Amtrak for Chicago and the east coast. We've packed all the wintry clothes we brought along on this trip, (not many), in anticipation of windy, snowy weather. We're looking forward to seeing our very good friends in D.C. before returning south again to bail Barney out of "jail", and heading west once again.
---
Postcard: If You're Gonna Play in Texas..
February 18, 2007
I am an inveterate counter of mileage markers. A repertory of useless information is stored in my head, including the distance (marker-wise) across several states, or where rest and fuel stops are located, again by noting mile markers. Therefore, I couldn't help but see that the last marker in Texas is number 880! And that's if you go the short way -- from El Paso on I-10. If you hurried, I suppose you could drive across this huge state in just a couple of very long days. But for us, the fun of RVing is to be able to take our time and explore. We mapped out a "wander route".
Our jumping off point was the Hacienda RV Resort, in Las Cruces, NM, about 25 miles from the Texas state line. Hacienda is a "concierge" type park, where the helpful desk attendants can get you a free pass to Gold's Gym, or a discount rate at the golf course at New Mexico State. Sites are gravel, and several have side by side hookups, but they're so positioned that each has a private patio. Just down the road a couple of miles is the historic town of La Mesilla, with excellent restaurants and small shops. Perfect for an afternoon of "just looking around".
El Paso traffic wasn't as bad as it can be, and I was delighted to find they've finally finished the construction which stretched for miles east of the city. We followed I-10 as far as Van Horn, then turned southeast on US 90 to Valentine. Valentine is a tiny spot in the road; but it's very popular at this time of year. Every February, the Valentine post office is inundated with patrons, each wanting to send Valentines from Valentine. People even use double envelopes and mail their cards to Valentine, where the post office workers open them, cancel the stamps, and send them on. A yearly competition is held to create fanciful cancellation stamps, so when you get a Valentine's card from Valentine, the right hand corner will have a large red stamp on it, full of hearts, cupids and curlicues.
The Lost Alaskan RV park is about 4 miles north of Alpine on the road to historic Fort Davis. The Alaskan owners claim to have become lost while in this part of Texas, and decided to stay. They've set up a very nice park, with long gravel sites, a large clubhouse, great restrooms and laundry, and the friendliest staff imaginable. You can use this park as a jumpoff point for exploring Big Bend National Park, or travel north to Fort Davis.
From 1854 until 1891, troops were stationed at Fort Davis to protect travelers from Comanche, Kiowa and Apache attacks. The first fort was located up a box canyon, several hundred yards from the present one. There was some controversy over the placement of that fort, one theory being that you'd be trapped in a box canyon; another that it was the perfect place to defend. There's nothing left of this original fort, but you can hike into the canyon and let your imagination take you back to the mid 1800's. During the Civil War and after Texas' secession from the Union, the Union soldiers withdrew from the fort, and the southern soldiers didn't have the manpower to maintain it, so it was empty until 1867. At that time, the building of a new post began, located in its current spot. It was finally abandoned in 1991.
Today, you can tour the restored buildings of that fort. At the Visitor Center, Tom and I viewed the 15 minute movie on the history of the Fort. The movie is narrated by Kareem Abdul-jabbar, which surprised me until I realized that the history of this fort is entertwined with that of the Buffalo Soldier, those Black infantry soldiers who served on the southwestern frontier. It's an excellent presentation -- a piece of American History that too few of us know.
Every 10 minutes or so, you'll hear a recorded bugle call. These are meant to replicate the calls that regulated the lives of the men at this post, from Reveille in the morning, the Mess Call at noon and Extinguish Lights each evening. An excellent way to help you envision what it must have been like here on the frontier.
Our next stop was planned to be Quail Ridge in Uvalde. But this was Sunday, and when we called for a reservation, we found their office closed. Uncertain if there were any available sites, we drove into Uvalde, detached the Jeep and went out to the park. We found an empty site or two, but the office was indeed shut, and somehow that didn't seem very inviting. Also, all the sites are located under spreading oak trees, great for shade, poor for getting satellite reception. We'd heard of another campground, one located some 30 miles south in Crystal City, the Triple R Resort RV park. We called, they were open and very friendly -- and so we headed south.
To our delight here we found a gem of a park. We turned in on a long driveway, through a ranch style gate, past cattle pens on one side and a field of grazing cattle on the other. Rounding a turn, we found a pen of pigmy goats, one, newly born and extremely tiny, standing under its mom. Just past the potbellied pigs was a wooden cabin -- the "office" for this unique place. We were greeted by Barbara Rice, owner of the park, who explained that we were on a south Texas "working" ranch. Wouldn't we like to hike their Nature Trail, do some south Texas birding, and watch the cattle drive the next day? Would we ever!
There are two types of sites: Those set in the trees along the Nueces River, and others in the open fields near Oxbow Lake. The latter sites each have themes, the alligator site has an alligator sculpture with large silver balls for eyes, another, the birding site, has an ornamental parrot cage and a birdfeeder. Ours had two metal mariachis, each about three feet tall, one with guitar, the other with drum, standing in front of a rustic palapa over our picnic table. We looked over the mid-size lake, where I was delighted to see Gadwalls swimming -- a first sighting for me. Add in a nature trail, the fact that we hadn't yet seen the Zdonks (a cross between a zebra and a donkey), and that they were planning on rounding up the cattle the next day, and we turned our planned overnight into a 2 day stay.
Next morning we went to see the Zdonks. The ranch has two zebras and two donkeys -- and several small animals which look like donkeys -- until you notice their striped legs and dark hair down the middle of their backs. We walked the 2.9 mile nature trail and came upon two whitetail deer, a doe and an 11 point buck. These however were penned, and had been raised by Barbara almost as pets. They were absolutely unafraid of us, and even ignored Barney. He couldn't figure out what those things were, and was appropriately cautious.
The next day we watched a modern day round-up. Instead of horses, two men on foot and two in pickup trucks surrounded a herd of cattle, and, with few miscues, got them encircled, across a road and into pens. At the very last second, one lone cow bolted from the herd, jumped the fence and ran back into the field, but her independence was short-lived. All were corralled and moved to another pasture. The stage was set for the burning.
Around 3 PM, groups of men with kerosene soaked cloths and something that resembled a propane burner, assembled at the south end of the field and began to set it afire. It's been a rainy couple of months here, and the fire burned fitfully, and I wondered how they would get the whole thing burned by dark. It appeared that at least 80 acres was the "tall grass" that they were planning to burn. Perhaps they'd let it burn overnight? But the fire took hold, and raced across the grasses, creating tornado-like whirlwinds as it went. RVers came out to watch the spectacle, setting up lawn chairs in the road. South Texas style entertainment.
Since we'd stayed longer than anticipated at the Triple R, we had to cut our stay on the Gulf Coast a bit short. I'd wanted to spend a day in Port Aransas at the Pioneer RV Resort, both for old times' sake, and because this property is about to be sold for development. One day, expensive homes will stand where RVers now play, and access to the beach will be much more restricted. However, Goose Island state park will probably survive, and we headed there.
We had to spend one cold and breezy evening in overflow, but this is one of my favorite overflow areas. You park on asphalt, right next to a large grassy area, set with picnic tables. There's a community center right next door with meeting hall and restrooms. Walk a few yards out to the water and watch herons, pelicans, terns and an occasional spoonbill. Who needs hookups with a panorama like this!
The next morning we headed for Port Aransas just for a quick look-see. Like other Gulf Coast towns, it's becoming a suburban city. Development after development of luxury homes now line the salt marshes. Some enterprising developer is building a golf course. Pioneer RV park was completely full (we were glad we hadn't relied on a place there), and the homes are creeping up on it from the south. I doubt it will survive more than another season or so.
Back to Goose Island, where the crowd had cleared out and we had our choice of sites -- the Bayfront (50 amps) or the wooded area (30). Since the wooded area is much more protected from the wind, we found one complete with table, fire ring, lots of birds and the biggest squirrel I'd ever seen. We set up and took off exploring again -- this time bound for the Aransas Wildlife Refuge.
This Refuge is best known as the winter stronghold of the endangered whooping crane, although you'll see lots of other wildlife here as well. On our first visit to this area, we took a boat out to see the cranes, and that remains the best way to see them. But we just didn't have time for that this trip. I'd brought my binoculars and we were able to spot several pairs from one of the Refuge observation towers.
We were a bit disappointed to learn that the Refuge was doing its Spring burning, and access was restricted to the bayfront half of the area. But we needn't have worried. This time we saw more wildlife and birds than we had on previous trips when everything was open. When we wandered through the little museum at the visitor center both of us had noticed the stuffed wild boar. He was described as "larger than a javalina, with a small, curly tail". We weren't more than a mile down the road when, right out in front of us, trotted a boar. It seemed huge, far larger than any javalina, and we didn't need to notice the small, curly tail to know what it was. Barney was fascinated; had his window been rolled down any farther, I'm sure he would have jumped out to meet this new playmate. By the time we left the Refuge, we'd added two whitetail deer, canvasbacks, moor hens, whooping cranes and spoonbills to our list.
There's almost no way to get across Texas without being sucked into the vortex of Houston. We spent a night a bit south of the city, at the Space Center RV park. Since we had only a short day's drive (or so we thought) the next day, we had a leisurely breakfast and headed east -- right into the arms of the worst traffic construction mess possible. It seems that the Texas DOT has decided to reconstruct Interstate 10 all the way to the Louisiana border -- ALL AT ONCE. Mile upon mile of 10 foot wide lanes bordered by concrete barriers, with 18 wheelers roaring past at well beyond the legal limit. Thank goodness Tom was driving, for once you started, there was no place to stop to change drivers. At one point, the lanes narrowed down to one, and it took us a hour to go two miles! We decided that when we head west, there's no way we're going back anywhere near Houston. We'll take our chances on a more northerly route.
Once over the Louisiana line, we stopped at the Visitor Center for some well deserved R&R. Now it's less than 100 miles to Abbeville, to Betty's RV park, and a Cajun country Mardi Gras.
---
Postcard: "But, What do you do There?"
February 9, 2007
That was the question I was once asked by a golfing friend of mine. She could not fathom what anyone could possibly find to do in the Southern California or Arizona, unless they spent at least three days a week playing golf. I spent the next half hour describing all the activities Tom and I enjoy on our winter treks, driving and hiking the back roads, geocaching, and birding.
We started our Arizona adventure with 5 days at Usery Mountain Regional park, a gem of a desert park covering over 3,000 acres only 5 miles north of Mesa. Just exit the 60 at Ellsworth and head for the hills! After you thread your way through the ever increasing maze of housing developments, you'll suddenly find yourself in an area that is pristine -- still the same as it always has been. We were surprised to find sites available; often we've had to spend a night in overflow before getting an assigned spot. But this season, not only were there empty sites, but we learned that the park had not yet been full. However, when we read those little tags marked with exit dates mounted at each site, we found few overnighters. RVers are staying longer, and that, along with the relative availability of camp spaces, could well be due to the price of fuel.
One of the attractions of Usery is its sites -- large and level with water and electric, picnic tables, fire pits and barbeques. Each is set well apart from the others and supplies your own private desert, with cholla, creosote bush and saguaro. The Superstition Mountains loom large to your east, and at night, you can enjoy the light reflecting from the nearby big city while listening to the soft "hoo, hoo" of Great Horned owls.
I enjoy watching birds, and I often put out feeders to attract them. In past years, my feeders have often lain empty, however, while the birds flock to others. But this year has been different. Considering the types of wild bird seed now available, I guess I shouldn't have been surprised to attract such a horde of finches, sparrows, woodpeckers and curve-billed thrashers. Not just plain seed; bird food bags now contain cherries, berries, nuts and raisins scattered in with the sunflower and flax seed. I've eaten breakfast cereals with far fewer ingredients. No wonder the birds adore it! I found myself refilling the feeders several times a day.
Usery is laced with hiking trails, of varying levels of difficulty. You can climb the relatively short but steep trail to the wind caves, or take the 7+ mile trail around the base of Pass Mountain. There are more Ranger programs this year, including campfire programs and nature walks -- one, which we unfortunately missed, was about taking your dog for a walk in the desert. We hiked several of the trails in the park, visited with old snowbird friends, and somehow the days just melted away.
We have the better part of two weeks to get to Betty's RV park in Abbeville, enough time to just "putter" our way eastward. We spent a couple of rainy days at Fiesta Grande RV park in Casa Grande, getting caught up on RV chores, and enjoying dinner at BeDillons. This Southwestern style steakhouse has terrific food, and a great ambience. If you're ever in Casa Grande... Then we headed south to Tucson.
We were a bit concerned about finding a place to stay in the Tucson area. In late January and early February the city hosts its annual Gem show. Billboards gaudily proclaim each venue, and white tents line each side of the Interstate. You'll see more of these tents set up in vacant lots and parking areas, and many of the hotels and motels have booths set up in their lobbies. Thousands of people come to town. It's reportedly impossible to find a hotel room, and the RV parks are packed. But we know a place where you can usually find a site. We headed to Gil Ray.
Gilbert Ray campground (called "Gil Ray" by most RVers), is located on the west side of the Tucson Mountains, about 12 miles from the bustle of the city. The sites are arranged in 4 loops, "A" and "B" on the hill overlooking the desert can be a bit small for some rigs, although our 34' Alpine fit in nicely. Loops "C" and "H" are a bit larger, and are on the level desert floor, nearer the campground office. Each site has 30 amp electric and picnic table. (No campfires, however -- the area is terribly afraid of fire). As at Usery Mountain, you're camped in the desert; your neighbors are the birds that live nearby and an occasional coyote. And you're close to some of Tucson's family attractions. Just south of Gil Ray and within walking distance on a short trail is "Old Tucson". Long a favorite as a movie set, it's a model of a Wild West town, with wooden sidewalks lining dirt streets, a saloon and hotel, and daily gunfights.
We took our kids to Old Tucson when they were young, and they enjoyed seeing the old jail, the gunfights and daily show. Now, Old Tucson has lost some of its allure for us -- we look forward instead to our annual visit to the Arizona Sonora Desert Museum.
Driving south from Casa Grande, we left the freeway at Marana, 15 miles north of Tucson and came around the back way, through the Saguaro National Park (west section). It's a shorter route and very scenic, a narrow, winding rollercoaster of a road, with saguaro on one side and a vista out the other toward the Tohono O'odham reservation. We found a spot in loop B, I hung my feeders, and we planned our next day's museum visit. We would be visiting on a Saturday, so the hordes of school kids wouldn't be there, but we might run into other tours unless we went early. So, next morning at 9 am sharp, we had our tickets and were walking through the turnstyle of the Desert Museum.
The museum is a combination zoo, natural history museum and botanical garden, all rolled into one. It's laid out in sections -- each re-creating the natural landscape of various parts of the Sonoran desert region. For example, when you walk through the Mountain Woodland section, you'll see the plants, birds and animals you'd likely see there. Other sections include Desert Grassland (complete with prairie dogs!) and a Desert Loop trail, with javalinas and coyotes.
One of the benefits of our early visit was immediately apparent: the docents, often busy giving talks to visiting groups, had time on their hands. We were walking down the Desert Loop trail when we saw a docent watching a small group of javalinas. She pointed out one enterprising male who had dragged some prickly pear cactus up next to the fence, and by careful munching of their edges, had made the leaves small enough to be pulled through. I was concerned the javalina would manage to pull the whole fence down, as these fences resemble nothing more than large loop netting, dark colored and virtually invisible, and seem much too fragile to contain a javalina bent on escape. But after talking with this woman, I now much better understand just how these fences work. They are much stronger and better anchored than they look.
We wandered slowly along, visiting the walk-in aviary and the hummingbird area, and we were noting we'd been gone nearly three hours when we passed the museum's art gallery. The marquis in front told us that Project inSECT was just starting. Not having the faintest idea what that was, we went inside. The first thing we saw was a dozen or so very large pictures hung on the walls -- each featuring a natural history subject -- mainly insects. A picture of a scorpion -- many times normal size, was so realistic, I'd think you could use it in a science class. You could see all the segments in the legs of the huge Preying Mantis staring out at you from another canvas. They were all absolutely stunning.
The artist and her husband, Jessa and James Heubing-Reitinger, have developed this traveling art and science exhibit as a way of making people more aware of the need for conservation. Jessa was just beginning the background for a new piece, which will feature a hawk wasp and tarantula, and expects to be working on it until late April. She does the background first; when it comes to the wasp and spider, she will be looking at specimens under a microscope -- copying them, in a way. I'd think that would make painting them more difficult; it certainly makes them true to life.
While Jessa paints she discusses with her audience what she's doing, how and why she's doing it, answering everyone's questions. Meanwhile, James holds court with the kids, painting insects or birds on their faces and arms. He's an educator as well as an artist, and, according to Jessa, the tenacious force behind her project.
When he learned that neither James nor Jessa had yet visited Oregon, Tom got in touch with the High Desert Museum, located just outside of Bend. We'll hope to see Project inSECT up there soon.
Its only about 60 miles from Gil Ray to Kartchner Caverns State Park, just west of Benson. This park is one of our favorites -- great sites with desert vistas, and its right next door to one of Arizona's less known attractions, Kartchner Caverns. I've described these Caverns in previous postcards, and since we'd taken both the Throne Room and Great Room tours in 1999 and 2006 respectively, we didn't go this time. Instead, we headed for the artist town of Tubac.
I try to get to Tubac at least once every time we're in Arizona; I love to walk through the little shops and examine the jewelry, rugs, and sculpture that cram this little town. Tubac, like almost everywhere in Arizona, is growing, there's a housing development called the Tubac "Barrio" which we hadn't seen, and we noted some new and very upscale restaurants. But Tubac itself is still small -- only about 4 blocks square. Even a few tourists make it seem crowded. Imagine, then that the day after we visited, Tubac was to host its annual art fair, and expected 10,000 visitors. We chose the right day to go!
Now it's time to get serious about our eastern trek. We'll be off to New Mexico, to the Hacienda RV Resort in Las Cruces in the morning, and then tackle the enormity that is Texas. We're hoping for a couple of days on the Gulf Coast before heading to Betty's for a Cajun country Mardi Gras.
---
Postcard: Desert Rats
January 27, 2007
The last prize has been awarded, the last announcement pronounced, the last toast to all those attending this rally has been tipped. Our first Alpine coach Desert Rat rally is a thing of the past. What an interesting experience!
Although the distance is less than 150 miles from Needles to Quartzsite, we took two days to get there, stopping one night at Buckskin Mountain State Park, roughly 10 miles north of Parker, AZ. This is a small, 37 site park, of which the Trailer Life Directory paints a fairly inaccurate picture -- no slideouts , no reservations. Trailer Life to the contrary, slideouts are permitted and Buckskin Mountain does indeed take reservations. In fact, since we had none, we were relegated to the overflow area.
When we pulled in, the exceptionally friendly camp hosts apologized that we'd have to be in overflow, and went so far as to recommend which of those remaining sites we might prefer. Each overflow site has two parking spaces, one for the rig, another for the tow car, so that you can pull in and leave yourself a small area for camp chairs, barbeque, or, in our case, the dog. And this overflow area has some unique features that the regular sites do not. I keep a list of campgrounds where the overflow areas can be more interesting than the regular sites, and am adding Buckskin Mountain to this list.
During our travels, we've camped in other wonderful overflow areas -- on the beach at Isla Blanca on South Padre Island, where we watched the Skimmers (gull-like birds that scoop fish in their low slung beaks), cruising along over the waves right in front of our coach. (We liked this spot so much that next day we argued that we really didn't want to be in the regular areas, please just renew us where we were -- in overflow).. Further north on the Texas Gulf coast, we've stopped at Goose Island, a bit north of Rockport, where the overflow sites are much larger than the regular ones. When in Arizona, if you stay in overflow at Usery Mountain county park near Phoenix, you can overflow right next to your own private patch of desert. At Buckskin, while our electric hookup was only 15 amps, and we didn't have water or sewer (we were too close to the river for this last), we were backed up next to a cabana, complete with picnic table, barbeque and shelves for our supplies. Walk into this cabana from your parking spot, and walk out the other side to a river overlook. The park itself has large grassy lawns, great for dog and people walking, and there's a small store and museum. We'd have stayed another night, but Quartzsite was calling.
We'd worried unnecessarily that we'd not be able to find our group, thinking that since Quartzsite covers thousands of desert acres, jammed at this time of year with tens of thousands of RVs, our small rally would be lost in the maze. But the directions we'd been given proved accurate (even without GPS coordinates), and the ACA (Alpine Coach Association) signs every mile or so made it easy to find. We were ushered in, told to park wherever we wished and sent to the registration table, where our information "packet" outlined the rally events. There would be one day of "formalities", a membership meeting, announcements and Q&A session from the new Alpine management team. We'd also be treated to two catered dinners and one catered lunch. Aside from that we'd be pretty much on our own, free to explore this most unusual town and environs.
Quartzsite is quite small, with a permanent population of around 4,000, but in January and February it balloons to hundreds of thousands. RVers begin arriving in late fall to camp in the desert or in one of the more than 70 mobile home and trailer parks. Beginning in November and running through March, a series of RV, gem and swap shows attract more than 1.5 million visitors. Quartzsite hosts 9 major gem and mineral shows and more than 15 "swapmeeting" shows each season. We'd be in town for a major one -- the RV show.
One unique feature of Quartzsite is that as rapidly as it expands at the beginning of the snowbird season, it is equally quick to disappear a few months later later. While in town we learned there was actually a Camping World store in Quartzsite. That was news to us, but since there was one item we needed that perhaps only Camping World would have, we tracked down its location -- and found another large tent in the middle of what would otherwise have been merely a vast expanse of bare desert ground. We chatted with the Manager of this "store", and learned both he and the other employees were actually seasonal employees at two Camping World locations in New York. They were here for just a very few weeks during the peak season. In fact, he was greatly looking forward to Super Bowl Sunday, because on that day all the inventory would be sent back to other locations, the tent would come down and taken away, and there would not even be a trace left that a thriving Camping World store had been here the previous day. And he assured us that he would have everything finished before kickoff.
When I think of an RV show, I envision row upon row of RVs, all shiny and usually new, each with open door attracting a prospective purchaser. While many RV dealers make Quartzsite their winter home, and there are thousands of RVs available, if you want to look at various rigs, you must visit each individual lot. Quartzsite's RV show is actually an "RV stuff" show. The venue was easy to spot, as it was the largest thing in town -- a long white tent, domed like a circus tent, dominating the landscape.
It was easier to spot the show than get close to it; Quartzsite is well known for its traffic problems. Expect at least a two signal wait at each traffic light, and be aware that cars here often will pull out in front of you with no warning and less room. Cars, trucks and vans park in improbable areas, behind no parking signs, in shallow washes, and along the narrow shoulders of Highway 95. We were lucky to find a spot someone was just vacating, a spot where we could park without worry of getting hemmed in, a spot not too far from the tent. Along with lots of other folks we took the direct route to the show -- across a piece of land marked "State of Arizona, No Trespassing", through an RV park, over a dirt berm and down through a wash, angled across a narrow street and into the show area.
However hard it was to find a parking spot, that was easier than navigating through the RV show. Quartzsite boasts that its various shows attract between 1 and 2 thousand vendors, and it seemed they were all here this day. The area under the tent had been divided into 3 long (100 yards or more) aisles. Stalls jammed each side of each aisle, and visitors shuffled their way along, stopping abruptly when something caught their attention. And the wares for sale were so varied someone was always stopping. Everything from RV floor mats to cooking implements, from dog grooming brushes to cure all "potions", from outdoor firepits to generators, if you wanted it badly enough, you could find it here. Out of hats or leisure clothing? Need a Chinese massage or reclining chair? Want to travel to Mexico or Alaska, the Maritimes or Montana? How about joining a membership park?
Tom and I navigated up and down the aisles, dodging through the gawking crowds, avoiding the many small dogs out touring the show with their owners. Then we went outside to explore the stalls lining the tent's periphery. Here, the wares were a bit more of the swapmeet variety. One enterprising stall was divided into two sections -- one section devoted to tiny items -- small scissors, knives and tweezers, while another area (same stall) displayed diabetic sox! Also outside were the food vendors, selling everything from funnel cakes to curly fries, each with distinctive, competing aromas.
By now we felt we'd walked several miles just through and around the tent, and Barney was waiting for us. We left the expo area, retraced our steps, and returned to the car. Time to go back to our rally; it was almost time for dinner.
Since we were camped in the desert, where night falls early, and lighting is scarce, our rally activities came earlier than we'd otherwise have planned. Each afternoon around 4, we gathered for a social hour, followed by dinner. The after dinner campfire, a huge blaze in a large ring in the center of the rally area, was always well attended, but our favorite was the early morning fire. One enterprising Alpine-er got up each morning and started the fire. A true labor of love, especially when you consider our weather was not typical desert weather. The best that can be said for a couple of the days we were in Quartzsite was that it didn't snow. One day of rain was followed by a brisk wind, and the other days, while sunny, were unseasonably cool. We all huddled under the awnings of the show coaches during the membership meetings and announcement sessions, and wore all our warmest clothing to our dinners.
Our new group, the Alpine Coach Association owners' group, is an incredibly friendly bunch. The first evening, we were warmly met and welcomed by Wendy and Ed Meilinger, full-timers from Livingston, who invited us to join them for dinner and explained some of the "ropes" to us. (How else would we have learned that its against the law in Quartzsite to pass on the right -- even to pull out onto a shoulder when the car in front of you is making a left turn?) Our rally master, Gale Johnson, was a showman -- every evening his jokes and comments kept us all laughing. We look forward to sharing other rallies with this warm and wonderful group.
For now, we're headed east again, this time toward Phoenix. We'll stay a few days at Usery Mountain just outside Mesa, and then decide on our next destination, ever eastward, en route to Abbeville, LA and Betty's RV Park for a countryside Mardi Gras.
---
Postcard: Through the Needles' Eyes
Jan. 15, 2007
Before we spent a week here, Needles CA would not have rated high on my list of places for spending much time. Seen from the Interstate, the only view most motorists get, this town seemed a place to drive through, not to. It looks a typical, unprepossessing desert town, hunkered down along the Colorado River, trying to avoid the searing desert heat of summer, and the cold desert winds of winter. Several years ago, we'd stopped here for fuel, and found the prices here high even by California standards.
But Tom had a presentation to make in Las Vegas, and Needles, only 100 miles away, was a convenient spot to park our rig, while we spent a hotel night in "Vegas". Fort Mohave, just a dozen miles up Highway 95, had a good boarding kennel for Barney. Based on an earlier reader recommendation we opted to stay at the Desert View RV resort. It's located on Route 66, the old, pre-Interstate route from Los Angeles to Chicago. We'd learn a lot about this historical road during our week here.
We drove into the park, and pulled up to a sign which read, "please wait for hosts". We'd barely stopped when Len and Wendy Anderson came out of their RV and escorted us to our site. They registered us there -- no going into the office (there isn't any office at this park). We have a level gravel site with oleander bushes on either side. Just across the street is a large desert area full of quail and rabbits -- heaven for Barney. And, we've found, once again, that one can only learn about an area by spending at least several days there. Over the next week, we'd take several "circle" trips, visiting everything from wildlife refuges to ghost towns, enjoying both the barren desert landscape and the glitz of Las Vegas.
The first lesson was that one doesn't have to buy fuel in Needles. Just across the Colorado River lies Arizona, with prices up to 80 cents a gallon less. (I haven't figured yet why anyone who lives in the Needles area would buy gasoline here.)
If you are a member of the Good Sam Club, and read the December edition of Highways magazine, you'll know that Tom is the chair of a new group -- the RV Owners' Advisory Council. The purpose of this Council is to "help provide a constructive new avenue for dialogue between RV owners and other industry segments, including manufacturers, dealers, park owners, and others with interests in the RV industry". The reason for our trip to Las Vegas was so that he could make a presentation about the new Council to a conference of the Good Sam State Directors and Sambassadors (about 150 persons in all).
We left early one morning, dropped Barney off at the kennel and were on our way. We took AZ Highway 95 north from Needles to Bullhead City, another spot we hadn't visited in years. We've often reminisced about our first experience here, one so memorable, we simply hadn't wished to return. Then, we'd crawled through congested, dusty streets, battling highway construction, and found ourselves in the only RV park in town with any vacancies. (We were too new at RVing then to understand why this was so!) We'd pulled into our site, drawn all the curtains, pretended the outside world wasn't there, and left first thing the next morning. Even the fact that Laughlin, NV was only a free boat ride away wasn't enough to tempt us out.
20 years later, Bullhead City bears little if any resemblance to the city we visited on that hot and dusty afternoon. Construction is long complete, and the road through the city is a smooth 4 lane street. Even the stoplights behave, they're nicely set for cross-town traffic. A few blocks along, we passed the "Laughlin Parkway", the city bypass. We looked for the old RV park, but, along with the Bullhead City of our memories, happily it too has disappeared.
We spent a quite glamorous 24 hours at the Orleans hotel in Las Vegas. This is really a "full service" hotel. Once parked, we had no need to leave. Several restaurants, souvenir shops, all sorts of gaming, (though neither of us is much into gambling), and an afternoon magic show kept us entertained. All the Good Sam meetings were held in a large room on the second floor, and we enjoyed seeing how this organization is run. His ABA experiences left Tom an inveterate "schmoozer", and he had an excellent time.
Its proximity to Las Vegas and Loughlin may be one of the attractions which leads RVers to stay in Needles, but there are others -- ones you wouldn't find unless you spent a bit of time here. We visited the several wildlife refuges which line the shores of the Colorado River, and attempted to find our way into the Topock Gorge (accessible, we later learned, only by boat).
It was quite by accident that I learned about Oatman, AZ, a so-called ghost town on the Goldroad -- historic Route 66. I was looking up some nearby geocaches when I came across a description of this town.   Until 1940, Oatman and the nearby town of Goldroad were the largest producers of gold in Arizona. When the Interstate highway system went into effect, Route 66 was bypassed by Interstate 40. This had the effect, according to the Oatman Chamber of Commerce, of turning Oatman and Goldroad into "real Ghost Towns". All this and Oatman was only about 30 miles from our park.
We followed I-40 across the Arizona border and turned north toward the town of Golden Shores, where we joined Historical Route 66, also called the "Oatman Highway". The road is narrow and winding; in some places it was hard to tell where the road stopped and its shoulders began -- the colors of each were so similar. The scenery is simply spectacular, a narrow ribbon of road winding across miles of creosote laden desert to a horizon of stark mountains.
As we approached Oatman, we noticed a sign, "it is illegal to feed the burros outside the city limits". "Oatman-ites" want the burros to stay in town. One of the town's attractions is its population of burros, descendants from the Gold Miners that brought them to the area as pack animals. When the gold mines of the area shut down, the burros were set free. A sign in town warns that these are really wild burros, and they will kick and bite, but you wouldn't know that from seeing the tourists pet them and feed them carrots. (You can buy carrots at some of the stores in town, in case you forget to pack your own.) You'll also see them nosing into cars looking for handouts; leave your windows up if you don't want an inquisitive burro nose in your things!
To me, a ghost town is a place where no one lives, where the buildings are relics of times long gone. That is not exactly true of Oatman. Indeed, Oatman claims to get over 500,000 tourists a year, and has a population of several hundred. Many of the buildings are just shells, and some areas are closed to the public because of the danger from old mine shafts, but the town itself is alive and thriving. The buildings haven't been re-created to look old, they are old. But the tourist items sold inside are the same as you'd find in other western towns. As in other western "ghost towns", (Tombstone & Old Tucson), there are "gunfights" staged on weekends.
The history of Oatman is as colorful as the burros in the streets and the weekend gunfights. It's named for Olive Oatman, a girl captured by Indians on February 18, 1851. "Olive and her sister Mary were captured, their brother Lorenzo left for dead, and the rest of the family massacred. The girls were held as slaves for a year at a village near the site of modern Congress, Arizona, then sold to a Mojave chief near Needles, California, after a march of several hundred miles. Olive and Mary's chins were marked with indelible blue cactus tattoos to proclaim their status as slaves, and they were forced to forage for their own food. In a subsequent year of drought, Mary died of starvation and abuse. In the winter of 1855-56, the army located her, [Olive], and began negotiations to free her. On February 28, 1856, wearing a bark skirt and able to speak only a little English, Olive was ransomed at Fort Yuma, Arizona, for a horse, blankets, and beads. There she was reunited with Lorenzo. "
From Oatman, we continued north east along Historical 66 toward Kingman. The road, never wide, narrowed even more as it climbed toward Sitgreaves Pass. Hairpin turn after hairpin turn and overhanging rocks made us understand the 40' limit on this road. Indeed, I was glad we were not driving anything bigger that our jeep. Once over the top of the Pass, we stopped at Cool Springs Camp. Originally built in 1926, this Mobil Oil Station serviced Route 66 travelers until it burned in 1966. At one time it had a cafe and tourist cabins and was the last stop before the much feared and precipitous Gold Road and Sitgreaves Pass. Now a small convenience store has been restored in the style of the old one. Three gas pumps in front look like those when people actually "pumped" their gas.
Leaving Cool Springs, it was only a few miles down to the desert floor and on to Kingman. Route 66 continued on into the Hualapai Indian reservation and east toward Flagstaff. There our modern day maps lose track of this historic highway. But what a trek through the past even this little segment provided us. Here's a little sample of the scenery we encountered to and through Oatman on old Route 66.
We returned to Desert View on Highway 68, a 4 lane road and rejoined the Colorado River just outside of Bullhead City. Often when we travel, we find interesting looking RV parks, and stop to explore them. After all, who knows where we'll stop on our next trip? Davis Camp Park is a Mohave County Park located just north of the bridge that links Bullhead City with Laughlin, NV. There are four areas where you can camp. Lot A is right on the riverfront, water and electric only, with palapas, picnic tables and fire rings. B, C and D are full hookup, but set further back from the shore. All are easy walking distance from the casinos in Laughlin, and are not far from the dock where you can pick up a free boat ride across the river.
From Laughlin, it was only 25 miles to "home", as I'm coming to feel about our Alpine. We'll be here for a day or so more, then head south again toward our Rally in Quartzsite. While we haven't had quite the bitter winter weather as the rest of the West, the desert winds have made it cold here too, and we'll look forward to some warmer weather in the coming days. We've enjoyed our stay in Needles -- and discovering what can be found when you pass through the Needles' eyes.
---
Postcard: Escaping Winter
Jan. 1, 2007
I kept trying to postpone our return trip north, but Christmas was drawing closer, and finally I had to acknowledge the fact that it was time to return home. At this rate, we'd have a little more than a week to purchase gifts, wrap them, and take off to Seattle and Yakima, to celebrate with our family. I put up a minimum of Christmas decorations, planning on taking them down before we left, or at least right after Christmas, where I naively assumed we'd return for a day or two. In retrospect, I realize that time spent in the "sunny southland" had helped me forget what winter could be like further north.
The old man (winter) cooperated for the first week or so. It was cold, especially noticeable to folks who had just left the warmth of the Borrego Springs desert, but not unusually so for the Bend area. Our trip to Yakima was on bare pavement, passing barren winter fields showing only traces of snow. But winter wouldn't be so easily defeated: he had other plans for us.
Barney-the-Brit had chosen our at home time to go into a perfect frenzy of chewing. He chewed the tassel off my winter hat and the band off my favorite visor cap. He chewed the plastic handle off the bag that holds our tire chains. (Oregon law requires you to carry chains in the winter, no matter the snow conditions.) He chewed the stuffing out of one of his blankets. He learned that, if we weren't watching him, he could climb over from the back of the jeep into the front seats, grab whatever caught his eye, and get back to the rear of the car with his new chew toy before we returned to the car and caught him. But the most egregious thing he chewed was a part of our pantry wall. I came down one morning to take him for his walk and found a chunk of wall gone. I might have ascribed this to something else, (mice maybe?), had it not been for the distinct tooth marks. (This still baffles me; I cannot fathom why a dog would decide wallboard, paint and texturing would make a delicious midnight snack!) Those antics earned him a stretch in "jail" (boarding kennel) when we got to Yakima, rather than risking the kids' walls or any attractive Christmas presents. This jail-time seemed to have helped this problem -- he's been very good ever since!
Barney in the West Valley boarding kennel, we took off for Seattle and Christmas Eve-eve, (the night before the night before Santa), with our son and his family. Washington had just finished the wettest November on record, and December wasn't about to be left out. What had been an easy trip west became more of a chore heading east again, with winds gusty enough to shake the jeep. I was happy we didn't have to cross Snoqualmie Pass with an RV. Meantime, Yakima was on the receiving end of 4 inches of snow, with more promised. We'd have a white Christmas, followed by a challenging trip south.
The morning after Christmas we picked Barney up from his incarceration and headed toward Bend. For a couple of days, we'd been trying to decide on our route -- would we return home for a few days, or finesse that and head west to pick up Interstate 5 southbound. The problem wasn't the trip to Bend, the weather for the next day or so was relatively warm and snow free. No, it was the weather forecast for the following days that had us worried -- snow, wind and freezing rain did not forecast an easy trip. We arrived at the Columbia River and headed west. My decorations will come down in April.
This choice took us out of the snow. It did not get us out of either rain or wind. Interstate 84 drives along the Columbia River, through a stretch of river known as "The Gorge". Here strong winds blow eastward through a cut in the cliffs on either side of the river. The river itself is pushing westward, and in combination with those winds, large standing waves can be created. Delightful for windsurfers, not so much fun for motorists. It isn't unusual for low winter temperatures and precipitation to cause ice to form -- Portland is known for its ice storms, and once you've driven along the Gorge during one of these, you'll never forget the experience. Not today, however. Steady rain and gusty winds were all we encountered along the River.
From Portland, we headed south along Interstate 5. Our next challenge, and decision, would come the following morning, when we got near the Siskyious.
When you travel I-5 through Oregon, and are undecided about the weather, you have two choices -- tough it out over the mountains into California, or head west on Highway 199. This road leave the Interstate at the town of Grants Pass and winds through the Redwoods before joining southbound 101. The fact that chains were required over the summit for all vehicles except 4WD this morning made our minds up for us. We would have been exempt, but what about all those other vehicles, clanking along at 20 m.p.h.? I could imagine them swerving out in front of us, slowing an already slow route to a crawl. 101, here we come. It would add about 80 miles to our trip, but we weren't in any particular hurry.
Before heading west, we stopped for breakfast-on-the-go at the Grants Pass MacDonalds. A long line of customers were waiting to order, and all were talking about the mountain crossing. One couple had come from California, and were irate that the California Highway patrol had forced them to put on chains for a road they claimed was only bare and wet. Another couple was heeding the broadcast warnings and waiting for a couple of hours before going on. I mentioned we were heading for the coast, only to be told by a local "it gets icy here too -- be careful on the Haines Hill"! We had no problem on this leg of our journey, and I wonder if he tried to make the road sound more dangerous in order to give the Grants Pass area a bit more recognition.
Highway 199 takes you through winding hills and down into the Illinois Valley. Days of unending rain had made quite mess of this area. Puddles had become small lakes; creeks were rivers, and rivers overflowed their banks. Springs cascaded out of the hillsides, creating instant waterfalls. A small golf course displayed many new water hazards.
The weather was beautiful along the coast -- there was even time for a walk along the beach near Crescent City. Barney and I got blown along the beach -- Barney chasing the flecks of foam tossed about by the wind. The remnants of the storm of a few days past were everywhere -- broken branches and mounds of debris along the sides of the road, but the sun was out, and when that happens, everything seems brighter.
The forecasts coming from the San Francisco Bay area were not bright, however. Wind is one of the bugaboos of the Sacramento and San Joaquin Valleys, and the weathermen were saying things like, "sustained winds of 50 to 60 m.p.h. with higher gusts" and "reported gusts of over 100 m.p.h." But this wind was from the north -- a tailwind for those of us heading south, and we barely felt it as we drove along. I was still glad not to have been in a large RV, however.
Winter had one more challenge for us, one more pass to climb. We still had to get over the Grapevine at Tejon Pass, elevation 4200 feet, and this time 4WD wouldn't help. The Grapevine was closed -- to everybody. We knew this, not from calling a road report number, but from large signs along the Interstate, which blinked the warning every few miles.
When you drive in Washington or Oregon and want to hear the road reports, you simply call 511. Try that in northern California, and you get Nevada, which in turn gives you numbers to call for other western states' reports -- all of them, except California. How do you call for those reports in this state? Finally, one of those blinking warning signs gave the number, an 800 number. Of course, that number was busy -- all the other motorists were calling it. When at last we did get through, we got an automated response, which first detailed all the road construction in the area. At the tail end of the conversation, almost as an afterthought, came the road closure notification. So we, and everyone else on the road, funneled east through Bakersfield and up the Tehachapi Grade.
What a traffic nightmare. The long climb up this grade was made even longer by the trucks and RVs who simply couldn't understand their passing limits. Time and again one slow truck pulled out to pass an even slower one, and the resulting bottleneck was incredible. Several times traffic came to a complete stop. At the top of the grade things evened out for several miles, but most of the traffic continued east, and when the 4 lane highway channeled down to 2 lanes, we were again in a stop-start mode for 7 additional miles.
Fearing this would be the case all the way down 395, we continued east toward Barstow. From there we'd pick up Interstate 15 and head west and south again toward Temecula. We'd had hopes of getting all the way back to Borrego Springs this day -- as we'd been on the road by 5:30 AM. But the road closures and traffic had conspired against us. And, although we didn't know it yet, we'd soon discover that our route of choice, Interstate 215, was solid construction for the last 20 miles.
But construction and traffic are part of driving in this part of the world. We were now fewer than 70 miles from the calm and quiet of Borrego Springs, and looking forward to getting back to our home on wheels. An easy morning's drive awaited us. We'd finally left 'ol man winter behind us and escaped his icy grip. Now we're looking forward to the next part of our travels as we slowly head east. We've an Alpine rally waiting for us in Quartzsite, and we're headed to Abbeville, LA for Mardi Gras!
---