POSTCARDS
---
Stephanie is one of those persons who can fit a lot of words onto a standard size postcard -- usually by writing sideways, around corners, and even upside down if she can find some extra space. Most of these go to family and friends. But some of them -- those which document our RV adventures -- find their way onto this portion of our website.
---
Postcard: California Hopscotch
November 10, 2007
Since we are in no hurry to get to the desert, and the reality of wildfires is enough to make us skirt the troublesome areas, we've been "hopscotching" California. First a few miles south, then a few miles west, then a few more miles south, then east.
From Redding, our plans called for a straight through drive to Kit Fox RV park some 40 miles south of Stockton. What we hadn't anticipated was the arrival of a new animal into our lives, a Leopard. Leopard is the name of Apple Computer's newest operating system. Select Apple stores all over the country were celebrating with Friday evening parties, when the first copies would be available for sale. Tom was as excited as the proverbial boy in the candy shop -- but there was one small problem. The closest store to us that carried Leopard was in Sacramento, 150 miles away. Taking an RV through Sacramento on the Interstate can be a bit harrowing; driving downtown to a busy mall is simply not an option. So, I did it. I volunteered to take the Alpine on a 70 mile drive down Interstate 5 -- all by myself (unless you count Barney). And, once I got over my self imposed fears, it wasn't even very difficult. It isn't that I've never driven an RV -- I've logged thousands of miles over the years. Usually, however, when I drive, Tom's in the passenger seat. It's a bit different when you're all alone.

Sunday morning we drove to the nearest safety rest area and detached the Wrangler. Tom would drive into Sacramento and get his Leopard. I'd continue south some 50 miles to the Lodi exit. Here a Flying J competes with Chevron, Arco and a Pilot for the truckers' diesel dollars and parking abounds. We could re-connect the Jeep there and continue on our way.
It's possible I was a bit concerned about this drive, after all even a 34' coach is a pretty big vehicle. But once I got behind the wheel and started the engine, I remembered the advice Jerry Ray gave us. Jerry was one of the instructors at The RV Driving School where Tom & I took lessons several years ago. He told us, "You can always slow down. The other drivers don't pay your insurance". Jerry had taught me how to drive so I stay in the middle of my lane, the importance of side mirrors, and various tricks on "reading the road". Those lessons were invaluable then; they're invaluable now.
And I was fortunate to be driving an Alpine. Our rig drives very much like a car, and once I got the side mirrors set, the seat positioned so I could easily use the pedals (also set at furthest out position), I felt quite comfortable. Off we went, Barney and me.
Barely a quarter mile down the road, I realized I'd forgotten something important. One of the fail-safes Tom & I had built into this separate foray was that we both would have our cell phones on, just in case. Not only had I forgotten to turn mine on, it was still in the side pocket of my purse. I pulled off at the next exit, fortunately not a busy one, and parked in front of an empty, (no cars), Shell Station. There wasn't any good place for a U turn on the road, so I decided to drive around the station building. Slowly I inched around it and luck was with me -- there wasn't any blockage behind which would have necessitated backing up. By the time I was back on the road and headed for the Interstate, I felt myself an old hand at driving.
Probably because it was Sunday, there wasn't as much traffic as I might have encountered, and the rest of the trip went without incident. I even got off at the wrong Lodi exit, realized my mistake and easily got back on the freeway. It seemed no time until Tom was back, Leopard safely in hand, and stories to tell.
He'd found the store easily enough, but it took quite some time to find a parking place. Often, in situations like these, a driver will wait, stalling traffic, if it even looks like someone is thinking about leaving a parking spot -- but not this time. These drivers were circling in hopes of finding any available spot! And when Tom did find a parking space and the Apple store, he had to wait before one of the very busy clerks was available. By the time he made his purchase, there was a long line just waiting to enter the store. It was so crowded that entry was now "metered" -- the only way one person could enter was if another exited. Too many customers, or not enough Apple stores!
There is definitely more truck traffic this year on the Interstates. Leaving Lodi, we pulled out into a veritable line of them, 10 in a row. Most of these are good drivers, but every so often you find one trucker who doesn't seem to realize the length of his rig. He roars past you at well over the posted speed limit (55 for trucks and those towing RVs or cars), and pulls in so close you have to hit your brakes. I've also seen truckers tailgate -- perhaps not realizing how disconcerting it is for a driver to have a huge vehicle close behind. We've read about this overall increase in truck traffic, how Interstates have become so congested that eastern areas are considering the viability of water transportation.
And I probably shouldn't even mention some of the California automobile drivers, those who think that an RV is an obstacle to get around, no matter if you must pass on the right or even on the shoulder. Being squeezed out on an exit by someone bound and determined to get to the stop sign before you do is not uncommon here.
Kit Fox RV park, near Patterson, is a great spot for an "en route" stay. This time, though, we found it a bit noisier than we remembered. The park is set below the level of the Interstate and about 1/2 mile away from it, so there's little traffic noise on that account. But there's a new warehouse complex, a virtual truckers' terminal, just down the road, and trucks rolled noisily by the park all night. Signs of growth are everywhere, the broccoli field across from the park has been tilled, and seems to be quietly waiting an up turn in the housing market before becoming a neighborhood.
At Santa Nella, we left the Interstate and hopscotched west on Highway 152 to Betabel RV park. For us, this park is perfectly located for a trip to the artichoke fields of Castroville. And once you're in Castroville, Monterey and its aquarium beckon. Pezzini Farms, just south of Castroville, was our first stop, and we loaded up on the delicious Green Globes. I resisted most of the various dips and sauces, and even denied myself the deep fried artichoke hearts.
Monterey's aquarium is undoubtably the best I've seen, with over 200 different exhibits. You can view divers as they feed various fish in a huge indoor aquarium, or touch sting rays (barbs removed) as they swim in a shallow sea. See the giant octopus, or the great white shark (a young one, found caught in commercial gear, and due to be returned to the wild). If your tastes are a bit tamer, enjoy the sea otters -- slogan, " eat, nap, play, repeat" or watch the graceful and quite lovely jellies. It seems there's always a new exhibit, making me wish I could stay just a little longer.
According to recent news broadcasts, the southland fires are pretty much under control, so we could have headed directly south. But why hurry? We spent one night at the Orange Grove RV park, camped under the not-quite-ripe-yet orange trees and then drove over to Barstow to stay at the KOA just east of town.
Barstow KOA is actually located about 8 miles east of town on the Ghost Town road, thus named because it takes you to the Calico Ghost Town. Calico is a fun stop, especially if you're traveling with young children, and even more so if you can visit on Halloween. But I'd bet that few people who stop here have ever driven the scenic loop which starts practically at KOA's doorstep, and showcases the high desert scenery like nothing else.
Drive north on Ghost Town road, and turn west on the Fort Irwin road. In about 4 miles, turn south on Irwin Road (to be distinguished from the Fort Irwin road), for about another mile to Fossil Bed Road. This dirt road leads to Owl Canyon campground and Rainbow Basin. The literature on this drive recommends against taking a passenger car or motorhome on this road, and there are some narrow hairpin turns, but passenger cars (those that don't mind getting a bit dusty) would have little difficulty navigating this scenic loop.
The area is one of the last remaining regions where you might find the endangered California Desert tortoise and is rich in fossils. We've never seen a tortoise nor found any fossils, but if you look around, you'll swear you can see them -- dinosaurs, their heads resting on the downslopes of the nearby hills, their backbones protruding from the tops.
Next stop: Emerald Desert. While we thought this resort was closed for good, the downturn in the real estate market convinced the developers of the project next door not to expand further. Emerald Desert will be open at least through 2008. Coming back felt a bit like coming home -- familiar faces and warm welcomes.
We'll be here for a couple of days and then head for Chula Vista and the SoCal. Alpine rally. A couple of days on the California coast is always fun, and will be something of a respite from the heat of the Coachella Valley. I'm especially looking forward to the Sunday morning brunch cruise, and meeting new "Alpiners". Then we'll head to Borrego Springs for some quiet desert R&R. We've hopscotched the length of this varied and beautiful state.
---
Postcard: Heading South
October 27, 2007
The bug called wanderlust, defined in Webster's dictionary as a "strong desire to travel", has bitten us once again. Even though Florence has been experiencing as beautiful an Indian summer as I have ever seen, there's a tang in the air that tells us that this is only temporary, that the rains of winter are just around the corner. We'd already packed up everything we thought we'd need from the Bend townhome, and headed to Florence to close down the "digs" there. But the weather was so glorious, with no fog or wind, and temperatures as warm or warmer than the best of summer, that we simply had to stay for an extra day. I had time to arrange and re-arrange the contents of our Alpine. (Tom complains he can't find anything, and accuses me of "hiding" items, but he'll soon learn where everything is. Then, I'll probably re-arrange it once again). But even though we stayed that extra day, we could feel it was time to go. Wanderlust -- as Tom defines it, "if we're not here, it's because we're probably someplace else".
Tom's definition is great, but wanderlust is best described in the book by Kenneth Grahame, "The Wind in the Willows". Not the "Adventures of Toad", or any of the other Disney spin-offs, but the original book. In his chapter, "Wayfarers All", Mr. Grahame describes the plight of the Water Rat, a homebody who has trouble understanding the yen that causes the field mice to move to new winter quarters, and drives the swallows to head south from what he (the Rat), feels is a perfectly wonderful spot -- his river bank home. He finds them discussing their plans:
" `What, already,' said the Rat, strolling up to them (the swallows). `What's the hurry? I call it simply ridiculous.'
  `O, we're not off yet, if that's what you mean,' replied the first swallow. `We're only making plans and arranging things. Talking it over, you know -- what route we're taking this year, and where we'll stop, and so on. That's half the fun!'
 `No, you don't understand, naturally,' said the second swallow. `First, we feel it stirring within us, a sweet unrest; then back come the recollections one by one, like homing pigeons."
Just ask any RVer. We can sense when it's time to leave, and suddenly, it doesn't feel right to stay where you have been for the summer. Suddenly, it's time to go. For me, it's the desert that calls. Far too warm in the summertime, come fall, I suddenly remember all the beauties of the desert, the Cactus Wren's call, and the glories of desert wildflowers.
Like the swallows, we had several choices of route. We could head east to Eugene and take Interstate 5 south, but if that's the most direct route, it's decidedly the most boring. Or we could head south along the ocean, and, when winds and whims changed, drive east to the inland valleys. That way sounded much more interesting. Our first stop was a mere 28 miles south of Florence, in Winchester Bay at the Winchester Bay RV resort at Salmon Harbor Marina (Winchester Bay for short).
Winchester Bay is a tiny community with an incredibly active Merchants' association. In 2007, every month but April had at least one "festival" -- 19 total. This year's festivities began with a Music confluence festival in February, and included such diverse activities as a Chainsaw Sculpting contest in June, a Crab Bounty hunt in August, and a Holiday Lights contest in December. Add to that the popularity of salmon fishing in the Bay and Ocean, and you can see why, for much of the year, reservations are a good idea at this resort. However, beautiful weather to the contrary, it is now autumn and most RVers have headed for other destinations. We had our choice of sites, and opted for one on the marina, rather than the open bay. Some of the bay sites have a spectacular view right down the river to its confluence with the ocean, a view framed by the Umpqua River jetties. In these sites, when the tide is right, the waves beat on the rock bulkheads with a loud booming noise, fun in the daytime, a bit disconcerting at night. (When we camped here, I spent the evening foolishly wondering if the bulkheads would hold.) The Marina side is more sheltered. I got a couple of shots of the pleasure craft as well as the fishing fleet enjoying a quiet summer afternoon.
If you're an oyster lover, (Tom is, I'm not), there's an oyster farm in Winchester bay where you can purchase oysters, or just watch them being sorted on a conveyor belt -- the small oysters fall off first, the largest last.
We spent 2 days at Winchester Bay -- taking time to return to Florence for a couple of items we'd forgotten -- and then turned the corner east and south. We'd heard rave reviews of an RV park just a hundred or so miles south, 7 Feathers RV park and casino in Canyonville, OR.
We retraced our steps about 4 miles back to Reedsport to pick up Highway 38 east. This route winds softly between the coast and interior, with no hairpin turns and a very gradual climb over the Coast Range. In a couple of places, wide pull-out areas tempt you to stop and watch for elk, as this is a favorite wintering area for the animals. Today, the bulls were out in force, their antler racks fairly glistening in the sun.
No point driving on the Interstate if you don't have to. We turned south at Elkton, and followed 138 south to Sutherlin. Joining the Interstate at that point we were only 35 miles north of that day's destination.
We add our accolades to those 7 Feathers has already accumulated. It's one of the prettiest parks we've visited, especially on a sunny day in fall, with the maples showing off their autumn colors. Park amenities include a large pool, with times especially set aside for adult activities, a spa and workout room. Set just behind the office is a comfortable den area, with leather sofas, a lending library, and computers. Several smaller buildings set around the park have restrooms, showers and laundry facilities. A shuttle periodically circles the 191 sites of the park, ferrying RVers to the casino. 7 Feathers will surely be added to our list of favorites.
Obviously, we're not in a great hurry to get south, it's enough just to be underway. We want to avoid the areas affected by the horrendous Southern California fires for as long as possible. We will be attending an Alpine rally in Chula Vista in November, and have been assured that the situation there is getting better by the day. For me, that will be soon enough to view the devastation.
We've had one fairly major crisis thus far on our journey. In fact, for a brief minute, I contemplated titling this postcard, "A Death in the Family". But that would be misleading. The death to which I refer is the "death" of Ms. Garmin, our trusty-no-longer GPS. It happened quite suddenly. One minute, she was directing us along the road to Florence, the next, she was "complaining" that she could no longer find her maps. Tom was able to get her knowledge transferred to his computer, so we shouldn't lose our collection of waypoints, but Ms. Garmin is no more. We've ordered her replacement, which would seem to sport even more capabilities.
We're spending a couple of days in Redding, at JGW RV park, and tomorrow head south again. Our next stop is at Betabel RV park, in the San Juan Batista area, close to Monterey, and near the artichoke farms of Watsonville & Castroville. We'll keep watching the progress of the firefighters as they fight to extinguish the remaining fires, and travel on, slowly, from there.
---
Postcard: Backroad Bull's Eye
September 23, 2007
It seems odd to start a postcard about a place we have yet to visit. We keep making plans to travel to Steens Mountain in southeastern Oregon, and our plans keep getting postponed. A single gigantic fault block rising to nearly 10,000 feet and covering over 170,000 acres, Steens has been periodically showcased in our local newspaper, The Bend Bulletin. The Sunday travel section, part of the paper I read avidly, has published articles detailing when to visit, where to stay, and which of the many backroads one should take to explore this behemoth. We keep thinking, "now we'll go," and something happens to change our plans. This time it was the chance to spend an evening with our kids, en route home from a California weekend. Steens Mountain could wait, as it has for thousands of years. We substituted a day trip a bit closer to home, and hit a backroad bull's eye in the small community of Fort Rock.
Drive south from Bend about 35 miles to the town of La Pine. Two miles south of town, make a left turn onto the Oregon Outback Scenic Highway, which your map will know as Highway 31. Now drive southeast on one of the straightest roads you'll find anywhere. At first straight through the pine forest, then, after a wiggle or two, straight across the flatness of Oregon's high desert. If you follow it far enough, you'll come to the small town of Lakeview and the California border. But well before that, turn left at the Fort Rock sign. Stop at the informative kiosk, and read about the changes the millenia have wrought on this area. Thousands of years ago, a huge lake existed here, and you could have expected to see American camels and beavers three times the size of the ones of today. But as the weather became progressively drier, and the lake and surrounding marshes slowly vanished, the camels disappeared and, over time, the beavers became smaller. Now, with virtually no surface water left, the only animals remaining from that period are chipmunks!
As you near the area, it will be impossible to miss the landmark for which its named. Designated a national Natural Landmark, the rocks which form Fort Rock rise straight out of the desert. At first glimpse, it looks like a mesa, but as you drive on, you'll see it's an amphitheater, an enormous near-circle of towering jagged rock walls, created when a small volcano erupted in a prehistoric lake. When the rising magma hit the water, a terrific explosion created the ring of cemented ash ("tuff"). The ring has since partially eroded, creating the Fort Rock of today. There's a small day use park at the foot of the landmark, and hiking trails will lead you through it. But first, you should stop at the Homestead Village museum. If you are especially lucky, Mark Swisher will be the volunteer on duty.
Mark told us a bit about the history of Fort Rock, the last area open to homesteading in the US. From 1908 until about 1918, homesteaders attempted to cultivate the desert here. The land was free, the problems they encountered when they tried to farm it were both costly and virtually insoluble. Fort Rock is located in a what can be a bitterly cold climate, with few frost free days. Water could be found 40 feet below the surface, but it was so salty that cattle had to be forced to drink it, and crops wouldn't grow. At 200 feet, the water was pure and usable, but to get a well down that far was a very expensive proposition. When the homesteaders could get a crop to grow, they found other problems. One man had his rye crop blow away three times. Jackrabbits would eat anything green that poked its nose above the ground. No wonder the homesteaders stayed for such a short time.
The museum consists of 10 buildings -- 4 "cabins", 2 "houses", a church, school, Doctor's office and a blacksmith shop. These are clustered around a windmill, which creaks and groans in the everpresent wind. Except for the blacksmith shop, constructed by volunteers in the summer of 2006, and the "Widmer cabin", built in the early 1900s near Bend, all the buildings come from the Fort Rock area, and were built between 1907 and 1915. Unfortunately, many more of these buildings, and others like them were either neglected and left to fall apart. A couple of them were even burned down. But that's changed now. The volunteers who staff this museum are a very dedicated group, and extremely proud of their museum.
"This is a hands-on museum", Mark explained to me. "We've tried to make the cabins look lived-in, as if someone just went out for a while, and will be home shortly. Feel free to open drawers and cupboards, and look into closets. " So I did. I opened the books in the schoolhouse, examined the artifacts in the church, and read the newspapers sitting on the kitchen table in one cabin. Unlike other museums, where everything is roped off and signed, "don't touch", here you can actually feel a part of the history of Fort Rock. And I wasn't the only one affected. While I was looking around the schoolhouse, a young family joined me. The kids, ages about 8 and 10, could hardly wait to sit at the desks and show their reading skills by reading the lesson plans on the blackboard. Their father found one of the math books, and their mother joined me in reading some of the 1872 rules for children. The rules were set out in penalties -- lashes. 3 lashes for girls playing with boys, or boys with girls. It was only marginally more serious if you lied or were caught fighting!
Mark had told us about the rest of this small community, and suggested we visit the Fort Rock General store and its art gallery, and also stop by the tavern and its restaurant. The store and gallery were closed, but the tavern was doing a good lunchtime business. I'm so glad I ventured in! One wall is liberally coated with cattle brands. Lita Edwards, long time resident of Fort Rock and tavern owner, explained that if there was a name attached, the brands were from this area. If not, they'd been "borrowed" from other ranches. Above the brands were the names of the area towns. Not only today's towns, Fort Rock, Summer Lake or Paisley, but ones with names like Sink and Connolley. At one time, both these towns were crowded between Fort Rock and Highway 31 -- only 7 miles west. Now they've vanished. Other towns had their names incorporated into nearby ranches, or landmarks -- Connolley Ridge lies only a few miles south of Fort Rock.
Another wall of the tavern is covered with badges -- dozens of policemen's badges from all over the West Coast -- from as far south as the Los Angeles area, as far east as Idaho, and dozens from small towns in Oregon. Competing with the law enforcement badges were logos from the Sturgis Motorcycle Rallies in Sturgis, South Dakota. "Lots of bikers come here to eat", she explained, "and they send me souvenirs from the rally every year".
I could have easily spent another hour looking at all the "stuff" Lita has decorating the walls of her tavern, but the day was getting late, and we still had to visit the guzzlers.
I had never heard of water guzzlers before Mark explained them to us. In this ultra dry climate, there is little provide water for cattle or to attract wildlife. A guzzler is a way to catch and store water. It also provides some sort of gutter to carry that water to a storage recepticle. Further, there will be a device to dispense the water to a wildlife drinking area. At Fort Rock, whatever rain gets collected is augmented by volunteers who carry water in 50 gallon drums out to the storage area to aid the project.
Mark's directions to the guzzlers were a bit confusing. He told us to drive 10 miles north on Cabin Lake road, to a spot just north of the ranger station, where the ponderosa forest meets the sagebrush. He assured us that the road would be in good shape, even if not paved. So far, so good, and absolutely correct. The hard part came with the directions -- that we should take a non-surfaced road west, and wind behind the station. We found several such roads, each looking like it might take us where we wanted to go, but then again, might just get us lost. The first road was south of the Ranger station, so we eliminated that one. The second one, marked "970", led directly into the Ranger station and the road was chained closed. Then we tried one which took us to an old campground, with fire rings and large picnic tables made from the halves of ponderosa trees, but otherwise closed. No evidence of Cabin Lake guzzlers there either.
Then we found another road, barely north of the station and also marked "970". This one bumped around behind the station complex and into a "parking lot", a wide space between the trees. We could see the water collection spot, and, nearby, a large pile of rocks and sticks. Judging from the number of birds flying back and forth from this pile to the nearby trees, we'd found the guzzler.
Situated just in front of the water dispenser was a lean-to blind where you could sit and watch the birds come and go. We'd been told that birding here was varied -- everything from pinyon jays to crossbills were frequently observed, but today the jays and Clark's Nutcrackers were taking over, and smaller species were not in sight. We followed the path to the second blind, but that one was occupied, and I didn't want to disturb the birders inside. Still, I managed to get a few pictures of the birds enjoying their "spa".
All too soon, it was time to return to Bend and get ready to greet our California travelers. Our Fort Rock expedition had been very successful; indeed, next time, we'll stay longer. If we need full hook-ups, the small RV park on Highway 31 just before the Fort Rock turn advertises those, and Mark has assured us there are places in town where we can dry camp for an evening. We didn't get to see the nearby petroglyphs, or the Hole-in-the-Ground, another example of volcanic eruption. (We tried to find this en route home, and, after several miles of unmarked backroads, decided we'd need a far better map than the ones we had with us). We want to explore Fort Rock Cave, where 9,000 year old sagebrush bark sandals were found, thus proving how long this area has been inhabited. Or, we could make this town the jump off point for our someday soon exploration of Steens Mountain!
---
Postcard: Barney and the Dogshow
September 11, 2007
Since the Alpine rally in Newport we've done some extensive back and forth-ing -- from Bend to Florence when the weather gets too hot; from Florence to Bend when coastal rain and fog spell cool days. We took another trip, too, one primarily remarkable for its validation of "Stephanie's Law", the law that says whenever I drive, all sorts of troublesome events occur. I get behind the wheel, and within a half mile orange construction cones magically appear, and the lanes get lined with concrete barricades (I hate those things). I get behind the wheel, and every 18 wheeler in the state decides to join me. This time, it was something called the Hood River-White Salmon Interstate Bridge.
We spent one weekend with our kids in Hood River in the Columbia River gorge. It's an interesting area, one where the wind gets caught between the cooler coastal climate and the warmer interior one, and is funneled eastward up river. The wind blows east, the river currents flow west, and standing waves result. Those waves, along with the strong winds, make this area a prime destination for wind surfers and their counterparts, the kite boarders. Today, the river was dotted with white sails, and the air filled with long thin chutes. I was driving.
As we left the Portland area, Tom had suggested I might want to stop at a convenient rest area where we could change drivers, but there are no eastbound rest areas anywhere in the 80 mile stretch of road between the Rose City and Hood River. There are a couple of unmarked areas where you can pull out, but unless you know exactly where to find them, you'll pass them before you realize they are there. I missed them all and I drove on into Hood River. Now it was just over a mile to White Salmon, WA where we had reservations at the Bridge RV park. Why stop driving now? What I didn't realize was that between me and the RV park was the narrowest bridge that spans the river.
The toll booth was narrow enough. I slowly inched into it, hoping to get through with side mirrors intact. The coach emerged unscathed but only a few hundred feet further on, I saw an ominous sign, "road narrows". And narrow it did. For only 8 tenths of a mile, but seeming far longer, I shared a road 18 feet 8 inches wide with oncoming traffic. That works out to 9 feet 4 inches each from centerline to guardrail. Depending on the width of your RV, that can seem very narrow, and it's your decision where to put the left over inches -- on the right or left. And all that at an elevation between 70 and 150 feet above the wind ruffled waters of the Columbia River.
Keeping to the 25 MPH limit was easy, indeed I doubt I drove anywhere near that speed. Tom kept warning me I was too close to the rail, and I kept telling him that my wheels were over the center stripe. It wouldn't have been too bad if all I saw were Volkswagon size vehicles, but that thing approaching me was an 18 wheeler. Somehow he got by me (I was virtually stopped), and, breathing a sigh of relief, I continued on into Washington. The only one more relieved than I about that crossing was my copilot.
After a great weekend in Hood River, we headed back to Florence. This trip we detoured again to Newport to stay at the Port RV park. Just after you cross the Yaqina Bay bridge heading south, make a right turn. The road will take you under 101, past the entrance to the Newport aquarium and almost to the Mark Hatfield Marine Science Center (both well worth visiting). The park has 92 full hookup sites, a very nice laundry and restroom area, and is just across from Newport's scenic Old Town. It can be a bit noisy, as it's hard to convince the resident sea lions to observe quiet hours, but that just adds to its charm. And it's only a very short drive or a bit longer walk out to the south jetty of the Yaquina River.
We're becoming Newport knowledgeable -- 10 days later we were back again, this time for the Guaranty Travelers Beachcomber rally, 4 days of friends, food and frolic at the Pacific Shores Motorcoach resort. We were members of the Guaranty Travelers' club when we owned our Country Coach, and have great memories of many of their rallies. While we were building our townhome in Bend, we'd fallen out of the rally "loop", and were looking forward to getting back. We weren't a bit disappointed.
Again, we delighted in a short 50 mile trip from our RV garage to the rally. The first 20 or so miles are very winding, up over Heceta Head, past the Sea Lion Caves, and around Cape Perpetua. But once you get to Yachats (Yah-hots), the road straightens out for the remaining miles. We could tell summer's just about over as there was much less traffic, and we even saw a school bus or two en route. (Kids are back in school, and the campgrounds have vacancies. Yea!)
Each day of the rally there was at least one activity. Thursday after check in, I went to meet Lucy, of Lucy's "Luxurious Liquid Soap", who demonstrated one easy process for making scented soap. She uses a soap base, and adds color and scent, and it was so easy that even I could do it. I'm also tempted to teach the grandkids (soap makes great Christmas gifts). After dinner, rally goers played Beach Blanket Bingo (so called because several of the prizes were beach blankets).
Friday was "outdoor activity" day. At 6:15 AM, twenty one "fisherpeople" met at the resort clubhouse for a half day trip out of Depoe Bay, a small town about 9 miles north. Tom was one of the designated drivers, and we couldn't afford to have him sleep late, so, the night before, we'd scoured the coach for something resembling an alarm clock. We found three candidates -- none of which was a traditional alarm clock. First, we set the timer on the microwave to count down as if we were cooking something to eat the next morning. Second, Tom's wristwatch has an alarm, albeit a very faint one. Third, the handheld GPS has a beeper which can be set.
Of course, we shouldn't have worried about waking up, because we did -- every half hour from 4 AM on. We hadn't needed the alarms, but every one of them worked! Still, we'll probably invest in a normal one next time.
Tom's group had gone fishing, others opted for the golf tournament, and I joined the cruising bunch for a few hours on Yaquina Bay. I had expected a short cruise around the marina, up the river, and a quick return to the dock. This cruise was quite different; it quickly became at once a lesson in Newport nautical history, a lesson in the marine biology of the Bay, and a lesson in Oregon crabbing techniques.
Captain Tom has lived most of his life in Newport, and is quite an expert on the various vessels moored in the harbor. He showed us the differences between long line fishing vessels and purse seiners, and told a bit about the history of several of the boats we saw. One, little more than a rusted hulk, was moored about a mile upstream from town, in apparent violation of Oregon Maritime Law. But, since it drifted a bit with each tide, first upstream and then down, it was not considered "moored", and the law that would have forced its owner to move it did not apply. It was a sad looking boat, a relic of Bering Sea fishing days, now slowly disintegrating in the brackish water of the estuary.
First mate Kevin is something of an expert in the marine biology of this Bay. At one point during the cruise, we slowed and he collected a sample of Yaquina Bay water. Placing this under a microscope, he showed us all the infinitesimal, wriggling creatures, the plankton, that live in this water. While it didn't look too appetizing as a drink, he felt it was far better for you than bottled water!
Mate's helper Mark was the crabber. After we left the dock, he threw out a couple of crab traps, and we retrieved them on our return trip. While there were no "keepers", the crabs being either too small or female, everyone who wished got to hold a crab and to help return them to the Bay.
Our tour lasted about 3 hours. We traveled from the town upstream to the Oregon Oyster Farms and back to the mouth of the river. It was too rough today to venture into the ocean, so we returned to the dock and then back to the resort -- to learn that the fishermen had all limited! Sea Bass for all.
If Friday was people day, Saturday was pet day, and Barney was entered in the Pet Parade. All the pets were invited to parade in front of a panel of judges and show off their good behavior -- or lack of it. That lack made us a bit nervous at first; after all, Barney is well known for his timidity around strange dogs or people. Whenever he sees a new dog, he flattens himself on the ground, hoping, (we guess), to become invisible. When he feels the other dog is no threat, he'll spring to life, pulling hard on his leash and leaping up at the other dog. Not exactly the kind of manners you'd want at a dog show. But he surprised us.
Perhaps because he was not on his own turf, Barney behaved quite well. He did flop down whenever he saw a new dog, but he ran out of new dogs. The other dogs weren't jumping around, so Barney didn't either. In fact, he became quite blase about the whole affair, treating the judges to a decidedly indifferent yawn when Tom took him into the "ring".
Several dogs were dressed in costume -- two bassets wore identical clown outfits, and a couple of the miniature breeds wore pretty outfits. Barney was especially taken with a small white ballerina in a pink tu-tu. In fact, he enjoyed himself so much, we may just enter him in the next dog show.
Rally over, we returned to Florence to resume our Bend-to-Florence-to-Bend routine. We've passed one milestone, however; we now have a couple of couches in our living room. No more living on patio furniture -- slowly but surely, we're moving in!
---
Postcard: Rally Routes and Rendezvous
August 13, 2007
Check-in for the Alpine rally was scheduled to start at 9 AM on the 7th of August. While we were anxious to head out from our Florence "digs", one minor detail kept getting in the way of leaving -- the distance. We didn't want to get to the rally before mid-aftrnoon and it's less than 50 miles from our RV garage to the Outdoor Resorts park in Newport. So we dawdled. We walked the dog. We went out to breakfast. We filled the bird feeders, and performed other menial household tasks, all the while keeping surreptitious checks on our watches. By 11:30, we could stand it no longer. Tom backed out of the garage, we hitched up the jeep, and took off. Unlike our experiences at Life on Wheels, where we've given classes on everything from geocaching to extended service contracts, or the recent Good Sam rally, when Tom talked about the new RV Owners' Advisory Council, this would be one rally where we'd have no seminar responsibility. This time, we'd just enjoy the camaraderie of fellow Alpiners, explore the town, and eat ourselves silly. And that's just what happened.
This Newport park is one of my favorites. The resort sits on a high bluff overlooking the ocean and the beach below. There are well landscaped spaces, two heated swimming pools, one indoor, one out, and a great clubhouse (which this rally filled to its maximum capacity). Best of all, for Barney and me, is the beach below the park. Unlike many other area beaches, this one is hardpacked sand, a beach you can walk on without sinking into soft sand and filling your shoes with the stuff. This occurs because when the tide comes in, it comes in all the way to the cliffs and packs the sand to near concrete density.
There are two ways to get down to the beach. On the south end of the park, an asphalt drive (closed to motorized vehicles) circles gradually down to a set of iron steps. About 20 steps and you're on sand. There is another way, but it involves ducking under a rope, (placed where it is to keep people from doing exactly that), and cutting 'cross country on trails that had been part of the resort until the property just to the north was developed. Cut through the ever present Oregon salal, squeeze under a fallen tree, step over a log, climb gingerly down another, narrower, set of stairs, and arrive at the same beach, -- north end. By walking Barney early each morning, with no one but an occasional jogger for company, I could let him run for exercise, and take some pictures of the rising sun as it ate away at the overnight fog.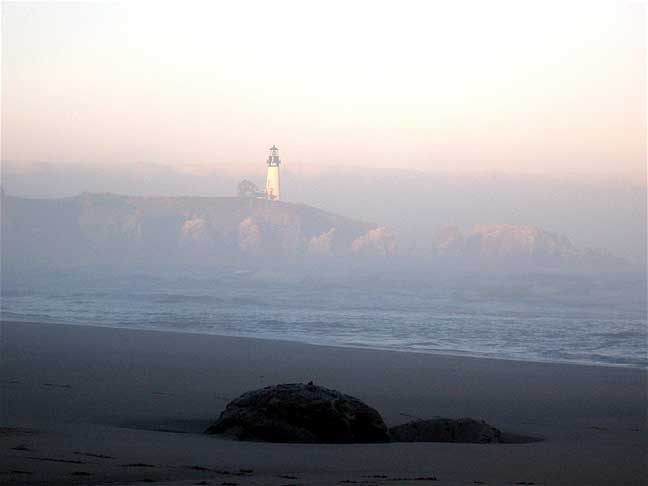 It's a well known fact that RVers love to eat. Plan any type of meeting that involves food, and it will be well attended. A dinner scheduled for 6 PM will have standing room only by quarter of, and RVers have even been known to have second helpings! We were fed royally during these 4 rally days, a full breakfast the first day, continental breakfasts each following day, served in the "show coach" area. All sorts of fruit, muffins, coffee and juices made sure we'd have little lunch -- except, of course, for the Wednesday men's and ladies' catered luncheons. I have to admit that Tom & I skipped the Friday evening dessert potluck -- we try to avoid desserts, and figured our willpowers had already been weakened to the point where if we saw something, we'd eat it.. so we took a pass.
By being good on Friday, we could begin again on Saturday -- smoked salmon and prime rib. After dinner we were entertained by a couple new to me -- Ron and Kay Rivoli sang the RVing songs she'd written, and told of their experiences on the road. Since most of the audience had shared one or more of the same experiences, the Rivoli's had the entire audience in stitches.
Friday morning, we had tickets for the Oregon Coast aquarium, a "must see" in Newport. If crabs are your thing, the aquarium is currently featuring a large exhibit of the crabs of the world, from the Alaska kings to the tiniest warm water crabs. Or follow the aquarium's signature tunnel and walk right through the middle of huge schools of fish, watching them swimming below and above you -- as well as to your left and right. Be careful not to trip over the small children who will be kneeling on the tunnel floor, pointing out the sharks and rays as they swim by. Outside, visit the sea otters, seals and sea lions, or check out the aviary to see the comical looking puffins, common murres and pigeon guillemots.
While there were plenty of rally activities, there was also time to explore on our own. Tom & I found four new geocaches, and one afternoon when he decided he simply had to update RVers Online, I took the Jeep and headed north.
If you stay at this RV resort, every morning but Sunday you'll find the newspaper Oregonian outside your rig. Tucked inside the paper is a small sheet from the resort, outlining "what's new" in the area. What was new this week was the annual sandcastle contest in Lincoln City, and the Native American pow-wow in Siletz, both towns within 20 miles of Newport. Since watching haircuts is on a par with watching Tom update the page, I put Barney in the jeep and took off.
As we neared Lincoln City, it was obvious where the contest was being held. The beach just west of town was crammed with people digging madly in the sand, and the streets were overflowing with cars. All the obvious parking spaces were full and there were cars circling, just waiting for someone to vacate a spot. By driving on one of the back roads, (and there aren't many as Lincoln City is only a few blocks wide), I found a place to park. There was a space barely big enough for the Wrangler just outside a mobile home park and, ignoring the sign that read "residents only, no parking for visitors", Barney and I went off to watch the competition.
Taking Barney was a bit of a mistake. He flattened himself on the sidewalk whenever he saw another dog, and pulled hard on his leash in an effort to get to the sand. (He now thinks beach equals chance to run free). With all the sand castle competitors, I couldn't let him go down to the sand, so we compromised by standing on a overhead pier.
The sand had been divided into large squares, each roped off and filled with castle builders. Most were children, although a few adults were helping. The judging wouldn't begin for several hours. I was a bit concerned about the safety of my choice of a parking spot, so we watched for about a half hour, returned to the car and headed off again.
According to the map, there was a short cut from Lincoln City to Siletz, some 25 miles southeast. About 1/2 mile south of Lincoln City, I headed off on Highway 299, following the Siletz River. The lower reaches of the Siletz were filled with fishermen, in boats and on the shore, although I saw nothing caught. As the road wandered south and inland, I was struck by the names here -- a couple of small campgrounds named Coyote Rocks and Cougar Bend, and a ranch called Peaceful Valley.
The road became progressively more narrow and winding, and I was glad I had a small jeep instead of a large motorhome (the route south of Siletz is far better for a big rig than the part I was on). In something over 30 minutes, I found myself in the small town of Siletz.
Along the main street, there were a couple of food stands, and another selling beads and t-shirts, but I could see nothing that resembled a pow wow, so I followed the stream of cars that was turning off the main street. This time I found a place to park that had no warning signs anywhere near it, left Barney in the car, and followed the crowds to the pow wow grounds.
I have never seen anything more colorful. This pow wow included not only the local Nesika Illahee tribe, but also tribes from all over the country, from Illinois to South Dakota, from Texas to Alaska. In addition to being a time for the various tribes to get together, there was to be a dance contest, and dancers of all ages were dressed in full native costume.Before the dancing started, a procession slowly advanced out into the arena. It was led by three elders, each wearing full war bonnets, eagle feather staffs, and two with full leggings (the third wore jeans). Native American veterans carrying the American and tribal flags followed. Behind them came the dancers. And the dancers all came in dancing, bending at the waist, dancing intricate and very slow steps as they moved to the drum beats of the several different musical groups.
Some men wore eagle feathers tied to their waists, and carried eagle feather sticks. A group of women was dressed in long skirts, layered with bells that chimed when they moved. One woman wore a Chilkat blanket, blue and red with dentalium buttons, similar to those I've seen in Alaska. I noticed some finely woven hats, which I believe are typical of many of the coastal tribes -- more beautiful than I've seen anywhere else -- in or out of museums.
And everywhere there were children, each dressed in costume and appearing at once extremely proud and a bit apprehensive. Some marched in the parade, while others, apparently too young to participate, merely watched from the sidelines.
The show would continue far into the evening and throughout the next day, but for us, it was time to return to Newport and the rally. I'd only been gone three hours. But, given the diversity of what I'd seen this afternoon, it felt more like a year.
Departure day for the FMCA rally in Redmond came early the next morning, starting about an hour before its announced time of 7 am. Rigs were rolling, creating a bit of gridlock in the resort streets as they hitched up their tow vehicles. The latest announcement we'd heard about getting to Redmond had the participating rigs meeting in the Sisters' fairground area, some 4 miles east of town, getting their rally cards in place, and then heading back to town to take the most direct road to Redmond. Knowing what the Sisters traffic can be like, especially on a Sunday when vacationers are headed west, Tom & I could only imagine the nightmare of turning 51 rigs out of the fairgrounds left across that non-stop traffic.
We left our coach in Florence, picked up the truck and headed to Bend. Our route took us directly past the Sisters Rodeo grounds, and we were delighted to see that the rally-goers were still there. But things had changed. They wouldn't have to head back into town. They had arranged for a much needed police escort, which stopped traffic in both directions, while all 51 rigs pulled out onto the road. What we'd thought would take 15 minutes or longer actually only lasted 6 minutes and 58 seconds! The last Alpine turned left toward Redmond, traffic started up again, and we headed to Bend and home.
Now we'll resume our commute between the high mountain desert and the Oregon coast -- at least for a week. We don't like being too long off the RVing trail, so next week we'll head north to the Columbia River gorge for a few days. And then it's only a couple of weeks before we're back in Newport -- this time for the Guaranty RV getaway. This is certainly the life!
---
Postcard: Jetty Walking
August 1, 2007
We've spent the better part of a month now commuting between the Bend townhome and our new "digs" in Florence, carting "stuff" from the mountains to the sea. One trip was done with the help of a one-way U-Haul truck rental, but mostly we've just pressed our Dodge dually into a termporary new assignment. It's an interesting drive, showcasing a complete cross-section of this beautiful state. This road leaves the metropolis that is Bend and heads for the horse country around Sisters, passes several high mountain lakes, and crosses Santiam Pass. Before we get to the Pass, however, we wind through the Metolious River Recreation area.
The Metolious River is one of the "must-sees" in this area. If you travel to the headwaters of most rivers, you find small creeks you could jump across. Not here. The Metolious starts large. It flows, fully grown, right out of the side of a fern covered butte. It's believed that a long ago eruption of another nearby butte, Black Butte, buried the river channel. Now the river runs through volcanic tubes under the mountain and emerges on the other side.
Once over the Pass, our route west takes us along the McKenzie River southwest on Highway 126, toward Springfield and Eugene. We can watch the transformation of the McKenzie from tiny creek to wide river, very popular with white water rafters in its wilder reaches, and fishermen in its placid shallows.
Once out of Eugene, our commute continues west, across the coastal range and into Florence. Now following the meandering Siuslaw (rhyme with Cayuse-la) River, we leave the heat of the inland valleys behind, and head for the marine climate of the Central Oregon coast. In a short-but-scenic 40 miles, we're back in Florence.
Not only have we been moving a few items from Bend to Florence, but we've also been busy getting our new house ready for them. We've redone floors, replacing carpert with hardwood and tile; and I've been re- painting some of the walls and beams. I have to admit that, as a painter, I'm more enthusiastic than professional. It will take me a day or so to get the paint out of my fingernails, off my feet, (I paint barefoot, and hang on to the ladder with my toes) and out of my hair.
We're now at that stage where we drive to Eugene and get still more stuff -- towels and towel racks, bath carpets, etc. We bring things back, then decide we don't like them and return them, trading one set of stuff for another set which we probably won't like either.  But eventually we'll find the perfect item -- or get so tired of this game we settle for what we have.
But the adage "all work and no play..." -- doesn't apply to us. We've been exploring the coastal area, enjoying the Florence weather -- breezy afternoons, and calm sunny mornings.  For starters, we took a dune buggy ride.
Florence sits at the northernmost tip of the Oregon Dunes Recreation Area, which stretches 40 miles south to a point just north of Coos Bay. Less than one mile south of Florence, two companies offer guided trips into the vast expanse of undulating sands. They offer various trips depending on whim and how adventurous you're feeling that day. We'd heard about one trip offered by Sandland Adventures which sounded just about right. We traveled on a large 27 person dune buggy "bus" which took us on a fairly (emphasis on "fairly") sedate trip. As in a carnival ride, our bus slowly climbed some of the steepest dunes, (some of which tower to 500 feet!), and then roared down the other side. We skimmed the ocean waves on a 3 mile beach tour, and then wandered back through the "islands" -- dunes covered with pines and bordered by lakes formed by the high water table in this otherwise sand covered area. The driver was all the while carefully watching for an unexpected ATV rider to crest a nearby dune. The system for "early warning" here is a requirement that every vehicle display a flag at least 9 feet above the ground, so you have at least a bit of warning before a vehicle suddenly leaps over a dune at just the wrong moment.
If you're more daring than we were on our first trip, or wish to try something smaller, you have a choice of either 7 person or 4 person dune trips. These go faster than the big bus does and stay mainly on the dunes, zipping up, down and sideways across them. Either company will happily rent individual ATVs. Perhaps, once we get settled in, we'll try one of these options.
Wandering through Florence's Old Town, and during our stays at the Marina RV park there, we'd noticed a signal board placed at the marina boat launch. On top of this board two blinking yellow lights indicate that warnings are in effect for crossing the Suislaw bar, at the mouth of the River. The lights seem to be constantly blinking yellow, warning boaters to stay in the river area. This is because "the Siuslaw River bar has a very narrow channel extending out past the jetties. Unlike larger bars on the Oregon coast, the Siuslaw River bar may be rendered impassable for small boats by a moderate swell, particularly at ebb tide. Boaters should use extreme caution when operating near this bar. Due to shoaling and jetty extensions, bar conditions are unpredictable. When the bar is rough, expect continuous breakers 50 to 100 yards off the jetty tips."
But while boats may be warned off the waters, we can still walk along those jetties out to the beaches. We've walked both the south and north jetty and found them very different from each other. 
Because the dune buggy activity is centered near the South jetty, that's the best known area. And it's the one we visited first. Go south from town about a mile and make a hard right turn. Drive about a mile, and you enter the northernmost access point to the Oregon Dunes Recreation Area, the largest expanse of coastal sand in North America. Past the entrance kiosk, the road winds some 3 miles through dunes and dune grass, past small lakes and past parking lots for ATVs and the RVs which house them. This is one of the jump off spot for the tens of thousands of dune buggies and their riders who come here every year. For the first mile or so, you need to be somewhat aware of these little vehicles. At one point their trail parallels the main road.  But about two miles along, the road closes to dune buggy riding, and the rest is dune walking. You'll find several areas where you can pull off and hike out to the ocean. The dunes that border the ocean beach are in places no more than perhaps 50 feet high. But they are quite steep, and getting to the top involves walking up a literal mountain of pure sand -- stuff that goes downhill when you try to walk up it. Just scaling one of these 50 foot high natural barriers can be a bit of a workout. The easier option is to drive to the very end of the paved road, past the crabbing dock, and out along the south jetty.
This is where the windsurfers and parasailers, all outfitted with dry suits, come with their style of toys. They bring their pets along too. I took Barney for a walk on the south jetty beach one day, and noticed a boxer (dog) running through the surf, chasing his owner who was sailing along, partially airborne, quite close to shore.  At one point I thought the sailor was going to beach himself, but he managed to get turned and the last I saw him, was quite far out.  His dog wasn't about to follow him into the deeper water, and stopped, waiting in the water for a few minutes. It seemed the dog was thinking, "I give up. He'll come back when he wants to", as he headed back to settle down near a van parked along the jetty.
The other activity (besides beach walking, shell collecting, sand castle building and razor clamming), that's popular here is sand boarding. Kids love to slide down the dunes on these small surfboards. It doesn't bother them in the least that a challenging 20 or 30 foot climb back up is waiting them for them at the bottom.
The North Jetty is quite different.  No dune buggies here.  And fewer dunes as well.  Oddly, the dunes area starts abruptly south of town, with towering dunes, but north of the river, there are only a few small humps. The North jetty is a bit more difficult to find, and far less crowded, although you'll find comparatively few beachgoers south either. Drive north on highway 101, and turn left on 35th. Follow the signs about 3 miles. You'll wind past some of Florence's riverfront homes, past the Harbor Vista RV park (a very nice and very popular Lane county park). Just past the park, the road dips down to the jetty. Walk the jetty past the plaque embedded in the huge boulder, which tells you that 1.347 million tons (almost 7 billion pounds) of rock was used to build the jetties in a non-stop project that consumed more than 2 years.
From this point you can walk along an unspoiled beach. There are few people, and at this time of year, little morning wind.  It can be foggy however, and we've learned to keep Barney leashed where there's a chance he'll run out of sight. The other morning, we saw something through a light veil of fog that we at first thought was a huge tree trunk washed up on the beach. But after it raised its head, looked around and uttered a sharp coughing bark, we realized it was a sea lion which had dragged its multi-hundred pound bulk several hundred feet up on the beach. Those animals have a well earned reputation as "nasty critters", and could do an inquisitive dog a lot of damage. One day when the sun is out, and we don't see any basking sea lions, we'll let Barney run on the hard packed sand of the north jetty beach.
Moving is time consuming work, and leaves little time for RVing. Our coach in the garage seems to look reproachfully at me whenever I go in for some item or other. Therefore, we're especially looking forward to the upcoming Alpine rally next week in Newport, only 50 miles up the coast. The countdown has started!
---
Postcard: Camping in our own Garage
July 4, 2007
During our RVing travels, Tom and I have found some beautiful spots to park our rig. We've "camped" (if you can call RVing "camping") on mountain tops and along both coasts. We've stayed in luxury RV resorts, state and national parks, and dry camping areas. Once, we spent a noisy night in the service bay at Banks Power in a downtown Los Angeles suburb, waiting for a next day appointment. Banks is located near other commercial establishments, and trucks roared by us all night. It was a short night too; at 5 am, the first announcement came, " Don, call on line 3", and an unseen someone started his air compressor. But we'd never spent a night camping in our own garage.
We finally have settled on a second home, this time in Florence, OR. It's in a nicely planned community that has attracted hundreds of RVers. Like all others in this neatly maintained development, ours is a manufactured home, complete with RV garage. In fact, it's rather like an RV garage with small home attached than the other way 'round. We're still unsure about the fate of our Bend townhome. We're ambivalent about wanting to sell it -- particularly at at time when being a buyer is much the better side of the equation. It's awfully tempting to have a home base both in the Oregon Cascades and at the Oregon coast. But we've decided we'd test the market -- just for the summer -- to see if it sells. Our kids, avid skiers and golfers, are desperately hoping it will not.
But meantime we're a bit in limbo. We'd surely not want to outfit our coast home with new furniture, only to have the townhome suddenly sell before summer's end What would we do with all that furniture then? Consequently, we have a "beach" house furnished today with four RV folding chairs and one small plastic table. And these belong in the Alpine. Once we owned the house, we could hardly wait to have dinner in it, and I found myself running back and forth from the rig to the kitchen, kitchen to rig, forgetting things. I carried in the salad bowl and salad fixings, only to find I'd forgotten the tongs. I set the table, but forgot the salt and pepper, carried in the tableware, but not the serving spoons and a sharp knife for dicing veggies. Thank goodness the rig is now in our garage, right next to us. It's serving as our bedroom too, and while we miss the night sky, (all we see are the garage walls), there's no denying the convenience of having our own RV in our own garage.
Florence is an incredibly friendly town; everyone from the next door neighbors to the checker at the local Safeway store seems to want to make us feel at home. Perhaps this is because it's such a small town -- population just nudging 6,000. Perhaps it's because nearly everyone is a transplant from somewhere else. But here people just walking by stop to introduce themselves and say "hello".
We met our next door neighbors, Judy and Gary Burkhart, even before we made an offer on the house. They, too, are RVers, and we were immediately invited to the monthly meeting of our new community's RVing group, the Florintines. This group has about 8 rallies a year, mainly in the Northwest area, with a different couple volunteering to "wagonmaster" each event. We were invited to join all their coming rallies, and to meet them here in Florence at the Siuslaw harbor marina for the 4th of July festivities. They're planning a potluck, and are planning a large get-together with about 40 other RVers joining them for dinner and fireworks. Apart from RVing information, Judy also offered the name of the local landscaper and handyman. And the very first day we owned the house, Mark came by to prune the cedar which was overhanging the driveway and give me some pointers on the native plants. I specifically learned to beware the salal -- a low growing, broad leafed bush which, if not cut back and pulled out, will happily take over your yard.
We've met some real coastal characters in our first few days in Florence. There was the building inspector, Ray Atkinson, a heavy set man with an unending supply of stories. Moreover he has a name for his company which I will not soon forget. We were inspected by the "Sure-Look Homes" company! As Ray was finishing his inspection, Jim, the guy from the local exterminating company, came out to crawl under the house to see if all was well there. (As in the San Juans, carpenter ants and termites can be a problem in coastal Oregon.) When he extracted himself from what seemed to me a low and incredibly small crawl space, Jim wore a satisfied grin. "From a rodent's point of view," he said, "this is a very tight home. There are no spaces where mice or squirrels will be able to burrow". It's a good exterminator who can see things from the rodent's point of view.
I continue to be amazed at the varied interests of some of these folks. Mark (everyone's local handyman) spends his free time hiking through the backcountry with his camera. He described his Sunday hike along Spring Creek trail as an easy walk with dozens of waterfalls to photograph, and bird life galore. Bryan, who measured our home for new flooring, enjoys fishing and clamming when he's not laying carpet or installing wood floors. He claims no one who lives on the Oregon coast has any reason for ever going hungry. If he does, that person just "isn't trying hard enough". Del Phelps, the realtor who sold us our home, is a computer whiz who's even been able to teach Tom a thing or two.
We had planned on heading right back to Bend to get some of the items we know will make the move to Florence under any scenario, but the Monday morning weather fairly screamed for a walk on the beach. And it was noon before we knew it. We decided to leave the drive back for the next day. It sounded like a lot more fun to meet some of the other RVers in our new community.
About 50 RVers turned out for the monthly potluck meeting, most dressed in red, white and blue colors. One couple even had red, white and blue plates! It's a very active group, and we look forward to joining them on one of their upcoming trips.
Barney is in his element here. Right next to the development, hundreds of acres of sand dunes are just perfect for doggy romps, and he's been off leash more here than ever before. Our property backs onto a greenbelt, one that is purposely kept in its natural state. Tall rhododendrons fight with laurel bushes, pines and the inevitable blackberry bush for the available sunlight. This situation would seem to create a natural fence, and we became a bit lax at watching the dog -- until Barney decided to do some solo exploring. Within a few minutes he returned, showing us that the greenbelt is not as formidable an obstacle as we'd thought.
Bend will continue to be our primary address for at least the rest of the summer. We'll be rally-ites this summer, going to the Good Sam rally in Redmond later this month (Tom's doing a seminar), an Alpine rally in August, and a Guaranty rally in September. These last two will be held in Newport, OR, just up the road from our new "digs". By then, it will be time to head south. For the balance of the summer we'll be frequent travelers between Bend and the coast, and great customers for U-Haul for at least some of these commutes.
But we'll have to wait a bit to know where our primary address will be next year...
---
Postcard: Going Back
June 20, 2007
June is a month of new beginnings; graduating seniors look forward to their independence, and the next stages of their lives. It's a month for weddings; brides and grooms anticipate to their futures together. June can also be a nostalgic month; a time for looking back, and that's what it has been for me. This month, Tom and I returned to Sequim to look at real estate -- once again. A few days ago, I attended my 50th high school reunion, going back in time with memories of years long past. Then, while Tom flew off to Washington DC, I boarded the ferry, going back to San Juan Island, going back to revisit places and people we'd known from our 17 years there.
Sequim, ( "skwim"), Washington is a medium size town, pop. just over 5,000, situated at northern edge of the Olympic Peninsula. One of its notable landmarks is the Dungeness Spit, a 7 mile long sand spit, (the longest in the nation), that extends into the Straits, crowned at the tip with one of the oldest lighthouses in the Northwest. On the bluffs overlooking the spit is one of our favorite parks, a county park set in the middle of the Dungeness Recreation Area. Getting a large (over 38') rig into the campground sites might be difficult, but smaller rigs will find level sites, each with fire ring and picnic table. The campground is heavily treed, bad for satellite reception, great for wind protection. There are no hookups, but water is available in certain areas throughout the campground, and there is a dump station.
What makes this area special are its views. A mile long trail follows the edge of the bluff, with conveniently spaced benches where you can stop and simply gape at the scenery. You look west along the water toward Port Angeles, and north across the Straits of Juan de Fuca to Victoria, BC and the San Juans. Look down, and the Spit beckons. A separate trail winds down through the cedars and madronas to the beach below. You'll see herons, harbor seals and an occasional sea lion. Clamming and crabbing are both good -- in fact, Sequim is well known for its Dungeness crab.
But it's better known for its climate. Only 75 miles to the west, the Olympic rain forest gets 12 feet of rain a year, but as you progress east, you come under the "umbrella" of a rain shadow. The further east the less rain and Sequim averages only 16 inches each year. That small amount of rain, combined with temperate winters, makes for year 'round golf and other outdoor activities, and has attracted a large number of retirees..
We're still pursuing Plans A and B in our search for another address, and decided to take a closer look at Sequim. However, we had made a serious miscalculation. We'd used the high desert areas of Oregon as a standard for other areas. There's little RV storage in Bend, and we thought we'd need at least an acre of land to construct our garage, as well as having some land just to enjoy. In and around Bend, if you have a acre of land, what you'll grow is juniper trees, sagebrush and lava rocks. Little else will prosper, and maintenance is not a problem. In Sequim, RV storage is not such a problem. And Sequim is not Bend. Here, everything grows, and maintenance is almost a daily affair. An acre of land will be covered either in lawn or wild grasses -- both of which need mowing. Irene Schmidt, real estate agent with ReMax, had given us a list of 18 houses, each of which matched our criteria, and we drove around the town on one lovely morning only to find a good 50% of "Squim-ites" out on their riding lawn mowers! Whoops, back to the drawing board. Next visit, we'll be better informed.
We had a couple of days before Tom was to leave for his presentation on the East Coast, and before I was due at my class reunion. We'd planned to stay in one of our favorite "secret" places, an RV park on the Whidbey Island Naval Air Force base. However, as our boat docked at the Keystone ferry landing, we saw there were plenty of empty spaces at Fort Casey RV park, and jumped at the chance to spend an evening there. The park is right next to the ferry landing, and we'd get our "ferry fix" watching the boats come and go.
Fort Casey is one of the forts ringing the entrance to Puget Sound, established in 1900 to defend the Sound. It's huge, a 467 acre marine camping park with a lighthouse, redoubts and two historic guns on display. You can walk the beach or the fort grounds, and kids love to play in the concrete remains of the old fort buildings. We took full advantage of the unusual number of vacancies in the park, and found a site right on the water.
Rainy weather helped decide us against our Whidbey Island hideaway, and we drove north into Anacortes. The park at the Northern Lights casino was convenient for taking Tom south to the airport the next morning, for my trip to the Islands, and was dryer than the grassy fields of Whidbey.
Tom left for his presentation to the RVIA Board of Directors, and Barney and I headed for my 50th reunion. I'd found a great place to board him, not at a kennel, but at a "dog-sitter's" home. We pulled up to the front door, and Barney was greeted by 5 large dogs, each with wagging tails and loud barks of welcome. Intimidated, he flattened himself in the driveway, and had to be dragged to the front door, but quickly became accustomed to the noise, and was happily running around with his pack when I picked him up the next day.
Everyone has feelings of going back in time when they attend a reunion, and those feelings are all the more intense when it's your 50th. My high school situation was a bit different than most; my graduating class numbered only 19, all women. More than half have remained in the Seattle area, while the rest have scattered from Florida to Las Vegas, from Pennsylvania to Oregon. I was delighted to see some of the out of towners, and learn about their lives in different parts of the country. They, in turn, seemed to think that anyone who could drive an RV was something special -- even if that lifestyle was not one they'd choose for themselves or know much about. In fact, one described the activities of her ex-husband, "All he wants to do is windsurf at Hood River and stay in a camper!" Then she suddenly realized what she'd said and apologized. "Not to worry, Susie", I assured her, "this lifestyle isn't for everyone. It just happens to be one we enjoy." I realized that I've become thoroughly content with who I am and what I am doing in my life.
Thursday morning, while Tom was giving his RVIA presentation in warm, humid Washington, Barney and I boarded the ferry Elwha, bound for Friday Harbor, San Juan Island. I expected to recognize someone on the boat; I remembered great conversations with friends and neighbors as the ferries steamed through the Islands, but not today.
At first glance, the Harbor seemed unchanged. Then I noticed the new, much stronger ferry dock, and the mix of stores on Spring Street. Where the bookstore used to be is now a real estate agency. Where "Big Daddy's" clothing store used to be is another. Changes, changes... But it's still a quaint, picturesque little town.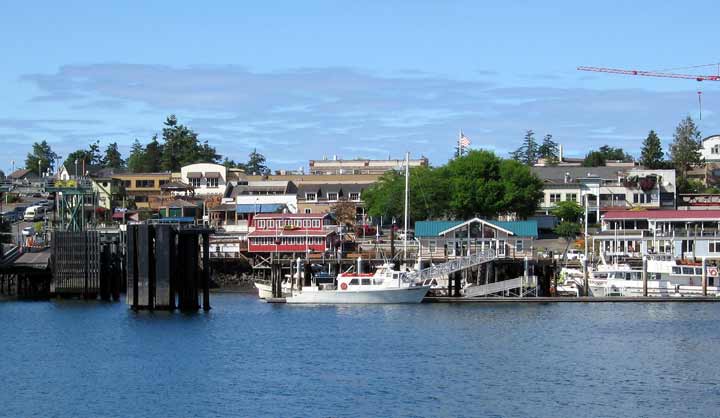 Next stop -- Roche Harbor Resort, the small, quaint inlet at the north end of the Island. At one time, Tom & I would come to Roche to get away from the bustle of Friday Harbor, but Roche was changing even when we lived there. Now the resort is expanding dramatically. The gardens surrounding the old Hotel de Haro are as spectacular as ever, but now a new hotel is being built right next door. Condominiums are being added and gaily painted houses cover the hill above the water. Small artist shops crowd the entrance to the docks. Even this early in the season the marina seemed packed. I can only imagine what it will look like in another month!
Time to see what had happened on the other end of the Island, on the cape where we used to live. I took the winding west side road, the whale watcher road. This area is prime Orca (killer whale) country, but this morning, I didn't glimpse so much as a whale watching boat, those bright orange inflatables which serve as bellwethers for Orca searchers.
Cape San Juan remains much as it was when we lived there. I had a chance to talk with some of my old neighbors, and am delighted to report the spirit that was the Cape still exists. I took Barney for a walk along the cliffs that form the southernmost point of the Island, and heard what Jimmy Buffet so correctly described in one of his songs, "the sound of the low tide". As it turns, the tide makes a rushing, hissing sound and once you've heard it you will never forget it. We walked South Beach which is, at 2 miles, the longest stretch of beach in the Islands, and Barney dug a huge hole in the sand, giving me a fine sand shower.
Then it was time to return to Friday Harbor to catch the return ferry. If I'd become a bit overly nostalgic about the Island, the lateness of the return boat helped bring me back to reality. It's an island, and you are dependant on the ferry schedule, not your own. You count yourself lucky if the boats are on time -- it's just part of Island living.
Tomorrow Tom arrives back in Seattle, and we'll head south. I enjoyed going back, to Sequim, to my reunion and to San Juan Island. But now it's time to go forward.
---
Postcard: Advanced Studies
June 9, 2007
We've spent the past month in and around Bend. We found a convenient, if not traditional, spot to store the Alpine -- an empty warehouse! The building is enormous, about the size of a Costco discount store with all the aisles removed, and the only inside tenants are our 35' Alpine and a Keystone 5th wheel. While the inside is virtually empty, outside is a staging area for a large sand and gravel company. Each evening huge trucks, each with two trailers, hook up to electric stanchions on one side of the warehouse, and each weekday morning they're gone by 7am. The warehouse area is open from 7 til 5 during the week, but we've been given entrance codes for after hours or weekend access. Getting in is a bit of a step by step process, however. First, we enter one code to get in off the street, then we enter another to let ourselves inside the building through the "man-door" (so called because it is the only man sized thing in this whole yard). Then we push a button to lift the 20 foot entrance door.
We put the townhome on the market, and spent several days looking at local homes in Bend and the nearby towns, Redmond and Sisters. We're doing this research in case Plan A comes to fruition, and our townhome sells. We'd then probably consider another home in this area, this time with acreage. Between nosing around the real estate market, and hosting our Yakima clan over the Memorial Day weekend, it seemed time flew. Before we knew it, May had simply disappeared! June was here and It was time for a long planned service appointment at Guaranty RV in Junction City.
Service appointments are the subject of much conversation among RVers. Everyone has a story of how difficult these appointments can be to obtain, and other stories, in retrospect often amusing, of spending weeks in various service departments. Some RVers even have a term for these marathon visits. They call them "camps", as in, "I spent two weeks at Camp Alpine", (or Camp Country Coach, Camp Monaco, and so on). And often there is no other no other option -- you simply must take your rig in, stock up on patience, and wait it out. But this trip, we were able to add some variety to this ordeal. We combined it with a trip to Florence, a small town on the coast about 65 miles from Eugene, researching homes in this area.
We could have spent the night before our service appointment in any one of the many private parks in the Junction City/Eugene area. But good RVing friends had touted a nearby county park, claiming it's location on the western shore of Clear Lake Reservoir under old growth cedar and fir trees, with electric and water hookups made it one of their favorites. We loved it too and will make Richardson Park one of our return stops whenever we're in the area.
Richardson is less than 10 miles from Junction City, has level asphalt sites, many of them pull throughs. It's just a short, scenic walk to an large marina at lakeshore. While many of the sites are heavily treed, we found a couple, # 30 and 31 in loop A, and # 75 in loop B that are perfect if you have a DataStorm and a yen to get on the Internet. And if you've ever stayed long in Junction City, you'll appreciate the quiet. Two railroad tracks run through the middle of town; freight trains and an occasional overdue Amtrak come whistling through at any hour of the day or night. At Richardson, all you'll hear over the noise of the finches, sparrows and robins is an occasional car going by.
Once the rig was settled in service, we took off for the coast. Tom had made an appointment with a realtor with Prudential, Del Phelps, to show us some of the houses in this coastal city. Del had a handful of listing sheets ready for us when we walked in the door, and we were expecting just to do a preliminary "drive by" to see if any of these houses looked promising. Then Del threw us a curve ball. "Have you ever considered a manufactured home?"
To be perfectly honest, we hadn't. My ideas of manufactured homes ran to images of everything from mobile homes to the park models I've seen in RV parks around the country -- perhaps fine to live in for a season, but then you'd be glad to return to your stick built home base. But why not give them a look? Armed with the gate access code, we set off for Florentine, a community of manufactured homes set in a northeastern section of Florence.
And were very surprised. I was delighted to see that most homes here are basically low maintenance -- I counted only three that had any kind of mowable lawn. Most feature rhododendrons and other native plants set in bark chips with drip watering systems. The builders of this community were required to leave a certain percentage of the area in its natural state, and there are several "green belt" sections which will never be built upon. But the most surprising feature here is the number of large RV garages. It seemed that at least one in every three homes has one -- many 40+ feet long, with 13' garage doors, and 20' interior ceilings. Those that don't have garages, have areas next to the existing 2 or 3 "normal" car garages where you could easily store an RV. And many of these outside storage areas have full hookups! Tom's long wanted to be able to keep the Alpine, and possibly the truck and camper, right next to our house -- if not in it -- so he was very taken with Florentine.
A call to Junction City that afternoon confirmed the fact that one of the parts we needed would have to be shipped from Western RV in Yakima. This meant a couple of days' delay in our schedule, but freed us up for more in depth research in Florence. We'd go back to Junction City that afternoon, and bring the rig over the next day. Now to "research" a place to stay.
We remembered Sutton Lake Forest Service campground from a former visit, and drove the three miles north of town to this picturesque park. However, most of the sites were too small and heavily treed for us to get any satellite reception. That problem does not exist at the Suislaw (named for the river) Port campground. This is a small (about 50 sites) campground with an office where the walls are decorated with dozens of pictures. Look more closely and you'll see these are completed jigsaw puzzles. According to Sue, the friendly gal behind the desk, these puzzles are done during the winter months when, tongue in cheek, she said, "We're sooo busy!" We got site B12, overlooking the river and just upstream from the picturesque bridge at its mouth. There was a nearby sandbar where we could let Barney run free without being too worried he'd disappear on us. (Barney has a healthy respect for water, and between the Suislaw on two sides, and multiple watery channels running through the area, he pretty much stayed around). Tom got his satellite reception without any tree problems, and the port campground is only a few blocks from Florence's Old Town district, with good restaurants and cute shops. Everyone was happy.
The next morning, we returned with Del to look further at some of Florentine's homes. I was surprised to see how big they appeared from the inside. Several were a bit formal for my taste -- with living rooms, family rooms and separate dining rooms. Three bedrooms seemed the norm, and some had an additional a den or sewing room. All had large kitchens with up to date appliances. Each had at least one deck overlooking a private back yard. My preconceived park model ideas were starting to disintegrate.
But we're not ready to make any decisions yet. We have no idea if our townhome will sell or whether we'll want to rent it. We've still to look at other coastal areas, both in Washington and Oregon. In the next week or so, we plan on traveling north to Sequim, a small city on the Olympic peninsula. We considered moving here once before, and are looking forward to seeing what Sequim has to offer.
Then Tom takes off for Washington DC to talk with the RVIA council, and I'm off to a high school reunion. I'll have a day or so to spend in the Seattle area before he returns, and plan on visiting some San Juan Island friends. I've heard that things there have changed a lot and am looking forward to seeing for myself.
---
Postcard: Researching Plan "B"
May 6, 2007
We've lived in our townhouse now for almost 2 years, and restlessness is beginning to set in. It's a beautiful home, with state of the art appliances including a built in vacuum system. We're within walking distance to the Deschutes River, in the Deschutes National Forest. It's only abut 15 miles to Mt. Bachelor and then to the Cascade Lakes, great for winter skiing and summer fishing. But we're also in an area where most of the other homes are rental units; where we have no real neighbors as such. And after 17 years in a small community on a small island, we miss that camaraderie. We anticipated RV storage could be an issue for those who live in townhomes -- but little did we imagine that in Bend it is virtually unavailable, thanks to soaring land values. So we decided to add a new ingredient to our lives, and came up with plans "A" and "B". "A" includes selling the townhome, and moving to a house, probably with at least small acreage, in Bend. Under plan "B", we would put our townhome in the rental pool, (reserving some choice weeks for us and our family), and find some property -- at least a couple of acres -- either there or elsewhere. We're not sure if we'd even need a house, as this would basically be a place to park the rig between trips. If we found just the right spot, it wouldn't even have to be in Oregon. But where? We decided Idaho was too far away from family, and neither of us wants to return to California. So we'd look in Washington.
Thus far our preliminary research has been done in a tiny county in the south central portion - Klickitat County. This is a very scenic but sparsely populated area; the largest town, Goldendale, had only 3,760 persons in the 2000 census. There are only two "main" roads in the whole county -- Highway 14 east-west along the Columbia, and 97 north-south from Oregon. Until this week, those were the only roads we'd traveled in Klickitat county. Now, we're starting to count ourselves virtual natives -- we've traveled a lot of the back roads -- and found some we'll probably avoid in the future.
The first thing we learned is that this is an "up and down" county. Looking at the Washington shore from any Oregon vantage point, you see cliffs rising from the river elevation to well over 2,000 feet. The cliffs are raked with creeks and rivers plunging from the Mount Adams wilderness to the Columbia. Two of these, the White Salmon and Klickitat, are well known to white water rafters and trout fishermen. Salmon and sturgeon fishermen flock to the Columbia in this area.
We left the rig at the Bridge RV park in White Salmon, just across from Hood River. This is a small park, only about 40 spaces, plus room for tents, and when we arrived we found it completely full of hopeful fishermen and their families. Our reservation had taken the last available spot -- right next to the restroom, and we got quite an education the first evening. Tom & I have given a course at Life on Wheels which covers "Campground Etiquette". One of the points we stress concerns the do's and don'ts of cutting through others' camp sites. Several participants in this course have told us we are "preaching to the choir", and "we'd never do that". Those folks should have been at our site that evening. It seemed everyone, man, woman or child who wanted to get to the restroom cut right through our site. We didn't particularly mind this, but it was hard on Barney, who couldn't decide whether these folks were friend or foe. To calm him, we gave him one of his favorite chew toys, a rawhide bone. He was sitting on his blanket, chewing away and ignoring the world, when a small boy squeezed between the car and a tree, climbed over the bungee cord we'd strung to discourage exactly this, and stepped right over him. Barney, completely startled by the intrusion, jumped and growled and the little boy ran. I can only hope this experience taught him a lesson his parents had obviously overlooked. The next morning, many of the weekend fishing crowd left, and we had our choice of sites. We had difficulty deciding between one with a view of the River or one surrounded by lilac trees.
The next morning, armed with Ms Garmin and a paper map, we began our Plan B research. Naively, we figured we'd have no trouble wandering around this little county. What we didn't realize at the time was what we had was a county map, one that shows every road wider than a driveway (and some that are no), from 4 lane highways to country paths, from asphalt to gravel or dirt. That fact was to prove important.
We stopped at several interesting homes in Goldendale, located roughly 35 miles east of White Salmon, and then headed back west toward the tiny town of Klickitat .We drove down Highway 142, a 1 & 1/2 lane wide, 6% grade to the Klickitat river (I told you this was an up and down county). Our next stop was in an even smaller town -- Appleton. To get there we followed the Klickitat-Appleton Road, which took back every foot we'd lost, climbing from 600' to over 2,100' in about 4 miles.
We've been in little towns before, but this one wins the prize. I tried to find the population by going to "Google", but this town is so very tiny that when I put in Appleton, Google could only list all the other Washington towns that begin with the letter "A". The town consists of one Post Office and fewer than a half dozen houses. Exploring here took only a few minutes, but we found a couple of historic buildings. One was a very large and dilapidated log building surrounded by a high wire fence. While Tom studied the map and plotted the next leg of our journey, I went into the post office to ask the clerk if she could tell me anything about the building.
Phyllis turned out to be an expert on the history of Appleton. The log building was built in the 1920s, and had served as a community hall, dance parlor and a place to store hay. As it aged and began to fall apart, the citizens of Appleton realized they couldn't afford to keep it up. It's now fenced to keep curious persons safe -- and outside its walls. A large part of the roof is gone, and there is no longer glass in its windows. It's a treasured memento of the Appleton that was. Appleton was named for the many apple orchards (now gone) that ringed the town. Until 1965, there was a 4 room schoolhouse here, serving grades 1 through 8. Phyllis' uncle had been one of the first high school students to go to Goldendale for high school, at the then high cost of $200/yr.
I was so enthralled by Phyllis' stories that I forgot to ask her about our planned route west from Appleton . Good thing, as she probably would have recommended the Shippey Cutoff or the Canyon road -- anything other than the one we planned to take -- the Sleepy Hollow road. But we were relying on the map; we could see where we were, and where we wanted to go. Sleepy Hollow Road seemed the shortest, most direct route. We didn't expect Sleepy Hollow to be paved, it looked like only about a 5 mile drive, and we had 4 WD.
Thank goodness for that last. Just out of Appleton, the road entered a dense pine woods and began to climb. Not only was it not paved, it also wasn't gravel -- just mud and dirt. As we bounced along, the road grew progressively more narrow, steep and muddy. Just before it attained trail status, we passed a sign, "Road Impassible when Wet", and remembered the downpour of the night before.
The road was too narrow now to attempt turning around, so on we went, sliding through mud hole after mud hole, guessing which direction to take whenever we came to a branch road. We didn't dare stop for fear of getting stuck, and a hike back to Appleton wasn't at all an attractive alternative. It seemed forever until we came into a clearing where a local logging company had set up operations. While no person was in sight, there were several trucks and a trailer scattered through a logged over area. If a trailer could be towed up here, we figured that the road ahead must improve.
It did. We descended a hill (past another "road impassible when wet" sign facing the oncoming traffic), and the mud turned to gravel (never has gravel looked so good). We'd driven just over 4 miles, and it had taken close to an hour. I'd forgotten my camera, so we have no record of our adventure, but when I asked Tom if he'd consider driving back up Sleepy Hollow road for a snapshot or two, not surprisingly he declined.
We'll spend another day in this area, looking at properties in towns with names like Trout Lake, BZ Corner and Husum (pronounced "Hoo sum"), and then head west downriver toward the ocean and the Long Beach peninsula. We're not sure what lies ahead, or whether we'll go with Plan A, B or keep things as they are, but we're certainly enjoying doing the research!
---
April 16, 2007
The spring weather in Bend has been cool and rainy -- far better than in the rest of the country, but hard to take for snowbirds like Tom & me. The coach is in Yakima, at Western RV for its service appointment, but our itch to travel hasn't lessened. What do RVers do when they're deprived of their rig for a few days? Take day trips, and explore the countryside.
We thought we'd covered most of the area in and around Bend. We've spent time fishing and kayaking on several of the nearby high mountain lakes. We've hiked many of the easier trails, and driven most of the backroads. But we'd never visited Maupin, the Tygh Valley, or the lower reaches of the Deschutes River.
Leaving Bend, we headed north on Highway 97. We wove through Redmond's traffic and headed out into the high desert country. This is ranching land; cattle, sheep and goats dot the fields, and one ingenious rancher, whose "spread" overlooks the Crooked River, has named his ranch Moo Mesa. North of the small town of Madras the highway heads northeast toward the "ghost" town of Shaniko, on to the Columbia River, and the Washington border.
That's one route north, and the one most people take. But there is another road, one which is a bit longer, steeper (6% grades), and more winding... and far more scenic. 25 miles north of Madras, turn north on Highway 197 and follow the sign to Maupin and the Deschutes River recreational area. Or go on a bit, and the very next road, Bakeoven, (guess what it's like here in the summer), will take you there as well. After exploring the area, continue on and you'll come to the Dalles and the Columbia River, about 10 miles west of where you'd be on the "regular" route.
On our trips north, we'd always found a reason not to take 197 through Maupin. We'd discussed it, as we hurried by on the "main" road, but always postponed the detour for another trip. But today there was no reason not to visit Maupin -- we had no other plans for a sunny Sunday, no rig to worry about getting around the curves and down the grades (which with hindsight are easy). Off we went.
And found one of the most scenic little towns I've yet seen in central Oregon. We left the high desert countryside of Madras and headed northwest on Highway 197. In just a few miles the road spiraled down, down to Maupin and the Deschutes river. With no irrigation drains lowering the water levels, and no dams on this part of the river the Deschutes becomes a deep, wide rushing river. The small and colorful town of Maupin is built along each side of it, connected with a bridge.
Maupin thrives on tourism -- rafters by the hundreds in summer take to the river to enjoy class 3 rapids with names like Boxcar, Oak Springs and Whitehorse. Trout fishermen and turkey hunters come in spring, deer and elk hunters in fall. We were just ahead of the season; today the sleepy little town didn't seem quite open. There were only a few customers in the deli, and the tourist bureau, a small wooden building overlooking the Deschutes, was still closed -- and will remain so until the Memorial Day weekend.
RVing in Maupin? The City Park has about 20 sites with full hookups, suitable for big rigs, and right on the river. (We watched one RVer fishing from the park banks). Today, only a few RVs, but the park takes reservations, and I'd guess they'd be full during the summer. For those of us that live nearby, this makes an especially attractive destination during the Spring and Fall months.
From Maupin it's less than 10 miles to the tiny town of Tygh Valley, (population 224 in 2,000). RVing in Tygh Valley? Try Hunt Park, a full hookup park adjacent to the Wasco County fairgrounds. Even though we seemed miles away from places RVers might go, caretaker Sid Moss told us that from Memorial Day through August, the park can be crowded. Church groups come from as far away as Seattle, rafters stay here awaiting their trips downstream. You camp on the grass, in the shade of oak and cottonwood trees, a nice feeling during the summer heat. (Sid also told us that the thermometer occasionally will read above 100 degrees on some summer days. Good for shade or the splash of the Deschutes River.)
Before we left Tygh Valley, we had a geocache to find. Our trusty GPS led us to a quaint country eatery in town, "Molly B's Diner". I grabbed a trinket from our stash, and, feeling a bit like a trespasser, started across the diner's back lawn. The clue to this cache is "look to the owl", but I couldn't see an owl anywhere. Suddenly, a man came out from the diner, and called out, "Can you see the owl?" This was Sam Cobb, transplant from Texas. He and his wife, Sandy own Molly B's and have only recently learned about geocaching. Sam had the idea of putting a cache on the property. It had only been up about 4 days, and already been found by 6 cachers, -- 6 new friends for this friendly man, and in our case, a breakfast will be in the works the next time we visit Tygh Valley.
According to Sam, there are now more than 400 people in the Valley, and most of them come to his diner, especially for Friday night dinners. While Sam and Sandy are newcomers, having bought the diner only a few years ago, it's been a restaurant here for almost a century, and has a clientele that has been coming here for almost that long. Inside, you'll find the tables lined with wooden slat-backed chairs -- most of which have a name inscribed on the topmost slat. Some of the names belong to people who still come to the diner; others belong to people now deceased. Sam told us that he opens the diner every morning promptly at 7 am, but there's one man who arrives each morning at 6:45! That man has been told where the key is, and is welcome to make the morning coffee whenever he wishes.
That's one of the delights of a small town. We used to have a cabin in the Sawtooth Mountains of Idaho -- so far out of the way that no one ever bothered to lock their cabins or their cars. We'd have friends come to visit from the city, and we'd laugh when they set their car alarms, since the only thing likely to break in would be a bear! Sam also laughs when he describes the "city" types who come to the diner and lock their cars. (He confided many of the locals still don't sense much need for locks here.)
We didn't have our RV with us this time, so we'd have to postpone our further exploration to another day. This time we'd have to head back home to Bend. Just north of Tygh Valley, we turned right on Oregon 216 and headed to Sherar's Falls, a stretch of the Deschutes where, in the Fall, Indians still net salmon as their forefathers did. The platforms they use seem precarious to me, rickety looking structures stretched over the boiling water, but so many similar areas have been forever submerged due to dams, that it's an historical treat to see even one. Sherar's bridge crosses the river here, the road turns right and returns upstream to Maupin. There we climbed out of the river valley and headed back to Bend and civilization.
This summer, both Good Sam and FMCA will hold rallies in Redmond, attracting thousands of RVers. From there, you can head out into the surrounding central Oregon countryside -- perhaps to visit Maupin, Tygh Valley and the lower Deschutes River. It's a trip well worth taking.
---