POSTCARDS
---
Stephanie is one of those persons who can fit a lot of words onto a standard size postcard -- usually by writing sideways, around corners, and even upside down if she can find some extra space. Most of these go to family and friends. But some of them -- those which document our RV adventures -- find their way onto this portion of our website.
---
Postcard: A Postcard from Barney
November 22, 2008
As the interval between Postcards became longer and longer, I could sense what was happening. Stephanie needed a break. So, being the considerate Brit (Brittany Spaniel, of course) that I am, I volunteered to help. I'd dictate a postcard to tell everyone where we'd been, what interesting "doggie walks" I'd taken, and what I think about these odd people who travel all over the country and call themselves my "owners".
Owners, ha! They have little idea about who owns whom. Who fixes my dinner every night, and gets my "Barney breakfast" each morning? Who entices me into the car several times a day just to go on walks? (Sometimes I like to fool them, so I just look the other way when they tell me to "get in the truck".) It's obvious who's the boss around here. It took a while, but I think finally they're both becoming very well trained!
It was a two day trip from Durango RV Resort in Red Bluff to Emerald Desert RV Resort in Palm Desert. My people always enjoy returning to this park -- they say it feels like coming home. Managers Sandra and Richmond Mitchell greet them warmly as returning friends, the sites are widely spaced and level, and best of all there's lots of green grass to roll in when the mid-day sun makes my coat hot and itchy. There's a great dog run here too. It's located behind the storage area, securely walled off from the railroad tracks and the traffic roaring down Interstate 10. On a scale of one to four, this run ranks at least three paws.
When half the park was sold a few years back, 7 of the 9 holes of the executive golf course were sold with it. But the Mitchells found a nearby course to accommodate Emerald Desert golfers, and the weekly competitions still go on. Many of the people who stay here are attracted by the other Palm Springs courses, and there's an exodus of eager golfers each morning.
Other Emerald Desert traditions continue, also. There's still a Saturday morning breakfast, (though I wasn't invited), and I got to watch the Veterans Day parade along with several other canine friends. I was on my way to a doggie walk with Stephanie when we heard the most awful noise. At least I thought it was awful; Stephanie really enjoys the sound of bagpipes. Richmond Mitchell, dressed in kilts and playing the pipes, led a short parade of RVers around the expansive grassy area near the office. When the parade was over, everyone gathered around to hear a couple of short speeches about what it means to be a veteran. One speaker emphasized that even those who did not see active duty had also served their country. Stephanie couldn't help but think of her grandson, Tom Cameron, who is currently in the Army at Fort Huachucha, AZ.
Just as the speeches ended, a squadron of 4 small planes flew in formation over the group. An emotional celebration of Veterans Day.
I had a good time, even if I didn't completely understand some of the speeches.
Next door to Emerald Desert, the construction of the condominium village seems to have stalled. Not many units have been built since I was here last year, and there is little sign of construction, sales, or rental activity. Sandra is now taking reservations for next season at the RV Resort. I'm looking forward to returning next year.
After a week at Emerald Desert, I woke one morning to find Tom & Stephanie busily packing up. Uh, oh. This activity always means travel day. While I don't particularly mind travel, it does cut into my routine. I prefer to have my meals on time, (the same time) each day, and three walks, please. Where were they going now?
My routine wasn't much interrupted this time. It's only about 75 miles from Emerald Desert to Palm Canyon State Park, in Borrego Springs. It's still early in the season, and there were lots of free sites to choose from. We found one of our favorite spots with a great desert view and a huge palm tree shading the coach. Best of all were the smells! I know at least one rabbit and a whole family of Kangaroo rats lives under that tree, snuggled in the old palm fronds which cover its base and provide dog-free shelter. I have better vision than either of my people, and I saw some of those 'Roo rats when they emerged from the tree that first evening. But I couldn't reach them, my tie-down was just barely too short.
It's still very warm in Borrego Springs, and I spend some time each afternoon in the air conditioned comfort of the coach, while they swim laps. My people always tell me to stay on my "housie", a silly term which means sit on your blanket. And I usually, but not always, obey. If I can hear them coming back before they can open the door, I can easily get back to my housie before they catch me. As I'm nearly 3 years old, I'm pretty grown-up now, and they trust me not to chew things. I do have a pretty bad chewing record, from the seat skirt of the driver's chair in the brand new Alpine, to a hole in the plaster of a wall, but I'm over that now -- I think.
From the State Park, we drove to another RV resort, The Springs at Borrego. We spent a month here last year, and I enjoyed walking in the desert areas around the resort. At the Springs, these areas aren't as treacherous as those at the State Park. There are no nearby cacti to hurt a careless dog, and, as an added bonus, you can find small white balls. These must have something to do with the long green areas which surround the park, the same areas I'm not allowed to walk on. I'm told it's called a "golf course", but all I care is that it throws me balls to play with. I don't even have to hunt very hard; some of them are right out in the open.
There's another place for me to run and play at the Springs. Their "doggy run" is about as long as a football field and nearly half as wide. Every afternoon around 4, we go out to play with Karl, Lucky and Molly, and some others I don't know too well yet. The other dogs have to bring their "owners", so I'm beginning to know other people too. This place definitely gets my best rating -- 4 paws.
Borrego Springs has a new attraction -- prehistoric animal sculptures. Decorating previously barren patches of desert are huge statues of dinosaurs, the sort which would have been found here thousands of years ago. By listening from the back seat, I learned that the 4 tusked animal which looks a bit like an elephant is a gomphothere, precursor to the modern day elephant. We saw camels, llamas, tortoises and sloths. In one area, saber-toothed tigers were attacking a herd of wild horses. Stephanie took some pictures.
So that's what we've been doing the past few weeks. Soon we will celebrate Thanksgiving, with a potluck for the guests at the Resort. (I wonder, do dogs get to go to potlucks? From the sounds of it, there will be lots of good food, and I'm always ready for that). As the weather cools a bit, Tom & Stephanie will leave me occasionally for a round of golf, but as long as I can stay in the rig, that's fine with me. Then, come mid-December, we're off for Bend and Christmas.
I'll sign off for now, and promise to keep Stephanie on her toes for more postcards. Have a Happy Thanksgiving.
Barney
PS A special Hi to Beetle in Oregon...
---
Postcard: Heading South
November 7, 2008
Tom & I had made precise travel plans; we'd take it easy heading south. We weren't due in Borrego Springs for a couple of weeks, and it seemed we had all the time we wanted. Our plan was: First, an overnight in Eugene to get the breakaway connection installed on the new jeep. Next, drive about 100 miles south down I-5 to Seven Feathers Casino and RV park. We'd stay here a day -- or even two. Then continue south to Red Bluff and a brand new park there, Durango. We'd passed this park on a recent trip without RV, and it looked beautiful. Who knew how long we'd want to stay there? Next, a couple of days in the Monterey area. Here we'd make our practically obligatory stop for Castroville artichokes and perhaps spend an afternoon at the world famous aquarium. So, we packed up the Alpine and left Florence -- and were gone for a full 24 hours. We'd forgotten to remember Murphy's Law.
One of the most convenient places to stop while in Eugene is Premier RV resort. Its located adjacent to Interstate 5, and close to all the RV amenities that the Eugene/Coburg/Junction City area has to offer. We found our site and settled in. All was well -- for a while. Then, "pop" the circuit breaker blew. No matter what we did, and Tom tried everything, we couldn't stay connected. We unplugged the microwave. It made no difference. We took the refrigerator off "auto", and put it on propane. That wasn't it, either. We knew we'd feel more comfortable if everything was working properly before we started on a three month trip, and we did have an ace in the hole. We had Keith.
Keith is an RV mechanic (actually Master Mechanic) par excellence; one who can work on all makes of rigs, and is very knowledgeable about Alpines. He works at (and manages) the Dunham RV Service Center on Highway 101 in Florence -- less than a mile from our house. He's done a few minor fixes and upgrades on our coach, and everything has been done correctly and on time. We were still only 60 miles from Florence. So back we went. Keith was busy with other coaches that day, but we only had to wait a couple of days for our appointment. (Compare that with some other repair facilities!) However, this meant our lazy schedule would now have to be a bit compressed. We took the rig in on a Friday and Keith was able to diagnose and fix the pesky electrical problem. By Sunday we were re-packed and ready to go.
Just in time. The weather, Indian summer-like for the past few weeks, was threatening to end. We'd looked up the forecast, and were just getting out before the serious rains, accompanied by southwestern storm winds, began.
This time we headed directly south, down the coast to Reedsport. From there Highway 38 winds along the Umpqua River southeast. It's always a beautiful trip, made more so this morning by the reflections of the fall leaves in the placid backwaters of the river. At Elkton, we turned south on 138 and angled over to I-5. We arrived at Seven Feathers before noon, fueled the Alpine, and headed on. Every time we thought about stopping, the road ahead beckoned us forward. We passed Medford, Ashland, and crossed the Siskiyou Summit. According to the TrailerLife directory, there's an RV park well worth exploring in Hornbrook, a town only a few miles over the California line. There are a couple of other parks in Yreka we haven't visited. But this time we had the proverbial "bit" in our teeth. On we went. Right through Redding, and down the road to Red Bluff and the Durango RV resort. We're very glad we did. This is a superb new park, and for us a very nice discovery.
Since the owners are still awaiting their county approved directional signs, this park can be a bit hard to find. Take the Antelope exit, and go west to the first stop light. Turn right and take East street to where it ends in a couple of blocks. At that corner, you'll easily see the the park to your right. Enter through the attractive wrought iron entrance gates, and park to the right of the two huge flower pots -- and be sure to notice the braziers next to them. These, the braziers, not the pots, are lighted every night. The building directly ahead of you is the clubhouse, where you'll find coffee and treats in the morning and a fire going most any time it's less than warm. This large but cozy building is perhaps the most attractive facility of its type we've ever seen. It has a complete kitchen and large meeting/potluck room. There's even a masseuse on call, if you overdo it on the nearby golf course or hiking on Mt. Lassen.
Just outside the clubhouse is a patio with pool and spa. When there's a pool available, and the weather cooperates, Tom & I enjoy swimming laps each day. We often arrive to swim our laps to find several other swimmers just bobbing around in the water. It doesn't seem right to splash by them, so we often opt not to swim. This pool is different. Instead of just a simple rectangle, this quite large pool seems made for "serious" swimmers. It has two long lanes as well as a circular area for more relaxed swimming (or just "bobbing").
The park layout is spectacular -- wide, level sites, each with grassy plots around them well decorated with newly planted trees. Some sites overlook the Sacramento River, others surround two fountains that shoot water about 15 feet into the air. Other sites are "dual sites", you can either back into or head into them, and still have your hookups on the correct side. "Buddy sites" are offered as well.
Durango gives new meaning to "pet friendly". There are two enclosed dog runs, each with convenient doggie "bags" and a place to discard these. There's a gravel walkway which runs along river and under the freeway. On the other side of the road is a multi-acre area where dogs can run free. If your dog gets dirty playing here, the park also boasts a state of the art dog wash. A ramp leads up to a raised platform where you can tie your pet while you wash him. Next to the platform there's a dispensing unit with various types of pet shampoos. Just punch the corresponding buttons for shampoos and conditioners. Finish off the job with a warm air, drying blower. Barney gives this setup his highest rating -- "4 paws"! [Pictures]
Overnight, the predicted rainstorm arrived from the south, with torrential rain and heavy wind. It showed no sign of letting up. Indeed the forecast and the doppler map on Tom's computer agreed. This would be a good day not to be on the road. As the day wore on, the wind picked up. Occasional blasts rocked the coach, and the news reported gusts above 40 mph. We looked out at the vehicles being buffeted down the freeway and were glad we were not among them. Around 6 that evening, we could see some clearing to the west, and the map showed the worst of the storm had passed.
Next morning, except for some left over puddles and damp spots on the pavement, I might not have known there'd been any rain at all the day before. We left early and headed south. We've made a week's reservation at Emerald Desert RV resort, and are looking forward to getting back to the desert.
---
Postcard: Dead End
October 22, 2008
Tom and I have begun planning our winter trip south. We've pulled out the maps to guess which routes will have the best weather. We've wondered where we'll stop, for how long, and how many other RVers will be on the road this season. We've scheduled maintenance appointments for the Alpine, and arranged to get Tom's new jeep Sahara outfitted for towing. But there was one special project we wanted to accomplish before leaving. We both enjoy an evening campfire, even more when we can burn our own wood. Tom went to the Mapleton Ranger station and purchased a wood cutting permit. We'd head into the hills north of Florence and load our small trailer. Some we'd let "season" in the garage, some we'd pack into the rig.
That was the idea. Things didn't turn out quite that way. Tom returned from the Ranger station with a 2 cord firewood permit attached to a 5 page document. The first page was the signature page. The second page listed 27 separate cutting regulations imposed by the Central Coast Ranger District. These included where to attach the load permit, how to dispose of any debris left from cutting, and that only "decked" material (material left over from forest thinning), could be harvested. The non-transferable permit was REQUIRED (their capitals) to be kept locked in the car at all times while harvesting. Once we'd looked at all these conditions, we examined the other pages. Two of these were maps of the middle of the Siuslaw National Forest, so detailed as to be practically useless. If you could find a given road in the middle of the forest areas, you might be able to figure out where you were, and how to get to the marked cutting areas. But there was no map which showed the main roads -- those highways a novice woodsman would use to access the forest.
There were, however, written instructions. At first glance, they seemed simple enough to follow, if a bit vague. First, drive north to Waldport, a town 30 miles north of Florence. So far, so good.
Tom hitched the ATV trailer to our new jeep. He tied the chainsaw and a small gas can carefully to the front of the trailer. Next he placed an unopened 40 pound bag of dog food next to the saw and can. The weight of the food would keep the empty trailer from bouncing and rattling. Off to Waldport.
About 20 miles north, we crossed from Lane County into Lincoln County. Knowing what county we were in would prove important later on.
Our instructions were not terribly helpful. "Access to the Sale area from Waldport on Hwy 34 to 5 Rivers Road." Highway 34 shows up on all the Oregon maps. 5 Rivers Road does not. 34 follows the Alsea river for 40 miles from Waldport to the small hamlet of Alsea, and then heads inland to Corvallis. However, there was no way of knowing where, or if, 5 Rivers connected with 34. Tom had checked the Internet for maps of the area, and guessed it would be about 7 miles east. When we passed the 18 mile marker with no sign of 5 Rivers, he suggested turning back. "Let's go on just a mile or so further," I said. As we passed the 20 mile marker, his point of no return, we saw it -- a sign reading "5 Rivers Road". Finally!
Our next instruction read: "Turn onto 5 Rivers road (it didn't say which way, but we could only turn right) and proceed approximately 7 miles to paved Forest Service road 3700". How far is "approximately"? We saw no Forest Service sign at mile 6, but did stop to take a picture of the 1927 era Fisher Covered Bridge, a beautiful, barn-red structure which looks far newer than its age. We continued on. There was no visible FS sign at mile 7, or mile 8. At mile 9 we stopped to look at the map, but since we couldn't find any road with the loops and corners that at all resembled the road where we were. Just after mile 10, we crossed out of Lincoln County and into Lane County again. Oops. This was definitely the wrong way. We were headed back toward Florence without having achieved our log cutting goal.
Once into Lane County, the road, while remaining paved, narrowed to one lane with pull outs, and began to climb. In places, blackberry vines covered what there was of the shoulder, in other spots, golden oak leaves made a carpet which hid the road altogether. It was beautiful; it was also not the right direction.
About now, we gave up on finding the cutting area on this expedition. Had FS road 3700 suddenly shown up, we'd still have to drive "approximately" 6 or 7 miles to FS road 3230. Then another 5.5 miles, (no approximately this time, but would you trust it), to the 3232. Then another mile on a gravel road or branch out to a further cutting area on FS 3232112.
At this point we turned to Ms Garmin for help. By asking her to take us to our "Flo Digs", she might be able to find the best way back. If we couldn't get to the cutting area, we might as well turn the trip into a scenic loop. On her screen, we could see some of the highways we use on trips to Eugene -- it did seem that the shortest way back was straight ahead. On we went, climbing through the mountains, sticking to the paved road. At one point, we found ourselves at a junction of three roads with little to choose between two of them.
Suddenly, seemingly from nowhere, a red pickup roared past. I didn't realize that it was 4WD, or that it was driven by a young man in his mid-20s, and at a fairly high rate of speed for the area. It was coming up the road we wanted to go down, and in the pickup bed was a large mattress and what looked like a headboard. Perhaps someone was coming home from buying household furnishings in Eugene. This must be the road back.
We continued on. Around a steep bend, we met another truck, this one driven by two guys in camouflage. This road was looking better and better.
We should have taken note of the sign that said "Stop ahead". One more bend and the road abruptly ended at a tall kelly bump. I walked up and looked down into a deep ditch. The road had washed away at some earlier date, and that ridge of dirt protected the unwary from possible disaster. On the other side of the ditch, we could see the paved road continuing southward. Ruts on either side of the ditch showed that, washout or no, this portion of the road is still in use -- at least by hunters and young men in red 4WD pickup trucks. We could have driven the Safari across with little trouble, but what about the trailer? Time to turn around.
We retraced our steps. By now we were able to read our maps a bit better, and could see that there might be a shorter way back than the way we'd come. But if our map did not show this washout, what others might be lurking around some corner? Back we drove into Lincoln County, carefully looking for the elusive FS 3700. And we found it. Back in Lincoln County, at mile 8.7, was a road that looked exactly like someone's driveway. The roadside sign read Buck Mountain Road, but across a bridge over the Alsea River, tucked into some bushes, a FS road marker read "37".
Too late for wood collection today. We drove on to Waldport and returned to Florence. We may not have collected any firewood, but we certainly gleaned more information about the Siuslaw National Forest and its Forest Service roads. And Barney's unopened 40 pound bag of dinners had enjoyed a most scenic trip. We'll be back to try again.
(For pictures of our trip, click here)
---
Postcard: Harney County Country
September 29, 2008
While Tom and I have explored fairly extensively throughout Oregon, we've stayed in the mountains, or driven coastal routes. We'd entirely missed its largest county. Harney County occupies 10,226 square miles of south central Oregon. But although Harney is larger than several east coast states, its population (according to the 2006 census) was only 7,670. If census takers counted cattle and horses, it would be much, much higher. Locals believe that Harney County is the last area where a visitor can still see what the "old" west was really like. It's a high sagebrush desert, with wide open spaces and spectacular vistas. There's great birding here; waterfowl and sandhill cranes migrate through each spring and fall, stopping to rest and feed in the lakes and ponds that dot the area. Harney County is also home to Steens Mountain, a 30 mile long, fault block mountain looming close to 10,000 feet over one of the most barren spots in the state -- the Alvord Desert. I'd been angling for a trip out here for some time, and finally we had a few free days. We'd even had a personal reference to a delightful RV park in the area. The Narrows RV park is located perfectly as a base camp for exploration of this vast area.
We followed Highway 20 east from Bend, climbing gradually through hills of lava rock and sagebrush. About 15 miles south of Burns, we turned off on Highway 128, aka Greenhouse Lane, and cut southeast across to Highway 205.
As we were leaving Bend, Ms Garmin, our usually reliable GPS, had attempted to take us down an unknown dirt road. We had obediently followed her instructions, with the result that we had to stop, detach the Wrangler, turn the Alpine around, find a place to park it, and reattach the Jeep. So as we approached Burns we were a bit reluctant to leave the well known Highway 20 for a street that was called a "lane". However, Greenhouse is paved the whole way, and makes a great short cut.
About 10 miles later, we noticed that Ms Garmin thought we were driving down the middle of an enormous lake. Her screen was almost completely blue. Yet, looking out the window, all we could see were farm fields and hundreds of cattle placidly grazing. We were crossing "the Narrows", an area where, in season, Harney Lake (5 miles west) and Malheur Lake (about the same distance east), join with Mud Lake (completely dry on this September day), to create the largest lake in Oregon.
The Narrows RV park, located at the conjunction of Highway 205 and Sodhouse Road, is an attractive park with full hook-ups, level graveled sites, each with picnic table and fire ring. If you just want to spend the night, you can dry camp in their parking lot. When we checked in, we knew we were truly in the "back country". Over the cash register was a list of park rules. The first one -- "No Shooting"!
The Narrow has a small convenience store, which came in handy when I forgot the mayonnaise, and a great little restaurant. Tom and I enjoyed breakfast there each of the next three mornings -- I can highly recommend the home made breakfast sandwiches.
One note about Highway 205. Don't think of it as your usual highway, loaded with car and truck traffic. This is one of the least traveled roads I've seen. Only rarely does a lone vehicle, usually a truck with trailer for hauling livestock or hay, come by. You can stop and tie your shoes in the middle of 205 and have no worry about cars.
We arrived at the Narrows in early afternoon, with plenty of time to explore. Just 6 miles up Sodhouse Road is the Malheur National Wildlife Refuge Headquarters, a peaceful little oasis. Birds of all descriptions flit through the towering cottonwoods, and you're bound to see deer grazing under the trees. I joined the small girl with the camera taking pictures from the front deck. (Of course, she was a statue, but what a charming one).
Heading back to the park, we stopped at the historic Sod House Ranch, the northern headquarters of the 110,000 acre cattle empire managed by Peter French. In 1872, Peter French arrived in eastern Oregon to establish a cattle ranch. Over the next 25 years, he created one of the largest ranches in the US. Some of the methods he used to acquire land and water rights made him enemies, one of whom eventually shot and killed him. He may have been a bit unscrupulous, but, as we were to discover over the next few days, Peter French left an indellible mark on Harney County.
We were lucky to be able to walk around this ranch, as it is closed for most of the year to protect the wildlife of the area. We were also lucky to have Carl Smith as our guide. The volunteer guides at the Sod House had gone for the day, but he came driving up in his truck, jumped out, introduced himself and took us on a tour of the buildings. There is a self guided walking tour of the ranch, but how much more interesting to have a volunteer archeologist as guide. He showed us some of the artifacts that have been found at the ranch, described the siting of the buildings here, (very precisely north/south and east/west) and told us stories about Peter French.
Next morning, we explored the Refuge itself. Comprising 185,540 acres, 39 miles wide and 40 miles long, this area is one of the most important feeding and resting locations on the Pacific Flyway. A volunteer at the headquarters advised us that at this time of year, most of the ponds had dried, and suggested we start our trip in the middle of the Refuge. However, while we saw no waterfowl at first, hawks and vultures were soaring, small birds called from surrounding willows, and fall colors had painted the grasses wonderful hues of yellows and rusts. As we drove on, ducks and shorebirds by the hundreds appeared in the ponds. Once a family of pheasants ran across the road in front of the car, delighting Barney into a glorious chase.
Our RV park hosts, Ron and Linda Gainer, had advised us that Krumbo Reservoir offered the best fishing around. When we arrived, one man was fishing from a small pontoon boat, and another from the bank. I recognized the men as fellow campers at the Narrows, and later found that they'd been very successful, catching several large trout and a few bass. However, today, a strong wind and lack of a boat convinced us to continue on. Next stop, the historic town of Diamond.
Modern day Diamond is comprised of the Diamond Hotel, and two homes, one of which dates back more than 100 years. At its peak, the town had a population of only 50. Examining the population sign at the edge of town, I couldn't tell if the number was "5" or "9". I walked into the old hotel, but saw no one. However, the noises and aromas coming from the kitchen made me envious of the people who would soon be enjoying lunch.
Instead of retracing our steps to Highway 205, we continued on northeast toward Peter French's Round Barn. 100 feet in diameter, with a 60 foot stone corral and 20 foot wide outer circle paddock, the barn was built for training draft horses during the winter months. On a post at one of the barn's entrances, I found some 1880 type graffiti, brands and names of people long gone.
Nearby ranch owners, the Jenkins family, donated the barn and the land on which it is located to the Oregon State parks. The same family operates the nearby Visitor Center and Jenkins Family Museum, well worth a visit. In addition to artifacts from their family history, they have an unusually well stocked gift shop. They offer complimentary coffee to their customers, and even had a dog biscuit for Barney. Delightful folks!
Exploring Harney County was taking longer than we'd anticipated. A day and a half, and we'd barely scratched the county's surface. We extended our stay at the Narrows and left early the next morning for our trip up Steens Mountain.
35 miles south of the Narrows is the small town of Frenchglen (named, not surprisingly, for Peter French and the man who sponsored his enterprise, Californian Dr. Glen Hughes). From town, we followed the 66 Mile Steens Mountain Loop road, a rough washboard of a road that would discourage any motorhome after only a couple of miles.
Coming from the west, Steens Mountain is a gentle slope of a hill that doesn't seem at all like a mountain. But it's a steady uphill grade, across wide open slopes, dotted this morning with brilliant splashes of color from the Fall Aspen leaves.
There are two small Forest Service campgrounds on the mountain. Fish Lake has a dozen or so sites, but this cool morning only two were occupied, both by tents. No tenters were in view. We glimpsed one boat at the far end of the lake, but other than that, we had the area to ourselves. I cannot imagine a more beautiful spot for a camp. (I also have a feeling that my days of sleeping on the ground are, if not finished, then certainly numbered!)
For the past 25 years, a 10K race, the "Rim Run", has been held on Steens Mountain. The start is near Jackman Campground, a few miles above Fish Lake, at an elevation of 7,835 feet. The course follows the east rim of the Mountain, with the finish at the East Rim Overlook, elevation above 9,700 feet. Both walkers and runners are welcome, with the only rule being, "the runners may walk, but the walkers cannot run"! I can't imagine doing either -- not at that altitude.
Above Jackman, we pulled out at the Kiger Gorge Overlook and gazed down 2,000 feet into this glacially created valley. There are several hiking and riding trails into this beautiful area, invisible from our vantage point.
We stopped at one final overlook before we headed down Steens Mountain -- the East Rim. While Steens Mountain's western flanks are a gradual incline, the east side is dramatically different. Here the mountain falls off, plunging a full mile virtually straight down to the desert below. A large ranch, located on the desert floor directly below us, looked like a toy. To the south, the Alvord Desert gleamed white in the sun. To the north, we could see small Mann Lake, known for its Lahontan cutthroat trout fishery. We were too far away to view the wild horses, kit foxes, or California bighorn sheep that inhabit this area. Next trip, we'll have to drive around Steens Mountain and view these areas more closely.
If you visit Steens Mountain in a low clearance vehicle, you'll be fine if you return the way you came. If you have 4WD, and a high clearance vehicle, you can continue on down the eastern slope. A warning sign at the top of the mountain cautions, "Not suitable for RVs or low clearance vehicles. There are no turn around areas beyond this point." We had our Jeep Wrangler. Off we went.
For the first few miles there's little difference between routes. Then the gravel surface turns to dirt, and the road narrows. At this point it winds along a steep cliff for about 3 miles, then widens again and descends steeply to the bottom of the hill. This portion is deeply rutted, with large boulders demanding strict attention and slow speeds. This portion is known as the "Rooster Comb", and is described by locals as a difficult drive. And perhaps some would think it is -- but it didn't bother us particularly. Perhaps our years of off roading on logging trails in the Sawtooth National Forest and driving the "hill" in BC, gave us an edge.
Once down, we faced 14 more miles of flat washboard road before we got to Highway 205. Then it was only a short ride back to the Narrows for dinner. Tomorrow, we'll head back to Bend. But we definitely will visit Harney County country again.
[See Pictures...]
---
Postcard: Heading Home
August 6, 2008
If you're one who enjoys the amenities of city life, Highway 20, the road between Bella Coola and Williams Lake, is not for you. You'll find only tiny towns on this route. Anahim Lake and its near neighbor, Nimpo Lake, are so small they don't have population signs. (If you live here, you know all your neighbors). The next town is called Kleena Kleene. We've been through this area 4 times, and still I have yet to find it. It simply isn't there. Just for fun, I put this oddly named town into "Google Earth". But when I zoomed in, all that appeared were trees and a fire break line wandering through them. There must be some sort of building here, something to label it a town, but nothing shows up. It looks no different from any other completely wild area. That's how far away from the "real" world you can get on the Chilcotin Plateau of British Columbia. That's also what makes it special.
But our time here had run out. We were headed for home. We'd meander slowly south and revisit some of the places we'd stayed on previous trips.
Punzi Lake has a small collection of lakeside resorts, each claiming to have the best fishing in the area. However, our camper freezer was still full of Tom's trout, and we were a bit dismayed by the number of "For Sale" signs we saw. Possibly this is another result of the high fuel prices and accompanying lack of tourists. RVers simply don't want to brave Canada's fuel prices, and are content to stay closer to home.
And this idea seemed to be proving itself; as we drew closer to "civilization", campgrounds became progressively more full. We spent the first evening at Bull Canyon Provincial Park, about 5 miles east of the Punzi turnoff. By the time the attendant came to collect his $15 fee, most of the sites in this 20 site park were occupied. Trading the sparsely populated western areas for closer population centers, plus an approaching three day holiday weekend, was beginning to display more RVs.
By this time, we were running a bit low on fuel. But we had an ace in the hole, or so we thought. We knew right where to go. Alexis Creek. We knew this bustling little town from previous travels. This is where we once decided to turn around and head back to Bella Coola and the ferry. I could remember the grocery store and restaurant where we made our call to the BC ferry system. At least that's how I remembered Alexis Creek.
I hardly recognized this morning's Alexis Creek. It had changed from a busy little village to a ghost town. All the stores were shuttered. The grocery store and gas station were closed. I walked to the fuel station office to check on the weekend hours, and an unseen voice called out, "It won't be open until 10" (It was now 8:30). A bit eerie, but understandable for a ghost town. Williams Lake, here we come.
But we didn't need to go that far. About 15 miles further on, we found Lee's Corner, just outside Hanceville. Here was a gas station, (thankfully open for business), and an adjacent restaurant. An added bonus was the history lesson.
Tacked to the ceiling of the restaurant is a large poster which tells the story of Norman Lee, a cattle rancher in the area in the 1890s. In an ill-fated attempt to drive his cattle north to the Klondike goldfields in Alaska, he lost all his horses and was forced to butcher his cattle. Then, while he was crossing Teslin Lake, he lost everything else in a storm. Lee survived and returned to the Hanceville area where he lived until his death in 1939, becoming a legend in the area.
Each time we've stopped in Williams Lake, the weather has been uncooperative. I'm still convinced that we were almost hit by lightning on our last trip through in 2003. We saw a brilliant lightning flash at the same moment we heard its accompanying thunderclap. I have never heard anything so loud; the entire camper vibrated. This time, another downpour chased us through Williams Lake and down the road for 60 miles. Even with our windshield wipers on full stream ahead, we could barely see out the front windows. It wasn't until we left Highway 97 that the rain began to ease.
Bridge Lake is one of a series of lakes along Highway 24, a connector route between the main north-south route of highway 97 and Highway 5, the Coquihalla Highway. The whole area is a very popular summer spot for Canadians from as far west as White Rock and as far east as Ontario. This trip, though, we seem to be about the only Americans traveling. Even though we were encountering more and more RVs as we drove south, they tended to be traveling Canadians, or Europeans, (mainly Germans or Dutch) in rental units. This little park was no exception. It was jammed with RVs. Many are rental units, but others are personally owned and parked for the whole season. They stop being RVs and become summer cabins, lived in on occasional weekends. That's one way to beat the cost of fuel.
We were headed south along the Thompson River when we saw the sign for the McClure Ferry. After securing a spot at the nearby Pinegrove RV park, and before hooking up, we drove back to the river and waited for the boat. This is one of the smallest ferries we've taken; with our truck and camper aboard, there was barely room for another car.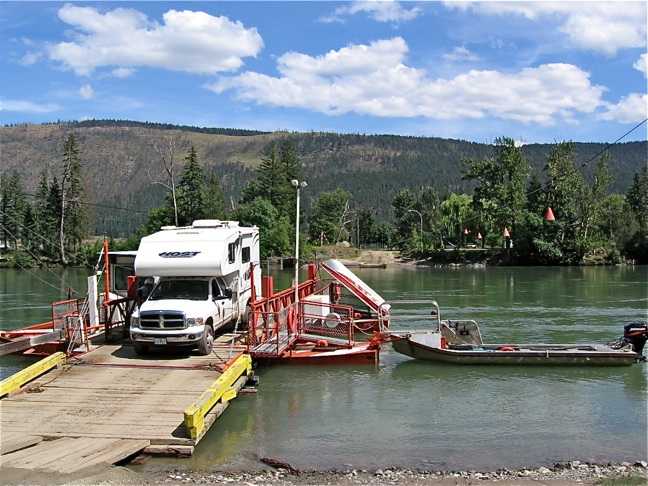 The Mcclure Ferry is a "reaction" ferry. By use of a series of cables, pulleys and rudders, the ferry can use the river's current to move it across. It's efficient; just over three minutes later we were driving up the other side. We headed toward Kamloops on a narrow winding road. Barely 3 miles along, as we rounded a bend, Tom asked, "What's that in the road ahead"?
"That looks like a....bear", I said.
It was a black bear cub, lying down and enjoying the sun right in the middle of the road. When he heard our car, he got up and darted into the woods. Just then, from the other side, came Mama bear, followed by another cub.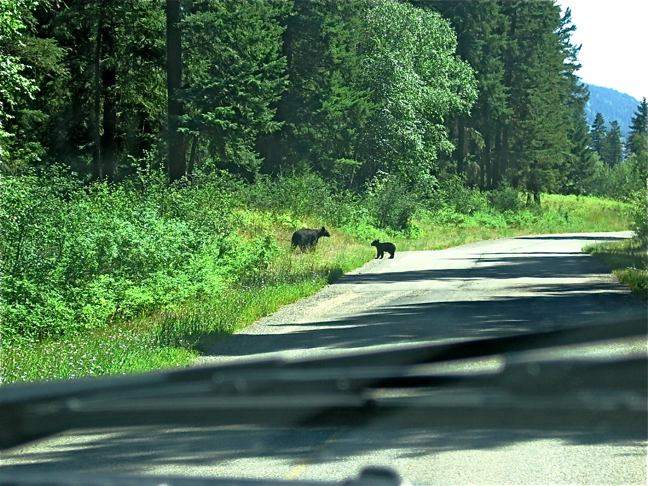 We had an acute appreciation for the steel frame of the truck as we edged closer. This was as close as we wanted to get to a Mom & her cubs! When we came alongside, we could just barely make out the cubs 10 feet or so up a nearby tree. Mom was standing at its foot, ready to defend her kids. We drove on so as not to disturb them further.
All this less than 25 miles outside of a large city, Kamloops, in an area wedged between ranches in the only woods around. We've never seen bears in the places we'd expect, and now a Mama with cubs practically downtown.
We had one more night on our trek south, and were hoping to spend it at Kettle River Provincial park. In fact, we'd been "talking" to Barney about all the ground squirrels he would see when we got there. However, the coming weekend was a Canadian holiday -- British Columbia Day. That meant a three day weekend, and Kettle River was completely filled. Just down the road, the Kettle River RV park still had a few vacancies, and we spent our last night in Canada sitting on the large green lawn overlooking the river. Had we brought our golf clubs, we could have played the course right across the street at a very reasonable rate. Next time.
Tomorrow we'll cross the border once again, and head for Yakima. It's hard to believe we've been gone three weeks. Time to catch up on our neglected chores, and plan our next trip.
---
Postcard: Skookum
July 29, 2008
Depending on the sailing you choose, the Queen of Chilliwack makes up to 4 different stops en route from Port Hardy on Vancouver Island to Bella Coola on the BC mainland. From Bella Coola, highway 20 heads east to Williams Lake. From the other stops, there are no roads leading anywhere. So when we arrived at the Port Hardy dock and joined the handful of cars waiting for the boat, we were surprised to learn that half of them were bound for two of those towns -- McLoughlin Bay and Shearwater. Only 10 would make the through trip with us. And this is late July -- peak season for these towns (not to mention the ferry system). The high cost of fuel has meant that people simply aren't driving as much as last year. We've noted this to be especially true in the more remote areas.
Like everyone else, Tom & I have complained about the cost of filling the tanks on our various vehicles. That's one reason we like the Fit so much. But fuel is much more expensive in Canada, where the average price of a gallon of diesel (and Tom's keeping careful track of this) has been well over $6.
The passenger list might have been smaller, but this is still one of the best "cruises" we've taken. It's absolutely Skookum. "Skookum" won't appear in your average dictionary; you'll have to look in the "Dictionary of Weird Canadian Words" for a definition. The word originated with the Coastal Salish and meant "strong". (Like "Skookum" in the Skookumchuck Rapids). But like many words, its definition has altered, and for Canadians, especially those in the far west Chilcotin region, it means something very like "cool". Our trip from Port Hardy was skookum.
The day was gorgeous, bright sun on rippled waters. The first several hours of this trip crossed Queen Charlotte Sound, and with a prevailing wind from the open ocean. It's often a bit rough on this portion of the crossing, but today was as calm as I've ever seen it. About half way across, we passed a dozen small fishing boats, appearing and disappearing in the swells.
When we had first boarded, we walked up to the restaurant for a cup of coffee, and came across an old friend. We first met Clive Qigley, the singer/ferry hand on the Chilliwack in 2003. We purchased his CD, a collection of songs about travel on the Chilliwack. One of these songs, "BC Ferry Food", is somewhat less than flattering to the on-board cuisine. This song resulted in the sale of the CD being banned on BC ferries. This drove the CD "underground", and made Clive famous in ferry circles. The galley crew was excited -- "Clive's aboard" whispers could be heard all around. He now only makes 2 trips on this run each season, and the chances that we would have seen him again were slim at best. It was fun reminiscing about the "old days" on this, the "Discovery Coast Passage". Skookum.
Our first stop was McLoughlin Bay, just outside Bella Bella. In 1998, there was an attempt to introduce "tourists" to the ways of the native Americans. A replica of a longhouse was built, cultural programs were given, and I was lucky enough to paddle an Indian canoe 5 miles to the next ferry stop at Shearwater.
The longhouse is still visible if you know where to look. The reds and oranges of the thunderbird guarding the door have faded to brown, and judging by the grasses which have grown up around the building, it hasn't been used for some time. Not so skookum.
The next morning, right on time, the ferry docked at Bella Coola. We had a reservation at the Gnome's Home RV park in Hagensborg, about 15 km east, but before heading out, stopped at Kopas Store.
There's a lot to do in Bella Coola. You can charter a boat and go fishing. You can hike out to see the petroglyphs (and very possibly a bear or two). But for me the must see spot is Kopas. Whatever you need, from baby clothes to incense candles, from t-shirts to foul weather gear, you'll find it here. Even if I don't buy anything, I have to look to see what's new.
The Gnome's Home is a small park set in a lovely grove of old growth trees. Karl has cut trails through the woods, and in season, you can watch spawning salmon in one of his 3 streams. As we checked in, he caught us up on local news -- that Barb, (of Barb's pottery), had decided this would be her last year, and there was a great show at the Petroglyph Gallery. It was like coming home, you'd not have guessed we hadn't been here for over 3 years.
By the time you get to Hagensborg, the valley has begun to narrow, with steep, snow covered peaks on either side. Right next door to Gnome's Home is the Augsborg Church. If I saw a picture of this church with its mountainous background, I'd be sure I was someplace in Austria or Switzerland.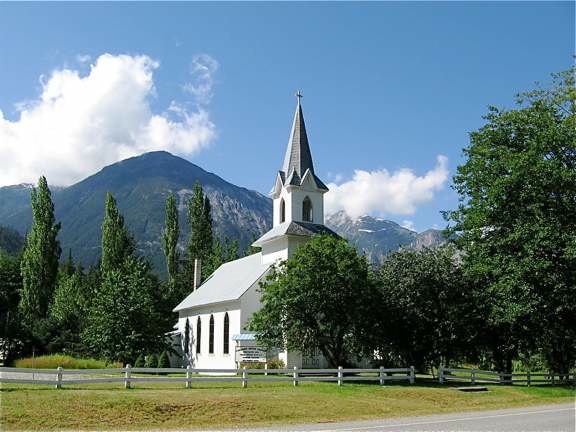 The whole valley looks like this -- as we drove along the next morning, I went from one "Wow" to the next, and our trip was somewhat delayed while I took picture after picture. Skookum, again.
We had one last stop before climbing out of the valley and tackling the "Hill", the Fisheries Pool on the Atnarko River. It's a deep natural pool where fishermen in season, and fisher-bears whenever they wish, can be found. We've never seen one of the famous Atnarko Grizzlies, but there are warnings posted all over this area. One hiking trail warns that hikes should be taken between 10 am and 3 p.m., when the bears are "less active". At the Fisheries Pool the sign is more specific. "Watch for clues that a bear is stressed":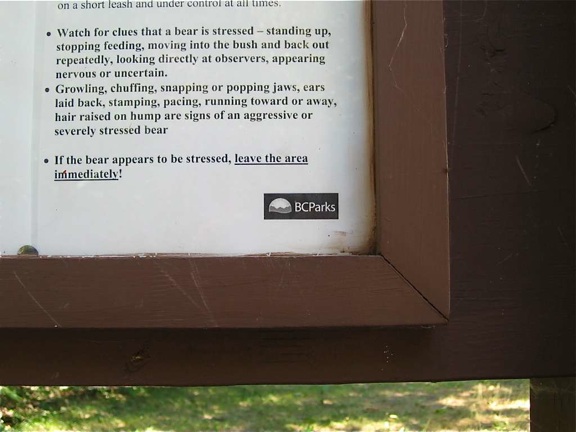 We saw no bears this morning, although I must admit I was a bit alarmed when another couple (unseen by us) stopped and their German Shepherd splashed into the river just below where we were standing.
The last time we tackled the Hill, that infamous piece of road with 18% grades and tight switchbacks, it was being "improved". While the "improvements" were ongoing the road was all the more difficult to drive. Cars could only use the road at certain limited times, and had to get past construction vehicles as they, (the cars), transited the road. However, those improvements have definitely made the whole journey easier. The road is wider now (even though mostly single lane with turnouts), with fewer rock overhangs. And the once gravel road has been oiled enough times that it's become a reasonably firm surface -- great for traction. The steepest section is the first 5 km, then the grade evens out until you near the summit at Heckman Pass. Then you get another 4+ km of steep grade. Of course, by now, anything under 15% will seem practically flat.
The gravel roadway continues until just before you reach Anahim Lake, the first small community on the Chilcotin Plateau. Here we'd spend a couple of fantastic fishing and friendship days at Anahim Lake Resort.
The last time we were here was in late August of 2003, and the fishing was merely so-so. This year, whether due to a cool, late spring or the lack of fishing pressure, the fishing was, according to Tom, "the best I've ever had". Thank goodness we took a net. The trout (Rainbow and Cutthroat) averaged around 1-2 pounds, and fought like demons when hooked. And they were hooked on almost every cast. Not being nearly as avid a fisherman as Tom, I hadn't a license. Therefore, I was relegated to being the net handler. In the two days we spent at Anahim, we went out 4 times -- with each outing lasting only an hour. On our morning excursions, we took a thermos of coffee. However, I had little time to drink mine, as Tom kept catching fish. We threw back quite a number, and some managed to shake the hook on their own. But each day the limit was easily caught. I'm getting tired of trout!
Barney found this place a doggy paradise. Owner Anita Madsen gives new meaning to the term "pet friendly". The Resort sits on several grassy acres right along the lake front, and the road behind the resort has little or no traffic. We never took Barney's leash or his "tie down" cord out of the truck. Barney ran free for those two days and learned to play with Buddy, Furby, and Duffy, Anita's dogs.
This place is a bird watcher's paradise. Loons and gulls out on the lake, ducks and grebes near the shore. I even saw my first baby Pied-billed grebes! Every morning, there were about a dozen White Pelicans at one end of the lake; each evening that number had mysteriously dwindled to 3. I don't know why. Several pairs of osprey had nests in the trees surrounding the lake, and we enjoyed watching them fish. They were also successful. And I haven't even mentioned the Bald Eagles. Skookum, skookum and more skookum.
We didn't bring a tow car with us this trip. We'll evaluate later if that was a good idea, but we figured we could always take the camper off the truck and use the truck for backroad adventures. We did that one afternoon at Anahim. We had stopped at Christensen's General store in town, and were told about the "Baby Grand Canyon". Armed with a far-from-to-scale map and some verbal directions, we headed west out of town to the first left hand dirt road. Next we drove an unknown number of kilometers (quite a few of them) to Beef Trail Road. Then we made a right hand turn and followed it until we passed km 19. Now we made a sharp left and, on a very narrow rocky road, we proceeded until we crossed a culvert (which we didn't see the first time). The directions said, "If you come to the gate, you've gone too far". We went too far.
Retracing our steps, we found the culvert and a place with a faint trail. We found ourselves on a precipice overlooking a steep canyon. A waterfall plunges from the top of the cliff to a small lake below. Natural beauty, unspoiled by railings or warning signs.
All too soon, it was time to head east. We have promised our Yakima clan that they can use the camper over the next few weeks, or we might have been tempted to do what we've done before, spend a few more days with Anita and then head back to the Bella Coola ferry. We love this wild area, and look forward to returning soon. Thanks, Anita, for your hospitality, and for showing us just what "skookum" really means.
---
Postcard: North by Northwest
July 23, 2008
Time to go! One night at the Bend townhome and the next in Yakima to pick up the Dodge dually and Host camper. It might be small, but when it comes to convenience in ferry travel, or a virtually effortless climb up the 18% grades on "The Hill", it simply is the best.
From Yakima, we headed to Seattle for an overnight with our son and his family. Our grandson has enlisted in the Army, and will ship out in early August. As I gave him a hug, it occurred to me that I might not see him until early Spring! (Grandmas are forgiven a few tears, aren't they)?
The first leg of our trip took us north along Interstate 5 to Bellingham. Not to the Peace Arch crossing, which is always crowded and usually very slow. We know a better one just a few miles east -- Aldergrove. Take exit 256 in Bellingham, drive north to Lynden, and fill up your tank at the Chevron on the north side of town! That's the last gas station in the US. How do we know? Because we kept assuming we'd see another, closer to the border. No such luck. We arrived in Aldergrove to find a duty free shop, the border crossing stations, and a few homes. But fuel is so much more expensive in Canada that it was worth the 5 miles back to Lynden to top off the tank.
Our 17 years on San Juan Island accustomed us to ferry travel. For us, a trip is more enjoyable if it includes at least one ferry ride. This Canadian journey will start as one ferry ride after another. Two ferries up the Sunshine Coast, followed by one across the Straits of Georgia, chased by a 24 hour jaunt through the Discovery Coast should satisfy our ferry hunger for quite some time.
From Horseshoe Bay, just north of Vancouver, we caught the boat to Langdale, a 40 minute trip in very sheltered waters. Imagine mountains which appear to rise directly from the sea, boats of all types and sizes cruising alongside, a day so warm that most passengers were wearing shorts and tee shirts. The Sunshine Coast was living up to its name.
We spent the first evening at Porpoise Bay Provincial park just outside Sechelt. Like many other Provincial parks, this one has no hookups, just wide spaces carved out of the forest, each with picnic table. Recently, however, this park has eliminated fire rings at each camp site. An explanatory sign tells you that this is to improve the air quality of the area, and that the park system hopes everyone will enjoy the communal fire areas. I must admit to missing our nightly campfire rituals, however.
Porpoise Bay is located at the extreme southern tip of Sechelt Inlet, a 22 mile indent, reaching from the town of Sechelt on the south past Egmont on the north. From there the Inlet joins the maze of other inlets and bays that characterize the coast of British Columbia. Ads describe it as a "haven for kayakers" and "paddlers". However, you'd best be a very experienced "paddler" if you tackle these waters. This route takes you through Skookumchuk Narrows, one of the largest saltwater rapids on the west coast. Skookumchuk has rapids which can reach speeds of 14 km an hour.
But you don't have to be an "extreme" kayaker to enjoy the rapids. You can take a charter boat out to see them, or do as we did. Overnight in Egmont at the Backeddy Resort and campground.
To be honest, some RVers wouldn't care for the Backeddy. It's a combination motel, restaurant, launch ramp and RV park. Like the town itself, the park is small, about 8 sites, 15 amp electric service, and only suitable for small rigs. (Our camper feels right at home.) It's popular with people launching small boats to explore Jervis Inlet or day tripping to Princess Louisa. Its pub is a favorite "watering hole" for tourists and locals alike.
To get there, drive toward the Earls Cove ferry landing. Just before you get there, turn right for 6 km. You'll be following a paved, but very hilly road which has been used for an "extreme" sport called "longboarding". Extreme sportsmen stand on a board similar to a skateboard and see how far and how fast they can go.
Just before you reach Egmont, you pass a wide place in the road, usually packed with cars. This is the foot of the trail to Skookumchuk Rapids. It's a fairly flat, 2 1/2 mile walk which takes you through a rainforest and along an inland lake before coming out on a plateau overlooking the rapids. Even when they are not at their peak, you can still hear the roar of the water. If you are lucky enough to walk in at one of the peak tides, watch the water boiling through and around the rocks. On one of our visits, I watched a tug with tow coming through the rapids. Even though there was about an hour to peak, the tow was racing the tug to see which would get through first.
North again the next morning. We got to Earls Cove with a half hour to spare before the boat arrived. Time enough to walk the dog, and time to learn a bit about Canadian humor.
There's something about a ferry line that makes people nervous. What if there are too many cars and they don't get on? Anxious riders have been known to try to pay others for their spot, or force their way onto boats by driving around the barricades. Since this route is served by only one boat, departures occur only every two+ hours, a long wait for us "mainland" folks. So I wasn't surprised to hear one lady anxiously ask, " We're in lane #5, will we make the boat"?
Without missing a beat, the loading hand smiled. "I guarantee that the car right in front of you will be a shoo-on". Another dock worker evaluated the summer situation thus. Traffic is down about 30 %. Except for rentals, driven mainly by Europeans, RV traffic is especially hard hit.
Our next ferry ride would take us across the Straits of Georgia from Powell River to Comox, on Vancouver Island. We'd decided against trying to stay in Powell River itself. Good weather, and a weekend in mid-July would certainly insure that Willingdon Beach, located very close to the ferry dock, would be full. (It was). But only 20 km north is Lund, the northern terminus of Highway 101. I hadn't realized that this road is the longest highway in the world, stretching from Chile to little Lund!. And here in Lund is a small gem of a campground, SunLund by-the-Sea.
Our site was a grassy field with full hookups. The restrooms and laundry facilities are spotless. Here also, we noticed a large number of Europeans -- it almost seemed that if you didn't speak German, Dutch, French or Japanese, you were in the minority.
It's a very short walk from SunLund to the marina in Lund. Rent a kayak for a trip into nearby Desolation Sound, or take a cruise to nearby Savary Island, renowned for its beaches and warm water swimming. There's a small grocery, hotel and post office. The Tug-Ghum gallery is always one of my favorite stops -- I love the seal sculptures. The smooth seal heads with large, luminous eyes never fail to remind me of the seals we could see from our San Juan Island home.
We spent two nights at Ripple Rock RV Resort on Brown's Bay, just north of Campbell River on Vancouver Island. We are really getting spoiled with all this great weather. Tom keeps finding forecasts which call for rain, and I wouldn't be surprised if we actually got some, but so far, our rain jackets remain packed away. One favored activity here is watching the cruise ships pass. Ripple Rock is on the deep side of a fairly narrow channel, so the ships come very close to the park. They usually arrive in late afternoon or early evening, and they look like something out a a movie -- lights ablaze and music playing.
That afternoon, the park manager came by. "Tomorrow", she told us, "the 2008 Tribal Journey will stop at Brown's Bay. The park has invited them to stay here." What a treat.
The "Tribal Journey" is a yearly gathering for Native American coastal tribes from all over the West and Alaska. More than a "pow-wow", it's billed as a time of "healing, hope, happiness, honor and hospitality". Because most of the participating tribes live on the water, their "guests" come by canoe, paddling miles across wide stretches of open water. Whether down Johnstone Straits, across the Straits of Juan de Fuca, up Admiralty Inlet, or even from some of the Oregon river areas, each group comes from a different direction. This year, "Journeys" is hosted by the Cowichans, and they expect over 100 canoes to arrive on July 28 in the Duncan, BC area.
Just after 6, the lead canoe rounded a point just north of Brown's Bay. They'd come about 50 miles that day, down windy Johnstone Strait, and must have been exhausted. But as they came into the bay, they were chanting and singing. That canoe was followed by 9 others, each carved and gaily painted. All of these were traditional cedar dugout canoes, except one. One was all white, had no special carvings and appeared made of fiberglas. It represents the Northwest Territories, Western Arctic and Saskatchewan -- which have never previously taken part in the event. Many of the participants were dressed in Native American garb -- hair braided with feathers, and wearing the conical woven hats of the Northwest coast.
Our last night on Vancouver Island was spent at Sunny Sanctuary, a small RV park about 5 minutes from the ferry dock. This park gets its name from the fact that it does have warmer and sunnier weather than some surrounding areas, and that it is a sanctuary for small animals, especially rabbits. We remember Missy stalking bunny after bunny, and almost dislocating our arms when she got to the end of her leash as she made a mad dash after them.
But this year, there are many fewer bunnies. An unusually cool spring meant that the salmon didn't come in as early as usual. In turn, the eagles had to adjust their eating habits, and instead of fish, turned to rabbit. Add to that, a couple of owls took up residence at Sunny Sanctuary, and the rabbit population plummeted. However, there are still a dozen or so around, delighting Barney and ensuring that, on our next trip, there will be more.
This is our last night traveling north by northwest. The next leg of our trip will be north by east, as we travel to Bella Coola and over the Hill to the Chilcotin.
Tomorrow will dawn early. According to the BC ferry folk, we need to be in line 2 hours before our scheduled 9:30 am sailing. Away we go.
---
Postcard: Loop d' Loop
July 14, 2008
While we would have liked to linger in Canada a bit longer, we knew we'd be returning in just a few weeks. Thus, after one night at Kettle River, we headed back toward home. Not back through the border crossing at Osoyoos -- this time we crossed at a remote station just south of a very small Canadian border town, Midway.
The good news to this crossing was that we had no wait at all. We were the only car crossing back into the US, and from the looks of things, the only one in some time. We chatted with the customs agent, learned about the area, and which route would be the shortest back to Yakima. The not-so-good news was that the agent could focus specifically on us. I knew I would not be allowed to bring back any meat products; in fact we've had canned dog food confiscated on previous trips. But I was hoping the agent wouldn't want my leftover fruit. So when he asked me that exact question, I admitted to possession of a couple of limes, and climbed into the camper to retrieve them.
Our Host camper has two slides, one on each side. When they are out, the inside is spacious. When they are in, I have to turn sideways to get in the door and squeeze past the dinette. We were traveling, so they were in. I climbed in the camper, and the agent was right behind me. Had the rig been easier to enter, I'm fairly sure he would have come in with me to see what other "contraband" I might be hiding. As it was, he took one look at the entryway, another at his tummy, and decided to trust me.
Our arrival back in Yakima closed a "loop", up 97 to Canada, around on Highway 3 and back again down 97. We'd take three more loops before taking off for our postponed adventure to the Discovery Coast.
Back in Oregon, we resumed our practice of splitting our days between Bend and Florence. We're enjoying having two such different "homes". If the weather is too hot in Bend, (not unusual in the summer), we head to the coast. If a day dawns foggy in Florence, (not unusual there either), back to Bend we go. Driving our Honda "Fit" has been a dream; I'd never have guessed we'd average well over 40 mpg on the winding, mountain roads that separate these two towns.
One of the delights of having a townhome in Bend is its proximity to the Cascade Lakes. Each spring, the Bend Bulletin has articles on fishing in these lakes -- how many fishermen fishing, and how many fish caught. In the summer, the lakes are easily accessed from our house; it's less than 25 miles to the nearest lake -- unless the road hasn't yet been plowed. This year the area received more than 200% of its average snowfall, and summer has come slowly to the high mountain country. We didn't know if the road was yet open, and didn't want to chance it. So we detoured through SunRiver, a road we knew would be open. While Tom stalked the elusive trout, I took some pictures of the nearby mountains, with the last remnants of snow still decorating the ski runs.
Just before we left, I asked about the road and found it had been open for a week. No wonder here were so many fishermen and the campground was mostly full! But now we could go home the short way, completing yet another loop.
One sunny Florence morning, I just happened to buy a copy of the Siuslaw News, the thrice weekly Florence newspaper. Prominently featured in the center of page one was the description of a back country trip. The route began in Mapleton, 14 miles east of Florence up the Siuslaw River. From Mapleton, it followed the Sweet Creek Road for 8 miles to its junction with Forest Service Road # 24. Then, the article reported, the road would become a one lane route with occasional turnouts.
We were looking for a place to take our ATV on those weekend days when the dunes were full of "hell-bent-for-leather" riders, and thought this seemed a perfect fit. Before we took off, however, I checked with the Mapleton Forest Service.
Either the woman behind the desk was disillusioned with ATV riders, or the road was decidedly worse than the article described. "There is construction on FS 24, several bridges are being replaced", she told me. "And ATV riding is banned at this time of year because of fire danger. Many of the articles you read in the News are not current".
Despite her doom and gloom, we decided to go anyway. The only problem we found on the road to Mapleton is one that's always there -- traffic. It's a very crowded section of highway, as the toyhaulers from the Eugene area head toward the dunes of Florence and points south.
Barely east of Mapleton, just across the Siuslaw River, we turned right and headed down Sweet Creek Road. Our newspaper article advised us to be polite; we would want to stop and view the river from this side, and perhaps take pictures of the pastoral countryside. But, the article warned, "There are people who live here, people who drive this road daily, people who want to get home. Pull over and let them by." This morning, however, the road was virtually empty.
We were looking for Forest Service (FS) road 24. The article told us we'd find it 8 miles down Sweet Creek, and there were convenient mile markers to tell us exactly where we were. Still, we missed it. FS #24 resembles someone's driveway far more than any regular road. It's paved, but very narrow, and wanders off at an oblique angle to the main road.
#24 headed up into the hills of the Coastal range. This must be a favorite spot with fall hunters; there are dozens of old logging roads leading off into the mountains. Most have "kelly bumps", high dikes of earth across the roads. Since these dikes are followed by deep gullies, crossing them (where at all possible) requires 4WD and high clearance.
The main road, while narrow, was completely passible, with only one short stretch of gravel road. The views were spectacular, and we had gained enough altitude to have the seasons roll back -- spring wildflowers were everywhere. No construction or any sign of it.
In about 15 miles, we'd crossed the hills, left #24, and come down on Canary Road south of Florence. Rounding a sharp bend, we were stopped by a cattle drive! Two cowboys and one Australian sheepdog had managed to get most of a small herd across the road and into a nearby field. As we watched, one stubborn cow broke from the pack and headed back into the field. "C'mon", one cowboy yelled, "You don't want to stay here all by yourself". Oh yes, it did. The cowboys galloped one way, the cow dodged another, at one point stopping in the middle of a large pond where it was completely safe. We watched for about 10 minutes as men and dog attempted to maneuver that cow back to the road. When we finally left, they had managed to rope it. I'm not sure what they would do next, I only hope they knew.
Instead of heading home, we detoured south, along the eastern edge of Siltcoos Lake. The road hugged the lakeshore, clinging to a deserted railroad track, a great candidate for the "rails to trails" program.
The railroad track wasn't the only thing deserted. A Lane County park stood lonely along the lakeshore. The tables, what was left of them, were covered in moss, the path to the outhouse neglected. The road to the water and a boat ramp was weed covered.
Two small RV parks are located along this part of the lake. However, the road is extremely narrow. too narrow for most RVs. At one point we drove right through someone's property, with a house on one side of the road and a garage on the other. "Hairpin" doesn't even start to describe some of the curves. Even the Wrangler seemed a bit too large at times. However, the scenery is gorgeous, and we were told that the fishing can be excellent, so maybe we'll try it in the camper another time. Today, we followed Canary Road to its junction with Highway 101 just a few miles south of Florence and headed home. Now we can look onto the southeastern mountains and know we've been in an area unknown to many Florence natives. And another loop chalked up.
We spent three days at a "NOWACA" (Northwest Alpine Coach Assoc.) rally at the Seven Feathers RV resort in Canyonville, OR. Between potlucks and poker, marshmallow golf and beanbag baseball, there wasn't a lot of leftover time. But there was enough for one more loop trip. We'd follow the South Umpqua River to the town of Tiller, then drive across the Rogue-Umpqua Wilderness Divide and come down into Myrtle Creek, about 10 miles north of our park.
The South Umpqua River Route begins in downtown Canyonville, and heads east to Tiller. We stopped for a geocache at the Milo Bridge Academy, a 7th Day Adventist boarding school. You enter the academy grounds across a narrow covered bridge, and at first I confused the school with a luxury hotel. The church sits on a knoll overlooking manicured lawns extending to the river. Only when you drive around in back and view the dorms and schoolhouse do you realize this really is a school.
Although we had packed our handheld GPS, a compass and our occasionally trustworthy Ms. Garmin, we were basically following a map we'd found in a tour magazine. The whole article was only half a column long, most of which was taken up by a very simplified map. The written directions were very general. "From City Hall in Canyonville, take County Road 1". We quickly discovered that County Road 1 was three blocks south of the City Hall.
Next directions were as follows: " About six miles east of Tiller, turn left on Forest Road 2810." About? How far is "about"? We hadn't gone more than 2 miles past Tiller when we found a Forest Service office and decided to check with the rangers.
We were already on the wrong road. We'd completely missed the turn along the River, which the article hadn't even mentioned.. Feeling we'd come directly to the horse's mouth, we asked about our trip. "What are you driving?" the woman behind the desk asked. "This route has 6 miles of gravel before you get to the top." Then she got a topographic map and showed us the route. "When you get to the top, be careful which road you take. We had signs out, but many of them have been stolen or vandalized. There are 5 or 6 possible roads, but only one will take you out to Myrtle Creek. The one you want will be paved, all the way down. Others may have some paving, but they quickly revert to gravel."
Given these instructions, it was easy work finding Forest Road 2810. For the first 2 or 3 miles we saw scattered homes along the road, then only quiet wilderness. When we got to mile 6, however the gravel did not stop as predicted. Should we believe the article, which said 14 miles before we'd find asphalt? And which road should we follow? Small, trail-like roads were joining 2810 at regular intervals, and none was signed.
About mile 13, and well over 4,000 feet in elevation, we found what remained of one of the signs the ranger had mentioned. "Myrtle Creek Canyonville Tour Route", it proclaimed. (I could only imagine a tour bus on this narrow, dusty road). We were happy to be going in the right direction. We now followed Ms Garmin and the little article, both of which directed us 500 feet on Forest Road 2792 to Red Top Pond. This "popular reservoir for fishing and picnicking", seemed extremely small for either activity, but we stopped to stretch our legs and let Barney run for a few minutes.
From there the single-lane road dropped precipitously (Tom estimated a 10 - 12% grade), winding down through the forest. At the bottom of the grade, the pavement suddenly sported a double yellow line down the middle and white stripes on either side. We were back in civilization. We'd spent perhaps 90 minutes coming over the Wilderness Divide, stopping every so often to take in the scenery. We had been the only vehicle on that 20+ stretch of road; and from the looks of things (trees still across the road in places) we may have been one of the few early travelers this season.
Now just ten miles back to Seven Feathers and the NOWACA rally.
Tomorrow we're off for Yakima to pick up the camper, then a stopover with our Seattle clan, and headed north. The BC ferry system hasn't called to cancel our boat this time, so I assume we'll set sail from Port Hardy as scheduled on July 22. Bella Coola, here we come!
---