POSTCARDS
---
Stephanie is one of those persons who can fit a lot of words onto a standard size postcard -- usually by writing sideways, around corners, and even upside down if she can find some extra space. Most of these go to family and friends. But some of them -- those which document our RV adventures -- find their way onto this portion of our website.
---
Postcard: The Road to Yellowstone
June 22, 2010
We took 6 days to get from Grangeville, Idaho to our destination just outside the north entrance of Yellowstone Park. Not that it was such a long distance, but we kept finding interesting places to explore.
We spent three nights at Bear Den RV park just south of Grangeville. Tom has some relatives here, and each time we've been through this small town, we've said, "We've got to look up the Paynes". Each previous visit, we hadn't been able to locate them. This time might have been the same, except for the Methodist Church.
We were driving through town when we spied the very attractive "old style" church. The next day was Sunday, so we decided to attend. And there we met Tom's cousins! His wife, Sally had been in church, and his son had been the alter boy. But Jeff, in his capacity as the District Judge, had some courthouse duties to attend to that morning. However, he quickly arrived for an old fashioned gab fest. (I actually think Jeff is Tom's first cousin once removed, rather than first cousin, but that sort of stuff drives Tom crazy, so I try to keep it to a minimum).
With Bear Den as a base camp, we took two trips over the next two days exploring the south fork of the Clearwater River. On our first outing, we missed the tiny, wooden sign that indicates a short cut to the river, and went around the long way. After that, we realized that going to "Mount Idaho" did not mean a one way road to a ski area, but rather a trip through a ghost town. Past Mount Idaho, the road winds down to Highway 14 and the South Fork of the Clearwater River. From there, it's 48 miles to the end of the road at Elk City. Since we'd started in early afternoon that first Sunday, we couldn't make it all the way to the end of the road the same day. No problem, we'd just stay another day and return tomorrow!
We left the rig at the Bear Den park and took the Wrangler. There are times when a "toad" seems absolutely indispensable. We drove through some of the riverside campgrounds, checking the sites for possible future use. We stopped whenever we noticed something particularly interesting. A swinging pontoon bridge caught our eye, and we found a jeep size spot to park before walking across the bridge. We enjoyed the walk, Barney, with his distrust of water, did not.
We were especially happy not to have the big rig when we spotted the most surprising natural rock overhang I have ever seen. A posted yellow diamond read "clearance 14'5" ", but this was no reasonably secure concrete interstate. What if the ground had shifted? Or did while we were driving underneath? As I tortured myslf with these thoughts, a truck pulling a trailer came by and whizzed under the overhang -- no problem. He'd obviously done this before, but our Alpine is considerably taller than his rig, and were glad we didn't have to try it -- cold.
About 4 miles outside of Elk City, we passed a fish counting "trap". Somehow this curious looking contraption manages to count the tiny chinook salmon and steelhead as they head downstream. It seems to work something like this. A small barge is tied off on either side of the creek. Water passes through a large spinning drum mounted on it, and with the water, come the fish. It looks like the small fish would be chopped into pieces, but somehow they must come safely out the other end. And get counted.
At the end of Highway 14 lies Elk City, winter population 250, summer 350. It lies on the side of a hill, hence there's an "uptown" and "downtown" designation for the few town businesses. Here highway 14 ends, but an inviting small gravel roads lead from the pavement out into the wilderness. The mountain views from some of the homes scattered out here are simply spectacular.
No matter the attractions around Grangeville, no matter haw much time we had to spend, after three nights, we simply had to continue on. There are two routes which take you from Grangeville to Missoula. Take one and you continue on highway 95 until you reach Highway 12 just east of Lewiston. Then you follow highway 12 to Montana. That way, it's over 200 miles to the border. Or, you can take the short cut. Highway 13 will save over 100 miles on this trip, but it is a slow, narrow, steep. winding, 26 mile road to the same Highway 12. This seems the logical way to go, but it's one that demands caution, especially since it's the route of choice for some 18 wheelers.
We turned east on Highway 12 and followed the Middle Fork of the Clearwater to its confluence with the Lochsa River. Then we followed this "Wild and Scenic River" as it climbed toward Lolo Pass and Montana.
The term "wild & scenic" comes from the language of the Wild and Scenic Rivers Act, passed by Congress in 1968. It means, "outstandingly remarkable scenic...values" and "preserved in free flowing condition". In other words, a beautiful spot with no dams. Highway 12 is also a two lane, winding road; but unlike 13 there are occasional passing lanes, and the shoulders are much wider. Still, the Forest Service brochure says it best, "Highway 12: A Long and Winding Road."
It would have been fairly easy to get to Missoula in one day, but we were again watching the weather. We had one more day of sun before a few wet and windy days were forecast. We decided to stop about 15 miles short of the pass at Powell campgound.
Again, Tom had done the research and found that, of the several forest service campgrounds along Highway 12, only one has any hookups. And those reporting on it seemed to think it special. Powell is a small campground, only 34 sites, 12 non-hookup, the rest electric only. But the sites are fairly large, and are paved, something to think about when traveling in rainy weather. As an added benefit, it's but a ten minute walk to Lochsa Lodge.
The Forest Service brochure calls this Lodge a "rustic resort", but the only thing rustic about the lodge is that it's made of logs. There's a small dining room, gift shop, gas station and cabins. There's also a small bar, where we took advantage of an after dinner "Moose Drool". In back of the Lodge, a large firepit ringed with benches is ready for a night's campfire.
The campground boasts a variety of wildlife. Barney enjoyed stalking the ground squirrels, and, after many attempts, I finally snapped a picture of a Pileated Woodpecker.
The promised rain came as we neared Missoula. Never very heavy, but never ending nontheless -- a misty drizzle that lasted two days. We only had a single night's reservation at Jim & Mary's RV park, but quickly extended it to two. We wanted to avoid both the rain and predicted heavy winds as we drove east toward Livingston.
As we checked in, we learned we were just in time for a free concert and ice cream social. That evening, guitarist LeGrande Harvey, accompanied by Rod Brod on the mandolin & banjo, would be preforming in the small clubhouse. LeGrande is the writer and composer of "Montana Melody" the official state ballad. His brother, Alex, wrote such classics as "Delta Dawn" and "Reuben James".
Promptly at 7:30, the singing began. I heard songs I knew and many I didn't, but would love to learn. (For example, I didn't know the extra verses to or the story behind "Delta Dawn", the "crazy lady" of Brownsville, Texas). I'm not sure whether this is a Wednesday night tradition at Jim & Mary's, but next time we're headed for Missoula, we'll check to see if these men are performing.
A sunny morning with little wind accompanied us on the 250 miles from Missoula to Livingston. Then we turned south, following Highway 89, the last 18 miles to Yellowstone's Edge RV park. We're not only right on the edge of the Yellowstone River, but also right (30 miles) on the edge of Yellowstone National Park. Armed with our Golden Age passports, entrance to the Park is free, so we'll do some extensive exploring of the area. I like Tom's idea of a trip to West Yellowstone, I think he likes mine for a trip over the Beartooth Pass. There are some interesting looking back country roads leading to the snow covered peaks of the park. The water's still too high for fishing, but that will change in the next week or so. Montana Heaven!
Click here to see pictures of our journey east.

Postcard: A Tale of Two Campgrounds
June 13, 2010
With more than a week to go before we are due at Yellowstone's Edge RV park, we could take our time heading east, and did just that. We spent our first night at Casey's RV resort just outside of Oakridge, Oregon, less than 150 miles from Florence. The south fork of the Willamette River runs right by this campground, and this river, like the other rain swollen, snow fed rivers of the Oregon Cascades, was raging. Lines of debris showed just how high the river had risen; high enough to cause the park owners' some flooding concerns.
We had planned to leave the rig in the forest service campground at Lava Lake while we buttoned down our Widgi Creek home for our 6 week absence, but opted instead to stay at Lava Lake resort. This 25 site campground can be full when the fish are biting, or during the summer months when it can be quite warm at lower elevations, -- but there were plenty of spaces this evening. We settled in for a one night stay.
Which turned into a two night stay. We spent the day in Bend, just 35 miles away, and returned that evening. What a difference a day makes! The first evening had been delightfully warm. We'd enjoyed a campfire and the company of 5 deer who had made their beds in the long grass just outside the perimeter of our camp. The next night was cold and rainy, and there was talk of snow a nearby Mt. Bachelor.
There are two ways to get to Bend from Lava Lake. The shortest distance takes you north around the slopes of the mountain. That's where the snow would be. Or, you can drive south along a paved but narrow forest road. That road connects with highway 97 some 15 miles south of Bend.
The weather had made up our minds for us -- we'd stay one more night at our "WidgiDigs". But what to do with the coach? We tried something completely new to us, and parked at the Bend WalMart.
I had called the store and received assurances that indeed, overnight parking was permitted here, so we were a bit concerned when we pulled into the lot and saw "no overnight parking" signs prominently posted. Upon re-checking with WalMart personnel, I learned that this overnight privilege had been abused. One night's camping was still permitted, and then we'd have to leave.
Tom had carefully plotted our trip east. Leaving Bend, we'd head for Fruitland, Idaho and the Neat Retreat RV park. A small park in an out of the way town, surely there'd be no problem finding a spot for one night.
But when I belatedly called the Neat Retreat, I found they were completely full with someone's family reunion. Now what?
I looked up spots in our now 2-year old Trailer Life Directory. There was a campground near Vale that looked interesting, until we saw the access road. Ontario's listings included the Neat Retreat, and something called Oasis in Huntington. Huntington is a very small town about 25 miles west of Ontario. We wanted to go east, not west.
How about Farewell Bend State State Recreation Area? We'd been there years ago with the kids and really enjoyed it. Farewell Bend is where the Snake River makes one last sharp turn before heading into Hells Canyon. This is where the pioneers left the ease of river travel and headed inland, across miles of desert, toward Oregon City. 101 sites with water and electric, 30 tent sites, surely they'd have room for us.
Nope. We became a bit concerned when we drove into the park, and found three other rigs heading out! We pulled up to the entry kiosk, and learned that every one of the sites had been reserved. And, the gal at the desk told us, "I don't think you'd fit in any of our tent sites". Apparently we had inadvertently chosen the weekend that Oregon State Parks had advertised as "free camping". So that explained the sudden popularity!
While that was the bad news, next came the good. "Would you like to stay on the river? I can call a couple of other places for you." And then, "Oasis campground still has three pull-throughs. They're holding one for you". How extremely thoughtful of that woman. Farewell Bend state park has incredible volunteers!
While it is listed as a Huntington campground, Oasis RV park & campground is closer to Weiser, ID than Huntington, OR, and was right on our eastbound route. Down highway 201 toward Weiser we went, and came upon not just one campground, but three. The first wasn't technically a campground, just a gravel pull off area where three RVs had stopped. No hookups, and only a small restroom building, but no fee, either.
Smack dab between the pull off area and another campground called Catfish Junction, was the one we were looking for -- Oasis. Sheltered from the sun and wind, under spreading cottonwood trees, this is a small (25 site), neatly kept campground. The back-in sites are a bit nicer than the pull throughs, as they back onto a beautiful green lawn, but the pull throughs have a fabulous view of the Snake River.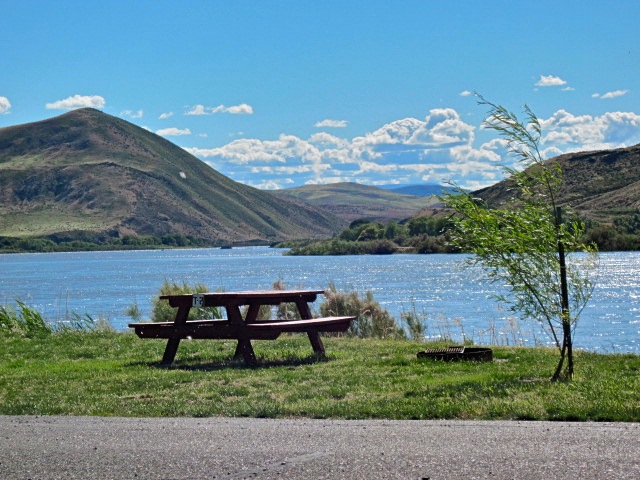 The woman who checked us in is quite a character. She came out of her house, smiling and welcoming me, as I walked over to the office. Needing a walker didn't slow her down a bit. She is a tiny woman; she confided that she was having trouble maintaining her weight at 110 pounds. She obviously loves her job, especially the part where she rides around the grounds in her ATV.
By the time I finished checking in ($18.00 included the extra $2 to use the 50 amp service), and returned to the car, Tom had detached the jeep and was talking to this woman's son. He had learned quite a bit more about this unusual place.
Once Oasis RV park and campground and Catfish Junction were one park. The story is that a father owned the original park. He died, and left it to his sons. His sons could not get along, so they made the one park into two. If you look around, you'll notice a wooden fence slicing between the two parks -- which otherwise have very similar design.
Unfortunately, it seems they still cannot get along. When I learned we were going to Oasis, I "googled" it to read a few of its reviews. There are 7 reviews. Click on any one of them, and you are directed to the site for Catfish Junction. You simply cannot read any more than the first few lines of any review, including the one that just may have been written by the owner of Oasis, and begins --
"We stayed overnight here. The owner was helpful and friendly. Don't make the mistake of missing the entrance and turn into the next door park as the owner/operator of that park is a complete jerk. The Oasis is very clean and well ..."
Notwithstanding all that, we had a very nice stay at the Oasis. The other campers were incredibly friendly -- even to the point of sharing snake stories when a large bull snake slithered through several campsites. It's a favorite of catfish fishermen too; although they are careful not to keep any fish too big and fat.
It's too bad that the owners of these campgrounds cannot agree, for both campground would be better if they were recombined. However, we enjoyed our stay at Oasis, and would look forward to a return trip.
Off in the morning to Grangeville for a day or so, then east toward Montana!
---
Postcard: Carmel, Oregon
June 3, 2010
We've had our small home in Florence, Oregon for about three years now. We live in an RV oriented community with its own very active RV Club. An outing is planned for most months during the year, even some in those dismal, wet, winter ones! We joined the group almost immediately, but our wandering lifestyle had meant we'd missed those outings, and we had become used to hearing about them after the fact. Hearing about trips to the Rogue River or the Oregon Cascades just made us more determined to join one of these excursions, and finally, our schedules meshed. We were off to Cannon Beach.
This group is exceptionally well organized. At an RV Club meeting about a week before our outing, we received a small tote bag containing all the information we'd need for the 4 day rally. The Triple A ("AAA") map of Washington and Oregon showed us exactly how far we'd have to go, and which towns we'd go through. The Cannon Beach Visitor map depicted every street in town including the one where our RV park was located. In addition, and in case we managed to get lost anyway, our rally leaders included printed MapQuest instructions.
In addition to these driving tips, a dozen small pamphlets were included in our tote. These included suggestions for day trips around Cannon Beach, as far north as Astoria, (only 20 miles) or Tillamook, (a bit further south). On another trip with slightly drier weather, I'll use the lists of the hiking trails and the state parks of the North Coast. This rally was based out of the RV Resort at Cannon Beach.
This is a very nice RV park, if not quite deserving of the 10/10/10 rating it gives itself in the Cannon Beach magazine. Most of the sites are back-ins, and the area is heavily treed, making satellite reception spotty at best. There's a clubhouse room above the office, but the cooking facilities are located below, and our rally hosts got more exercise than they bargained for running up and down with our great meals.
At some of the rallies we've attended, Tom & I have felt like we were the only couple who didn't know exactly what was happening -- and when it was happening. No chance of that here. A detailed itinerary listed each day's activities, including when and where we'd have meals (a favorite activity among RVers), and what to bring (utensils, etc.).
Cannon Beach is only about 8 miles south of Seaside, and 20 miles from Astoria. The little town is a delight in itself, with multiple shops and galleries to visit. Since it largely lacks the the t-shirt and trinket shops so common in tourist areas, Cannon Beach has earned the name, "the Carmel of Oregon".
There were two "planned activities" -- an afternoon program at Haystack Rock the first full day of our rally, and an Historic Walking Tour of the town on the final day. Most of the daytime hours were reserved for the rally goers to explore the extensive and diverse offerings of the north Oregon coast.
Just south of the town center, Haystack Rock rises 235 feet from the sandy shore. While other rock formations ("sea stacks") are taller, Haystack Rock can be reached on foot at low tide, and is third tallest "intertidal" rock formation in the US. The Rock is carefully monitored by both the Oregon Parks & Recreation and the Oregon Islands National Wildlife Refuge, and climbing upon the rock itself is prohibited. But there's plenty to see without climbing.
Around the base of the Rock, tide pools are home to starfish, sea anemone, small crabs and many other small creatures. The Rock and its smaller companion stacks house thousands of gulls, cormorants and puffins. The afternoon we visited, a large flock of Harlequin ducks were sheltering from the rough water, and an American Oystercatcher was searching the rocks for food.
Each low tide, volunteers are on hand to tell the visitors about the Rock. It was once attached to the coast line, and, according to Andrew, our volunteer guide, was once 16 times larger than it is today!
On our first visit, I realized I'd left my binoculars in the car, but I needn't have worried. The volunteers have binoculars to loan, and several persons had taken advantage of this useful amenity.
Andrew told us that for many years, Cannon Beach and Haystack Rock were not as carefully monitored as they are now. He described a typical 4th of July holiday as having fireworks on the beach with no sign of after celebration pick-up. He mentioned that people even shot fireworks at the birds on the rock, which too frequently injured or killed them. But, he continued, the hotel and restaurant owners were afraid if there was any restriction placed on such activity, the tourists would stop coming.
Finally the "environmentalists" won out, and the townspeople found that, far from stopping tourism, the idea of a pristine spot on the beach encouraged tourists. Indeed, when a recent round of budget cuts hit Cannon Beach, the only thing left intact was the budget for the beach volunteers.
The third rally day was designated as a "free" day -- nothing between breakfast and dinner -- except to explore this fascinating area as you wished. Tom & I took off for the Astoria area and Fort Clatsop. Although we've stayed at nearby Fort Stevens, somehow we'd missed this piece of American history.
This fort was where Lewis & Clark and the Corps of Discovery spent the rainy winter of 1805-06. The men spent 106 days in this fort -- and only 12 were rain free. Strict military discipline prevailed, with each man sharing sentry duty, and each evening the fort was cleared of all visitors. The men spent their time preparing for the return trip east. In addition to making candles and fresh clothing for the trip, the men found an area near present day Seaside where they could make salt, by boiling sea water "day & night". The salt would preserve the elk and deer meat they would take back.
Today the Fort is part of the Lewis & Clark National and State Historic Parks, major portions of some 40 miles along the coast. In addition to the Fort and outbuildings replicas, you can walk the Fort to Sea Trail or wander down to Netul Landing, where Lewis & Clark first landed on the south side of the Columbia.
There are two movies shown at the Visitor Center at Fort Clatsop. The first depicts the trip up the Missouri River, across the Great Plains and down the Columbia. It was a good re-introduction to the epic trip made by Lewis, Clark and their handpicked group of men. The second film shows the same trip -- this time from the Indians' perspective.
I was impressed by how small the Fort was. One room was shared by Charbonneau, Sacagawea and their baby. Another was set aside for Lewis & Clark. 27 men shared the remaining 3 rooms. All that and nonstop rain!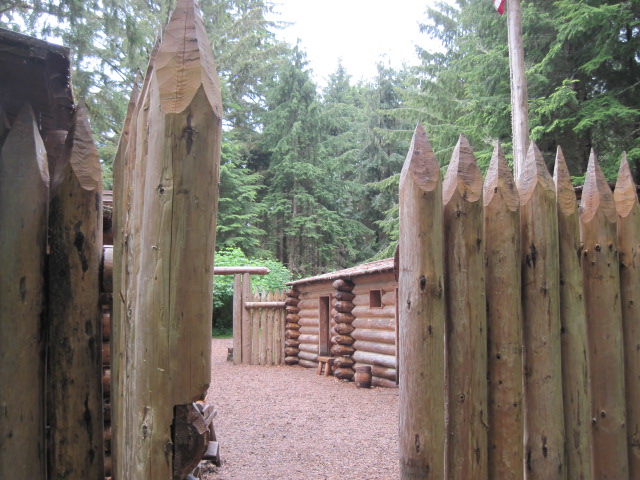 Our last activity was a walk through the historic part of Cannon Beach. Even though she had only been here for a few months, and this was only her second tour, our guide gave us an interesting narrative overview of the area. It didn't take long for the area to be settled --the first settler arrived here only 43 years after Lewis & Clark left.
As a last stop, I spent an hour at the Cannon Beach History Center and Museum. I saw pictures of the old cannon, somewhat warped from years of salt air and barnacles, which gives the town its name.
In 1846, a cannon washed ashore from the shipwrecked ship "Shark". At first the citizens of the area where it came ashore claimed it for their own, but eventually it came north to Ecola -- which quickly changed its name to Cannon Beach.
As you look north from Haystack Rock, you can see a smaller rock with a lighthouse atop. This is the Tillamook Rock Lighthouse, better know as "Terrible Tilly", the "most notorious in the nation". First lighted in 1881, the lighthouse, 62 feet above the ocean, was constantly buffeted by ocean storms. The only way lighthouse keepers could access the rock was to be lifted onto it by a derrick. This most expensive lighthouse to operate was closed down in 1957, replaced by a whistle buoy. Today it is privately owned, but even its owners are prohibited from accessing it, (by helicopter), during seabird nesting season.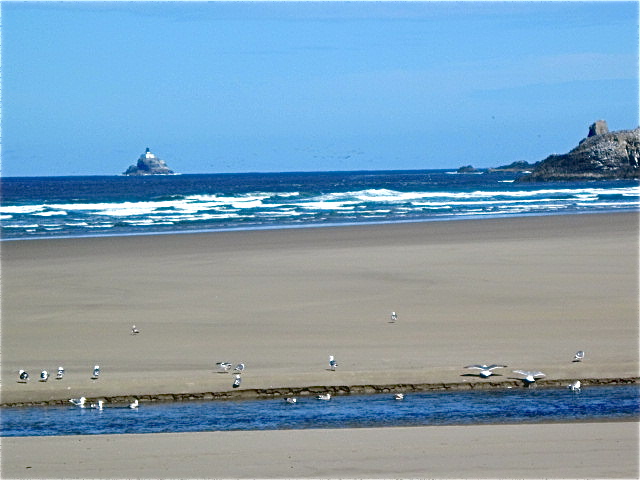 All too soon, our 4 day rally came to an end, and it was time to head back to Florence. Our Florentine RV club generally hosts Oregon based rallies, and there is no better way to learn about your own backyard. We might have missed Cannon Beach altogether, as the town is not directly on Highway 101 as are most Oregon coastal towns. We had already missed exploring Fort Clatsop. Who knows how many other interesting spots there are within 150 miles from home.
Next up, Montana. In about a week, we leave for a month at "Yellowstone's Edge", an RV resort just north of Yellowstone National Park, and on its namesake river. We'll leave the rig there, and take some of our "circle trips". Tom's already geared up for another MyTripJournal, complete with video clips. Off we go again!

Postcard: The People on the Train
May 25, 2010
If we can't be in our RV, the next best way to travel is the train. For the last several winters, we've made reservations on Amtrak north for the holidays; each winter we've had to cancel. But for a relatively quick trip to Chicago, a train trip would fit perfectly. Occasionally, the former Executive Directors of the American Bar Association met for lunch. Most of the others live in or around the Chicago area, and distance had kept Tom from attending. But not this time. We'd board AMTRAK in Portland and detrain in downtown Chicago. We'd arrive a day early for Tom's meeting, so there was no worry about missing the event by arriving late (Amtrak's forte). After his lunch, we'd drive north to Wisconsin to visit Tom's family, especially including his 95 year old uncle. Then back to Chicago and another train trip back to Portland. And, once we got started, that's exactly how things worked out.
Ahh, but the getting started proved to be something of a problem. We planned on leaving from Bend, where we'd put the dog "in jail" and head to Portland. The shortest road from Florence to Bend just happens to lead straight through Eugene. Eugene just happens to have a Mac store. Not as alluring as an Apple store, but a "Mac" computer store nontheless, and a big draw for Tom -- especially on his birthday, at a time when a new laptop was being more than contemplated. It was while he was in the Mac store that he discovered he didn't have his iPhone.
Tom has written a very amusing anecdote of this traumatic experience. If you'd like to read the story of the Birthday/iPhone, just click here. The bottom line is that while it cost us a day, the story does have a happy ending.
Barney boarded at the Happy Tales kennel, Tom & Stephanie boarded the Empire Builder. Off to Chicago.
The train that leaves the Portland Station is very short, only 4 cars long. After the engine, there's an observation car, a couple of coach cars and one sleeper. If this seems like a half a train, it is. Two sleepers, another coach and the dining car leave Seattle at approximately the same time. Once in Spokane, the two trains are hitched together and the new, longer train leaves for Chicago.
No diner, no dinner, right? Wrong. We were served the most delicious box dinner I've ever had. No bland train food, these dinners were seasoned perfectly. Everything that should have been warm, was warm, and things that were supposed to be cold, were cold. As a beverage, we had a choice of champagne or sparkling cider. A five star dinner in the comfort of our small roomette.
While there are larger "bedrooms" on the train, we've typically opted for the smaller roomette. But they are very small. Two large arm chairs with a small wall table between them take up 90 percent of the room. There's barely enough space left for one person to stand; try two persons, and one will have to be in the hall. At bed time, the two chairs pull together to form the bottom bunk, while a top bunk pulls out from the wall close to the ceiling. A narrow closet holds our hangup luggage, and there's an ingenious side table which can be used as a step up to the upper bunk. Two large windows give us a good view of the outside world rolling by, and I really enjoy spending time in the observation car. That's where you meet most of the people on the train, and where, this first morning of the trip, I met Ruth Neff.
There are two seating choices in the observation car. 20 or so semi-swiveling armchairs line each side of half the car; the other half is lined with 4 person tables. One of these tables was occupied by a woman about my age, who had spread magazines and papers all over her table. "Would you like to read about "NEW"?, she asked.
"NEW", Neighbors East and West, was founded by Ruth and Sam Neff from Richmond, Ohio. The organization began in the eighties, when their hometown became a "sister city" to the Soviet town of Smolensk. At first the town mayors swapped visits, and later this was expanded to exchanges between canoeists and hikers. In the 1980's NEW sponsored five trips to the then Soviet Union. Ruth was fascinated to learn that we had hosted a delegation of Soviet lawyers (including the Attorney General of the Soviet Union) in our home during the same period, under a lawyer exchange program Tom had initiated. In the 90's NEW took 7 trips to Cuba and for the last two or three years, they have taken travelers to Iran. The trips that NEW has taken focus on people to people relationships -- I especially enjoyed one picture of the oldest member of the group, 86 year old, Al Inglis. The picture shows him playing his harmonica surrounded by a group of admiring young Iranians. You can read more about this organization at their website.
Across the aisle from Ruth were two volunteers from the "Rails to Trails" organization. These volunteers board Amtrak trains all over the country, and ride several hundred miles, talking about the area through which they're traveling. As "locals" they have "insider" knowledge about an area. From the Adirondacks to the Gulf Coast, on the City of New Orleans or the California Zephyr, these volunteers make your trip much more interesting.
This morning, we were traveling along the banks of the Mississippi. One of the volunteers talked about the dredging of the River to make it usable for the thousands of barges which ply its waters. Together, they convinced half a dozen kids to join the "Junior Rangers". My experience with Junior Ranger programs has previously been through state parks' programs, and I always thought they were only for elementary school children. Today, in addition to several small children, half a dozen high school students and even one college girl were fascinated by the program. All had the Jr. Ranger booklet, and all wanted to become a Junior Ranger.
The booklet features some basic math problems (how much tonnage can you put on a barge before it will sink, etc.), a scavenger hunt game, and a page where each child writes about what they have seen and learned on their trip. When the kids had filled out their booklets, they brought them to the volunteers for grading. These volunteers were very tough graders. I saw one carefully tell a small child that he must completely finish before he could get a badge. Probably a good lesson for that youngster.
The other part of the program featured "Freddy, the Flathead Catfish", who lives in the Mississippi and was just the "person" to give a lecture on the natural history of the area.
The train pulled into Chicago right on time, and we found our way to our hotel. Tomorrow Tom would lunch with his old friends. He had been a bit apologetic when he informed me that I was not invited. I hastily assured him I would be perfectly OK spending a few hours alone in some of Chicago's Gold Coast stores. We lived here for 6 years, and I knew precisely where I wanted to go.
The following morning our rental car had us in southeastern Wisconsin, where we spent a delightful day with Tom's Uncle John, who now lives in a retirement home near Madison. Even at 95, he still is the epitome of "spunk". He needs a walker, but when he gets behind the bars, look out! He jogs along at a good rate of speed. We had dinner with his granddaughter and her family, stayed overnight with Tom's cousin, and the next morning were off to Chicago again, to take Amtrak back to Portland.
Our first dinner may have been in our small roomette, but most Amtrak meals are in the diner. For either breakfast or lunch, you just arrive. You will be seated four to a table, with people you probably have never met before, and many you will never forget. On one trip, several years ago, we met a small boy named Michael who took an immediate liking to Tom and his computer. This trip, we had dinner with Jean and Mariah Setter, a mom and her teen aged daughter. They were headed home to Hutchinson, a city about 60 miles west of Minneapolis. Mariah is a swimmer, a backstroker, like our daughter was in high school, and we had a delightful time comparing notes. Several days after we got back to Florence, we were pleasantly surprised with a chatty email about the coming of spring in Hutchinson. She raises chickens and geese, and all have babies. The subject line read, "Hello -- Mariah from Amtrak".

Perhaps the most unusual encounter was the lunch we had with "Jack".
At that time, we had no idea who Jack was. During lunch, we learned that he was a member of the Blackfeet tribe of the Glacier Park area, that he was a singer and had been in Minneapolis performing as part of the celebration of Glacier's 100th anniversary.
We learned that he also found his bunk in the roomette to be quite narrow, and that he much preferred traveling by train to flying. What we didn't know was that this guy is really quite famous.
Jack Gladstone is "A Native "PoetSinger" and lecturer from the Blackfeet Indian Nation of Montana. He's headlined programs at the Smithsonian Museum of the American Indians in Washington DC. and was a "key tribal voice providing alternate perspectives of the Lewis and Clark Expedition during the bicentennial". A former college instructor, Jack has been featured on both the Travel Channel and in USA Today magazine. Honored as a modern day warrior and bridge builder, he holds a Human Rights Award for Outstanding Community Service from Montana State University. But all we knew at the time was just that he was an interesting person and a great lunch companion.
If you want to have dinner on Amtrak, you sign up for a specific seating. This evening, we opted for a late seating, and found ourselves in an unusual situation -- we were seated at the far end of the diner, with no dinner companions. Instead of sitting side by side, we sat across the table from each other.
If we'd had companions, Tom probably would not have reacted as he did when Jack came through the diner on his way back from dinner. "Jack", Tom said. "I hope we didn't miss any special performances in Minneapolis?" Jack stopped and smiled. "It went great. If you'd like I'll get my little guitar, and play a song for you". Would we ever! But we weren't the only ones. A sleeping car attendant and a conductor found an empty table nearby. As we waited for Jack to return, the conductor remarked, "I didn't know it was really Jack Gladstone. I'd heard he rode Amtrak whenever possible, but I've never had him on my train."
Jack returned and started a short impromptu concert. His first piece? "The City of New Orleans" brought smiles and a bit of sing along. Then he played two others, one so new he had not yet been released. We thoroughly enjoyed it, and I was a bit surprised that the few folks at the other end of the diner didn't come to hear it. All too soon, Jack had to stop, the train was getting close to his home near Whitefish, Montana. We subsequently checked online and found his interesting website. If you visit it, you can click on a video that gives a great sample of his vocal offerings....
While we're used to Amtrak being late, this trip they actually were early. We arrived in Portland a full 20 minutes ahead of schedule. We retrieved the car and headed back to Bend. Barney would be waiting to be released from his doggy "jail", and we'd head back to Florence in the morning. We'd had a most memorable trip, and won't soon forget the people on the train...       
Postcard: Rambling
April 28, 2010
Rambling is defined as "walking for pleasure, typically without a definite route" -- additionally "esp. in the countryside" . What a description of our method of travel -- seldom in the same spot for any extended time, and staying out of cities whenever possible.
When we returned from our trip to Australia and New Zealand, we at first thought we'd simply continue our winter travels. Texas as a destination was probably too far, but we'd at least revisit our favorite Arizona winter spots. What we didn't fully realize was that we were traveling east a bit late this year. We were right in the middle of Snowbird high season.
We managed to find a spot at Gilbert Ray campground in Tucson Mountain Park for a couple of nights, and were able to get in our yearly "fix" at the Arizona Sonora desert museum. The morning we visited, I watched one volunteer holding a kestrel and talking about the bird. In another spot, a second volunteer was showing off a barn owl! What interesting jobs!
We hiked around the perimeter of the museum/park, watched the coyotes pacing in their enclosure and the javalina rooting under the low branches of a large creosote bush. The museum is a magnet for area schools' field trips, but we'd arrived early enough to avoid most of the crowds. We visited the huge aviary, and ducked through the hummingbird enclosure. You need to watch your head when you're around the hummers!
From "Gil Ray", we headed north to Phoenix and Usery Mountain County Park. This park does not take reservations, but if you call, the volunteers at the entry gate can tell you when you can expect a site to be free. Today, the sad news was that the overflow wait would be "at least" three days.
Overflow at Usery is a large gravel area in the desert, a beautiful spot to spend time, if the weather cooperates. Our weather had been most uncooperative. Sheet rain had closed some of the main streets in Phoenix, and turned dry desert areas into lush lakes. We spent two nights at the Meridian RV resort in Apache Junction, and headed for Oregon.
One advantage in rambling to Oregon from Arizona is that it can be done without going anywhere near the traffic of Los Angeles. We drove west and north to Needles and Desert View RV park.
We've been here before, and each time vow to return for a longer stay. Extremely nice hosts and a relatively empty desert to explore add to the park's attraction. Many of the RVers here have ATVs, and they can access the desert right from the park itself -- no need to be "street legal". Had we stayed a day longer, we'd have joined the campers on a day trip into the Mojave. But, for us, it was time to ramble on.
Back to Florence, once again way too early. We spent the next few weeks rambling between Florence and Bend, watching winter disappear. The weather has been unusually warm. In Bend our golf course was open by late February. (Naturally, a late season snowstorm closed it again, just before our Yakima clan came down for a golf/ski Easter weekend). There were a few items that needed repair on our rig, which our local Alpine "fix-it" man quickly took care of. Now we're looking forward to a mid June departure for Montana.
One side "ramble". By chance, I got to read a wonderful story called, "The Voyage of Mess" by Bob Carson. It's about a lovable (two ex-wives and a girl friend) character who lives in a used 1996 34' Winnebago. Named Mess by a grade school class mate who combined his first name, Les and last, Minton, at first Mess seems to live up to his name. Always on the lookout for the unusual, Mess dreams up a scheme to put RVs on pontoons, and make an RV "park" in a Florida Lake -- Lake Vegetation. The book is so funny that when I'd read sections to Tom, I was laughing so hard he could barely understand me. Look for the book at www.rkcarson.com.
Our latest ramble was a long weekend in Northern California. We put Barney in "jail" in Bend and drove to Lake Tahoe for an overnight with Tom's best friend since boyhood. We spent an enjoyable evening reliving past events, including one of a long ago New Year's Eve when they each invited friends to a party. Since Claude had been in the Navy and business school, and Tom's background was Army and law, there were four distinct groups of friends who barely knew each other. Each group was instructed to wear a different outfit. Some came in formal attire, others in pajamas. As the guests arrived, they'd see others dressed completely differently from themselves. Once over the initial "we're wearing the wrong thing" shock, everyone had a wonderful time.
One night at Tahoe, then a night with Tom's brother in Lafayette. The next morning, en route to lunch with my brother in Marin county, we drove around the Berkeley (Cal) campus and noted the dramatic changes from the time we were students there. Next we drove by Tom's old home, seemingly unchanged, just across the street from Claude's house (changed greatly).
Heading north again, we decided against the obvious route, Interstate 80 to I-505 to I-5. Instead, we drove through the Napa Valley wine country. There are more wineries now, and many more people out wine tasting on a sunny Sunday afternoon. Old landmarks are gone -- the Stornetta milk company is just an empty shell, and the cows' grazing pastures have gone to vines. Once east of Napa, however, the roads still curve through the hills, forcing slow speeds and careful driving -- especially since the motorcyclists were out in full force on this beautiful afternoon. Past Lake Berryessa, with its full complement of houseboats and jet skis, down to Winters, where we rejoined the freeway. We spent the evening at La Quinta motel in Redding. We were missing our RV and RV bed by this time, but a dinner out at the next door Cattlemen's restaurant made up for some of that. I can cook when we get home.
We'll be here for about 2 weeks before our next trip -- we're taking Amtrak to Chicago. The American Bar Association's ex- Executive Directors are getting together for lunch. Tom, Executive Director from 1980-1986, has missed every one of these lunches so far, but this year, he'll join the group. He'll have a good time with his old friends, and I don't at all mind being on my own in downtown Chicago for an hour or two. And Amtrak travel is always fun.
If one definition of rambling is walking for pleasure, another is "to talk or write at length in a confused way". I've done quite enough of that this time. The rain has stopped for now, the sun is out, and it's time to get the Alpine ready for its next trip.
---
Postcard: Border Crossings
February 18, 2010
When we left for Australia, we had no idea what our plans would be on our return. Would we be so "jet-lagged" that all we'd want to do was head back to Florence? Or, perhaps, just hang out in Borrego Springs for a month or so? Or, maybe, jet lag behind us, take off for spots as yet this year unvisited?
We opted to continue on. It did take a while to get our internal clocks rewound, and we enjoyed the sense of humor of the university rep from KU. She sent everyone a picture of a kangaroo, sleeping on his back and looking more dead than alive. She described how she felt in terms of that picture. But, after a couple of days, we found we were waking up when it was morning, California time, and not becoming sleepy at 4 in the afternoon. It's still only mid-February. Time to head east.
We spent one night in El Centro, at the Desert Trails RV park. Every year this park seems to increase the number of its park models at the expense of RV sites. The people who winter here must love it, with a small 9 hole golf course tucked into the middle of the park, and planned activities galore. However, if you're staying only overnight to catch up on supplies at the local Costco and Wal-Mart, it's a somewhat different story. No improvements have recently been made to the 10 overnight sites or to the laundry rooms, and, this time the spa was closed, "pending parts". Also, each year we've found the price a bit higher. $48 a night is a bit much for narrow sites with cracked pavement under your wheels. However, it's a matter of location, location, location. This small city in the Imperial Valley is a good spot to stop and restock the larder.
From El Centro, it's only a few hours to Ajo, Arizona. Drive 175 miles east on Interstate 8, and turn south on Highway 85, where the sign directs you to Mexico. 40 miles later you're in Ajo. Ajo was once a mining town, although the Phelps Dodge company stopped operations here in the 1980s. You can still take a tour through the old mining operation, play golf at the Ajo Country Club,or, as we love to do, drive the surrounding desert. Go east and you're on the Tohono O'odham reservation, en route to Tucson. Go south and you're in the Organ Pipe Cactus National Monument. West lies the Cabeza Prieta National Wildlife Refuge, and the Barry Goldwater Gunnery range.
If you want to explore either the Refuge or the gunnery range, you'll need a permit. These are easily obtained from the Refuge Visitor Center. You're required to watch a slide show on safety on the gunnery range where you might come across live ammunition, and sign a waiver stating you understand all the potential dangers inherent in desert travel -- especially *this* piece of desert. Then, armed with certain telephone numbers to call before entering either refuge or range, off you go.
If you are uncertain if these trips are for you, try driving the Ajo loop first. This is a 10 mile drive around "A" Mountain, (the hill in town with the big painted "A" on it). This road is gravel, but well groomed, and suitable for passenger cars. You'll see small and medium sized RVs out here, dry camping.
Tom & I had obtained a pass to the Cabeza on an earlier trip, and not had time to visit. This trip we wanted to see scenic Charlie Bell Pass, a 17 miles drive into the preserve. A short distance, but the recommended time to drive it is 90 minutes, depending on how many stops you make along the way. For the first 15 miles, the road is well graded, and wide enough for two cars to pass -- at least in certain spots. The map we got at the Visitor Center guided us mile by mile, and explains what might be glimpsed in certain areas. Perhaps an earlier or later start would have resulted in our seeing more wildlife -- today our count was only several woodpeckers and a few crows. About half way along the route, we could see a portion of an interior "vehicle fence" -- an 8 feet high green strip consisting of pieces chained together. The fence stretched for only a couple of miles across terrain that might otherwise provide passage for vehicles that had crossed the border illegally, and appeared to end at a watchtower -- today seemingly unmanned. No impediment to people trying to pass through, but its purpose is obviously intended to inhibit illicit vehiclar traffic.
The last two miles were steep, rocky and rutted. Passenger cars would have had difficulty negotiating this section. Even in the Wrangler, we jolted along, climbing up into the Growler Mountains, and eventually came to the top. We parked in the "parking lot": -- a level, if rocky plateau. From here the road twisted down into Growler Valley. And if it hadn't been for the signs forbidding entry, we'd have continued on. However, Charley Bell Pass was worth every inch of the drive. Miles of ocotillo, saguaro and organ pipe cactus spread out before us. It was one of those places where the silence is so complete it's deafening. But we weren't quite beyond the pale of civilization. As we began our descent back to Ajo, Tom's cell phone rang. His boyhood best friend was calling. "Are you speeding?" he asked, thinking we'd pulled over on some interstate or other. Tom's answer: "Are you kidding? I'm driving down a mountain in 4 wheel low!" If you'd like to see where we were, click on this link. http://maps.google.com/maps?q=32.393799,+-113.085831
Another quiet evening in Ajo, at Shadow Ridge RV park, and then we headed to Organ Pipe Cactus National Monument, and Twin Peaks Campground.
We can remember when you had to carefully plan your arrival at Twin Peaks. The campground used to be so popular that it was filled by early afternoon. No longer. The 2002 death of a young park ranger at the hands of drug smugglers, and an increase in illegal immigration at the border only 5 miles south, put a damper on visitors to the Monument and the park. But campers and RVers are slowly returning, both to enjoy the gorgeous desert scenery and to use the park as a jump off point to Puerto Penasco, Mexico.
Some years ago, two scenic drives left the Monument's Visitor Center. For the same reasons that ensured a smaller camping population, more than half of one, Puerto Blanco, has been closed. But the Ajo Mountain Drive is still open. The Visitor Center has pamphlets that describe the route, and there are many spots where you can walk out into the desert, take photos, or enjoy a picnic.
Since this was a long weekend, we planned our trip to Puerto Penasco (aka Rocky Point) for Sunday, Valentines Day. We guessed that most folks headed south to this popular resort town would have crossed the border on Friday or Saturday, and wouldn't be returning until Monday. The Lukeville crossing is only 5 miles south of the Monument headquarters, and, except during spring break, crossing is not a problem. We did note this year a couple of U.S. Border agents checking the luggage and passports of persons going into Mexico, but the process seemed quite speedy. Of course, once over the border, usually no one questions you.
It's only 65 miles to Rocky Point, and the road is excellent, straight with wide shoulders. The speed limit is 60, but largely ignored by many drivers, and cars kept whizzing by us. However, a traffic ticket isn't something we are anxious to get in Mexico, so Tom kept strictly to the speed limits.
We noticed an odd sign as we drove south. It showed a motorcycle, a car, and a rectangle with USA printed on it. The sign read, "Hassle free zone". The first one we saw said "Hassle free zone for 602 KM". Hmm.. any further than that and you're going to get hassled? After that, the signs merely read,"Hassle Free Zone" without any km limitation.
Valentines Day -- El Dia de Amor Y Amistad, is a popular holiday in Mexico. As we drove through the border town of Sonoyita, I could see shops touting their red merchandise, with shirts and skirts moved to the storefronts, and out onto the streets. Vendors were selling huge stuffed bears holding hearts with "I love you", some in Spanish, some in English. At almost every stop sign or light, someone would try to sell us some red or white roses. When we went to lunch in Puerto Penasco, the restaurant was decorated with red crepe paper streamers with little hearts cut out of them. And every woman in the restaurant was presented with a red carnation! How very special.
A few years ago, we spent several days at one of the RV parks here -- Playa Bonita. Driving in today, we noted a few changes to this funky little RV park. This year, some blocks before you get to the park and its adjoining hotel, you drive through what seems a private archway. Perhaps this is to make the tourists feel more secure. But the archway was unmanned when we drove through it. The old rutted dirt road has been paved. Just upbeach from the park, several new condos/hotels/apartments, (I'm not sure which), have been put up. But the park itself has not noticeably changed. The entrance sign is the same, complete with a large crack running down the center. The sites are very close together, making parking a bit challenging for larger RVs, but this is not at all unusual for Mexico. The same signs, "No ATC's[sic] in park" and "No firecrakers[sic]" are still there. The "vendadores" still roam through, selling everything from tortoises to tortillas. In short, it's still Mexico, and the RVers who were staying there were thoroughly enjoying it.
One of the "must stops" in Rocky Point is the fish market. There's a lot more to buy here than just fish. On one side of the short street, dozens of shops sell clothing, t-shirts, hats, serapes, & paper flowers, just to name a few items. On the other side is a line of fish markets, small stalls where the boys will try to convince you that theirs is the freshest, least expensive fish you can buy. We come for the prawns and asparagus, and always take at least one dinner's worth back with us. This trip, we chose some huge prawns and 2 bunches of asparagus from Pancho at, of course, Pancho's fish market.
We were only in Rocky Point for a few hours. Then it was time to get back on the road. About a half mile before the border, we found the hassle free sign again. This time it was a bit different. There was a red circle with red slash through the bike, car and rectangle. Now the sign said, "End hassle free zone". (Probably true, we were nearing the border). Here we ran into the day's first traffic problems, folks returning to the States. The traffic jam was good for vendors, however, they presented baskets, dried chilies, shirts and flowers, to each car as it inched along to the border fence. While we didn't want any of those wares, if I'd had any small change, I would have given something to the young boy who ran between the cars juggling three tennis balls.
Across the border and back into our campsite at Twin Peaks just in time for a doggy walk, and to get some of the shrimp ready for dinner. Tomorrow, we head north again. Here are some pictures from our adventures.
Note: We've been asked by a number of RVers "what it's like" to venture down to Rocky Point. Some find the idea fairly intimidating, not realizing just how easy this particular border crossing really is. And while some Mexican roads are known to be challenging, this one is in excellent shape, with relatively light traffic. On this trip we put together a short YouTube video to illustrates those points.
---
Postcard: A Kaleidoscope of Memories
February 10, 2010
Leaving Australia. Because of the day/time confusion that can result from being on the "other" side of the International Date Line, it took us two days to get through Saturday, Feb. 6. This day/ time stuff has been challenging. All through the trip, we kept asking each other, "What day\time is it where Barney is? Few were immune from this quandary -- just as you thought you'd figured it out, you found you were wrong again! In Australia, you watched Sunday's Super Bowl, live, on Monday. After the tour, one couple, who had stayed in Australia visiting relatives, sent everyone an email. It arrived the day before they sent it!
We departed Cairns at 4 am on Saturday, and boarded the plane to Sydney at 5:30. Our plane to LA was delayed for about an hour for "mandatory service work", and we left about noon. An uneventful flight got us back to LA by 6 am, the same Saturday, and we retraced our steps of 16 days ago. We took the Flyaway bus to the Amtrak station, caught the southbound Surfliner to Solana Beach, drove to Ramona to get Barney and some groceries (I'm going to have to cook again!), and came back to Borrego Springs .
Rain and wind had accompanied us on our departure; rain and wind welcomed us home. But we had been very lucky on our trip; we never needed those rain jackets we'd so carefully packed. The dregs of Cyclone Olga which had drenched the Gold Coast just a week or so earlier were gone. For our entire trip only a few drops of rain dared to fall, and any wind died by midday. Of course, the heat was oppressive, but you don't particularly care when you're snorkeling in the Coral Sea, watching brightly colored tropical fish swimming through even more brightly colored coral reefs. Or waking in the mornings to watch the sun come up. Or seeing special tropical sunsets.
When we packed for this trip, we carefully considered just how FEW clothes we might take. While the international portions of our flight were fairly lenient with weight allowances, the domestic portions were much stricter. We managed to cram everything into one checked suitcase, and carried on only one other. In addition, Tom had his laptop. I cannot imagine him without it, and that's how we were able to update our online trip journal during the trip. We packed so lightly that we got compliments at various check-in counters. The first day our whole group got together, one couple's luggage (three bulging suitcases to check, two equally stuffed smaller ones as carry ons), were rescued from a hefty penalty when that couple was able to use some of our underweight allowance. In Christchurch, the man behind the counter said, "Only one bag to check? You get the prize. Some of your group have so many bags they seem to be moving here!" (Of course, I was a walking advertisement for the statement I saw on a T-shirt in Queenstown --"Same Shirt, Different Day").
Wonderful. It's an overused, not very descriptive word, but I cannot think of another. We had a wonderful tour. Not only did we have perfect weather, but we traveled with a most compatible group. 4 universities, Cal-Berkeley, Michigan State, Kansas and Purdue were joined by one incredible gal from Smith. There was some trading of inter-school barbs, especially between Purdue and Michigan State, but no cliques developed. One evening, at a champagne cocktail party on Wheeler Beach, the Cal alums belted out the university drinking song, which starts, "We had a little party down at Newport". It's a fairly long song, but, once you learn it, you don't forget it. "We don't have a song like that" one Purdue gal said somewhat wistfully. All in good fun.
16 days is not nearly long enough to get to see one country, let alone two. It's a bit like visiting the US, sightseeing in New York City and Los Angeles, and thinking you've seen our country. However, just this small sampling was enough for us to know we want to return some day. I keep reliving a kaleidoscope of memories. They whirl through my mind, one image becoming bright and then melting into the next. I especially remember:
The Maori Cultural Performance at the Auckland Museum. One theory says that because the Maori fought back, they were never considered "second class citizens". And they certainly are not! New Zealand school children take a class on the Maori language. The curator at the "Visually Maori Art Gallery" in Christchurch, was proudly tattooed in traditional manner. Her lips were a peculiar shade of light green, and this tattooing continued in curlicues down her chin! One of our group, well known for speaking her mind, asked the curator, "Is that permanent"? It is.
Just watching the Haka dances at the museum, you could see why the English might have been afraid of the Maori. Boldly painted, heavily tattooed and carrying spears, three men leapt onto the stage. It was the Maori way to frighten their enemies by sticking out their tongues as far as possible, and simultaneously widening their eyes, and brandishing their spears! Reportedly this was so effective that once the enemy saw that display the battle was over. And that this technique still works today was evident when one small girl in the audience burst into noisy tears.
The spectacular beauty of Queenstown and Lake Wakatupu. Our trip on the Shotover jet boat. The boat was almost full, and I wound up in the corner, last row. Just the place to view all the daredevil stunts our driver would attempt. Even though I was certain he knew what he was doing, when my side of the boat came within inches of the rock walls, I flinched, closed my eyes, and held on for dear life. My muscles reminded me of that trip for a couple of days!
Dinner with a local couple in Christchurch. We divided into groups so that no more than 6 guests descended on their hosts. We went to a beautiful home in the outskirts of town to enjoy a meal of lamb and fresh veggies. After introductions had been made, and as he passed one of us a glass of wine, our host dropped a bit of a bombshell. "What do you think of President Obama?" Uh Oh. Here's something we'd never discussed among ourselves, let alone in an open family forum!
On our return, I recounted this story to a Canadian friend in Borrego Springs. She laughed and told me another tale. Her mother had grown up in New Zealand but lived most of her life in Canada. Years later, on a return trip, she was interviewed by the local paper. She mentioned that she thought New Zealanders were apt to "speak their minds." The next day, an old friend and neighbor caught up with her. "That's completely wrong", the neighbor said, and proceeded to list all the reasons why.
Our special ferry ride in Sydney. We walked the half mile to the docks at Circular Quay, north of our hotel, where we caught the local ferry. After making a number of local stops through various harbor villages, we disembarked at Darling Harbor about a quarter mile west of our hotel, and then walked back. At the first stop, about 20 school kids boarded the boat -- all neatly dressed in uniform. They got off at subsequent stops, waving and calling to those still on the boat. Beats a school bus anytime.
Cruising the Great Barrier Reef. The Coral Princess, a 25 stateroom yacht would be our home for the next 4 days. We'd use this boat to visit 3 separate reef areas, and learn about the flora and fauna of this area.
Our reef exploration began with a short stop just to make sure everyone's mask and snorkel fit perfectly. Next morning, another "inland" snorkel before venturing out onto the reef. Here Denis, our resident naturalist, introduced us to one of his favorite pastimes -- fish feeding. We held a carefully broken herring in the water, and quickly learned to hold on tight. The small fish pulled hard and could reduce the herring to bones in just a few seconds.
The Great Barrier Reef isn't just one long line of rocks sticking up out of the water, as I previously had imagined. The reef is a collection of coral formations, only a few of which break the water's surface. The rest are submerged, some only a few feet in depth. And it is much larger than I thought -- over 1,200 miles long. Because our weather was so perfect -- full sun and no wind, we had a chance to snorkel at one, Gilbey, a reef rarely accessible to tour boats.
The snorkeling here was absolutely fabulous. I simply did not know that coral came in so many vibrant colors -- blues, greens and pinks. The fish, colorful themselves, had a hard time competing with their environment. While several folks went diving, the best views seemed to be from just below the surface. Snorkeling won out.
Our champagne reception on the beach. With yet one day to go, everyone went ashore to watch the sun set from a beach in the Great Barrier Reef. Could anything be any more romantic?
Fish feeding, part 2. We'd fed the small fish in the shallow waters earlier in the week; this time it was the big boys' turn. Denis invited anyone who wanted to see these fish "up close & personal" to join him on the dinghy deck, which was then lowered about 18" below the surface of the water. The deck was quickly jammed with onlookers. "Don't put your fingers in the water," Denis warned. "The little fish couldn't harm you, but these big ones might mistake your fingers for breakfast!"
Suddenly a large shape swam up out of the depths and onto what room was left on the deck. It was Wally, the humphead Maori Wrasse, a black fish with electric blue sides and a strange looking hump on his head. He was accompanied by his faithful sidekick, a black and white striped Ramora, a fish which cleans its host and in return shares its food. Wally is young, and only 4 feet long, and nearly 100 pounds; he can be expected to be about 7 feet long and 200+ pounds when fully grown. Young or not, he seemed huge to those on the dinghy deck. Later, as we floated over the reef, I glimpsed him cruising around under the boat -- probably waiting for another handout.
Tjapuki (running water) Museum. This aboriginal museum in Cairns (pronounced locally "cans") showcases the art, music, dancing of the aboriginal tribes of Australia. We watched a sample of their dances and listened to the didgeridoo. The didgeridoo is a long wooden pipe which makes a rhythmic booming sound when blown through (if you know what you're doing). However, if you're a master at this instrument, as was this guy, you don't really need a fancy, decorated piece of wood pipe. When the show was over, he went back stage and returned with a 6' length of PVC pipe. Yup! he could make the same noises using that.
It really was the trip of a lifetime. We couldn't have been luckier, both with an array of new friends and perfect weather. We barely scratched the surface when it comes to learning about these countries, and we're looking forward to a return trip one day soon.
I've added some pictures of our trip. Just click here to view them.
[Note: A more complete journal of our trip, complete with videos, has been published here.]
Postcard: It Never Rains in Southern California?
January 22, 2010
Our flight leaves tonight, Friday the 22nd, at 11:30 pm! We originally planned to leave Borrego Springs Friday morning, then drive to Ramona to leave Barney at his boarding kennel. We'd still have plenty of time to visit friends in Solana Beach, catch Amtrak to Los Angeles and a shuttle to the airport. It wasn't all that far -- an easy day's drive.
That's how it seemed until the weather gods took control. The incredible rains of the past few days changed our minds. Even usually sunny Borrego had torrential downpours, turning streets into rivers, causing dry stream beds to flow with muddy, rocky water. Then the weather turned worse. Now snow was in the forecast. Time to get out of Borrego, and as close to the airport as soon as possible. We left a day early.
The logical route out of Borrego takes you up the Montezuma Grade, a winding narrow road which climbs a dozen miles to Ranchita, a tiny town 4,000 feet above the desert floor.
The threatening weather must have had something to do with the lack of traffic on the grade. We saw one truck, a UPS van and a snow plow. But there wasn't any snow, not yet. This guy's job was to drive up the road and then down it again, scraping fallen rocks and mud out of the roadway. And, judging from the amount of stacked debris we saw, he was doing an essential job, but barely keeping up with the collapsing hillsides.
We encountered only showers as we climbed the grade; the real rain was lying in wait. From Ramona onward, we were hit by cell after cell of incredible rain. As we drove past Poway, the rain became so intense that even the wipers on high couldn't begin to keep up. (We later heard a weather person say that the rain had been falling an inch an hour. He was wrong. It was far more than that.) Most of the cars slowed to about 20mph, most with their flashers going, and still we could barely see them. Of course, a few drivers felt invincible -- the speed limit was 65, after all. It isn't hard to understand why some accidents happen.
This particular deluge lasted about 10 minutes, though it seemed much longer. Then, suddenly, it was over. The sky lightened, the clouds broke up and the sun even came out! We continued into Solana Beach, changed our Amtrak tickets to reflect today's date, and went to see our friends.
We have been very careful packing for this trip, leaving everything behind that isn't absolutely necessary. I left my computer in the rig, and planned on leaving my cell phone behind as well. If you take a cell phone overseas, and get a call of any sort, the roaming charges are horrendous. Tom was taking his (with something called the Sim card removed), so I didn't need mine. But I was expecting a call, so kept it with me this far. And forgot I had it on my belt.
We got to the Amtrak station in Solana Beach, parked and locked the jeep and pulled one of the fuses. Now, if someone tried to steal it -- it wouldn't start! Into the station we went, and there I found I still had my phone. This was something out of a bad dream, the one where you have to be somewhere a a given time, and things keep getting in your way, making you later and later. The train was due to leave in 10 minutes, and I had to go back to the car, unlock it and hide my phone.
When I unlocked the door, even though the fuse had been pulled, the alarm went off. I tried to use the remote to stop the noise. No luck. While it blared, I checked for calls, (none), and locked my phone in the console. Next, I had to open the hood, open the fuse box and push the fuse back down. Then I could turn off the horn. Now I had to reopen the hood, pull out the fuse again, re-close the hood, and check to see if the ignition was really disabled as we'd intended. Then lock the door and quickly head back to the station. I was really happy to get on the train and out of the station.
As if to reward us for our harrowing drive, we were treated to a spectacular ride up the coast. Storm-driven waves crashing on the beaches, beautiful little California beach towns shining in the sunshine. We pulled into LA's Union station a little before 6 pm and headed to our hotel.
By the time we were ready for dinner, the rain had returned in force,and we looked out of our window to see if there were any nearby restaurants we could get to without drowning. Seeing none, we decided we'd head back to the station, and the Traxx restaurant there.
It seems strange to find a gourmet restaurant in a railway station. The tables are covered by white linen tablecloths, and each has a small vase of flowers -- changed weekly, we discovered. We had eaten here several years ago while waiting for the evening departure of the Sunset Limited on another Amtrak trip, and found the food delicious. It was just as good this time. Tom had pork with polenta, I had chicken with chile/lime pozole, (a spicy sauce). The service was excellent, thank you Melissa. I highly recommend this little place.
The morning news told us that chains were now required on much of the road we traveled yesterday. Since this is California, this condition will not last, but we congratulated ourselves on leaving a day early and only having to contend with driving rain. Being so early, we could relax at the hotel until noon, and then casually make our way to the airport. Tonite, our adventures "down under" begin...
---
Postcards: Counting the Days
January 6, 2010
We left the rig in storage at The Springs of Borrego, and loaded the jeep with Christmas gifts, clothing, the cooler and Barney. We'd spend Christmas with our kids in Washington, and ring in 2010 at our little house in Florence. When finally the last of the BCS games has been played, we'll head back to the sunnier climes of southern California.
While the trip north was uneventful weather-wise, and our trip to Seattle and Yakima skirted any troublesome rain, wind or ice, when we got back to the Oregon coast, we were treated to a huge storm. Not only were the winds somewhere in the vicinity of 60 mph, making it hard to stand upright, but these winds coincided with the highest tides of the year. This combination made the weather look even more ferocious than it actually was. The winds blew waves across the south jetty of the Siuslaw River, across the river itself, and then across the rocks of the north jetty. Awesome!
At the highest tides, several portions of highway 126, Florence's lifeline to Eugene, were under water.
In past years, we've come back for the holidays, and then returned south. Usually we spend another week or so in the Borrego area and then head east. Usually. But this year, usually is not the norm. This year, instead of aiming for Arizona, Texas and possibly as far as Louisiana for a Cajun Mardi Gras, we're doing something completely new. We're joining the Cal (Berkeley) Alumni Association for a sixteen day exploratory trip to New Zealand and Australia. (I knew we might have become somewhat stereotyped when one friend asked, "where ever did you find the pontoons for your rig?").
Tom had casually mentioned the idea of such a trip before we headed south in early November. For some reason or other, I thought it was just that, an idea, not a real possibility. So I was surprised when, several days later, he asked me why I hadn't reacted. "Don't you want to go?"
Oh, boy, did I ever. This area of the world is one I've always dreamed of visiting. In spite of my dislike of flying, when the goal is Australia and New Zealand, I'd undergo almost anything. So, although at this point we were a bit late, we contacted the Bear Trek (UC Berkeley) people and joined the group. I'm especially intrigued by the fact that we will be traveling on a Cal Discoveries program. We'll have experts along with us to explain what we're seeing, from the natural history of New Zealand to the fish of Australia's Great Barrier Reef.
Our trip begins on New Zealand's North Island in Auckland. Next we'll visit the South Island, with tours in and around Christchurch. Then it's off to Sydney, followed by a 4 day cruise along the Great Barrier Reef. We'll be cruising on the Coral Princess, a 25 stateroom yacht. It sounds wonderful, and I cannot wait to get started.
But we have to wait; there are several variables keeping us in Florence. Our travel agent, Gohagen & Co., has promised to send the "Final Communique" in the first week of January. Since it contains such necessary documents as airline tickets and a travel program itinerary, we cannot leave without it. Being something of an amateur birder, I 'm sure any bird I see in Australia or NZ will be spectacular and never before seen. Thus, I really need a new, more compact pair of binoculars, one that fits in my pocket, don't I? Amazon says it should arrive shortly. Once we collect all the mail, we'll head for the desert.
We should have about 10 days in Borrego Springs before we take off on our adventure. We have reservations at The Springs for a week, and we're hoping to find a spot at Palm Canyon campground for the other days. It's a beautiful place to camp, with desert palms, creosote and lavender bushes courtesy of Mother Nature's landscape company. Palm Canyon is nestled at the foot of its namesake canyon, a favorite spot for day hikers. The hike up the canyon is not particularly strenuous, it's about 3 miles round trip, gradual climb. Borrow one of the guided tour booklets at the start of your hike. It will describe the various cacti you'll see, some of the birds in the area, and of course, you may see one of the elusive Borregos (desert mountain sheep). A daily fee, (raised this year to $8), is charged for hiking the Canyon, but campers hike for free. Well, maybe not free, as the camping rate has also been raised. So far this season, Palm Canyon has been virtually empty, something the resident park Rangers seem not to understand. One day, when talking to one of them, I suggested that the raise in rates might have something to do with the occupancy rate. The gal looked at me in amazement. "Do you really think so?"
We drove through the campground one afternoon before we came north, marking just which sites we'd prefer on our return. Now, as soon as we get all our travel ducks in order, all we'll need to do is check with ReserveAmerica and see what's available.
Ten days in the desert, packing and repacking things we think we'll need on our trip. Then, we'll rise early the morning of the 22nd, put the rig back into storage, board the dog in Ramona, and drive to Solana Beach. We'll park at the Amtrak Station and board the train for LA. Once at Union Station, we'll catch the shuttle to the airport. If all works well, we'll be onboard that evening for a 16 hour flight to Auckland, New Zealand.

So, we're counting the days until we head south. That is, I'm counting them. Tom seems oblivious to the fact that the day of our departure is drawing near. He has been happily experimenting with both his iPhone and my camera, taking small movie clips. He first found that a 10 second movie, taken from my camera, was entirely too large to be practical. Now he's working on "transferring" shots taken from that camera to his iPhone, and sending them from that device. We probably going to use the popular online travel journal "My Trip Journal" to track our time "down under", and add movie clips to the usual pictures. Anyone who wishes can track two RVers as they explore a world completely new to them. It's easy, and if you'd like to get updates you can do so through the the Journal we'll be maintaining at MyTripJournal.
Off we go.
PS I guess any traveler must expect a few "blips" on his radar. We just discovered our tickets had been sent to our Bend address instead of to us here in Florence.
PSS 24 hours later, the Blip is fixed. Let's get packing!
---
Postcards: 4 Wheel Afternoon
November 25, 2009
It's always good to come back to Borrego Springs. One of our first stops is the Palm Canyon Visitor Center. Here we can check up on the events of the past season -- how much rain has fallen since their calendar year started in July (answer: none), how many borregos (desert bighorn sheep) have been seen in the past weeks, any new ranger programs -- fascinating events in a community like this. And something new has happened here. Borrego Springs has been named the first official Dark Sky Community in California. There has been a concerted effort to limit the number and wattage of yard lights, to make sure that they reflect only down, and to use only necessary outdoor lighting. As a result, star gazers from all over are flocking to Borrego.
We spent four nights at Palm Canyon Campground, Then we drove over to The Springs at Borrego RV resort, our home for the next month. We settled in to a daily routine, walking Barney a couple of times each day, aquacize three mornings a week and lap swimming in the afternoon. This routine was unexpectedly and delightfully broken one afternoon by Bill Burke, off roader extrordinaire.
Bill offers classes in back country driving. His 2 day course covers technical aspects of throttle and brake usage. Whether you have a stock 4WD (like we do), or a modified vehicle, you'll learn how your 4WD works and what equipment you should have to be prepared for backcountry driving. You'll also come away with a greater appreciation of environmental awareness and trail etiquette. Bill is also a "Certified Master Trainer for the International 4WD Trainers' Association". As a master trainer, he "trains trainers" -- teaches those who will teach others off road and back country driving techniques.
We've known Bill for several years, and considered taking one of his classes, but they always seemed filled with 4 wheel vehicles better suited to desert driving than our jeep. After all, we don't have a winch, or large, aggressive, off road tires. We don't carry a tow rope, gas cans, or air compressor to reinflate tires deflated as necessary for severe terrain. So we just watched as other beautifully "tricked" out jeeps would follow Bill's green Land Rover into the desert.
Our own off roading adventures had occurred on the many dirt roads and 4WD routes noted in the guide book to this desert, the "Anza Borrego Desert Region", by Lowell and Diana Lindsay. In conjunction with the warnings posted at the Visitor Center, we'd chosen only those roads listed there. Until today.
It was noon. We'd spent a busy morning doing chores. I'd attended a water aerobics class, and Tom washed the Jeep. Feeling virtuous, we decided to treat ourselves to lunch in town.
It was just by chance that we met Bill. As you drive into The Springs resort, there's one one narrow spot before the road widens into the RV park itself -- 9 rows of RVs. If we hadn't seen Bill in this particular spot, at this particular time, we'd have missed him completely. As it was, we recognized his green Land Rover immediately, winch on the front, rack on top, and "BB4WA", (Bill Burke 4 wheel adventures), decal on the windshield. We stopped to say "hi", and got the most interesting proposition.
"I'm training a trainer." Bill said. "Would you be a volunteer student this afternoon? We're going to be working on vehicle extraction." Buddy, the trainer in training, is from Whitehorse, Yukon Territory. He has a contract with the Territorial government to teach area truckers and first responders how to maneuver in the back country of the Yukon, both on the icy winter roads and dusty summer ones.
What an offer! Drive the Borrego desert with Bill Burke as leader, and Bud riding shotgun. If we were a bit apprehensive about what exactly was meant by "vehicle extraction", the chance to go 4 wheeling with this particular expert far outweighed those concerns. Bill's explained that since Tom was a volunteer student, he could opt out at any time if he felt uncomfortable with the course. This statement made us wonder just how severe a test our stock jeep would undergo, but we could hardly wait for afternoon.
Promptly at 2, we met about 5 miles west of town, and followed Bill out into the desert. At first, we followed a road we'd driven before on a geocaching expedition. However, very shortly we left that fairly well defined track for a soft sand path. From the tracks in this "path" I could tell other vehicles had been here, but today, except for Bill's Land Rover (an increasingly appreciated sight), we were alone.
About 5 miles out, Bill came to a stop, and he and Buddy walked over to our jeep. The first test would be a steep hill with an equally steep descent on the other side. Now we decided it would be better if I rode with Bill and Buddy with Tom. Bill would lead the way, and I could jump out and get pictures of Tom and our red Jeep Wrangler in a series of seemingly impossible situations.
Up, down, through deep ruts and chuckholes, along ravines so steep that the vehicles seemed about to roll over; Bill seemed to know just where the most difficult terrain lay. At one point, I saw an easy way around a hill. Bill chose to go straight up (and down) it. And with Buddy's help and hints, so did Tom.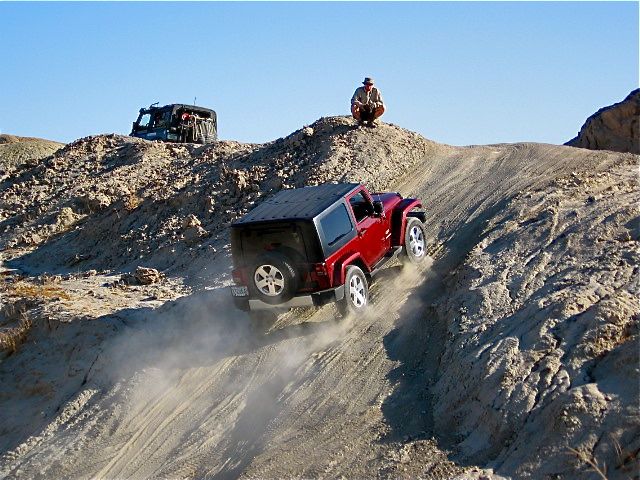 There was quite a difference in vehicles, however. Our Jeep is totally stock, and we're still driving it just as it came from the showroom. Bill's Land Rover is anything but. It must have every gadget known to 4 wheel drivers. I noticed a level gauge mounted on his dashboard. The gauge went to 45 degrees in either direction. "How far can you tilt this jeep before you turn it over," I asked? "I don't get worried until I get to 46 degrees", he said. Great. When you're off the gauge, then you worry!
Tom's stock suspension provide a wheel drop of maybe 9-12 inches; Bill's have a 23 inch drop. That means when Tom drives through a steep hole on one side of the "track", one of his wheels will no longer reach the surface and start spinning. At that point, the power will transfer to that spinning wheel. This scenario, which Tom experienced going uphill, resulted in one of his front wheels going fully airborne, spinning madly in the air -- though following the techniques he'd been coached on, the Wrangler somehow continued on to the top of that very steep, sandy, and rutted hill. (Bill told me that this might occur, and, as camera woman, I was supposed to get a picture. I got a shot off just before the wheel leaped high above the ground, and was so sure the jeep would flip over, I froze, and missed the picture altogether!)
To further widen the gap, Bill had "aired-down" his tires, making them better able to grip the sandy terrain. Tom's tires were set to 32 pounds, and with our stock tread, were just right for highway driving.
Each time we came to a "test" area, Bill would stop and come back to watch Tom run through. He'd advise Buddy what to tell his volunteer student, and give Tom additional pointers. Tom was learning to drive in places he never thought he could, and Buddy was learning how to coach other drivers.
We'd driven for nearly an hour when we approached a very narrow ravine. We squeezed through it with Bill's level reading between 25 and 30 degrees.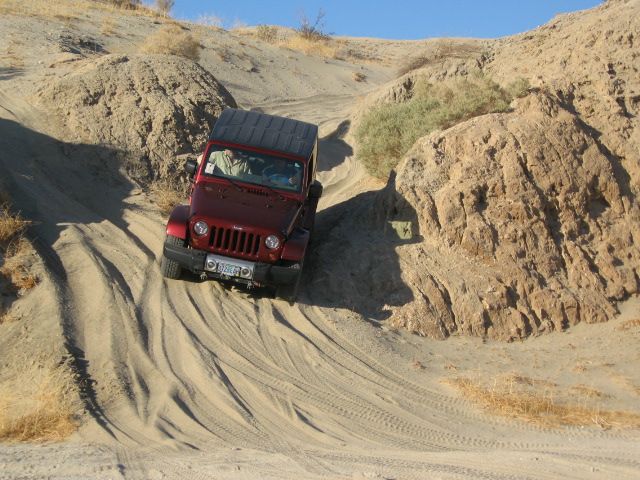 At the end of the ravine was a sharp turn. We'd arrived at the vehicle extraction spot. I got out of Bill's Land Rover and watched as he drove up a short, steep and extremely sandy hill. The hill got steeper as it ascended, with nearly a vertical climb at the top. At the top, some very deep holes attested to multiple spin outs. Bill drove up it as if he were on pavement. Then Tom tried...and tried...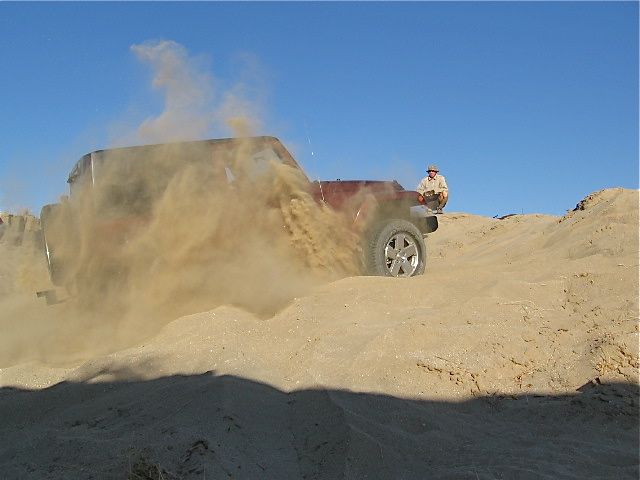 First try, he got about halfway up before the tires spun, digging a soft sandy hole. He backed down and tried again at a slightly different angle. This time, he gunned the engine a bit more, and the tires spun a bit more. The third try got him completely stuck. Just what the guys wanted. Now Buddy would learn about "vehicle extraction". They attached a tow rope, and pulled Tom up the rest of the hill. Safe!
It was 3 pm. As we drove on, Bill asked me if we needed to return right away, or if we had enough time to "play" in the dunes. I explained we were having the time of our lives, and would love to continue on.
Bill took us to an area of low hills, many partially covered with brush. "This used to be all sand", he explained. "But gradually, it's reverting to desert". For the next half hour, he led the way over the dunes, Tom following behind. When Tom had trouble climbing one hill, Bill had him try a higher (compound low) gear. The jeep fairly sailed up. (I'd still be trying to climb up in first, and wondering why I was only digging myself deeper into a hole).
On the way back, I learned a bit more about this interesting man. Originally from Florida, Bill was introduced to the Anza Borrego area when he hitch-hiked out to San Diego to join his Army unit. Bill was picked up by a man he described as a real western character. This guy insisted they drive through "the park". I can only guess how different the Anza Borrego Desert State park would have seemed to a Florida boy. He loved it here, and determined to return. We're very glad he did. What a wonderful 4 wheel afternoon.
Tomorrow is Thanksgiving, and the park is having its traditional turkey day potluck. Tom & I have an extra reason for celebration, as this day also marks our 49th anniversary. We send best Thanksgiving wishes to everyone.
[Note: More information about 4WD technical training can be found at Bill's website.]
---
Postcard: Changes
November 15, 2009
Changes. Each winter when we head south, we wonder what changes we'll find this season. Will there be more RVers on the roads or in the campgrounds? Will the parks and resorts have any added activities or amenities? Our planned overnights en route to Borrego Springs would include Lone Pine, Barstow KOA, and Emerald Desert. We'd check for changes at all those spots. What would we find? We knew there would be changes at Emerald Desert. That's been promised by the new owners, Sunland RV Resorts.
We left Carson City with the threat of high winds hanging over our heads. "Gusts to 50 mph in the canyons, to 80 mph in the high mountains". So we left early, hoping to get some driving done before the wind began. And it did become windy, but it was the steady, in-your-face kind, instead of gusts from unknown directions. This kind of wind may be bad for fuel consumption, but you don't get the sudden surprises that unwelcome gusts can deliver.
Highway 395 through the Sierra is an incredibly beautiful drive. The highest peaks were dusted with an early snowfall, But the road was completely clear as we passed June and Mammoth Lakes and headed down into the Owens Valley.
Between 1905 and 1935, the Los Angeles Water Board purchased land and water in this Valley. Adding water to the Los Angeles basin created a boom in land values, and while initially the Owens Valley farmers benefitted from the water sales, it turned the Valley from a crop growing area into a livestock one. The Economist Magazine, in its July 2003 edition, wrote that these purchases were the "most notorious water grab by any city, anywhere". Now as you drive through the area, only remnants of what was once Owens Lake can be seen, in pools, reservoirs and a small remnant of the Owens River.
First town en route south through the valley is Bishop, If you can, stop at Erick Schatt's Bakkery. The "bakkery" fronts on 395, and right in the middle of town, so finding a place to park the Alpine proved a bit challenging. It was worth it. What a bakkery! Breads of all sorts, including our favorite, pumpernickle. A large selection of "cheeze" breads. From pastries to pound cakes, from cookies to candies, there's something for everyone. If you cannot wait to sample your wares, there's small restaurant attached to the bakkery.
Independence, about 40 miles south of Bishop, is home to the Manzanar National Historic Site. This site is where nearly 120,000 Japanese Americans were "relocated" during World War II. We've yet to visit, but the parking lot was quite crowded as we drove by. I'm putting Manzanar on my list of "places we're going to see", for our next trip.
Boulder Creek RV resort in Lone Pine was our destination for the evening. The last time we were here I remember a veritable zoo behind the office, with pettable goats in large enclosures and several boxes housing desert tortoises. All these were gone, or maybe it has just become too cool at night for them to be out. The resort itself is much the same as before, with large dirt sites rimmed with desert shrubs.
Along with the park rules, site map and all the other "stuff" you get at check-in, this year we also received a magazine -- one I will keep for every trip we make down 395. Its called "Motor Touring in the Eastern Sierra, including Death Valley". From Bishop to Shoshone (a town on the southeastern edge of Death Valley), it is a 4WDriver's dream. 16 routes combing the entire valley, almost entirely on public land, adventurous and "reasonably" (their term) safe. These roads are not for people who want to take an ATV or jeep off road and "tear up dirt". These are routes which will take you from the valley floor into the mountains. Routes which have been used for generations.
Three of these roads leave from Lone Pine, and without knowing it, Tom & I had already taken 2. We've followed a narrow paved road through the Alabama Hills, home of hundreds of western movies, (think Roy Rogers or Gene Autry), TV series (Bonanza), and more lately TV commercials. We've driven up to Whitney Portal, base camp for those with permits to climb to the highest point in the lower 48 states. From our park, we'd noticed some sharp switchbacks climbing a nearby mountain. We couldn't tell if that was an active road or a remnant from years past. Now we know the switchbacks are the beginning of a 22 mile road over the summit to a place called Horseshoe Meadows. How intriguing!
We had only a short trip the next day, to the KOA in Barstow. The park has changed little, with long sandy sites ringed with oleander trees, and unending open acres in back where you can walk your dog. About 10 miles north of the campground, colorful Rainbow Canyon invites exploration, and the KOA folks will be happy to furnish you with a map.
The access road is a bit rutted, but is used by the small RVs and tent trailers who camp at the little-known Corps of Engineers facility at nearby Owl Campground. This year the campground has new palapas, new pit toilets, and an artistic purple and white rock owl marking its entrance.
Our last stop before Borrego Springs was Emerald Desert RV resort. After almost 25 years of visiting, its become a part of our winter itinerary. It has changed dramatically over the years, first expanding, then contracting -- and almost becoming the victim of a new next-door housing development. While we knew it had been sold to Sunland RV resorts, and great changes were in the works, we didn't fully realize just how extensive those changes were going to be. We spent 4 nights here, largely because they have an introductory Internet offering (buy 3 nights, get the 4th free). We needed that coupon, too, as the prices here have skyrocketed. The 251 sites have now been divided into 7 price ranges. These are called standard, premium, premium plus, deluxe, deluxe luxury. elite and platinum. What you pay basically depends on how close you are to the clubhouse, or how far you are from very noisy Interstate 10 and train tracks. Also, it's more expensive if your site fronts on what used to be the golf course. Of course, some sites are close to the clubhouse, front on the course, and are also very close to noisy I-10. It's all a bit confusing; even the extremely friendly and efficient gal at the front desk had trouble explaining it to me.
We pulled into the park, and parked as usual, in the lanes in front of the office. Tom disconnected the jeep, and I went to register. Oops. Door locked. I tried another, and then noticed a note, "Register at front entrance". The one time pro shop is now the lobby. Sunland Resorts describes it thus: "newly designed 1200-square foot lobby features a floor mosaic comprised of tumbled marble, two shades of travertine and Vitoria Regia granite, while its custom-designed reception desk incorporates Sepelle wood veneer with a rich walnut finish and inlayed marble. Other furnishings include bronze finished light sconces, Raphia upholstered wall panels and rich-toned rattan seating groups." Quite a bit different from the "way it used to be".
That said, they have made some significant improvements to the park. The old washers and dryers are gone from the main clubhouse and replaced with state of the art machines in a new location. There's a large flat screen TV you can watch (if you can find the remote, I couldn't) while your clothes are being laundered. The main pool and spa have have been completely refinished. There are new lounge chairs, tables and umbrellas around the large pool. The exercise room has been expanded and has new equipment. They've installed a sound system which plays local radio station music, and advertisements, non-stop and loudly, morning to night. (It took us 3 days to convince them that not everyone wants to listen to their music while lounging by the pool)! There are plans to renovate the dining area, and install a movie room, library, and sports bar. Emerald Desert is definitely changing.

No more envelopes with your name and site number lining the walls behind the check in desk. No more golf shirts for sale in the pro shop. No more Richmond Mitchell with his ready smile, kilts and bagpipes at the ready for any occasion. Only one workcamper couple is left from the "old" days [as the new managment prefers to hire locally] -- and understandably so. They're likely unreplaceable. He has taken over the golfing arrangements, she is a great cook (the make it from scratch type) who has skillfully managed the kitchen for several years.
So now we head south again, south to Borrego Springs. This is a town which has attempted to change over the years, and though it does so each year, there seems to a stalemate between what goes away and what is new. It still retains its small town charm. We're looking forward to getting back to the rasping notes of the Cactus Wren, and to a place where the noisiest things we'll hear at night are the howls of passing coyotes. I guess we're just not the big city types.
---
Postcard: The Wrong Side of the Bus
November 7, 2009
October passed in a kind of blur. We were looking forward to heading south, but first there were all sorts of "chores" to get done. We each had dentist and doctors appointments, so we lumped all these into one single week. This made one very busy and somewhat unpleasant week, but when it was over -- we were free. We buttoned up our Bend "Widgi-digs" for the winter, with no plan to return until the snow melts off the wrought iron owl on our picnic table.
Leaving this early in November, we'd be well ahead of any California snowstorms, whether over the Siskyious or in the Sierras. We'd head south from Florence to Red Bluff, and then follow highway 36 around the flanks of Mount Lassen. At Susanville, we'd join 395 and follow it through Reno, Carson City and up into the the high Sierras. It's been several years since we stopped to view the unusual formations at Mono Lake, or checked out the fall colors at Mammoth. We'd stop overnight in Lone Pine, and take a tour through the Arizona Hills, popular area for films, TV shows and, more currently, car commercials. 395 may be a slower drive than our usual trek down Interstate 5, but its hard to compare the majestic Sierras to the flat country of the San Joaquin Valley. And, as an added bonus, most 18 wheelers don't use it!
Our first day took us to the 7 Feathers RV resort in Canyonville, exit 99 on Interstate 5. We were still only about 120 miles from home; if we'd forgotten anything terribly important, it wasn't an impossibly long way to go back and retrieve it. If we'd hadn't, (the case this trip), we'd be on our way to Red Bluff.
7 Feathers is a great overnight stop, with large, level, well landscaped sites, a spa and swimming pool and immaculate, individual restrooms. We don't happen to be much into gambling, but if we had wanted to visit the 7 Feathers casino, we'd could easily have caught the shuttle which runs non-stop from the casino to the park.
Picture perfect fall weather followed us down I-5, over Siskyiou Summit, and all the way to Red Bluff. Wonder of wonders, there wasn't even any wind near Weed. (If you've driven in this area, you'll know this is most unusual). We pulled into the Durango RV resort in the early afternoon.
Looking back at my previous postcards, I found that exactly one year ago, I wrote about this great place in a postcard titled "Heading South" -- Postcards 46. Last visit, Barney loved the doggy walks. This year, while we were happily settled in, Barney wasn't quite as enthusiastic. This trip, we treated him to 20 minutes in the park's "doggy spa".
For $5.00, (less than many other self service dog washes), you can give your dog an incredibly complete bath. Just like a car wash, you just insert bills or coins -- and push one of long array of buttons. Do you want a regular shampoo, or is an oatmeal wash better? Did your dog tangle with a skunk? There's a wash for that. We used the regular wash and then the rinse and then the conditioner and a final rinse. Finally, we took the blow dryer to get the water off. Barney, being the talkative fellow that he is, kept up a running commentary on the whole business. He was very happy to get out of the tub and off on a walk around the park.
We said good-by to I-5 in Red Bluff. Now we headed directly east on Highway 36 toward Mt. Lassen and Susanville. The road climbed gradually through the mountains, passing cattle ranches and horse pastures. Some ingenious souls had given names to the smaller roads, How would you like to live on "Stone's Throw Lane". How about, "Rock Bottom Way", or "Leviathan Mine Road"?
About 40 miles along, we passed another sign, this one not so pleasing. It read, " Trailers longer than 30 feet, kingpin to rear axle, not advised". When you see a sign like this in California, it means you are in for some very tight curves. The sign didn't seem to deter other 18 wheelers, however. This portion of the road was where we encountered several logging trucks. They didn't seem at all inclined to slow down.
About 10 miles south of Susanville is the Honey Lake rest stop. We've stopped here on other trips up and down 395. We knew that the road would be less narrow and winding from here on to Reno. Now it would be my turn to drive, and Tom's to play passenger, He could use his cell phone as much as he wanted without my constant reminders that he was supposed to be driving, not checking his email.
For the first 50 miles, all was well. The traffic was fairly light, and only occasionally did another driver so want to get ahead of "that #*# RV", that he passed me with barely enough room. When we reached the Nevada border, Tom looked up from his work and casually mentioned, "I suppose you don't want to drive through Reno".
"Oh, I'm not the slightest bit tired. Do you want to drive?" And so I continued on.
Traffic was getting heavy as we neared Reno, and I may have passed one truck at a bit faster speed than absolutely necessary. I garnered several remarks from my new-to-the-job co-pilot, "you may have to slow down a bit", and "you're too far over on the right". (Tom is unused to sitting on the right hand side of the coach, where the perspective seems to put you well over the right hand line.)
The last time we drove the road between Reno and Carson City, it was largely rural, with stoplights every mile or so. Now the freeway has been extended almost all the way around Carson City, and soon it will completely by-pass the narrow downtown streets. Ms. Garmin, our usually trusty GPS, became a bit confused, attempting to get us to take one off ramp after another. Tom had the much more up to date "Google Maps" open on his computer, and was able to direct me far better than could Ms G.
When we finally came to the end of the freeway, I had to navigate a mile of downtown Carson City, and then make a hard left turn. At this point there were three lanes of traffic. The far right lane, the one I should have been in, had I seen it in time, could either turn left or go straight. The middle lane, the one I was in, and the left lane were left turn only lanes. When I made the turn, there was an 18 wheeler on my right, and another RV on my left. We all made the turn together. To make it even more challenging, the setting sun was shining squarely on the windshield, making it very difficult to see the delineating lines of my lane.
But I made the turn, the road straightened out, and I glanced over at Tom. He was hugging the left hand side of his chair so hard, he was close to being on the floor. "Did I scare you?, " I grinned. "This is the wrong side of the bus", he answered. "I don't like sitting here unless you're driving a straight, 4 lane interstate".
Tomorrow the weather forecast calls for wind, lots of it. Our route will take us into the Sierras and over three passes, each topping 7,000 feet. I'm not sure I want to drive tomorrow, but, in any case, I doubt I'd be able to get hold of the wheel. Off to the desert!
---