POSTCARDS
---
Stephanie is one of those persons who can fit a lot of words onto a standard size postcard -- usually by writing sideways, around corners, and even upside down if she can find some extra space. Most of these go to family and friends. But some of them -- those which document our RV adventures -- find their way onto this portion of our website.
---
Postcard: Back to Borrego
October 31, 2010
We were definitely ready to head south. While the weather remained pleasant in both Bend and Florence, we knew it was just a matter of time before the storms blew in. For two days, we visited doctors, dentists, the eye-guy and Tom's pod-man, getting those appointments out of the way for at least the next few months. (Isn't it great getting older!).
I planned on spending another day in Bend, buttoning up the townhouse for the winter, but Tom had been watching the weather forecasts. On his advice we left Bend right after the last appointment, and Florence just a day later, thus avoiding the first significant storm of the season. Our first overnight was 7 Feathers RV resort and casino in Canyonville, mile marker 99 on Interstate 5.
7 Feathers was fairly crowded considering the time of year. Rally groups have discovered this gem of a park with its large swimming pool, well furnished clubhouse and superior restrooms. One group was enjoying the cabana with huge outdoor fire pit, another had some sort of card game going in the card room.
From 7 Feathers, it's a quick run (about 300 interstate miles) to Red Bluff and Durango RV resort. We planned to spend two nights here; Tom didn't want to miss college game day, and the weather was due to turn positively dreadful.
Which it did. The wind blew hard enough to shake the coach, and rain came in gusty sheets. We were very glad we'd had our pesky, right-over-the-bed leak fixed, as we stayed dry -- inside, anyway. Taking Barney for a walk was difficult -- he didn't want to go out in that weather any more than we did.
We've raved about Durango before. Large level sites, some overlooking the Sacramento River, others adjacent to a "sport court", with a putting green, pickle ball court and basketball hoop. A large clubhouse, with large fireplace and flat screen TV tempted Tom to leave the rig for his football watching today. Rally goers will love the full kitchen and outdoor barbecue On the patio is a 25 yard pool, (unfortunately a bit cool today), with 2 lap lanes and area for just "bobbling" around. Of course there's a spa, which tempted us this blustery day. But the "piece de resistance" is the do-it-yourself dog wash. Barney was in need of a bath and as soon as we were set up, we headed over. For $5 we got 10 minutes of dog washing, conditioning, and drying. We had a choice of flea, regular or oatmeal shampoo. There's even a skunk deodorizer shampoo. Thank goodness we didn't need that.
While we waited out the storm and Tom got his fill of football, I went to see the 28th Annual Western Open Fiddle Championships at the Tehama County fairgrounds. For years, I've wanted to attend a similar contest in Weiser, Idaho, and the timing has never been quite right. We were always going somewhere else. But this was perfect.
I thoroughly enjoyed myself, first walking through the performers room and later in the audience as, one by one, those performers came to the stage. Probably the most remarkable thing was the age of some of these musicians. One small girl couldn't have been more than 10, yet she played as well as any of the "old timers". After playing with one group, she walked up to another one and causally joined them. The last I saw of her, she was fiddling away -- without seeming to look at either her bow or her fingers.
We spent one evening at the Orange Grove RV park just outside of Bakersfield (the oranges are still green), and then went on to Emerald Desert. It's obvious the season here hasn't quite started; while about half the park was wearing fresh green grass, our section was still in the reseeding process. The "lawn" had been scraped raw, then grass seed sprinkled on the dirt and watered. And watered. Every two hours day and night, the sprinklers came on. Still, it was enjoyable to swim a few laps in the large pool, and get our rig stocked up for Borrego.
We spent a couple of days at Palm Canyon State park before heading into the Springs at Borrego RV resort. It's Halloween weekend, and several rigs are celebrating - desert style. The rig next door has a pile of pumpkins near the fire ring, and a string of bats decorating the front of their coach. Just up the road from us a group has managed to put two VW Westphalia's, (the vans with the pop-up top), two extra cars, two tents and about 10 people into one site. The lure is not just Halloween, but also Borrego Days.
Borrego Days is the annual fall festival for this little town. It's an arts and crafts show, an antique car show, and a parade which encompasses not only Borrego Springs but also several neighboring towns. This morning, Tom & I, along with almost everyone else in the park, went to the parade.
It began with a "flyover". Not as fancy as the Blue Angels, but something much more personal. Several small, single engine planes flew over the parade route. Since this is such a small town, the parade announcer knew all the pilots. "Watch Joe", came over the loudspeaker, "he likes to fly low". And indeed, Joe flew so low, I felt like ducking! And there wasn't just one flyover, either. Joe and his friends came around and then around again.
This parade featured the children of Borrego Springs. One small tot from the Child Care Center stole the show. He couldn't have been more than 18 months old and was just getting the hang of walking, but he loved it. While most of the other kids were riding in wagons, this little guy insisted on walking. He kept dropping the hand of the adult with him, and heading for the parade watchers at the curb. Then he'd wave and say, "bye-bye".
There were several groups of horsemen in the parade, but I especially enjoyed two. The Winchester Widows, so called because wild west wives often outlived their husbands, is a group of about 10 women. They seem to have ridden straight from the pages of a history book. Mounted on beautiful horses, wearing long black skirts, large hats, and carrying rifles, they appear most romantic.
You couldn't miss the "bad guys". Dressed as rough and tumble wild west buckaroos, they easily managed to appear menacing. Their words reinforced their appearance. Approaching a family with small children sitting at the curb, one growled, "How much for the little kid? My horse is hungry." The little girl climbed into her mother's lap.
If that part of the parade was a bit scary, I couldn't help but laugh at the Shriners as they drove their small decorated go carts in circles down the street. My favorite was the fire truck. The Shriner was the fireman, with a Muppet as helper. The Desert Art mustang, decorated with pink flamingos, small dinosaurs (a take off on the desert statuary around town), and a broom person as passenger. The orange Bronco's young passenger had a skeleton mask, but you just knew he was grinning underneath it.
After the parade, the action moved to Christmas Circle. Booths had been set up around the circumference of the circle. You could buy everything from hats to photography, from wood carving to sundresses. I saw two taco stands and one for egg rolls. The Kiwanis booth was doing a brisk business with hamburgers and cold beer. All afternoon the music of various singing groups entertained the visitors.
Next stop - the Springs at Borrego RV resort. We are a couple of days ahead of our reservation, but most of the snowbirds are still north, and there are plenty of vacant spaces. We'll be here 4 nights, then put the rig in storage in the resort's storage area, put the dog in "jail" in Ramona, and catch the airplane to Ecuador.
This time, we're headed to the Galapagos Islands. We're taking a Lindblad tour on a National Geographic ship. There will be several lecturers on board sponsored by the University of California Berkeley. We're bringing our kids and grandkids along for a 10 day learning experience, in part to help us celebrate our 50th anniversary. The kids fly from Seattle and overnight in Quito. We fly from Los Angeles and overnight in Guayaquil. We'll meet up on the group flight out to the Galapagos where we'll board the good ship "Endeavour". Once again, we'll be documenting our adventures at www.mytripjournal.com
Click here to view the pictures from our trip south.
---
Postcard: Spelling "Spectacular"
Oct.10, 2010
We're home again in Florence, watching the rain water our backyard plants and bushes. We've finally found winter, coastal style, but we had to get all the way back here to do so. What a spectacular birthday trip.
If we hadn't stopped at the ferry terminal in Bellingham, or if it had been any other day than Friday, we would never have made this trip. While the ferries (two at this time of year), daily ply the waters between Ketchikan and the other Alaskan towns, they only come to Bellingham once a week. However, the day we visited the terminal, it was a Friday and the Malaspina was in port, and our fates were sealed.
You don't just decide to take this trip and hop on the boat. First, I have to give the credit to Tom. He did it. He contacted the people at the ferry terminal to see what accommodations were available. Learning that the staterooms were full from Sitka southward, he made alternate air arrangements to fly back from Sitka to Portland. He found a "park & fly" hotel near the Portland airport. We could leave the car for the week, and then pay a bit more for the room on the night of our return.
Tom also arranged for our trip to Bellingham via Amtrak and a night in a great little hotel, the "Fairhaven Village Inn". He'd read reviews on this hotel, and the only negative one complained that, in the morning, the "seagulls were too noisy". Having lived in the San Juan Islands for some years, that sounded inviting to us. Our instincts proved right -- it was a fabulous find.
The boat pulled away from the Bellingham dock right on time Friday evening -- 5pm, Alaska time. Alaska time is one hour earlier than Pacific Daylight time, and the boats never vary from it, even when they're in Bellingham.
We had a great little stateroom, a 4 berther, with a small sitting room attached. The extra bunks made wonderful shelves for our "stuff", and the table in the extra room made a good computer table. While not fancy by cruise ship standards, the bunks were comfortable, and so were we.
Dining on the Malaspina is cafeteria style. The specials for each meal were listed on a board at the entrance to the dining room. Just inside the door, another listing showed what else was available. We quickly discovered you could tweak the menu just a bit. Within reason, you could order almost anything you wanted, listed or not. An extra piece of toast with your #6 breakfast? Done. More bacon, sausage or ham? Fine. Grilled cheese sandwich for lunch? Not on the menu, but that's ok. Coming right up. And the prices were surprisingly reasonable.
It took a day or so to get used to being on the ferry again. The first night, I woke around 1 am. Something was different. The boat wasn't moving. This didn't bother me; I knew exactly where we must be. The ferry was waiting for a favorable tide before entering Seymour Narrows. The tide rushes through this narrow passageway with such force that most large boats wait until slack tide before continuing through. On a previous trip I watched a tug and tow try to run the narrows. The tide was behind him, and the tug was doing ok. However, his tow was right up with him, not strung out behind as it should have been.
Since our room had two large windows, (no small portholes, these), I had a great view of the area. Judging from a light on the bank, we were almost dead in the water, with just enough engine thrust to keep us from going backward. I hurriedly dressed and went to the top deck. In a few minutes, the boat picked up speed and we passed one of our favorite RV parks, Ripple Rock. This park is about 12 miles north of the town of Campbell River on Vancouver Island. There was enough light from the park to see that it was about half full of RVs. At this time of year, it must have been the salmon fishermen.
The next morning was foggy -- for about an hour. Then the sun came out. We shed coats and sweaters, found our sunglasses and joined the group in the solarium area. Tom kept predicting "winter", and, happily, he kept being wrong.
On a summer run, the solarium deck can be very crowded. Today there were only 5 tents in the tent area, and there were plenty of left over lounge chairs waiting for someone's sleeping bag. This deck is half covered over by a roof, and the roof has heat lamps mounted on it. Below where the solarium roof stops, a yellow line has been painted on the deck. Tents must be pitched outside this line -- and not under the solarium roof. Of course, you're traveling to Alaska. The weather is most unpredictable. Rain and wind are to be expected; sunny days enjoyed. How do the tenters plan for inclement weather? How do they keep their tents securely fastened down? The answer? Duct tape! Miles of it. One gal used a whole roll - pink - to hold her tent to the deck surface.
Ketchikan is well known for its rain. Rain here doesn't fall down -- blown by frequent strong winds, it arrives in horizontal sheets. But this morning the sun was out and had it been any other time than early Sunday morning, I would have been tempted to visit one of the art shops I remember from previous visits. But there was plenty of time for a brisk walk down to the Mall and back, dodging a massive construction project along the main thoroughfare.
Something new on board this trip. For the exercise lovers, a sign has been posted in the purser's area. 2 laps equals a quarter mile; 4 laps a half; and 8 laps around the boat equals one mile. And every day I noticed several people taking advantage of that exercise.
The weather held until the last afternoon. Everyone knew a storm was coming, so it was no surprise when, as we left Skagway, headed for Sitka, the skies darkened. Overnight, we could hear the slap, slap of waves hitting the hull, punctuated by a loud bang when an especially large wave hit. We were in fairly protected waters on this leg of the trip, and were happy we didn't have this type of weather when we were crossing the few stretches of open ocean on this otherwise "inside" passage.
That morning, the skies opened up and all the rain we'd been expecting arrived. We could barely see out the front windows in the forward lounge. Into the mess of this weather, one of the crew members, dressed from head to toe in foul weather gear, came to stand in the bow of the boat. His job was to look for anything that might impede progress -- a log, another ship, anything. A radio was next to him, and if the captain had requested it, the crewman would have rushed to the middle of the deck and pulled on the two levers there. These levers would release the anchors, and stop the boat. As Don Adams, chief steward, explained, "If you see the crewman yank on those levers, sit down. The boat's going to stop and stop suddenly!"
Sitka was our last port of call. The Malaspina now would head back to Petersburg, Wrangell and Ketchikan before taking the last long leg to Bellingham. We stayed behind to enjoy one my favorite Alaskan cities.
Old Sitka was founded in 1799 by Alexandr Baranov, governor of Russian America, but he found the native peoples, the Tlingit, hard to conquer. They had made their fort on top on a hill overlooking the entrance to the harbor, and as "king of the castle", they held the upper hand. In 1802, a group of Tlingit destroyed the original establishment, killing most of the Russians, and forcing the ransom of the remainder. In 1804, Baranov returned to Sitka, and this time, he forced the Tlingit out. Next, Baranov built his fort atop that same hill, and fortified it with 32 cannons. That did the trick. It's a short, but steep walk to the top of "Castle Hill" but the view is worth the climb. It's easy to see why the side that held the hill won the battle.
Everything I wanted to see was within a short walk from our hotel, the Sitka Westmark. Looking west, I could see the spires of St. Michael's Russian Orthodox Church just a block away, and when I went to get a picture of this unusual church, I got an added bonus -- dressed in long flowing robes of black, and wearing a high black hat and black Birkenstocks (!), the patriarch was just leaving the church.
Walking east, I passed the Sitka marina, full of fishing boats this day. I'm not sure whether this was due to the rain and wind, or perhaps the gap between fishing and crabbing seasons.
I headed to the Sheldon Jackson museum of native art. This small museum is crammed with artifacts, almost all of which were collected between 1889 and 1900 by Dr. Jackson himself. Other collectors sent their items to museums and universities around the world. Dr. Jackson was the only one who collected pieces for an Alaskan museum. There are items from each of the major cultural groups of this huge state, from the tribes of the Southwest islands to the vast regions of the north and east. One of the most notable pieces is a hide covered kayak, a "baidarka", paddled by an Aleut, sitting atop a display case. I later learned this is one of the most important items in the collection.
Feeling daring, I decided to take a few pictures. Furtively, I got my camera out of its case and made sure the flash was off. I sidled along the displays to get out of the way of other museum goers and the woman at the front desk. After three pictures, my conscience got the better of me. It wasn't until I got back to our room and read the museum brochure that I found picture taking was definitely allowed! What a waste of sneakiness.
The Malaspina left Sitka at 2 on Tuesday and was due in Ketchikan around 11 AM Wednesday. It would be in Ketchikan for 3 hours. Our plane left Sitka at 11:45 AM Wednesday morning, and took only 34 minutes to get to Ketchikan. We could see the boat docked right across a narrow channel from the airport. I said my final farewell to a fabulous cruise as our plane lifted off for Seattle.
But the trip wasn't over yet. The clouds and rain had departed and we had beautiful views of northern British Columbia as we flew toward Seattle. From the air, we could see those sights we'd seen from the boat only 4 days earlier. We flew right over San Juan Island, and looked down on where we lived some years ago at Cape San Juan. I could see the dock we'd built there, and recognized the boat of a neighbor.
We changed planes in Seattle, and headed to Portland. We spent our last evening at the Hyatt Place -- a hotel Tom describes as a "hotel of the future". Our room was state of the art -- a flat screen 42" HD TV, and an input module that looked like it had come off the flight deck of an airplane. Multiple plugs, and buttons for TV viewing, component input, computer input and video input. Computer geek heaven! It was all I could do to get Tom to leave the room for dinner. The next day, we'd be off to Bend again, to rescue the dog and return to some semblance of normalcy.
One of the titles of our recent blog was, "How do You Spell Spectacular?" I know the answer. This trip spelled spectacular in every conceivable way.
[See pictures for this trip...]
---
Postcard: Anyone for Alaska?
September 25, 2010
Before, during and after the recent Alpine rally in Ferndale, Tom & I had the very best of luck. Even when it seemed everything was going wrong, we were in the best possible position to make things right. However, recounting those adventures, I find I left out the best part. I left out how a missed trip to Lummi Island will soon turn into a birthday trip for me -- a birthday trip to Alaska.
The rally began on Wednesday afternoon and officially ended Sunday morning. Our hosts had packed each day with all sorts of activities, but there were a couple of free hours on Friday morning - between breakfast and before the midday exhibit at the American Museum of Radio and Electricity. Just enough time, I figured, for a quick trip to Lummi Island.
Lummi calls itself the "forgotten Island of the San Juans", and in our 17 years living on San Juan, we'd never been there. But it is very close to Bellingham. And I thought we could easily get to the ferry landing, just a 20 minute drive from town, take the 10 minute ride to the Island, explore a bit, and get back in plenty of time for our lunch at the Museum. I was wrong.
First, Ferndale is well north of Bellingham, and, thus, further from the terminal. Second, road construction. Several miles of the road to the ferry landing were being "improved', to the obvious consternation of other drivers. By the time we got to the ferry dock, and pulled into the ferry line, we knew we'd not have time to do more than get to Lummi Island, then turn around and get back on the boat. No time to see the Island. My plan would have to wait for another trip. We exited the ferry line and headed for Bellingham. But now we'd be too early for our Museum tour.
Being so early. we took the scenic route. From the Lummi terminal, we followed back roads toward town, following the shores of Bellingham Bay. Rounding one point, we could see all the way into the Fairhaven waterfront. Here lies the terminus of the Alaska State ferry line. A long pier juts out into the Bay, and, once a week, there's a ferry tied up at that pier. Today was one of those days. We could clearly make out the Columbia, largest ship of the ferry line, waiting for its next group of autos and passengers. "Let's use some of our free time to drive to the ferry terminal", Tom suggested. "We haven't been there for several years".
Keeping to the roads skirting the Bay, we drove through Bellingham's Old Town, where many of the homes have small signs proclaiming their ages. The ones we saw were vintage 1900s and 1920s, but the oldest one here was built in 1856.
Fairhaven is a quaint little district of art galleries, small boutique shops, hotels and speciality stores. It sits on a hill overlooking the bay and the Alaska Ferry complex. We quickly made our way to the bottom of the hill, parked and entered the terminal.
Everything was just as I remembered from our last trip some 5 years ago. The gift shop has many attractive items decorated with North Coast Indian designs, and I found it hard not to pick out "just one". The ticket office was quiet, perhaps because the Columbia was not due to sail until 6 pm that evening, but cars were already beginning to form in the outside boarding areas.
An aside note here: The Alaska ferry system employs what, at first glance, seems like a hodgepodge loading system. If you are headed for, say, Juneau, you could find yourself in a line of cars marked Ketchikan. Don't be worried. Somehow, the ferry officials will get you off in Juneau; you won't be the one bottleneck in the Ketchikan line. The system works as well for those going to Skagway, Haines, Wrangell or Petersburg. Never heard of Wrangell or Petersburg? That's because only the Alaska ferry can navigate through the narrow channels en route to these two southeast Alaskan towns. The cruise ships are simply too large, with too deep a draft.
Tom wasn't as interested in the gift shop as I was, so we had decided to stroll separately through the terminal and meet back at the car. By the time we got back we'd both caught the "lets go" bug. It had been far too long since we'd taken the Alaska ferry. We came up with a great plan. Leave the motorhome in Florence, board the dog in Bend, and drive to Portland. Next, take Amtrak to Bellingham. The Amtrak station is right across from the ferry terminal and less than 1/2 mile from several convenient hotels in Fairhaven. We'd spend Thursday night in the Fairhaven District, have a leisurely Friday morning, and board the boat around 4 pm. Off to Alaska!
The logistics were a bit complicated, as stateroom reservations were surprisingly full. Late September is a very popular time for this trip, but Tom is nothing if not ingenious. He managed to get us a room for the trip north to Skagway, and then as far west as Sitka. From Sitka back south, the ferry staterooms were completely booked. So, we'll spend the night in Sitka, and fly back to Portland the next day. Overnight in Portland and then back to Bend, pick up the dog and head home. Admittedly a whirlwind adventure, as the entire trip is just one week. But this week just happens to overlap my birthday!
What a birthday outing -- I can hardly wait. So what if it rains? It's supposed to rain in Alaska. It does that for a good portion of the summer months as well. We'll take rain jackets, sweaters, jeans and sturdy shoes. We'll be taking the Malaspina, a ferry new to us. We've traveled aboard the Columbia and the Matanuska; now we'll explore with the Malaspina.
We're going to document our junket in another My Trip Journal blog, similar to the one we did on our summer adventures in Montana. We'll provide a commentary on our experiences. I'll snap some pictures of what we see (or don't see, if it's too cloudy), and I 'm sure Tom will include a few video clips. If you'd like to join us in our travels, they'll be available here. Anyone for Alaska?

Postcard: Lucky, Lucky, Lucky
Sept. 16, 2010
It seemed ages since we'd been on the road. We did have certain accomplishments to show for staying home -- in Bend, a newly stained deck and freshly washed windows, no small feat when some are 30 feet above the ground. "Flo Digs" is sporting a new watering system and backyard landscaping.
But, as they say, "all work and no RVing makes very cranky RVers". We were headed north to Ferndale, Washington, a town just north of Bellingham for a 4 day NoWaca (Northwest chapter of the Alpine Coach association) rally. What we didn't realize when the trip began was just how much luck we would need in the next week and just how lucky we were going to be.
We stopped overnight at Carrier and Son's, a Eugene service center, to get some minor repairs done. Carrier is efficient, prompt and friendly, and the service folks there go out of their way to help the customers.
It was pure luck that we stayed at Carriers the night our water pump died. No warning, no telltale noise overnight, but a a dead pump when we turned on the faucet in the morning. We had no appointment; this was a new problem. But even though they were busy, the service folks at Carrier took the time to trouble shoot our problem, and install a new water pump. Had we been anyplace else, we'd have been stuck. Perhaps unlucky to need a water pump replaced, but how lucky to be at the best place to have it fixed. Off to Ferndale.
Once again, we got lucky. The Bellingham area has a well deserved reputation for rain, and, according to the NoWaca folks who arrived early to organize the rally, the prior two days had been exceptionally wet. We'd looked at the weather forecast for the area, and it predicted more of the same for the entire rally period. But when we arrived on Wednesday afternoon, the sun was out, and would remain so until the last morning, departure morning.
As usual, the NoWaca rally organizers had jammed each day with activities. Thursday morning, Tom & I joined 20 other "occasional" golfers for 9 holes at the Homestead Golf Course in Lynden. We played a scramble, a game where only team scores are kept -- thank goodness. This is quite a difficult course, with acres of sand, fathoms of water, and several traps which closely resemble craters.
Rally tours are always fascinating -- the rally hosts always seem to be able to find interesting places to visit -- places you'd never know about if you just stopped for a night at a nearby RV park. We had two private tours -- the Sardis Raptor Center the first day and the American Museum of Radio and Electricity the next.
The Sardis Raptor Center was originally founded to care for injured birds of all species, but, since 1995, has specialized in birds of prey. Owls, eagles, vultures, and ospreys are kept in large, outdoor enclosures. Realizing that birds have different personalities, the volunteers make certain that, when one bird is added to an enclosure, all will get along. One enclosure houses 8 eagles and 1 vulture -- the eagles "yell" at each other, and the vulture ignores them.
The birds that the tourist sees here are the birds which cannot be returned to the wild. Some birds have lost sight in one or both eyes, one has a neurological disorder which makes the bird incapable of coordinated flight. The fact that a bird is not native to the Pacific Northwest is also reason to keep it caged.
Arriving at Sardis, we split into three groups, each following a volunteer who told us about the history of selected birds, and also told us their names. Almost every bird at the Center has a name. That Great Horned Owl, sitting so quietly on a rope wrapped stand in the garden, is "Rosie". (He's a male owl but was named before they realized she was a he! ) Rosie sat so still that at least one in our group passed close enough to touch Rosie, and was very surprised to realize this was a real owl. A real owl, with real talons and a very sharp beak! All the birds have distinct personalities. Tundra, the Snowy owl, was huddled at the back of her cage. Definitely anti-social, perhaps because of one blind eye, Tundra dislikes humans and also other Snowy owls! The Center also has an Eurasian Eagle Owl, Bubo, but Bubo, along with several other Center raptors, was being shown at the Chelan County Fair this weekend. Note to self: Watch for Sardis Center raptor exhibits at various northwest fairs.
At the large bald eagle enclosure, I watched these majestic birds, screaming and calling to each other. Some have eyesight problems, others cannot fly, but all seem content amidst the noise. Strolling serenely along the edge of the enclosure and paying no attention to the overhead cacophony was a Turkey vulture. This was Veronica (Archie & Jughead having passed away).
While the birds in these outdoor enclosures have injuries which preclude their being released, the Center also cares for the "releasable" ones. Tourists at the Center will never see these birds, and volunteer contact is kept to a minimum, so the birds don't bond with humans, which would make their release more difficult.
The next morning, we toured the American Museum of Radio and Electricity in downtown Bellingham. Science was one of those classes I avoided in school, so I knew nothing about the "Tesla coil", and felt like a 4th grader watching as the electricity from the coil passed through three men and lighted the florescent tube the third man was holding.
Walking through the museum is a trip back through the days of early radio and TV. I was fascinated by one of the earliest home entertainment centers, a large box with a pop-up screen on top, a record player just under it, and a radio on the bottom. The screen showed the silent film, with the phonograph and radio providing the sound. The invention soon became obsolete, however; it was only a year before the first "talkies" were shown.
The museum's collection includes the first color TV, (vintage early '60s) and the first portable TV -- so large that portable doesn't seem like the right word. A reproduction of the wheelhouse of the Titanic, complete with the original Marconi wireless, makes that tragedy seem like yesterday.
Everyone tried to play the "Theremin", the only musical instrument which you play without touching. It's a long box with a loop antenna on one end and an upright antenna on the other. The loop controls the volume and the upright the pitch. You run your hands around and over the poles and produce an eerie noise. The Theremin is capable of producing beautiful music, as a recording of music from Swan Lake proved, but its main use over the years has been sound effects for sci-fi or horror movies.
Under the tutelage of Jim Lyons, volunteer extrordinaire, I took over the controls of old radio. To make it work, you have to twist three dials and move a lever -- all at virtually the same time.
While some of the early radios, (not unlike the one I had as a child), were made of plastic, most of the radios and TVs in the museum are encased in beautifully carved wood. Unlike today's electronic devices, these were not considered disposable, they were furniture.
Tom & I had to miss the last day of the rally, when, perhaps because everyone had eaten so much of the excellent dinners provided, there was a water aerobics class and CPR lessons. We did return in time for that evening's repast a Jukebox Saturday Night. The hosts had found an actual jukebox and we could select some of our old favorites.
Sunday morning the rally ended and the rain returned. We headed east over the Cascades to some warmer climes. We had intended to spend three or four days, lazily wandering through Eastern Washington. Very, very luckily, we did not.
We spent one night at the Confluence State park in Wenatchee. The park was almost completely full -- only one small uneven site was left in the hookup area, but there were three great pull through sites in the dry camping area. A large green lawn gave Barney plenty of space to run, and he galloped across the grass, pausing only to growl at and bite the leftover lawn clippings.
We might have stayed another night in Wenatchee, and driven the 40 miles north to Chelan for lunch with some good friends. We might have had lunch with our daughter in Yakima, but she (a lawyer) had a court appearance that afternoon and we'd been slowed by road construction. We might have spent the evening at Maryhill State park, right on the Columbia, but it was full. Traveling south on Highway 97, we drove into the county park in Moro, but there was no cell phone reception. The small park in Shaniko has been closed for some years. So we found ourselves nearing Madras when the lights went on.
I guess it started about the time we crossed the Columbia. Our Silverleaf diagnostic screen flashed a signal, " low alternator". This was a message Tom hadn't asked for -- it said the alternator voltage was 12.4, well below what it should have been. Tom didn't mention it then, and it was not until we were about 20 miles further and the Silverleaf beeped warningly "low alternator", that I was even aware of the problem. Then the dash began to light up.
First, the engine icon went on -- yellow. In a few miles, the "ABS" light went on. Naively, we continued to believe that we could find an RV park for the night and continue into Bend the next day, so turned off in Madras to head for a county park at nearby Lake Billy Chinook.
It was a very lucky thing that we did just that, because we were far from being home free. Next, another engine warning light lit up the dash -- this time red! (Even I know that's trouble!) Now the engine began to slip in and out of neutral, causing the engine to rev up before catching again, and jerking us back and forth.
Now the dash gave us another warning light, "Brake Failure" "STOP!" Tom pulled off to the side of the road, so we could stop before the coach did it for us. I looked ahead and there, not 50 yards ahead of us, was the most welcoming of signs -- RV Park!
We limped into the Mountain View RV Park and managed to pull up to the office. I went in to check for availability and was met by managers Doug & Patty. They were admiring our coach. "What a beautiful coach," Patty enthused, "I love the colors".
I wasn't feeling too good about the coach at that moment, but their enthusiasm was contagious. I told them our story, and indeed they did have space. In fact, we had our choice of a couple of 50 amp spots. The only catch was that we'd have to get to one of them. Tom tried to start the rig. No dice. Tried again, and again...and it started.
Feeling each yard would be our last, we managed to get to our space and plug in. Tom called Coach-Net, our emergency roadside service provider, arranged for a tow the next morning, and we settled in for the evening.
We've stayed at Mountain View before. It's aptly named, with a view of the Oregon Cascades from Mt. Hood to Mt. Bachelor. Each site is a pull through, with full hook-ups, and separated from its neighbor by a section of white lattice work fence. The managers are wonderfully friendly -- had we not been able to move the rig, they would have let us stay right where we were - in the middle of their driveway - until we could get a tow.
However, Mountain View has a problem with its address. The address posted at the office is 500 Jefferson, Metolius, Oregon. The park is actually located on Culver Valley drive. The next morning, the tow truck got lost twice trying to find us. But only about an hour late, a large truck from Consolidated pulled in and began the long task of lifting the front end of the coach high enough so that it might be towed. This proved to be an impossible task due to the configuration of the chassis and a front end generator. After a good hour of trying, the tow operator gave up. "When you call in", he said, "be sure to insist on a flat bed tow truck."
Getting a flat bed tow turned out to be more of a problem than we anticipated, and one would not be available until late that evening. We arranged to spend another night at Mountain View and be towed the following day.
Next morning, Mr. Rogers (the tow company) came to the rescue. The rig was loaded on a flat bed platform and set off to Bend. We took the jeep and headed there also. But before we left, I stopped to say good-bye and thanks to Patty, and assure her that we'll be back when our rig is healthy.
Tonight we'll be at Widgi "digs", and the rig will be at Brattain International, downtown Bend. We've had a very lucky last 10 days, first by being at Carrier when the water pump "died", next with the wonderful rally weather, and finally being within 50 yards of a great little park when we desperately needed it. Lucky, Lucky, Lucky.
[See pictures for this Postcard]
---
Postcard: Montana Memories
July 24, 2010
We barely made it, in terms of comfortable weather. We're back in Florence, enjoying the relatively cool weather which seems to exist only on the West Coast. Every place we'd stopped on our trip, from Grangeville to Livingston and back again, is due for temperatures in the 90s for the next few days. That includes Stanley, Idaho. Even at an elevation of 6,000 feet, Stanley's due to hit 88 degrees. That's very hot for Stanley.
What a trip it was! This morning, Tom was reviewing some of the film clips he made during the 6 weeks we were gone. I was a bit surprised to find I'd forgotten some of the funny episodes -- I kept saying, "Oh, I remember that". I'd forgotten some of the places we'd gone, some of the people we'd met, some of our chance encounters with wildlife, in and out of Yellowstone National Park.
Once established in our site at Yellowstone's Edge RV park, it didn't take us long to find some circle trips in (and a bit out of) the area. We covered all the roads in Yellowstone NP, except the 22 mile stretch leading to the south entrance, and the 27 miles to the east entrance. We drove as far north as Great Falls and Belt, and as far east as Cody, Wyoming.
Montana is truly "Big Sky" country. It seems wherever you go, the skies are incredibly blue and impossibly huge. Perhaps made to look more so by the fluffy white clouds which dot them. Even storms seem larger here than other places we've been.
It's impossible to say that any one trip was the "best", but several stand out in my mind. I'll never forget driving over the Beartooth Highway, the incredible views of high mountain lakes, and looking out at the snow capped mountains surrounding us. (I'll also not soon forget falling in snow up to my knees when I tried to take Barney for a walk up there.)
When you drive the Beartooth, you notice the road spiraling up. When you drive the Chief Joseph Pass, you notice the road spiraling down. I happily substituted a view of the Clark Fork of the Yellowstone for a soft snow walk.
Our trip to Great Falls and Belt was another never-to-be-forgotten memory. It was wonderful to see Tom find some of his roots. I'll always remember that morning when he walked up to 6 men in the Belt Creek Cafe and said, "You all are too young (the oldest was in his 90s, the youngest had passed 80), to remember this, but my dad used to live near here." The following conversation went on for at least 30 minutes.
Yankee Jim Canyon of the Yellowstone was still another incredible spot. No mountain views here, but a river squeezed to the point where the rapids are class 4.
We finally got to see a trio of boats float these rapids. I'd heard that capsizing wasn't at all uncommon, but still was worried when the first thing that floated through the rapids -- before any raft -- was an empty yellow jacket. It was followed by a blue rubber bag, the type used to hold cameras. We later learned that one raft had tipped over, but all the rafters were just fine, and looking forward to continuing their journey. Still, it was a bit of a jolt to see that empty jacket floating by.
The Great Falls of the Missouri River. Ignore the dam above the Falls and you will see exactly what Lewis and Clark saw.
With all this travel, it would be surprising if we hadn't met some wonderful people. Pam and Chan Libbey, the owners of Yellowstone's Edge, seem far too young to have operated the resort for 17 years. They provided invaluable information on where to drive, fish, etc. On the 4th of July, we had a semi potluck. The park made the chicken fajitas, the campers brought the rest of the food. Each evening, weather permitting, a roaring campfire in front of the office attracted a group to share the day's experiences. I can attest to the fact that the ice cream in the office was delicious!
Some of the people we met definitely fall into the "character" class. First and foremost, the men in the Belt Creek Cafe. Then, Joe Skaggs, owner of Querencia, the boarding kennel where Barney spent a couple of nights. Unlike every one of Barney's previous boarding experiences, he did not whimper and convey the thought, 'Oh no, you're not going to leave me again?" He loved being at Joe's kennel and playing with his 6 labs and a German short hair.
Joni Peterson, owner and sole waitress at Fetty's Bar and Cafe in Wisdom, Montana. And certainly Jim Meade, the volunteer at the Lewis & Clark Interpretative Center. His story about Lewis & Clark's men eating dog, and the sign, "Dog-gone! Lewis & Clark ate here", is a classic.
We attended the local Methodist Church one Sunday in Grangeville, Idaho, and later in Pine Creek, Montana, only 6 miles from Yellowstone's Edge. In Grangeville, Tom mentioned to the pastor that he thought he had relatives living there. She just happened to know them, called them up and there was an immediate reunion.
We enjoyed our 4 Sunday services at the Pine Creek church, a picturesque white building. It's a bit different from your standard large city church. Since everyone knows everyone else, services, due to begin at nine, rarely start before 9:10. Even Pastor Glen Woodson, with a later church service to handle in Livingston, has time to greet everyone. And where can you learn Montana ranching techniques better than by talking with a Montana rancher at the after service coffee?
Did we ever see animals! Elk galore around the buildings at Mammoth Hot Springs. So many elk, and so many people, that there was bound to be some unwanted interaction. Shortly after we noticed a Park Ranger stopping a young couple from approaching an elk cow, (never mind the signs that say in big letters "do not approach elk), those elk disappeared. We never learned what happened -- they were just gone. Were they rounded up and transported elsewhere or did they just naturally migrate? We still saw them in other spots, just not at Mammoth.
We saw deer everywhere, but not in the Park. So many deer that you had to be careful not to hit one. Each week on our way to the Pine Creek church, we'd guess how many we'd see coming and going.
Bears. Our best black bear experience was on the road up to Mill Creek, when we surprised a young bear munching greens at the side of the road. We did see several in the park, but non as close as "Mr. Bear".
A mama Grizzly and her two cute (from a distance, anyway) cubs caused a mammoth traffic jam as folks tried to get within camera range. One cub was good, and stayed close by his mother. The other kept running off in the grass and then just as quickly, returning. We quickly learned the difference between a bear caused traffic jam and one caused by bison sighting -- the bear caused one is far more dense and harder for the rangers to get moving again.
Bison. The Lamar Valley, the northeastern corridor of the Park, is home to hundreds of these huge animals. Every so often, a cloud of dust indicated one had been rolling around in his "wallow". On the road out of the park, a few miles past Gardiner, more bison are corralled behind a fence which reads, "property of the US government". Bison sightings quickly became commonplace.
Then there's the category, "I think we saw" animals. Driving on a back country dirt road (highway 295) on the way to McLeod, I think we saw a wolf. It was a blond color, (like one I later saw in the Buffalo Bill Historical museum in Cody) and was too large for a coyote. It ran with its tail streaming out behind it, which is wolf behavior. It was way too spooked to be a rancher's dog.
If you want to see the actual Great Falls of the Missouri, you must drive about 5 miles through wheat fields east of town. There the road winds down to the River and the Falls. On that stretch of winding road, we saw a yellow spotted "cat", with a very short tail. It was much too large for a house cat, and our first thought was "bobcat". Now we're not sure if it was that or perhaps a lynx. Whichever it was, it sauntered down a small path toward the river, pausing so I could take its picture. Unfortunately, it paused so far away, I couldn't get a very detailed shot. We still don't know just what it was.
Last, but certainly not least, was our moose sighting. Heading west, we were camped right on the Salmon River just east of Stanley, Idaho. We'd decided to spend just one more night, and take the day to visit Sun Valley. Just a mile outside of Stanley, we saw a young bull moose making his way across the river. As luck would have it, there was a pull out space right where the moose would come out of the river. Tom got out and made his way to where some of the river willows were shaking. "Not too close,' I warned, "you want to be able to get out of his way!"
But the moose had had enough. Back across the river he went, and we watched as he climbed a steep hill to the woods on the other side. He'd had enough civilization for one morning.
Back now in the cooler climes of Florence for a week or so. We had a wonderful trip, well documented by digital pix and Tom's video clips, and our memories of the places we went, the people we met, and the sights we saw. There's another potential trip on the horizon, but for now we'll just sit back and relax?
---
Postcard: Overnighters
July 10, 2010
With only one week remaining in our Montana sojourn, Tom & I feel we've really seen a lot of the countryside around Yellowstone's Edge. Looking for good fishing spots, we've driven up Pine Creek, Mill Creek and Cedar Creek, the three main creeks on the eastern side of the River. Our tally so far -- dozens of deer, one young black bear munching flowers at the side of the road, a grizzly, more black bears and bison in Yellowstone NP, and a bobcat.
Our meeting with the bear came as we rounded a turn on the Mill Creek road. "You probably can't see him, but that's a bear up there", Tom said, his Flip video cam rolling...
We've taken the back road over the Gallatin Range to Bozeman. On all those trips we were back in mid-afternoon. Side trips, with Barney in tow. Our circle trips so far had been around Yellowstone Park on the inner loop, and over the Beartooth Pass. A little longer, but back for dinner. Barney came with us on all of these trips, too.
However, we've taken a couple of trips when we left Barney "home". We use to call it "jail", because Barney seemed to hate it so much, but no more. "Home" is a kennel about 2 miles up Highway 89, Querencia Kennels. "Home" is Joe Skaggs' place.
Querencia is not a fancy kennel, and wouldn't seem suitable for small dogs. The dogs are kept in clean, outdoor runs, with straw spread on the floor. The runs are enclosed in a fenced area of at least an acre, and when it's time for exercise, out go the dogs. All of them. Joe has 6 labs, and usually one or two boarders. Barney loves it! When we arrive, instead of cowering against the front seat of the Jeep, he wags his tail, comes readily to Joe, and obviously feels right at home. We've left him for two overnight trips, and might plan a third.
Our first overnight trip was north about 160 miles to Great Falls and Belt. Tom, the only one of his family not born in Montana, grew up hearing tales, (many possibly a bit exaggerated) about the old family home. His mother, one of nine brothers and sisters, grew up in Great Falls. His dad, short-changed with only 7 siblings, lived outside Belt on a dry land wheat farm. We looked forward to finding the old places again.
I could go on and on about the trip -- how we met the next door neighbor in Great Falls, the 6 "good ol' guys" at the Belt Creek Cafe, and the fun we had exploring the great falls of the Missouri River. But the best way to take this particular trip with us is to read the July 3rd entry -- "Tapping the Montana Roots" in our trip journal.
We probably would have taken our next overnighter even if Barney hadn't had such a good time with Joe. But he so obviously loved it there it made our decision very easy. We were off to Cody, Wyoming.
Eastern Montana is grain and hay country. After all the rain this area has received, the ranchers must be relieved to be able to mow their hay crop, let it dry, and form it into rolls. We passed a truck loaded with these rolls. What an advertisement for a GMC truck!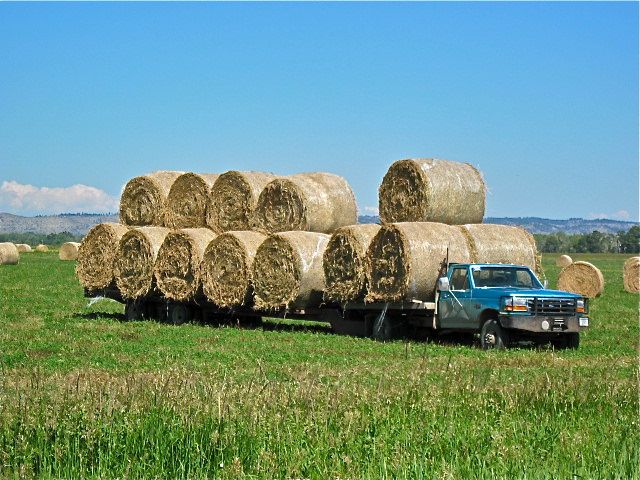 Once again, we headed for Red Lodge, and again stopped at the Visitor Center. This time, we wanted to know about those intriguing little campgrounds we'd seen far below us as we climbed the Beartooth Pass. And it just so happens there's a m"ap" just for that. Howard Young, a most helpful volunteer, knew all about the 12 campgrounds in the area, how large they were and what size rig each could accommodate. He also knew about the road that you could take to Hellroaring Plateau -- that inaccessible appearing place where, on our previous visit, we'd glimpsed a pickup truck. Howard warned that the road is rough, one way in places, and we'd be best off with 4WD. This time, however, we hadn't planned a 4WD adventure. Armed with his map, we set off to find three specific campgrounds at the base of the Pass, Parkside, Greenough and Limber Pine.
We should have read the print at the bottom of the map -- "Map not to Scale". It certainly wasn't. It took us a couple of tries before we realized that we had to start ascending the Pass road before we'd find those campgrounds. We're glad we looked, however. The campgrounds are set in absolutely beautiful country. Rock Creek passes by or through each, and each site is either wooded or has a mountain meadow as a backdrop. Each is dry camping, with water available at a nearby pump. Each costs $14 per night -- half that with a Golden Age passport.
The day was progressing, it was time to head toward Cody. From Red Lodge, we followed Highway 308 to Belfry. Belfry, hmm... could their high school mascot could possibly be...? Yes it was! Home of the Bats!
Cody is perhaps just a bit overdone. At 6:30 every night, (no parking after 5:30), The Cody gunfighters stage a gunfight right outside the Irma Hotel. This hotel was built in 1902 by Buffalo Bill for his daughter, Irma, and such characters as Calamity Jane and Annie Oakley are supposed to have stayed there. It's worth a walk through to see the old rooms and the beautiful cherry wood bar in the saloon.
I watched one young boy setting out the chairs for the evening gunfight, and, judging from the number he put up, this is a very popular show. Following the gunfight, you'll have just enough time to grab a quick dinner and head to the 8 o'clock rodeo.
This evening, Cody was full of bikers. Not the Hells Angels type, but women bikers. I've done enough motorcycle riding (the off road variety) in my life to stand in absolute awe of a woman who dares take her life in her hands like that. And, they look just like any other woman -- all ages, all sizes.
The Buffalo Bill Historical Center is set right in the middle of Cody. It's large building with a statue of Buffalo Bill on the front steps and two teepees in the front yard, and impossible to miss as you make a sweeping turn from Sheridan Ave. to 8th street.
The Historical Center is really 5 separate museums. The firearms museum, is "the most comprehensive assemblage of American Firearms in the world." I believe it. A sign as you leave this museum declares. " You've seen 1,500 firearms. If you'd like to see more, go to the lower level. There are 1,200 more in the archive rooms there."
The Western art museum has a impressive collections of Charlie Russell and Frederick Remington, both sculptures and paintings. The museum of the Plains Indians contains pictures, dioramas and artifacts showing the lives of these peoples in history as well as today. In the Natural History museum you walk from high mountain plateaus to the desert plains, and with depictions of the animals you might see at each altitude.
It wouldn't be the Buffalo Bill Historical Center without a museum about this colorful character. One section is devoted to his life, and especially his show, "Buffalo Bill's Wild West". This show began in 1883, touring all over the US, England and Europe. However, especially after the advent of movies, interest in the show waned, and it was foreclosed upon in 1908.
We spent just under two hours in the Center, not nearly enough time. To see it well would take a day or two at the least. But we had to get back, back to Yellowstone's Edge and back to Barney. Besides, the Chief Joseph Scenic Highway was calling.
We'd seen the west end of this Highway on our trip down from Beartooth Pass, and decided then and there to make it part of our next trip. While not as high as the Beartooth Pass -- the summit, Dead Indian Pass is only slightly over 8,000 feet, it's a rival in the "spectacular" category.
As can be told by the name, this follows the route taken by Chief Joseph as he led the Nez Perce out of Yellowstone toward safety in Canada. According to a placard at the overlook, Dead Indian Pass is so named because one Indian was caught and killed nearby. Looking out at the mountains which ringed the horizon, I had to ask Tom to use his video cam -- it was simply too much for one small digital camera. Sam with looking down at the twists in the road below. I could "get" a loop or two, but no more. I was able to capture Ms. Garmin's version, though.
Back through Cooke City to the Silver Gate entrance to Yellowstone, and back to pick up Barney. This time Joe was not there, but an old friend of his, visiting from Michigan, helped us get Barney out of his kennel. Talking to Joe later, he said, "If I'm not home some time when you want to get Barney, just do it". Only in Montana; only at Joe's "house". Barney was happy to see us, but likes that place so much, we just may find another "overnighter" coming up. Hard to believe we have only one week left of our Montana "vacation".
See Pictures for this Postcard...
---
Postcard: Sides and Circles
June 30, 2010
Yellowstone's Edge RV park, our destination and base camp for most of the next month, is perfectly situated for exploring this fascinating area. The park is located on Highway 89, in the heart of the aptly named Paradise Valley. We're 30 miles from the north entrance to Yellowstone National Park and 18 miles south of Livingston -- a quintessential Western town. Livingston stores specialize in"cowboy" gear, shirts, hats & saddles, but the town is something of an artist colony as well. A sign at the south edge of town boasts, "14 art galleries, 3 stop lights". There are two grocery stores, a Wednesday farmer's market, something very akin to a KMart ("Pamida"), and restaurants galore. Right now construction is causing headaches to store owners and visitors alike, but the road crews have promised to be finished in time for the 4th of July festivities.
Livingston really kicks up its collective heels for the 4th of July. On July 2, there's a 4th of July parade. Over the following three days rodeo is king, with events each evening followed by fireworks. The rodeo is extremely popular; we've been warned that tickets sell out for every performance.
For us, Livingston is only one of the attractions of this area. High mountain scenery is another. At Yellowstone's Edge, we're surrounded by mountains -- the Crazy Mountains to the north, the Absaroka and Beartooth Ranges to the east, and the Gallatins to the west. As Tom & I drive along 89 we're tempted by the small signs that say "National Forest Access", and even now, only one week into our stay, we've sampled some of these roads.
We've been very busy with side and circle trips, ("sides" and "circles"). Side trips are generally shorter than circle trips, and usually we come out on the same road we took in. Usually.
Our first side trip took us to Daily Lake. We crossed the Yellowstone River on one of the 3 crossover bridges, and headed south on SR 580. About 4 miles down this road, a small sign, emblazoned with a leaping trout, reads, "Daily Lake 8 miles". It's a gravel road, badly rutted in places, quite smooth in others, but it's only 6 miles to the lake. Here are three launch ramps for small boats, and about a dozen places where you can dry camp. It looks like a great place for fishing.
We drove around the lake as far as the gravel road would take us, to a spot where a truck with Montana plates was parked. (The locals seem to know the best places for fishing). Two couples were just finishing up for the day, they were at the stage where you take pictures of the fishermen with their catch -- and it was one of the best looking catches we'd ever seen. One 6# trout and two in the 4# range, with several smaller trout also in the bag. (So far however, we've been unable to duplicate that feat. Just give Tom time and lower water!)
As we started back, I noticed a small rocky road leading into a pasture, over a small hill and then disappearing into the mountains. Following it, we crossed a small creek, and then climbed steeply up a mountainside. A sign here reads, "Private Property, Stay on the Road". No problem! This part of the road is so steep and narrow, I certainly hope we don't ever go off it! At the top, while the road doesn't get any wider, the terrain levels out, and passing would be possible. Across this level area, the road agains climbs, winding around the next mountain. Even though muddy tire tracks indicated someone else had been using this road, we decided to turn around.
There is at least one other person using this narrow path of a road. Three times now, we've met, or been passed by, a white pickup truck. We're beginning to feel we know the driver, and wave as we pass. Thank goodness, we haven't met him on the steep and narrow part of that road.
When you stay in an RV park for longer than a night or two, you get to know your fellow campers, as well as the people who run the park. Pam & Chan Libbey, the owners, have given us some off highway ideas. They pointed us in the direction of Daily Lake. They also suggested we take a side trip to Yankee Jim Canyon.
Leaving Yellowstone park, the River heads north toward Livingston. About 5 miles north of the Park's border, it squeezes through the very narrow canyon known as Yankee Jim. The volume of water, combined with the narrowness of the canyon, combine to create huge standing waves, waves large enough to toss a 16 foot raft -- and its occupants-- first into the air, and then into the River. This section of the River has been termed a "class 3 rapids -- on steroids"! I understand that floating Yankee Jim is very popular, but we have yet to see any rafts attempting it.
Stories, some more believable than others, abound about this colorful character. In 1872, "Yankee Jim" George built his cabin next to the canyon, on a narrow road which just happened to be the main route to Yellowstone NP. He charged tolls to use "his" road, and all was well until the Northern Pacific Railroad wanted the road for its railway. Stories vary about how Jim was able to best the railroad -- one says he held up the construction workers with a shotgun until NP agreed to build him another road, another states he never received a penny for the use of his land. That story concludes that the railroad was able to purchase the land after Jim's death in 1923 -- 9.76 acres for $97.60. Drive the Canyon road and you'll be following the old railroad, but in places, you can still see remnants of Yankee Jim's road.
You cannot camp so close to the Northwest gateway to Yellowstone and not venture in, and it took us less than 24 hours before we were in line for entrance. Armed with our Golden Age passports, guaranteeing us free entry, we were able to circumvent many other cars, the ones paying the $25 entrance fee.
For the first 5 miles, the road climbs steeply upwards, following the banks of the Gardiner River. Across the river, you often see big horn sheep on the cliffs. Today they were causing a traffic jam, as tourists parked, helter skelter, along the roadway and got out their binoculars and cameras.
Mammoth Hot Springs, park headquarters, lies at the end of this 5 mile climb. The resident elk herd hangs out here. At least a dozen elk usually can be found roaming around the buildings, again stopping traffic as people ignore the "danger, do not approach elk" signs. We even saw one couple being cautioned by a park ranger when they got too close.
Our first circle trip was the main interior loop around the park. From Mammoth Hot Springs, east to Tower-Roosevelt is only 18 miles, but they can be very slow ones. Around one bend was an horrendous traffic jam. We didn't know for sure what was causing it, but guessed someone had seen a bear. Yup. The driver of the first car coming in the other direction stopped at virtually every car on our side of the road. Holding up two fingers, she called, "Two bears, two bears".
It took us so long to reach the spot where the bears were, I was sure they'd been long gone. But no, the bears were still intently interested in a couple of old rotten stumps. Rangers were attempting to keep the traffic moving, but this was practically impossible. The car ahead of us insisted on stopping in the middle of the road while the driver took picture after picture of the bears -- black blobs in the thick trees. It took several insistent horn blasts from just behind us to get him to move his car, and then it was only partially to the side of the road.
Later on our circle trip, we encountered a similar jam. This time it was a grizzly. People were leaving their cars half parked at the side of the road and venturing into the woods near the bear. Several rangers were attempting to control the parking problem AND keep those dummies from getting too close. The "perfect picture" does not include an annoyed grizzly! Many of these folks seem to have no idea that they are not visiting a zoo.
While these stops can be a bit irritating, they also indicate just how well this National Park is being cared for. Park rangers seem everywhere, miraculously appearing whenever wildlife gets a little to close to the visitors (or vice-versa). Several hiking trails are closed until next month to protect bighorn sheep, bears (the cubs are still small), and nesting birds. There's the unpleasant but necessary road work on several of the roads, but this construction is mainly done at night. We stopped to talk to a group who were getting ready for a week's worth of trail/bridge repair in the Park back country. They had a full string of pack animals just to carry all the equipment they would need. These young folks would hike in, and were very excited about their week of park enhancement work.
For the first few days of our stay at Yellowstone's Edge, we experienced afternoon thunderstorms. We could see the black clouds, trailing gray streamers of rain, brightened by an occasional lightning streak, blowing up the valley right at our campground. But for the last day or so, the rain has disappeared and the summer heat is on. We decided this was the perfect time beat the heat, and head for the high country. And we chose a perfect day to drive the Beartooth Highway, the highest elevation highway in the Northern Rockies.
We left Yellowstone's Edge early and by 7 am were on Interstate 90 heading east. About 65 miles down the road we turned south on Highway 78, and headed toward the Absaroka Beartooth Wilderness Area.
We drove through the ranching country of Sweet Grass county, through the tiny towns of Absarokee and Roscoe and headed to Red Lodge, gateway to the Beartooth Highway and Pass. At one point, we stopped to take some pictures of the grassy fields, rimmed by the snow capped mountains. We were watched by a herd of Texas Longhorns, and a passing motorist who asked us if this was the road to Luther. However flattered we were to be mistaken for locals, we'd never heard of Luther and could be of no help.
We stopped briefly in Red Lodge, so named because the Indians who lived there used red clay to decorate their teepees. It's an all season town, with a nearby ski hill and snowmobiling in the winter months, and fishing, hiking, riding and just plain exploring in the summer. The Beartooth Highway starts right outside of town at the sign that reads "Welcome: Custer National Forest: Beartooth Scenic Byway".
And scenic it certainly is. Up past the 8,000 foot level and still the road climbs. At 8,200 feet, we stopped at an overlook and gazed across the valley to the mountains on the other side. I could see a small dirt road climbing up that side, although I could not quite see if that road would go all the way to the top. Using my binoculars, I scanned the opposite mountain plateau. Parked right on top was a blue and white car, with one person walking around outside. He was probably wondering how he would get back down that narrow, steep road.
Snow capped peak after snow capped peak. Up over the 10,950 foot level to the Pass. Here I could look down on a couple of the bluest lakes I have ever seen, very recently freed from the winters freeze.
Just before we headed down the Wyoming side of the Beartooth, I decided to take Barney for a walk. It wasn't too far to an open area which will be a parking area, once the snow on the access road is gone. To get to this open area, Barney & I had to cross about 50 yards of open snow. I ignored the fact that it's almost 11,000 feet up here. I leashed him up and off we went.
We were almost across the snow field when Barney's hind legs fell through the crust and he partially disappeared below the frosty surface. And when I got to the same spot? For three consecutive steps, I fell through the snow to my knees (wearing shorts, of course, it was a hot day where we had started). And when Barney & I got to the snow free but soggy ground, it took me a minute or two to understand why I was breathing so hard.
We had a great walk around the open parking area, fun pointing marmots (if you're a Brittany spaniel), and returned to the car over much firmer ground. We still had to cross a snow field; this time we did it where others had, and I walked in their footsteps.
The road wound down through the mountains, past interesting trails leading to nearby small lakes. But there's just so much you can do in one day. While the Internet "blurb" for the Beartooth Highway claims you'll need 2 hours to drive, or 3 hours to "experience" this 68 mile highway, in reality it takes far longer than that. The next trip, we'll make the Beartooth Highway our sole destination.
Back into Yellowstone through the northeast entrance, Silver Gate. This road is less traveled than the rest of the park, but you'll still find still cars parked along the sides of the road at odd intervals. Here the attraction is buffalo. Hundreds of them, widely scattered, munch the grass along the Lamar River.
We encountered no bear caused traffic jams, avoided the elk in Mammoth Hot Springs, the big horn sheep on the hills above the Gardner River, and late that afternoon arrived at Yellowstone's Edge. Home again
What a day. I've never seen mountains as glorious as this, worthy rivals to, (perhaps more spectacular than?), the famed Ice fields Parkway, and l hope to go back again -- soon. Click here if you'd like to see some pictures of our adventures.
---