POSTCARDS
---
Stephanie is one of those persons who can fit a lot of words onto a standard size postcard -- usually by writing sideways, around corners, and even upside down if she can find some extra space. Most of these go to family and friends. But some of them -- those which document our RV adventures -- find their way onto this portion of our website.
---
Postcard: Molokai: The Most Hawaiian Island of all
May 3-8, 2011
Blame it on the weather. Seemingly non-stop rain in Florence, and enough snow to require chains on the Cascade Passes (in May!) was enough to send us packing, once again, to Hawaii. Warm trade winds and daily sun were overwhelmingly tempting. To further make our case, Tom's birthday falls on Mother's Day this year. Why not treat ourselves?
But not, this time, on Oahu or Maui. This trip, we'd avoid the crowds on those beaches and the traffic endemic to the more visited Islands. This time, we were Molokai bound. We'd found a condo at Wavecrest Resort, 13 miles south of Molokai's main town, Kaunakakai. (Practically "in town", right? We still had a lot to learn about this Island.)
We put Barney in doggy "jail" and drove to Portland. We spent the night at our favorite Hyatt Place hotel near the airport and caught the morning flight to Honolulu. There we had a three hour layover before our Islands Air flight. It was only about 25 minutes to the Molokai. We'd get in around 4:30, in plenty of time to get the rental car, some groceries and find our new "home". Or so we thought.
The trip from Portland to Honolulu was smooth and uneventful. However, when we arrived at the Island Air terminal, we found our scheduled 4:10 flight was "delayed". Oh, oh. The flight attendants told us it was a "minor mechanical matter". Oh, oh, again.
It was a bit after 5 when we learned our flight was stuck on Maui, waiting out an electrical storm. At about 5:15, the storm had passed and the plane was on its way. At 5:45, we were aboard and ready to fly. We were 4th in line to take off. Planes, 1, 2, and 3 took off smoothly. Plane #4 came to a halt. This time it was water spouts, tornados on the water.
With many others, I watched the broadcasts of the recent tornados in the southeast. Even before the plane stopped near the runway, I'd noticed what looked like small tornados hanging from beneath the very black clouds around Honolulu. One of them, right in our path, was long enough to touch the waters of the Bay. Where it did, it caused a geyser to erupt, throwing spray high into the air. Now we would be even later. But no one would try to fly through one of those. It was fine with me that our pilot wanted to wait for this one to pass before taking off for Molokai.
It was dark before we found our condo and got the car unpacked. Since our internal clocks were still on Pacific time (a three hour difference), two sleepy heads hit the pillow "early", ready for our Molokai adventures in the days ahead.
Day 2. Looking at a map of Molokai, it would seem quite easy to drive all the roads in just a few hours. After all, it's only 15 miles from our condo to the east end of the Island and about 35 to the other. We'd have plenty of time to get to the end and back in time for breakfast. Then we could spend the afternoon exploring the west end of the Island.
We certainly showed ourselves the "haoles" (tourists) we were with that assumption. The road, only two lanes at the start (there are no 4 lane roads on Molokai), quickly narrowed. In places, we couldn't see more than 50 feet ahead due to the high grasses growing on either side, and when the view cleared, we found ourselves hugging the cliff edge. No grasses here, just huge boulders and a straight drop to the ocean below. The posted speed limit was 20 mph, but no one could have maintained that speed.
Up and up, out of the grasses, away from the ocean, through the Puu O Hoku ranch (where I looked in vain for a Nene goose, the state bird) and down the other side -- into the Halawa Valley, and the end of the road. The sign read, "End of State Road, but it meant "end of any road whatsoever". A path led through more tall grasses to the beach.
We were met at the car by the resident horse. He must have become accustomed to tourist handouts because it was all we could do to keep his nose out of our car window.
We pulled into a parking area, and were greeted by the resident horse He had probably become accustomed to a handout, because he came right up to the car and attempted to stick his nose inside. We were wondering how to get him away when he spied a young couple coming up from the beach. They must have seemed better pickings because he went right over to them, nudging for a treat.
By the time we got back to our condo, it was far too late to consider going to the west end of the Island. It was beginning to look like Molokai was going to take longer to explore than we had thought.

Day 3, and we were ready. Today we'd explore the entire west end of Molokai. (By the way, Molokai stretches on an east/west axis. This has proved quite confusing for me. I seem to be oriented north/south, and quite often have found myself totally turned around, telling Tom to go one way when he should go the other. I'm glad he has a better sense of direction than I do).
We drove west to Kaunakakai, the Island's picturesque town center. Here's where you go to get groceries or gas ( $5.42 per gallon as of this writing). We spent some time wandering in and out of some of the little shops and then headed west.
From Kaunakakai, the road goes north (inland), some 4 miles and splits. Route 470 takes you north about 5 miles and then ends at the overlook of the Kualapapa Peninsula -- better known as the site of Father Damien's leper colony. If, instead of heading north, you kept west at the split, you'd be on your way to Kaluakoi, the resort area of Molokai.

That's where we intended to go. But first we just had to stop at the "Coffees of Hawaii" store. Try a cup, buy a cup or get a bagful of one of their specialties - Maui, Molokai or Kona. (I have it on the best authority that "Mocha Mama" is to die for). We had just settled in for a leisurely cup when a tour bus pulled up and 10 "tourists" got out. They had taken the morning ferry from Maui and were on a tour of Molokai. We watched as some grabbed their cameras,while others made a bee line for the small gift shop. We positively felt like locals!
Before heading west again, (we still thought we could "do" the rest of Molokai today), we headed for the Macadamia Nut farm. We knew approximately where it was--behind the High School. But there were no signs to show the way. This is not unusual on Molokai. The locals don't need signs, and most tourists have tour leaders. So it was a combination of luck and perseverance that we found it.
The sign (when we finally found one) read "Purdy's Natural Macadamia Nut Ranch". It is run by one Tuddie (really) Purdy, a colorful character if there ever was one. Long greying hair, worn in a ponytail. An accent so thick we had to listen carefully to understand his talk. He explained how the nuts are harvested (from the ground, after they fall), and when (12 months a year).
Just as he was finishing the first part of his spiel, a familiar white van pulled up in the drive. The group from Maui had arrived. So Tom & I got to hear his talk once again. He told how his trees (50 on one acre, his is a small farm) are raised perfectly naturally -- only rain for irrigation, and no pesticides, herbicides or poisons. (He pointedly alluded to another Hawaiian operation where this is not the case).
Then everyone got to crack one of these nuts and sample for ourselves. They are absolutely delicious. Nothing added but a bit of Hawaiian sea salt. We couldn't resist bringing back a bag.
On our first morning at the condo, we'd tried some papaya/pineapple preserves on a morning English muffin. It was like having fresh fruit on your toast. We needed some of that "stuff". The label said it came from Kumu Farms. We'd heard about that place and it was quite close to Purdy's. Off to Kumu's.
In addition to all sorts of fresh produce, frozen meats ( very good), and jams, the farm sells "Sunset papaya", a delicacy to which we're quickly becoming addicted! Don't miss their bananas, they're small and most delicious. Who needs the downtown market when there's a Kumu nearby?
If/when you visit Kumu's, you'll surely meet Etty. She can find you just what you want and can tell you just when it will be perfectly ripe Want papaya for tomorrow? The day after? Early next week? You name it, she can find it. She also is a walking calculator. No matter the distractions, she keeps a running tally of your bill as she chooses items for you and myriad others. And she's alway right.
And now, once again, it was too late to continue west. We headed back, stopping for a late lunch at the Molokai Hotel. (I had read some online negatives about this Hotel and its restaurant. We had several meals there and each was well prepared and absolutely delicious. I recommend a lunchtime quesadilla with Kalua pork). At this rate we may not get this Island explored before it's time to head back to the Mainland.
Day 4. Today we simply HAD to get to the west end of Molokai. We left early (since neither of us has completely gone off Pacific time, we tend to wake about 6 am). This time, after breakfast (at the Molokai Hotel again), we made a beeline west.
From town, it's only 23 miles to the end of the road, and this portion was far easier to drive than the stretch going east. This time the road was reasonably straight. No tall grasses to line a narrow route and cut the visibility. No steep cliffs over crashing waves beneath hairpin corners. This section of Molokai's roads are positively civilized. You could probably drive quite fast, speed, even, on these roads -- EXCEPT -- you're on Molokai. We've seen numerous signs saying, "Slow down. You're on Molokai". And even after only three days here, we believe it. 45 mph was as fast as Tom drove.
The western terminus of the road is Maunaloa Village. The village sits high above the ocean affording beautiful views of the surrounding waters. I visited the General Store - a gallon of milk for $9.99, poked my nose into the artist shop/kite store, and watched one woman working in her beautiful garden. Gardens here are full of fabulous tropical blooms, making many mainland gardens seem drab by comparison.
Last stop was the "resort" area of Kaluakoi. We drove through Panio Hale resort, a condominium complex with tennis courts, a swimming pool and very few guests. The Kaluakoi Villas were built along the holes of what was once a luxury golf course. Today, except for remnants of the cart paths, all is gone. The course has gone back to its natural state, with grasses and brush on the fairways and on the flat areas which must have once been the greens.
Possibly the main attractions at this end of the Island is Popohaku beach, a three mile stretch of sand, which, according to the guide books has "nobody on it". Today, when we arrived the beach was positively crowded -- there was one other couple walking along the water's edge. The winds were howling, blowing spray onto the beach and hurling sand particles every which way. The weather may have been one reason for the relative emptimess of the beach, although the tour books all warn against swimming in these rough waters.
It wasn't easy to find the beach, however. We found 4 spots where small signs indicated public beach access. Most of these are overgrown or in serious need of repair. The first led us down a broken ramp to a dirt trail leading to the beach. We took several pictures of th huge waves smashing the shoreline before the strong winds blew enough stinging sand on us to send us back to the car. The other access points were impassible - narrow overgrown trails leading through groves of low hanging trees. Who knows what would for waiting for us in the brush? We'd already seen three mongooses (geese?) and a colorful tom turkey.
We decided we preferred our Wavecrest home on the east coast of the Island. We may not have a sandy beach, but we're right on the water, we have a great view ofthe evening lights of Maui, and when the tide is low, we can watch the fishermen trying their luck in the fish ponds. These "ponds" are large circular areas ringed with rocks and with a gate where fresh sea water can circulate. The idea is that the fish will enter, but cannot get out. So, when the tide is low, fishermen, armed only with long barbed lines, cast out into the water. And they usually get a fish or two.
Day 5 would prove the "icing on the cake" of our fabulous Molokai trip -- a trip to Kaluapapa peninsula, historic site of the 1866 leper colony. There are 3 ways to get here, hike, ride a mule or fly. The first two take you down (and of course, you've got to get back up again!), 1700 feet, on a narrow trail with 26 switchbacks in 1 1/2 miles. I've been told that the trail is so narrow, those riding mules have a very harrowing trip, as the mules walk quite close to the precipice. Or you can fly. We flew.
We were 6 passengers on a 6 passenger plane. The intrepid 6 walked out to the plane and got our safety instructions standing right beside it. Instead of learning how to use a life vest with a movie and demonstrations from the flight crew, we put ours on right there, with instructions of how to inflate it if necessary. We wore then thoughout the flight. Next, we were each assigned seats and given headsets so we could talk to each other and hear the captain. Cool. They don't do that on your average flight, either!
I don't remember where each of the other passengers sat, except that Tom was right behind me. I was assigned the co-pilot's seat - aka the catbird seat. It was a bit cramped, considering I had a steering "wheel" between my legs and pedals on the floor, but the view was incredible. I could see out my side window or look out over the nose of the plane to see where we were headed.
As we started to taxi down the runway, I was a bit startled to note: the fuel gauge read "fill". Not "full", but "fill". However, as we gained speed, the gauge changed to reflect a full tank. Also, the pilot was half way down the runway before he closed his door! I know it's warm in Hawaii, but....
The trip from the Molokai airport to the one in Kaluapapa is extremely short - less than 10 minutes on a direct flight. Our tour included a "scenic tour of the North Shore", which was absolutely breathtaking. We flew along the spectacular cliffs, cliffs towering 2,000 feet above the churning, frothy water below. We flew right over the Kaluapapa peninsula and further down the north coast - until we could see the Halawa Valley - the same valley we'd approached from the other side, just a couple of days ago.
There our pilot turned and flew back to Kaluapapa to meet our bus. (No one is allowed to just wander the streets of Kaluapapa, you must be on a tour. This is because there still are "patients" here - eleven of them. Thanks to modern medicine, they could leave, and some of them do for short periods, but their homes are here and their privacy comes first). For the next three hours we were immersed in the lives of those unfortunate people who were forced to live here. Separated from friends and family, often with only a few hours notice, the early lepers were forced to swim ashore. Many, already in the advanced stages of this disease, failed to reach the shore; those who did faced further horrors, provisions for only a few days, and no shelter. Had it not been for Father Damien and Mother Marianne, most certainly would have died.
A short flight back "topside", a stop at Kumu farms (we're out of papaya again) and back to town. We'd been told that Fridays and Saturdays the fishermen come to town and sell fresh fish. Today it was shrimp and we managed to devour a couple of pounds of these delectable little creatures that night.
Tomorrow will be our last day on Molokai. We've driven most of the roads the Alamo folks will allow, and explored from one end of the Island to the other. We've met some wonderfully friendly people and enjoyed staying in our condo "home". I certainly have appreciated some of the artwork here - especially a collection of vintage Waikiki postcards. It's rained a bit, but mostly at night, and the rain here resembles nothing as much as a warm shower.
When I was 17, (eons ago), my family spent a week in Kailua, Kona on the Big Island (Hawaii). That Kailua had no high rise luxury hotels, no crowds on the Black Sands beaches or visiting the volcanoes. Molokai today reminds me of that long ago trip -- small towns where everybody knows everybody else, and will stop in the middle of the street for a chat. Uncrowded beaches, small homes, and lots of history. You can still view the old Hawaiian "heiaus", (temples), and it's fascinating to glimpse them, vine covered, half hidden under tangles of overgrowth. Places such as the Kalaupapa Peninsula, where history lingers in the graveyards and churches. It's truly the most Hawaiian of the Islands.
See Slideshow for this Postcard...
---
Postcard: Waiting it Out
March 2, 2011
Sometimes the smartest thing to do is to do nothing at all. That's especially true when the weather window slams shut, when the rains and winds become so fierce that the Highway Patrol deems even the Interstate unfit for travel. That is the situation Tom & I found ourselves in this morning. But we were in Red Bluff, at the Durango RV Resort, a beautiful park very well equipped to deal with wet weather. Each site is fully paved and there is little chance you'll track mud or rocks into your rig. Now we're waiting. Waiting for the high wind warnings to be lifted, and Interstate 5 to be re-opened. Waiting for the plows to clear the snow from the Siskiyou Summit. Waiting until tomorrow to see what the weather gods bring.
It seems just yesterday we were in Mesa, Arizona at Usery Mountain Regional Park. This park has long been one of our favorite spots, close enough to Mesa to enjoy big city amenities, and far enough away to see the stars and hear coyotes at night. We hadn't been here for a couple of years, and were surprised at the many changes. The Nature Center is now open. In addition to a well stocked gift shop, the Center has several meeting rooms used for various nature-related conferences and lectures.
It can be difficult to get a spot at Usery at this time of year. We thought we'd planned our arrival perfectly. We'd arrive around 11 am, the time when those who were leaving were gone, and before the influx of late afternoon arrivals. In retrospect, we probably did plan well -- we were number 3 on the overflow list for the next day. By dinnertime that evening there were 16 campers waiting for a spot to open up. Since once you have a site, it's yours for up to 14 days, some of those on overflow were facing a wait of two or three days before they'd find a site.
At the entrance station, note the bulletin board. Here you'll find a list of the various activities planned for that day. These may include Ranger led hikes, bird walks and Junior Ranger activities. We were only in the park for a couple of days, but I enjoyed a lecture on hummingbirds one afternoon, and a long and successful bird walk the next morning. The volunteer host in charge of birding has a large site fairly brimming with feeders, and she keeps a list of the various species seen there. Everyone is welcome, whether to bird watch or just chat with Sandy.
We hung our feeders at our site, and within 24 hours were visited by what appeared to be a flock of parakeets! These beautiful birds had reddish faces, green and iridescent blue plumage. I raced over to Sandy's site to find out what they were. "Oh dear," she said. "Those are peachfaced lovebirds. Starting from a few escaped pairs some years age, there are now thousands of them all over the Valley. Unfortunately, they compete for food and nesting spaces with the native birds. I'm glad they're on your feeder, and not on mine". Pests they may be, but what beautiful ones!
No matter how long your stay in the Mesa area, one place you shouldn't miss is the Mesa Marketplace Swap Meet. The Meet is huge (1 and 1/4 miles of shopping lanes, holding 1600 booths) and sells anything that anyone, anywhere, could possibly want. T- shirts decorated with Kachina figures, or brilliantly dyed sundresses. Leather purses and billfolds. Racks of shoes, and thousands of socks. Watches. Garden statuary and wall hangings. Rugs. Imagine something and it's here. When shopping makes you hungry, there are multiple food stands selling coffee, hot dogs and hamburgers. Add live entertainment on weekends, and you have a "must see" experience.
Tom wanted to find a certain size of "bungy cord". We use these to keep our water hose properly coiled, and had been surprised one morning to find ours missing. WalMart had them in packs of a dozen, but we didn't need that many. We only needed two. At the Swap Meet, several booths included them in their wares, and you could buy one or 100.
With such a huge venue, and such an incredible inventory, it's not surprising that thousands of shoppers throng to this Meet every weekend. I couldn't resist a few pictures.
But we were slowly heading home. After three nights at Usery Mountain, we reluctantly gave up our nice site and headed west. Destination - Desert View RV Park, Needles, CA for two nights before heading on.
One note about Needles. Unless you are desperate, do not buy gas in Needles. When we were here, and prices surely have risen since we left, gasoline was $4.19 for regular and $4.39 for diesel. But only a mile or so east, just over the Colorado River in Arizona, it was much less expensive. Still outrageous, but less so. It's hard to believe that the lower Arizona prices haven't driven the Needles stations out of business. But no, it seems there's always someone at the pumps.
From Desert View, it's only a short trip to Oatman, Arizona. This little town prides itself on being an historic US 66 town. It almost became a ghost town when Interstate 40. The Interstate took all the traffic from Highway 66, historic route or no. Today Oatman is a collection of tourist shops, with carefully staged "gunfights" at 12 and 2. (The proceeds go to help the Shriners' Hospital). Today's fight featured two brothers who were also bank robbers. However, they didn't get away with the "loot". Instead, they were robbed by a bank robber, robber. He, in turn, fell to a bank robber, robber, robber. The audience loved it, and the Shriners benefitted.
Along with tourists, you'll find donkeys in Oatman. Every day, the donkeys come into town, and are fed, petted and loved by the people there. Technically, they are wild animals, but these have been tamed by food and contact with the tourists visiting the town. Leave it to us to find the wild ones.
If you want to drive to Oatman, there are two roads. Follow Highway 95 north to the well signed, (Oatman 16 miles), Boundary Cone road. Turn right on this road and in the prescribed miles, you'll arrive at Oatman. That's the way most people go. Tom took a different route.
About half way along Highway 95, Tom suddenly swerved right on a street called Willow Road. "Where are you going"? I asked. "I just thought this looked like a good road", he replied.
Hmmm. I know him too well to believe that, but he refused to admit anything else, even when Willow Road first turned from pavement to dirt, then from dirt to a narrow boulder strewn path. It wandered straight east into the desert, crossing small ravines, climbing over cactus covered hills. We startled a small herd of truly wild donkeys grazing by the side of the road. They galloped into the desert, only turning to look at us when Tom whistled to them.
But Ms Garmin, our sometimes trusty GPS, believed in this road. She reported that in 9 miles, we should make a right turn on Highway 66 and then be only a short distance from Oatman. Perhaps, but Ms Garmin has failed us before -- especially when the "road" turned into something far less than the normal definintion of same. What if this path we were following suddenly ended in a pile of rubble? What if it crossed a ravine the jeep could not handle?
On we went, and the path did not end nor cross a deep ravine. We did come to Route 66 and followed it to Oatman with no further difficulty. However, we opted for the paved route for our return trip. Finally Tom admitted he'd found our Willow Road route on his cell phone's map app. On the app it's a viable alternative. On the ground is quite another matter!
We stopped for one night at the Orange Grove RV park in Bakersfield before heading north on Interstate 5. The oranges seemed smaller this year, but they are just as juicy and delicious as ever. The park has become very popular; even with 177 sites, all were taken this evening. All full and 5 rigs in overflow and one parked across the street.
A long day (for us) brought us up Interstate 5 to Red Bluff and Durango. High winds are expected tomorrow and the next day, and snow should fall at the higher elevations. So we'll stay here, enjoying the park and waiting until conditions are right for an easier crossing of the Siskyious. Then home to Oregon.
[See pictures for this Postcard.]
---
Postcard: Exploring the Cajun Country
February 11, 2011
Ahhh...Louisiana. Land of friendly folks with beautiful southern accents. Land of color -- grey-blue bayous, green alligators, white egrets, black ibis and pink spoonbills. Land of Cajun music and fabulous food -- gumbos and étouffées, crab claws and crayfish.
An attractive young woman met us at the station. She introduced herself as Elizabeth, a student at the University of Louisiana, Lafayette campus, and part time employee at Hertz. En route to the rental outlet, we learned that Elizabeth has lived all her life in the area, in a town called "Krotz Springs". Aha! A native! "What should we see while we're here?" we asked. Elizabeth didn't hesitate. "See Henderson Swamp", she stated. "Go to the Atchafalaya Basin".
But what is the Atchafalaya Basin, and where is it? The Basin, a combination of wetlands and river delta where the Atchafalaya River and the Gulf of Mexico converge, contains the largest swamp in the US. To find out more about this intriguing area, we first visited the Lafayette Visitor Center. The woman at the Center was effusive about the Basin. "Make sure you stop at their Visitor Center", she said. "They have a great slide show on the Basin, and you'll really enjoy the diorama". And it was only about 15 miles east of Lafayette - how had we missed it on previous trips?
A few miles before the Center exit, Interstate 10 crosses directly over Henderson Swamp. Views to either side of the highway are of cypress trees, their trunks submerged in the dark, quiet water. It was easy to imagine alligators in the still waters and snakes in the tree limbs.
This Visitor Center is located just south of the Interstate. Right next to the Center a busy boat ramp was being used by several fishermen. Inside, a guide for Courets Swamp Tours was waiting for passengers. He offered an 18 mile, two hour tour of the Swamp, and assured me we wouldn't be too cold. Tom & I privately disagreed, the morning wind was biting. Otherwise, I'd have loved a tour of the Swamp. It seems the best way to experience it.
The Visitor Center fully lived up to its billing. The diorama was a bit different from what I had expected; instead of a mock up of an Indian village, or some stuffed examples of swamp wildlife, a large, animated snapping turtle was talking to an equally animated raccoon. The turtle's accent was so strong I had trouble understanding some of what he said, but he was urging visitors to view the 4 minute slide show. The show is narrated by another animated animal, this time a talking crow who does bird calls while the audience takes its seats.
Gen, the woman at the information desk, was extremely helpful. Instead of just handing us a map of St. Martin Parish, "where Cajun began", she took a pink marker and drew us an itinerary. "Don't miss the pontoon bridge. Be sure to stop at Pat's restaurant. Get a loaf of french bread from Sue's bakery". Then she gave each of us a Louisiana state pin and a strand of purple Mardi Gras beads. What hospitality!
That map was invaluable. We've been lost in Louisiana on previous trips, and have found their state maps to be something less than helpful. Perhaps because we stay away from the main roads, we're always finding ourselves in places which aren't on the maps. If you live here you know where you're going and don't need maps. If you don't live here, and get off the main thoroughfares, don't be surprised if you get lost.

We crossed the pontoon bridge over the West Guide Bayou and debated whether to turn right or left. Gen's map indicate we could do either. We finally decided to do both. First we'd take LA 352 south along the Catahoula Levee road. Then we'd circle through Catahoula on LA 96, LA 679 and LA 3083, back to LA 352. Then north again to the small town of Henderson and Pat's restaurant. Since those roads are small, incomplete lines on the state map, we'd have been asking for trouble without Gen's help.
Our lunch at Pat's was absolutely Cajun to the core -- and delicious. We had a gumbo made with a roux base (a delicious dark brown soup) and then filled with crab claws, shrimp, oysters and crawfish. And I mean filled. Every bite had seafood in it. It comes with a small bowl of rice which you add to the gumbo. While we were there the restaurant became more and more crowded. Lunch in Louisiana on a weekend day is a full family affair, from grandparents to the youngest grandchildren.
Mardi Gras comes late this year, so instead of a wreath on every door, and parades every other day, we've seen only a few advance decorations. However, Pat's had already set up its Mardi Gras tree, (like a Christmas tree with purple, green and gold decorations and topped with huge Mardi Gras masks), and the fireplace in the dining room was similarly adorned.
The next day was Super Bowl Sunday, and we were due at Betty's for her 4:30 guest get-together. Before heading to Abbeville, we had some extra time for exploring -- this time the Gulf coast of Vermilion Parish.
Southern Louisiana is flat -- REALLY flat. And in this area it seems you can look for miles with nothing to break your view. Tall grasses and an occasional clump of trees are the only things which interrupt the level, low lying ground. It's no wonder that a hurricane can do so much damage here; there's absolutely nothing to stop it. The people who live here build their homes on tall pilings. If the ground floods, a likely after effect of hurricane rains, their homes are safe. Of course, building up like that means they're more likely to feel the effects of the wind, and it doesn't take much imagination to picture homes flying off their "stilts".
It's beautiful country, riddled with watery channels which attract all sorts of birdlife. We saw ducks, roseate spoonbills, herons and white egrets in the channels, belted kingfishers on the phone wires. Marsh and red tail hawks are common. It's also a popular with fishermen. One man, sitting on an overturned red bait bucket, was carefully watching each of his three poles. In another area, a low overhanging electric wire was festooned with the lures of some less successful fisherfolk.
In most parts of this area, you can walk as far into the bayou as common sense and wet feet allow. However, I did find one "no trespassing" sign unique to the area. It was interesting to see what activities are prohibited here (see included pictures below).
We took highway 82 to the tiny town of Pecan Island before turning back to Abbeville and Betty's. About 10 miles south of Abbeville, we passed through Intracoastal City. Here the docked fleets of shrimp boats and scores of hibernating deep water drilling vessels attest to the damage to the local economy caused by the BP oil spill.
On to Betty's. As usual, this popular little park was packed. Today was Super Bowl Sunday, and Betty and her RVers had prepared a huge potluck complete with Cajun sausage, white beans, several salads, and three or four different dips for Super Bowl snacks. We were tempted to stay, enjoy some of the repast, and watch the game, but it was getting late and we needed to get back to Lafayette.
As Betty walked us to our car, Tom commented on how successful her park has become. " Y'all remember when I started this park," Betty said. "I never thought of it as a way to make money, and always felt I could close if I wanted. But I enjoy it, and have made so many friends all over the country, I couldn't close now if I wanted to. They wouldn't let me."

Betty's is not a large park, and, next week, as Mardi Gras season draws closer, she will be completely full with 19 rigs, including two or three in "overflow ". Crowded, perhaps, but everyone will be back again next year, drawn by her contagious Cajun spirit.
Monday was Amtrak day, departure 3 PM. This time the train was on time, and we pulled into El Paso about 4:30 the following day. An unpleasant surprise awaited us when we found our jeep with a completely flat rear tire, but AAA came to our the rescue, and we were back in Las Cruces at Hacienda in time for dinner. Tomorrow we'll pick up the dog, and find a spare for the Wrangler. Then we're off - heading West again, where the weather forecasts are for warm, sunny, desert days.
[See Pictures for this Postcard]
---
Postcard: All Aboard!
February 4, 2011
Think cold. Think very, very cold. Temperatures had convinced us to opt for an El Paso departure rather than leaving from Alpine. But the morning we left Las Cruces the temperatures were also well below freezing. There were icicles hanging from the bottom of the Jeep and about 3 inches of snow stacked on the side mirrors. Our outdoor temperature sensor read 12 degrees, but with the brisk morning breeze, it felt far colder.
As we were getting ready to depart, suddenly all the electricity in the park went out! According to Hacienda's managers, El Paso electric grid personnel had determined there would be "rolling blackouts", lasting anywhere from 20 minutes to 2 hours. Their rationale: By depriving everyone of some electricity, no one would lose all of it We were already having problems warming the inside of the coach, using 2 small space heaters and the diesel heat.
We felt a bit worried about leaving the coach with the diesel heat on -- after all, the temps were due to warm over the next several days. The great folks at Hacienda agreed to turn the diesel burner off when the weather warms. But still -- with rolling blackouts could we be certain that the electricity at the pedestal would come one back each time without having to switch the breaker off and on again? Even with these worrisome thoughts hanging over us, we decided to go on.
Our train was due to leave El Paso at 8:30 the next morning, so we boarded Barney and drove the 40+ miles to El Paso that afternoon. Tom had found a Hyatt Place hotel there for the evening.
The rooms at Hyatt Place hotels are designed for the serious computer geek. A computer desk with easy access to all sorts of plugs -- and a 42" flat screen HD TV adorns a very spacious two-room configuration. In addition, an exceptionally large L-shaped sofa with combination foot stool/coffee table makes a convenient spot for placing another computer if someone you know is monopolizing the desk.
The hotel does not have a conventional dining room. Instead salads, sandwiches and pastas are served at one of several small tables scattered around the lobby, or at the nearby wine bar.
Rolling blackouts continued in El Paso. We were having dinner there when all the hotel electricity, except for a few tiny emergency lights, went off. A romantic no-light dinner. The night manager was having to use a flashlight to check in the hotel newcomers. This was a makeshift check-in, and visible only courtesy Tom's flash...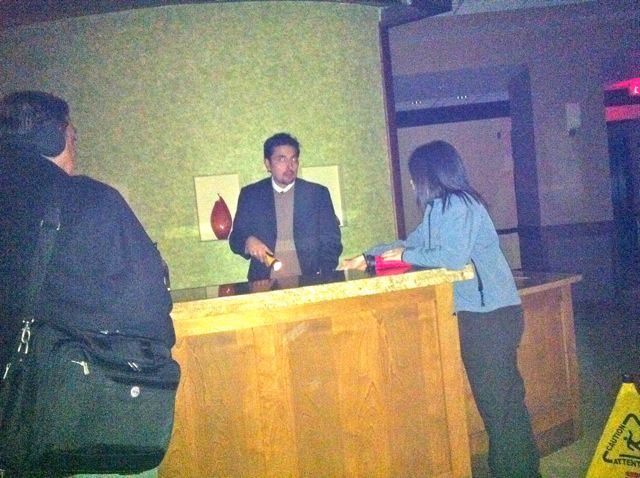 The cold weather affected the train, too. Amtrak did not meet its early morning schedule. Every half hour or so, the arrival time was pushed back, until it was over 6 hours late. According to the Amtrak station attendant, in cold weather, the tracks can actually become loose, and need to be fixed before the train can continue on. Moreover the switches can freeze shut in extreme cold, and need to be turned manually. In these conditions the trains keeping moving, but at a fraction of their normal operating speed.
However, having dealt with late trains before, we knew better than to rush to the station in hopes that, somehow, all the lost time had been made up. Instead, using the phone and the computer, (go to "amtrak.com"), we were able to see just where the train was and plan our arrival accordingly. It was much more comfortable to stay in our room for a few more hours at the Hyatt Place, drinking coffee and watching the morning news, than to pace the waiting room at the rather cold and spartan El Paso Amtrak station.
The Hyatt's check out time was 11 am, and the train was still in eastern New Mexico -- a minimum of an hour out of El Paso. We had plenty of time to get to the station -- less than 5 miles away. As we were getting into the Wrangler, I noticed that right front tire was nearly flat! Now what! I had visions of being stuck, unable to find a gas station with an air hose while the train took off for Louisiana.
Trusty Ms. Garmin came to our rescue. She found two nearby stations, Tom guessed which would be likely to have air, and within .3 miles we limped into a FINA gas station. 10 minutes later we were off to the station with the errant tire now fully inflated. And our train was still over an hour away.

Other passengers had not been as well prepared, and had arrived at the station to board the train at 8 am. This station has no restaurant, either in the station or in the visible vicinity. Two beverage machines and one dispensing chips and candy were the only food options for the passengers that had been waiting there for hours.
But the passengers were just about to discover their own personal Good Samaritan. I had gone outside to check for any sort of nearby restaurant, and found nothing. Another passenger was in the process of ordering take out pizza, when a black woman, armed with several plastic bags, came into the waiting room. In each of her bags were boxes of Kentucky fried chicken! These she proceeded to pass around, absolutely refusing to take any money for them. "I live here", she explained. "I know where the restaurants are. I'm picking up my daughter, have a car, and I knew you folks would be hungry".
Wow. What an incredibly empathetic and generous person.
This was a day of bad news, good news. Bad news -- Amtrak didn't make up all its lost time, and we'll be arriving in Lafayette about 5 hours late. Good news; today is the last of the severely cold weather for a few days. Tomorrow, relatively warmer weather -- perhaps finally above freezing -- should make for better Louisiana exploration. Bad news; while we were at breakfast this morning, my cell phone disappeared from our roomette. I was in the process of charging it, and decided it would be safe in our out of the way compartment while we went to the dining car for breakfast. We'd left all sorts of equipment out before, with never a problem. But when we returned a half hour later the phone, and its plug, were gone. "Did you install the "Find my iPhone feature?" Tom asked. I had to admit I had not.
Good news; Tom called ATT and was able to disable it now from being used other than to dial 911or 611. This later number is a direct line to ATT. They would dearly love to hear from someone that had it, but if it had indeed been stolen that wouldn't be such a good course of action. More good news; we're picking up a rental car this afternoon, and the store adjacent to Hertz is the Lafayette ATT store. Maybe I will get a new phone (actually, an upgraded iPhone 4) as soon as today. With no "home phone", we rely a lot on our cells.
According to Amtrak personnel, theft on board the trains is relatively rare, especially in the sleeping cars. However, we'll certainly be on the alert more than we have been previously.
For now, we are looking forward to a couple of days in the Cajun country, exploring the countryside, enjoying Cajun food, and visiting our friend, Betty Bernard, in Abbeville.
Laissez les bon temps rouler!
---
Postcard: Louisiana Bound
February 2, 2011
Our original plan was to take the rig as far east as Alpine, Texas, a charming town nestled in the foothills of the Davis Mountains. There we'd board the dog, store the rig, and take AMTRAK to Lafayette, Louisiana. A couple of years have passed since we last visited the Cajun Country, enjoyed crayfish and beignets, and visited Betty Bernard in Abbeville, LA. We first met Betty over 10 years ago, and try to stop by at least every two years. Her little RV park is always crammed with RVers enjoying Betty's famous hospitality. She seems to know everyone in the parish, and has a full repertoire of places to go and things to see once you get there. (She also knows the best places for real Cajun food). Once "caught in Betty's web", you always return.
We've driven this route from Emerald Desert often enough to know just where we'll stay each night. Our first stop is always at the Desert Trails RV park in El Centro.
The popularity of Desert Trails never ceases to amaze me. The park is ringed with park model homes of varying vintage. Most of the other sites are very long term guests, and contain RVs which seem to have been there for years. Many are "vintage" units, complete with skirting around their bases, and small concrete patios. A number of the owners have also managed to add a utility shed and barbeque, and these fairly small lots are completely full. Desert Trails only provides 10 full hookup pull through spaces, and each year these grow a bit more decrepit. The electric stanchions are rickety, the parking slabs crumbling, and some of the trees are in need of trimming. When these sites are full, a camper is relegated to the gravel overflow lot, soe of which have partial hookups.
But the residents of this park love it here. There's a 9 hole golf course in the middle of the park, and a tee time is unusually mandatory. The large swimming pool and spa are usually crowded. The clubhouse has nightly impromptu gatherings. There are caravans to Algodones, Mexico and to nearby casinos. Being in downtown El Centro, you're in close proximity to such stores as WalMart, Costco and Home Depot -- the type of "provisioning stop" that seems to keep us returning for an overnight here.
Second night out would find us in Ajo, Arizona. Here we stay at the Shadow Ridge RV Resort. The overnight pull through sites are fairly narrow, relics of the pre-slide era, but have oleander bushes on each side for privacy. A large community patio area, with two fire pits and a large supply of wood, invites evening get togethers. In case of rain, a fairly rare circumstance in Ajo, there's a large clubhouse with a full kitchen.
This year has brought changes to Shadow Ridge, however. The last two rows of RV spaces are in the process of being transformed into park model housing for the border patrol. We watched as these houses, 40 feet long and 16 feet wide, were maneuvered around tight corners, past RVs with tow vehicles blocking their way, and backed into spaces which didn't seem nearly large enough to hold them.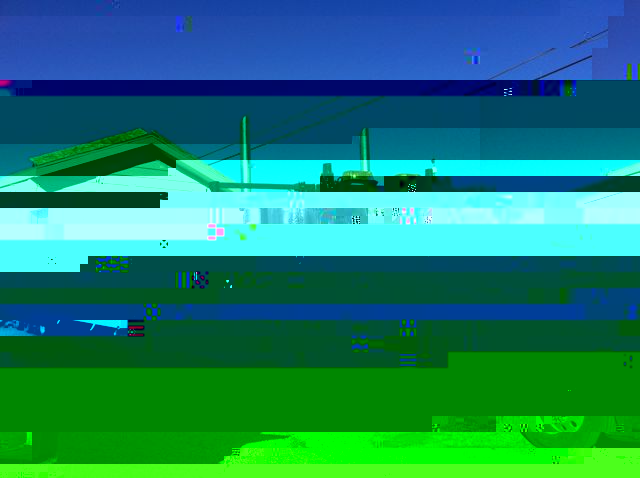 This of course limits the number of spaces available for RVers. And since this park hosts quite a few caravans headed for Puerto Penasco, Mexico, reservations are increasingly necessary.
We intended to spend only a couple of days in Ajo before heading onward, but our plans were changed abruptly by an unforeseen family emergency. We had to return to the Bay Area for a few days. What to do with the rig? What to do with Barney?
As regards the rig, Shadow Ridge management came to our rescue. With no visible storage spots in the whole park and an incoming caravan with reservations for virtually all of the other sites, we were concerned about where we could leave it. Amy, park manager, suggested we could put it right in front of the night host's RV. Friends Jim and Lou Scott, (he of the Mr. Fixit fame), volunteered to take Barney for the few days we'd be gone. But Barney's a great traveler, and we took him with us. As it turns out one of Jim's many friends in Ajo had a couple of vacant RV pads at his house which he also volunteered for our use (aren't RVers a great bunch!).
On the returned leg of our unplanned trip were glad to be out of the neverending fog of the San Joaquin Valley and back in the sunshine of Ajo. But it was time to head east. We headed toward Tucson and the Gil Ray Campground in Tucson Mountain Park. Gil Ray is a fairly "bare bones" campground, with only 30 amp power. There's a large dump station and several water outlets are situated around the campground. But people don't come here to be in a fancy RV resort, but to experience the desert. Each site is widely separated from the next by saguaro and cholla cactus. Creosote bushes and palo verde help complete the landscaping. A curved bill thrasher will take the place of your morning alarm clock and coyote calls will punctuate your evenings. Down the road a couple of miles is the Arizona Sonora Desert Museum. A short distance beyond the Museum is the western part of the Saguaro National Park.
But the weather was beginning to turn cold. We checked the forecasts for those cities through which we'd have to travel -- Las Cruces, NM, El Paso, and Van Horn in Texas to get to Alpine. What we learned was not encouraging. It wasn't surprising to see forecasts for wind; this is the Southwest and windy days can be expected. But SNOW? Temperatures in the mid 30s for highs and in the teens for lows. That's not why we come south in the winter.
So we adjusted our travel plans. Instead of taking the coach to Alpine, across the normally windy West Texas plains, then climbing steeply up into the Davis Mountains as we approach the town, we'll stay in Las Cruces. There's a very nice park here, the Hacienda RV resort, and we've been assured we can leave the coach plugged in and the heat on. Nearby is a great kennel for Barney, with heated kennels and daily play time. The kennel, "Doggie Dude Ranch", is owned by the president of the Las Cruces Humane Society and an avid crusader for animal -- "doggy" rights. Barney should have a great time at the ranch.
We'll take the Wrangler to El Paso and board Amtrak from there. We'll be gone about a week, and by the time we get back, this stormy, cold weather is predicted to be gone. Then we'll see where our travels take us.
---
Postcard: Finding Mr. Fixit
January 16, 2011
We left Bend on a Tuesday afternoon, heading for Klamath Falls in the southern part of the state. The trip should have been a short one, only 130 miles, but winter Oregon roads can be treacherous. This trip was no exception.
There was snow in Bend, but the roads were clear. However, as we drove south, snow accumulations became deeper, and the road was icy in spots. By the time we got to Crescent, 70 miles south, the roads were snow covered. After Chemult, 30 miles still further south, the roads were both snow covered and icy. This is the highest section of Highway 97, and is always a difficult winter drive. Today it was made even more so by the addition of freezing fog to the snow pack. We passed a couple of cars off the road at impossible angles, and saw indentations where other cars had spun out.
About 75 miles south of Chemult the road crests at 4600 feet, and plunges down to the Williamson River, to the towns of Collier and Chiloquin. When you get down the "hill" you are usually past the poor road conditions. We didn't get that far. At the top of the pass, two separate, multi car accidents combined to completely close the road in both directions. For over two hours, we sat in the jeep. I got out to see if I could walk around and had to walk so carefully, I didn't dare try to walk Barney. One good pull and we'd both wind up in the icy roadway.
Our southbound lane would inch forward a few hundred yards and come to a complete stop. Then hundreds of cars and trucks coming north would be allowed through. Then we'd go another few hundred yards and another non-stop mile or so of northbound traffic. Seemed a bit unfair ["advantage northbounders"], but there's little to do in that situation but wait it out. We looked up the Oregon Road conditions page on our cell phones. This told us only that there were two accidents, that 97 was closed and that we should "take an alternate route". Great. From where we were there is no alternate route. We were 35 miles from our intended overnight stop in K-Falls and might as well have been 1000 miles away.
Eventually, of course, the road re-opened. By the time we passed the spot where one of the accidents had occurred, the only remnant was a tow truck about to be pulled from a large snowdrift. We were worried about the forecasts for more freezing fog the next day on 97 toward California and southbound I-5, but from the bottom of the hill the road was clear all the way to California.
One more night, this time in Tehachapi, a stop for groceries in Temecula, and we were back at the Springs RV resort just after lunchtime on Thursday. We took the rig out of storage, found our site and settled in for a week of golf, swimming and desert exploration.
The Rving lifestyle is one we both enjoy. It is not without a few little "hitches", however. Things do go wrong in an RV. Imagine taking a sophisticated machine and shaking it thoroughly on every trip. No wonder some things occasionally need fixing.
The outside handle on our screen door kept falling off, and I'd become quite used to working around that. If I opened the small slide in the door and reached inside, I could close the door quite nicely. One afternoon, Tom became Mr. Fixit. He took the handle assembly completely apart, straightened out a portion of it and reassembled it. Thank you, Mr. Fixit.
Our SmarTire assembly kept warning us that the left front tire of the Alpine was low. Even just looking at the tire, you could see it really was getting low. But Ed Perry's Tire shop just down the road from the resort, found the problem, fixed it, and sent us back to the resort in less than an hour's time. Thanks to Jake and Dan Perry, dual Mr. Fixits.
But this time, when we took the rig out of storage, we found a problem quite beyond our capacity to "fix". Our Hydro-Hot system was out.
Hydro-hot is hydronic heat. It's heated water which is circulated around the coach and provides both our heat and hot water. We didn't have either. We had water, but only cold water.
For the people in the coach, that was inconvenient but not disastrous. The Springs has a half dozen nicely kept, extremely clean, restrooms with showers in the pool area. In fact, we often prefer to use these facilities. For doing dishes, a large pot of boiling water in conjunction with our cold tap water worked just fine. But it was inconvenient for heat.
While days in Borrego Springs were warm, with temperatures in the 70s, at night the thermometer dipped into the lower 30s. Our little electric heater couldn't begin to warm the coach. The one method of heat available to us was a heat pump, as our two roof air conditioners have the capacity to act as heaters. But that only works when the temps are safely above the low to mid 30s -- and they are noisy. So we'd turned the heat pump on within an hour of getting up to bring the indoor temps at least out of the frosty range.
We decided to see if we could fix the problem ourselves. We knew right where to go -- the Borrego Springs True Value hardware store. This is a wonderful little hardware store -- they carry almost everything you will ever need, from animal food to wrapping paper. Of course they had the special anti-freeze/boiler fluid we thought we'd need and a special siphon to use with it.
Back to the rig we went and opened the Hydro-Hot compartment. In front was a circuit board with one red light glowing ominously - "low tank level cutoff". So, we reasoned, if we fill the tank, then the light should go off. In fact the manual for the unit promises just such an outcome. The reservoir cap was way in the back of the compartment, with what seemed a dozen hoses snaking down in front of it.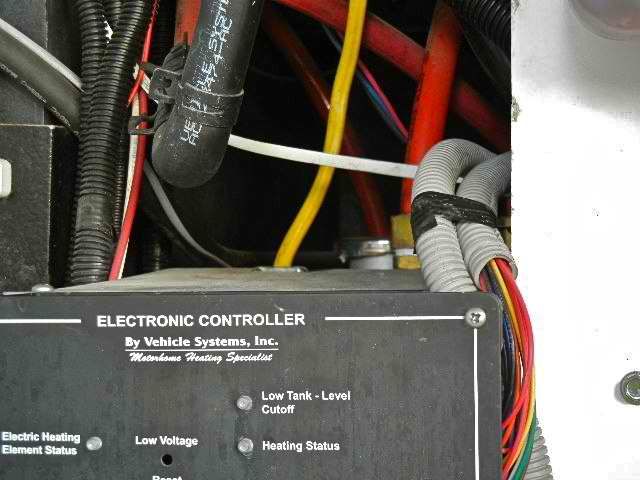 Once he was able to get the cap off, Tom carefully snaked the tube through the hoses and into the reservoir. Then he squeezed the bulb. In two squeezes, the fluid backed up out of the opening and onto the top of the reservoir. The tank it seems actually was quite full, and that was obviously not the problem.
It looked like a job for an authorized Mr. Fixit. Tom contacted the Hydro-Hot company and was connected with a factory trained service technician in Desert Hot Springs, a town some miles north of Palm Springs and about 100 miles from Borrego Springs. The tech would come to Borrego and charge us for his time in transit, at a cost of at least $250 to $300. In addition, since he was a mobile mechanic, there would be an additional charge of $75 just for coming to see us at all. The time required to fix it, and whatever parts might be needed (which he may or may not have with him) would of course be on top of those charges.
What if we went north to Emerald Desert RV resort? Our reservation at The Springs would be completed on Friday, and we'd considered on going north to Palm Desert, anyway. I called the resort and explained our situation. The conversation with the gal at the reservation desk went something like this:
She said, "We only allow licensed contractors to work in our park. Please get the contractor's California license number. Otherwise, we have a very able technician, Freddy G, who is very knowledgable in hydraulics". (Hydraulics to my understanding has nothing to do with Hydro-Hot).
The question was moot, anyway. Having had previous problems with the staffers at Emerald Desert, our Desert Hot Springs tech had no intention of coming here. Further, since his phone number was a number in Branson Missouri, we guessed he might not have the required California licenses. Back to square 1.
Now Tom took a break from worrying about our hot water problem, and spent some enjoyable minutes catching up on his email (all work and no play, you know). In one email to a good friend, Jim Scott, a full time RVer, he mentioned our Hydro-Hot plight. Jim wrote back almost immediately. "You want Roger Berke", he wrote, "he's the best of the best". And a link to his website was provided.
Tom clicked over to Roger's web site. On it was a calendar of where Roger was currently working. Unbelievably, Roger was currently working in Indio. Indio is only 60 miles from Borrego Springs and 15 from Palm Desert.
While he figured that Roger would be working at the huge FMCA rally in Indio, with no time for additional work, Tom emailed Roger. Roger answered promptly. "I'm staying at Emerald Desert myself", he said. If you could come up Friday, I could fix you up then." That couldn't have meshed more perfectly with our schedule. Friday morning we left The Springs, and were at Emerald Desert by noon.
We had found our Mr. Fixit. Roger came over and took the Hydro-Hot apart. His report is as follows: "Removed air intake boot. It was almost completely collapsed. Install screen over air intake. Control box was installed upside down - switched."
I don't pretend to understand what most of that means. Roger did say that the control box should have been installed "plugs down". It's easier to put the box in the way the Alpine folks did it, but it's the wrong way. Ours was an incident just waiting to happen. None of this related to the failed sensor that had caused the shutdown to activate even though the tank was actually full. However that part was replaced in the process, and we were back in business.
The cost? It was very reasonable, even including Riverside County and the Cal. sales taxes. In fact, compared to the option of having an unknown tech drive down to Borrego Springs, we saved far more than enough to pay for our three day stay at Emerald Desert.
Had we not been able to meet with Roger, we did have one "work around" solution. In his original email, Roger had provided Tom with a step-by-step, detailed description of how to "fool" the Hydro-Hot. And the first thing Roger did as he began work, was to show Tom precisely how to do just that. If it ever goes out again, we will be at a distinct advantage.
Now we're looking forward to the "travel" portion of our wintertime travels. We'll start in Ajo, AZ, one of our favorite stopping spots and where Jim & Lou Scott spend their winters. Lots of stories to share and kudos for Jim's help in finding Mr. Fixit. Hopefully we won't need to find another one soon.
---
Postcard: Hello..2011!
January 2, 2011
What a difference six weeks makes. We reluctantly left the idyllic life on board the Endeavour and returned to our "regular" lives, the kids back to work, the grandkids back to school. Our Ecuador experiences tended to fade with time, but were brought vividly back to life at Christmas, when everyone gifted everyone else with CDs, DVDs, and one memorable "coffee table" book -- with wonderful pictures -- of all of us!
Following our Galapagos adventure, Tom and I bailed Barney out of his doggy "jail", and returned to our desert life in Borrego. We spent about a month being typical snowbirds, a little golf, a little pool time, and quite a bit of off-roading in the San Ysidro mountains southwest of town.
The Anza Borrego Desert State Park is fairly riddled with desert roads suitable for 4 wheel drive vehicles. We've explored Coyote Canyon, and driven the Rockhouse Road. We've been over the Borrego Mountain Wash and hiked into "The Slot". We've even ventured to the Calcite Canyon Scenic Area, a remote spot which lies at the end of some very narrow and steep roads. This time our goal was Grapevine Canyon.
Grapevine Canyon stretches between two paved roads, Highway 78 and S-22. Depending on your route, and you have at least three choices, its distance is about 14 miles.
Prudent 4 wheeling says check with the Visitor Center before taking any of the unpaved roads in the Park. The Rangers check these roads periodically, and note whether they are too sandy or rocky or washed out for normal (i.e., non 4WD) use. Its also a good idea to consult the Borrego "bible", "The Anza Borrego Desert Region", by Lowell and Diana Lindsay. Whether you are taking your 4WD drive vehicle or hiking the trails, the book covers your route with a mile by mile description.
According to the Visitor Center's bulletin board, Grapevine Canyon was in good shape -- in fact, it was noted passable for regular automobiles, high clearance recommended. But when we actually drove it, we were very glad to have both 4WD and very high clearance.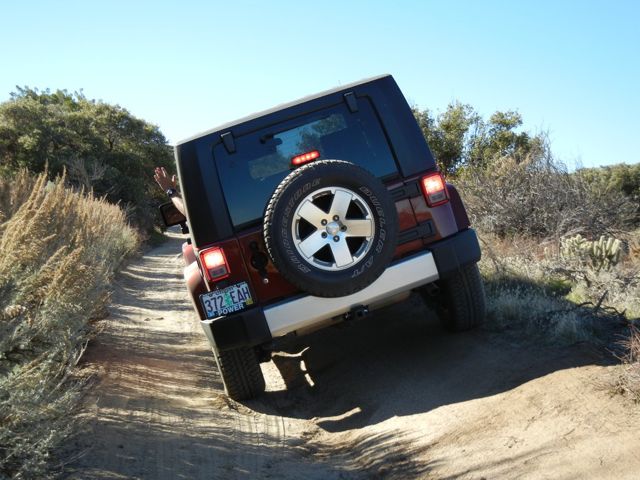 A regular car might have been suitable for about half of the trip. Then turning around would have been a prudent choice. Of course, once you're out there, there is no sign reading, "2WD vehicles, turn around here!". Otherwise, for this and basically all other roads in the Park, you're best off with 4WD. Especially if you followed the route we chose -- branching off Grapevine Canyon and up the Jasper Trail.
Blame it on missed communications. Tom thought the turn to the Jasper trail was the preferred route. And there was a small sign (a bit weather worn) with an arrow on it. But I'd read descriptions of it -- "very rugged but scenic", "knife edged ridges" and "trail descends steeply", and thought it might be a bit much for our stock Wrangler. When he made the turn onto the trail, however, I assumed Tom knew the challenges and was sure he and the jeep could handle the terrain.
If I had any pictures of our trip up the trail, I'd have framed them. I was hanging on for dear life as we bounced over some huge boulders, and wedged our way around others, climbing steeply up a path so sloped that I could imagine the jeep rolling off to one side. Taking a picture was the furthest thing from my mind.
The extremely steep portion of the trail, although hair raising, was only a few hundred yards long. We came out on a plateau of yucca, cholla cactus and juniper. Looking east past the low lying hills, we could see shimmer of the Salton Sea.
Now it was just over a mile to the paved road, and this part of the road/trail would have been easily accessed by any type of vehicle. There was even a Forest Service sign showing us where we were. Several intriguing looking roads branched off into the surrounding hills, inviting us back. We decided to try them -- another day.
Which we did. We became self proclaimed experts on this flattish part of the Jasper Trail. We found the "Four-way", an area where four roads branch out in different directions. We tried and failed to find a geocache in the area, hidden in a large cactus laden rock jumble.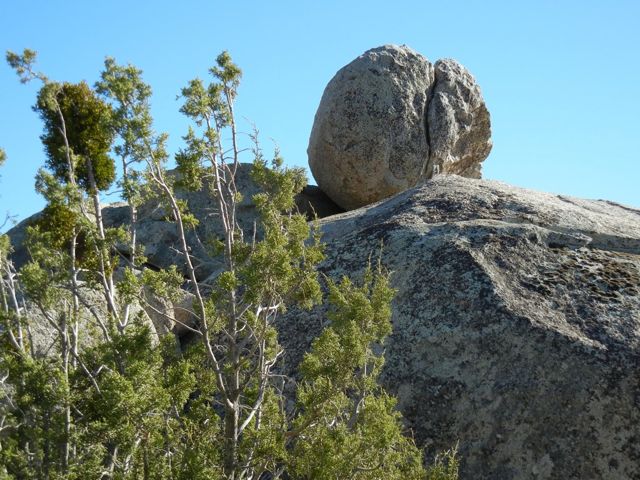 No cache found, but Tom did spot what he thought was a cougar. And given the cougar warning signs in the area, it probably was.
At this point, we were only about 3 miles from the Jasper boulder area. Just for fun, I suggested we drive back so I could get a picture of that part of the road. Tom took me up on it, and I had to acknowledge I was kidding. If it had been rough, rocky and a bit worrisome coming up, what would it have been like going down! No thanks, I'll take my pictures without the white knuckles.
We left the Alpine in the Springs at Borrego RV Resort's storage area, and made a leisurely (2 1/2 day) drive to Florence. The best weather window for crossing the Cascades came the next day, so we headed to Bend for Christmas with the kids.
Now we're planning our return trip south. I've had enough of the snow of Bend and the cold winds of Florence, and am looking forward to the sun and relative (have you looked at the weather reports lately?) warmth of the desert. We'll head east to Arizona and Texas, and an Amtrak trip to Louisiana is on our drawing board.
So, hello to the New Year 2011. Our best wishes to everyone for health and happiness in the months that lie ahead. May they be filled with adventure!
---
Postcard: "Officially...the Best Ever"
November 17, 2010
On November 5, 2010, nine members of the Gonser clan boarded airplanes and headed off on a great adventure - the Galapagos Islands. We'd heard of these islands, and seen various travelogues about them, and the idea of actually visiting them was most exciting.
Our kids flew from Seattle to Houston to Quito, and our flight took us from LAX to Miami and then onto Guayaquil. So it wasn't until the last leg of the flight - from Guayaquil to Baltra Island - that we all got together. We'd spend the next 7 days together, snorkeling, hiking, eating indigenous (and excellent) Ecuadorian food; and seeing several of the main islands of this chain. Our tour wasn't just fun and games, however. We'd also hear several lectures on island history, and visit the Charles Darwin Research Station, where scientists gather information for the conservation and management of these unique islands.
Once off the plane, we were bused to the dock where Zodiaks (sometimes referred to as "pangas") were waiting to take us to our ship, the Lindblad/National Geographic ship "Endeavour". A committee of one was waiting to wish us "bon voyage" -- a large bull sea lion stretched out across the dock. He didn't seem at all inclined to move, so we walked around him and down to the boat. This was our first encounter with the animals of the Galapagos. Having never been harassed, and having no natural predators, they are not the least bit afraid of humans - they simply ignore them. Perhaps they think we're another kind of strange animal. The same is true of the birds and reptiles we encountered. We gave way to them, not the other way around.
As the Endeavour steamed toward our first stop, we unpacked, had a buffet lunch, and were briefed on vessel safety. That set the norm for the days to come. The ship traveled at midday or at night. This left daylight hours for exploring, and we covered two different anchorages each day.
As we headed toward our first stop, North Seymour Island, we learned about shore landings. The Endeavour never touched shore, and never docked. Each time we disembarked, we were loaded into Zodiaks and taken ashore. There were two different sorts of shore landings - "wet" and "dry". Wet meant you got off in ankle deep water and waded; dry meant there was something - a rock, a set of stairs, etc. for you to clamber up on directly from the Zodiak.
In retrospect, the first landing was the most difficult. The Endeavour anchored in a beautiful little bay, and everyone prepared to disembark. Life jackets had been handed out, we had learned how to put them on (something a bit more difficult than you might think), and we lined up for our ride in.
However, this was our first time, and the tide was exceptionally high, and there were large waves breaking on the outer shore, with corresponding large swells on the more protected inlets where we'd land. The Zodiaks were bouncing like large rubber balls as we attempted to step from them onto a series of stone stairs carved in the lava. We quickly learned to use the "Galapagos grip", where the passenger grips the arm of one or sometimes two crew members on the shore and is pretty much hauled out. But we had to gauge our step to coincide with the wave motion. It would either be a very short step or a remarkably long one, depending on the position of the boat. Timing is everything!
It was not done quickly, but everyone made it ashore safely. Then we were divided into groups to begin our hike. We followed a narrow trail, and our naturalist guides made sure we didn't stray from it. All the guides are very sensitive to the fragile nature of these special islands, and we were constantly reminded that the plants and animals have the right of way here. That was something we all came to understand and appreciate.
This island is a nesting site for Blue footed Boobies, and nests were everywhere, even some with tiny Booby chicks in them. Blue feet, and they can be bright blue, only occur on the adult birds. We learned to tell the age of a juvenile by noting the amount of blue in his beak and feet. Great Frigatebirds were roosting in nearby trees -- the males with their bright red neck pouches, (gular) puffed out to the extent that looking down would have been impossible. Several had attracted females. Aura, the naturalist for our group, pointed out some females literally under the wings of the males.
Our walk took us through several nesting areas and out to the shore. The waves were still pounding on the outer shore, but the surf didn't faze either the sea lions or the marine iguanas. This was our first encounter with these ferocious looking lizards, and we took dozens of pictures. We didn't realize we would see hundreds (thousands?) of iguanas in the coming days.
The next morning, we began what would become an almost routine schedule. Wakeup call came around 6 am in order to fit the day's activities into 12 hours. Early morning stretching (I have to admit that's one activity for which I never found time) or an early morning hike. Back for breakfast, then snorkel or kayak or a glass bottom boat ride. Lunch, more snorkeling, afternoon hike, a reception in the lounge around 6:30 PM, a briefing on tomorrow's activities, and then dinner. On three separate evenings, we had after dinner lectures from UC Berkeley Professor Jere Lipps on the "Making of the Galapagos"; on Darwin and the "Voyage of the HMS Beagle"; and "Galapagos and you - Our Future". This last lecture led to a discussion on global warming and its effect on the future of the islands. On a lighter note, one night we were entertained by a group of musicians and dancers from a nearby town. There is no real Galapagos music, so this group decided to create some. A composite of Caribbean and South American music, it sets your feet to dancing (which is what most of us did).
One of our hikes took us to the "top"of the island of Espanola, where we saw Waved Albatrosses. These bird look comical on land; they waddle when they walk and appear to be on the verge of falling over with each step. Since they are such poor walkers, they cannot launch themselves very well. The albatrosses here have solved that problem. They simply waddle up to the edge of the cliffs and dive off. We watched one bird do this. First, it walked to the edge and, somehow sensing something was not right, stopped. On the second try, it dived into the air and, finding an updraft, took off on a smooth, strong flight. They may be awkward on land, but they're superb in the air.
Our third morning, some of us visited the Post Office. Not your normal post office, this is a post office barrel. One of the traditions of the islands, dating back to whaling days, is to put your unstamped mail in this barrel. The whalers had no way of sending a letter home to their families other than giving it to someone to take for them. Carrying on this tradition, this morning several of the guides pulled letters from the barrel and read the addresses. Our group was to take one near our homes and promise to personally take it to the addressee. As would have been the case long ago, you are cautioned not to mail the letter. The letters were hand delivered then, they must be hand delivered now.
I cannot begin to list all the birds we saw on this trip. The oddest ones included the Galapagos penguin and the flightless cormorant. These cormorants have small, stubby wings, which are marginally useful in swimming, but do help them in getting out of the water. The penguins are smaller than the ones from colder areas, and like all other species, are completely unafraid of humans. Occasionally one would swim with us as we snorkeled.
The most spectacular looking birds included the Nasca Booby, a beautiful white bird with black tipped wings, and the Red-billed Tropicbird. The Tropicbird has a bright red bill, yellow legs and very long, white central tail-streamers.
Wednesday. I cannot believe this adventure is more than half over. The time is flying by. Today there was no snorkeling or hiking, no carefully avoiding basking sea lions and marine iguanas. Wednesday, we visited Darwin Station, in Puerto Ayora, Santa Cruz Island -- one of the very few inhabited places in the Galapagos.
The Charles Darwin Research Station is where information for the conservation of the island's unique animal and plant life is gathered. It's also home to Lonesome George. Lonesome George is a Galapagos giant tortoise from Punta Island, the very last of his race. All the other Galapagos tortoises from this island are gone. The Station has tried to find him a mate but to no avail. When a possible mate has been found, George has shown no interest. Perhaps his age, estimated somewhere between 100 and 150, has something to do with it?
In the past, invasive species have posed problems for these islands. Goats, rats and feral cats and dogs have killed small tortoises and iguanas. Most of these invaders have been eradicated, and now attempts are being made to reintroduce the tortoises to their islands. One problem is that each island has its own unique population, so only certain tortoises can be released on each island. At the Center, there is a tortoise rearing house. At about 4 years of age, young tortoises are released onto their home islands. Nearly 2,000 have been released so far.
The tortoises are kept in separate enclosures, each with a number painted on its shell. The biologists can tell which tortoise will go to which island by the number and color of the number. Otherwise, they look absolutely identical.
After our visit, one group detoured to visit a new school in Puerto Ayora. It's named for the man who discovered these islands in 1535, the Bishop of Panama, Tomás de Berlanga. It has only been in existence for 3 years, and is proud of the fact that it has graduated 16 students. It's a far cry from the school our granddaughter, Calleigh, attends in Yakima, WA, but she was fascinated to meet some of the students and see what a Galapagos school is like.
We had a group of 6 students from the Galapagos with us on the Endeavour. While their English was limited, as was the Spanish of our grandson, Tom (aka T-3), we were delighted when we saw them becoming friends.
Since 97 % of the Galapagos is National Park, there are few places for human habitation. Puerto Ayora. population 15,000, is one of the very few small towns here. It's a most attractive town, with some intriguing art shops, clothing stores and restaurants. In one open plaza, a man was selling lobsters - the tropical sort, not the kind with huge claws. After our tour of the Darwin Center, we walked the length of the town to meet our bus, and many of us came back with interesting souvenirs. My daughter-in-law, Ellen now has a lovely silver and pink ring. I found an owl to add to my collection.
The scenery at the top of Santa Cruz is very different from that of the dry coastal areas. Here everything is green and lush, a consequence of the natural "mist" that forms in higher elevations. After lunch, we were given three options for the afternoon's activities. We could explore the Los Gemelos, huge pit craters surrounded by endemic "Scalesia" trees and home to a variety of birds, and then go look for some Galapagos tortoises in the wild. Another choice, just hunt for the tortoises. Still a third, forget both of those options and return to the town for more shopping or go back to the boat. After watching the Gonser family fill up the hammocks around a small pool at the restaurant, I invented a 4th option - spend the afternoon in a hammock (but no one chose my option).
I expected to hunt for the elusive Galapagos Tortoise, but they were everywhere. These things are simply enormous, weighing up to 500 pounds, and hurry is not in their vocabulary. Since they, like everything else in these islands, are completely unafraid of man, you can walk right up to one. If it gets startled, its reaction will simply be to pull its head into its shell. And then, our naturalist guide Walter warned us, "it will take at least an hour before it comes out again".
The Gonser clan had participated in almost every activity offered, and more than once had mentioned "sleeping in", so I was not terribly surprised when son Tom (T-2) and I were the only ones who took the last morning hike. This was a climb to the summit of Bartolome Island, a small volcanic cone island which has some of the harshest drought conditions in the islands. To keep tourists off the fragile soils, the National Park has constructed a walkway up to the top. Mostly a gradual climb, there are three series of steep steps (372 in all) that take you to the top and a breathtaking view of many of the other islands.
At the top, there was a large lava rock. I asked Tom if he could pick it up. Bending over, he tested its weight and declared he could do it. One hoist to his waist, then another to his chest, and it was up. Tom guessed its weight at about 80 pounds.
He was watched by a couple of the other men. One casually walked up to the rock and tested it much as Tom had done. "Nope, it's too heavy for me", he told his wife.
En route to our last afternoon's snorkel, and while everyone was having lunch, one woman cried out -"Dolphins!". Jason, our expedition leader, explained further. "They are bottlenose dolphins", he said. "The captain will follow them for a while".
Thoughts of lunch evaporated as everyone grabbed his camera (I'd learned always to keep mine within reach), and rushed out on deck. The dolphins were swimming just under the water right at the bow of the boat, every so often coming up for air and then diving again. They had no trouble with our speed, indeed, they probably could have swum quite a bit faster. It was a spectacular sight, one that prompted our grandson Ty (age almost 15) to remark, "That's the icing on the cake. This is now officially the best vacation ever".
And it was.
Note: We have a more complete illustrated day-by-day commentary here. Also, In addition, we've done a short Galapagos video montage depicting some of the above, which is suitable for readers with a relatively fast internet connection. The background music is from the Galapagos group that visited above. The instrumentation is reported typical of the "Andes".