POSTCARDS
---
Stephanie is one of those persons who can fit a lot of words onto a standard size postcard -- usually by writing sideways, around corners, and even upside down if she can find some extra space. Most of these go to family and friends. But some of them -- those which document our RV adventures -- find their way onto this portion of our website.
---
Postcard: In Search of Cooler Weather
July 16, 2012

When we left Grangeville, we fully intended to spend the next two weeks in Montana. The first stop would have been in Ennis on the Madison River, not far from the west entrance to Yellowstone NP. We'd spend the following 10 days at Yellowstone's Edge RV park, just 30 miles north of Gardner, the Park's north entrance, and right on banks of the Yellowstone River. It sounded like an idyllic two weeks, returning to those spots we so enjoyed last year. We'd drive a bit of the Park (it can be very crowded in July), and take another float trip. Tom might even do a bit of fishing. But it was just too darn hot! The daytime highs were predicted in the 90+ degree range, and lows getting no cooler than the 60s. It sounded way too warm for us coastal folks. We cancelled our reservations at each of the parks, and headed west to cooler temperatures. As Tom put it, "Let's go sip some fog".
We spent one night in Missoula, at Jim & Mary's RV park. We were here a couple of years ago, and I still remember the country singers, LeGrand Harvey and Rod Brod. We missed their show on this visit; next time, I'll make sure we get to hear them sing.
But it was too hot in Missoula. On north to Polson. On previous visits to this charming town. we've stayed at the KOA. This park sits on a fairly steep hill overlooking the town, Flathead Lake and River. It's a sign of the times, I guess, but I was disappointed to find that it had been partially "condo-ized". The top portion remains the same, but the lower portion has been divided into lots and offered for individual sale. Several of the lots have been purchased and are terraced (due to the slope of the hill), and furnished with large barbeques and lovely patio furniture. Many, however, are vacant, still waiting for their future owners. This makes the rest of the park feel a bit "squeezed", and we were happy to be staying at Eagles Nest.
The Eagles Nest RV park is conveniently located close to town, Just before you get to the golf course, turn right on highway 35. Within a half mile, notice the small sign on the left (it's easy to miss). This is one of the friendliest parks we've ever visited. Camp hosts Paul and Paula, welcomed us warmly and invited us to their afternoon get to gather around the pool. We had barely finished setting up when another couple echoed that invitation. We spent a delightful hour chatting with our fellow RVers.
Polson is located on the Flathead Indian reservation, and recently there has been a "push" to educate the town's children in the Flathead language. Therefore, you will note several signs in both languages. I was especially intrigued by this one.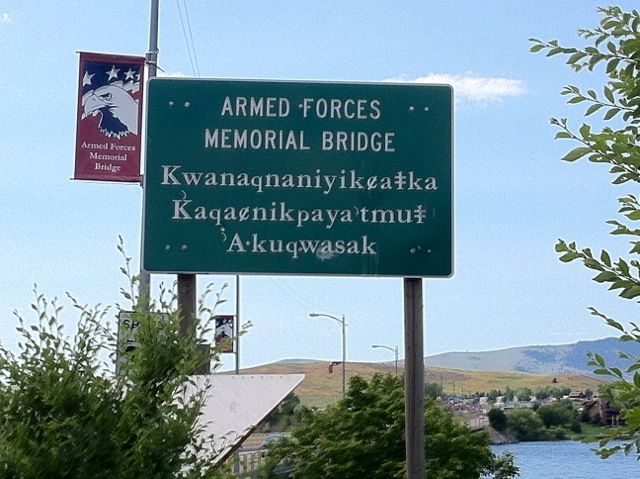 When we checked into Eagle's Nest, we were given a list of things to do in the Polson area. I was intrigued by the loop trip leading south through the Salish/Flathead country, including the beautiful St. Ignatius Mission and the Ninepipe Indian museum. While on this route, you can drive through the Bison Range, one of the oldest wildlife ranges in the nation. And of course, there's Glacier National Park, just a little more than an hour away.
Last year, we attended Tom's family reunion in Montana, an extremely well run affair put on by Jim and Cindy Gonser. At that time, we'd never met them (or any of the other Gonser relatives), and found them all warm and welcoming. Jim and Cindy live in Kalispell, just 50 miles north of Polson, so we drove up one morning to say "hi". We spent the afternoon in Glacier National Park. Our picnic lunch was at McDonald Lake.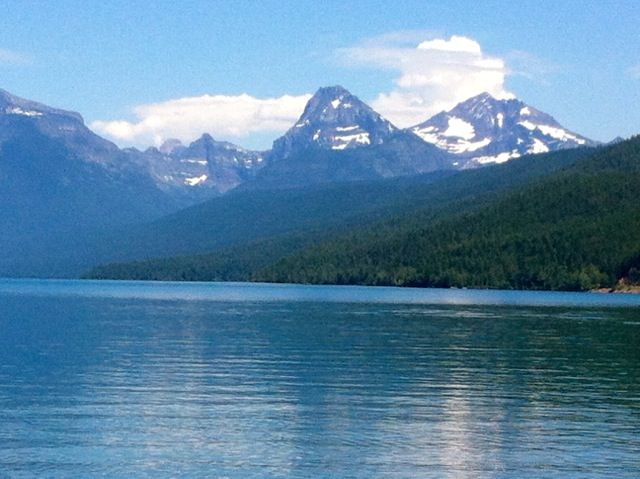 But it was hot here, too. That sip of fog Tom had mentioned was sounding more and more alluring. Time to head west. We'd spend a night at Winchester's RV park in Republic, Wa, with our good friends Jim and Lou Scott; then drive over the North Cascades Highway. Hopefully, by the time we reached the other side of the mountains, we'd be into cooler weather. Even a little drizzling rain sounded good.
Winchester's is a charming little park, beautifully cared for. There's a great place to bicycle or to walk your dog and yourself - on a rails to trails area lined with tall grasses and wildflowers. But the forecast for the area was 97 degrees and climbing. Westward Ho!

It wasn't until we arrived at Fidalgo Bay RV resort in Anacortes that the we found the perfect combination of morning fog (here it's called the "marine layer") and afternoon salt water breezes. Nirvana for us coastal folks.
We spent one day on San Juan Island, itinerary at the ready. Clamming in the morning, visiting with neighbors on Cape San Juan in the afternoon. A walk on South Beach. Driving from the Cape at the southern end of the Island to Roche Harbor on the north to see what the differences 8 years have made. Our list went on and on - far longer than could have been crammed into any one day. Unfortunately, a red tide warning curtailed any clamming, but we greatly enjoyed exploring "our" Island. It was great to come "home" again, if only for a few hours.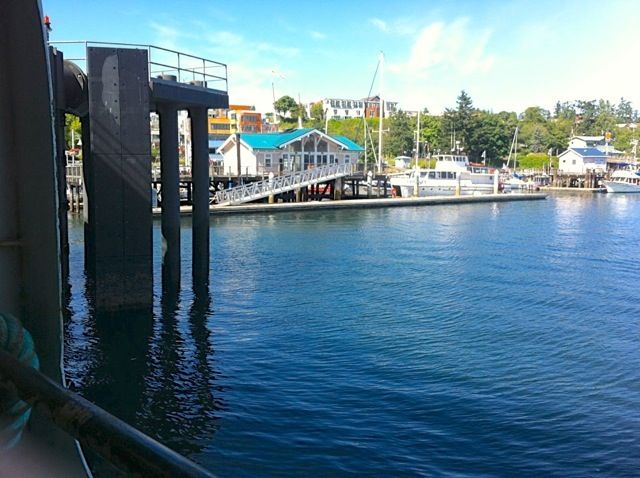 Heading south from Anacortes means driving the I-5 corridor through Seattle and Tacoma. You can take 405 around Seattle, but there's no such bypass for Tacoma. Even on Saturday, we found bumper-to-bumper traffic. We were glad to turn at Olympia and head to the coast.
Be careful what you wish for - the light drizzle turned to a steady rain as we turned toward Tokeland and the Bayshore RV park. Tokeland is a very small community located on Willapa Bay. It's a fishing and crabbing community - at one end of town a long pier provides a spot for these pastimes. If you become bored waiting for a crab to walk into your pot, there's a great solution - go to Nelson's. Nelson's, a Tokeland fixture since 1934, specializes in crab, and while the crab boats were out the day we were there ("come back Tuesday"), we purchased some shrimp and smoked fish. We also got to meet Melody. Melody used to be a professioal crab "shaker".
We've cleaned and cracked dozens of crabs, but couldn't quite envision "shaking" them. Melody told us that first you have to find the "bone" in the crab body. Hold that, and "shake" the body against a hard surface. The crab meat should fall out. Most people crack the crab legs in the wrong manner. Start at the claw end. (That's the end I generally ignore). Remove the pincer, and holding the leg at the large end, shake it, again against a hard surface. When the meat is expelled, move on to the next segment. I'm hoping we'll get a demonstration on Tuesday, when the boats come in.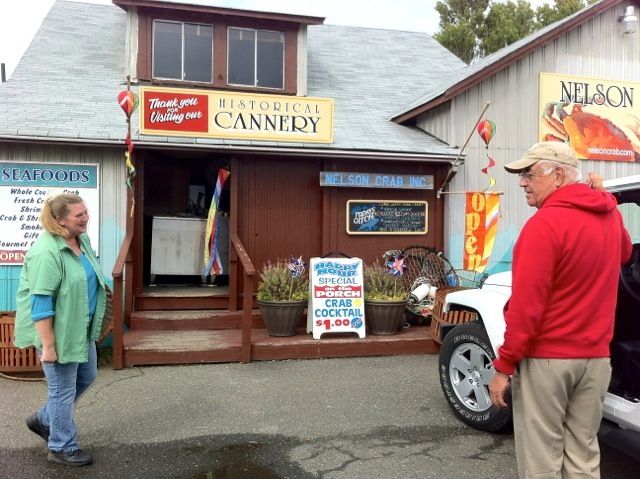 Bayshore RV hasn't changed a bit. We're camped on a berm overlooking the bay.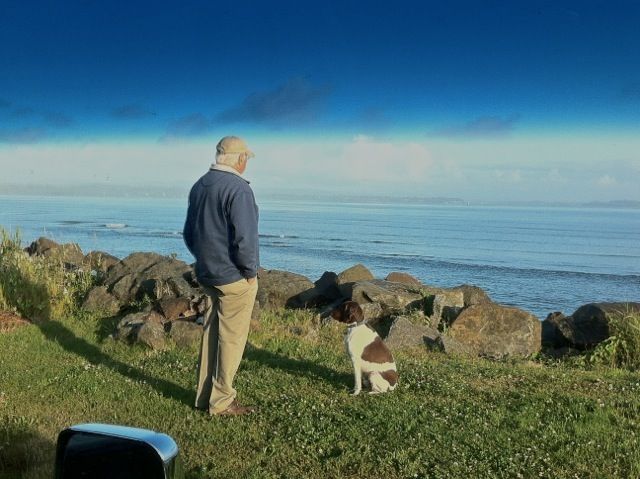 When the tide is out, you can walk about a mile across the tide flats to an island usually inaccessible except by canoe or kayak. Across the street, the Tokeland Hotel and its resident ghost await.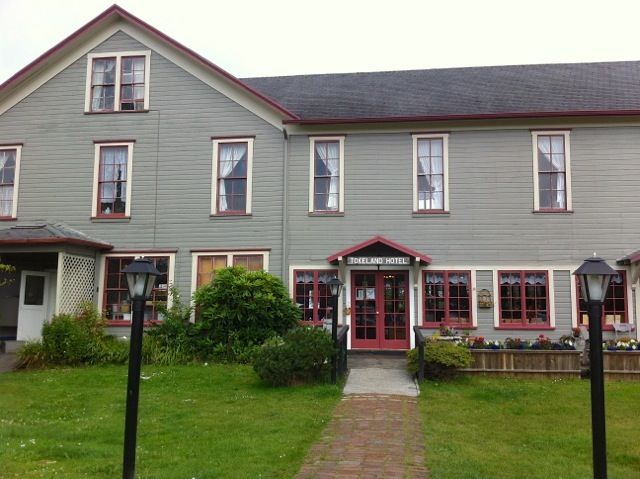 Up the road about 15 miles is Westport. This afternoon, we'll drive up to see what's new there. Tomorrow night we'll be at Fort Stevens, just outside of Astoria. Then back to Florence for a few days, until the road ahead entices us back...
---
Postcard: Celebrating the 4th
July 12, 2012
From now on, whenever anyone mentions the 4th of July, I'll just have to tell them about Grangeville. It won't matter that they may have heard the story before, I'll tell it again anyway. How this little town put on the most "down home" show I've ever seen, and how I'd like to go back another year.
The Grangeville celebration is called Border Days, and lasts for three days, July 2, 3, and 4. The first two days feature an afternoon parade, an evening rodeo (the folks here love their horses) and live evening music concert. If your children are bored, or if you're feeling hungry, a carnival in the center of town comes complete with ferris wheel and merry go round, and ringed with food booths,.
9 am on the 4th found Tom and me at the Cowboy church, where Judy and Gary Porter sang hymns, and Gary gave an insightful sermon on trust as seen through the eyes of a horseman. He joked that their service was at the same time as the egg toss, and right after the Fireworks Run, and both of these would attract more folks, but the service was quite well attended.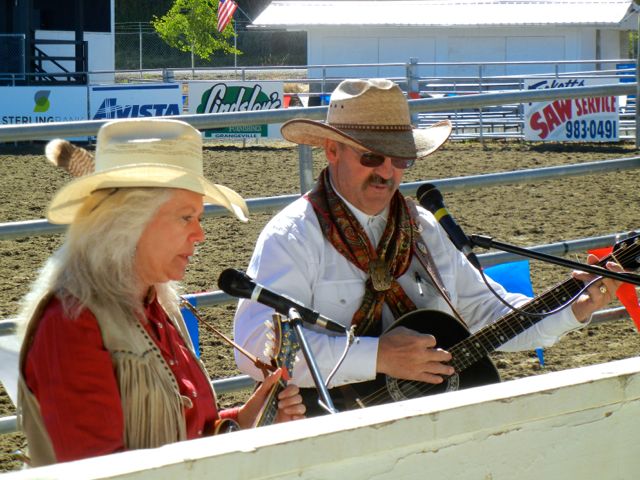 Next, it was time for Art in the Park, conveniently located at the best place to watch the parade. The art show had the handmade jewelry and artwork you'd find in other art shows., but one booth showed art made completely of antlers! There was even a box of antler dog chews. I wandered through the booths and bought several raffle tickets for homemade quilts.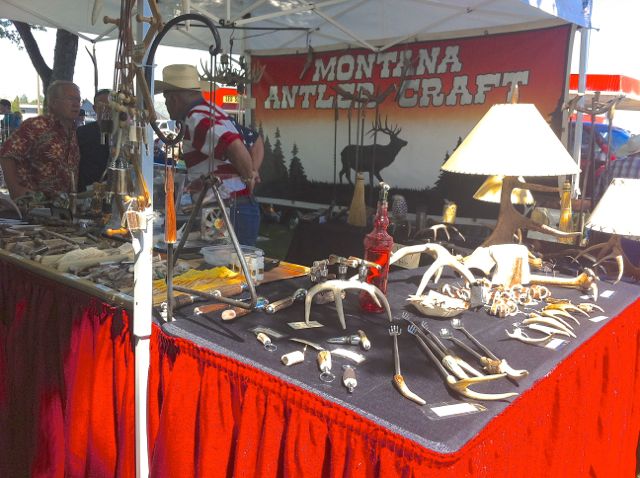 Two of the town churches, the Lutherans and the Methodists, had set up food booths. The Lutherans were selling tacos and burritos, with "all the fixin's". In front of the serving table, there was a line of chairs for their customers to sit on while eating. To dissuade others from just sitting to rest a while, every third chair had a sign which read - "For customers only - All others will be baptized"! The Methodists had strawberry shortcake with either a pound cake or biscuit base. The servings were HUGE, and very popular.
Promptly at 11 the parade began, and what a parade it was! Several small towns around Grangeville had queens and princesses in the parade - most on horseback. Dozens of horsemen (and women) rode by, many carrying the American and Idaho flags.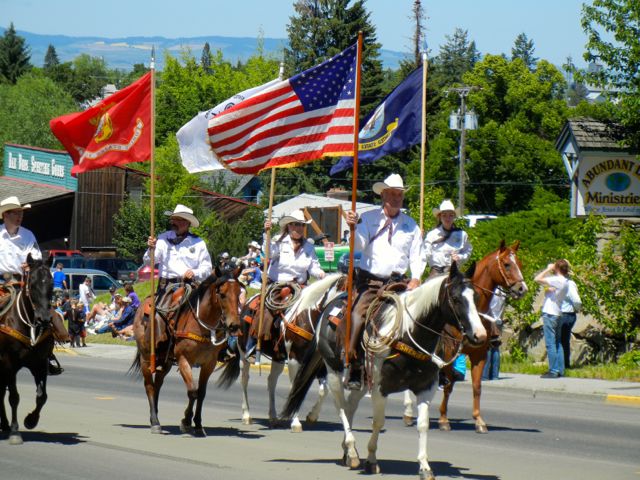 There was a large (and fairly slow) contingent of tractors - both modern and antique. Two large wagons were filled with Grangeville High School grads celebrating their reunions, and throwing candy (and water balloons) to the parade watchers and friends from days gone by. The last group was the police and firemen - all sounding their horns as loudly as possible.
It seemed the parade was barely over before it was time to leave for the rodeo. As with everything else, this was a home town affair. Most of the contestants were family members from the area - when they weren't, they'd be announced as, for example, " From Homedale ( town in southern Idaho) - Please welcome, Jenny Brown". The announcer had something to say about each local contestant -- how this guy was a big help on the ranch, or this gal was a straight A student in math. Should a contestant failed to score in an event, the announcer encouraged the crowd to give him an "award of applause". And the crowd would oblige, with whistles, shouts and clapping.
My favorite events included the saddle bronc (bucking horse), team roping and the wild horse race. This last had contestants catch, saddle and then ride a wild horse. Of the three horses, one was never caught, running wild around the ring, one couldn't be saddled, its saddle wound up in the dust, and the one which was caught and saddled promptly threw its rider.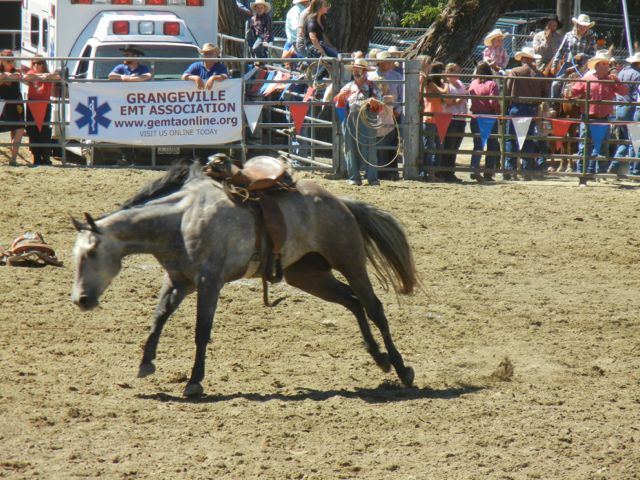 Completing the picture of a family 4th of July was one rodeo event just for children. The kids were divided into two groups, ages 9 and under, and the 10 to 12 bracket. This was a very popular event, with dozens of children in each group. The kids entered one end of the rodeo arena and lined up. At the count of three, they all began running to the other end of the enclosure, where a calf, wearing a big pink ribbon around its neck, had just been released. The winner was the boy or girl who managed to get that ribbon off the calf's neck. Around and around the arena they raced, until finally someone got close enough to the animal to grab the ribbon, and win a prize.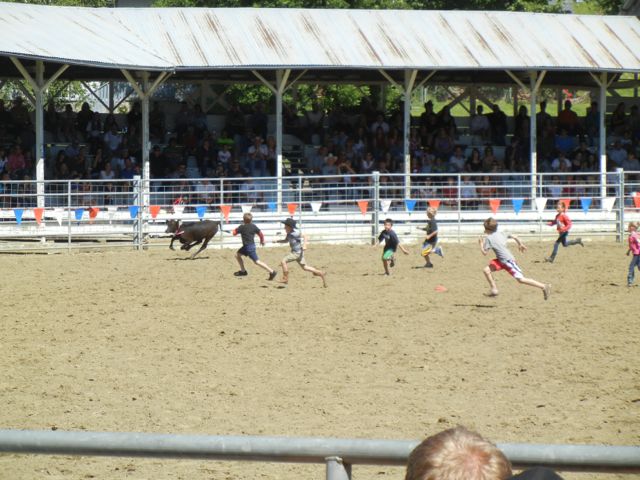 The 4th cannot not end without fireworks, and Grangeville had more than its share. Not only those from Grangeville, coming from the football field at the local high school, but also those from several nearby locations. There were cascades of color all over the evening sky. By the time the last of these had faded, I knew this had truly been a "glorious 4th", one never to be forgotten holiday.
Postcard: Wilderness Roads
June 30, 2012
McCall, Idaho is a small (population 3,000) town surrounded for the most part by the Payette National Forest, some 100 miles north of Boise. Well known as a winter resort area, it's also a popular spot for summer sports. Payette Lake, (jet skis and sailing, laps at its doorstep; and the North fork of the Payette river (fishing) flows south from town.
About a mile downstream from town, the McCall RV Resort is a good choice for an extended RV stay. Our "schedule" included camping here for a week (our definition of "extended stay"), and we were joined for four days by Tom Jr. (to avoid confusion, he's called T-2), and daughter-in-law Ellen. Not only was it T-2's birthday - they were also taking their longest RV trip. No more quick weekends on the Sacramento Delta - this time, they'll be gone several weeks. He had several "what-to-do-when..." conversations with Dad.
We spent the first night at Ponderosa State park, a large recreational site on a peninsula jutting into the lake. Being so close to the 4th of July, we'd expected few vacancies, but found one pull through just right for us. In addition to the "regular" park sites, the parks' internet site showed one "group camping" area. There were a few vacancies here, but there was no indication that they would allow single rigs. However, that situation has been changed. The former "group area" is now mostly individual sites, and single RVs may now camp here. When our week at the Resort was over, we returned to Ponderosa, and spent a night in this new section. The sites are widely spaced, level, shaded and they have full hookups. Camping among the huge pines is beautiful, but it makes for spotty Internet service, and TV is almost non-existent. But after all, you're camping!
The four of us spent the first day hiking along Lake Fork Creek (we own a small acreage there). The second was devoted to the Jughandle Mountain golf course. On the third day, the kids (can you be T-2's age and still a kid?), rented a boat and we spent several hours touring the lake to get the perspective from the water view. The 4th day, they headed south to see friends in the Sun Valley area. Left to our own devices, Tom and I decided to take a loop trip.
We thought we knew this area of central Idaho. We lived in Boise for 12+ years, and owned a small cabin 90 miles northeast of that city. We'd driven the back roads, those often rough, usually dusty and always picturesque roads between McCall and our cabin dozens of times -- and we intended to retrace that route. But just outside of Warm Lake, some 50 miles into our trip, we changed our minds.
We drove south from McCall to Cascade, and turned east on the Warm Lake Road. The pastoral road winds past cattle ranches and gradually climbs into the Payette National Forest. It's paved all the way to Warm Lake, but shortly after you pass the last summer home, the road turns to compact dirt. We intended to follow those roads over Deadwood Summit, through Bear Valley and down past our old cabin into Lowman. From there it would be an easy drive back to McCal on a paved two-line highwayl.
But today we found new road - a new loop trip. Right at the junction with the Warm Lake Lodge, Forest Service Road 474 heads north. The sign reads "South Fork, Salmon River - McCall 31 miles". Hmmm.. it was a very warm day, and when we got to the lower elevations on our return to McCall it would be downright hot. We'd never driven this new road, and, although narrow, (one lane with turnouts), it was paved. Let's try it!
If this road was new to us, it certainly wasn't to scores of other drivers. Trailers, campers and the occasional motorhome were driving this road. They were also camping along it - in many of the pullout areas 4 or 5 rigs were parked right next to each other. We couldn't understand what it was that attracted so many vehicles to this very remote area. Yes, the river was close by, but some of these people were camped as much as 500' above the water. They'd have to hike straight down, fish, and then lug their catch back, straight up!
Another puzzle was where they had come from. Traffic was going in both directions, and was really quite heavy, especially considering we were in the mountain backcountry. We passed campgrounds with names like Penny Flat, Poverty Flat, and Camp Spring. The campgrounds seemed to have plenty of vacancies - these people seemed to prefer camping on the road. They seemed oblivious to the fact that cars might misjudge the narrow roadway and run over part of their tent. It also didn't matter that often a portion of their camp was so close to the river bank that any kind of landslide would have resulted in an unexpected float trip.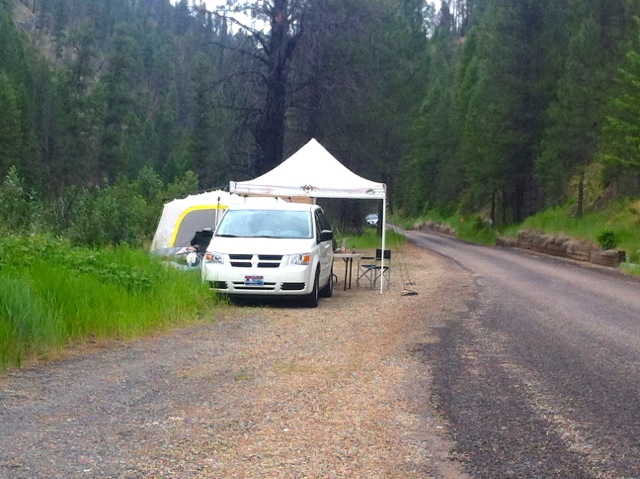 The sign indicating that McCall was only 31 miles was decidedly misleading. Those miles only took us to a T in the road. Another sign pointed right to the tiny town of Yellow Pine. Thus, the left branch would have to lead to McCall - although there was no sign indicating that fact, or just how far McCall might really be. Further, the road was no longer paved, it was packed dirt with pavement only over numerous small bridges. Which way to go - straight on or turn back? Ms. Garmin told us we had another 25 miles until we got to Davis Street, (wherever that was), and then 14 miles further to McCall. But if we retraced our route the return trip would be far longer - so going on won out.
About 8 miles down the road, we passed a couple cutting wood to load into their pickup. They gave us odd glances, and I wondered if they knew something we didn't. Perhaps this was a dead end route? Where were all the cars?
The road narrowed and began to climb steeply. We were entering the Lick Creek mountain range, a subrange of the Salmon River mountains. We were well above 6,000' now, and snow began to border both sides of the narrow road. We drove through a spectacular granite rockfall area, and I would have stopped for pictures had there been a spot to pull over. Perhaps we'd be back shortly - by now, we'd debated turning around a couple of times. But Ms Garmin told us it was now only 20 miles back to the rig, and on we went.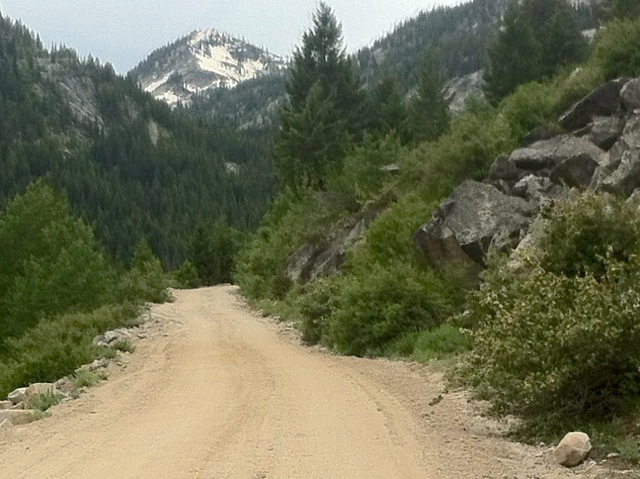 This was certainly not the route that the cars, trailers and trucks had used to get to the South Fork of the Salmon. We had passed only 3 other vehicles - including the one of the woodcutters - and all those were at lower elevations.
We didn't find a snowbank covering the roadway, and there were no huge boulders blocking the road, and we made it all the way to the summit. From here, the road descended quickly and soon we saw the first houses. Then we drove past Little Payette Lake, full of fishermen and campers. We were virtually home.
The next morning, I went to the McCall Ranger station with some questions about our route. Questiion: "What on earth were all those campers doing camped right on the road, with the river quite far below?" Answer: "Salmon season just opened. There's a quota on how many fish can be taken, and everybody wants to get to the river first. If there are any pullout spots left unoccupied, it isn't crowded yet."
Most of the fishermen do come from the Boise area, but the chance to catch salmon brings them from all over the state. Much to the delight of the merchants, they get many of their supplies in Cascade, and spend as much time as they can along the river.
About the condition of the Lick Creek road? "Oh, no worries there", I was assured. "It's been open and cleared of snow for at least a week now".
Tomorrow we'll follow the Salmon River to Riggins and drive the Whitebird Hill to Grangeville. We'll spend three nights at the Bear Den RV park, celebrating our nation's birthday in traditional small town America, with pancake breakfasts, parades and rodeos. Happy 4th to everyone.
---
Postcard: The Road to Izee
June 25, 2012
On the road again, but not without a bit of a hassle. Our Alpine has just had its 6th birthday. In lieu of cake and candles, it got a new set of tires. And our new Jeep was treated to a new type of towed vehicle braking system. The latter required a few hours of installation on the Jeep, plus adding an LED light to the Alpine to report when the brakes were actually being applied in our towed Jeep. Juggling of vehicles for both tires and the new braking system translated to multiple trips to Eugene, seemingly every other day, for about a week. We were glad to be out of town and on our way east.
This time we're traveling with something of an itinerary. Our first planned stop is in Burns, Oregon. The next night, we're on our own, but plan to stop somewhere along the Snake River. Then, we have a one night reservation in always popular Ponderosa State Park in McCall, Idaho. This park brings back memories. It's where we first stopped with Barney after getting him from the breeder. Then he was a timid little puppy, afraid of his own shadow, afraid even to try to get into or out of our RV. He'd never walked along a forest trail or on a beach, and the logistics of climbing over a log mystified him. The windy waters of Payette Lake scared him to death. Now, 6 years later, he still is a timid soul, and still avoids any water not contained in his doggy dish. But this timidity has turned him into one of the finest, most manageable, pets we have ever had. I'm looking forward to "re-introducing" him to this park.
The next part of our itinerary has us at the McCall RV Resort to celebrate our son's 49th!! We'll be there a week and then off to Montana, where we'll be in Missoula and Ennis before arriving at Yellowstone's Edge RV park. Very organized, very unlike our usual "wait until morning and we'll see what we want to do" selves.
So, it's not surprising that we broke our schedule at the very first opportunity. If we were unsure where to go the day after Burns, why go anywhere at all? Why not stay over another day and explore southeastern Oregon?
We got our the AAA Oregon map and looked around. We could drive 60 miles south to Steens Mountain, with great wildlife (read birding) areas, and a most interesting loop trip into the Alvord Desert. But we'd already made that trip.
How about traveling north? Tom found an intriguing loop trip to the ghost town of Izee. Drive a short distance west from Burns to Forest Road 47. According to our AAA map, we'd have no difficulty finding this road. Next a short, 41 mile, fairly straight shot through the Malheur National Forest to Izee. From there, we'd loop east to highway 395, and drive south back to Burns. On the map, Izee, ("Eye-Z"), looks like a ghost town, but those are usually very interesting, and a drive through the forest on a very warm day was inviting. All we had to do was turn north on FR 47. But first we had to find it.
We realized we'd missed the turn when we arrived at the Wild Horse Corrals about 12 miles west. The turn to the corrals is marked with a statue of a mustang and BLM interpretive sign. We hadn't found FR 47, but that mistake led to the chance to explore the corrals.
At least 10 huge corrals held dozens of wild horses, a few mares had foals. There are 7 separate wild herds in southeast Oregon, and the number of horses increases some 20% each year. While I'd like to think of all these animals running free, obviously they would quickly overpopulate their grazing areas. Decisions on capturing the "excess" animals are made based on rangeland studies. the availability of water, and a census of wild horse numbers. The BLM runs an adoption program for the horses, and "Oregon has arguably the most prized wild horses available on public lands, featuring the Kiger mustangs (from the Steens Mountain area). Oregon's wild horses are known for their quality and color and are popular with adopters throughout the United States."
We looked again at our map and decided FR 47 must have branched off somewhere back nearer Hines, the town just three miles west of Burns. And right across from Eddie's Truck and Auto Center, a barely legible small sign read, "Burns-Izee road". That was the last sign, of any sort, we'd see for miles.
This was far from the only road around. Dozens of small dirt tracks branched off from our road, and our GPS recorded every one. It stated we were driving on the "Hines Logging Road", not Forest Road 47, and not the Burns-Izee road.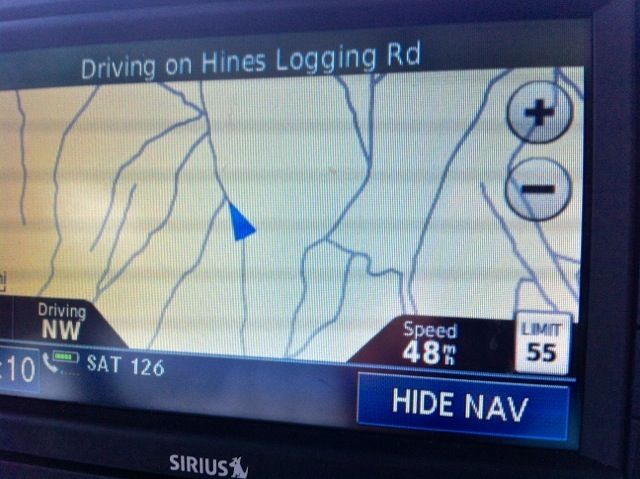 However, this was the only paved road around, so we continued on. At one point, a pickup roared past us, and we were relieved to see someone else using this road. However, in about a mile, he turned off on one of those dirt paths. At one point a small dirt road, so narrow it was almost a path, branched off from our road. A sign here read "Burns-Izee road", but the "road" was so narrow we chose not to believe the sign.
This may have been unknown territory to us, but there was plenty of evidence that people live here. Each side of the road was lined with barbed wire fencing and every few miles we bounced across a cattle guard. We were passing through picturesque cattle country, sage covered hills and green valleys bisected by small streams. Coming around one corner, we spotted the remnants of an old farm house amidst all this green splendor.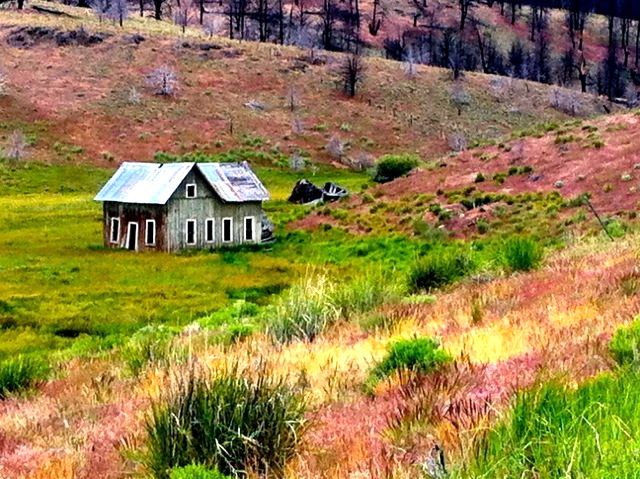 The road from Hines to Izee was supposed to be 41 miles, but it seemed we'd gone far further than that when we turned a corner and finally found a sign. It read "Izee 15 miles" straight ahead. But that road turned to gravel at this point, and the sign further assured us that a right turn on Forest Road 37 would take us 30 miles to Highway 395. And that road, at least the first portion of it, was paved. The sign also indicated it was only 3 miles to Yellowjacket Campground. We'd never heard of Yellowjacket Campground, but decided to explore. Who knows where we'll want to stay next trip.
Yellowjacket (no sign of bees today) Campground is a Forest Service campground - no hookups, but well spaced sites in a pine forest overlooking a small lake. It's a great fishing lake, judging from the number of fishermen around and on it. (We later learned that the lake is stocked with thousands of catchable size fish, some over 18" long).
Still unsure of the best way to get to Izee, we stopped at campsite #1 where the camphost was sitting out in front of his trailer, enjoying the sunshine. He got his map, I grabbed ours, and we compared routes. Thus we met Kenny, a true Oregon character.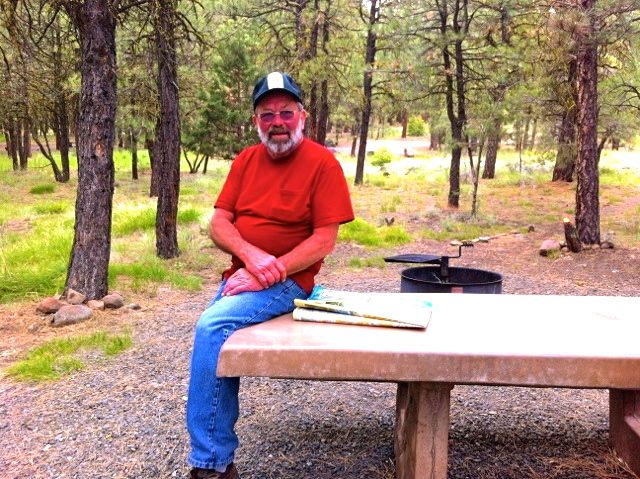 Kenny described his first trip to Yellowjacket, about 5 years ago. When he first came, he said, the campground was a mess. He went to the Forest Service and told them he was cleaning it up - doing chores like weed whacking and removing trash, and he wanted to be camp host. After initial reservations, the service finally relented and is even paying him a bit this year for his work. He's a full-timer, splitting his time between Arizona (the Bouse/Quartzsite area), and southern Oregon. He greatly enjoys being camp host, throwing impromptu get-togethers for the campers - for example, a 4th of July hot dog feast for everyone here on that holiday.
However, Kenny wasn't too helpful when it came to the correct road to Izee. He knew that 47 would take us there, but couldn't tell us anything about 37, the one his campground was on. He was unsure if the road went all the way to 395, or if it wandered off somewhere in the hills. He didn't know how many miles it was to 395, or whether the surface was asphalt or gravel. We opted for the 15 miles of gravel road to Izee.
The gravel patch of road lasted fewer than 6 miles and, if dusty, was smooth and well graded. We emerged into another green valley, this one nurtured by the south fork of the John Day River. We drove right through Izee on the first try without seeing any sign of it. I wanted to stop at the small graveyard at the top of a nearby hill to see if there were any pioneer Izee gravestones but the "no trespassing" signs discouraged exploration.. After a couple of miles, we realized we'd missed Izee and headed back. This time we saw two dilapidated buildings. Weathered white paint, a treefull of bees and a sign, "Izee - District 31" was all that was left. There is no other evidence of the former community of this name. But at least we'd found it!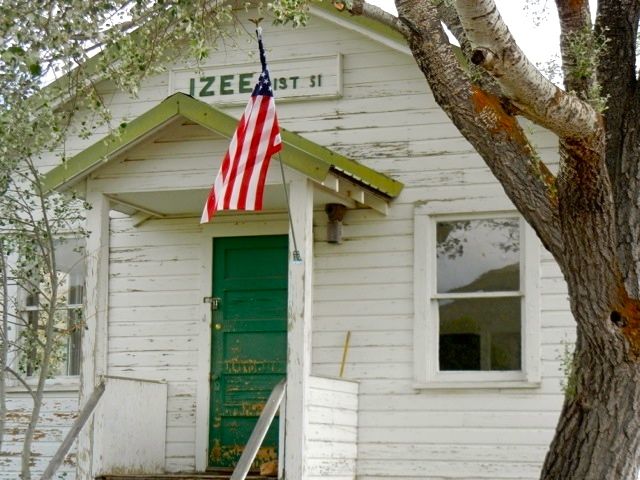 With mission accomplished, we traveled east to highway 395 and headed south to Burns. We'd spent an interesting and very much unplanned day in the Oregon backcountry. Tomorrow, Idaho...
Postcard: Moloka'i Revisited
March 31, 2012
Coming back to Moloka'i was a bit like coming home. We thought we knew all about the island: Friendly's Grocery Store is closed on Sundays, Kumu Farm is only open Tuesday through Friday, and fresh fish is available whenever some has been caught. Last year, we'd driven from the eastern tip of the island at Halawa Valley, to the Papohaku beaches on the western shore. We knew the way from the airport to "our" condo at Wavecrest (or rather, Tom did, it takes me a couple of days to regain my sense of direction on Moloka'i's interior roads). We'd reserved exactly same waterfront unit (A-112) we'd greatly enjoyed the year before. Last year we'd visited the isolated peninsula at Kalauapapa, the site of the infamous "leper" colony. This trip we could concentrate on those portions of the island we most enjoyed, coffee at Coffees of Hawaii, and trips to Kumu for papaya, lettuce, veggies and their most delicious Papaya-Pineapple jam! If I had any trepidations about revisiting Moloka'i, it's that we'd already done everything. Boy, was I wrong!
Tom had carefully plotted our trip - we'd spend four days on Maui, and then a week on Moloka'i. We'd fly from Portland to Honolulu, then catch Island Air to Maui. Next, we'd fly back to Honolulu and catch another Island Air to Moloka'i. Considering that the airports on Maui and Moloka'i are only 15 miles apart, it's a bit odd that there is no connecting flight between them, but the outside world, (and the other islands), seem pretty much to ignore Moloka'i's very existence. Kind of a "why would anyone want to go there?" attitude. And Moloka'i likes it just that way...
Our plane landed at Kahului, on the north side of Maui. From the airport, it's roughly 30 miles to Mahina Surf resort, about 5 miles north of Lahaina on Maui's western coast. Not a long drive, unless you factor in the traffic! Maui is certainly not exempt from traffic woes. Bumper to bumper through Kahului, lightening up for the 10 miles across island, and then coming to a complete halt when we hit the Honoapiilani Highway. This roadway is being widened, although we never saw anything more than a couple of backhoes and several workmen. The highway, slow under the best of conditions, can barely handle the traffic when narrowed to one lane.
We spent one morning on the lower slopes of Haleakela, at Hosmer Grove campground. This is a great place to look for endemic Hawaiian birds, such as the I'iwi and Apapane, small brilliant red birds with curved bills. I wanted to glimpse a Nene, the Hawaiian goose and state bird of Hawaii, but although we thought we heard them, we didn't glimpse any. Maybe next time.
We attended Sunday services at the Lahaina Methodist church. It's quite an experience to go to a church where a conch shell is blown instead of a bell being rung to begin the service; where several parts of the service are sung in Hawaiian (phonetically spelled for us haoles); and where all the visitors are given fresh flower leis!
Our four-day sojourn on Maui was over before we knew it, and we fought the traffic one last time en route back to the airport. After a 20 minute flight back to Honolulu, we faced a 2 1/2 hour layover. Even though we had done this a year ago, it took part of our layover just to find our commuter terminal gate. There are two ways to get to this terminal. If you want to re-enter through security, (an unattractive alternative) you can to go outside the airport and around to the commuter area. If you don't, you congregate in one lower level, very much out of the way waiting area. Periodically, a terminal employee appears to escort all the waiting commuters to the terminal. Following this guide like a bunch of ducklings trailing their mom, you are led across the tarmac, (yes, outside, with the airplanes), and along the side of the building to the commuter lobby.
Another 20 minute flight to Moloka'i. No more crowds, traffic, or construction; this is the last real Hawaiian Island.
It's more than just the lack of crowds that makes Moloka'i different. With few tourists, no big city attractions (bars, discos, etc.), this island exudes the feeling of home. The Hawaiians (more than 50% have Hawaiian blood) who live here are not the slightest bit interested in big hotels, tour companies bringing thousands of tourists here, or the latest proposition - the installation of wind turbines. Thus they have steadfastly opposed: the proposed division of scenic La'au Point into 2 acre parcels ($2,000,000 per copy), or the tour company trying to get a permit to bring a small cruise ship here and take its passengers to Moloka'i's scenic sites. The turbine proposition is the latest in this series; 90 turbines to be placed on 18 square miles of Molokai's westward ridges; with all of the resulting power sent, via undersea cable, to Oahu. After two trips to this special island, I find myself siding with the citizens of Molokai.
Our first morning was spent getting groceries. While many areas in the US are contemplating going "green", Kaunakakai, (Moloka'i's main town), is the first place that actually backs up its pledge. There simply are no grocery bags given out. If you don't bring your own, you'll have to carry your purchases by hand. That taught me, quite quickly, to carry my own bags, I even brought a couple from the mainland to leave at our condo.
Next on our list was a long awaited trip to Kumu Farms. When you drive into the farm area, you notice row after row of papaya trees. This farm raises "Sunrise Papayas", the standard against which all other papayas should be measured. Our friend Etty still works here, and still has an unerring eye for the ripeness of the fruit - this one will be good today, that one tomorrow. And, although I'm not a great jam/jelly eater, I couldn't leave without a jar of Papaya Pineapple jam. It's like eating fresh fruit!
On our way back to the condo, I noticed a small sign - "Moloka'i Meat Co-op -- Retail Sales". Hmmm... if there's a lack in the Kaunakai grocery stores, it's in the meat department.
We drove in, and I went into the office. A sign on the wall read, "If there is no one in the office, please open the door and give us a shout." There was no one in the office, so I opened the door. There was no one there either, but I could see some white coated men working at the end of the hallway. Feeling a bit like I was trespassing, I opened that door just a crack. One of the men came out and I explained that we'd love to get a sirloin steak, fairly thick cut - just one. No problem, he said, and within 5 minutes I had in hand a beautiful piece of meat, vacuum sealed. And at a very reasonable price - even for the mainland. So that's how its done here...
Moloka'i travels. We'd driven to each end of the island last year, but, as it turned out, we'd really seen very little of what's really there. The next morning, we drove east to the end of the road at the Halawa Valley. Last year, we'd been somewhat intimidated by the resident horse, who'd come looking for handouts and didn't want to take no for an answer. He wasn't around this year, and we walked down to a beautiful 1/2 mile long sandy beach. Except for one couple relaxing on the sand, anothe beachcombing, one photographer and a girl determined to crack open a coconut with only a rock for a tool, we were the only people there. That's Moloka'i -- fabulously beautiful places to visit, and almost no visitors.
We'd also missed a lot at the western end of the island. We'd driven to Kaluakoi Resort, advertised as "Kaluakoi Resort Golf Course - Ocean front golfing with "No Waiting", and found the hotel and about half of the condominiums closed and shuttered, and the golf course gone to weeds. That situation makes it hard to understand how another such development at nearby La'au Point could have ever been successful. But why not drive down and see? Our map showed a road leading to the Point and the area just to the east of it. Intriguing, but first you must find the road. And don't bother to look for signs.
There are several rough and rutted dirt roads branching out from the tiny west-island town of Maunaloa, and we tried all of them before finding one that wasn't a dead end. It took us past the fairgrounds, and down toward the Point.
Toward the Point -- but not to it. We couldn't drive to La'au Point - it's owned by Moloka'i Ranch, the entity that wants to develop it.
If you read a Moloka'i guidebook, you still find references to the exotic animals (giraffes and axis deer) which are supposed to roam the ranch - along with references to the "luxurious lodging" here. All this is gone - the ranch and all its properties were closed in 2008. But from the road, we could see the long peninsula, jutting into the ocean, covered with grass and thorny Kaiwe (mesquite) trees. And at one point on our drive, we saw the branch road which would have taken us to the La'au Point - gated and locked.
We continued on, and in about 5 miles came to the end of the road. In front of us the ocean lapped gently against the beach. One fisherman had waded out into the ocean to try his luck. Two small children were playing in the water. Paradise - Moloka'i style.
Further down the road we came to Hale O Lono harbor, a small harbor enlarged by the addition of two rock jetties. Large mooring cleats on a crumbling wharf give evidence that once large ships came into the harbor, now it's famous as the start of the annual outrigger canoe races to Oahu.
A half mile or so further east, the dirt track ended at a most unusual beach. A long, sandy, completely empty beach extending for miles along the southern coast. We could see the sand, but the beach underfoot was covered with rocks. Orange rocks compete with white, black (lava) and grey. All the rocks were pitted with holes - some looked as if someone had attempted to cut a slice from or dig something out of them. These rocks were arranged in 5 careful mounds, each set apart from the other. The question is of course, why?
Moloka'i is aptly known as the "Friendly Isle". Partially because of its size and small population (approx. 7,400), everybody knows everybody else. It's not unusual to find cars stopped in the middle of the main street of Kuanakakai, just "talking story" (chatting). If you are in a hurry, Friendly's grocery is not for you. The clerks know all the customers and vice versa. Everyone wants to know how (and what) everyone else is doing, and checking out is never a speedy process. There's even a sign as you enter cautioning that this is a "Friendly" place, and if you're not feeling that way at the moment why don't you leave and come back another day.
When we were here last year, we met a couple who invited us to their home. This year we met three delightful and very colorful characters, Jonathan, Daphne and Zack Socher. They run the Big Wind Kite Factory in Maunaloa and the Blue Monkey on Kualapu'u, right next to Coffees of Hawaii. Jonathan has both a great interest in kites and in kids. His "20 kids, 20 Kites, 20 Minutes" video shows kids how to make their own kites from materials they have at hand or can easily get (like a sheet of paper and a wooden coffee stirrer). Zachary is a fantastic photographer - we couldn't resist an "action print" of the beach taken from beneath a cresting wave. We're having it sent back, and it has a place waiting over the mantle in our Florence home.
Today I sit looking at the rain falling in Florence. At some point while we were gone, the winds toppled a large crêpe myrtle in our backyard. Puddles the size of small lakes are commonplace. I know it's about 75 degrees on Moloka'i and the tradewinds are warm. I'm looking forward to a return trip.
[See pictures for this Postcard]
---
Postcard: Louisiana Legend
February 19, 2012
Now, how could anyone turn down an invitation like this?
You are cordially invited to the Induction Ceremony of
Betty Bernard
Into the
ORDER OF LIVING LEGENDS
Sponsored by
THE ACADIAN MUSEUM OF ERATH, LOUISIANA
For her activities and work promoting our Louisiana Culture

The Induction Ceremony will take place on
Saturday, February 11, 2012
At 4:00 p.m.
At the Musee Café located at the Museum
103 East Edwards, Erath, Louisiana 70533
We first met Betty Bernard in 2000, when we took our brand new Country Coach on an 18 month trip around the US. As we were checking in, Betty told us about her favorite places to eat in Abbeville, what we should order, and even which waitress to get. When we returned from dinner, we found a note inviting us to go with the Abbeville deputy sheriff when he made his rounds through the bayous the next morning. A never-to-be-forgotten trip, and a unique look into Louisiana culture.
We've visited Betty many times since. We've stayed at her RV park, and twice we've added spice to our winter travels by "Amtrak-ing" out from wherever we happen to be just to visit. So when she emailed us an invitation to her Induction Ceremony, we quickly made plans to attend. Laissez les bons temps rouler!
A trip from from Ajo, Arizona to Lafayette, Louisiana poses several small logistics problems. 1. What to do with Barney. This was easily solved, as we know a good kennel in Tucson. 2. How to get from Tucson to Lafayette. All things being equal, we'd prefer to take Amtrak both ways. However, the east bound train doesn't leave Tucson until the wee hours of the morning -- IF it's on time. Not wanting to stay up all night waiting for it, we opted to fly east, and take the train when we headed west.
Our United flight to Houston was very crowded, and we hadn't been able to get two seats together. One extremely nice woman noticed our predicament and traded her aisle seat next to Tom for my last row, jammed in a corner, window seat. The seats were small, and, as soon as we were airborne, the woman in front of Tom reclined hers all the way back and promptly went to sleep. Tom had his knees around his ears until we landed. The second hop, from Houston to Lafayette, was supposed to take an hour, but a stiff tailwind cut that time short, and, with the help of Ms. Garmin (which Tom thoughtfully brought along to keep us from getting lost), we were checked into our hotel and enjoying a Cajun dinner at a Lafayette landmark -- the Blue Dog Cafe, by 9 that evening.
The next morning, we looked up Mardi Gras events in the vicinity, and found one in Carencro, less than 20 minutes from our hotel. We found a spot along the parade route, fairly out of reach of the cold, biting wind, and settled down to watch the gaily decorated floats and catch some Mardi Gras beads. The woman next to us was all dressed up for the parade, with a large gold, green and purple hat, dark glasses with huge gold, green and purple frames, and an impressive collection of beads even before the parade started. And, as each float went by, she added to her collection, waving madly, trying to have beads thrown directly to her.
On our other side, a joint effort was going on. Mom, Dad and two small children were collecting beads and putting them in a very large paper bag. Curiosity got the better of me. "What are you going to do with all those beads"?, I asked. "Several of the teachers at our school use them when they explain Mardi Gras to the students," I was told, "You should take some to your neighborhood school, too".
Parade goers come in all sizes - right across the street a very small girl was not only collecting beads, but also stuffed animals as they were tossed from the floats. I managed to catch one small doll and a purple monkey. The doll I donated to the school effort; the monkey I kept. By adding a short string of gold beads, he became an honorary (UW) Husky. Maybe he'll bring them some much needed luck.
That afternoon we drove to Erath for Betty's induction as a Living Legend. In true Cajun style, the party started 3 hours before the actual ceremony. When we arrived, the place was jammed with Betty's well wishers. RVers had come from all over - not only those currently staying at her park; we met a couple who had driven down from Canada to attend. An 8 person band - three guitars, a fiddle, a triangle ("ti-fer"), a rubboard, percussion, and of course an accordion. The accordion player took center stage, belting out Cajun songs in a loud, but very melodious voice. (I'm supposed to understand French, but Cajun French seems a different language. I could only catch an occasional word.)
In case you've not seen a rubboard, it's a corrugated metal plate, with flaps which go over the shoulders, so it can be worn on the chest and stomach. It's played by scraping the surface with thimbles adding a raspy sound to the rhythm. Several folks were dancing, and those on the sidelines couldn't keep their toes from tapping to the music.
Shortly after 4, it was Betty's turn to shine. The Chairman of the Living Legends committee spoke about her dedication to Louisiana culture, and presented her with a "Living Legends" certificate. He was followed by a couple of RVers - each telling stories much like ours - how Betty introduced them to the Cajun way of life. Largely based on his wonderful times at Betty's park, another RVer had actually moved from upstate New York to Abbeville. The stories went on and on. However, the icing on the cake was a certificate from Governor Bobby Jindal, declaring February 11, "Betty Bernard Day". Congratulations, Betty!
While the ceremony was going on, a huge, (enough to feed 120 people), pot of Jambalaya was being prepared in the back yard. The men responsible for this mouth watering dish were actually stirring it with canoe sized paddles - the sort you see in gift shops. But for that much jambalaya, in a pot that big, such "spoons" are absolutely necessary.
We spent Sunday, our last full day in Louisiana in the countryside. We'd seen Cypremort Point State Park on maps, but never been there. The Park is located right on Vermillion Bay , and is 185 acres of sailing, swimming, fishing and crabbing. There's a nearby marsh which looks like prime birding country. We saw dozens of snowy egrets roosting in overhanging trees and one Brown Pelican standing at the edge of a bayou. The only thing Cypremort Point does NOT have is facilities for RVs. Otherwise, my lobbying efforts for an overnight (or two) would be unceasing.

From Cypremort, we followed highway 83 north to New Iberia, and highway 329 out to Avery Island and the Tabasco country store. We crossed the short bridge, and paid our $1 toll (which goes to maintain the grounds). Driving onto the Island itself, we passed the large complex ewhere Tabasco is actually made, and where the tours start. Take a factory tour, and you can follow each step that a pepper takes from being picked to arriving on your dining room table. However, we've taken this tour before, and we headed straight for the country store.
Not surprisingly, everything here is tabasco oriented - t-shirts, hats, and belts, candies, pretzels and chips. There are bottles of every kind of tabasco sauce, in every conceivable size. Knowing how long it takes for Tom & me to use up the smallest bottle of this sauce, I was astounded to see it sold in gallons! There's a tasting bar - an array of all the sauces, at one end of the store. Tom decided he liked the buffalo tabasco sauce, so we got a tiny (3.7mL) bottle. It really is good; next time we'll try a larger one.
Take a trip to Louisiana, and, on your return, the first question you'll be asked is: "How about the food"? The answer is simple - it's wonderful. Our first night we dined at the Blue Dog Cafe. This is a very popular spot with locals and tourists alike, and can be very crowded almost any night of the week. The restaurant was fully decorated for Mardi Gras, with purple, gold and green decorations, masks and even a Mardi Gras tree. (A Mardi Gras tree is very like a Christmas tree, but with Mardi Gras colors). We had crawfish, oysters, crab - all things Louisiana.
The next night we went to Guidry's Reef restaurant, very close to our hotel, and again had delicious gumbo and etouffe. This restaurant had fewer decorations, and caters more to young families than the Blue Dog, but the food was at least as good.
Amtrak was right on time coming into Lafayette, and stayed very close to schedule, arriving back in Tucson the following night. We spent the remainder of the night at the Hyatt Place. First thing next morning, we "liberated" Barney from his boarding kennel. He was very glad to see us, and "talked" incessantly for the first half hour or so.
Now we're back in Ajo, planning our trip northward. Tomorrow, we head back to El Centro, followed by a couple of days at Palm Canyon campground in Borrego Springs. Then, with one eye carefully on the weather, home we go.
[See Pictures for this Postcard]
---
Postcard: Rediscovering Ajo
January 23, 2012
No matter how you look at it, Tom & I don't fall into the usual category of extended time RVers. While we have been known to spend 3 weeks in Borrego Springs in late fall, our wintertime travels are of much shorter duration. After 2 or 3 days in one spot, wanderlust kicks in, and we're off to explore new places. But we've discovered, to some small degree, just what impels many RVers to spend multiple months in the same spot. We've rediscovered Ajo, Arizona, and are learning just what it is about this small south-central desert town that convinces winter visitors to come - and stay - and stay.
Ajo is a small town (pop. about 4,000), located on Highway 85, about 40 miles south of Gila Bend. It's "landlocked", surrounded by the Tohono O'odham nation on the east, Organ Pipe Cactus National Monument on the south, the Cabeza Prieta National Wildlife Refuge on the west, and the Goldwater Gunnery Range on the north and west. The town's mining history dates from 1847 when the first Americans stopped to mine some of the abundant surface ore. The first copper mine in Arizona was in Ajo, and you can still view the nearly two miles of open pit from a vantage point above the town. Like many Spanish-infuenced towns, Ajo's "downtown" centers around a plaza, an expanse of green lawn with shops on two sides, and the historic Tucson, Cornelia and Gila Bend Railroad station on a third. Just across the street from the Plaza, the large Catholic church gleams white in the sun. While the mine has closed, and several of the plaza shops have followed suit, it's still a most picturesque sight.
On previous trips, we've stayed at Shadow Ridge RV Resort, but this time, encouraged by friends Jim and Lou Scott, we decided to spend a couple of days at Ajo Heights RV park. Jim & Lou have been coming here for years. Jim serves as the unofficial host/maintenance man for the park. He makes a point of welcoming the incoming visitors. He rakes the gravel around the coaches. He helps back in any coach needing assistance. He takes the trash to the Ajo landfill when necessary. And, last but certainly not least, his site welcomes an informal daily afternoon social gathering. Anyone who wishes can bring his chair and beverage and join in the fun. Jokes abound, laughter is abundant, and there's no such thing as a stranger. The Scotts are full timers, spending 6 months in Ajo, then traveling north to Republic, Washington for the summer. They cannot understand our short term mentality, and we have trouble imagining staying "put" for such a long time. However, after this Ajo visit, I can better appreciate their point of view.
We arrived late on a Sunday afternoon, and checked in for our usual 2 day stay. The following afternoon found us at the Ajo golf club, testing our duffer skills on nine challenging holes. The fairways here are very narrow, and instead of the usual "rough", longer grass on either side, here the terrain is "au natural", in other words, - desert. If, (when), your ball lands outside the fairway, it can, (does), bounce in any direction. We've played here before, and therefore made our own set of rules. Gonser Rule # 1 reads: "Move your ball from that inhospitable patch of dirt and rocks, and replace it on the fairway grass". This saves your clubs, and makes for a far less frustrating round.
Our trip around "A" Mountain had to be cancelled when the Jeep was disabled a week or so ago, and that trip is one of our favorites. So, what could we do but extend one more day? It's a beautiful drive, and I am always surprised at how many rigs are parked out here, taking advantage of the scenery. That afternoon, we joined Jim, Lou and Kent and Marguerite Hartman for lunch. Since today was, again, our "last" day, they took us on a tour of town. Our Ajo architecture tour included a home made of two pieces of culvert pipe and another made of adobe covered hay bales. Then we enjoyed lunch at the Estrella restaurant.
As we found a table, we were surprised when our waitress, Wanda said with perfect pronounciation, "You've been to Moloka'i?' (She was reading Tom's cap). Born on Oahu, no wonder she could pronounce the word correctly. The restaurant is well known for its hamburgers (beef or bison, with every kind of topping imaginable), and my cheese, tomato and avocado sandwich on Panini bread was superb. Mara, a young Latvian woman who operates the business with her husband, came by our table as we were finishing. With Hawaii and Latvia represented, it seems Ajo is more cosmopolitan than I imagined.
Blame it on Kent Hartman. He pointed out various landmarks on the eastern horizon. "There's Hat Mountain", he said. "We're going out to there with a group on Thursday, and if you're still here, you're more than welcome to join us. We understand the poppies are blooming". But we were leaving. Or were we?
Two days had turned into three, and there still was a lot to see and do. Last year, we'd stopped at the Cabeza Prieta Visitor Center and obtained a permit to drive into the wildlife refuge. We had yet to explore the Barry Goldwater Gunnery Range.
When you drive south on Highway 85 from Gila Bend to Ajo, you pass through this Range. It would be very unusual not to see fighter jets flying overhead, singly or in formation, and the sound of sonic booms echoes through the desert. The Range is "roughly 20 miles wide by 120 miles long, extending from Yuma to east of Gila Bend, and from Interstate 8 to the Cabeza Prieta wildlife refuge and/or the Mexican border."
I'd have thought that entrance into such a area would be strictly off limits, but such is not the case. Entrance permits may be obtained by going to the Cabeza Prieta Visitor Center in Ajo, filling out a form (which, in part, warns you against picking up live ammunition), and watching a 20 minute video. The video discusses both the beauty of the Range, the wonderful camping opportunities here, and also the dangers of the desert. Visitors need to remember to carry water - and drink it, to be aware that cell phone coverage is spotty at best and, since the roads are not maintained, to have a 4WD vehicle. You are instructed to stay on the roads, and not to drive cross country, or on any roads marked "closed". The video shows pictures of aircraft bombing runs and repeats again not to touch any ordnance you might find. But Kent had told me he'd been out several times and never seen anything remotely like weaponry.
Since a trip to Hat Mountain had become a "must see", we extended one more day. Armed with a map of the eastern portion of the Range, 2 permit cards each, (one for the car, one to be carried with us at all times), and the Gate and Lock Information for Area B Public Access Area, we headed north on Highway 85.
There are 6 gates which will let you onto the Range. Each gate is locked, but each has the same lock combination, so access is easy. They each have names. Gate 9 is called the Hat Mountain gate.
Entering the Range, we quickly discovered that our map lacked a few important essentials. All the access gates were clearly marked with their distances from the Visitor Center, but there that accuracy ended. We could see we needed to follow road 6, but had no way of telling how many miles we'd need to drive into the Range before coming to any of the other marked roads. We looked forward to exploring roads 6A, 7, 8, 9 and 10 before arriving at the base of Hat Mountain.
In addition to the problem of just how far we'd have to drive, we found those map numbers were wrong - not badly, but just off by one or two digits. What we thought was 6A was an unmarked and closed road. Map route 8 was marked 7 on the road marker, and we couldn't find 9 at all. But with the mountain in full view, and a straight road ahead of us, we weren't worried about getting lost; we could always retrace our path.
About 3 miles down the road, we saw a strange looking object at the roadside. It was a very "unweathered" silver cylinder about 18 inches long and 3 or 4 inches in diameter. Several long wires stuck out from one end, and some sort of mechanism was barely visible in the other. Shades of the Visitor Center video! It looked as if it had been fired, at least once, but maybe there were other charges inside just waiting for the unwary? I VERY carefully approached it and took a picture. Unexploded ordnance? Exploded ordnance? Just a flare? We will never know, because it was gone when we returned. What happened to it is another mystery.
Hat Mountain is aptly named. From the road, the top looks just like a hat, complete with crown, hatband and brim. And the wildflowers were just as spectacular as promised, gleaming yellow poppies making a carpet underneath the ocotillo and cholla.
At the base of the mountain, the road divided, one branch heading south, the other winding east. We couldn't tell from the map which branch to take. One would wind through the Range, and, if we were lucky, take us back to Highway 85 on a different and much longer route. The other seemed to wander up into the hills and come to an end.
We decided not to push our luck - not to try to do everything in one day. We found a place to pull off the road and wandered through the wildflowers, taking pictures of them and of the caves high up on Hat Mountain. While we were doing this, a couple on ATVs came up the road. They were camped at mile 9, that route we been unable to find. They live in Phoenix, but love the Ajo desert and visit every year. Since they seemed quite knowledgeable about the area, I showed them our map. We learned we were on road 10, and if we followed it to the end, we'd come to an area where we could find both geodes and view Indian pictographs. They pointed out a place where the road was so steep that they wouldn't ride on it. They praised loop 8, (the one numbered 7), a short loop with a man made water hole half way along it. And we learned that, had we taken the other branch road, we could indeed have exited the Range by a different gate.
If we'd had any hesitation about staying another day, those stories ended it. It was too late to take the other route this afternoon. We'd extend once again and return to the Range. This time, we'd take gate 14, called, "The Well that Johnny Dug", and see where the roads would take us.
Next day, we made a picnic lunch, took our water, and headed out once again. We entered the Range at Gate 14, and followed road 22, (except it read 25), to road 29 (read 33). These numbers were off by a somewhat greater margin than the ones on our previous trip, but by now we were ignoring the numbers and watching our direction of travel. Using the map, Tom had devised a way to tell approximately where we were. He measured the mileage on the first leg of our journey, a straight road in from Highway 85 to road 22. Then, by looking at the subsequent legs, he could judge how much longer or shorter they were than the first. So he had an educated guess what the mileage of each segment would be.
And we had 10 legs to traverse. Numbers 30 and 31 (numbered otherwise on the ground) covered the most terrain, a flat, and fairly smooth road across the valley floor. Here we found what must have been Johnny's well, a hole in the ground covered by a large piece of plywood. I didn't lift it to see what might have been under it, (snakes and scorpions came to mind), so I'm not sure it was the well, but it was in the right place, and the weather-claimed nearby implements made me fairly sure of my guess.
Then came a short hop on what should have been #26, joining up with # 19, both again mis-numbered. # 18 was over a mile down a sandy wash. Then we turned right and began our ascent. In a couple of miles we turned left and began our trip along the flank of Hat Mountain.
As we crested a low saddle, I could see the road ahead of us. It looked relatively smooth and level. "Piece of cake", I remarked. But I was totally wrong. The road smoothed out for a few hundred yards and then plunged downhill. At one point, it was sheer granite, descending the hillside like a set of stairs. Huge potholes made driving very slow and (to me) quite precarious. But Tom's been doing this sort of driving for years, and with his skill and 4WD low, we made it down without problems.
We came out on the road we'd traveled yesterday, and turned into the hills. We might as well see if we could find either geodes or pictographs. After our trip across the Range, these last two miles were easy - although, with about 1/4 mile to go, the road plunged down a gravelly dropoff. Tom was sure he could have driven down it, but I convinced him to walk the rest of the way.
As we headed back, we passed a half dozen parked cars, and could see several hikers headed our way. We'd found the group the Hartmans had told us about. They seemed surprised to see us, not odd, since we'd said we were leaving!
Next morning, we finally tore ourselves loose from Ajo. Our next stop will be Gilbert Ray campground west of Tucson. We'll be in the area for a few days, then head north to Usery Mountain outside of Mesa. I expect we'll be back in Ajo soon, since we still want another shot at the golf course, and there is an upcoming fiddlers' contest which would be fun to attend. And of course, there are other roads in the Goldwater Range just waiting to be explored! Hmmm. Perhaps there IS a reason to stay - and stay.
[See Pictures for this Postcard...]
---
Postcard: Staying Flexible
January 14, 2012
Barely a week ago, someone wrote RVersonline with a question. "We're just about to go RVing. What is the ONE TIP you would suggest to make our experience a good one?" Tom posted this query and also added his own special hint. "Be flexible, since with RVs and RVing things often happen that require that quality". How prophetic he turned out to be!
Returning south from our Northwestern Christmas, we again stopped in Borrego Springs. This time, we spent two days at Palm Canyon state park before heading over to The Springs at Borrego. Palm Canyon wasn't full, and we had a good choice of full hook-up sites, those numbered 1 to 52. We were sorry to see that sites 53 to 89, those without hookups, but with palapas and patios, have been closed for the entire season due to "budgetary constraints". That leaves only the full hookup sites and a handful of dry camping spots closer to the mouth of the Canyon. Even though it's smaller, now, it's still a wonderful choice for a few days in the desert.
Off to Arizona! One night in El Centro, and then we headed for Ajo. We intended to visit our good friends Jim and Lou Scott, play the small but challenging golf course, drive around Ajo ("A") Mountain, go south to Organ Pipe Cactus National Monument, and then catch our collective breaths and see what was left to do. Um, hmmm.. You guessed it. Our plans were going to change and change dramatically.
We pulled into Shadow Ridge RV Resort, a favorite place to stay in this little town, and I went in to register while Tom detached the Wrangler. So far, everything was going according to plan and routine. Shadow Ridge did have two available spots and we decided to drive around the park to see which would suit us better.
When I returned to the rig, Tom had almost finished detaching. "You'll have to drive forward a bit", he said, "so I can get unlock the tow bar". OK, still everything as usual. I got in, put the shift in neutral, and attempted to put the transfer case in drive. Usually this takes a bit of a push -- but not this time. I could slide from low 4WD to high 2WD with no trouble whatsoever. The transfer case had turned to mush. We were stuck in "permanent neutral"!
With the Jeep, Step #1 in preparing to tow is to slide the transfer case from 2WD to "N" (neutral). Could I have somehow missed doing this? Could it have slipped out of neutral as we were driving down the road? I'm the one who sits behind the wheel and does all the shifting when we're setting up to tow. I religiously follow my routine, talking out loud as I perform each step: "Shift into neutral, put the transfer case in neutral. Shift into reverse and test it." I've probably done this 500 times. Never before had there been a problem.
Whatever had happened, for the short term we were stuck. No visiting with the Scotts, no trip around "A" Mountain or down to Organ Pipe. We needed to get to a Jeep service department before we could proceed with our travels. Good thing we could still tow our disabled Jeep.
The good news in all this was we could fit nicely into one of the available spaces at Shadow Ridge, and we weren't in need of any type of groceries or supplies. We settled in for the evening...
Tom found a jeep service department in Mesa, and Ms Garmin found the shortest route, 124 miles, to get us there. Next morning, we were off about 8 AM. (If that sounds like a late departure, we'd just changed time zones. 8 AM in Arizona is 7 AM in California).
We retraced our path north to Gila Bend and headed toward Maricopa on state route 238, a route which conveniently shortcuts diagonally from Interstate 8 to Interstate 10 toward Phoenix. Except for a confusing detour at the beginning of the trip, the road, a thin grey line on the map, is a lightly traveled, smoothly paved road with wide shoulders.
We were just entering the town of Maricopa when Tom pulled over onto the shoulder. He'd heard something like chimes, and when he looked into the side view mirror, he saw the Jeep. This was very bad news. Your tow vehicle is supposed to stay centered behind your RV, and is never visible in the side mirrors while traveling straight ahead. Tom coasted slowly to a stop, letting us get mostly off the road without the Jeep slamming into the back of the rig.
We got out of the coach to inspect what had happened. One of the towbar arms had somehow become unfastened to the front of the Jeep and was dragging on the ground. The other arm of the towbar was angled sharply to the side. Though we were mostly off the street, safety required we do something quickly to get further onto the shoulder. The only option was to pul a few feet forward and to the right with the coach, with the Jeep attached by the remaining towbar arm at an awkward angle. This resulted in a loud wrenching sound, and the arm sheared off completely. Ouch!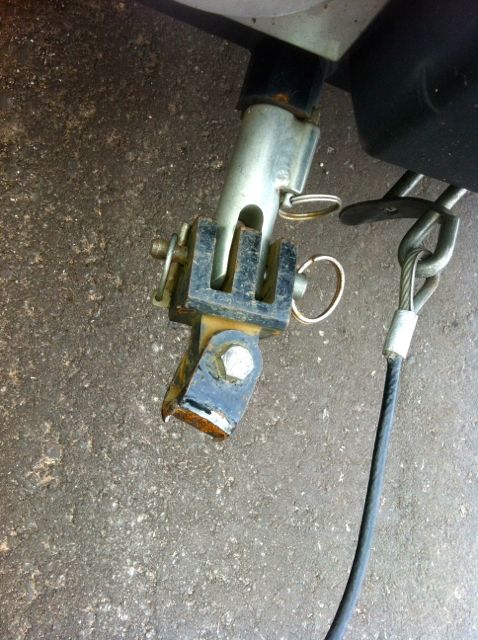 Now we could neither drive the Jeep nor tow it. Time for AAA, and a lift for the Jeep the rest of the way. (I learned something new - AAA now only tows free for 5 miles on their standard plan, then it's on your nickel.) Our flatbed tow truck arrived quite quickly, and we watched the disabled Jeep be dragged reluctantly up and onto the truck.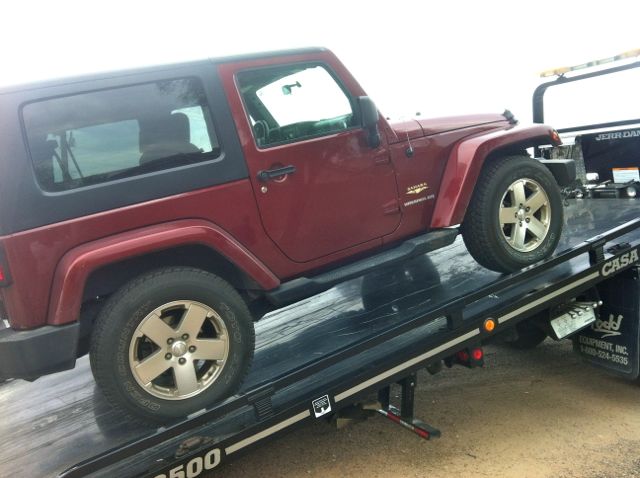 39 miles later, we arrived at the service department at Superstition Springs Chrysler, Jeep, Dodge in Mesa. The service people were having a lunch break, and we were third in line to have them look at the Jeep to get a diagnosis. Being certain we had a major transmission repair to wait for, we rented a car and took off for Usery Mountain regional park. One of the best sites in the park, #23, was available this evening. It's on the outside ring, with fabulous views over the desert landscape down to the lights of Mesa. Tom laid the campfire and I took off for a nearby grocery. I was there when my cell phone rang, and I heard the most welcome of all news.
The Jeep's transmission was fine - something called a "bushing" had broken. (Hurrah! It wasn't something I had forgotten to do). The service department had one in stock and had fixed our broken Wrangler. The Jeep was ready to be picked up. (And, to make matters even better, when we did get the Jeep the next morning, we found that the repair was covered by warranty -- despite its 53,000+ miles on the odometer.)
The bar which had broken was Blue Ox tow bar, and Tom has been in touch with the factory in Pender Nebraska. They recommended a shop in Mesa for getting a replacement tow bar, and despite it's 8+ years of age, to our surprise it too was replaced under warranty. That was particularly remarkable given the fact that towing with a single towbar attached turns out to be an almost certain way to cause the type of failure we'd experienced.
We've made a reservation at Meridian RV resort for this evening, and will pick up the replacement tow bar this afternoon. What might have been a long haul has turned out to be quite short, and "flexibility", aka "rolling with the punches" has again turned out to be the best philosophy.
---
Postcard: Desert Days
December 5, 2011
It's been a while since I updated my postcards - long enough to now write one from Borrego Springs in the desert of Southern California. It seems just yesterday that Amtrak delivered us to the Eugene station just after noon. We picked up Barney from his kennel and were back in Florence by 3 PM that day. I had thought we'd need at least 24 hours to unpack, clean up, load the rig and get on the road, but by noon the next day, we were rolling south. We'd been a bit concerned about the weather, especially over Siskiyou Summit between Oregon and California, but wedged our trip neatly between two storm systems.
Again this year, we're spending a month at The Springs at Borrego RV resort. The park is expanding -- what was a 90 site resort will soon have more than 140 sites. These are in varying stages of readiness; some look ready for occupants, others definitely are still under construction. Park owner Dan Wright has estimated that the new sites will be ready in January, and those RVers who wish, can move into one of the a new sites. That won't affect us, as when we return south after the Holidays, as we'll be heading east, but the "season stayers" are quite excited, and wander through the new sites deciding where they want to spend the rest of their season.
Meantime, we've filled our days with a bit of golf, some lap swimming, and enjoying some of the many desert activities. I especially enjoy water aerobics three times a week with instructor Nesya Tibbits. No boom box recordings in her classes. Using styrofoam hand "weights" and noodles (yes, the type the kids love to ride), she devises a wicked workout. At the end of each class, our cool down period is a water version of "T'ai Chi".
The town of Borrego Springs has changed very little (again) this year. I've noted one or two now-shuttered stores in town, and the golf course at the once booming Ram's Hill Resort is now completely closed. The resort was sold a few years ago to a group who dreamed of making it very exclusive, a retreat for the Tiger Woods and Bill Gates of the world. To that end, they renamed it "Montesoro", and purchased the nearby small (and very nice) hotel/motel complex, La Casa del Zorro. The new owners' new policy was, if you weren't a guest of either the golf course resort or of La Casa, you could not dine at their restaurant. No matter that it was empty of diners. Now both are shuttered, the golf course water rights (a very precious commodity here in the desert), have been sold, and the course is in the process of being reclaimed by the desert. So much for that business model...
One of the items on the "must do" list for visitors to Borrego Springs is a trip to the Visitor Center. A group of knowledgeable volunteers mans the information desk here, and can tell you where to go and what to see in this huge park. With over 600,000 acres, Anza-Borrego Desert State Park is the largest state park in the contiguous United States. There are 500 miles of dirt roads and jeep trails, 12 wilderness areas, and endless miles of hiking trails. We've been coming here for years, and only scratched the surface of what there is to see.
So far this season, I've taken two ranger led hikes, one up Alcoholic Pass, and the other to the Kumeyaay Indian morteros.
Alcoholic Pass is the shortest route between two canyons, Rockhouse to the northeast and Coyote to the southeast. There are several reasons given for this peculiar name, the most popular being that it was the shortest route for the Rockhouse canyon cowboys heading to the "big" city of Borrego Springs and its taverns.
Our group met at the bottom of Coyote Canyon and carpooled up to the base of the trail. Although quite short (less than 2 miles), the trail is very rocky and steep, and I was glad I'd accepted an offer of a walking stick.
About half way up, we stopped for a view over the valley. We could see the whole length of Coyote Creek (or what becomes a creek after a rainstorm). Our view was ringed with mountains. To the south were the San Ysidro mountains, to the north the Santa Rosas. Behind us was Coyote Mountain. We had a full view of the town itself, from Palm Canyon Campground to the airport. At the northern edge of town, the groves of grapefruit, orange and lemon trees made a beautiful green carpet. Then desert again as the creek bed heads west toward Los Angeles. At one time, both Bing Crosby and Bob Hope owned land here, and both lobbied hard for a freeway to be built through this lovely valley, connecting it to LA. Talk about completely spoiling a beautiful spot...!
Our group stopped at the top of the Pass to sign the log book and hear a case for renaming it. A young Kumeyaay girl from Rockhouse Canyon was married to a man in Coyote Canyon. She was so homesick, however, that one night she ran away, walking barefoot all the way home. While she did go back to her husband, her feat was considered so remarkable that some think the pass should be named in her honor, Magdalena Pass. While we surely have no say in the matter, everyone in our group would have so voted.
Tom & I had visited the morteros before, so he opted to watch the season's last College Football Saturday, while I drove the Jeep out to Blair Valley - a distance of about 35 miles. However, the road becomes quite narrow as it winds over Yaqui Ridge and along the San Felipe Wash, and it turns to washboard dirt in Blair Valley, so the trip takes almost an hour.
What an interesting experience. Our small group included Sam, our volunteer archeologist leader as well as Terry, a retired botanist from Oregon. Between the two of them, we got a thorough lesson not only on the lifestyle of the Kumeyaay, but also on the plant life of this area.
It's only a short walk (1/2 mile) to reach the spot where a village once stood. Indented areas mark the places where wood and thatch homes had been. Burned rocks indicated roasting pits. A rock shelter still exists nearby.
Some of the largest rocks in this area are pocked with small shallow holes, called cupoles. Since the Kumeyaay believed that all things, rocks included, had spirits, it is guessed that these holes were made to free those spirits. No one is sure, however, and even the Indian descendants don't know. When the white men came, the Indians were forbidden to wear their traditional clothing, or speak their native language. Since Kumeyaay was not a written language, when they couldn't speak it, there was no way of passing on their ancient legends.
Morteros are smooth holes of varying size ground into some of the rocks, used for grinding of pinyon nuts, or as roasting pits for agave roots. Several rocks have multiple holes, others just one. It's easy to imagine Kumeyaay women sitting on these rocks, using the morteros and chatting with each other. In fact, it's so easy to imagine this that many of the morteros were littered with small stones, where others have pretended to grind nuts for food. Our leader threw all of these away. The Park Service wants everything to stay just as it always has been. This also explains why you'll find no geocaches in Anza Borrego Desert State Park.
Our tour didn't end at the morteros, however. Walking further along the trail, we passed several pictographs hidden in the rocks, and guessed at their meaning. One, much brighter than the others, was repainted in the 1950s. Today the pictographs are allowed to fade into oblivion.
We walked through a cactus garden, with cholla, hedgehog, beavertail and barrel cactus. We found several potsherds, broken pieces of Indian pottery, and carefully placed each back on the exact spot where it was found. Our one hour hike stretched to two before it was time to head back.
While we are having a wonderful time in sunny Borrego, we have been saddened by one small electronic loss. Ms. Garmin, our up-to-now trusty GPS, who has guided us on extensive travels over the past few years, appears to have died. Tom has ordered a replacement, and somehow managed to get all her waypoints, (and have hundreds), transferred to his computer. Going over all these spots we'd visited over the years became something of a trip down Memory Lane. Remember Nk'Mip, Goose Island or Triple RRR? Where is Kettle River Provincial Park, anyway? How about Willingdon Beach? The new MS. Garmin will be smaller and more portable. She may even take the place of the eTrex gps which never recovered from its South Pacific travels, and might also have to be replaced. (Rereading this 5 hours later, I can report that the "report of her death was an exaggeration". She's working again, but her life expectancy is somewhat limited).
We'll be here for about another week, and then take the Jeep north to Oregon for a Christmas gathering with our clan. We both wish all of you the merriest of Christmases and all the best for 2012.
---
Postcard: The Children of Raiatea, and other Tahitian adventures
November 15, 2011
Our ship departed Papeete in the evening, and headed northwest overnight. 8:30 the next morning found us slowly heading up the channel into Uturoa, the main city of Raiatea and the second largest town in the islands. But what a difference between the two.
The fact that it was Sunday, a day when all the islands seem to come to a standstill, made little difference. Uturoa has the reputation of being incredibly quiet, every day. The town is only a couple of blocks wide and at most 1/2 mile long. It's a colorful town, with buildings of yellow, pink and green scattered through the main section. The town buses, (which I didn't see until we were leaving the next morning, as they don't run on Sundays), are blue with white stripes, unless they are white with green stripes.
I doubt there are ever any traffic jams here, as there can't be enough cars to cause one. There's only one gas station in town. It was closed today. We found a small grocery, also closed. There's a hospital, a school, and some city administrative buildings. There's an airport and marina. And that appears to be it.
In Polynesian creation myths, the island was called "Havai'i", and was the starting point for all the migrations to the Hawaiian, New Zealand and Easter Islands. When you visit these islands, you' ll notice great similarities with Hawaii. But it's not that Polynesia is just like Hawaii. The culture spread from here, not the reverse. Therefore it would be better to observe that Hawaii is just like Polynesia.
A perfect example was this mornings show put on by the children of Raiatea. A dozen or so of the most beautiful children I've ever seen demonstrated Tahitian dancing. All wore "grass" skirts of a brilliant red hue, The girls all wore leis, while the boys had crowns of leaves. Accompanied by 6 Dads on drums, and 6 Moms organizing things and occasionally dancing, the kids showed off their dancing skills. Wow! Even the youngest, boy and girl cousins 6 years old, were practically professional. The girls could move their hips as if those hips weren't joined to their bodies at all. The boys' dances involved fast rhythmic stomping and arm movements, all choreographed to be done together. I never saw a miss.
Besides the dancing, there was a pareo demonstration. One woman took a piece of this cloth, and by twisting, knotting and tying it turned it into a piece of clothing. She could make a dress, a shirt, a skirt, or men's shorts out of these colorful rectangular pieces of cloth.
Of course, the audience got involved both in the dancing and as pareo models. How do you say no to a 6 year old? I met one of the volunteer dancers the next morning. "You know you stole the show", I told him. He grinned and replied, "And today, my knees are killing me".
Enclosed in the same barrier reef as Raiatea is the small island of Taha'a. While the brochures proclaim that some 4,500 people live here, I only saw a few homes as we slowly made our way into the lagoon.
While there were a few tours to this small island, most of us headed directly to the Motu Mahana. A motu is a small island which sits directly on the reef protecting the larger island. The Pacific Beachcomber company, which owns the Paul Gauguin, leases one of these motus and has put up a large open air restaurant and bar area, and restrooms with an outdoor shower - just perfect for rinsing the salt off before you return to the ship. They have a large selection of lounge chairs if you wish to enjoy the sun, and small covered picnic tables.
As our tender landed at the motu, we were met by several of the Gauginnes, the ship board hostesses, playing ukuleles and singing Tahitian songs.
These women are nothing if not versatile. After their beach performance, they gave a coconut demonstration, and taught us how to 1. Open one (not with your teeth), 2. How to make coconut milk 3. How to grate one, and 4. The differences between male and female plants. Then we got to taste coconut water, coconut milk, coconut slices, and grated coconut. It's much better than the sugared stuff that comes in boxes. Later that afternoon, the Gauguinnes gave a demonstration of pareo tying. Back on board, their demos range from using pandanus leaves to make bracelets to Tahitian language lessons. All that and gorgeous, too.
While I doubt I'll need to open coconuts, I certainly will try the Tahitian version of ceviche, poisson cru. It's very like ceviche in that it uses fresh, raw, chopped fish, onions, cucumbers and tomatoes, all tossed with lots of lime juice. It's different in that it uses fresh coconut milk. I suspect that coconut milk may be hard to find in Oregon, so I'll use the suggested substitute, canned, with a bit of sugar added.
Late in the afternoon, we left Taha'a and headed for Bora Bora.
This island looks exactly like its pictures, a mountain rising straight out of a clear blue lagoon. The main town here, Viatape, is quite small, and seemed even smaller today due to the arrival of the Sapphire Princess, a 2,000 passenger cruise ship. The ship was on a 28 day journey from Los Angeles, and touring not only French Polynesia but also the Cook Islands and the Marquesas before heading back to LA. An ambitious program, one which allowed it only 8 hours to see Bora Bora. One guest from this huge ship was heard to remark that maybe the Gauguin passengers had made the better choice.
This situation was a fairly unusual one for the Paul Gauguin. Our ship is used to having each port to itself. On her nightly talk on "what to do tomorrow", our cruise director recommended we avoid the crowd of "tourists", spend tomorrow on our ship' s private motu, and leave the island tours for the next day. We took only a short walk through town that morning, dodging those pesky tourists all the way, then returned for an afternoon snorkel.
The next day, we took our first organized tour, a bus trip around the whole island, all 21 miles of it. We stopped to watch pareo making, found several points where the scenery just begged you to take its picture, and fed the crabs.
Our bus was painted a brilliant blue color, and was decorated with equally brilliant orange/red hibiscus blossoms and their green and yellow leaves. Since they wouldn't last long in the tropical heat, I wondered a bit at this. The flowers would have to be replaced at least once a day! But when we stopped at a small field dotted with large holes, I found out the reason for the flowers.
"Take the flowers and leaves from the walls," the driver instructed. "Crush them into a ball, and throw them as far from the bus and as close to one of those holes as you can". We did, and very soon, a large crab emerged from each of those holes, grabbed the flower/leaf ball, and dragged it into his hole for lunch. We'd seen these holes before, now we knew what was in them.
Snorkeling from the Gauguin's private beach was fabulous. We'd attended one of naturalist Bobbi Verdegaal's lectures on board the night before, and learned the basics of fish identification. It's very hard to do, but don't look for fish color as you snorkel the reef. Look instead for the slope of the fish's head, how he uses his fins, the shape of his tail, and the depth at which he swims.
James Michener was quoted as saying that Bora Bora was the most beautiful place in the world, and that once you left it, you'd always want to return. Dr. Mike Poole disagrees. He feels that honor should go to the island of Moorea, and I'm inclined to agree with him. He's a research scientist from UC Berkeley, who came to Moorea to study dolphins and whales of the southern oceans. He was the leader of a dolphin watching excursion I took on the final day of our trip.
Taking a tour with Dr. Mike was a bit like attending a lecture on dolphins. He discussed their migration patterns, their feeding habits, and even their sex lives. We asked questions and he answered those with more questions. About 10 miles south of our ship we found a pod of about 35 swimming in the lagoon. These are Spinner dolphins, so called because they spin around when they leap out of the water. We saw spins, tail slaps and even one swimming on its back. (Dr. Mike explained why). He knows these dolphins so well, he even has names for most of them, largely derived from the markings on their dorsal fins. Sharks love to eat dolphins, and many of them bear on their fins the scars from such encounters.
Like we had on Bora Bora, we took a round island tour on Moorea. We went up to the Belvedere, an overlook spot high above the harbor, where we could see our ship at anchor in Cook Inlet, and look out to the fringe reef protecting the entrance. On the eastern side of the island, we stopped on a lookout above the Sofitel Hotel, and divided our time between watching people snorkeling off their verandas and the passenger only ferry coming in from Papeete. It's only a short ride from one island to the other, and would be a great trip for a couple of ferry lovers. It's used by many people who choose to live on less crowded Moorea and work in the "big" city.
Tonight the ship heads back to Papeete. We'll have time to take a tour we missed the first day, and swim a bit at the Radisson hotel before taking off for the airport and our plane home.
Did I mention we have been extremely lucky with our weather? Those who took this tour just a week ago ran into absolutely terrible weather, with daily rain forcing cancellations of the beach activities, and curtailing many other tours. I suppose that is to be expected, as November ushers in the rainy season here. But we hadn't factored rain into our trip equation, and, most luckily had almost none. I can remember two showers, neither lasting more than 5 minutes, and then the sun was back to its hot and brilliant self. The weather here is extremely hot and, especially at this time of the year, its extremely humid. Great for growing lush, green, tropical plants; a bit hard for this tropical explorer.

We found the people of French Polynesia to be very friendly. The shipboard crew was all great, but we especially loved Mary Grace, the young woman responsible for our stateroom. It would be impossible to have a grumpy feeling anywhere around her; she made us smile every morning with her Filipino accented words, "good morning, Mrs Gonser". We enjoyed the stories told by the newest member of "Les Guaguinnes", one being how she got lost on the ship when she first came aboard.
We found the people of Papeete most friendly, too. I'll not soon forget the bus driver with the beautiful green pareo, the friendly smile and the assurances she'd get us to the Central Market stop. Or the other driver on the return trip who assured us that, yes, this was the right bus to take back. The woman who offered her seat to us when we had to sit separately on the bus. (Contrast those people with the bus driver who took us back from the LA airport to AMTRAK. When a couple from England asked him how long the trip took and what it cost, he answered, "My job is to drive, not answer questions". Fortunately, Tom was there to help the couple out).
Our plane left right on time, (11:55 pm), and we spent the next night back at the Miyako Hotel. Back to jeans and sweatshirts, warm sox and sturdy shoes. Tomorrow, back to Eugene to pick up Barney. Back to Florence and the rig. Back to loading that rig and then, back to Borrego.
[See Photos from this trip]
---
Postcard: Tahiti Bound

November 4, 2011
I'm starting this postcard series from a very exotic spot -- the Intercontinental Hotel in Papeete, on the Island of Tahiti. We arrived on a Tahiti Nui flight from Los Angeles and spent our first two nights here. Then we will board the MS Paul Gauguin for a week "at sea" visiting Raiatea, Taha'a, Bora Bora and Moorea.
We chose a somewhat unorthodox route to get to Tahiti. We postponed our usual RV trek south in favor of a few more days enjoying the beautiful late fall weather in Florence. Then we satisfied our ever present Amtrak itch, and took the train to Los Angeles. We spent the night at the Miyako Hotel, close to the depot, took the train to airport bus the following day and took off that evening on the Tahiti Nui flight to Papeete.
This flight was a delightful surprise. Yes, we traveled "cattle car", and our seats were a bit cramped. But we were well fed, with both dinner and a small snack shortly before landing. Each coach seat had its individual TV, with both music and reasonably up to date movies.
The Intercontinental hotel is something out of a "hotels of the world" magazine. The main hotel stretches low and long along the water. Several of the most luxurious "rooms" are actually large, thatched roof "huts" which sit out over the water on large pilings. Four swimming pools give you a choice of fresh or salt water swimming. There's even something called a lagoonarium. One large swimming pool is filled with tropical fish, and you can snorkel among them. It is a bit like snorkeling in someone's fish tank, for while the fish can swim in, they cannot leave.
But even though this hotel would seem to "have it all", if you want to see the real Papeete, you have to venture out into the city. So, armed with just a little advice and a fairly accurate map of the city, Tom & I caught "Le Truck", the city bus, and headed downtown to the Central market.
Colorful is the word of choice when it comes to describing Papeete, indeed, all we've seen of Polynesia thus far. Our bus driver was a colorful character, dressed in a flowing orange pareo, (the ubiquitous garment worn by both men & women), with a colorful curtain shielding her back from the sun. Colorful, too, were her driving skills. She wove in and out of traffic with the aplomb of a race car driver, dodging both pedestrians and any traffic attempting to enter the roadway. At one point, she came up behind another bus which was stopped at a traffic light. She had room to stop, and the other bus was in no danger. However, there was a man on a moped right between the buses!
Colorful is the only word that would describe the group of elderly men sitting and singing in front of the Market. Each had an instrument - ukeleles, guitars and one with a homemade bass, made from a bucket, a stick and a string. We thought at first there would be only the one group, but as we made our way through the Market, we saw several others. The Polynesians simply love to sing and make music.
Colorful also describes the market and its wares. Imagine piles of yellow bananas and pineapple, green limes, lettuces, onions and other vegetables, orange/red papayas and mangoes. Add the incredibly brilliant flowers in that section and the equally bold colors of the cloths used to make pareos. Sensory overload indeed!
Getting back to the hotel was a bit more difficult than the trip out. Going into town, all we had to do was walk to the main street and find the blue sign with a bus on it. But the return bus did not leave from the same set of signs as the one going out. Finally, Tom just asked one driver if he went to the Intercontinental. We were delighted to find that he did.
That afternoon, Gohagen had planned a trip for our group - we'd explore the West side of the Island. What an interesting afternoon this turned out to be.
One of the most important parts of a tour is its director, and we had a great one in Tracy. English by birth, she had a job as a bartender in Barcelona, Spain when she met her husband-to-be. He was a Tahitian who was serving a stint in the French army! Talk about cosmopolitan! She has been living in Papeete for 5 years, and is quite a student of its history. She is a charming woman, totally bi-lingual.
Out tour started at the historical Tahitian museum. Using pictures, maps and artifacts, we traced the history of these Islands. I was surprised to learn that it is currently believed that the Polynesians came from China, not South America. Slowly, over many years, they spread southwestward through the South Pacific islands And this occurred when the scholars in the west still believed that the world was flat.
When the Christian missionaries arrived in the Islands, they were profoundly shocked at the Polynesian way of life. Thus was introduced the mumuu. In addition to having to wear this neck-to-ankles cover up, the native people were not allowed to speak their own languages, or to sing! Having had a bit of experience with the heat here, and having heard some of them sing, I have some idea of what a hardship this must have been.
One point Tracy emphasized over and over was the importance of family to the Islanders. The early carved wood or stone Tiki was not an idol, as many of the missionaries believed, but a statue dedicated to those who had gone before. Many of the Tikis were destroyed after the missionaries arrived, but the museum has a nice exhibit of some of the remaining originals.
The Aranurahu Marae was our next stop. Maraes are very like the Hawaiian heiaus, ancient religious sites where the chieftains made life or death decisions for the people. Those decisions included such things as whether to go to war, and yes, decisions of who should live or die. The early Polynesians did practice human sacrifice.
The maraes remnants are large, flat terraces of stone, often with a Tiki placed on top. Even today, the Polynesians revere these sites, and visitors are urged to treat them with respect.
I lagged behind to trying to get just the perfect picture of one of the stone Tikis. Therefore, I missed the most interesting shot of all -- Tom meeting the Cal students.
It would have been impossible to miss a tall, grey haired guy wearing a bright blue Cal cap. It had been quickly noticed by the kids and when I joined the group, he was surrounded. One young girl was wearing a "Cal" tank top, one guy, a "Cal" T shirt. They were spending a semester on the island of Moorea, and were delighted to see someone from home.
Our last stop that afternoon was the Paul Gauguin museum. The museum is small and fairly open to the weather. It is not equipped to handle the original oils, and the Gauguin paintings have long since been moved to other, fancier museums around the world.
However, this museum doesn't pretend to be a showcase for Gauguin's art. Instead, it is a historical timeline of his life in these Islands. View the piano which sat on his home, and the carvings that adorned his front door. Read various excerpts from his writings and learn what drove the man to leave his home and family and come halfway around the world.
Tomorrow we set sail on the MS Paul Gauguin. For the next 7 nights we'll be exploring the rest of the Society Islands. I can hardly wait!

---
Postcard: Finding Florence

August 9, 2011
We're on the way back to Oregon, but we're not in much of a hurry. From Missoula, we retraced our steps to the Lolo Pass, and turned south to Grangeville, Idaho. This time, we knew the location of much of the Montana construction, and could avoid some of the delays we'd experienced on our trip east. But far from all of them. We were just approaching one set of flags, the ones that start, "road work ahead", and progress to "be prepared to stop" and finally, "flagger ahead", when I noticed a car coming toward us. Attached to the top of the car was an orange colored, bullet shaped contraption which resembled the cockpit of a very small airplane. "Ultra-light", I thought, "for a Beavers (Oregon State) alum". But no. A few miles down the road we saw more brightly colored tubes, yellows, blues, reds and greens, coming north. It wasn't until they were actually passing us that we realized they were bicycles, protected from the wind by an unusual type of deflector. The bicyclists encased in these tubes were riding "recumbent" style - where the rider almost seems to be lying on his back.
It took a dozen or more of these colorful cycles passing us before I finally got the message - take a picture. That turned out to be more difficult than I'd thought -- at least for me. I went over to the window behind the driver's seat, opened the window and the screen, and waited for a bicycle to come by. But we were moving in one direction and the cyclists were going in the other. Every time one came by, I missed it. Tom, who was driving, could see them coming at him. He managed to catch a fleeting glimpse of what we were seeing by using the video feature on his iPhone!
We intended to spend only one night at the Bear Den RV park in Grangeville, Idaho, but, intrigued with the area, we extended our stay for an extra two days. What to do?" You can raft or fish the middle fork of the Clearwater River. You can explore nearby small mountain towns with interesting names like Elk City or Dixie. Or you can drive the back road to Riggins.
Bear Den is located just south of town, with full hook-ups and level pull throughs. A vacant field adjacent to the park is set up as an "off leash" area. Barney was delighted to be free, and, romping around in the long grass, flushed several quail. After they flew, he wasn't at all sure what to do next, but he greatly enjoyed the hunt. Next time out, he headed for the precise area where the quail had been before, and seemed a bit concerned when they were absent.
Last year we stopped here on our way east to Montana, and spent a full day on the Middle fork of the Clearwater river. This time, we spent the first afternoon exploring the mountains behind the park, driving up to the ski area. Just past the ski park, we found a sign reading "Salmon River, 50 Miles" "Riggins, 65 miles". Riggins is a town about 40 miles south of Grangeville on Highway 95, the main north-south arterial through Idaho. What an interesting, back country, way to get there. The road would drop us onto a part of the Salmon River we'd never visited. We'd follow the river into Riggins and complete the trip by driving back to the park on Highway 95. We just had to stay another day and drive the loop.
The route we'd chosen was clearly marked on a small brochure we'd found in the campground office. Tom talked with the campground host, who had taken the drive only a few days before. "You must stop and see Florence", the host told us. "It's a true ghost town. When you leave, just be sure to take the same road out that you took in. Continuing straight might look like the better way, but, trust me, it isn't".
About a mile east of Grangeville, we headed south on 221. On our trip the day before, we'd lost the road a couple of times. There is only one sign pointing you onward and that one is almost completely buried in the long summer grass. Keep heading uphill, and you'll have no trouble.
Up, up and up into the nearby mountains the road curved. We passed the last of the Grangeville area homes, rustic cabins with enormous wood piles waiting for the snowy Idaho winters, and entered the Clearwater Mountains.
About 10 miles south of town, we found a small Forest Service campground. Fish Creek has twenty or so wide sites, a large group area, and a couple of state-of-the art outhouses, the kind with the large black chimney. All the sites have fire rings, and today at least, most had neatly stacked firewood, each piece cut to fit the pit. None of those huge pieces as large as whole trees, which haven't a chance of burning without a basket of kindling and a healthy helping of fire starter.
The road climbs to above 5,000' in elevation, and then meanders through the forest. Around one corner, we met a small herd of cows. They seemed almost as surprised to see us as we were to see them, as there's not much traffic up here. Barney was the most surprised of all -- he seems a bit afraid of these huge animals, and is not the slightest bit inclined to get out of the car to meet them. Several little waterfalls demonstrated that the snow is still melting at the highest elevations. One curious doe watched us for several minutes before continuing her lunch.
With about 30 miles to go, the asphalt turned to gravel, but it was a well graded, smooth surface. Coming around a corner, we saw the sign to Florence, and turned off the road.
We'd never have found the town if the Idaho Historical Society hadn't placed some signs around the area. One sign reads, "Old Florence". The sign is planted in a beautiful green meadow, with absolutely NO sign of any town at all. It's hard to believe that in 1862, 9,000 people lived here. This was a short lived gold rush. Only a year later, most miners were gone. In 1897, new mining technology enticed the return of some. They couldn't get along with the small remnant population of old Florence, and "new" Florence was built, 1/4 mile away. The old buildings were torn down and the wood used for the "new" town. Miners even scavenged for any gold dust that might have fallen through the cracks of the old houses. You can still see remnants of this "new" town, now only fallen timbers covered with vines.
Old cemeteries are often the best places to "see" the history of old towns. Florence's cemetery lies in the shade of old cottonwood trees - a very peaceful ending for many residents of what was purportedly a most lawless place. Many of the cemetery graves are marked "unknown", some have names and dates carved into their wood markers, and one is simply marked "baby". A nearby historical sign states that this is the grave of a very young child, "the first person in Florence to die without his boots on"!
We retraced our steps back to Highway 211, and continued south. In the last few miles, the road became a series of switchbacks down to the Salmon River. From here, we could see the mountain ridges to the west, culminating in the snow dotted peaks of the 7 Devils country. Below was the Salmon River.
Instead of the expected clear blue of this "River of no Return", today the Salmon resembled a chocolate milk shake. This didn't seem to bother any of the multitudes of rafters, however - some of them even had fishing poles. All were enjoying the float through the Riggins rapids.
At Riggins, we joined Highway 95 for the drive back to Grangeville. But we had one more detour to take before we got back to our rig. About 35 miles north of Riggins lies the White Bird Hill. Today this steep hill has been conquered by a modern 3 lane, 7 mile highway. But you can still use the old road. The old road is twice as long, and zigzags up the incline, climbing 4,429 feet in elevation. It's the only road I know of that's on the National Register of Historic Places. Perhaps I should be there also, as I well remember driving this road with no choice of the faster one.
Tomorrow we continue west. A stop in McCall is on our agenda, with a day trip or two to see some of the places we used to enjoy when we lived in the beautiful state. Then, finally, we'll go home. Probably.
[See Pictures for this Postcard...]
---
Postcard: Wolf Creek Reunion
August 3, 2011
I can hardly believe a week could go by so quickly. We arrived at Yellowstone's Edge on a Friday afternoon and were treated to a Montana mountain special. Thunder, lightning and then hail deluged the park. Barney shot from the front of the coach to the back, where his nighttime "housie" is kept. He curled up on that piece of protective sheepskin, and refused to move until the storm passed. However, that was the end of such violent weather. The next 6 days were sunny and warm - just perfect for re-exploring this beautiful area.
Saturday was "downtown Livingston Day", and Sunday morning we attended the little Pine Creek Methodist Church. Traveling as much as we do, we've had the opportunity to sample churches from Washington to Arizona, and this is one of our favorites. One day we spent driving over the Beartooth Highway, and another was taken up with a float down the Yellowstone River. Add in a day in Bozeman, and our week was over. Time to set off for the Gonser family reunion in Wolf Creek, Montana.
Last year, I wrote in great detail about the Beartooth Highway. This 64 mile stretch of road between Red Lodge and Cooke City, Montana has my vote for the most spectacular road in the US, if not in the world. At 11,000 feet, you find yourself higher than many of the surrounding mountaintops. Look down to deep blue lakes, freshly freed from the ice of winter. A heavy snowpack, late in melting, meant that wildflower season was postponed this year, and Barney and I walked through meadows of blues and yellows.
There are at least two ways to float the Yellowstone River. Many people take a guided white water rafting trip through Yankee Jim Canyon. This is a class 3+ white water trip, one that requires the use of wet suit, life jacket and helmet. Viewing the water from the safe vantage point of the highway, it looks like a fairly dangerous float, and we were told that someone had recently drowned on a trip through the Canyon. However, float companies will take children over age 6, and float trips are everyday occurrences, so it cannot be as fearful as it looks.
Another way to float the Yellowstone is to rent a life raft and paddle yourself - not through the Canyon, but downstream, where the water is swift flowing but placid. The only potential trouble spots are where protruding rocks cause small riffles, and these are easily avoided. We rented a raft from the "Rubber Ducky Raft Rental" in Livingston, and enjoyed seeing the Paradise Valley from the vantage point of the River. On one bank a doe continued to graze even as our raft floated slowly by. As we drifted along, our raft was overtaken by a group of kayakers. One man paddled up to us and told us we were being photographed. His camera was mounted on his helmet!
The Gonser family reunion. Who would be there? What would we do? Where is Wolf Creek, anyway? I'd only attended one such event before, and then it seemed each family pretty much stayed in its own little circle, welcoming only those they already knew. We didn't know anybody at this reunion.
The answer to my first question, "who would be there" was, many of the descendants of the Gonser family. 75 individuals were expected. They were all descendants of 5 boys, Casper, Bill, Tom, Earl and Art, and one girl, Ruth. Art and his family moved east and settled in Minnesota. Tom's father, Bill, took his family to California, as did his brother Earl. Ruth and her family went to the Seattle area. The others had remained in Montana, and their families lived within a few hours of each other.
If I had been concerned about not knowing anyone, that concern was short-lived. From the moment I walked into the lodge at Wolf Creek, I felt like one of the family.
Wolf Creek is a small town about 35 miles north of Helena. Helena is 170 miles northwest of Livingston. A short drive -- if you're luckier than we were and manage to miss the ever-present Montana construction! Then west 2 miles on highway 434 to the sign for the 7R Guest ranch, a perfect spot for a large gathering. The ranch has an attached motel, large dining room and a small RV park with 50 amp service! (This last most appreciated in the hot Montana sun). A large lawn stretches from the motel to the creek, with a kid's playground in one corner. This was heavily used once all the Gonser kids arrived.
This was no gathering of old folks with old memories. There were children of all ages, from toddlers to high schoolers. Everyone seemed to get along famously. and I heard no squabbles or complaints from anyone. The ranch had no Internet or cell service, and if you wanted to get online, you had to drive the 3 miles to Wolf Creek town. This effectively shut down any of that non-stop "texting" which I tend to equate with high schoolers, but this didn't seem to matter, and the kids found other things to do.
Two young guys and their father busied themselves building a bridge across the creek. This involved dragging a huge log into the waterway and then constructing a rock path to meet it. Mission accomplished.
We pulled into the ranch, and, as usual, I went to find the office. What I found was Jim, Karen and Ashley Gonser, all working behind a long table. Set in careful piles on this table were stacks of colorful t-shirts, emblazoned with a horseshoe and the words, "Lucky to Have Family - 2011 Gonser-Mealer Family Reunion". In addition to the shirt, we received a unique name tag. On the top line, the individual's name, then his Gonser relationship -- for Tom, "William's son" for me, "William's daughter-in-law". On our tags, the next line read, "2nd Generation". Last came our home town of Bend, Oregon. Up in the corner of each tag was a number from 1 to 4. We would later learn what the numbers were for. Tucked in the badge were two tickets for items to be raffled off during the reunion. On the back of the tag was the Agenda for the reunion - in my mind a stroke of genius. It's very hard to misplace an agenda, (something I'm noted for), if it's part of your name tag.
"What would we do?" There were lots of events at this reunion. On Friday night, after the Taco bar dinner, pictionary and a Texas Hold-um tournament were scheduled. As things turned out, the lure of a late night campfire, with Montana sized marshmallows to roast, put an end to the scheduled events, although I later learned there had been an impromptu Karaoke sing.
Saturday was games day. At noon, we munched hamburgers and hot dogs, with a special coney island "seasoning", and then were organized into teams according to the numbers on our name tags. There was a sack race, a relay, where each team hopped across the grass to a goal line. Teamwork was everything if you wanted to succeed in the three legged race. The teams who managed to walk together were much more effective than those who attempted to run and usually fell as a result. At one point in the three legged race, a gal who was "partnered" with a very small toddler merely picked him up and ran to the finish line!
The last game, the water balloon toss, went right down to the wire. Two teams lined up and tossed balloons to each other. (Catching was the hardest part). After each team had tossed their balloons, they had to step back, making the next toss longer and harder. Of course, if you dropped your balloon, or broke it when you caught it, your team was out.
How could I have forgotten the potato gun? Before lunch, I heard a strange booming noise and went to explore. The Gonsers were firing the potato gun. The gun was constructed with PVC pipe. A 4 foot section of the pipe served as the barrel. It was duct-taped to a smaller, wider section which had a barbeque type ignitor taped to it. Firing went as follows: First, take a potato. Second, cram it down the "barrel" using the handle of a nearby toddler's toy broom. Then put some hair spray, (modern day gunpowder), into the wider section, give the whole thing to a willing volunteer, and watch when he presses the ignitor. Potatoes went flying up over the trees to land on the hillside on the other side of the creek. A seemingly endless line of kids (of all ages) wanted to fire the thing.
After dinner, - did I mention the food was fabulous? - we enjoyed watching the remaining items be raffled or auctioned off some others. The Gonser wine was, as usual, one of the most popular items!
Sunday morning, there was a group memorial service. Those Gonsers who had passed away were remembered with short statements from their families. Tom talked about his father, who "never met a man he didn't like", and who, occasionally at Christmas time, had been known to take his children to the toy department at JC Penney, instead of to Sunday School. The stories about these individuals made them far more than just names on a page. Hearing details about their lives as recounted by family members made them come alive.
There were some very special moments that weekend. I'll never forget Tom Gonser (California) meeting, for the first time, his cousin, Tom Gonser, (Minnesota). I heard "Hello, I'm Tom Gonser", in duplicate. Tom from Minnesota was attending the reunion with his wife and two grandkids, Ricky and Tom! The Toms became immediate friends, as did his wife Valerie and I.
When Tom was recounting the story about his father and the JC Penney Christmas toys, I noticed the faces of some of the younger members of the Gonser clan. They were as much a part of this reunion as any other Gonser and were thoroughly enjoying Tom's tale.
Since each name tag stated one's generation, it was very like climbing through the branches of the Gonser family tree. Putting faces with names and generations made the whole genealogy "thing" much more real and interesting. We were the "oldest" generation there - 2nd. We met 3rd, 4th and 5th generation Gonsers, and each was most friendly and welcoming.
An event like this could not have happened without an incredible amount of behind the scenes work. Jim Gonser and his wife Cindy planned the entire event, emailed the details to other Gonsers, and pulled off a very successful family reunion. I would have no hesitation in attending another one -- this time, I'd make sure that we brought some of our own Tom Gonsers to the event.
Now we're headed west again. One night in Missoula at the Jellystone RV park. As at other Jellystones, you get to camp with cutouts of Yogi Bear and his friends, but the park is very well maintained, friendly folks, and some of the most beautiful flowers I've seen. We'll spend a day or two in Idaho, and then head west toward Oregon and home.
[See Pictures for this Postcard]
---
Postcard: Montana Bound
July 23, 2011
We've been looking forward for this day. Today we're taking off for Montana. We're trading the rain and clouds of Florence for the Big Sky country. We've loaded our coach with everything we think we'll need, locked the doors and pulled the shades on our Florence home.
Once again, our primary destination is Yellowstone's Edge RV Park. I've never been quite sure if this park is so named because it is right on the banks of the Yellowstone River, or because it's practically (30 miles) on the edge of the National Park. Whichever, it's a great spot to spend a few days (or weeks), and explore Montana. Last summer we spent a month here, and took several jeep trips into the Park and the surrounding countryside. This year, we'll only be here for a week, and then head to Wolf Creek, Montana for Tom's family reunion.
But, as all RVers know, the trip's the thing. We are almost as excited about the various stops we'll make on the way as we are about re-exploring the Yellowstone country.
We left Florence in the late morning, and spent the first night at the Blue Ox RV park in Albany. This is a perfect place for a first night stop, close enough to town to stock up on anything you may have forgotten in your hurry to leave. And even though we've been stocking the rig for several days, I'm sure we'll find we've forgotten something!
From Albany we continued north on I-5, and turned east on I-84, following the Columbia River to Boardman, Oregon. The Boardman Marina is a snug little refuge in a dredged and bulkheaded inlet just off the River. The Boardman RV park, right next door, has 63 large, widely spaced level sites, many separated from the next with attractive fences. Some of the access is a bit narrow for larger rigs, and you should be aware of the tree overhang in a couple of areas, but the park is absolutely lovely, with carefully maintained green lawn all around. (If you go, note they take reservations. I recommend site 41!)
The trees pose some problems for TV reception, but by using our ground dish, Tom got us a perfect signal. However, I did see one man, obviously frustrated by the reception problem, setting his dish up in the street. Any cars headed for the marina area were in for a bit of a surprise!
Early the next morning, we continued east toward Walla Walla, Washington. We'd had our fill of Interstates by this time, and were glad to find an alternate route. In only 4 miles we found ourselves on Highway 730. On the AAA map, this road shows as a thin grey line. In reality, it's a scenic highway with broad shoulders, following the Columbia almost to the Tri-Cities. On our route, there were only two places where the road narrowed and the rocky wall closed in. Naturally, that's where we met two 18 wheelers coming the other way!
Just across the Washington border, we turned east on Highway 12, and headed toward Idaho. We were driving through the Palouse country, low rolling grain covered hills and small farming communities with picturesque names. Touchet, Dayton, Pomeroy and Patasha. Roads with equally picturesque names - Lower Hogseye, Sorghum and Pie Meadows.
We bypassed Clarkston and Lewiston, and continued on toward Montana. This was a fairly long day, and we traded drivers several times. It always seems I get stuck with the worst possible sections of road, and it happened again. The 30 mile stretch between Orofino and the turn to the Lolo Pass area was being oiled. Cars, trucks and an occasional RV (me) inched along. To make things just a bit more difficult, we were in an area where there was no Internet coverage. That meant Tom, who usually has his nose in his computer when I'm at the wheel, could see just what was going on. Also, he isn't particularly used to the viewing angle from the passenger seat. "Move over, don't get any oil on the rig." " There's oil across the middle line here, be careful". Comments meant to be helpful, but a bit stressful, nontheless. We changed drivers once more, and, of course, the road construction disappeared.
We were stopped once more as we climbed into the Bitterroot Mountains. This time it was an 18 wheeler with two long trailers loaded with large boulders. The cab was fine, but its second trailer was in the ditch. Rocks were everywhere. We could only guess that the driver had cut a corner too tightly, and that last trailer hadn't quite cleared the curve.
We didn't dream there would be any problem finding a spot at the Clearwater/Powell National Forest Service Campground, just below Lochsa Lodge. We passed several other Forest Service campgrounds, and they looked virtually empty. However, we wanted Powell. Unlike the others, there is an electric section here, and at an elevation of 3400 feet, the day was warm enough to make me dream of air conditioning...
We pulled in and detached at the junction of the electric/dry camping loops. As we were getting into the jeep, a class B Pleasure Way came up behind us. I grabbed a registration envelope, and we hurriedly headed down to the electric section; the Pleasure Way started into the dry loop.
We pulled into the first site we found vacant, with the Pleasure Way close behind. But by the time they caught up with us, I'd placed the campers portion of the envelope on the site post, and Tom had started back to get the rig. I walked around the rest of the electric section and found every other site taken. The Bitterroot Good Sams were having a rally. We'd snagged the last, best spot. Last seen, the Pleasure Way was headed back up the hill to the highway.
And it truly was a great site. Tom was able to set up our dish so we could get the evening news. We put on the air conditioner -- this campground provides 50 amp service. We met some of the Good Sams and learned about the Montana road work to come, and how best to avoid it. We enjoyed breakfast at the Lochsa Lodge the next morning - huckleberry pancakes. Every so often, I just have to indulge myself!
While we had received advice from a couple of the Bitterroot Good Sam folks about Montana road construction, they had neglected to mention the 12 mile stretch of gravel between Sula and the Chief Joseph Pass at the Idaho border. We found ourselves in a long convoy of cars, just crawling along. It seemed to take forever to drive this piece of Highway 93, and we were relieved to turn east toward the Big Hole National Historic Park. We were planning to stay at another Forest Service campground just outside of Wisdom, MT -- Camp May. Except for a couple of wandering bears, we'd thoroughly enjoyed our stay at this spot last year. It didn't work so well this time.
We drove through the campground in the Wrangler, and found someone had blocked off several of the best camp sites. Much of the rest of the campground was due to be closed for a few days, while the Forest Service ferried construction materials via helicopter to rebuild an historic Ranger Station in the mountain wilderness. We guessed those closed sites were being held for Forest Service personnel yet to arrive. We weren't able to ask the camp host, however, because he was nowhere to be found. Still, we had decided to stay anyway, and had returned to get the rig when I smelled smoke. The orange color of the clouds to the south meant fire somewhere not too far away. That was the final straw. We drove on to Wisdom.
There aren't a lot of camp grounds in Wisdom, Montana. There's a small campground behind a motel, and also the American Legion park about a half mile west of town. We chose the park. We were camped in a large field, dotted with half a dozen tables. A small building provides a screened shelter for the bikers who come through, and a place for a barbeque if the weather is bad. The park is fenced on three sides, and a cattle guard at the entrance ensures your dog will stay inside. A conveniently placed stile allowed us to get over the fence, and Barney had no trouble learning how to climb it. The place is absolute dog heaven -- except for Barney's tendency to roam a bit further than we liked, after he had mastered the stile.
We spent the last two nights of our eastward trip in Ennis, at the Ennis RV Village. Ennis is on the Madison River, one of Montana's fabled trout fishing rivers, and even though this year's snowpack has produced record river levels, we were told that the river had dropped enough to be clear and fishable. And, judging from the gear we saw in the rigs around us, and on the cars in the river access areas. this must be true.
Ennis considers itself a "fishing mecca". The small shops in town sell fishing gear, flies, rods, vests, boots, boats and whatever else a fisherman might possibly want or need. I was taken with the many large fish statues around town. These large, gaily painted fish were sold at auction in 2009, and the money used to benefit many Madison County charities. Some (fish) are now in private collections, but I found one at the public library, and another in front of the hospital.
Now we're headed over Bozeman Hill to Yellowstone's Edge RV park. We're looking forward to seeing owners Pam & Chan, and doing some exploring in the Paradise Valley. We'll drive some of the back roads, and Tom may test his line in some of the smaller streams. Of course, we'll always keep an eye out for bears, bison, and whatever other wildlife may come our way.
See pictures for this Postcard...
---
Postcard: Postcards from the Past: Remembering the Galapagos...
June 30, 2011
It's been 7 months since our family returned from the Galapagos Islands, and, while we still talk about that trip, our conversations have become less frequent. We no longer ask each other, "Remember snorkeling with the sea lions? Weren't those giant tortoises incredible? And, how about the meals on the Endeavour (our Lindblad/ National Geographic cruise ship) ?" Now,especially for our grandkids, current day to day activities have become more important. That's as it should be. However, our fading memories of the Galapagos got a boost just today. We received an email from our daughter, informing us that she and both kids had received "their postcards".
This was indeed surprising considering the place from which they had been "mailed". The Floreana Post Office is a most unusual spot, and to actually receive mail from there an unexpected surprise.
On November 7, 2010 at 6:30 AM we boarded Zodiaks (the inflatable boats we used for onshore excursions) for a short trip to the post office. But this post office was completely different from what we'd expected -- none of the usual postal services, such as stamps or express mail. In fact, it didn't look like a post office at all.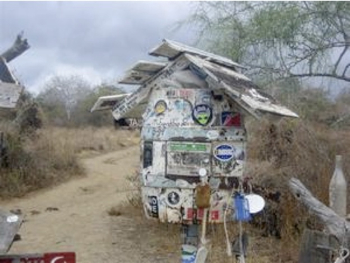 First, there's no building and no postal employees. In fact, there's no one there unless a cruise expedition comes by to use it, and then it's only your crew who will help you mail your cards. There is just one very small counter, an umbrella over a board set on braces, and one large, gaily decorated barrel. So how does the mail get delivered?
It all has to do with the isolation of these islands - 600 miles from the nearest mainland, Ecuador. The early settlers here had no way to communicate with the folks back home. Their solution to this problem depended on the goodwill of others. The settlers wrote letters, addressed them, and left those letters in a barrel. When outward bound travelers came through the Islands, they picked up the letters, and, if they were traveling near their addresses, delivered them. No stamps, no postmen, just generosity.
This tradition continues today. Before embarking on our trip to the beach this morning, we were each given a blank postcard. We could write a note to anyone (most chose to write to themselves), and have it ready to "mail". In return, it was hoped that each of us would take a card previously left in the barrel and deliver it to someone back "home". The important word here is "deliver". Following time honored tradition, we were requested to hand deliver the card - not just find a mainland mailbox and affix a stamp. Our group really got into the spirit of the post office, and most of us took one or more cards.
Arriving at the "post office", one of the crew took his place behind the small makeshift counter. One by one, we took our cards to the counter. With many grand flourishes, he stamped them -- one by one. (Our stamp read," Lindblad Explorations/ National Geographic"). Then we deposited them in the barrel.
While we were mailing our cards, other crew members had retrieved some of the 100 or so cards which had been left in the barrel by passengers on earlier shore excursions. We all stood in a semi-circle while some of the crew read the addresses from the cards. Since Spanish is their native language, it was amusing to hear the way they pronounced the names of some of the American towns. Of course, had the situation been reversed, they would have had quite a laugh at our pronunciation of Ecuadorian towns and villages!
After this morning's trip to the post office, we returned to the boat and our daily activities of wildlife viewing, (marine iguanas, blue-footed boobies, albatrosses - the list goes on and on), snorkeling and island hikes. I certainly had not forgotten our post office adventure, especially since I still have a card to deliver to Astoria, Oregon. But I've thought little of it until I learned of the mail delivery.
Our daughter took pictures of each of these cards, and sent them to us. We greatly enjoyed reading what our grandkids had written to themselves that morning last year. From 11 year old Calleigh, " Dear Calleigh, I don't know when you'll receive this message, it might be in 50 years... the Galapagos islands is an amazing adventure. I have gotten to do so much fun stuff like snorckle (sic) and go on a glass bottom boat. Bye, see you in the future. Sincerely, Calleigh Lighty".
From 14 year old Ty, "Hi, Ty, Right now I am on a cruise boat sailing around the Galapagos islands and exploring marvelous adventures. As of this day I am 14 years old going on 15. This experience has been amazing. I hope all is well in your life right now. Remember to continue in your studies and make the right choices. Sincerely, Ty Lighty".
Tom and I have been lucky to take many trips the past few years, both by motorhome and, on occasion, to "exotic" spots not reachable by land. Our excursion to the Galapagos Islands last November was one of these -- every day a new experience learning about these unique islands, and watching our kids and grandkids having the times of their lives. And these postcards from the past brought back vivid memories of that incredible trip.