---
POSTCARDS
---
Stephanie is one of those persons who can fit a lot of words onto a standard size postcard -- usually by writing sideways, around corners, and even upside down if she can find some extra space. Most of these go to family and friends. But some of them -- those which document our RV adventures -- find their way onto this portion of our website.
---
Postcard: Trick or Treat
October 31, 2013
Heading south. Our first major stopover was at Durango RV Resort in Red Bluff - one of our all time favorite spots. You'd expect the usual amenities here - beautifully landscaped, well spaced sites, a pool and spa, but what about adding a dog wash! The pool is not a small paddle pool, but a 4 lane, 25 yard play or lap swim area with a large spa. Beautiful clubhouse, etc. - my list goes on and on. And, it seems there's always something going on in Red Bluff - an old time fiddler's contest in summer, concerts, art walks each Friday. And you should have seen the Halloween spectacular the town put on! But I'm getting ahead of myself..
Last year, we had to curtail our wintertime activities. This year, we're doing things a bit differently. Instead of having reservations at each of our usual stopping places, resos spaced so closely together that we have mandatory miles to cover each day, this year we're taking things more slowly. Now, if/when we decide to stay an extra day or so, we will, trusting that we'll find a place to stay when we move on. We do realize that this devil-may-care attitude will be good only until we bump up against a holiday. But so far, so good.
From the Premier RV resort in Eugene, to 7 Feathers in Canyonville, Halloween season is in full swing. In the spirit of the celebration, we've had our share of tricks and treats. We've been lucky in that the "Treats" have far outnumbered the "Tricks". Our first stop was at the Cummins Coach Care shop in Coburg, just north of Eugene, Tom had arranged for the rig's yearly "check-up", annual chassis service lube, oil change, and a long list of other preventive services I know little or nothing about. The mechanics there do a wonderful job - witness the fact that our first "treat" was their finding that our automatic battery refill system wasn't automatically refilling the batteries as it should, and several were at risk of running dry. That could have been a most unpleasant "trick" further down the road.
We spent that first morning doing some last minute shopping, and when we returned to the coach, I put the groceries away inside while one of the mechanics toured Tom around the outside, showing him what problems had been found and how they had been fixed. Thanks Cummins!

We spent the next evening at 7 Feathers RV Resort in Canyonville, just 100 miles south. It was already becoming warmer - in Eugene we'd experienced a heavy frost, and the sunny climes of California called.
And sunny they were, but even better, there was no wind as we drove across the plains outside of Weed. We arrived at Durango in the late afternoon, ready for a swim and spa experience. However, as we pulled into our site, I noticed water running from the bottom of cabinet which houses the kitchen sink. A small river was snaking across the floor and into the bathroom where it was being absorbed by the bath mat. Oh, oh! I'd seen this before. Usually it occurred when we washed dishes with the slide in, and had experienced no problem when it was extended. We'd had it "fixed" on at least three previous occasions. Obviously, it was going to require a fourth.
I decided to test the system. Maybe this was just a fluke? After the main slide was fully extended, I turned on the kitchen faucet full bore. The water went down the drain, through a portion of the pipes, and came right out on the floor - right between the kitchen sink and the wall. We couldn't tell just where the break was, but there certainly was one - somewhere!. Trick!!
We cleared everything out from under the sink, crawled into the small space as best we could, shining a light everywhere possible, but could find no obvious place for the leak. Perhaps the folks at the front desk knew a repairman?
Did they ever! Ralph to the Rescue. He'd actually been working on another rig in the park when we called him, and before he left us had received yet another distress call from someone else here. When we asked, he admitted he spent a lot of time at Durango, and once had 6 rigs vying for his attention.
Ralph has a great "coachside manner", he patiently explained what and where the problem was. I had removed most of the under sink cabinetry, and could see no leak - Ralph removed a shelf and there it was. Somehow the movement of the slide can on occasion disconnect the pipe at a critical joint. Screw it back on, tighten it down, and we're set - until next time. But now we know just where the potential problem is, and, perhaps, when next time comes, we'll be able to fix it ourselves. "Treat, treat, treat". Thank you Ralph! I could now do the dinner dishes without having to resort to the tiny bathroom sink.
We spent the next day, Halloween, being lazy, just enjoying the Red Bluff area. Unfortunately, the road through Mt. Lassen park is closed - whether due to weather or construction we don't know; but we'll have to leave that one for another visit. Instead, we followed one of our favorite back country roads to Manton Corners once again. This part of the state somehow just doesn't feel like California at all. It's very sparsely poplulated, and offers up some tiny country lanes that almost look more as if they should be in New England.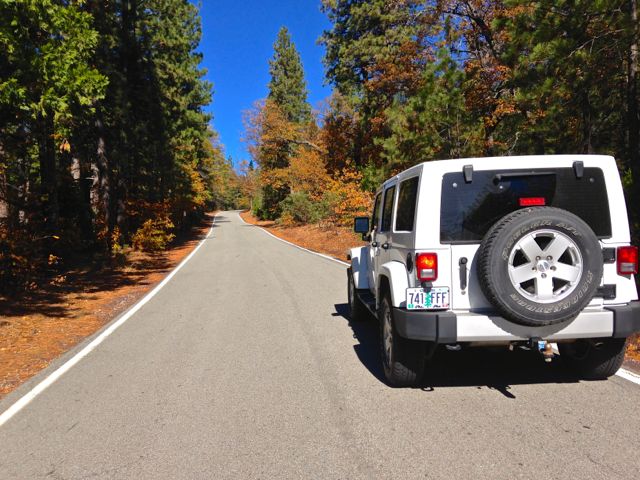 Our return trip to Manton Corners surely did not disappoint on this bright autumn day. The Corners store was fully decorated for Halloween, with thick cobwebs strung from the rafters and across the front door.
When we walked up the steps to the store, the bartender/shopkeeper/Chamber of Commerce representative all in one, got up from his chair on the porch. I complimented him on the decor. "Yes", he said, "we got some really large spiders here"! Now officially wearing his shopkeeper hat, he sold us a couple of bottles of water and a one bottle of Petit Sirah from the winery which is located very nearby. Then, donning his Chamber hat, he suggested we drive to the top of a nearby hill to view the devastation caused by the recent Ponderosa fire. His estimate of the extent of the fire was 27,000 acres.
Halloween in Red Bluff. Several coaches in the park were having a decoration competition, and one coach was especially spirited. It featured a gruesome looking couple hosting a potluck, with such goodies as "finger food" (bloody rubber fingers), and munchies (spiders and scorpions).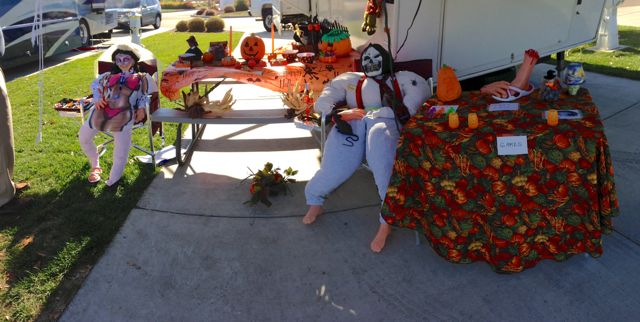 From 2 until 5, the shops along Main Street were closed for any business except to give out candy. There were hundreds of kids in costume, wandering in and out of the stores - all with bags just bulging with their loot. I saw brides and princesses, dozens of small Spidermen and Ninja Turtles. There were ghouls and goblins, witches galore, and one tall lad cloaked all in black with a silver shield completely covering his face. I heard his mother say that he could see perfectly well from behind his mask.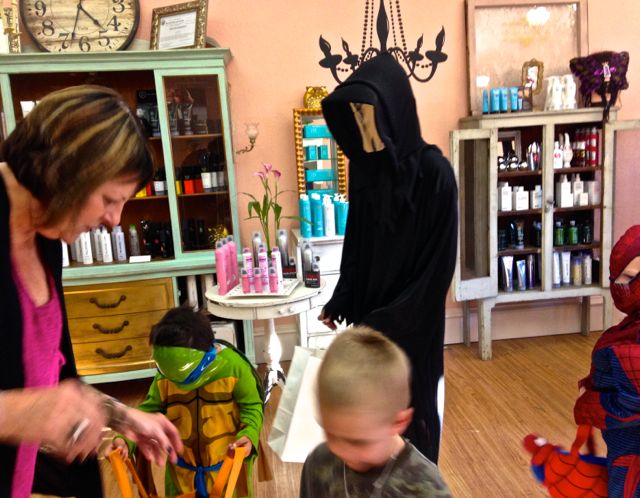 I managed to squeeze into a beauty salon, where the owner was handing out brownies! As each child came by, she handed him one, and complimented him on his costume. "We started with 1,000 pieces of candy", she said. "We gave all of those away, and now are working on our treats for the patrons of tomorrow night's art walk". Another decided treat for me on this Halloween day.
Another trick waited to occur until the next day, when the drawer latch on largest drawer in the rig broke. Since it's the piece that secures the drawer from opening as we drive, it was necessary to replace it. Ralph to the Rescue once again. His cell number was still in Tom's list of recent calls, and he directed us to a nearby camper supply store where they actually had the exact little part we needed. Thanks, again Ralph! Another treat.
So, we've had tricks and treats this Halloween season. Many more treats than tricks, and we learned some lessons about our coach we wouldn't otherwise have known . The weather forecast is still holding warm and reasonably windless, and tomorrow we're off southward once again. Overnight at Orange Grove in Bakersfield, and Emerald Desert in Palm Desert on Sunday.
---
POSTCARD: Sensory Overload
September 5, 2013
What a trip... We came to Alaska expecting wind and rain, and what we found was calm seas and sunny skies! For every day but the last, the day we were returning to the "lower 48", my rain jacket remained in the bottom of my suitcase. Not that I'm complaining.

The Malaspina docked in Juneau at 4:15 AM, and we were checked into the Best Western Country Lane Inn shortly before 5. A short nap, light breakfast in the lobby, and we went to the airport to pick up our rental car. 2 1/2 days of exploration lay ahead. Where to go first? The obvious answer, the #1 attraction of the Juneau area, Mendenhall Glacier, which we'd be able to see in uncommonly sunny and clear weather.
You don't have to drive out to the glacier to see it - it's visible from many spots in and around town. We even had a great view one morning from neighboring Douglas Island. But if you take Mendenhall Loop Drive to Glacier Spur Road, you can view Mendenhall Glacier "up close and personal".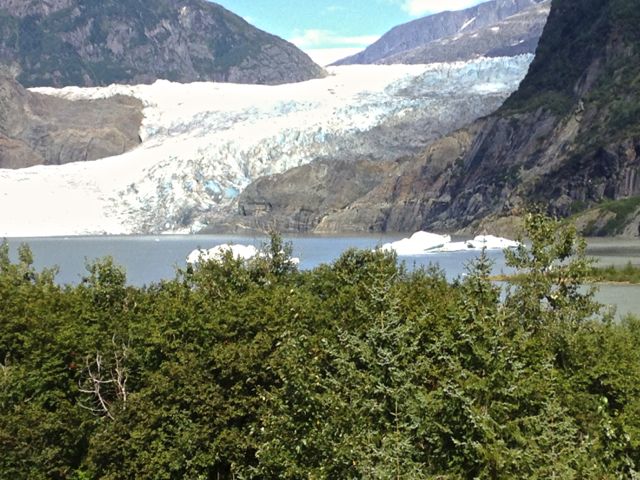 Because it was such a beautiful day, and because there were 3 cruise behemoths docked in downtown Juneau, the parking area near the Visitor Center was understandably packed. Even though each cruise ship has its own fleet of tour buses, and have their own parking areas, it was difficult to find an empty spot in any lot or on the adjoining streets. But wait! Was that pickup about to pull out of a nearby spot? 2 men got in and closed the doors. Surely they were leaving. We waited. After a couple of minutes, one guy got out of the truck and came toward us. "We're waiting for the 'women-folk' ", he said, "but I'll pull forward and you can probably park just behind me." We did, only slightly teasing the red zone now behind us.
We walked up a short incline to the Visitor Center. From the viewing platform just outside the building, we got a great vista of the glacier. It begins 12 miles up in the Juneau Icefield, and continues to its terminus at Mendenhall Lake. Like many of Alaska's other glaciers, Mendenhall is shrinking - melting faster than it is replenished each winter. 100 years ago, the glacier was so much larger that Mendenhall Lake did not even exist.
From the Visitor Center, trails of varying degrees of difficulty branch out in all directions. Two of the easier ones are Photo Point trail and Nugget Falls trail. The first takes you to a small peninsula jutting into the lake, where you can get a closer shot of the glacier. The other takes you on a very short hike to a large waterfall near the ice. I noticed one group of hikers, who had come to the end of the Falls trail. Undeterred, and wanting to get even closer to the Falls and the Glacier itself, they were wading across a shallow portion of the Lake. In another part of the Lake, a couple of kayaks had unloaded several people right at the base of the glacier. They had climbed a short way up and were sitting in what looked like a damp and difficult spot. When I looked again, they had moved on, whether back to the relative safety of the kayaks or to climb onto the glacier, we never knew.
By now, it was barely noon, and we had a lot more ground to cover. Next on our list was to drive the full length of the main road in Juneau, which extends north west and south east from town. This project is less ambitious than it sounds - the entire road is only 40 miles long. We divided the trip into two sections, the longer one, to the north west, this afternoon, and the shorter leg, combined with a bit of downtown Juneau, left for tomorrow.
Off we went, following the Glacier Highway (Alaska Highway 7). It was Labor Day, and the weather was warm and sunny. (We'd read the next day that this was the warmest September 2nd since 1970). In Lena Cove, about 5 miles north, we found a small beach for lunch, and one of the few picnic tables that was empty. Families were out in force, walking the beach, throwing frisbees, jet-skiing, and swimming (yes, "swimming") in the protected water of the cove. I complimented one man on the beautiful day. "It's always like this in Juneau," he grinned.
We drove north, taking back roads wherever possible, and stopped at the Shrine of St. Therese. A short walk from the parking lot are several cabins, a post office, and a building often used as a retreat. Cross a short causeway to the beautiful church, the stations of the cross, and the rocky beach. It was quiet and incredibly peaceful.
On again toward the end of the road. We stopped several times just to take pictures. Around every bend, came a new, breathtaking view. Calm, sunlit water, small islands, each begged its own snapshot. Sensory overload at its finest.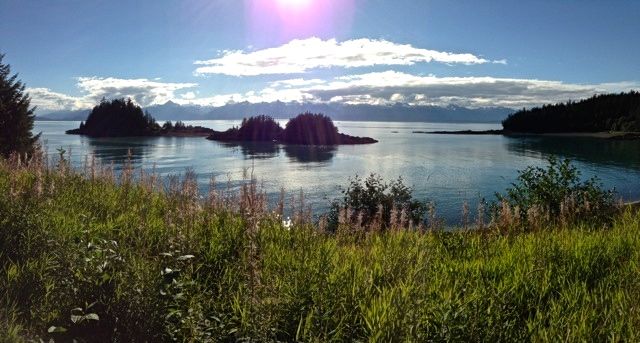 The end of the road came with little warning. We had left the water's edge and climbed a small hill. Then came a sign, "road ends". And it did. It narrowed down to wide trail width, and was gated. On the gate were two signs. One read "Road closed, do not enter". That alone might not have dissuaded me from walking a bit further, but there was another, smaller sign. "Explosives in this area". That worked. Time to return to our motel, and plan for the next day's trip -- to the other end of the road.
The next morning was almost as beautiful the day before. How long can this weather last? (Again, I'm not complaining). Today, we'd explore Douglas Island, drive to the south-east end of the road, and explore a bit of the city.
Douglas Island lies across the narrow Gastineau Channel and is connected to downtown Juneau by the Juneau-Douglas bridge. We drove across and turned right, passing waterfront homes with trailerable boats invariably parked in the driveway. I would have expected these homes to have docks, but this is the land of huge tidal swings, which can range from a high of 21 feet, to a low of -4 feet -- quite a challenge for just a small private dock! At low tide Douglas is actually connected in places to the mainland. Today, however, the tide was perfect for two groups of kayakers, paddling across the channel with the ever-present Mendenhall Glacier in the background. Have I mentioned sensory overload?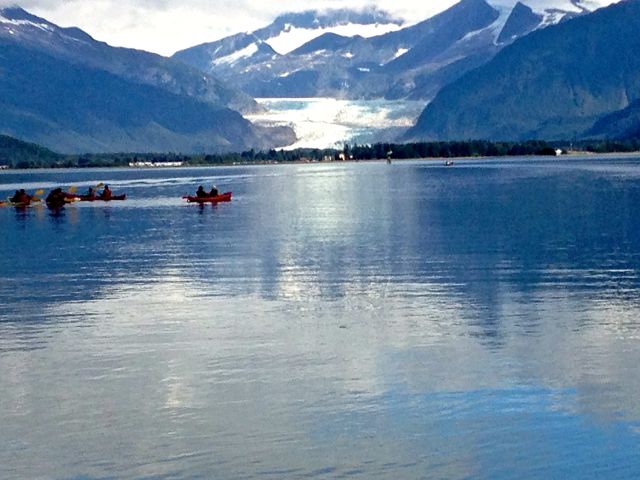 We followed the North Douglas Highway to its end. Before re-crossing the bridge, we detoured a short distance up to the Eaglecrest ski area. This area, 640 acres, with a winter snow depth of from 200-300", was mostly deserted today, although the Zip Line summer attraction had enticed a few takers up the hill for a scenic adventure.
Next we drove to the south-east end of the main Juneau road, passing a new batch of replacement cruise ships which had arrived overnight; and the nearby shops were eager to welcome them. Even though there's almost three weeks before the last ship leaves for the winter, many of the shops have their "end of season sale" signs posted. Judging by the number of shoppers, those signs are well-serving their intended purpose.
We still hadn't explored Juneau, so we drove up South Franklin, the main shopping street. It consists of jewelry stores, Alaskan artifact stores, an occasional art gallery, and one store specializing in Russian articles (because of Alaska's Russian heritage). The idea of an hour or so, just "poking around" in those stores, was intriguing, but I decided to leave that for any spare time that might remain on our last day. We'd take what was left of this beautiful afternoon and drive to the "top" of Juneau. Franklin St. to 7th, 7th to Gold St., Gold St. to Basin Road. We walked up Basin Road, past the last house and across a single-lane wooden bridge that somehow was attached precariously to the vertical hillside, but offered a great view of Gold Creek -- so named, of course, because gold had been discovered there.
Grabbing the car, we drove the last short distance to the parking area at road's end. A sign directed us to the Last Chance Mining Museum. We didn't have time to explore this museum today - something I will definitely remedy next trip. This is also the trailhead for several hikes - one of which leads to Mt. Roberts. You could hike up there and welcome the tourists coming up on the tramway from their cruise ships! Several descriptive signs around the parking area indicated the trails in the area, their lengths, degree of difficulty, etc. I especially remember one statement: " The weather in Juneau can be aggravating, but the ability to walk up into the mountains, find a grassy meadow, and see the mountain goats up close, is one of the many reasons we live here".
One quick word about restaurants. Since we weren't staying downtown, we were not close to any of the better-known restaurants. We did, however, have one very memorable meal. The Sandbar is one of those places you probably would pass by if you only judged it from the outside. Reviews contain such words as, "dive", "seedy" and "a little rough". But all agree, and Tom & I with them, that they serve absolutely the best halibut and chips ever! I'd go back in a heartbeat.
We woke the last morning to a rainy, windy day. Juneau weather had reverted to normal. Our flight back to Portland would leave in only a few hours; but we couldn't waste those hours. We spent the morning revisiting the cruise ship docks - a completely new set of boats had again arrived overnight - and then returned downtown. We'd been told that a trip to the Alaska State Museum was a must, and I certainly agree. Probably the best known display is the eagle tree - a life size tree, surrounded by an encircling, spiraling ramp, which extends from the first to second floors of the museum. From different places on the ramp, you get of view of these majestic birds, a couple perched on tree limbs, one flying and one parent feeding a young eaglet. Elsewhere I enjoyed the displays of carved artifacts -- including billikens, ("gods of things as they ought to be"); and some beautiful ceremonial clothing in such good shape you could remove it from the case and wear it immediately.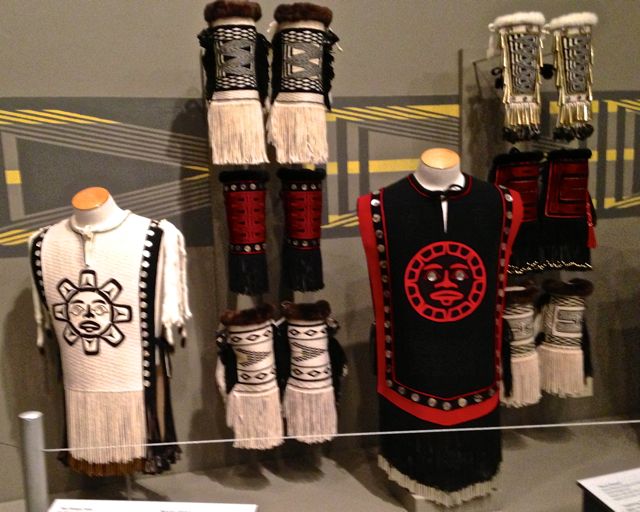 In my limited experience, state capitols all look alike - smaller replicas of the US Capitol building. Not so the Alaska Capitol. This one resembles a large apartment complex, and we drove around the block twice to be sure we were in the right spot. Inside, on each floor, you'll find long carpeted corridors, walls lined with beautiful pieces of Alaskan art, and pictures of governors, past and present. To get to the upper floors, where the Legislative Offices and offices of the Governor and Lieutenant Governor are located, you can take an elevator, or walk up marble staircases.
Then it was time to turn in the rental car, (which we did with all of six seconds to spare), go through airplane boarding checks, (a somewhat less burdensome process with fewer passengers), and head home. It's hard to believe that it will take us only a few hours to cover the distance it took us almost 5 days to travel by rail and water. We'll spend one night at the Radisson, reclaim our car, and head back to Florence. It's been a fabulous trip. Oh by the way, did I mention sensory overload?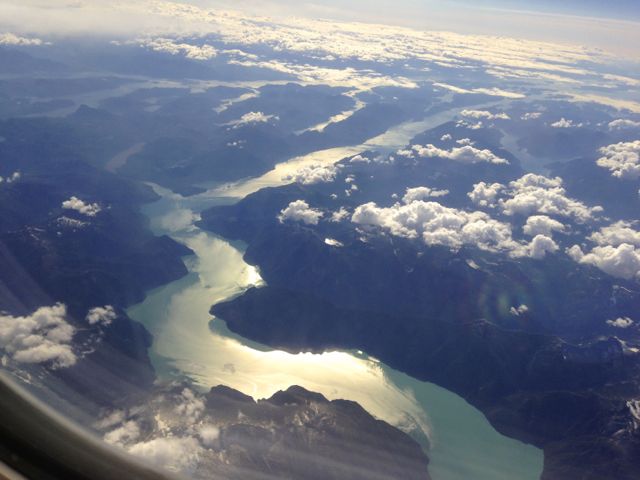 ---
POSTCARD: Out for the Season
September 2, 2013
The M/V Columbia is considered the flagship of the Alaska Marine Highway system. It's 418 feet long and cruises at 17 knots. It can carry more than 900 passengers, and some 150 vehicles, using an ingenious two-tiered vehicle loading system. To the uneducated eye (mine), it seems that part of the ceiling in the vehicle area can be lowered, allowing smaller cars to drive onto it. Then it's raised to allow parking underneath. The cabins, 2, 3, and 4 berth rooms, are not fancy by cruise ship standards, (don't expect towels folded into swan shapes, or mints on your pillows each night); but are perfect for this type of adventure. There's a cafeteria and a restaurant, movie theater, and on certain cruises, lectures on Alaska. All the ferries can, (and do), go where the larger, wider and deeper draft cruise ships cannot. And after this sailing the Columbia will be "out for the season". Instead of its usual route around "southeast", this time it ends its trip in Ketchikan. Everyone traveling north from there will transfer to the M/V Malaspina. The Columbia will go back to Portland, Oregon for its yearly dry dock service and be outfitted with a new engine.
Packing for Alaska. Think rain jackets, boots and warm sweaters. Pack them neatly in your suitcase. And then leave them there. It's been very warm as we have traveled north. True, we did wake one morning to a dense, drizzling fog. It was short lived, however. As soon as we got across Queen Charlotte Sound, one of the two open ocean stretches at the top of Vancouver Island, we suddenly emerged from that gray, fuzzy ball to a spectacular northern sky. As we passed Calvert Island and traveled up Fitzhugh Sound, we could look behind us and see the fog, hanging like a big wet blanket, over the Sound - but behind us! Now the day was bright and sunny, soon to become hot enough for shorts. Thank goodness I'd packed a pair.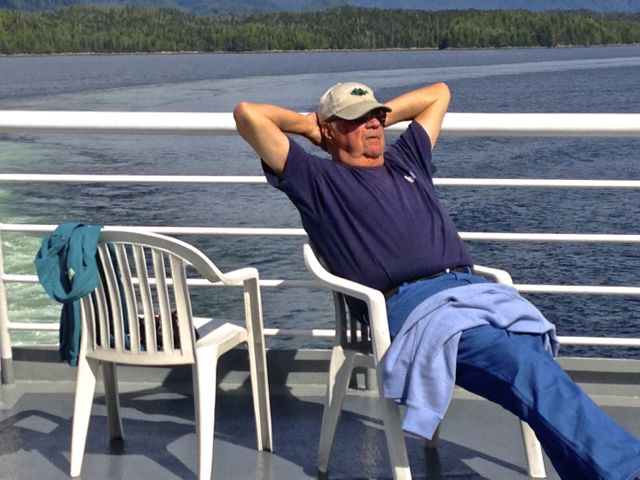 Almost exactly at 8:30 this morning, and repeated at set intervals during the day, came the announcement "the car deck is now open". For safety reasons, the car deck is off limits to passengers except for certain short periods. Now is the time to get anything needed from your car, check on your pets, feed and walk them. They will have to walk on the cool metal floors of the ferry, reverberating from the action of the engines; and if they're used to grass, they may refuse to "potty" at all. There's a small, well watered patch of grass in front of the Ketchikan terminal to attest to this fact.
The car deck is filled with dogs of all shapes and sizes, all leashed, all with anxious owners waiting for them to perform as needed. Crew members are stationed there as well, making sure that everything goes smoothly. This trip, we are traveling without a dog, but for old times' sake, we both visited the deck. Since it is the Columbia's final trip north this season, there are relatively few passengers this trip so the dogs had a much larger space to roam than I remembered.
There are only two places where the ferry might experience other than quite calm water, Queen Charlotte Sound; and further north, crossing Dixon Entrance. Today, however it was glassy calm both places. We cruised past the small Indian village of Klemtu, where the spawning salmon were actually causing the water to churn, and small fishing vessels were dragging nets through the water in hopes of snagging them. The numbers of fish made it look like a net was unnecessary - a large scoop would be all that was needed. One of the crew even volunteered his hat! And on toward Ketchikan.
Our ship is showing definite signs that her seasonal end is near. In addition to fewer passengers and vehicles, there are other noticeable changes. The dinner menus have shrunk - it's not unusual to hear "we're out of" this or that. The gift shop shelves are almost bare, and even the bar is eerily empty. On the plus side, we had our choice of dinner tables, where it was impossible to miss one of Alaska's incredible sunsets -- which from our choice seating spot was this: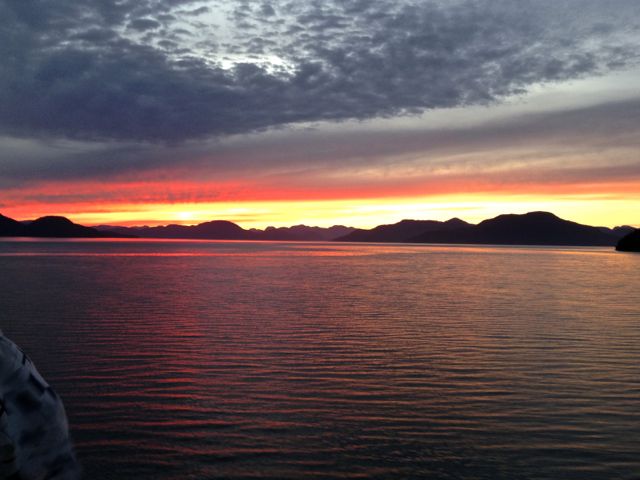 We arrived in Ketchikan at 7 am, left the Columbia and boarded the Malaspina, and were en route to Juneau promptly at 10 am.
Somehow, the M/V Malaspina seems more intimate than the somewhat larger Columbia. There's a local flavor missing on the larger ship. This trip, we were joined in Ketchikan by track teams from all over southeast Alaska. Over 100 high school runners had attended a cross country track meet there, and now were headed home. And, in this part of the world, you don't just load up your team on a bus and drive to a meet. There are no roads connecting any of these small communities - the Alaska ferry is both their pathway to the outside world and school bus. While the kids tended to stay in groups according to their schools, they were extremely friendly and polite answering all my questions about their track meet and their experiences in going to Ketchikan.
Wrangell is only 6 hours of smooth, sunny, (surely at least on this day!) sailing from Ketchikan. In Wrangell we had enough time for a short walk downtown, and were glad to see the garnet stand was still there.
Wrangell garnets come from a mine at the mouth of the nearby Stikine River, about 9 miles from town. The property was deeded to the Boy Scouts of America, and, more specifically, the children of Wrangell, in the 1960s. Adults are not allowed to sell the stones - although they are allowed to collect them for their children to sell. The use of power tools and blasting is forbidden when collecting the stones, and it must be hard work to chisel them out of the rock faces of the mine. Often the garnets are still embedded in the rocks, which, of course, makes them even more attractive to the buyer.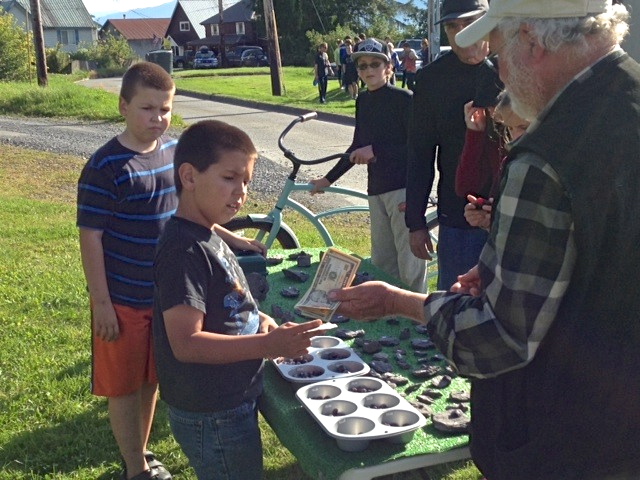 As we started our walk, we were passed by several groups of the cross country runners. They had started out jogging, but when they passed us later many of them were dripping wet. Not because they were running flat out - and they were, but since it was a warm day, and because they were teenagers, most of them had gone swimming in the bay. Hardly consistent with the image that one has of the "frozen north".
Shortly after leaving Wrangell, our ship approached the Wrangell Narrows. The Narrows is a 22 mile long stretch of tidal waterway between Mitkof and Kupreanof Islands. You know you're entering the Narrows when you hear the Captain call for one of the crew come to the ship's foredeck. This crew member ensures that the anchors are ready in case the boat runs aground in this narrow channel, those anchors then being needed to keep a bad situation from becoming even worse.
So, with crew member watching for unexpected rocks, shoals, etc. from the bow of the ship, and all the passengers crowding the sides, the Malaspina entered the Narrows. Today, the tide was with us, and we were swept along - sometimes within 30 feet or so of the treacherous rocks on either side. The tides can make navigation all the more difficult, as they range from a high of 21 feet to a low of -4 in the course of a day. But our captain kept the red buoys to our right and the green ones to the left, "red right returning", made all the tight turns, kept a carefully maintained speed dictated by the fast-moving tidal currents, and we sailed past the 65 markers without incident. (Statistics show that there has been an average of 1 "incident" every 1/4 mile). I can certainly appreciate why the huge cruise ships dare not make this run; but their passengers unfortunately miss what is certainly the most spectacular portion of the "real" Inside Passage.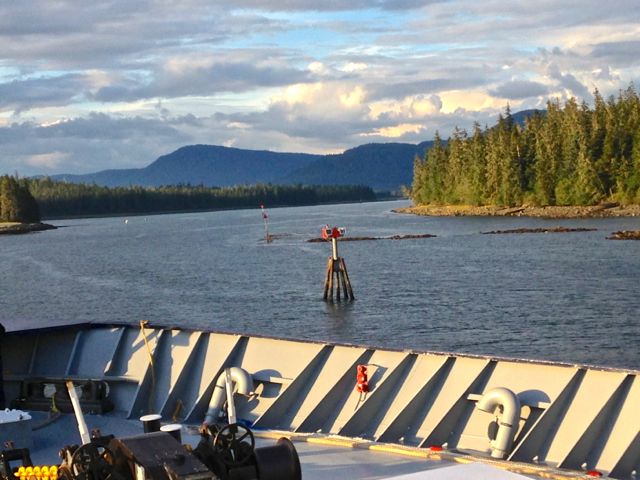 "Shore leave" in Petersburg was only 20 minutes, barely long enough for the dog owners to take their pets ashore; and we resumed our northward journey around 9 pm. In the early morning -- think 4 am -- we'll dock in Juneau and the ferry leg of our trip will be over. We'll have 2/12 days to explore Juneau before we must fly back to Portland. What a week it's being!
---
POSTCARD: Alaska Bound: AMTRAK Adventures
September 1, 2013
We drove from Bend to Portland, and spent one night at the Radisson airport hotel. On previous trips, we've stayed at the Hyatt Place; however, they dropped their long term parking option. The Radisson will let us park in their lot and it's an extremely convenient place to leave the car. I've met others taking advantage of this - once a family flying to Hawaii for a week, and once a woman going to the Yucatan. But this time we're not flying out -- we're flying back. The first leg of our northbound journey is by train; and while the Radisson is close to the airport, it isn't close to Union station. But Portland has a great solution tailor made for this problem, TriMet.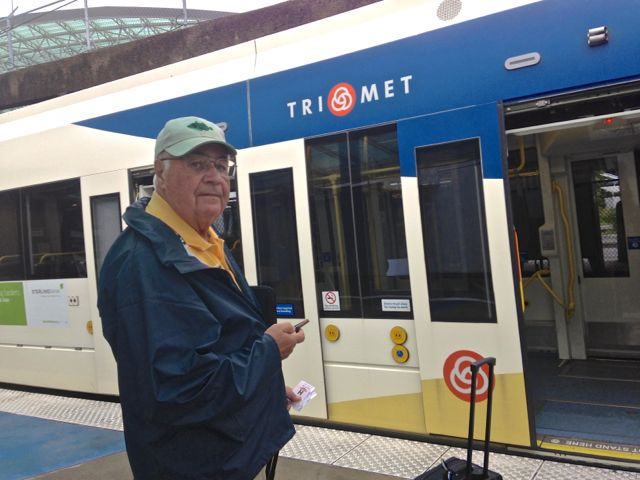 Take the Radisson shuttle to the airport, and have the shuttle driver deposit you at the far end of airline departures. Here, tucked neatly between the road and a set of tracks, you'll find theTriMet ticket agency. It's a machine. No people asking you if you want to check bags, or if you're carrying more than 3 oz of gel. You don't have to remove your shoes. No airline delays. No lines to stand in, just insert your money (in our senior cases, $1), and wait for the appropriate train. The trains are color coded - blue, red, yellow, and green - and large maps, posted prominently both at the station and on the train, display each stop. We took the red line to one of the transfer stations and switched to a yellow train. It took us to a stop within only a two minute walk from the station. Here we stored our bags, picked up our previously reserved tickets, and then, with 45 minutes still remaining on our TriMet tickets, headed for the downtown Apple store. Tom had an appointment at the "genius" bar, and I had some questions for one of the roving "techies". That done, and with two minutes still remaining on each of our $1 tickets, we caught another TriMet train back to Union Station. Right next door Wulfs is a pleasant restaurant for lunch while you wait for your train.
The Columbia was due to sail on Friday, at 6PM. Our train, the Amtrak Cascade, left for Bellingham on Thursday at 2:30. This gave us 27 hours to complete a trip scheduled to take only 6 1/2. Why leave so early when there was an alternative? There was another train the next morning - Friday. That train would have taken us to Seattle, and an AMTRAK bus would have completed the trip. This would probably have been enough time to get us to Bellingham well before the Columbia's sailing. However, while we thoroughly enjoy riding the train, we don't trust it to be on time. We've been on AMTRAK trains which have been 12 hours late. And while we doubted that would be the case this time, I was more comfortable with a hefty time cushion. Couple that caution with the fact that the Fairhaven Village Inn is an unusually delightful place to spend an evening, the boutique restaurants are very inviting, and Fairhaven shops are great places to browse. I was starting our trip a day early!
We left Portland right on time, crossed the Willamette and Columbia Rivers, and headed north toward Seattle. Remembering our last trip down Interstate 5 in Washington, when the traffic was so bad that at one point it took 15 minutes to go a mile, I kept an eye out for the interstate traffic today. It was slow, but not as horrific as it had been that day. Still, it was understandably enjoyable to zoom past the slowly-creeping traffic as we headed north.
We stayed fairly well on schedule, until we were north of Seattle. Like much of the West, it's been a dry summer here. But the last 24 hours had seen an incredible amount of rainfall -- especially just north of Seattle. The ground simply wasn't prepared for all that water. Just beyond Edmunds, the train came to a halt. "Sorry, folks", came a voice over the loudspeaker, "the Burlington-Northern folks have temporarily closed the road bed ahead of us. We'll have to wait for a few minutes".
We've heard THAT before. Those few minutes became 15, and then 20. I finally got up and walked to the closest exit. Three crew members were outside, so I joined them. "How long do you think we'll be here?", I asked. "Can't tell you", one replied. "They never tell us anything".
Finally the voice from the loudspeaker came again. "A mudslide has closed one of the (two) tracks ahead. We should be able to get through on the one remaining track, but will have to go very slowly all the way to Everett. Assuming we're able to get through we'll be at least an hour late getting into Vancouver", (the final stop). Were we ever glad we'd opted for that 24 hour cushion!
Finally, the train slowly began rolling. A few miles up the track, if slowed to a crawl, and we could see the damage. At this point, the tracks ran below some miles of steep cliffs, and a lot of that bank had oozed onto the track. It had completely overrun one set of tracks, and was now threatening the other (ours). Where we could see the other set of tracks at all, the space between the rails was filled with rocks and tree limbs. In one place the tracks completely disappeared under a muddy sea of mud and gravel! A torrent of water was now running directly under our train -- sort of like taking a train ride through a stream bed. We were lucky that our train could get through at all!
Once through, the train made up a bit of the lost time, and we gained on the predicted hour late into Bellingham. We checked into our hotel, and had plenty of time for a lite late night dinner at "Skylark the Hidden Cafe" (which serves until midnight, in case you're ever in this predicament). We found this little gem on our first trip to Fairhaven a few years ago, and it hasn't changed a bit. It's within 2 blocks of the hotel and we enjoyed the live music and very good food.
When we checked in, we received a discount card for the bookstore on the square just across the street. The shops along one side of the square have decorated entrances - decorative flowerpots, small green umbrellas, and an occasional table. Two more sides are set with picnic tables. Along the fourth side, where shops do not open onto the square, the walls have been covered with realistic looking murals. How realistic? Passing the square, as I headed back to the hotel I noticed a man talking to a couple of young girls at the window of one of the houses. It looked like he was trying to sell them something. I was completely fooled. It took a minute to realize (a) there are no houses with windows looking onto the square, and (b) while the man was real, the girls were not, and (c) instead of selling them something, he was merely touching up a very realistic paint job!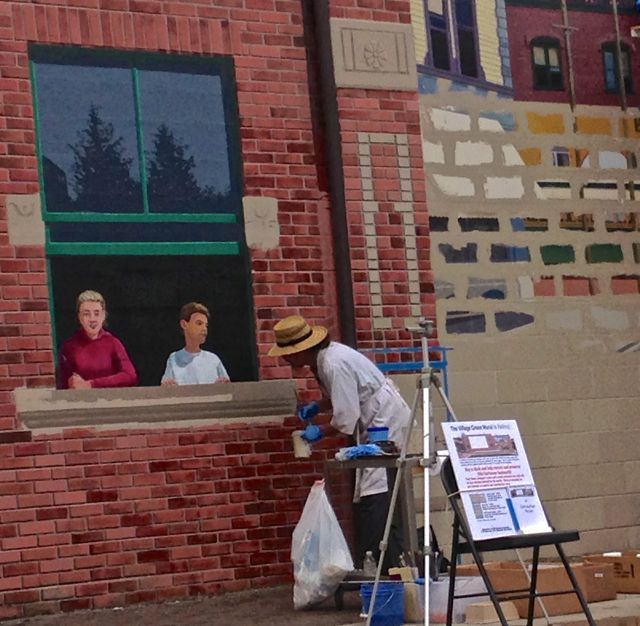 Fairhaven is a doggy paradise. Almost every store sports a placard on the door or in the front window proclaiming a special welcome to man's best friend. Several also have bowls of water placed outside. I walked into the bookstore right behind a man and his small terrier. They went straight to the sales desk, where the dog scampered behind the counter and was effusively greeted by a woman working there. When she was through petting the dog, she reached into a nearby bowl and gave him a doggy biscuit.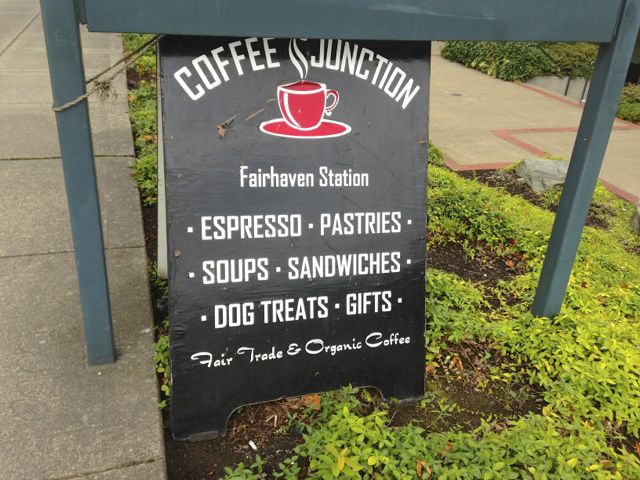 Around noon, we checked out of our hotel and walked down to the ferry terminal. We got our tickets and left our luggage (if you can truly call two small carry-on suitcases luggage), in the terminal lock boxes. Tom settled in to get his internet business wrapped up while I walked back up into Fairhaven for some last minute window shopping. There will be neither internet nor cell coverage while we're on the boat. That means, in part, that we won't know the outcome of any of the college football games until we get near enough to Ketchikan to pick up cell service. We'll see how accustomed we are to our daily internet fix!
At 4 o'clock, the Columbia started boarding, and promptly at 5 (Alaska time now), we were Alaska bound!
---
POSTCARD PREVIEW: Alaska Bound -- A Perfectly Acceptable Addiction
August 27, 2013
How could we have forgotten to visit Bellingham? Only a couple of weeks ago, we had the rig at Fidalgo Bay RV resort in Anacortes. We took the ferry out to our former home base -- the San Juan Islands. But we didn't include a trip north to this pretty little city, the town where the Alaska State ferry has its southern terminus. We love the Alaska ferries. Was this a subconscious decision? Were we afraid we'd be unable to resist booking a trip northward?
Every Friday evening, at 6 PM, a ferry departs for Alaska ports. You can walk on or drive on. You can overnight in a cabin or pitch your tent in the top deck solarium. You can take the boat to Ketchikan, its first stop, and stay as long as you wish before catching another boat onward. You have all the ports in SE Alaska at your disposal, including Wrangell and St Petersburg. You get a trip through the Wrangell Narrows, an aptly named passage far too shallow for cruise ships. Tom and I are addicted to this ferry and the routes it follows throughout Southeast Alaska. Just drive us near the docks, and we start making plans for a ferry trip north. If there happens to be a boat in port, be it the Matanuska, Malaspina or Columbia, or if I have time to wander through the intriguing terminal shops, we're doomed. In fact, our next trip will be our 10th to the largest state. All but one of those trips has included the Alaska State Ferry; and on most of these voyages we've taken our RV northward with us.
But on our last trip to Anacortes, there simply wasn't time to include Bellingham, and we had seemingly forgotten the lure of the northbound ferry. It wasn't until one morning en route back to Florence, that I inadvertently set the breakfast table with the Alaska mats. (I have several sets of mats acquired on our travels, and try to rotate them daily. It was simply Alaska's turn).
"Hmm.." Tom remarked, "you did this on purpose, didn't you?" No, but it didn't matter. Hooked. Over the course of the next few days, we (actually Tom), arranged for a fabulous, and quite complex trip. First, drive to Portland. From there, take AMTRAK to Bellingham, where the station is but a stone's throw from the Alaska ferry dock. Overnight at the Fairhaven Village Inn (a delightful area of artsy shops and excellent restaurants all within walking distance of the ferry terminal). Next, board the M/V Columbia for Ketchikan, the last trip before its end-of-season dry dock. From there change ferries to the Malaspina (with only a short layover), and head for Juneau, with stops in Wrangell and St. Petersburg. We'll spend two nights there before flying back, to Portland. We'll be gone just over a week -- a somewhat eccentric schedule to be sure -- but what a week it will be!
---
Postcard: Northwest Summer Coastlines
August 12, 2013
From the Hoquiam River RV park in southwest Washington, to Lewis & Clark RV resort in Astoria, from there to Netarts Bay RV Park, just west of Tillamook, Oregon, we hugged the coastlines as we headed south. We spent two nights in each spot - giving us the first day to get settled and the second to explore.
The Hoquiam River RV park has just been sold, to the delight of both parties. Bob, the former owner, remembered us from previous visits, and couldn't wait to regale Tom with all the details. The new owners were parked right next to us, and they were equally excited. The morning we left, they both came out of the office to wave us good-bye. They've got a good start with their new park; their park host just happens to be an RV tech -- a comforting thought for some of us...
The next day, we drove out to the coast. Signs along the road announced this was the "Paddle to Quinault" weekend. We've seen other "paddle to" events, where Native Americans use traditional ocean going cedar dugout canoes to celebrate their heritage. This one centered around Taholah, a village on the Quinault Reservation. As we neared the reservation, the traffic - foot and vehicle, grew heavier. Several buses and vans, all sporting route numbers, were ferrying participants from as far away as Ocean Shores (25 miles), to the beach side barbeques. There was little room for parking, so we just drove into the village to look around.
Taholah was jammed. The yards of many homes were filled with tents, and the gas station/general store was packed with cars and people. We drove out to the spit at the edge of town. Just before we got to the sign reading, "for members of the Quinault Nation only", there was a pullout. I walked to a vantage point where I could watch a half dozen or so fishermen in the surf. One seemed especially well framed.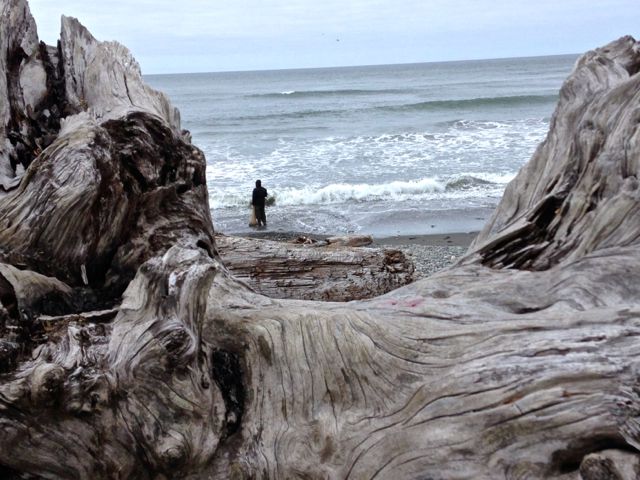 Moclips, Pacific Beach & Copalis Beach are all picturesque beach towns where you can rent a cabin or pitch a tent to enjoy the Washington coast. Beaches are wide and basically empty - only a few walkers, kite fliers and an occasional kite surfer to break the beautiful solitude of waves and sand.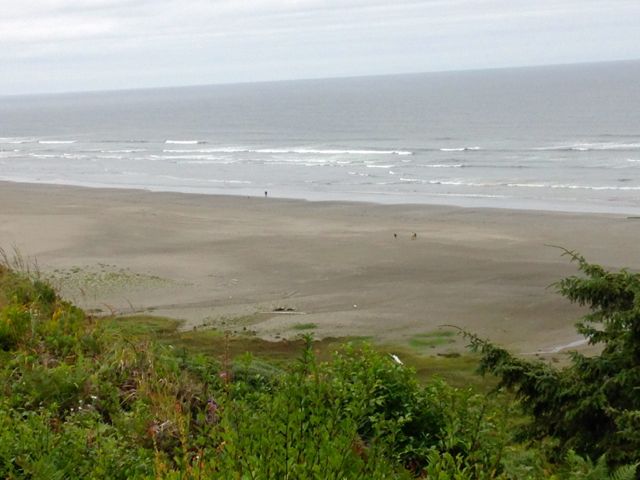 If you want to find the tourists, you need look no further than Ocean Shores. Today the beach was filled with picnicking families, flying kites, and enjoying the surf. Three groups of horseback riders were slowly walking along at water's edge. I counted at least 10 in each group, while back at the corral, dozens more were anxiously awaiting their turns.
We had actually been traveling some miles along a wide stretch of hard packed sand when we approached town. We found a paved exit road and drove into town. Cars lined the streets, and packed the parking lots of restaurants. Booths at a small fair were doing a brisk business. It wasn't until we reached the end of the road, where it runs into Grays Harbor and runs out of people, that we found a fairly uncrowded area.
Back to Oregon. It's only 80 miles from Hoquiam to Astoria. On previous visits, we've stayed at Fort Stevens State Park, but on an early August weekend, the entire park was full. That was OK with me; while the park is great for family camping, with miles of bicycle trails, and great beach access, it can get a bit noisy. And after all it's the peak of "kids' time" at the beach, as it should be. This time, we opted for a quieter scenario, and found ourselves at Lewis & Clark RV and golf resort.
Our rig was parked overlooking a portion of the golf course, The park owners also own the adjoining golf course, and you can rent clubs, a cart and tee off practically from your own site. The only thing we noted at all on a minus side is that for a park with some 38 spacious full hookups, and 12 dry camping sites, there's only one bathroom and one shower. And those have only been recently added.
I'd only seen Astoria when passing through, and never actually been into town. From Highway 30 coming from Portland, or from 101 south across the Columbia River, it looks very hilly - homes perched on quite steep slopes. Even from the vantage point of our Jeep, traversing those streets, it looks the same - very hilly, very steep. At the top of the tallest hill is a tower - the Astoria column. It's a must see when you visit here.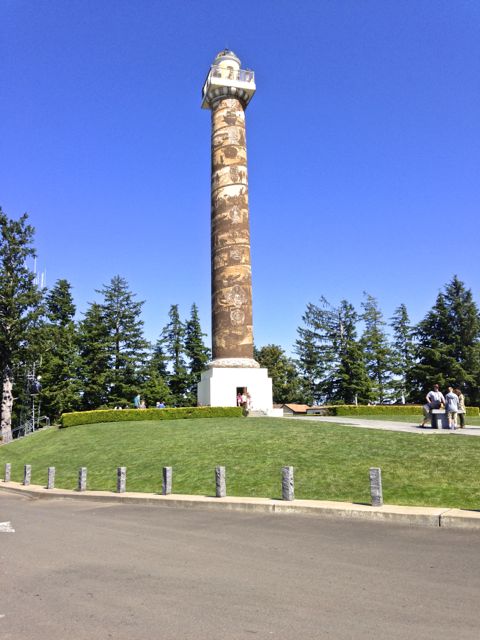 The tower is covered with continuous murals, 14 of them running around the column, each connecting with the next as they ascend in barber-pole fashion. Each scene depicts a period of Oregon history, from the Native wilderness, to Lewis & Clark building nearby Fort Clatsop, to the arrival of the white settlers. The tower is 125 feet tall, but to climb it you must ascend 164 narrow winding stairs. I know, because I did it. The staircase is quite narrow, but the only difficulty I experienced, other than avoiding the others on the stairs, is that it's easy to get a bit dizzy with no view to the horizon.
At the top, the views in all directions are breathtaking. Astoria is just below and to the west; the Columbia River to the north; and the panorama includes Mount Hood on the east. South the Lewis & Clark River winds past the National Historic park and Fort Clatsop.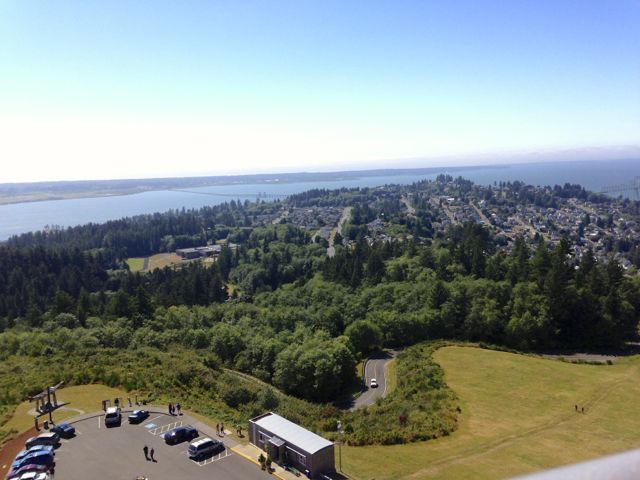 Notice the nearby trees. One of the traditions of the tower is to buy a small balsa wood plane at the gift shop, and sail it off the top to celebrate your trip to the top. The planes swoop in all directions, and most end up decorating those trees. The kids love it, and I couldn't help but wish I'd stopped in the gift shop before I climbed the stairs.
Our last coastal stop was Netarts Bay RV Resort and Marina. This park is great for the fisherman/crabber/clammer in your family, and judging from its popularity, a lot of those have discovered this spot. It's not a fancy park as the title "Resort" might suggest; sites are small and fairly close together, seemingly more so because many folks have their fishing boats in their sites with them, and are snugly camped next to friends and/or family. Want to go out on the bay, but have no boat? Not a problem. The marina rents them, and will outfit you with the appropriate gear for either crabbing, or for pursuing various species of clams in nearby tidal beds that are accessible only by boat. They also provide a place to clean your crabs and clams, and they will cook them for you if you wish for a very nominal fee. The park insists that you place your shells in special receptacles near the cleaning station, and has "reminders" clearly placed on all other trash bins. Anyone who has encountered days old crab or clam shells can certainly appreciate the logic that supports this "local rule"!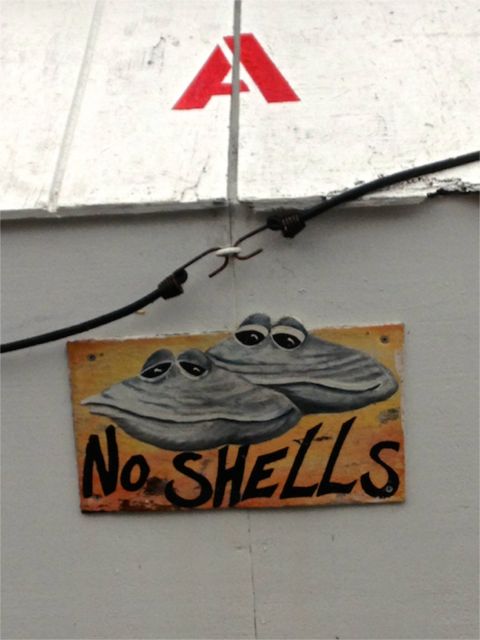 With fond memories of years of similar outings when we lived in the San Juans Islands, Tom & I went crabbing. In our boat we had three crab rings, each baited with chicken backs. Anticipating our outing, and knowing a bit about crab culinary preferences, I had purchased 3 turkey legs too -- which in the course of the morning the crabs completely devoured. It seems the crabs here were expressing the same preferences we'd learned about near our San Juan Island home...
Bill, from the marina staff, drove the boat to the nearby launch ramp, and backed it into the water for us. We jumped in and off we went. About 1/2 mile south, right in front of the park, we tossed the rings into the water. Now we had to guess how long to wait before pulling the rings back out.
There's quite a difference between a crab trap and crab ring. The former is a heavy wire box, with small gates for the crab to enter. When he gets in, the gate closes and he's stuck, unless he's small enough to fit through the holes on the box sides or nimble enough to depart the same way he entered. So, when you crab with a trap, you can just put the thing in the water and then you can leave. Wait an hour or two and come back to pull it out. On the other hand, the ring is just that, two concentric circles connected by heavy netting, with bait securely fastened in the center. It lies flat on the bottom of the bay, and crabs can crawl on and off it. You have to guess just when the best crabs will be busy eating. When you pull it up, the sides come up to form a kind of trap, but it isn't escape proof. You need to pull steadily and fairly swiftly to keep your treasure from swimming away. Once you have it aboard, ring or trap, you can only keep those male crabs over 5 3/4" across the shell. And that's Oregon. In Washington these boys need to measure at least 6 1/4" before they're legal keepers.
Our first few tries netted us dozens of small Dungeness crabs, a couple of large females, and in some spots large quantities of Rock Crab -- which are deep red in color, but really only good for their oversize claws. As a consequence we've opted only to keep the succulent Dungeness variety, which is always good to the last tiny morsel. We finally got a legal sized Dungeness male, and decided to try our luck in a different part of the bay. But by now, the tide had turned, and all we got for our efforts was a lot of sea grass. Later we learned that the crabs don't like to fight the strong ebb and flow tides here either -- they just stay "hunkered down" until the next slack water approaches. No one caught anything when the tidal currents ramped up.
We stayed only two nights at Netarts - though many campers come here for months at a time. This park has recently been sold to the folks who also own the Bend-Sisters Garden RV resort. Its new name, found only on stationery at this point, is the Netarts Bay Garden RV resort. It will be interesting to see what changes will happen to this small, but friendly and unique park. If its sister park in the Bend-Sisters area is any indication, there could be some major upscale improvements on the horizon for the already fun place.
Back to Florence in the morning. What a coastal experience this has been. We've been gone a very short 10 days, and can hardly wait for a new adventure.

---
POSTCARD: DRIVING THE 5
August 5, 2013
When I write a postcard, it's because of an unusual experience - generally a positive one. This card was inspired by a less-than-wonderful occurrence, the marathon run we recently took down Interstate 5 in Washington State. Based on our experience, be aware of that portion of the road between Marysville, (mile marker 202), and north Olympia, (mile marker 104). It has a well-earned reputation for some really difficult driving conditions.
But every cloud has a silver lining, and we have had some delightful experiences on our trip thus far. So, I'll start with the good news.
Bay Shore RV Park in Tokeland. This small (40 site) park is right on Willapa Bay in southwest Washington. Several of the sites sit just behind a berm - 3 steps up and you can look down on the dramatically shifting tides of the Bay. When the tide is out, you can walk to a nearby island, low and grassy, inviting exploration. When it's in, you'll be wading to your waist, or perhaps even swimming. There's a spot on the nicely landscaped berm for your folding chairs; and a small rock ringed fire pit for an evening fire. The area is a great favorite with western and California gulls and Caspian terns, and they settle here in large flocks each evening.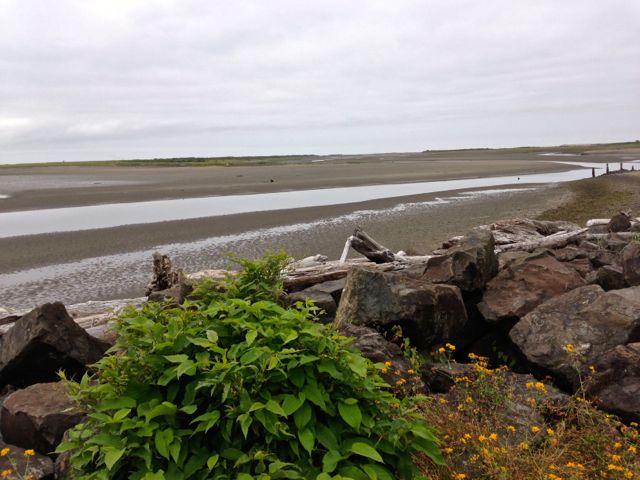 Just across the street is the historic old Tokeland hotel, a good place for breakfast or an evening meal - unless you happen to visit on Monday or Tuesday. It's rumored to be haunted, but we've visited several times over the years, and I've never yet been able to glimpse the ghost. There is a ghost warning sign at the top of some very squeaky winding narrow stairs so I do have at least some sense of why this may indeed be prime ghost habitat.
Down the road about 1/4 mile is Nelson's Crab, a very small old storefront building where you can buy whatever's fresh fish, crab, oysters, shrimp - the list goes on and on. This place has a *lot* of history; and likely looks today very much like it did more than 50 years ago. We were after crab, but the gal behind the counter almost convinced us not to get it. Summer is the time when crabs molt, and she felt that summer crab was inferior in flavor. (We did get one, and enjoyed it thoroughly). We also purchased a couple of pieces of smoked king salmon and as usual, I couldn't resist stocking up on their special canned tuna (the kind with salt, although salt free is available). We have friends who will accept nothing less than Nelson's very own brand of tuna -- and we understand why.
We were just in time for the last day of the Tokeland chainsaw art festival. I saw the usual carved sea captains, bears and eagles, but many smaller items as well. One artist had put a glossy finish on small, twisted pieces of driftwood. Then he added glass floats creating some very attractive art pieces. And, of course, there was the horse! Standing about 8 feet tall and made completely of driftwood pieces intricately and invisibly bound together, the horse is rearing on its hind legs, mane and tail blowing in the wind.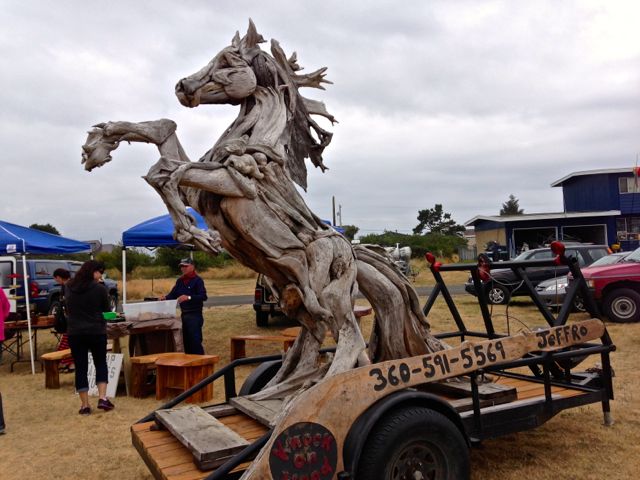 Tokeland is only about 15 miles south of Westport, a town located on the south shore of Grays Harbor and well known for its salmon fishing, crabbing and bird watching. At several spots along the banks of the Harbor, there are observation platforms for watching the boats ply the harbor waters, and the gulls and pelicans looking for their next meals. From these vantage points, you can look across to the tourist destination of Ocean Shores, and even take a passenger ferry across the bay.
From Tokeland we headed to Anacortes, and the Fidalgo Bay RV resort. Staying here is a bit difficult for us, we are very good friends with former owners, Barbara and Rich Stockwell, and I tend to notice little things that aren't the way they used to be. Mostly it's just the "personality" that seems to be missing. That said, it is a nice park and extremely popular, especially in this high season.
Anacortes is the jumping off point for the Washington State ferries to the San Juan Islands where we lived for 17 years, and we know the town quite well, as it is the only route from the Islands to the "Mainland". It's grown a lot since we were last here. The marina is home to more luxury yachts, and the grocery stores are more crowded. We joined special friends for dinner at the new restaurant in town, Anthony's Fish House, and it was crowded too, even on a mid-week evening. It goes without saying that all those people, driving all their cars, add substantially to the traffic on the two main streets of town, "R" and Commercial. We were glad to know our way around well enough to avoid those two streets.
We spent one day on San Juan Island. Tom had an appointment with a "web site guru" (my term), Mary Kate Panaro of MK Designs. He was going to get some tips on how to use WordPress, "an application used by web site designers" (his term). My interest in that being quite limited, I was sure I'd only get in the way, so I spent a delightful 2 hours just poking around town. Friday Harbor was a village busy with tourists on this sunny late July day, but I still ran into three people I knew when we lived here. Love those small towns!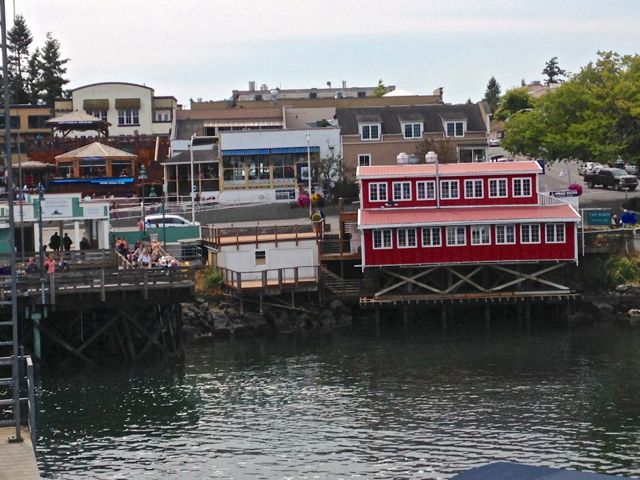 And the next day, it was time to head south again. Time to go home. Time to drive the 1-5 corridor. Time for the bad news portion of this postcard.
One of the reasons we no longer live in the San Juan Islands, or, for that matter, anywhere in northwestern Washington, is the I-5 corridor. Stretching from north of Everett almost to Olympia, this section of Interstate 5 is well known for its horrendous traffic. Today was certainly no exception.
We were headed for Hoquiam, a small town on the north banks of Grays Harbor, almost directly across from Westport, and about 45 miles west of Olympia. According to Ms. Garmin, our total mileage for the day would be 194 miles. We decided to have a leisurely breakfast at one of Anacortes' prime breakfast spots, the local bowling alley! (Don't laugh, as the locals know it's great food). It was misting a bit when we arrived but, by the time breakfast was over, raining hard. We hitched up the jeep during a lull in the rain, and headed out.
As we drove south along the freeway, I noticed the coach was swaying a bit. There were fairly deep ruts in our lane, ruts left by heavy trucks, ruts that make vehicles with different tire sizes swing back and forth. I've driven in many such, today's rain made them worse as they were harder to see. But that was nothing. It was the traffic that made things really difficult.
At mile marker 202, just north of Marysville at the Tualalip Indian casino complex, traffic slowed dramatically. For the next 12 miles, we constantly slowed, resumed speed and slowed again. Each on-ramp was loaded with two full lanes of traffic waiting to enter and make things worse. The rain had lessened, but not enough to turn off the wipers.
Somewhat aware of their traffic problems, WashDOT has set up video signs along the freeway displaying the time it will take a vehicle to travel to the next city. The first one we encountered read: "Seattle; 61 minutes. Bellevue (on the east side of Lake Washington, but close to the same distance) 28 minutes". No guesswork there, we'd take the eastern route around Seattle.
Just a few miles after we turned east on I-405, the traffic came to a complete stop. A minute or two, and it started again, cresting at a whopping 15 mph. There are two bridges crossing Lake Washington; surely once we got past those, the Seattle bound drivers would exit, the traffic would even out and speed up?
Nope. Not even close. Every time we got to a "major" exit, and there are two of them in the final 8 miles of I-405, the traffic slowed to a crawl. Even the HOV lanes were stopping. Maybe things would improve once we got to south I-5 and headed toward Tacoma?
Things did - for about 5 miles. Then the whole rigamarole began again.
We slowed, stopped, started, slowed and stopped. All the way through Tacoma and south to Olympia. And the persistent drizzle didn't make things any easier. We were wedged among 18 wheelers, smaller pickup trucks, and other RVs. Several small cars darted from lane to lane, their drivers irrationally believing they wouldn't get squashed. That, of course, only made things worse. At one point Tom remarked it had taken nearly 15 minutes to go one mile!
Driving in these conditions is tiring. We were going very slowly, and Tom had been driving now for about three hours, (on a trip scheduled to take only 3 1/2). What if we changed drivers - right here, right in the middle of heavy traffic on an interstate? So we did just that. Tom put the pedals in the "extended" position (for my short legs), pulled on the air brake and pushed back the wheel. Then he slid out and I slid in, pulled the wheel toward me, released the brake and started rolling, adjusting the side mirrors as I went. The traffic hadn't moved an inch, and we'd changed drivers while stopped for a max of two seconds. However, I'd not recommend this maneuver for someone who hasn't driven a rig as often as we have driven ours.
By this time, we were nearing Olympia, and I had only a few miles left of this mess before the traffic began to flow more smoothly. I couldn't help but feel sorry for the cars headed north; they were just getting into the same problems - the horrific traffic troubles existed in both directions.
I turned off the highway at exit 104, and headed west toward Hoquiam. Instead of arriving at the Hoquiam River RV Park at 2:23, as Ms Garmin had estimated earlier, it would now be much closer to the dinner hour. Think we'll stay on the back roads for awhile...
---
Postcard: Speed Trap!
July 29, 2013
Speed traps! The very mention makes me nervous! Is that flashing light from behind meant for me, or the driver ahead? Was I driving slowly enough when I entered that small rural Idaho town? There's a road in Bend which has 7 (count 'em, 7!) speed bumps in a distance of about 200 feet. That's a speed trap, too!
But there is a very different kind of speed trap. This one works when you are either in a hurry or have your itinerary so compactly planned there's no room for delay, no room to accommodate a change in plans. That's the one Tom & I almost fell into yesterday. We'd planned a two week excursion north, starting from our RV garage in Florence. Thence to Bend, then to the Washington coast at Tokeland, then to Anacortes. From there, a day trip to San Juan Island, back to Anacortes, next to Hoquiam, Netarts (Oregon), and back to Florence. Since this is late July, high season for campers of every ilk, we had made reservations at each stop, three days here, two there, etc. We were sitting ducks for a speed trap.
We left Florence and headed toward Bend. It has been unusually hot there, so we decided a little mountain camping was in order. We headed to the Forest Service campground at "big" Lava Lake.
Lava Lake is one of our favorite only-somewhat-high (elevation 4750'), camping spots. There are actually three camping areas here. Lava Lake Resort offers 25 full hookup sites, though the electric service is a bit iffy. The two Forest Service campgrounds, Lava Lake and Little Lava Lake are right across the paved entrance road. Each fronts on a lake - and both are favorites of kayakers and fishermen.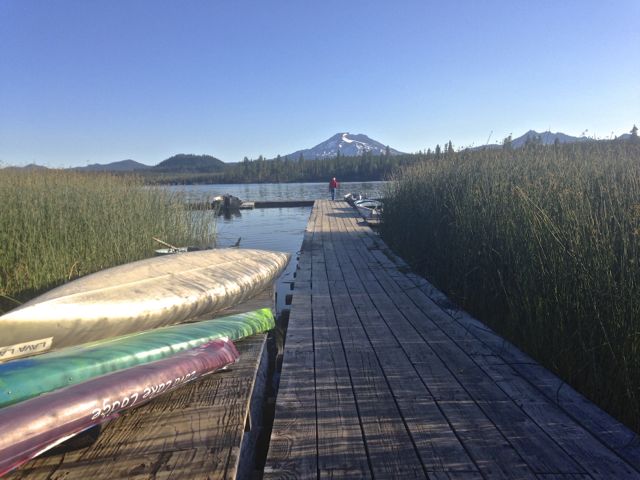 As with most other FS campgrounds, there are no hookups, but well spaced, fairly level sites, each with picnic table, fire ring and wildlife galore. The resident deer have little fear of campers, and, of course, the chipmunk population adores them. The sloppier you are, the better they like you!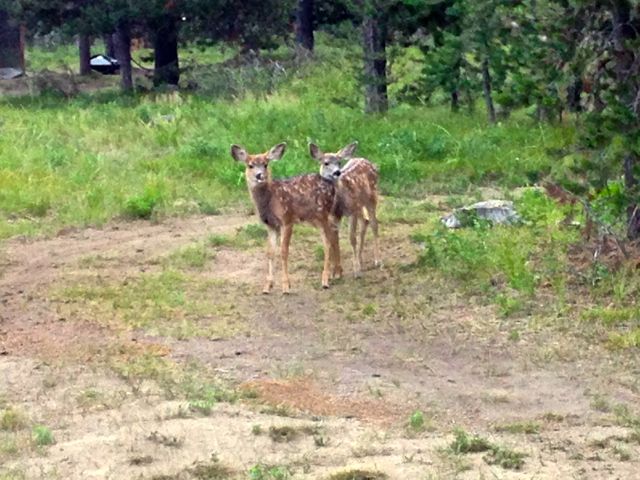 We pulled into our site, leveled the coach, and put out our awnings. Our plan was to leave the rig here for the next three days. We'd enjoy the cool mountain evenings at the lake, and spend a portion of each day at our Widgi townhome. We could get our mail, supplement our grocery supplies, and do a little lap swimming at the athletic club. And nothing in Bend could compare with the mountain sunsets at Lava. Each evening the sun tried to outdo the spectacle of the previous evening, much to the delight of camping photo buffs.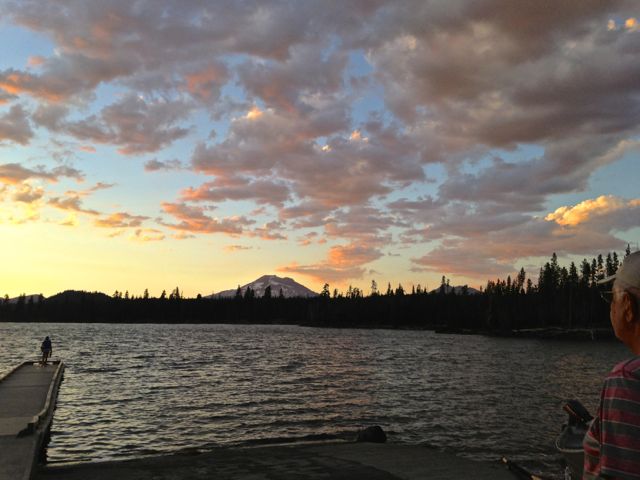 The campground has a very convenient boat launch - a straight shot to the water - and relatively few users. We watched as one young couple tried unsuccessfully to get their big motor started, and took off down the lake using only their trolling motor. Perhaps that was the magic - when they came in later, they had two great trout, each about 15 inches!
It's been several years since we dusted off our inflatable kayak, but with very little wind, it seemed a perfect time to try out our extremely rusty skills. We paddled across the lake, dodging reeds, the dock at the resort, and several rafts of female Mergansers. There were so many. I tried counting them, and got to 17 before they simultaneously dived. Tom has a short video of our outing.
The kayak comes in a perfectly fitting duffle bag - perfectly fitting until you try to put the boat back in. We rolled and folded, punched and pushed, and finally got the boat back. Not unlike putting the tooth paste back into the tube.
We had arrived at Lava on a Tuesday afternoon, and all was well until Thursday. That day was forecast as the warmest yet, so to help keep the coach as cool as possible, Tom decided to extend our slider awning out a bit further. This is not a difficult process. Even I can press the "extend" part of the awning switch, and I am hopelessly inept at anything the least bit electronic. He pressed the switch. Nothing. Tried again and again. Still nothing. We could hear a muted "click" sound, but the awning didn't move. So he tried to get it it come in. It wouldn't move that way either. It appeared we were in a Forest Service campground, 38 miles from Bend, with an awning that was stuck in the out position. There was no way we could drive the coach with the awning out, it would have hung up on first tree - about 2 feet from where we were parked.
It was Friday, mid-afternoon A busy summer weekend was looming, and countless other RVers with coach problems were certainly calling their roadside assistance helpers requesting immediate assistance. Our reservations would have had us in Kelso, Washington, a 5+ hour drive from Lava Lake, the next day. Speed trap!
But there is no trap if you don't allow yourself to get caught. I would have been calling any and everyone I could think of to get out of this situation, but, at Tom's insistence, we drove to Bend, got the mail, did our chores and enjoyed our laps. He did call Coachnet, our RV insurance provider, and, en route back to Lava Lake, we got a call from Ian.

Ian was most apologetic that he'd not been able to find someone in our area who could fix the awning that very evening. He asked if there wasn't someone "at the park office" who might have a list of technicians in the area. He didn't seem to understand that we were parked in a fairly remote area, with no office but a camp host two sites away. He told us that he would find someone to help us the next morning, and we assured him that would be fine.
It was cooler when we got back to the rig - cool enough to contemplate an evening fire. Before he started building that, however, Tom tried the slider switch once more. And this time, it worked. The awning came in with the resounding thud that shook the coach and meant it was in and securely locked! Hurrah! Nothing looks as good as the blank side of an Alpine coach with all the awnings in! We called Coachnet and cancelled any possible morning appointments. Speed trap avoided, we decided to spend one more day at in the mountains before heading north. We're not in any hurry at all!
---
POSTCARD: Trying the Impossible: Finding Sacchi Beach
July 15, 2013
[As noted in my last postcard below, we are on our way to an RVing rally in Bandon, Oregon, 75 miles south of Florence. We missed the first day, but joined all the festivities for the rest.]
We joined our Florentine RVing friends Wednesday morning at the Face Rock Creamery in Bandon. This new establishment is a replacement for the old Bandon Cheese Factory, closed 10 years ago after being purchased by arch rival, Tillamook. That closure left a sizable hole in the Bandon economy, and disappointed hundreds of travelers on Highway 101. They'd come to expect a stop for excellent cheeses, produce and, above all, ice cream!
We watched milk being poured into a huge horizontal vat; and then being stirred by revolving paddles. In a third adjacent vat two men were pummeling the soft cheese curds, kneading them and turning them. A thermometer had been inserted onto one mound of curd - temperature control is a very important part of the cheese making process. Only the few men who work in the "milk to cheese" section are allowed to enter, and they were dressed in white uniforms, with hair nets and surgical gloves. "It's absolutely antiseptic", our tour guide, Samantha, explained. "Cleaner than an operating room."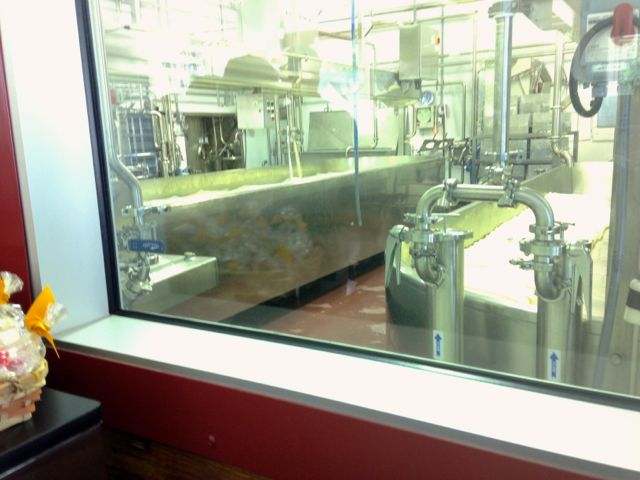 After our tour, we sampled different flavored cheese curds, and many of us purchased cheese. Monterey Jack, which I have always considered something of a bland cheese, is not when you get it here! The Creamery doesn't yet have its own ice cream, but those who sampled the Umpqua brand declared it delicious.
We picked up our coach from Bullards Beach SP and drove just south of town to Bandon By-The-Sea TV park. Its 90 level full hookup sites can accommodate any size rig. Our group had most of its get-togethers in the fully outfitted clubhouse.
Arriving on Wednesday, we'd missed the prior day's tour of the "Washed Ashore" exhibit in Bandon's Old Town. As soon as we arrived, I was treated to enthusiastic reviews of the tour and pictures of the exhibit. After settling into our new site that afternoon, I went to town to investigate that one for myself.
"Washed Ashore" is a "community effort that transforms ocean debris collected from Oregon beaches into giant sculptures of the marine life that often ingests that debris." 18 large sculptures of marine animals, completely sculpted from trash, dot the floor of the small museum. I especially noted the jellyfish completely formed from plastic bottles and bottlecaps and a huge starfish of plastic pieces and glass bottles, All of this trash was found on nearby Oregon beaches.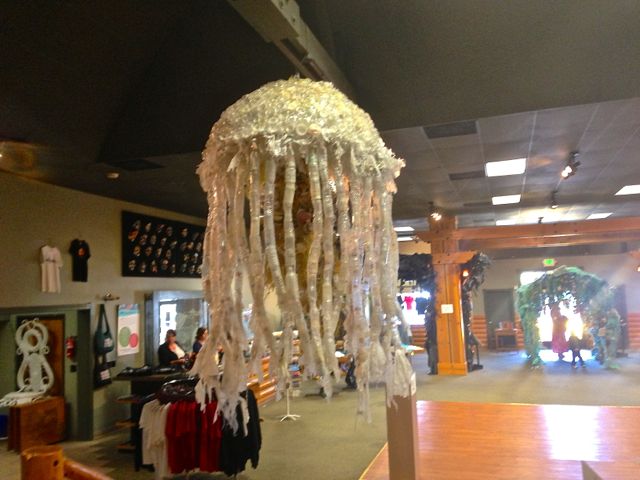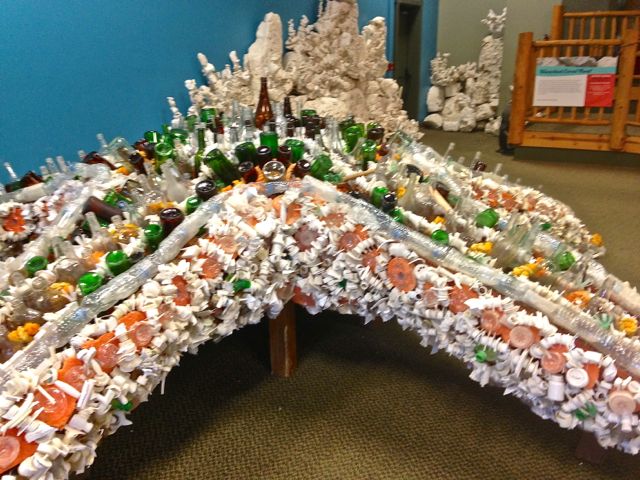 The purpose of Washed Ashore is to raise awareness of the needless amount of trash that gets dumped into our oceans. "About 300 million tons of plastic is dumped each year - less than 10% is recycled." It's a very effective teaching tool.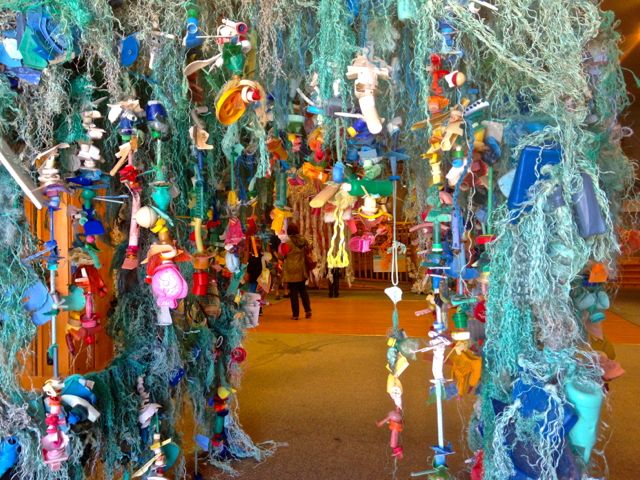 Our group had no organized tour scheduled the next day. Rather, it was a day to explore on your own. Tom and I had a mission, and this was the perfect time to accomplish it. Ever since we first visited Cape Arago a few weeks ago, we'd felt there simply had to be a shortcut between the Cape area roads and the easily traveled back road to Bandon. You learn to think this way when you've been driving Jeeps off road for some years. It must be possible to get from one point to the other without driving either on the sand or on Highway 101. If we could find this missing segment, surely we could get the rest of the way. Sacchi Beach is located almost half way along our projected route. If we could get there... The area is riddled with forest roads, and one of the rangers at Bullards Beach had a map of the backroads in the area. We needed to find 7 Devils Road, and to be prepared for some steep grades. But with the Jeep, Ms Garmin to guide us, a compass and handheld GPS, we'd surely find the way, right?
Wrong. By the end of the day, we were convinced that, although the distance connecting the Cape Arago road with the backroad to Bandon cannot be more than 2-3 miles, there really is no connecting road. You simply must go around. There are a lot of roads; there is also one ranch and three gated communities which make direct driving impossible.
We began our search by driving to the Bandon Dunes Golf Resort. This resort is huge - 5 distinct golf courses perch on the dunes 100 feet above the ocean. And that number doesn't include the practice course. Condos, cottages and a lodge provide a wide variety of accommodation choices.
Past the golf course, the road stopped. Several driveways spoked out from a roundabout, but there was no way to go forward. We turned around and headed east, away from Bandon Dunes. The first "main", (paved), road, we crossed was 7 Devils Road, Aha! We were on the right track.
We followed 7 Devils a bit more than a mile, as it wound down into a beautiful valley. At the bottom of the hill is 7 Devils Recreation site. We stopped here and I went for a short walk on the beach. As far as I could see in either direction, the level, and today windswept, beach seemed completely empty. Finally, I glimpsed a small family wandering slowly down the beach.They climbed the short embankment to the parking lot, and left, making ours the only car in the entire parking area.
We too, continued on, following the road as it turned to gravel, climbed steeply away from the ocean and headed inland in a northwesterly direction.
Now we noticed something a bit odd. We were driving through a very wild and hilly area, on a narrow, gravel road. I wouldn't have been surprised to see deer or a coastal range bear cross the road in front of us. What we did not expect to see were gated communities - three of them. It seemed that each time we saw a road leading in the direction of the ocean, there was a gate across it.
7 Devils road ended at West Beaver Hill Road, the main road between Bandon and the Charleston/Cape Arago area. We'd lost our chance to find our cross country route - at least coming in from the south. Undeterred and stubborn, we drove out to the Cape to attack this challenge from its other end.
The road to Cape Arago is one-way, and ends at the botanical gardens. But perhaps there was a spur heading east we hadn't noticed. Sunset Bay State Park and the adjoining golf course seemed our best bets. However, the roads in the state park just go to the various sites, and the road past the golf course led only to the home of its manager. (Or so we were told, Google Maps shows it going on further). Back we went.
Lunch in Charleston, then we headed back toward Bandon. En route, we passed the South Slough National Estuarine Research Reserve. Covering the extensive tidal lands of Coos Bay, this reserve has numerous hiking and kayaking trails and a most informative Visitor Center. When we'd walked some of the trails on a previous visit, the Visitor Center had been closed. Today we had a chance to look around.
Just inside the front door, a long hallway displays a large map of the bay area showing its extent at both high and low tide. Quite a dramatic difference! On the other side of the hallway several large aquariums display the aquatic environment. A couple are filled with the native grasses, and the small tidal fish that live there. My attention was drawn to the third - one that appeared to have a couple of rubber lizards in it. One lizard was half in the water; the other lizard was staring intently straight ahead. Nothing moved, they didn't seem to be breathing, they just had to be fake - until one turned his head and fixed that stare on the other lizard. Hmmm. A new breakthrough in lizard robotics?
The interior of the center contains dioramas of the area, and several exhibits about the area Indians. Walking outside, you can view the estuary through a telescope or take a 10 minute walk through the nearby grounds. The trails to and around the actual estuary are well signed for longer hikes.
Just before we left, and still with our day's starting mission in mind, I asked the woman behind the front desk about a back road to Cape Arago. "Follow 7 Devils road about 3 miles and turn right", she said. "About a mile after that, take the road marked "Pacific Surf" to its end at Sacchi Beach." We thought that was one of the gates we'd passed, but she seemed certain the road was open, so off we went once more.
We found the 7 Devils turnoff, drove the steep downhill mile, and found the sign reading Pacific Surf. Sure enough, there was a gate across it.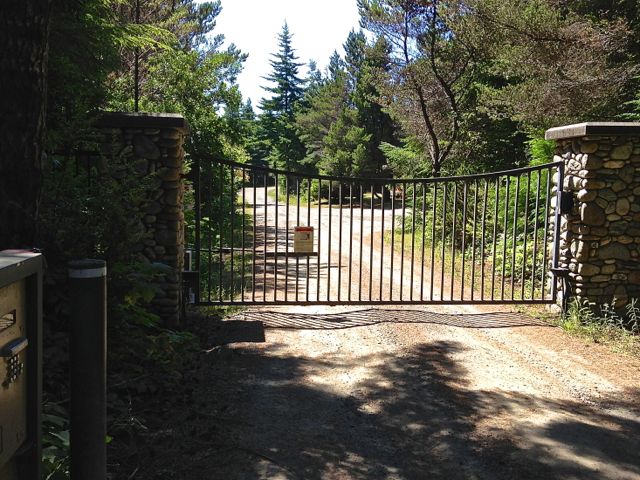 But this time, there was a truck coming from the other side. I jumped out of the car, and when the truck came through the gate I was waiting for it. The man behind the wheel had a small curly haired dog leaning out of the window. "May I ask your cute doggie a question?" I asked, trying to appear as friendly as possible. "Can you tell me if this is the road to Sacchi Beach". "Yes" came the answer. "But this is a private road. I'm the caretaker here. I've lived here 18 years, and the area has been closed for at least the past 20. I make sure no hunters or poachers get into our area. I watch to see no one goes around the gate (which would have been difficult, due to the very high iron fence attached to it). Some people think they have the right to walk wherever they want, and I make sure they don't come through here. You'll find the same is true of the other communities too."
"We have no intention of trespassing" I hastened to explain. "We just wanted to get to the beach."
"You'll have to drive on the sand", he responded. "Watch out for the tides though. I've seen some jeeps (he must have noted ours just up the road), leaving in a hurry when the tide comes in". With a curt nod, he took off down the road toward Bandon.
And that was the end of that. We headed back to town and dinner with our rally friends. Nearing the golf course at Bandon Dunes once again, we took one last side road, Tokyo Road, to its end, expecting at any minute to find a gate, a "no trespassing" sign and a surly caretaker. But this time we made it all the way to the ocean where, on this blustery day, a dozen or so kite boarders were skimming the waves. For them this was obviously a very private and undiscovered paradise.
We'll head back to Florence tomorrow. We pretty sure we now know all the possible routes between Bandon to Cape Arago, and are fairly knowledgeable about the ways it cannot be done. We've seen some beautiful spots and met some interesting people. Wonder what our next impossible challenge will be?
---
POSTCARD: Discovering the Umpqua
July 12, 2013
Tom and I split our non-RVing time between our two homes, one in the Central Oregon town of Bend, the other in coastal Florence. In this latter spot, we've found what, for us, is an RVers dream. We live in Florentine Estates, a small community of manufactured homes - many of which have RV hookups. Many, like ours, have RV garages; others have outside RV pads with full hookup areas next to the house. With all this interest in RVs, it follows that there's an RV club. And that club hosts frequent rallies.
We're headed to one this week- a rally in Bandon, Oregon. Bandon is only 75 miles south of Florence, and we could have covered that distance easily in a couple hours' drive (coastal roads do not lend themselves to speed). But we planned to divide those miles into three very short segments, and do some exploring along the way. First overnight - Winchester Bay RV Resort, just 25 miles down Highway 101.
Depending on what you read, tiny Winchester Bay is either "the best kept secret on the Oregon Coast", "the Chainsaw Carving Capitol of Oregon" or "the Crab Capitol of the World". During the summer months, there seems to be a festival nearly every weekend. You can participate in a salmon derby or try to catch the crab with the $1,000 tag attached to one leg. See the cars on "Kool Coastal Nights" or listen to the "Old Time Fiddlers" competition. And the list goes on.
One side of the Winchester Bay RV Resort fronts on a small Marina, the other on the outflow of the Umpqua River. Just down the road a mile are the sand dunes - a dune buggy paradise. At the Winchester Bay RV resort each site is widely spaced, has carefully manicured landscaping, and offers full hookups. It's one of our favorite "stop over" spots, perfectly situated for an exploratory trip inland -- up the Umpqua River.
From Winchester Bay, we retraced our steps 4 miles back to Reedsport and turned right onto Highway 38. In just a couple of miles, the road crested a small hill and dropped into the elk refuge at Dean Creek. This large meadow is year-round home to a very large herd of elk. There are a couple of places you can pull out to view and photograph these animals - and you almost certainly will be successful. We have never driven past this refuge without seeing elk. Today, there were two herds of Bulls enjoying the afternoon sun. I wondered aloud where the cows might be and my oh-so-clever husband shot back "shopping".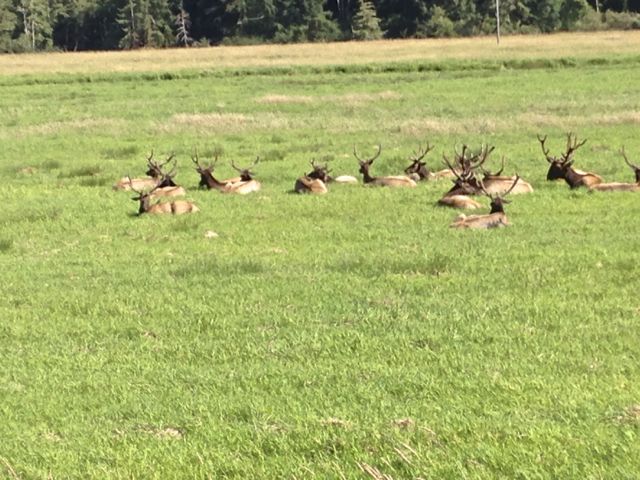 We were headed 35 miles inland to the River's Edge Winery in the very small town of Elkton, to pick up a couple of bottles of their Pinot Noir for a rally wine tasting event. Their "Black Oak Vinyard" Pinot Noir can only be purchased at the winery, which was the perfect excuse for our scenic venture. While we've driven this road many times, (it's the most direct route to Interstate 5 for southbound travelers), we've never stopped long enough to really "see" it. Time to remedy that.
Mike Landt, winery owner, is a combination wine connoisseur and Chamber of Commerce advocate. He recommended we visit Fort Umpqua, the southernmost outpost of the Hudson Bay Company. Operated from 1836 to 1851 as a trading post for the Oregon fur trade, the fort burned to the ground in 1854. The town of Elkton constructed a replica, and each fall celebrates Fort Umpqua Days.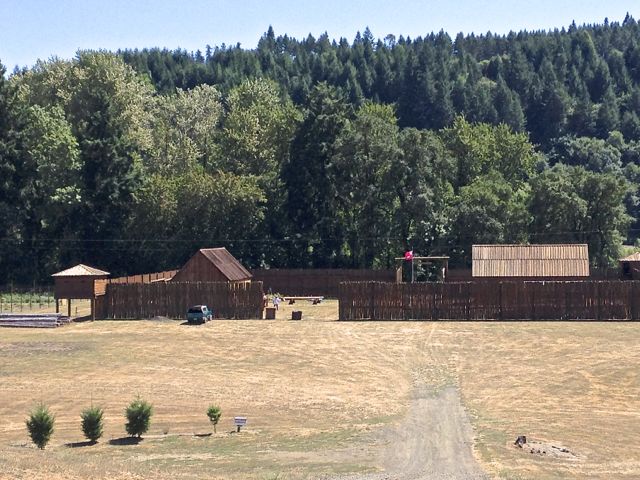 Mike also suggested we visit the Butterfly Pavilion. We'd driven by this gaily painted building before - this time I went in to see and try to take pictures of the little flitting creatures. I asked one of the volunteers what they did with the butterflies. He told me, "They're very popular at weddings".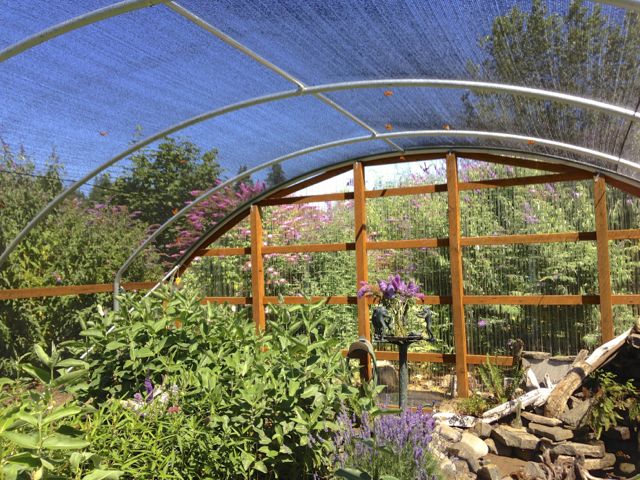 Before we left Elkton, we stopped at the Elkton RV park. It is right on and overlooks the river - one of the most beautiful of rivers on this sunny afternoon. The water level has fallen, and large flat rocks are visible just above and below the surface. Islands largely submerged in winter have become accessible. Several people had waded out for picnics, even taking their dogs along. On the far bank, I watched two people swimming in what looked like a very large swimming hole. Naturally, I couldn't resist the temptation to wade around, and found the Umpqua River remarkably warm.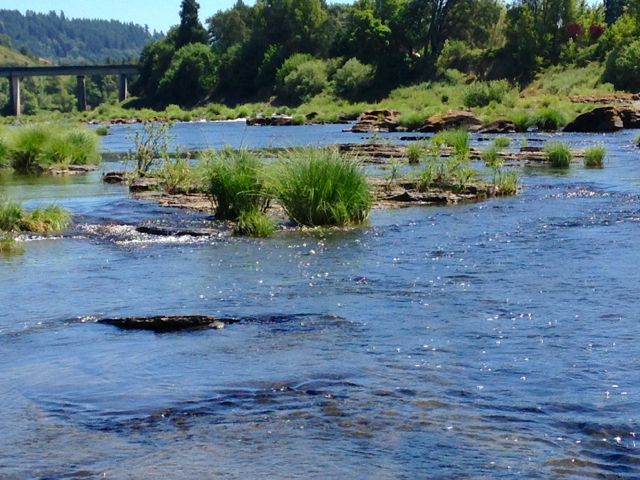 The Elkton RV park has about 10 sites overlooking the river, 10 more just below the quiet access road, and half a dozen in the middle. The river sites are quite close together, but the view is worth it - especially if you have a smaller rig. Two large RVs (friends traveling together) were squeezed into adjoining sites were fairly cramped, especially considering they had their Mackenzie River fishing dories in with them.
Heading back downriver, we stopped at Sawyers Rapids RV park. This one is much smaller, with only a dozen or so sites, and easily passed without notice. The scenery is spectacular, though the sites by most standards might best be described as rustic. We stopped at the small park store, where owner Shawn Whitley showed off his large collection of happy fisherman pictures. Some had caught salmon, others steelhead, and a fair number had trophy size bass.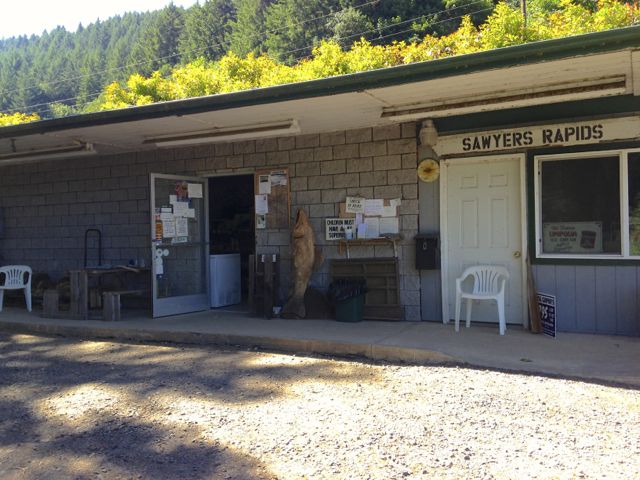 Shawn, like Mike at River's Edge, is a walking history book. He told us the story of early attempts to dredge the River in an effort to get a stern-wheeler from the coast east to the city of Roseburg. In some places the boat had to be winched along, and there's no record that it ever arrived at its destination.
Tomorrow we'll head toward Bandon and our rally. We'll spend one evening at a nearby Oregon State Park, (Bullards Beach), and then join our group on their morning tour of Facerock Creamery. Ten years ago, Bandon was home to a very popular dairy, Bandon Cheese and Produce Factory. People stopped there for its delicious cheeses and especially for its ice cream. Perhaps it was too popular. That well known giant from the north, Tillamook Dairy, purchased the building, the dairy, and its proprietary recipes and product names. Three years later, Tillamook "shuttered" it. (We were told Bandon cheese is now made in Boardman, Oregon). But now there's a sparkling new creamery in town. I'm looking forward to a tour.
We''ll be joining our Florentine friends here for a couple of days before heading back. It's still too hot inland to be comfortable for us "coasties", so we'll hug the shoreline for the next week or so. Then, perhaps, another trip is on the horizon.

---
POSTCARD: California Countrysides
June 5, 2013
Our plan was to spend 3 nights on the road, trading the cool misty climes of Florence for some California sunshine. We'd spend the first night at 7 Feathers in Canyonville, then head to Red Bluff and Durango RV resort.
This would be our longest RV trip in the past 8 months. And it would be the first time we'd spent more than a day on the road since Tom had pancreatic surgery in mid-January. Even though the docs at Swedish Hospital in Seattle had pronounced him "cured", we've found the recovery process every bit as prolonged as forecast. An RV trip of more than a single night until recently had seemed a daunting challenge.
But he'd done well on an overnight "trial" trip just to Eugene -- and we were tiring of the coastal drizzle. Off to the much more promising weather in Red Bluff.
7 Feathers is an inviting stopover spot. It's run by the Cow Creek Band of the Umpqua Tribe of Indians, and they do a fabulous job. Beautifully landscaped sites, a large clubhouse, indoor swimming pool and spa - everything is first class. The casino is less than a mile away - an easy drive, or take the bus that comes through the park on a regular schedule. While neither of us does much gambling, I can heartily recommend the casino breakfast special - eggs, toast, potatoes, and enough ham for two meals [yes, they'll provide a doggie box -- and you'll need it]!
The next morning, we headed south. Have you ever seen a purple road? I have. Just a few miles across the California border, near the towns of Hilt and Hornbrook, the Interstate is being repaved, and nothing will do but purple rebar. Certainly an eye-catcher, even if not California colors (blue and gold).
Our reservations at Durango RV resort were for 2 nights. Since it was the Sunday before Memorial Day, the park was virtually full. The management had provided a Memorial Day lunch and entertainment. Many RVers were gathered poolside, listening to a quartet playing country-western music. I recognized one player, a boy I'd seen at the Tehama county fiddler's competition a couple of years ago. At that time, he's been by far the youngest fiddler, wandering around the "ready" room before competition. He would walk up to a group of older players, and join in with whatever they were playing. He had such rapport with his fiddle that he barely looked at it as he played piece ofter piece with different groups. Today he was the star of this group, entertaining us with guitar, fiddle, mandolin, and even accordion.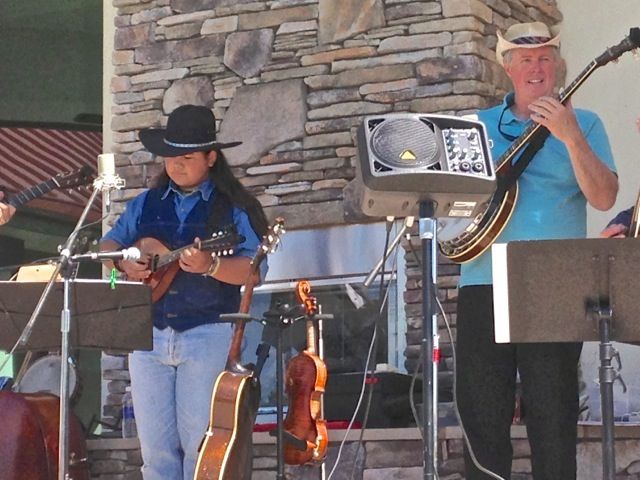 Our "vacation" from RVing had showed us how out of packing practice we were. We'd forgotten a couple of staples, none more important than coffee. To remedy this, we planned a morning trip north to Redding's Costco and Trader Joes stores. We could easily have made the round trip in a short time via Interstate 5. But that's no fun. Why drive the freeway if you can take a back road and make an adventuresome circle trip out of it?
We drove east from Durango, following highways 99 and 36. In just a couple of miles, 99 turned south and 36 went north. We followed 36 to Dales. Dales appears a viable town if you look at the map; in reality, all that remains is a building that may once have been a store. Here we turned left onto California A6. On the map, a light gray line to Manton, our next interim check point.
Exploring around the Red Bluff area over the next few days, we would see a lot of rural northern California, and their accompanying rural northern California stores. Every small town has its own peculiar store, each just a bit different from the others. Manton is in a wine area - 6 quite small wineries within 8 miles. At Manton Corners, you can purchase a bottle from any one of the surrounding wineries, or get a few groceries. Feel like a souvenir? Get a Manton Corners hat! A big draw, especially the day we visited, was the Manton Corners Bar and Grill - delicious odors, and a fairly noisy Memorial Day group on the front porch attested to its popularity. A gathering of 12 or more actually made this tiny village begin to feel bigger than it actually was. Fun!
At this point, we appeared to be within 10 miles of Highway 44, a main highway back to Redding. Road A6 had been narrow and winding so far; now it added steep. The last few miles seemed almost straight up! The views were spectacular as we climbed switchback after switchback.
The next small town was Shingletown. By comparison to Manton, Shingletown is a metropolis, with half a dozen stores, gas station, and grocery with a deli which makes a great smoked turkey sandwich. I enjoyed reading some of the many signs decorating the deli walls - courtesy of owner Mary Kay. One read: "We don't make mistakes, we do variations"!
Trader Joes coffee beans in hand, we were back at Durango in time for an afternoon swim. The pool here offers two 25 yard lap lanes, plus ample space on the side for those who prefer just to splash and bobble. We hadn't swum in a pool that long for some time, and getting our laps in was more of a challenge than usual. No wonder we took some time out, before and after laps, to enjoy the warm Red Bluff sun!
And we decided to extend our stay. Being back on the road was proving a good tonic for Tom, the weather in Florence was still wet and wild, and we both appreciate a good loop trip. We had found another, this time to the northwest.
During our RVing forays around California, we've learned one lesson well. If you see a sign reading, "winding road, trucks over 35' not advised", do NOT try it if you are driving an RV anywhere near that length. And that's exactly the sign you see on westbound Highway 36. That road goes all the way to the coast, and would be interesting. But not with our rig. We would be exploring with the jeep, and only drive part way to the coast - to the town of Platina. Then we'd head northeast to Redding and return to Red Bluff, again on I-5.
The road as far as Platina posed no particular difficulty. It was fairly wide and for most of the trip it climbed only gradually It wound through lightly wooded pastureland, with a scenic creek paralleling the road. Both sides of the road were well fenced, and dotted with "No trespassing" signs, yet we saw no livestock and wondered what in the world these owners were fencing in (or out). Finally one sign made it clear. These lands were owned by hunting clubs. No trespassing unless you are a member!
As we neared Platina, we passed the "R" ranch. The "R" ranch concept is new to us, but there are several of these ranches in California and Oregon, as well as in other spots across the country. Here you buy your lot, and come and go as you please. From the road we could see a large storage area, and a hookup area bustling with family activity. We saw several signs indicating hiking and ATV trails, and some touting fishing lakes.
Just a few miles past the ranch is the tiny town of Platina. Founded as a stage stop, it was named when platinum was discovered in nearby Beegum Creek. It's very small - 8 houses, 4 on either side of the road, and an area where the highway department keeps its trucks and equipment. That compound is well guarded by a sign warning of rattlesnakes in the area. The centerpiece of town, however, is surely the Platina "everything" store.
A sign, "No guns inside store" is prominently displayed on the outside ice machine. But Platina is no western relic. Read another sign at the counter: "Like us on Facebook".
Tom asked the pleasant girl behind the counter about California A16, the thin gray line we intended to follow back to Redding. She appeared bewildered at first - as if she couldn't understand that we were actually contemplating driving it. "What kind of car do you have"? she asked. When told it was a Jeep, she continued on. "Most of the folks that drive that road live there. They know every twist and turn, and drive quite fast, not always keeping to their side of the road."
We assured her we'd be OK, and headed northwest toward Redding. When we turned left onto A16, we thoroughly confused Ms. Garmin. She obviously did not have our road in her data bank. First the image of a jeep appeared, immobile on a blank white screen. Then without the usual warnings - "make a U turn" or "recalculating" - she threw up her virtual hands and reverted to "Guidance by Garmin". That was it. No more help from her! But we didn't really need her assistance - once on A16 there were no other roads. We passed one truck coming up fast on our side of the road, and one admiring the view over the valley, but that was it. In about 20 very slow but fascinating miles, as we drove through the twin towns of Igo and Ono (and I'm not inventing those names), Ms Garmin found her bearings. The worries of the gal at the Platina store were for nought. Back through Redding to Red Bluff and another late afternoon lap swim!
One more day's extension and yet one more trip - this time to Lassen Volcanic National Park. There was construction work on the road through the Park, and we could only drive as far as the Kohm Yah-mah-nee Visitor Center. But we saw enough for us to put Lassen on our list of "definitely must return" places. It reminds us of Yellowstone without people -- you can hike through areas of mudpots and fumaroles, or wander the shores of clear alpine lakes. And while I'm certain Lassen has its share of summertime crowds, it surely cannot compete with Yellowstone in this respect. There are a dozen or so campgrounds - which, according to the pamphlet, are seldom full. They don't appear suitable for any but the smallest RVs or campers, however, and we'll limit our traveling to day trips. I'm looking forward to exploring interesting sounding spots like Bumpass Hell and Manzanita Lake.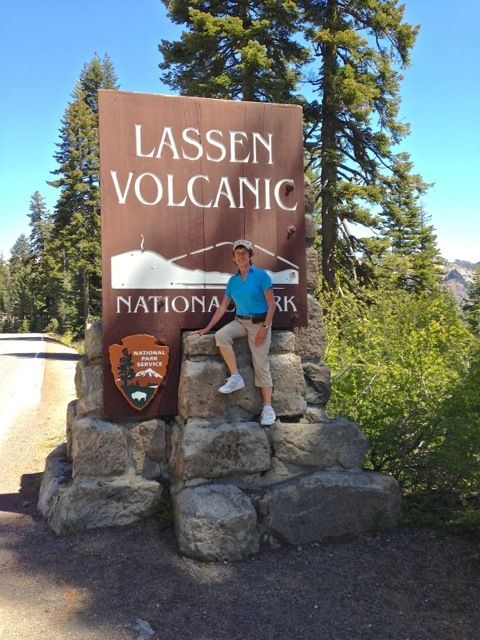 It was the weather that finally drove us north again -- it was simply getting too hot in Red Bluff. Back to 7 Feathers for one evening, and then to the coast. Not home, not quite yet, first we'd spend an evening at Winchester Bay, about 25 miles south of Florence. It's been a great trip, 8 days instead of the planned 3. A most successful trial run, and we're thinking about another RV trip. Soon.
---
See More Postcards