POSTCARDS
---
Stephanie is one of those persons who can fit a lot of words onto a standard size postcard -- usually by writing sideways, around corners, and even upside down if she can find some extra space. Most of these go to family and friends. But some of them -- those which document our RV adventures -- find their way onto this portion of our website.
---
Postcard: Rooting for the Refrigerator
February 7, 2002
We had forgotten just how windy the Texas Gulf Coast can be. It is a great place to spend a week, but there is a very good reason for the success of the kite and flag stores in Port Aransas. We not only got sand between our toes, we got it in our hair, our clothes and the coach. It blew us back up the road to Victoria, and back to Seguin; to another service appointment at Pro-Tech.
We had ordered something called a heater core for the coach, which I understand provides hot air for the driver and passenger area (no techie, I), and we still had a refrigerator which defrosted on its own schedule. For this last and persistent problem, we had found a wonderful ally at Dometic in the person of Pat Hickey, who assists with customer service matter, and who was simply not going to let the problem go unresolved. She contacted the service department at Pro-Tech, where both the Service Manager and Service Writer expressed amazement that she seemed to know virtually everything about the technical workings of propane refrigerators. The last diagnosis was that outside air might somehow be getting into the box and causing the problem. Pat sent us a special small plug by overnight express mail that was designed to let water out of the drain hose without letting an undue amount of air get in.
But alas, even after this fix our refrigerator continued on its merry way, spiking freezer temperatures into the 30s, melting our ice, and, worst of all, making it impossible for us to buy any Blue Bell Ice Cream! This wonderful stuff is Texas made and Texan devoured -- I have yet to find it anywhere else. Daily trips to the grocery store had become commonplace, and we were accustomed to checking the freezer thermometer at the oddest possible times. We would wake in the middle of the night, read the numbers and announce them to any listeners around. Our neighbors must have thought us nuts! By the end of the week, Dometic gave up on fixes, and ordered us a brand new refrigerator! Back to Pro-Tech for a two days in the service bays, and three nights in their yard.
The first day was spent on an unrelated problem, replacing the heater core. It seems this could only be done by taking apart much of the front end of the coach, and by 6:15 pm -- well after their posted closing time of 5:30 -- we were backed into a convenient spot in their yard, complete with electricity. The next morning, we were delighted to find that our new refrigerator had arrived, and they were ready to work on installation. One small problem, remained, however. The refrigerator was simply too wide to fit through the door. Obviously it had been originally installed before the side walls were put up. So it had to come out through the window over the dinette table.
As the technicians were removing the window, an anxious man came into the shop. His brother-in law had died, and he and his wife were on the way to the funeral in their fifth wheel. He had just realized that he had no left turn indicators, and no lights on that side either. Could Pro-Tech possibly help him, or refer him to another shop, close by?
Pro-Tech was completely busy. All the bays were full of coaches, 5th wheels and trailers, all with prior appointments. But instead of sending him on his way using the "we can help you next week" approach, which unfortunately so many service centers use, they told him that, if he could wait just a bit, they would try to fit him in. Which he could -- and they did. Within an hour, he was back on the road, problems fixed. We were very impressed. Not only do these guys work late hours, but they are ready to help an RVer in an emergency.
Our new refrigerator was installed, and we prepared to spend one last night behind the Pro-Tech bays. Tom put our wirelss temperature sensor in the freezer compartment of our new unit, and we began to watch the temperatures as they dropped. 55&Mac251;, 50&Mac251;, 40&Mac251;. The temperature went down more and more rapidly. When it dropped below 32&Mac251;, we cheered and clapped our hands together in the "high five" way. Hurrah for not having to get up in the middle of the night to check freezer temps. Hurrah for having to concern ourselves only with the temperatures outside the coach, not the refrigerator ones. Hurrah for Pat and all her help. The only problem we have now is -- what are we going to do for entertainment?
---
Postcard: Sand Between My Toes
January 29, 2002
There are several places in this country that draw us to them like magnets. We have spent days in Junction City with service appointments. We have sputtered into the Bend, Oregon, Cummins dealership in our Dodge dually, and been towed there in our coach. And we know the way to the Pro-Tech RV Service Center, Seguin, TX, by heart. This time, our stay in Seguin was quite short -- we spent one evening, and were off by noon the next day, heading to Port Aransas, the beaches of Mustang Island and Pioneer RV Resort. En route, we stopped for a couple of nights in Victoria at the Lazy Longhorn RV park.
The Lazy Longhorn is one of the friendliest of RV parks. We had barely checked in when we were invited to the afternoon "R & R", a get-together with popcorn and cola. As we sat talking to our fellow RVers, the manager passed out copies of a recipe which had been a great hit at their last potluck, a dessert called, "Enchiladas Cobbler". Sounds like an oxymoron; but just reading the recipe made my mouth water. I plan to try it out the next time I'm on the dessert committee.
We spent the next afternoon exploring Calhoun County, a peninsula extending into the Gulf of Mexico about 30 miles south of Victoria. In Port Lavaca, we drove through Lighthouse Beach and adjacent RV park, beautifully (for me), situated right on the water, at the foot of a long birding boardwalk.
Next stop was Port O'Connor, a tiny town on the tip of the peninsula, where we hoped to catch the ferry to Matagorda Island. Accessible only by private boat or passenger ferry, Matagorda is a barrier island which has allowed no development. When you get there, you take a shuttle across the island, or just stroll the beaches. In season, camping is available, and there are ranger conducted activities and special group programs. But not today. The next boat trip was several hours off -- if the boat was going today at all. Port O'Connor seemed quiet to the point of being closed; shops were shuttered, homes had yet to be opened for the season. We enjoyed a drive out in aptly named Boggy Bayou, where we saw brown and white pelicans, myriad ducks too far away to identify, American Coots and one Long-billed Curlew. And in the fields we passed driving to and from Victoria were several flocks of Sand-hill Cranes.
The beaches of Port Lavaca and Port O'Connor are hard packed dirt, ringing lagoons and bayous. In places, stone jetties extend into the Gulf, making wonderful fishing holes for jetty fishermen. But we were after soft sand, summer sand, the kind that creeps into your shoes and socks, the kind that gets between your toes. For that kind of sand we needed to go south.
We will be spending a week on Mustang Island at Pioneer RV Resort, just three miles south of Port Aransas. This favorite spot is snuggled behind the dunes bordering the gulf, with two ponds where I have spotted several Blue-winged Teal, Northern Shovelers and, (my favorite), Black-bellied Whistling-ducks. The beach stretches for some 25 miles south toward Padre Island National Seashore, and the sand is hard enough for easy beach driving. I could hardly wait to get a Port Aransas beach parking permit ($6.00 a season), and this afternoon we set off to see just who, and what, would have sand between their toes.
We drove down Texas 361, the main, and only, road down Mustang Island about 5 miles to the nearest beach access road, and out into the sand. All sorts of people were out enjoying this sunny, sandy afternoon. Beach walkers were out collecting shells, strolling right at the wave line. While shells aren't exactly littering the beach, if you keep at it, you will find some; the full bags of the walkers and the collections laying out on various tables in our park attest to that. The poles of surf fishermen were set in holders in the surf, their lines stretching into the water, pole tips jerking slightly as the waves washed over them. These fisherfolk are mainly men, some in waders, others barefoot, sitting in folding chairs at the edge of the water, watching their pole action and waiting for a stronger jerk of the pole tip, hoping to catch whitefish or pompano. Further back on the beach, their wives can be found sitting and chatting with other women in other folding chairs, out of the wind in the defilade of their cars. The license plates of these vehicles read like a list of mid western states, from Ohio to Wisconsin, from Nebraska to Ontario. Today, some fishermen were alone, with only coolers for company. Tom noted that their wives had probably grown tired of watching someone else fish and had gone shopping in Corpus Christi or Port Aransas.
In several places, people were lounging, working on their tans. Today was warm, but extremely foggy; all the cars were using lights and driving slowly to avoid each other, beach strollers, fishermen or their often unleashed pets. It is hard to imagine anyone could get tan in this weather, but that wasn't keeping these people from trying.
Birds had sand between their various toes, also. Laughing gulls, Bonapartes and Ring-billed gulls were gathered on the beach, joined by groups of Royal and Forster's terns. Some were flying around the surf fishermen, hoping for a taste of left over ghost shrimp bait. Sanderlings were running swiftly along, making tiny tracks in the wet sand. Missy was whimpering in the back of the jeep, begging to be let out to run in the water, arguing it was her turn to get sand between the toes.
We followed the beach "road" (the strip of the hardest packed sand), all the way to Port Aransas, where it ends at the city jetty. We watched one jetty fisherman fishing for sheepshead (a fish new to both of us). The poles used for this type of fishing are about 14 feet long, with a short line attached to the end, and no reel. When the fish bites, one merely backs up and lifts the fish from the water. These fish bite very softly, and it is hard to tell when you have one on. This fisherman told us that he spends quite a bit of time just feeding the fish before he gets one to take his hook. But he proudly showed us his catch bucket with several fish inside.
On our way back to Pioneer, we stopped in town at the city wildlife sanctuary. This short walkway over a shallow lagoon always provides interesting birding and viewing of other wildlife -- including alligators and turtles. This afternoon one of the largest alligators was laced among several egrets and herons. Northern Shovelers and Blue-wing teal were busily dabbling for their dinners. Coots and Moorhens were squawking noisily at each other as they meandered across the mudflats.
And, somehow, the day had flown. It was time for us to return to Pioneer, to our (and Missy's) dinners, a warm and humid evening, and promise of more sand between our toes, tomorrow.
---
Postcard: Backroads to the Hill Country
January 22, 2002
Even though Tom and I would prefer to drive the scenic roads, and avoid the Interstates whenever possible, sometimes it is better to get out on the "big" roads. Driving the 810 miles from Tucson, Arizona to Kerrville Texas, was one of those times. We left the Country Coach rally on Saturday morning, planning to overnight in Las Cruces, drive through El Paso on a hopefully traffic free Sunday morning and cover as much of West Texas as possible.
Truckers don't seem to recognize weekends, however. I felt like the meat in a "truck sandwich" as I drove down the Arizona and New Mexico interstates. But the good weather held on that Saturday, and when the wind started to howl on Sunday, it was a tail wind. It blew us down the road, through dust storms, by yucca plants bending low, and past unlucky rigs struggling west -- heading right into the gale. Going with the wind was easy, we didn't realize how strong the wind was until we stopped at the KOA in Fort Stockton.
We always enjoy our stays here. The park is a great place to walk Missy, who usually will find at least one rabbit to watch, (she'd prefer to chase them, but, then, it's a dog's life). There is a small restaurant attached to the office, serving breakfast every morning and dinners most evenings. The sites are widely spaced, and you get the feel of the West Texas plains -- nothing for miles and miles but sagebrush and creosote bush.
The next morning the wind had died and we were off toward Kerrville, gateway to the Texas hill country. We are staying at Buckhorn Lake Resort, just 5 miles west of town. The well stocked, catch and release lake is actually four spring fed ponds, formed by a series of dams on Goat Creek. The RV sites are huge -- 90 foot pull throughs, and back ins large enough for the largest rig. There is a large event center with area for potlucks, etc. and a smaller area complete with piano. Shortly after we arrived, I explored this area, picked up the top of the piano bench, and retrieved some sheet music. It has been more years than I care to count since I played, but what an enjoyable way to spend a few minutes, trying to play some simple pieces.
This morning, we walked across the lake on one of the dams and climbed the hill. The resort encompasses approximately 72 acres, some of which has been set aside for future expansion. We climbed through the oak trees, listening to the calls of cardinals and tufted titmice. Delightful.
We set aside this day for a re-exploration of the Texas hill country around Fredricksburg. This is our third visit, and we should have been able to drive directly wherever we wanted to go. We even picked up a map at the Visitor Center which showed us many of the backroads through the hills. No more freeways for us, at least for a while.
We left the rig at Buckhorn, and took the jeep on this expedition. Our plan was to drive on highway 27 from Kerrville to Comfort, cross under the freeway and head to Sisterdale, then turn north to Luckenback and Fredericksburg, and complete the loop back to Kerrville. An easy trip on the map, but the actuality was a bit different. We were fine until we left Comfort. Our road did not cross the freeway either on an under or an overpass. Instead it dumped us onto the freeway and headed us south toward San Antonio. To make things just a bit frustrating, we would drive for about 10 miles before we found an off ramp. But during that 10 mile trip in the wrong direction, we remembered that often the smallest, most unlikely roads will offer up the biggest surprises. And so it was.
We got off the Interstate onto a road so small that it barely showed up on the Visitor Center map, and headed toward the tiny towns of Welfare and Waring. Welfare has one very popular restaurant, jammed this morning at 11:30. We'll have to try it sometime. Waring had a closed gas station, with pumps dating from the 20s or 30s. Here's a photo of the one and only commercial establishment in Waring.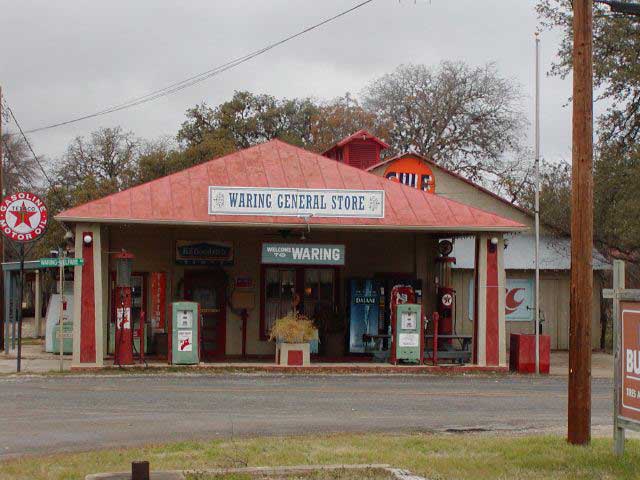 We noticed several small homes along the road, one where the owners were obviously dreaming of a ranch. The sign at the foot of the short driveway read, "Almosta Ranch".
The road runs up and over the hills, down into gullies, most of which carry warning signs about possible flooding. The rivers and creeks have generally low water levels and you can drive through the dips without worry. But after a hard Texas rain, everything changes. A small sluggish stream can become a raging river very quickly. At each dip, at each side of the road, there is a depth indicator, showing how deep the water can get -- up to 6 feet.
As we left Waring, we crossed the Guadalupe River, noting the cypress trees lining its banks, up to their gnarled roots in water. Away from the streams, twisted oak and juniper dot the landscape, with prickly pear cactus underfoot. The hill roads are narrow, but don't feel that way, since they are bordered by a large strip of neatly mown grass of either side. ( I wonder who does that?) Then comes a fence, usually with a No Trespassing sign upon it, then the trees.
Once on the other side of the Guadalupe, we entered an area of huge ranches. One for sale sign read, "263 acres", and the smallest acreage I saw was a "tiny" 78 acres. Behind 8 foot enclosing fences, we saw longhorn cattle, ostrich and emus, goats and deer, as well as more exotic species. We noted one antelope-like creature with long twisting horns, who did not wait for a picture but dashed off frantically. I have heard rumors that a trophy hunter can bag just about any animal on some of these ranches.
The gates leading into these ranches were elaborate displays of wrought iron, often with the ranch brand upon them, set in long rock walls, which in turn give way to the high enclosing fences. Often the same rock is used to create pillars in the walls, no doubt giving some clue to the personality of the ranch owner. We saw well maintained gravel driveways leading into the ranch acreage. We never saw a ranch house -- they were simply too far off the country lanes.
We did see some other homes, however. Rounding one turn, we came upon some horse corrals, a riding barn behind them. Across the drive from the corrals was a large rock house, in front of which were parked 3 Prevosts -- Country Coach's top of the line rigs -- two identical in exterior design; each with the identical logo at the end of the bus. I couldn't help but wonder what anyone would want with three luxury coaches. Tom wanted to take a picture of these, but as he raised his digital camera to do so, it declared itself out of battery power and shut itself down. We weren't far from Sisterdale at this point, so drove in to see if we might find some at the general store.
What an interesting town. Sisterdale is one street long, with about 8 houses ("twenty nine people between the signs" we were told) , a general store with a very taciturn shopkeeper, and a history of the town painted on one wall. That's it. But they did have batteries, so we were back in business.
The road to Luckenback wound up and down the hills, across small streams, through First Coffee Hollow and across Second Coffee Creek. Luckenback hasn't changed perceptibly; you can still buy Willie Nelson CDs in the general store, and there was a "cowboy" singing in the bar. While dances are held here monthly and such unusual tournaments as armadillo races and face making contests are hosted, today was quiet. We walked around the grounds, and headed to Fredericksburg.
This German town fairly bustles in "season", but it seemed that mid-January is their quiet time. I wanted to get some German bread, but the sign in the window said they had sold out of bakery product, and the store was closed. So was the gourmet grocery store and several restaurants. But that was OK. We had spent a wonderful day on the winding roads of the Texas Hill country.
---
Postcard: The Case of the Recalcitrant Refrigerator
January 17, 2002
We have a Dometic refrigerator in our RV. Not a side-by-side, just a small freezing compartment atop a refrigerator box. Indeed, the freezer part is small enough that we opted to have the ice maker removed shortly after we got the coach, so that we could freeze an occasional steak or chicken thigh and not be completely reliant on a neighborhood grocery store. And, for the last two years, everything seemed to be working just as it should.
The mystery began as we were returning home from our Utah trip last October. I opened the freezer compartment of the refrigerator to remove the ice and the lone package of bratwurst stored there, praising myself for my good planning. No grocery stop for us tonight. But there was no ice to remove, merely a lot of water, and the package of wurst was limp and soggy. Our refrigerator had decided to defrost itself. Maybe it thought it was helping me, but I really prefer to make that decision all by myself. So I mopped everything up, threw out the meat, and headed to the store.
But a self reliant refrigerator poses quite a problem. It is impossible to store anything in the freezer with confidence; and I became concerned about the condition of food in the refrigerator compartment as well. Was the mayonnaise still good? How about the previous night's leftovers?
Leaving one ice cube tray in place as a test, we closely watched the actions of our refrigerator over the next few days. Sometimes it would freeze everything for a matter of hours, and then, just when we thought all was cured, it would defrost -- usually partially, but sometimes completely. Watching this inanimate box work became something of an obsession. One or the other of us would get up in the night, open the freezer and feel the tray, reporting to the other. "It's ice", or "it defrosted again".
Since every time we opened the doors, the warm air from the coach rushed into the box, Tom came up with an alternative plan. We placed one of the wireless transmitting sensors we use to show the outside temperature, into the freezer. That way we only needed to read the gauge in the coach's living area to see how cold it was, or wasn't, inside. We became a bit obsessed with temperatures. We would drive down the road, reading to each other. "34.5&Mac251; and climbing". "18.6&Mac251; and falling"; the temps were all over the place. Obviously we, and our refrigerator, needed help.
Arriving at our home park, Fidalgo Bay RV Resort, in Anacortes, we called Brad Green, the local RV doctor, a mobile service technician who makes house calls -- and who we think is highly competent. We went home and he visited our refrigerator several times over the holidays. Each time, everything (the one ice tray), was frozen solid. When we came over to see how it was doing invariably it had defrosted again. We called Brad back and, as a last resort, he changed the thermister, (whatever that is). We started south, hoping that would be the end of that.
We were headed to Tucson to attend the Country Coach winter rally. Just by chance, the rally would be held at Beaudry, the huge RV repair/sales/park complex there. Hoping their service department could cure our continuing problem we called for a Monday morning appointment. They were booked solid but gave us an appointment on a Saturday, 10 am.
We spent a couple of days at the nearby Voyagers RV Resort, biking, swimming and keeping careful records of the refrigerator's machinations, and arrived at the service department at 10 am on the dot. We really should have known better; they were not at all ready for us. In fact, when we returned at 3 that afternoon, we concluded that they had not looked at the coach yet. By 4, we had been told that fixing the refrigerator would be a full day's job, here was the bill for a half hour's service in reaching that conclusion, and we should try to get another appointment as soon as possible. But we'd previously been advised they were booked ahead for more than a week...[in fairness they were trying to fit us in to do more 'testing"]
Ace in the hole time. Country Coach provides its rally goers with complementary service, both from its own factory technicians and from techs of many of the major supplier representatives -- such as Dometic! We signed up to have someone come and look at our stubborn box, and had two service calls in as many days from Bill Hendrix, the Dometic rep attending the rally. We found ourselves spendng a fair part of those two evenings watching the "broadcast" temperature readings from the sensor in the refrigerator, one of the more exciting ways to spend the time -- it comes right on the heels of watching grass grow!
The good news is that I learned a couple of very helpful hints about refrigerator temperatures. What you want to test is not the temperature of the air inside the refrigerator, but the temperature of the food inside it. The best way to accomplish this is to get an aquarium thermometer. Not the expensive type for exotic fish who need a steady temperature of 70&Mac251; or so, but one for the "cheap" fish, who can live in water of various degrees. Put it in a jar with a top, (so the water won't spill), put the whole thing in the refrigerator, and you should have a good idea of the internal temperature of your food. The "not-so-good" news is that I am off to Wal-Mart this afternoon to find one of these things, as the Dometic tech acknowledged that a problem exists but we apparently will have to continue on down the road and find a Dometic shop where we can spend a couple of days in order to solve the Case of the Recalcitrant Refrigerator.
---
Postcard: Where do We Go from Here?
Jan. 9, 2002
We always enjoy spending a week or so at Emerald Desert RV resort in Palm Desert. This park is may be our most upscale stopover, complete with two swimming pools, four "spas", and a workout room. The park surrounds a well manicured 9 hole executive golf course. But after the swimming is done, the workout is finished, and golf is over, what is there to do in the surrounding area for a couple of outdoor nuts?
Tom found an answer to that question when he had coffee one morning with a couple of avid birders. They had just returned from the Coachella Valley Preserve, famous to many as the home of the Coachella Valley Fringe-toed Lizard. They had had a great birding trip and encouraged us to visit. Thousand Palms is only about a 10 mile drive from the RV park, so off we went exploring that same afternoon.
The Coachella Valley has been extensively developed. All through the valley are homes, golf courses, shopping malls and freeways. Developers and planners have long dreamed of developing the entire area -- even the inhospitable 100 square miles of sand dunes in the valley center would be tamed. Biologists and conservationists wanted the valley to be a haven for all, not only sun seekers, but the native species of plants and animals found here -- including the fringe-toed lizard. With elongated scales on the toes of their hind feet, these lizards are remarkably well adapted to "ski" on the soft dunes. Their heads are perfectly shaped to allow them to dive head first into the sand, leaving no trace of their presence. Once below the surface, their noses are so constructed that they can breath air without getting sand into their lungs. Tempers flared; that was the time when the lizard earned the name the "French toast lizard" or simply that "damn lizard". It took two years of debate and negotiation between the opposing parties, before compromise was reached. In 1986, however, the preserve system was officially open. The lizards got 4 square miles, the humans got the other 96.
We drove out Washington Street, and turned east on Thousand Palms Road. We passed several intriguing looking trails leading to different small palm oases', with cars lining the road at each trailhead. The names of these oases indicated something of their histories; Indian Palms, Hidden Palms, and Horseshoe Palms. A longer hike takes you to Pushawalla Palms.
We drove into the Visitor Center in Paul Wilhelm Grove, so named for an early settler in this area. It is a large grove of Desert Fan palms and Carrizo grass, a bamboo like tall grass growing along streams and seeps. Our destination was the McCallum grove, a "short" 2 mile round trip from the center. (We had figured the shortness of these two miles without considering that two miles in soft sand seems longer than two miles on pavement.) The trail winds through the Oasis, crosses over the San Andreas fault and through a wash, en route to the grove and a lovely pond full of desert pupfish, tiny, guppy sized fish who thrive in water which becomes quite warm in the summer months.
Since the folks who described the preserve were avid birders, I looked forward to seeing some "rare" (to me ) species. Early afternoon isn't the best time to be bird watching, but we did see lots of Phainopeplas, chasing each other through the mistletoe laden branches of the Mesquite trees. Mockingbirds and finches were everywhere and I saw one yellow warbler. Hawks and owls nest in the trees around the McCallum Grove pond, but were absent this afternoon. Next time, I'll visit in the early morning or late in the day, for the list of "birds you might see here" is impressively long.
The Coachella Valley preserve is an oasis in itself, nestled in the middle of this valley of exploding development. Its brochure states, "Planners have projected that the entire valley will be filled with houses, condominiums and golf courses by early in the 21st century", and that the preserve will "have the added significance of being the last large and accessible tract of native desert left in the region". A dire scenario, indeed.
The birders had found us an interesting place to visit,, and, in turn, Tom had described our hike of the previous day. There would be absolutely no birds to be found on this hike, but it is one of the most interesting we have taken in this area -- Ladder Canyon. We described our first visit here in an earlier postcard.
In the year since we last hike/crawled and climbed through the Canyon, Highway 86 has become an Interstate, and many of the old exits have disappeared. Leaving Emerald Desert, we drove east on I-10 to its junction with 86, and then south to Road 66. Then we had to drive north and east to get to Mecca, to Box Canyon Road and to its junction with Painted Canyon Road. But everything else was the same. The road into the canyon was lined with low hills which looked like someone had poured chocolate syrup on them; it dripped down the hillsides like brown paint. There were several cars parked at the foot of the arroyo leading to Ladder Canyon, and one couple was trying to find a route good for their Samoyed. Unless their dog had circus training, they were due for disappointment when they got to the first ladder!
Almost all the ladders are still in place; one has been replaced, (the old one left behind on the floor of the canyon), and in one area, we had to scramble down an embankment where I think a ladder had originally been set. Also, this time, we knew a bit more about the area. No more fruitless side trips to dead ends for us! Still, it took about two hours to climb up and down the 7 ladders, squeeze through the narrow crevices on the trail, and emerge at the top of the hill with its breathtaking view of the Salton Sea. There are still no directional signs at the top, and, hoping there might still be another way down than last year's route, we waited for another group of hikers. Perhaps they were more familiar with the area than we were. Nope. This was their first time. So we retraced our steps down the ladders, back down to the arroyo, the car and Missy.
Tomorrow we head east toward Phoenix. We will spend a day or so at Usery Mountain, and then head to Tucson. We have a service appointment at Beaudry where we hope to get our refrigerator to stop defrosting on its own schedule, and we're off to a rally in mid-January. Fun times!
---
Postcard: A Sense of Community
January 4, 2002
The rain chased us down the Sacramento and San Joaquin Valleys, following us into the high desert near Mojave, and not letting up until we entered the Imperial Valley. We were headed to El Centro, to the Desert Trails RV park to spend the New Year weekend.
Desert Trails has some 400 sites, each under towering eucalyptus and palm trees, bordered by desert bushes, and surrounding a small 9 hole golf course. One section of the park is devoted to park models, another set aside for overnighters. Part of the park is reserved for those without pets, but unless you have a rottweiler, pit bull or wolf hybrid, the rest of the park is yours. It is a park where RVers return, year after year, usually to the same site. One of the first things the returnees do is set out their large Astroturf mats, their lawn chairs and their fire pits. Each night there are multiple gatherings around these "campfires", as they entertain their winter neighbors. It is a community, often closer than the summer one.
This year, the park held a New Year's Eve party, a New Year's Day Brunch, with a "Polar Bear" swim and relay races after the brunch. To make the usually very warm pool cool enough to qualify for Polar Bear status, the heat had been turned off the day before, and several large coolers of ice were dumped in -- on top of those hardy souls who had braved the water. The object was to catch an ice cube before it melted, and thus become a polar bear. Anyone could join in the festivities, and it was an excellent way to meet the folks at the park. Most of the swimmers had been coming here for years, and knew each other well enough to reminisce about past times.
This community is equally friendly to newcomers. After a couple of days, I knew the woman who walked the two Pomeranians past Missy each morning, the man across the street had taken to saying "hi" from his chair on his park model home, and we were invited to join in on a campfire one evening.
While Tom and I have camped in National Parks and National Monuments, and have first hand knowledge of many campgrounds of the National Forest system, as well as those found on BLM and Army Corps of Engineer lands, we have also stayed in a number of parks such as Desert Trails. When we return to this type of park it is likely we will find "old" friends. I know golfing gals in California and have birding buddies in Texas. But even when we are new at a campground, we find almost instant friends. Just speak to someone in a campground, ask directions to a grocery store, or where to find the best "whatever", and you achieve instant camaraderie.
But while we have a working knowledge of a lot of parks all over the U.S., there is one sort of campground/park where we have never stayed -- in long term boondocking areas. We have heard a lot about these, and decided to look at around to see what is there. From Desert Trails, and armed with a detailed map of Imperial county, we were perfectly situated to do some exploring.
We wanted to visit Slab City, that area near the Salton Sea once the home of a military base, and now an area where people can stay, rent-free. We had heard a lot about the "city", read something of it in the Counts' book, "Over the Next Hill", but really had no idea exactly where it was. When I got the Imperial County map at the Palm Desert AAA, I asked the man at the counter if he knew the location of Slab City. He gave me an odd look, but said nothing, merely marked it with his yellow marker.
Even with the map, we almost missed it. We found Niland, but no sign saying "Slab City, 3 miles", or anything like it. But driving east, we found all the roads led into one, Beal Road, and that led to "the slabs".
The first thing we noticed was Salvation Mountain. Brightly painted in blues, yellows and reds, decorated with all sorts of religious sentiments, and topped with a cross, it would be hard to miss. There is a staircase rising along one side, and today three children were climbing to the top. At the foot, two trailers were loaded with items to sell. A nearby sign proclaimed a New Year's Eve party would be held that night, "right across from Linda's".
Who lives here? All sorts of persons, from all walks of life. There were several trailers which had definitely been here a long time, surrounded by heaps of trash, old pieces of old cars and hard faced folks. In other areas, people were obviously here because they enjoy it. I talked to one man who was wheelchair bound, but was out talking with his neighbors and exercising his small black dog at the same time. We found the community bulletin board, with flyers describing health care in Niland, items for sale at various trailers, and the party near Linda's. Far different from our RVing experiences, but a community all the same.
The other place we had heard about was the Hot Spring LTVA (Long Term Visitor area). Unlike finding Slab City, we were at the Hot Spring practically before we knew it. From El Centro it's east 15 miles down the I-8, off the road one mile, and we were there.
The Hot Spring itself is comprised of two small, concrete tubs, and a pipe studded with holes. The holes in the pipe create an archway of hot water some 8 feet high which serves as a never ending hot shower -- no doubt an attractive amenity at this otherwise "dry" camping area. At the end of the pipe a hose bib is attached. A man was filling empty plastic gallon jugs with this water. Having noted what the water in the hot tubs looked like, I asked him what he was going to do with his water. "I take it home for washing", he said. "We don't drink this water, but many people do. They believe it contains beneficial minerals." He wasn't the only one using water that way, we saw several persons who had biked out of the desert loaded down with empty water jugs obviously coming for the same purpose.
There were three persons sitting in the tub when we arrived. An elderly woman was giving a lecture to a younger man on the benefits of some sort of medicine for colon pain, describing in graphic detail what could go wrong with one's colon. The third man was nodding agreement, getting in a word or two whenever he could. The hot tubs are very popular; one woman told us that they are especially popular in the early morning or late evening.
Near the hot tub, there is a small lake. I tested the water there and found it much cooler than the tubs or the jetted hose. On the bank, a green heron was doing his morning fishing, and a large splash indicated some sort of fish in this lake. About two feet from shore, the lake suddenly drops off to some unknown depth. People do swim there, but it would have to be a lot warmer than it was this morning to tempt me in.
Exploring the camping area, we passed the host RV. He was on the phone, and his rig had full hookups. Everyone else dry camps. Some RVs fairly bristled with solar panels, but we didn't notice any generator noise.
This is not free camping, but it comes close. A seasonal pass (mid-September through mid-April), costs $125. A short term pass is $25.
There were all sorts of RVs here, from the most basic to the fanciest models. If you want to stay, you just drive off into the desert, find a spot, and set up. But you must be careful not to drive into someone else's spot. Even when a site appears empty, it might be taken. Look for an old chair sitting in an arroyo, or a pile of lumber/firewood -- they're site markers. Some sites were marked with ropes, others with railroad ties. A couple of RVs appeared to be camping together; they had all sorts of Christmas decorations surrounding both rigs.
There is more organization here than in Slab City. In addition to a host, and some camping costs, there are rules and regulations, including no camping in the hot tub area, and pet leash laws. But as the other areas we visited, there was a definite sense of community. One woman was showing a newcomer "the ropes", the hot tubs and bulletin board, and being invited to stay with her when they left the area. Looking at the fire rings surrounded by chairs, you could tell that, come nightfall, fires would be going and people would be talking over their day's adventures.
We headed back to Desert Trails and our day's trip, north to Palm Desert for a week's stay. It was interesting to visit Slab city and the Hot Springs LTVA. These three very different places appeal to a different type of RVer, yet each seems to share a common same sense of community.
---
Postcard: A Holiday in Sections
December 27, 2001
Like chapters in a book, the period in our lives between Thanksgiving and New Year's Day is divided into sections. The first chapter could be called "Island Christmas". After Thanksgiving with the family, we return home and prepare for the first celebration. I gather cedar, pine and fir branches and line the fireplace mantle, the top of the bookcase, and the stair landing. My grapevine wreath gets its share of green, as does the front door. Next, we put up our "Christmas branch". Several years ago, we decided that a Christmas branch made more sense than a Christmas tree. Our property is loaded with fir trees, many having very long branches that need to be pruned annually anyway. This way we make good use of the one we decide will make the best "tree". I spend quite a bit of time deciding just which decorations will go on our branch, recycling different decorations each year. Our granddaughter thinks her grandparents are ecologically wonderful not to cut down a whole tree, and considering we usually spend Christmas Day with the kids, and then head south, it makes sense, we don't have to take down a whole tree. All this early decorating is in preparation for the holiday party we host for our Cape San Juan neighbors. But when the party is over, it is time to take down all the greens, put away the ornaments, and throw the door wreath and Christmas branch on the burn pile to await springtime brush burning. Dismantling the Christmas decorations is done bit by secret bit. One morning, Tom notices that the wreaths are gone, replaced by the usual pictures. The next day, there are no more greens on mantle or stairwell. It becomes something of a game -- how many decorations can I remove without his noticing. Soon the house is back to its regular look. And it is time for the next Christmas chapter, "traveling to Christmas".

This year we went to Yakima, Washington, to our daughters house. Yakima's winter weather is most unpredictable -- it may be warm enough for golf (although that is unlikely), or it may be icy and cold. Since we aren't wild about RVing in the snow, this can pose a problem. Where do we put the rig? Do we brave the elements and drive to Yakima, or stay on the coast, where, usually, the worst weather is a driving rainstorm. Do we camp in a state park, or should we go to a private park? This year, we found a perfect solution -- Portland Fairview RV Park.
This nice park is located just east of Portland on I-84. It has wide pull through sites, enough security that we were relatively comfortable leaving our locked bicycles on the back of the rig for the two nights we would be gone, and has something called "mini storage". We paid the regular rate for the nights we were in residence, and $5.00 each night when we were not. We locked up the coach and took the jeep east. Up the Columbia River Gorge, fabled as the place for sailboarders, where the gusting headwinds made us more than happy not to be driving anything larger than the car. Over Satus Pass, where icy roads had sent a couple of cars off into the side ditches. We stopped at the top of the pass to let the dog play in the snow, and descended into the Yakima Valley.
We are fortunate to have grandkids still young enough that Santa's yearly visit is awaited with great anticipation - and the best of Christmas manners. On his visit to Santa, grandson Tyler described his sister Calleigh thus, "Santa, she wasn't very good, she whined a little bit". But with only one day left before the Day arrived, he suddenly became most solicitous of his sister, sharing his toys and even letting her have more than her share of dessert at dinner. Christmas morning found Calleigh ready to tear paper from any package -- hers or anyone else's.
6am the day after Christmas found us ready to roll. We had loaded the jeep the night before, and were off to pick up the coach, and head south. Time for another chapter of our holiday season -- this one titled, "heading south while 1-5 stays clear". The weather reports said there would be no real problem until after the weekend, so we planned our trip carefully to avoid the snow over the Siskyou mountains of northern California. We stopped in Sutherlin, OR at a brand new RV park .There are wide pull through sites suitable for the largest rigs, and, a great draw for me, it overlooks the Sutherlin Golf Course. In fact, the park office is temporarily located in the golf Pro Shop. We thought of playing, but it was really too cold for all but the hardiest of golfers.
That's when the weather report changed. The window of forecasted good weather, dry roads and no precipitation slammed shut. Now the Oregon weather caster said "blowing snow" over the last pass between us and "sunny" California. Uh, oh.
We timed our arrival at the pass for late morning, when, we figured the road would be in as good condition as possible. We expected the worst. We found warm weather, 58&Mac251; in Ashland, and the only snow was piled at the side of the road. The windy part of the forecast was right; however, we were buffeted all across the plateau from the summit to Dunsmuir. Now the forecast is for rain and more rain for days to come. But weather forecasts are notoriously untrustworthy, we shall see what actually happens.
Tomorrow we are off southwards. As usual, we don't have the slightest idea where we will be tonight or tomorrow, only that we will try to be somewhere warm and dry for the last segment of our holiday season -- New Year's Day. Better known in our family as "Daddy's Day", this is the day we eat a large, late breakfast, and football reigns supreme from the Rose Parade to the last, late game.
2001 has been a tumultuous year, changing the lives of all of us. New Year wishes have never meant before quite what they do this year. Tom and I send heartfelt wishes to all for a happy and peaceful 2002.
---
Postcard: Exiting Oregon
November 17, 2001
The assumptions in my last Postcard (immediately below) were, in hindsight, premature...
Our plans were simple and straightforward -- we would spend one morning just north of Eugene at Cummins Coach Care to get the coach lubed and the oil changed. We'd spend the night in Junction City in the Country Coach overnight facility, and the next morning, head over to Carrier and Sons to change the water pump switch and see if they could cure an annoying buzz which occurs every time we plug into shore power. Then we'd head north to nearby (and en route) Albany for a quick stop at the Silverleaf main office to calibrate the compass component of our electronic VMS unit. We'd be back in Anacortes on Friday, home on Saturday in time for the afternoon football games. But we figured without taking into consideration the gods of chance and happenstance...
Cummins got the rig into the shop early the first morning, but the maintenance service process took the whole morning and a bit of the afternoon. No problem, we headed over to Country Coach about 4 to hook up for the night. But despite a number of vacant places, apparently there weren't any spots available for a coach without a service appointment at the factory the next day. So we drove over to the nearby Guaranty dealership where we were cheerfully invited to use one of several vacant sites that night.
The next morning, when we arrived at Carrier, we were delighted to learn that, in addition to the pump switch and persistent buzz, they could also replace our front window. A rock chip had been filled in Las Vegas, but it had come undone, producing a crack across the front windshield. We'd planned to wait until we returned to Anacortes to find a shop that could replace a motorhome windshield, so we were happy to find we could get that item fixed here as well.
With the added service item, the appointment took a bit longer than we'd initially planned, and it was close to 5 PM when we left the Eugene area and headed to nearby Albany for the evening. Tom contacted the Silverleaf people, and moved our appointment back a half day. It was only expected to take an hour or so first thing in the morning. So it was possible we might not make it all the way back to Fidalgo Bay (Anacortes) on Friday after all. If not we could easily make (TV) gametime there on Saturday. Or so we thought. We should have known better...
Adjusting the VMS unit stretched the next morning's clock from 8:30 am until 1:45 pm. First the unit had to be recalibrated. A software upgrade wouldn't "take", and the VMS unit had to be taken out of the unit and into the office for some technical work. Then it was reinstalled and we drove to a nearby abandoned Safeway lot to drive in circles which was supposed to set the compass. Despite several tries, it still wasn't working. The "weatherstation" sensor unit was eventually declared defective, and a new one was installed. More circles in the abandoned lot, and finally the compass began to come to life. But there seemed no way to permanently mount the sensor under the coach, so we took the coach back to the Silverleaf office area. After several unsucessful efforts to mount the unit using conventional methods, a trip to the local hardware store brought back some sort of 3M tape that eventually provided the needed solution. We were finally ready to get back on the road. A bit later than we'd thought, but still time to make some good homeward miles that day. Or would we?
Finally ready to leave the Silverleaf office, we turned on the engine and started to roll. Almost immediately the SmarTire, (that little gadget which displays the air pressure of each tire), went crazy. Lights blinked and the alarm went off, showing imminent tire failure. But the tires all looked normal. We had only made it about 100 feet from the Silverleaf office, so we returned and reported the coincidence of the erratic readings we were suddenly getting from the SmarTire unit. It seemed as if one device may have been fixed, but now another was misbehaving. So back we went to the Silverleaf tech, who tried his best to find what was causing this latest problem -- but could find nothing. Nevertheless, after he'd rechecked all the wires again the latest problem seemed to cure itself. Now maybe at long last we could head north?
But the State of Oregon wasn't through with us yet. As we headed toward the freeway to turn north, I noticed water running down the windshield. This wouldn't have been too surprising, considering it had been raining steadily for the past 24 hours. But this water was on the inside of the windshield. There was a small puddle on the dash and we could see three trickles that the windshield wipers weren't touching -- 'cause of course they were on the wrong side of the glass. In the few blocks before the onramp to I-5 we managed to get a cell call through to Carrier who urged us to turn south, not north, and return to their facility in Eugene. We had only managed 40 miles on our northward trip in the past 24 hours -- and now were undoing even that little gain.
We spent the rest of the afternoon at the Carrier shop. They reinstalled the windshield, and tested it under a torrent of water. It continued to show a very slight leak so they started anew. Around 5 they suggested that we stay the night in their lot. They would come in early the next morning -- on a Saturday -- to see if it had set up properrtly overnight and pass the test at that time. Given the trend of recent events we were not surprised in the least the next morning when it did not. This time in addition to completely removing, replacing, and resealing the windshield they checked every other potential source of water intrusion, and resealed one of the clearance lights above the leaking front window. By late morning, after thoroughly checking and resealing every conceivable source of the leak, we finally "passed" the test. But with the west coast Saturday football games about to start, we made it back only as far as Albany again -- but this time hopefully with all systems "go" for a final return home tomorrow.
Actually we really appreciated the incredible follow through we received from Carrier. They simply refused to turn us loose until they had completely satisfied themselves that they had solved our problem. And in the process they may well have fixed not only the items we knew about, but some elusive others as well.
"Exiting Oregon" has proved more of a challenge than we thought -- though just maybe we shouldn't assume we're out of Oregon yet. Perhaps I should have titled this postcard "rolling with the punches", for that surely is the only way to survive unanticipated extra time in various service departments while enjoying each day as it comes. In many ways, it has been a comical experience -- and probably a needed reminder to be flexible with our schedules in the future. For this too is a real part of the life on wheels...
---
Postcard: Heading Home
November 14, 2001
We spent a few days in the southern California desert, enjoying Emerald Desert RV Resort. The weather has been unseasonably warm, but with a pool at our disposal, we became "lap lizards", swimming a few lengths, and then sitting in the shade, relaxing. Tom is reading, "Over the Next Hill, an Ethnography of Rving Seniors in North America", by Dorothy and David Counts. The book tells of the authors' experiences full-timing during the 1990s, and their conclusions have sparked lively discussions between us. I look forward to reading Tom's forthcoming review of this book.
We left the warmth of the desert and headed to the coast to Chula Vista RV Resort, just south of San Diego. We always enjoy this area, biking to the marina restaurants for breakfast or out to Sweetwater Marsh, the nearby nature preserve. There are convenient bike paths along the side roads for the 2 mile trip, a convenient bicycle rack in the parking lot and a free trolley out to the Nature Center. A large flock of Marbled Godwits were enjoying one of the many ponds, and we saw egrets, herons and several small waterfowl just out of the identifying range of my binoculars. But clouds and drizzle dampened the spirits of these two sun-spoiled RVers, and we decided to see what the weather was like in Borrego Springs.
We have tried three routes from San Diego to Borrego Springs. One is a winding 90 mile trip, another a winding 125 mile trip and the third a relatively straight 190 mile trip. This morning we took the 90 mile, 2+ hour trip up through Cuyamaca State Park to the town of Julian and then down the hill to the desert. One portion of this road winds for 25 miles around sharp 15 m.p.h. curves, and up short but steep grades. The good news is that you will almost certainly never meet an 18 wheeler here; even another car can be a surprise.
Back to the desert heat. Our favorite campground in Borrego, Palm Canyon State Park, was almost empty, not much of a surprise with we experienced the early November temperatures here. We attempted 9 holes one morning, but by 10 am the thermometer had reached the high 80s, making golf a game of endurance, and sending us back to the relative cool of the rig. We only lasted two days before returning to Palm Desert and the cool waters of the swimming pool.
And the date says it all. In only two weeks, it will be Thanksgiving. Five weeks, (which will seem more like five days) later, it will be Christmas. It is time to head North to share the holidays with our family, and this morning saw us on the road again.
We left Palm Desert, sailed through San Bernardino (Saturday morning is a good time for missing what can be horrendous traffic), and up 395 toward highway 58, the road to Bakersfield. With the heat of the desert gone, it suddenly seemed like fall. I noticed the Saturday morning soccer games in Adelanto; kids in blue shirts, kids in red shirts, soccer moms lining the fields, grandparents in lawn chairs. We stopped at the Orange Grove RV park just east of Bakersfield in the early afternoon, just in time for Saturday afternoon football and to pick the first oranges of the season. Thence north, into the torrential rains of northern California. I had forgotten how hard it can rain here. Rain all along the I-5 corridor, but with a convenient tail wind, we fairly sailed along.
We will spend a couple of days in the Eugene area, getting some routine maintenance done on the coach, and then head home. Time for Thanksgiving, time to get ready for Christmas, time to plan for our return trip south....
---
Postcard: The Mockingbird War
October 31, 2001
I might be considered an "avid" birder. I enjoy trying to identify the various species, and delight in seeing one new to me. In learning about birds and their habits, I have had some interesting experiences. I have been chased by nesting Brewers Blackbirds when I came too close to their trees. I have watched a male cardinal attempt to destroy the intruder he saw in my car's side mirror. Another time, it was a Yellow Warbler who saw his reflection and attempted to chase it away. Tom and I have consoled his mother when a California Towhee, again seeing a rival in the glass, refused to leave her windows alone. But I had never before been in a Mockingbird War.
We came to Emerald Desert RV Resort looking forward to some Palm Desert sun, leisurely swims in the large pool, and hoping that the golf course would be open. Emerald Desert allows you to wash your rig at your site, and after the dust of southern Utah's deserts, we planned on cleaning both the rig and the Jeep. We had a site on the seventh fairway, right between two small trees, one of which had been rather severely pruned. What we did not know was that tree made a wonderful "perching" tree for one of the most aggressive mockingbirds I have yet to meet.
The war began almost immediately. Shortly after we were hooked up, we heard a mockingbird call. Not its unusual song, which can be anything from a Robin chirp to the parakeet's "pretty bird, pretty bird", but just a single note. Then a handsome bird threw himself at our bedroom window. We lowered the inside shade. Now the reflective coating on our windows just made the "other bird" more visible. We opened one of the windows, and the bird used the screen as a perch. Back and forth he went from tree to the window, from tree to window. We yelled at him, and he flew off to the tree on the other side of the coach. There he stayed for at least 3 minutes, and then he came back again. He seemed completely unafraid of us, or perhaps he just knew we were unable to catch him. Once he stayed so long on our screen that I scared him off by slamming the window.
Tom toyed with the idea of luring him inside, dropping a towel on him and taking him to downtown Palm Springs to set him free. I have tried to catch birds before and could only imagine the mess he would make inside the coach before we got him cornered. He was already making a pretty good mess on the outside window area.
We lowered the outside shade. That just made matters better for the bird; now he could perch on the side arms or dive under the shade and perch on the strap tying it in place. We raised the outside shade, and he perched on the rolled-up top. I taped some ribbons to the window -- perhaps if they fluttered the bird would be scared off. The problem with that idea was there was absolutely no wind, and the bird promptly perched on the ribbons, tearing them off and sending them to the ground.
"Ah, Ha", I thought, "I'll use the cat"! We have a fake cat who travels with us. Covered with black and white fur and curled into a realistic sleeping position, this cat has fooled service technicians all over the country. When we were in Las Vegas, we had a ding in our windshield repaired. The man who came to fix it didn't believe Tom when he said the cat was fake, but had to pick it up for himself. If this cat could fool people, surely it would fool a simple bird.
The problem of how to get the cat close enough to the window to scare the bird was solved when I put our ironing board like a plank from the bed to the sill. Position the cat right next to the screen, and the war is won. Right? Wrong. The bird wasn't fooled for a moment, and now Tom couldn't use his side of the bed.
We taped a piece of newspaper to the window, but it didn't completely cover the glass. The bird flew to the screen, saw his reflection in the open portion of the glass and flew at it. Not only that, unhappy with having a part of "his view" obscured, he proceeded to tear off the newspaper. We couldn't close and board up the window; it was far too warm in Palm Desert not to allow ourselves the luxury of an open window. So we counted on nightfall to send the bird back to its roost. That did work -- until about 5:45 the next morning. Then we heard that single note again and the bird was back. This was the day we planned on washing the coach, and we didn't need the bird's assistance.
As we washed, the bird continued to attack the window. We tried squirting him with the hose. He loved that. The water washed the paper from the window, and now his full reflection was back. He changed his tactics somewhat, and started to attack the other bedroom window. Now he was on the side where we had tied the dog, but she, for once, had absolutely no interest in a bird. At least not this variety. So we raised a white flag, and threw in the towel. The war was over, and we had lost it. We finished washing, went to the park office, and changed sites.
It took about an hour to accomplish our move. First we had to pick up the washing implements, disconnect the water, electric, sewer, and stow the satellite dish. Next we "slid in", and washed off all bird residue from the coach sides. Then we took the barbeque, dog dishes, lawn chairs and bicycles over to our new site. Lastly Tom drove over about 5 sites to our new home. Once there, we had to hook everything back up. And I'll swear, if birds can laugh, that bird had the last one.
---
Postcard: For Want of a Strap...
October 26, 2001
We were headed toward Las Vegas, at least until we got to the border town of Mesquite, NV. About that time, Tom noticed the Velcro tie down straps on our large awning had come loose, and since we were stopping anyway, we might as well check with the State Visitor Center. So we pulled over, adjusted the straps and went to see what the "other" (non-Las Vegas) Nevada might have in store. What a good decision.
I like Mesquite. A manageable Las Vegas, there are only a few hotels, each with casino, tempting me to lose a nickel or two. There are 6 golf courses, I noticed one with a narrow fairway winding straight downhill with desert on each side. Challenging, to say the least. There is still a small town feeling to Mesquite; the checker at Smiths Food King knew all the people in line before me, and had something to say to each, but with all the new construction in town, it won't be long until that flavor is gone. In fact, this afternoon I read in the hometown paper that, while Las Vegas is still very much feeling the loss of tourism after the September 11incidents, Mesquite is doing very well.
The volunteer at the visitor center recommended we visit the Valley of Fire, Nevada's oldest State Park. Sometimes being oldest doesn't mean being best, but the day was young, we were only 50 miles from Las Vegas, and we could always continue on if we didn't like the Valley. But sometimes, when you think you have seen it all, you discover that you haven't. Not the colors of Bryce Canyon, the massive splendor of Zion nor the intricate hodoos in Goblin Valley prepared me for the Valley of Fire.
The Valley gets its name from red sandstone formations, but these appeared somehow more red than I was expecting. Brick red, made almost fiery by the sun. Purples, pinks and other reddish colors swirled together reminiscent of raspberry ripple ice cream.
In this Valley, erosion has played a somewhat different role than in Bryce or Zion. Instead of spires rising from the valley floor, or mountains so immense that you feel totally dwarfed, here erosion has created thousands of cave-like holes in the rocks. Huge gargoyle faces stare down at you, and it is impossible not to name them. The face above our campsite is the "Picasso's woman". She has two eyes of slightly different sizes, set rather unevenly in her face. Her nose has a squarish, bashed-in appearance. She is smiling, but her mouth is set quite a bit right of her other features. Across the campground, a man is lying on his back, football set on his stomach. I've seen sharks, elephants and Halloween masks -- large eyes staring out at the world.
Across the tops of many of these caves, the rock seems to have "melted". Like ice cream dripping down the openings, it helps create a place one might hide. The children in the park have figured this out; they are climbing the rocks, exploring in the caves, and calling back and forth to each other.
We are camped at Atlatl Rock Campground, so named because one of the nearby petroglyphs depicts a man holding an atlatl, an ancient implement which enabled the hunter to throw his spear with greater force and accuracy. There are 19, dry camping, sites here, most big enough for any size rig. While Trailer Life considers this campground to have "fair" paved interior roads, with sites only 20' wide, it completely disregards the amount of space between each site. We have desert plants, and fabulous rock formations for our landscaping, and have been visited by multiple antelope ground squirrels, much to Missy's frustration. Arch Rock Campground is right around the corner from Atlatl, but the some of the sites here are a bit smaller, and the interior roads are a bit winding for our coach.
There are several short hikes and desert drives to take in the Valley, none requiring 4 WD. Each takes you to a different area and a different piece of the history of the area. We visited the 3 stone cabins put up by the CCC in 1935, and drove by the Clark Memorial where an early traveler, along with his horse and dog, died from thirst. We didn't hike out to see Mouse's Tank, the secret water supply of a renegade Indian, since I had learned a lesson about deep sand hiking while at Coral Pink Sand Dunes, but we did drive out to Fire Canyon. This is a badlands jumbled rocks forming small canyons of a deep red sandstone color. I was amazed not only at the colors , but how they are separated from each other. It was as if an artist had drawn a line and allowed no reds above it; no creams beneath. We walked out to see the carefully protected petrified wood from a forest 225 million years old. A sign told us that while petrified wood was not unusual in the West, these trees were of a kind now found only in Australia.
Obviously this area demanded more than one day's stay, so we put another $12 in the slot this morning and drove out to Overton Marina at Lake Mead. The Lake level is down about 100 feet at this time, leaving the "waterfront" campsites on one RV park high and dry. But there were several fishermen on the Lake, and quite a few small boats out for a daily run. I can only imagine what it is like in the summer. Then we drove into Overton to visit the Lost City Museum. Around 800 A.D., the Moapa Valley was home to many Pueblo villages. The area is still being "discovered" by anthropology classes from the Universities of Nevada and California, who worry that the increasing popularity of this valley means the old sites will be destroyed before all they can be excavated. Inside the museum are displays of the baskets, pottery weapons and foods of these ancient peoples. Outside, reproductions of the Pueblo-type houses of wattle and daub have been reconstructed on original foundations. Plants which would have been used by the Indians are planted in nearby gardens.
Tomorrow we will begin a different phase of our travels. We plan to leave the desert country for civilization -- Las Vegas and Southern California. The idea of a few days with green grass and swimming pools sounds pretty good. Unless, of course, Tom forgets to fasten the Velcro straps again...
---
Postcard: A Tale of Two Rims
October 20, 2001
Like many RVers, we had visited the South Rim of the Grand Canyon a number of times, but we had never been to the North Rim. It is far less accessible, requiring either a trip north and west from Flagstaff, or a trip east from St. George. 5,000,000 tourists visit the South Rim every year, while its Northern counterpart only gets 400,000. We were in "the neighborhood"; we had the time, and decided to spend a day exploring this intriguing area.
We spent the night in Kanab, UT, and left early on our Grand Canyon trip. As we crossed the Kaibab Plateau, we got a fabulous view of Grand Staircase -- Escalante National Monument. When we visited the Monument last year, we drove many of its backways, but never really understood how it got its name. This morning, from our vantage point on US 89, we could actually see the stairs. The staircase is formed by alternating hard and soft layers, the hard layers being the risers, the soft layers (terraces) being the steps. According to the Visitor Center at Jacob Lake, 40 miles north of the Canyon entrance, the bottom step is the Kaibab formation -- the Canyon itself. This could not be seen from the road, but the other steps were obvious. Each step is a cliff -- the Chocolate Cliffs are the lowest, next comes Vermilion, White (Zion area) and Gray. Topping these beautiful striations are the Pink Cliffs, the topmost layer, the type of rocks you see in Bryce Canyon. Add the effect of the morning sun, and wow!
As we climbed into the Kaibab National forest, we passed a rest area where an enterprising camper had spent the evening. He was just packing up when a couple of Indian women arrived with a truck heavily laden with goods. They appeared to be setting up a table, but we wouldn't fully understand what was going on here until we saw the scene play out later on our return trip.
Jacob Lake sits at the junction of US 89 and Arizona state Rt. 67. We had been told that the campground was still open, but that the Visitor Center, gas station and cafe would be closed for the season. That wasn't quite the case. The cafe, gas station and visitor center were doing a brisk business; and while one loop of the campground was still open, there was no water and the rest rooms were locked. We stopped in at the visitor center, where the ranger was giving tips on area hiking trails. There were some displays of the animals of the area, including one of the unique and endangered Kaibab squirrel. This squirrel has pointed, tufted ears, a steel gray coat and a creamy white tail. Wild turkeys, deer, elk and coyotes also roam through the Canyon area.
The road south from Jacob Lake winds through rolling hills, with meadows lining both sides of the road. Signs warned us against driving over the fragile fields, golden in the autumn sun. Interesting looking roads lead off to either side, each bearing the usual imaginative Forest Service name, "Road 301", or "Road 567". When we entered the Park, however, the names became more intriguing -- "17 miles to Point Sublime", the "Ken Patrick Trail", the Widforss Trail". As we drove along, we saw a flock of wild turkeys foraging along the side of the road. Deer were plentiful; twice we had to slow to let them cross the road. And we saw a Kaibab squirrel -- much more handsome in "person" than stuffed in a display case.
By this time, we were noticing marked differences between the North and South Canyon Rims. Had we been South, we would have encountered hotels and motels. Curio shops would have been touting Indian jewelry and blankets. Tour buses would have been parked in front of ice cream shops, leaving their motors running while hordes of tourists bought whatever they could. Once we arrived in the vicinity of the Canyon rim, the roadways would have been blocked off, so that only the shuttles could proceed. An entirely necessary procedure due to the enormous pressure of traffic there.
Not so on the North Rim. Here, at an elevation 1,000 feet higher than that of the South, they were already preparing for winter. The area stays open until the first heavy snow falls, then the road is closed until Spring. Even on a beautiful day in mid-October, there were very few cars on the road. We drove down to the Lodge and cabins in the Bright Angel area. The cabins and lodge date from the mid-1930s and are absolutely charming period pieces. We walked through the Lodge and admired the rustic wooden chairs, stacked for the winter on huge old tables. There was a replica of "Brighty", the Grand Canyon donkey of Marguerite Henry fame, old desks and other memorabilia, most in the process of being stored for the season. The lodge is on the National Register of Historic Places, and will be maintained forever in its present condition. The cabins were closed for the season, and there is an extensive renovation going on. Fiberglass showers and tubs were stacked outside in several places, and linoleum was being peeled from the floors. The cabins have log exteriors, with one living area, a bathroom and closet, small but adequate when you have a lodge next door for all your meals. The whole scene reminded me of a place I used to visit as a child, and I felt great nostalgia for times past.
The views are stunning. When you visit the South Rim, you look down toward the Colorado River. In some places you can see the various trails for hikers or donkey riders, but basically you watch the River winding far below. From the decks and the windows of the North Rim lodge, indeed, from the trails around it, you can only see out. Out over mesas and hoodoos, out over canyon after canyon. You can see where the River must be, but not the water itself.
Leaving the lodge, we followed the main road back 3 miles to a split with the Cape Royale Rd. This road angles east and follows a peninsula of land toward the landmarks of Angels Window and Cape Royale. As we started up a short grade toward Greenland Lake, a coyote dashed in front of the car. I have never seen such a beautiful animal. Where other coyotes are brown or gray, this one was a handsome shade of tan -- almost orange, with a bushy tip to his tail. He had obviously been dining well in the grasslands of the North Rim.
From this route the River can be seen in several places. Vista Encantada lived up to its enchanting name, revealing a small slice of River far across the valley, through a "doorway" in the mesas. We saw the Colorado again at Walhalla Overlook. There we viewed the Unkar Delta, an area inhabited hundreds of years ago by the Anazasi, ancestors of the modern day Hopi. There was a trail down to the Delta, but it carried the warning, "this is a strenuous, two day hike."
Angels Window is a natural arch framing still another part of the Colorado River. I walked over the top of the arch on a walkway protected by handrails and heavy mesh. It wasn't until I returned to the main trail that I was able to see just how narrow, how precipitous looking, that trail was.
By now, afternoon was well advanced, and it was time to start back to Kanab. As we approached the point where the early morning campers had been, I noticed the two Indian women selling jewelry from their tables, well protected from the sun by green patio umbrellas. I convinced Tom that he really needed an extra shot of the Grand Staircase, and while he was photographing in the light of the afternoon sun, I was examining some beautiful necklaces and bracelets. Our granddaughter has a birthday coming up, and I found the perfect gift.
Tomorrow, we'll be on our way back to Zion for a couple of days, and then south toward Las Vegas and the Lake Havasu area. We feel we have seen a lot of Utah's colorful canyon country, but there's always more to experience. We'll be back again, soon.
---
Postcard: Exploring Bryce and Zion -- or -- "25 Rolls of Rocks"
October 17, 2001
It is over 100 miles, each way, from Zion River RV Park to Bryce Canyon, so we got an early start -- for us. Shortly after 7 am, we were headed east through Zion National Park on Highway 9. This meant we had to drive through the tunnel. Not a problem for a passenger car, but something to be aware of if you plan on taking your rig through Zion.
As you near Zion from any direction, you find billboard size signs telling you to pull over and read about the tunnel. 1.1miles long, it has a clearance of 11'4" at each side and 13'1" in the center. If you taller than that, or over 40 feet long, you will not fit , and must use an alternate route. If you do fit within these dimensions, you will need an escort. (You should also be aware of the hairpin turns on the west side of the tunnel, which make driving more difficult for any size rig.) To add to the challenge, it's pitch black in the tunnel, with only a few "windows" cut in the mountainside to allow any light at all. Arriving at the tunnel during the day, you will have to wait until traffic can be cleared and for a fee you can be escorted through. However, in the early morning, there was no traffic problem. We cleared the tunnel and headed north on Highway 89.
We had discussed taking a Backway route to Bryce, but this time we had only one map which acknowledged its existence, and when we got to the little town of Glendale, we found two roads, either one of which might have been the one we wanted. We took the prudent course, chose neither, and stayed on the pavement.
About 30 miles from Bryce, you reach Red Canyon, and your first taste of the scenery to come. Vermilion rocks line the roadway, eroded into grotesque shapes. These are Hoodoos -- definition: "A pinnacle, or odd shaped rock left standing by the forces of erosion". They are "cousins" of the goblins we saw in Goblin Valley -- taller and without the "faces" I noted there. Still, they are impressive spires of deep red.
The campground here was closed for the season, as Bryce is over 7,000 feet in elevation, but we noticed a narrow line of asphalt winding through the rocks near the road. It had a yellow stripe down its center, but was far too narrow for any passenger car. A sign showed it to be a beautiful bike trail, which would effectively keep the many seasonal cyclists well away from the cars. It looked brand new, and will be a treat for bikers next year.
Bryce Canyon is not actually a canyon at all, but a plateau, so heavily eroded that it appears as series of canyons. About 15 million years ago, a period of uplift began in this area. The stress of this uplifting process led to the formation of a series of faults. Add earthquakes, and you have a checkerboard pattern of fractures, priming the area for weathering and erosion. This has created thousands of "hoodoos", spires of red, pink, white and orange. Sometimes they are individual statues, other times they are connected, just waiting for final erosion to separate them.
In the 18 mile long road along the plateau rim, there are more than a dozen places where you can stop and look down into the canyons. The first 5 observation points look down upon the "Bryce Ampitheater", and are connected by the Rim trail. I walked this trail from one point to another while Tom drove around to meet me. There was little or no edge to the trail, causing me to stay well away from the edge, but where I peeked over, I could look down on the spires of the Hoodoos, down to their bases, down to the many trails that wind along through the canyons, and up again onto the ridges. At one point a raven flew by, startling me, although the bird was made no noise at all. Indeed, except for the wind through the hoodoos and the tentative tapping of a woodpecker in a nearby tree, all was still.
Before we left Bryce, we stopped by the Visitor Center and asked a Ranger about the Backway roads leading toward Zion. We were advised that one was in terrible shape and not recommended. The Ranger had no idea about the condition of the other, but we opted to return the way we had come and leave the Backways for another visit.
We approached Zion from the east that afternoon, and were stopped at the tunnel to wait for an RV escort to come through. While we waited for the tunnel to be cleared, I asked the ranger/traffic controller if there were many problems with large vehicles in the tunnel.
"Oh, yes", she responded, "just the other day, a car lost its lights while in the tunnel. The car hit the side of the tunnel and flipped over, trapping the driver and his passenger. They were being followed by a bus of German tourists. The bus passengers got out, righted the car, rescued the driver and his passenger, and waited with them for a tow truck."
"Also," the ranger said, "we often have semis get stuck in the tunnel. They are not supposed to be there, but this is the shortest route, and sometimes they try it anyway".
Both Bryce Canyon and Zion National Park, like many other of our National Parks, have seasonal traffic problems. As a solution, each has instituted a shuttle system. In Bryce, if you take the bus, you get a reduced entrance fee; at Zion, you have no choice --its bus or don't go. The season was over at Bryce when we arrived, but we could see how necessary the shuttle could be -- even in mid-October, only a few days before closing,we had to drive around the Visitor Center parking lot twice before we got lucky and found a parking space. Spaces at the various observation points along the Rim Drive are even more limited.
In contrast to Bryce Canyon with its miles of colorful, fanciful Hoodoos, Zion is massive and majestic, with sheer, vividly colored cliffs towering above the roadways. The formations most familiar to tourists, the Temple of Sinawava, Angels Landing, the Patriarchs, are in the Canyon on the west side of the park. On the east side of the tunnel you are in slickrock country. The rock formations are just as massive but now you seem closer to them. White and pastel rocks tempt you to walk out on their gradually sloping faces. Small trees and bushes seem to grow right out of the rock face, needing no dirt at all, although upon close examination I did find some small amount of dirt around their roots.
We took a ride on the Zion shuttle system the next afternoon. You can pretty much shuttle wherever you want to here. If you are staying in Springdale, the town at the park entrance, you can shuttle from your hotel, motel or RV park to the Visitor Center and then catch another shuttle into Zion Canyon. The shuttles are free, although you must pay to enter the Park. Zion River Resort has its own bus which will take you to town as well. On the front of each bus is a bicycle rack, and one of the popular pastimes here is to take the bus up to the last stop on the route, and then ride down. There are no cars to contend with, only the occasional shuttle. When you reach Canyon Junction, that portion of the road that is open for cars, there is a convenient trail, the Pa'rus trail which will take you back to the Visitor Center.
Of course, some (most?) bikers are made of hardier stuff than we. During our ride up the Canyon, three of them were talking about the new biking trail in Bryce, and how many miles they ride in a day. One got off the shuttle at the first stop, unloaded his bike and prepared for a backcountry adventure.
We drove to the Visitor Center, parked the Jeep and caught the shuttle up Zion Canyon. There are 8 stops along this 9 mile route, and passengers can get out at any one, hike the trails, take pictures of the various rock formations and then catch the shuttle on to the next stop. When you are tired, or have taken as many pictures as you wish, you can catch the shuttle back to the Center.
We ate a sandwich at the Weeping Rock, where collected water from winter storms has permeated the sandstone, and created a permanent water curtain, water drips off the rock above your head and waters an amazing variety of plant life. Columbune, maidenhair fern and various grasses grow where there should not be enough water to support them.
As we came back down to the bus stop, we watched a man taking a picture of the Rock. Tom, who takes digital pictures to send to the kids and to put on our website, got into a conversation with him about the various benefits of digital vs. traditional shots. The man admitted he had been taking a lot of pictures here and in Bryce Canyon. "In fact", he said, "last night, we got out the pictures, and spread them around our hotel room. We have 25 rolls of rocks!"
Tom caught the bus back down to the Visitor Center from Weeping Rock to bail Missy out of the back of the Jeep, and I took the next one up the remaining two stops to the end of the tour. At Big Bend, I watched climbers working their way up the face of Angels Landing. This is a three day climb; each night the climbers sleep on a small platform suspended by pitons from the face of the cliff. That situation raises all sorts of questions, not the least of which is rolling over in the night. I doubt I would sleep at all -- but then I am sure I will never be found on a platform suspended over the edge of nothing - - day or night.
This is probably our last night in the Zion area, although we are having trouble deciding which way we want to go. West toward Las Vegas, then south? East to the North Rim of the Grand Canyon? Whatever our choice, I look forward to another day of seeing America.
---
Postcard: A Four Map Afternoon
October 15, 2001
We had heard about Zion River Resort RV Park & Campground from some RVing friends, and have found it a beautiful place. The Virgin River runs by the south side of the park , the sites are level and beautifully landscaped. It is only 12 miles to the entrance of Zion National Park, and this park is perfectly located for exploring other areas of southern Utah. I was very surprised when I walked in to register and ran into Susan, the new manager of this park. The last time I saw her and her husband, Jack , they were working at Emerald Desert RV Resort in Palm Desert, CA. Small RVing world!
We had come to visit two of the "venerable patriarchs" of the National Park System, Zion and Bryce Canyon, but decided to start our tour of this area by finding a lesser known area, the Coral Pink Sand Dunes and its adjacent State Park. There are two ways to get to the Dunes, via Highway 89 or via the Utah Backways. Not surprisingly, we opted for the Backway route. But finding that route was not at all easy. We needed four maps, the AAA map of Arizona, the state map of Utah, the map found in a little brochure titled "Zion, Bryce, Cedar Breaks, Grand Canyon (North Rim)", and the map we got at the entrance to Zion. We needed each of these because none of them showed the same route in exactly the same way. The Backway we wanted was the Smithsonian Butte Backway, a dirt and gravel road somewhere just south of the entrance to Zion. However, while those maps in the brochure and the NP booklet showed an unimproved road, the Utah State map and the AAA Arizona maps showed no road at all. When we asked the ranger at the Visitor Center about this, he told us this scenic backway did indeed exist; just drive back six miles to the tiny town of Rockville, turn left on Bridge Street and we'd be on our way. How was the road? "Except for a steep, narrow section, it is easily driven by a high clearance, 2 wheel drive vehicle." Now where had I heard that before?
Back to Bridge Street, across a narrow one lane bridge and up the hill we went. The hill was fairly steep, but only for a mile, and I couldn't find the narrow section anywhere ( and I certainly looked!). Up the hill, and we came out on top of the mesa. The road wound between the red rocks scattered on either side for about 4 miles, and then we were over the summit and driving down into pasture land. The whole trip was just under 10 miles, and took us less than 30 minutes. It really could have been done by a "normal" car.
We found ourselves on Utah highway 5, and within 8 miles of the Arizona State line. Now we needed the Arizona map. Using it in connection with the map from the brochure, we found the completely unmarked turn to Cane Beds, the backway to Coral Pink Sand Dunes and its State Park. (Cane Beds was such an interesting name that I looked forward to seeing what was there, but only a scattering of houses and small farms lined the roadway). About 10 miles of level dirt road, and we were once again on pavement, back in Utah and off to the sand dunes.
Coral Pink Sand Dunes State park consists of 265 conservation acres set within 1,200 acres of ATV paradise. In the larger area, ATVs of every kind can be found, traversing the endless miles of roads allowed, while within the park area they are banned. We drove in and toured through the small campground before driving out to the nature area. With one or two exceptions, the campground would accommodate small to medium size RVs. There seemed to be water hookups, but not electric. Out at the Dunes overlook was an observation platform. At the bottom of the ramp leading up to the overlook, a poster depicted what sort of animal tracks might be found in the sand. As we walked out into the dunes, I actually could see most of them. Hundreds of little tracks, including snake, kangaroo rat, least chipmunk, and rabbit.
From the observation area, you look out on dune after dune of a peachy color. The sand is extremely fine, blown over the miles from the eroding Navajo Sandstone of the surrounding cliffs. A small child and her parents were playing in this giant sandbox, running, jumping and sliding down the sides of the dunes. She was having such a good time, that it took all her parents' wiles to get her to leave. I took the 1/2 mile nature walk out onto the dunes. There was no set trail; the wind would have obliterated it immediately. I walked from signpost to signpost, reading about this unusual area. Sand dunes actually act like giant sponges, soaking up any moisture that falls, and can support an amazing variety of plant life. It snows here in the winter, and melting snow creates small ponds on the dunes that support amphibian life -- salamanders and toads.
A 1/2 mile walk is a short walk, unless you do it up and down dunes in extremely soft sand. The last few yards of the Nature Trail were uphill, and I was breathing heavily when I got back to the car and emptied about a cupful of sand from each shoe. Maybe I should have followed the advice on the first sign, and gone barefoot.
When we entered Arizona earlier, I had seen a sign saying, "19 miles to Pipe Springs National Monument". In order to visit this Monument, we continued on to US 89 and turned toward Kanab, UT, and Fredonia, AZ, turned right on Arizona 389 and headed west -- right past the Monument. A jewel of a National Monument.
Pipe Springs is located in the "Arizona Strip", that remote area of Arizona located between the Grand Canyon and the Vermilion Cliffs of Northern Arizona, and bounded by Utah on the north, Nevada on the west and the Canyon on the east. To get to "the rest of Arizona", one has to either drive west through Las Vegas and then south; or east to Page, cross the Canyon and drive south. The barrier formed by the Grand Canyon causes it to be very isolated from the rest of the state.
The ranch at Pipe Spring ( so called because of the amount of spring water found here) was set up as a tithing ranch. Lacking dollars, early day Mormons often gave cattle to the church to fulfill their tithing obligation. Beef and dairy products were then sent to St. George to feed laborers building the temple there. What beef, cheese or butter products did not go west were used on the ranch.
The ranch was on the Honeymoon Trail -- so called because Mormon couples from Arizona often stopped here on their way to have their marriages sealed at the temple. Other travelers stopped here as well, and often 50 or more were put up and fed for an evening. In the 1880s and 1890s, the ranch became a refuge for polygamous wives hiding from federal marshalls who were enforcing the anti-polygamy laws. They wouldn't jail the women; they wanted them to give testimony against their husbands. The town of Fredonia, AZ, just a few miles east, was another place of refuge for these women. Fredonia got its name from "free" and "dona", the latter being a Spanish word referring to woman.
Beth Morgan, our informative ranger guide, showed us through the old ranch house. We toured the parlor, bedrooms, and old kitchen, all with period pieces. Outside the ranch house, referred to as the "Winsor Castle", we noted two structures made from juniper branches -- examples of the Kaibab Paiute homes of the time. We walked around the ranch, saw longhorn cattle, several horses, a pond full of ducks and a chicken coop. With a little more time, we would have walked up on the ridge trail, looking out over the valley. But it was time to return to our rig, give Missy her "doggy dinner", and prepare for whatever adventures await us tomorrow.
---
Postcard: From Highways to Byways
October 11, 2001
It had been 5 years since we drove over Red Mountain Pass, (Highway 550), from Silverton, Colorado to Ouray, but we had certainly never forgotten the winding drives along the 11,000 foot summit and the steep descent into town. Stopping for a couple of nights in Grand Junction, we were just close enough to Ouray (100 miles) to drive out for a return visit. Some parts of this picturesque small town had certainly changed; others were just as I remembered.
New construction is visible, new homes spill out into the valley. I didn't remember there being 7 hot springs in town, perhaps they are just more advertised now. There are more tourists, and therefore more t-shirt shops. And the Ouray River was a peculiar shade of orange/red today, perhaps because of the mines up on the mountain.
The road up Red Mountain is just as spectacular as we remembered, narrow and twisting, in some spots also shoulderless and without guard rails. It was raining as we drove up to the Pass, and the mountain was shrouded in mist. But weather changes quickly in the mountains, and even as we watched, the sun came out, the roads began to dry, and the mountain came out.
I got my Golden passport while we were in Grand Junction. This passport allows one of a certain age to visit National Parks and Monuments, free. It costs $10, but that cost is quickly defrayed. In my case, I got back half the cost when I drove up to Colorado National Monument on Saturday, and the other half when we both went up again on Sunday.
This Monument occupies the rim of a mesa looming to the west above Fruita (west entrance) and Grand Junction (east entrance). From Cold Shivers Point to Historic Trails View is only a 23 mile drive, and the road seldom strays far from the very edge of the cliff. In fact, when I drove it alone on Saturday, I found myself well over the center line on several occasions, hugging the road away from the edge. This didn't make too much difference however; I was practically the only car. In a couple of places the road seemed virtually to disappear -- I could not tell where it went. Once it went into a tunnel, but in another place it ran along the edge of the cliff, in an area so narrow as to be invisible from across the chasm.
Hiking the Monument seems the best way to experience the many rock sculptures here. From short, 1/2 mile walks to long hikes through remote areas, there are trails everywhere. The visitor center is open all year, and there is a campground located nearby. As with many campgrounds in National Parks and Monuments, it is best suited for smaller rigs. We stayed at the RV Ranch in town, and it only took us about 20 minutes to get to the entrance.
From Grand Junction, we retraced our steps into Utah and took Highway 191 to Moab. Here we planned to re-visit Arches, Canyonlands and Capitol Reef National Parks. Our plans didn't work out quite the way we thought they would.
If you drive into Moab from the north, you get a tantalizing glimpse of Arches National Park. Only 5 miles north of Moab, it makes an interesting and easy half day visit, longer if you take one of its several hiking trails. You can see a lot of the park just by driving the 17 mile stretch from the visitor center to the Devils Garden Trailhead, taking very short walks out to some of the more famous arches. Broken Arch, Sand Dune Arch, Delicate Arch, and many other, smaller ones -- ready for you to name. As we drove up the first 9 mile stretch, I could see the "North Window" and "South Window", arches which looked from this distance like a gigantic pair of spectacles. We stopped at the Balanced Rock, a hunk of Entrada Sandstone sitting atop a column of less erosion resistant sandstone. Eventually, the column will crumble and the rock will tumble, as did its less famous counterpart, "a Chip Off the Old Block". Driving out through the Fiery Furnace we explored the campground at Devils Garden. While most of the spots here are meant for smaller rigs, one large double slider had managed to find the only spot where he would fit.
As we drove back to town that afternoon, I suggested we plan a Byways loop trip the next day, out through Castle Valley, up into the La Sal Mountains, and back to Moab. So, for the next two days, we traveled Byways and saw some of the most varied scenery imaginable, from high mountain vistas to desert floor landscapes.
State Highway 128 is a "short cut" to Moab if you are coming from the east. I saw the sign for Moab as I was driving the motorhome west on Interstate 70, but not in time to make the turn off. As it turned out, this was a very good thing. The road is beautiful, winding down along the Colorado River, but there are rock overhangs, narrow patches, and few guard rails -- at least in the 17 mile stretch from Moab to Castle Valley. We were glad we were in the Jeep.
The road turned away from the river, climbed a ridge and started down into the most beautiful valley -- green fields, yellow cottonwood trees, small farms scattered throughout, with the red cliffs of the Utah Mesas towering above. The sign read, "Castle Valley town -- no outlet", but we decided to explore anyway. Surely there had to be some back road which would lead out of town.
If there was, we didn't find it. We didn't find Castle Valley town, either. Early on, we passed 4 girls, looking like they were out on some sort of project for a high school science class, pencils and paper at the ready, intently studying some trees. We saw a nice home, surrounded by decaying buildings, one adorned with satellite dish. We saw several farms. We did not see a store, gas station, medical facility or school. There was a small LDS church. And the road really didn't seem to have an outlet back to the main highway, it just wandered through the valley. So we retraced our steps and began the climb into the La Sal Mountains.
Up and up. The road became gravel; two cattle trucks came by, headed down for lower pastures, and were passed by a pickup with a driver in hunter orange. It did look like deer country here, but the underbrush was so thick any deer would have had a definite advantage over a hunter. Up over passes, down into canyons; the lower desert juniper gave way to oak, which gave way to pine. We drove through groves of aspen, yellow leaves "quaking" in the cool breezes. And it was cool, the temperature dropped into the 30s and we were glad of our sweatshirts when we stopped for a lunchtime sandwich. We had about 10 miles left to go back down into Moab.
About this time, we heard voices. Up over the crest of a nearby steep hill, came three bikers, chatting cheerfully. None showed the slightest sign of any strain of biking what seemed to us a practically straight uphill climb to around 8000 feet. They all said "hi" and went on, discussing their biking escapades. We got back in our comfortable car, and drove downhill.
We are staying at the Portal RV Park, so called because it looks right out on that "gateway" through the mesa formed by the Colorado River as it cuts southwest on its way to the confluence with the Green River. The park sits well away from any highway noise, has large grassy areas very popular with tenters, and level gravel sites that easily accommodate big rigs. The view of the mesas and the Portal are simply spectacular. We wondered how accessible the Portal area might be.
Blame the man at the Visitor Center who said could be done with any high clearance, two wheel drive vehicle. He said a Jeep would make the trip a "piece of cake". If driving up sheer rock walls, following a bumpy track, was a piece of cake, I wonder what he thinks is hard. I found parts of this drive downright scary.
We left Moab and turned west on Scenic Byway 279, through the Colorado River Portal, and out toward the Moab salt plant. The cliffs of the first few miles are great favorites of rock climbers. Around every corner, it seemed that someone was scaling a sheer rock face. Jeeps (this really is jeep country), loaded with climbers and their gear were parked in every available pull out space. Tom asked one young woman if she thought this was fun, and suggested tongue-in-cheek that there was always kayaking. "That's just what my Dad says", she responded, "he often asks me 'why would anybody do that?'"
The road took us past the climbers, past several areas of Indian Writing (petroglyphs), past Corona, Bow Tie and Jug Handle Arches, to the boat launch. We watched as three heavily laden rafts took off down river, and talked with a couple of RVers whose car was loaded with mountain bikes inside and sea kyaks on top. (She also runs marathons, and, just for the exercise, ran up the Arches road yesterday.) They were off to explore upriver.
The launch area was the last stop mentioned by the auto tour brochure. Now we would follow a dotted line, heading toward Canyonlands National Park -- to see it from the bottom up, on a dirt trail -- not, like most tourists, from the top down, on a paved road. For the next 20 miles and the next 3 hours, we would be in the back country.
The first few miles traverses land owned by the Moab salt plant. We passed some sort of "lake", water coated with a thick film somehow associated with potash. We puzzled over the several sets of tubes inserted into the ground and connected to each other by wires. Could they be going to explode something and we hadn't been warned? We asked one man along the road and he said something about "seismic". We are still in the dark about exactly what was going on.
Leaving the salt plant property, we passed through a gate and into the real backcountry. Towering above us we could see Dead Horse Mesa. All around were the bottoms of monoliths, scoured and etched by eons of wind and water. Rocks as big or bigger than the car. Dunes, not of sand, but rounded rocky outcroppings of a sandy brown color. Small patches of green "grass" which turned out to have vicious little seeds with spikes sticking from them, making it impossible for Missy to navigate.
The road soon turned and ran right along -- and above -- the Colorado River. At one point it narrowed and turned a sharp corner. On one side rose a smooth sheer rock face. On the other, far too close for my comfort, was the edge -- a steep drop of several hundred feet right down into the water. At this point, Tom stopped the car and turned to me. "I want a picture," he explained. "Stay here, and I'll walk up a way and take a picture of the car, you and the dog."
"No."
So we drove around, and took a picture of the road -- without the Jeep, me or Missy.....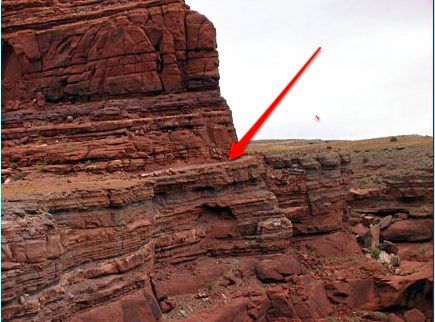 When we reached the sign that said "6.5 miles to the Visitor Center", I sighed with relief. But these last miles were the most tortuous of all. Now 4 wheel drive was recommended, and as the Jeep bumped up over large rocks and into car eating potholes, I could only be glad we had a car as tough as ours. We had made the trip thus far seeing only a couple of other cars, but now we had company. Several Rent-a-Jeeps were exploring the road. A couple of hardy mountain bikers came by smiling and waving. People parked in pullouts were taking pictures, or loading up backpacks for river hikes.
In the last 4 miles of this road we gained about 2,000 feet in altitude. Around hairpin turns, along the side of the steepest cliff I have ever been on. For a good part of this climb, we could not tell where the road would go next; we saw cars coming down and knew the road must be somewhere, but until we were within a few yards of the next turn, we absolutely could not guess which direction we would go. Even when we got nearly to the top, and I was anticipating the end of this adventure, the road kept on, the last mile or so right under the canyon rim.
But eventually we were on top, the road was paved again, and those thrilling views were gone. But I am much wiser now about the Canyon country. I know what lies beyond the canyon rims, and down on the desert floor. I'd do it again in a heartbeat.
---
Postcard: Destination -- Goblin Valley
October 5, 2001
It was only 240 miles from our campsite in the Provo, UT area to Grand Junction, Colorado, and our initial plan was a straight shot to Colorado. However, a stop at the College of Eastern Utah Prehistoric Museum, in Price, put us a bit behind our schedule. We wandered through museum's room, filled with exhibits of dinosaur bones and reconstructions of the beasts themselves, and wondered at their amazing diversity. I had never heard of the Utahsaurus, let alone the Supersaurus -- a dinosaur standing 54 feet high with a length of between 82 and 98 feet. Grandkids would have loved this museum -- with them along, we might still be there.
So, by the time we got to Green River it was already well into the afternoon. Another hundred miles would have been easy, but we keep reminding ourselves we are not on a schedule. It was a beautiful afternoon, sunny, not too warm and with no wind. Shady Acres RV Park is right next to the Green River golf course, which became a most challenging way to spend the afternoon. 9 holes with water hazards on the first four, and sand traps all over the place. We would be on our way the next morning. Or maybe not. As we checked into Shady Acres, I picked up one of the small leaflets from a rack near the desk. Hmm, San Rafael Desert Loop Auto Tour sounded quite interesting...
As we drove into Green River we were surprised to see melon stands all along the main street. This desert area is a melon paradise. We tasted Canari melons, Israeli melons, (so called because "Grandpa Dunham brought the seeds with him when he came to Utah"), watermelons, both red and yellow, cantaloupe and honeydew melons. We were told that this desert will grow just about anything if it gets a little water, and that water should be river water for the best fruit. The chemicals in drinking water just aren't right.
The next morning, I suggested that we might want to stay another day and take the desert loop tour. While Tom got our daily batch of email, I went to the Visitor Center to check on the road conditions. The volunteer said that while conditions were perfect for desert driving, she would suggest another destination -- Goblin Valley. We could pick up part of the desert loop tour on our way back. We had bypassed this area on an earlier trip -- what better time to pick up that missing piece of our Utah puzzle.
Goblin Valley lies 12 miles west and some 35 miles south of Green River. As we traveled west, I could see that geological formation known as the San Rafael Swell. On one side of the car, the desert stretched away, flat and sandy. On the other side was an uplifting of the ground, forming a cliff as far as I could see, sticking up out of the desert flatness. Swell describes exactly what the ground has done along this anticline.
Highway 24 runs through the grasslands along the base of the Swell. Along the route we passed intriguing dirt side roads, inviting anyone to enter and explore, just "please close the gates". Cadres of crows decorated the fence posts. As we went south, the scenery became more fanciful; in the distance I could see formations resembling walled cities, spires and buildings. In one place I found a stegosaurus, (thank you, Price museum), mired in the desert up to his tummy. In this country, whatever your imagination can picture, you can find.
Only a few miles before we got to the state park, we spotted about 30 RVs dry camping in the desert. Driving out to see what was going on, we encountered a large group of off road vehicles. ATVs, dirt bikes, 4WD jeeps; they had everything needed for a desert driving weekend. One family even brought two large buckets of sand to make a desert sandbox for their 3 year old. We were invited to join them, although they cautioned that it might get a bit noisy in the morning. It was noisy at noon.
Goblin Valley is an area of wonderfully grotesque rock sculptures, chocolate formations rising from the desert floor, with faces carved by wind and water. Also called hobgoblins, or stone babies, they are of varying sizes, from several feet to towering above our heads. Miles away I had seen a walled city, now I could see its guards -- a city surrounded by monoliths with faces of gnomes, goblins, and animals. Here was an elephant, there a parrot. Monkeys all around, some with helmets. Driving into the area known as Molly's Castle, I found a giant chess game going on. One side had only three men left; his opponent, whose men were set on a "table" 400 yards away, still had six. In the Castle area, a valley literally covered with carved forms of varying sizes, had trails wandering in and around these "goblins". We found an area where goblins were being "born" -- you could see a hard piece of sandstone beginning to emerge from the softer material surrounding it.
There is a 21 site, back-in, no hookup campground , right on a series of trails stretching throughout the Valley. Some sites are large enough for any rig, though the parking spots are not widely spaced. It was established in the 1970s as a temporary campground, and has remained the sole campground ever since. It would make an excellent base for a day or so of exploration of this interesting area.
As we started our return trip, we found that the little yellow brochure describing the Desert Loop auto tour is an optimistic piece of paper. It states the round trip from Green River, through the desert, out to Goblin Valley and back to Green River is approximately 100 miles and will take at least 4 hours to complete. It also states that this road is no problem for an average 2 wheel drive vehicle, except in cases of inclement weather. In that case, "simply stay put for a few hours". I didn't see the sentences that read, "huge pools in the road that form during storms often do not dry out for days and can "swallow" vehicles, especially low clearance and two wheel drive", until we were half way back.
The first problem we encountered was just finding this trail. There is no indication on either Highway 24 or the desert loop trail itself that you are on the right track. Using the odometer, we drove the "approximately" three miles, and, when we found the first point, Jeffrey Well, right where it should have been, we knew we were on the right road. Sand was another concern. We were very glad to have 4 wheel drive as we drove through some fairly substantial areas of blown sand.
There were 12 "points of interest" on our desert tour. Few were marked. Only by driving the stated distance did we know where we were, and what we should be looking for. Even then what we found was a bit out of our league, both in distance and the lateness of the afternoon. One sign directed us to a detached portion of Canyonlands National Park, where we could see some of the best pictographs in the area. These views would come after a two mile drive followed by a 6 mile, strenuous round trip hike. Number 6 on the tour directed us to drive two miles out toward Horseshoe Canyon, scramble along the east face of a large slickrock dome, and find an arch which would be visible only when we were on the Green River side, looking back. We opted to drive on.
As we started our desert loop, Tom asked me to guess how many cars we would see. I guessed none. We drove 80 miles and only saw one car, and it was going in our direction. If we had had any car trouble, we would have been stuck for quite some time. Even without any side trips, it took us a full three hours to get back to Green River. We were glad to get back to the rig and enjoy a quiet evening. Tomorrow we will be off to Grand Junction for a couple of days. We plan to re-visit Ouray (we haven't been back for years), and just enjoy the scenery. In a leisurely way, of course. We are not on a schedule.
---