ABOUT RVers ONLINE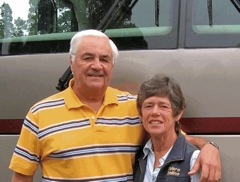 We are Tom and Stephanie Gonser. When not "on the road", our "center of gravity" is a townhome near Bend, Oregon, with a small second home on the coast in Florence, OR. After completing professional careers, and guiding our two children through their education and into their own lives, we accomplished a long standing objective – to travel... on a schedule and path of our own creation... pausing where we choose... all the while, enjoying the wonders of a great RV lifestyle.

Our home bases in Oregon are too enticing to let us become full timers. However, we are confirmed "extended time" RVers, and savor every moment of our travels over the road. As of October 2011 we have completely updated these pages, discarding materials not longer of value, revising others, and marking older materials with continuing value as special "archive files". The site was conceived as a commercial-free zone, and continues as such today. You will find nothing for sale here; and no one can "purchase" a link from this site. We are simply not for sale. We here redefine "free" enterprise.
An evolving purpose here has been the opportunity to offer a place for greater dialogue between and among RVers; and between RVers and the various industry groups which provide products and services to them. Our efforts have been to encourage positive discussions, and to avoid publishing negative comments. We believe that if RVers can have an improved means of communication with park owners, manufacturers, dealers, and even the groups which "represent them", the opportunities and benefits of RVing can be even further improved.
Our readers of course pay no dues, attend no meetings, and exist as a "group" only through the medium of the Interent. Yet those who have joined us in this cause have contributed in many ways through these pages to help fellow RVers, and to participate in a growing constructive dialogue about issues of importance to them. Many have contributed articles; and so many more have contributed their time to respond to reader comments and inquiries in our "Mailbox" section. We take seriously our responsibility to promote the best interests of our readers with park owners, manufacturers, and dealers.

We continue to contemplate new horizons for this site. It has grown in directions we could not have imagined when we first started. Our emphasis has been on creating a credible, commercial-free information resource for RVers; and to find creative new ways for RVers to link together electronically outside of these pages to pursue issues of common interest.
The path ahead continues to be full of surprises and opportunities which we will discover together. We're delighted to have all of you on board for the journey with us!

Tom & Stephanie Gonser